Ubud is the perfect destination for people who want to get away from it all and spend quality time with nature. This place in Bali, Indonesia is for travellers who want to let their hair down, enjoy the blissful rainforests and bask in the warm sunlight.
This charming town is located in Gianyar Regency, Bali, just outside Denpasar. It attracts digital nomads, solo travellers, and families who venture there searching for a good time. There is always something fun when looking for what to do in Ubud.
But what makes the place so alluring? We have friends who have been multiple times but most of them have returned for different reasons.
The rice paddies and mountains surrounding it make it perfect for hiking and exploring. It's also a place that has become the centre of arts and culture. So, you can admire rice terraces, visit art markets, and explore temples, all while enjoying views of the beautiful mountains surrounding this unique region. For active travellers, you can also go on an adventure tour with a quad bike through the mountainside trails.
Additionally, there are many incredible options regarding what you can eat in this area - from street food vendors serving traditional Balinese fare to fancy Ubud restaurants serving modern takes on Indonesian flavours. You'll always find something delicious to eat in this part of Bali. You could also take a cooking class at one of the many cooking schools in town. If you prefer something more relaxing, taking a boat ride downriver might suit your interests. With so many activities in Ubud, you will never be bored. 
So if you're passionate about art, culture, and nature alike, it's time to check out our guide to the best attractions in Ubud. 
Jump to:
How many days in Ubud?
If you want to explore Bali's beautiful and unique beauty, we recommend you allocate at least 3 days for your Ubud trip. You'll want to give yourself one day to explore the town and visit the main attractions in Ubud. Add another day to visit some museums and art galleries, and a third day for a few trips just outside of town.
If you have any extra time, there are plenty of activities in Ubud within driving distance that can fill up another day or two. It's easy to get caught up in the excitement of a new destination and want to see everything all at once, but sometimes it pays off to slow down and enjoy the journey.
But if you don't have that much time, don't worry. You can still get a lot done in a 1 day Ubud trip, just like we did.
You can visit some of the most popular places, like the Ubud Monkey Forest Sanctuary or the Tegallalang Rice Terraces. We even had time to relax with a traditional Balinese massage and witness unique cultural performances. So, check out our 1 day Ubud trip itinerary for more inspiration on squeezing the best spots into just one day. 
Ubud weather and best time to visit
The best time to visit Ubud is between May to October because of the mild, cool weather. Furthermore, September is an especially perfect month for those looking to go when there are fewer crowds. While the weather in this part of Bali is warm all year round, certain months receive more rain. 
Seasonal weather
The weather is most comfortable between May to October. The temperatures are milder than in other months, especially in the evenings. If you visit from June to September, there are only 2-5 days per month with rain. The weather in Ubud is generally warm and sunny with low humidity, yet cool in the evenings with mild rain. The temperatures hover around 27 degrees Celsius (80 degrees Fahrenheit) - making it perfect for hiking or biking.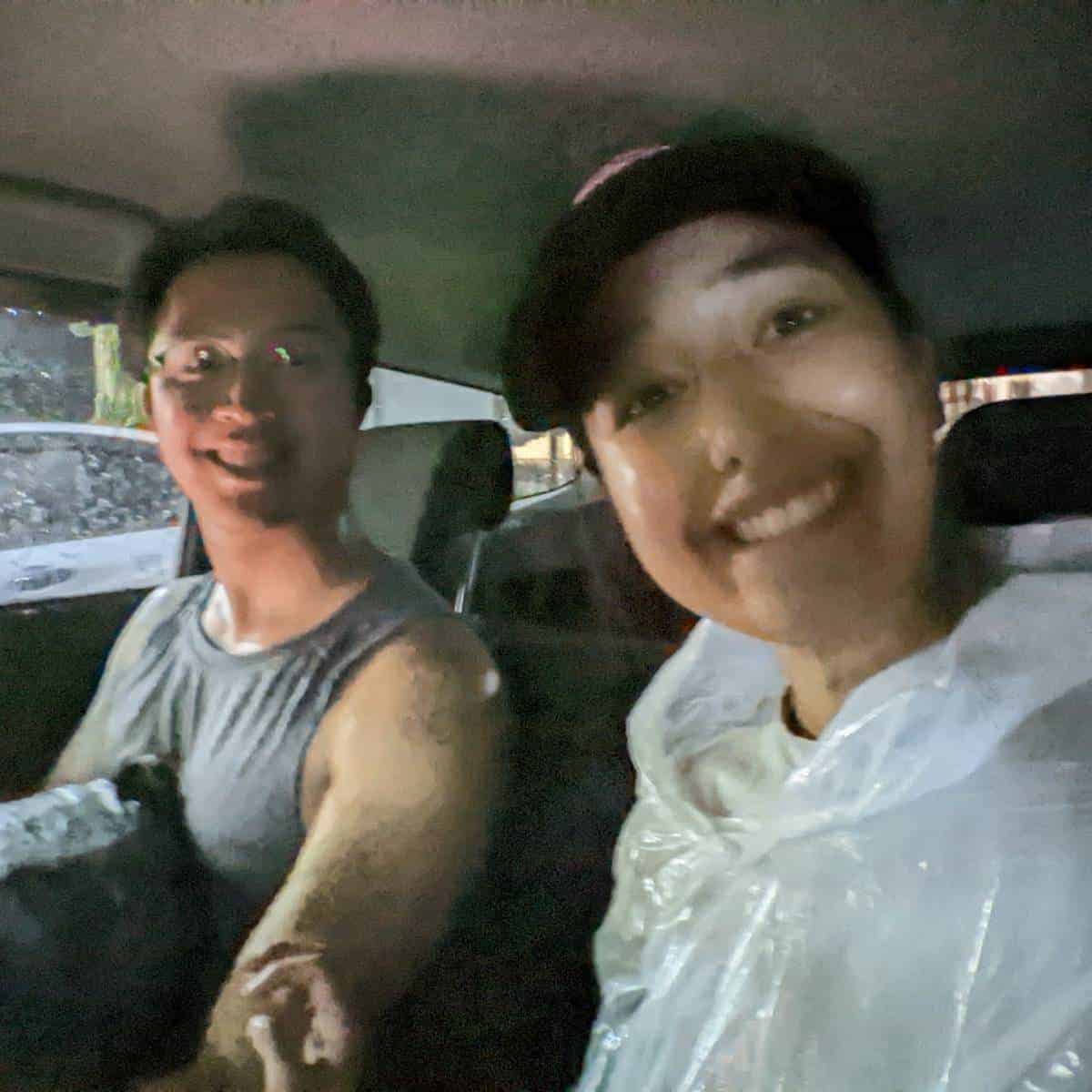 However, there's a greater chance of frequent rain between December and March because this is when the monsoon season begins in Indonesia. Some years, the heavy rainfall can last through May. Temperatures hover between 20-25 degrees Celsius (68-77 degrees Fahrenheit), with humidity slightly higher than in other months.
Of course, the best time to go also depends on what you want to do while visiting Ubud, Bali and wider Indonesia. If you want to go sightseeing in Ubud, you should visit from May to October. The light afternoon downpours will cool down temperatures and keep crowds away at certain times. This would be perfect for you to explore the town's natural beauty in peace.
Cheaper Fares 
However, if you're looking for cheap airfares and hotel bookings, January is perfect. Ubud hotels usually lower their fares from January to February. There are also fewer tourists because it's the peak of the monsoon season. But, you might find out that the rainy weather in Ubud limits certain outdoor activities, such as hiking or rafting.
Where to stay in Ubud
There are plenty of great options if you're wondering where to stay in Ubud. Generally speaking, we recommend staying in either of the following two areas. You could rent accommodation near the central area or stay in villages further away from the crowds.
Out of these, some unique places to stay include staying near the Ubud Monkey Forest near the town or at Pengosekan village.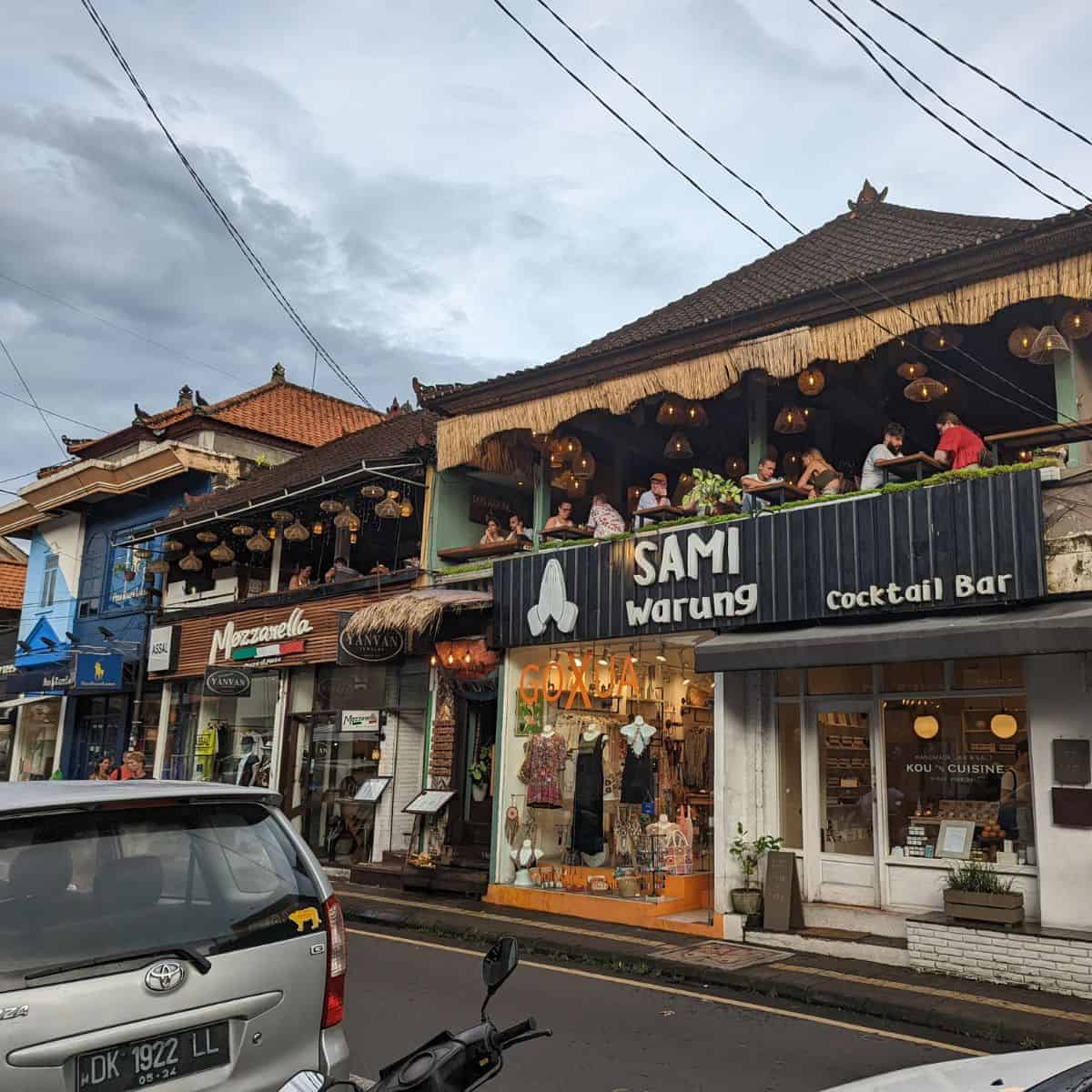 If you're planning to go shopping and restaurant hopping, then we recommend the Ubud Monkey Forest area. This area has many art souvenirs and Balinese clothing shops where you can shop at. In addition, there are many great cafes and Bali restaurants in the area too. Just bear in mind that the area is in town, so it can get quite busy at times.
In contrast, we recommend venturing further to Pengosekan Village if you want a quiet spot to stay and a glimpse of local Balinese life. It's also famous for being featured in the universal bestseller, Eat Pray Love by Elizabeth Gilbert. Furthermore, there are affordable Ubud hotels that you can book in Pengosekan Village, so you can find something that suits your needs and budget.
Accommodation Types
There are plenty of accommodation types to suit different needs, but we do recommend checking out a private villa. Many Ubud resorts offer shared or private villas for rent. They usually come with a private pool and scenic views. So book a villa if you are on a honeymoon or want to pamper yourself. 
The place you stay at also depends on whether you want to be near all the tourist attractions or prefer a quiet, homely stay. While hotels and resorts offer more luxurious accommodations, we recommend you consider an Ubud Airbnb or homestay. These places will be more affordable and also let you experience local lifestyles.
Whether you are looking to book an Ubud Airbnb or hotel, you're sure to find something that suits your budget.
Best Hotels in Ubud
You're spoilt for choice if you're looking to stay at one of the best hotels in Ubud. Most hotels start from $20 USD (30,000 IDR) per night. However, if you want to stay at more luxurious Ubud hotels, the prices can go up to and above $200 USD (about 300,000 IDR) a night. 
Here are some places you can consider for where to stay in Ubud, Bali, Indonesia, from the cheapest to the most luxurious.
Yuni's House Bungalows & Fine Art Gallery
Yuni's House Bungalows & Fine Art Gallery is located near the market. It has a traditional Balinese exterior and an attached art gallery you can visit. There's also an outdoor swimming pool, and the rooms are air-conditioned. This is a budget-friendly accommodation without spas or gyms. We recommend this place for families or groups for a stay in Ubud, as the rooms are large. 
Bisma Eight
Bisma Eight Hotel is tucked away on Jalan Bisma. This is one of the best hotels in Ubud if you want somewhere near enough to town and still away from the traffic sounds. This beautiful hotel is affordably priced and perfect for couples who want a romantic place away from bustling crowds. The boutique hotel also has an infinity pool to watch the sunset over the lush Balinese jungles. 
Padma
Padma is one of the Ubud resorts near the Payangan forests. The 5-star hotel provides a breathtaking view of the river valley and lush jungle. Although small, with only 149 rooms, you'll enjoy the finest facilities, such as a world-class spa and an infinity swimming pool.
The place is a beacon of tranquillity, with its sleek contemporary interior and sweeping scenery. While it's pricier than other resorts, it is worth treating yourself to.
Alila
Imagine sipping a cocktail in an infinity pool while taking in an unspoilt view of the Ayung River. That's what you can look forward to while staying in Alila, one of the best hotels in Ubud. 
The Ubud resort is a hillside hotel built above the river with a 360 view of the scenic forest beyond. Have a massage in an open-air pavilion or tuck into the freshest ingredients harvested from the nearby plantations. Again, Alila is more expensive than other resorts in the area. However, this is the perfect place to stay if you're a solo traveller or a couple looking to celebrate a special event. 
What to do in Ubud
Ubud, Bali is a city of culture, spirituality and nature. It draws travellers who visit this beautiful Indonesian island for many different reasons. Some come searching for adventure, and others want to lounge on the beach. Either way, if you're looking for what to do in Ubud, you will be well satisfied.
The list is endless. From visiting ancient temples, luxuriating in spas, taking aesthetic pics on a high Balinese swing, or just taking a stroll past rice fields. There's never a dull moment. So, here are some of our top recommended things to do in Ubud.
Sacred Monkey Forest Sanctuary
Home to more than 200 monkeys, the Sacred Monkey Forest is a great place to visit if you're a lover of all things animal or simian.
The ancient Balinese built the sanctuary in the 14th century. The sanctuary is not only a habitat for native wildlife but also holds spiritual significance for the Balinese, reminding all to love nature.
Despite living in dense forests, these monkeys are used to the presence of humans. Therefore, when you visit the Ubud Monkey Forest, you can see these wild creatures up close and even feed them! So if you're looking for a place to relax and reconnect with nature, the Sacred Monkey Forest Sanctuary is the place to go.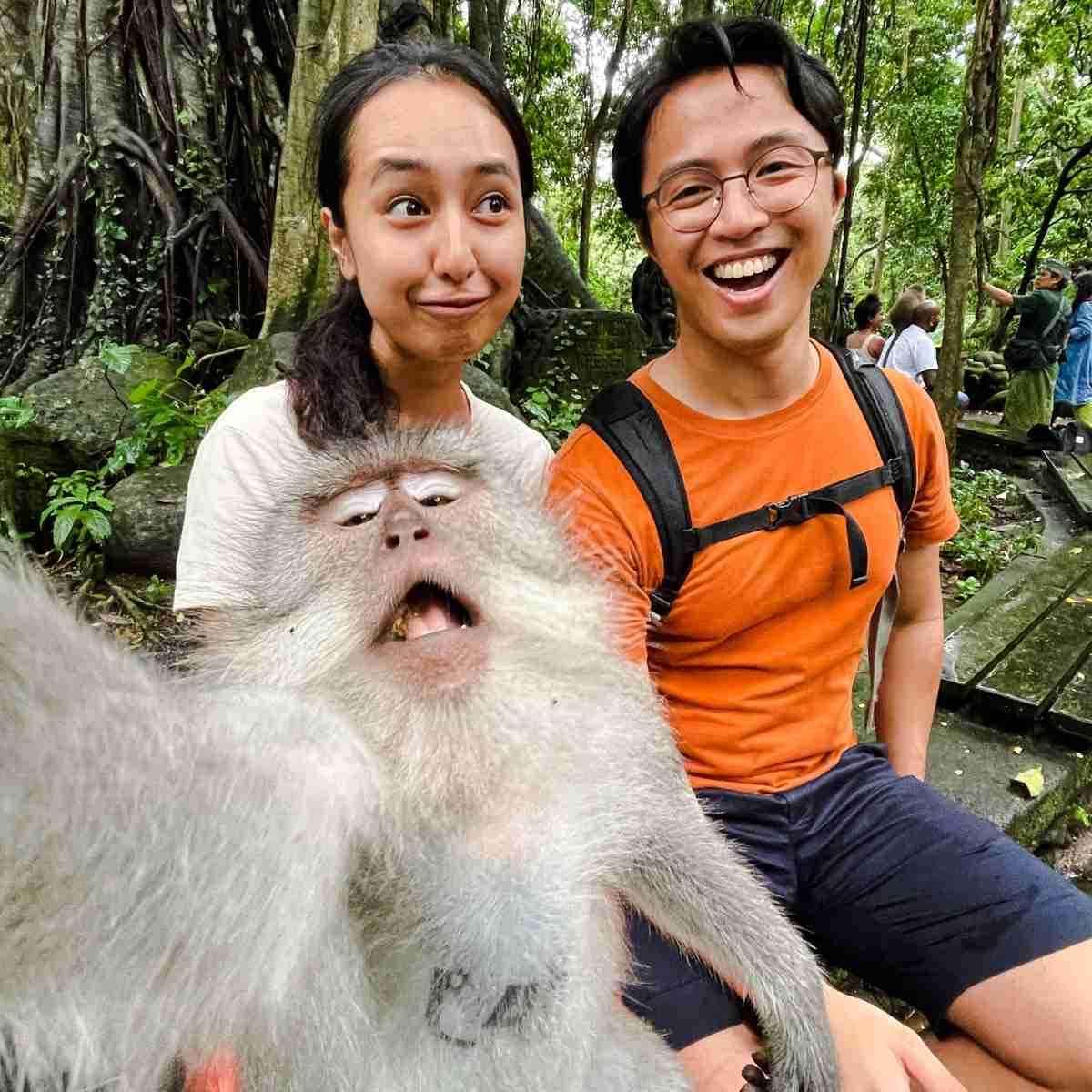 Ubud Temples
One of the best ways to experience Ubud's arts and culture is to visit one of the many temples that dot the city. Some of these temples date back hundreds of years and still maintain traditional Balinese architecture. This makes them unique architectural wonders worth visiting. Here are 5 of the best Ubud temples to visit!  
Saraswati Temple
The Saraswati Temple is situated in the middle of town. You can stop by while taking a stroll through the Ubud city centre. The temple is nicknamed 'the water temple' because of the ponds that surround it. When the lotus flowers bloom, it's a beautiful sight. Many visitors stop by this point of interest to admire the flowers, the temple's traditional Balinese architecture, and the sandstone carvings that honour the Hindu goddess Saraswati.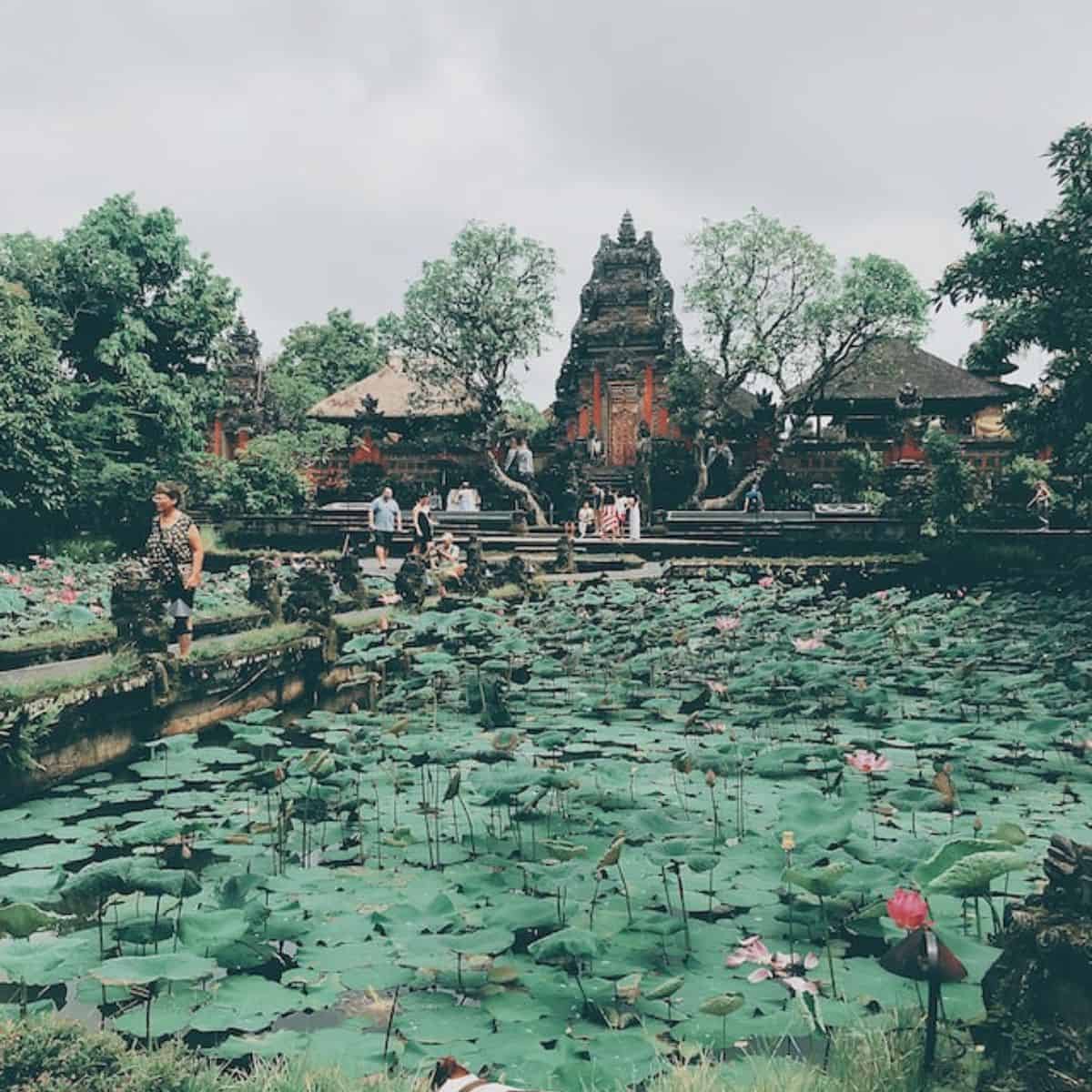 Furthermore, you can also book a table at the cafe. The cafe is right across the temple, so there's a feeling of authenticity watching performances while you're sipping on a cool drink. Regular traditional Balinese dance performances are held at the cafe.
Tirta Empul
Tirta Empul is the setting of a Balinese legend that tells an intriguing story of good defeating evil. This 10th-century Hindu temple has years of history, a silent witness to the glorious Balinese kingdoms before the present day. Devotees and visitors visit this Ubud attraction to wade through its freshwater pools.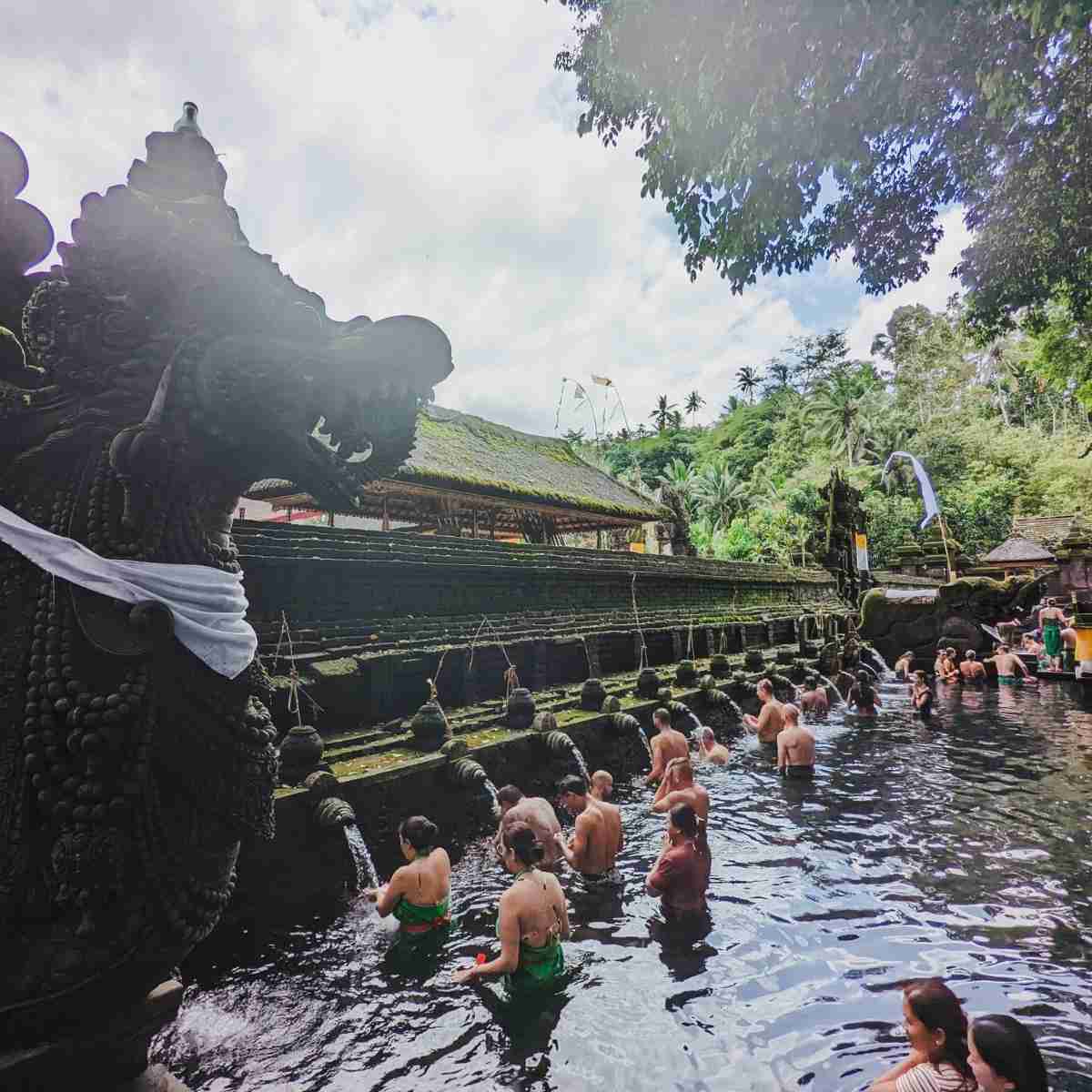 On the temple grounds, there are mini fountains that draw water from these three freshwater pools. The first pool is where one can seek spiritual cleansing by going under these fountains. You can perform a purification ritual and choose to go to the pool that suits your needs. The Balinese believe that the water is healing and can lift fatigue and pain.
This temple is worth a visit to experience a slice of local life and culture - regardless of your religious beliefs. Visit early on a weekday as it gets crowded on the weekends. 
Puri Saren Agung Temple
Puri Saren Agung Temple is also the site of the Royal Ubud Palace. It is located just right beside Sarawasti temple. The Ubud Royal Palace (also known as Puri Saren Agung) is the royal family's historical landmark and home. The front courtyard is open for viewing and taking photos. The walls and doorways have elaborate designs carved into the stone. Walking through the back of the yard, you'll see some beautiful designs, such as detailed gold-winged flowers and stone monkey carvings. 
Watching a traditional dance performance here should also be at the top of your list of things to see in Ubud. Their performance stage has a backdrop of intricate traditional gates and guardian statues. Every evening, there are performances with gamelan percussive orchestras. Our top tip is to head to the entrance in the afternoon to buy show tickets because it's less crowded.
Goa Gajah
Goa Gajah is also known as 'Elephant Cave'. The name is derived from the nearby Elephant River. Despite having no actual elephants here, this place is an important archaeological site.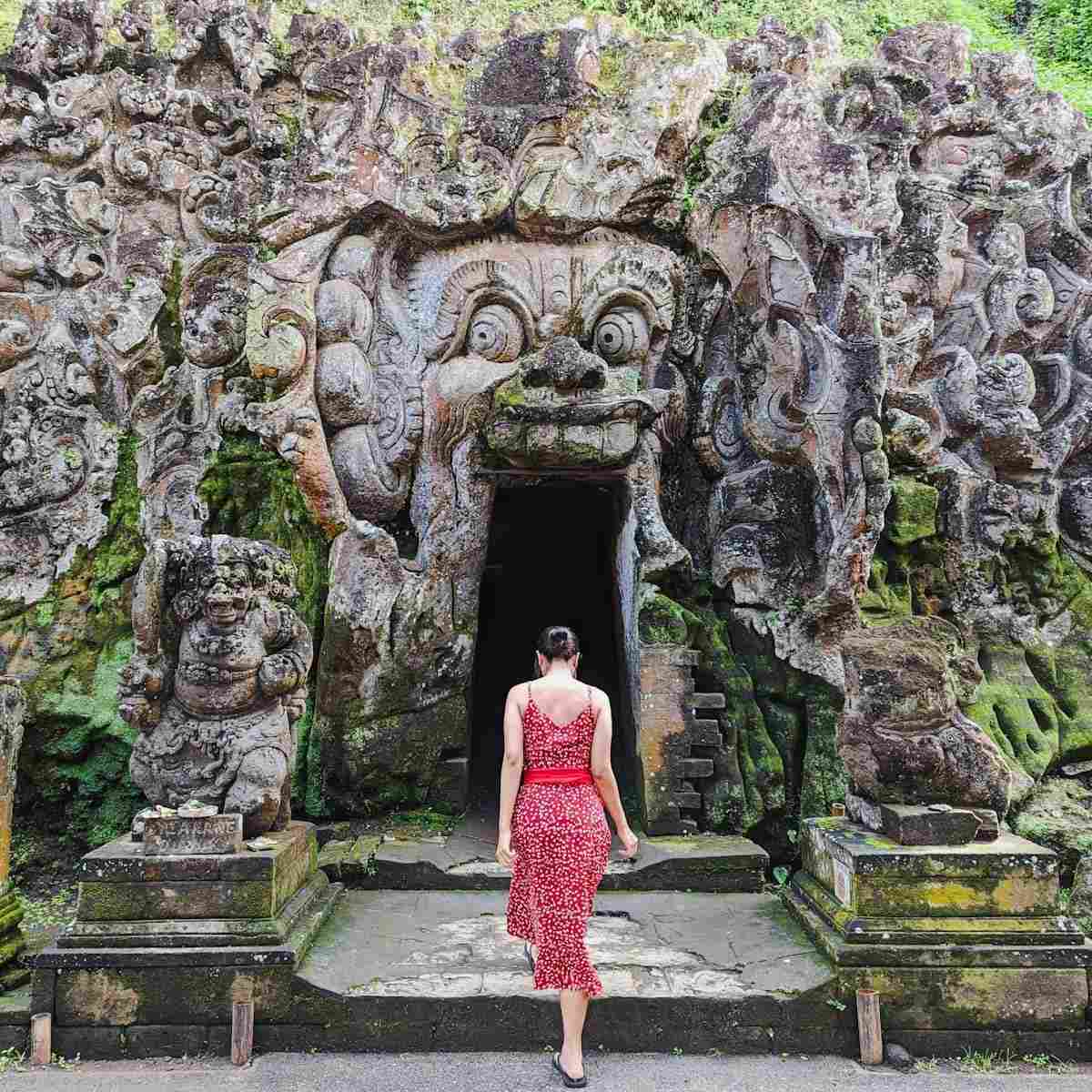 The first thing you'll see is the entrance which looks like a gigantic mouth. Some people claim that the entry represents the door to the underworld. This unique opening makes the temple one of the key attractions in Ubud. Superstitions aside, the natural stone carvings are worth examining. Excavations uncovered many relics dating back to the 11th century, suggesting that the place was important for the early Balinese.
The beautiful site now hosts a small worship area for the Hindu deities Ganesh and Shiva. There are also beautiful gardens and a bathing pool outside that you can walk around and admire.
Furthermore, this temple is surrounded by other Hindu temples that you can easily access via the main roads. Therefore, we recommend you allocate at least a day when ticking this place off your list of things to do in Ubud.
Gunung Kawi Sebatu
Gunung Kawi Sebatu is a water temple complex known for its bathing and purification pools. A mountain spring is the source of these bodies of water. You can visit the temple and do as the locals do, bathing and showering in hopes of a spiritual cleanse. 
The tranquil complex has a collection of separate shrines and large garden pools filled with blooming lotuses and carp. You can spend at least a day visiting the different shrines and walking peacefully around its well-manicured gardens. While the temple is quite far from Ubud city centre (at least a 30-minute car ride), it's also the quietest and least crowded out of all the other temples. 
Our top tip is to stay at Padma Resort and hire a driver. The resort is 30 minutes away, but a car ride can easily bring you to Gunung Kawi Sebatu and other Ubud attractions. Furthermore, the lovely Tangkung Waterfall is on the way if you travel from Padma Resort - which would be a great detour on your way here!  
Ubud Spas
If you're looking for a relaxing indoor experience that is as soothing as it is memorable, you must try the spas. The spas here are like nothing you've ever seen before. Many spas are located in beautiful settings. From the rice fields to the jungle to the beach.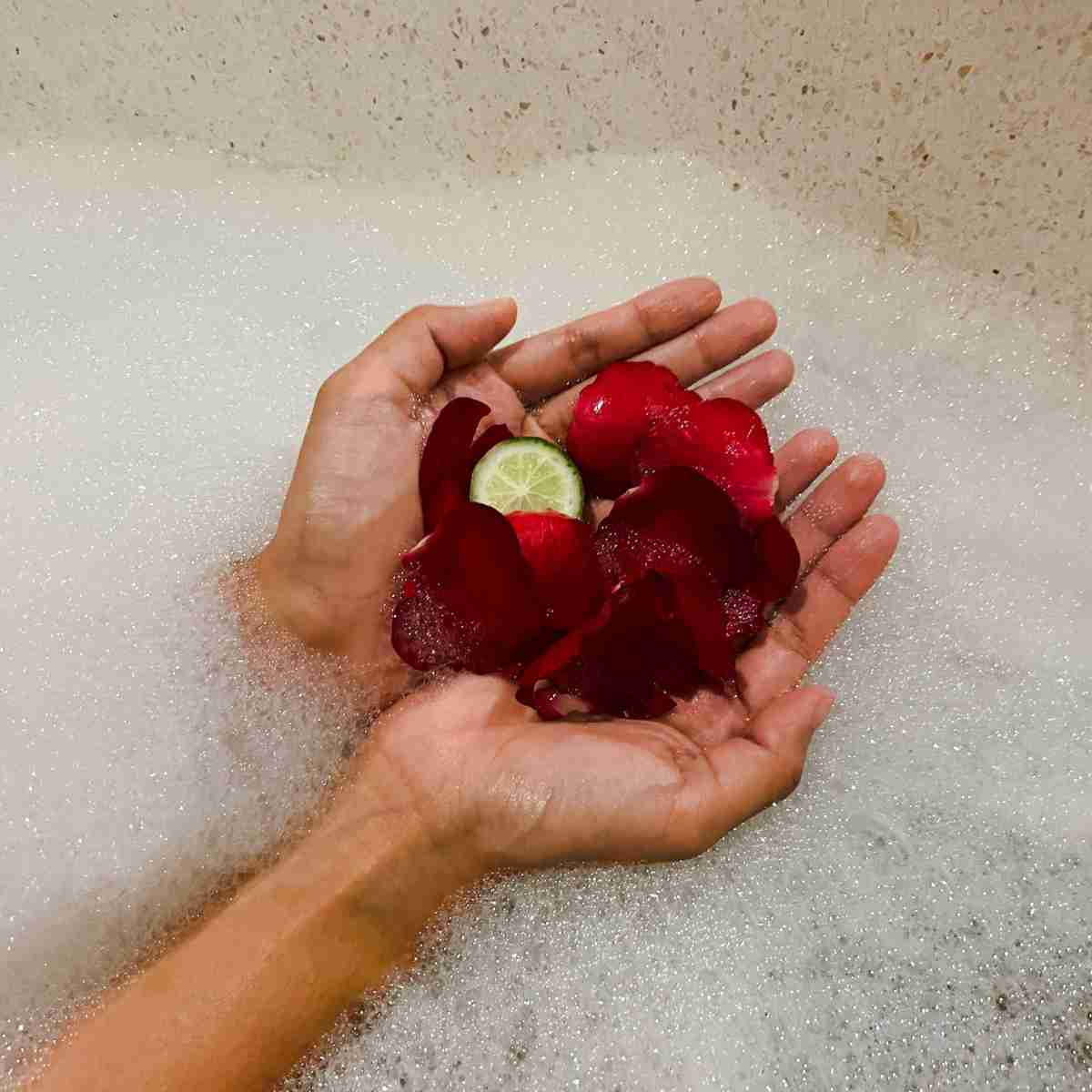 The skilled masseuses of Ubud town deliver the most soothing, holistic treatments with natural herbs. 
Each spa offers an experience like no other. Best of all, there are also many different spas at different price points. Whatever your budget and length of visit, you should schedule a relaxing massage here. Here are 3 of the best Ubud spas from our spa travel guide! 
Maya Resort
For a luxurious spa treatment in Ubud, head to Maya Spa. It's in the 5-star Maya Resort, a sustainable oasis providing eco-conscious luxury services. Its spa experience will immerse you in the lush jungle forest and hidden river valley. In addition, its architecture pays homage to the beauty of traditional Balinese housing using natural materials.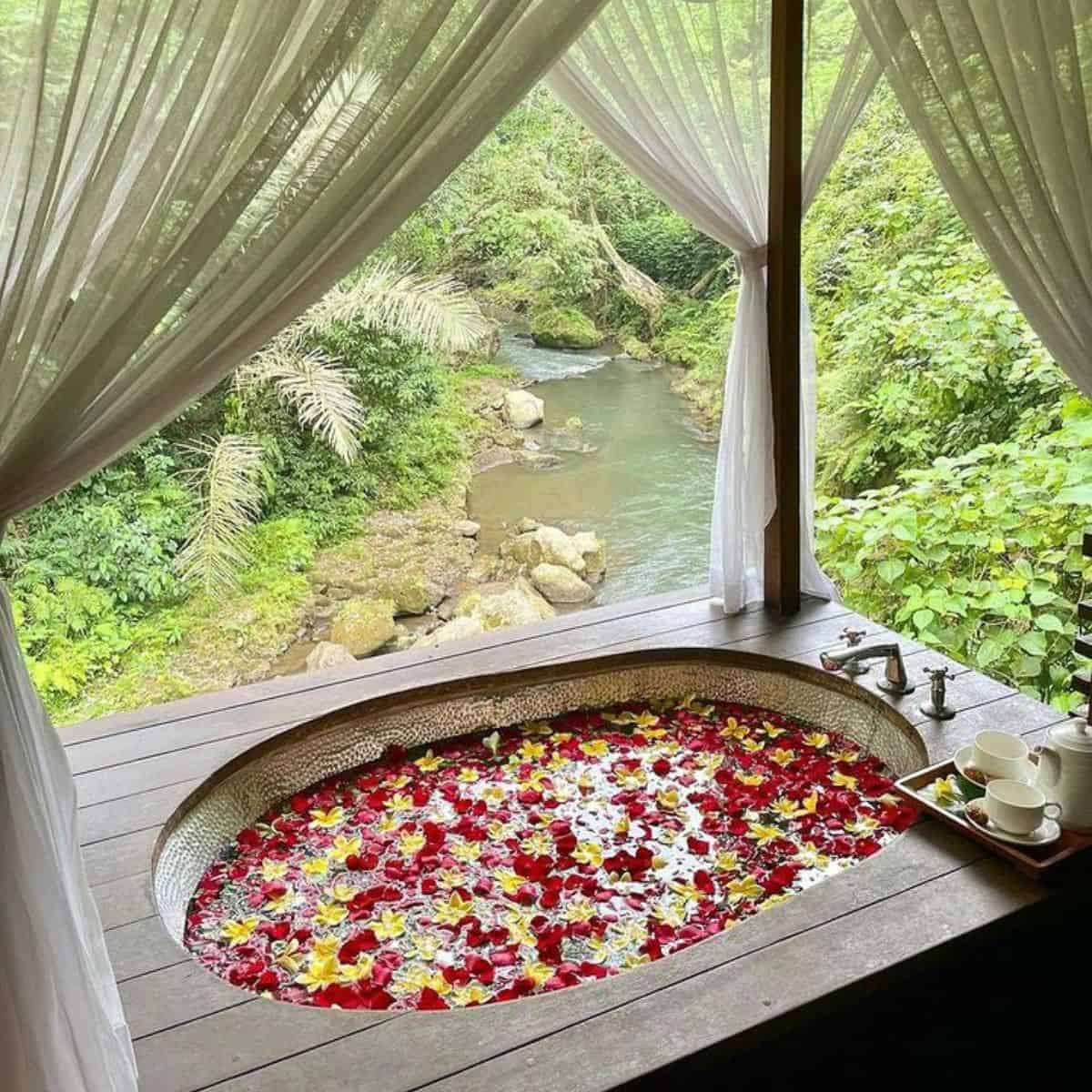 You begin your spa experience on a ceremonial walkway fringed by palm trees. At the end of this tranquil walk, you will find secluded villas to begin your private spa-by-the-river treatment. There are plenty of treatments and expertly trained practitioners at Maya. 
Pick the Jet Lag Recovery massage if you're worn down from all the shopping and sightseeing in Ubud. A soothing Maya massage will help you release stress and muscular tension. The massage's revitalising strokes will combat tiredness, enhance toxin elimination and boost energy. A solid pick for those who need a break.
Jaens Spa
If you prefer a mid-range budget option near Ubud city centre, you'll want to head to Jaens Spa. It is an oasis in the middle of town and one of the many spas we love. Their light-filled, airy environment with bamboo plants, stone sculptures and mini fountains will relax you.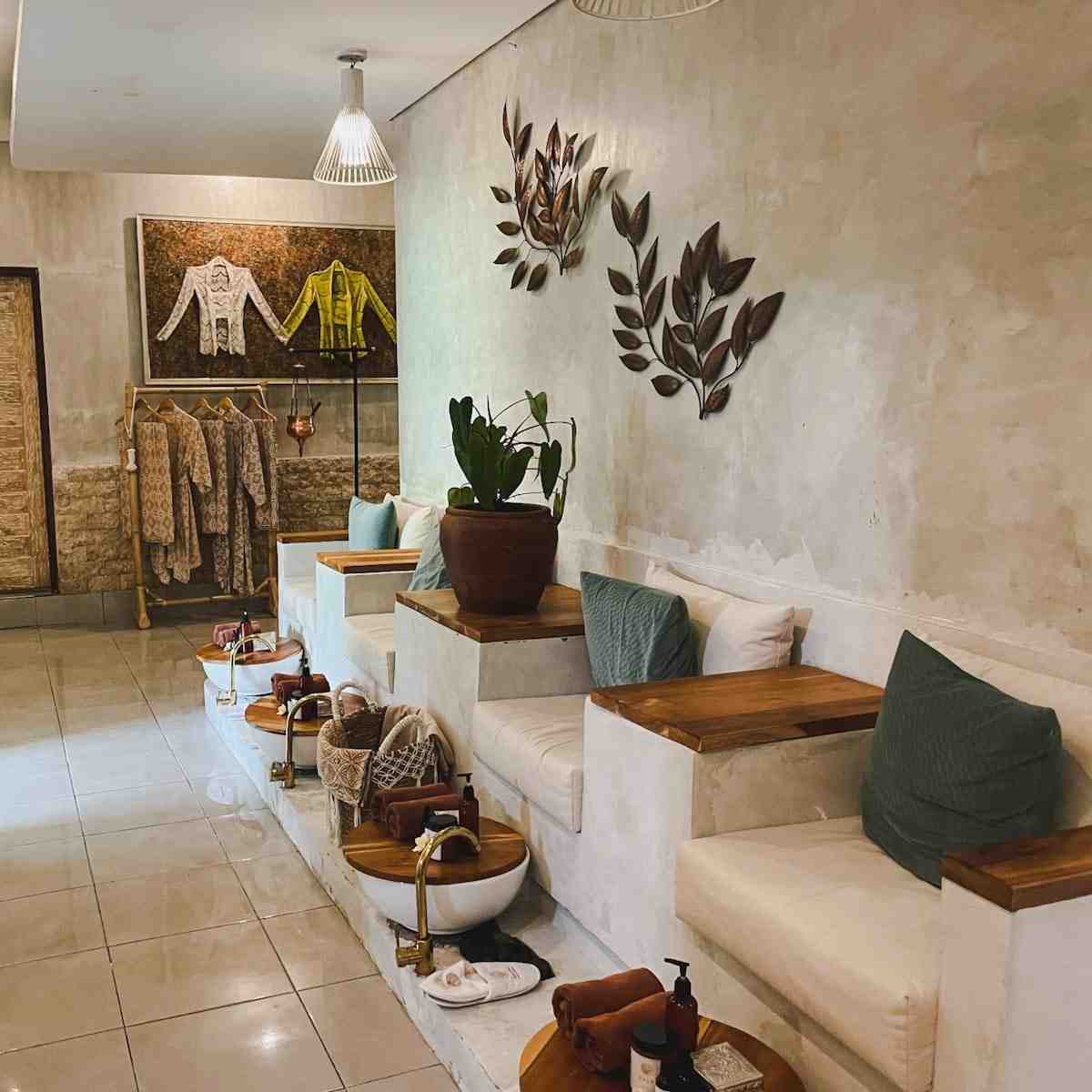 Jaens Spa offers its treatments at an affordable price considering the quality of its services. Although the price point is mid-ranged, the massage and treatments you'll experience will be close to the ones in a top luxury spa. If you're travelling with your significant other, pick the Couples Spa Package. Although there's a branch within the town centre, we recommend going to the spa outlet on the outskirts of town for a quieter and less busy experience.
Tejas Spa Unagi
If you've been shopping all day and need a wallet-friendly option, choose Tejas Spa Unagi. They have five branches around Ubud town, with friendly, professional masseurs that will ease sore muscles. Plus, this particular spa is built before a river so guests can enjoy the tranquil sounds and ambience of flowing water. 
We recommend trying their signature Abhyangam massage. This full-body Ayurvedic massage will unknot nerves and alleviate muscle tension in your body. In addition, their warm therapeutic oil massage improves blood circulation and rids of stiffness. So you'll leave feeling refreshed and energised.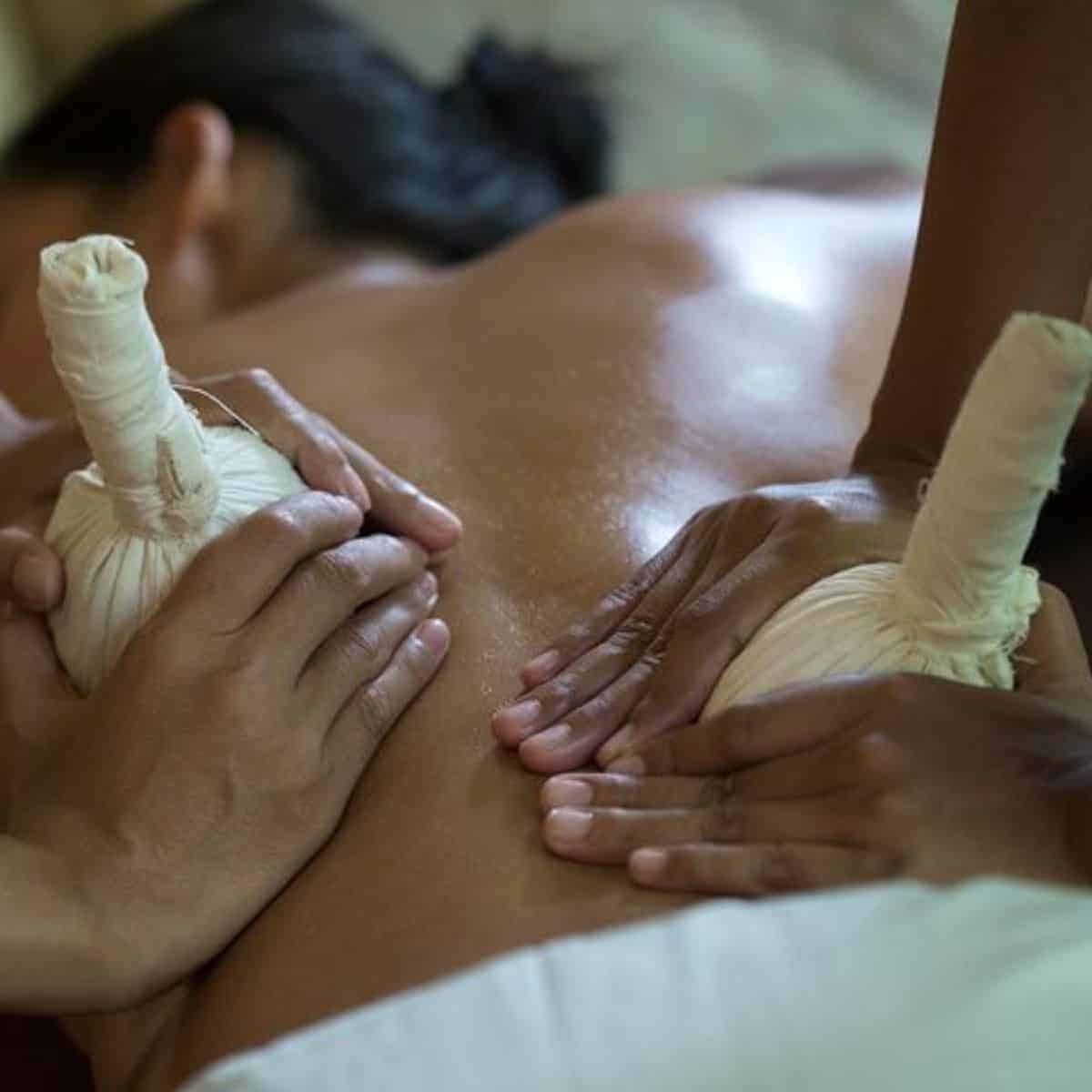 Adventures
Thanks to the sunny weather in Ubud and its natural landscape, you can enjoy some of the best adventure sports in the world here.
You must try the iconic soaring Bali swings for a fantastic view of the jungle, Ayung River, and the plantations. You can also go hiking through the rainforest, mountain biking, or even zip-lining.
So without further ado, here are three heart-pumping activities in Ubud that we recommend you try!
Bali Swings
In Ubud, there are several swings that you can use to enjoy the gorgeous views of the surrounding rice paddies and get a bird's-eye view of the town. These Bali swings are usually suspended between two trees and are considered a top Ubud attraction.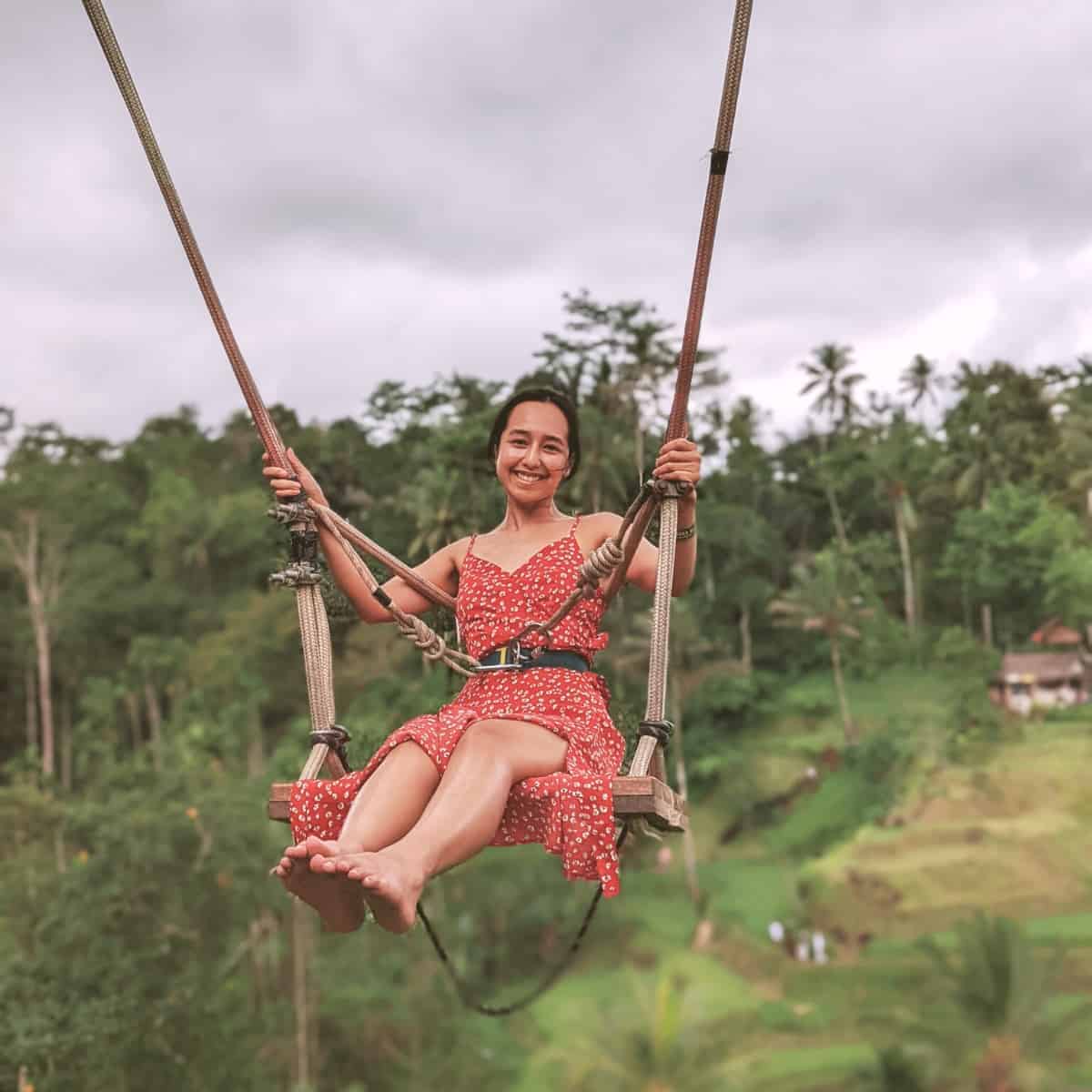 The most famous vendor for this attraction is Bali Swing. You can choose from several swings, ranging from 10 to 78 metres off the ground. You'll see the surrounding lush rainforest, waterfall and river on their swings. Bali Swing also offers other fantastic photo ops! For instance, they have nine life-sized nests, and a heart-shaped platform, amongst other unique concepts to pose on. 
Another great location is Aloha Swing. The theme park is located in the Tegallalang area. There are five different swings available, and they are at various heights. The lowest swing is at 10 metres off the ground, and the highest is at 60 metres. If you're looking for a Bali Swing for couples, they have one that comfortably takes two persons. Our top tip is to let the park guides take your photos. They know the best places and poses for a great shot! 
ATV rides
Another popular activity is ATV riding through the rice paddies. You'll see Balinese culture from a different perspective and experience some beautiful scenery in this part of Bali. An ATV (all-terrain vehicle) ride involves riding an open-top four-wheeler dirt bike as a driver or passenger. It's an exciting way to explore the outskirts of Ubud, almost like riding a slower roller coaster. 
Many tour operators around the area offer these ATV rides. These tours often involve driving through rice paddies and forests and visiting local villages to see how they live daily. The tour operators can also take you off-road and into the jungle to see different animals and plants and learn more about Bali culture. It's a fun activity for all ages.
The best area to take an ATV ride is in Gianyar, about 30 minutes from the town centre. An ATV ride around the Gianyar district is famous because you can visit several Ubud attractions. For example, you will be in the area of Tegenungan waterfall, Sukawati art market, Bali Zoo, Monkey Forest, and Bali Bird Park. The ride also goes past the Ayung river area, which is the most exciting route as you travel over a muddy, rocky river bed.  
We recommend that you look for an ATV quad bike adventure with professional guides, to travel with you on the trip. 
Hikes
Ubud is home to some of Bali's most beautiful hikes, offering scenic views of rice paddies, temples, and nature preserves. 
One of the best places to hike in Bali is Mount Batur. This active volcano looms over the town and offers excellent views of the surrounding area. However, the hike takes about a 6 hours round trip and requires a guide. Of course, you can also camp there if you want.
Several trails lead up to the peak, which is great if you love a long walk. However, if you don't want a hike but just an overview of this majestic volcano as part of your Ubud sightseeing itinerary, there are plenty of options for shorter walks.
Another option for hiking is Campuhan Ridge Walk. This option is great if you want a good workout without the trail being too strenuous. This path follows a ridge above the town, giving you sweeping views of rice paddies, waterfalls, and temples as you walk along. You'll walk a little more than two kilometres long, but don't worry, as there are several spots where you can stop to take in the incredible views, enjoy food, drink water or rest.  
Mount Batur and Campuhan ridge walk are two of the most popular hikes in this area. They both offer stunning and unforgettable views of the surrounding volcanoes and mountains. From our experience, the best time to go on these hikes is early morning before it gets too hot around 7 am. Meanwhile, for the Campuhan ridge walk, you can also go on during the late afternoon when it gets dark (around 4 pm).
Rice Fields
Visiting rice fields in Ubud, Bali, Indonesia, is one of the best activities to do in town. It's a great way to get out into nature and learn about rice farming, an essential part of Balinese culture. You'll see how rice is grown, harvested and prepared for consumption. You'll also get to meet locals who work on these farms and learn about their everyday lives.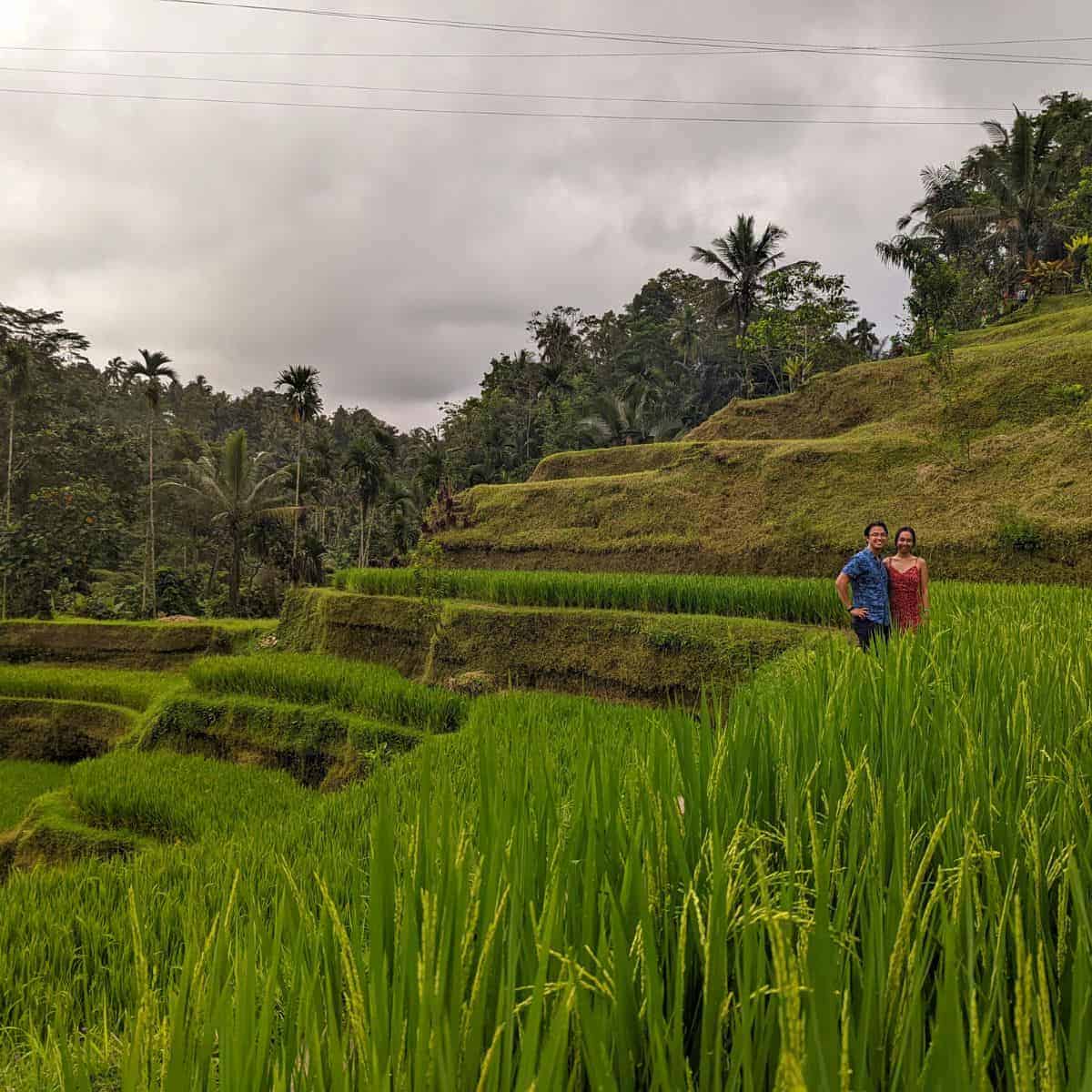 Our first favourite point of interest is the Tegallalang rice field. This breathtaking rice field is a UNESCO World Heritage site. The rice field uses a traditional Balinese irrigation system called Subak - which is responsible for its iconic staggered look.
An elevated Bali swing is also available near the entrance, with a beautiful view of the plantation beneath. It's also near the town, so sightseeing in Ubud is much easier. 
Another plantation is Sidemen rice field. While it doesn't cover a vast expanse of land, the picturesque mountain background makes it worth visiting. Mount Agung, the tallest mountain in Bali, is visible from these paddy fields. Additionally, if you want to visit Besakih Temple, these rice fields are an excellent spot to take a detour as it is near this Ubud attraction. If you want to learn more, check out our Bali rice fields travel guide.
Yoga Retreat
Picture stretching your tense muscles out under a pavilion surrounded by greenery. Or grabbing a healthy bowl of greens and a smoothie, then heading for a slow massage to undo those knots. Yes, that's what you can look forward to on a yoga retreat.
A yoga retreat is one of the best ways to unwind and tops our list of things to do in Ubud. The town is dotted with retreats in lush, tranquil surroundings, where you can sun salute and downward dog to your heart's content. Here are a few that we recommend. 
Yoga Barn
Yoga Barn is one of the more popular resorts. They have seven studios which host various wellness activities such as yoga, dance, and holistic healing classes. Classes take place in one of their sheltered open-air pavilions. There are more than 15 class types daily, from traditional Hatha, Vinyasa Flow, Power, and many more.
Depending on your length of visit, you can book a 1-day retreat which includes a healthy meal, two yoga classes and a full body massage. Or, you could choose to stay for their three-day transformation retreat. They also have a week-long detox retreat, with healthy, nutritious food and classes focused on helping you to cleanse and detox your body. 
Additionally, accommodation is provided on-site. You can chill in their air-conditioned same-sex dormitories and meet fellow yoga lovers. Alternatively, you can opt for a private room. Price-wise, Yoga Barn is relatively expensive compared to other retreats. However, they have a wide selection of classes and professional teachers to guide your wellness journey.
Shanti Yoga Ashram
If you're looking for a more affordable getaway, check out Shanti Yoga Ashram. It's located in the quiet Penarungan village. Step into the property, and you're away from the main road. The entire resort is nestled in the jungle, so you won't hear the sounds of the city when you're there. 
Shanti offers a week-long package where you can get two yoga classes daily and participate in other wellness classes, such as making herbal drinks or cooking. Vegan meals are also provided. In addition, you can also get a massage or enjoy Ubud sightseeing by joining one of their tours. Accommodation is on-site, with options for two or more persons to choose from single rooms and larger suites. 
Ubud Market
Add visiting the markets in town to your list of things to see in Ubud. Ubud Market reopened in August 2022, and many parts are currently under renovation. So if you visit, you'll see many street-side artisans plying their wares instead of permanent stalls. You will find many handicrafts here, from paintings and sculptures to mosaics and pottery. Perfect if you're on the lookout for some souvenirs.
To find the market, walk along Jalan Karna or Dewisita Street to look for the entrance, ending at Saraswati Temple. If you keep walking along Jalan Karna, you'll also find several other smaller markets. The market is also near Saraswati Temple and the Royal Palace, which are historical landmarks that you must also visit to make the best of your Ubud sightseeing.
What to eat in Ubud
From fancy restaurants serving candlelit dinners to chic cafes and local warungs (Indonesian food courts), Ubud, Bali has it all. You can expect to pay anywhere from $8-20 for a meal out, with plenty of options that fall between those two figures. In addition, there are lots of Ubud restaurants that serve up traditional Balinese dishes and international fare.
Local delicacies
The food here is a delight for visitors and locals alike, with a wide range of options available at Ubud restaurants, street vendors, and even food carts. If you are looking for local delicacies, here are three options to please everyone in your group.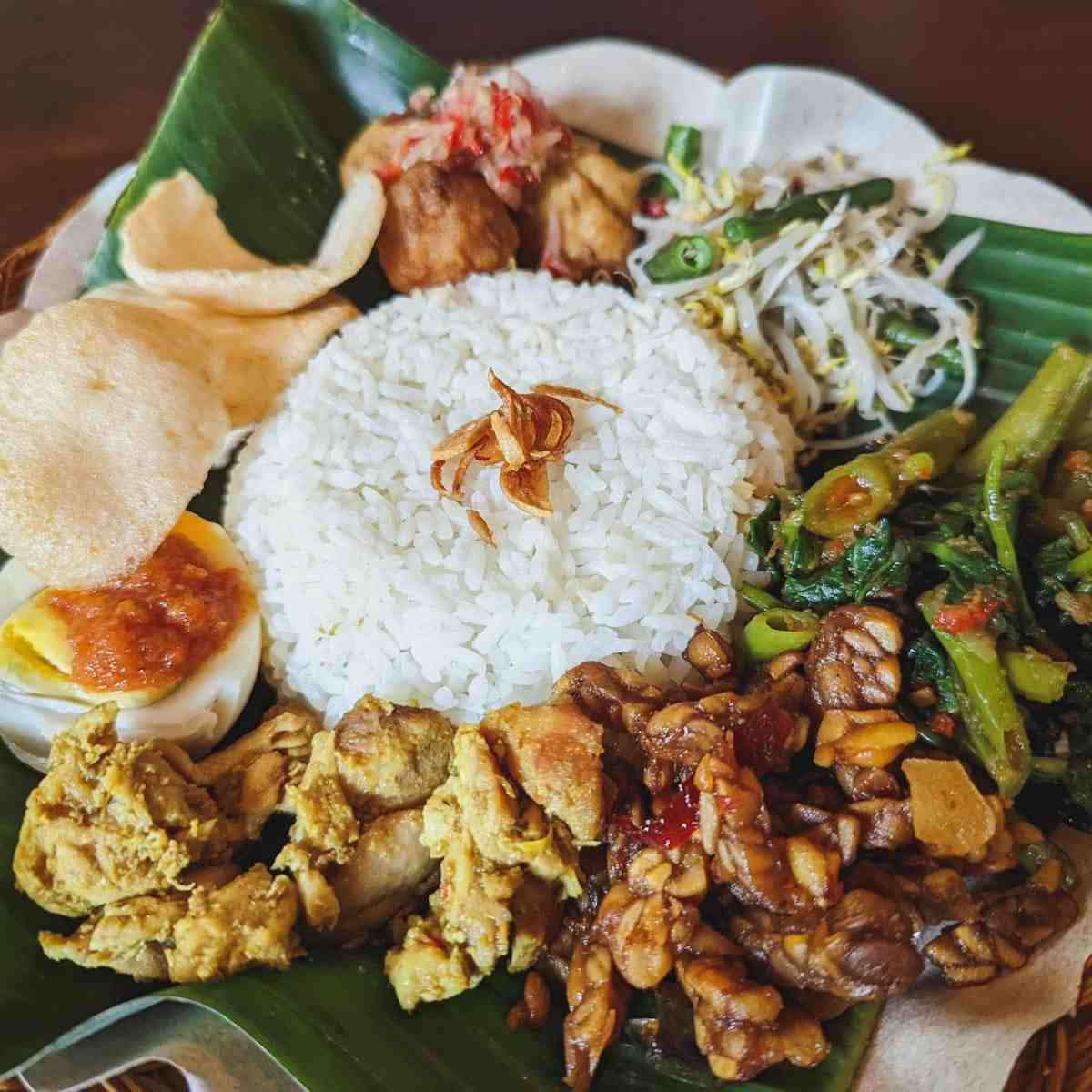 Firstly, the local dish gado-gado is a must-try. This Indonesian plate contains colourful vegetables and rice noodles in peanut sauce. It's often topped with tempeh or tofu and sometimes served with shrimp crackers. 
Next, remember to try grilled skewered meat. It is called Satay, one of the most famous foods in Bali, and is widely served by restaurants and street vendors. The sauce used for this dish is peanut sauce mixed with spices such as coriander and cumin seeds.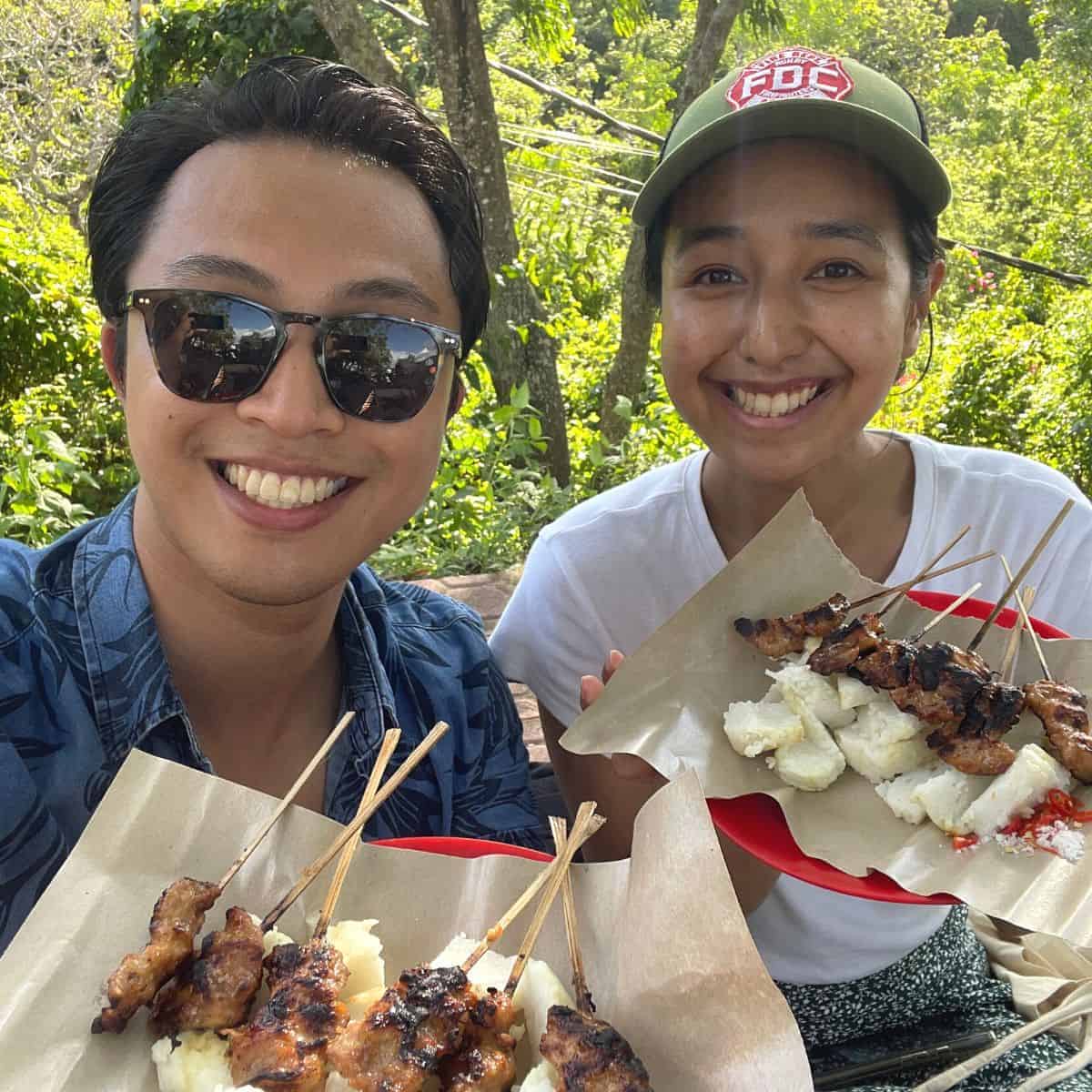 Finally, we also recommend that you try Nasi Campur. This dish contains rice mixed with various side dishes such as chicken, fish, vegetables and meatballs. The taste of these meals will introduce you to the many complex flavours within Balinese cuisine.
Best Restaurants
Ubud is known as one of the top places to visit in Bali because it has many options when it comes to food. You can find restaurants serving traditional Indonesian dishes and others specialising in Western cuisine.
In addition, there are many vegetarian restaurants that serve healthy and delicious meals. The best restaurants in Ubud have a lot to offer. They have great food, and the ambience is perfect for a romantic evening or a fun night out with friends. There's no shortage of options for dining out. There is something for everyone!
Locavore
Locavore is a unique fine-dining restaurant. They specialise in modern European cuisine cooked with local Indonesian ingredients. Eating here is an experience, and the 18-course meal can take up to four hours. 
There's no set menu, as each day presents a different menu item, but there are some familiar favourites which you can request. The pickled zucchinis, crispy bacon and clams are highly recommended by reviewers. The interior is modern and minimalistic, with touches of wood throughout. It's one of the best restaurants in Ubud when you feel fancy or want to celebrate an event. 
Bebek Tepi Sawah
Bebek Tepi Sawah is a mid-priced restaurant located amidst the rice fields. They serve fusion dishes, combining western and Balinese cooking resulting in a delicious hybrid cuisine!  
The most popular must-order dish when you are here is the fried duck. Served with sambal chilli, it feeds up to 2 persons. Other dishes like the grilled duck and desserts are also worth ordering. The environment is breezy and relaxing, with a large car park beside the restaurant. Come here if you want to savour Indonesian fare without the crowds. 
Pison
Pison is a contemporary-looking restaurant built nearby green paddy fields. It's air-conditioned, so you can sit indoors while admiring the green outside. While it's more famous for breakfast and coffee, it also has decent lunch fare.
Prices are slightly higher than average as Alaya Resort operates the restaurant. However, their oxtail fried rice and soup are some of the best dishes that make the prices worth it. They also have live Jazz music on some nights. Pison is considered one of the best restaurants in Ubud. We recommend heading here if you want a quiet meal away from the crowds in town. 
Cretya
Eating at Cretya is quite an experience. The restaurant sits atop terraced rice fields, with two stunning pools that look out to the plantations. You can book a daybed to lounge, swim in the pool, or visit the nearby swings. Or you can just head straight to the restaurant. 
Cretya has a good selection of local and western fare. However, their coffee choices deserve a shout-out. Over here, you can sample the famous Indonesian Kopi Luwak (civet coffee). Despite the prices being a little steep, since you must pay an entrance fee, overall the experience is worth it. 
Warung Pondok Madu 
Warungs often sell a must-try dish called nasi campur. It's made up of various side dishes, such as fried eggs and veggies, that you can eat with your rice. 
Warung Pondok Madu is near Ubud Palace, about 15 minutes walk away. What makes it different from other warungs is that it also serves barbecue pork ribs. They do ribs with fried rice and chilli sauce - you can also get it with their stir-fried noodles. 
The locals usually frequent warungs, so prices are much more affordable than the usual restaurants. This warung also sells Western food such as burgers and fries. Furthermore, they even have vegan options available. Head to this warung if you want to eat delicious food on a budget. 
Best Cafes in Ubud
There are so many fantastic cafes in Ubud that are worth visiting. These cafes are lovely places to sit down with a coffee and pastries to unwind and people-watch. But, of course, for digital nomads, it's also a great place to work.
Many cafes are work-friendly, with spacious interiors, plenty of outlets and Wifi. A typical coffee costs around 28,000 IDR ($1.80 USD), although it can differ based on what you order and where you go. Here are three of our favourite cafe spots! 
Clear Cafe
To take photos for your social media, head to Clear Cafe. It's a pretty cafe with tall bamboo trees and a koi pond. Lots of natural lighting flood the space, and you'll feel like you're in an enchanted garden.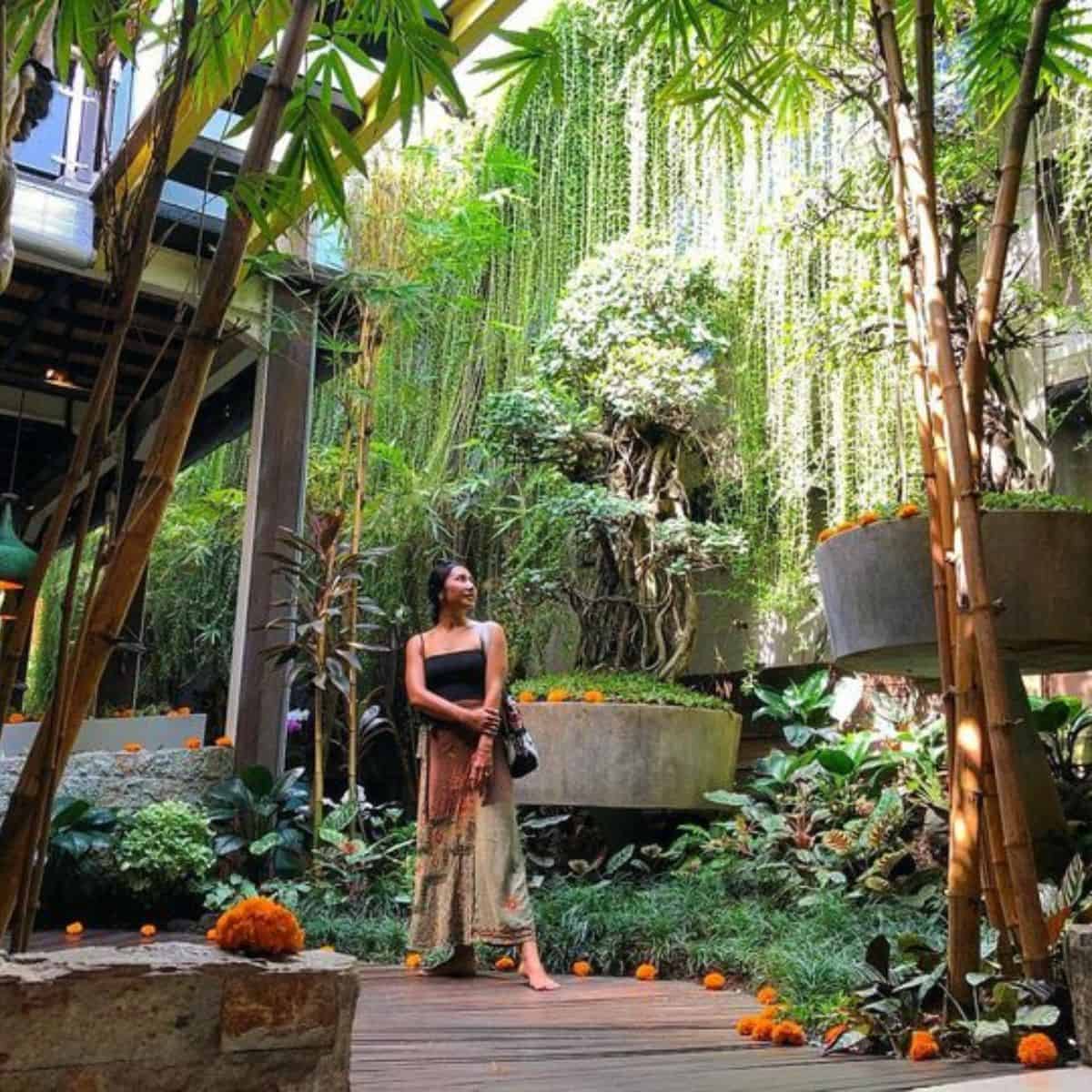 There's also a good selection of coffee and western food. You should get the Dragon Bowl which is a colourful smoothie bowl, or the seafood pizza. Chilling with a fresh smoothie is the best in warm Ubud weather. 
Ubud Coffee Roastery
We love this place for its cosy vibes and unpretentious coffee. Here is where you can get coffee beans from Kintamani. The cafe roasts them on-site for the freshest brews. The roastery is located in the middle of town, so it's perfect for a pick-me-up.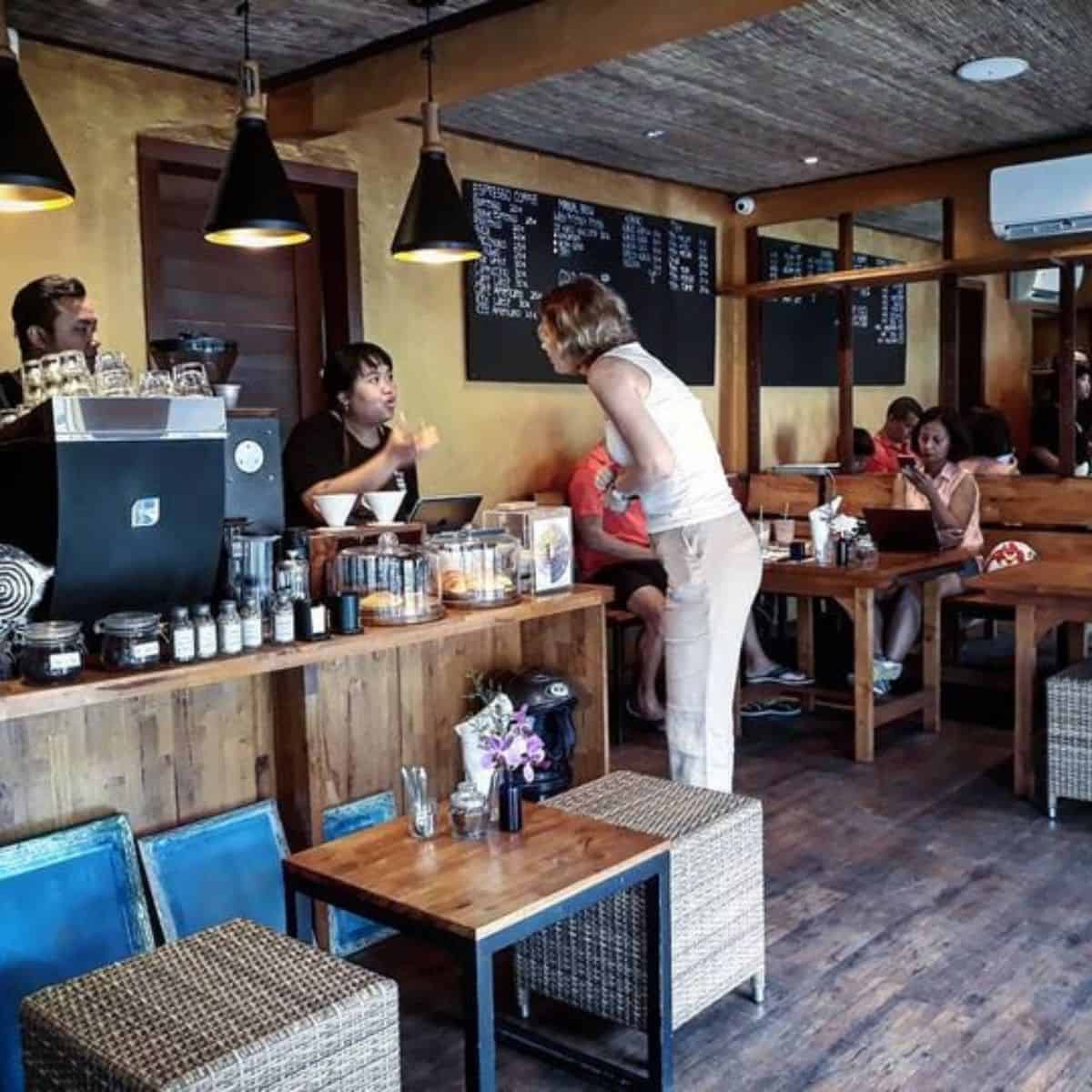 Stop here when you are in the middle of your Ubud sightseeing and need a caffeinated boost. Their friendly baristas will share different brewing methods and recommend you something new to try. Plus, you can also buy their fresh coffee beans! 
Uptodate cafe and eatery
In our opinion, Uptodate is the best cafe for digital nomads. A concrete staircase takes you up to the cafe. As you continue walking, you're greeted by the luscious view of a rice paddy field. In the middle are cushions you can flop down and lounge in if you like. The entire atmosphere is peaceful and quiet. Furthermore, the food is also affordable, with local and western dishes on the menu. At night, live music concerts are held for some relaxing evening vibes.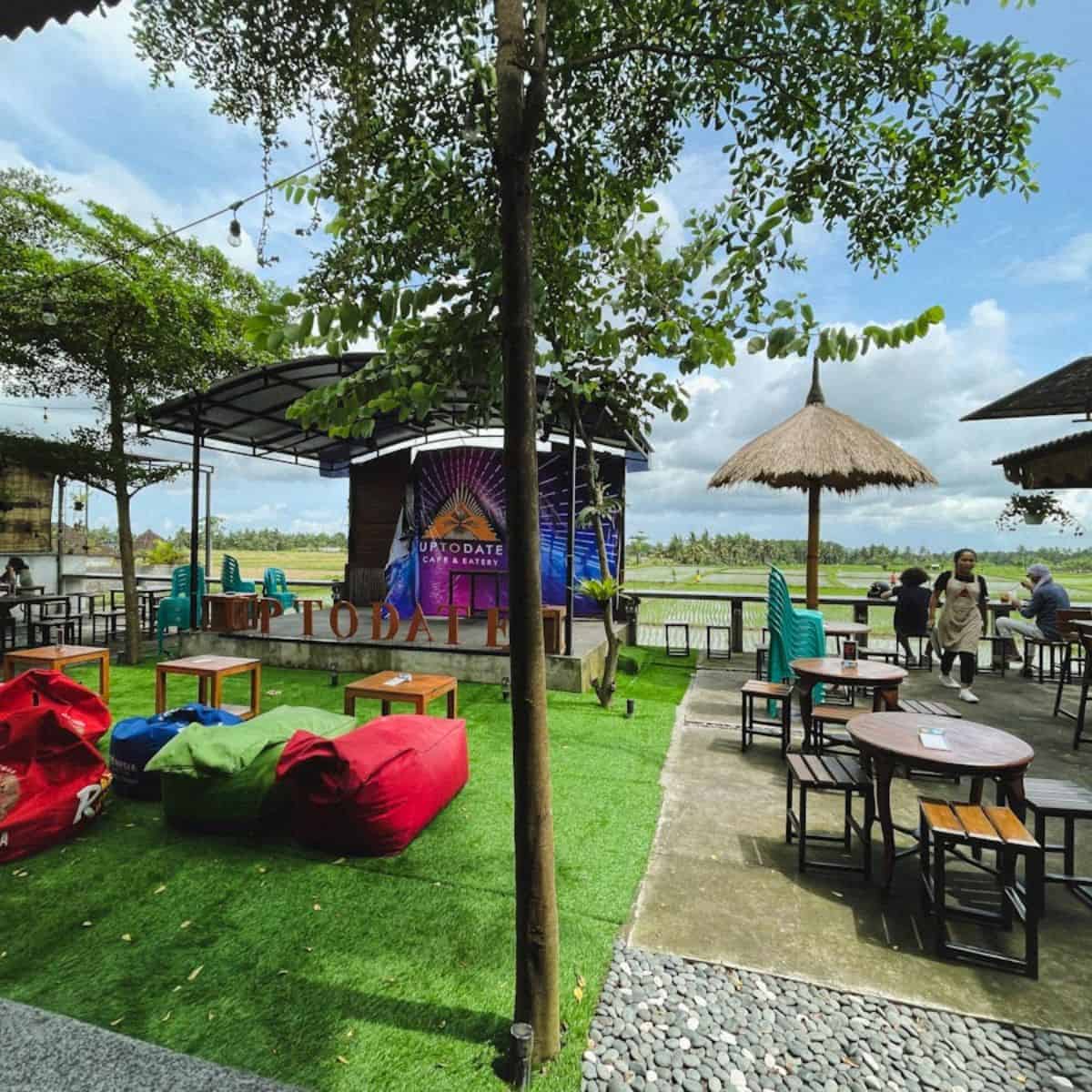 Ubud Nightlife
Ubud is known for having a relaxed and bohemian vibe, with plenty of opportunities to enjoy the outdoors. But that doesn't mean there isn't a nightlife scene worth exploring. Most of the clubs are at the beach. The nightlife scene has something for everyone! From live music performances to underground dance clubs, you'll find it here.
Bars and Clubs
From the local hangout, where you can get a cheap drink, to the high-end bar with live music, there are plenty of options for you to enjoy.
If you're looking for a laid-back place to hang out with friends, check out Bar Luna. They have great cocktails and host literary discussions as well. The preppy club draws international artists, musicians, and writers. 
For something more low-key, try diner cum reggae bar Bunute Kafe. It's got a good vibe with Happy Hour from 6-8 pm daily. A reggae band plays here on Thursdays. The menu selection is an eclectic mix of Balinese and Western fare, suitable for filling up before you drink. 
For something more on the wild side, head over to CP Lounge. This is where the long-stay tourists and locals go when they want to party. It's got a makeshift dance floor and several pool tables. 
Dance Performances
Many different dance performances in Bali depict Balinese Hindu myths. One performance you should check out is the Legong dance at Ubud Palace. It's a traditional dance that tells stories of mythical kings and queens. The costumes are beautiful, and it's always a great show!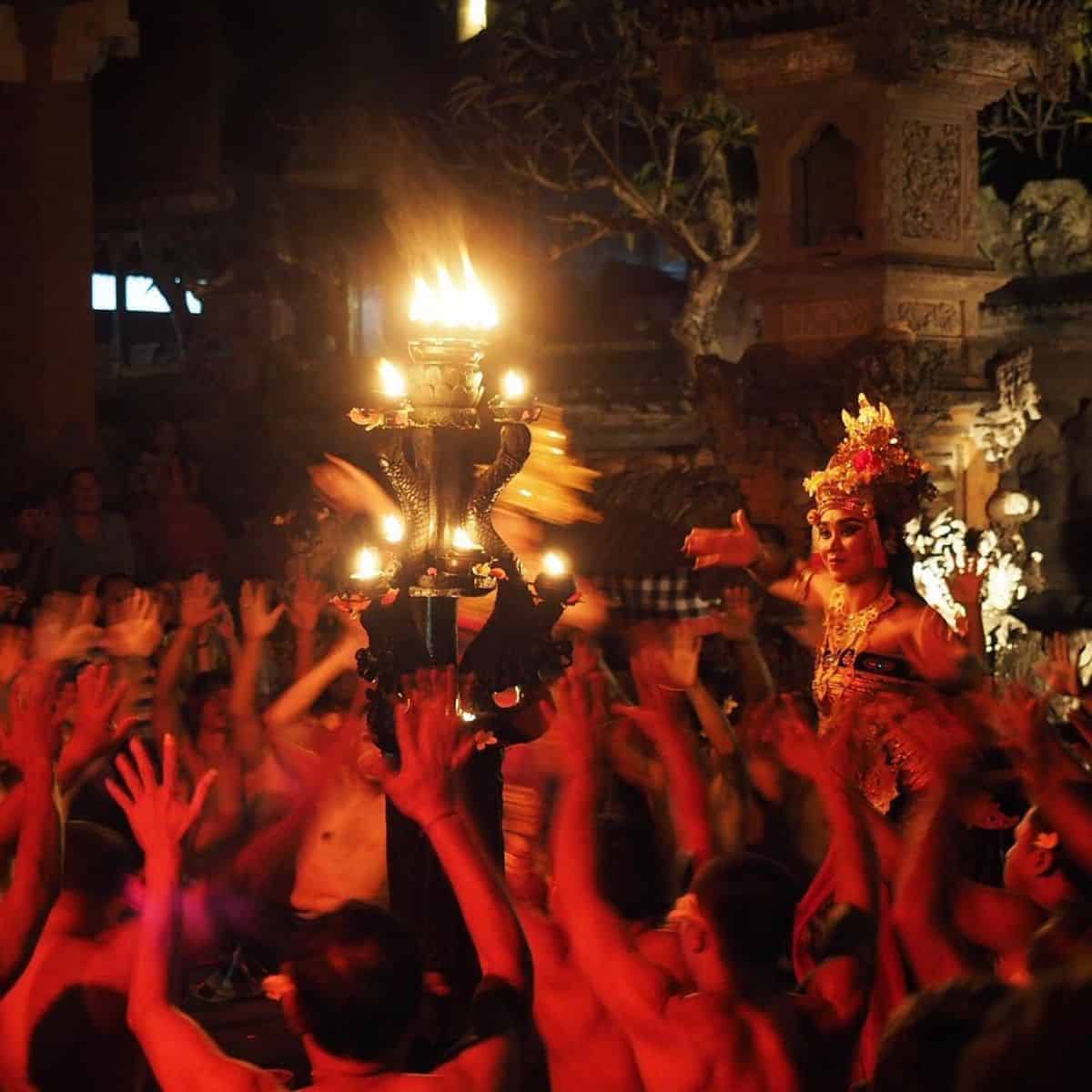 If you want to see a Kecak dance performance, which is famous for its monkey chants and fire dances, head to the Pura Dalem Taman Kaja. You'll get to see some incredible acrobatics and hear some fantastic music. The temple is six minutes away from the royal palace on foot. The cultural dance is intriguing and tells a fascinating story of Balinese history, so it tops our list of things to see in Ubud! 
Night Markets
If you're looking for something to do after dinner, we recommend checking out the night markets. A night market, or a Pasar Senggol as the Indonesians call it, is an open-air market set up only after nightfall. In the daytime, it's a parking lot or town square. It only comes alive at night with street food stands, clothing vendors, and performances.
The nearest one is the Ubud Night Market or "Sayan'' Night Market. The market is located at the intersection of Sayan and Tebongkang street. It's open every night from 6-9 pm and has tons of vendors selling everything from clothes and jewellery to food and drinks.
In addition, about 20 food stalls are set up, all selling Indonesian delicacies such as bakso (chicken meatball soup), serambotan (steamed vegetables with sambal and peanut toppings), deep-fried food and assorted desserts. It's a great place to get affordable Indonesian food. 
Another night market you can go to is located within the Gianyar Regency, Bali. The Gianyar Night Market is 15 minutes away from Ubud by car. The Gianyar Night Market is technically open from 5-11 pm, but the food stalls start wrapping up around 9 pm. So the prime time to go to the Gianyar Night Market is for dinner. It's far larger than the Ubud Night Market and has plenty of stalls selling food, household items, and souvenirs. 
Ubud Tours
If you're visiting Ubud, Bali, Indonesia, one of the best ways to get around and see the attractions is to take a private tour. Tours are an excellent way to familiarise yourself with the area and learn about its history. In addition, you'll be able to see sights that might not be on your itinerary, especially if you need help figuring out what to do in Ubud. 
There are also plenty of options. You can get a full-day or half-day tour which usually lasts between 4-6 hours and covers 3-4 stops. Private tours are also available for those who want more personal attention from their guide, who will tailor the experience based on what you want to see.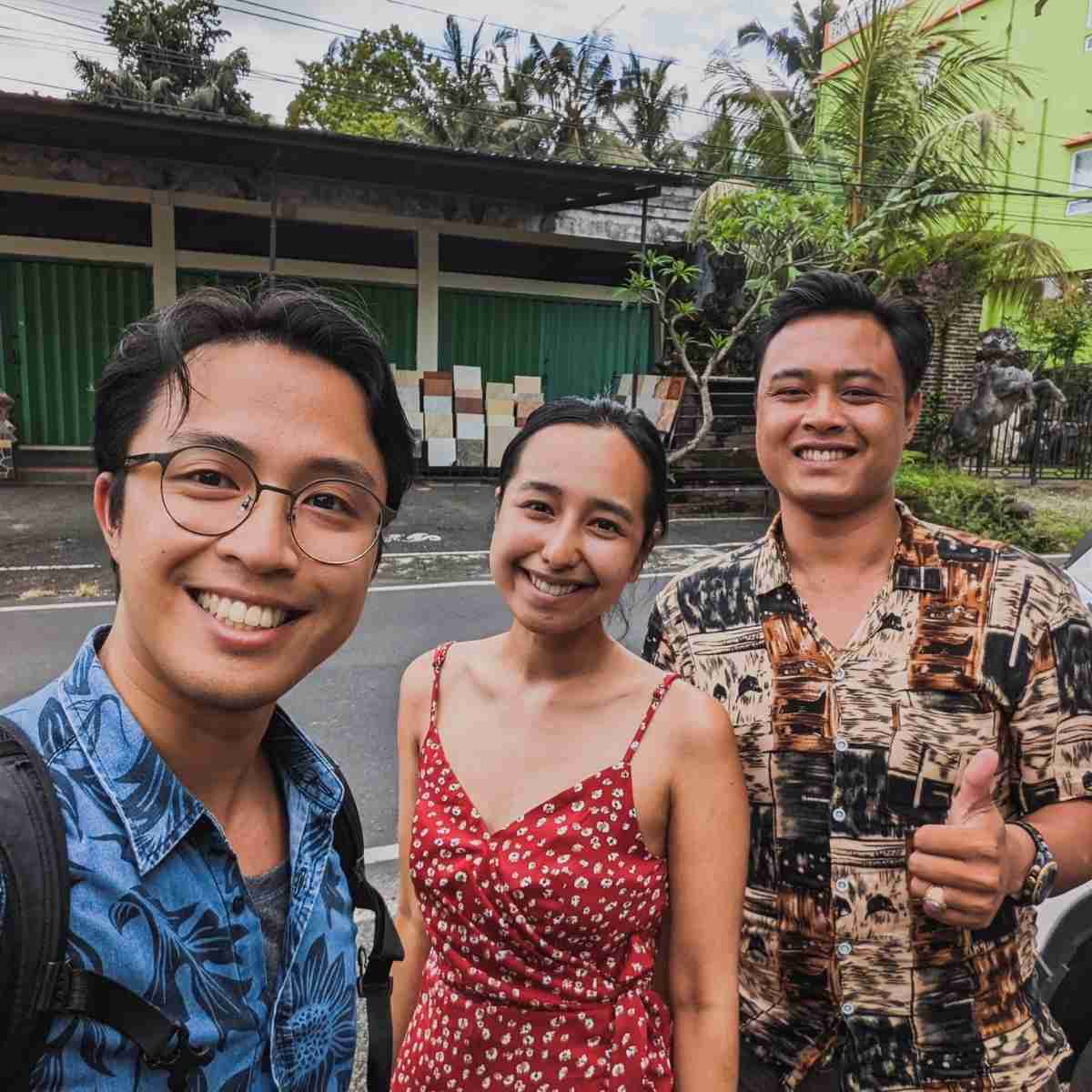 The cost of these tours varies depending on group size, duration, and so on. But a typical 1-day Ubud Tour usually takes you through significant attractions such as the Monkey Forest and Royal Palace, Tegalalang Rice Terraces, Bali Bird Park and more. A tour usually begins at 9 am, ends at 5 pm, and is usually around $50 USD per person. 
How to get around in Ubud town
If you're going to be exploring Ubud, Bali, Indonesia, you'll need to know how to get around. Fortunately, there are many options available for getting around town. There are many ways to get around town, including bicycles, scooters and cars. 
The most popular way to get around is by walking. The town is so small that you can basically walk from one end to another in about 15-20 minutes.
However, there are plenty of rentals at reasonable prices within the town if you would like to rent a bicycle, car or scooter instead. You can rent a car or motorcycle with an international driving permit.
Another way is to book a private vehicle to drive you around, or you could hail a taxi. Your hotel may tell you to not use Grab or Gojek to support the local taxi community. However, getting a ride from either apps is still significantly cheaper than getting a taxi off the streets.
How to get to Ubud town
Bali airport to Ubud
To get from Bali airport to Ubud, you can take a taxi or bus or drive from Denpasar airport. There are a few routes. You can take a public bus which may take about 2 hours. However, this can be confusing especially for a first-time tourist.
Another way is to hail a taxi via Grab, Gojek, or a local taxi operator. This is a straightforward 1-hour route. The last way is to rent a car or motorbike and drive. There are pros and cons to each method. Read our comprehensive guide on how to get from Ubud to Bali airport to find out which is best for you.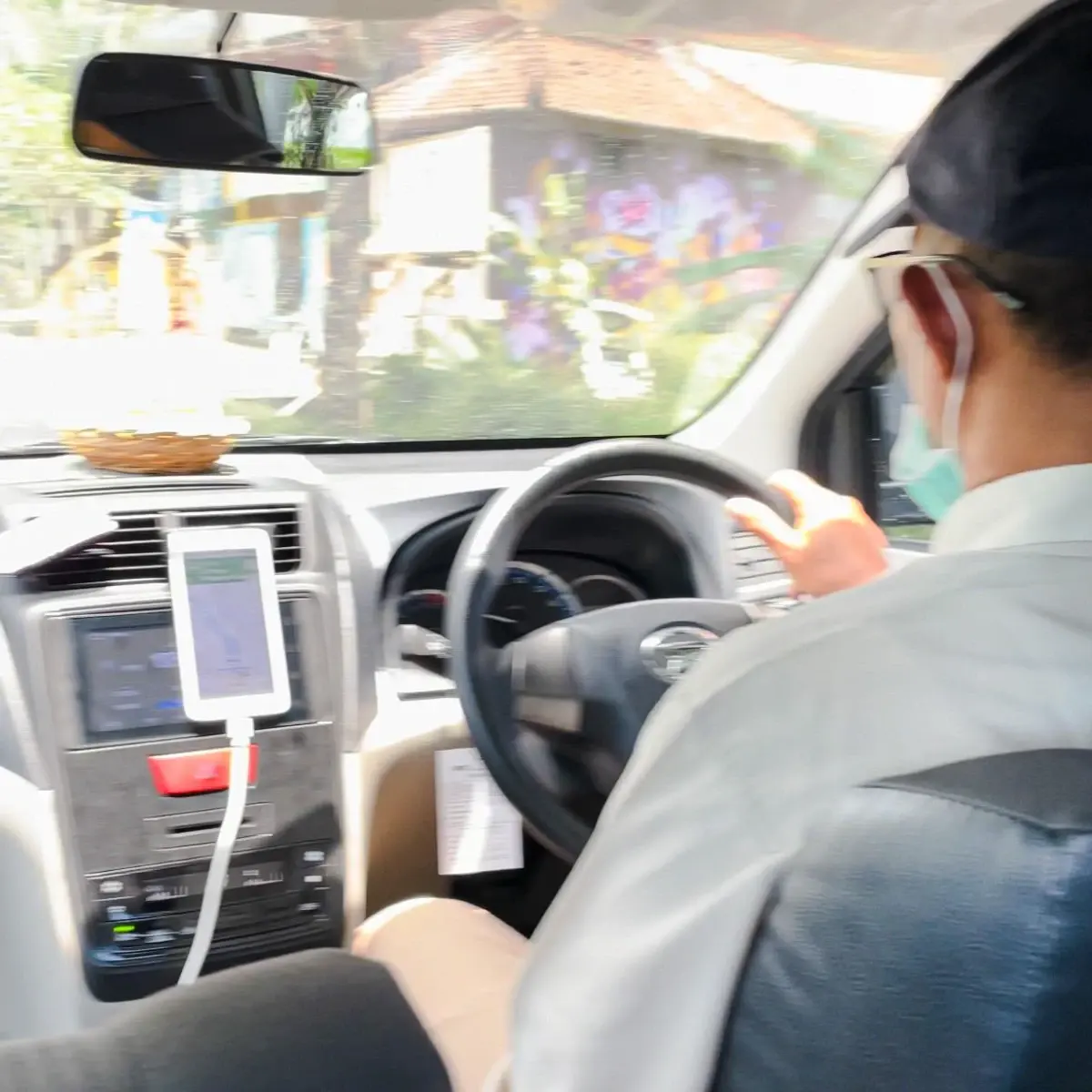 Canggu to Ubud
For those travelling from Canggu to Ubud, it's an hour away by taxi or motorbike. You can either book a private car or hail a taxi. If you want a taxi, you can either book from Grab or Gojek or go through a local taxi operator. The rates differ depending on what time you travel. The advantage of a private car is that you can hire them for day trips. You can also rent a motorbike, which takes about an hour and a half. 
Kuta to Ubud
There are several ways to get from Kuta to Ubud. The fastest way is by taxi, but this option is only recommended if you have a lot of luggage. This is the most popular way because it's relatively cheap and convenient.  We recommend using either Grab or Gojek to get a convenient taxi ride. However, please note that taxis can sometimes be hard to find at night or early in the morning when demand is high (especially during holidays).
Finally, you can also hop onto the Kura-Kura bus service. It stops at several key tourist spots, such as the Monkey Forest and Bali Bird park, so it's a great way to familiarise yourself with the places. The buses have a specified pick-up time, so you can't miss the bus. Unfortunately, they also do not have space for huge pieces of luggage. Take this bus from Discovery Shopping Mall in Kuta. 
Seminyak to Ubud
You can take a taxi or hire a private car via Grab or Gojek to travel from Seminyak to Ubud. You can also rent a car or a motorbike. The traffic congestion between these two towns can get heavy in the mornings and evenings. However, it's only an hour away, so taking a taxi might be the best option to avoid driving. It's also an excellent way to sit back and admire the scenery. 
Another affordable way is to take the public bus service. However, there is no direct bus route, so you must take line 4 from Bintang Supermarket in Seminyak. The bus then transfers to Kuta. From Kuta, you can take the Kura-Kura bus service to Ubud town. 
Travel Tips
So you're in Ubud, Bali, Indonesia. You're ready to wander around the rice terraces, shop at the markets, and see some beautiful Balinese art. But before you go out and start exploring, here are a few tips to help make your trip even better.
What to bring
Bring lots of bug spray or mosquito patches. The mosquitoes here are relentless!
Although the sunny Ubud weather is fantastic, remember to lather on your sunscreen to avoid nasty sunburns.
Bring a pair of long pants or a long scarf to cover your legs. Avoid wearing short pants in temples, and other holy sites as it is considered offensive.
We also recommend bringing the local Indonesian Rupiah currency in cash as your main means of payment. Many local attractions, warungs and shops only accept cash. While some restaurants and shops accept card payments, please note that they usually will charge an extra surcharge fee.
What to do before your trip
Check your local travel advisory on whether travelling to different parts of Bali is safe. Mount Agung erupted in 2017. It's also best for you to check with your local tour guide or hotel concierge. We were told that during heavy rainfall, it's not safe to go to the waterfalls or hike in certain areas of Ubud. So, it's best to check before you leave.
If you want to try extreme sports or drive, remember to buy travel insurance.
Book a local Ubud Airbnb or homestay near the rice plantation areas. Not only do you interact with the locals, but they are also usually more affordable than hotels or resorts. 
We hope this list has given you a lot of inspiration for what to do in Ubud. Beautiful Ubud, Bali, Indonesia awaits, so journey with us on Instagram @tabitogether as we share more tips and places to explore!