The best Bali restaurants will make your trip to this beautiful island unforgettable. As one of Southeast Asia's most popular holiday destinations, Bali has slowly built its reputation for sensational eateries that stand out from other parts of the world.
Here, you'll find a combination of unique local flavours and fusion dishes that will please any palate. The aesthetics, fantastic weather and also warm hospitality reflect Bali's unique charm.
A local meal at a warung in Bali can cost as low as 50,000 IDR. Meanwhile, in most parts of the island, good quality Bali restaurants are still relatively affordable, with an average of 150,000 IDR per person. However, some luxury fine dining spots will cost up to 1,500,000 IDR in some parts of the island.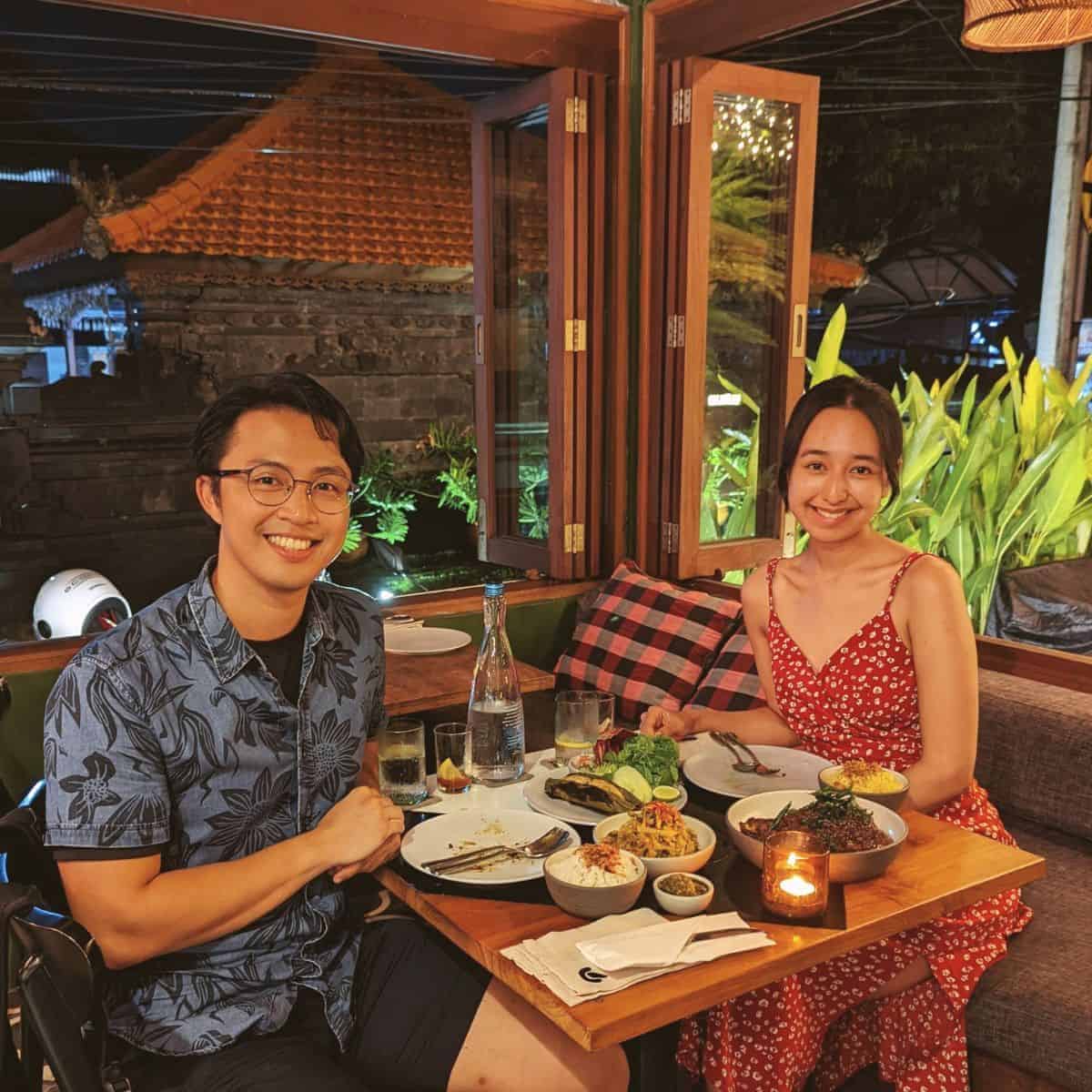 After weighing each spot based on our overall dining experience, including menu choices and aesthetics, we chose the following places to feature on our best restaurants in Bali list. So, find out which Bali restaurants you should visit on your next trip.
Jump to:
Best Restaurants in Bali, Ubud
If you're staying in the Ubud area or are willing to head that way to try some delicious Bali restaurants, there are a few that are well worth stopping at to enjoy a bite. In addition, they're all centrally located and make the perfect place to end a day in Ubud.
Overall, the price of a meal in Ubud will vary depending on what you order. However, you can expect to pay around 150,000+ IDR on average. After you choose your dinner spot, you can also check out some free things to do in Ubud at night.
Restaurant Locavore
Locavore is one of the most popular restaurants in Bali. As one of the coolest restaurants in Bali, we highly recommend booking a reservation months before you even arrive on the island.
People rave about Locavore because of the famous chef Ray Adriansyah and Eelke Plasmeijer's creative take on delicious dishes. The Ubud restaurant is experimental, and you'll find unique dishes on the menu, with dishes changing every season. All their dishes also use locally sourced ingredients from farmers and fishermen from nearby regions.
You'll experience the best of Indonesia at this Ubud eatery. If you need help deciding what to order, they'll gladly suggest dishes for you to try. But you can't miss their oven-roasted jicama with passionfruit and salt-cured prawns. If the price point is too high, you can also try their sister restaurant down the road, Locavore To Go.
Restaurant Locavore
Jl. Dewisita No.10, Ubud, Kecamatan Ubud, Kabupaten Gianyar, Bali 80571, Indonesia
Kubu at Mandapa
Kubu at Mandapa is fine dining at its finest. Located in the Ritz Carlton reserve, this elegant restaurant in Ubud is the place to wear your classiest outfit. Sit back and sip handcrafted cocktails while feasting on exquisitely prepared french plates. You'll love the romantic ambience and the flowing Ayung River beside your dining table.
Bamboo is throughout the place, paying homage to many local farmers who supply the Ubud restaurant with meat and produce. As a result, you will find that many of Kubu's ingredients are sustainably and locally sourced by the restauranteurs.
The menu features Mediterranean and seafood dishes. We love their lobster salad and pumpkin tortellini. If you're a wine drinker, check out their fine selection of European wines.
Kubu at Mandapa
Jl. Raya Kedewatan, Banjar, Kedewatan, Kecamatan Ubud, Kabupaten Gianyar, Bali 80571, Indonesia
The Shed Bali
The Shed is an excellent option for those looking for a laidback spot to eat in Bali. It's casual, but the atmosphere is still fantastic. The establishment features bamboo huts and also plenty of natural greenery to embrace the original surrounding.
The Shed has a little bit of everything, which is one of the reasons it's so popular. For example, they have steak, pizza, salads, and Asian dishes. Their craft cocktails aren't too shabby, either.
Many people come here for a flavoured mojito and to share a flatbread pizza with their friends. We ordered mushroom, garlic pizza, and truffle mac and cheese during our visit. Both of these were recommended to us by our waitress, and they were delicious.
The Shed Bali
Jl. Bangkiang Sidem No.8x, Kelusa, Kecamatan Ubud, Kabupaten Gianyar, Bali 80571, Indonesia
Best Restaurants in Seminyak
On the southern end of Bali is Seminyak, a more upscale destination with various trendy restaurants. So, you can find everything from comfortable cafes to beachy nightlife.
You can also grab some of the best brunches on the island in Seminyak if you get a late start. Expect to pay at least 300,000 IDR on average. Here are the best restaurants in Seminyak that we visited.
Merah Putih
One of the most beautiful restaurants in Bali is Merah Putih. Not only is the food out of this world, but the entire space will have your jaw on the floor. For example, there are rain-catching pillars and grand cathedral-style ceilings.
Merah Putih serves Indonesian dishes that are made for family gatherings. Therefore, the servers at Merah Putih will encourage you to share a few plates, like how Indonesian families will eat together.
We ordered a few large dishes and shared them with our whole table. It was a great experience passing the plates around and also bonding over food. Besides, we got to try more things on the menu this way too!
They have a pumpkin coconut curry that's to die for, and their slow-roasted pork belly is a hit with almost everyone.
Merah Putih
Petitenget St No.100X, Kerobokan Kelod, Kuta Utara, Badung Regency, Bali 80361, Indonesia
La Lucciola
La Lucciola is right on the beach, making it an excellent spot for sunset each night. While watching the sunset here is popular, they're open for lunch too. In addition, they offer breakfast service on weekends if you need fuel in the morning.
The menu at La Lucciola is a blend of different cultures. It's predominantly Italian with plenty of pasta dishes, but they have some seafood too. You'll love their grilled yellowfin tuna and risotto primavera.
Whatever you choose to order, we suggest saving room for something sweet like their coconut and ginger panna cotta.
La Lucciola
Pantai Petitenget, Jalan Kayu Aya, Kerobokan, Kuta Utara, Seminyak, Kec. Kuta, Kabupaten Badung, Bali 80361, Indonesia
Seasalt Seminyak
For a coastal dining experience, Seasalt is perfect. Seasalt offers some of the best views in Bali, with a view of a peaceful beach and the waves crashing onshore. In addition, their patio is covered, so you can take advantage of the weather without being directly in the sun.
As the eatery's name may suggest, the menu at Seasalt is filled with fresh seafood dishes. Something unique about this Seminyak restaurant is that all their dishes use Kusamba sea salt. It comes from the region's salt farmers, who only use sun and wind evaporation to make the salt.
One dish you must try when you're here is their snapper and the off-the-bone grilled pompano. If you need a side dish, their beef baked potato is divine.
Seasalt Seminyak
Jl. Taman Ganesha Jl. Petitenget No.9, Seminyak, Kec. Kuta Utara, Kabupaten Badung, Bali 80361, Indonesia
Mauri Restaurant
Chef Maurizio Bombini is the mind and chef behind Mauri. When you want a break from Balinese and Indonesian cuisine, Mauri offers Italian cuisine on the island. The Seminyak restaurant uses local ingredients from farmers and even the chef's personal garden.
They have an a la carte menu, but the tasting menu is the perfect experience where you can try a little bit of all the most popular menu items. We loved their Caprese risotto and truffle custard with parmesan foam.
This is one restaurant in Seminyak where you'll want to make a reservation, especially for the tasting menu. Be sure to dress in your finest outfit and grab a bottle of wine to share as you feast.
Mauri
Petitenget St No.100, Seminyak, Kuta Utara, Badung Regency, Bali 80361, Indonesia
The Plantation Grill - Seminyak
The Plantation Grill is inside Seminyak's Double-Six Luxury Hotel, but you don't need to be a hotel guest to dine at the establishment. While their lunch offering is excellent, this steakhouse is the perfect date spot in Bali for dinner.
The ambience in the restaurant is intimate and perfect for a romantic dinner. You'll love this restaurant in Seminyak, even if you're travelling with friends or on your own. The menu features everything you expect from a typical steakhouse, in addition to a Balinese twist.
You'll find all kinds of cuts of steak, delicious salads, and sweet desserts to end your meal. People also love coming here for the tiger prawns and their wagyu ribeye. The best part about ordering a steak here is that they offer three types of house sauces that are all delicious.
The Plantation Grill 
Seminyak, Kuta, Badung Regency, Bali 80361, Indonesia
Mamasan Bali
Mamasan is a widely popular restaurant in Seminyak on the island, so you'll want to make a reservation. Since opening in 2010, they've been serving locals and tourists non-stop.
Yes, we know it's a lot of reservations we're suggesting! However, the best Bali restaurants are booked weeks in advance during peak travel. We learnt this the hard way.
The eatery fills two floors of an industrial-style loft and has a striking mural that the artist painted by hand. This restaurant in Seminyak is also an excellent option if you're looking for a blend of Asian cuisine. For example, Chinese, Indonesian, and Thai dishes showcase the best of each culture.
They have small plates to start and larger plates for your entree. The best dishes on their menu are the prawn, chicken kung pao and slow-roasted Peking duck.
Mamasan Bali
Jl. Raya Kerobokan No.135, Kerobokan Kelod, Kec. Kuta Utara, Kabupaten Badung, Bali 80361, Indonesia
Kaum Bali
If you've heard of the Potato Head empire, you might recognize Kaum. Kaum is one of the best places for fine dining in Bali. When you visit Kaum, be prepared to feast on some traditional yet elevated Indonesian cuisine.
Kaum is stunning, with dim lighting, neutral tones, and excellent staff. During the day, you can sit outside and watch the waves crash onshore. If you've yet to have Indonesian cuisine or have only had it once or twice, the staff are more than willing to suggest great dishes.
Even if you only have one thing while at Kaum, you must try their sate. It's delicious and reflects Indonesia perfectly.
Kaum
Jl. Petitenget No.51B, Kerobokan Kelod, Kec. Kuta Utara, Kabupaten Badung, Bali 80361, Indonesia
Barbacoa
Bali has more than just Indonesian and regional speciality Balinese restaurants. They have plenty of others like Barbacoa. Barbacoa is an American Latin eatery sitting in a modern warehouse space between Seminyak and Denpasar.
What sets this restaurant in Seminyak apart is that they smoke almost all the meat on-site, so you'll see fire and smoke here, but don't be alarmed.
The vast fire pit is on full display, and where they smoke plenty of the dishes on the menu. Not only does this warm the whole place with fantastic aromas, but it also makes it a unique dining experience.
As for the menu, it's enormous. Almost everything is charred or wood-fired, so if you don't like that, this isn't for you. For example, some delicious menu items are the Papuan king prawns and charred carrots in brown butter.
Barbacoa
Petitenget St No.14, Kerobokan Kelod, Kuta Utara, Badung Regency, Bali 80361, Indonesia
Best Restaurants in Kuta
Another popular area of Bali is Kuta. The area is known for its nightlife and is also the perfect place to enjoy a drink with your meal. So, set aside time to dine in this region and take in the settings for a relaxing meal.
While fine dining in Kuta will run you around 350,000 IDR, a local meal in a warung could be less than 100,000 IDR.
If you're hungry, here's where you need to eat in Kuta.
Made's Warung
Made's Warung is a short walk away from Kuta beach. This Kuta restaurant is the epitome of fine Balinese dining. Thanks to the decor and customer service-driven staff, you'll feel like the most important person in the room.
Even though it feels like an upscale warung, it's great value and perfect for the whole family! Kids will also love eating here because there's ample space to run around. All the food you'll find on the menu comes from traditional Indonesian recipes. Moreover, they use the highest quality ingredients to enhance local dishes.
They have traditional Western dishes too, but we recommend looking at their Balinese and Indonesian dishes. Two popular dishes are their sate babi and nasi goreng ala Made.
Made's Warung
Jl. Pantai Kuta, Banjar Pande Mas, Kec. Kuta, Kabupaten Badung, Bali 80361, Indonesia
Cuca Restaurant Bali
If you're looking at a list of the best restaurants in Bali, you'll find Cuca in almost every one of them. Cuca is a tapas restaurant in South Kuta that is very popular in Bali for tourists and even for some locals.
All the food on the menu is just as beautiful as it is delicious. Seriously, you'll be snapping pictures of your tapas before digging in. They're stunning. So, to improve your dining experience, you can get a table outside at sunset for some of the best views.
Since this Kuta restaurant in Jimbaran serves tapas, it's the perfect spot to try various dishes. For example, some that are can't-miss items include their BBQ octopus and spicy crab. They're also very vegetarian-friendly and have some of the best cocktails around.
You have to make a reservation here for those who consider themselves real foodies. To get to Cuca, you will need to take a taxi or drive toward the Jimbaran area, which is less than 15 minutes away.
Cuca Restaurant Bali
Jl. Yoga Perkanthi, Jimbaran, Kec. Kuta Sel., Kabupaten Badung, Bali 80364, Indonesia
Kayaputi Restaurant
Kayaputi is one of the luxury restaurants in Nusa Dua, which we just had to mention. Although it's not in central Kuta, you can quickly get there from Kuta by car or taxi. It's praised for the stunning beach views as much as the fine dining experience.
You can find this gorgeous establishment in the St. Regis resort, making it an ideal choice for anyone staying on-site. In addition, every plate infuses local ingredients with international touches to create a mouthwatering meal.
The brunch is a must-try with many familiar options, for example, their homemade smoothie bowls and freshly baked pastries. You also get a unique entree of your choice, like chargrilled octopus or chicken ravioli. If you head there for dinner, try the Lobster dumpling and save room for dessert, a hazelnut gianduja.
Kayaputi
Kawasan Pariwisata, Nusa Dua, Lot S6, PO Box 44, Nusa Dua, Badung, 80363
Best Restaurants in Bali, Canggu
Canggu is a small resort village that is less popular with tourists than in other island areas. Nevertheless, the small surf town is home to digital nomads and some of the best restaurants in Bali.
It's a great area to find incredible cuisine in hidden spots. You can find everything from a beachfront date night and cheap yet delicious brunch to a cosy cafe to work in Canggu off the beaten path.
However, expect a slightly pricier dining experience, with meals averaging 250,000 IDR. So, here are our recommendations for places to eat in Canggu.
Ulekan
Ulekan is an unassuming Indonesian restaurant in Canggu on the outside, but you shouldn't let that stop you from popping in. Inside the humble-looking eatery is a beautiful space with plenty of open windows. So you can enjoy that wonderful Bali weather throughout your entire meal.
As you spend time on this Hindu island, trying authentic Indonesian food is a great way to experience the culture and also learn something new. Ulekan offers plenty of Indonesian dishes that will have your mouth watering.
There are grilled items, curries, and more on the menu. Two dishes that stand out on their menu are their Rendang Sapi, Bebek Goreng and also Sambal Ijo.
Ulekan
Jl. Tegal Sari Jl. Pantai Berawa No.34, Tibubeneng, Kec. Kuta Utara, Kabupaten Badung, Bali 80361, Indonesia
MASON Canggu
MASON is an excellent option for those searching for a high-quality seafood and meat restaurant in Canggu. It is only a few steps from Batu Bolong Beach and also has some of the best lunch in Bali.
MASON is pretty casual, but it's still decorated beautifully. You can see directly into the kitchen where staff are hard at work wood firing most of the meals on the menu. It's one of the best lunch spots because the food is served quickly, and you can get onto whatever you have planned for the day.
Something we love about MASON is how simple the dishes are, but they taste anything but simple. The food on the menu features everything from beef to tuna to vegetarian options. Some dishes are worth trying, for example, their burnt chilli butter hummus and southern fried quail.
MASON Canggu
Jl. Pantai Batu Bolong No.39a, Canggu, Kec. Kuta Utara, Kabupaten Badung, Bali 80361, Indonesia
Ji Restaurant Bali
If you're craving Japanese and Chinese food on your vacation to Bali, then head to Ji. This fusion restaurant in the heart of Canggu blends the two Asian cultures to create a delicious menu.
The interior features traditional Asian decor and red hues, but we recommend sitting outside if the weather is nice since you can see the ocean.
People love the grilled salmon with eggplant here and their huge sushi boats. So, if you love sushi, you won't want to order anything else here. Everything is incredibly fresh and made by a professional sushi chef who has trained in Japan.
Ji Bali
Jalan Pantai Batu Bolong, Canggu Beach, Canggu, Kuta Utara, Canggu, Kabupaten Badung, Bali 80361, Indonesia
Best Restaurants in Uluwatu
Uluwatu is a quiet luxury resort with some of Bali's best restaurants. This high-end oasis boasts some of the finest dining spots on the island, sparing no expense regarding the quality of produce, interior and also service. Understandably Ultuwatu's fine dining scene also demands a higher fee to enjoy.
Expect to pay upwards of 300,000 IDR, with some restaurants in Uluwatu reaching 500,000 IDR or more.
Whether you want something casual or with a great view, you'll find a restaurant in Uluwatu you'll love.
Mana Uluwatu Restaurant & Bar
Fine dining can be fun, but sometimes you want a pleasant dining location with a laid-back vibe. Mana Uluwatu is the perfect spot in Bali for excellent food but a more casual atmosphere.
Mana Uluwatu offers a pool with lounge chairs if you prefer to enjoy your meal poolside, but you can also sit in their main dining room.
The food here is a blend of several cuisines. There's fresh seafood, Indonesian food and also Latin American dishes. For example, a few yummy dishes are their beet and orange salad, tuna nachos, and kimchi dumplings.
Mana Uluwatu Restaurant & Bar
Pantai Suluban St, Pecatu, South Kuta, Badung Regency, Bali 80361, Indonesia
La Baracca Bali (Uluwatu)
Unearth a hidden oasis in Bali and experience a different dining concept at La Baracca. It's widely considered a trendy restaurant in Bali with an inviting atmosphere crafted with recycled materials like wood and metal, giving it an eclectic charm. So, it is perfect for gathering up friends or taking some time to yourself.
Satisfy your hunger by perusing their extensive menu that accommodates many dietary preferences - from vegan pizzas to four-cheese gnocchi. There's something delicious on offer for every taste bud.
La Baracca Bali (Uluwatu)
Jl. Labuansait No.10, Pecatu, Kec. Kuta Sel., Kabupaten Badung, Bali 80361, Indonesia
Ulu Cliffhouse
Ulu Cliffhouse is the place to visit if you're looking for some of the best views in Bali. Almost every restaurant in Uluwatu is stunning and has some pretty good views, but Ulu Cliffhouse takes it to a new level. This establishment is high on the peninsula and hence, offers a great backdrop for lunch or dinner.
The Uluwatu restaurant is also a beach club with a pool, music, bar, and art space worth exploring before or after eating. They often have DJs playing fun tunes you can dance to at sunset.
As for the food, Ulu Cliffhouse serves a fusion of different cuisines. They have fresh seafood, pizza, salads, and more. For example, their coconut carrot cake is an amazing dessert, and the ceviche is ideal for sharing.
Ulu Cliffhouse
Jl. Labuansait Jl. Uluwatu No.315, Pecatu, Kec. Kuta Sel., Kabupaten Badung, Bali 80361, Indonesia
Best Restaurants in Denpasar
Last but not least, Denpasar is one of Bali's most prominent tourist areas. Restaurants in Denpasar boast some of the freshest seafood and also the most authentic Indonesian dishes from different parts of Indonesia.
Restaurants in Denpasar will cost you around 180,000 IDR for two, making it one of the more affordable spots.
Plus, there's a lot to choose from, starting with these two that must be on your list when you visit Bali.
Bendega Restaurant
Offering a sophisticated dining atmosphere and local Indonesian seafood flavours, Bendega Restaurant in Denpasar is the perfect location.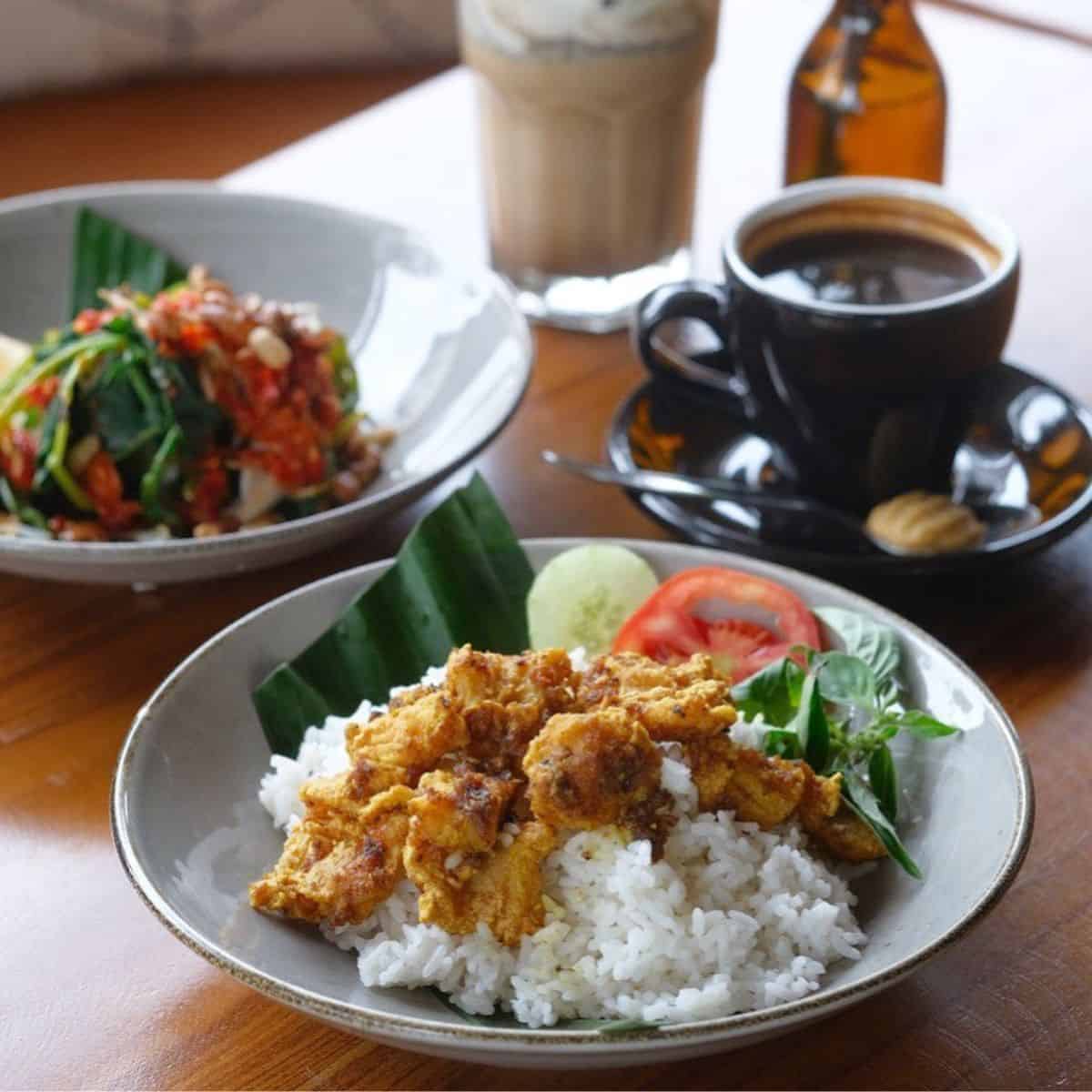 Their renowned calamari that's cooked to perfection is a must-order. Crispy on the outside yet succulent inside due to its zesty spice blend. It will tantalize your taste buds. We also recommend you try their other fresh local catches, including prawns, fish and lobster.
Bendega
Jl. Cok Agung Tresna No.37, Dangin Puri Klod, Kec. Denpasar Tim., Kota Denpasar, Bali 80234, Indonesia
Babi Guling Pan Ana
Experience a true Balinese culinary adventure by indulging in the best Indonesian fare at Babi Guling Pan Ana. This popular restaurant in Denpasar is renowned for its succulent roast suckling pig, babi guling.
The traditional Indonesian dish, babi guling is a culinary delight that packs in flavour with every bite. The succulent and flavorful meat is skillfully prepared through an intensive process of marinating the pig in spices such as turmeric, ginger lemongrass, and chilli before roasting it over an open flame or wood-fired ovens for several hours.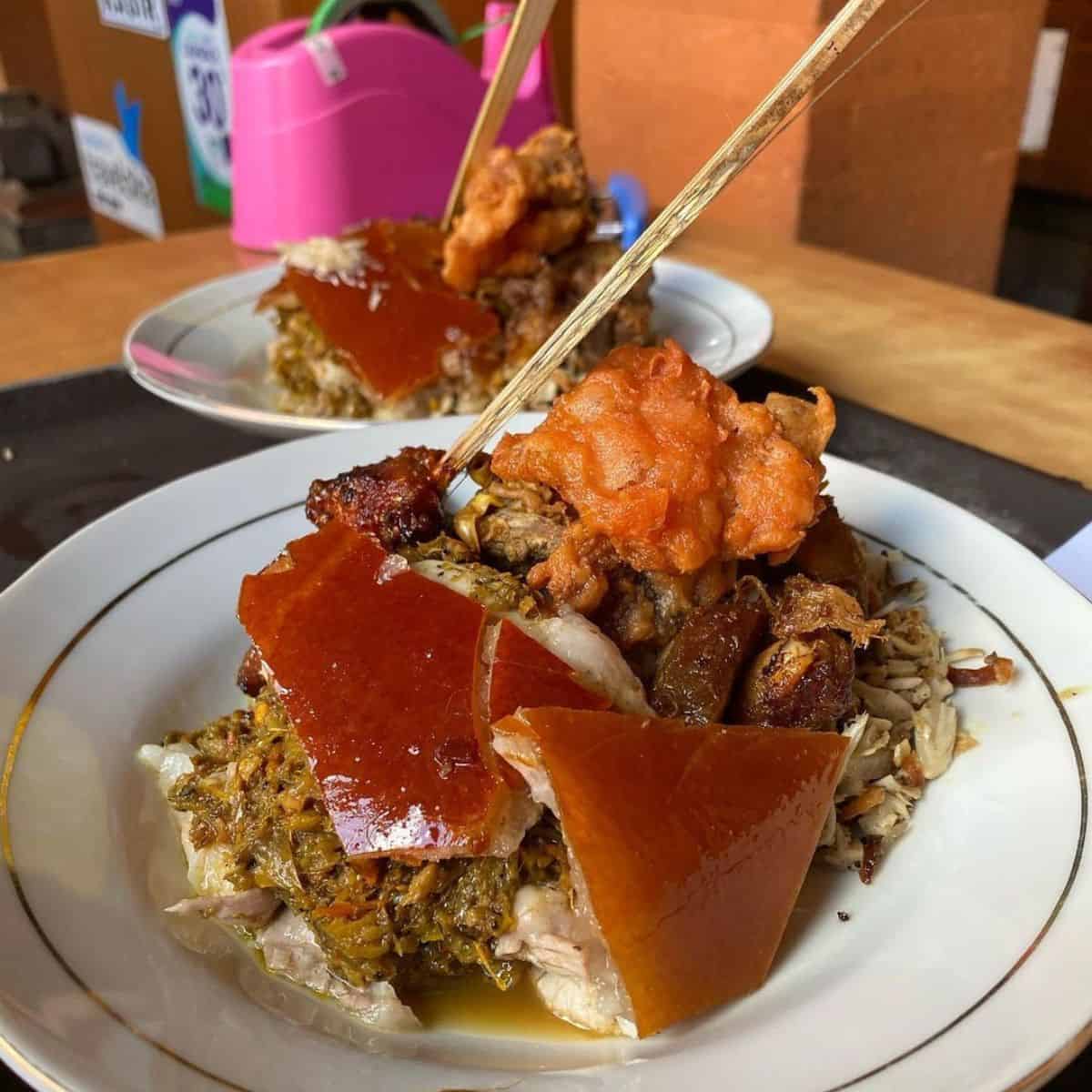 This time-honoured tradition makes this dish especially popular on Bali Island, where celebrating events like religious ceremonies often involves feasts made from babi guling - making each one worth savouring.
At Pan Ana, this is cooked with skill and served with love alongside traditional side dishes and delectable desserts. Meanwhile, their friendly, attentive staff will ensure you enjoy your meal.
The relaxed atmosphere makes it easy to get comfortable while enjoying local ingredients prepared according to their family recipes.
Babi Guling Pan An
Gg. 33 No.4, Dauh Puri Kauh, Kec. Denpasar Bar., Kota Denpasar, Bali 80113, Indonesia
Instagram
Our Favorite Restaurants in Bali
There are a lot of Bali restaurants you'll love, but if you want to experience the best of Balinese dining, three of our favourites are Ulu Clliffhouse, Kaum, and Locavore.
Ulu Cliffhouse is one of the best Bali restaurants with a view. Meanwhile, Kaum is perfect for a traditional Balinese feast, and Locavore has everything from great food to a fantastic ambience.
Top Bali Restaurants To Try
Bali Restaurant Prices
Here is the average meal price in some of the most popular areas. However, do bear in mind that these figures are based on our experience. You can certainly find cheaper options too, but this is the average amount we spent.
Let us know if we missed any of your favourites by sending us a message on Instagram @tabitogether!