Bali swings are famous because they offer a unique, relaxing experience in a beautiful setting. When you're swinging high, you'll get an unparalleled view of the Bali landscape, allowing you to relax in comfort while enjoying the breeze.
The average price to enjoy the Bali swing experience can go from 80,000 to 160,000 IDR, depending on the location. We'll provide the exact costs later on in this article.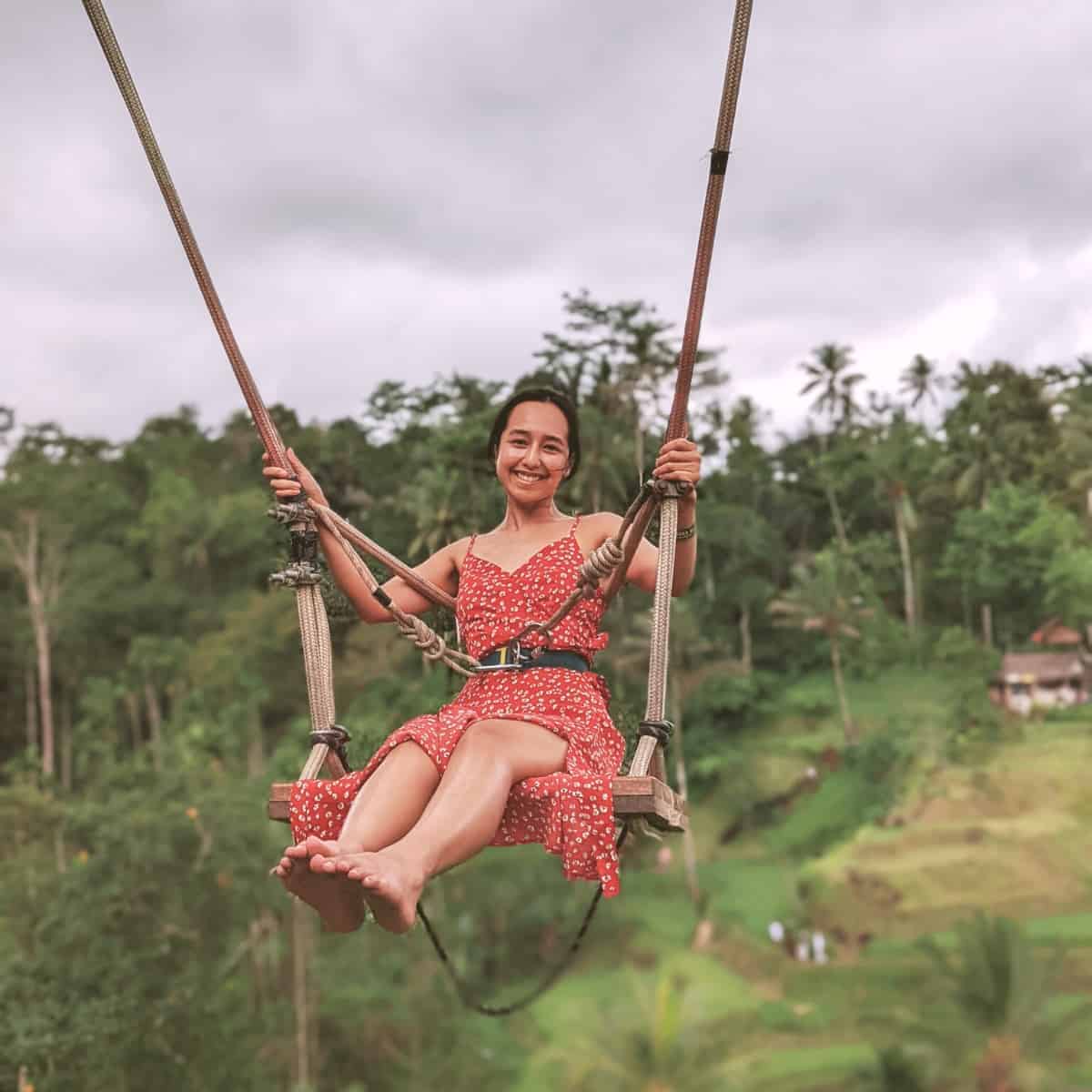 Most of these exciting contraptions are over 9 metres high off the ground! This is about the equivalent of 3 stories of an average building. Furthermore, many of these fun attractions are suitable for kids as long as there is adult supervision. Some places also have experiences ideal for couples who want to enjoy the view together.
Jump to:
Bali Swing
This swing theme park offers some of the most famous swings in Ubud. And they are just a 20-minute drive from Ubud centre. You can choose from several swings, ranging from 10 metres at the lowest to the highest at 78 metres off the ground. It's not scary since you'll be securely seated, but if you fear heights, go for the lowest one. You'll see this place's lush rainforest, waterfalls and rivers.
This is the first park built in Bali to offer such experiences, and it is the only one with a waterfall view. We like that it is well-equipped and so easy to reach, most taxi drivers would know about it.
Plus, if you want to take photos for Instagram but have yet to pack many clothes, don't worry. You can also rent long flowy dresses and other props to take pictures while you're there. The park also has plenty of other photo-worthy spots amidst the greenery. For instance, there are nine life-sized nests, and a heart-shaped platform, amongst other unique concepts.
The value of a Bali Swing booking (which includes going on the swings) is 500,000 IDR per person without transport. Add 70,000 IDR if you require 2-way transport from your hotel to the park. Alternatively, you can visit the park without going for the swings, although the price is not quoted on the website.
You can also customise the tour packages. Several tour packages offered include visits to other tourist attractions, such as nearby Ubud temples. All packages include a lunch buffet and drinks. We think it's worth it to pay for a Bali Swing full package, as you can climb the swings as often as you like. The best time to go here is on a weekday as there are fewer people. Please also note that the maximum weight that these contraptions can handle is about 200 kilos.
One of our top tips for this spot is to opt for the 2-way transport. This is because if you are to arrange your transport, you may be met by many touts along the way that will promote other theme parks. Your driver might also bring you to a different place despite your instructions. If you do arrange your transport - be firm about your intended destination.
Bali Swing
Jl. Dewi Saraswati No.7, Bongkasa Pertiwi, Kec. Abiansemal, Kabupaten Badung, Bali 80352, Indonesia
Aloha Swing
Aloha Swing theme park has the best swings in Ubud if you want a place near other iconic tourist locations. For example, for those who wish to visit the iconic Arjuna Statue, it's only a 20-minute drive from here. The sculpture of Arjuna comes from an epic Hindu legend and is one of the must-see sights of Bali. This great location where you can experience a few things is one of the reasons we'll recommend people head to Aloha.
The theme park is located in the Tegallalang area, overlooking a stunning view of rice paddies and the Ubud forest. There are five different swings available, and they are at various heights. The lowest at 10 metres off the ground, and the highest is 60 metres.
Our favourite things about this theme park are its outstanding service and well-explained safety procedures.
Moreover, the experience is reasonably affordable at 400,000 IDR per person without transport. The package also includes visiting the Bali swings, cute nests and a small butterfly park at the entrance. If there are two of you, take the 500,000 IDR package, which includes 2-way transport from your hotel to the park.
Additionally, if you're looking for a Bali Swing for couples, they have one that comfortably takes two persons if the couple does not exceed the weight limit. The company does not state a specific height or weight limit online, but it's best to enquire first before you book, especially if you're bringing children.
We recommend taking up their photography package when it's offered at the entrance. As we experienced, like many other reviewers, their staff know how to pose for the best angles. Be sure to also rent their beautiful flower crowns, dresses, and other props for your photo taking! When you're done, head to their coffee plantation nearby to sample some free coffee. The best time to go there is on a weekday.
Aloha Swing
Jl. Raya Tegallalang, Tegallalang, Kec. Tegallalang, Kabupaten Gianyar, Bali 80561, Indonesia
Jungle Ubud Swing (Lotus Ubud Swing)
Jungle Swing Bali, also known as Lotus Ubud Swing, is a small theme park in the Tegallalang area. It has lovely views of the rice paddies and a coffee plantation. For those who intend to visit the Arjuna statue, a tourist attraction, it's a mere 20-minute drive.
Lotus Ubud Swing has four Bali Swings, starting from 5 metres at the lowest to 20 metres at the highest. While it does not offer an expansive view like Bali Swing, we thought the beautiful rice paddies were equally photogenic. Besides, it also has fewer crowds than the rest of the theme parks, so that's a win.
Additionally, Jungle Swing Bali has installed an authentic Balinese gate complete with an entrance with a pond with stepping stones. This also offered us a unique photo experience. We loved drinking Coffee Luwak (civet coffee) at the theme park, so don't forget to try it!
The park has packages priced at 420,000 IDR per person, which includes the swing experience. The above Lotus Ubud Swing price includes transportation if you stay in the Ubud area. While this place is one of the smaller parks, it's the best swing in Bali if you want photos without crowds. We suggest you go around 8.30 am to feel the breeze over the rice paddies and sample a cup of the Coffee Luwak brewed on site beforehand.
Lotus Ubud Swing
Jl. Raya Tegallalang, Tegallalang, Kecamatan Ubud, Kabupaten Gianyar, Bali 80561, Indonesia
Website
Tegallalang Rice Terrace Swing
Tegallalang Rice Terrace Swing is situated amid palm trees and sits on a terraced hillside. The famous Bali Swing at Tegallalang Park is now closed, but you can head for Uma Ceking, a new complex south of the main walking path, also within the Tegallalang Rice Terrace park.
The beautiful park, with several other Bali Swings, overlooks a panoramic 9-kilometre-long landscape of Bali rice fields. You can also travel and have meals at the park without going for the swing experience. Apart from the swings, there are also zip lines for the adventurous who want to experience the adrenaline rush of zipping in lush greenery. There is no information on height or weight limit.
Over here, you'll find four Bali Swings and nests where you can take photos. You can soar over the valley and take in the widest scenery on the hill's far side. However, note that the swings at Tegallalang use a harness, which can be evident in your photos. The price is 200,000 IDR per pax to take photos on the swings and in various nests. The entrance fee to the Tegallalang Rice Terrace is 15,000 IDR.
If you enter from the main entrance, you'll also find several short single Bali Swings and photographic spots, such as the famous 'Love Bali' sign. We recommend stopping at Tis an Ubud cafe near the top of the rice terraces. It's on the opposite end of Uma Ceking, so you'll need to keep walking north if you want to get there. It has a two-level infinity cafe pool and is a lovely place to relax. Have brunch if you get there early.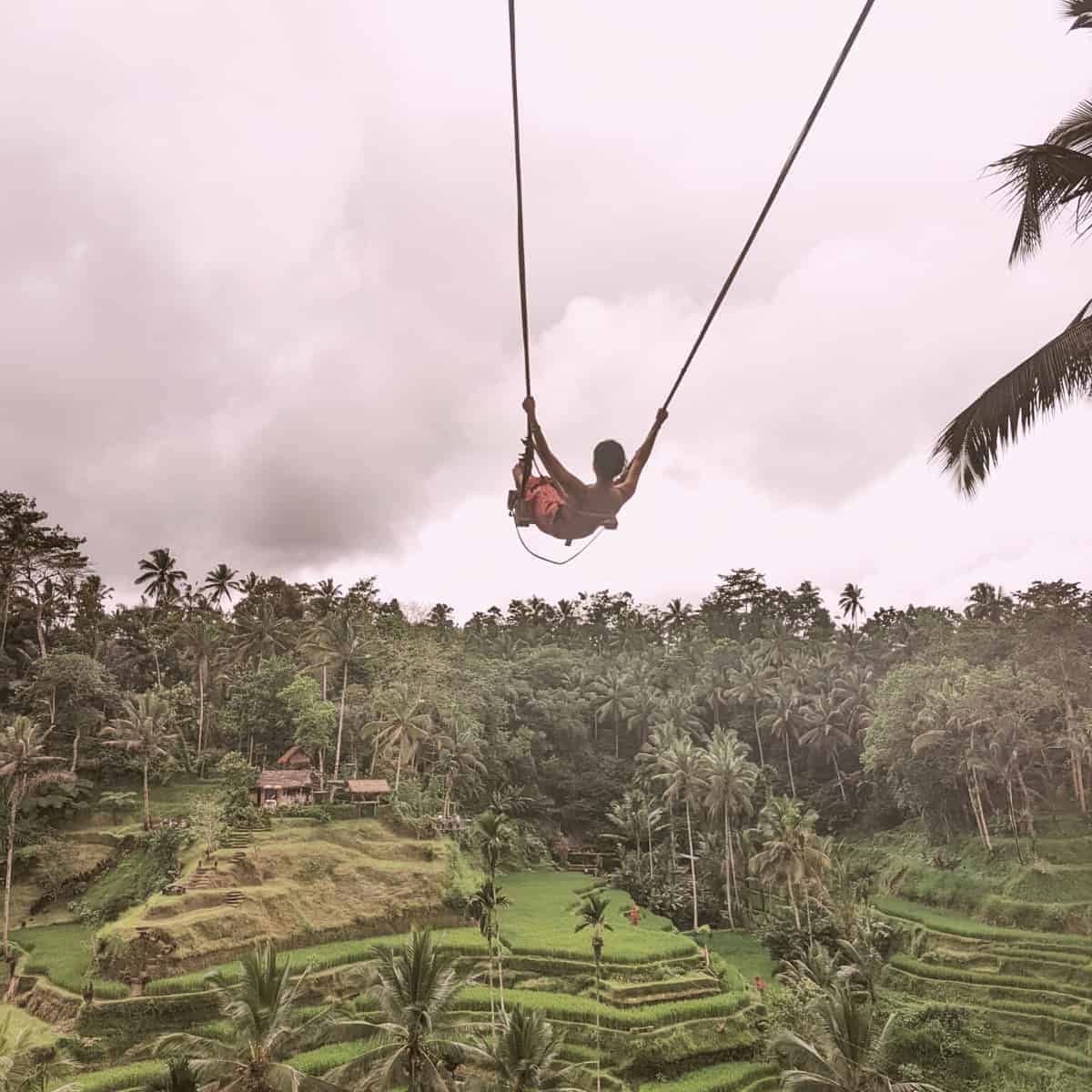 Furthermore, the cafe has a small swing where you can take unlimited photos for 50,000 IDR. Overall, we like this place because it has something for everyone. So whether you're just here for brunch or want the Bali Swing experience, you can get it at Tis Cafe.
We suggest you go there on a weekday when it is less crowded. As there are quite a few things to see and do here, you might want to prioritise it at the top of your list if you have only one day in Ubud.
Tegallalang Rice Terrace Swing
Raya Tegallalang, Tegallalang, Kec. Tegallalang, Kabupaten Gianyar, Bali 80561, Indonesia
Alas Harum Swing
One of the most beautiful Bali Swings is the Alas Harum Swing. It's located 20 minutes away from Ubud Centre. If you love the thrill of flying high above, you'll like that its highest swing is 25 metres off the ground. That's about eight levels of a building. However, it's not for the faint-hearted! There's no maximum height and weight, but the company states that the minimum age is seven and the maximum is 70 on its website.
Need a Bali swing for couples that's equally nerve-wracking? The park has one that's 20 metres off the ground. If extreme heights are not your favourite activity, go for the other swings about 15 metres off the ground. We also like the hulking gorilla nest carved within the rice paddies!
What's unique about this place is that it's not just a theme park. It's also a coffee plantation with several activities apart from the Bali Swings. These activities include a sky bike where one can cycle along a zipline, which will excite parkour lovers.
The park has several options. You can get a package of 250,000 IDR per person, giving you access to three swings and walking around Alas Harum eco-park. Or you can pay separately, but that might get expensive. For instance, the extreme Bali Swing ticket is priced at 200,000 IDR but does not include entrance tickets to the park.
We recommend getting a package price because it offers no-queuing 'express' options. The park can get crowded over the weekends, so if you don't wish to wait, it's best to get a Bali Swing booking with everything included.
Alas Harum Swing
Raya Tegallalang, Tegallalang, Kec. Tegallalang, Kabupaten Gianyar, Bali 80561, Indonesia
Bas De Atayana
Bas De Atayana has built one of the most famous swings in Ubud, a heart-shaped swing especially for lovebirds. It is as romantic as it sounds. You sit on a bench with a heart-shaped arc over you as you soar over the various plantations. This is also the best Bali Swing for couples. It's also on the way to Mount Batur, so if you're planning to trek up the mountain, stop here for a break.
Apart from that, it also has nine other Bali Swings that you can try. We loved the spectacular view from the top, but the coffee they sell makes this place stand out. The agro park consists of several plantations, mainly coffee, fruits, and spices. You can try their famous Kopi Luwak (civet coffee), which is brewed from scratch on-site, alongside other coffee flavours when you are there.
Additionally, you can visit the very civet cats that they used to make Kopi Luwak and feed them with fruits. This is an excellent activity if you're interested in the civet coffee production process or love animals! If trying the local coffee is essential, you must head to Bas De Atayana.
The best thing about this place is that it does not charge an entrance fee. Instead, you pay about 150,000 IDR to sit on the Bali swings. While they do not have costumes to rent or many nests where you can take photos, the free coffee makes up for it.
Compared to other parks, this spot has one of the best swings in Ubud if you're looking for a less crowded area. Our tip is to head here after 2 pm when the sun is less bright, and you can take better photos.
Bas De Atayana
Jalan Raya Jurusan Tampaksiring - Kintamani Br. Sribatu, Penglumbaran, Kec. Susut, Kabupaten Bangli, Bali 80661, Indonesia
Website
This lovely swing theme park in Wanagiri is close to Munduk in northern Bali. The park offers a magnificent view of Lake Tambingan and Lake Buyan. But if you want the rush of being in the air, note that these Bali Swings do not move far. You will not go over the panoramic lakes but hover over them in the background.
We still enjoyed this park because it has several options for taking Instagram-worthy pictures. They have twelve single Bali Swings, the lowest at 3 metres and the highest at 77 metres. There is no information on height or weight limit. If you have a friend who is scared of heights, pick this place to go since you can choose from several different options.
Furthermore, they have several exciting photo backdrops. For instance, there is a helicopter and a heart-shaped rock. The nearby lakes' breezy weather also makes for a lovely ambience away from the hot Bali sun.
The Bali Swing price is 150,000 IDR per person, which includes unlimited swings. While there's no fee to enter the park, you might be asked to give a small donation. The donation goes to the village development. We recommend you go between 11-2 pm to get the best photos from the Bali Swings. Be sure to make time for travel as it takes two hours to get there from Kuta by car.
Wanagiri Hidden Hills Swing
Wanagiri, Jalan Raya Munduk, Pancasari, Kec. Sukasada, Kabupaten Buleleng, Bali, Indonesia
Zen Hideaway Swings
Zen Hideaway is a famous swing in Ubud located in Bongkasa. It is just 30 minutes if you drive northwest of Ubud Centre. However, it's hidden behind coconut trees, so you might miss it. The place is slightly inaccessible but provides lovely views of palm trees, a waterfall and Mount Agung.
Its swing gives a genuinely breathtaking sight of the Ayung River. We recommend that you try the swing because of the view. But note that there is no safety harness. There is also no information on a height or weight limit. This Ubud Swing price is 300,000 IDR, and you need to sign a safety waiver that waives the management of all responsibility. The place is open only from 12-2 pm, so it's a first come, first serve situation.
What we love about the place is that it's hidden from the crowds, and you can also stay there. Zen Hideaway is an estate with several properties you can book from Airbnb. It's one of the best places to stay in Ubud because of its open-concept. You'll have a 360-degree view of the forest, even from the bedroom. However, ensure you communicate clearly with the villa's owner before arriving, as the place can be hard to find.
Zen Hideaway Swings
Jalan Dewi Saraswati, Banjar Tegalkuning, Bongkasa Pertiwi, Abiansemal, Badung Regency, Bali 80352, Indonesia
Website
Sidemen Bali Swing
Sidemen is in East Bali. Over here, only one swing is securely tied between two coconut trees. A few nests are scattered around in the middle of the forests. You will witness a picturesque view of the Ayung River, ricefields, hills, and Mount Agung.
It's the best swing in Bali if you want a quiet, serene spot with fewer tourists. It's a one-hour drive from Ubud Centre, so only a few tourists head there. Besides, you can book a tour package to trek and cycle around the area. Bring your props along, as there's no rental of costumes at this place. The Bali swing price is 500,000 IDR, which includes a welcome drink, a cool towel and a lunch buffet.
The place is owned by Sidemen Adventures, located in Sidemen Village. The village is well-known amongst the locals for producing palm toddy, also known as 'tuak'. We recommend buying palm wine here since it's the local produce.
Another thing you can buy is traditional dye weavings, known as songket and endek. The village is also famous for these hand-loomed dye weavings, with intricate motifs as designs. We loved shopping for these beautiful batik pieces after visiting the park. We think that weekdays are the best times to go.
Sidemen Bali Swing
Unnamed Road, Telaga Tawang, Kec. Sidemen, Kabupaten Karangasem, Bali 80864, Indonesia
Website
Surya Bintang Bali Swing
Surya Bintang is about 40 minutes from Ubud Centre. The Bali Swings here offer beautiful views of the surrounding jungle, as well as the flowing rivers of Ubud. This is one place to go if you also want to try white-water rafting or quad bike racing (aka ATV biking). Rafting is excellent here as this spot is near the rapid waters of the Ayung River. It's an all-in-one adventure centre!
There are three types of Bali Swings here that you can try. They start from the lowest height of 15 metres and go up to 80 metres off the ground. So it's perfect for those who want to chase the thrill of going over the Ayung River.
What we like about this place is that it is one of the few places that offer an all-in-one combo. For instance, you can purchase a Bali Swing ticket, and the price includes rafting down the Ayung River and swing photos. The ticket is 1,465,000 IDR which might be slightly pricier than in other places. But it also includes lunch, drinks, shower amenities and even a 2-way transfer.
We recommend this place if you want to try extreme sports in Bali. Besides, the price also includes insurance. This takes a load off your mind if you need to check whether your travel insurance covers all these extreme sports activities. The only problem is that it's slightly further from the town centre. Therefore our tip is to look for homestay or Airbnb properties, so you're close to the adventure centre. We think that weekdays are the best times to visit the park.
Surya Bintang Bali Swing
Jl. Begawan Giri, Melinggih Kelod, Kec. Payangan, Kabupaten Gianyar, Bali 80572, Indonesia
Website
Happy Swing Bali
Happy Swing park is located near the Ceking Rice Terraces and just six minutes from the Tegallalang area. They are a small, new adventure park with Bali Swings, so you will not get the usual crowds. However, there is a Bali Swing for couples, beautifully decorated with flowers. The view is equally impressive, even though the park is small.
We recommend heading for this place to escape the tourist crowd. While it offers fewer options than other parks, there are several photo-worthy spots we like. There is, for instance, an all-white gate in the typical Balinese architecture style and a hot balloon anchored to the ground. In addition, several nests are scattered around the park. It costs 300,000 IDR for unlimited photographs. You can also rent dresses or other props there.
The best thing about this place is that it's relatively unknown now, so you will not get so many tourists in your photographs. It is so quiet on a weekday that we even saw a few digital nomads settling at its reception area to work. We recommend paying the staff to take your photos, as they know the best angles. Go before 11 am, when the sunlight lights up the valley with a gentle glow, for the best pictures.
Happy Swing Bali
Tegallalang, Gianyar Regency, Bali 80561, Indonesia
Bali Swing Pioneer
Here's another outlet with Bali Swings, except that this is the Pioneer centre in Ubud. It's just one minute away from the original Bali Swing centre. The swing heights range from 10 metres all the way up to 78 metres above the ground.
Why head there? The two Bali Swings here are on a cliffside, so it's an exhilarating experience. The view here is also no less pretty compared to the other centre, with coconut trees, the flowing Ayung River and a deep valley in the background. You can even catch a glimpse of the Tegenungan waterfall. We loved soaring over the beautiful landscape just to see the waterfall!
The park is also quite expansive. For the price of 370,000 IDR, you can access a romantic Bali Swing for couples and two single ones. There are also two sky beds and several nests scattered around the park. The drawback is that you need at least two people to book a spot.
Try white water rafting at this adventure centre or head to Tegenungan waterfall in an open-top Volkswagen. The experience of sitting on an old-school Volkswagen was unique! It only takes about 35 minutes to get to the waterfall via Volkswagen. Alongside the scenic drive, the guides will ensure you are having a blast throughout your ride. Indeed an experience we think all our readers can try if they have the time to spare.
Bali Swing Pioneer
Jl. Dewi Saraswati No.5, Bongkasa Pertiwi, Kec. Abiansemal, Kabupaten Badung
Nusa Penida Swing Diamond beach
Our last recommendation for Bali Swings is at Nusa Penida island. You'll need to take a 30-minute ferry to cross over to this island, but it's worth the experience. There are several resorts that you can visit on the island. The swing itself is in the ocean. There is no information on height or weight limit.
Nusa Penida island is renowned for its white sandy beach and crystal clear blue water. Head to Diamond Beach at the island's east end to look for the swing. This is the only place where you'll get a gorgeous sea view. It's not very high, and you'll also see the green-topped rock formations as you hover above the sea.
We love this swing because it gives a gorgeous sea view. The Bali Swing ticket costs 200,000 IDR, and the staff will help you with the swing. Note that you do have to hike 20 minutes from the beach entrance to reach the place. The walk is guided by ropes in case it gets slippery.
Apart from the Bali Swings, there is a small nest spot to take photos. Nusa Penida island has other seaside sports where tourists can have plenty of fun. Snorkelling, diving, or just lounging by the beach - it's a tranquil place to hang loose. The hotels and resorts might be pricier than elsewhere in Bali, but they're also more exclusive. If you can spare the expense, we recommend staying at Nusa Penida to pamper yourself.
Nusa Penida Swing Diamond beach
Suana, Nusa Penida, Klungkung Regency, Bali 80771, Indonesia
Instagram
Top Bali Swings To Try
Our Favourites
And now, let's look at our top three favourite places! The first one is Bali Swing (the original one). It offers different kinds of Bali Swings and is effortless to find. So for that reason alone, it makes the most sense if you don't want to waste time looking for the place. For us, It's the best swing in Ubud.
The second option is Zen Hideaway. While there are few options for Bali Swings, you can stay on-site. The idea of staying in a 150-year-old teak house and waking up to jungle views sounds like an enticing prospect!
Our third choice is Sidemen. Sidemen is an all-in-one adventure centre to try other extreme sports besides the Bali Swings. Besides, the village has all sorts of local souvenirs, such as palm wine and textiles, making a lovely side diversion. So if you are looking for fun things to do in Ubud, Sidemen is a great place to head towards.
If you liked our extensive review of these places, follow us on Instagram @tabitogether for more awesome recommendations on what to do in Bali.