As the cultural heart of Bali, Ubud is filled with things to do, see and eat. It is home to some of the island's most amazing temples and natural scenery, hence, making it a great destination for tourists of all ages.
There are plenty of activities and attractions that will keep everyone entertained. So, we have you covered whether you're looking for culture, spiritual activities, fun things for kids, or something a little more adventurous, romantic or outright free to do!
If you're visiting Ubud for the first time, don't miss these 25 exciting things to do.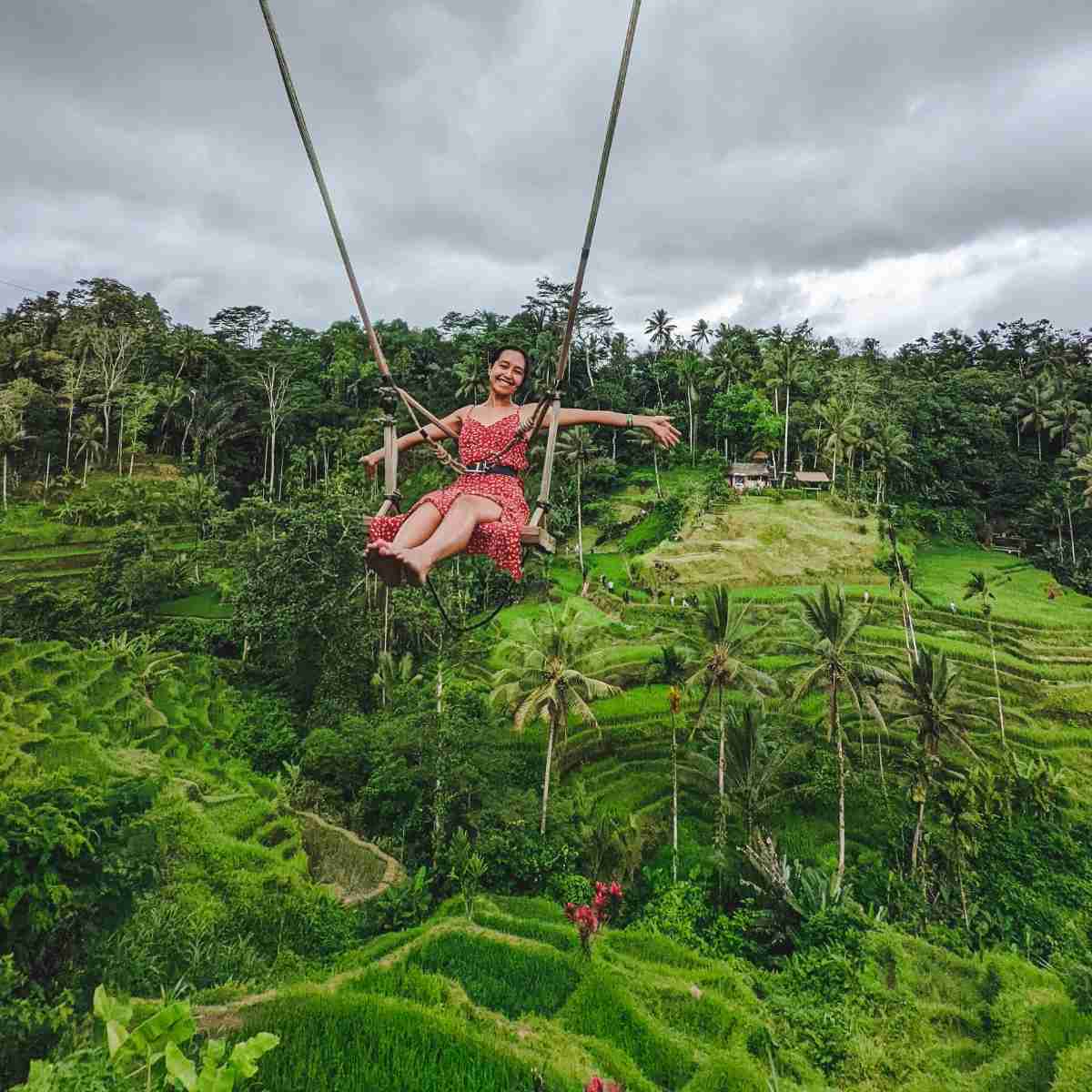 Our guide isn't filled with personal anecdotes or anything unnecessary for your trip to Ubud, Bali. However, this guide is PACKED with information about each activity and local attraction we recommend.

So, if you just want a quick overview, feel free to jump to the end for our list of the best things to do in Ubud. We've divided these into the culture, spiritual, couples, adrenaline seekers, solo travellers, young kids and free things to do in Ubud.
Jump to:
Ubud Sacred Monkey Forest
Home to over 1000 wild monkeys, the Sacred Monkey Forest Sanctuary is one of our favourite things to do in Ubud. Here, you'll be able to get up close and personal with some of Bali's long-tail monkeys in a lush forest.
Monkey fun
When you enter the Forest Sanctuary, you will see monkeys roaming freely, sitting on ledges and hanging from the trees. Here, the monkeys are used to being around people, so don't be afraid to get a bit closer to snap a few photos. If you feel like it, you can also get the local staff to help you get a monkey selfie!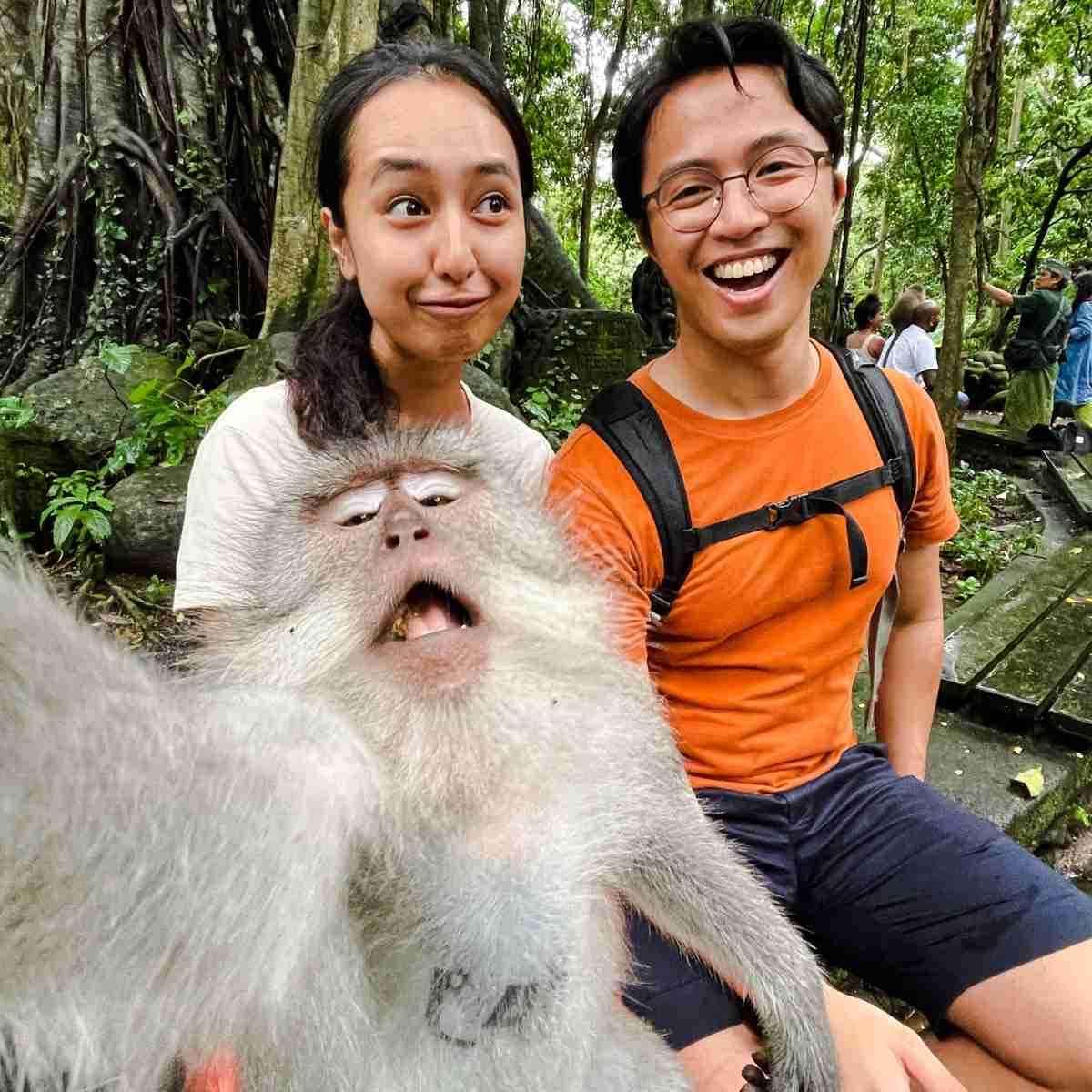 The staff will help guide a monkey to sit on you and take a photo! I was a bit scared when the monkey climbed onto me at the beginning, but it was a memorable experience. The staff were also nice to take multiple photos, so we had loads to choose from.
As you'll be interacting with the monkeys, we recommend you read the official safety guidelines. Here are the top things you should keep in mind:
Firstly, don't bring any food or plastic bags with you as the monkeys might steal these from you. Moreover, this helps to keep the monkeys safe from the food they can't eat and avoid litter.
Second, don't stare into the monkey's eyes, as it's a sign of aggression.
Third, try and avoid wearing dangling jewellery or sunglasses.
If you want to learn more about the monkeys and their habitat, you can also get a guided tour of the monkey forest. The guides will share more in-depth cultural insights while taking you around the forest, where you will see how the monkeys live and interact with each other.
Temples and Statues
As you walk further into the forest, you will pass some stone sculptures and some of the oldest Balinese temples, which date back to the 14th century. These are the Holy Spring Temple, Pura Dalem and the Cremation Temple.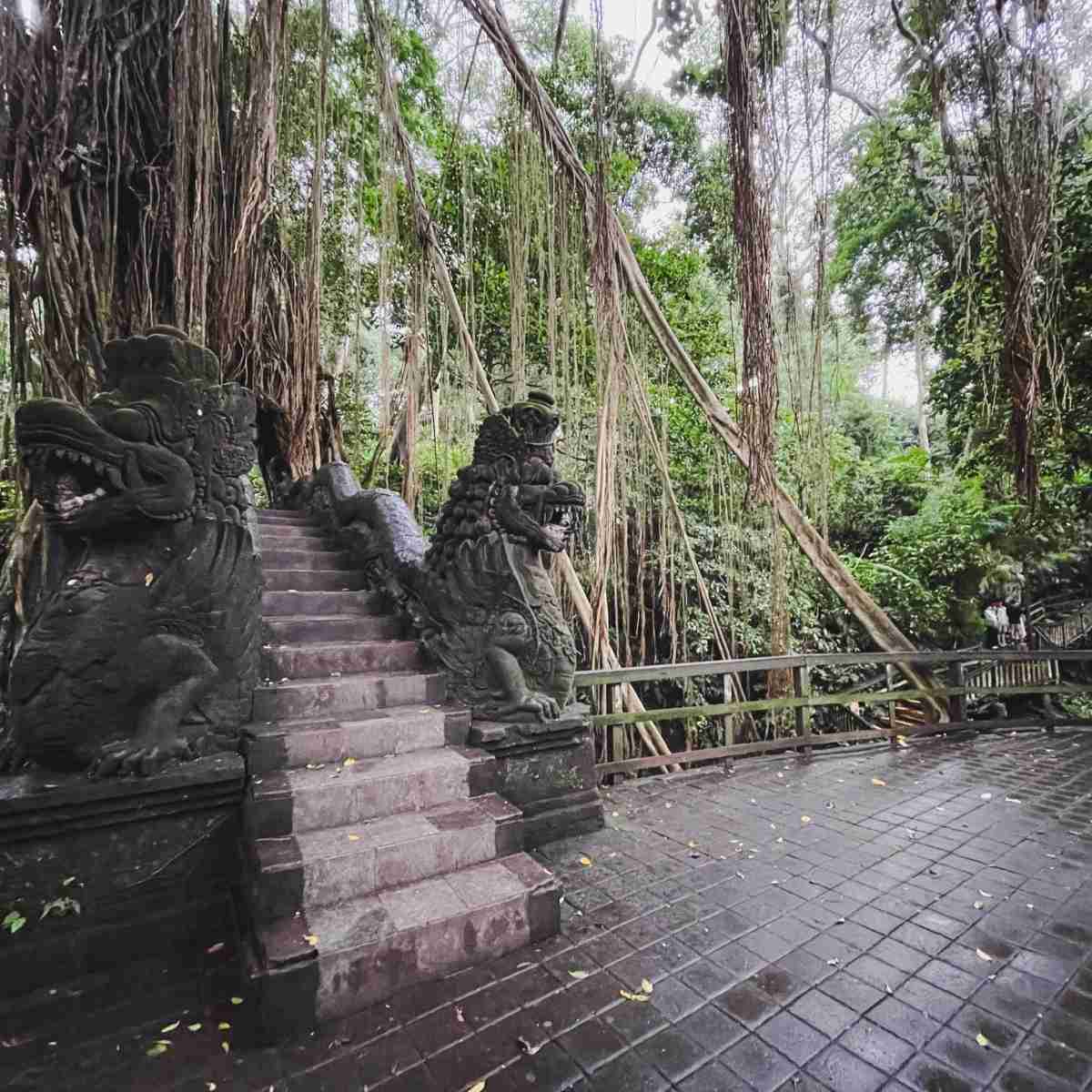 Each of these temples worships a separate Hindu god and serves a different purpose. Local communities still continue to use the temples for religious ceremonies. Therefore the temples are off-limits to tourists. However, you will be able to peek through the gates and get a glimpse of the temples.
When we went, the plaques had limited information about each temple. So, you might want to get a guided tour or read up online before you go. Especially if you're a culture buff.
Ubud Sacred Monkey Forest: Cheatsheet
Things to do
Observe wild monkeys
Take a monkey selfie
Walk around the forest
Observe the historical stone statues and sculptures
See the Holy Spring Temple, Pura Dalem and the Cremation Temple from afar
What to bring
Make sure to bring a camera with you to snap some photos. However, no flash photography or drones are allowed.
What to wear
You can wear tank tops and shorts as you won't be entering the temples. You can also wear sandals as the forest walkways are built on concrete. However, if you want to enter the temples, you must wear traditional Balinese clothes and inform the staff before your visit.
How long to stay
2-3 hours
When to go
If you want to avoid the heat and crowds, make sure you make a visit early in the morning or late afternoon. We recommend going after 1 pm. This is usually after feeding time for the monkeys. After the monkeys have been fed, they're less likely to grab your bag looking for food!
How to get there
If you're staying in Ubud central, you can get to Ubud Monkey Forest by walking. Alternatively, take a local taxi or rent a motorbike.
Ubud Monkey Forest, Jl. Monkey Forest, Ubud, Kabupaten Gianyar, Bali 80571, Indonesia
See more info on TripAdvisor
Pura Tirta Empul
One of Ubud's most unique temples is the Pura Tirta Empul. It is a holy water temple and is about a 30 minutes drive from Ubud Central. The temple complex is built around a natural spring which is said to have healing properties.
The story behind Pura Tirta Empul goes back to ancient Hindu mythology. Legend has it that there was a battle between the Hindu god, Indra and the evil king, Maya Danava. During their war with each other, the evil king poisoned Indra's army. In order to defeat Maya Danava, Indra created the holy spring water from the ground to purify his army. As a result, this led to the victory of Indra.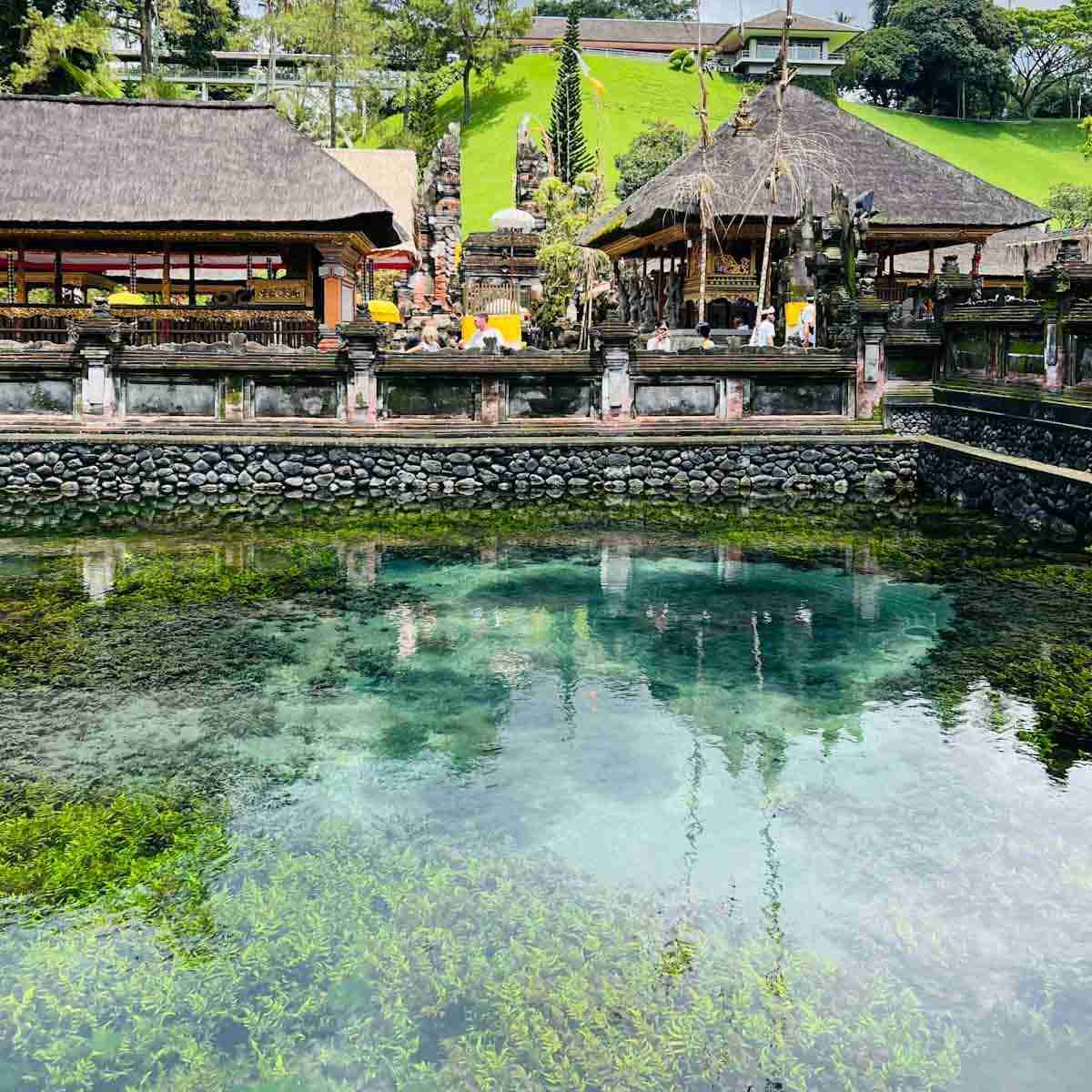 The holy spring water from the story above is what the locals believe is the source of the natural spring that is now at the centre of this temple.
We learnt about this from our local guide, who also told us more about the Balinese temple structure and other religious events which occur at Pura Tirta Empul.
Today, the temple is still used by locals for purification ceremonies. It is also one of the only temples in Bali that allow foreigners to participate in a purification ritual.
Taking part in a purification ritual
The purification ritual at Pura Tirta Empul involves entering a pool of holy spring water to bathe under 13 fountains. Each fountain serves a specific purpose, and the Balinese believe it will cleanse your body and soul as well as ward off evil spirits. Taking part in this unique spiritual activity in Ubud is a must-do if you're a first-time visitor.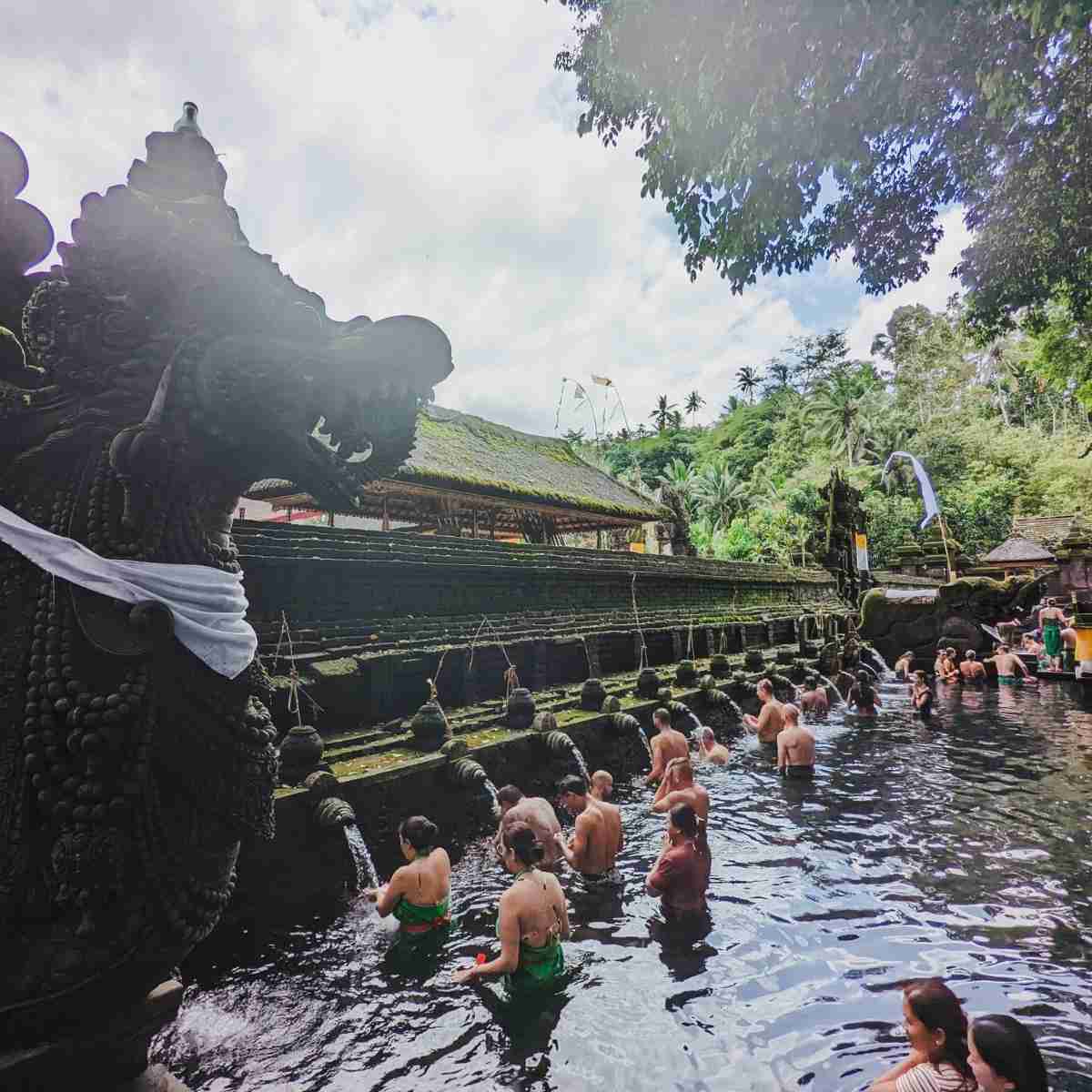 If you want to participate in the purification ritual, make sure to wear modest clothing and bring a change of clothes. Alternatively, you can rent a special type of sarong at the temple. The temple also provides lockers for you to store your valuables.
Passing the spring water pool, you will see the holy pond, which continuously gives out fresh water. The pond is so clear you will be able to see the spring water gushing from below. On a lucky day, you might even see two large river eels. They are said to be the resident 'guardians' of the holy pond.
Pura Tirta Empul: Cheatsheet
Things to do
Wear the free sarong provided to you before you go into the temple.
Take part in the purification ritual.
See gushing spring water from beneath the clear Holy Pond.
Go further into the inner temple and observe prayers from afar.
Get a local tour guide to tell you the history behind this sacred temple.
What to bring
What to wear
Wear something which covers your knees and arms. However, if you're wearing shorts, the temple will also provide you with a sarong to cover your lower body. This is free of charge.
How long to stay
2-3 hours
When to go
Go in the morning before 9:30 am to avoid the crowds. If you go in the afternoon, you will likely need to queue to get into the temple and also to do the purification ritual. You'll also get a nicer experience without people queuing behind you to bathe in the fountains.
How to get there
Jl. Tirta, Manukaya, Kec. Tampaksiring, Kabupaten Gianyar, Bali 80552, Indonesia
See more info on TripAdvisor
Tegenungan Waterfall
Ubud is home to a number of gorgeous waterfalls, but one of the most popular is the Tegenungan Waterfall. It is located in the village of Tegenungan Kemenuh and is about a 30-minute drive from Ubud Central.
The Tegenungan Waterfall is one of the largest waterfalls in Bali. It is about 40 metres high and has a large pool at the bottom. You can get close to the waterfall to take photos as well as go on a swing.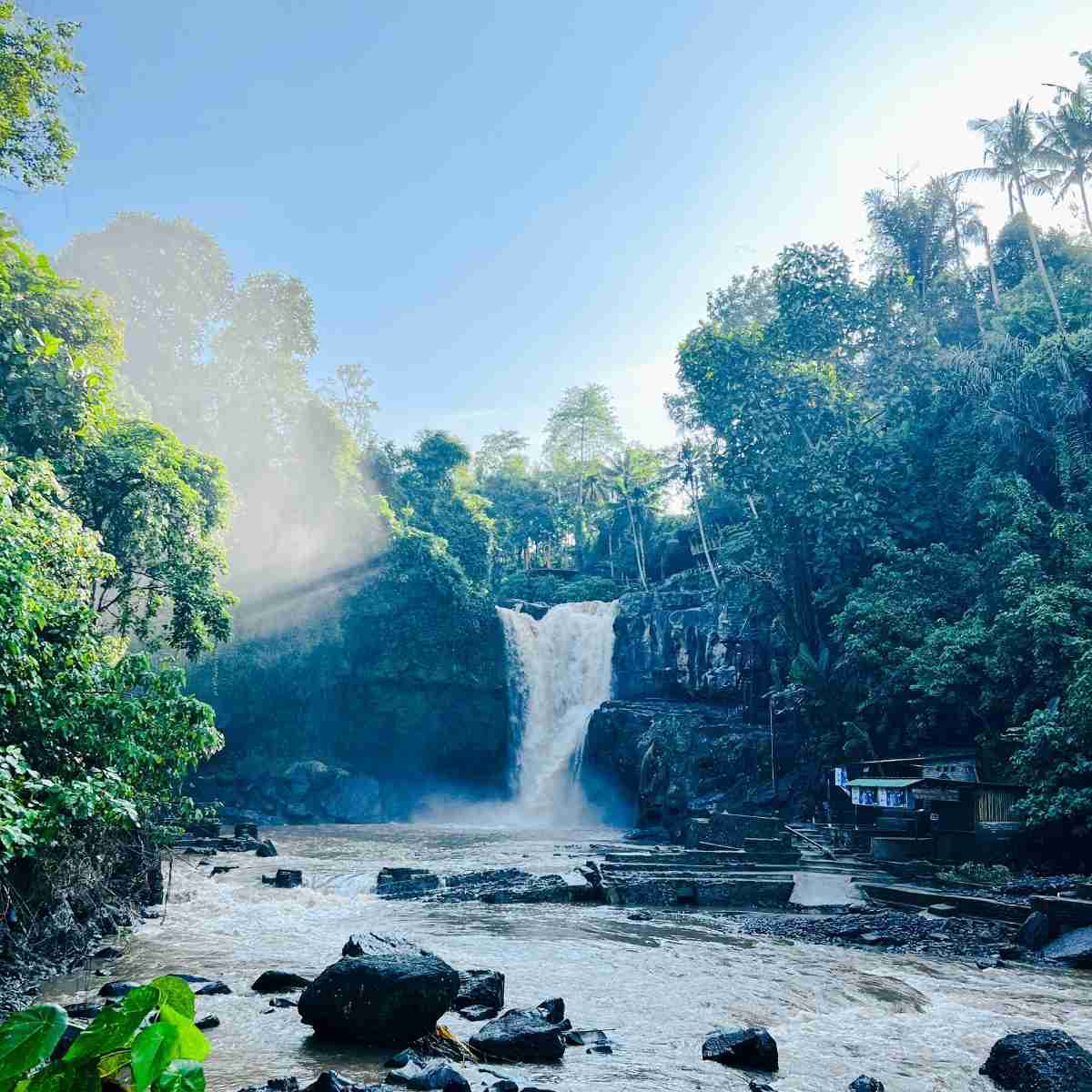 When it hasn't rained for a few days, the bottom of the pool is crystal clear. You can swim or dip your toes into it. The water is usually quite cold as it's covered by the forest, but it's a great way to cool down on a hot day.
To get to the waterfall, you will need to pay an entrance fee and then walk down. You will find the walk down relatively easy. The steps are well-maintained, wide and also have support railings on the side. On the way down, you can also stop at the scenic spots to grab a few photos with the waterfall in the background.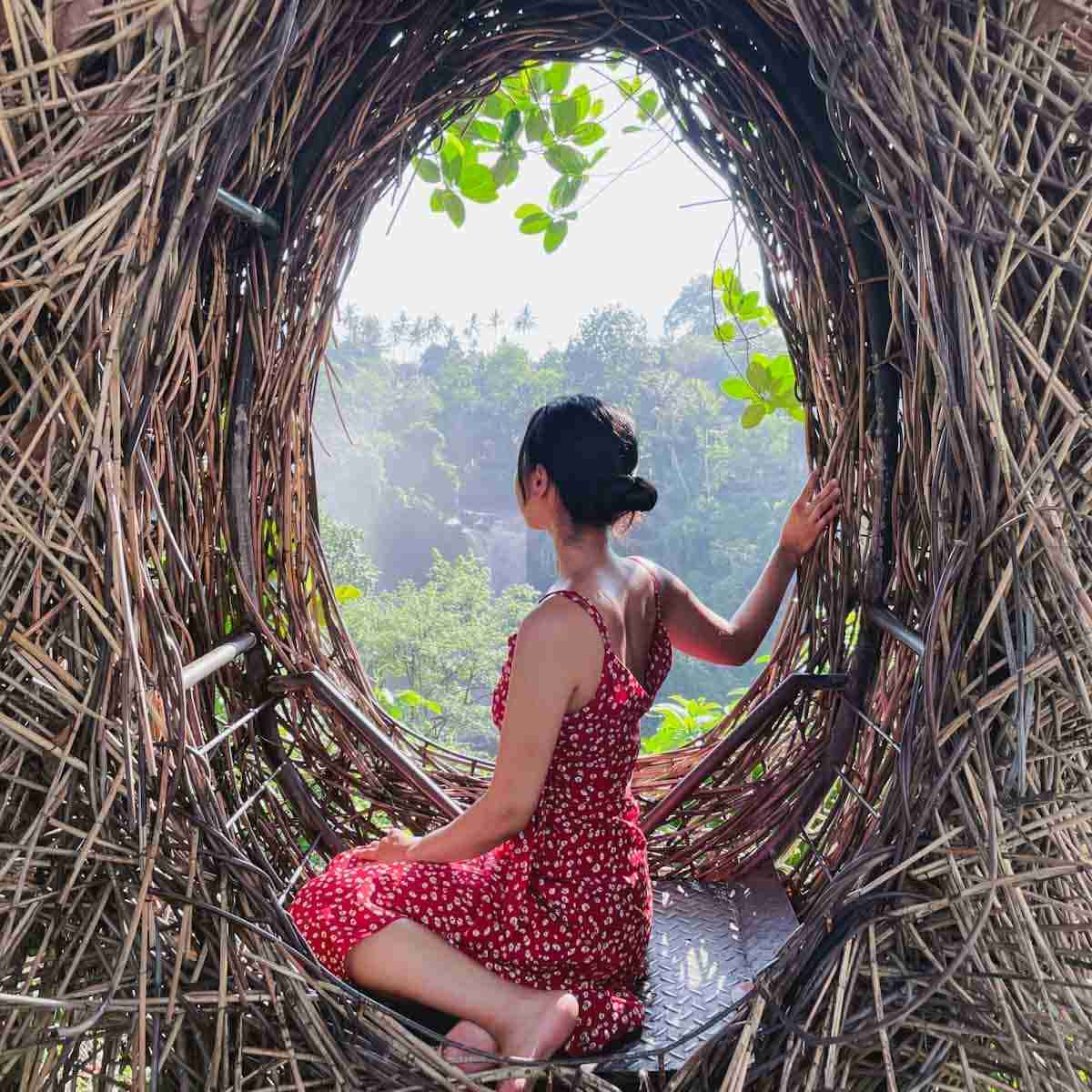 There are also a few other waterfalls nearby. For example, you can check out Kanto Lampo Waterfall, which cascades down the stepped rocks. You can also visit Tukad Cepung Waterfall, which is located in a cave. Go in the early morning or during midday to witness how magical the cave is when the sun's rays hit the falling water and into the cave.
Tegenungan Waterfall: Cheatsheet
Things to do
Marvel at one of Bali's largest waterfalls.
Take photos at different scenic spots.
Jump into the large pool underneath the waterfall.
Swing close to the waterfall.
What to bring
Swimwear
Sunscreen
Camera
Change of clothes
Towel
What to wear
Something you wouldn't mind getting wet.
Sandals
How long to stay
1-2 hours.
When to go
If you want to avoid the crowds, we recommend visiting the waterfall early in the morning.
However, if you're visiting during the rainy season, as we did, you will need to check if the waterfalls are open to the public beforehand. When it has rained the day before, the sites may be closed for safety reasons.
You can check whether they are open via their websites, google maps or by calling ahead of time. We hired a local guide who was able to find out for us beforehand.
How to get there
Jl. Ir. Sutami, Kemenuh, Kec. Sukawati, Kabupaten Gianyar, Bali 80581, Indonesia
See more info on TripAdvisor
Ubud Coffee Plantation
Head to a coffee plantation in Ubud, as there are several coffee plantations around the area. At most of the coffee plantations, the staff will show you around the coffee plantation. Here you'll learn all about how coffee is grown and how it is harvested.
Depending on the coffee plantation you visit, they may also show you how Luwak coffee is harvested and then roasted. At the very end, you will also get to try some of the different types of coffees and teas that they produce.
One of the most popular coffee plantations in Ubud is Bali Pulina. They offer a premium coffee experience. However, if you're looking to save some money, we recommend you head to Santi Coffee Plantation, which offers all of this for free.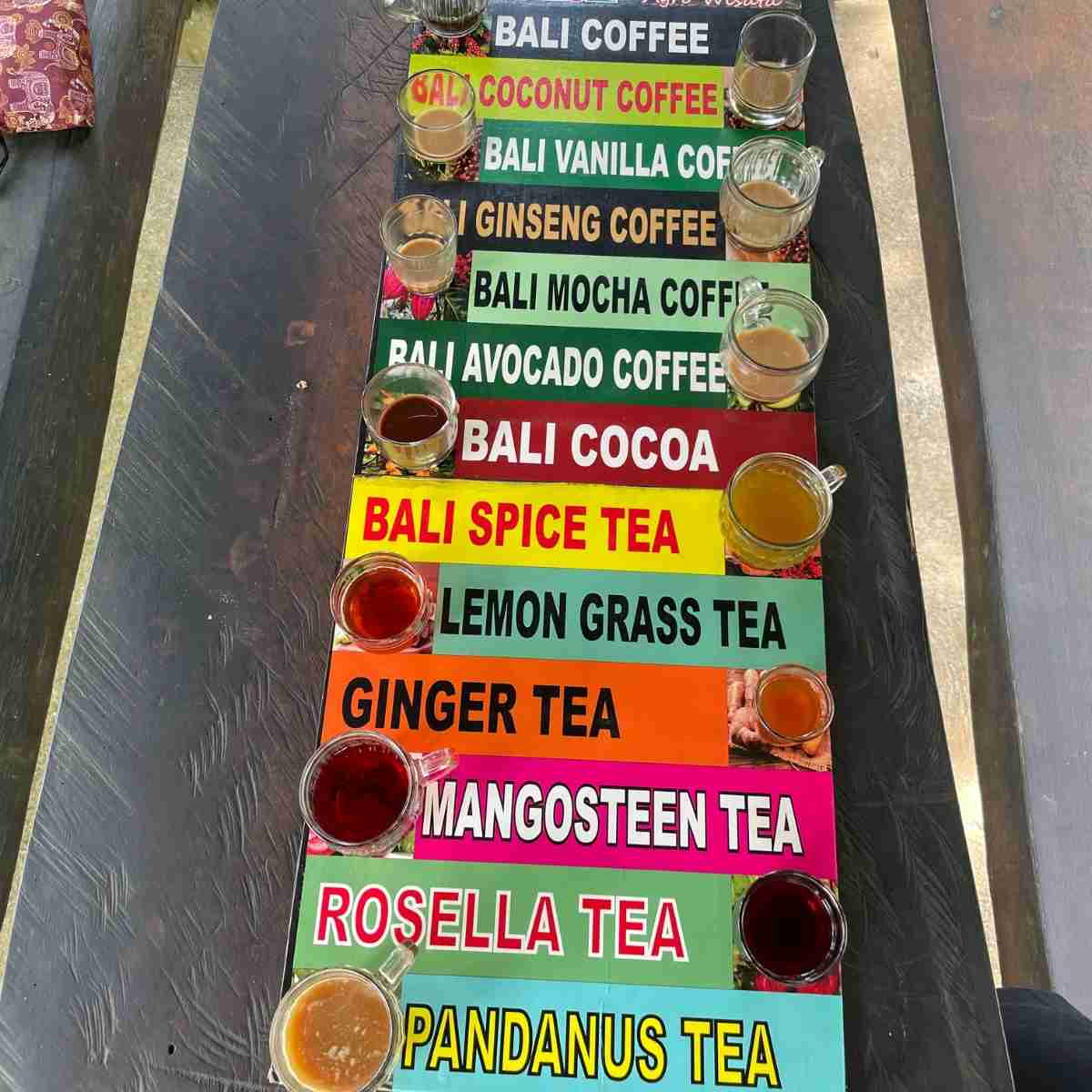 When we went, we were greeted by the staff and were offered a free tour of the plantation. In the end, we were guided to an open-air shaded hut to taste their coffee and tea. We tried 7 types of local coffee and 6 types of tea for free. Our guide explained each type of coffee and tea to us and answered any questions we had. If you want to try Luwak coffee, then you will need to pay for this.
The whole experience is free, as they anticipate you will most likely buy some of their coffee. However, there is no obligation to do so. We loved the Avocado coffee and Mangosteen tea, so we did end up buying these. We did see large groups of people leaving without buying anything too.
So, if you're looking for unique and free things to do in Ubud, head to Santi Coffee Plantation.
Ubud Royal Palace
The Ubud Royal Palace is one of many free things to do in Ubud. It is centrally located in the town centre and is a beautiful palace that was built in the 1800s. It is home to the Ubud Royal family, and the King of Ubud still lives in the palace today. Therefore only parts of it are open to the public.
You can explore the beautiful courtyards and gardens on the palace grounds. However, there are not many information plaques around for tourists to understand more about this historic landmark. If you want to find out more, you might need to do a tour.
During the night, Ubud Palace also hosts a number of cultural events, such as Gamelan percussion performances and Balinese dances. However, these are not free to watch.
Legong Dance
The Legong dance is a traditional Balinese dance that takes place in Ubud Palace. In the past, young women would perform the dance exclusively for the royal court. Today, you'll be able to watch it at Ubud Palace.
The dance tells the story of Rangkesari and includes beautiful costumes, music and also dance choreography. So, even small kids will be able to enjoy the Legong dance as it's relatively fast-paced and captivating to watch.
If you're visiting Ubud, make sure to check if there are any Legong dance performances taking place during your stay. It's a unique way to experience some of Ubud's culture and traditions at night.
Ubud Palace and Legong Dance: Cheatsheet
Things to do
Walk around the palace complex
Listen to traditional Balinese percussion performance
Watch the Legong dance
What to bring
What to wear
There is no strict dress code.
How long to stay
Less than 1 hour. The palace complex, which is open to the public, is small. Therefore it should take you less than 1 hour to explore. However, if you're staying for the performances, these will last roughly 1 hour and 30 minutes.
When to go
Anytime. We recommend going in between lunch or more tiring activities. As it is centrally located and a small place to explore, you can go whenever.
If you want to catch the evening shows, we recommend going before 5 pm. You'll have plenty of time to explore the palace as well as purchase tickets for the performance. Make sure you head to the performance hall at least 30 minutes before so you can grab a good seat!
How to get there
Jl. Raya Ubud No.8, Ubud, Kecamatan Ubud, Kabupaten Gianyar, Bali 80571, Indonesia
See more info on TripAdvisor
Ubud Spa Experience
Ubud is renowned for its traditional spas, and there are many to choose from. There are different Balinese spa experiences to suit all budgets. There are many treatments available, including reflexology, body scrub and foot massage.
However, we recommend getting a full-body Balinese massage, which is a traditional form of massage that uses pressure points and long strokes.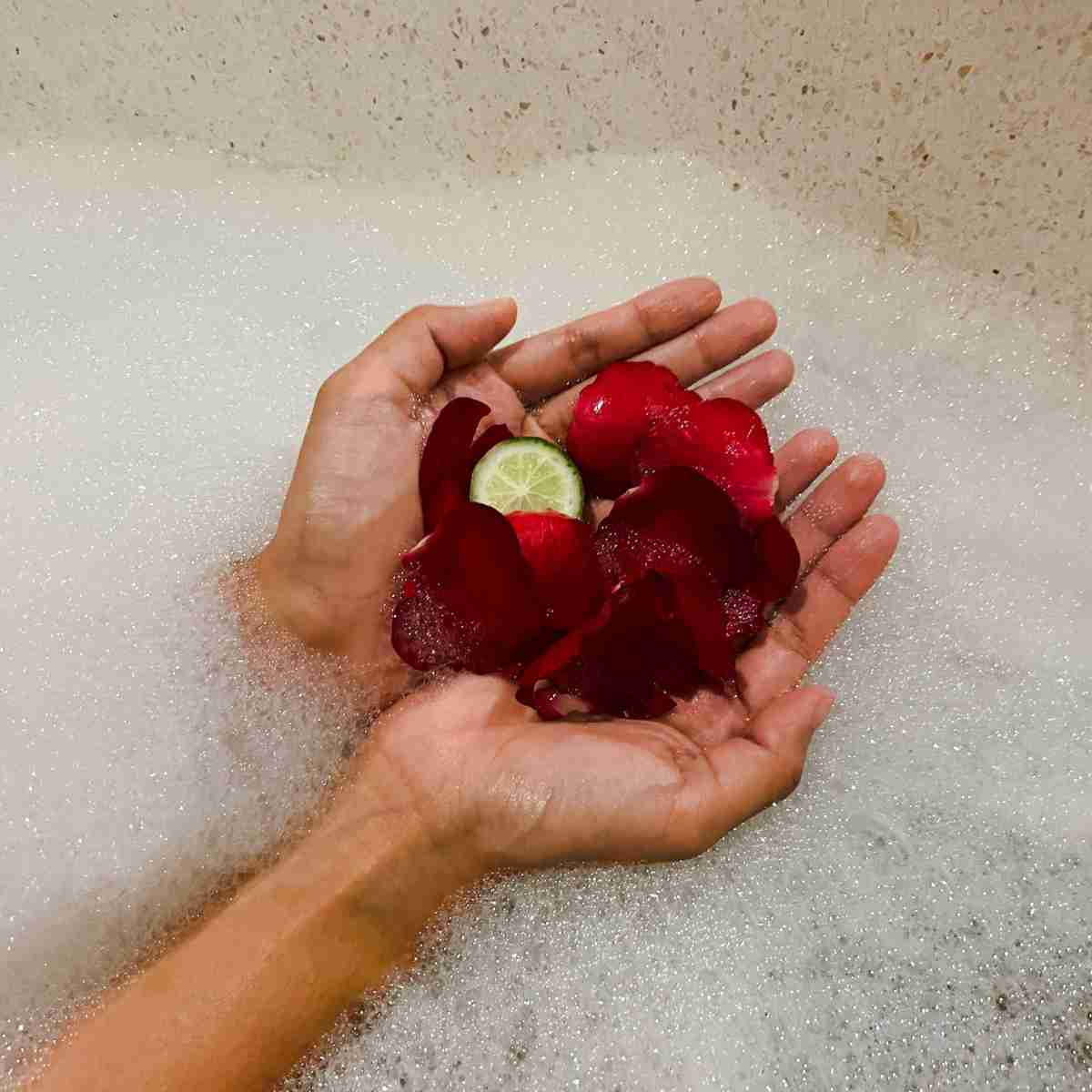 For the best spa experience in Ubud, avoid the walk-in massage parlours you see. While you can probably negotiate a price, you won't get the full relaxing spa experience. Looking online and booking in advance at a reputable spot will get you a better deal.
We had a lovely spa day at Jaens Spa. There is also a branch in Ubud Central, but we opted for the Shanti branch further out of Ubud Central for a more serene experience.
Ubud Spa Experience: Cheatsheet
Things to do
Get a full-body Balinese massage.
Smell and choose your essential oils for your massage and body scrub.
What to bring
What to wear
Anything. Your spa therapist will provide you with undergarments and towels for you.
How long to stay
1-5 hours, depending on your treatment.
When to go
Go in the morning on a weekday. Most Ubud spas will have special offers or discounts for weekday bookings, as this is when they're the least busy. Definitely book in advance.
How to get there
Various spa locations in Ubud.
Tegallalang Rice Terraces
The Tegallalang Rice Terraces are one of Ubud's most iconic landmarks and one of the best things to do in Ubud. The rice terraces are terraced paddy fields that have been carved into the hillside. To do this, local farmers use a traditional Balinese farming system called Subak.
These rice terraces are a beautiful sight, and it's a great place to take photos. If you want to, you can even walk through the rice terraces. Just be sure to wear appropriate shoes, as the paths can be slippery when wet.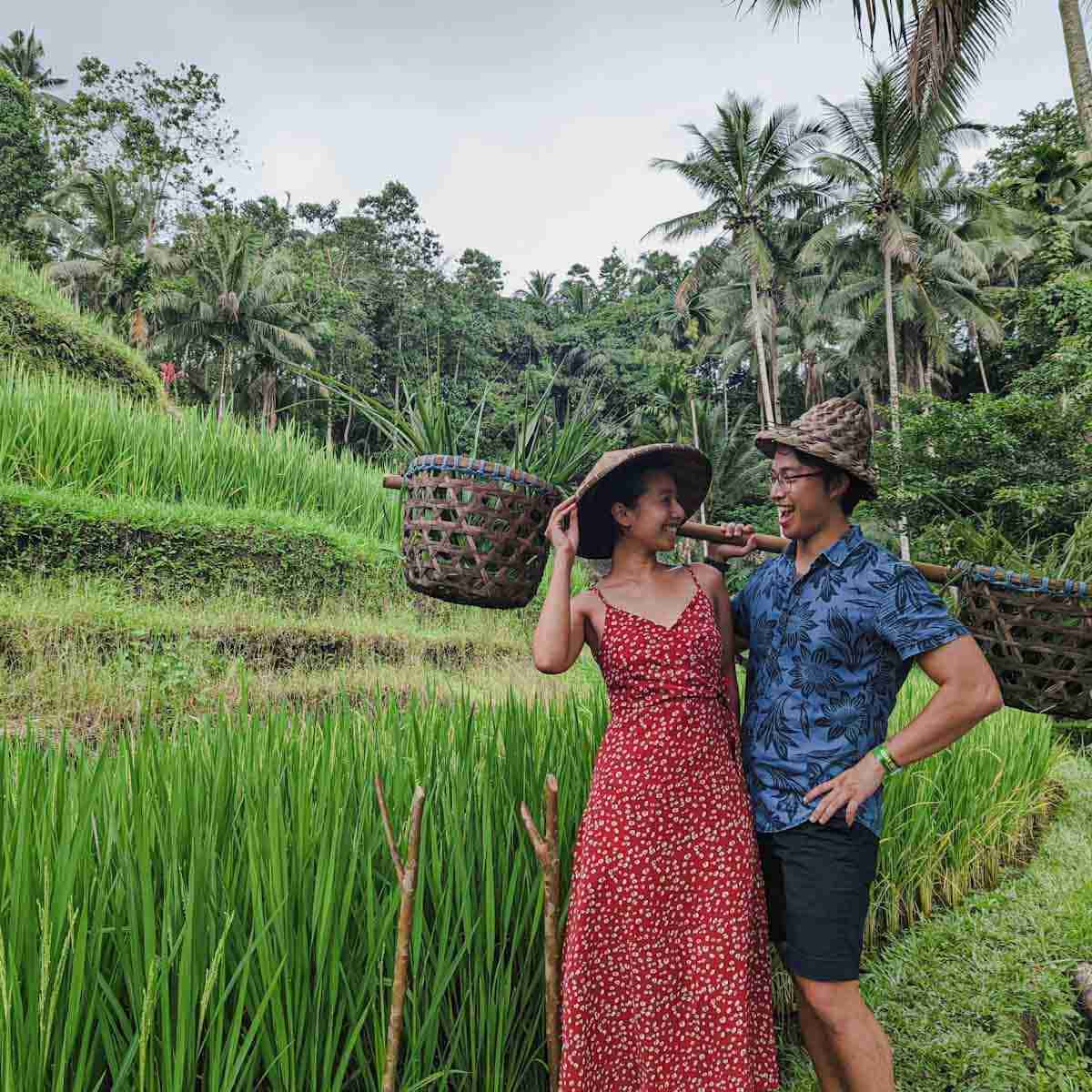 When you're exploring the rice terraces, you will also see the rice plants growing at different stages. You might also see some local farmers lending you hats and traditional baskets to take photos with! Give them a small tip if you decide to take a few photos with the props.
At these Bali rice fields, you will also be able to go on the swings, which look out to the rice paddy fields. There are two types of swings here; one for couples and one for individuals. While the couple's swing is nice for photos, the individual swing is more for the adrenaline rush. The staff will use their entire body weight to swing you high up.
If you want Instagram-worthy photos, you should head to Aloha swing instead. More about Aloha Swing later.
Tegallalang Rice Terraces: Cheatsheet
Things to do
See Ubud's famous rice terraces.
Take photos inside the rice paddy fields.
Swing over the rice paddies if you're in for an adrenaline rush.
What to bring
What to wear
Sandals or trainers on a sunny day.
Hiking shoes or boots on a rainy day.
How long to stay
1-2 hours.
When to go
This is a really popular destination and is almost on everyone's things-to-do list in Ubud. Head here as one of your first destinations of the day if you don't want to queue, or you want to be able to roam freely through the paddy fields.
How to get there
Jl. Ir. Sutami, Kemenuh, Kec. Sukawati, Kabupaten Gianyar, Bali 80581, Indonesia
See more info on TripAdvisor
Goa Gajah Temple
One of Ubud's lesser-known tourist attractions is the ancient Goa Gajah temple. In English, locals will also call it the Elephant Cave. It is an excavation site that the Dutch found in the 1950s. While archaeologists still don't know the exact origins of this Ubud temple, they date the temple back to the 12th century. Locals believe that the cave was used by Balinese priests as a place of meditation.
To enter, you will go into the mouth of an enormous demon carved into the rock. Once you pass through the demon's mouth, you will find on the left an ancient statue of Ganesh and Shiva Lingam on the right.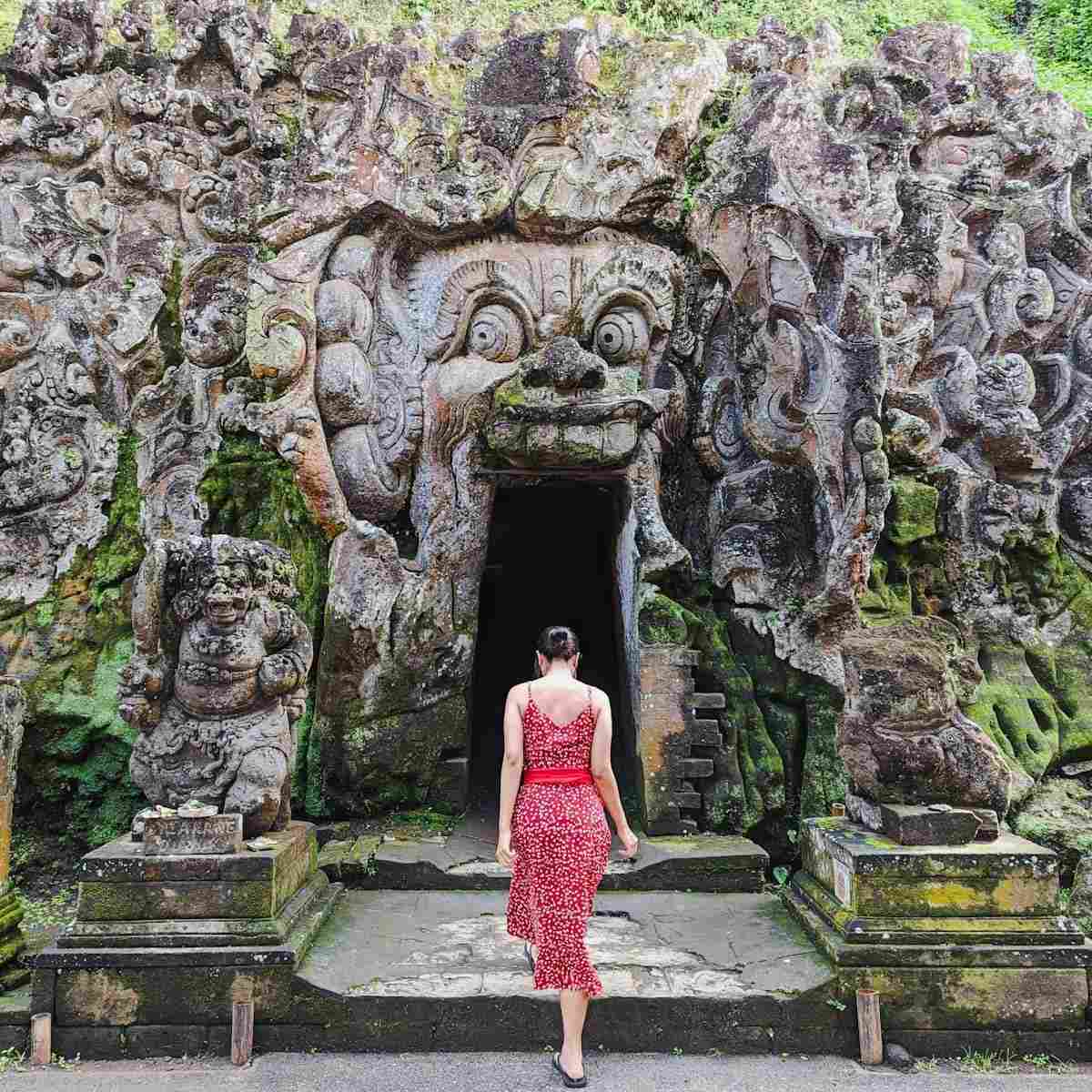 The Goa Gajah Temple gets its name from the Hindu god Ganesh's statue found in the cave. Ganesh is known in Hindu mythology for having the head of an elephant. Therefore, you'll also find a number of elephant statues and sculptures around the temple complex.
You will reach a smaller Buddhist temple if you explore the excavation site further. The Dutch found this at the same time as the Elephant Cave. Locals believe that both religious groups saw the location as a sacred spot.
There are only a limited number of areas that you are able to explore at the site. However, it is still worth a visit if you want to see some of Ubud's history and learn more about the temples.
Another similar excavation site to visit is Pura Gunung Kawi. Locals believe it is an 11th-century shrine carved into the rocks.
Eat at a Warung
Add eating at a local Indonesian eatery to your things to do in Ubud. Warungs are a great place to try traditional Indonesian food at a fraction of the price you would pay in a restaurant.
In Ubud, you will find a great mix of local food stalls as well as more English-friendly Indonesian eateries to dine at. Warung Biah Biah in Ubud Central is one of the more foreigner and kid-friendly spots. The menu is written in both English and Japanese.
Most importantly, the food tastes great without a lot of spice (perfect for kids!). We recommend trying local dishes, for example, like Nasi Campur, Gado-gado, Satay, Jamu and more.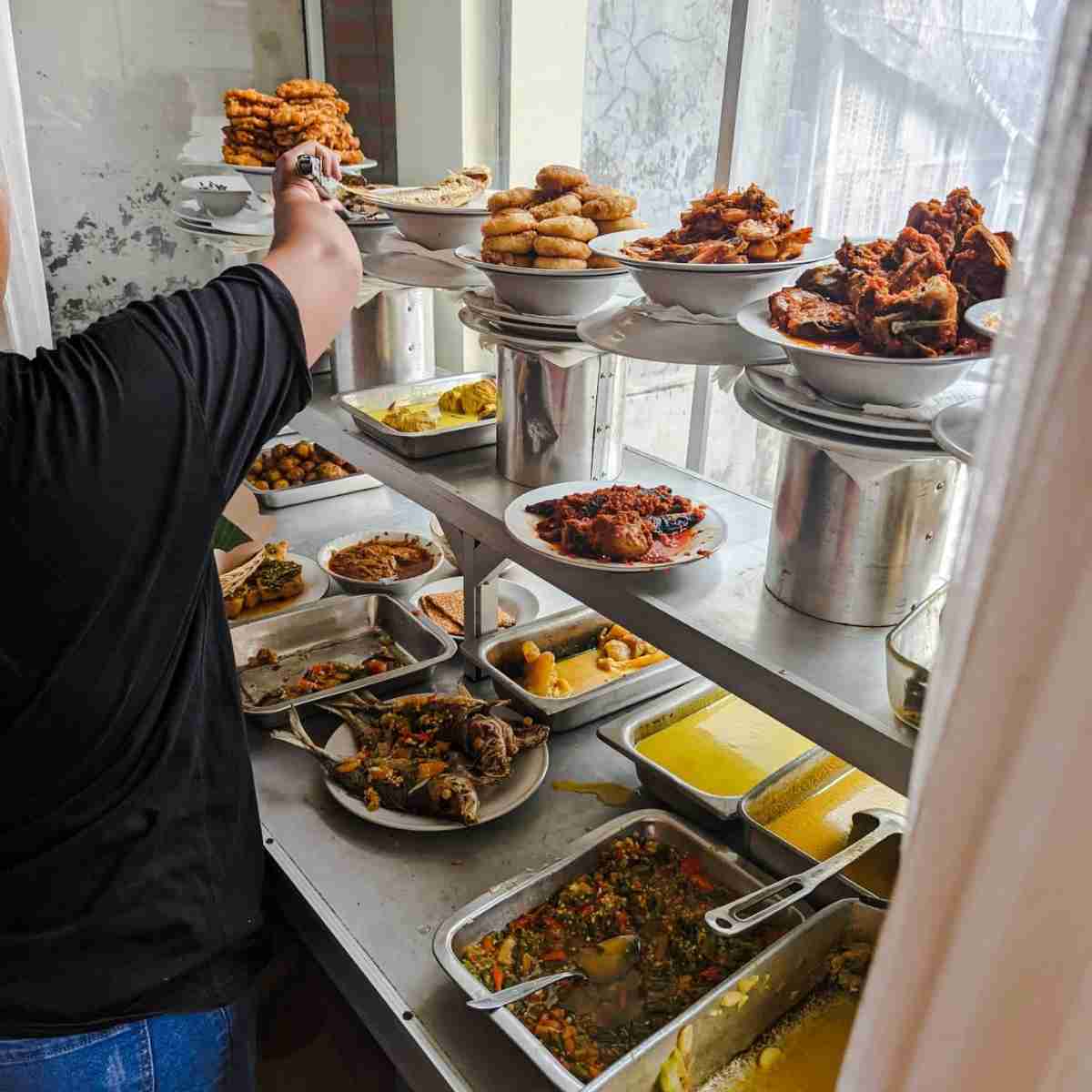 For a more authentic local dining experience, you can head towards Puteri Minang Padang. Here you will get a plate of rice as your base, and you can choose however many Padangnese dishes you want to try from the counter.
Eat at a Warung: Cheatsheet
Things to do
Try local food, and don't be afraid to ask them what it is!
What to bring
How long to stay
1-2 hours.
When to go
You can go to a warung in the morning or during lunch. However, many traditional warungs will not be open in the evening.
In our experience, the opening hours on Google Maps are not extremely reliable. Instead, try to find the Instagram or Facebook page of the place you want to go and ask directly.
Pura Taman Saraswati
One thing to do in Ubud is to see the Pura Taman Saraswati temple. The Hindu temple is located in the centre of Ubud, so you can easily reach it on foot. The temple grounds are beautiful, with blooming flowers, large ponds and lush gardens.
The temple was built in 1997 by local architects and is dedicated to the Hindu goddess Saraswati, the goddess of knowledge.
The highlight of the temple complex is the magnificent lotus pond. It is one of the most instagrammable spots in Ubud. You will also find some of the most intricately carved Balinese sculptures. However, if you're looking to see the blooming lotus ponds, make sure to visit between January to May.
Kecak Dance
Kecak Dance is another traditional Balinese dance. Different to Legong Dance, Kecak Dance tells the story of Rama and Sita. It is performed by costume dancers without accompanying music. Instead, what's unique about the performance is that it is accompanied by 50 bare-chested men chanting.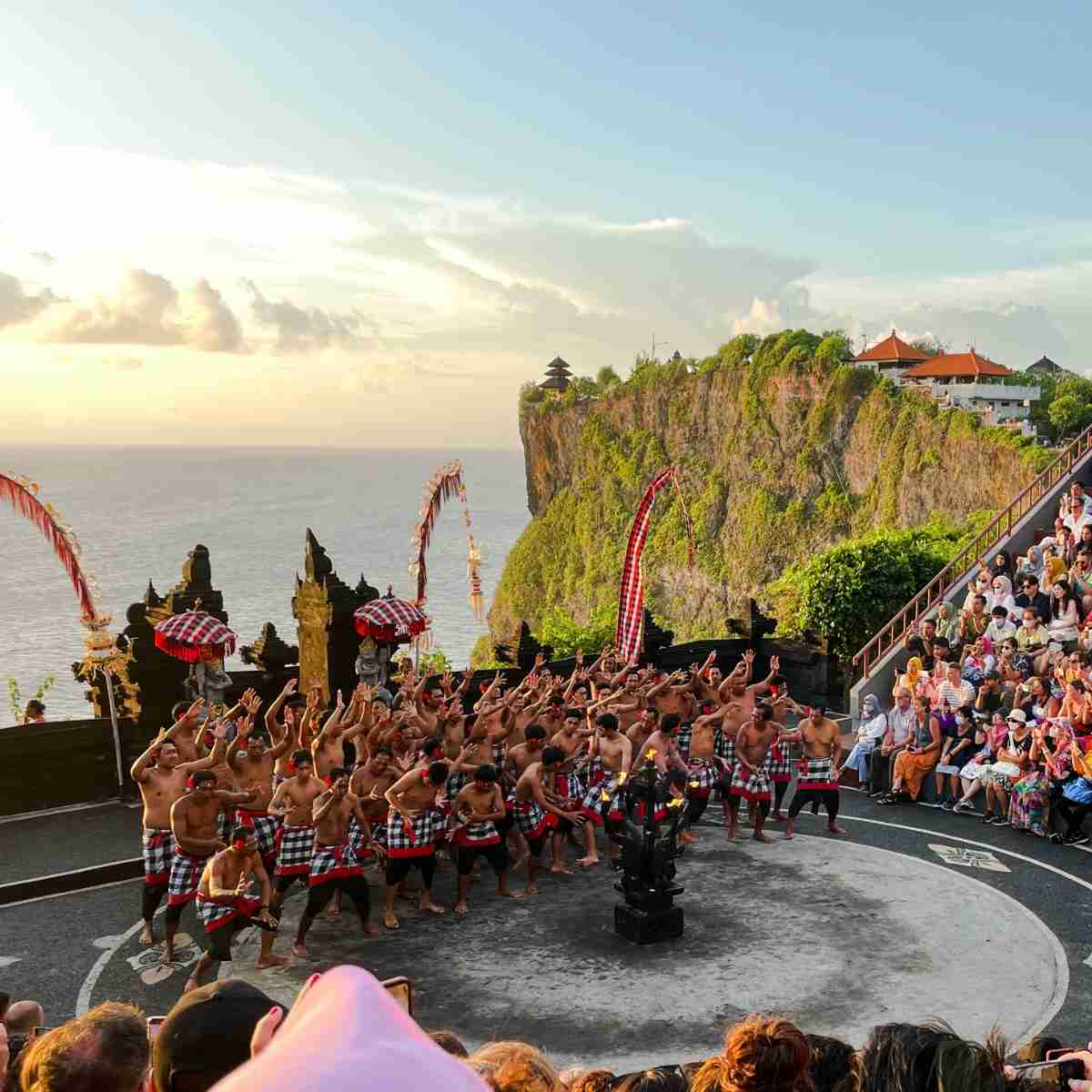 You can also watch Kecak dance in multiple areas of Bali. For example, at Uluwatu temple, you can watch the dance with the sun setting in the background. However, if you are not visiting other parts of Bali, you should definitely see the Kecak dance performance in Ubud at night.
Yoga
Practising yoga is a must-do activity in Ubud if you're into wellness. There is a large yogi community in Ubud. Therefore, you'll find many yoga studios and retreats located here.
You can find both beginner-friendly yoga classes as well as more advanced classes. These classes are usually taught by experienced yoga instructors with lush forestry in the backdrop.
Try Crispy Duck
Ubud is famous for its duck dishes, and there are countless restaurants to choose from. However, our favourite is Bebek Bengil and Bebek Tepi Sawah.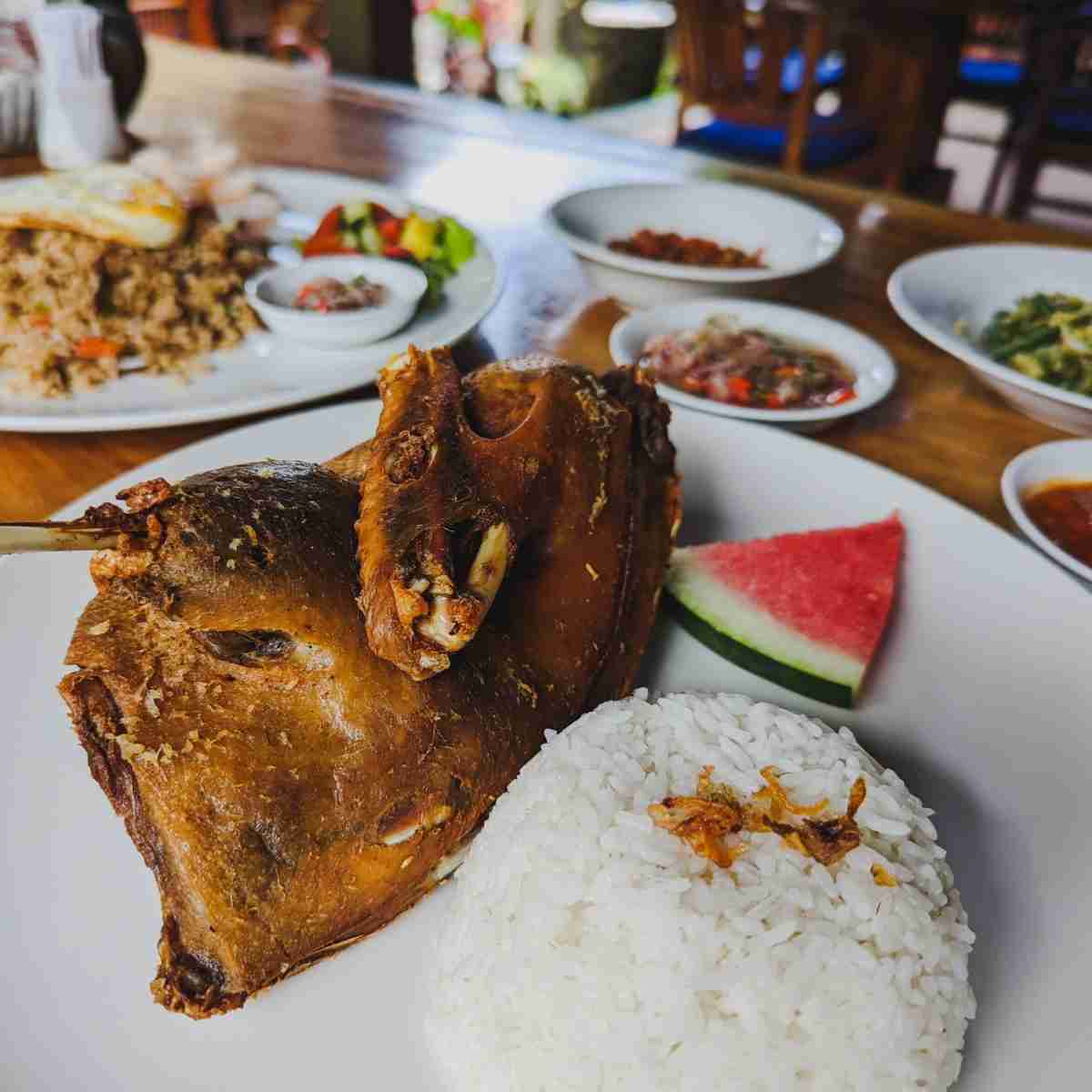 Both restaurants are among the most popular duck restaurants in Ubud. They're located in a beautiful garden with koi fish swimming in expansive ponds and offer a view of their own rice paddy fields. Both restaurants are a bit pricier but are worth a one-off experience.
Pura Dalem Ubud
Visit the Temple of Death in Ubud for a different temple experience. Pura Dalem Ubud is a Balinese Hindu temple which is dedicated to Rangda, the Demon Queen. There are multiple temples dedicated to the Demon Queen across Bali. This is because locals in Bali believe in a harmonious balance between good and bad.
Here you will find statues of wild beasts, demonic depictions of the underworld and the Demon Queen holding young babies in her arms.
Pura Dalem Ubud is one of our recommended free thing to do in Ubud. You will have to wear a sarong during the daytime to enter for free. If you don't wear a sarong, you will be asked to rent a sarong from the temple. There are also donation boxes, but there is no obligation.
Campuhan Ridge Walk
Campuhan Ridge Walk is the perfect late afternoon activity in Ubud. The 2 km walk is relatively easy and takes around 1-2 hours to complete leisurely. On the walk, you'll see stunning views of Ubud's surrounding rice terraces. It's also a great place to watch the sunset in Ubud.
The best time to do the walk is early in the morning or late afternoon to avoid the heat. It can get quite hot, and there is no shade along the way. Make sure to wear sunscreen and a hat.
Downhill Bike Tour
Take a downhill bike tour in Ubud if you want to do some sightseeing in Ubud with a bit of exercise. You can choose from many cycling tours in Ubud, and most of them will also provide hotel pick-up and drop-off.
On these tours, you'll follow a guide to cycling through Ubud and the nearby villages. Then, you'll make a few stops as your guide explains the local scenery and historical landmarks on the way.
For private tours, you can also ask your guide to pick easier or more difficult cycling routes if you prefer more of a challenge. Remember to wear lots of sunscreen and avoid cycling during the middle of the day as it will be hot.
Balinese Cooking Class
One of our favourite things we did in Ubud was a Balinese cooking class. Many of these cooking classes will begin by picking you up from the hotel and showing you around a morning market where locals will shop. Then, they'll take you to a separate location and show you how to cook 4-9 dishes.
Most of these cooking classes will cater to your dietary needs if you let them know beforehand.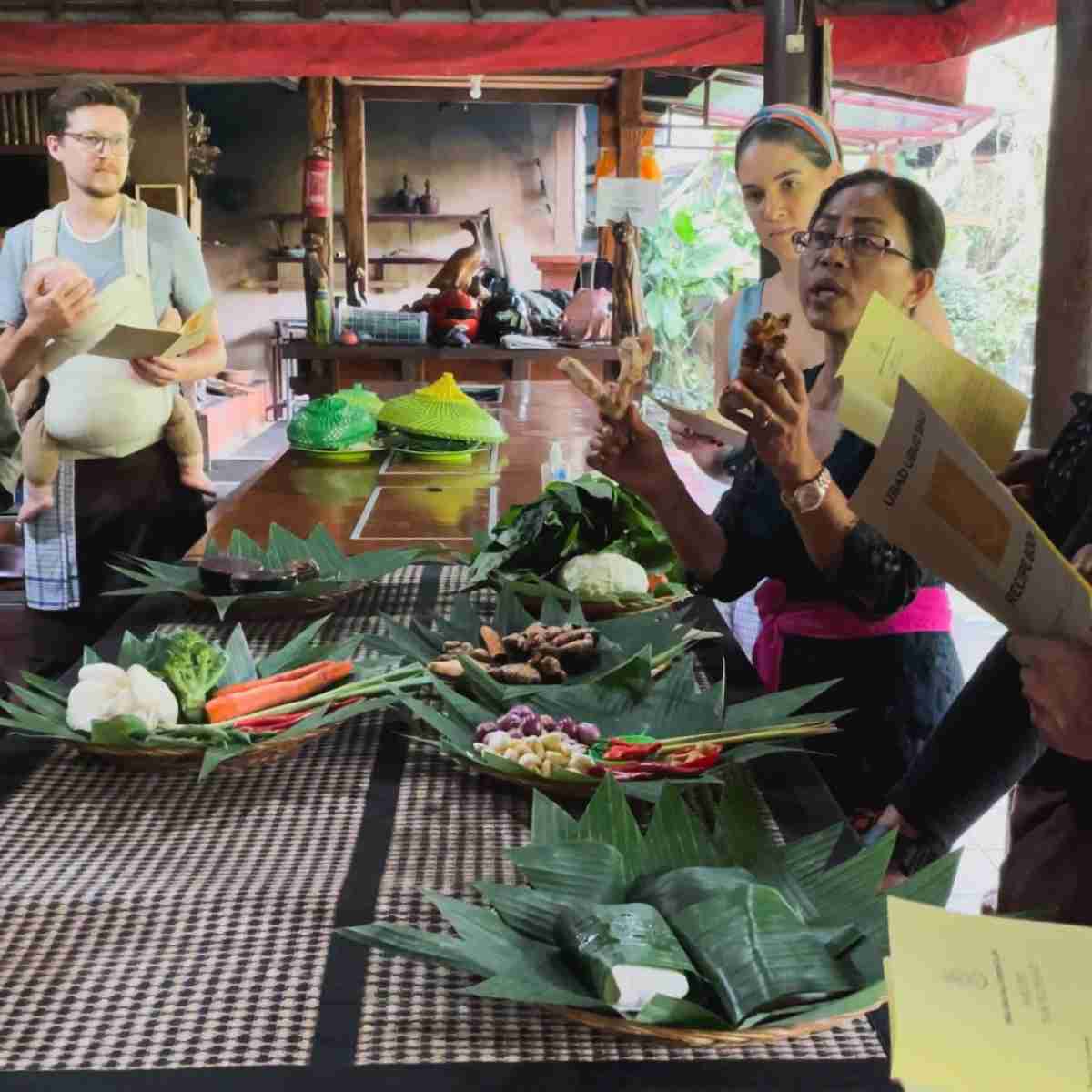 We did a cooking class with a small Balinese family based in their family home. The mother (and chef) of the house welcomed us in and offered us light snacks and drinks while she told us about her family home and some customs of a Balinese family.
She later explained the ingredients we would use and also told us what ingredients would make a great substitute if we couldn't find them in our home country. The portions that we helped cook were extremely generous. A very filling and wholesome meal. We were also given a recipe booklet to make these yummy dishes at home!
Wellness Retreat
Ubud is known for being a spiritually healing location and attracts tourists looking for a wellness retreat. Surrounded by abundant greenery, you can choose from a selection of retreats that focus on different practices and aspects.
Some will put more focus on detox cleansing and yoga, while others can focus on achieving inner harmony through sound, meditation and Balinese healing.
Ubud Art Market
Walking through Ubud's art market is a free activity you can do anytime you want to fill up the gaps in your day. There's always something new to see and new artwork by local artists being displayed. You can also head into the boutique galleries leading up to the market if a certain style of artwork catches your eye.
For a more pleasant experience, we recommend avoiding parts of the market with visible tourist souvenirs and clothing.
Aloha Swing
If taking Instagram-worthy photos is your goal, then you'll want to put Aloha Swing on your must-do list in Ubud. Aloha Swing is located outside of Ubud Central and will take about 30 minutes to reach. Here you can take photos on swings suspended over some of Ubud's rice terraces and forestry.
This is an attraction park built specifically for taking some beautiful photos. There are 9 different swings you can go to that are included in your entrance ticket. You can also rent one of their beautiful long dresses that will look amazing draped on the swings.
If you do go, we suggest also getting the park's photographer to take the photos for you. This is because these photographers are stationed at prime locations to capture the best moment of you on the swing with scenic background.
Aloha Swing: Cheatsheet
Things to do
Swing above Ubud's rice paddies and forest.
Rent a beautiful long dress.
Go on 9 different swings.
Take photos.
What to bring
What to wear
Sandals or trainers. With sandals, you will be asked to take these off.
Long dress, if you want a photo with it draping behind the swings.
Avoid short dresses or dresses with a high thigh split - these will fly up on the swing.
How long to stay
2-3 hours.
When to go
This is another popular destination in Ubud. We recommend going here first thing in the morning if you don't want to spend too much time finding parking and queuing.
How to get there
Jl. Raya Tegallalang, Tegallalang, Kec. Tegallalang, Kabupaten Gianyar, Bali 80561, Indonesia
See more info on TripAdvisor
Batik Making Class
A batik is a traditional Indonesian fabric which is made using a wax-resist method. Batik making is a great way to learn about the local culture and to take home a beautiful souvenir.
There are several places in Ubud where you can take a batik-making class, such as Five Arts Studio, Widya's Batik Class and Nyoman Warta Batik Class.
This is a fun experience for both adults and children. You can also try doing an egg painting class or a wood carving class. As these classes take place indoors, it's a great thing to do when it rains in Ubud and keeps everyone entertained.
Shopping
Shopping in Ubud is almost endless. There are plenty of shops selling traditional sarongs and Balinese arts and crafts. You will also find a range of common souvenirs, such as t-shirts and keyrings, everywhere.
At most of these small stalls, you'll be able to haggle the price and grab yourself a bargain. It's also a great way to support the local economy in Ubud, which depends largely on tourism.
Stay at a villa
One of the more relaxing things to do in Ubud is to stay at a private villa. Ubud has many affordable villas where you can enjoy a private pool, spacious king-size rooms, outdoor showers and luxury shower amenities for a low price.
It's a great way to escape the hustle and bustle of Ubud central. Unwind here after a few days of non-stop exploring, or stay indoors when it rains.
Get a day tour of Ubud
One of the best ways to see Ubud quickly is by getting a local guide to take you on a private tour. It's hassle-free and saves a lot of planning and researching for the best activities to do in Ubud. Also, not as expensive as you think it would be.
During our stay in Ubud, we hired a local guide to drive us around for one of the days.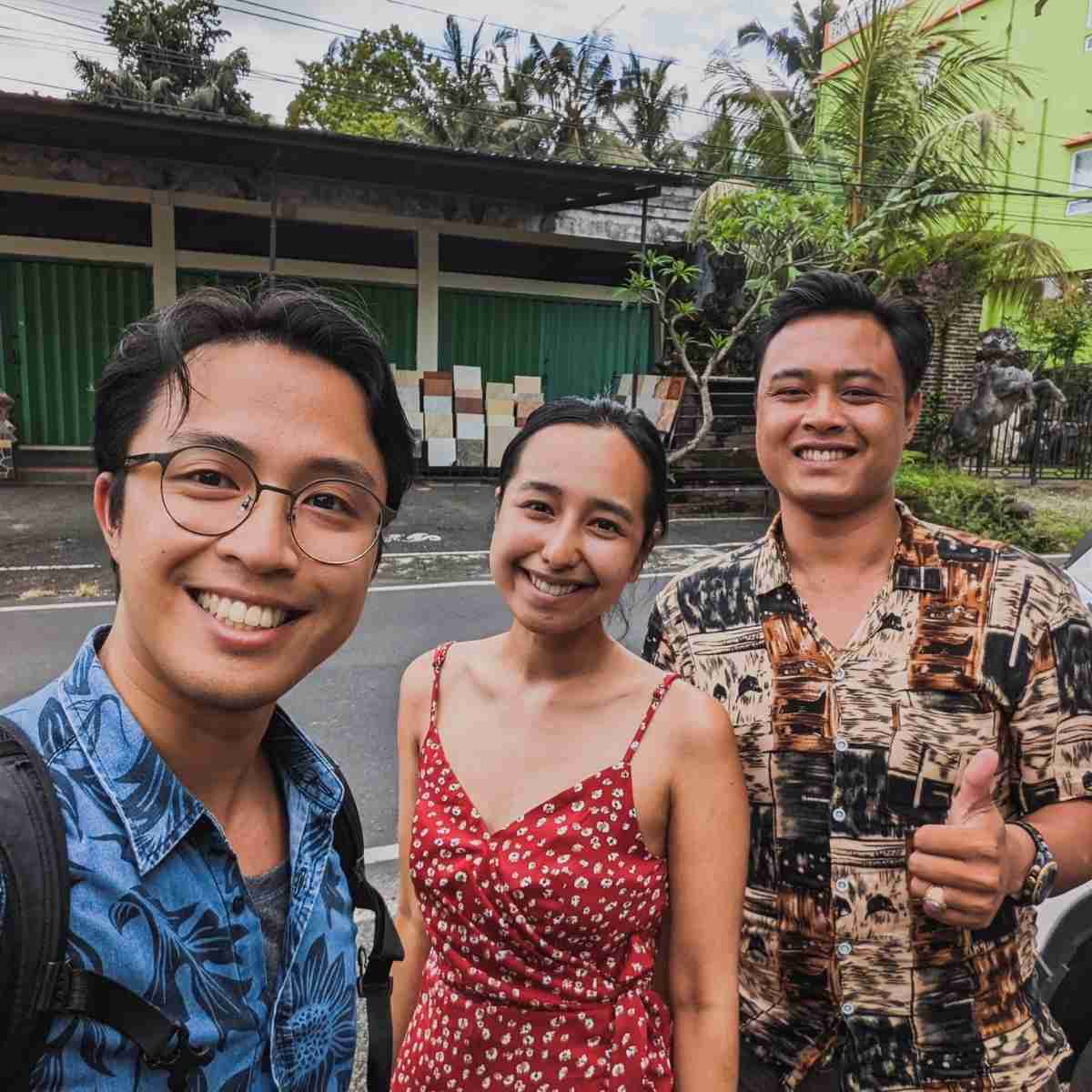 Our local guide was able to tell us a lot more about the Balinese culture, tradition and history of Ubud, which you can't find online. While a lot of day tours will have prepackaged spots they will take you to, you can always customise your day trip. For example, to start earlier or go to another destination instead.
Make sure you bring enough cash for entrance fees, as this is usually not included in the local guide price. You will only need to pay for yourself to enter, as tour guides can enter free in Ubud's temples and tourist attractions.
We would also recommend you find a place you want to eat at beforehand rather than asking your tour guide on the day. In our experience, most tour guides will bring you to more expensive dining spots with great views. However, you'll most likely be able to find the food better somewhere else.
Ubud day tours and local guides: Cheatsheet
Things to do
Customise your tour beforehand
Talk to your guide throughout the day to see what they recommend doing next if you're running early or late in your schedule.
What to bring
Cash for temple and attraction entrance fees
Sunscreen
Camera
Water
Change of clothes and towel, depending on your activities.
What to wear
Sandals or trainers. Most local guides will allow you to leave a few things in the car. So feel free to ask ahead and bring a change of shoes with you.
How long to stay
8-10 hours. Most private day tours will last between 8-10 hours.
When to go
We recommend you start any day tour in Ubud before 9:30 am. If you're an early riser, try to get yourself a private day tour that can start at 7:30 am. This way, you'll be able to enjoy a lot of the popular tourist spots all by yourself.
How to get there
Most private day tours will offer hotel pick up and drop off. Alternatively, you can also let them know where you want them to go instead.
See more info on TripAdvisor
Must do cultural activities in Ubud
Ubud is the cultural heart of Bali for good reasons. You won't run out of cultural things to do in this area. Here are some of our favourite cultural activities in Ubud, Bali.
Spiritual things to do in Ubud
Known for sacred temples as well as endless rice paddy fields, Ubud is a great place to reconnect with your inner self. Here are some spiritual things you can do in Ubud.
Romantic things to do in Ubud
There are many romantic activities in Ubud you can do with your partner. Here are some of the things to do that are great for couples in Bali.
Activities in Ubud for adrenaline seekers
If you want a bit of adrenaline rush while you're in Ubud, Bali, you can check out some of the activities below.
Free things to do in Ubud
Admission fees to many of Ubud's temples and attractions can range between 10,000-50,000 IDR and are relatively cheap. However, if you're looking to save yourself some money on holiday, here are some free things to do in Ubud.
Fun things to do in Ubud for kids
While we didn't travel with kids to Ubud, we did see a lot of families with young children around. Here's our list of fun things to do in Ubud for kids and keep them occupied.