Bali rice fields are a must-see attraction for anyone visiting this gorgeous island. It'll be hard for you to find the same experience of walking through one anywhere else. So, if you're contemplating a trip to these stunning Indonesian greeneries, you've landed in the perfect place.
Here, we've compiled a comprehensive guide to the 9 best Bali rice fields to soak in Balinese landscapes. We'll also highlight the best time to plan a visit and some helpful suggestions, insider tips, and local tips to make your travel experience a breeze.
You can learn a lot about island life by checking out these 'sawah padi' and 'ladang padi', which mean 'rice fields' in the local language. The cultivation of rice is a cultural relic for the Balinese. Subak is a centuries-old method that locals used to irrigate rice. Till today, the beautiful tiered designs continue to wow visitors.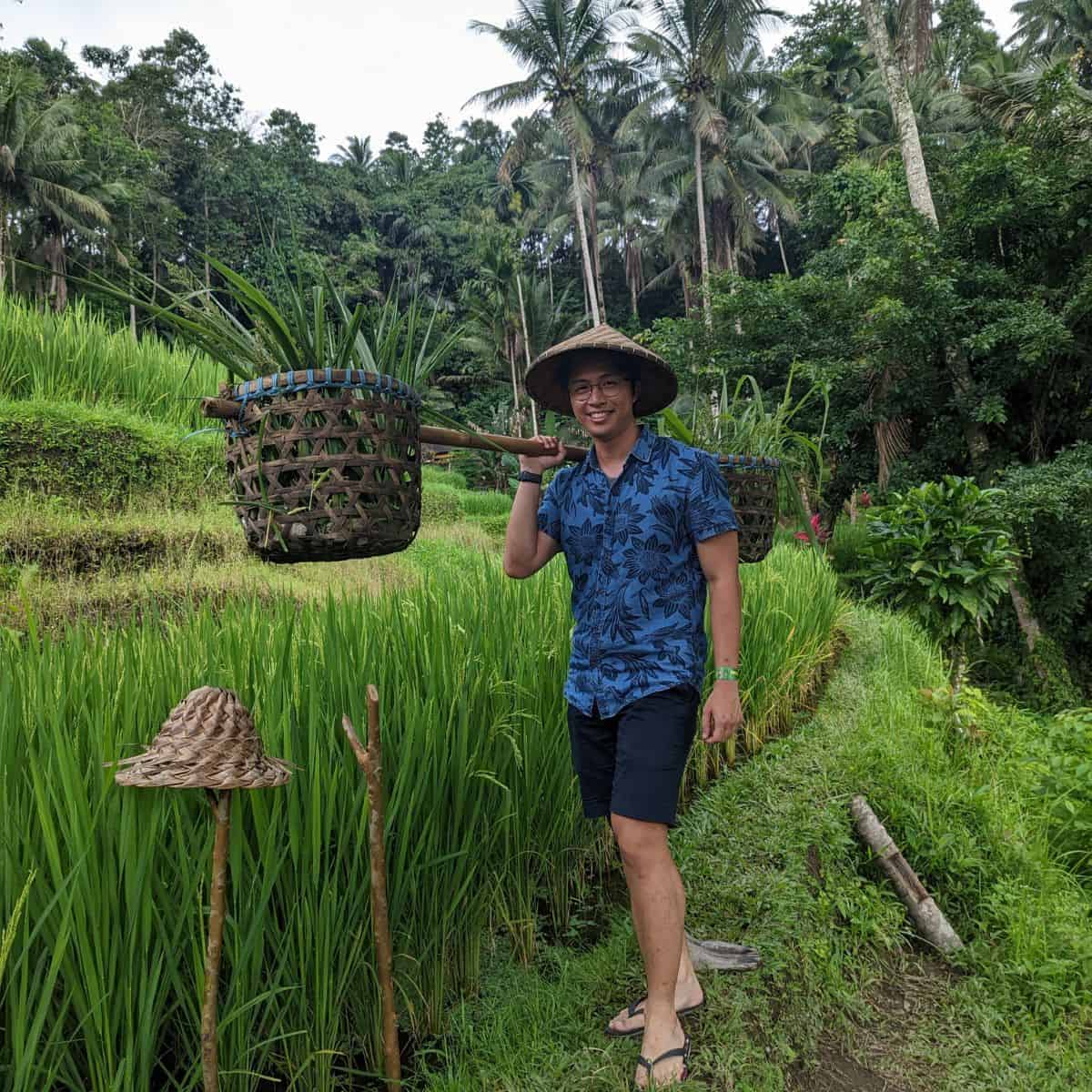 In our opinion, your Bali vacation isn't complete unless you stroll through the Balinese rice terraces and take in the stunning landscape.
Moreover, you'll have a chance to integrate into the Balinese culture and snap several photos of these Insta-worthy spots. However, you should approach your visit with respect for the local culture and the hardworking people who need the paddies to survive.
Best Time To Visit The Rice Fields
The best time to see rice fields in Bali in any season is at sunrise. If you arrive there early, you can beat the masses and experience the wonderful sun rays as they filter through the leaves of the palm trees.
If going early morning does not fit into your itinerary, then we recommend heading over in the late afternoon. We found that most tourists end up visiting these green areas just before and after lunchtime. So, it's best to avoid those times so that you don't end up having to queue during your time at the sawah padi!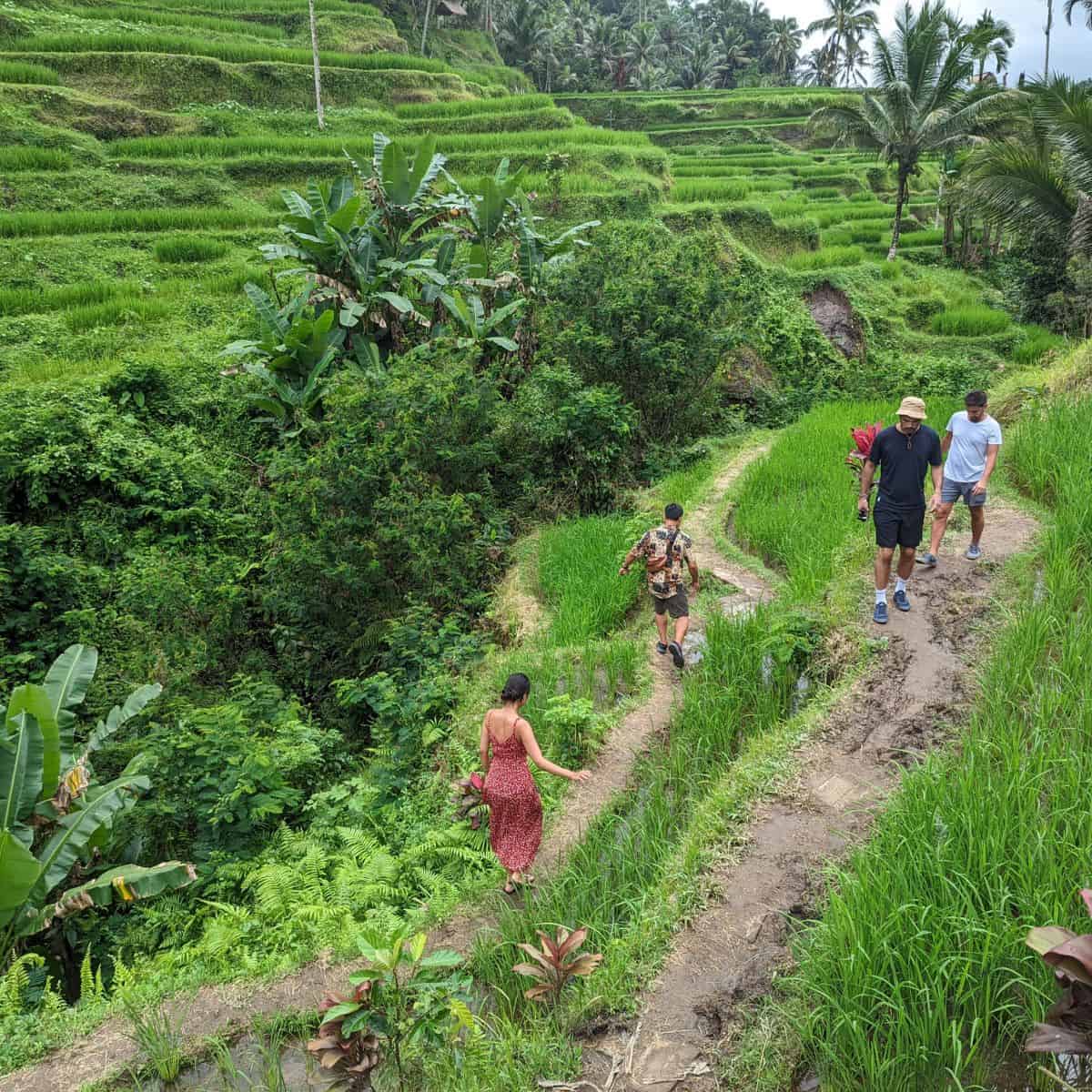 So, what are the best Bali rice fields you shouldn't miss during your vacation? Check out our guide.
Jump to:
Tegallalang Rice Fields
Tegallalang is a renowned Ubud rice field and is strongly embedded in a well-known ancient Balinese irigation system dubbed Subak. It's among the recognized Bali rice fields UNESCO World Heritage Site. Also, you can enjoy nice and warm, year-round weather at the terraces.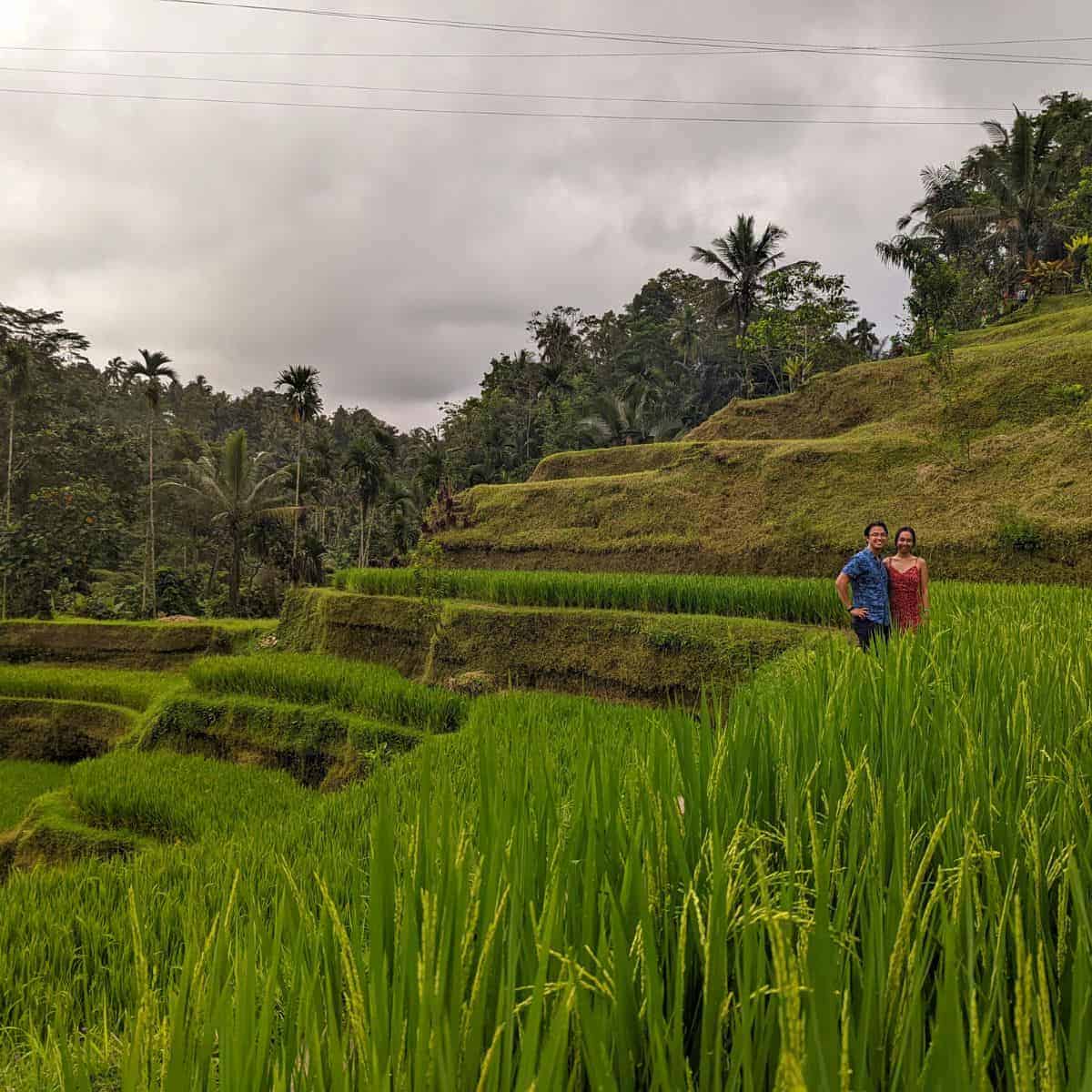 Tegallalang gives a breathtaking view of the rice fields in Bali. They stretch out before you on the valley slopes. Hence, the elevated, breezy roadside viewpoint is popular for tourists to stop and take photographs.
In addition, you can also find some nice spots like the Ubud swings here to capture amazing photographs. Alternatively, you can head towards Telaga Waja rapids or down the river streams for some fun water rafting.
What to do at Tegallalang Rice Terrace
Upon reaching Tegallalang Rice Terrace, you can savour the view from the top. Otherwise, you can also trek down and climb back up the opposite side. When you're hiking downhill, make sure you bring the right shoes, so it's comfortable.
It will take you thirty minutes to one hour and a half to tour every inch of the green terraces. Once you're on the paddy farms, you can watch the water trickle down narrow channels between the ridges and the bare land.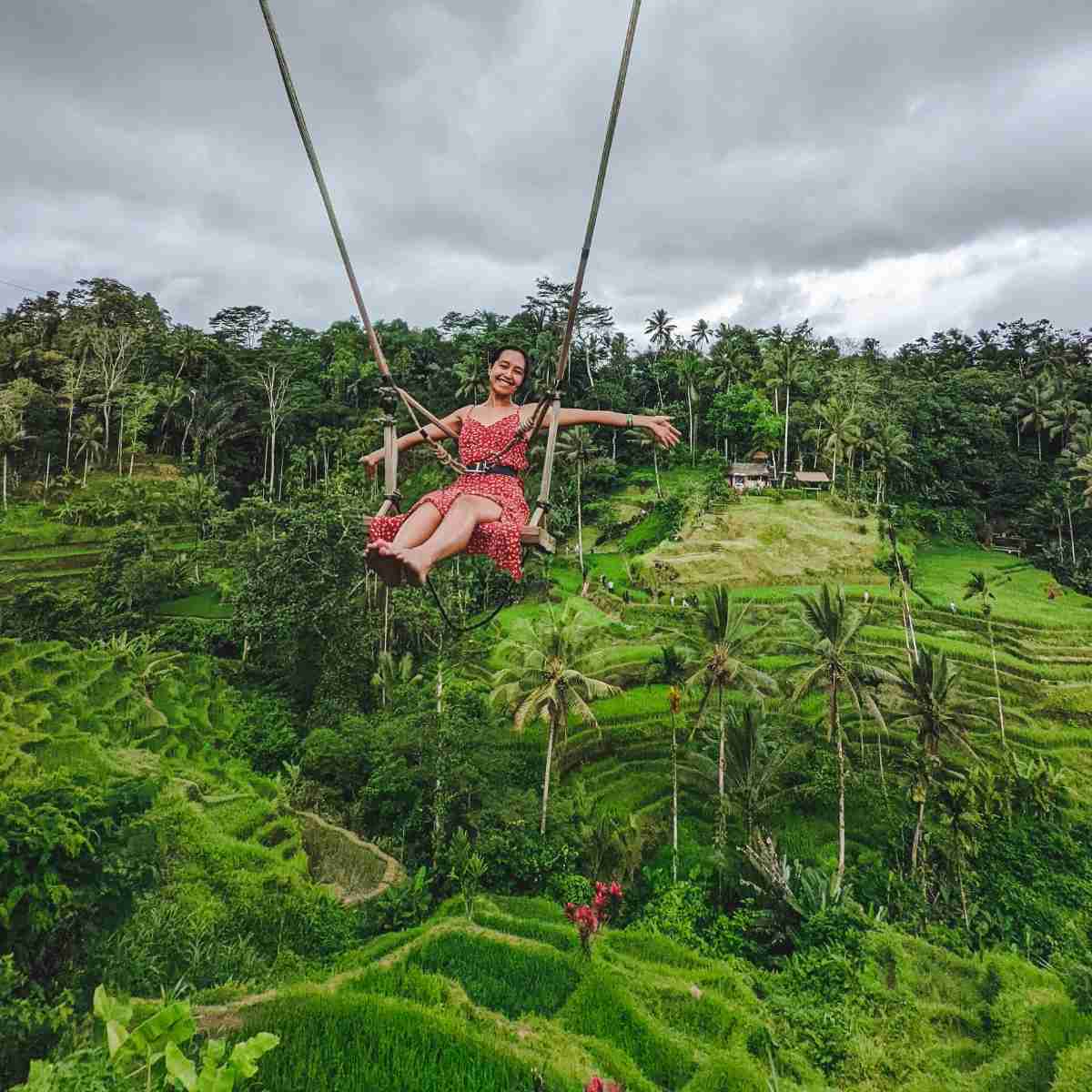 A visit to Tegallalang rice paddies in Bali isn't whole without photographs of the Love Bali sign located at the area's entrance. You can also choose a Tegallalang Bali rice fields hotel that overlooks the Indonesian meadows, where you can sip on Bintang or coconut water as you admire the breathtaking green landscape.
The best time to visit the Tegallalang Rice Fields is March, August, or September. This is when they're greenest. As the harvesting season nears October and April, the sawah padi turns yellow.
One great thing about Tegallalang is its closeness to Ubud, making it easily accessible. Because it's often overrun with tourists, we recommend visiting early in the morning or late in the afternoon.
Teres Sawah Padi Tegallalang
Jl. Raya Tegallalang, Tegallalang, Gianyar Regency, Bali 80561, Indonesia
Jatiluwih Rice Fields
Jatiluwih rice paddies are a stunning UNESCO World Heritage Site in North Bali. They're the biggest and most magnificent rice fields in Bali. Besides, Jatiluwih is undisturbed and less busy than the more famous Tegallalang terraces. So don't miss them when touring Bali.
Jatiluwih terraces offer a remarkable view with more than 600 hectares of paddy following the undulating hillside. You can walk for miles and still be surrounded by the fields.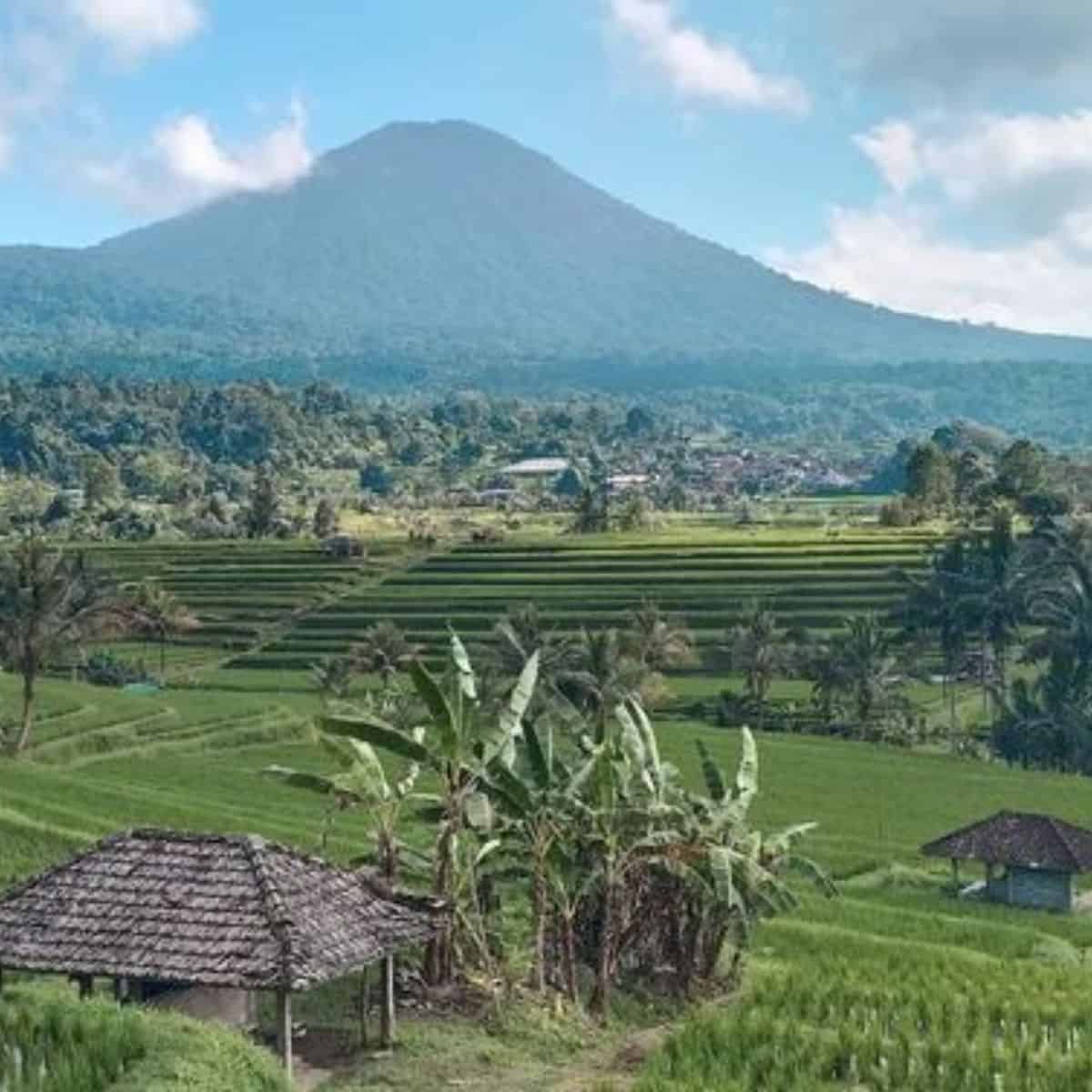 Touring the Jatiluwih areas is a highly authentic Bali experience, thanks to the region's rural nature, which consists mainly of farming families. The Batukaru Mountains, Mount Abang, and Mount Agung are visible on a bright day, providing magnificent, expansive landscapes.
What to do there at Jatiluwih rice paddies
Cycling in Jatiluwih is a beautiful way to appreciate the stunning surroundings of the Bali rice fields UNESCO World Heritage Site. You could hire a bicycle and take a Bali rice fields tour by yourself or schedule a cycling tour with various organizations.
There are several minor waterfalls in the vicinity of Jatiluwih, making it simple to incorporate a trip to one of them with a tour of the paddy areas. The most renowned waterfall in Jatiluwih is the five-meter-high Yeh Hoo Waterfall, complemented by beautiful jungle surroundings.
You can visit Jatiluwih throughout the year. However, if you'd like to enjoy the best scenery, visit before harvest time. Bali rice fields in July are lush and green.
Although it may be difficult to access, Jatiluwih is worth a visit if you'd like to experience Bali away from the crowds. If you talk to locals, you can stay in inexpensive guest houses in rural areas and experience typical Balinese life.
Sawah Padi Jatiluwih
Village, Jl. Jatiluwih Kawan No.Desa, Jatiluwih, Penebel, Tabanan Regency, Bali 82152, Indonesia
Sidemen Rice Fields
Sidemen Ubud rice fields are a breathtaking stretch of paddy green areas in eastern Bali. We highly recommend this attraction if you intend to visit Besakih Temple, as their locations are adjacent. While these fields are not as well-known as Tegallalang or Jatiluwih, their view is comparable.
Sidemen Bali rice fields aren't that vast, but the magnificent mountainous background is their distinctive feature. Mount Agung, the tallest mountain in Bali, can be seen from the paddy fields, with the background enhancing the beauty of the landscape.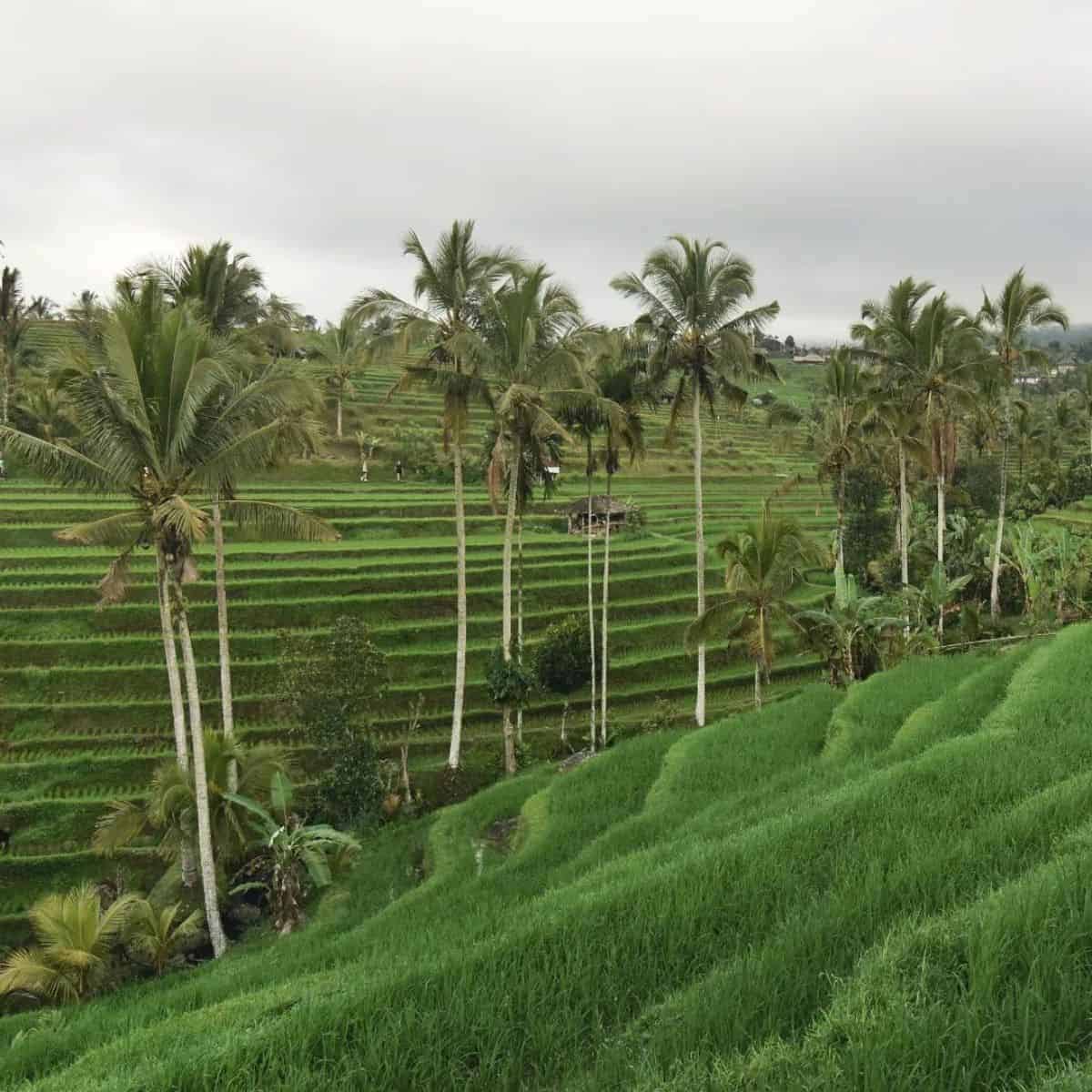 What to do at Sideman
Strolling through the terraced landscape is a great way to spend time in the paddy meads. A forest of evergreens obscures views of the rice fields, so you cannot see them well from above.
Considering that the Sidemen paddies in Bali are found near Mount Agung, one great activity to engage in is hiking. Also, you can try rafting in one of the many rivers flowing in the valleys below.
Despite being tucked away in a valley surrounded by rice paddies, Sidemen isn't far from Padangbai and Candidasa. You can drive to these nearby beach villages and enjoy some lovely ocean views.
According to locals, May and October are the best times to visit the Sidemen Balinese rice terraces. During this time, the fields are nicely green, and it is quiet. In addition, we recommend visiting these Balinese landscapes early in the morning before many people start flocking in.
Sawah Sidemen
Jalan, Sangkan Gn., Kec. Sidemen, Kabupaten Karangasem, Bali 80864, Indonesia
Website
Canggu Rice Fields
Canggu is renowned for its laid-back culture, excellent surfing beaches, and numerous cafes. While it is predominantly a surfer's town, you can find some Bali rice fields just outside of the area.
Even though Canggu Bali rice terraces aren't that expansive, they offer a welcome respite from the town's crowds of tourists. The Canggu rice fields are a hidden gem you shouldn't miss. All you can see are the green pastures extending as far as the eye can see and roads lined with palm trees.
The short, unlabeled roads immediately inland from the area's beaches, like Echo and Canggu Beach, offer spectacular views of the terraced fields.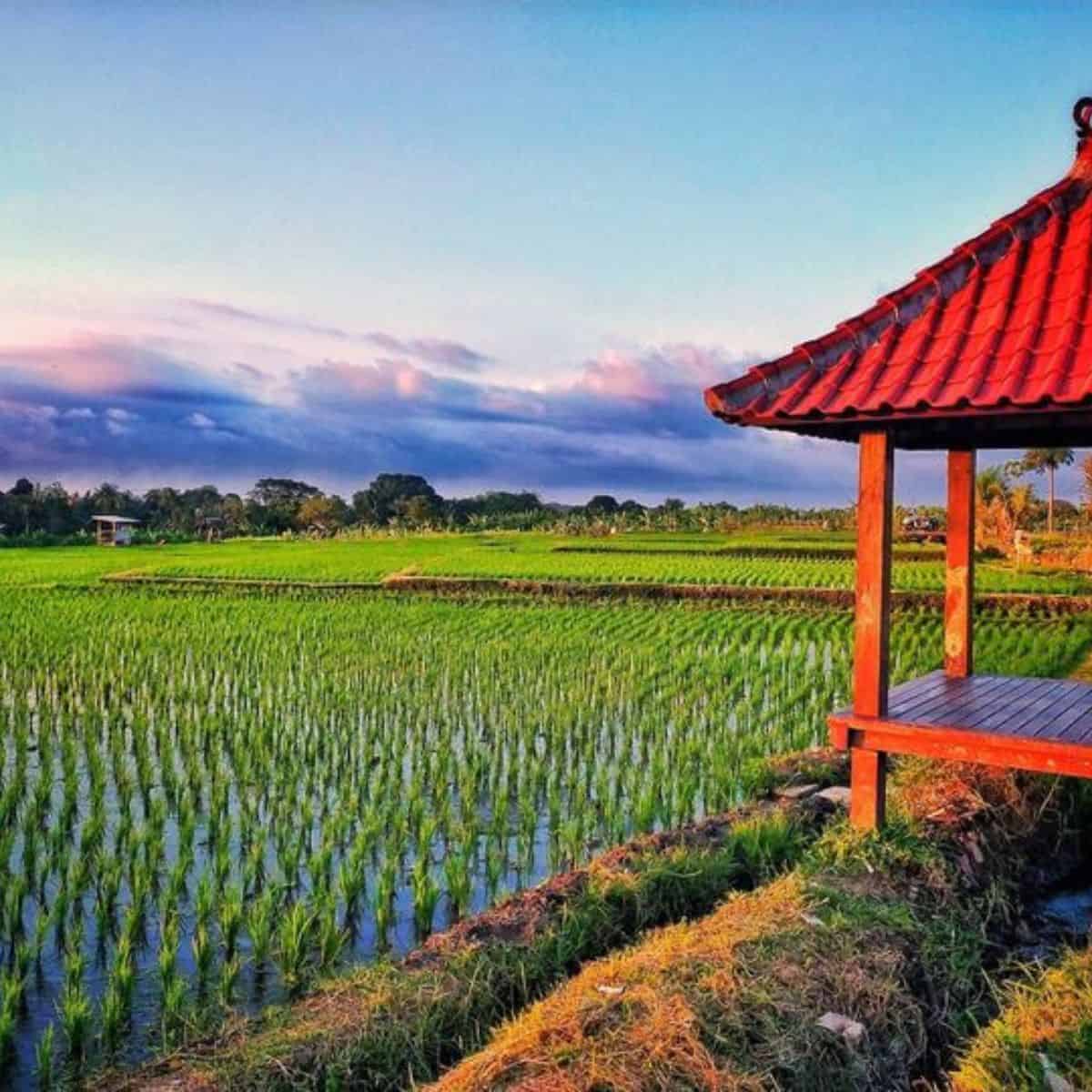 What to do at Canggu Rice Fields
Explore nature's tranquillity at these Canggu rice fields. It's one of our favourite things to do in Canggu. While breathing in the fresh air at these Balinese rice paddies, you'll experience serenity in the splendour of the green landscapes.
Combine your visit with a trip to the Tanah Lot temple. It's about 20 minutes from Pererenan, making a fantastic day out.
On a bright day, it's possible to view both Mount Batur and Mount Agung at a distance. From our perspective, this was a stunning scene that you'll only find in Bali.
We love visiting the Canggu Bali rice paddy early morning or late evening before darkness sets in. At these times, you can marvel at the sunrise and setting sun. However, ensure you don't stay in the fields till late as most areas aren't lit.
The green fields are appealing, and you might want to roam around them to take the finest photograph or look closer. However, remember that there are farmers who put in the work to make them look attractive.
Therefore, be considerate and refrain from destroying any of their fields. When you talk to locals, they will be grateful that you did not disregard their livelihood.
Ladang Padi Canggu
Jl. Raya Canggu, Pererenan, Mengwi, Kabupaten Badung, Bali 80351, Indonesia
Rendang Rice Fields
The Rendang Bali rice paddy is situated in East Bali, adjacent to Sidemen. With Sidemen's increasing popularity, day visits to Rendang provide a more tranquil experience and a taste of authentic rural Bali.
Rendang is a highland community with lovely views of the stunning landscape. Several rivers and rice paddies are adjacent to Telaga Waja, a popular rapid in Bali. On a bright day, the Mount Agung volcano is visible in the backdrop.
Besides the farmlands, Rendang is renowned for its stone carvings. If you look carefully, you'll realize that the roadways are lined with crafted stone statues and temples.
What to do at Rendang
The lush green Balinese landscapes with the beautiful mountain backdrop are just breathtaking. You can find some nice spots to capture amazing photographs, such as the Telaga Waja rapids or down the river streams.
Also, Besakih, Bali's largest and most renowned temple, is not far from the village. So, we'd suggest you plan a day trip to this area to round your understanding of the local culture.
If you're thinking of taking a Balinese rice fields tour with a local guide, we suggest starting your adventure in the early morning. The weather in the morning is superb, and other tourists won't disrupt your view. The farmers are also more friendly too.
Unlike the more established Balinese rice terraces of Jatiluwih and Tegallalang, there are few tourist accommodations in Rendang village.
Therefore, we'd suggest touring on a day excursion from Candi Dasa, Sidemen, or Amed. Alternatively, you can try to find accommodation in the village by asking around.
Sawah Padi Rendang
Pesaban, Rendang, Karangasem Regency, Bali, Indonesia
Munduk Rice Fields
Surrounded by rice paddies, coffee, and plantations, Munduk Bali rice paddy is tucked away from the huge tourist crowds in Ubud, Kuta, and Canggu. It's the ideal area in Bali to get away and explore the beautiful landscape and many ecosystems that make up the gorgeous island.
The village of Munduk in northern Bali is a little-known gem yet to be discovered by many. You could spend your days exploring waterfalls and tropical forests and evenings unwinding at a resort with a view of the mountainous horizon.
The view from the Bali rice fields swings is breathtaking, where you can also see jungle-covered hillsides, temples, and lakes. Munduk Balinese rice paddies are a welcome change to the crowded fields and show visitors another side of Bali.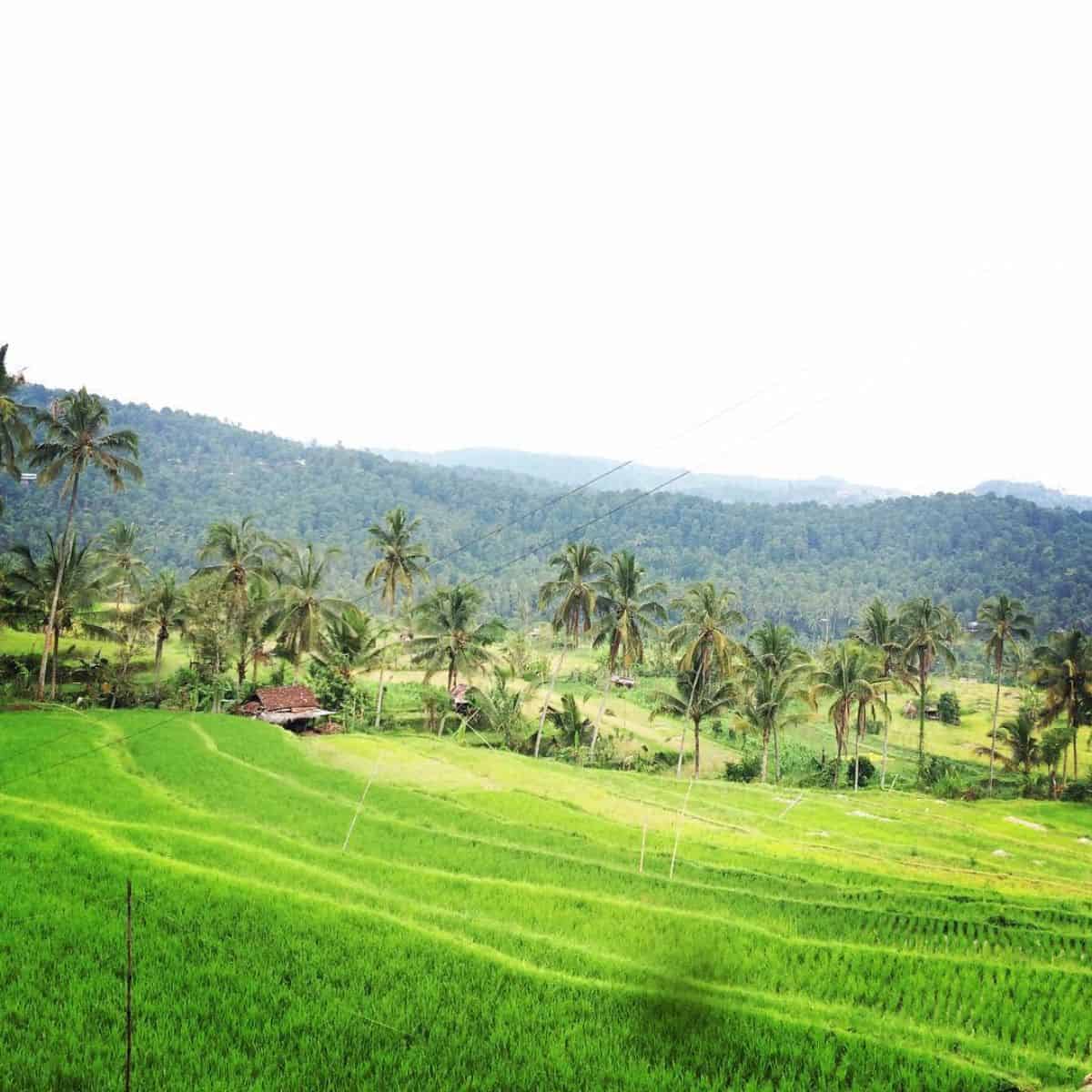 What to do at Munduk rice fields
Munduk rice fields in Bali are renowned for their numerous waterfalls and clear pools. Some notable waterfalls to explore during your Munduk hikes include Banyumala, Banyu Wana Amertha, and Gitgit waterfalls.
You can also visit the Ulun Danu Beratan Temple, a popular water temple for Hindus in Bali. This stunning temple is just a 10-minute ride from Munduk. It is surrounded by jewellery and has a majestic mountainous background.
Plan your Munduk Bali rice fields tour in July and visit during the early mornings as the weather is cooler compared to noon or the afternoon. Compared to Ubud rice fields, Munduk is less crowded.
During your adventures, you'll hardly encounter another tourist, so it's best to have everything you need. However, many locals understand English, so you won't be stuck if you need some help.
If you're travelling with young children to Munduk it might be slightly challenging and needs more preparation than other Balinese rice terraces. This is because the steps down are slightly steeper.
Teres Padi Munduk
Munduk, Banjar, Buleleng Regency, Bali 81161, Indonesia
Pupuan Rice Fields
The Pupuan Bali rice fields are located in Bali's western region. Here, you can relish the impressive countryside ambience accompanied by nobody but the welcoming local farmers.
These rice paddies in Bali offer a tremendous panoramic view as every farming square has a converging seam that separates it from the next. The region's slopes have been transformed through time into breathtaking terraces, as well as orchards and coffee plantations.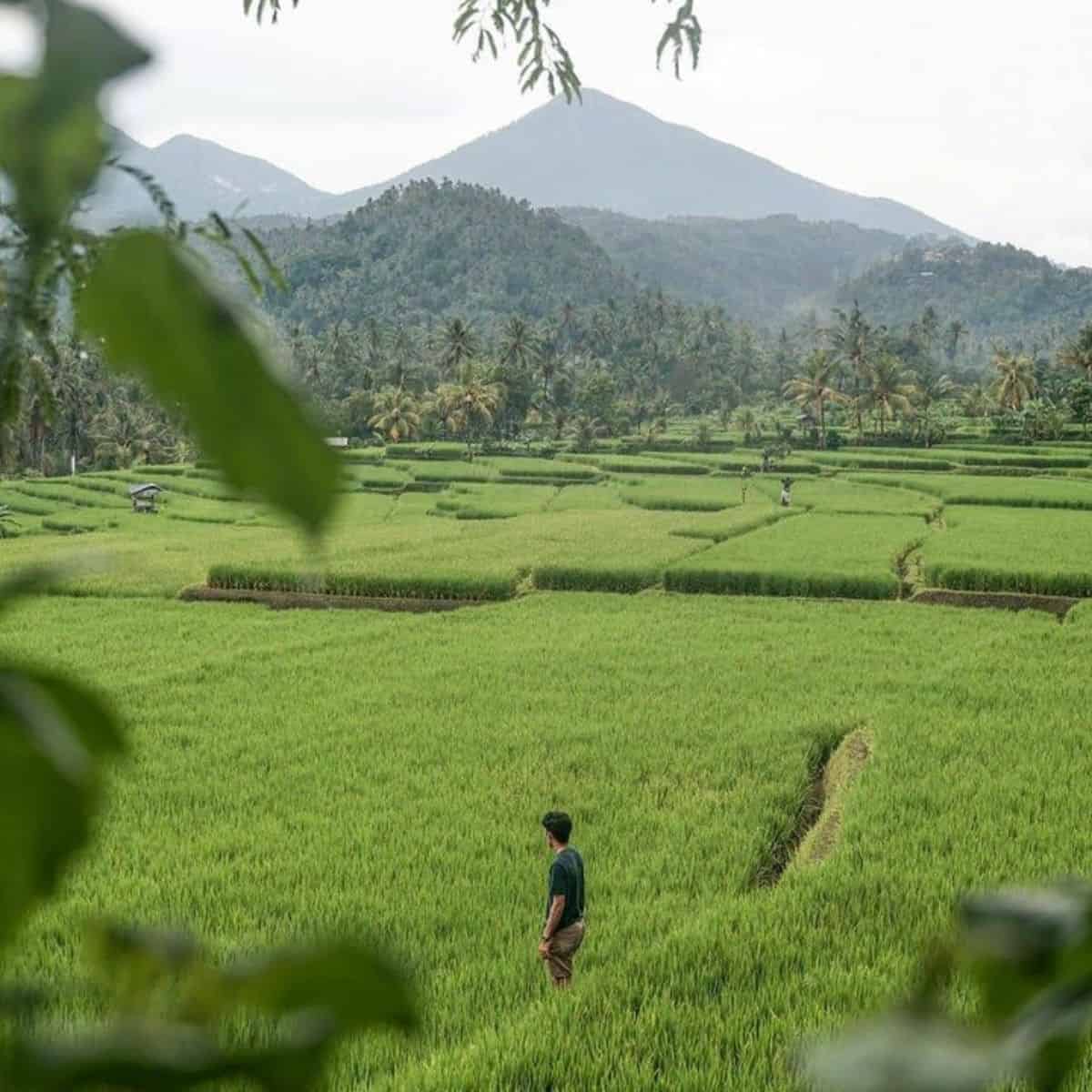 What to do there
Nature enthusiasts will find a tropical forest with gorgeous waterfalls and also a secret temple off-road.
If you can, we also highly recommend interacting with local farmers. Especially if they're not too busy working. We found that most of them were very friendly and willing to share about their life. However, their English is a little limited, so be patient.
Some even encouraged us to try on some props. Then, you get to better appreciate the Balinese way of life, defined by hard work and steadfast commitment. Also, gain firsthand knowledge of the ancient Subak irrigation system. If you are talking to the farmers and trying on the props, make sure to leave a small tip to help them out.
After your walks through the steep Balinese rice terraces, you can enjoy some drinks to cool off. There are numerous eateries overlooking the Pupuan Bali rice terraces where you may refuel while admiring the stunning green landscape.
The Pupuan rice fields in Bali are best enjoyed late in the evening or early morning when there's a clear sky. During these times, the weather is incredible, and nature is pristine. Avoid the area when it's rainy, as the fog usually obscures the entire village. It's also a lot more difficult to walk around too.
Due to its remote position, there are limited accommodations and public facilities all around Pupuan Bali rice fields. So, try finding the best accommodation, and if you don't, you can reside in one of the nearby villages. You can also make this visit a day trip only.
Tanah Sawah Pupuan
Belimbing Village, Pupuan, Tabanan regency, Bali, Indonesia

Busungbiu Rice Fields
The terraces of the Busungbiu rice fields are the epitome of natural, fresh, and stunningly beautiful. Views of the Bali rice terraces set against a clear sky are breathtaking. We also love how the lush green plants make the ambience more natural and tranquil.
Busungbiu is a lovely Bali rice paddy in the serenity of Kekeran village's deep valleys. Thus, it offers stunning scenery of the farming terraces and the surrounding landscape. Compared to other well-known rice paddies in Bali, this one receives fewer tourists. As such, it's an excellent way to get away from the otherwise busy Bali destinations and enjoy nature.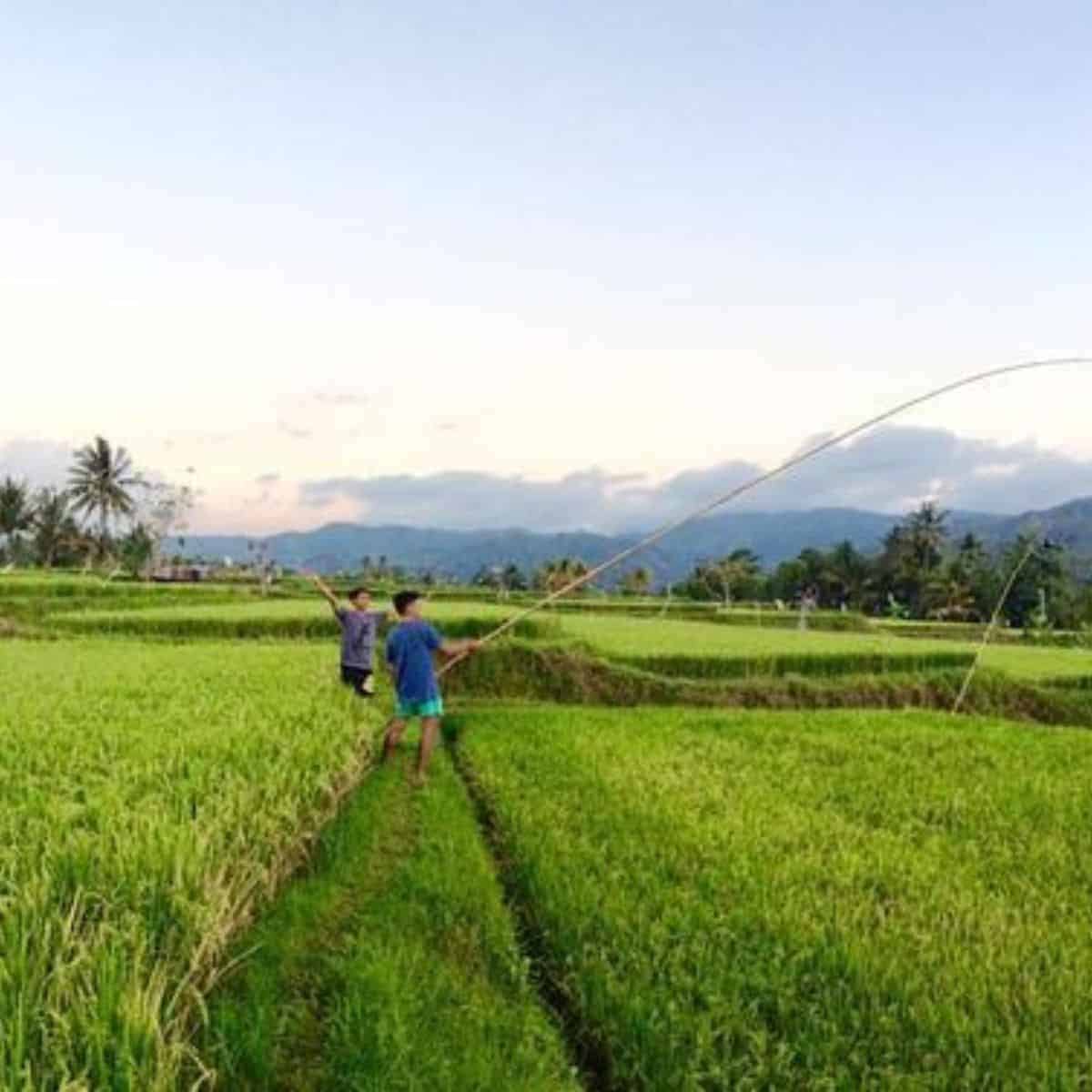 What to do there
Walking through the paddy terraces is one of the activities you could do at Busungbiu Rice Terrace. You could explore the pristine ecosystem of rice fields and rivers and meet farmers cultivating Indonesians' daily food source.
However, the best thing to do at Busungbiu is to go up to the top and enjoy the panoramic view of these Bali rice fields. The terrace is also strategically located approximately 30 kilometres from Singajara town. Therefore, you can explore further north to the Singajara Lovina beaches.
Few people tour the Busungbiu Bali rice fields, so you can visit the fields anytime. However, the best time to visit is early morning or late evening hours to enjoy the rising or setting sun.
Visit when the fields are greenest, preferably in April and October. The rice fields in July aren't as full or green but still provide remarkable scenery.
You should come well-prepared if you'd like to hike through the paddy areas. The slopes are steep, so it's best to bring some sturdy hiking shoes. Also, wear sunscreen and a hat to protect yourself from the sun, especially if you're visiting during the warmer months.
Sawah Padi Busungbiu
Kekeran, Mengwi, Badung Regency, Bali 80351, Indonesia

Kajeng Rice Fields
If you're not sure about what to do in Ubud, Kajeng Bali Rice Fields are among the best rice fields in Ubud to visit. The area is north of town and away from the bustling streets. The fields are fertile, and the valley scenery is simply magnificent.
Touring the Balinese rice paddies might be thrilling for individuals who enjoy road sports and hiking. Here, you can go on an excursion around the rough, grassy dirt roads while seeing the farmers at work. Simple things that are uncommon in urban settings.
If you want to escape the chaos will appreciate the tranquillity and peace of these rice paddies in Bali.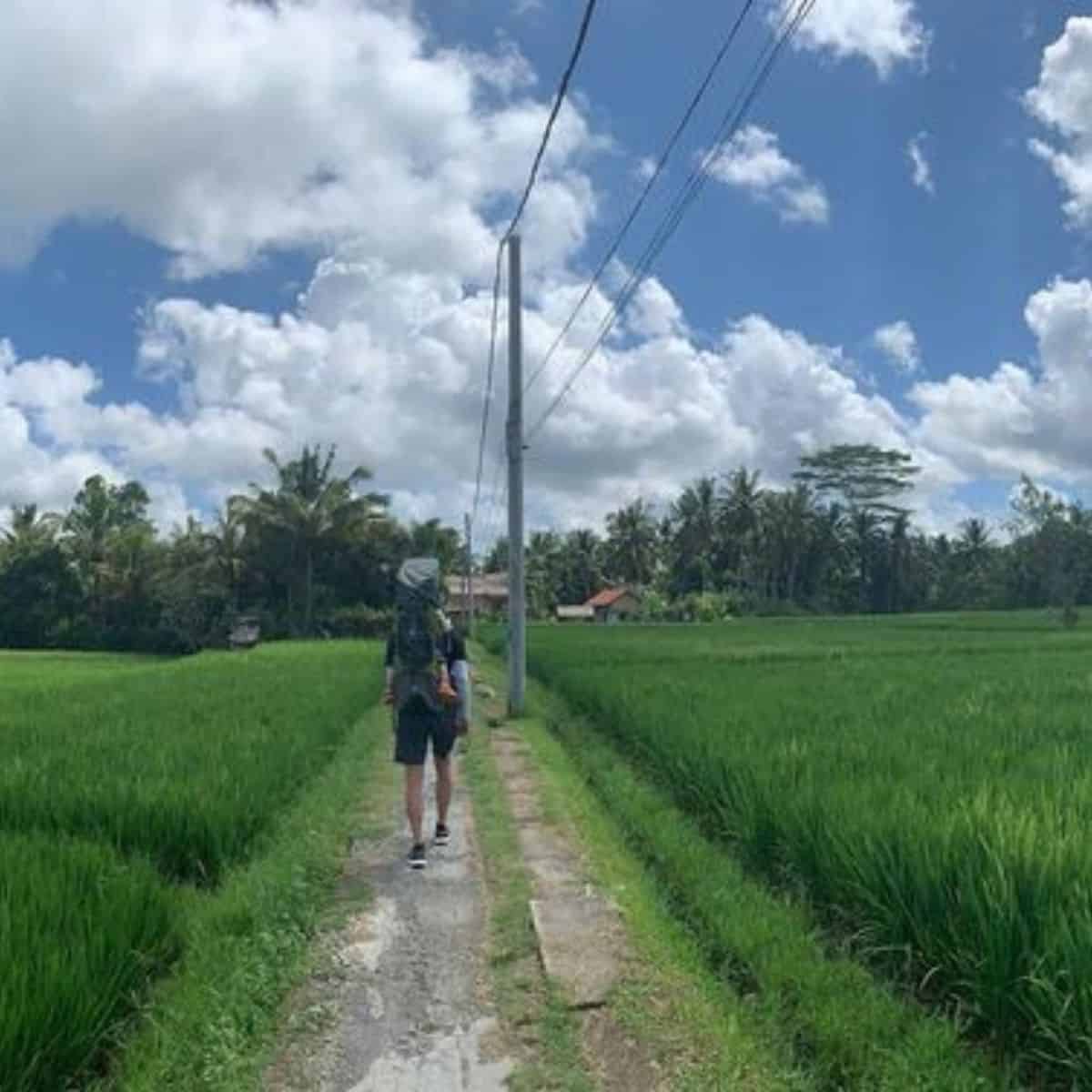 What to do there
We think 45 minutes are enough for casual tourists to tour the Ubud rice fields. However, it may take around two hours to delve deeper into the area surrounding the farm green areas. Be sure to carry a camera to capture every moment here to make your vacation more memorable.
The Kajeng Bali rice paddy is away from the tourist crowds common in other Ubud rice fields. This area is a great environment to interact with the locals. The locals here are quite friendly, and you can learn about their culture and way of life.
As Kajeng is close to the town centre, you can also visit a few Ubud temples on the same day. We recommend heading to the Ubud Water Palace.
Along the route, you'll find Sweet Orange, a Bali rice fields hotel that we'd encourage you to try. If you want a bite, the restaurant is also quite nice. If not, you can pause for a while at some of the best cafes in Ubud that you'll see on your way back.
The best time to visit the Bali rice fields is in July, when the paddies are entirely green. You can also enjoy the view of the setting sun at around 5 pm or catch the appeal of the sunrise before dawn.
The roadway along the Kajeng Balinese rice paddies is paved, but not at the entry adjacent to Puri Lukisan. The road could get muddy whenever it rains, so ensure you wear comfy footwear.
Ladang Padi Kajeng
Jl. Kajeng No.88, Ubud, Kecamatan Ubud, Kabupaten Gianyar, Bali 80571, Indonesia
Top Bali Rice Fields To Visit
Here's a summary list of the best rice fields that we think you should visit when you're in Bali:
Canggu Rice Fields
Rendang Rice Fields
Munduk Rice Fields
Pupuan Rice Fields
Our Favourites
If you are wondering about our preferences, here are our overall top 3 picks for the best Bali rice fields to soak in Balinese landscapes.
Tegallalang
Tegallalang fields are the best rice fields in Ubud as they're easily accessible. You can get a taste of the green, lush fields without having to travel too far. Plus, it's close to other attractions and easy to include in a full Ubud day trip.
Jatiluwih
Unlike Tegallalang, Jatiluwih is not readily accessible, making it perfect if you want to escape the crowds. Jatiluwih is the perfect green terrace to enjoy the real Balinese culture away from throngs of tourists.
Sidemen
We love these rice fields because they are mountainous, making them perfect for a nice hiking experience. You can combine sightseeing with some vigorous exercise for the best experience.
Did you love our guide? Check out our Instagram @tabitogether for more exciting travel blogs!