Our 1-day itinerary in Ubud can cover most of the unique cultural attractions this small town in Bali has to offer. However, to fully appreciate its beauty, we recommend you spend more than 1 day in Ubud. Consider staying for at least 3 days in Ubud or a week if you want to explore more leisurely.
In our ultimate Ubud day trip, we focus on getting a balance between unique cultural activities, relaxation and making stops in between to enjoy some local delicacies. However, if you're looking for a more laid-back travel itinerary, a wellness-focused or a foodie trip, we've included 3 variations as examples.
Our 1 day Ubud itinerary begins at 7 am and ends around 8:30 pm so you can get the most out of your time here. However, you can adjust these to your own travel plans by starting a bit later and ending your day earlier. You can also remove some activities you're not interested in and swap them with other things to do in Ubud.
However, we have planned our day trip to Ubud itineraries based on how close each activity is to the other. So, if you're thinking of swapping something out or finishing sightseeing at a place early, check out the alternative activities nearby.
Jump to:
Ultimate 1-Day Itinerary for Ubud
Tegenungan Waterfall
Start your Ubud day trip by heading to Tegenungan Waterfall, one of Ubud's largest waterfalls. It's about a 30 minutes drive from the centre of Ubud. At Tegenungan Waterfall, you'll see a spectacular 40-meter-high waterfall crashing down into a natural pool. The water is extremely clear if it hasn't rained a few days before.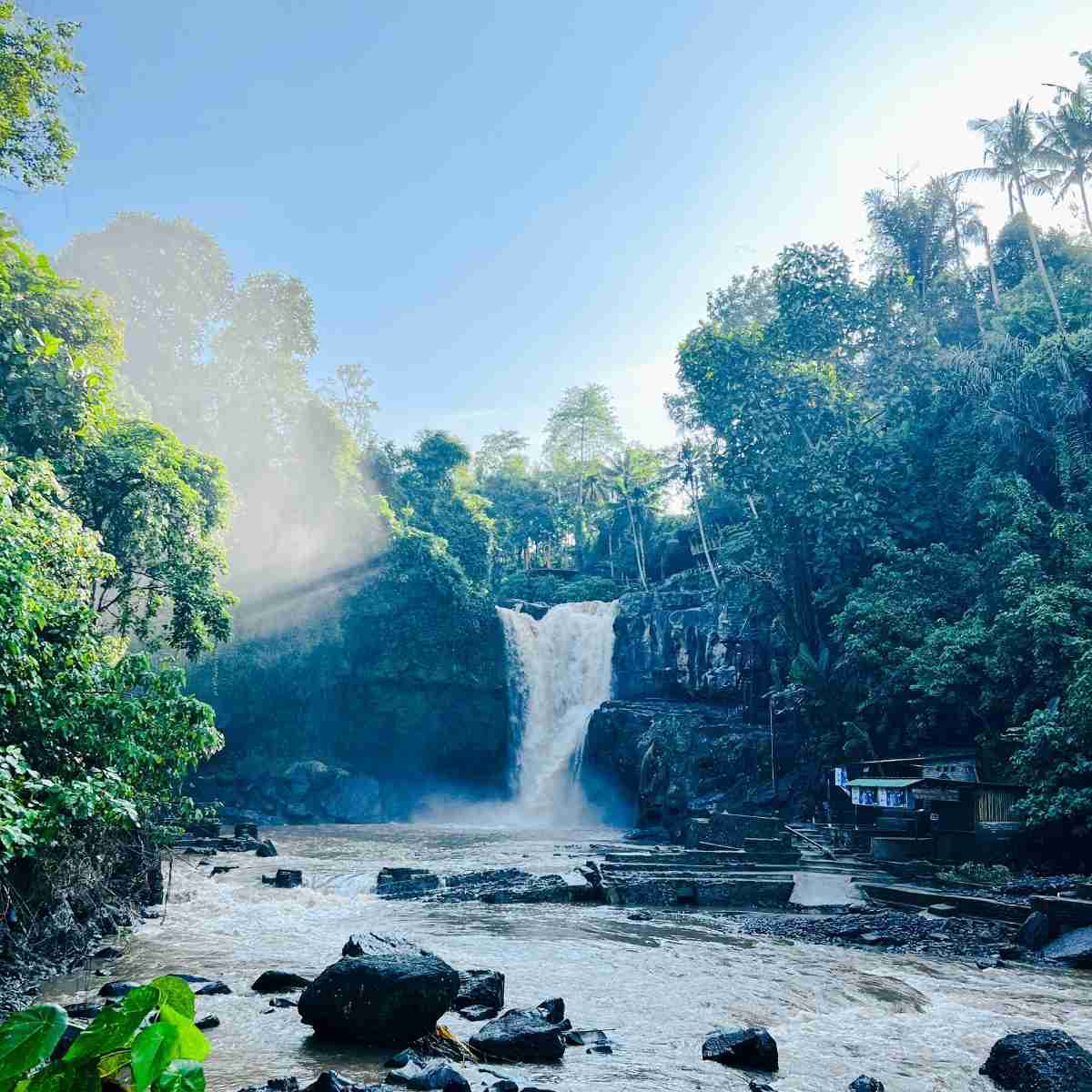 On the way down to the waterfall, you'll pass by 3 scenic spots. Make sure to take some photos here. You can take photos that match the ones at other popular attractions like Tegallalang Rice Terrace and Aloha Swing.
Feel free to take a morning dip at the bottom of the waterfall. You can also have fun on the swing that is suspended over the waterfall. It's a different adrenaline rush from swinging over paddy fields. However, if it has rained the days before, do ask the staff if it is safe to swim in the waterfall as the water current might be too strong.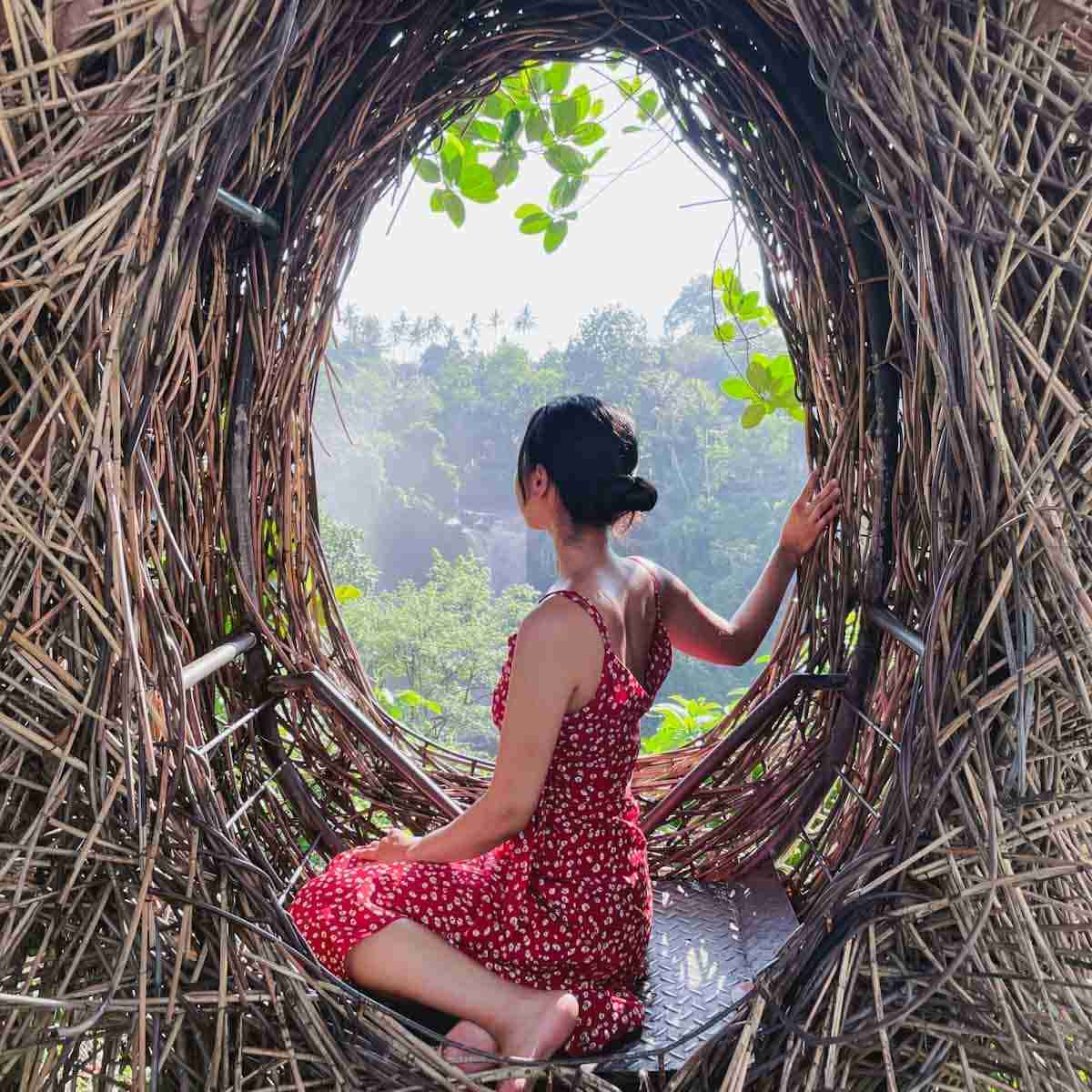 The waterfall opens at 6:30 am, so you can head there earlier if you want, and you're guaranteed to enjoy the views all by yourself. We spent less than an hour here as we didn't swim in the waterfall, but if you do, you'll likely be here for a bit longer.
If you find yourself with more time left, you can head to the next destination early or visit Goa Gajah or The Elephant Cave nearby. Elephant Cave is only a 17 minutes drive away from Tegenungan Waterfall. If you love this waterfall, you can also check out more Ubud waterfalls, like Kanto Lampo or Tukad Cepung.
Pura Tirta Empul
Next up, head to Pura Tirta Empul, a sacred Hindu temple that was built in 926 AD. It's a must-visit on any 1-day itinerary in Ubud because of its rich history and the unique experience you'll get.
The Balinese Hindus come to this temple for ritual purification because they believe the holy water can cleanse them of their body and soul. Locals believe that the holy water temple comes from the Hindu mythology battle between Indra and Maya Danava.
The purification ritual at Pura Tirta Empul is one of the most unique experiences in Ubud, Bali. Usually, most Hindu temples do not allow foreigners to participate in the self-cleansing ritual. However, Pura Tirta Empul is one of the few places that allow this.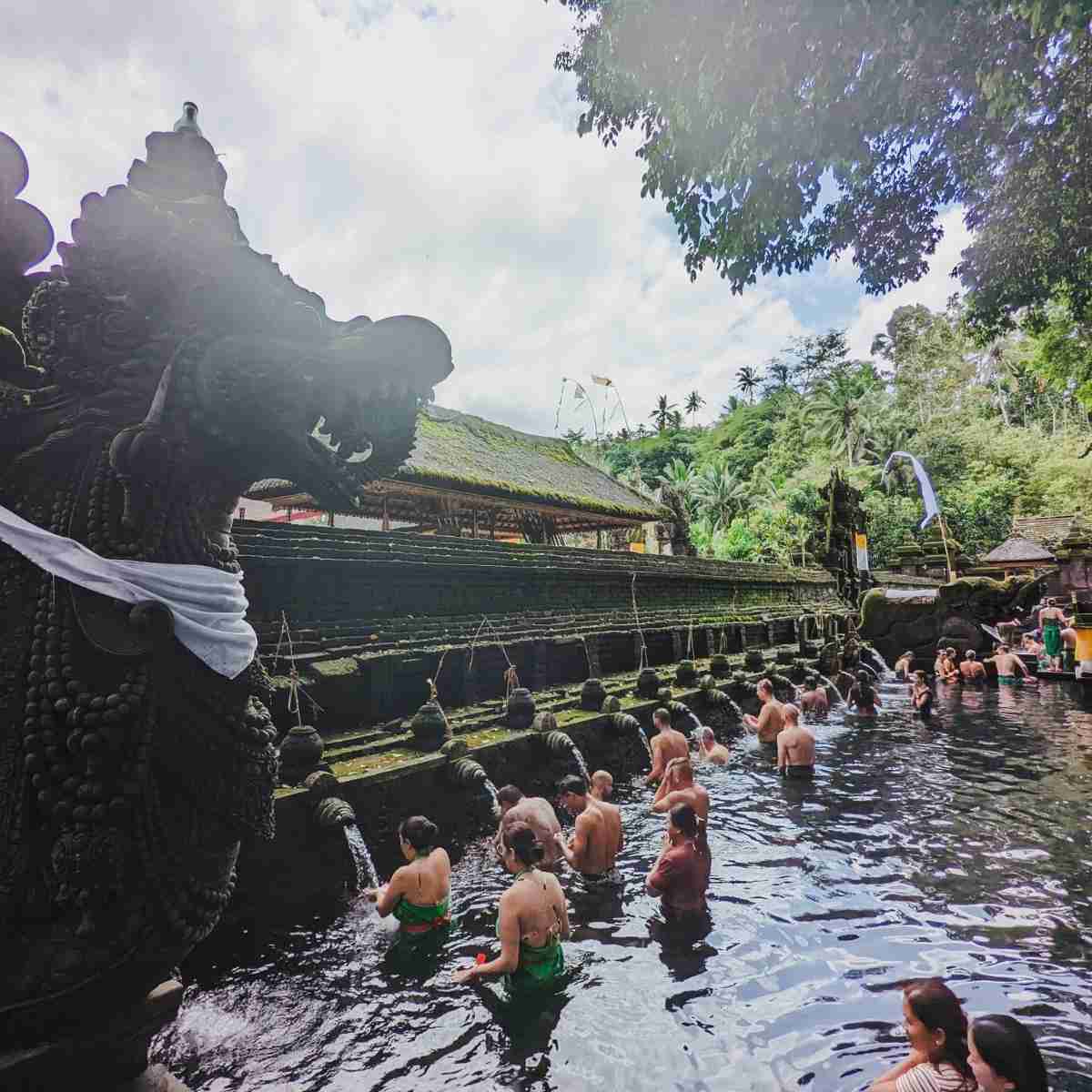 The purification ritual is done by cleansing your body under 13 different fountain heads, and each has its own meaning. After you finish the ritual, the cold spring water will leave you feeling extremely refreshed and pure.
Pura Tirta Empul is roughly a 40 minutes drive from Tegenungan Waterfall. Your journey will most likely be shorter if you head off from the waterfall before 9 am. If you don't want to visit this temple, you can head straight to the Tegallalang Rice Terrace or spend some time at Goa Gajah.
Tegallalang Rice Terrace
Tegallalang Rice Terrace is one of the most popular tourist attractions in Ubud. It's about a 20 minutes drive from Pura Tirta Empul. You should aim to get here before 11:30 am.
The Tegallalang Rice Terrace is different from other rice terraces you may have seen before as it has a more unique design. The rice crops are grown vertically on a hillside instead of horizontally on flat ground. This makes the paddy fields look like a giant staircase.
The paddy fields are irrigated by water from the nearby river, so the landscape is green and lush almost all year round. When it's harvest season, you'll see more yellow hues.
When you're there, make sure to try out the individual swing across the rice paddies. Here, they focus on giving you the adrenaline rush, and the staff will swing you up with their full force. You shouldn't queue for too long if you arrive here just before 11:30 am.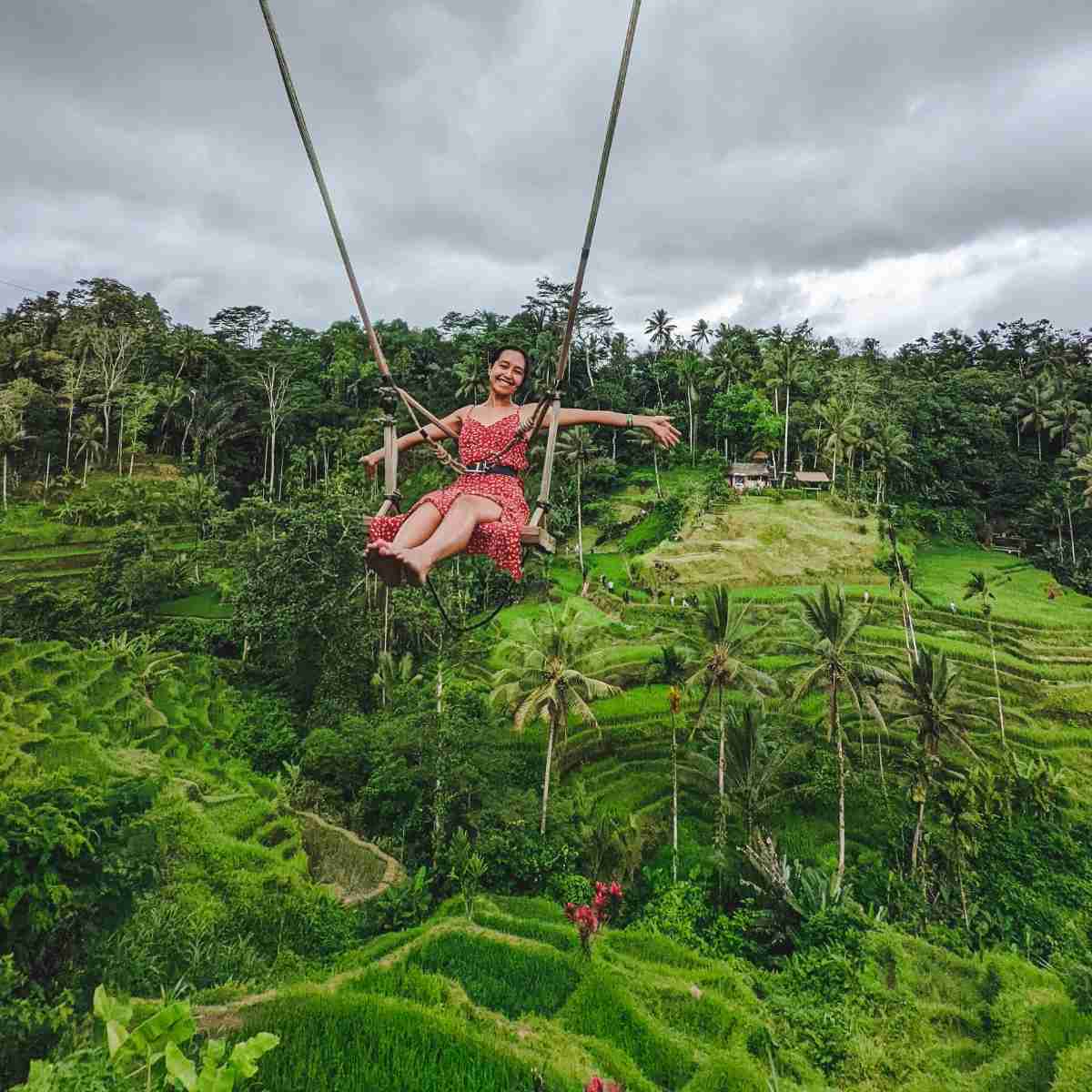 Once you're done, walk through the rice paddy fields to see the rice crops close up and see how rice is grown at different stages. This walk will take roughly about 20 minutes to complete.
If you're interested in more photo-taking opportunities, you can head to Aloha Swing instead of Tegallalang Rice Terrace. However, the queue for swings and scenic spots at this attraction park will be longer as everyone wants to take Instagram-worthy photos!
Warung Biah Biah
For lunch, head back to the centre of Ubud. Going back to Ubud Central from Tegallalang Rice Terrace will take roughly 20 minutes to drive there. Warung Biah Biah is a small restaurant where you can taste a lot of local Indonesian food in tapas style.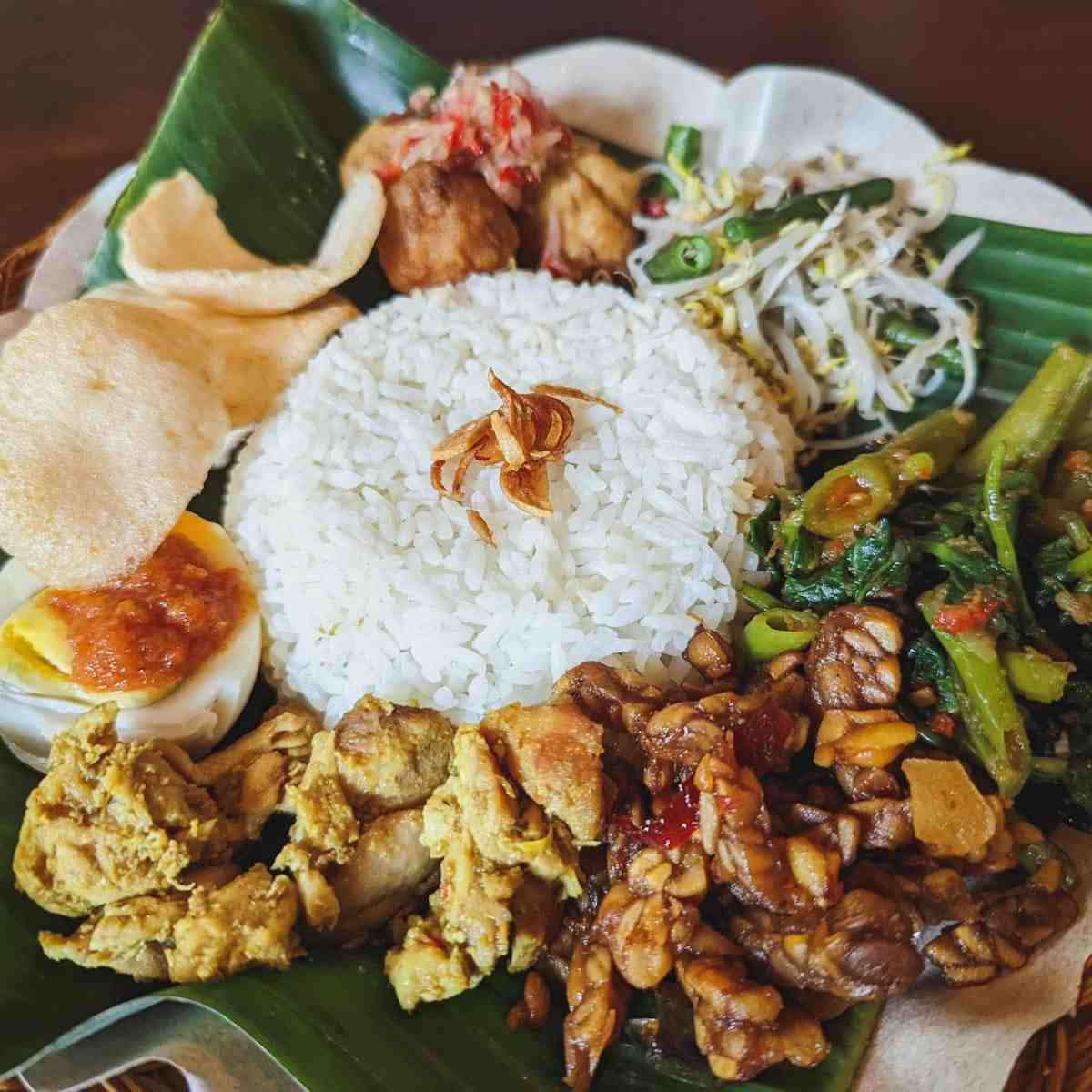 We recommend trying their Nasi Campur and ordering Klepon for dessert. Lots of foreigners, especially Japanese, like this spot as its centrally located and the overall food is not spicy. It's a great place to go if you're just getting acquainted with Indonesian flavours.
If this doesn't tickle your fancy, there are many choices in the centre of Ubud. You can dine at Locavore to go for delicious burgers, Kafe for vegan food and many more.
Ubud Art Market & Ubud Royal Palace
The walk from Warung Biah Biah to Ubud Monkey Forest Sanctuary is only 15 minutes. However, if you don't want to walk, you can also drive there, and this will take 8 minutes.
We recommend you walk towards Ubud Monkey Forest Sanctuary as you'll pass through Ubud Art Market. Ubud Art Market is great for seeing some local artwork and picking up some cheap yet unique souvenirs.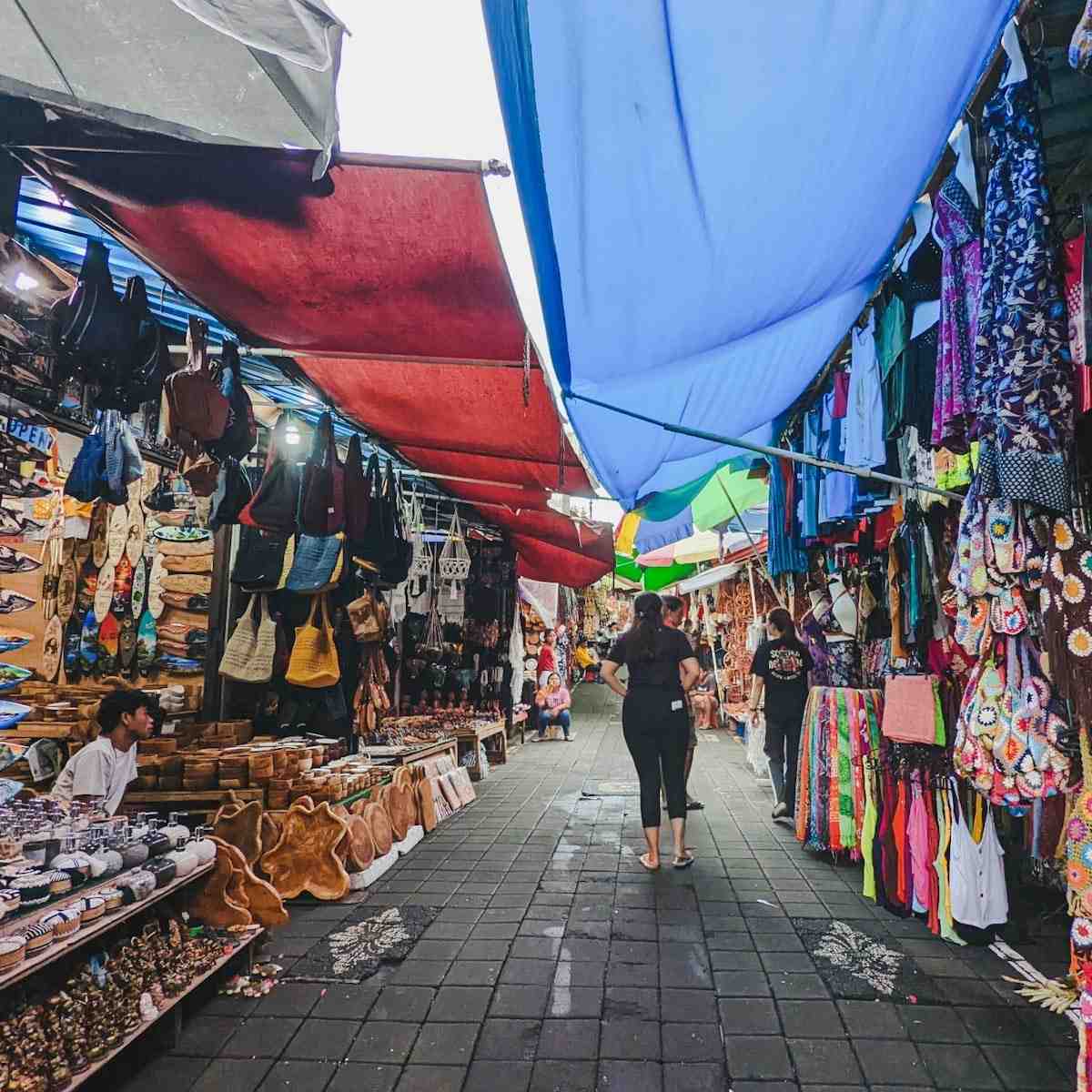 You can also opt to quickly pop into Ubud Palace, which is also on the way to the Ubud Monkey Forest Sanctuary. The palace grounds, open to tourists and free to enter, are relatively small. It won't take too long to take a quick stroll through to see some intricate Balinese designs on the gates and walls. But don't worry if you don't have time! The Legong Dance, listed on our 1-day itinerary for Ubud, takes place in Ubud Royal Palace.
Ubud Monkey Forest Sanctuary
After lunch, walk towards Ubud Monkey Forest Sanctuary to interact with some of Bali's long-tailed macaques! It's a natural forest reserve and sanctuary for over 1000s wild monkeys.
Here, you'll see plenty of monkeys swinging from trees, lounging around or even coming up to you searching for food. We put this activity just after lunch because the monkeys would have finished their feeding time - just like you. This would mean that they're less likely to be aggressive unless aggravated.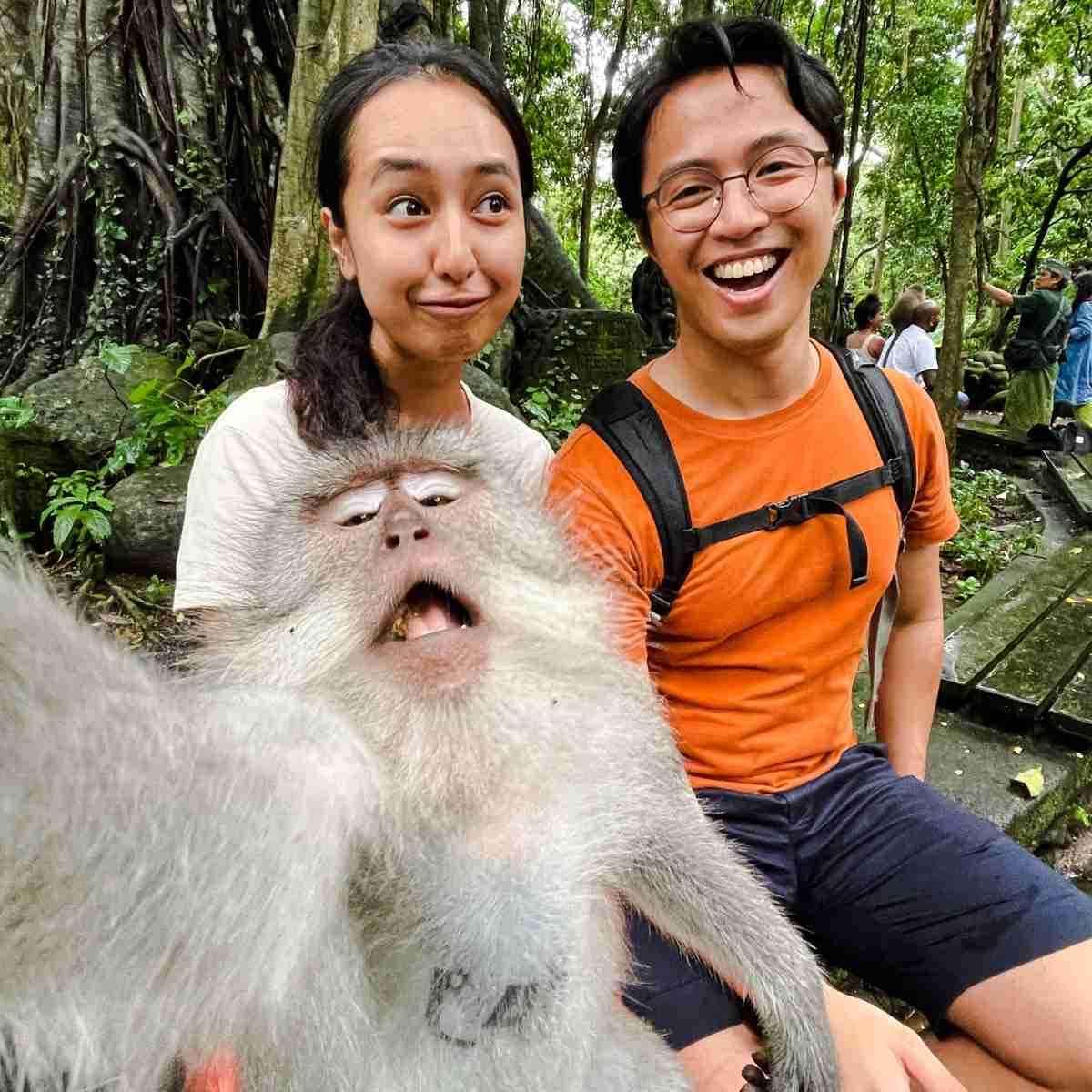 Walk around the sanctuary and observe the monkeys in their natural habitat. You will also be able to see some large stone sculptures installed around the area. Our favourite activity here was getting a monkey selfie. We won't ruin the secret of how it's done, but it's lots of fun!
Traditional Balinese Massage
No 1 day Ubud itinerary is perfect without adding in a stop to get a traditional Balinese massage. Ubud has some of the best spas and wellness retreats in the whole of Bali. Make sure to stop by and treat yourself!
There are many massage places in the area, but our favourite is Jaens Spa. The service here is impeccable, and it's one of the best spas in Ubud with a more serene atmosphere. Go for their traditional 1-hour long Balinese massage. If that's not indulging enough, go for their 2 hours long package.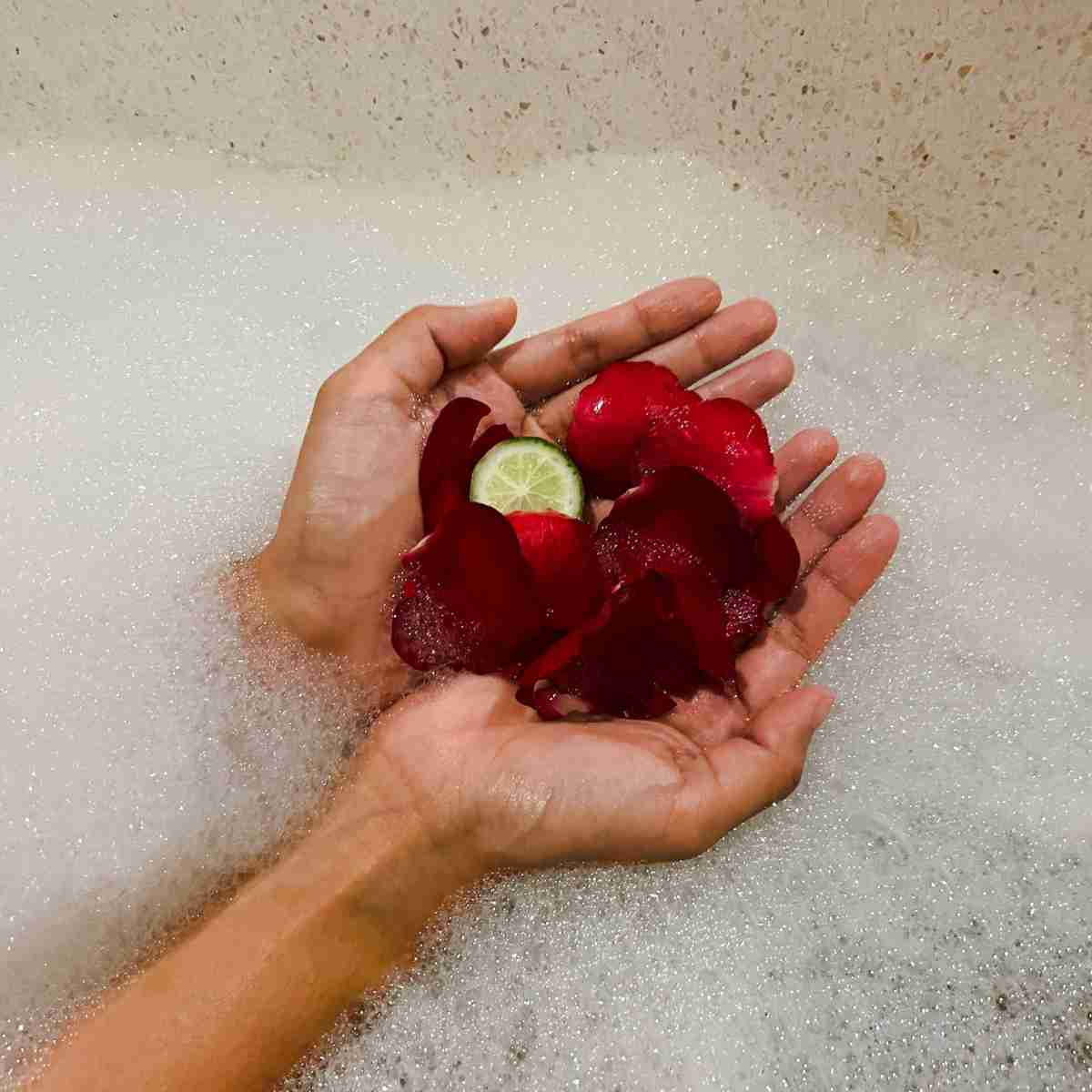 We recommend booking in advance to avoid any disappointment.
A Balinese massage will usually start with a gentle warm foot bath to relax you. After that, the therapist will work on your whole body using a combination of acupressure, reflexology and aromatherapy techniques.
It's a great way to start winding down from a full day of exploring Ubud.
Bebek Bengil
After your relaxing massage, head towards Bebek Bengil to try the local speciality dish, crispy duck. While you can try this in a lot of places, Bebek Bengil is a longstanding establishment that specialises in the dish.
The duck is marinated in Balinese spices, steamed and then deep-fried to golden perfection. The skin is extra crispy, and the meat is so tender that it melts in your mouth. It's served with steamed cabbage, fragrant white rice and chilli sauce on the side.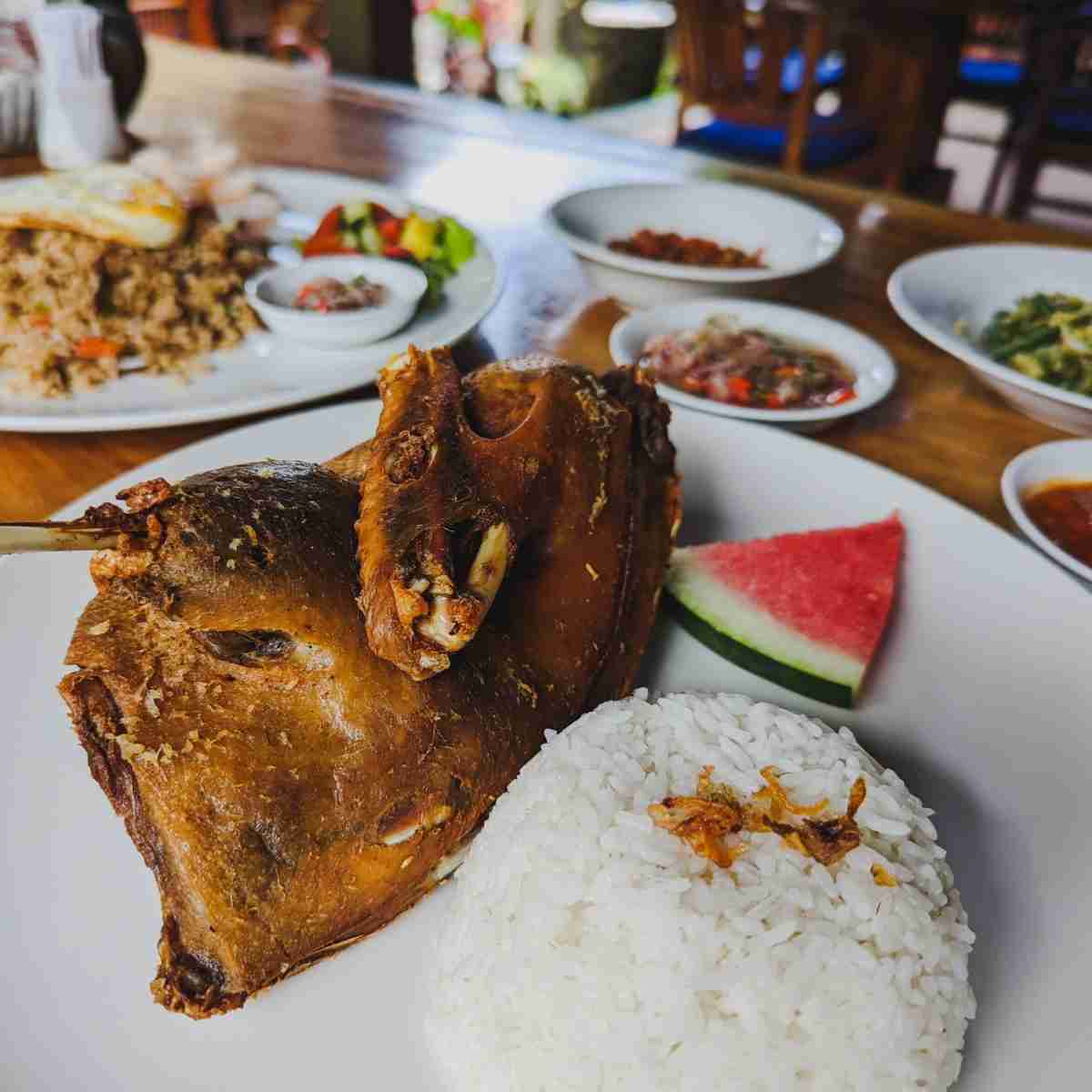 Another great benefit of going to Bebek Bengil is you get to sit in their beautiful curated garden where koi swim freely in large ponds. At the back of the restaurant, you'll also get to see their rice paddy field and walk through a small part of it.
Legong Dance
After dinner, make your way towards Ubud Royal Palace to catch the Legong Dance performance at 7:30 pm.
Legong Dance is considered by many locals as one of the most beautiful traditional dances in Bali. The costume dancers are visually alluring to watch as they tell a story of a young maid. The entire performance is accompanied by a gamelan orchestra.
We recommend you check the show times in advance as the Legong Dance does not happen every night. You can search for Kecak Dance performances if you can't catch the Legong Dance. Usually, the Kecak dance takes place on rotation throughout the week at different Ubud temples.
Even though Ubud Royal Palace is closed to the public at 5 pm, you'll be able to see some parts of the palace ground while you watch the show. However, if you want to explore the palace ground properly, you will have to go in the morning.
And that's it. You've managed to pack so many activities on a day trip to Ubud! If this felt too packed for you, have a look at our other 1-day itinerary for Ubud, Bali below.
Laid Back Ubud Day Trip Itinerary
Our laid-back Ubud day trip itinerary is a condensed version of our ultimate 1-day itinerary above.
We skip out going to Tegenungan Waterfall and Tegallalang Rice Terrace in the morning, as the combination with Pura Tirta Empul can be tiring. We also removed going to Warung Biah Biah for lunch to keep your choices open. There are so many food options in the centre of Ubud you won't be stuck for choices. We removed passing Ubud Art Market, and Ubud Royal Palace as these are nice things to see but not entirely necessary for your day trip.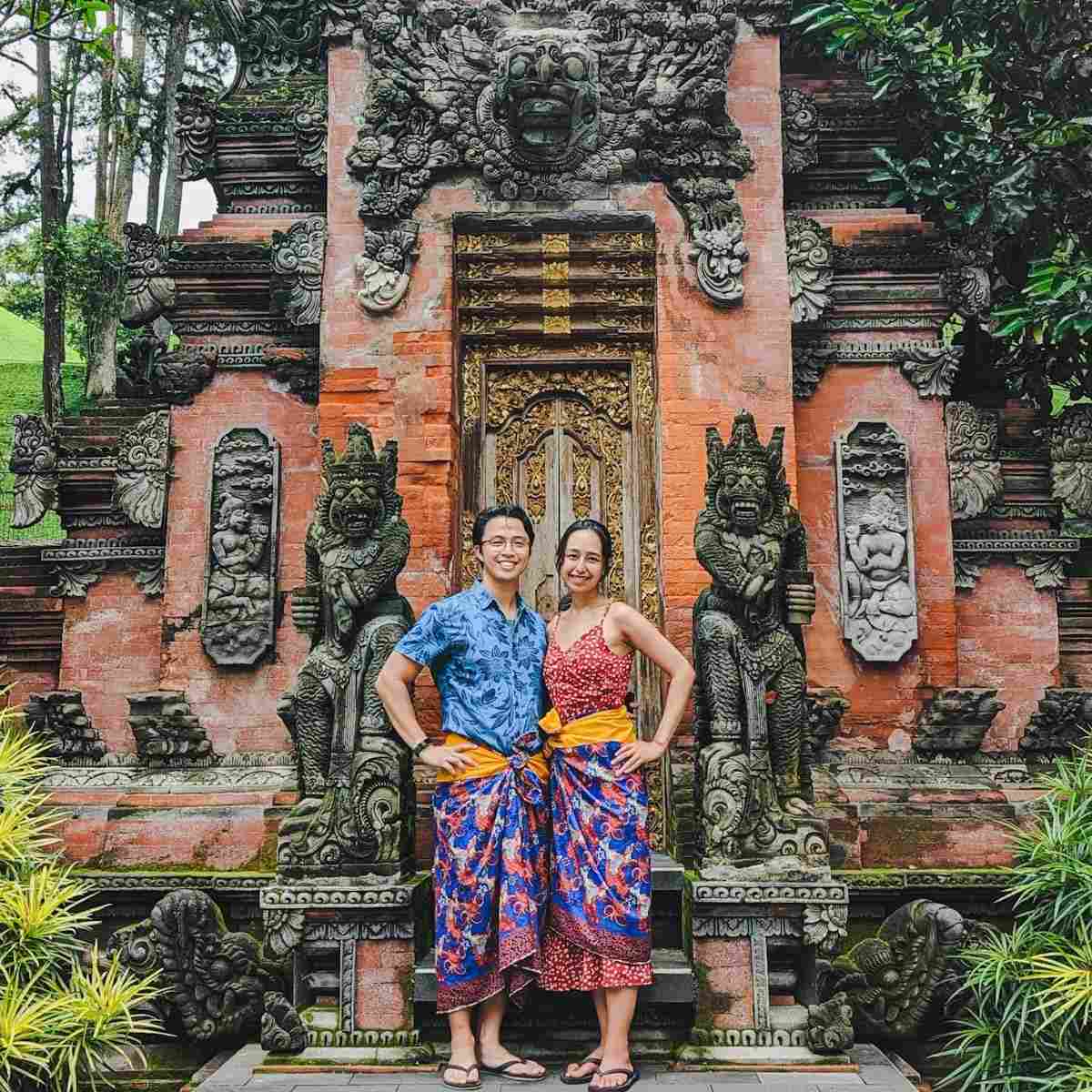 How to spend 1 Day in Ubud: Wellness edition
Ubud's wellness scene is world-famous, and it makes sense for people to come here to experience it. For this Ubud day trip itinerary, we focus on the wellness activities that you can do in the area.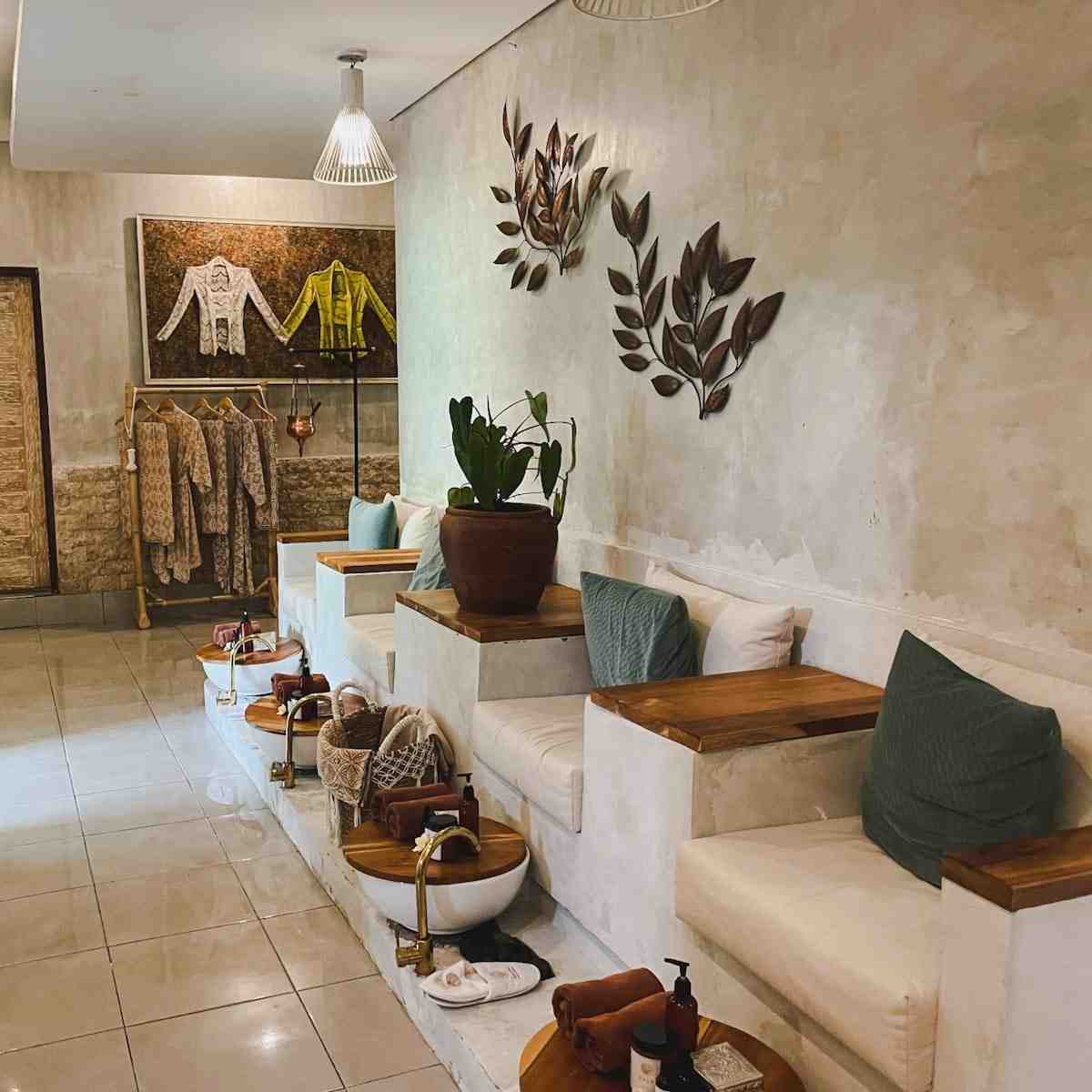 Campuhan Ridgewalk
Start your day early with a visit to Campuhan Ridgewalk. This is one of the most popular places to watch the sunrise in Ubud. The best part? It's completely free, and you'll be able to soak in the views of Ubud's rice fields with the warming sun.
We recommend you come here around 5:30 am or earlier so you can watch the sun slowly rise and the sky change colours. The walk will take around 1 -2 hours to complete.
Yoga
Practising yoga led by an experienced yoga instructor in a serene forest is one thing to do in Ubud. It's guaranteed to refresh your mind and stretch your body. There are many yoga studios in Ubud, so we recommend doing some research beforehand and booking a class that resonates with you.
Vegan Food
For lunch, choose between Kafe or Sayuri Healing Food. They are both located in the centre of Ubud and offer healthy food options. Their selection includes salads, wraps, vegan burgers, and fruit juices. You will find some of Bali's best vegan food here.
Balinese Cooking Class
After lunch, learn how to cook some of Bali's most popular dishes with a Balinese family. During the class, you will use fresh and local ingredients to make an array of Balinese food. You can also request beforehand to make this vegan or veggie-friendly.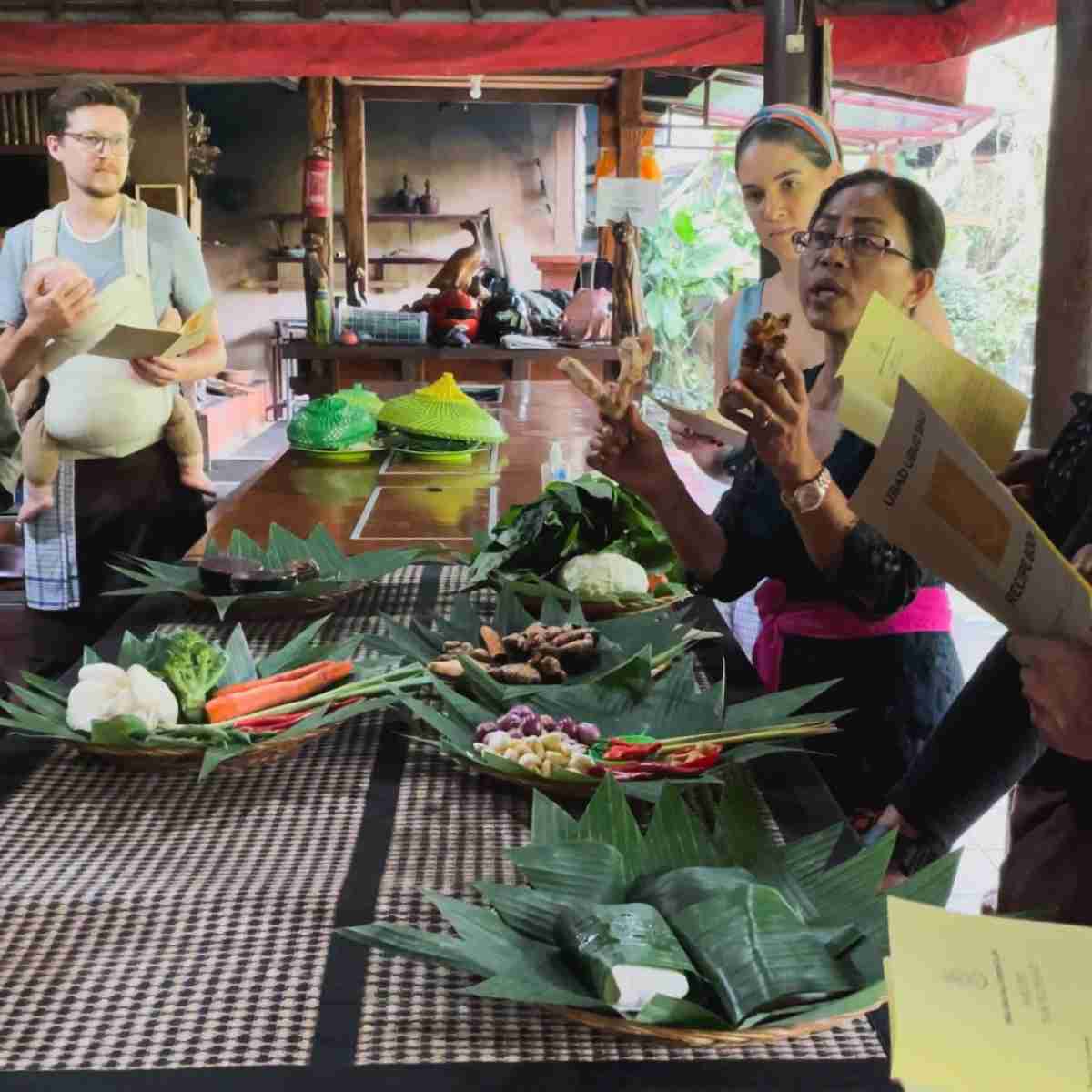 They will also explain some of the nutritional value of some of the ingredients. The best part is that you get to eat everything you make.
1 day Ubud Itinerary for foodies
For your Ubud foodie day trip, we will make food the focus at every location. However, we suggest you keep Bebek Bengil on your list, so you can still experience Ubud's expansive rice paddies.
Morning Market
Ubud's morning markets are where locals do their daily shopping. It's a great place to see how Balinese people live and what they eat. These morning markets sell everything from fresh fruit and vegetables to Balinese spices.
The prices here will be a lot cheaper than what you'll find in grocery stores too.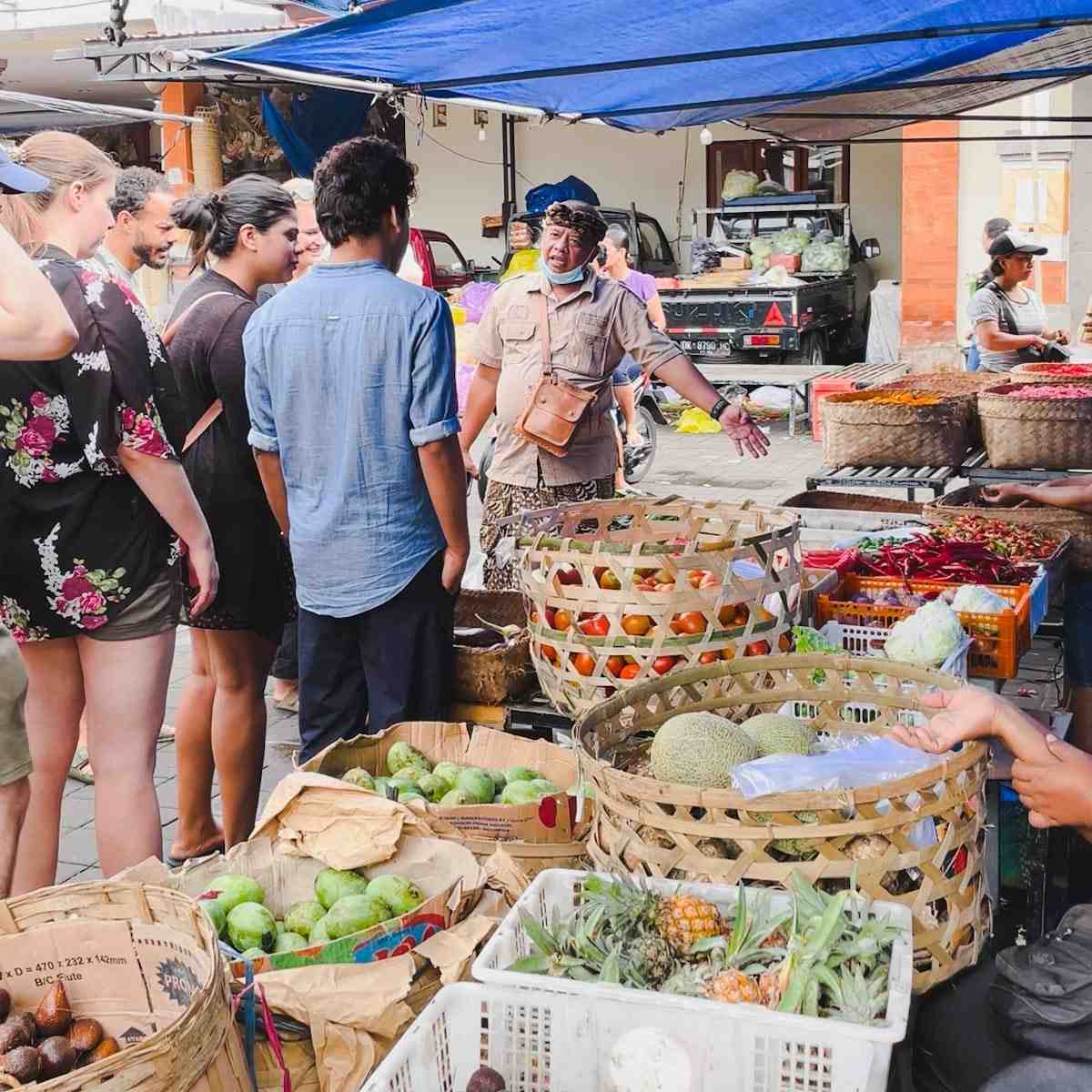 Nasi Padang
You can't leave Ubud without trying some of the food here. We recommend trying Nasi Padang, which is a Balinese dish of steamed rice served with an array of curries and side dishes.
Usually, you will pay based on what you've asked for, with protein options being pricier than vegetables and sauces. However, your meal shouldn't be more than 100,000 IDR. A good place to try this is Puteri Minang Padang Food. This is located just on the outskirts of the centre of Ubud.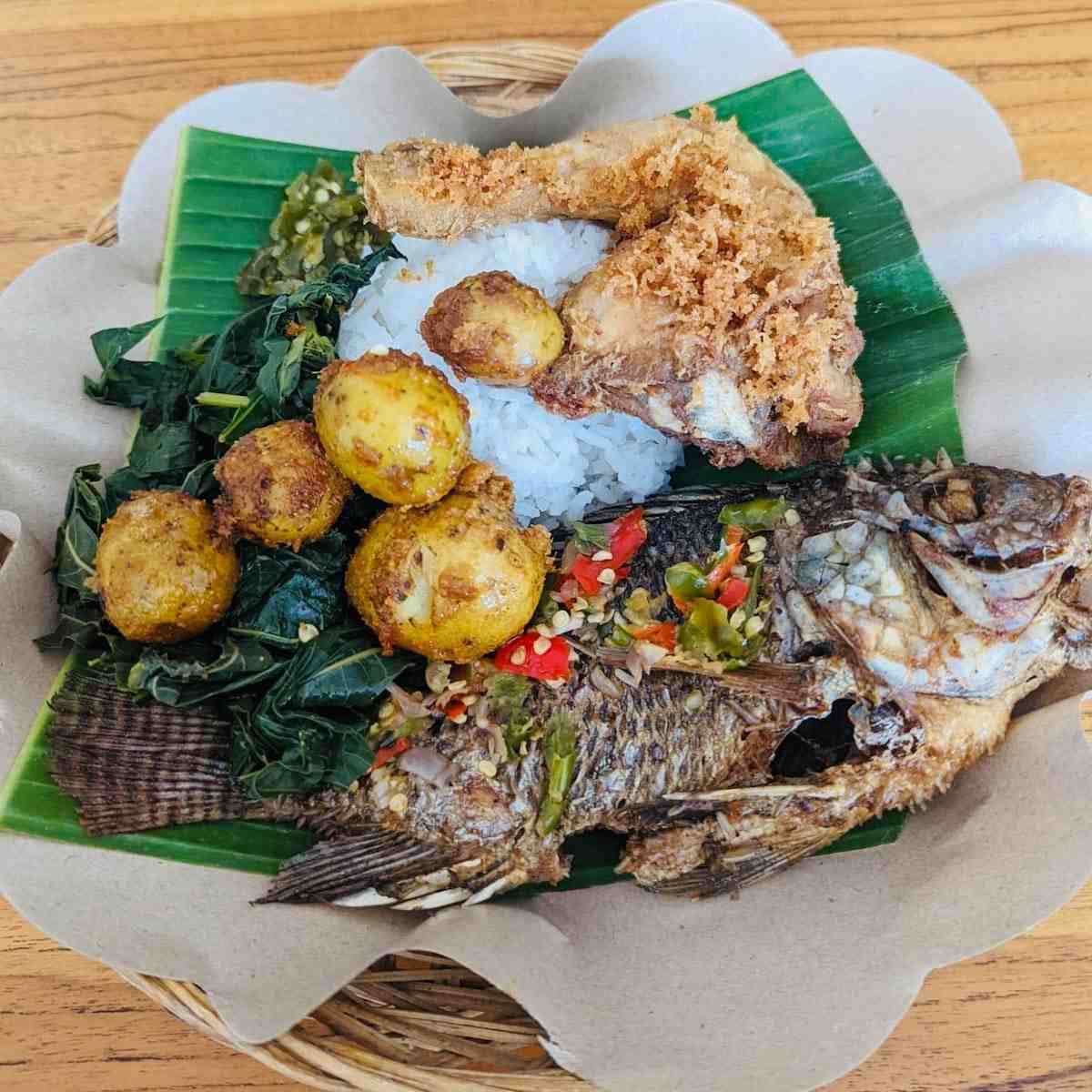 Coffee Plantation and Luwak Coffee Tasting
Head to a coffee plantation to learn how coffee is grown and processed in Ubud. You'll find plantations that offer premium packages to try their coffee too. Some of the plantations will make the entire experience free as they expect you to buy something.
We recommend you try Luwak coffee, which is coffee that has been digested by Asian civet cats. This may sound strange, but it's one of the world's most expensive types of coffee.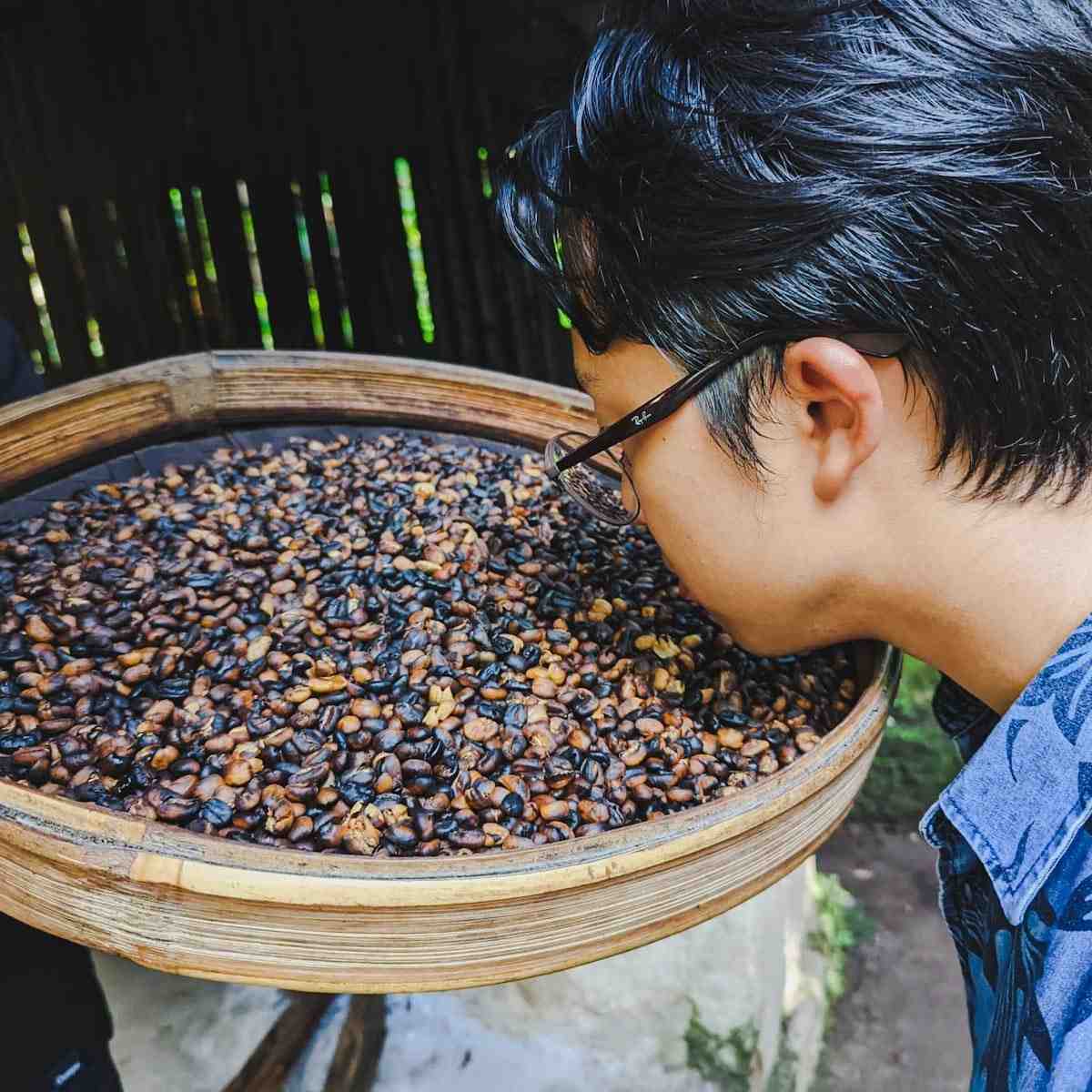 Gianyar Night Market
Finally, end your Ubud day trip at the Gianyar night market. This is a great place to try some local street food and buy some snacks on the way home. You will definitely see a lot of interesting dishes here.
Don't be afraid to ask the vendors what they're selling. But if you prefer someone who can guide you around, you could go on an Ubud night market food tour.
You will also see some arts and crafts too. If you want to buy anything, make sure you try to haggle on the price, as this is usually slightly inflated.
From art galleries and temples to monkey forests and rice paddies, there's something for everyone in Ubud. If you have more time, check out our ultimate Ubud guide so that you can make the most of your visit.