The best spas in Ubud will help you relax, unwind, and fully rejuvenate during your time in Bali. Known for its wellness facilities, this vibrant little Balinese town is home to countless spas. Each will offer a variety of treatments. These can range from traditional Balinese massages, Ayurvedic to reflexology, hot stone massages and also chocolate body scrubs.
However, choosing which spa to go for will depend on what spa treatment you're looking for, your budget and your ideal location. You can find quality massages for less than 10 USD to full spa days in Ubud that cost 100+ USD. So, there's something for everyone.
Our guide features a mix of cheap, affordable spas all the way to luxury Ubud day spas with a view. We'll also list the pros and cons of each one too. So, sit back, relax, and let us inspire you for your next Ubud spa holiday.
On our recent trip to Ubud, we tried a few spa treatments in town. After a few days of sightseeing in Ubud, it was exactly what we needed. To be transparent, we haven't tried all the spots on this Best Ubud spa list. However, these were the spas which stood out to us when we were picking out an Ubud spa to go to.

With a myriad of spas in this small town, we hope our guide will help narrow your choice down.
Jaens Spa (Best Affordable Spa in Ubud)
Jaens Spa is an oasis in the middle of town and one of the spas in Ubud that we love returning to.
Firstly, you will feel right at home in their comfortable spa surrounding. The décor focuses on using natural healing elements such as bamboo, water, stone, and plants. As a result, it creates a light and airy feel in the space.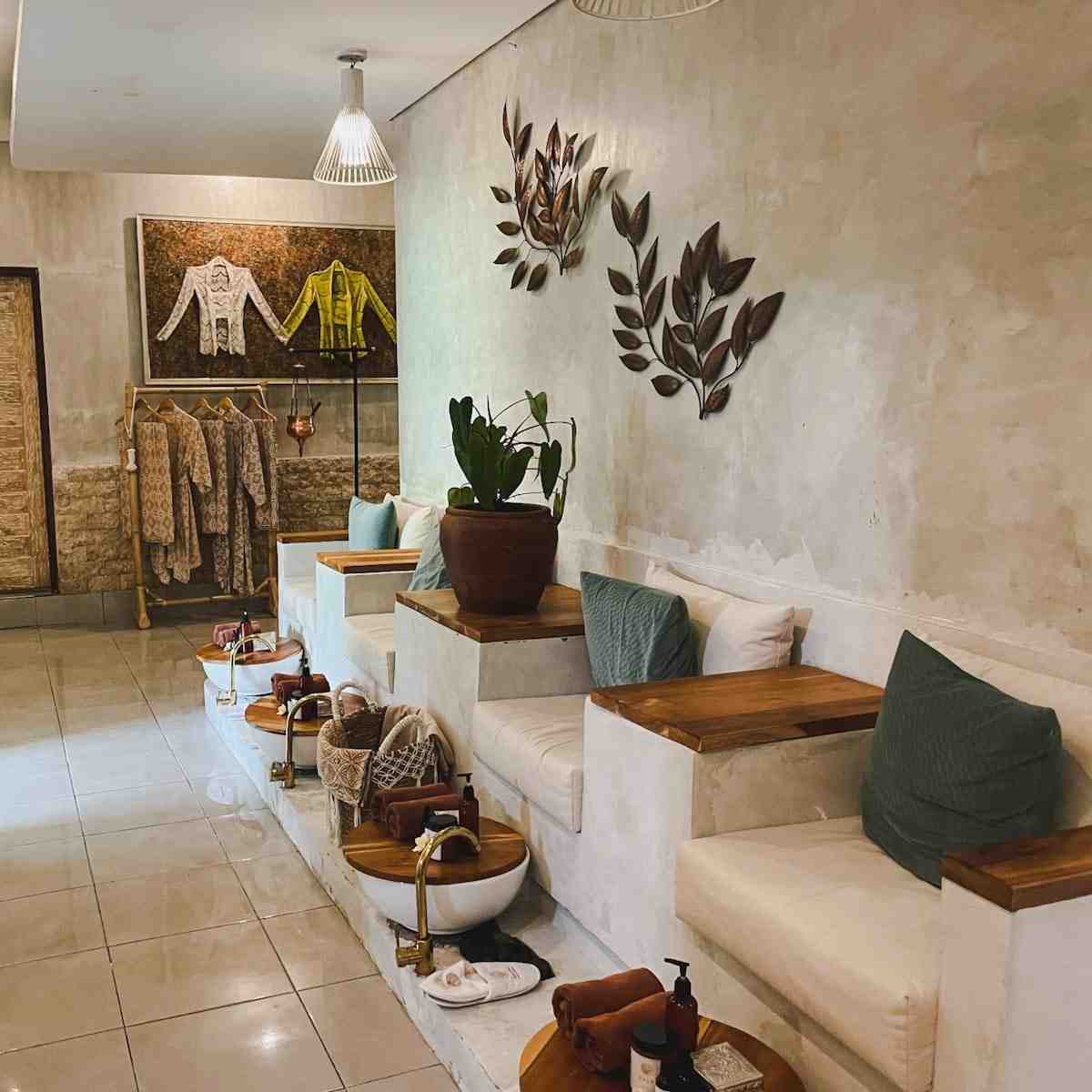 As soon as you enter, you'll be greeted by the welcoming staff and served tea. While you enjoy your tea, they will ask you if you have any main concerns or things which you would like the practitioner to focus on.
Next, select your choice of oil and fragrance. They will explain the benefits of each body scrub as well as the aromatic oil available for your chosen treatment. They also use natural products and handmade skin care recipes to calm, invigorate, deeply moisturize or rejuvenate your body.
For our treatment, we went for the couple spa package. This included a foot bath, Balinese massage, body scrub and bubble bath at the end. During the traditional Balinese massage, our practitioners made sure to ask us whether the pressure was good for us and to let them know if we had any issues.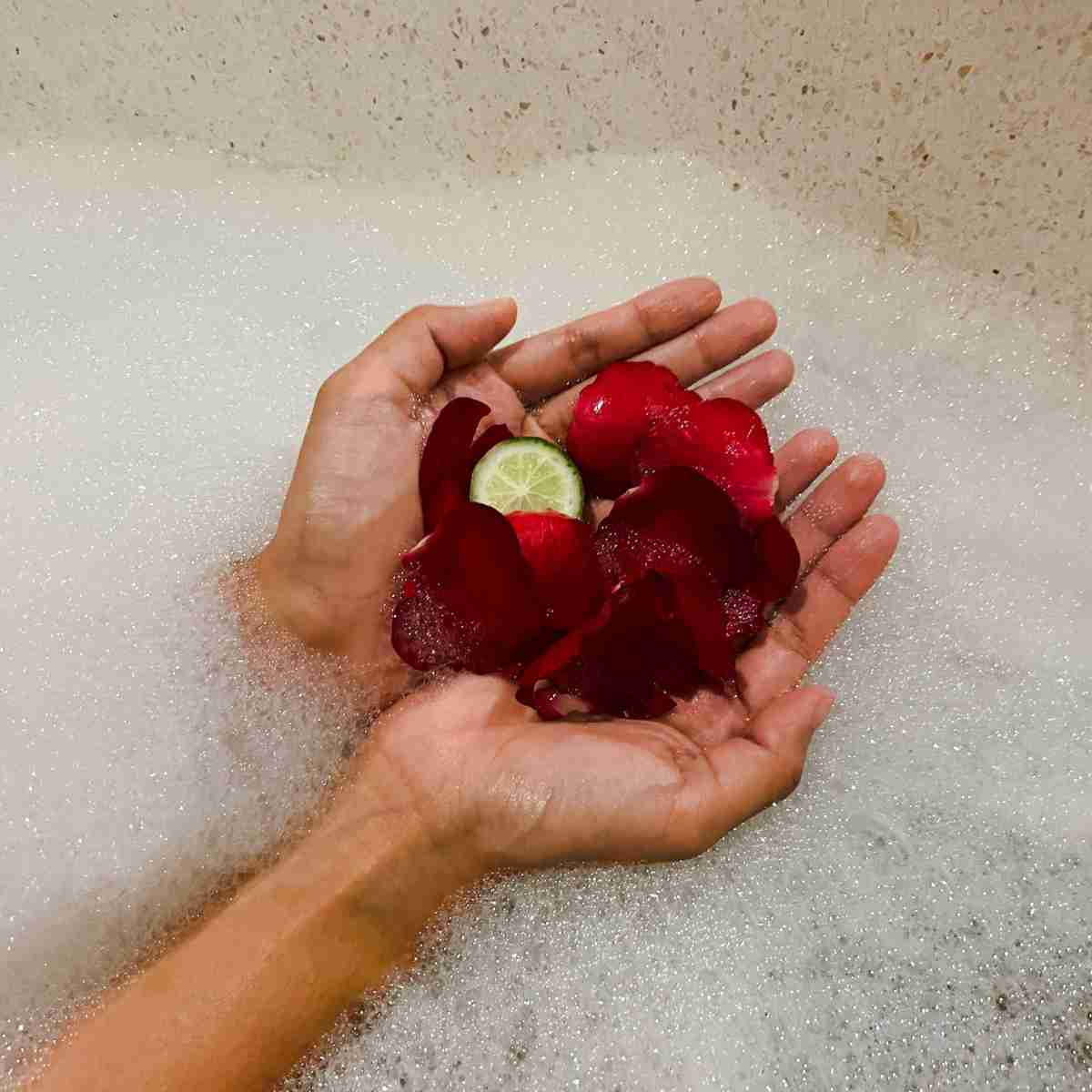 Then, each movement was seamlessly performed in rhythmic strokes. Pinpointed pressure techniques were applied at specific locations, to address each of our issues. Moreover, the attention to detail highlighted how skilled the practitioners were. So, we loved every moment of the treatment!
Finally, Jaens Spa offers its treatments at an affordable price considering the quality of its services. Its price point is mid-ranged and certainly pricier compared to a cheap walk-in massage parlour. However, the massage you'll get will be closer to one in a luxury spa in Ubud.
Maya Spa (Best Luxury Spa in Ubud)
Outside the town's hustle and bustle, you will find Maya Spa, the best luxury spa in Ubud. The award-winning spa is located in the 5-star Maya Resort, a sustainable oasis that provides eco-conscious luxury services.
The resort grounds span across 10 hectares of tropical landscape where its spa experience will immerse you in Ubud's lush jungle forest and also hidden river valley. In addition, its architecture pays homage to the beauty of traditional Balinese housing using natural materials.
Begin your spa experience on a ceremonial walkway fringed by palm trees. At the end of this tranquil walk, you will find secluded villas to begin your spa-by-the-river treatment in total privacy.
There is no shortage of treatments and expertly trained practitioners at Maya. A soothing Maya massage will help you release stress and muscular tension. Meanwhile, their massage's revitalizing strokes will combat tiredness, enhance toxin elimination and boost energy.
Alternatively, a simple flower bath will pamper your skin and senses. Experience pure bliss while nourishing your body, mind and spirit.
Although Maya does offer some services at a cheaper price point, we recommend getting the full spa package if you're there.
Avani Spa (Best Couple Spa in Ubud)
At first glance, it's hard not to be enchanted by the breathtaking view from atop Avani Spa Ubud (recently rebranded to Svaha Spa). Located on a cliff overlooking the jungle, this luxury semi-outdoor Ubud spa has everything you need to unwind.
In fact, all their treatments are designed to heal your body and soul. Here, not only will you ease aching muscles and tension in your body but you'll restore a balance to your mind as well.
First, their spa treatments begin with a singing bowl to boost relaxation. Taking place in their forest view rooms, you'll listen to the sound of river water flowing downstream while your treatment takes place.
What's more, if you're heading here as a couple, you'll be amazed by the couples spa package they offer.
Their signature Shirodhara treatment, a four-hand massage, caught our attention as they claim it can reduce mental stress. Through this 90-minute treatment, skilled practitioners will help you relax and promote tranquillity with visible improvements to your respiration rate as well as diastolic blood pressure.
Tjampuhan Ubud (Best Day Spa by the river)
Tjampuhan spa is the best day spa in Ubud for its wonderful facilities and a good range of Balinese treatments in a mystical setting. Not to mention all of that is at an affordable price point.
This Ubud spa is rooted in a Balinese belief that water has healing properties. So, it is no wonder that it is located at the base of a lush valley just metres away from a picturesque river. Here you can enjoy a close-to-nature ambience while you receive your treatment.
The highly trained practitioners can carry out Balinese healing treatments that will improve your energy flow and alleviate stress from urban life. However, the highlight of this spa is its unique spa facilities onsite.
In particular, visit their hot and cold spring water jacuzzi, which is built in a stone-carved cavern of mystical creatures. Each facility is located in a semi-outdoor treatment pavilion that is sectioned off to create a further sense of tranquillity.
Although the spa is part of the Tjampuhan hotel, a royal guesthouse that has served many celebrities since 1928, you can also visit as a day guest. However, rates are cheaper if you're staying as a hotel guest.
Taksu
Once you enter Taksu, it will be hard to believe you're still in Ubud town centre. The spa is designed like a jungle with exotic plants and tall trees planted on either side of the walkways.
There are several choices of massage treatments to choose from. We recommend trying Taksu's hot stone massage that's expertly executed. Your aching muscles will be eased along with any tension in your body.
Alternatively, for an indulging experience, try their Royal Mandi Lurlur package. They call it a total body care package that first starts with a 60-minute Balinese massage. Then, you will have an exfoliating scrub with a paste made of traditional herbs, local flowers, fruits, nutritious grains and seeds. After they've removed dead skin cells, they then follow your treatment with a cooling yoghurt mask. Finally, you'll enter a therapeutic floral bath to end your Ubud spa experience.
Fivelements Bali
Treat yourself to a luxury Ubud spa day at Fivelements Bali. This wellness retreat is located on the banks of the Ayung River in Bali and has also won many awards for being eco-conscious.
Their spa facility takes pride in capturing the healing powers of local plants and preserving ancient Balinese remedies.
Try their Balinese Boreh, which is a traditional massage to relax your body. Then, you'll receive a gentle herbal body scrub. Fivelement Bali uses energizing warm spices to exfoliate your body. Lastly, your treatment ends with an aromatic flower bath.
Treatments happen in a blissful serenity for a joyful resurrection, helping you overcome tensions to bring clarity to your mind.
What's special about Fivelements Bali is that they offer wellness spa days which focus on authentic Balinese healing therapy. They also offer a holistic integrative approach to help you heal on three levels; physically, emotionally and spiritually. They believe that by healing on all three levels, you will become more authentic and hence, reach your highest potential.
Their signature program is the Panca Mahabhuta Retreat which includes a healing massage or energy session with a Balinese healer. Then, this is followed by a 3-course meal. Finally, you finish off with a Sakti ritual and fire blessing at the end of your day.
It can make for a great couple's spa day out in Ubud. Both of you will be able to pamper yourself and take part in a unique Balinese ritual that will leave you looking back on.
Ubud Traditional Spa (Great for first-time spa visits)
For a first-time spa visit in Bali, head to Ubud Traditional Spa. Despite being outside of Ubud town centre, it is one of the most popular spa destinations in Ubud. This is mainly because they deliver on their promise of providing their guests with a unique Balinese experience.
Through years of experience, this family-run spa has perfected the bulk standard Balinese spa treatment on all levels. From creating a calming atmosphere, and warm hospitality to also skilled masseuses, they execute it all flawlessly.
First, you'll be picked up from your hotel and taken to a small but serene spa. Then, you'll be greeted by the spa therapist with a welcome drink and answer a questionnaire on your massage preference. Next, choose the massage oil you prefer. They offer a few choices of massage oils which can calm your senses and deeply moisturize your body.
After this, you'll be given a foot scrub using volcanic stone and sea salt before your massage. Then for your massage, the therapist can draw out any tight knots on your body and help with a day's muscle tension. We recommend getting the rice farmer massage that is slightly stronger in pressure but effective.
For a first-time spa experience in Ubud, this small spa will exceed your expectations and set your standards.
Tejas Spa Unagi
Tejas is a budget-friendly option for those who want a river-by-the-spa experience but not the hefty price tag. With over 5 branches located around Ubud, you'll be in good hands for revitalising massage.
Local Balinese people believe nature can heal the body, mind and soul. In particular, the river has a divine power to nourish, purify, and energize its surroundings. Tejas Spa Unagi is strategically built facing the river so that their guest can enjoy the sounds of the flowing river and benefit from its healing properties.
At Tejas Spa Unagi branch, get their signature Abhyangam massage. This is a full-body Ayurvedic massage using specially formulated oil. Their massage puts emphasis on opening knotted nerves as well as muscle tension in your body. The warm, therapeutic oil massage is carried out in addition to stimulating strokes to improve blood circulation and alleviate stiffness. So, you'll leave feeling refreshed and energised.
Cantika Zest
Located in a secluded spot at the end of Penestanan village is Cantika Zest. It is the third spa created by Ketut Jasi, who practises the ancient Balinese art of listening to mother nature and has a deep understanding of plant uses.
With an appreciation for nature's beauty, the architecture at this Ubud spa is kept simple. Hence, this allows the space to be airy, and helps guests relax and become one with nature. In addition, Cantika Zest reflects the owner's passion for sharing plant wisdom to enhance our appreciation of nature. It's also why all their spa products are made from scratch using natural homegrown ingredients.
If you're not interested in spa treatments, you can also attend wellness workshops on natural medicine and yoga.
Karsa
Karsa Spa is the perfect getaway for any traveller looking to escape modern life and enjoy some peace and quiet. Far away from Ubud central, the spa is surrounded by rice paddy fields in a nearby village.
They are a sustainability-focused spa that tries to source locally for its massage oils and also creates its own natural ingredient scrubs. In addition, they improve disability awareness in Ubud by hiring masseuses with hearing difficulties. So, you'll feel good supporting a small business even before getting treatment here.
What we liked about Karsa Spa is that they allow full customisation of their spa packages without additional charge.
Here you will also be able to experience Chakra balancing or Reiki healing without the hefty price tag. We recommend trying out the Intuitive Heart Massage. The massage focuses on Reiki to open your aura and chakras so you can receive divine healing energy throughout the treatment.
However, important to note, some treatments can only be carried out by the male therapists on site.
Putri Spa (Best Cheap Spa in Ubud)
For those of you who are on a budget, we recommend Putri Spa. It's one of the cheapest spas in Ubud, but the treatment quality is still high.
While the spa therapists are not trained to the level of hospitality of other spas in Ubud, they are certainly friendly and experienced. Their Balinese massage is done using a firm finger technique and palm pressure. Like many other places, they will also cater to your preferred level of pressure and watch out for any concerns you have.
The treatment rooms are small but clean. They also offer fruits and tea to their patrons. However, you will begin and end your treatment in a small lobby which at times means you'll hear other customers.
If you're looking for a serene spa experience, we would suggest going to Jaens Spa instead. However, if you're looking for a great Balinese massage at a cheap price, Putri is a great choice.
Best Spas in Ubud
There are many spas in Ubud, and it is impossible to list all of them. However, here are the best spas in Ubud which have something unique to offer.
If you're only in town for a short time, check out our article on how to spend 1 day in Ubud. We'll show you how you can fit in a spa visit along with some must-see attractions as well as local food!