Niseko onsen offers a therapeutic and exhilarating bathing experience that you shouldn't miss while visiting Hokkaido. The Japanese hot baths here are filled with mineral-packed waters heated by geothermal activity. Immersing in these comforting waters has always been a significant part of Japanese culture. But it is popular in Niseko because it provides a satisfying relief after a long day of shredding through the snow.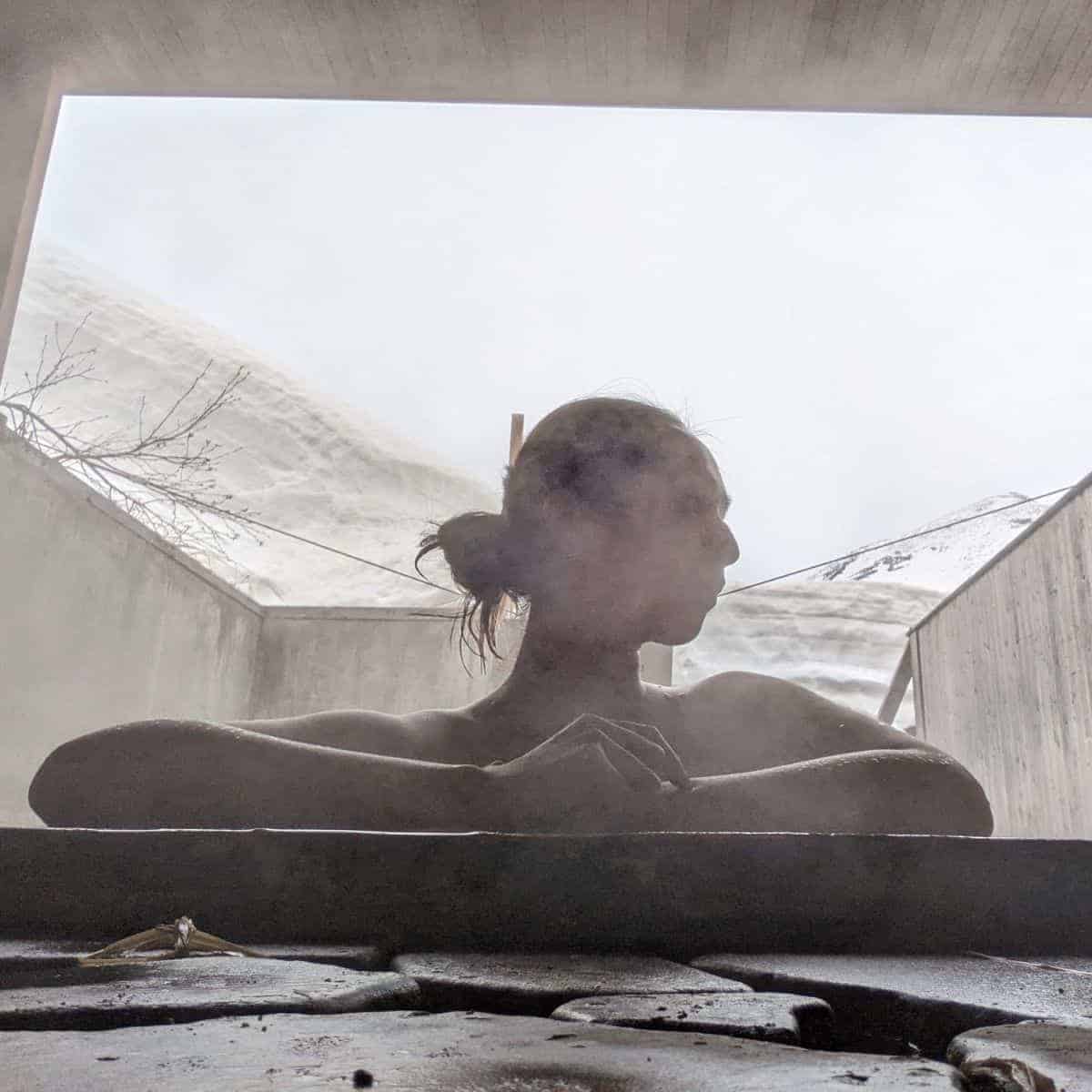 Having lived in Niseko for a few years, we had the opportunity to visit plenty of hot springs in Niseko. Judging based on the ambience and amenities provided, we've selected eleven best onsen in Niseko.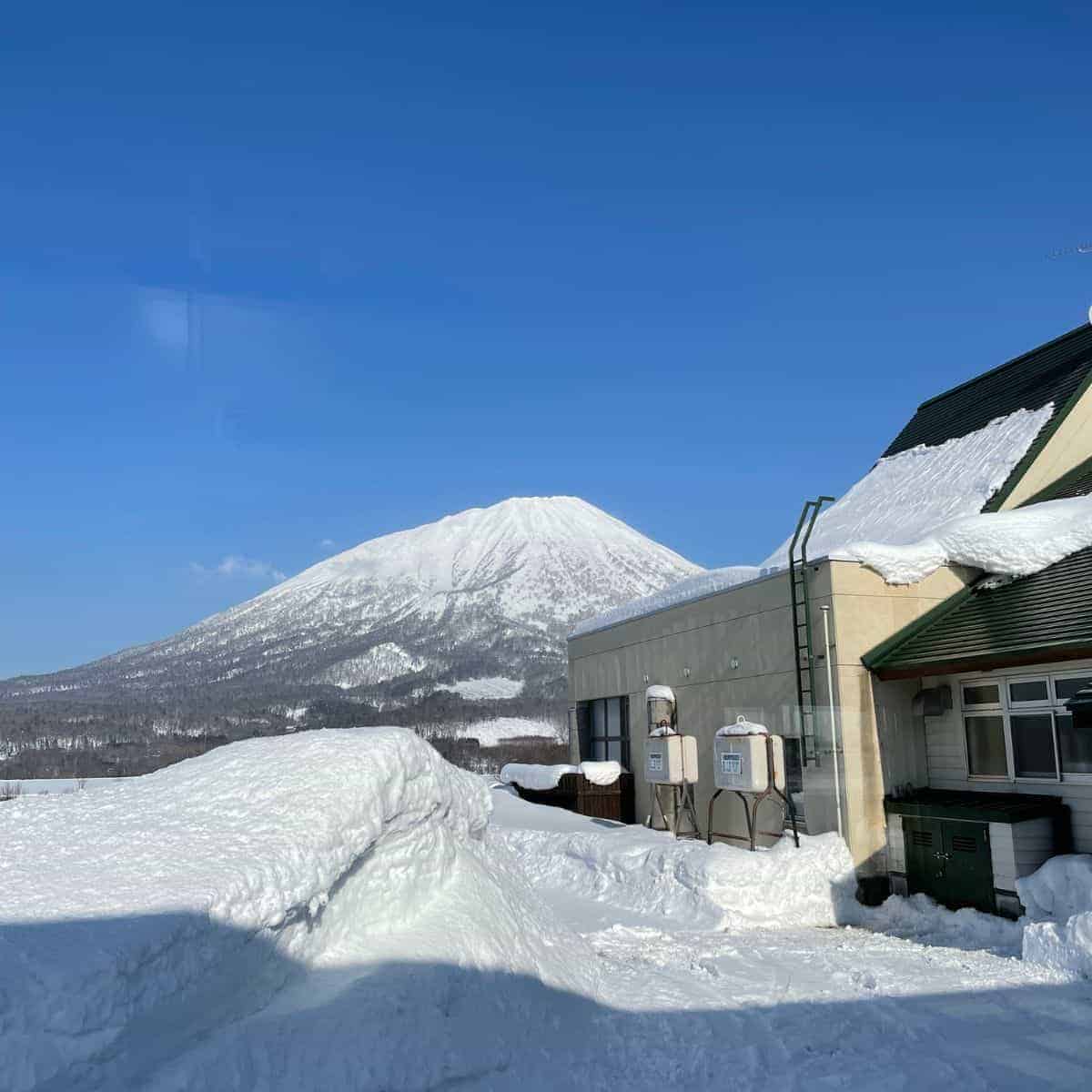 Among these destinations, there are many hot spring spots that are open to the public. However, the majority of onsens within Hirafu are only for hotel guests. So, this might be something you want to consider before booking your hotel. These hotels do provide excellent amenities for their baths, making it worth booking the hotel for.
We don't recommend you take your phone out to take photos of the hot spring or in the changing rooms unless you're in a private setting. You'll find posters in both English and Japanese warning you against this. It's also why we don't have as many photos as we'd like to show you here.
Jump to:
Best Onsen in Niseko
There's no denying that you'll find tons of spring baths in Niseko. Ki Niseko and Niseko Grand Hotel are the must-visits if you can't decide which spot to settle for.
We love Ki Niseko as it provides one of the best beauty baths in town and is conveniently located on the ski slopes. Meanwhile, Niseko Grand Hotel is also our favourite as it is a great choice for group or family vacations.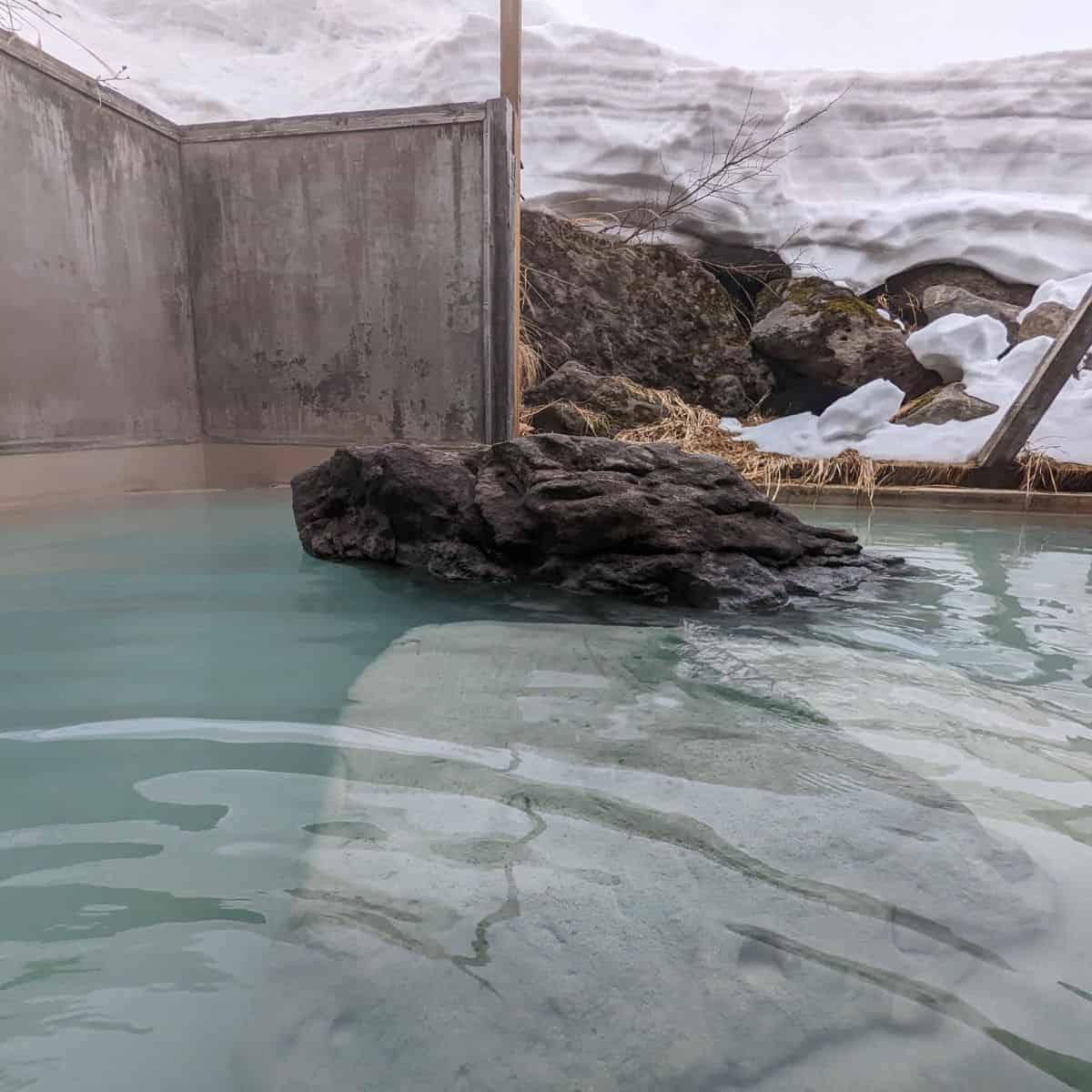 Ki Niseko
Ki Niseko hot spring is perfect for a peaceful and rejuvenating retreat. Nestled within the stunning ski town of Hirafu, the ski resort features indoor and outdoor baths for hotel guests. So, you can choose whether to indulge in the tranquil ambience indoors or bathe in the relaxing outdoor rotenburo baths. There are separate baths for men and women. However, if you'd like a more secluded and intimate setting can book a private onsen session after check-in.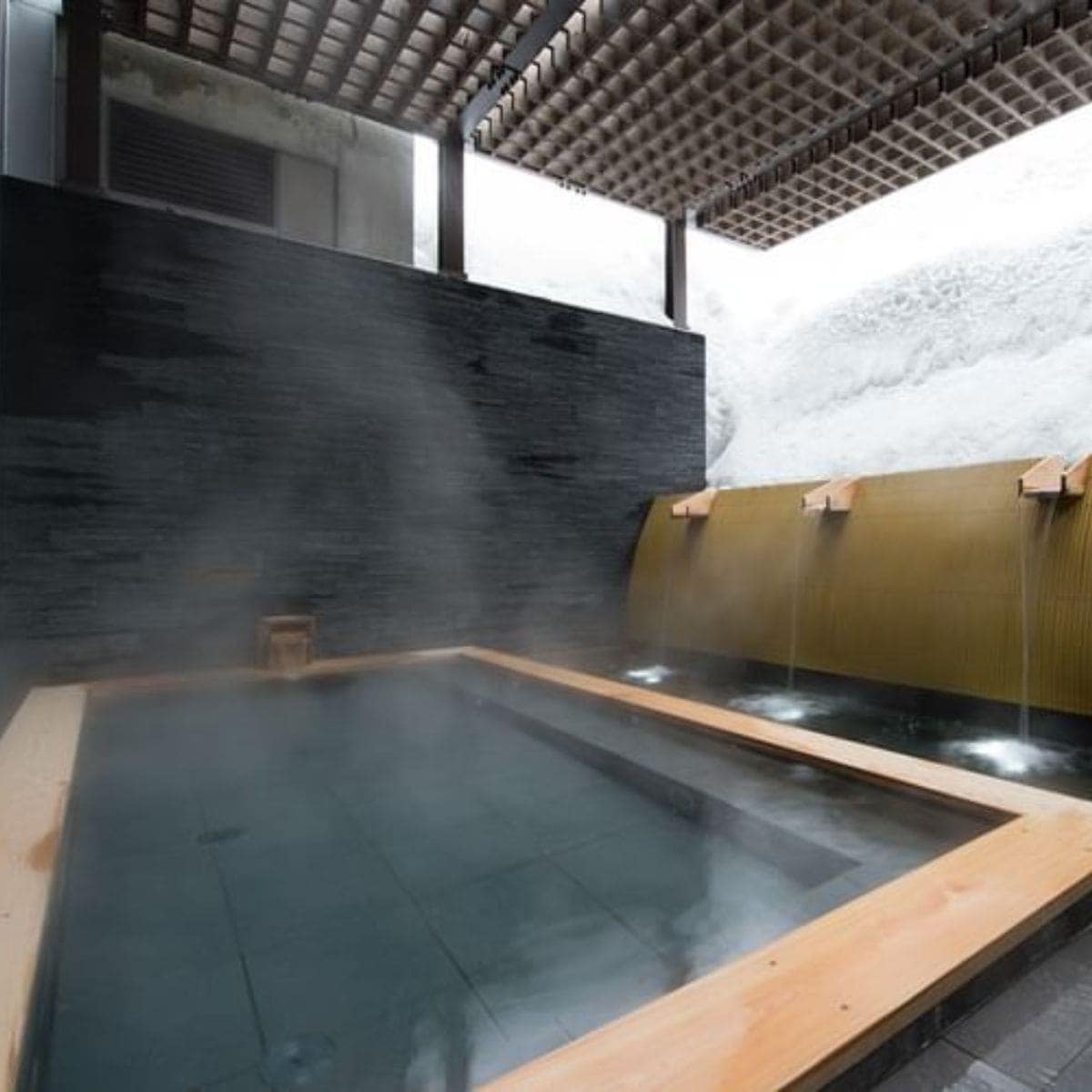 The ski in ski out hotel's attention to detail and luxurious amenities truly elevates the healing experience. But what makes it our favourite is the mineral-rich waters it provides. This spot has the best Niseko onsen for natural beauty treatment since the hot spring contains 189.2mg of metasilicic acid. Waters containing over 100mg of metasilicic acid have excellent skin beautification. Both these materials mean that natural hot spring baths here are a natural moisturiser for women and people with dry skin.
Ki Niseko
8-5, Niseko Hirafu 1-jo 3-chome, Kutchan-cho, Abuta-gun, Hokkaido 044-0080, Japan
Niseko Grand Hotel
This onsen in Niseko offers a huge mixed rotenburo where both women and men can enjoy the therapeutic waters together. Therefore, it is ideal for families and friends who want quality time together. Since it offers a mixed-gender setting, it provides Yuami (an onsen dress) rental for women. The mixed pool is in a garden surrounded by trees which guarantees a peaceful and soothing soak in the open air. There is also an open-air bath for women only if you're not up for a mixed setting.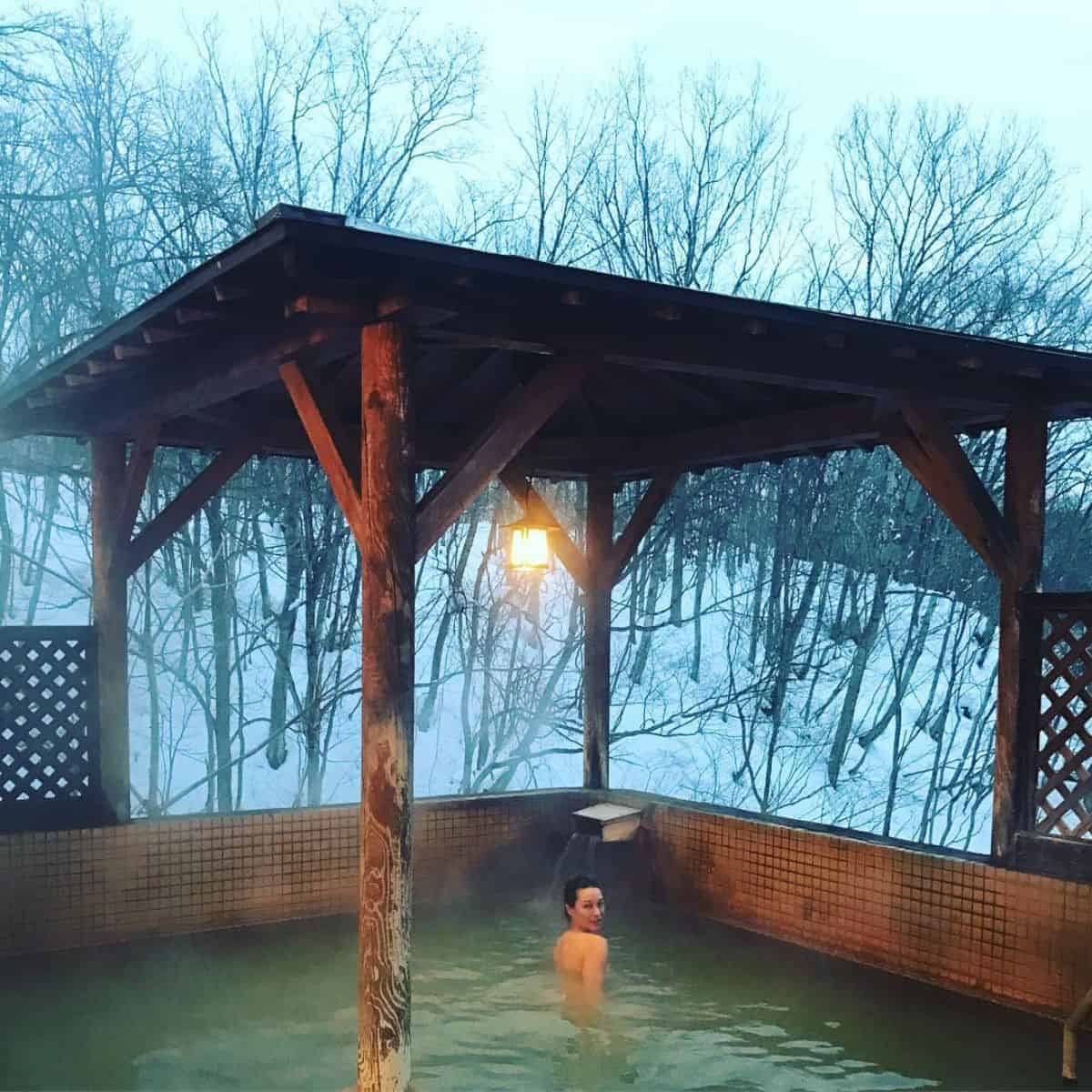 Niseko Grand Hotel also features two indoor and outdoor bathing pools split by gender. Each pool is filled with sodium chloride and sodium bicarbonate, respectively. We recommend soaking in the sodium chloride spring for a moisturising effect. On the other hand, the sodium bicarbonate spring will leave you with smoother skin with its scrub-like properties. 
Niseko Grand Hotel
412, Niseko, Niseko-cho, Hatada-gun, Hokkaido 048-1511, Japan
Aya Niseko
This healing spot in the upper Hirafu Village boasts a stunning combination of modernity and traditional Japanese design. This creates an enchanting and serene ambience that allows you to unwind as you bathe in the calming hot water. You can reserve a private family bath, but based on our experience, the public rooms are often empty. So, you can still enjoy a peaceful bath even if you don't book a private room. Therefore, this is the best Niseko onsen if you're looking for solace, relaxation, and a non-crowded onsen.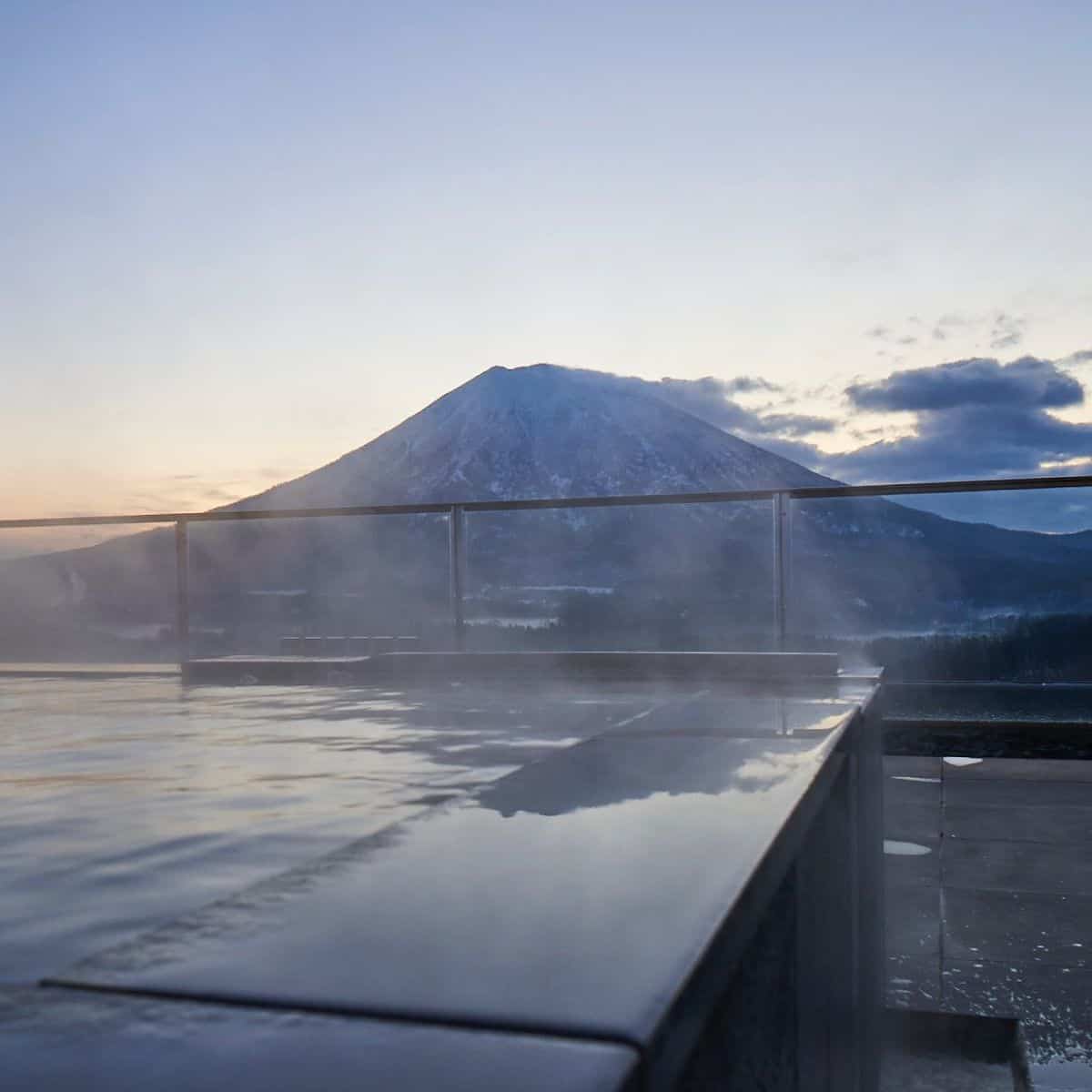 We loved the tranquil atmosphere and had an amazing hot spring experience there. Soaking in the 700m deep water rich in natural salts and minerals was an ultimate stress-relieving experience. It makes a perfect ending to an adventure-packed day by soothing your sore muscles and inducing relaxation.
We also recommend Aya Niseko to those travelling to Niseko from Tokyo with small children. This is because the hotel offers ski in ski out that's right next to the Family Lift. Perfect for young kids and getting back indoors for a warm soak.
Aya Niseko
1-4-4-5, Niseko Hirafu, Kutchan-cho, Abuta-gun, Hokkaido 044-0080, Japan
Yugokorotei
Yugokorotei is a must-visit for those who like a calming dip in nature. However, this Niseko hotspring may not be for everyone, especially the faint of heart.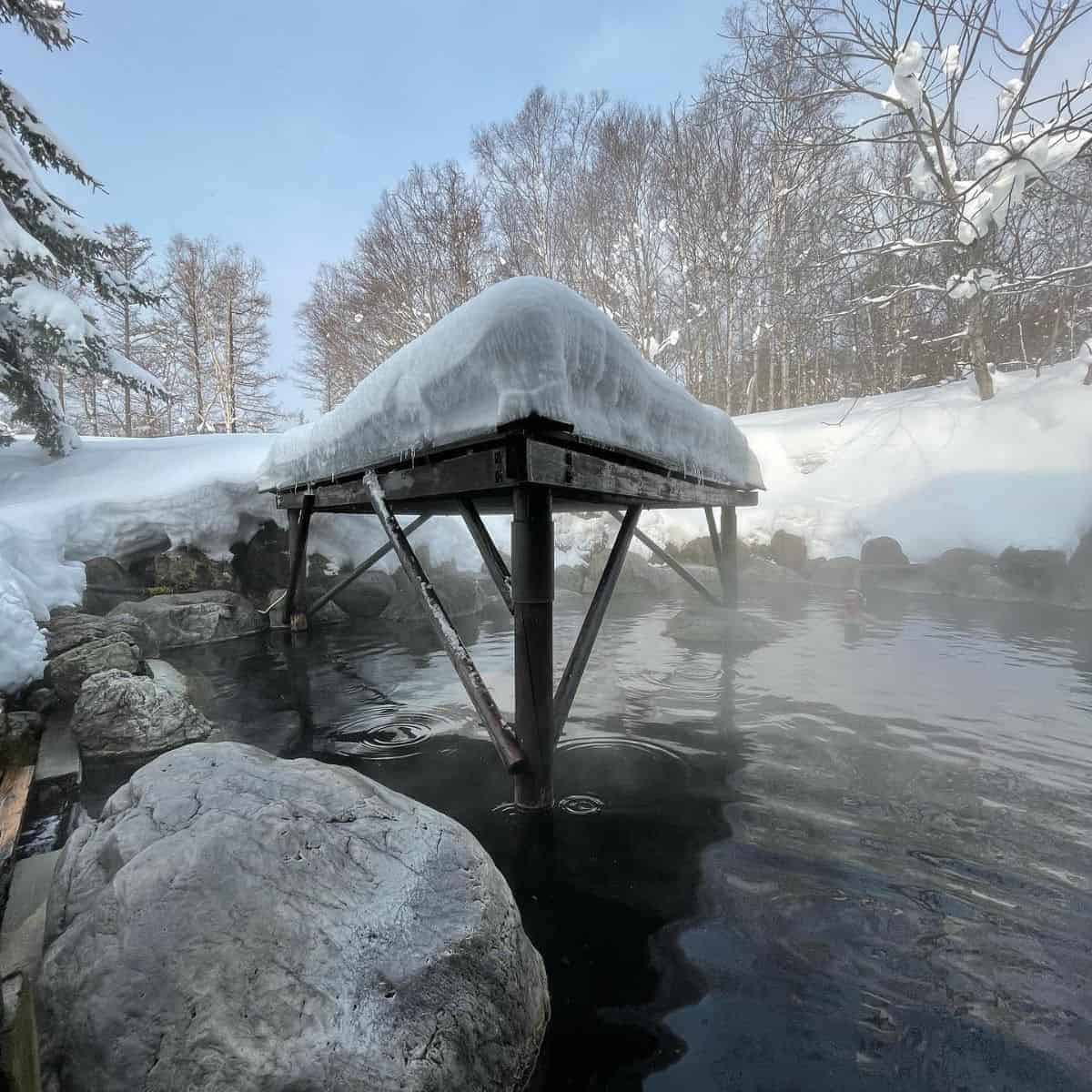 The mineral-imbued water comes directly from the natural source, and the temperature can go up to 56.4 degrees Celsius. This temperature is not modified before it is used in the baths, so it might be too hot for some people. Despite that, the stunning views and soothing atmosphere is worth adjusting to the scorching waters for.
Apart from the constant supply of fresh water, we love how the place is nestled within the forests of Niseko.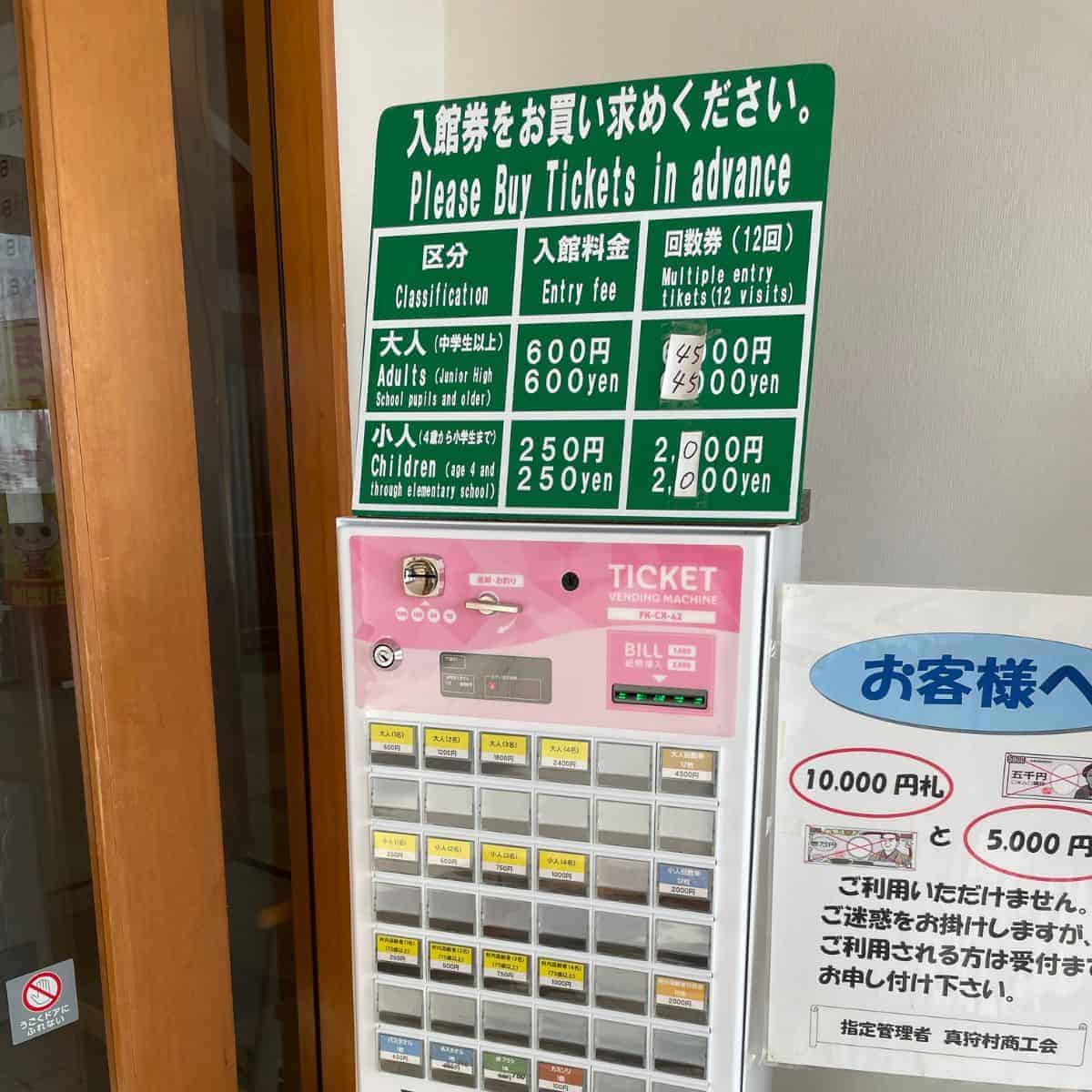 You can unwind and recharge in the hot bath while enjoying the rich greenery. The massive rocks around the area also work as outdoor seats for you to cool down afterwards. Moreover, this place allows day visitors to enjoy a long leisurely bath without staying overnight. But staying guests will get 24-hour access to the facilities, and you can take a dip anytime. 
Niseko Annupuri Yugokorotei
438, Niseko, Niseko-cho, Abuta-gun, Hokkaido 048-1511, Japan
Moku-no-sho
Moku-no-sho provides a one-of-a-kind bathing experience with its two bathing pools, Meisen no Yu and Wasen no Yu. Meisen no Yu is an outdoor bath that allows guests to appreciate the enchanting stillness of the forest while immersing in the calming pool.
On the other hand, Wasen no Yu is a private bath made for families and groups. Although it is an indoor onsen, the bathing room has a huge window which faces the forest and Niseko Anbestu River. Therefore, you can still bask in nature's beauty as you dip into a moment of mindfulness.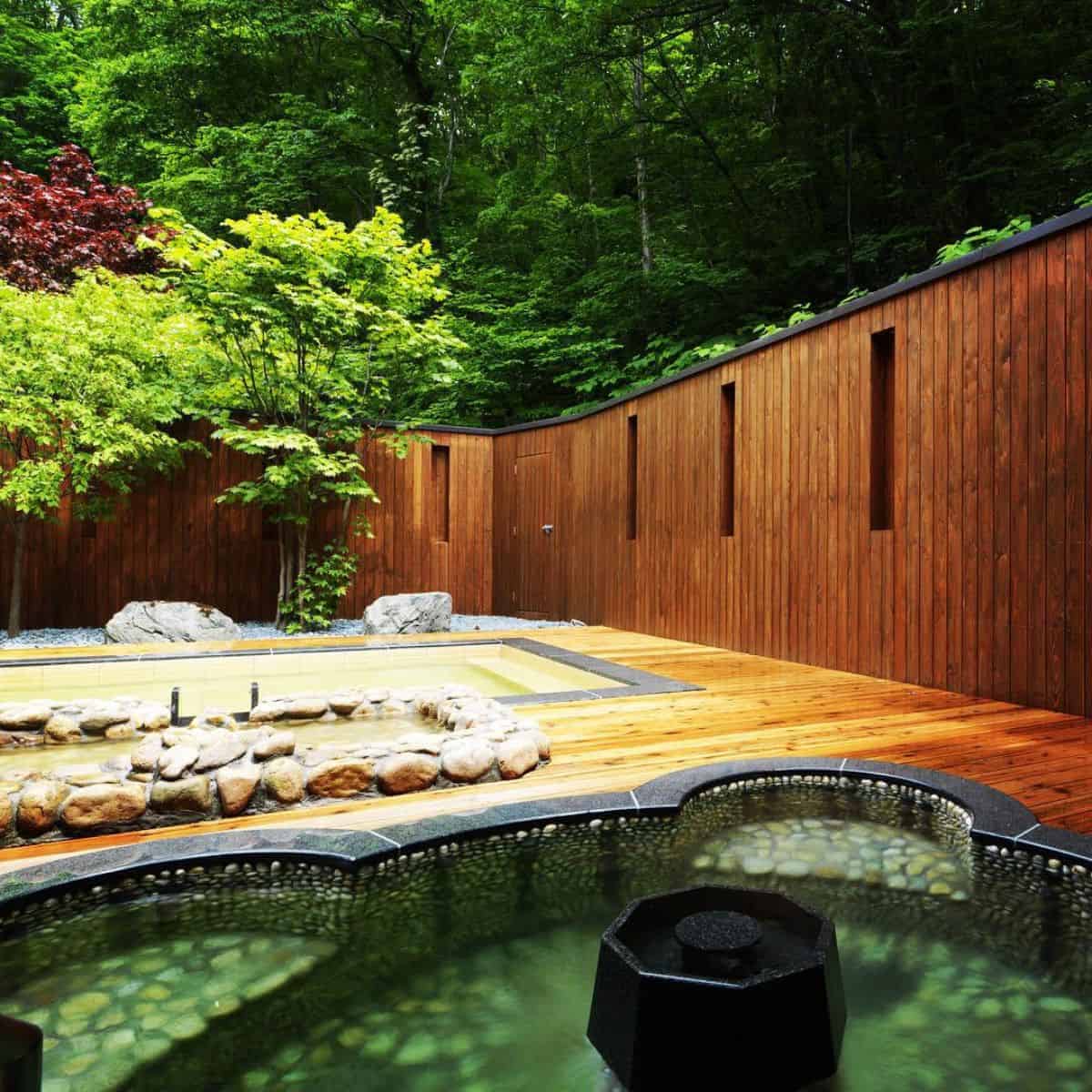 However, these magical onsen are not open to the public. You must book a day-trip dinner plan which includes a wonderful meal and a visit to the bathing pools. We checked it out and truly enjoyed the package as it provides a genuine Japanese cultural experience. We've had some of the best sushi in Niseko, but the dishes offered in the package are equally delicious. Moku-no-sho is a must-visit for those who are looking for a distinctly Japanese onsen break in Niseko. 
Moku-no-sho
393, Niseko, Niseko-cho, Abuta-gun, Hokkaido 048-1511, Japan
Goshiki Onsen 
Goshiki Onsen is famous for its cosy and old-country vibe with onsens made of Japanese larch wood. A popular Japanese broadcast station, TV Tokyo, also selected it as one of Japan's Top 10 Secret Onsen. But what captivated us during our visit was the amazing views of Niseko Annupuri and Iwaonupuri mountains surrounding it.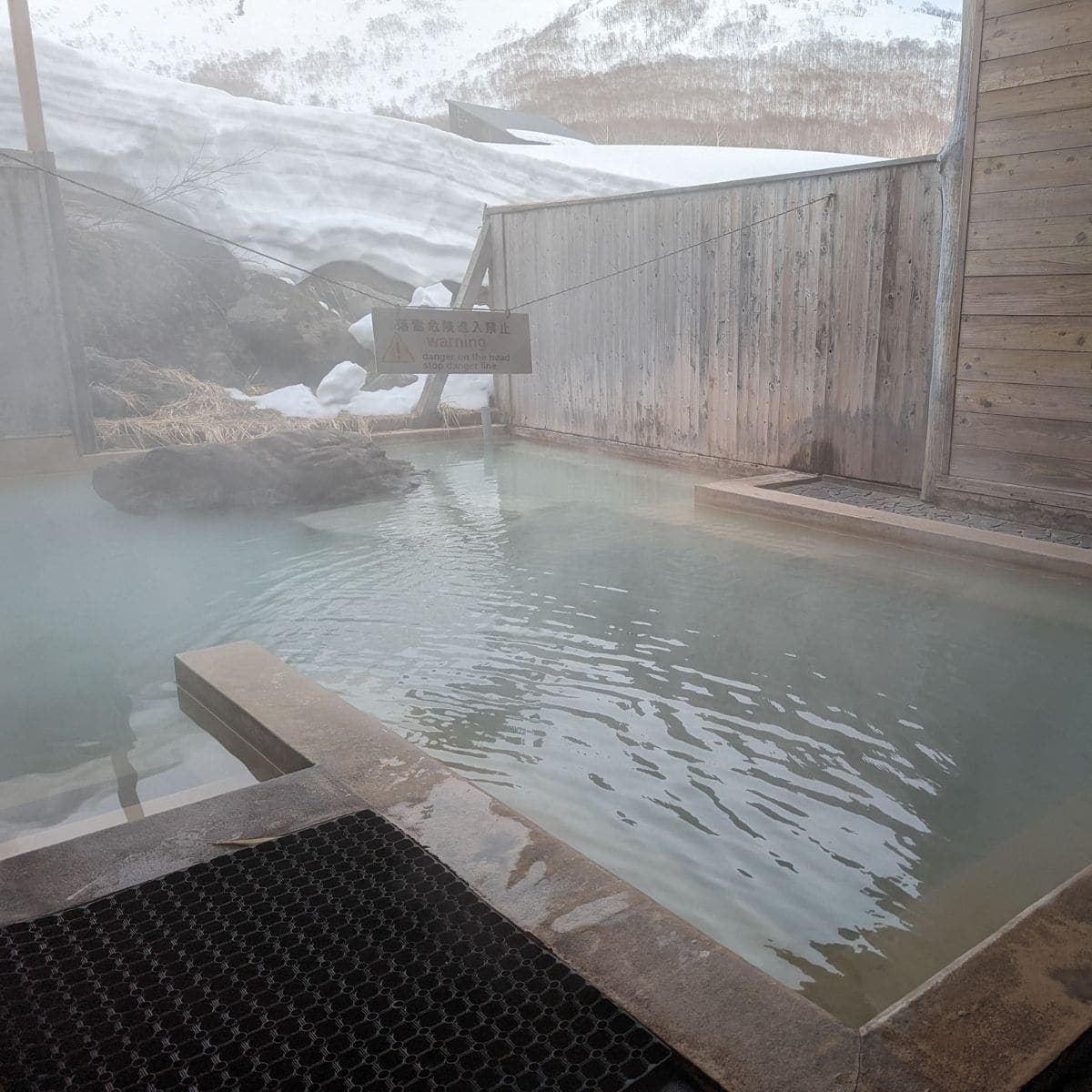 In winter, the secluded onsen boasts a gleaming white scenery of the mountains lined with alpine trees at the foot. We couldn't take our eyes off the view as we drove up to the spot. While the interior is old and small, the facility is clean and relatively popular among ski instructors and tourists from other regions in Hokkaido.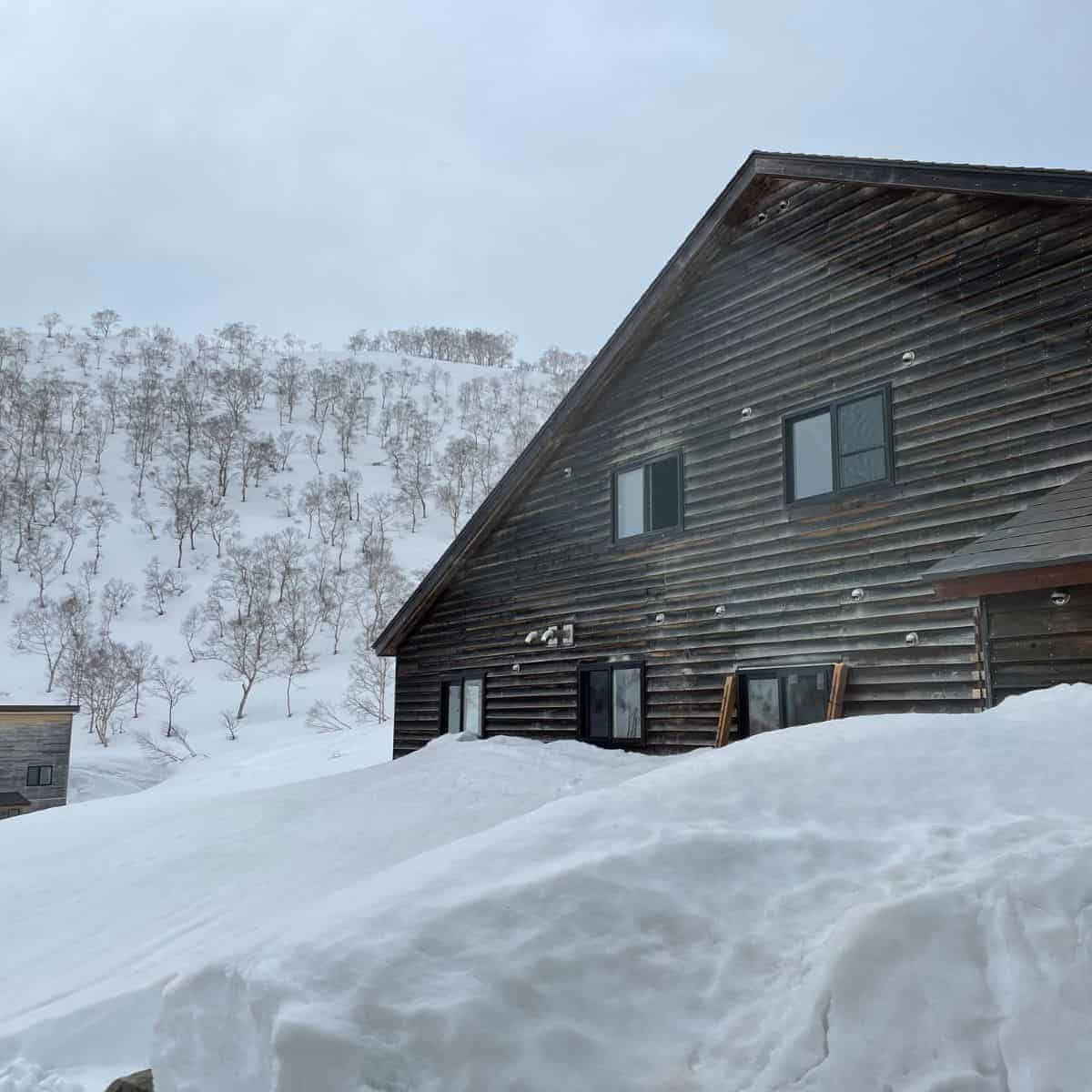 At this onsen, you're allowed to enter with tattoos. You can also purchase alcohol and other drinks from the vending machines to bring into the hot spring itself. We suspect this is probably why it's a solid favourite among foreigners in Niseko. While we wouldn't recommend going to this spot with young kids, it's definitely a fun experience with a few friends.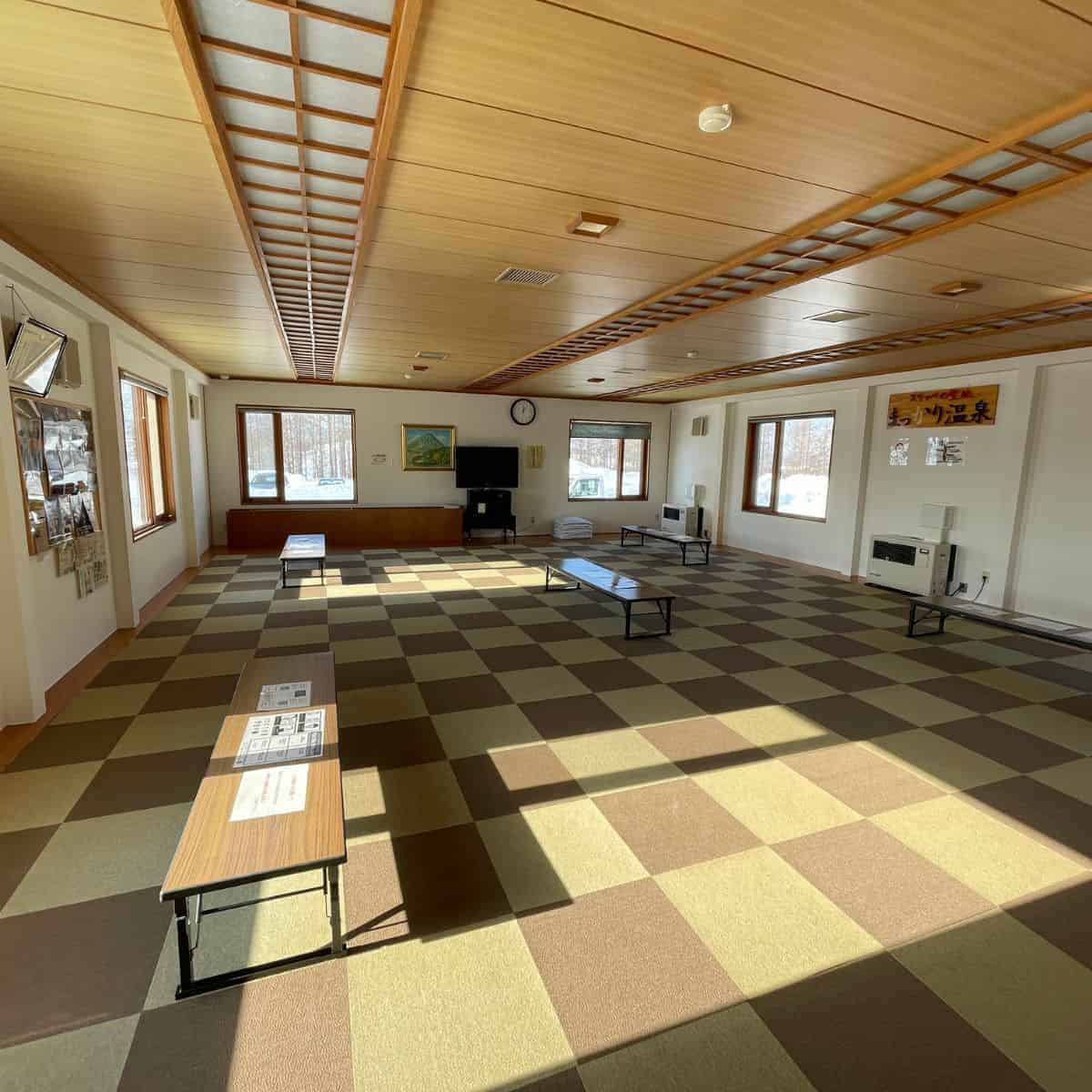 The Niseko hot spring is named Goshiki, which means five colours since the water has five different sources and colours. This results in five different coloured baths depending on the day, each with its own healing properties.
They are combined with sulphur and other natural nutrients to create an onsen rich in natural benefits. Sulphur-rich spring water is believed to have healing properties for high blood pressure and joint pains. This Ryokan is your call if you want an ultimate stress-relieving vacation spot.
Niseko Goshiki Onsen Ryokan
510, Niseko, Niseko-cho, Abuta-gun, Hokkaido 048-1511, Japan
Kanro no Mori
Below Moiwa ski resort, you'll find Kanro no Mori, which provides one of the best onsen in Niseko for forest lovers. Its open-air baths are located inside a forest, allowing guests to relax to the sound of rustling leaves. There are two types of open baths in the forest, namely, the wood type and the tile type. We love the wooden bath, which gives a cosy, rustic vibe that fits well with the surrounding greenery.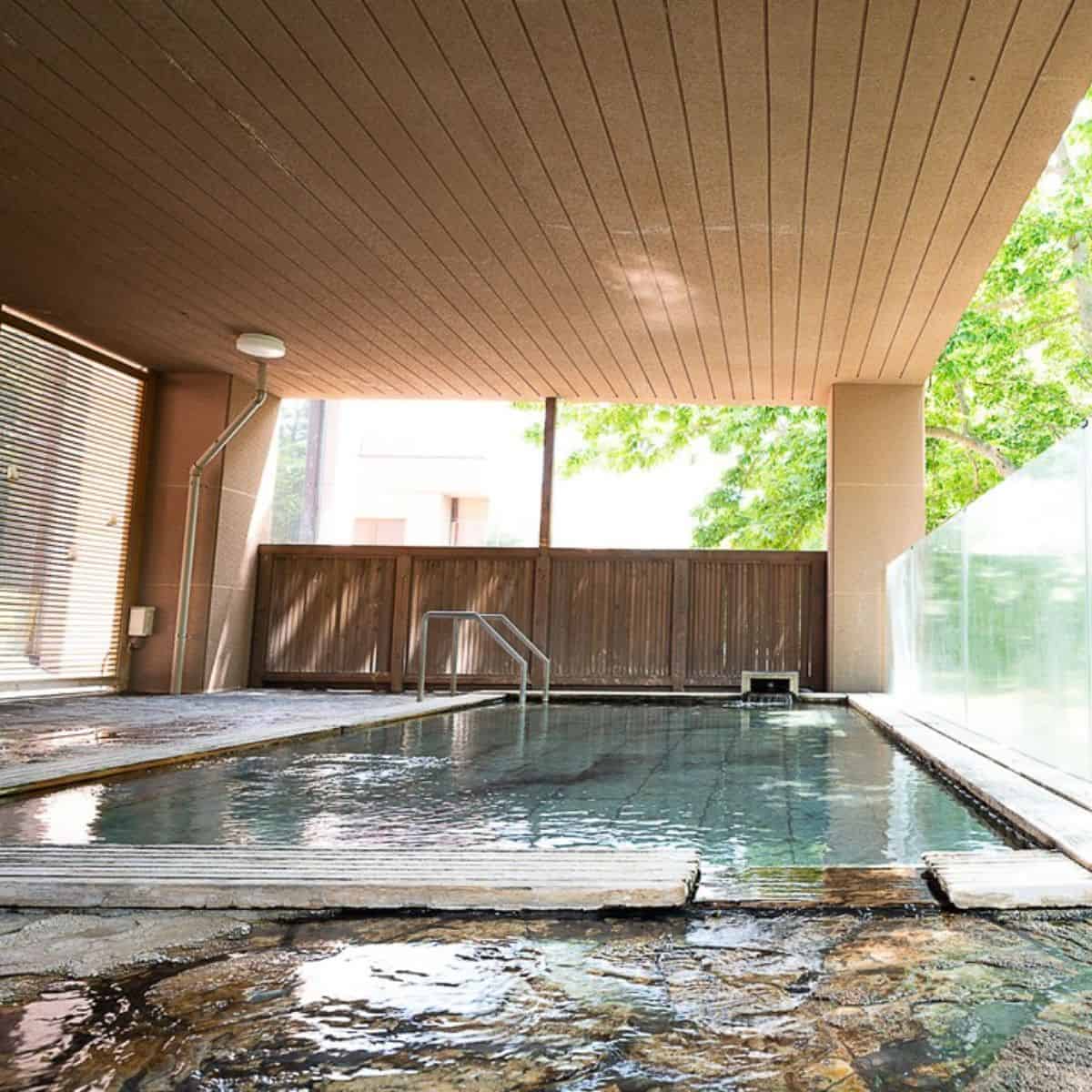 The hotel prides itself on having hot spring water rich in nitrate, which keeps the skin supple and moist. Apart from these pools, Kanro no Mori also offers indoor public and private pools. It is one of the few hotels which offer private baths for hire, allowing non-staying guests to enjoy the facilities. Each hire period is 50 minutes.
Hotel Kanronomori
415, Niseko, Niseko-cho, Abuta-gun, Hokkaido 048-1511, Japan
Kiranoyu
Based in Niseko town, Kiranoyu is the nearest onsen to the picturesque JR Niseko Station. This place is popular for running family-friendly events and special promotions like red wine and medicine baths. It offers a variety of pools, including a wooden indoor bath, a granite indoor bath, and an open-air rock bath. Each of them flaunts an aesthetically pleasing appearance with a calming ambience.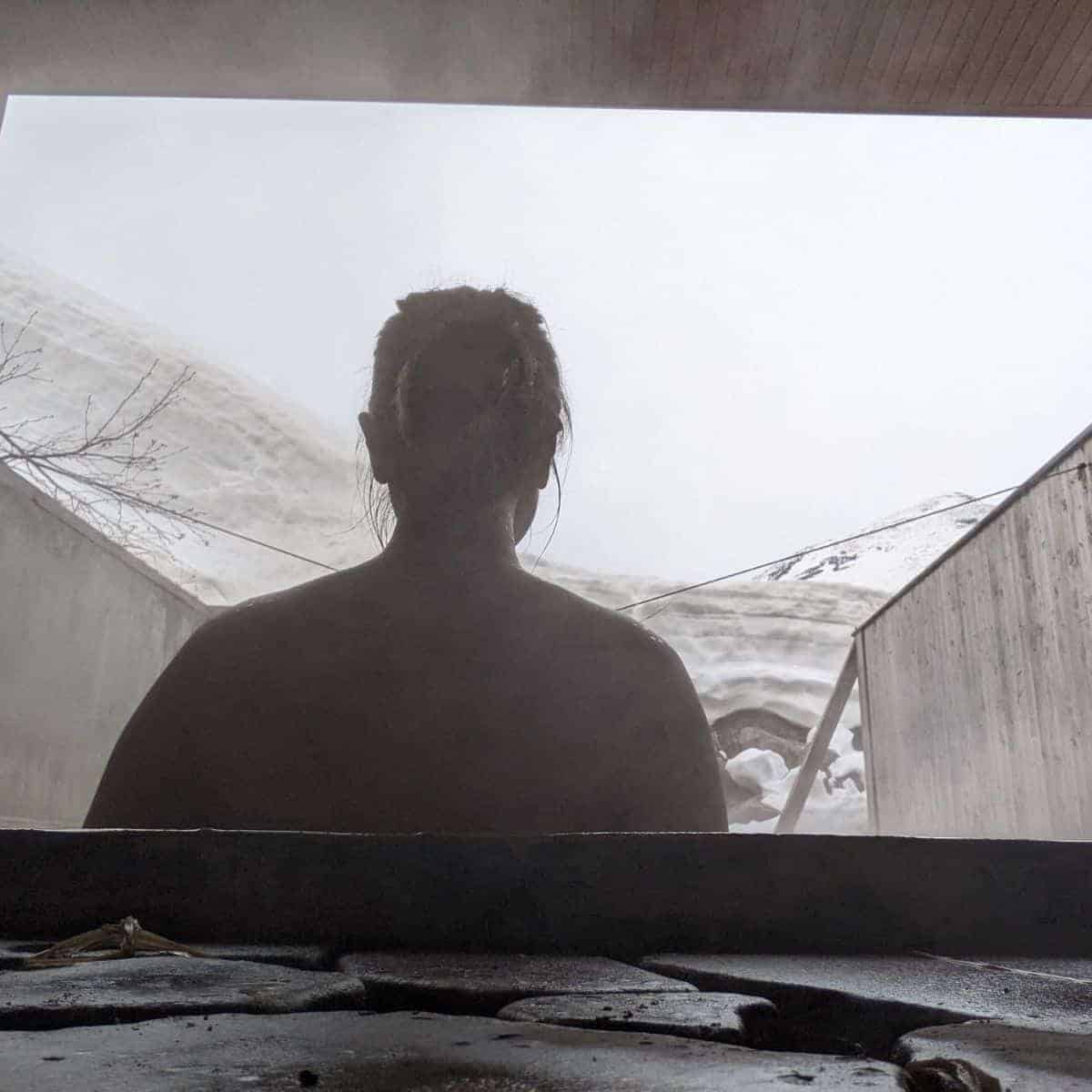 Out of all the pools, we loved the rock open-air bath and the wooden indoor bath. They have the most zen environment, which elevates the sense of peacefulness. Taking a cold plunge before dipping into the 37-40 degrees Celsius pools was also satisfying. We suggest trying this to get as cold as you can before soaking in the hot water. 
You should also note that Kiranoyu does not provide separate baths for men and women. However, the baths are open for men on odd days and women on even days. Make sure to check on their website for the most up-to-date information or ask your hotel concierge to help call to confirm. 
Kira no Yu
33 Chuo-dori, Niseko-cho, Abuta-gun, Hokkaido 048-1512, Japan
Prince Hotel Hirafu Tei 
Like many onsen in Niseko, this hotel provides separate baths for men and women and a private room. However, a soak in its baths is accompanied by fascinating views of Mt. Yotei and Mt. Annupuri. Its soothing waters are rich in carbon dioxide, which promotes blood circulation and aids in warming the body. The hotel also takes pride in having baths that heat well, as their onsen is not diluted with water.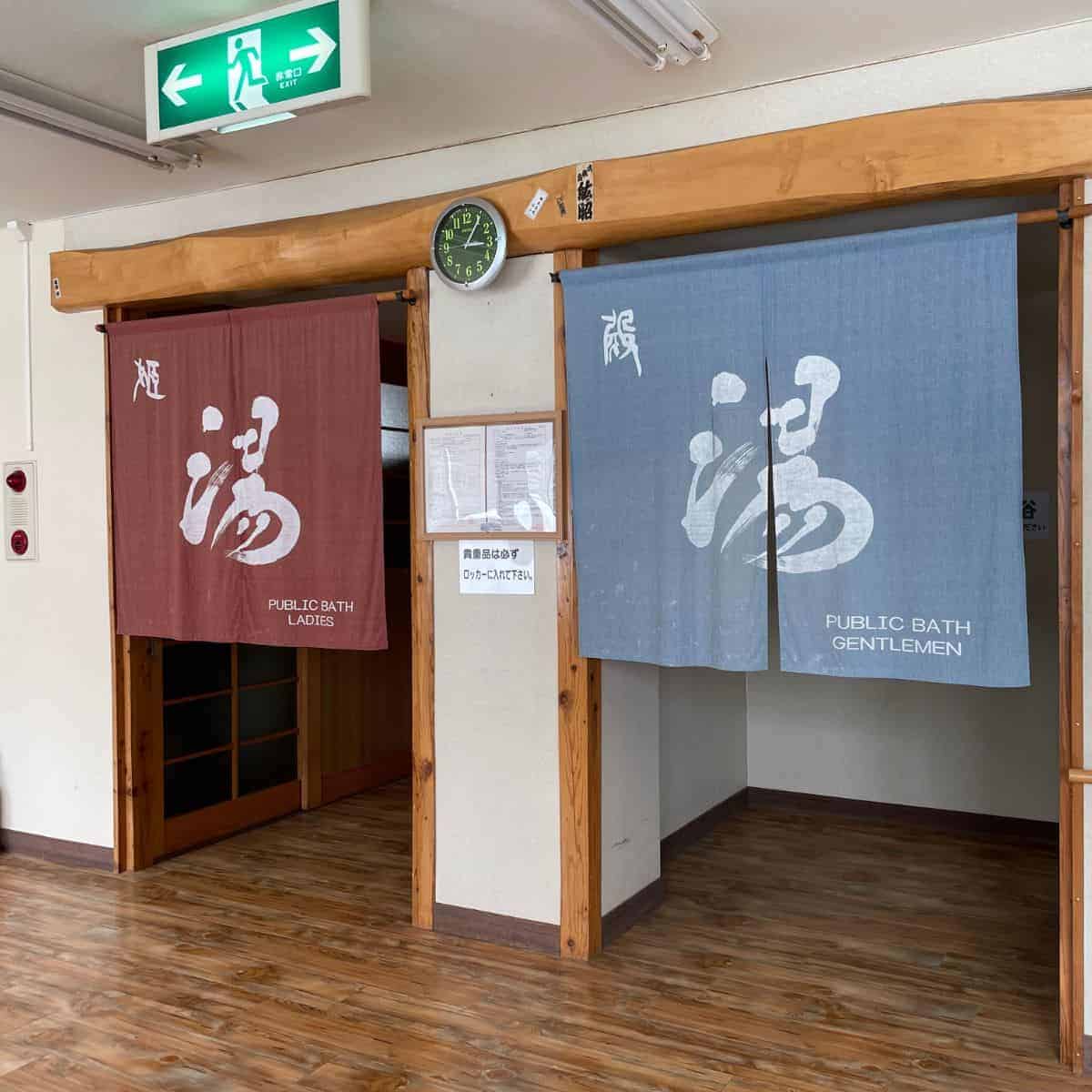 One thing that we particularly liked during our stay was the small private onsen inside the room. It is a little more shallow compared to the larger outdoor hot spring they have. However, if you've spent the entire day on the slopes, we're sure you'd appreciate the relaxing bath in the comfort of your own room. After a day of exploring, we tried it ourselves and were almost lulled to sleep.
In recent years, they've opened their outdoor onsen to the public. So you can enjoy this Niseko hot spring even if you're not a hotel guest. However, as this was a recent change after 2019, we're not sure if they will continue doing this, as we know a lot of people have complained that it gets a bit too packed.
Prince Hotel Hirafu Tei
1-4-5-43 Niseko Hirafu, Kutchan-cho, Abuta-gun, Hokkaido 044-0080, Japan
Yukichichibu 
Another magnificent hot spring in Niseko worth checking out is Yukichichibu Onsen, situated in Rankoshi town. It is deep in the mountains of Niseko, and access to this location is quite challenging during wintertime. However, it is worth visiting for a little getaway from the crowds and its amazing facilities. You'll be able to enjoy the magnificent sight of the mountains blanketed in snow from here. When it is not snowing, you can walk around Otama Numa, a marshland located next to the onsen.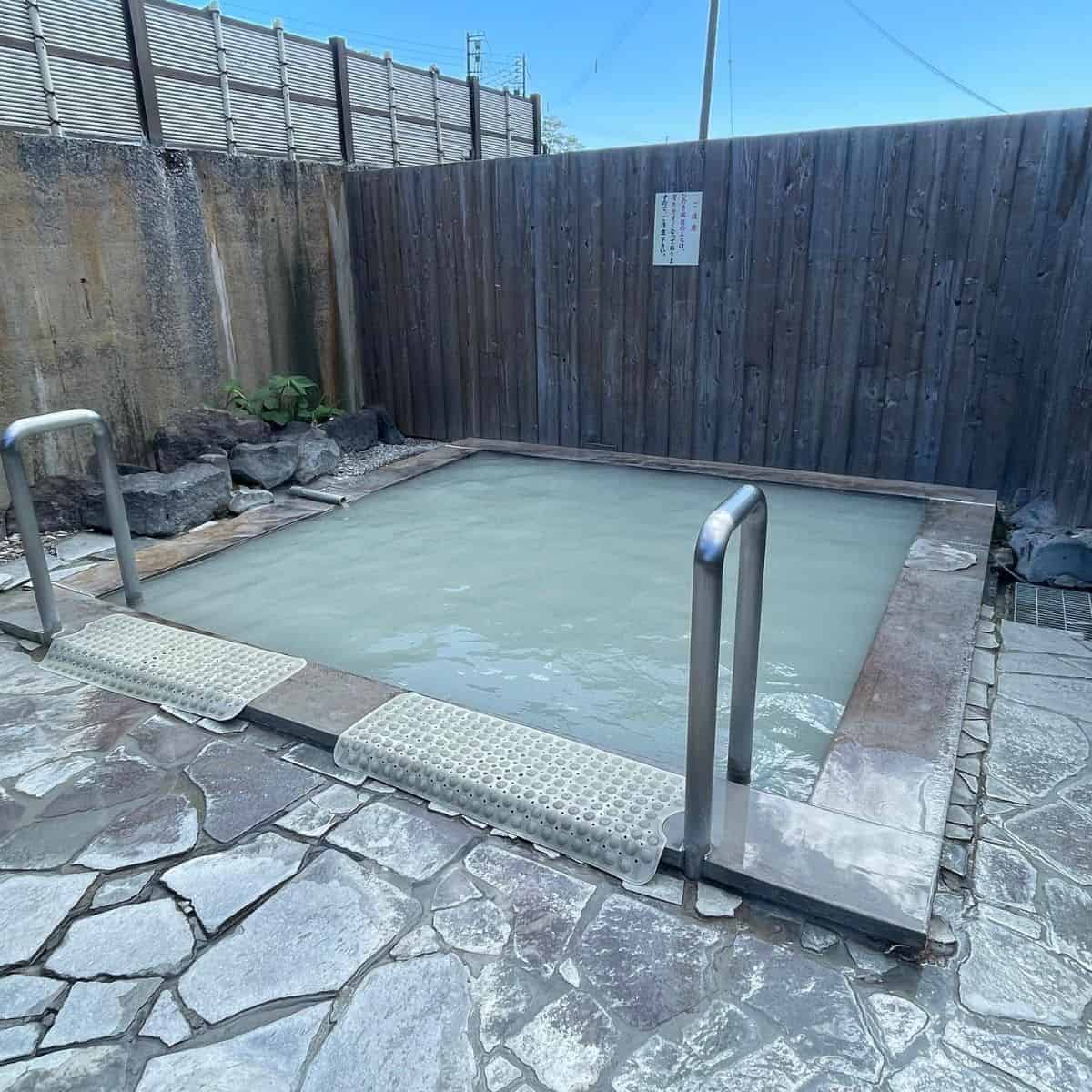 Originally opened in 1966, this historical destination is well-known for its seven bathing pools which include a beautiful outdoor pool. But its most famous bath is the special mud bath available on the women's side. This makes Yukichichibu one of the few locations with a mixture of clay and thermal mud oozing into its pool. Mineral mud is an effective beauty ingredient that lightens melanin and works as a natural sunscreen. Therefore, be sure to soak in this beauty bath while you're there. 
Yuki Chichibu
680 Yuri, Rankoshi-cho, Isoya-gun, Hokkaido 048-1321, Japan
Hilton Niseko Village
Hilton Niseko Village is another hot spring paradise that offers impressive views of Mt. Yotei. Its indoor bath is located on the upper hotel level, making it an incredible spot to watch the seasons change.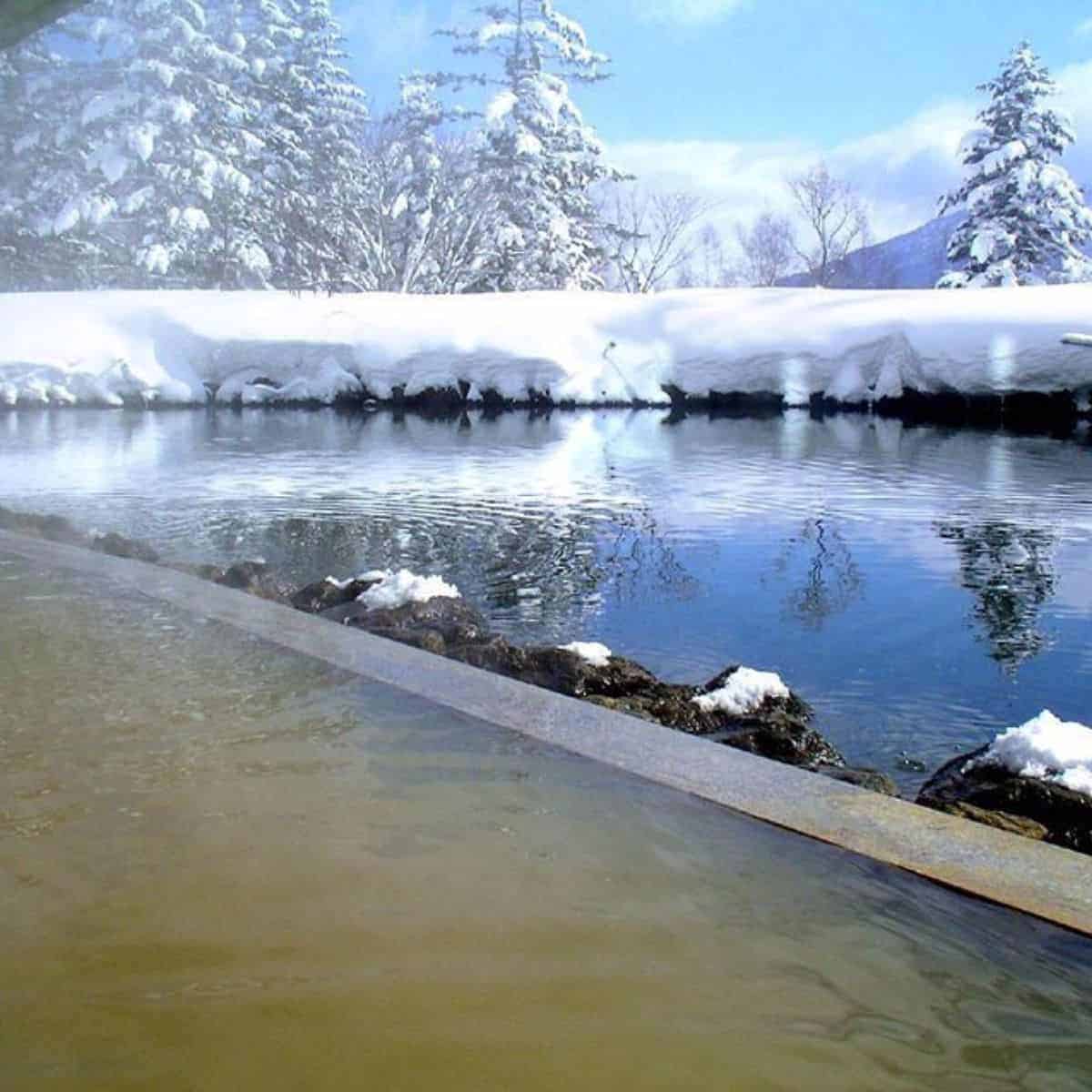 On the other hand, the outdoor bath is adjacent to a large carp-filled pond surrounded by the forest. Visitors can also marvel over the stunning Mt. Yotei here. We think this hotel is an ideal spot for those who want a serene and luxurious bathing experience in nature.
Hilton Niseko Village
Higashiyama Onsen, Niseko-cho, Abuta-gun, Hokkaido 048-1592, Japan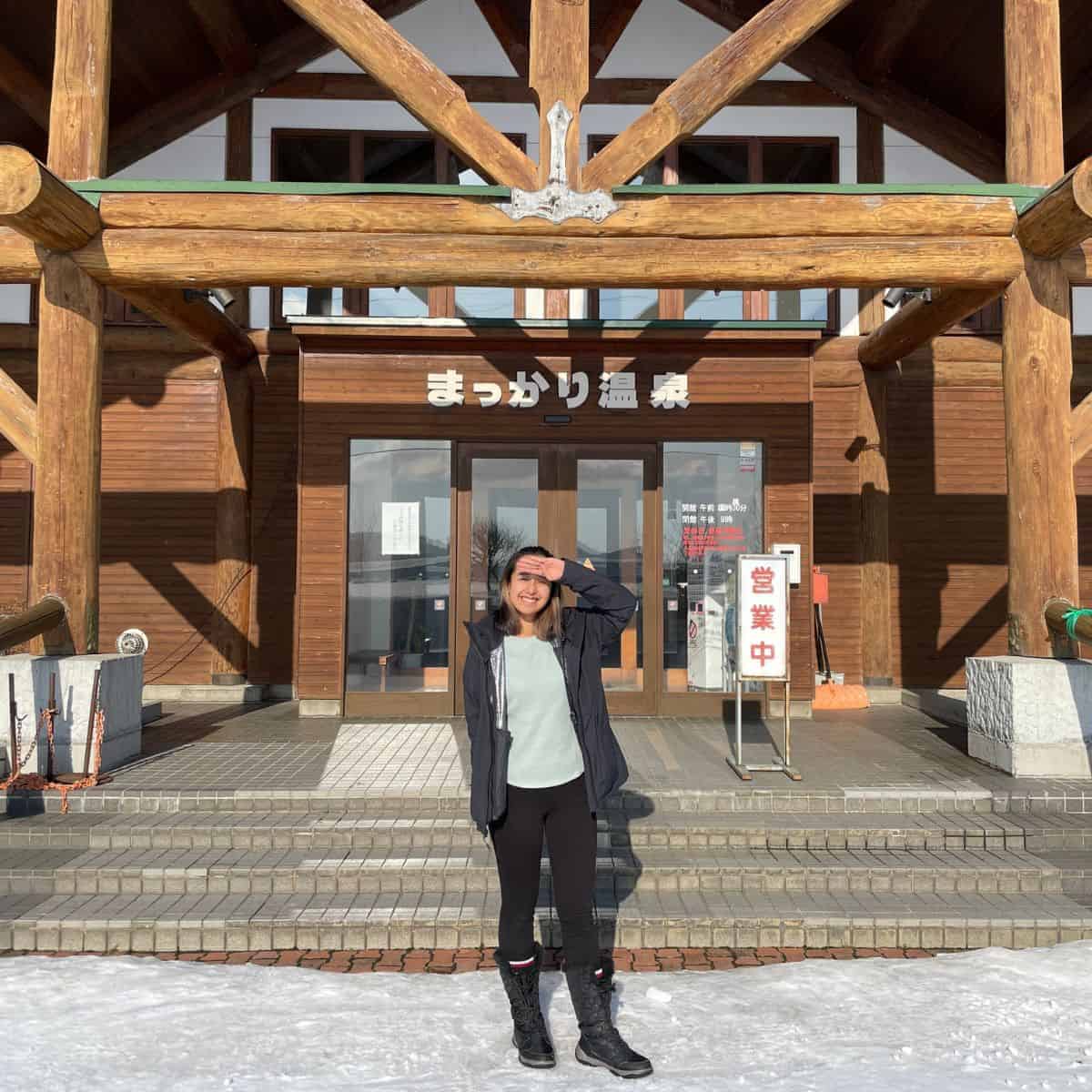 Want to explore more places with us? Follow us on Instagram @tabitogether for more hidden gems and fun activities to do all around the world.