The best bars in Niseko to indulge in local Japanese sake, whisky, and handcrafted cocktails are scattered across Lower and Upper Hirafu as well as Kutchan town. With some of the best drinking spots in Hokkaido, Niseko comes alive at night. Whether you are looking for a cosy izakaya, a trendy lounge, or a lively nightclub, you'll find it in this small Japanese ski resort.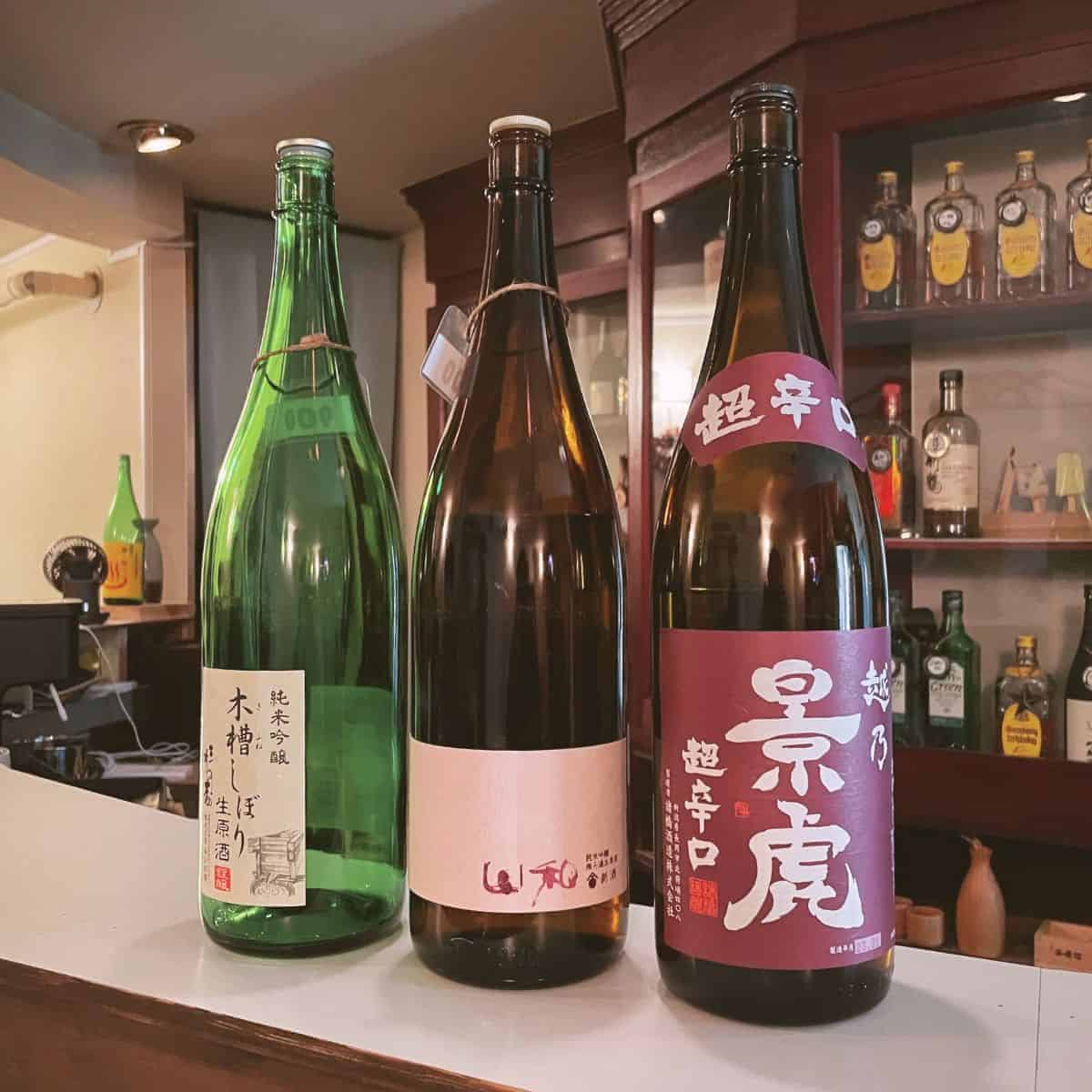 So, discover Niseko's nightlife with us as we unveil our handpicked collection of the best drinking spots in Niseko. We curated the list carefully with our personal experiences and the recommendations of our trusted friends in mind. The venues on our list all have three things in common. They all have a great ambience, amazing food offerings, and value for money.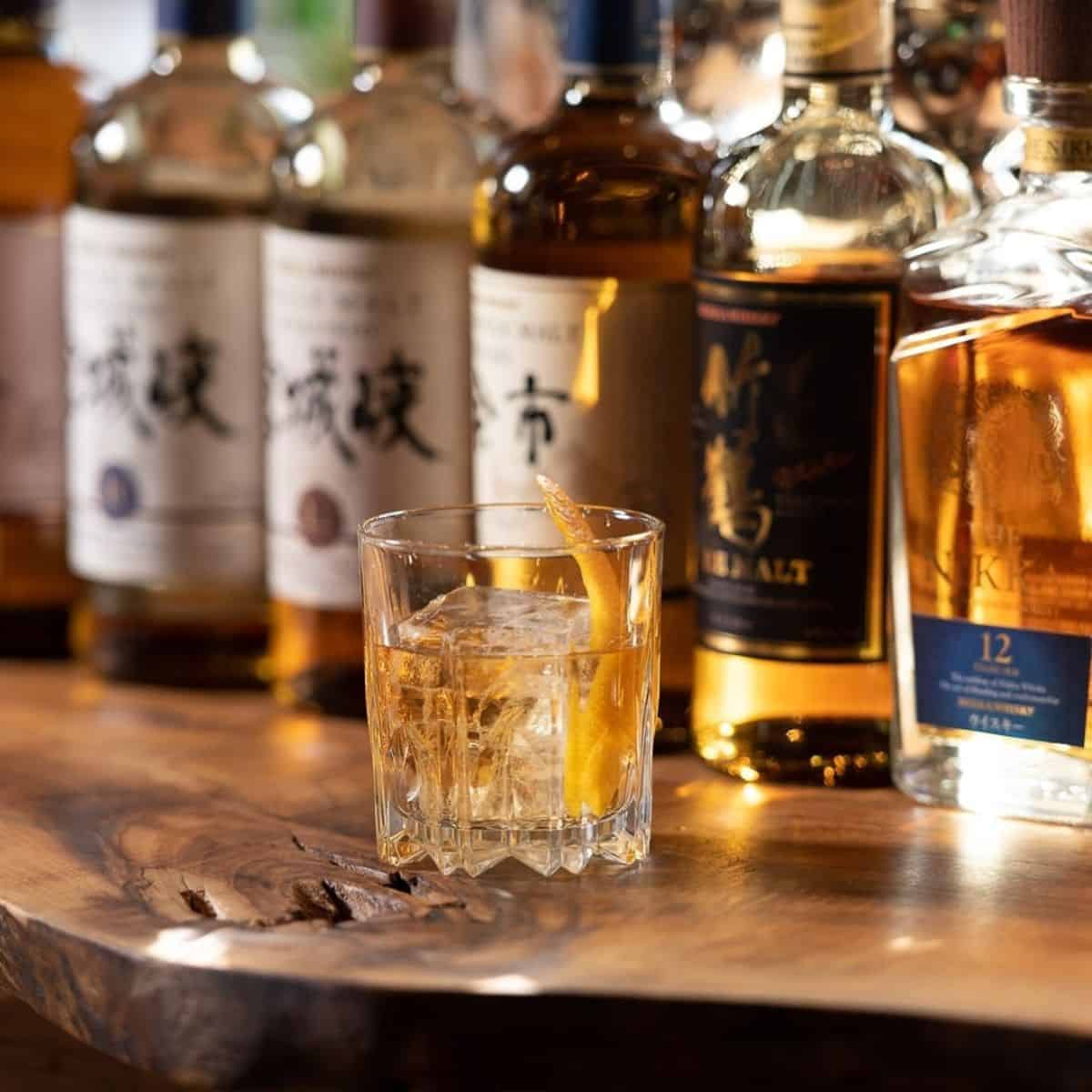 Of course, there are more than seven drinking spots in Niseko that you can enjoy, but these are the ones that we felt were worth the price. If you are staying in Hirafu, the ski resort area, you should know that alcohol prices are marked up here. However, if you're looking for affordable great-tasting alcohol, venture towards Kutchan town. This charming town is a local favourite and boasts a less touristy atmosphere. Either way, you will have a blast drinking in Niseko, where every sip reveals the essence of Japan's rich drinking culture.
Jump to:
Best Bars in Niseko 
Niseko has a lot of drinking establishments that are worth a visit, but there are two that stand out from the rest. SaSa Sake Bar and Bar Gyu+ are two must-go places for anyone who loves sake, whisky and cocktails.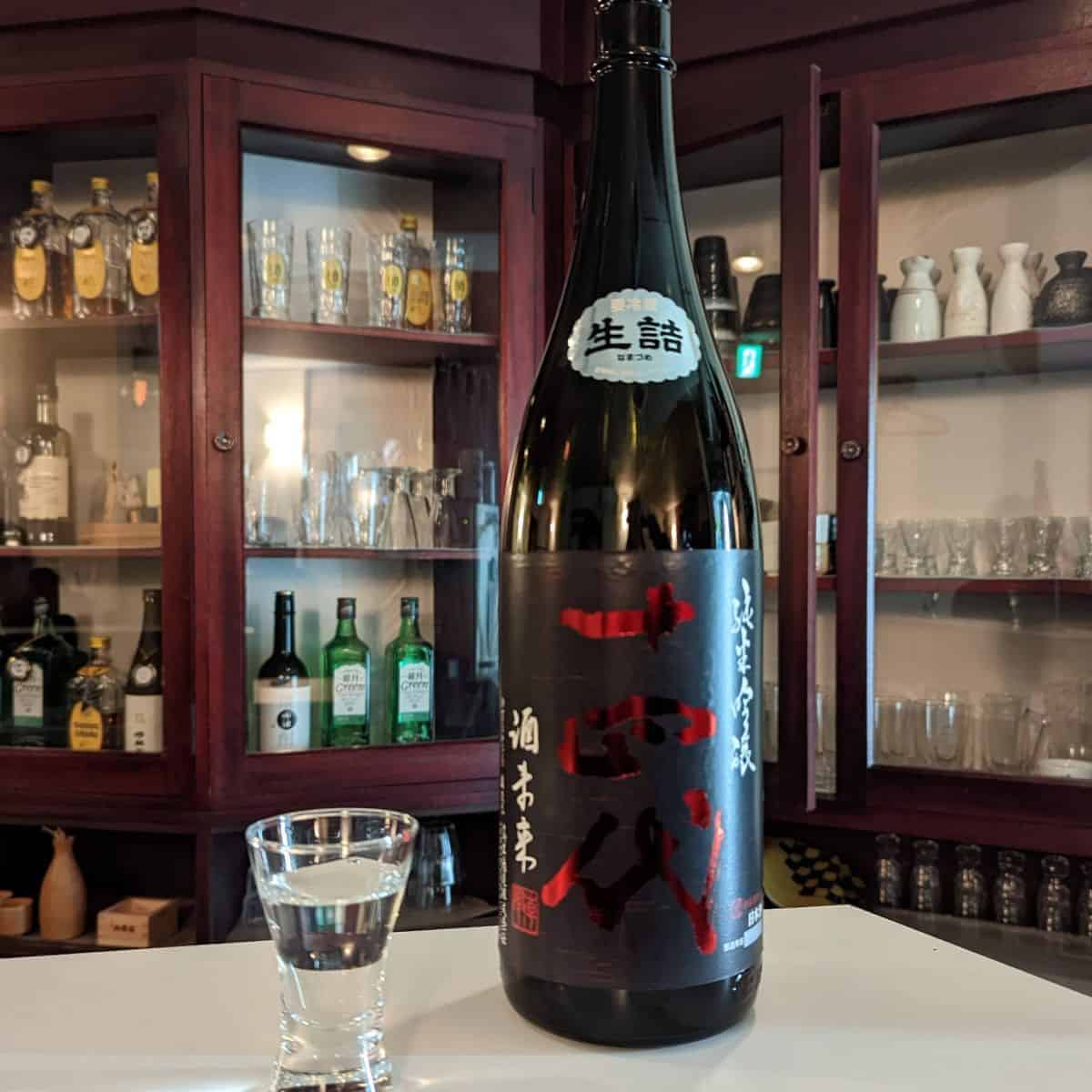 SaSa Sake Bar is a local favourite that offers a wide selection of premium sake from Hokkaido and other regions of Japan. Meanwhile, Bar Gyu+ is undoubtedly the best bar for whisky in Niseko, with a cosy atmosphere and a superb collection of rare whiskies and cocktails.
Bar Gyu+
Bar Gyu+ is Niseko's oldest cocktail bar and one of the best bars in Niseko to drink in this winter wonderland. Affectionately known as "The Fridge Door Bar," it has a nostalgic entrance that is basically the door of a vintage Coca-Cola vending machine. It opens into a snug and inviting interior. Moreover, patrons are treated to a picturesque view of the snow-laden landscape through a large window, fostering an enchanting and romantic ambience.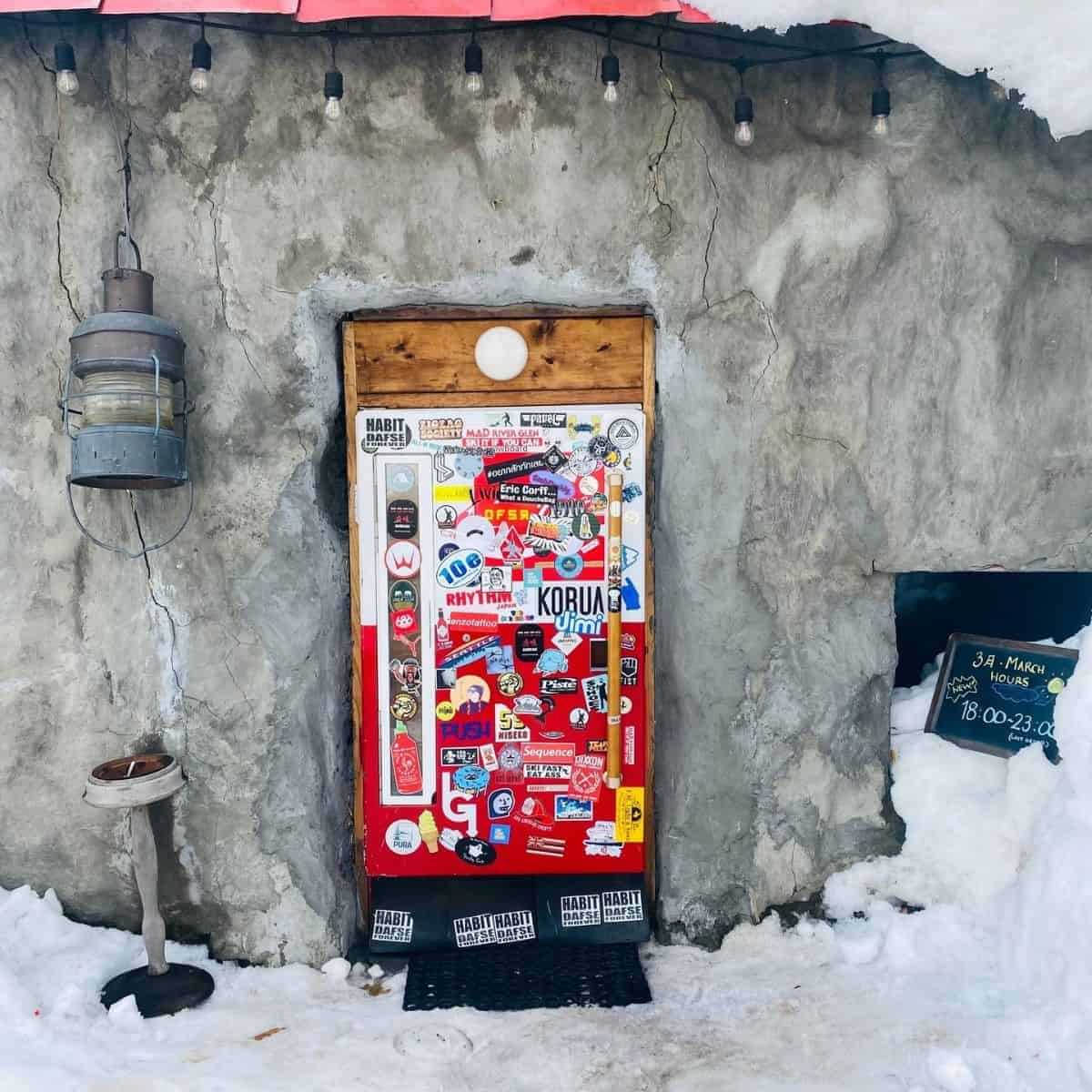 With an impressive assortment of rare whiskies, including renowned Hokkaido-favoured Nikka Whisky, Bar Gyu+ is the best bar for whisky in Niseko. However, do not worry if Japanese whisky is not your cup of tea. You can still enjoy cocktails, sake, and their signature seven-spice hot wine at this spot.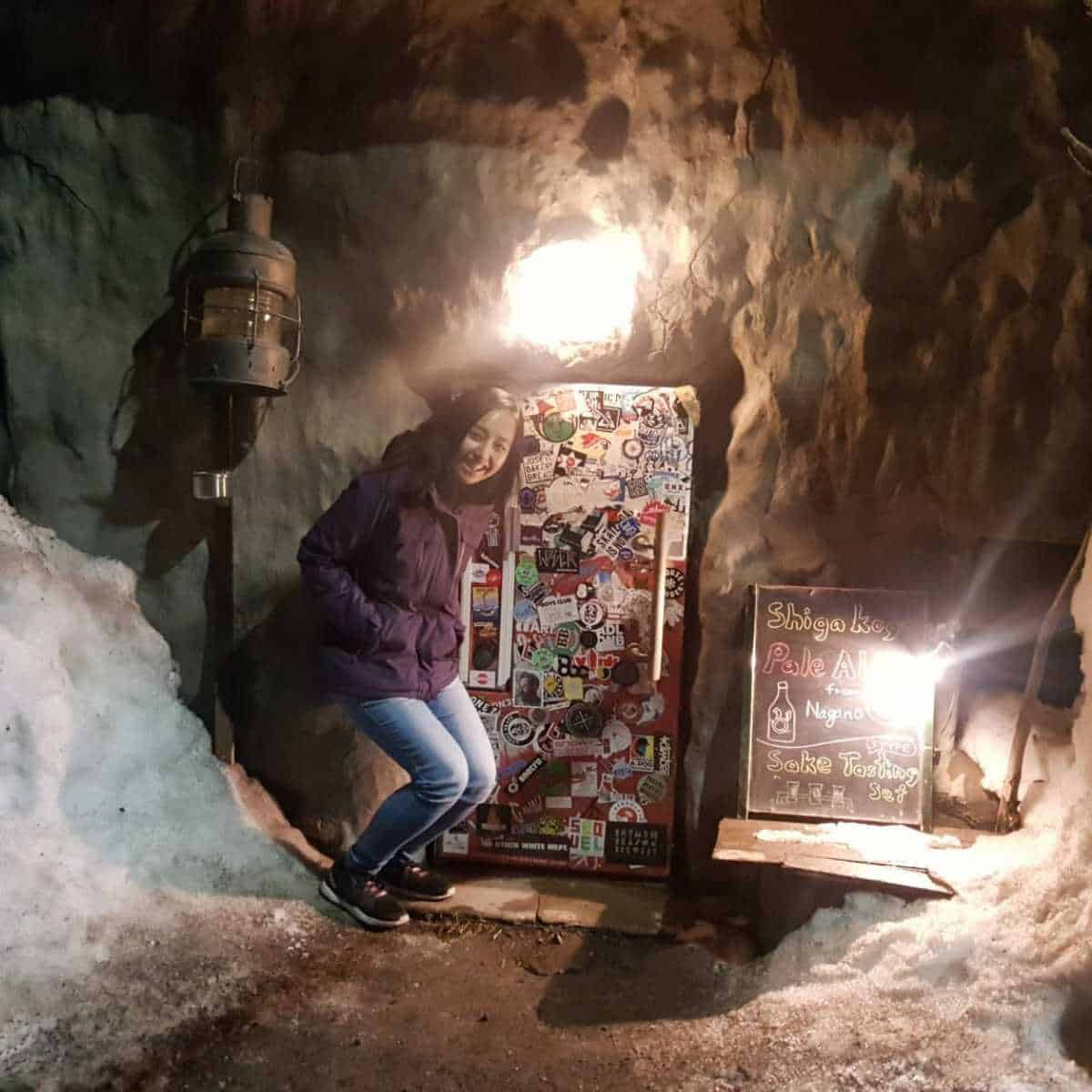 If you are overwhelmed by the many choices on the menu, you can follow the co-owner Ioanna Morelli's recommendation. She recommends that you try the Hachiriki, a variation of the boulevardier. 
This place also has live music on some nights, which adds to the charm of this place. For an unforgettable experience, venture to this Niseko bar in the evening when the stars shimmer and snowflakes gracefully descend outside the windowpane. 
Bar Gyu+
167-21 Yamada, Kutchan-cho, Abuta-gun 044-0081 Hokkaido
Sake Bar SaSa
Sake Bar SaSa holds a cherished place in our hearts. It is located in Kutchan town, approximately 15 minutes away from Hirafu, by car. The drinking spot is run by a kind sake-loving couple, Mami and Kazu. They journey across Japan every month, tirelessly seeking out the finest sake. 
With an extensive collection of over 100 distinct varieties, including exceptionally rare finds, SaSa is the best bar for sake in Niseko. The Japanese sake here is worth every yen, as it is reasonably priced and high quality.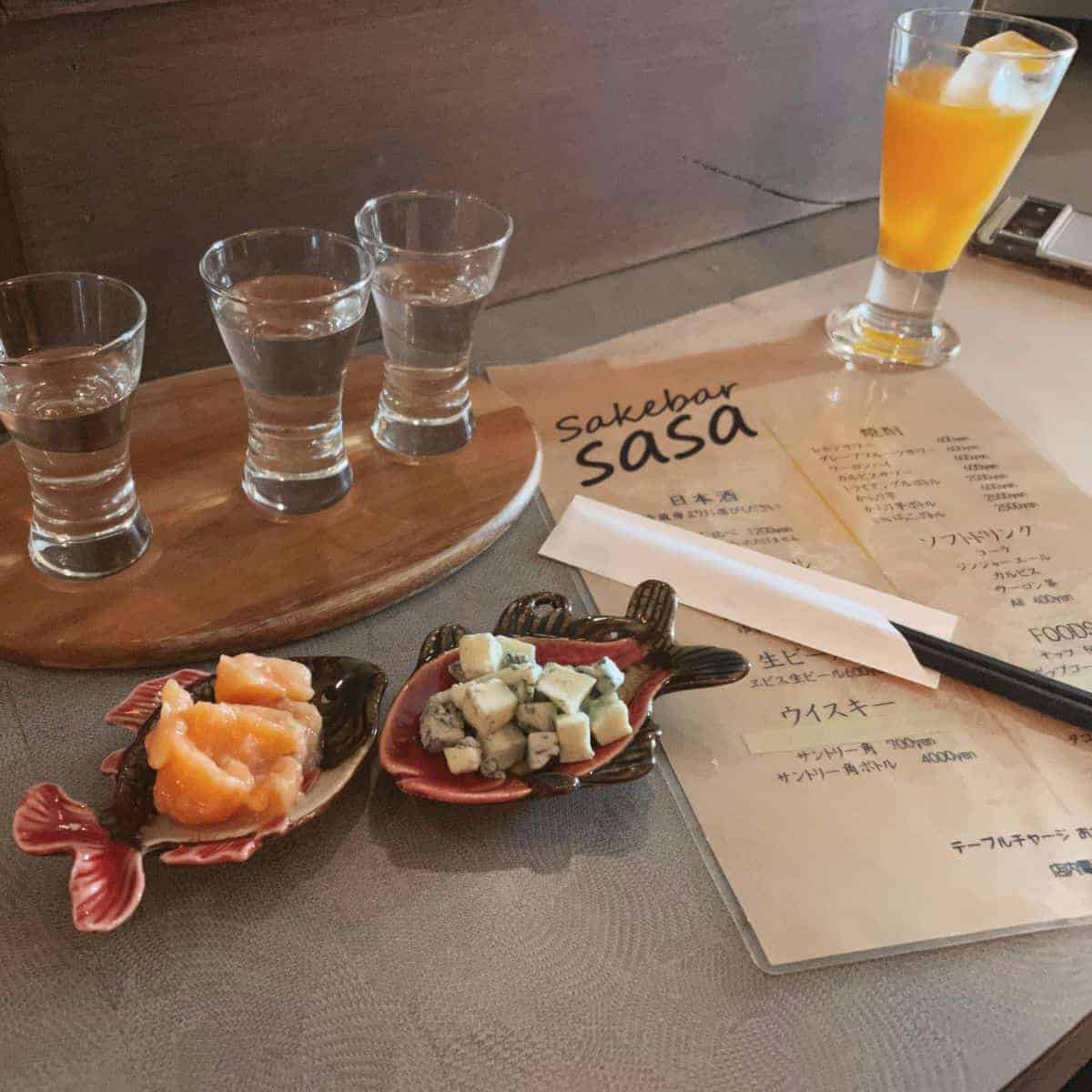 Moreover, locals and Japanese businessmen often stop here on business trips. The atmosphere is convivial, and you can see that some customers have left their bottles of Nikka whisky at this drinking spot to come back and drink with their friends.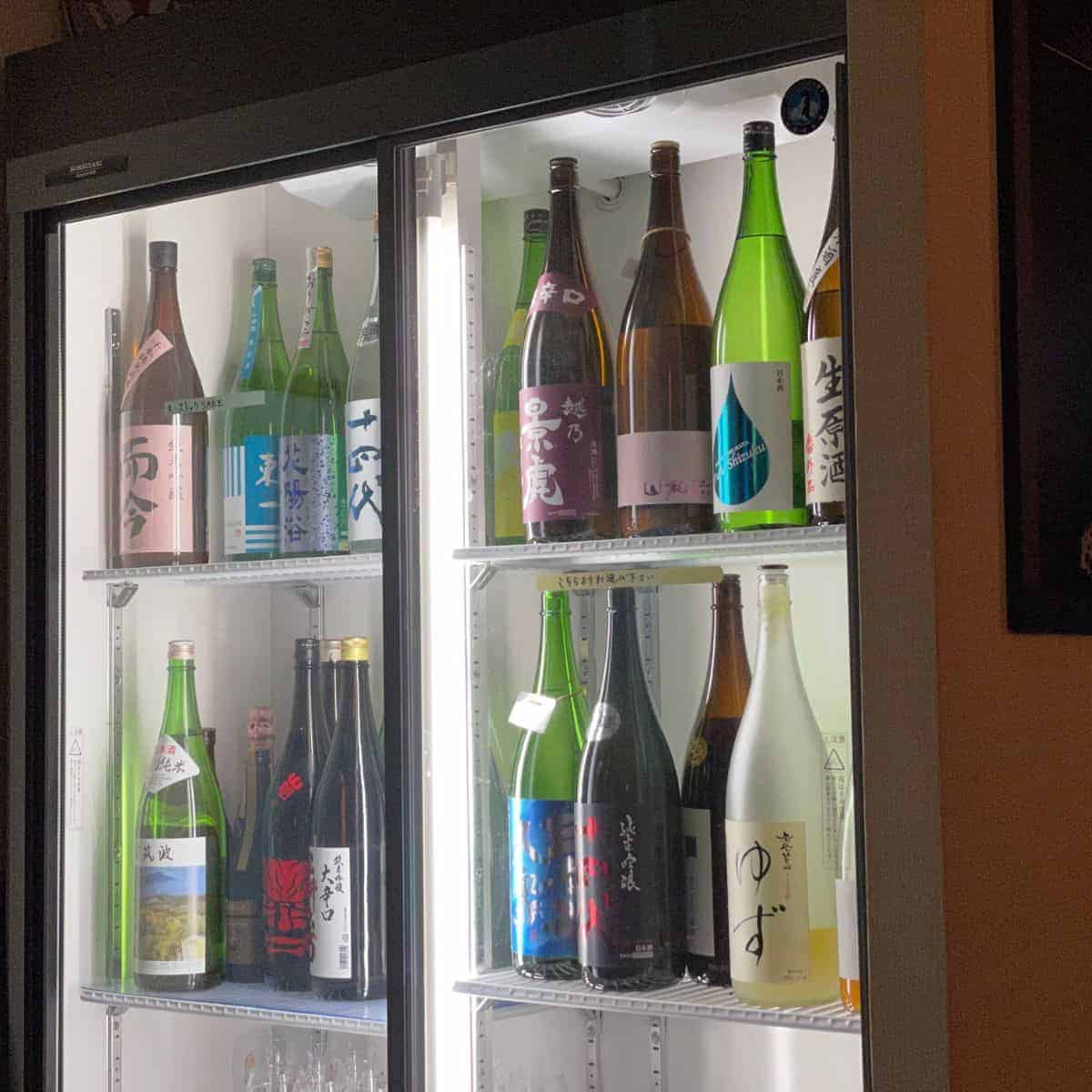 You'll find the owners Kazu and Mami are very friendly, even though they speak limited English. They can help you discover the local sake that suits your taste. Other customers will occasionally join in and share their knowledge of sake with you. We saw this happen when an English-speaking couple visited and got some tips from the locals.
They also serve free snacks that they think will go with your drink, but you can order more if you like. We definitely recommend trying their sake flight with three different types of sake.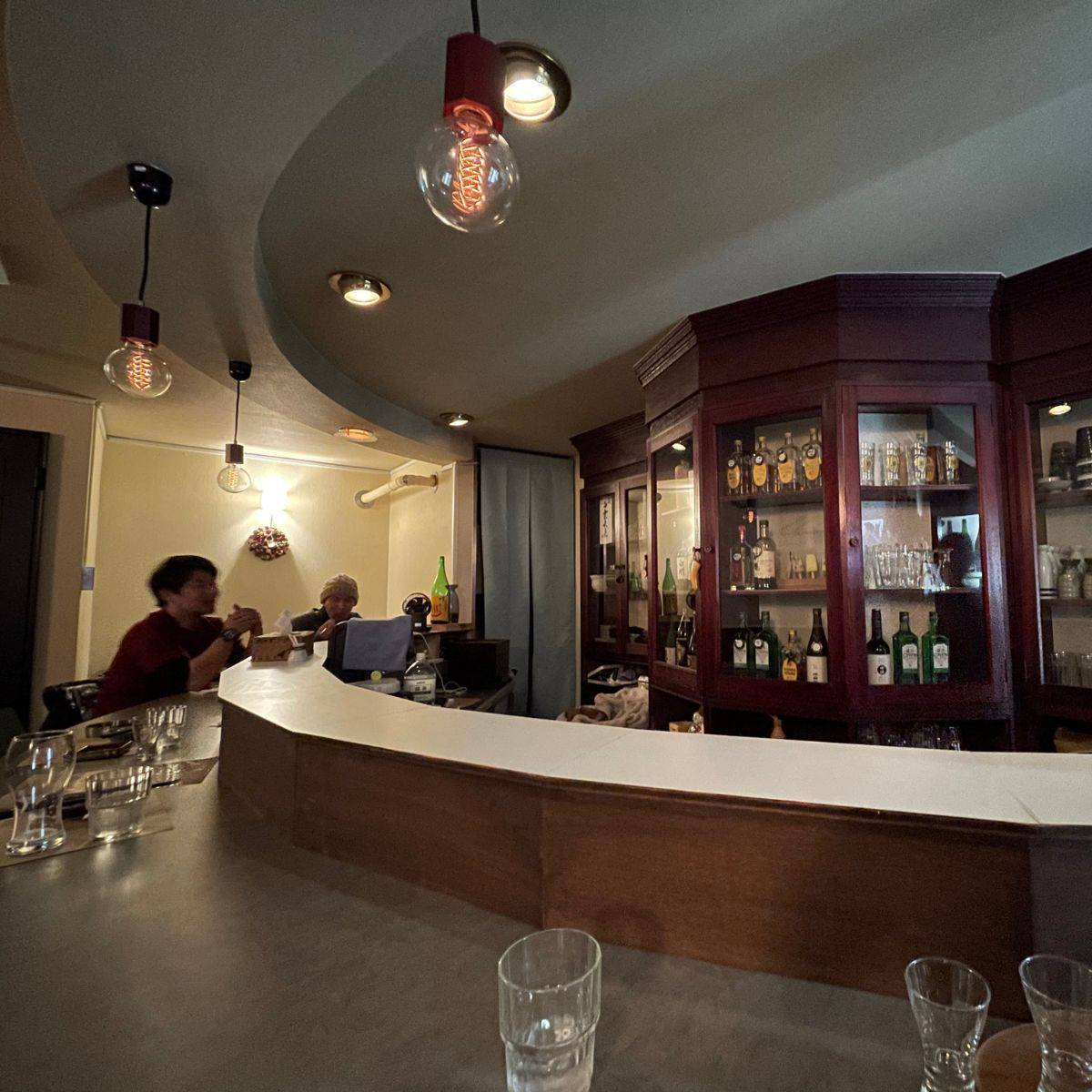 Alternatively, if you are not into sake, you can try their low-alcoholic drinks that are infused with peach and yoghurt. You might also see the owners' cute dog SaSa who sometimes shows up at the premises. Therefore, If you are looking for the best bar for sake in Niseko, you should definitely not skip this place. 
If you dislike smoking, you should go early on a weekday night, as smoking is allowed here. They also have a dart board in the corner that we enjoyed playing with.
Sake Bar SaSa
1 Chome-4-6 Kita 2 Jonishi, Kutchan, Abuta District, Hokkaido 044-0052, Japan
Facebook
Toshiro's Bar
With its timeless cocktail lounge charm, Toshiro's has earned an iconic status in Niseko. Toshiro's was opened in 2014 by Toshiro Akinori and his wife, Yoko, who wanted to introduce the trend of drinking cocktails to Niseko. In fact, this spot is literally one of the best bars in Niseko, having won the "Best Bar" award at the Best of Niseko Awards for three consecutive years.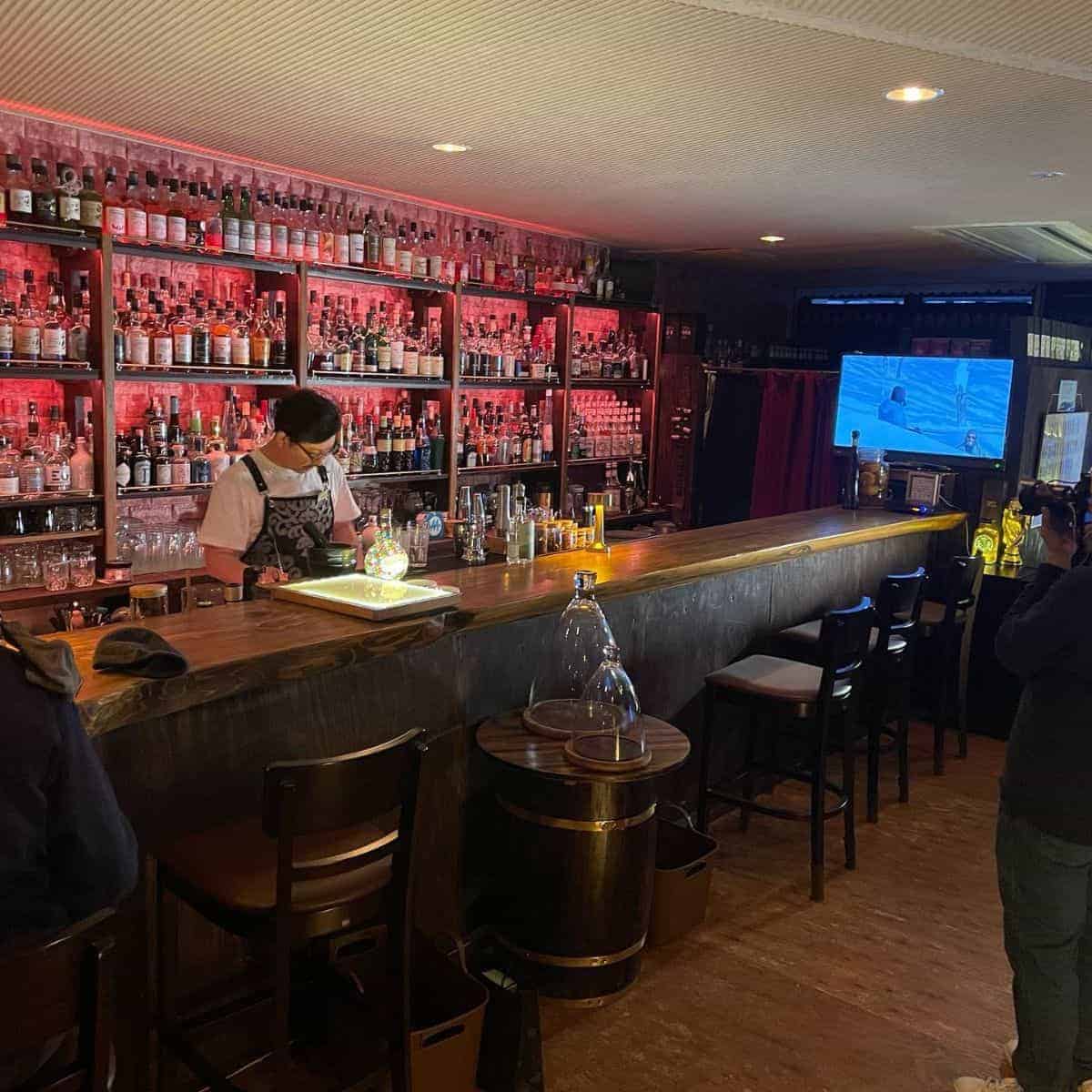 Toshiro has recently moved into Niseko Prince Hotel Hirafutei but promises the same stately experience. The drinking spot has a modern and sleek design and a beautiful view of the Grand Hirafu ski slope. 
Additionally, the drinking establishment also has over 700 bottles of alcohol, including whiskey and gin, from all over the globe. They also serve Hokkaido's native Nikka Whisky, a must-try for whisky lovers. In addition, they have a projector screen that shows movies or sports events on some nights.
Furthermore, the owner, Toshiro-san, is a master mixologist. With his flair and creativity, he can create any drink you want. He uses fresh ingredients like fruits, herbs, and spices to make his cocktails unique and delicious. Additionally, he includes many spirits, liqueurs, wines, beers, and sake. 
The best drink in this Niseko bar is one of his "smoked" cocktails, infused with smoke from different woods and herbs. They are a spectacle to watch and a delight to taste. 
Toshiro's Bar
Lobby Floor, Hotel Hirafutei, 5-43, Niseko Hirafu 1-jo 4-chome, Kutchan-cho
Musu
After a day on the slopes, many skiers flock to Musu, a bar and bistro that has won over Niseko. It is located on the second floor of Odin Place, in the centre of the Hirafu village. 
This Niseko bar has floor-to-ceiling windows offering a lovely Hirafu village view. The eatery has a design that focuses on an iconic, backlit space on one end and an open fire on the other. You can choose from plenty of tables, counters, and lounge spaces to suit your mood and comfort.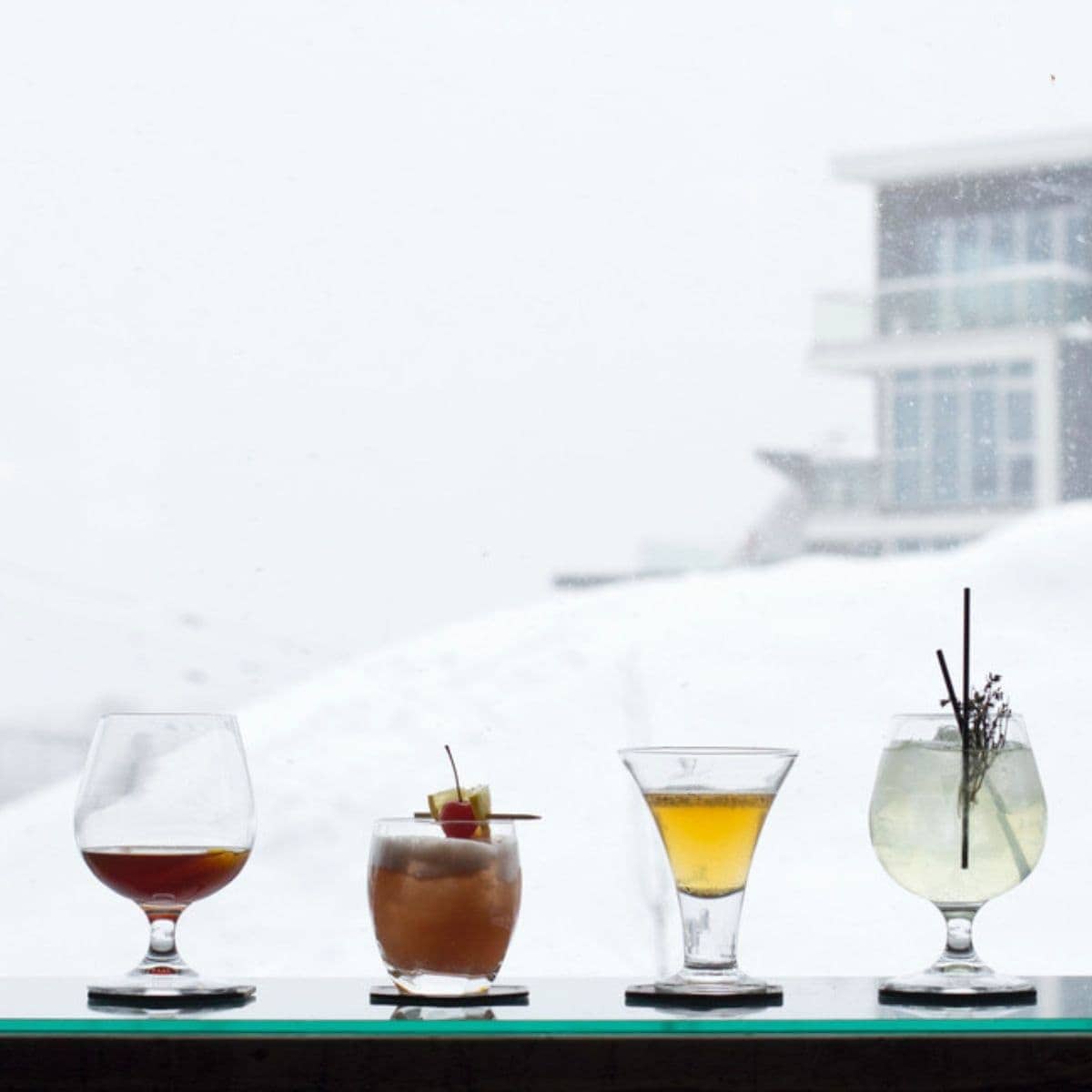 They serve up delectable all-day breakfasts, tantalising lunches, and flavourful tapas that extend well into the night. You can enjoy the quiet Niseko nightlife while sipping on a drink or having a meal at Musu.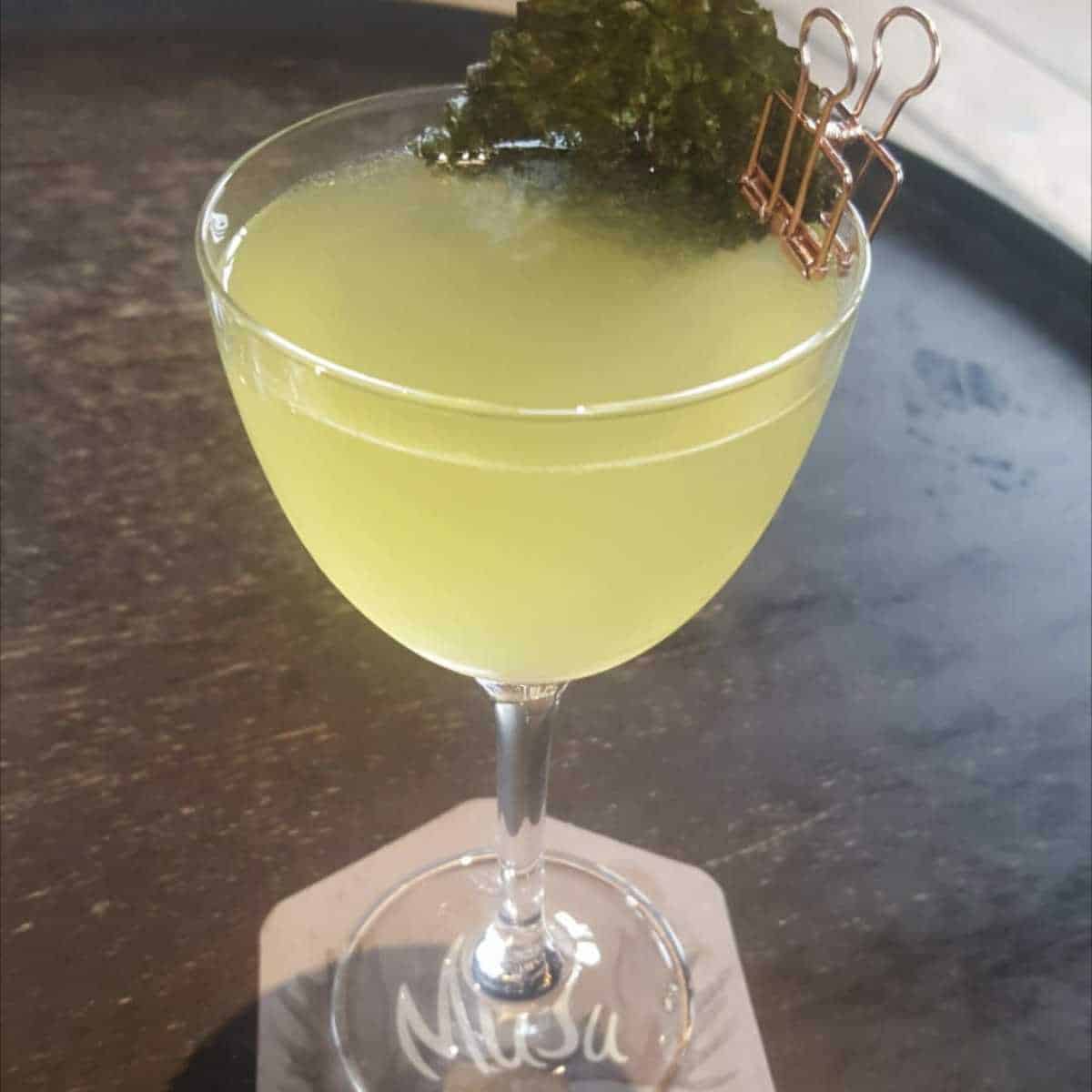 For a unique and invigorating taste experience, don't miss the opportunity to indulge in their famous wasabi margarita. It is a harmonious blend of spice and refreshment. In addition, you must order their fresh and flavourful thin-crust pizzas to perfectly accompany your drinks. 
Musu doesn't take bookings, so you can walk in anytime. From our experience, it's typically not too busy unless they have a live DJ night.
Musu
190-13 Yamada 2f, Kutchan-cho, Abuta-gun 044-0081 Hokkaido
The Barn by Odin
You can't go wrong with The Barn by Odin for a tranquil and classy night out in Niseko. It is a bistro-style restaurant and bar that pairs traditional French cooking with the freshest local produce. 
This Niseko bar and restaurant is constructed to look like a traditional Hokkaido farm building, with floor-to-ceiling windows. Its high-arched roof makes for a dramatic first impression. The restaurant also has a fireplace that adds to the warmth and comfort of the place.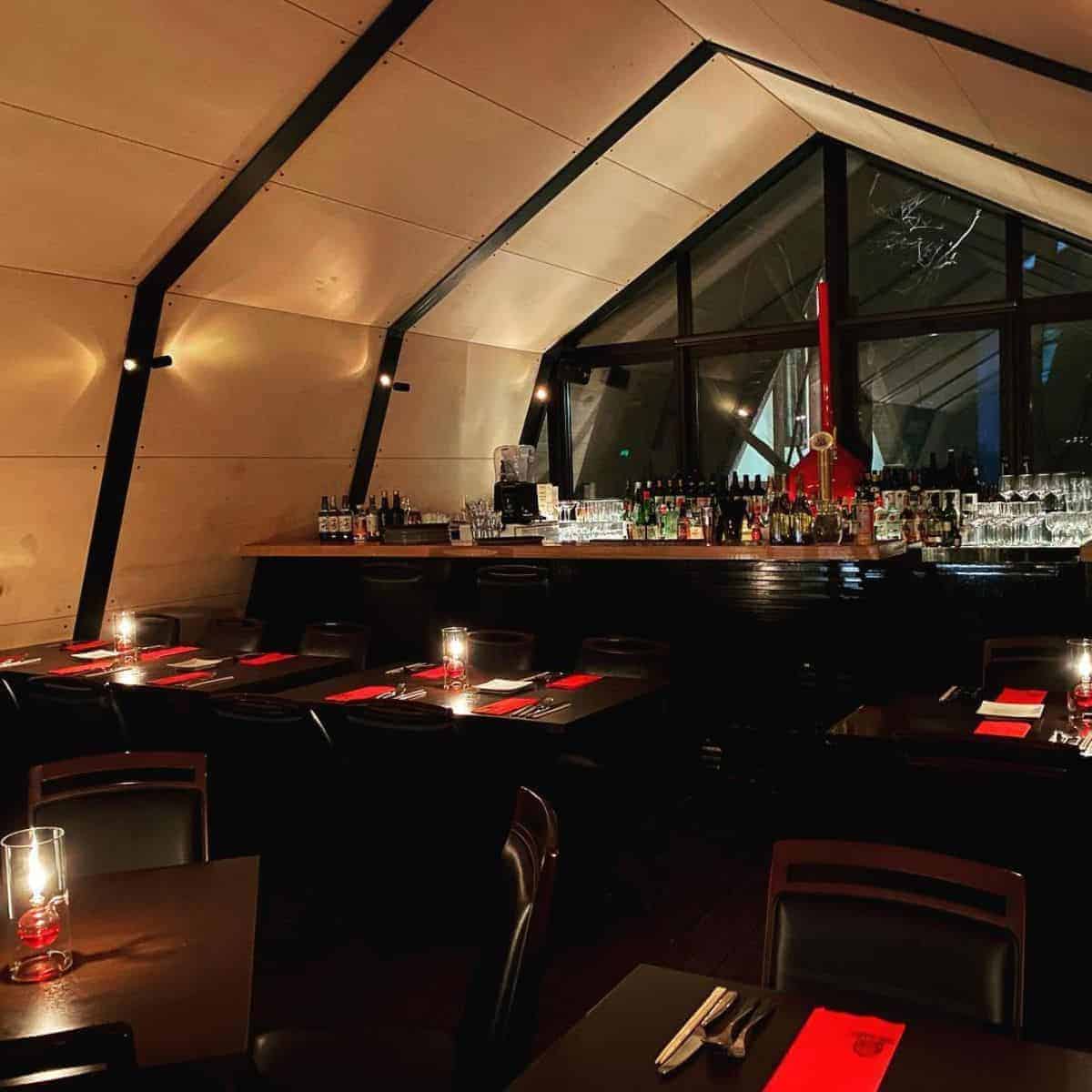 You can enjoy dishes like Hokkaido mussels steamed in Niseko brewed sake and sushi foie gras. However, the best dish to order here is the juicy and tender grilled Hokkaido beef steak. Moreover, you should head upstairs to the cosy loft. 
They also offer an excellent selection of Burgundy and Japanese wines. We highly recommend their mulled wine, which is warm, aromatic, and perfect for cold weather. This spot is perfect for a quiet night out with a loved one. 
The Barn by Odin
170-323 Yamada, Kutchan, Abuta District, Hokkaido 044-0081, Japan
Wild Bill's 
Niseko is pulsing with energy, and at the heart of it all, you'll find Wild Bill's. This establishment is an electrifying drinking spot that stands tall as one of the largest in the area. The bar and restaurant turn into a Niseko nightclub in the evening, offering entertainment and fun for everyone. 
Furthermore, you can enjoy sports streaming, darts, pool, and various themed nights like trivia and karaoke evenings. The DJ starts playing music at 10 pm, and that's when the dance floor gets lively.
Moreover, Wild Bill's is a world-famous drinking spot in Niseko that attracts many ski instructors and young crowds who come to Niseko from Tokyo for a day on the slope. This rowdy Niseko bar and club serves drinks and food all night long. You can enjoy cocktails, beers, wines, and spirits, as well as burgers, pizzas, nachos, and other snacks. The margaritas and daiquiris are particularly popular, especially during happy hour, which starts from 3 pm to 5:30 pm daily.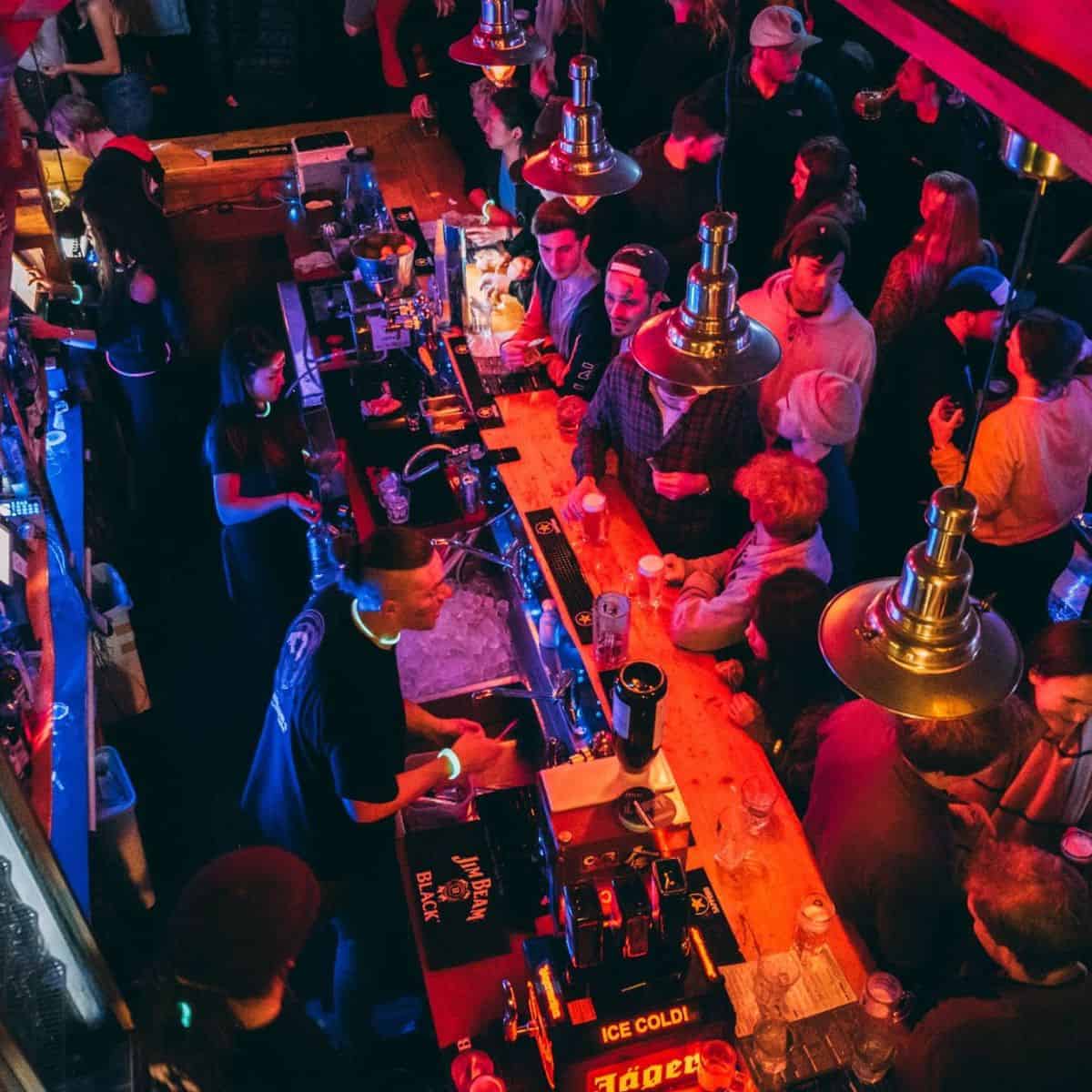 In addition, Chef Yasu Abe's sashimi is the freshest you will ever taste, making his place one of the many must-visit sushi restaurants in Niseko. He also whips up delicious Japanese izakaya dishes using local Hokkaido ingredients. Alternatively, you can go upstairs for a Latin American dinner or order fish tacos and burgers for grazing while drinking.
If you do decide to visit Wild Bill's, don't make the mistake of taking your jacket off. It's infamous among the local community for getting your jacket lost. We've had friends leave their jackets at a table or on the chairs and never found them again. So, make sure to keep your jacket close, or you'll be walking home cold.
Wild Bill's
189-8 Yamada, Kutchan, Abuta District, Hokkaido 044-0081, Japan
Tamashii
No other place in Niseko can match Tamashii's sports bar and club atmosphere. It has a great atmosphere and friendly staff that will make you feel welcome. This Niseko nightclub and drinking spot in the centre of Hirafu is always brimming with energy and fun. It's a lively spot to enjoy some tasty Japanese fusion food, drinks, and music after a day on the slopes. 
Tamashii has a wide variety of menu items, from fresh seafood to casual gyoza. You can also indulge in their homemade burgers and sashimi but our favourite is the wings. 
Tamashii also has an extensive selection of craft beers and cocktails. We recommend their sake bomb, where you plunge a shot of sake into a tall glass of beer. We love seeing Australian skiers repeatedly pound the table next to the glass until the sake shot falls into the beer.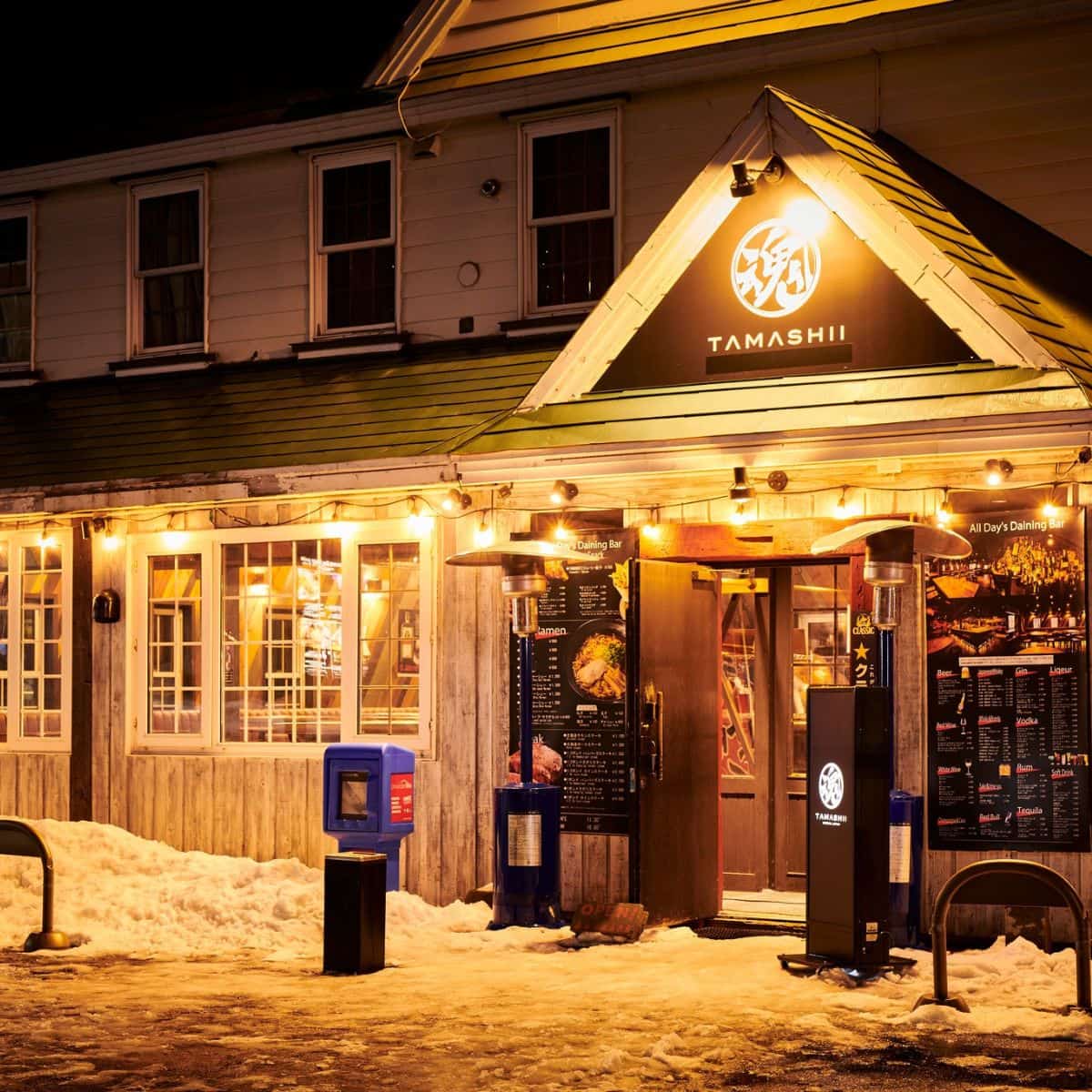 This bar is a popular spot for ski instructors, locals, and tourists. They also have a lot of events happening throughout the peak season, so check their Instagram for the latest updates.
One thing to note about Tamashii is that it can get very crowded and noisy on some nights. So, this might not be the best option if you are looking for a mellow and relaxing place to drink. However, this spot is perfect if you want to belt out some tunes and bust out some dance moves at one of the liveliest bars in Niseko. 
Tamashii
Japan, 〒044-0089 Hokkaido, Abuta District, Kutchan, ニセコひらふ2条1丁目8-2
Follow us on Instagram @tabitogether for more food and travel recommendations. Until then, happy exploring.