If you're on the lookout for the best places to stay in Ubud, your search starts here. We've put together a neighbourhood guide on where to stay that's based on your budget and what to do in each area.
Our guide will help you decide the best location among the many unique places to stay in Ubud. The town's convenient location in the centre of Bali, Indonesia, has led to a booming tourist industry.
This iconic town is also situated about 2 hours away from Ngurah Rai International Airport (Denpasar), so it's a bit of a trek in comparison to Kuta or Canggu. However, you won't regret coming as there are a plethora of things to do in Ubud.
Therefore, we recommend that you stay here for about five days so that you can undergo a full range of experiences. You'll find plenty of things to do in Ubud, from hiking and waterfall spotting to shopping for handmade artisanal goods and enjoying some delicious local cuisine.
To help you get the most out of your trip, we've curated our Ubud guide with recommendations for all kinds of travellers. So whether you are flying solo, travelling as a couple, in a large group, with your family or looking for a digital nomad lifestyle, you'll find somewhere that suits your needs. So continue reading to find the best places to stay in Ubud now.
Jump to:
Best areas to stay in Ubud town
If it's your first time visiting this place, staying in town makes it easier to explore the streets, eat at various restaurants, go shopping and unwind at different spas in Ubud. You'll also be a mere 5-10 minute walk away from several tourist attractions. While there are many possibilities, here are our top recommendations for the best places to stay in Ubud town.
Monkey Forest
Ubud Monkey Forest area is the best place to stay in Ubud if you want to stay near the middle of town yet be able to explore Bali's lush greenery. Monkey Forest itself is a sanctuary for the native Balinese long-tailed monkeys. It lies within Village Padangtegal, right next to the town centre. You can walk from the forest to several resorts and guesthouses along the main roads of Jalan Hanoman and Jalan Monkey Forest.
What to do here
If you stay close to the Monkey Forest area, you can easily interact with the monkeys on the streets or walk around the forest.
The surrounding areas of Monkey Forest is beautiful with their lush greenery, fresh air, and cool breeze. There are lots of things nearby if you want to go shopping or grab lunch at one of the restaurants nearby.
Next, you can head to Sacred Monkey Forest Sanctuary to feed the monkeys, which will take about 2-4 hours. You can also visit the three Ubud temples in the Monkey forest. They are the Dalem Agung Padangtegal Temple, Holy Spring Temple and Prajapati Temple.
After that, walk up the street to eat at the local warungs (a food court with food served buffet style). From there, it's a twenty-minute walk to Ubud Palace. The historical landmark building retains its Balinese-style architecture. Walk around the palace to learn about Bali and take some fantastic photos while you're there.
Our favourite places to stay in Monkey Forest
This place best suits backpackers, couples and families with small kids. It's also one of the best places to stay in Ubud for honeymooners who want more privacy.
We recommend staying at Royal Kamuela Villas & Suites, especially if you are honeymooning. The 5-star modern hotel is along Monkey Forest Road, so you're within walking distance of the town. You can book a suite or a private pool villa, which is one of the best places to stay in Ubud with a private pool. The estate provides sweeping floor-to-ceiling window views of the pool and the surrounding forest. 
For a budget-friendly option, consider the laidback guesthouse Sarin Ubud Suite by Pramana. The hotel is just two minutes away from Ubud Monkey Forest. Its spacious suites with en-suite bathrooms are the best place to stay in Ubud for families, with modern amenities such as TV and free wifi. The family-sized rooms come with a terrace which looks out to the hotel's pool or garden. 
Both spots are great for those who are looking for a more intimate and private experience. They allow you to relax without any intrusions or interruptions from crowds or other vacationers.
Pros and Cons
The main advantage of staying near the Monkey Forest is that you're surrounded by nature but still close enough to the city centre if you need to get there quickly for something in town. So it's the best of both worlds. It's great for those looking for a well-connected, yet private place to take in both Balinese nature and history. Plus, you get to interact with cute monkeys - what more could you want?
While staying near Monkey Forest is a great choice, there is one disadvantage. The monkeys occasionally leave their habitat and visit the hotels. So you might be surprised by an overly friendly monkey perched on your balcony. If you're afraid of monkeys, there might be better areas to stay. It can also get loud, with the monkeys screeching away in the forests. Although, the calm forest ambience makes up for the noise!
Ubud Market
This market is conveniently located just off the main strip in this bustling town and is one of the best places to stay in Ubud for those who want to experience a little bit of Bali on a budget.
What to do here
This market is an iconic spot where you will see many street-side vendors plying their wares. Despite the current renovations within the main market - there are still many things to see and do here. To find it, walk along the street of Jalan Karna or Dewisita Street to look for the entrance, ending at Saraswati Temple.
You can buy almost anything you want at the market, although most tourists go there to purchase souvenirs. The market is well-known for its artisans, who make everything from paintings and sculptures to mosaics and pottery. If you keep walking along Jalan Karna, you'll also find several other smaller markets, such as the Ubud Art and Street Market. Being near the market makes it one of the best places to live in Ubud.
Our favourite places to stay in Ubud Market
For budget-conscious travellers, you can consider Happy Inn. The location is right next to Ubud Art Market and within minutes of Ubud Palace. We recommend it if you're looking for a clean, affordable room to stay in and if you want to be near tourist attractions. Please note that it has no air-conditioning, but there are windows for ventilation.
Another budget-friendly option is Yuni's House Bungalows & Fine Art Gallery. It's one of the more unique places to stay in Ubud, with a traditional Balinese exterior and an attached art gallery you can visit. There's also an outdoor swimming pool, and the rooms are air-conditioned. 
Pros and Cons
This spot is perfect if you're travelling solo and need a budget-friendly area to stay in! Apart from the numerous affordable hotels, you can also eat plenty of local cuisines because there are many stalls selling affordable food.
Furthermore, you will be well within the distance of cool shops and restaurants, so you don't have to waste time looking for places. The market is also near Saraswati Temple and Ubud Palace, which are historical landmarks you must visit if you visit Ubud in 1 day.
However, Ubud Market may not be the best place to stay in Ubud if you're looking for somewhere romantic due to how busy it is. Also, the cramped surroundings and high traffic make it a poor choice if you're looking for a place to stay with family in Ubud, especially if you have young children.
Another disadvantage of staying in this area is the traffic noise. Since you'll be located along the main roads, you'll see pedestrians, cars, and motorbikes pass through these streets all day and night. Therefore, you might want to bring earplugs to get a good night's sleep.
Central Ubud
If you stay in Ubud Town, you can visit popular tourist attractions such as Ubud Monkey Forest, Ubud Royal Palace and various markets. But it can get very noisy because of the traffic that passes through and party music from bars that open late into the night. This is why we have several recommendations on the best place to stay in Ubud that will not disturb your sleep.
The best streets to stay within Central
First, you can stay at Jalan Goutama Selatan. Cars rarely pass by in the evenings, so it's quiet when you want to sleep. Another superb location is Jalan Kajeng, where Saraswati Temple is located. It's close to town, and you can stroll northwards to reach the Kajeng rice field.
Another side street to consider is Jalan Bisma. Jalan Bisma runs parallel to Jalan Monkey Forest, but you'll be further away from Ubud Monkey Forest. This means you won't get awakened by the sounds of monkeys or birds screeching away in the dawn, which makes it one of the best places to stay in Ubud.
Alternatively, you can also venture to Jalan Jembawan, a quiet residential area. It's a ten-minute walk from Jembawan to the Ubud Market. There are many types of accommodation along these streets, from budget hostels for backpackers, digital nomads and solo travellers to luxurious, spacious resorts for honeymooners and families.
Our favourite places to stay in Central
We like Bisma Eight, which is tucked away on Jalan Bisma. The boutique hotel has an infinity pool to watch the sunset over the lush Balinese jungles. It's only a five-minute walk from here to Ubud Town. 
Alternatively, look up the family-run Budi Guest House Ubud for an affordable option on Jalan Jembawan. You can book air-conditioned single or double beds here. The best thing is the place has a noise curfew before 7 am and after 9 pm. So, for families with young children, you don't have to worry about the neighbours' midnight pool party.
Pros and Cons
These side streets have some of the best hotels in Ubud if you're looking for a luxurious experience. This place is also great for those looking for relative quiet yet close enough proximity to main attractions like the Monkey Forest and Saraswati Temple.
Of course, while these side streets have some of the best hotels in Ubud, it also means that the options might be pricier than those located directly on the main streets. Another con is that these streets are primarily near residential areas, so if you're looking to party at your hotel past midnight, you will have to keep your volume down. Still, for the proximity to attractions and relative quiet, we think it's worth it.
Best areas to stay in Ubud (just outside town)
Some of the best places to stay in Ubud are outside the town, in the neighbouring villages. If you are visiting for the second time and are familiar with the town, you can venture to these areas instead. Each site has its unique charm, so let's find one that suits you best among the following places.
Penestanan
Penestanan is a village on the outskirts of Ubud Town, just westwards of the city. It has a reputation as an artist's village, as several international and local artists have made it their home over the years.
Although many tourists head here to explore the area, it remains relatively unspoilt and quiet. You'll see more tourists during the peak travelling season which is between June and October. Therefore, aim to avoid going here during the peak season to avoid crowds.
Best areas to stay within Penestanan
There are two main areas in Penestanan Village where you can stay. First, you can stay in Jalan Raya Penestanan, closer to the town. Several restaurants and cafes are located along the street. So, it is the best place to stay in Ubud for families or honeymooners who want to stay conveniently within easy reach of most things.
If you head eastwards to Banjar Penestanan Kaja, it gets more remote. There's still a handful of cafes and restaurants here, but it's a lot quieter than the centre of the village. We recommend staying in Penestanan Village because you're still near enough to tourist attractions such as Ubud Monkey Forest.
Furthermore, you can walk to several rice fields surrounding the village to experience a bit of Balinese nature. There are various hiking trails you can try, such as the famous Campuhan Ridge Walk. The walk is a gorgeous trail with luscious hillsides, where you can walk to view magnificent sunrise or sunset views.
Our favourite places to stay in Penestanan
If you're travelling with your family or close friends, you should look for the best place to stay in Ubud with a private pool. We liked Dana's Place Serenity Private Villa, situated at the start of Banjar Penestanan Kaja. The villa compound has two air-conditioned rooms with two large double beds, so it's perfect for large groups. There's an outdoor pool and even an attached kitchen if you want to do some cooking.
Alternatively, you can try Y Resort on the main road for a more affordable stay. This fuss-free hotel has wifi, a pool, a hot tub, and a sauna. Take note, not all rooms are air-conditioned, but for the other amenities and low rates, we think it's still worth it. 
Pros and Cons
The most significant advantage of staying here is enjoying the village's less commercialised, unspoilt beauty! Unlike other villages that have become overly touristy, this village allows you to detox from all of that and truly immerse in the natural beauty that encompasses Bali.
The only disadvantage when staying in this village is the quietness. Once it gets past 9 pm, the shops are closed, and you won't be able to go anywhere. However, that doesn't bother us since it means we get to relax and wind down. So choose this place if you prefer a nice quiet rest like us.
Raya Bunutan
The street of Jalan Raya Bunutan is further north of Ubud Town. The area is well-known for its picturesque scenery, which makes it an ideal spot for people who want to get away from it all and enjoy the beauty of nature. Rice fields surround it, and along the road, you'll also see several art studios and rafting centres.
What to do in Raya Bunutan
This area is perfect for digital nomads or honeymooners who need a place away from town to spend some time alone. It's also great for adventurous tourists, friends and families who want to try white water rafting. There are several raft centres here that organise rafting tours along the Ayung River.
Furthermore, there are many bars, cafes and spa places that are dotted along the streets. And, if you are looking to do something more creative there are several art studios that you can check out!
Our favourite places to stay in Raya Bunutan
Some of the best resorts in Ubud for couples are located here, ranging from budget options to more luxurious places.
For instance, the gorgeous Romantic Villa Bunutan. You can book a private villa with a pool. Breakfast is free of charge, but there is also an attached kitchen for you to cook in. We love that it was quiet, without the usual tourist crowds.
For a more wallet-friendly option, you can stay at Bunga Permai Hotel. It's one of the best hotels in Ubud with a view as you can see Mount Agung from your room window here. 
Pros and Cons
The biggest pro of staying in Raya Bunutan is that this area is not only beautiful and picturesque but there are also a huge variety of activities to do here. If you're looking for a variety of experiences, Raya Bunutan offers you the chance to try out amazing spas, cafes and art classes. However, the coolest opportunity of all is the chance to raft down the iconic Ayung River.
The only con here is that the street of Raya Bunutan is much further from the main town. It takes about 15 minutes by car and an hour's walk to travel from Raya Bunutan to Ubud Central. So stay here if you are prepared to travel everywhere by car.
Travel aside, the luxurious resorts here make it worthwhile to go the distance. If you're looking for a romantic escapade or a solo pick-me-up, we can't think of a better place to live in Ubud.
Tirta Tawar
Jalan Tirta Tawar is a street about 18 minutes away from Ubud Town, running parallel to the Ayung River. The area has several resorts, retreats, private villas, and homestays for rental. Apart from spas, gyms and yoga studios, you will only find a few cafes and restaurants here. However, there are several local warungs (food courts) where you can eat.
What to do in Tirta Tawar
For backpackers or nomads looking for a wellness retreat or families who want to enjoy group activities, this is one of the best places to stay in Ubud. We like that you can walk along the street and get off the beaten track to visit the rice fields surrounding the area. Walking about 15-20 minutes southwards until you reach Jalan Raya Ubud is best if you're looking for some good cafes.
For thrill-seekers, you can check out Sky Swing Bali. The theme park has several swings that soar high above the jungles where you can take photos of the artificial love nests. Alternatively, book a tour of the Ayung River. You can go white-water rafting, which will be a fond memory in years to come. There are also several art studios and spas if you prefer a calm, restful holiday.
Our favourite places to stay in Tirta Tawar
There are a variety of accommodations here. The stunning Calma Ubud Suite & Villas has a waterfall pool and fantastic sunset views. The hotel also has a private shuttle to the main town, so you don't have to walk there.
Alternatively, you can stay at the Eden Hotel. It's a small resort-style hotel with three rooms to rent and an outdoor pool. This is one of the best resorts in Ubud for couples. Furthermore, you'll be staying amidst a lush jungle landscape in a Balinese-style room. 
Pros and Cons
The main pro about this village is that most hotels here have restaurants located within them, so you won't have a problem finding food. The local warungs (food courts) also provide affordable and delicious options. There are also a lot of interesting and exciting places to go and create new memories at.
One major disadvantage is that Tirta Tawar is much further from Ubud Town. It takes about 15 minutes by car and an hour to walk there. There are also not many cafes or restaurants, so you need to travel to the main town to have different dining options. However, if you're looking for something thrilling this is the place for you!
Suweta
Jalan Suweta is relatively easy to find, which makes it one of the best places to stay in Ubud. If you visit Saraswati Temple, keep walking north past Kajeng Rice Field, and you're on the road. This street runs parallel to Tirta Tawar but is fairly more populated. It has several restaurants, cafes, and many private villas available.
Why stay in Suweta
If you are wondering where to stay in Ubud with family, Suweta might be one of the best choices. It's a short walk from the rice fields and 30 minutes from Ubud Market. So it offers the serenity of being away from the crowds and the proximity of being near tourist attractions simultaneously.
It's also effortless to get around. If you follow the street, it loops back straight into Ubud Town. So we recommend the road for people who need a place to stay off Ubud's main streets. Besides, there are several local tour operators along Suweta, so you can always book a day tour without heading into town.
Our favourite places to stay in Suweta
At Suweta, most of the accommodations are either boutique hotels or resort-type villas with various rooms to rent. They range from upmarket places like Vije Boutique Resort to simple lodgings such as Toyo Villa Suweta. 
Vije Boutique Resort&Spa is a luxurious 4-star property with an outdoor pool and air-conditioned rooms. You can rent a car at their front desk, which makes it convenient to get to town. The classy resort is one of the best places to stay in Ubud for a honeymoon.
On the other hand, the fuss-free Toya Villa Ubud has clean, spacious rooms and a small pool for lounging. It's also relatively more affordable and ten minutes away from town.
Pros and Cons
The best thing about Suweta is that it offers a fuss-free, calm spot outside of the busy town for those who need a break from all the noise. Furthermore, other areas are easily accessible from Suweta, making it super easy for you to reach all the tourist attractions. Another great pro is that the accommodations here are excellent, which is great for those who want a luxurious experience.
For us, Suweta's only drawback is that it has few choices of lodgings. However, as expected, the street's proximity to town means it's much more convenient than other areas of Ubud. Therefore, expect to pay slightly more than elsewhere to book a villa here. However, given the high standard of accommodations here, paying more for comfy surroundings may not be a bad idea.
Tegallalang
For travellers who want to venture further, keep walking north of Jalan Suweta, and you'll reach Tegallalang. It's a two hours walk that will take you past various Bali Swing companies. So if you're up for it, it's a fun challenge. But otherwise, take a scooter or a private car to reach the Tegallalang district.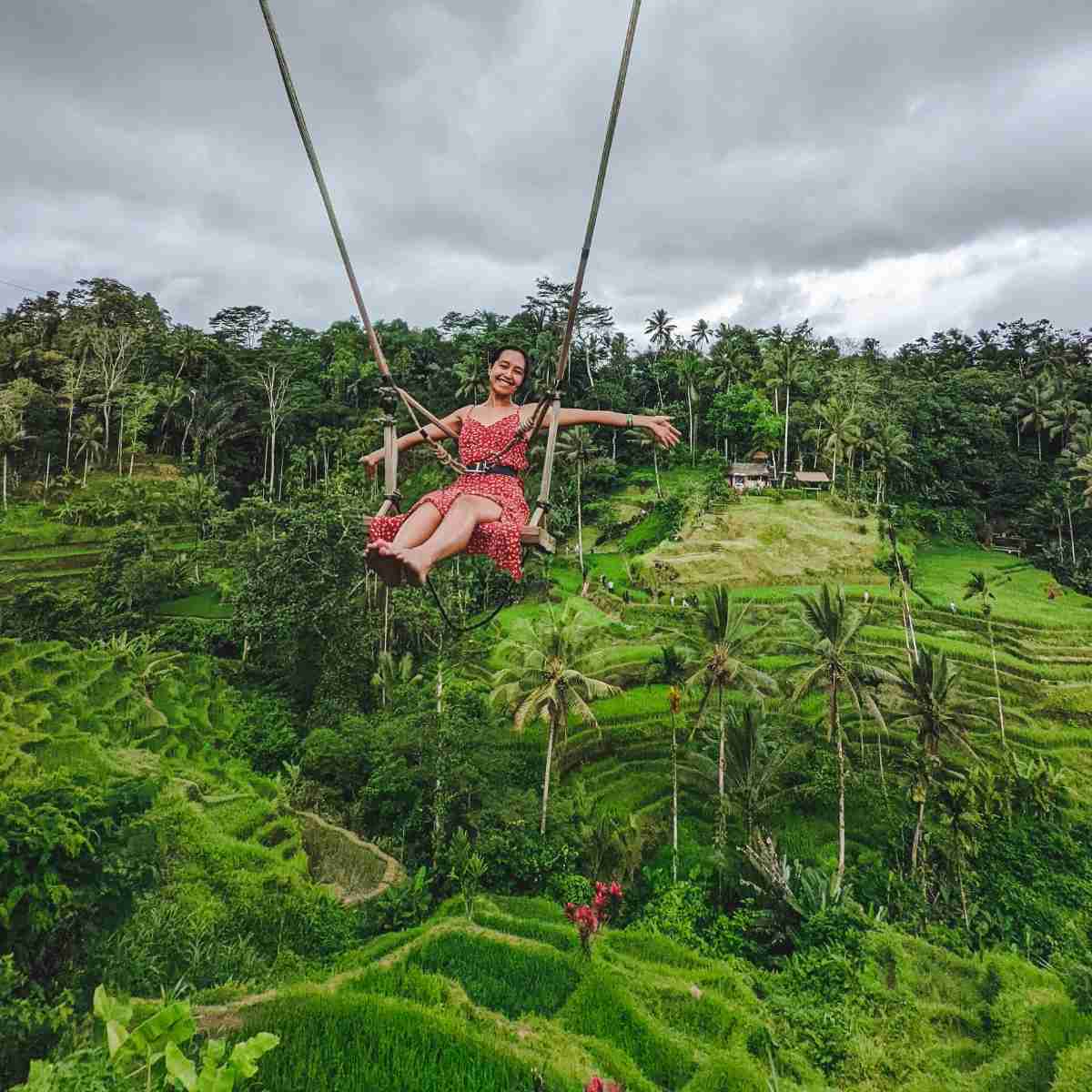 What to do in Tegallalang
This beautiful district is near the famous Tegallalang Rice Fields. The neat rice terraces are a magnificent sight in the morning. Therefore, if you're on your honeymoon or a couple looking for the best hotels in Ubud with a view, this is where you should head.
We recommend walking around the rice fields at dawn or after 5 pm when it's not so hot. This UNESCO world heritage site takes several hours to hike around. Alternatively, drop by the Aloha Swing company, located within the area. You can sit on a swing that soars above the rice fields and take some aesthetic photos.
Our favourite places to stay in Tegallalang
Over here, several exclusive villas dot the area. First, you can book a place at Bidadari Private Villas & Retreat. As one of the best places to stay in Ubud, the luxe property rents out 1 to 4-bedroom villas carved from timber and stone with a private pool. There's 24/7 butler service, so there's no reason to leave the place. Expensive artwork lines the walls of the rooms, and the expansive terrace also offers a beautiful view of the rice valleys.
A more affordable option is Bakung Ubud Resort & Villa. It has one and two-bedroom villas for rental and a shared outdoor pool.
Pros and Cons
Tegallalang is great for those looking for an intimate rendezvous with Mother Nature. This village has amazing hiking trails for those who want to get in touch with their surroundings and enjoy the UNESCO world heritage site that is Bali's iconic rice terraces.
It is also a great place for those who want to take some aesthetic pics on an Aloha Bali swing. Living in the area also means you can beat the queue and be one of the first to get on the swing.
Unfortunately, there are only some affordable options in Tegallalang available for backpackers or budget-conscious travellers. Another drawback is that it takes about 20 minutes by car to get to Ubud Town. However, the gorgeous views and unspoilt beauty are worth every cent for those willing to pay a bit more.
Pengosekan
Pengosekan Village is a small village located directly south of the town. It is accessible through Jalan Raya Pengosekan, about 30 minutes from Ubud Monkey Sanctuary. The village has a reputation as an art centre and is one of the more unique places to stay in Ubud.
What to do in Pengosekan
A bit of history is required to understand why Pengosaken has many artist studios on the main street. The small village invented its painting style in the 1950s. This was because the villagers wanted to cash in on the art economy, but also because it already had a prominent art style. Paintings from Ubud or other Balinese villages overshadowed the history and style of its art.
Today Pengosekan is well known because of the artist and spiritual medicine man, Ketut Liyer, who became famous for the book Eat Pray Love. Visit the village to enrol in an art class in one of the art studios. Art unleashes creative expression, so take a class at one of the best places to live in Ubud. Who knows, you might find your inner healing moment like the author of Eat Pray Love, Elizabeth Gilbert.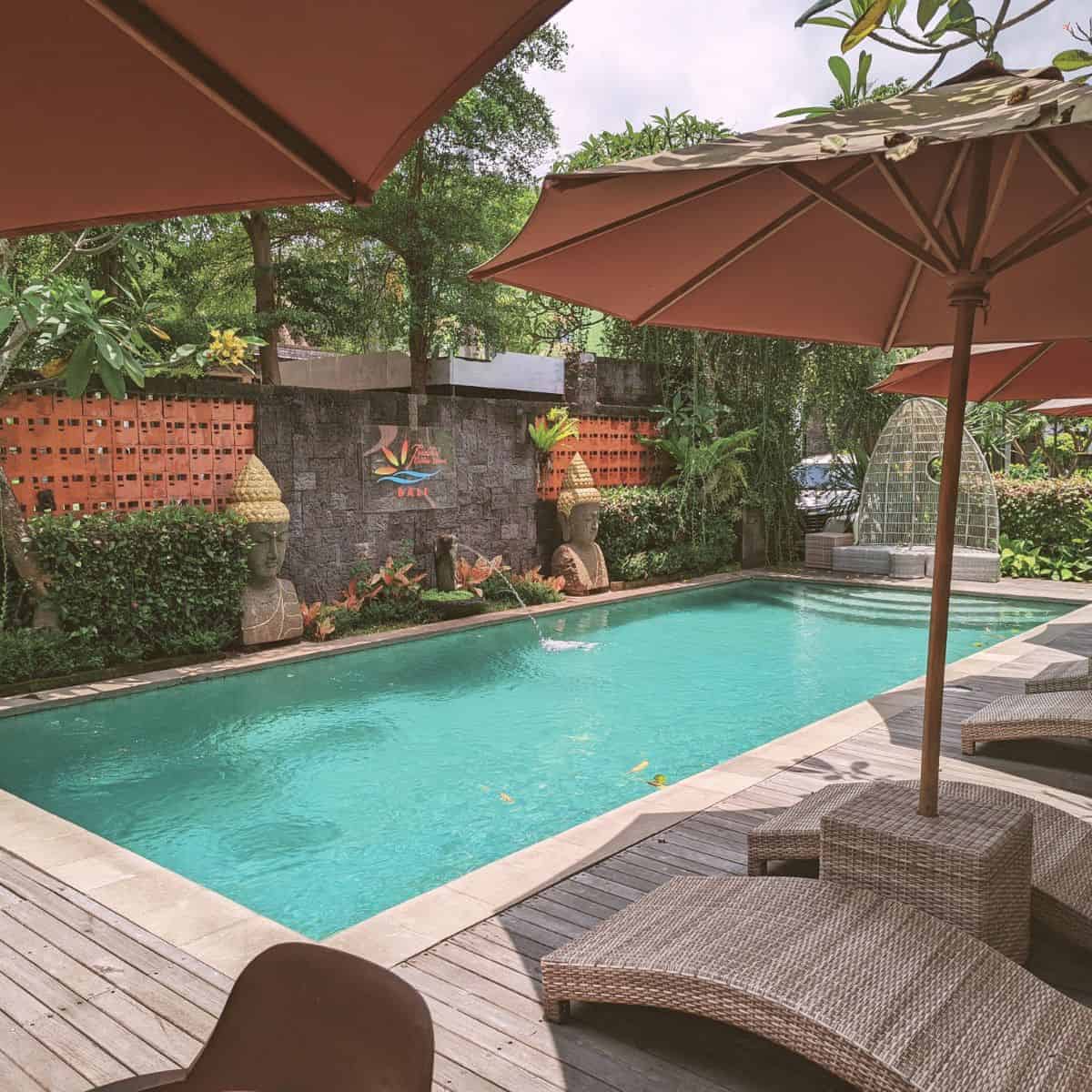 Our favourite places to stay in Pengosekan
While you are there, stay at the comfortable Freddies Villa. The property has spacious, tastefully decorated rooms, or you can also book a villa with a private pool. We love that it has a private bar, which is convenient because most places close early in Pengosekan. 
For those with a higher budget, try the Purana Boutique Resort. The area has a spa studio, yoga lessons and a 24/7 butler service. You don't have to leave at all, making it one of the best resorts in Ubud for couples or families who prefer to travel less. 
Pros and Cons
The awesome thing about Pengosekan is that it is an amazing spot if you are looking to get in touch with your artistic side. This unique place will offer you an opportunity to immerse yourself in the local art scene as well as the many intricate painting styles that exist in this Balinese village today.
Overall, staying at Pengosekan Village is an experience and makes sense for those who love art. The only challenge is that it's a 20 minutes drive to Ubud Town. There are also fewer modern cafes here, and shops close early. But if you want a glimpse of local Balinese life and art, then we cannot think of a better place to stay than Pengosekan.
Our favourite places to stay in Ubud
Our final recommendation is to stay near Ubud Monkey Forest or Penestanan village.
Ubud Monkey Forest is the best place to stay in Ubud for travellers who want to stay near tourist attractions. Plus, the forest itself provides a nice respite from seeing urban buildings. It's also quiet enough, which makes it one of the best places to stay in Ubud for honeymoons.
Penestanan village is also great for honeymooners or anyone who wants to stay in a quiet place. It's near Ubud Town, yet far away enough from all the traffic. These two places are suitable whether you're a first-time or nth-time traveller.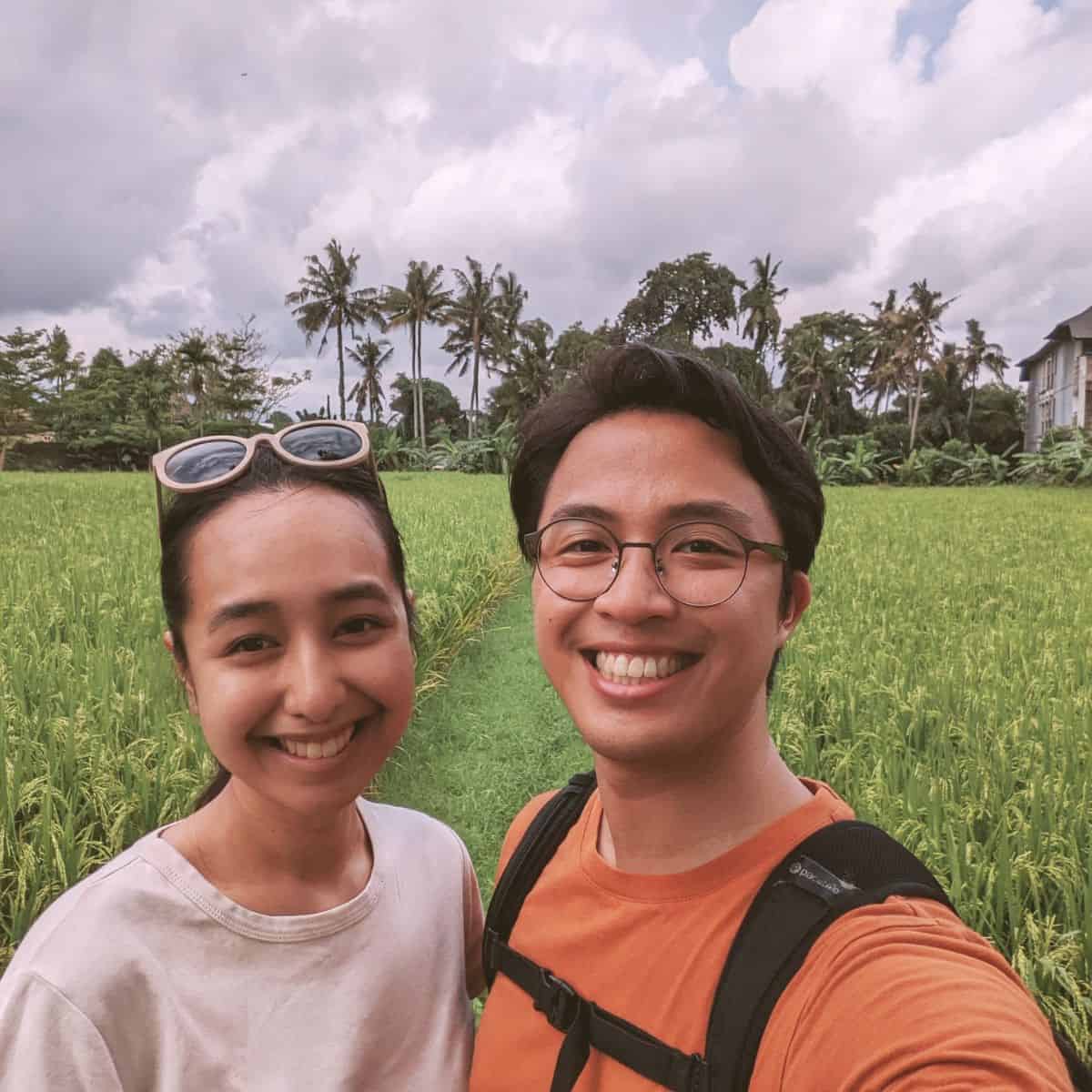 Of course, Ubud is one of many places where you can enjoy all that Bali has to offer. So if you're wondering what else to do in the beautiful state, join us on our Instagram @tabitogether as we explore Bali!