Ubud temples are famous for cultural dances, exciting fire shows, and guided historical tours. Each sacred site serves as an important pillar of the local Balinese culture. The intricate craftsmanship has stood the test of time, and some Ubud temples date back ten centuries.
It's no wonder that the region has some of the most beautiful temples in Bali, Indonesia. However, the best Ubud temples will depend on what you're looking for.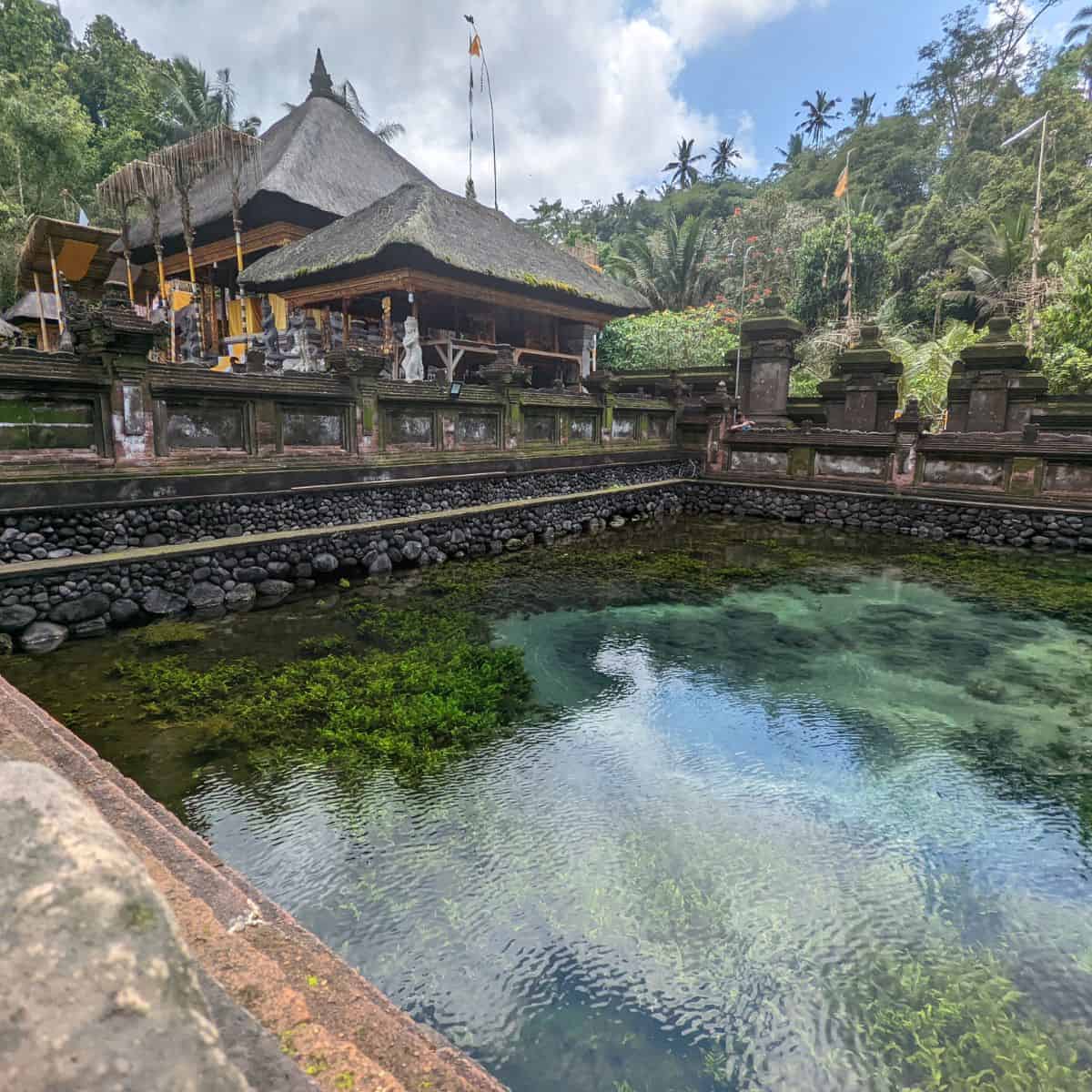 Some of these spots will include ancient ruins, old palaces, and active places of worship. There's something for everyone at these sacred sites, from hiking lovers to history buffs.
In addition, most temples in Ubud, Indonesia, cost around 50,000 IDR (less than 3 USD) to visit. Even better, some are free to enter, but you can donate if you want.
In our Ubud temples guide below, we'll recommend the best things to do at each of our favourite cultural sites that we're sure will delight and astonish you.
Jump to:
What to Wear to Ubud Temples
In our experience, we found that most places were not strict with the dress code. But to stay on the safe side, you'll want to wear something that covers your knees, shoulders and chest.
However, at most Ubud temples, you'll be given a sash or sarong to wear around your waist before you enter. This is usually for free or for a small fee of less than 50,000 IDR.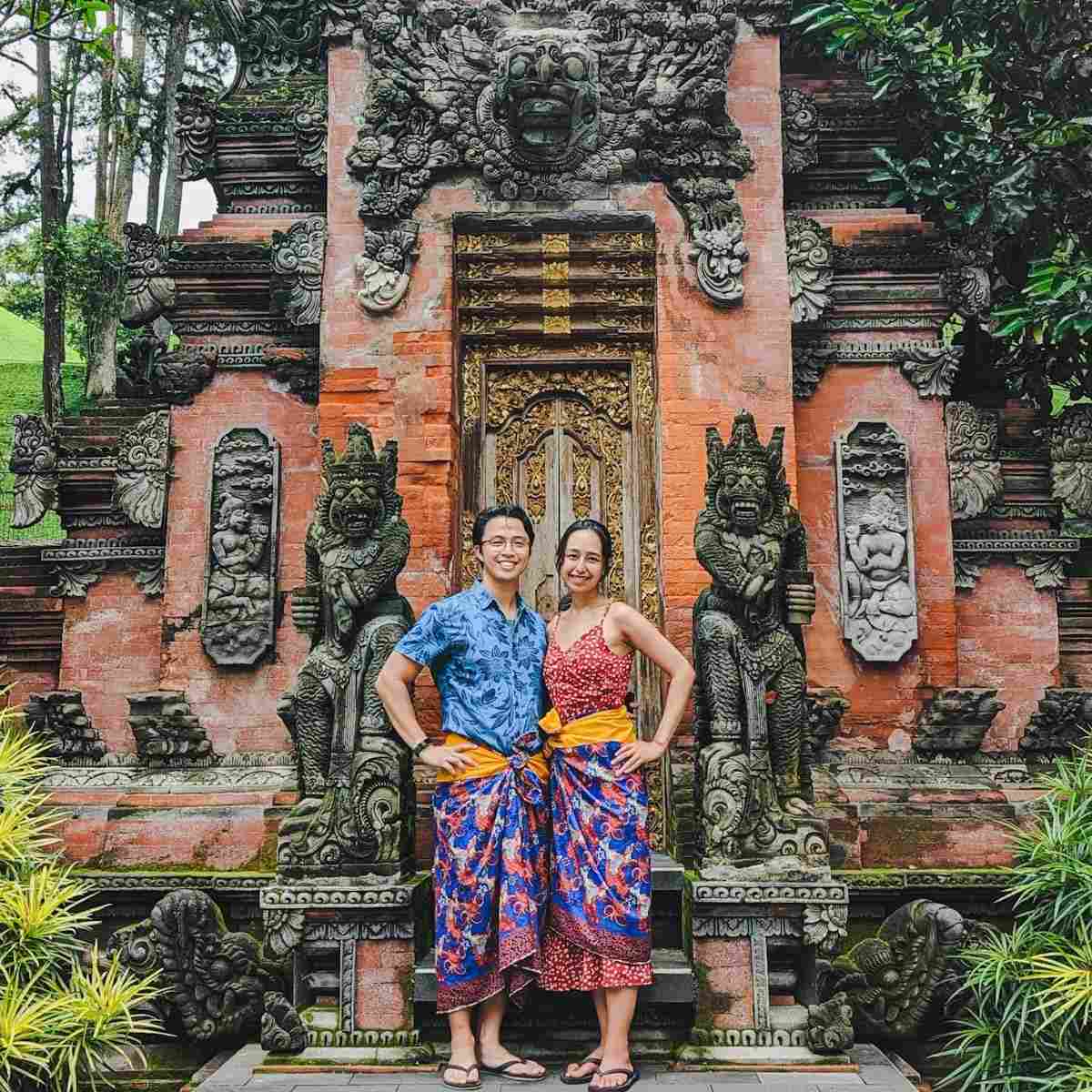 There is no dress code for shoes either. On rare occasions, some staff may ask you to tie your hair up and keep it tidy when visiting the inner temple complex in Ubud.
Most Hindu temples will also have signs asking women not to enter the complex if they are on their menstrual cycle.
When to Visit Ubud Temples
The best time to visit Ubud temples would be on weekdays before 10 am.
You'll want to visit most of these spots in the early morning to avoid the crowds. Although some places are open during the night for dance performances, the main complex is usually closed to visitors.
Our Favourite Ubud Temples to Visit
There are many exciting things to do in this small town, but the top feature is the Ubud temples.
One of our favourites is the Ubud Water Temple, Tirta Empul, for the holy pond, sacred fountains, and its deep roots in Hindu folklore. Jukut Paku Cliff Temple is ideal for quiet meditation, and Goa Gajah for its mystic charm of the past.
Although these are our favourite spots to visit, there are many more cultural sites that you should visit if you have the time. So, whatever your travel plans are, get ready to see some of the best temples in Bali. Here's our full rundown.
Goa Gajah Ruins
Visit Goa Gajah, a site in Bali that dates back to the 9th century and fascinates even the locals. Here you'll find an intricate stone-carved entrance and a mystical cave left as part of the ancient ruins.
Goa Gajah is actually an excavation site with unknown origins. However, the local Balinese people know it is a place of worship for the Hindu god, Ganesha, due to a statue found onsite.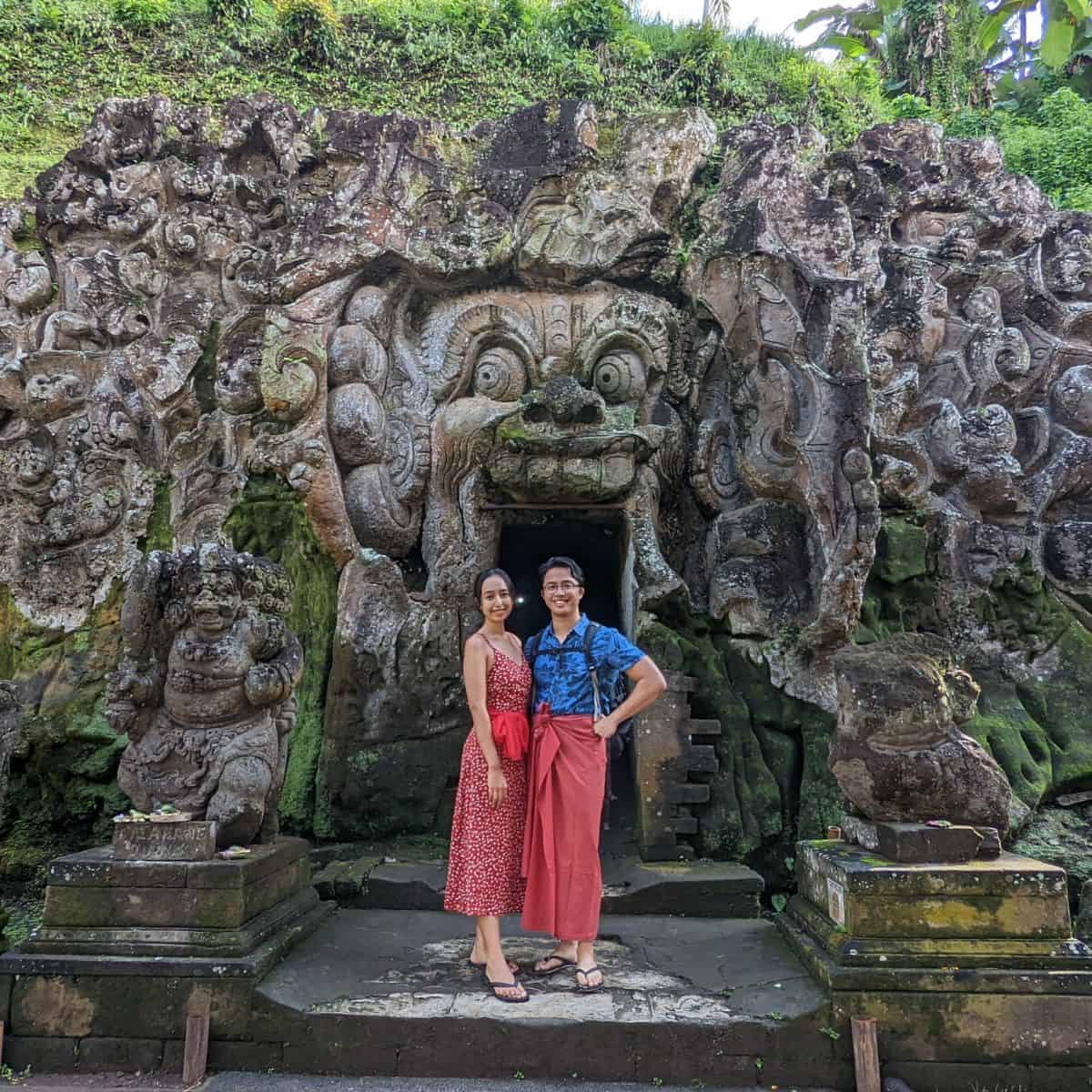 You can walk inside the cave through an elaborately carved entrance at the front and experience it yourself.
Goa Gajah is always free to visit. However, you can purchase a guided tour to learn more about the area and Ubud temples. During our time, we had a local guide with us who was able to explain some of the puzzling history and legends surrounding the site. It was a great place to spend an afternoon touring.
There are a few steps leading down to the excavation site, but it is relatively easy for both children and the elderly to visit. We recommend you wear something that will cover your knees. Alternatively, you'll be given a sarong to wear before you enter the area.
Goa Gajah
Close to the town centre, just off Jalan Raya Goa Gajah
Ubud Water Palace (Saraswati Temple)
Saraswati Temple is among one of the most famous temples in Bali, and a top tourist attraction in this small Bali town. It's a majestic Hindu temple with lotus ponds, massive carved walls, and demon and animal sculptures.
The place of worship, built by a royal prince in the 1950s, is in honour of the goddess of wisdom, Saraswati. Sometimes people call it the Ubud Water Palace, and the spot is right in the centre of town.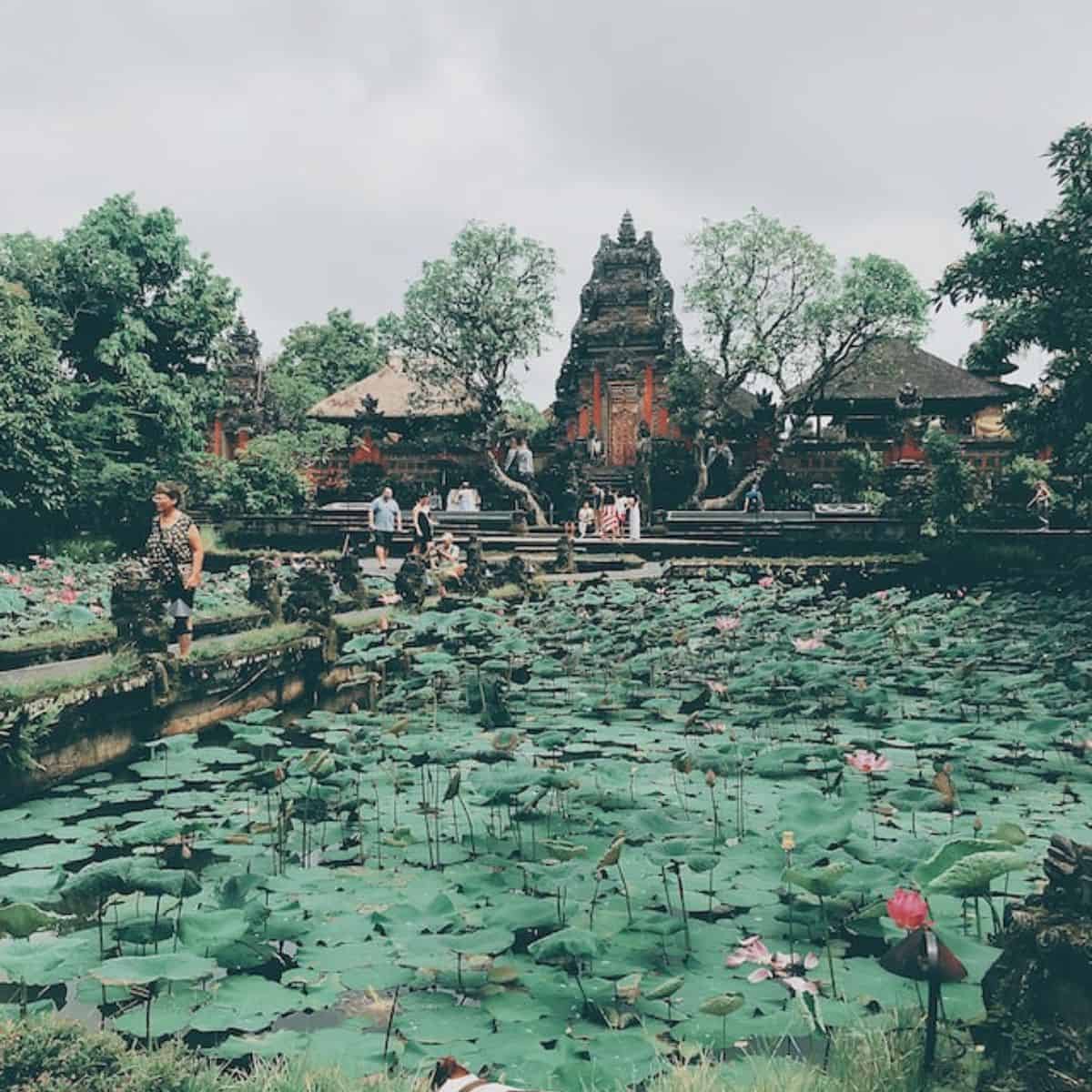 The inner area of this Ubud Water Palace is still active. Therefore they don't allow tourists to enter, but you can walk through the outside area and admire the architecture from afar.
Come during springtime if you're looking to catch blooming lotus flowers in the surrounding ponds. Despite this, come any other time, and you're still guaranteed to see one of the most beautiful Ubud temples.
Stay the evening and see a Balinese dance performance. Or, you can grab a bite to eat at the cafe near this beautiful Ubud Water Temple.
Saraswati Temple
Within town centre, on Jalan Kajeng
Pura Dalem Ubud
Pura Dalem is a small place of worship that's close to the main attractions. It's ideal for an afternoon of strolling through the town after hitting some of the main Ubud temples.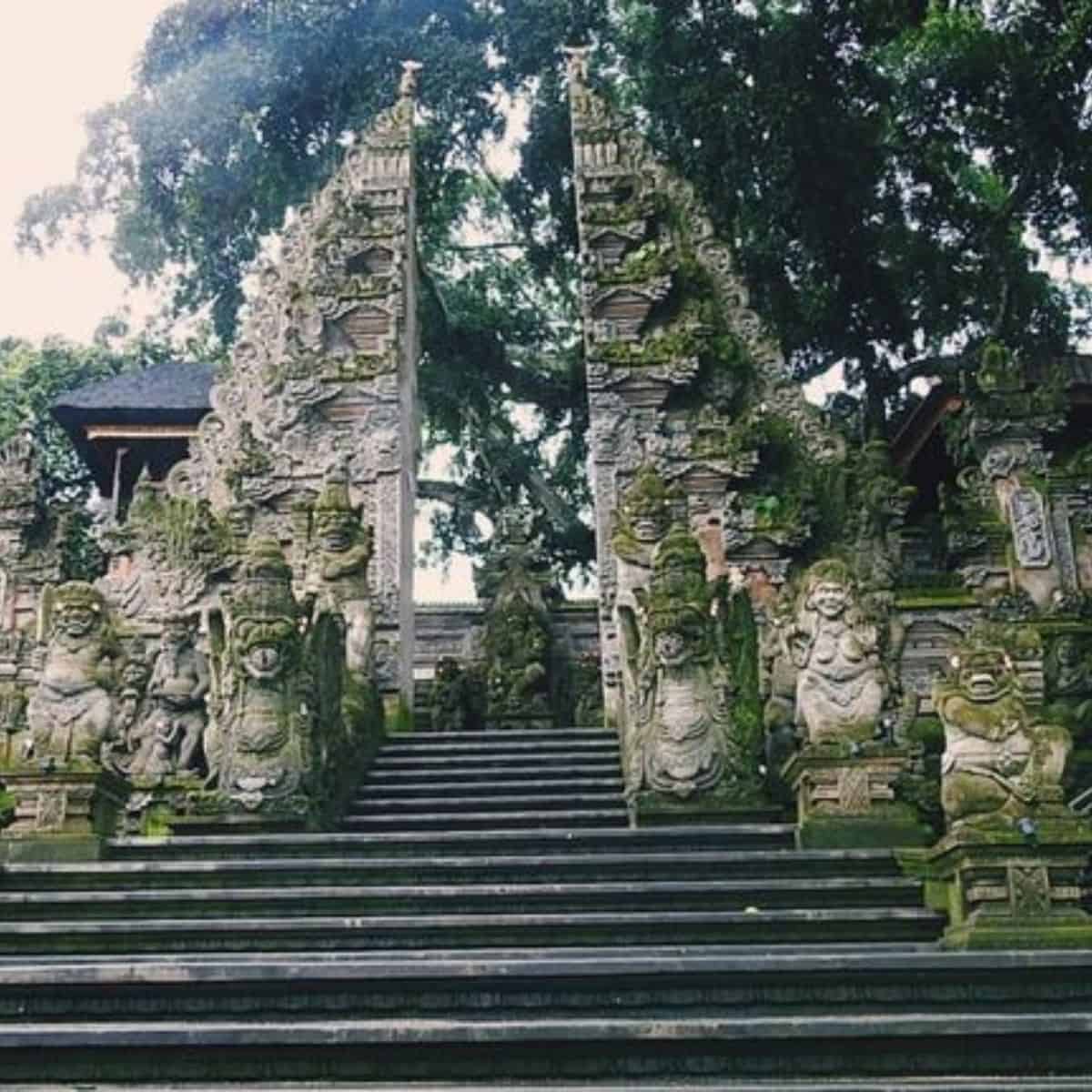 Different from the stone carvings of other spiritual sites, Pura Dalem also has complex metalwork carvings. During the day, the sun reflects on the carvings, making them look bathed in light. We suggest visiting during the dry season in the summer to see the carvings in their full glory.
Pura Dalem Ubud
Within in town centre on the main road
Ubud Water Temple (Tirta Empul)
Ubud Tirta Empul Temple is one of the most beautiful water temples in Ubud, Indonesia. In fact, it is the. It is one of the only sacred sites in Bali which allows tourists to take part in spiritual purification ceremonies and get close to other religious rituals.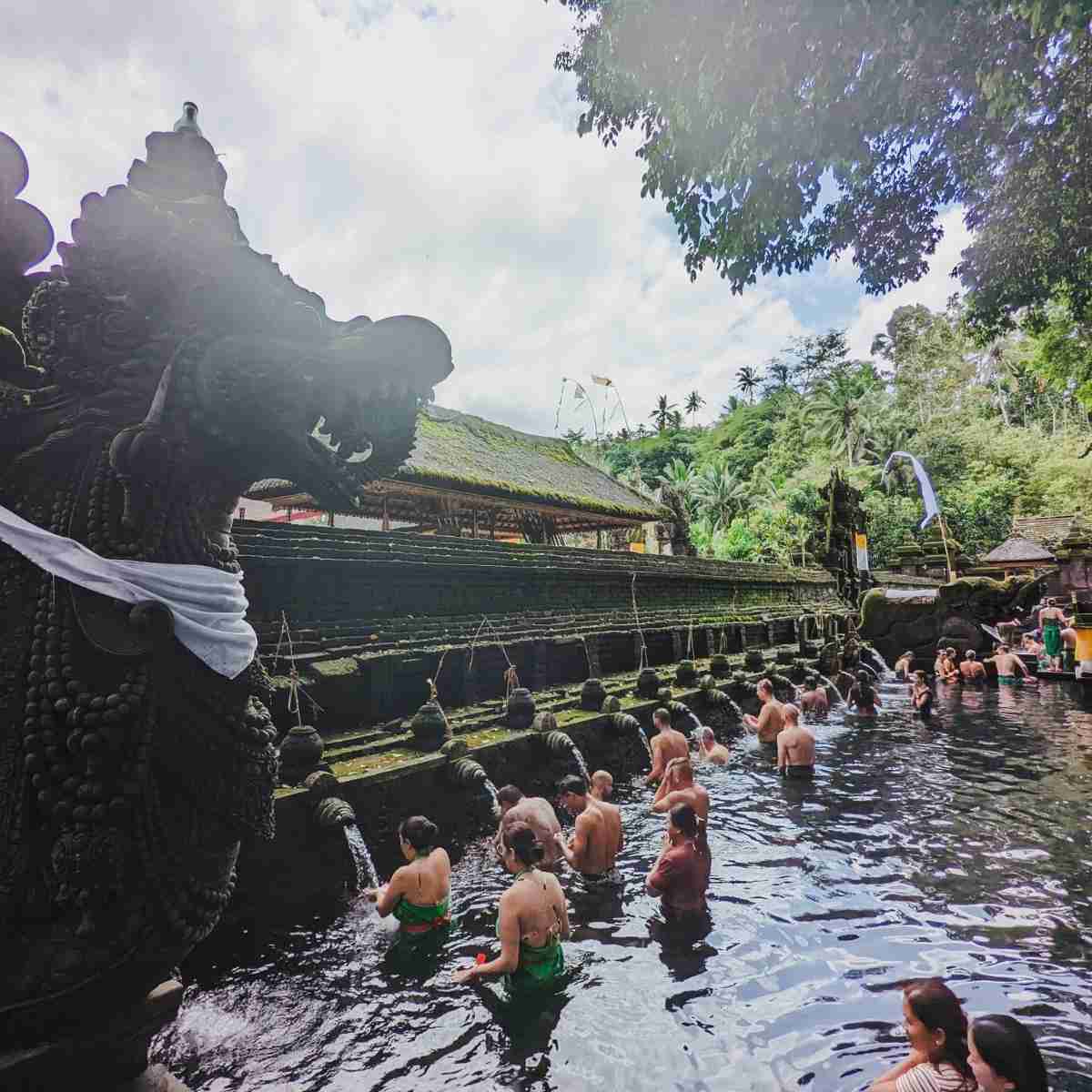 People come from over the world to visit Ubud Tirta Empul Temple and bathe in the holy waters. In order to participate in the purification ritual, you will need to borrow a special sarong from the staff. We suggest packing a change of clothes so you can change after soaking in the holy water at this Ubud water temple.
Other than the purification ritual, which attracts hundreds of people, pay a visit to the holy pond, where you'll see gushing spring water from beneath. If you're with a local guide, you'll even hear about how this site's origins are tied with a local Balinese folklore.
Tirta Empul
Jl. Tirta, Manukaya, Kec. Tampaksiring, Kabupaten Gianyar, Bali 80552, Indonesia
Sacred Monkey Forest Sanctuary
The Sacred Monkey Forest Sanctuary is home to three Ubud temples right in the heart of the town centre. It's a nature preserve with ancient temples, beautiful statues, and a sanctuary for wild monkeys.
Pura Dalem, the Holy Water site, and the Cremation temple are three historic places of worship inside the Sacred Monkey Forest Sanctuary. They date back to the 14th century and are some of the oldest structures you'll find in the town centre.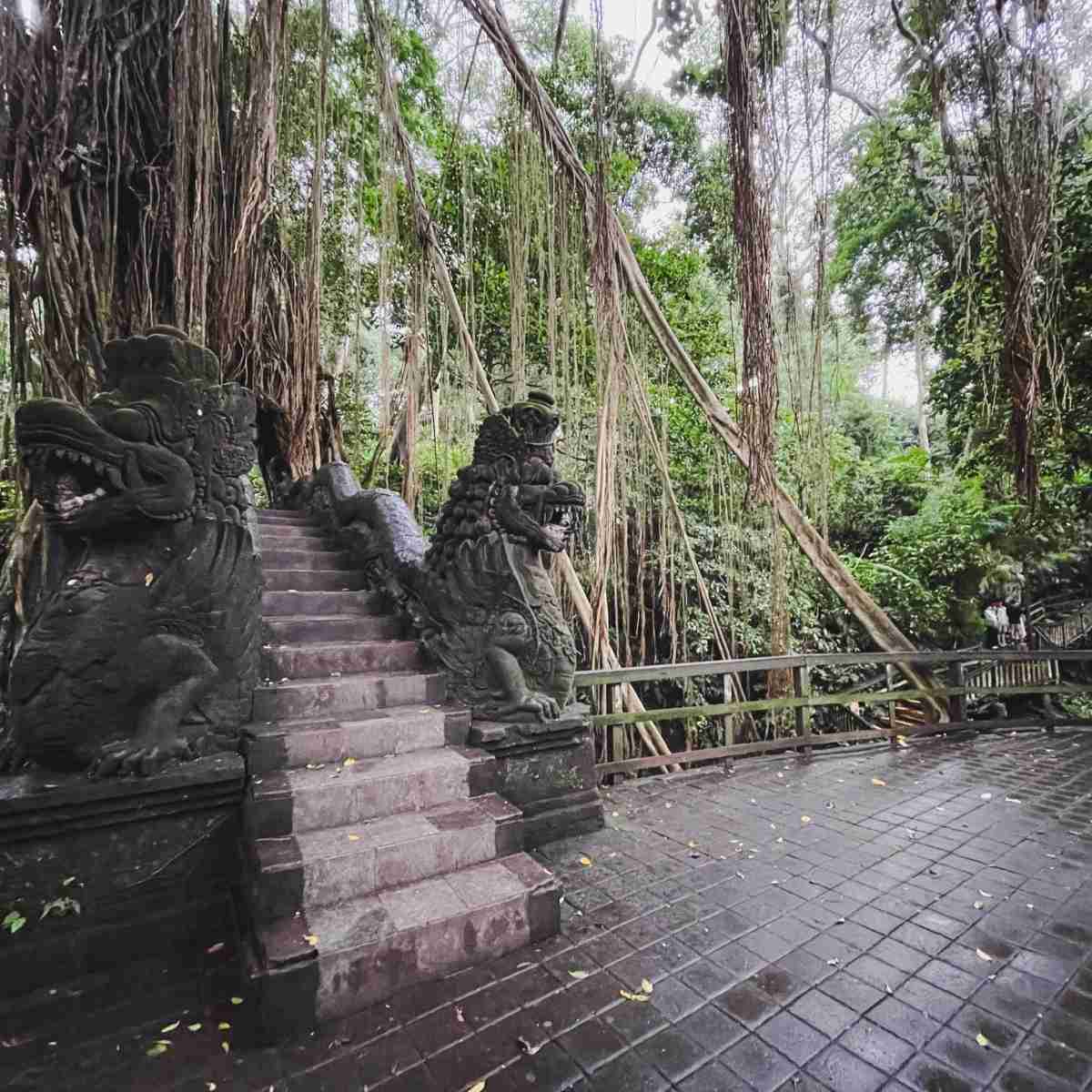 You can go inside if you are dressed in traditional Balinese clothing and inform the staff beforehand you would like to pray. However, as a tourist, you can also get a view from outside the gates and feel the energy of the holy sites.
Also, don't forget to snap a photo of the sculptures in the forest. They symbolise the mythical legends around the sanctuary.
The preserve has even earned multiple awards and is also one of the exciting things to do in Ubud for many tourists. It's a great spot for small children to get close to wildlife. Meanwhile, adults and the elderly can enjoy a leisurely walk around to see the fascinating sculptures and soak in the scenery.
So, make sure you tick this one off your Ubud temples list.
Sacred Monkey Forest Sanctuary
Within the town centre, just off Jalan Monkey Forest
Pura Dalem Taman Kaja
Pura Dalem Taman Kaja is a place of worship for the Hindu god, Siwa, who is also known as the destroyer. Visit at night to see the illuminated guardian statues and the entire complex lit up. There's an eerie beauty that leaves you in awe.
Make sure to catch a performance of Kecak dance and trance. Kecak dancing is a dance-drama tradition dating back to the 1930s. It's an Indonesian Hindu art form specific to Bali, and the dance is a must-see event in the area.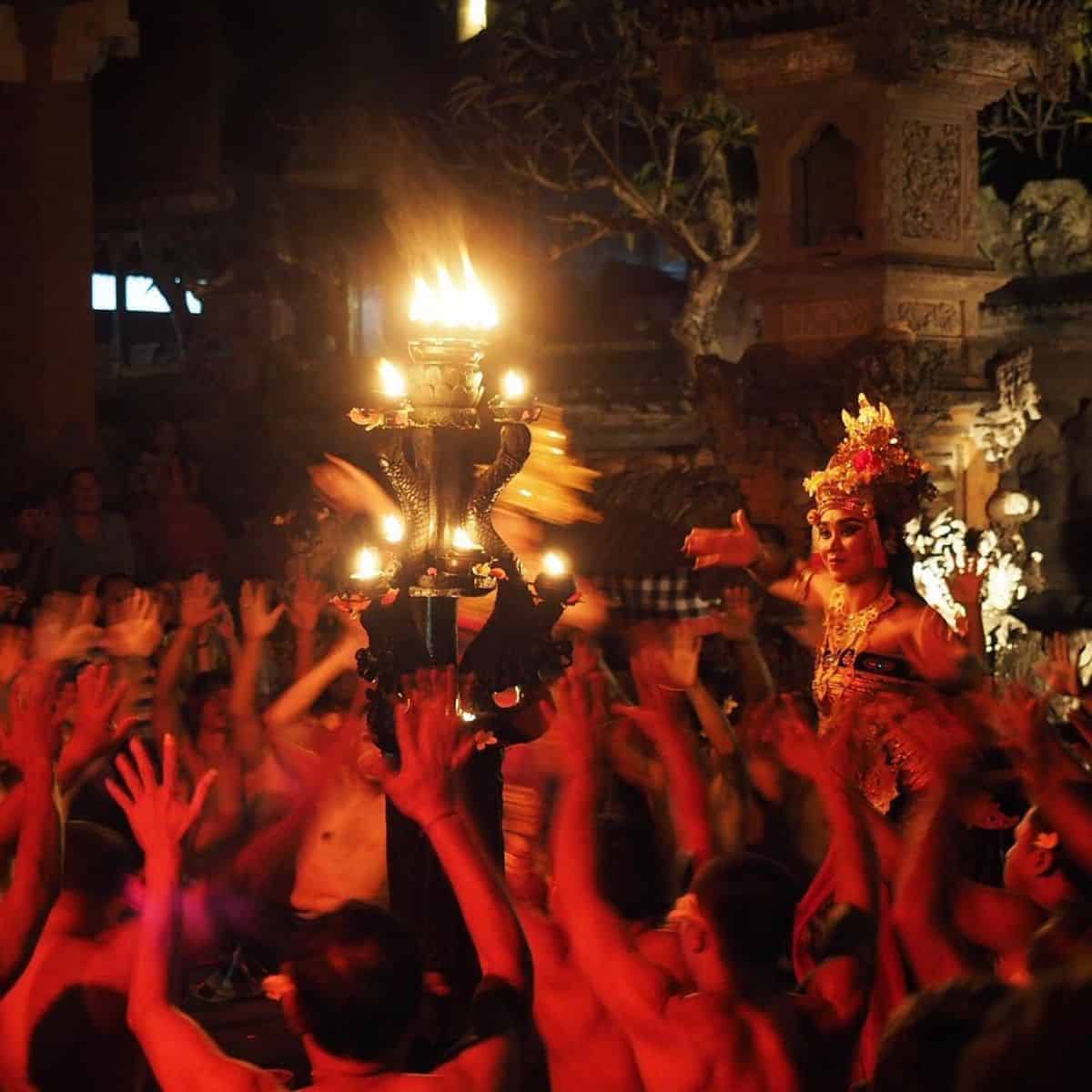 The evening shows feature dozens of performers dressed in elaborate, traditional Balinese costumes. Instead of percussions, the men chant and act as the choir accompanying the narrative play. Close to the end, you'll see a fire dance performance.
Pura Dalem Taman Kaja is just east of the town centre, and you can attend an outdoor performance or tour the stone pavilion.
Pura Dalem Taman Kaja
Within the town centre, just off Jalan Sri Wedari
Ubud Palace
We recommend visiting Ubud Palace, a popular tourist attraction in town. While most of the complex is not open to the public, its iconic bright orange walls and gold metalwork is worth a quick visit.
In contrast to many other Ubud temples, Ubud Palace has a well-kept garden. The garden is home to dozens of beautiful trees and flowering bushes, and you can explore the area by walking down an ancient stone path.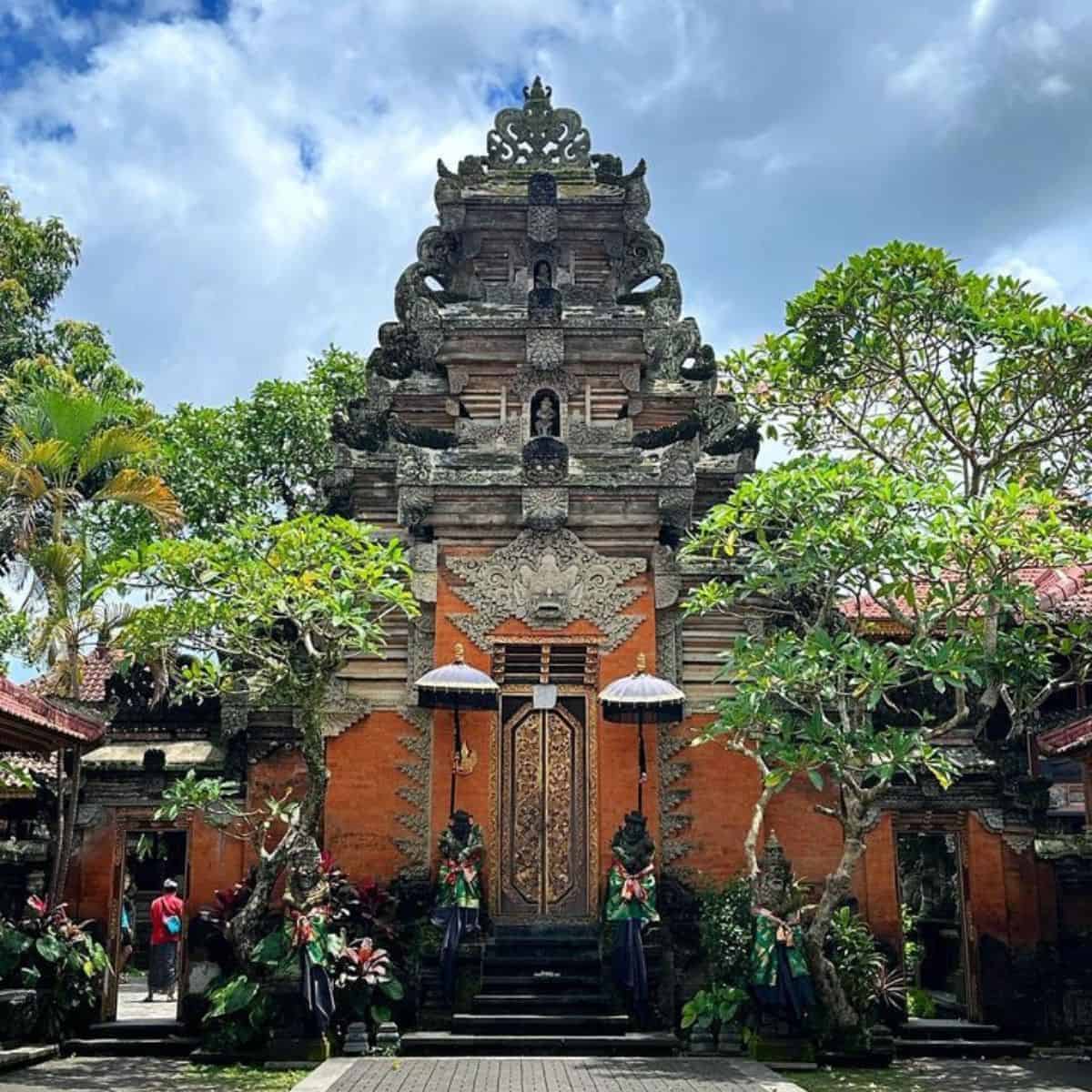 As with Goa Gajah and Saraswati, admission is free. Since it's in the centre of town, the area is always hopping with visitors.
To enjoy the palace with fewer tourists, visit during the offseason from October to March. If you're visiting during this time, remember to bring an umbrella or raincoat in case of intermittent rainfall.
Alternatively, you can rent one of the five bungalows surrounding the courtyard for a night or two. During your stay, you can listen to traditional Gamelan music from the palace's Balinese performance. Or, enjoy a fascinating Legong dance performance.
Ubud Palace
Within the town centre on the main road
Pura Dalem Puri Peliatan-Ubud
Pura Dalem Puri Peliatan-Ubud is a peaceful place of worship near the centre of town. It's a famous temple in Ubud for domestic tourists. The site is also ideal if you're looking for a quiet afternoon getaway.
Enter the complex through a massive stone entrance and a delicate metal gate. Inside the temple is a stone plaza with overrun moss and guardian statues. Moreover, as this is an active place of worship, you'll often see locals making offerings and other religious events occurring in the inner quarters.
Make sure you're respectful and quiet when you're observing from afar. You will also need to dress appropriately to enter the complex. Tourists also need to dress appropriately to enter. Covering your knees and chest should be enough.
Pura Dalem Puri Peliatan-Ubud
Within the town centre, just off Jalan Sukma Kesuma
Puri Saren Agung Taman
Don't miss Puri Saren Agung Taman, a Hindu sacred site that is east of town. It's another serene spot with very few tourists. Instead, you'll find many local wedding ceremonies and religious gatherings happening here.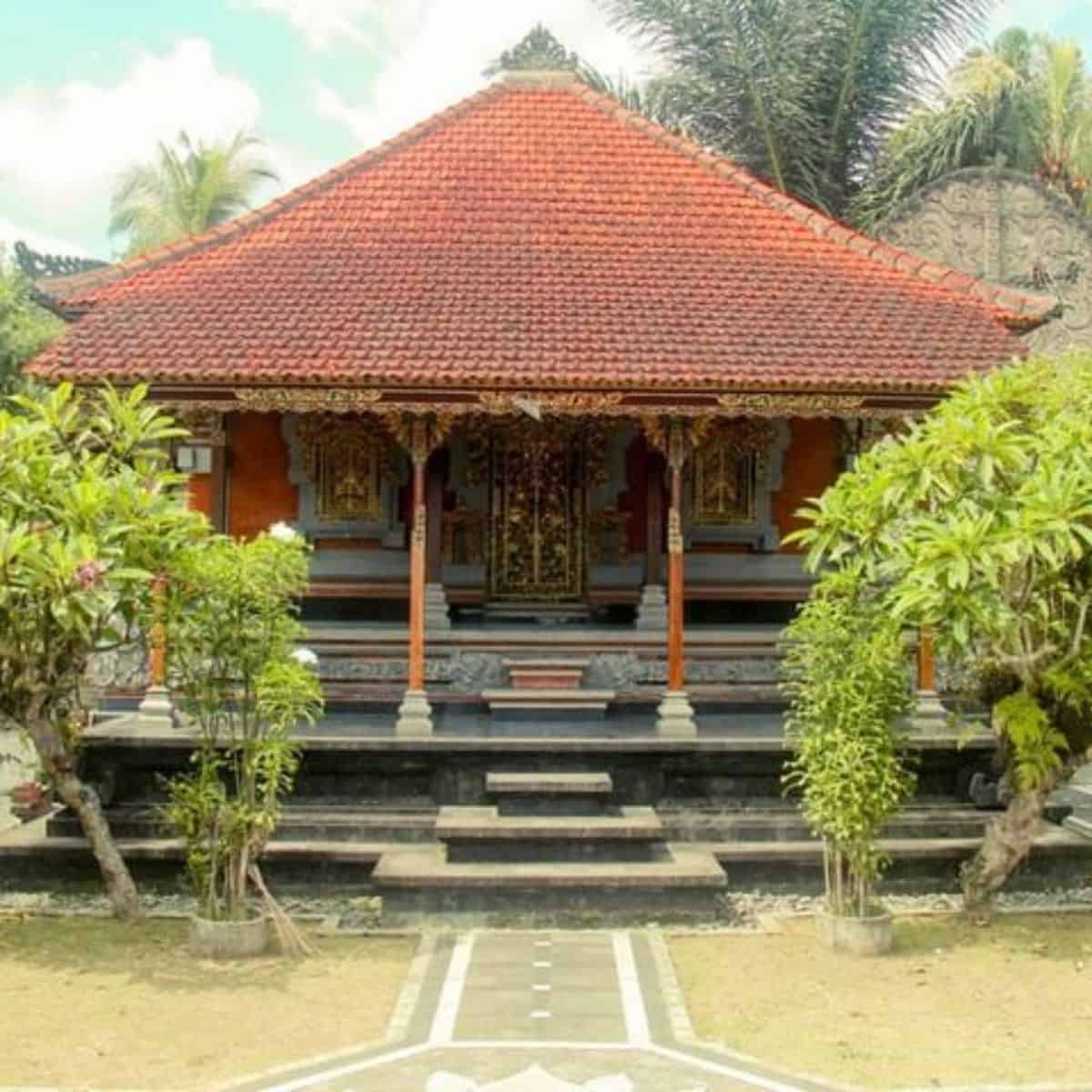 Located away from the bustling town, it's a small local worship site that is just off Jalan Delop Ps. You can walk here from Bali swing or drive here after a visit to Campuhan Ridge Walk. It's also surrounded by some Bali rice fields, making it a great photo-taking spot.
Puri Saren Agung Taman is great to visit any time of year. It's sunny and bright in the dry season, but in the wet season, the temple is lush and green from November to March.
Puri Saren Agung Taman
Taman, Abiansemal, Badung Regency, Bali 80352, Indonesia 
Samuan Tiga Temple
Samuan Tiga is a hidden gem in the Bendulu village, slightly north of the small Balinese town. It's one of the best temples in Bali if you're looking for a peaceful temple visit.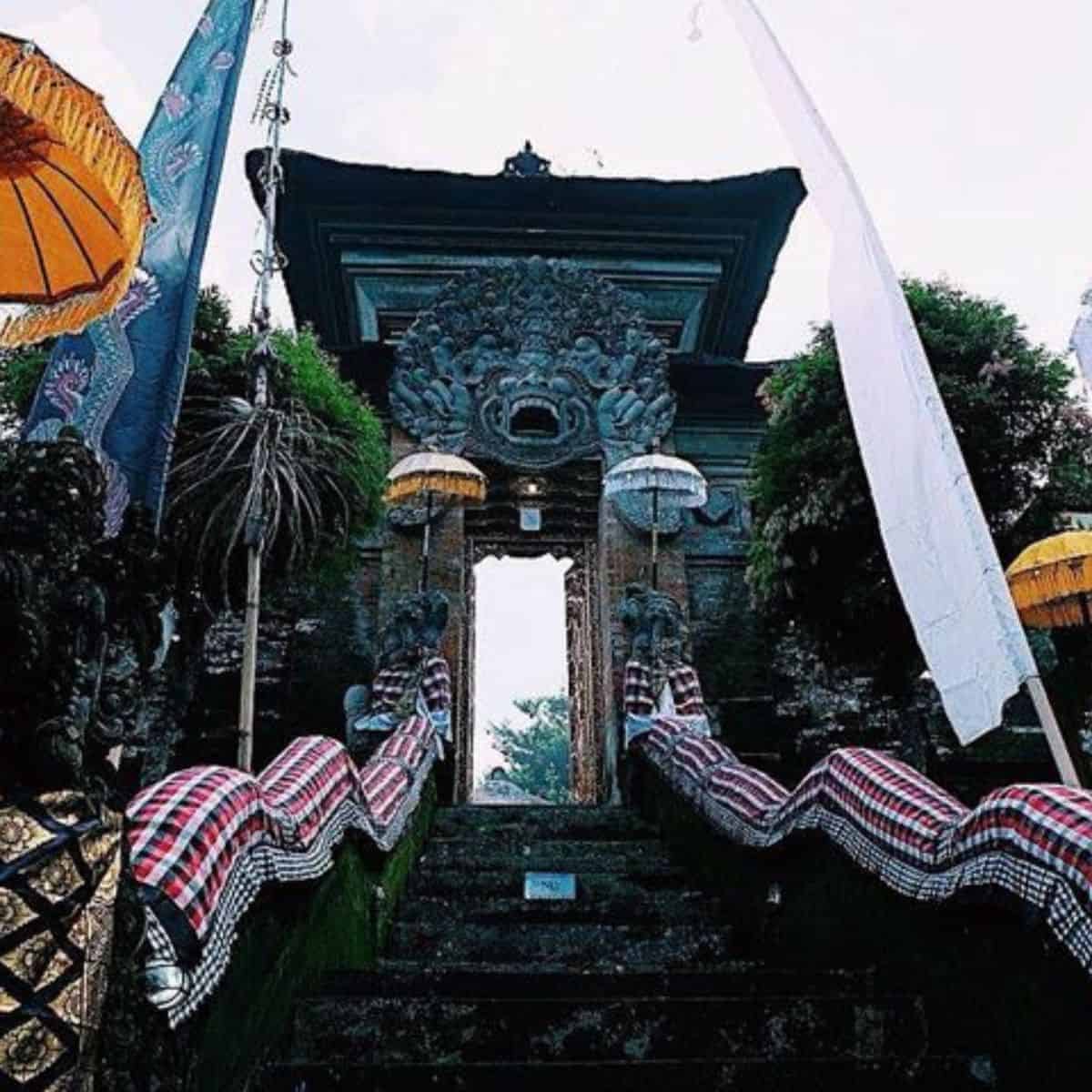 As it's not in the town centre, many people don't know about this historic site or don't bother making a trip here. But it's a spot you won't want to miss.
Samuan Tiga is ideal for a serene spiritual visit compared to other Ubud temples. Most of the time, there is no one around at this spot. So you can enjoy the stunning moss-covered complex all alone.
Samuan Tiga Temple
Jl. Pura Samuan Tiga, Bedulu, Kec. Blahbatuh, Kabupaten Gianyar, Bali 50581, Indonesia
Pura Taman Ayun
Pura Taman Ayun is arguably one of the most famous temples in Bali and is also a World Heritage UNESCO site. To reach here, you will need to travel just outside of town and to the neighbouring Mengwi village.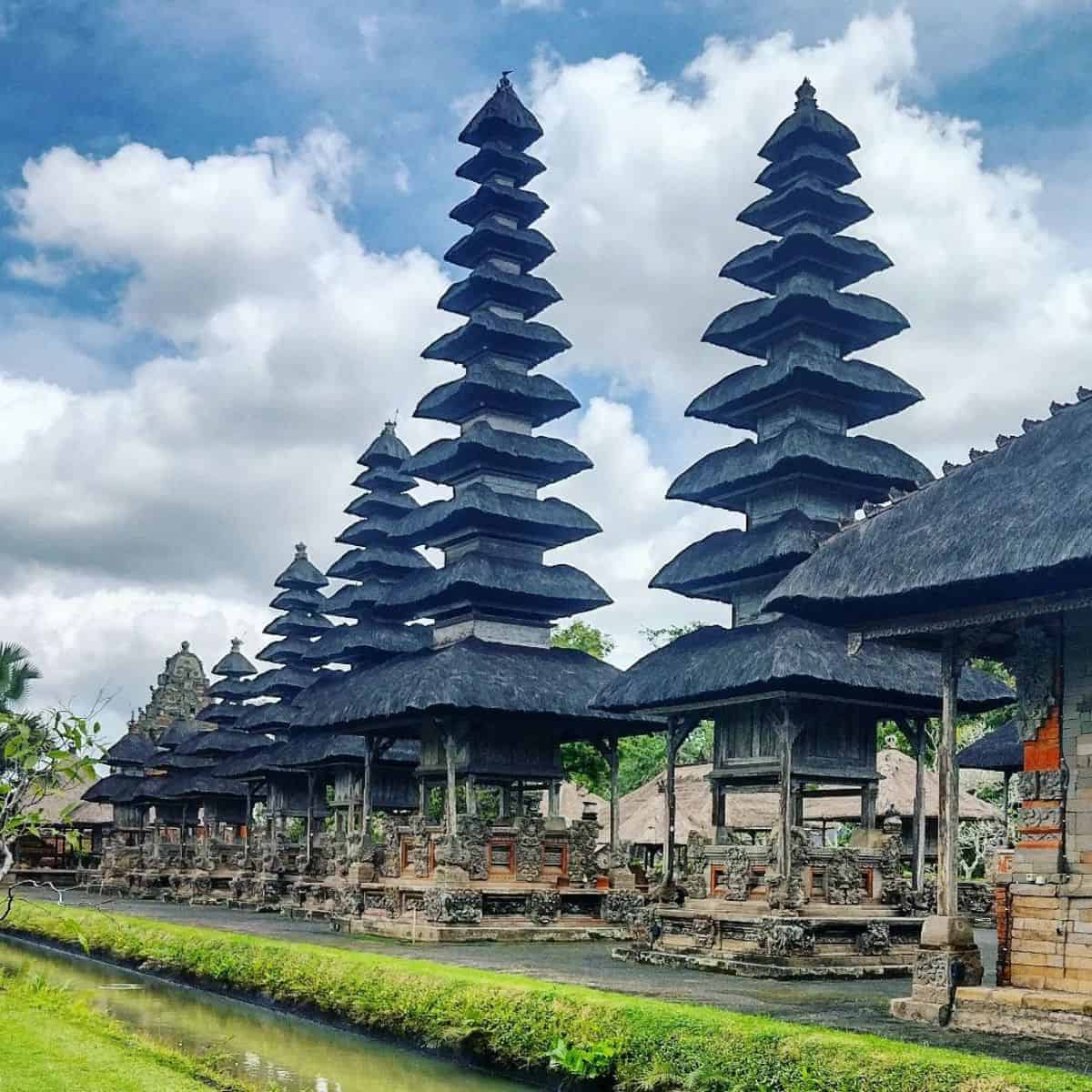 Pura Taman Ayun is one of six royal places of worship in Bali and is a sacred site for the local Balinese people. A river canal surrounds the large Hindu complex. In addition, inside, you will find large tiered thatched straw roofs, intricately designed shrines and ponds. There is also a beautifully well-maintained garden which we recommend you spend some time here.
Pura Taman Ayun
Jl. Ayodya No.10, Mengwi, Kec. Mengwi, Kabupaten Badung, Bali 80351, Indonesia
Goa Garba Ruins
The Goa Garba Ruins are just a short drive from the town centre, in the southeast village of Penjeng, Bali. It's one of the most beautiful temples in Bali and one of our top picks for things to do near Ubud.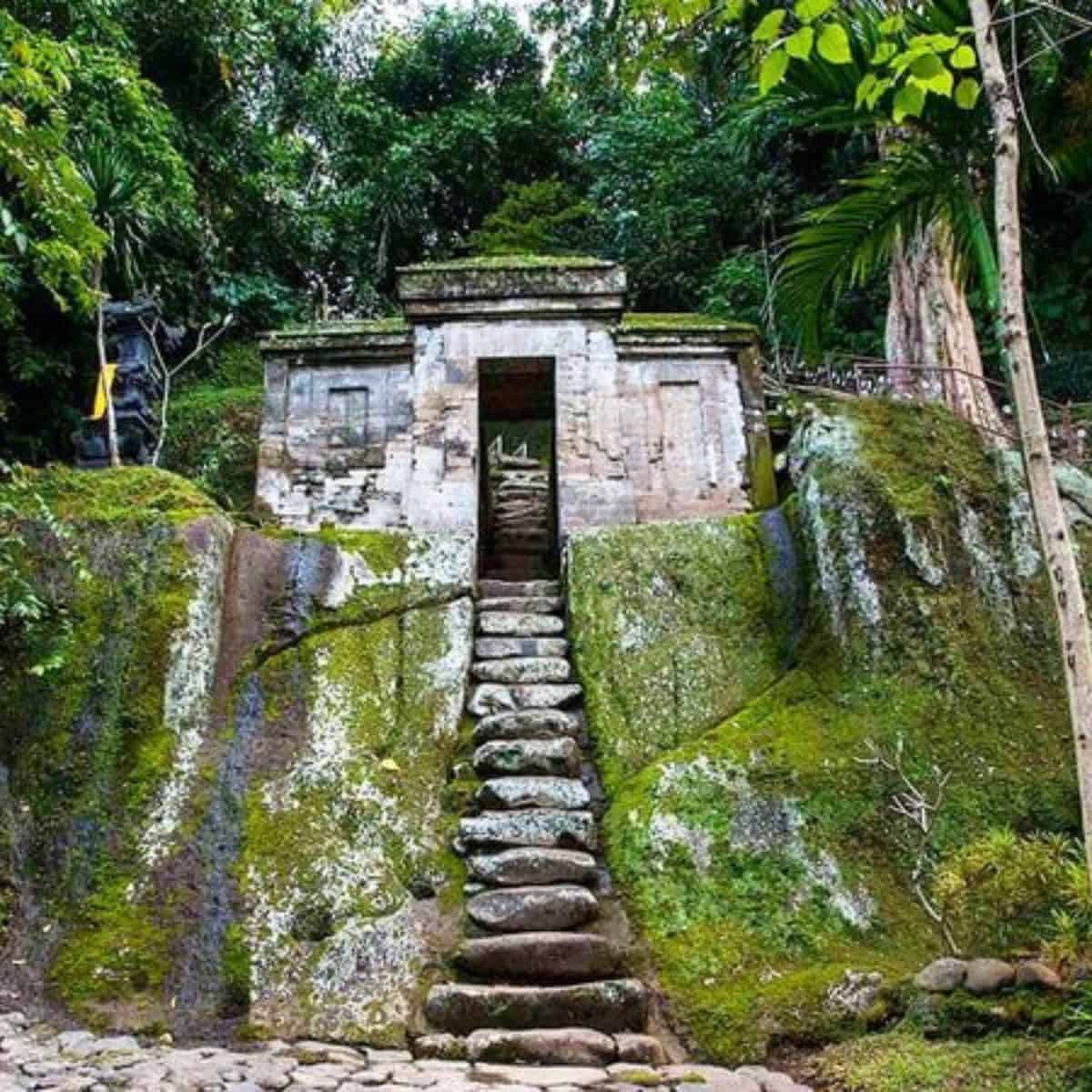 The ancient ruins are not an active prayer site, and the structures have crumbled over the centuries. However, when you explore the ruins, you'll feel how magnificent the complex was in its prime.
See the moss-covered stone with detailed carvings while the overgrown trees that creep into the complex add a mystic charm to this place. Take your time to explore this ancient site in the jungle. You can also walk down to see the Pakerisan river flowing through.
Goa Garba
Pejeng Kelod, Tampaksiring, Gianyar Regency, Bali 80552, Indonesia
Pura Puseh Batuan
Head to the northern area of town and see Pura Puseh Batuan, a holy site dedicated to the Hindu Trinity that dates back to the 11th century. It's one of the most important Hindu temples in all of Bali.
Once you've stepped into this sacred space of architectural wonder, you'll be swept away by the magnificently well-preserved sandstone Balinese motifs. There's plenty for you to explore as you enter through each intricately carved split gate in the complex.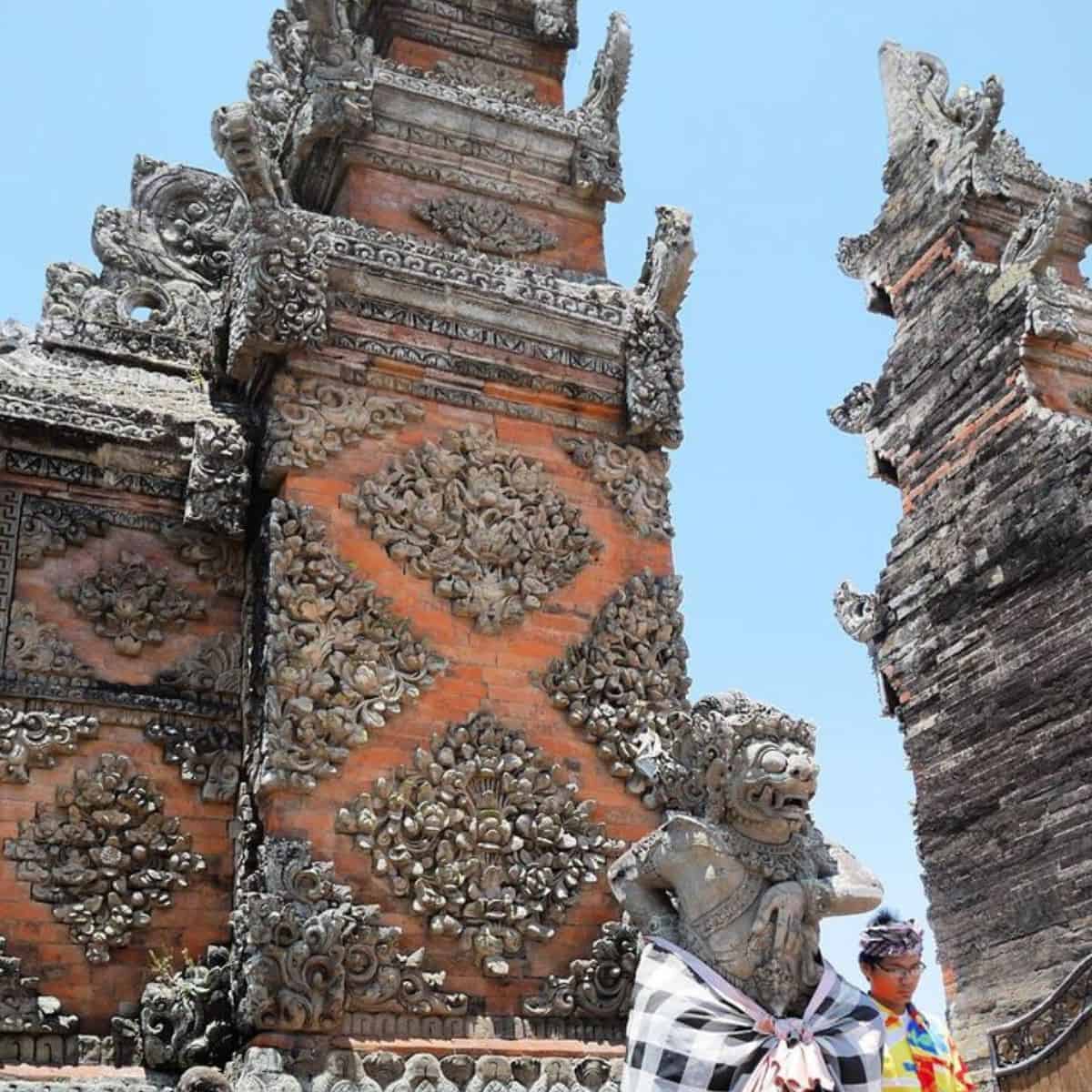 Make sure to dress appropriately when you visit, as visitors are expected to wear a sarong and sash provided at the entrance.
After spending some time here, you can also take some time to explore the traditional Balinese village nearby. We recommend going through its narrow streets, chatting with locals, and sampling delicious local snacks.
Pura Puseh Batuan
Jl. Raya Batuan, Batuan, Kec. Sukawati, Kabupaten Gianyar, Bali 80582, Indonesia
Pura Yeh Pulu
Visit these ancient ruins if you're looking for a beautiful temple in Bali. Pura Yeh Pulu is a gorgeous site located in the farmlands of Ubud, and the spot is among the best temples to visit in Ubud.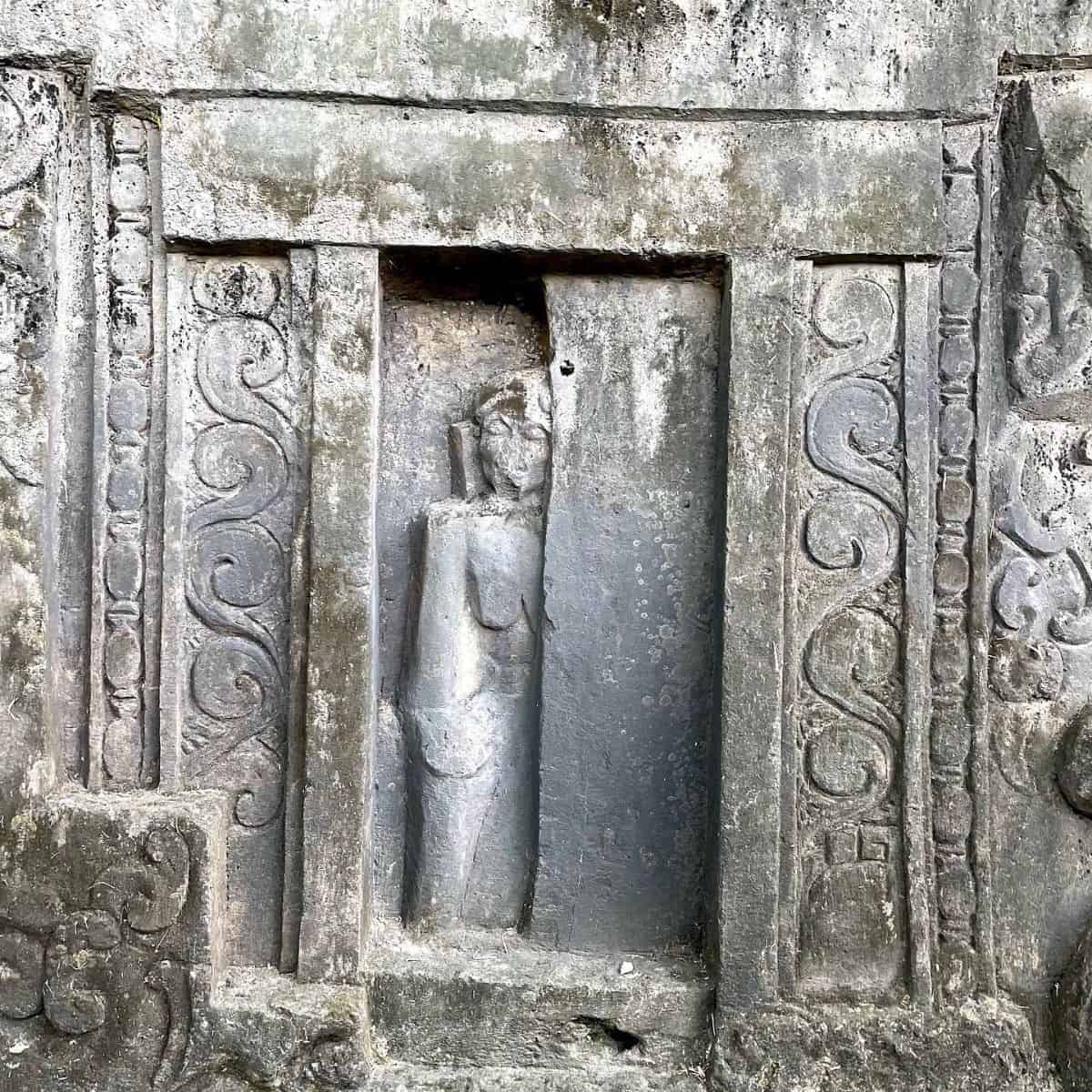 The expansive farmlands are a sharp contrast to the rainforest. So, Pura Yeh Pulu is ideal if you're looking for a change of scene. The walls have carvings different from a typical Ubud palace or place of worship, as these carvings are flat and tan-coloured. Follow the path and see the wall carvings tell a story through animals, gods, battles, and ancient daily life.
Temple Yeh Pulu
Jalan Yeh Pulu Blahbatuh, Bedulu, Kec. Gianyar, Kabupaten Gianyar, Bali 80581, Indonesia
Jukut Paku Cliff Temple
Head a few minutes south of the Ubud city centre for a day at the Jukut Paku Cliff Temple. It's a unique famous temple in Ubud built into a mossy cliff in the Bali rainforest.
Walk past the temple to see a small waterfall, or walk over the river on a wooden bridge if you're courageous. The temple also has a lily pond and several tables for people to hang out or bring a packed lunch.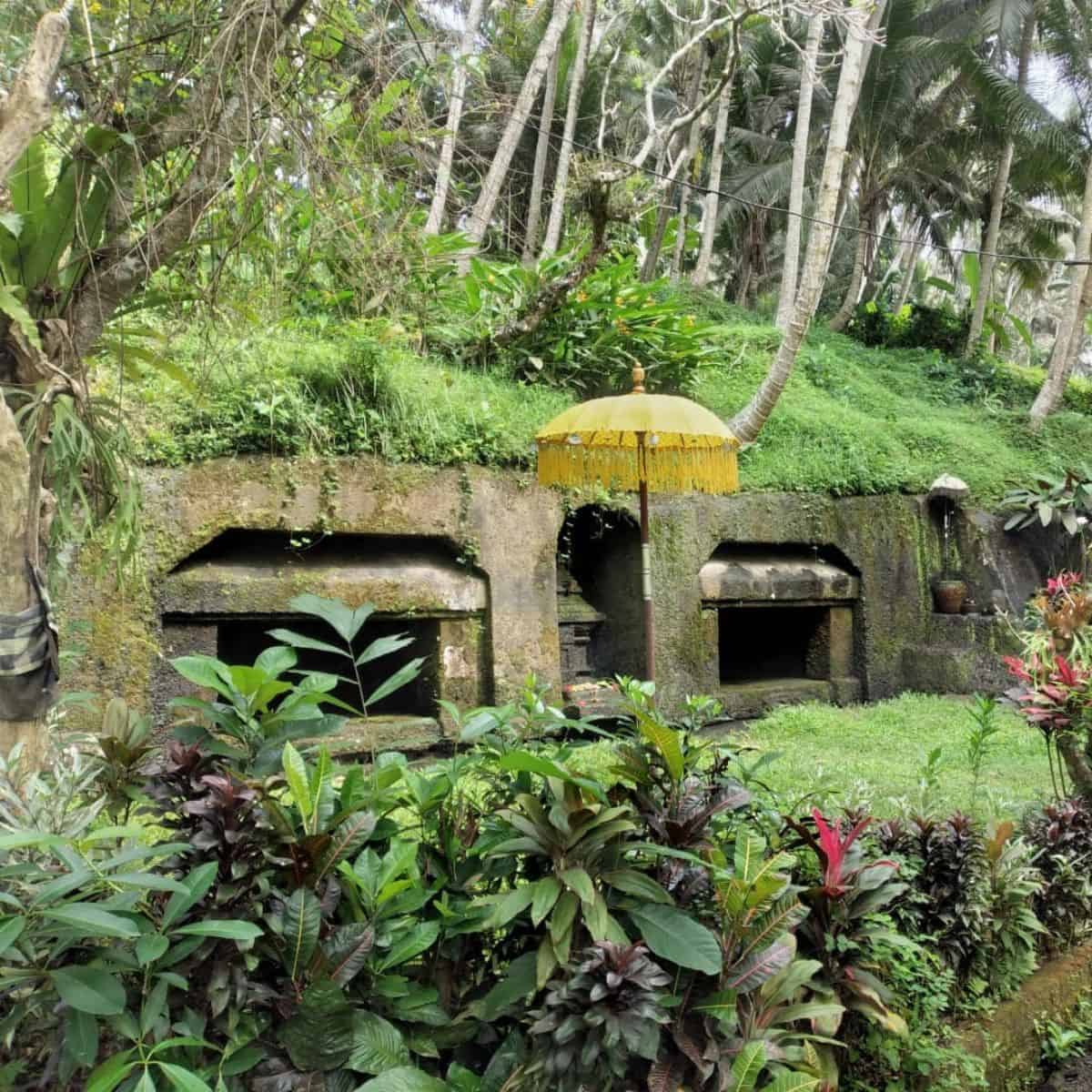 Admission is free, and the temple in Bali is not currently in use. Many people come to meditate at this temple, and the spot has a quiet and peaceful environment.
We think Jukut Paku is one of the best temples to visit in Ubud, Indonesia.
Jukut Paku Cliff Temple
Singakerta, Ubud, Gianyar Regency, Bali 80571, Indonesia
Best Ubud Temples To Visit
We encourage you to share this article with your friends and make your trips to Ubud temples spectacular. If you're short on time, check out our Ubud 1-day itinerary.
To discover more exciting spots to travel in Asia, follow us on Instagram @tabitogether.