The best area to stay in Kuta depends on your interest and budget. If you're in Bali and headed anywhere in Kuta, our handy guide will help you work out where to stay in Kuta by giving you the pros and cons of each area.
In case you didn't know, Kuta is a strip of land that encompasses Seminyak, Legian, to just before Jimbaran. However, when most people think of Kuta, the lively Kuta Beach comes to mind. It's called the town that never sleeps, thanks to the beach clubs. But there are also surfing classes, plenty of retail shops and nearby amusement parks.
Since there are so many things to do in Kuta, you should stay near the activities you want to try for the best trip.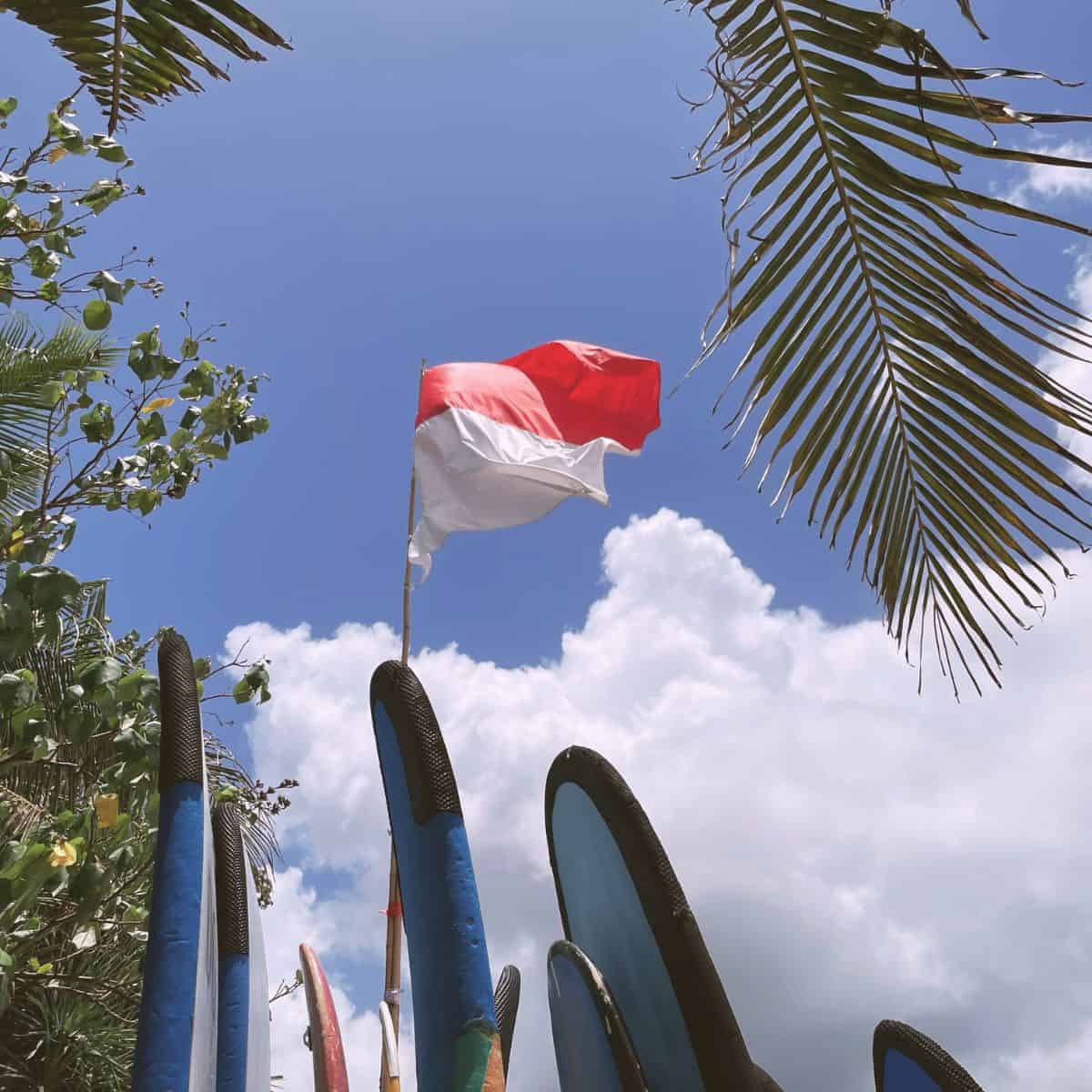 Therefore, to help you decide, we've put together an article covering all areas (except in South Kuta).
Our list covers the pros and cons of staying in each neighbourhood. Therefore, you can decide which is the best area to stay in Kuta. We also cover some unique activities you can try while in these areas.
Whether you're travelling solo, as a couple, in a large group or need a family-friendly neighbourhood to stay in, we've included that in our listing criteria. Additionally, since we're digital nomads, we figured that some readers like ourselves would need budget-friendly areas to stay in Kuta. So, whatever your preferences, check out our list of places to stay in Kuta and some unique attractions nearby.
As we've considered many different types of travellers in our guide, it is quite a long read. If you're short on time, feel free to skip to the end, where we have a quick overview of the best area to stay in Kuta.

Otherwise, stick around, and we'll even give you the exact roads to stay on, what you should do in the area and some good hotel recommendations.
Jump to:
Kuta beach (Best area to stay in Kuta for first-timers)
If this is your first time visiting Kuta, we recommend staying near or on Kuta Beach. Many travellers consider Kuta Beach the hub of this town because it is near the airport and other regions, e.g. Legian and Seminyak.
So if you've not visited before, this is the best area to stay in Kuta since you'll be able to explore all the sights quickly and the amazing activities the town has to offer. For instance, you can grab a surfboard to ride the waves at Kuta beach.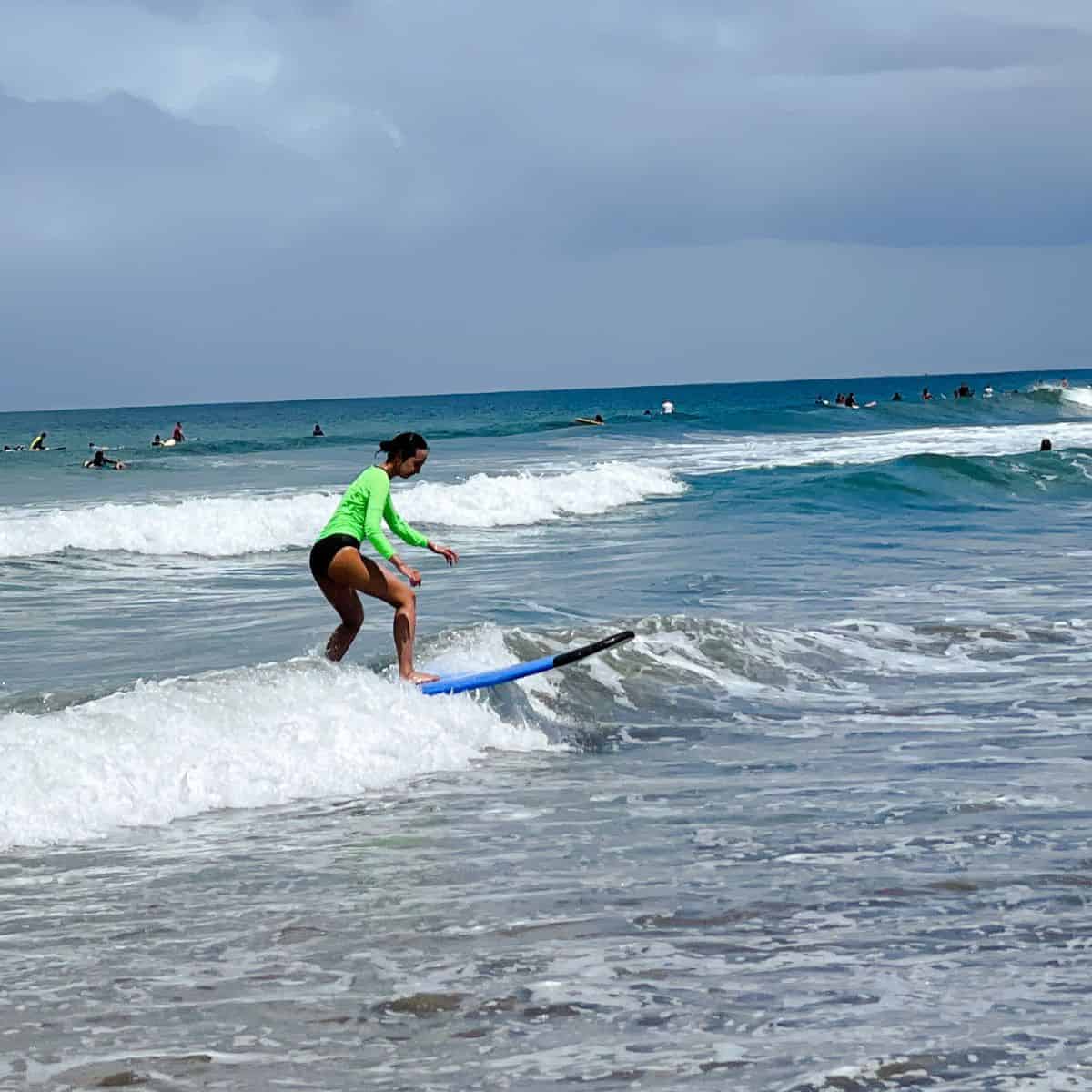 Moreover, there are plenty of places to suit different budgets, so whether you're a backpacker, a couple or a family, you should easily find something to accommodate your group size. However, it can get noisy, so if you're travelling with small children, you should avoid Kuta Beach.
Best places to stay at Kuta beach
The one-way Kuta Beach walking street (Jalan Pantai Kuta) that connects Jalan Legian to the beach has several budget hostels and boutique hotels where you can stay. Couples who want a romantic rendezvous can look out for boutique hotels with beachfront views.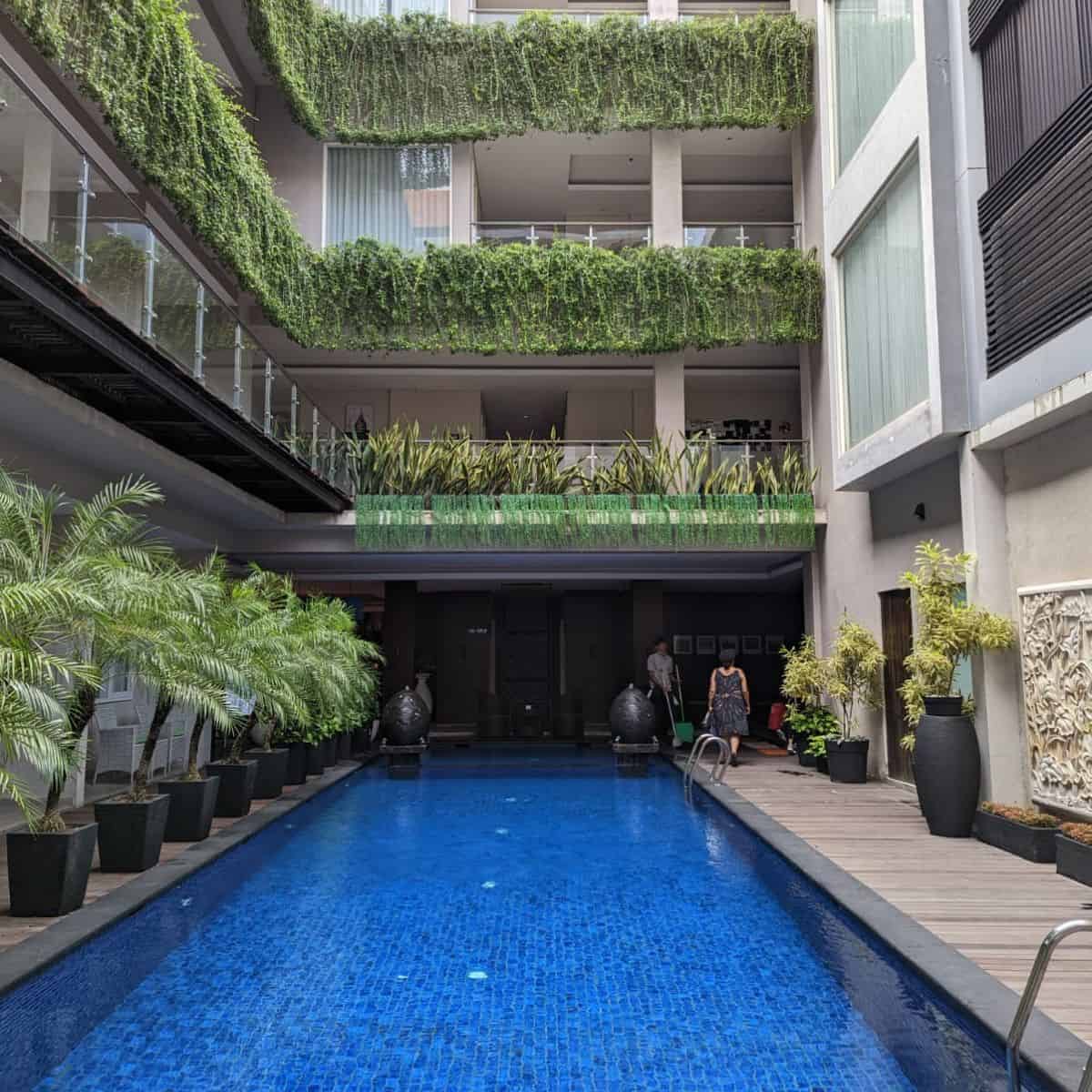 You will find that there are many small hotels with 'contemporary meets traditional' architecture. We stayed in a double room at Ohana Hotel during our time near Kuta Beach. You can also stay in their deluxe rooms with Balinese furniture and a small balcony with a view of their pool. But if you're on a budget, we recommend choosing a backpackers' hostel.
These hostels are decent for travellers who plan to be out and about most of their day and just want a relaxing spot to rest at night. Here you'll share a room with eight other travellers in a mixed dormitory.
To find a place that suits your budget, start walking from Bemo Corner, where the communal town hall is located. It's a convenient street to stay on since you'll find many small shops along the way.
However, if you prefer to be on the sands, continue walking until you reach Kuta Beach Road. There you will find more hotels at the intersection of Jalan Bakung Sari and Jalan Tegal Wang.
Pros of staying near Kuta beach
This area is the best area to stay in Kuta if convenience and partying are essential. Several restaurants, such as fast-food stores, local eateries, and bars, make it convenient to get your meals. Most of the best cafes in Kuta are also nearby.
Additionally, most of the restaurants in Bali will be able to provide vegan or vegetarian options. And if you're looking for halal food, although there are several restaurants you can try, do stop by Warung Nikmat. This food court serves various tantalising local dishes, such as oxtail bone soup.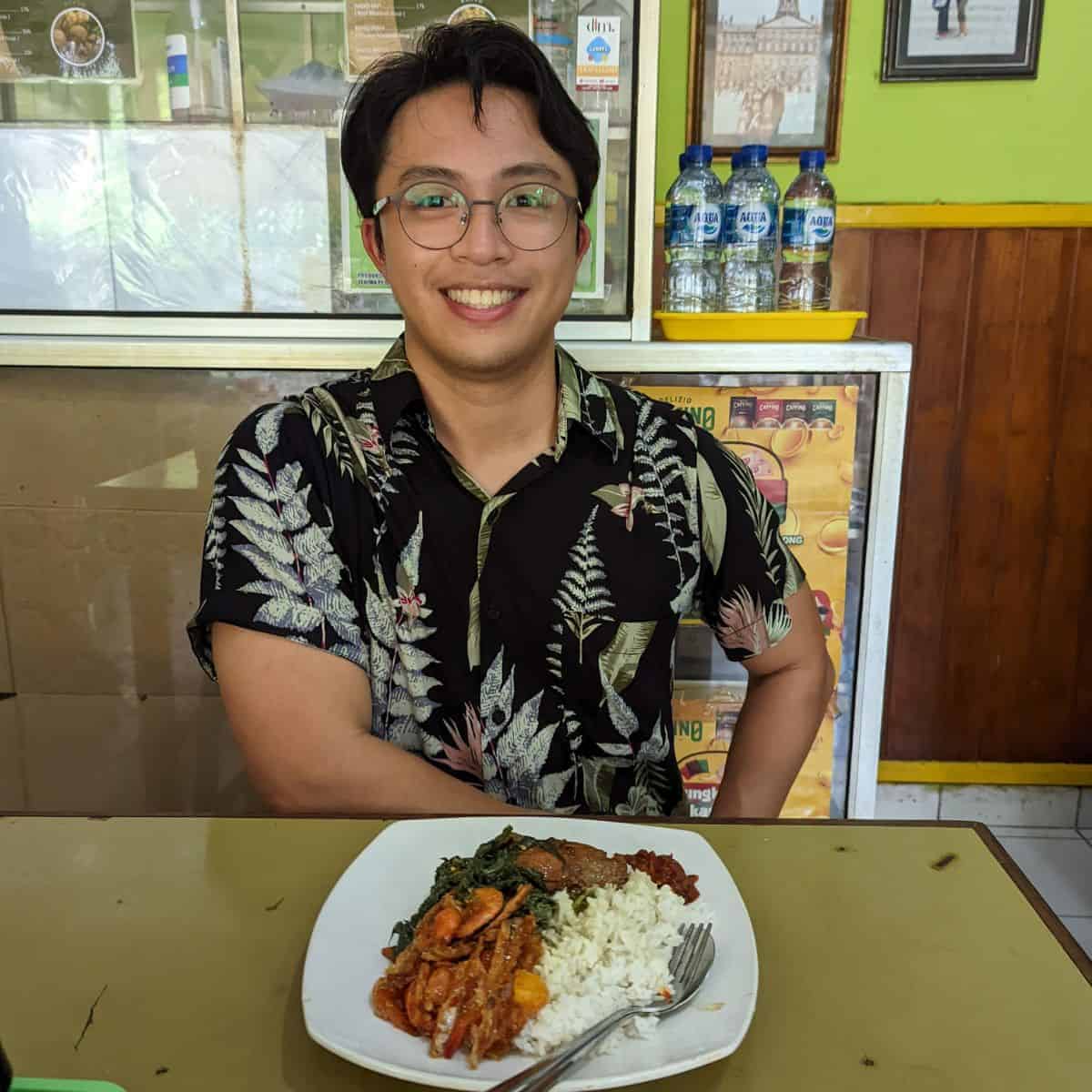 Furthermore, there are plenty of surf shops to learn to surf or buy equipment, and a small shopping complex at the end, which also connects to Jalan Bakung Sari. The art market is fascinating as it retails plenty of handmade souvenirs.
Cons of staying near Kuta beach
However, the con is that you might stay up all night. That's because the area is famous for its beach bars which open till late for partygoers. So, backpackers and night owls will love it here.
If you want to avoid the noise, we recommend going further along Jalan Kartika Plaza. You'll be near the amusement park Waterbom Bali, a water park with exhilarating slides that the whole family can enjoy.
On the opposite side of the road, indulge in some Kuta shopping. You can head to the Discovery Mall, which has several local and international brands. While this area may be busier during the day, it will get quieter during the night.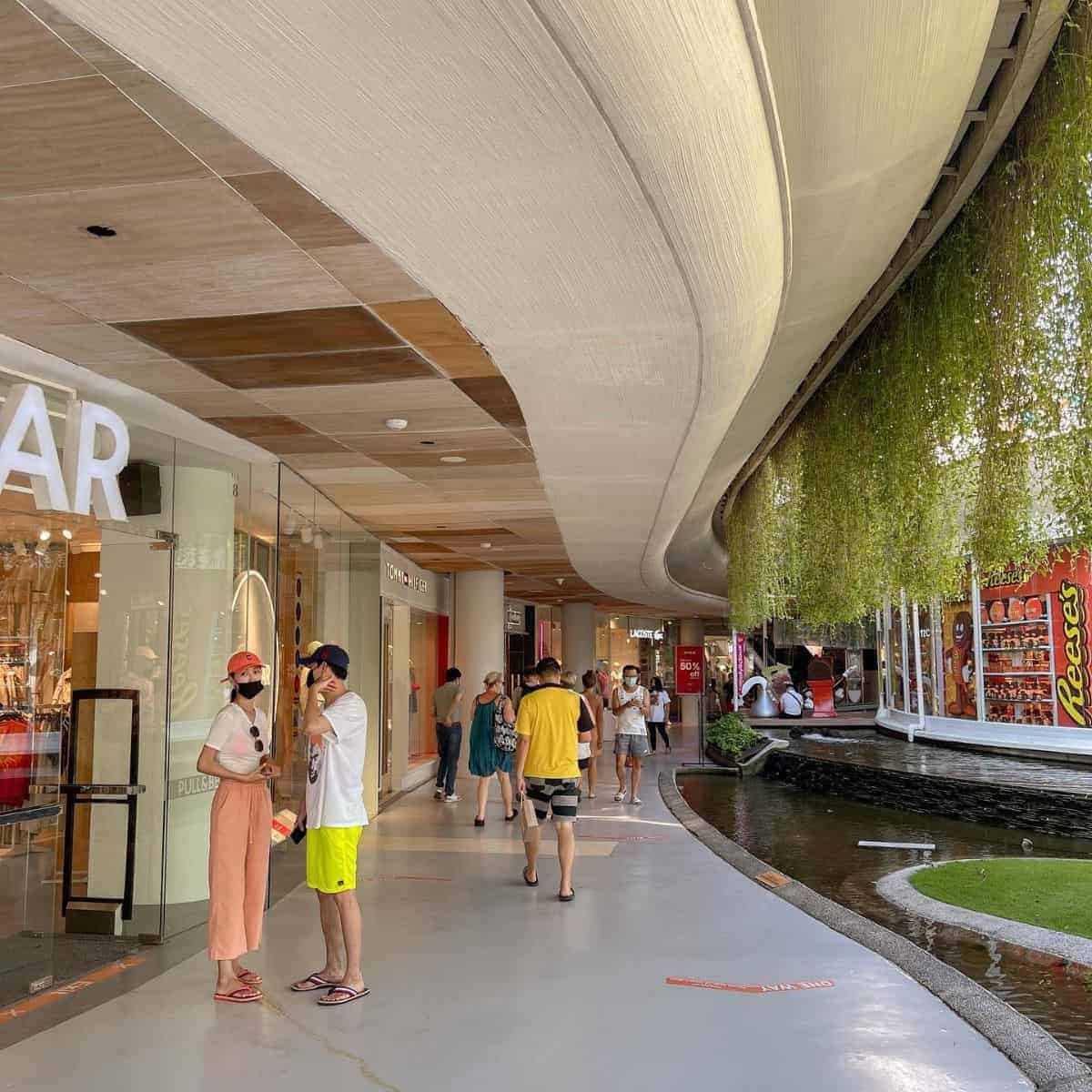 Unique activities at Kuta beach
If you stay in Kuta beach area, our tip is to visit the Bali Sea Turtle Society (at Jalan Pantai Kuta) to take pictures with sea turtles. The Green Turtles hatch eggs on Kuta Beach, and the Bali Sea Turtle Society (BSTS) helps to protect them.
Visit from April to October, when the nesting season begins, and you may be able to help release a baby turtle into the sea! This is the best area to stay in Kuta for animal lovers and families who want to teach young children more about marine life.
Best times to stay in Kuta Beach
While Bali is hot all year round, it has seasonal monsoons. April to November is when the weather is warm and sunny, so book your holiday at Kuta beach around these months. If possible, we recommend avoiding the monsoon rains from October to April. Then, you can thoroughly enjoy the beach without the rain upsetting your holiday!
Legian (Best area to stay in Kuta for nomads)
Legian is a beach area on the west coast of Bali, slightly north of Kuta and south of Seminyak. The vibe here is laid back and relaxed. It's the area between Jalan Melasti and Jalan Dhyana Pura. If you've located the Kuta Art Market, continue walking, and you'll reach Jalan Legian. This is the best area to stay in Kuta for digital nomads and backpackers like us.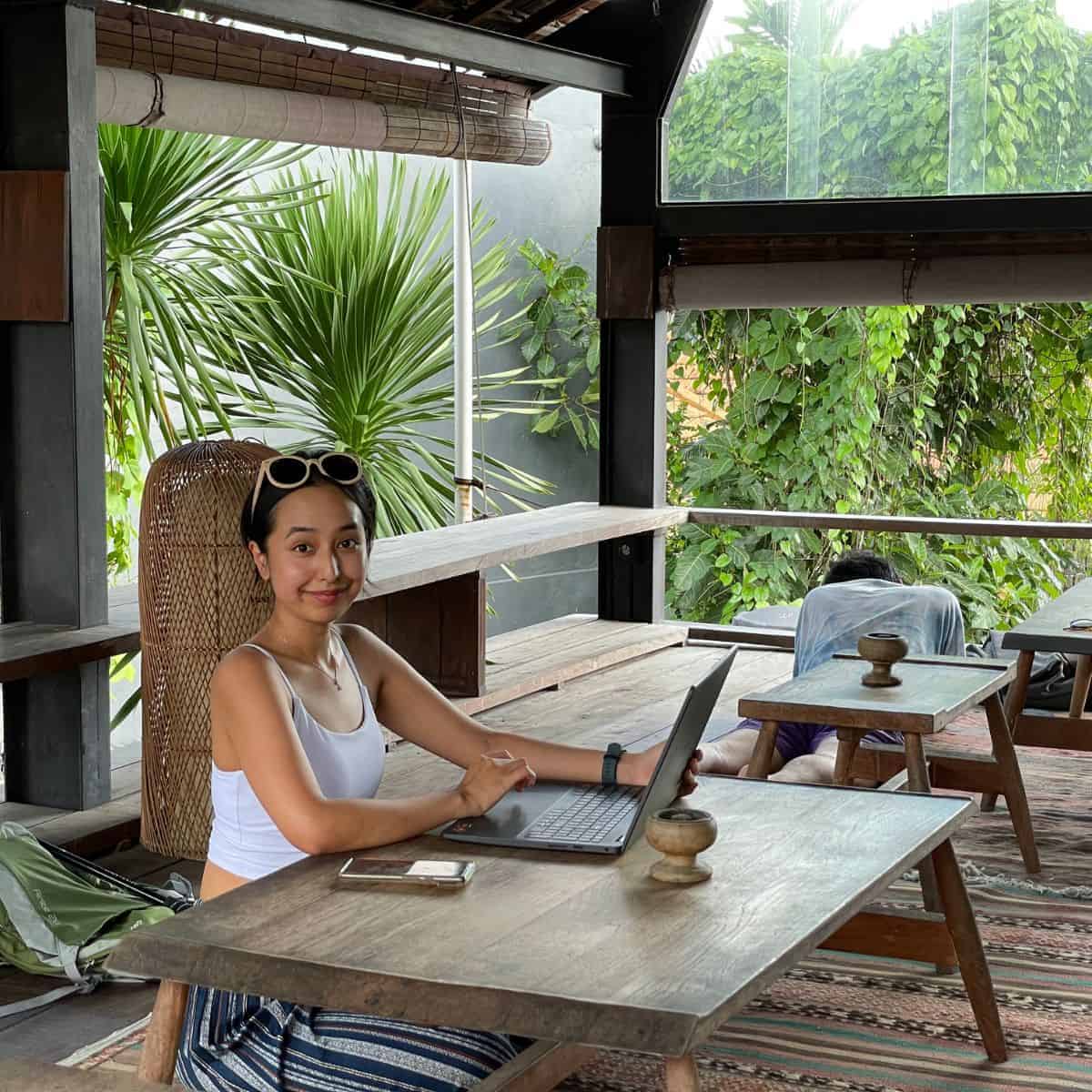 Best places to stay at Legian
Most expats and digital nomads will head for Jalan Poppies, which branches into Poppies Lane I and Lane II.
If you walk from Kuta Beach, keep going until you reach the lanes. This is the best area to stay in Kuta if you're looking for a community of expat backpackers.
Both streets are very narrow, and you'll see plenty of guesthouses, inns, and homestays amidst surf shops, bars and restaurants. Our favourite is Poppies Bali, which is also popular among backpackers as its walking distance from the beach and town centre. There are also small art shops along Lane II.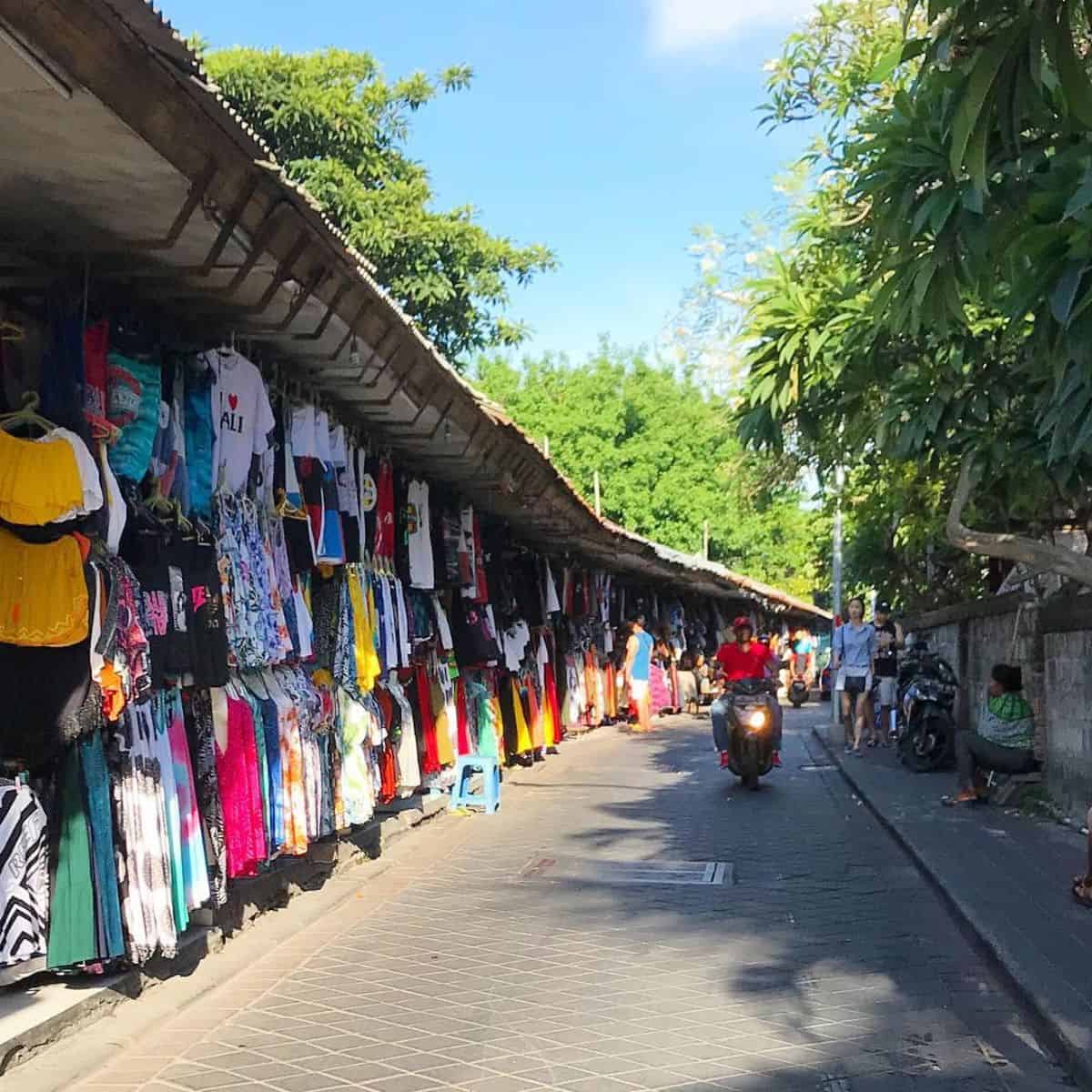 For those who prefer quieter areas, you can stay on Legian Beach in an upmarket but still affordable hotel like Legian Beach Hotel.
Alternatively, try walking down Jalan Legian until you have reached Jalan Dewi Sri. There are several resorts where you can book entire villas for a couple or a family. Kriyamaha villa was our top choice for a quiet stay. Our villa was clean and spacious. The private pool and rose petals in our room added a lovely touch.
Pros of staying near Legian
We recommend staying around Legian for several reasons. Firstly, the accommodations are slightly more affordable here because there are fewer hotels than in Kuta or Seminyak. Therefore, there are also usually fewer tourists who are looking to stay here.
Secondly, it is near enough to Kuta and Legian Beach, so you get the best of both worlds: access to the beach, a community, and cheaper accommodation fees.
Finally, some lanes in Legian are where most digital nomads like to stay due to the area's accessibility. So, if you're looking to meet fellow nomads or learn more about getting into such a lifestyle, Legian inns like Swiss-Belinn are the place to stay for a longer time.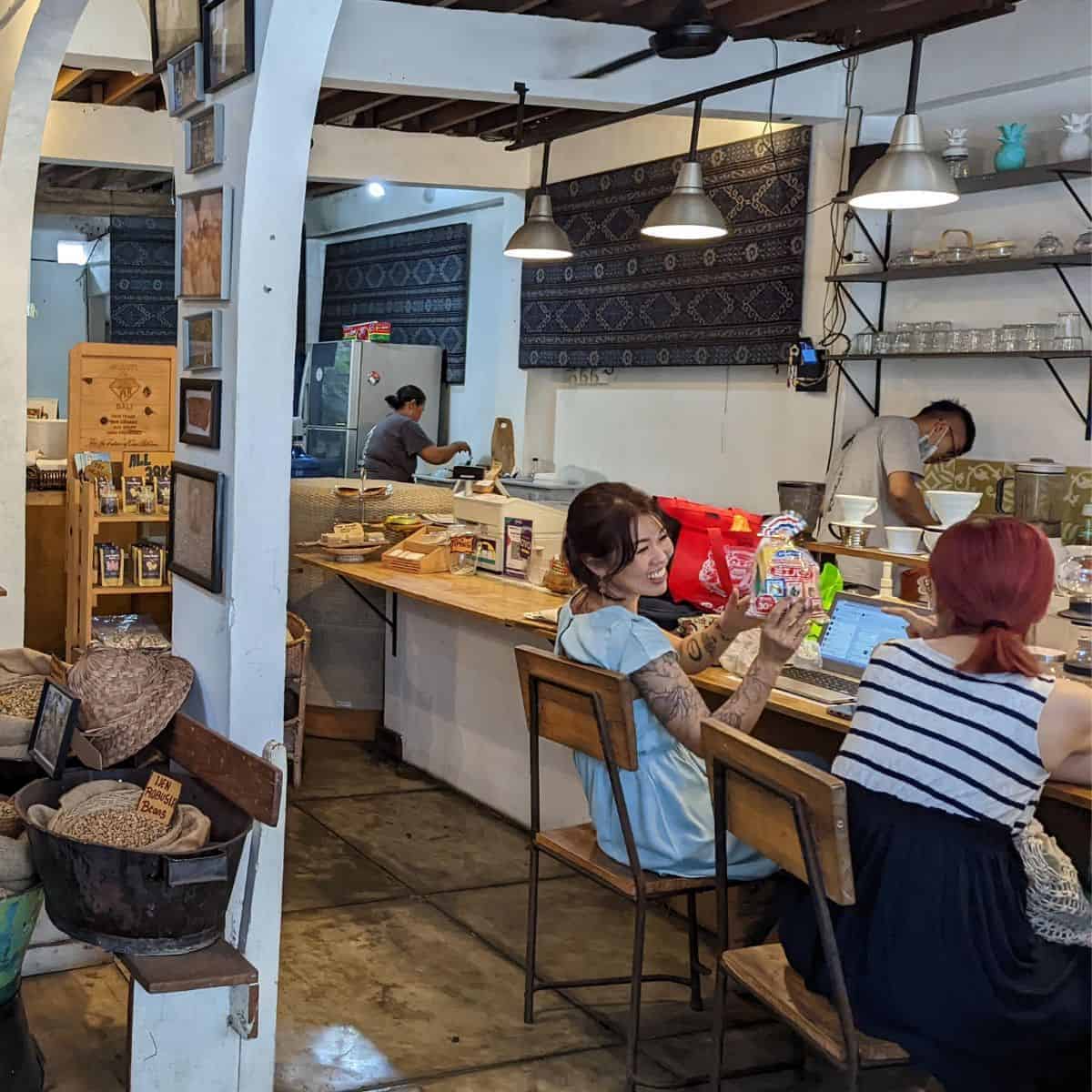 We also love staying in Legian because you're within reach of anything you need. So Legian is the best place to stay in Kuta for those who want to avoid driving. You can reach most spots just by walking. Plenty of cafes, restaurants, souvenirs and surf shops are close together.
Besides, there are also local art galleries along Jalan Legian. For example, the Nacivet Art Gallery and the Positive Negative Visual Gallery are great spots to get inspired. Furthermore, Legian Beach is suitable for swimming and much quieter than Kuta Beach.
Cons of staying near Legian
If you like busy bars that stay open late, staying around Legian Beach might be a con for you. It has a reputation for being more laid-back compared to the main thoroughfare at Kuta Beach. Therefore, it's not the best area to stay in Kuta if you want to party and meet people. Although there are several poolside bars, the vibe is much calmer than at Kuta Beach.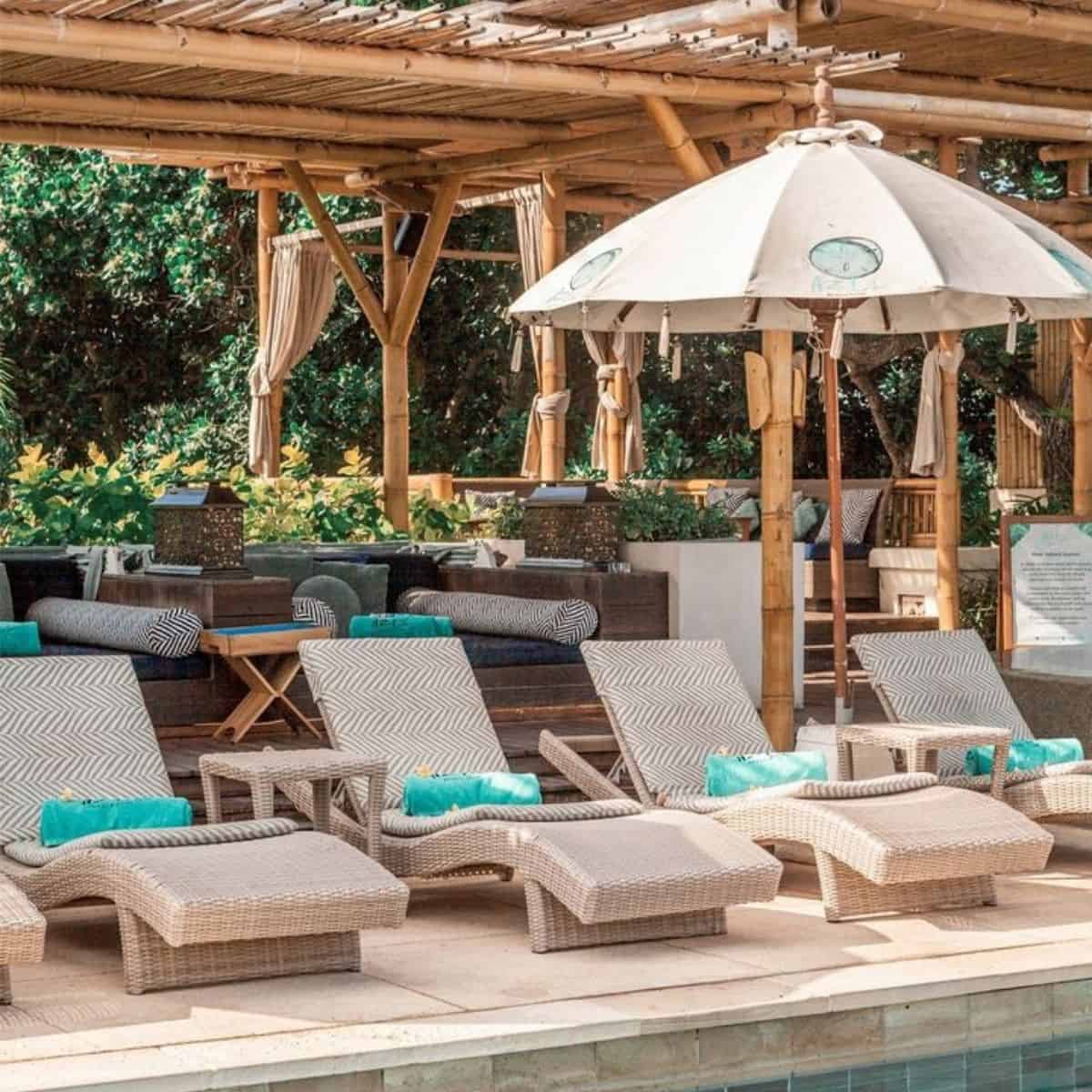 Insider Tip
If you're trying to decide between Kuta or Legian, here's a small tip for you when you're looking for the best area to stay in Kuta. A narrow road separates Legian Beach from the hotels, restaurants and bars. So that offers a lot more noise buffer from traffic since walking is the only way to get to the beach. Also, some accommodations near Legian Beach are luxury villas and four or 5-star hotels.
Legian Beach Hotel is great if you want less noise, more privacy and don't mind spending a bit extra. It's also near the coast so you're guaranteed a great view.
For families, if you prefer more peace and quiet, then head to Kriyamaha villa. The kids will be able to play in the private pool while you lounge around in the sun.
But if you wish to meet people, and are on a budget, go for Poppies Bali (for less than 1-2 weeks) or Swiss-Belinn (for 2 weeks or more).
Best times to stay in Legian
Similar to Kuta beach, if you're planning to stay in Legian with the aim of enjoying the outdoors, we suggest avoiding the monsoon months. While October is the start of the rainy season, November to February tends to be the wettest times for Bali.
In addition, the prices for accommodation at Legian tend to inflate between June and September. As most people travel to Bali during summer, these are the most expensive months. Therefore, the sweet spot for staying at Legian is during October and early November. Then you can enjoy cheaper hotel and inn prices and still avoid the rainy season.
Seminyak (Best area to stay in Kuta for luxury)
Seminyak is towards the northern end of Kuta Beach. To get to Seminyak, keep walking north from Kuta Beach, and go past Legian Beach. By scooter, it's a ten-minute ride.
The resort area is famous for its gorgeous sunset scenes and gigantic waves for surfing. It's the best area to stay in Kuta for people who want to splurge. This list includes solo travellers, honeymooners, or families who want to spend their holiday in a more upscale neighbourhood.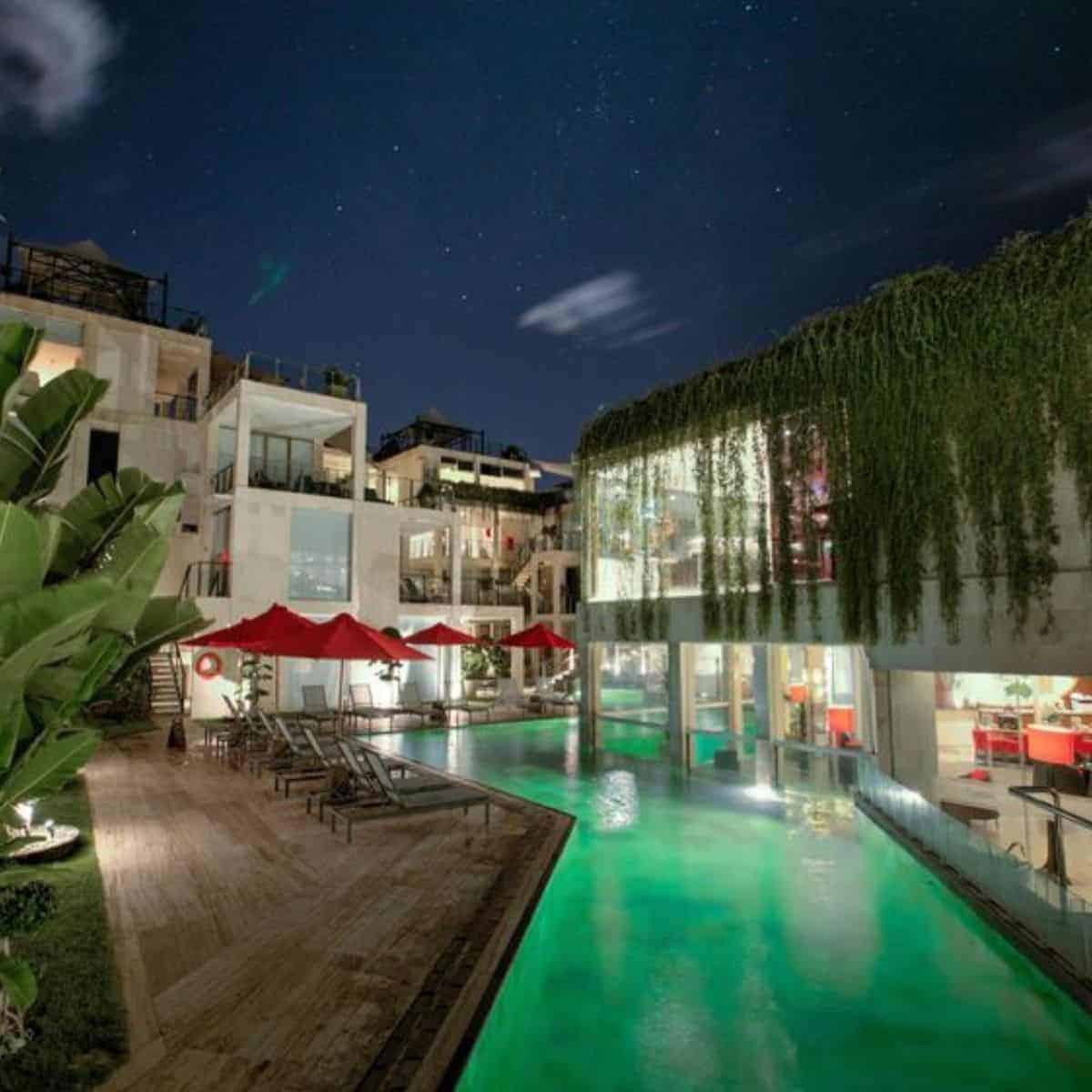 Best places to stay in Seminyak
Want a luxury resort holiday? Then, look for a resort of your choice on Jalan Double Six, between Double Six Beach and Seminyak Beach. Generally speaking, the hotels along the coastline are more expensive as they would also have private beach areas for their patrons. Otherwise, you can also choose to stay at a hotel along Jalan Camplung Tanduk, which homes select 5-star resorts.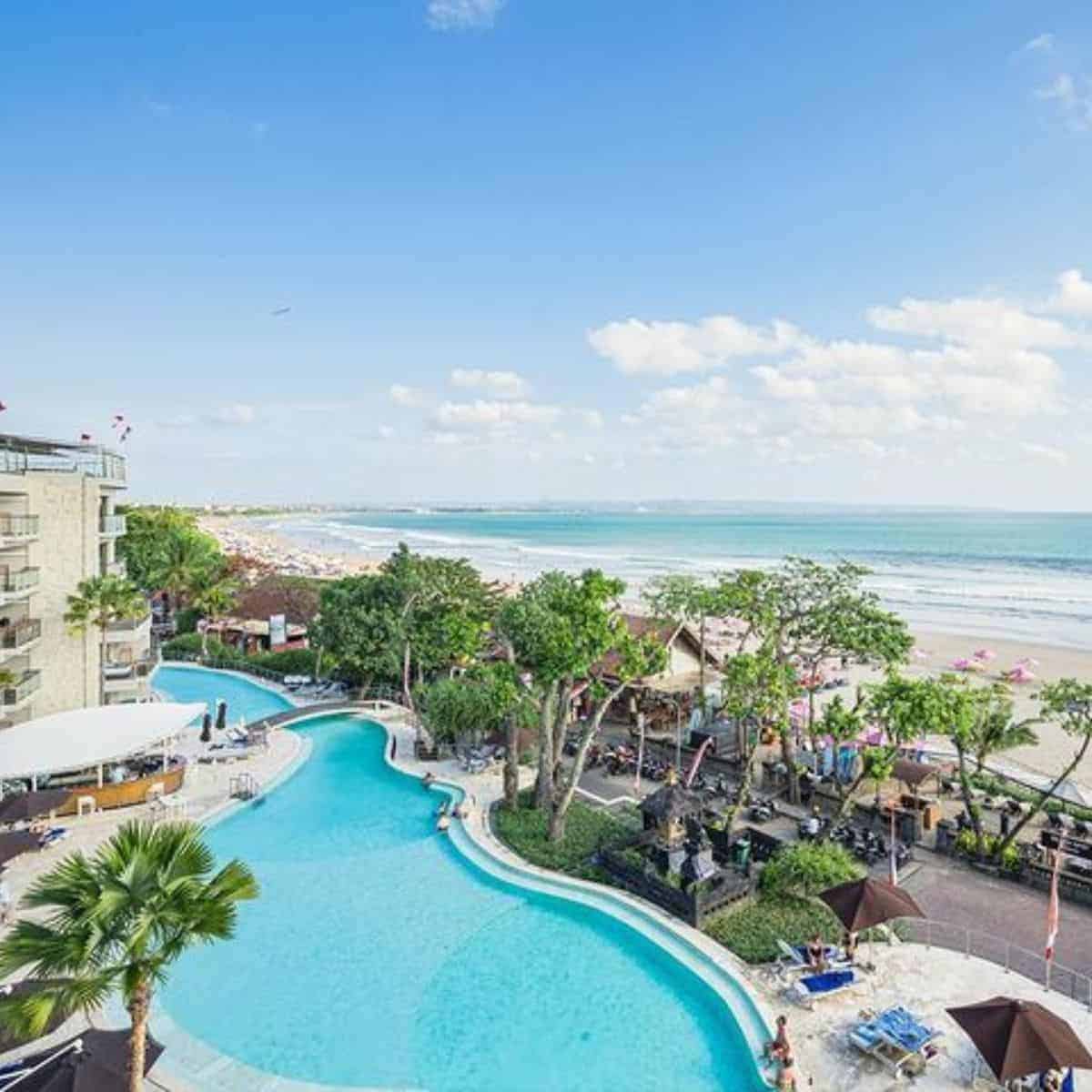 If you prefer to stay somewhere more private and intimate, there are plenty of villa houses and boutique hotels in Seminyak too. We recommend looking at the area north of Seminyak Beach. While they may not be huge resorts like the ones along Double Six Beach, the facilities, service and ambience in many of these boutique hotels are top-notch. 
Pros of staying near Seminyak
The stretch along Jalan Sarinande and Jalan Camplung Tanduk is where many high-end spas, Melbourne-style coffee shops and boutiques are located. However, keep walking down to Jalan Kayu Aya, fondly known as 'Eat Street'.
The name is coined because most of the eateries are there. From fine-dining Italian restaurants to quirky cafes and even local warungs, there's something for everyone at Eat Street.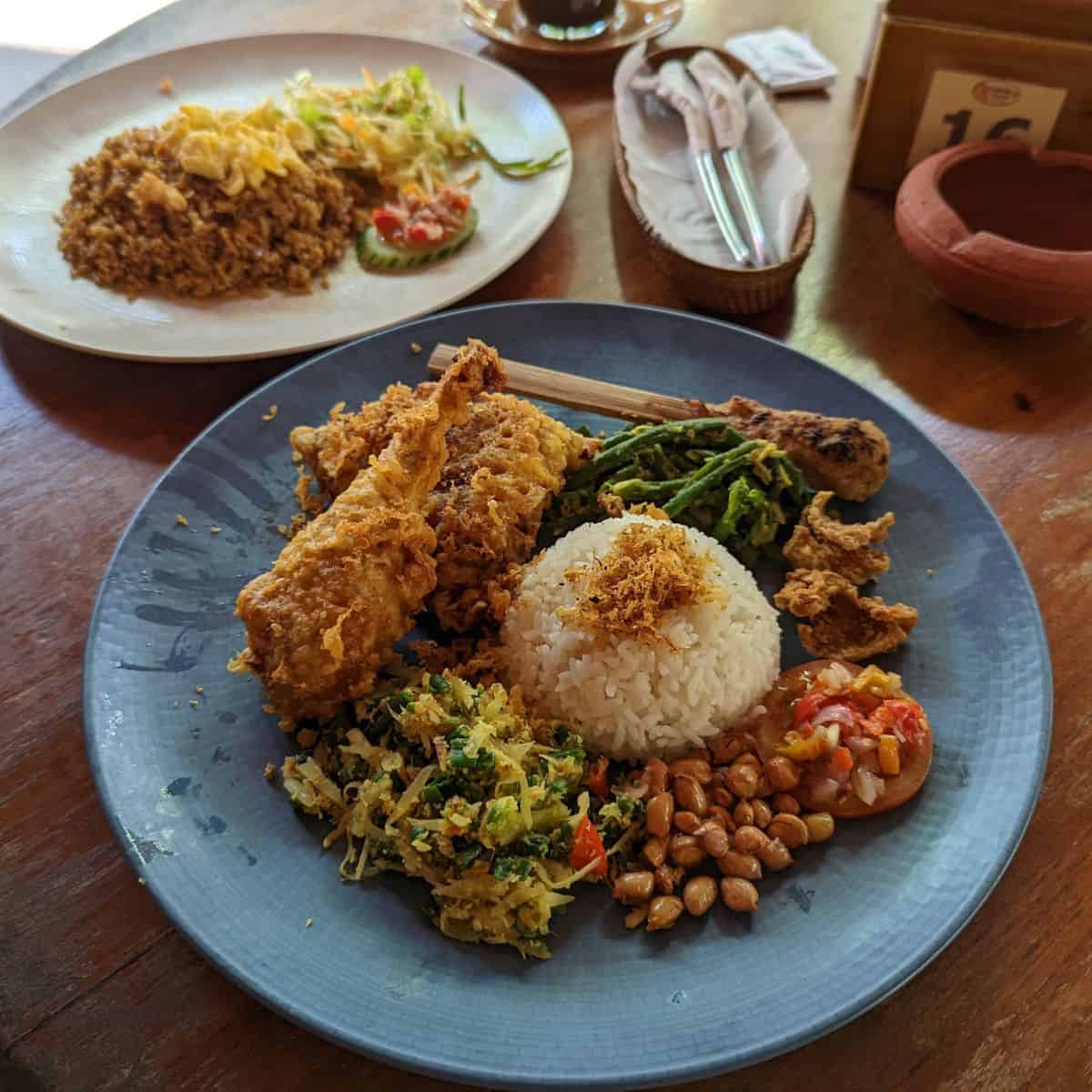 Accommodation-wise, you pay more than Kuta or Legian, so you have to look around until you find something suitable. But there are various options, such as luxury hotels, beachfront resorts, small hotels, private villas, and AirBnB accommodations.
The good news is the beach, where surf schools and bars are located, has prices relatively similar to the rest of Kuta! So don't worry too much about costs if you want to surf or check out sunsets. On the other hand, if you're ready to splurge, Seminyak is the best area to stay in Kuta.
Cons of staying near Seminyak
There are many things to love about staying in Seminyak. However, many things here are more expensive than in other parts of Kuta. So, if you're tight on budget, staying closer to Kuta beach or Legian may be better.
In addition, as Seminyak is at the north end of the entire Kuta area, it takes much longer to reach Seminyak from the airport. It may take up to 25 minutes to reach Seminyak from Ngurah Rai International airport during normal times.
However, as Bali traffic can get quite heavy, be prepared to spend over 45 minutes to 1 hour getting to Seminyak by car or taxi. Therefore, if you are planning to make a few trips travel to central Kuta or even to Uluwatu, located in south Kuta, be prepared to spend some time commuting.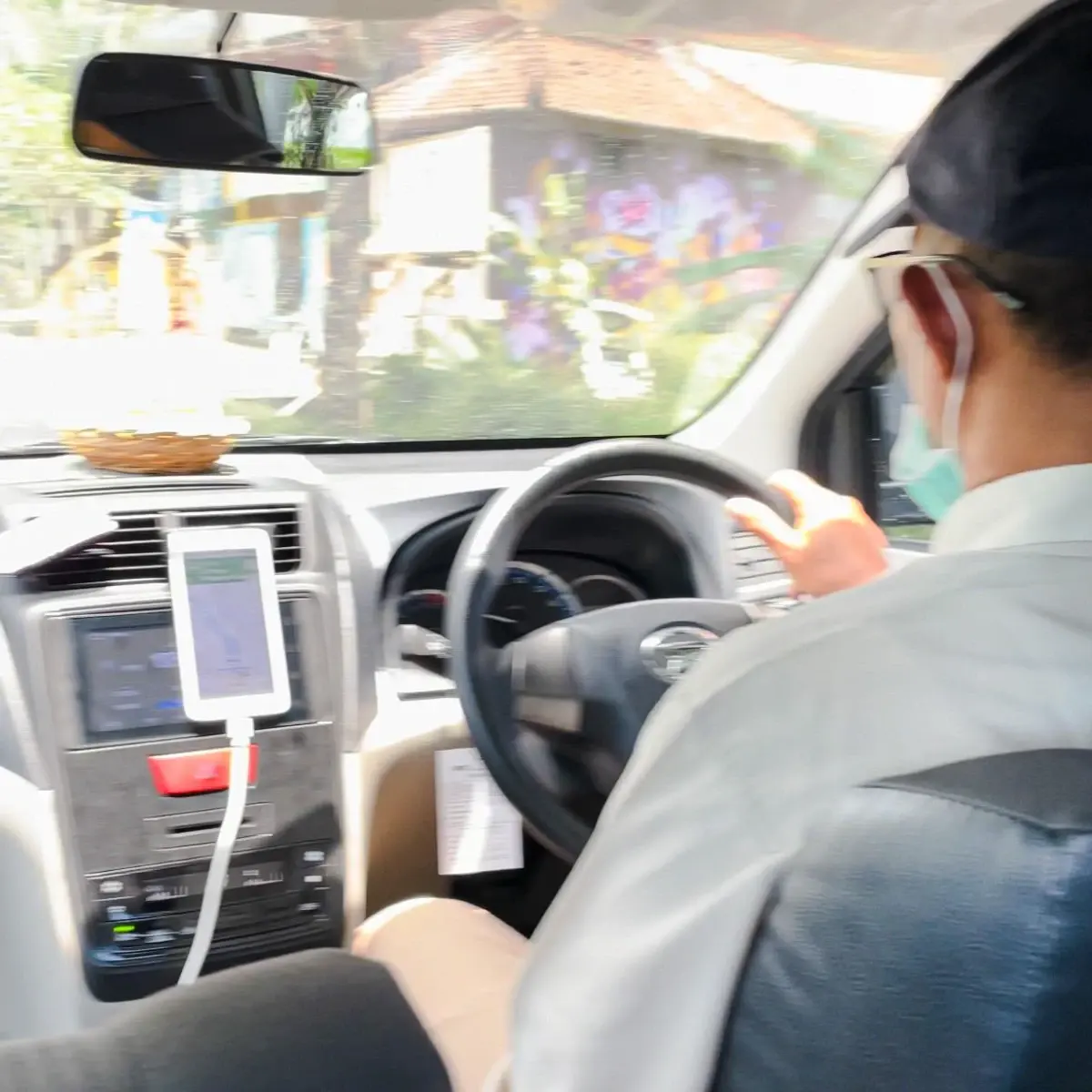 Unique activities in Seminyak
If you decide to stay at Seminyak, walk to Petitenget Temple on Jalan Blambangan. The Hindu temple is a cultural landmark, and its stunning Balinese architecture is worth a visit. However, you'll have to pay a small entrance fee if you plan to enter.
You might also have to wear a sarong to cover your knees. Once inside, the temple welcomes all visitors to offer incense or pray to the gods, or you can also look around and take photographs. Nearby is Masceti Temple, where the locals go to pray for protection.
You can also go for horse-riding lessons at Jalan Double Six, a horse stable nearby. Horse riding is a unique way to explore Kuta! We like staying at Seminyak because this is the best area to stay in Kuta to get a magnificent view of the Indian Ocean coastlines.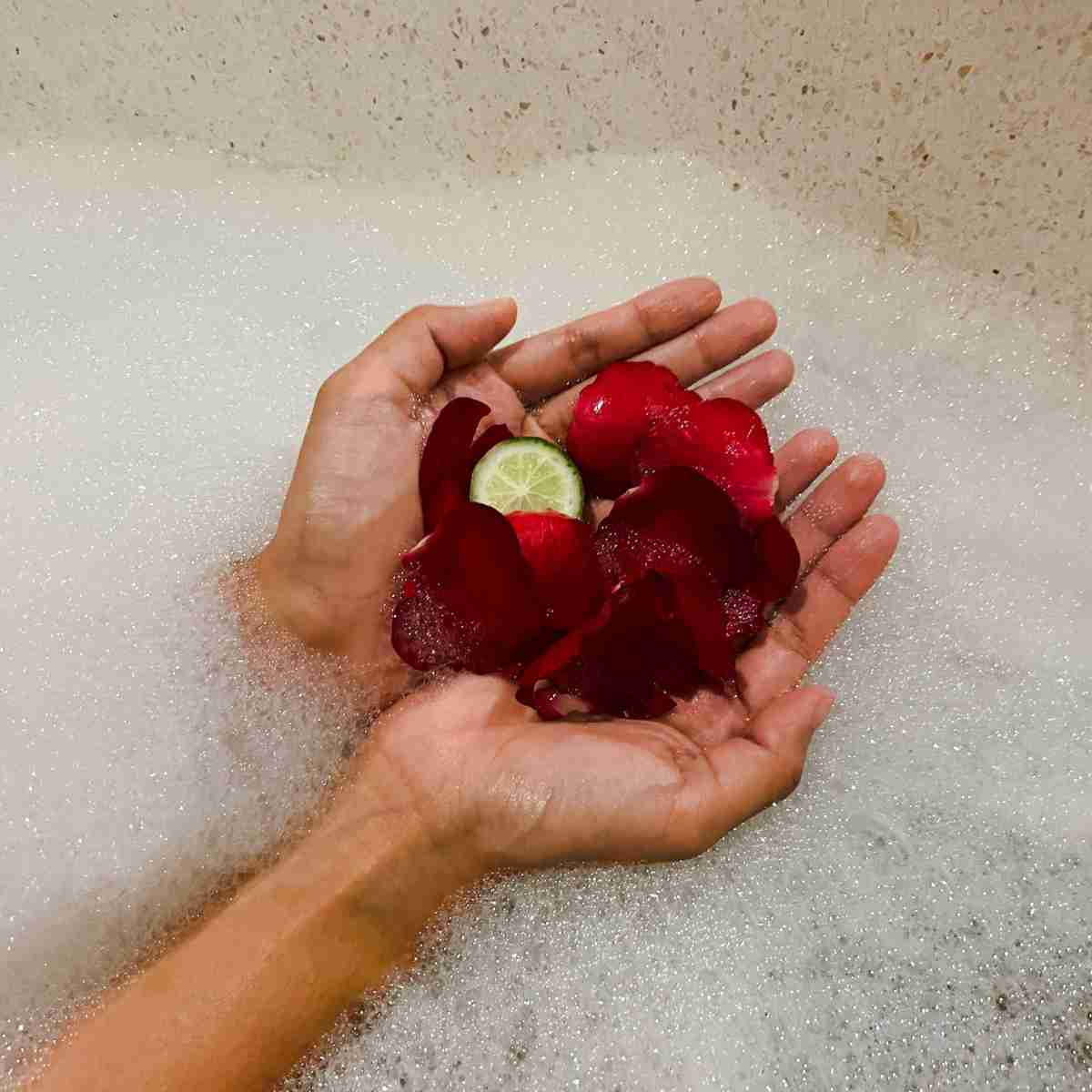 There are also plenty of amenities, and its high waves allow pro surfers an enjoyable challenge. Although, the only con is that prices for accommodation here are relatively higher than in other parts of the town.
We also recommend going to a relaxing spa in Seminyak. Several award-winning spa houses, such as Jari Menari Massage Centre, are situated here. Its name means 'dancing fingers', and you can get a soothing body massage here. Note that all its masseuses are male.
Insider Tip for Couples Staying in Kuta
We have a tip for romantic couples who choose to stay here. Many travellers say Seminyak Beach is the best area to stay in Kuta if you are considering proposing to your significant other.
Head for Ku De Ta bar, a top spot in Bali for proposals, but you can also choose to pop the question at any beachside bar. So if you're looking to kneel on one knee, make sure you time it well and do it in front of a gorgeous sunset.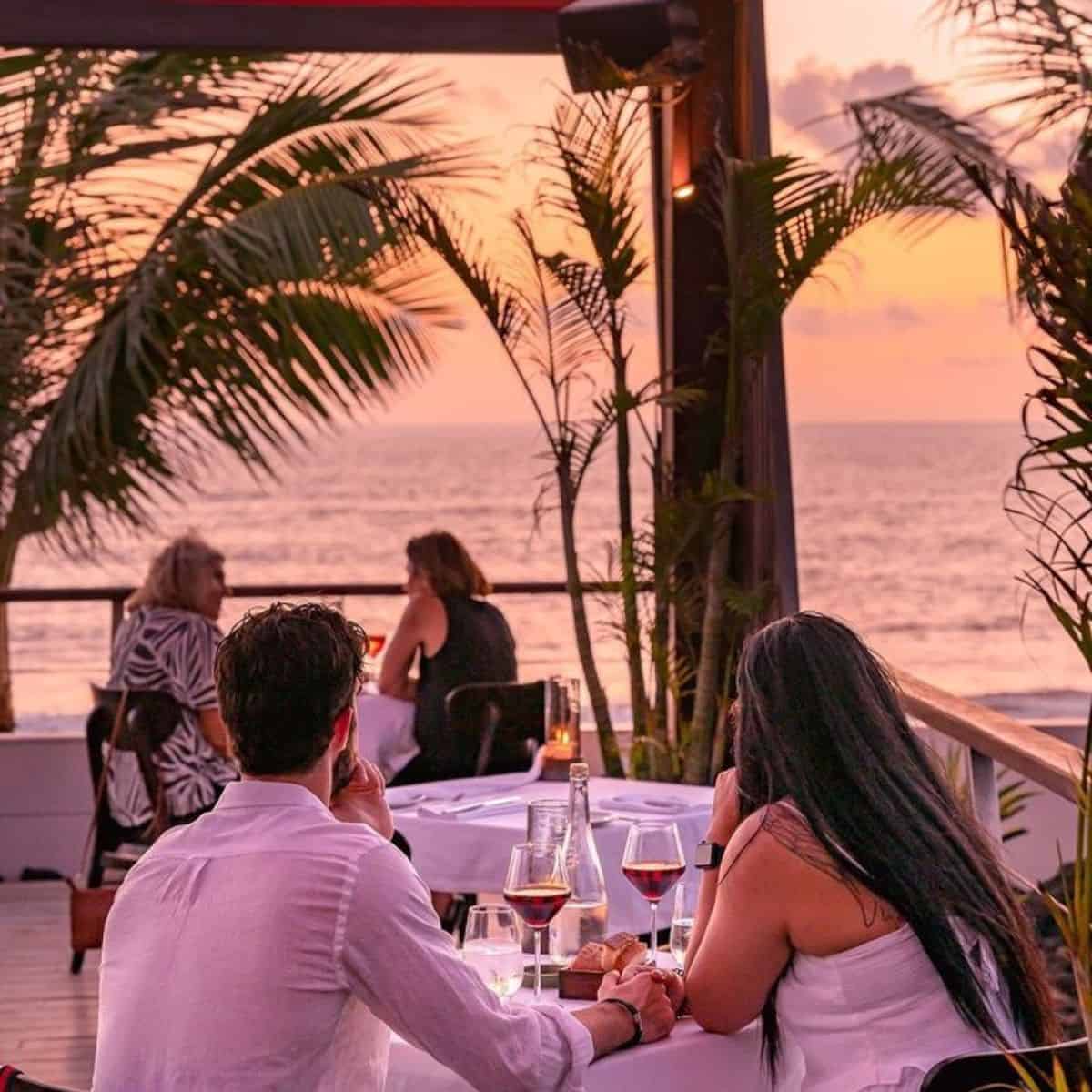 Best times to stay in Seminyak
The peak season for Bali's tourism is between June and September, so expect hotel prices to be the highest then. We suggest avoiding those months if you can, not only to save some money but also to avoid the crowds.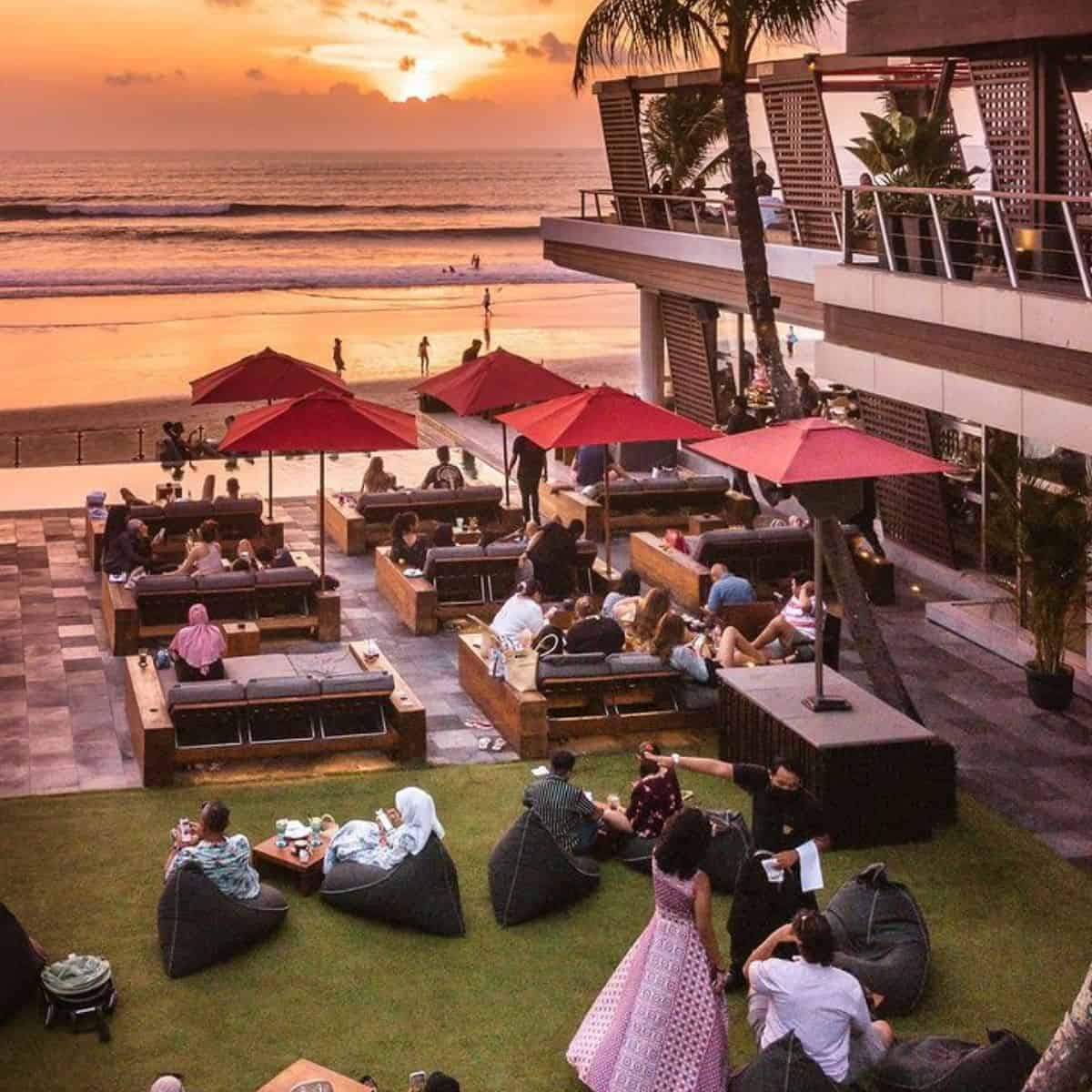 While it's best to avoid the monsoon between October and April, you might be able to get away with visiting during those months. If you plan to stay in the resort or villa area for most of the time, consider booking either October or April.
Based on our experience, the rain at the beginning and end of the monsoon season is bearable. While there are heavy pourings, the rain does not last for too long.
Kedonganan (Best area to stay in Kuta for families)
You'll want to get out of the airport quickly and into your hotel room for families travelling with young children. If that's you, book accommodation near Kedonganan Beach. Kedonganan is the best area to stay in Kuta for families because it's very near the airport.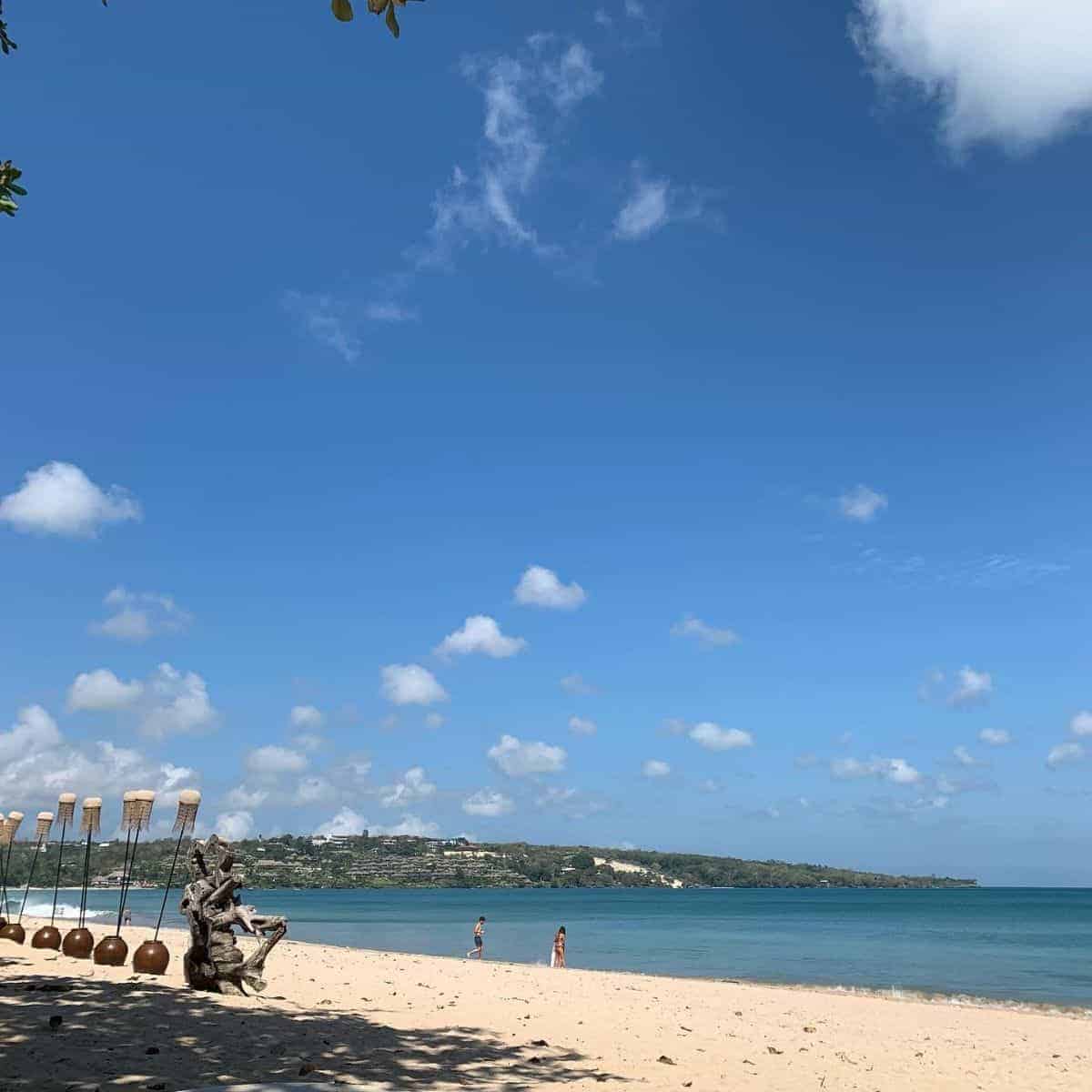 From the Ngurah Rai International airport in Tuban, it takes only 15 minutes to reach the Kedonganan beach area. So book a hotel at Kedonganan if you need a convenient place to stay.
Best places to stay at Kedonganan Beach
Most tourists who choose to stay in Kedonganan are looking for a beach holiday. From the northwest end of Kedonganan heading southward, you will find Tuban Beach, Kelan Beach, Kedonganan Beach and finally, Jimbaran Beach.
Tuban and Kelan Beach are great locations to enjoy the sands and waves. However, there are minimal accommodation options there. Most hotels in the area are along Kedonganan Beach and Jimbaran Beach.
So, we recommend looking for resort hotels appropriate for your family at the two southside beaches of the area. Kedonganan beach is a family-friendly area where you can fly a kite, dip in the shallow waters or just lounge around in the sun. Meanwhile, Jimbaran beach provides a similar vibe with the addition of having some surf schools.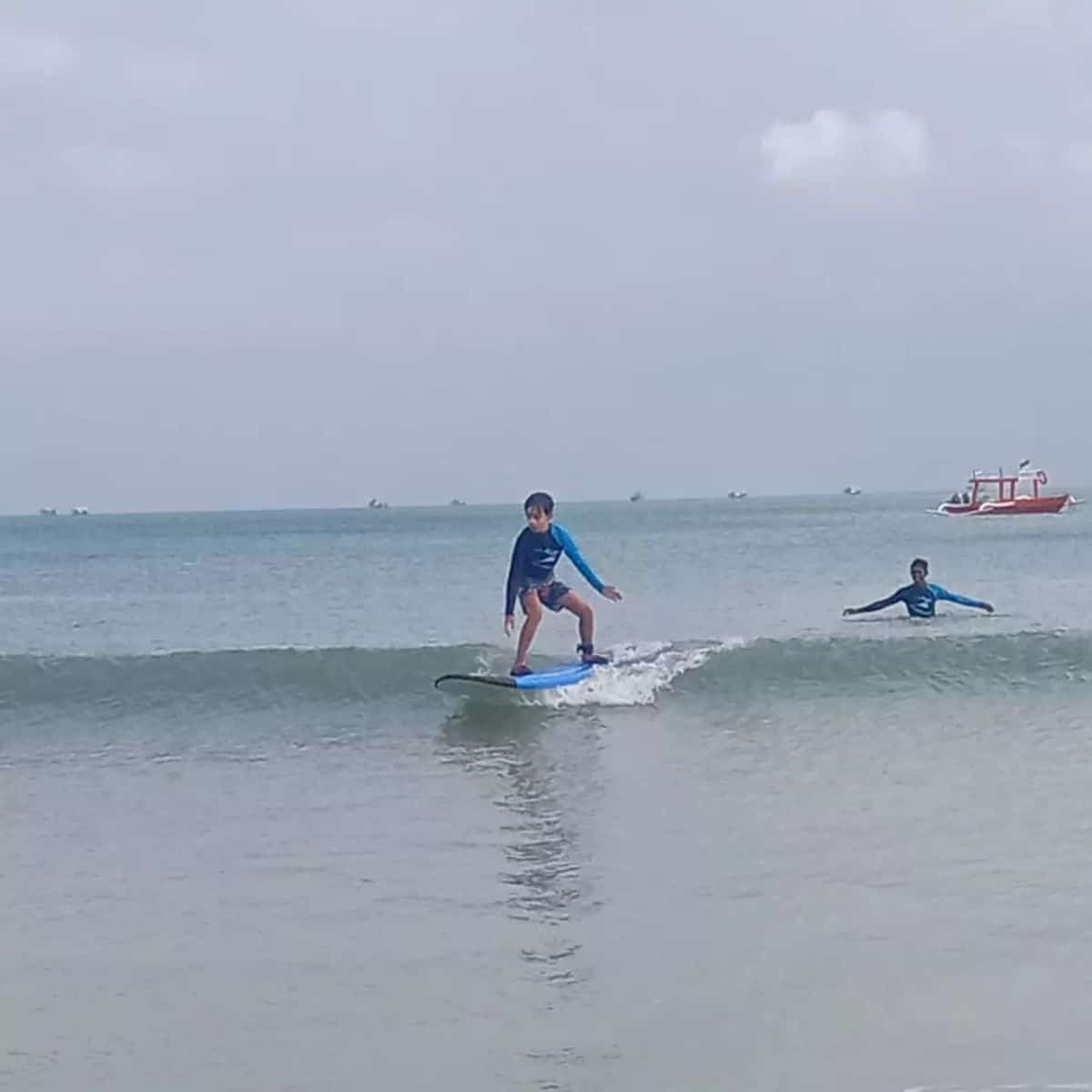 Whichever beach resort you stay at, rest assured that your family will enjoy dinner at the seafood restaurants where you can watch the sunset and aeroplanes take off.
There are also options for private villas and AirBnBs near Kedonganan and Jimbaran Beaches. In addition, if you venture slightly out to Jalan Pasir Putih or Jalan Segara Wangi, you can find homestay inns and villas that may be more affordable.
Pros of staying near Kedonganan Beach
While staying at Kedonganan Beach means you will not be close to the centre of Kuta, we think it's still very well situated. Why? Because you'll still be able to access several beaches.
For example, Tuban Beach is quiet and away from the noisier beaches. Therefore, families can enjoy their time here without worrying about crowds. You can reach Tuban Beach in just 15 minutes by leisurely walking up north from Kedonganan Beach. Otherwise, you can also walk down south to Jimbaran beach to join in a surf lesson. There are a few surf schools and shops at Jimbaran. Enrol in a surfing class to enjoy the waves of Kedonganan!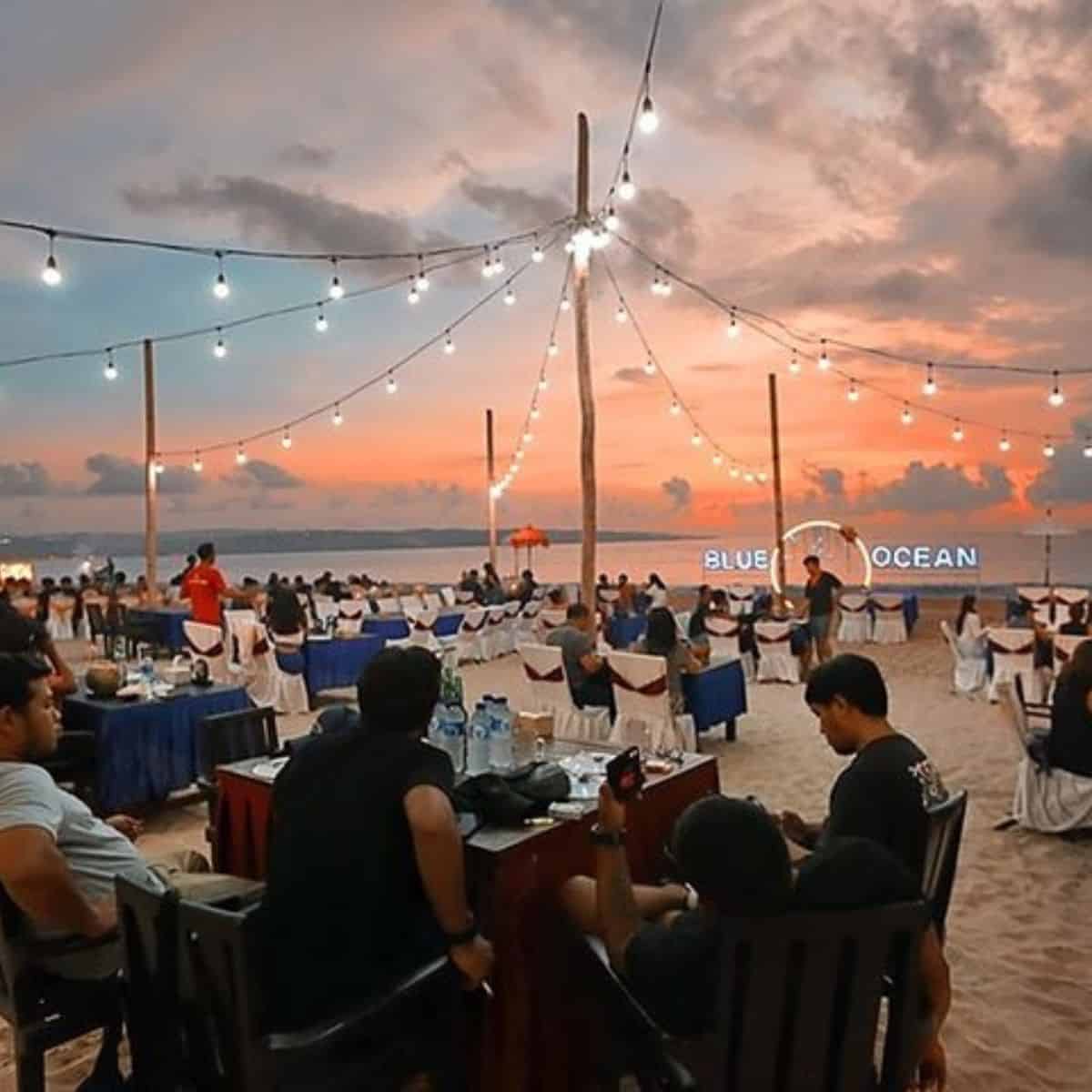 Kedonganan also has a plethora of seafood restaurants, small cafes and art shops along its streets. You won't have to travel far to central Kuta, and you'll still be able to enjoy what this town has to offer.
Insider Tip for Kedonganan Beach
For a unique experience, shop for fresh seafood at Kedonganan Fish Market on Jalan Pantai Kedonganan. Since the spot is near the fishing pier, this is the best area to stay in Kuta if you love seafood and you get excited tucking into fresh hauls daily.
You can bring your purchases to any seafood restaurant, and they will cook the seafood for you. Then, grab a chair at one of the seaside restaurants and watch the sunset while waiting for your food to cook. It's one of the most relaxing experiences!
If you're unsure which seafood restaurant to try, we recommend eating at Bawang Merah Beachfront Restaurant. This excellent restaurant won the Tripadvisor 2022 award and will leave you and your loved ones satisfied!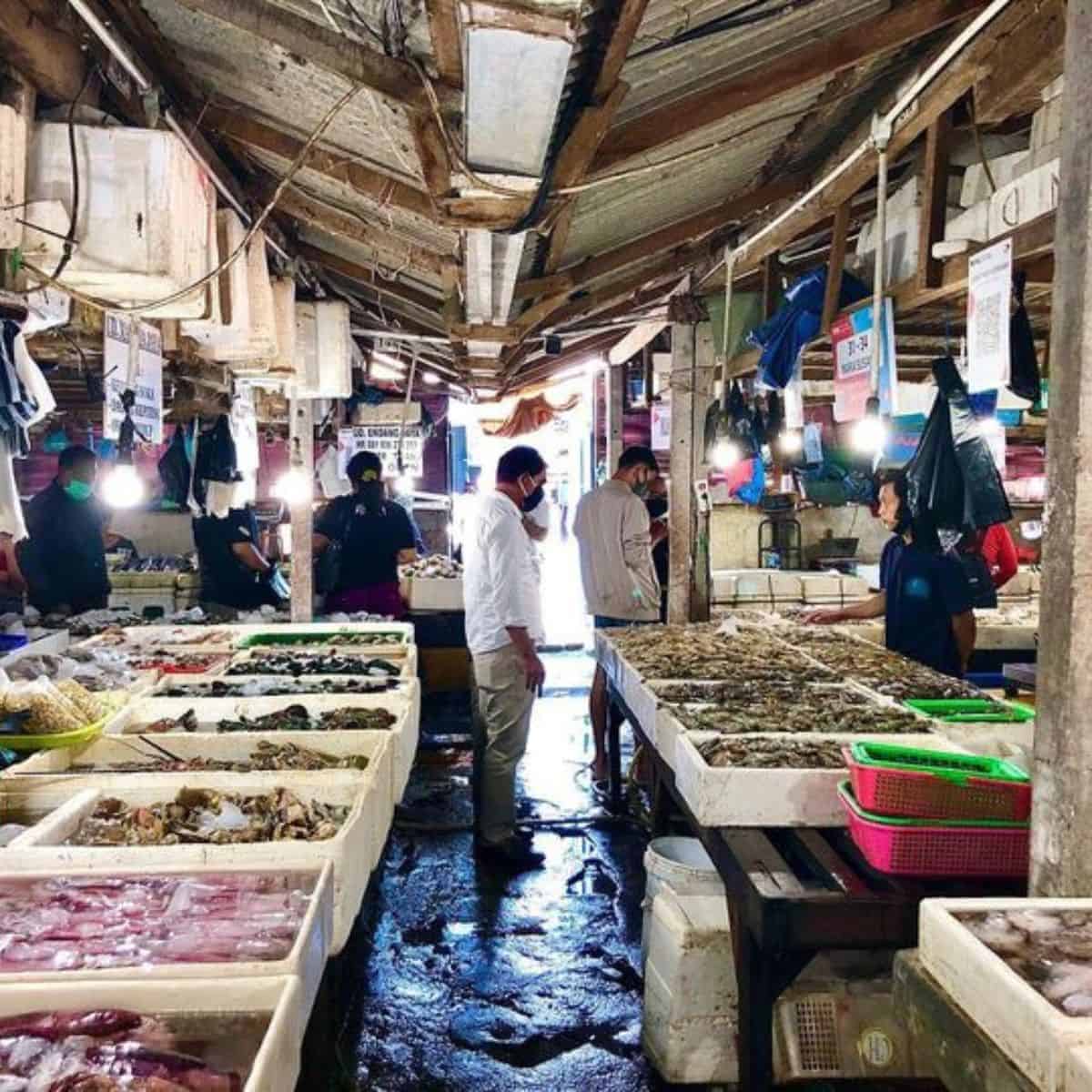 Cons of staying near Kedonganan Beach
Kedonganan is the best area to stay in Kuta if you don't mind travelling to any other attractions. That said, we feel Kedonganan is quite inconvenient if you want to explore other parts of Kuta. It takes over 25 minutes to get to Kuta Beach, and it will take longer to get to Legian and Seminyak.
For partygoers, take note that Kedonganan is also less crowded, with fewer bars, nightclubs, and pubs. There are surf schools here, which are excellent for beginner surfers because of the small waves, but this is not the best area to stay in Kuta for more experienced surfers.
Unique activities in Kedonganan Beach
If you're staying at Kedonganan but want more thrilling fun, Waterbom Park is just 20 minutes drive away. It is a humungous amusement park offering exhilarating water slides and fun activities, which are excellent for those with children.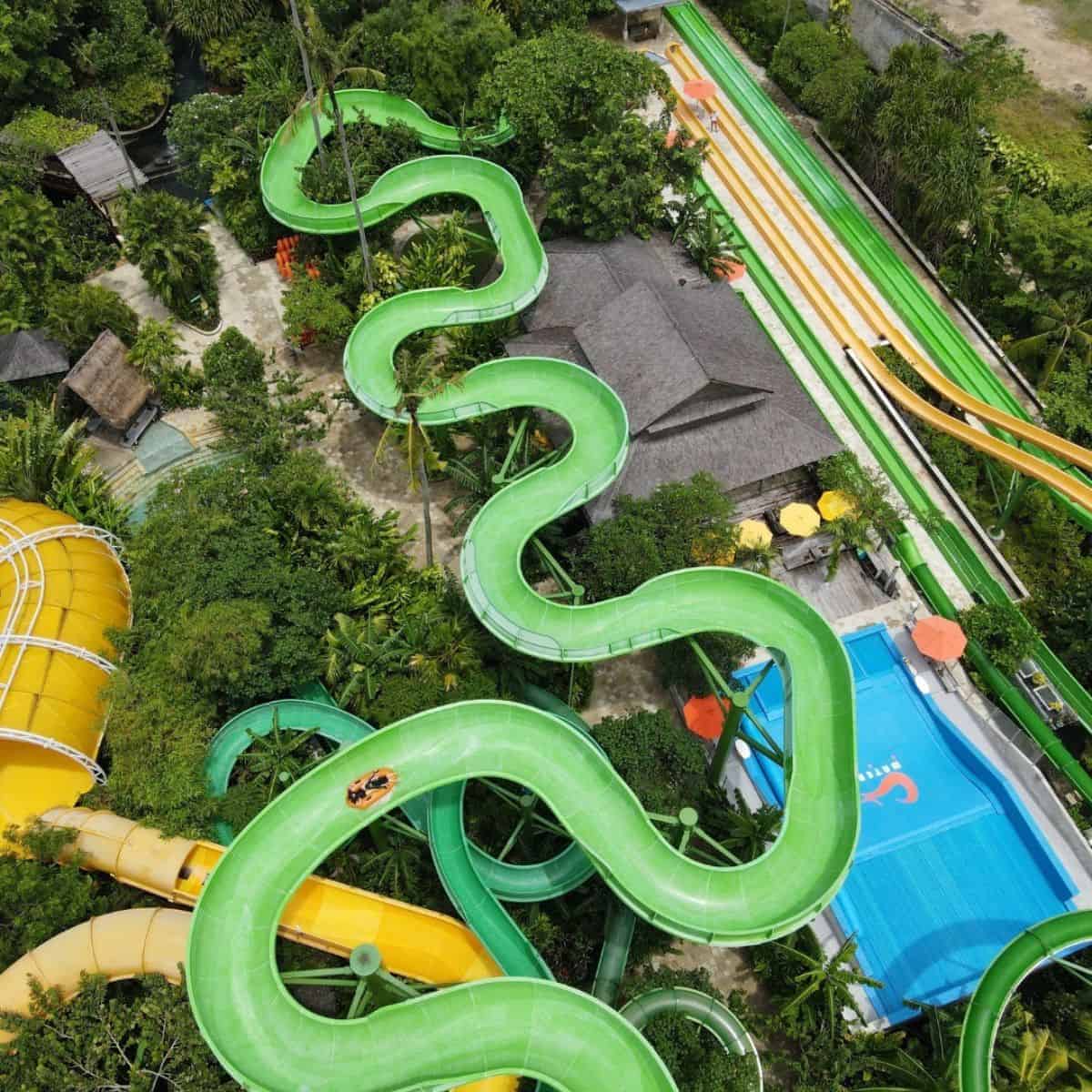 Waterbom Park even has Asia's steepest slide, known as The Climax. The slide sets you in an inverted loop of gushing water, spinning you around until you are finally shot out and land into the pool — a super exciting ride for any thrill seekers.
In addition, Discovery Shopping Mall is also beside Waterbom Park. This is convenient for families who need to shop around or eat after a long day at the amusement park.
Best Area To Stay in Kuta
| | |
| --- | --- |
| For first-timers | Kuta beach |
| For nomads and backpackers | Legian |
| For luxury | Seminyak |
| For families | Kedonganan |
| For partygoers | Kuta beach |
| For couples | Seminyak |
| For solo travellers | Legian |
Our favourite places to stay in Kuta
For us, the best place to stay in Bali, Kuta, is Seminyak. Not only does it have a beautiful beach where one can swim or surf, but it also has many different food and beverage establishments around. Besides, it's close to major shopping malls or quirky art shops.
We think if you have the budget, opting to stay near Seminyak is a good choice since you can enjoy plenty of amenities.
For digital nomads like ourselves, staying at Poppies Lane in between Kuta beach and Legian helped us to find a community where we can ask questions about Bali life. If you're a party-lover who wants to have fun till the wee hours of the night, Poppies Lane is also a great location since it's just 15 minutes away from the nightclubs on either end.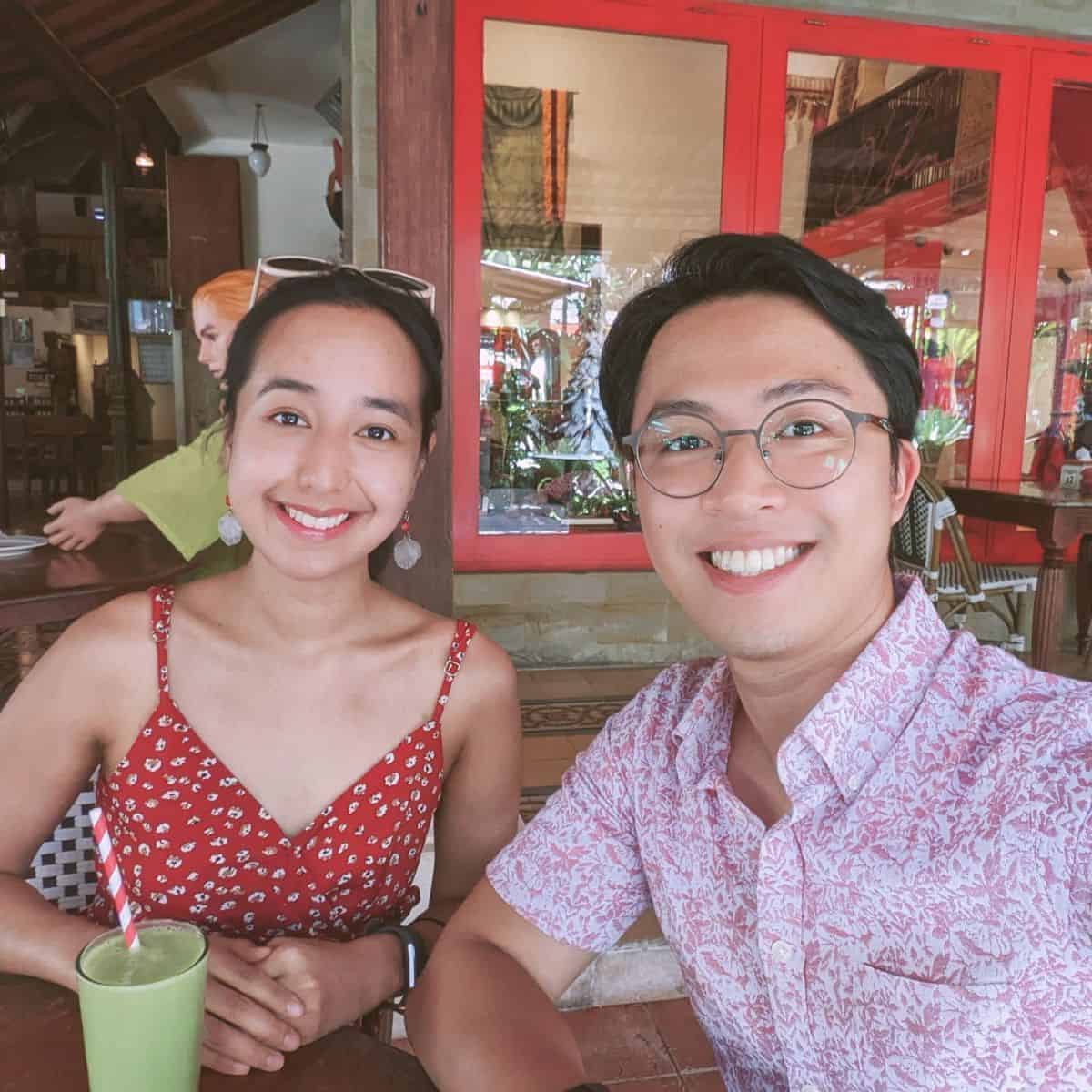 Our second recommendation for the best place to stay in Bali, Kuta, is Kedonganan Beach. While Kedonganan might not be as hip and trendy as Kuta or Legian, we like that it's a very tranquil stretch that's perfect for family vacations.
Compared to busier beaches, you won't get many vendors peddling their wares here. Instead, you'll see primarily local fishermen. It feels less touristy compared to other parts of Kuta.
Kedonganan is the best area to stay in Kuta Beach for those looking to relax on the sands, play some volleyball or surf kites. There's also a shortcut via the alleyways to get to Jalan Kartika Plaza, where you can shop for souvenirs.
Besides, it's near the airport, so you can always stay there for a few days until you get bored and fly elsewhere in Bali or travel to another.
Best area to stay in Kuta for you
Ultimately, where you decide to stay depends on your travel to-do list for Kuta. Some people prefer to lounge around, shop, and have a spa day. Others might be up for adventurous sports such as surfing, snorkelling, and diving around the island.
Everywhere is relatively close by, so it's hard to say which is the best area to stay in Kuta. After all, you can walk or drive to most places.
However, a little planning goes a long way to ensure you save time getting from one place to another location. Besides, the tropical weather can get daunting, so staying near what you want will help you enjoy your holiday much more!
If you want more insider tips on travel in Bali, follow us on Instagram @tabitogether!