The best cafes in Ubud will offer you fun and unique experiences that you won't find anywhere else. From freshly roasted Balinese coffee and local live music to indoor koi ponds, poolside coffee cocktails and also expansive views of rice paddies. Ubud's variety of coffee shops will surprise you.
Apart from delicious hand-poured drinks, many of Ubud's cafes also turn into lounges at night to have a drink at night, which explains many of the fun additions you'll find.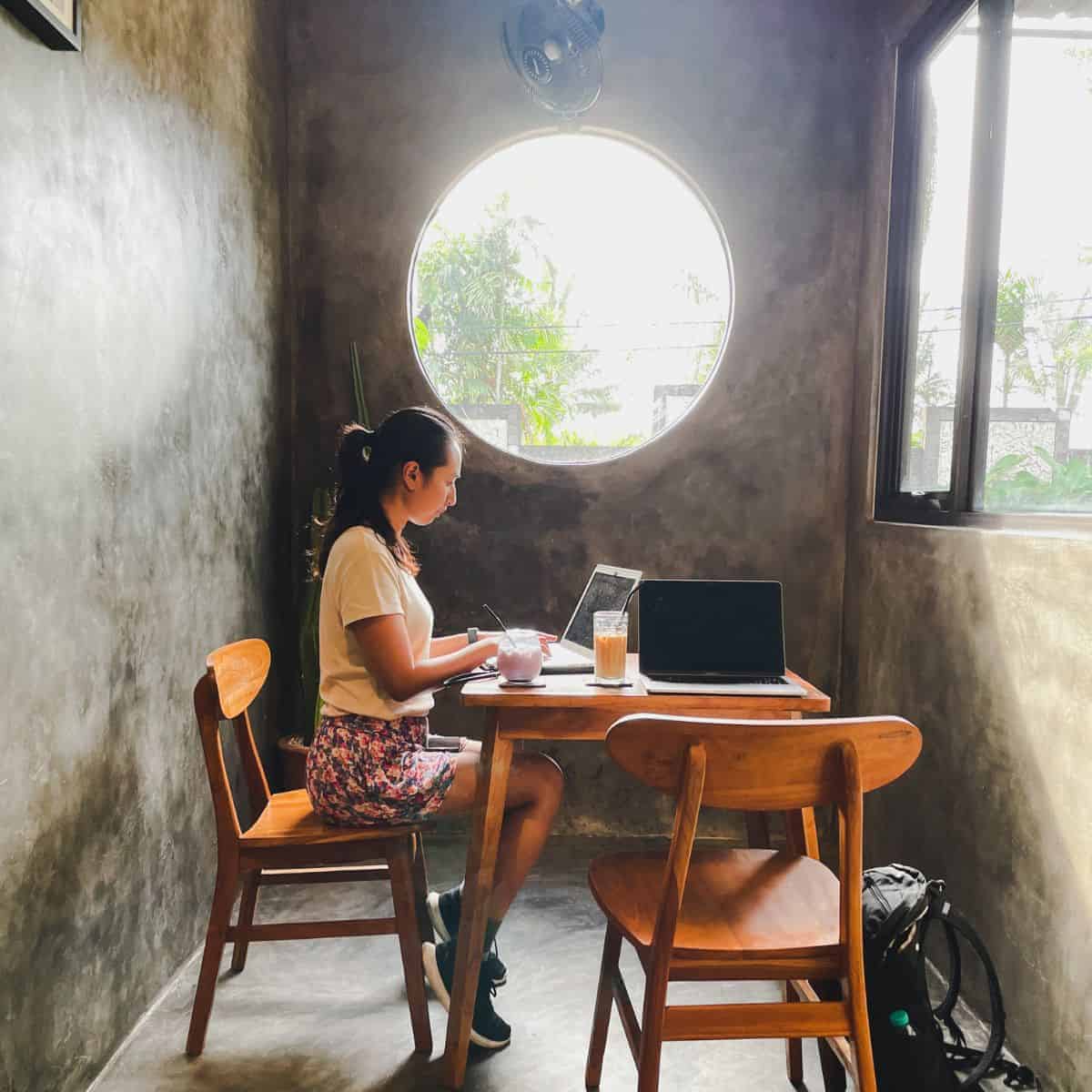 Not to mention, the coffee shops in Ubud are usually less crowded than those in Canggu. So, if you're looking for a quiet place to relax, and enjoy a cup of coffee or do some work, head to one of the best cafes in Ubud on our list.
Jump to:
Clear Cafe (Most Instagrammable Cafe in Ubud)
Clear Cafe is one of the most instagrammable cafes in Ubud that's actually worth going to for its coffee and food too. Once you enter through a wooden engraved door, you'll be greeted by an abundance of greenery created by tall bamboo trees. Then, go up the wooden spiral staircase to the second floor or stay downstairs and enjoy a cup of coffee next to their koi pond.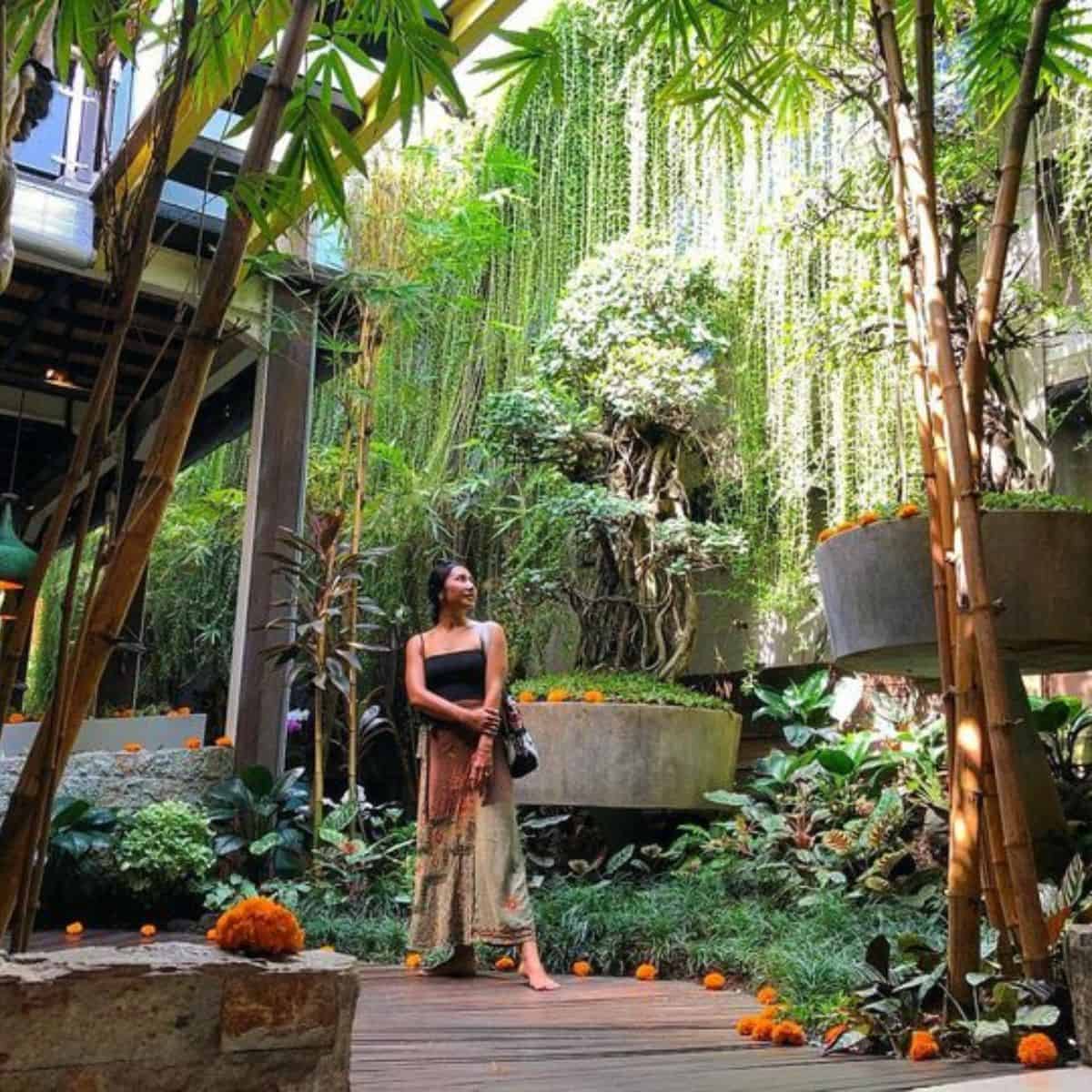 With its thoughtful interior, Clear Cafe incorporates a lot of natural lighting into the space during the day which adds to the feel of entering an enchanted garden. It is easily one of the cutest cafes in Ubud, in our opinion.
You will find a quaint selection of coffee here and also lots of western food choices. We recommend trying their Dragon bowl or seafood pizza. As it's located just off the main road and is fairly well known, it can get very crowded during lunch hours.
Clear Cafe (Ubud)
Jl. Hanoman No. 8, Ubud, Bali
See more info on Tripadvisor
Ubud Coffee Roastery
Ubud Coffee Roastery is a humble small-batch coffee roastery located in the centre of this small town. The owner takes pride in using coffee sourced from Kintamani that they roast on-site. Moreover, to ensure consistently high quality, the owner makes regular visits to the highlands to see the coffee processing. Not just the owner, but we found that their baristas are genuinely enthusiastic about coffee too. They're knowledgeable and happy to make recommendations.
In our opinion, it's a great place to try different coffee brewing methods and explore outside of your usual latte. They also roast a fresh batch of coffee beans every week. So, if you like it, you can also buy a bag to take home with you.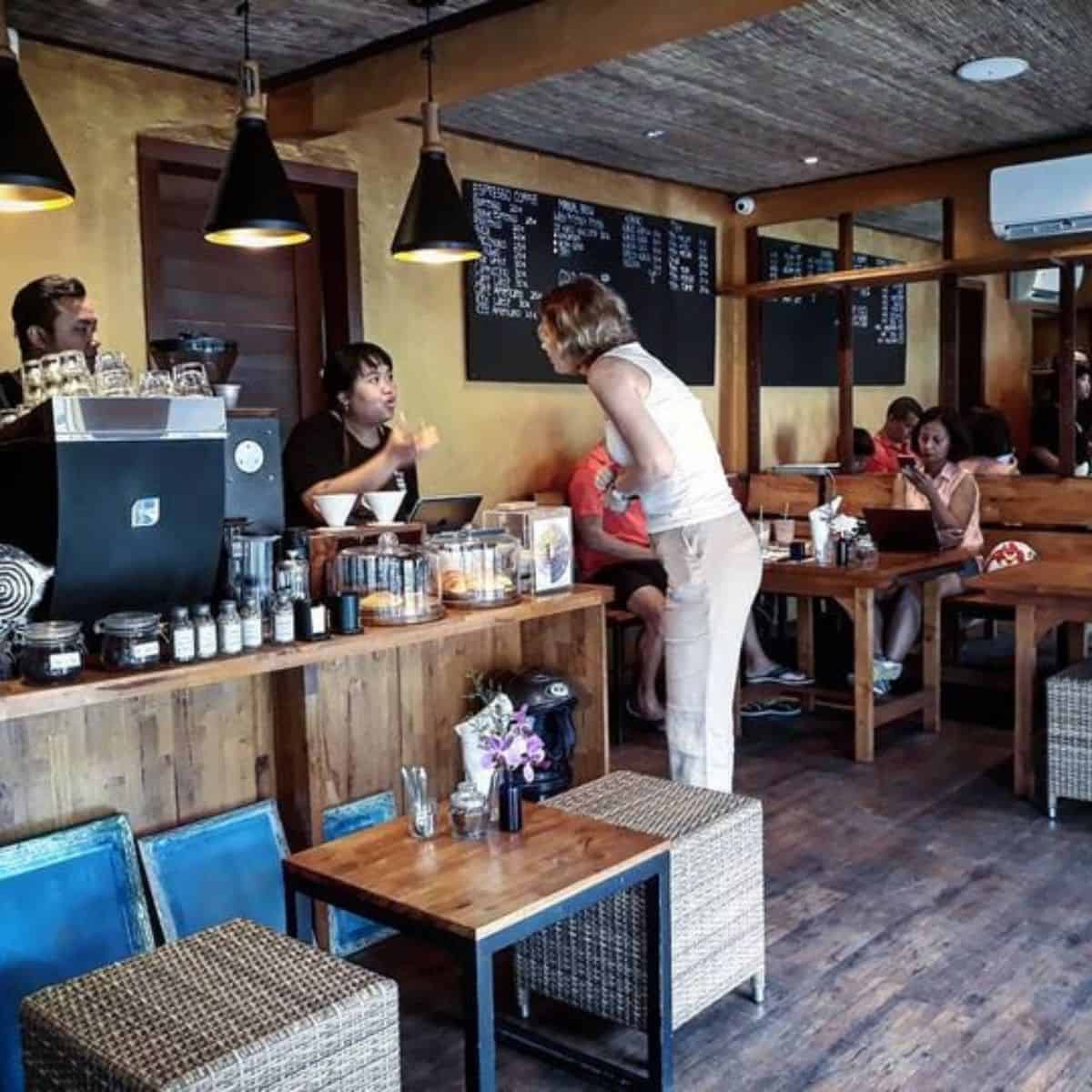 Although the space is small, it's relatively cosy. You can choose to sit at a table or face the streets. We also saw a few locals enjoying their coffee on the small ledge outside the shop. The coffee shop is set back from the main street, so it's usually fairly quiet.
If you're heading to this independent coffee shop in Ubud, also pay Taksu Spa a visit. It's just down the road and it's one of the best spas in Ubud.
Ubud Coffee Roastery
Jl. Goutama Sel., Ubud, Bali
See more info on Tripadvisor
Lazy Cats Cafe
Enjoy a relaxing ambience at Lazy Cats Cafe as you overlook the busy streets of Ubud. This cosy little cafe is also a vegetarian restaurant situated above street level in the centre of town.
We loved the cafe's rustic interior and unique, quirky additions. In addition, throughout the cafe, you will find fun portraits of cats dressed as aristocrats. Other than the cool interior design, the combination of lo-fi music and the crowd creates a great buzzing scene.
At night, Lazy Cats turns into a chilled lounge space for you to grab a drink, hang out and meet some locals.
Lazy Cats Cafe
Jl. Raya Ubud No.11, Ubud, Bali
See more info on Tripadvisor
Anomali Coffee Ubud
Anomali is one of the most popular cafes in Ubud, known for its freshly roasted coffee beans that are locally sourced. They have a wide range of unique Indonesian coffee blends to choose from as well as preparation methods.
When it's not busy in the morning, make sure to ask the barista to recommend a blend you should try.
We tried the Cikuray coffee blend which tasted similar to an earl grey tea but with the sweetness of berries. This was one of the best coffees we had in Ubud.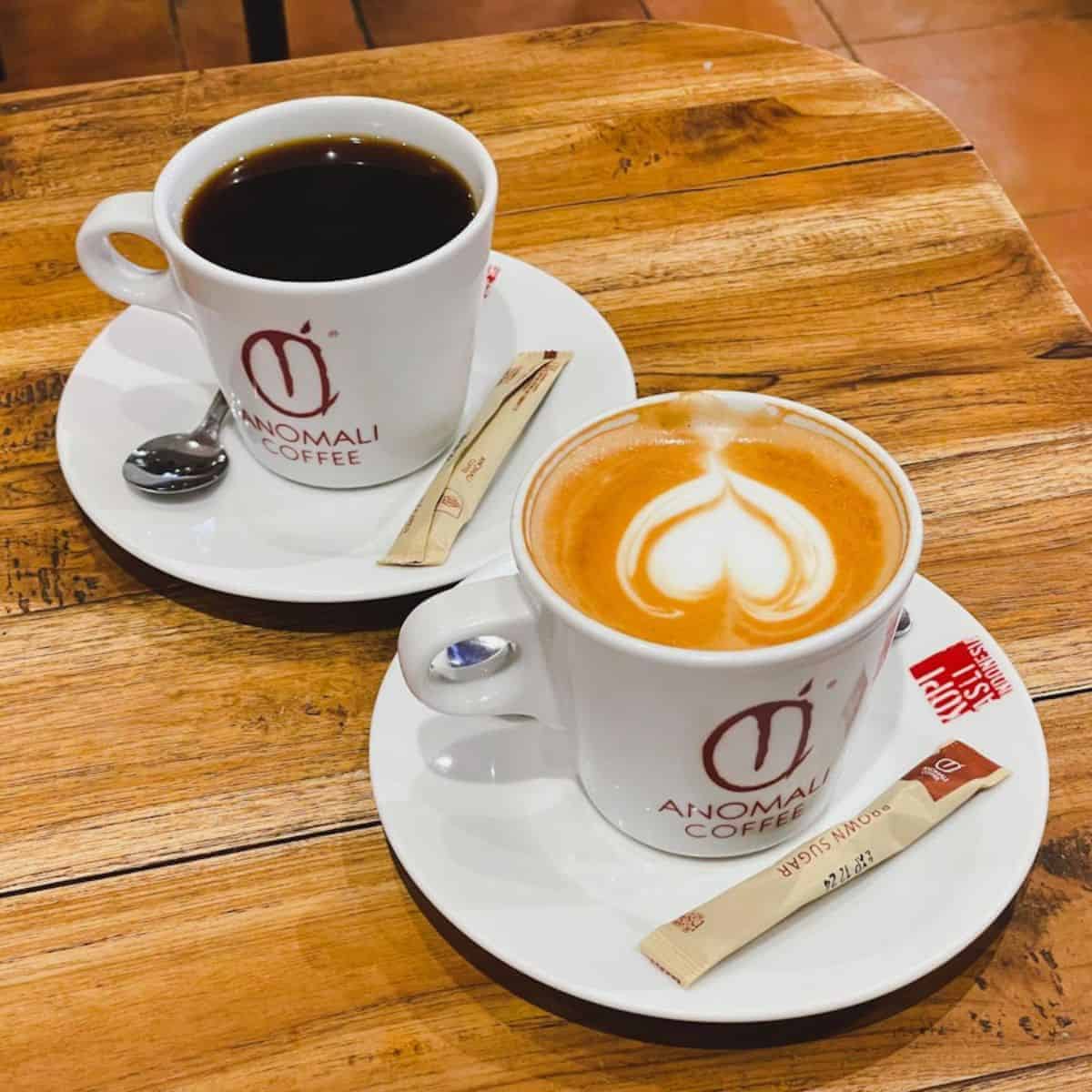 If you're peckish, Anomali also has a small selection of pastries. But we'd recommend you head to Warung Biah Biah down the street for a proper meal instead. Overall, the coffee is excellent, and the prices are reasonable.
This cafe is located in the heart of town; hence, it can get crowded. So, we recommend going early in the morning if you're looking to grab a good seat to work from. If you missed out on this place, they also have 2 other branches in Bali, located in Canggu and Kuta.
Anomali Coffee Bali
Jl. Raya Ubud No.88, Ubud, Bali
See more info on Tripadvisor
UpToDate Cafe & Eatery (Best Cafe to Work from in Ubud)
Don't be fooled by this coffee shop's underwhelming shopfront. Once you walk up the concrete stairs and through the first part of the coffee shop, you will be greeted by a stunning view of Ubud's expansive rice paddy field.
UpToDate Cafe & Eatery is the best cafe in Ubud with a rice terrace view. You will rarely find tourists here as it's further away from many Ubud attractions.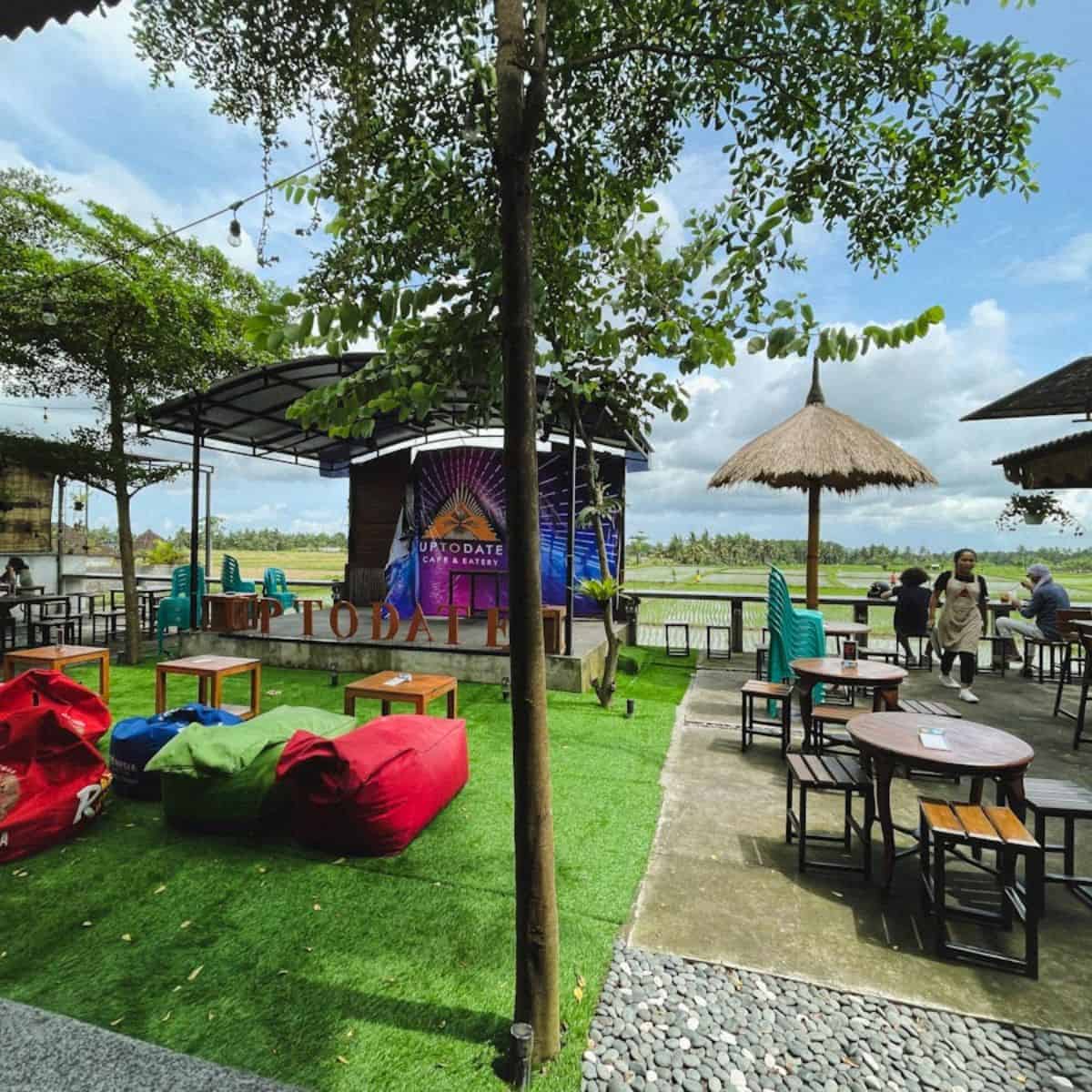 It truly is a local hang-out spot that offers a peaceful and relaxing atmosphere. To us, UpToDate is perfect to work from and to also enjoy a rejuvenating meal. The best part? The prices are also a lot cheaper.
While they offer a decent western menu, we recommend trying out some Indonesian food. It is a little spicier than what you'll find in town as they cater more for the local palate.
In addition to serving delicious coffee and food, UptoDate Cafe & Eatery also hosts live music in the evening, making it the perfect spot to unwind after a long day. You can enjoy performances from local Indonesian musicians. However, make sure you check their Instagram to find out when these will take place.
UpToDate Cafe & Eatery
Jl. Teges Kanginan, Peliatan, Ubud, Bali
Instagram
Watercress Cafe Ubud
Created by the successful Australian restauranters Pablo Fourcard and Jordie Strybos, Watercress is more than just a cute cafe in Ubud.
The space is bright and airy with a beach chic vibe, thanks to the painted white walls, wooden furniture and high ceilings.
At Watercress Cafe, you will also find a perfectly curated menu by Chef Justin Maute, who makes full use of local produce. Their brunch selection is always a crowd-pleaser among nomads living here. Hence, it is also one of our favourite places to eat at.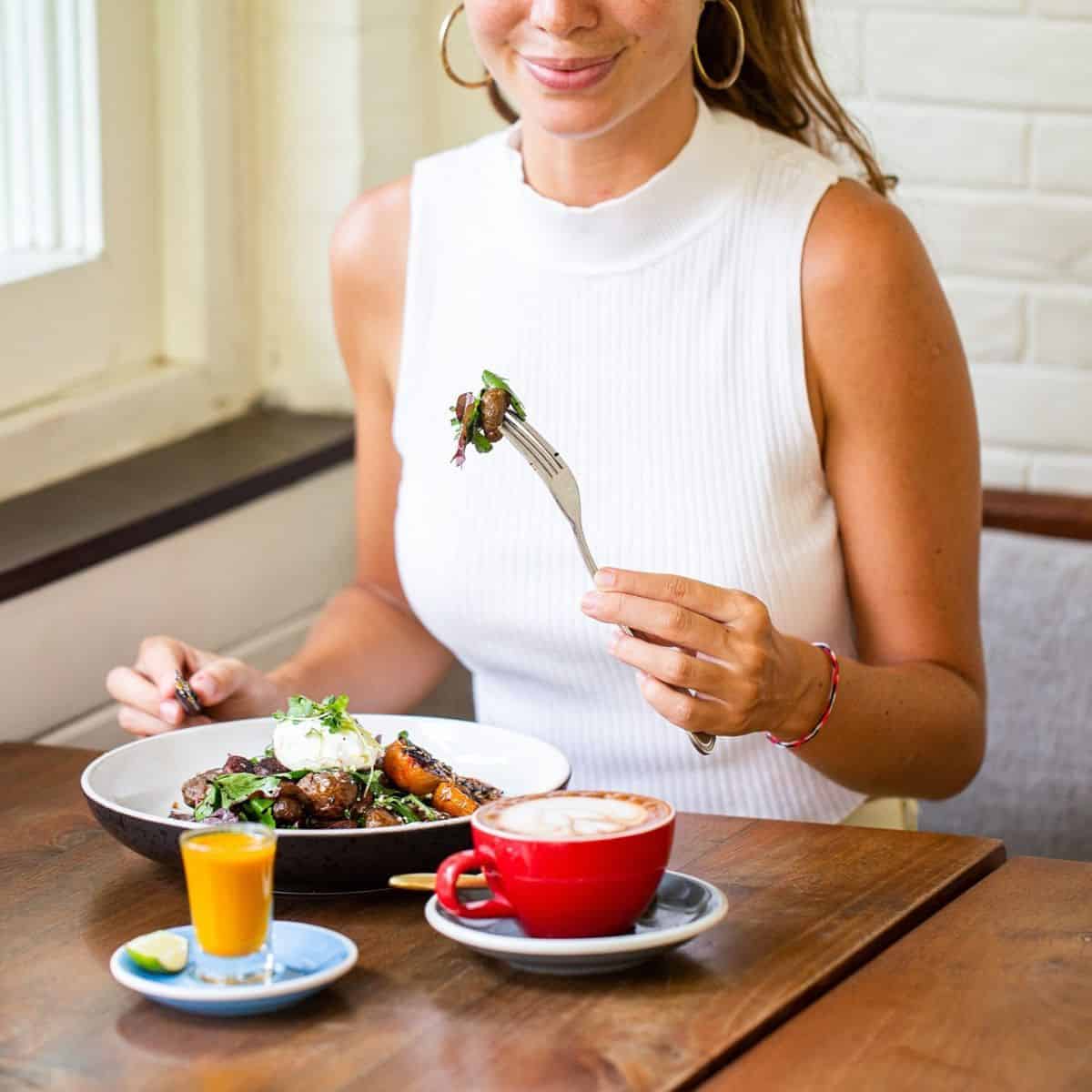 We recommend trying their Coconut & Raspberry Chia Pudding as well as their Smoked Aubergine Dip with warm flatbread. If you were wondering, they also offer many vegetarian and vegan options.
Whenever we visit Watercress, we always feel a strong sense of community. You will often find the staff striking up a friendly chat with loyal customers.
Watercress Cafe Ubud
Jl. Monkey Forest, Ubud, Bali
See more info on Tripadvisor
Folk Pool & Garden
Folk Pool & Garden will soon become your favourite instagrammable cafe in Ubud if relaxing in a picturesque setting is what you're looking for.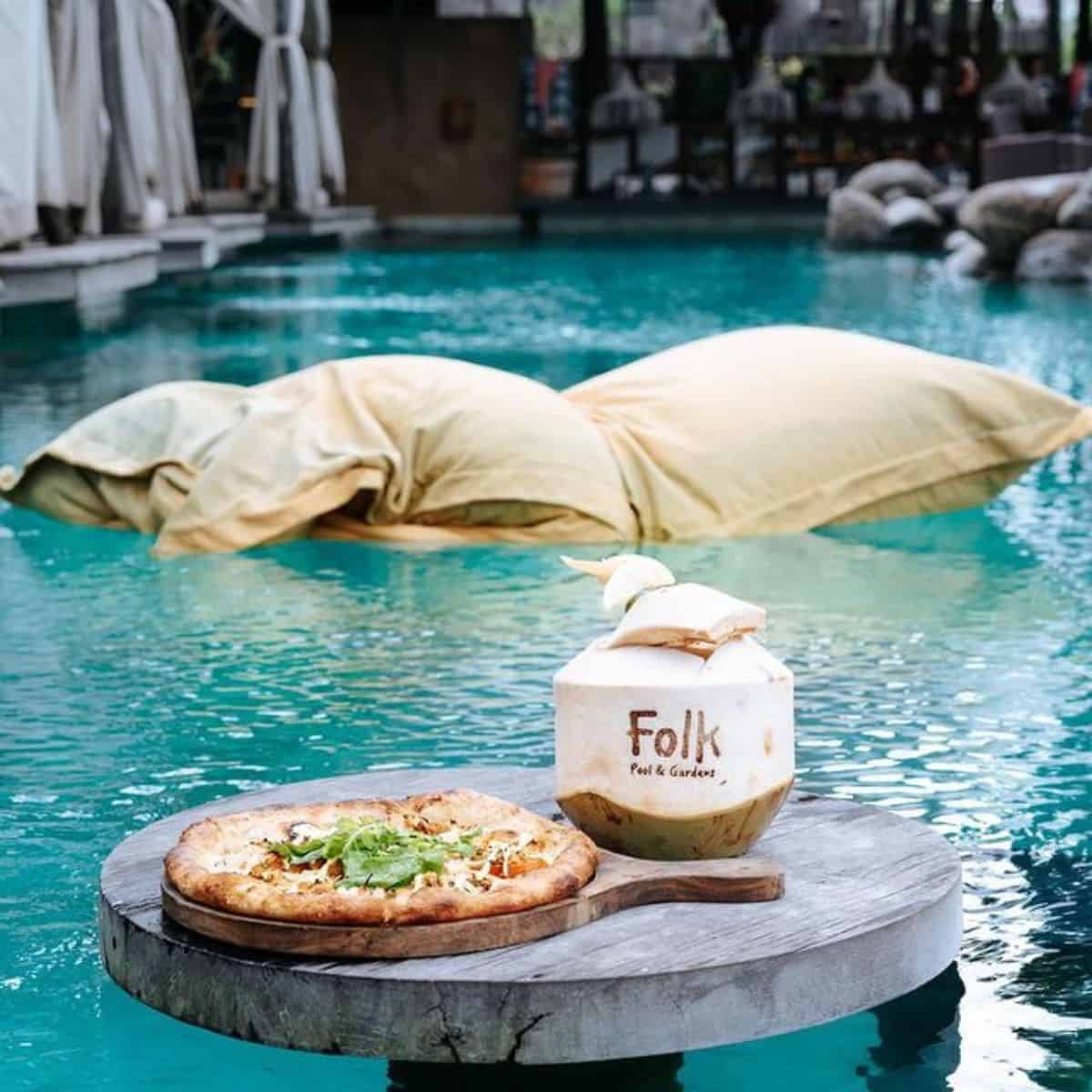 Tucked away in the backstreets of Ubud, you'll find Folk inside a hidden garden. We were stunned by its beautiful interior that has day beds as well as private teepees lining its swimming pool. So, it's perfect for chilling, and you can easily spend the whole day here. Have a drink at their swim-up bar or lounge in a private teepee.
Watch the place come alive at night as the area is lit up by fairy lights for dinner. Folk also hosts regular themed dinners and a seasonal twilight outdoor cinema.
Folk Pool & Gardens
Jl. Monkey Forest, Ubud, Bali
See more info on Tripadvisor
Keliki Coffee (Best Cafe in Ubud with a View)
Keliki Coffee Studio is one of the newer cafes in Ubud but it's quickly become a favourite among the locals. Pull over on the way from Ubud to Keliki village and you will find this semi-outdoor coffee hut with an impressive outlook of Ubud's jungle.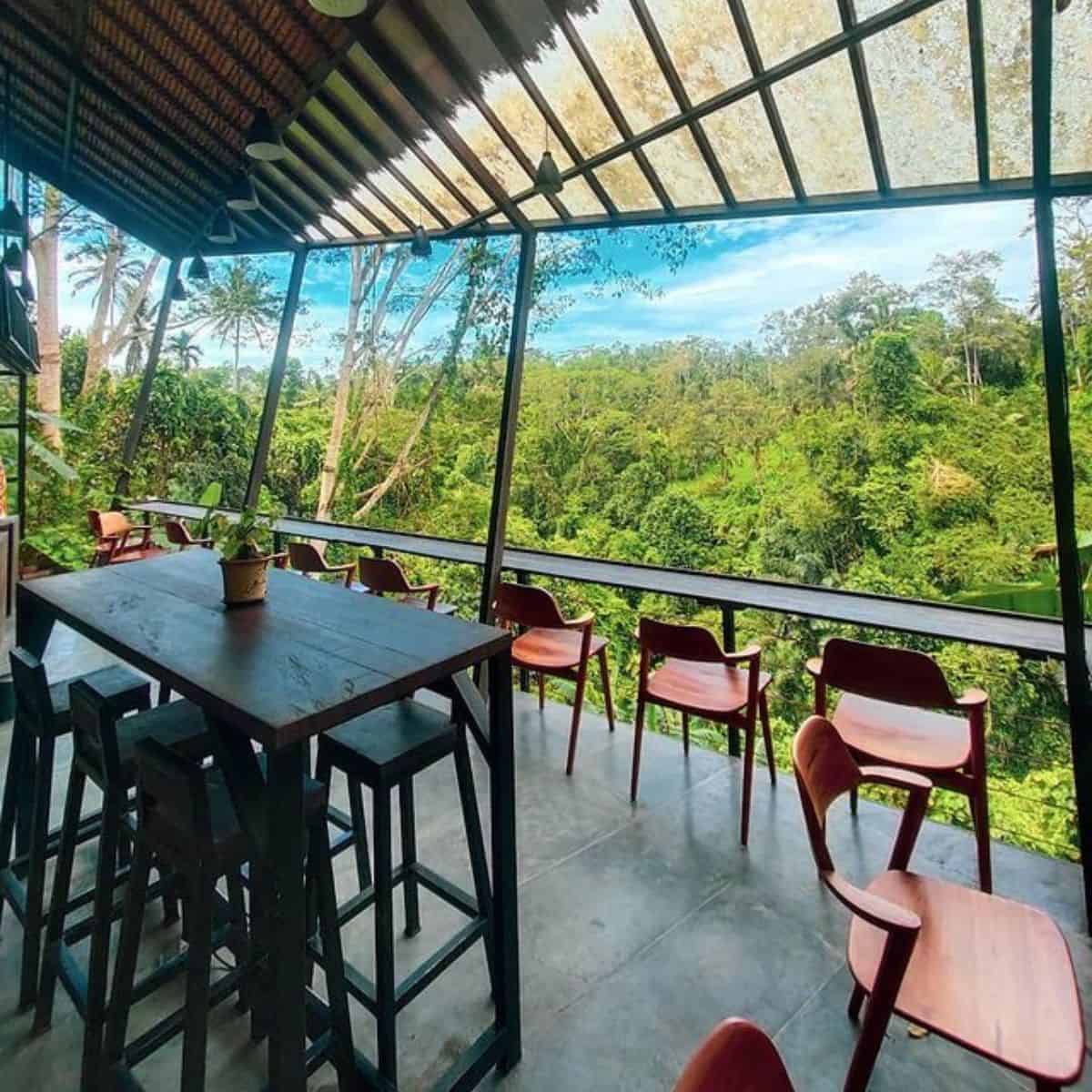 The menu is quite limited in choices, and you won't find many vegetarian options here. However, it's a great spot to make a stop in between exploring Ubud attractions like Tegallalang Rice Terrace and Aloha Swing which are just outside the town centre.
Although it is in a remote location, there are plenty of electric sockets and great wifi. So, it is perfect if you want to get some work done or sip a cup of coffee with a great view of Ubud. However, due to the open-air concept, it can get really bright and hot at midday.
Keliki Coffee
Jln. RSI Markandya II , Tegallalang, Bali
Instagram
Gula Kopi Bali
We first heard of Gula Kopi Bali from our Ubud tour guide who told us that it's one of the best cafes in Ubud for cheap coffee. Indeed, with its sleek, industrial design and vast seating area, this cafe is perfect for people-watching or getting some work done.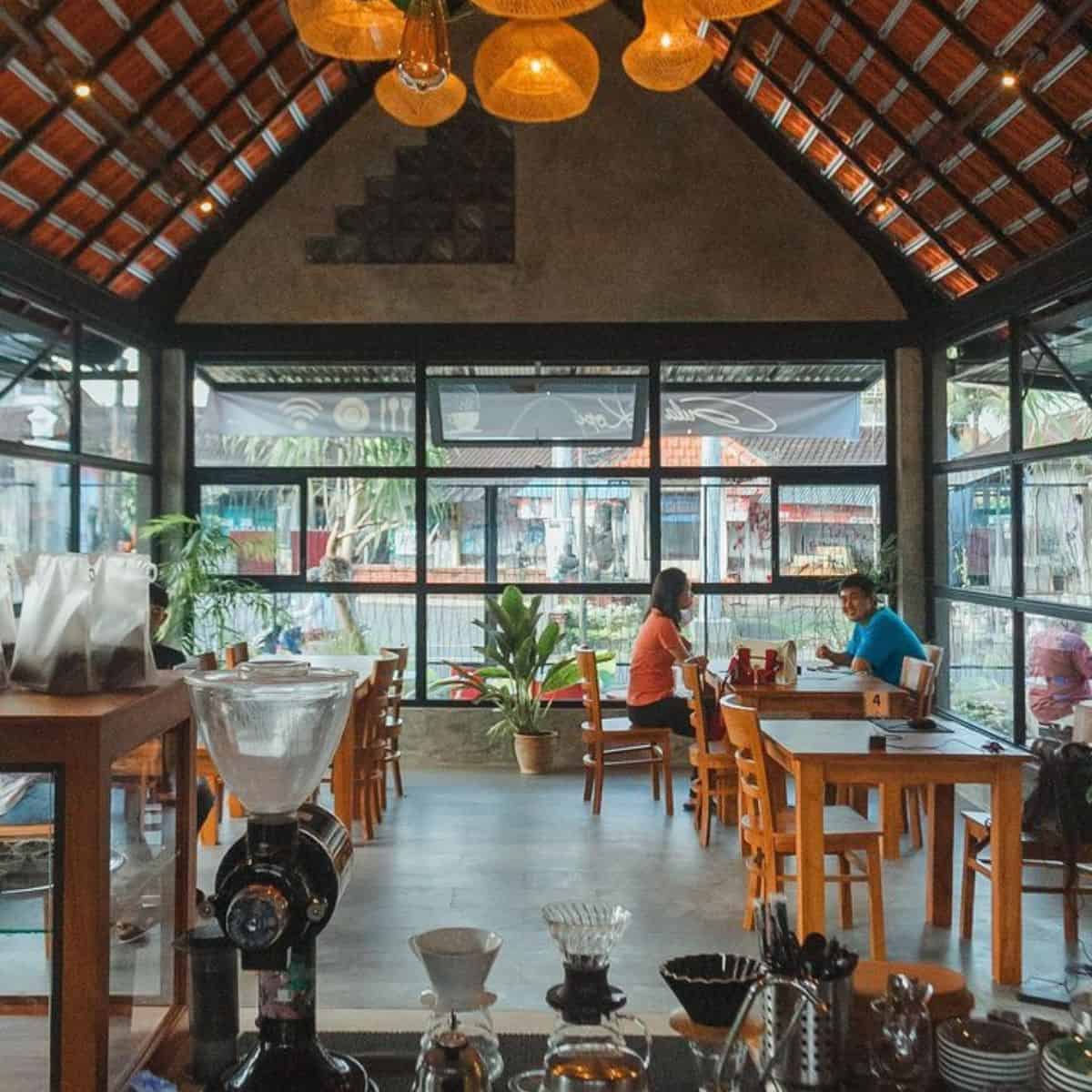 Located on the outskirts of the town centre, this quiet cafe has plenty of seating space available and isn't frequented by tourists. When we visited, it felt like a local hang-out spot in Ubud.
While their food options are nothing special, it is very affordable. You can also sit in their back garden but it is also a smoking area. So we suggest chilling in their AC indoors instead.
Gula Kopi Bali
Jl. Ambarwati No.1, MAS, Kecamatan Ubud, Bali
Instagram
KAFE
KAFE is one of the most highly-rated cafes in town. At KAFE they believe in using 100% organic ingredients from local farmers. Their organic-inspired menu is a reflection of this and features a great mix of local Balinese dishes as well as western classics.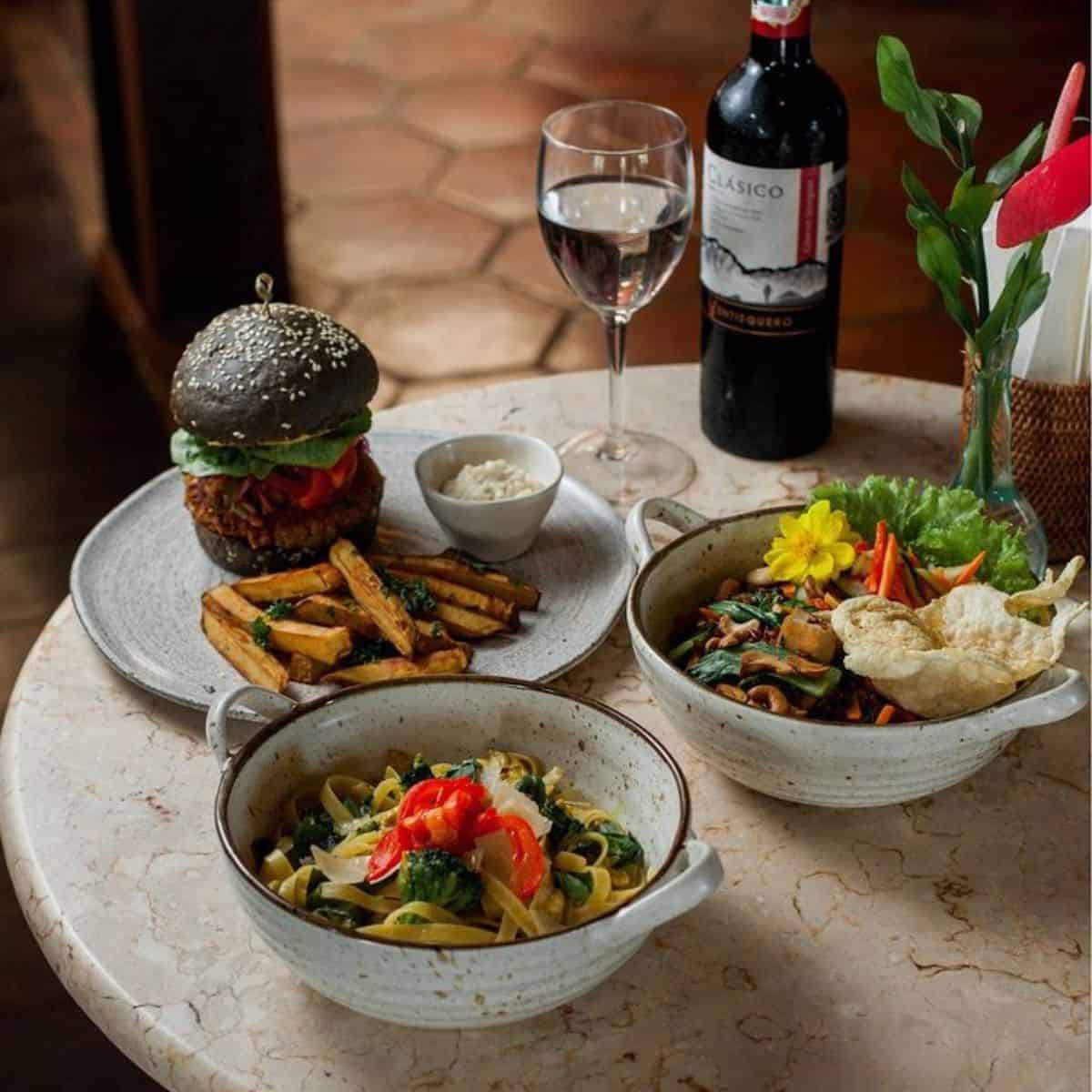 From wellness lattes and super-smoothie bowls to world flavours - you'll find something for everyone. KAFE also offers an extensive menu with plenty of vegan-friendly options.
Their signature dishes are their Rainbow Buddha Bowl and Tempe Cashew Nut Curry, which are both delicious. Don't forget to leave room for their desserts. We love their Organic Mulberry Pie and Vegan Key Lime Tart!
KAFE
Jl. Hanoman No. 44B, Ubud, Bali
See more info on Tripadvisor
Ubud Cinnamon
Ubud Cinnamon is a great place to spend your afternoon in Ubud. The cafe has a perfect balance of a cosy ambience and delicious food.
They have plenty of comfortable seats and some good tunes to keep your mood light. Their freshly made pastries will make you swoon - we recommend ordering one or two of their cinnamon roll.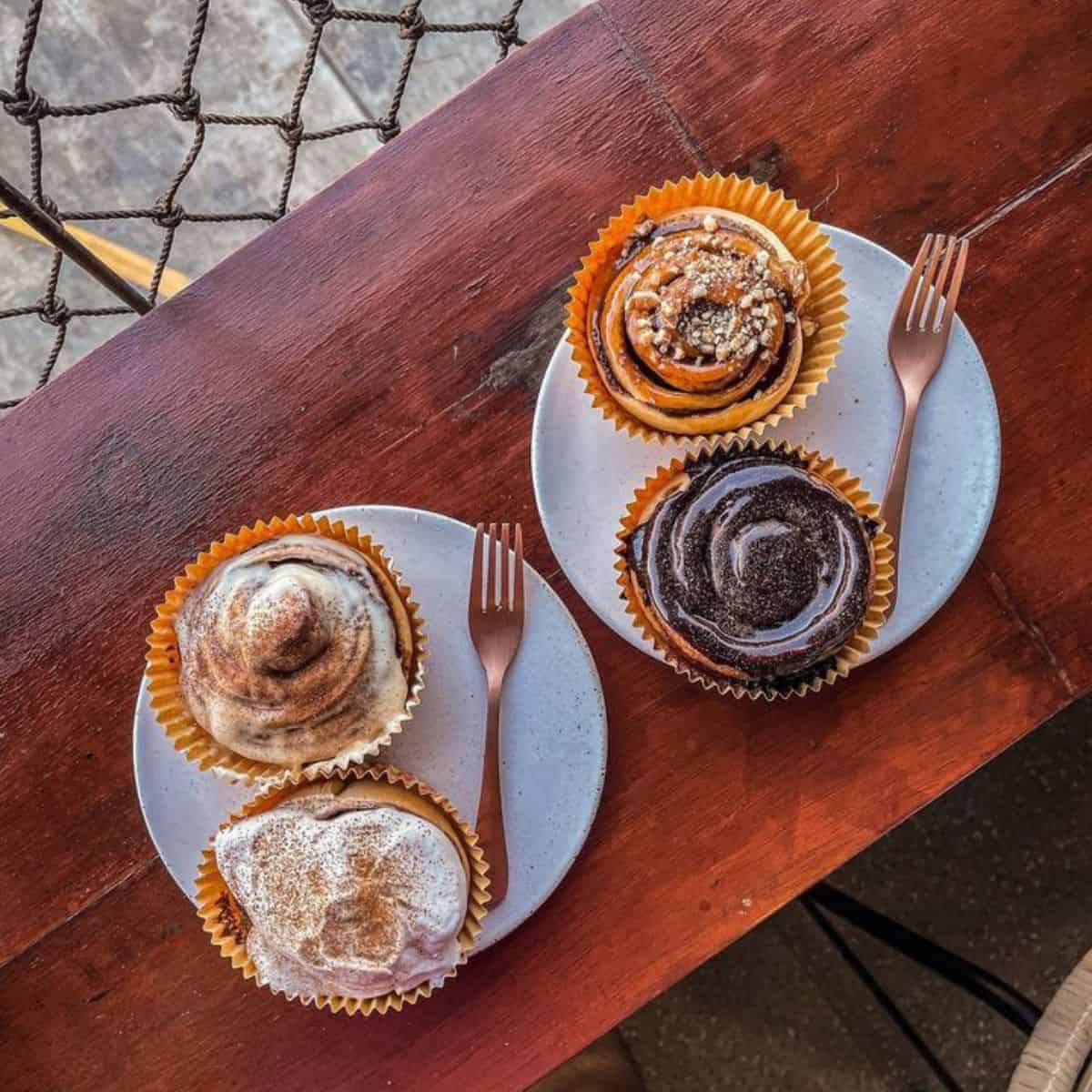 Also, their friendly staff will make you feel at home from the minute you walk through their door. We love that there's a lot going on here for not too many people. It never gets too busy or loud so you can get a lot of work done without feeling cramped up in any one spot all day long.
Ubud Cinnamon
Jl. Made Lebah, Peliatan, Ubud, Bali
Instagram
Seniman Coffee Studio (Best Coffee in Ubud)
For avid coffee lovers, make your way towards Seniman Coffee Studio for a large selection of coffee blends to try. This coffee house also offers several coffee-tasting flights, which will allow you to sample their light, medium and dark roasts. We love how their dark roast is well-steeped and rich.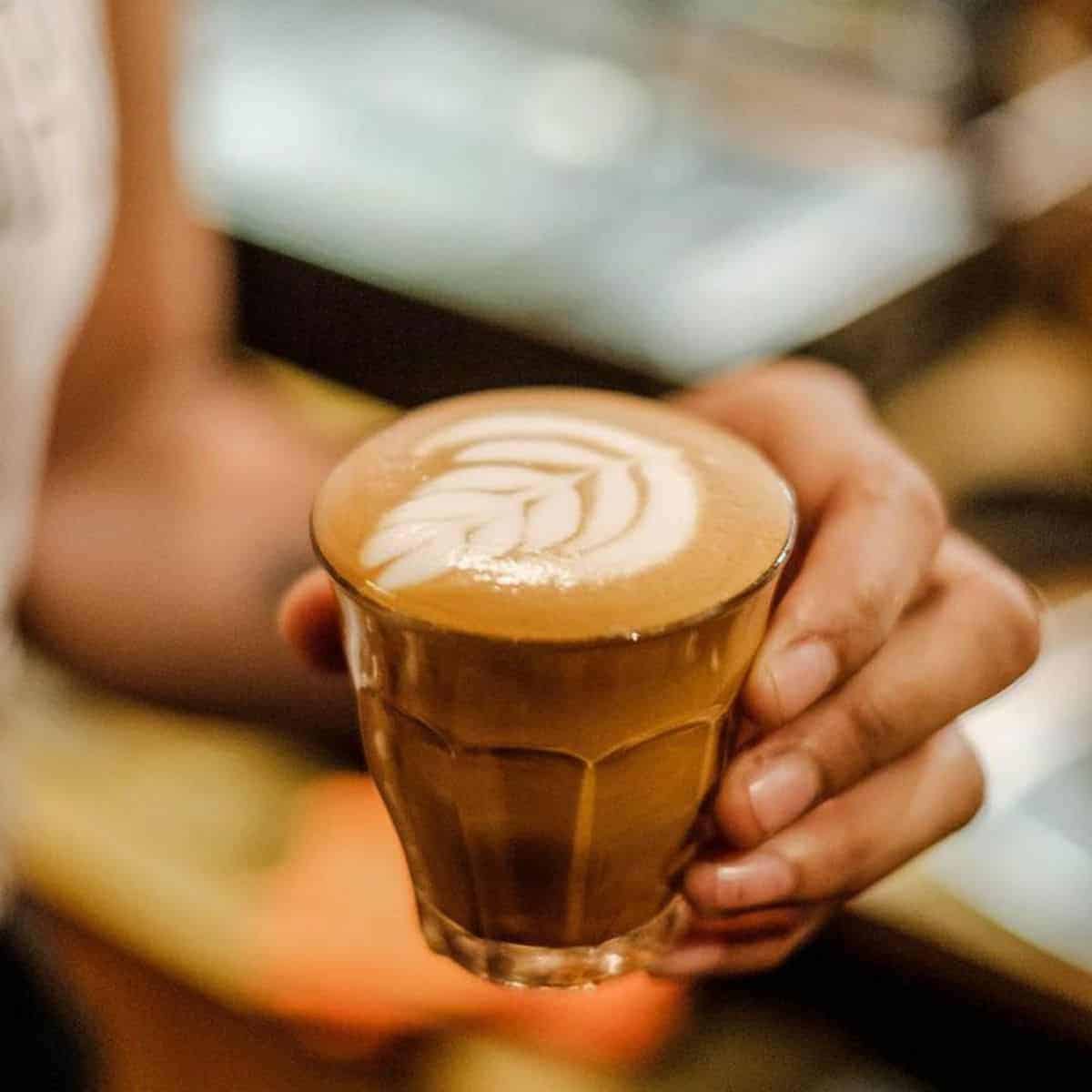 The coffee shop is popular with ex-pats, travellers, and digital nomads alike. It has many vintage decorations and comfortable seats. Their upcycled plastic chairs turned rocking chairs will make it extremely hard for you to leave.
They also hold regular coffee workshops for you to learn the basics or try your hands at some latte art.
Seniman Coffee Studio
Jalan Sriwedari No 5, Ubud, Bali
See more info on Tripadvisor
Dia Coffee (Cheap Cafe in Ubud)
Dia Coffee is the perfect spot to get your caffeine fix if you're travelling from Kuta or Canggu to Ubud and are on a budget.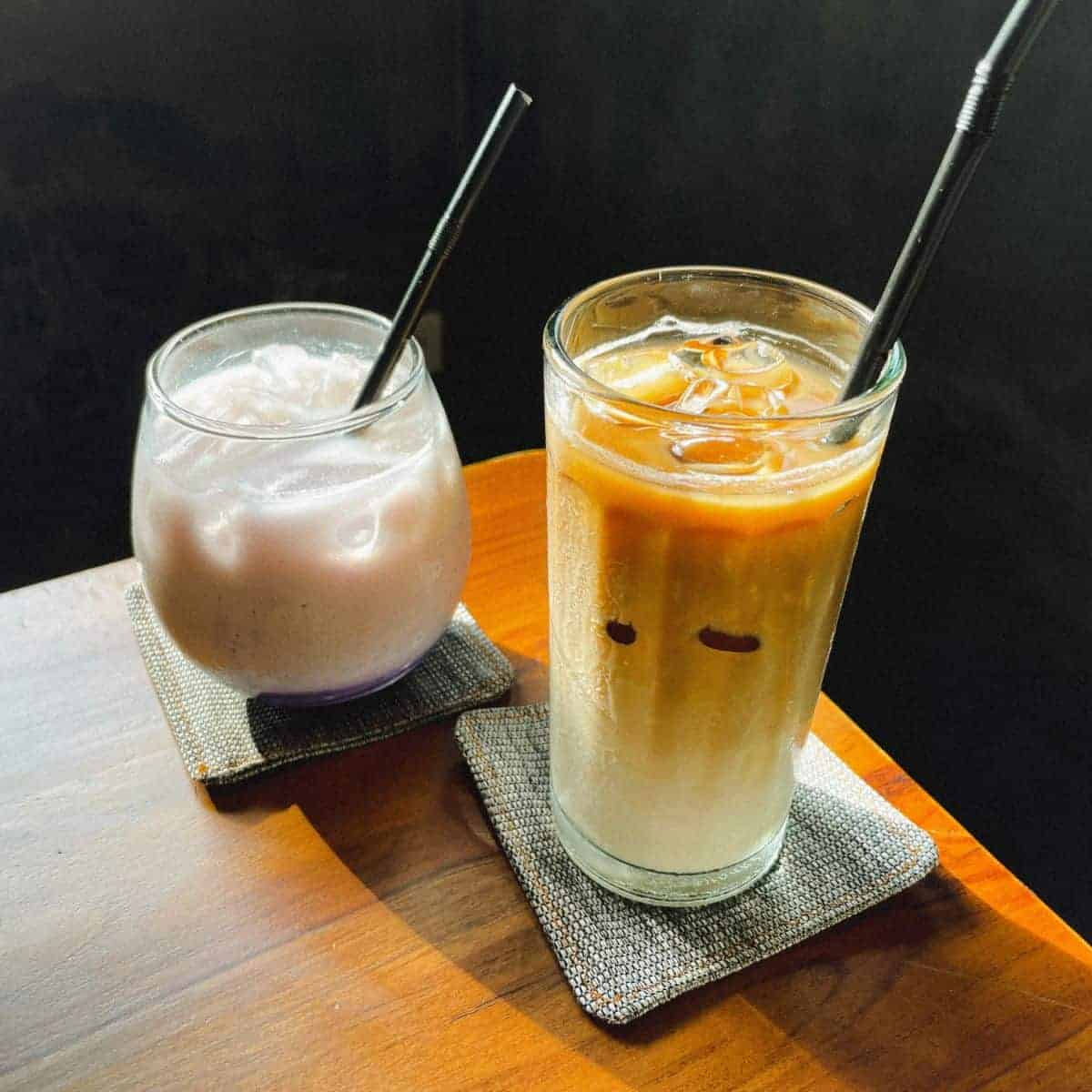 This small family-run coffee shop makes some well-balanced coffee that isn't too sweet. Their food selection isn't expansive either, but what they do offer tastes home-cooked- especially their rice bowls.
If AC isn't an issue, then consider enjoying an iced beverage outside the shopfront at night as you chill here with friends.
Dia Coffee
Jl. Raya Mawang, Lodtunduh, Kelod, Bali
Google Maps
Best Cafe to Work from in Ubud
While a lot of cafes in Ubud are laptop friendly, some can get very crowded. So here are our favourite coffee shops to work from in Ubud.
Cheap Cafes in Ubud
As Ubud has many tourist attractions, prices for coffee and brunch can be high in the centre of town. Here are some of the cheapest cafes in Ubud to visit if you're on a budget:
Cafes in Ubud with a view
Ubud has some of the most unique cafes that we have seen in all our travels. Although we feel that the quality of the coffee and food was only average at some of these spots, the aesthetics were beyond our expectations.
Want more tips on the best spots in Bali? Follow us on Instagram @tabitogether for more travel guides. Happy exploring!