We've put together 21 things to do in Canggu when you visit this trendy spot on the Indonesian island of Bali. The laid-back beach destination attracts crowds, from surfers and yogis to digital nomads. It's not as expensive as Seminyak or Uluwatu and has a good range of accommodations.
Relaxing is one of many things to do here, but there are plenty of adrenaline-filled, heart-pumping fun things to do in Canggu to keep you and your gang entertained.
We've rounded up activities for anyone, whether you are travelling alone, as a couple, or in a group. Of course, we've concentrated on the best things to do in Canggu, Bali, so you can enjoy your holiday and try everything without wasting time.
At the end of the article, we've also included other areas of Bali that are nearby for those who want to venture on short-day trips.
So if you're here for the first time, check out our guide on what to do and what Canggu tourist attractions to visit.
Jump to:
Street art in Canggu
Bali is known for its vibrant street art scene, and it's easy to see why. From beautiful murals to eye-catching installations on walls, fences and columns, the province's art scene has exploded in recent years. So, one of the best things to do in Canggu, Bali, is to look for these gorgeous artworks.
You'll find tons of street art all over Canggu, with some of the best work by local artists and overseas collaborations. Of course, the best way to see it all is to walk around and explore, but here are some of our recommendations.
First, head over to Jalan Pantai Berawa. It's a short stretch that leads up to Berawa Beach and Finn's Beach Club. If you're a fan of street art, try to spot works by well-known local names such as Quint. The Indonesian artist paints females inspired by the goddess Venus and signs off in bold red ink. 
Another famous stretch of road for mural spotting and sightseeing in Canggu is around Echo and Batu Bulong beach. First, most tourists will head for Old Man's restaurant at Batu Bulong, where Australian artist Lucas Grogan's blue and white art mural is proudly displayed as one of Canggu's tourist attractions. Then, stroll up Batu Bolong Beach, and you'll find art pieces located on the hostel walks and boardwalks of the beach warungs.
If you are lucky, you might see the artists at work. However, if you look closely, most pieces have the artist's Instagram handle, so you can always follow them! Besides, it's one of the many free things to do in Canggu, Indonesia, and you can explore the island while marvelling at its artwork.
Go brunching
When talking about fun things to do in Canggu, it might be strange to mention brunch, but it's true! Brunching is not just breakfast; cafe hopping is a hobby here in Bali. There are plenty of cafes with different themes, and they offer varying specialities.
Competition is fierce, so you're bound to find something you like. Remember to try a smoothie bowl. One of our favourite menu items, a smoothie bowl is packed with fruits, nuts, seeds, muesli or granola. The delicious bowl is healthy and filling but also light and refreshing.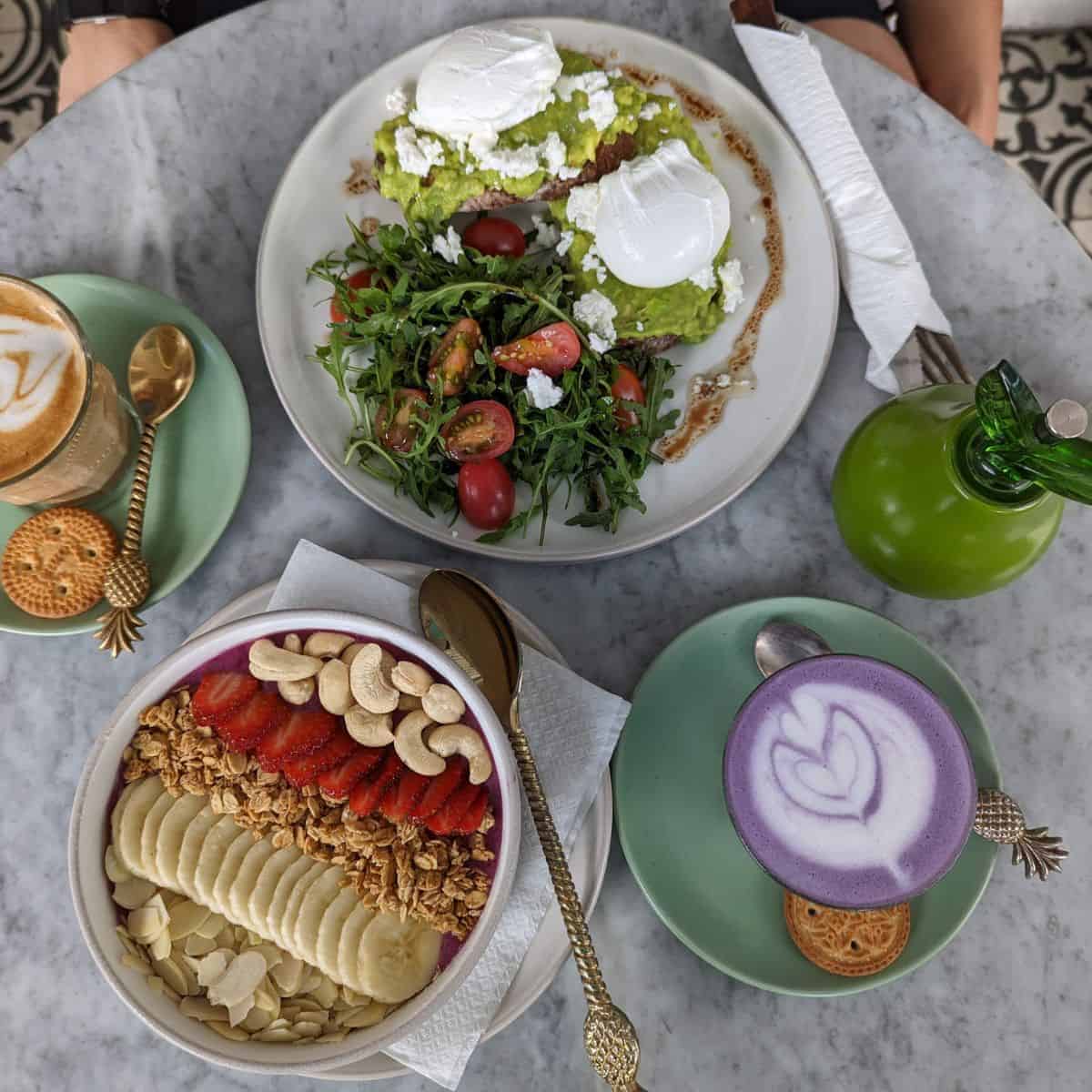 Look no further if you're looking for a new favourite brunch spot in Canggu. We love Baked Cafe. It's a minimalist cafe in a standalone building. Step inside, and you'll find the interior in neutral shades of beige and white. They have a wide range of food and drink options, from smoothie bowls to eggs benny. But we recommend going for their scrambled eggs and sourdough bread selections. 
Another lovely cafe to try is Doppio. It serves all-day breakfast and lunch, with vegan, vegetarian and gluten-free options. The interior is in calming hues of blue and white, which is a perfect complement since it's near the beach. They're famous for their colourful smoothie bowls and protein waffles, so remember to order them!
Try local coffee
Bali is known to be where a coffeeholic can get their daily fix. Drinking coffee is one of the best things to do in Canggu, Bali! Two kinds of coffee in Bali are world-famous.
The first is Kopi Luwak, the world's most expensive coffee. The word kopi means coffee, and Luwak refers to the Asian Palm Civet. The beans are therefore derived from civet droppings! The coffee brewed is earthy and musty, with hints of chocolate and caramel. Another famous coffee bean is from Kintamani, in the northern highlands of Bali. The plantation is situated between Mt Batukau and Mt Agung. Its fertile volcanic soil produces delicious coffee beans, which are world-famous for their mocha taste.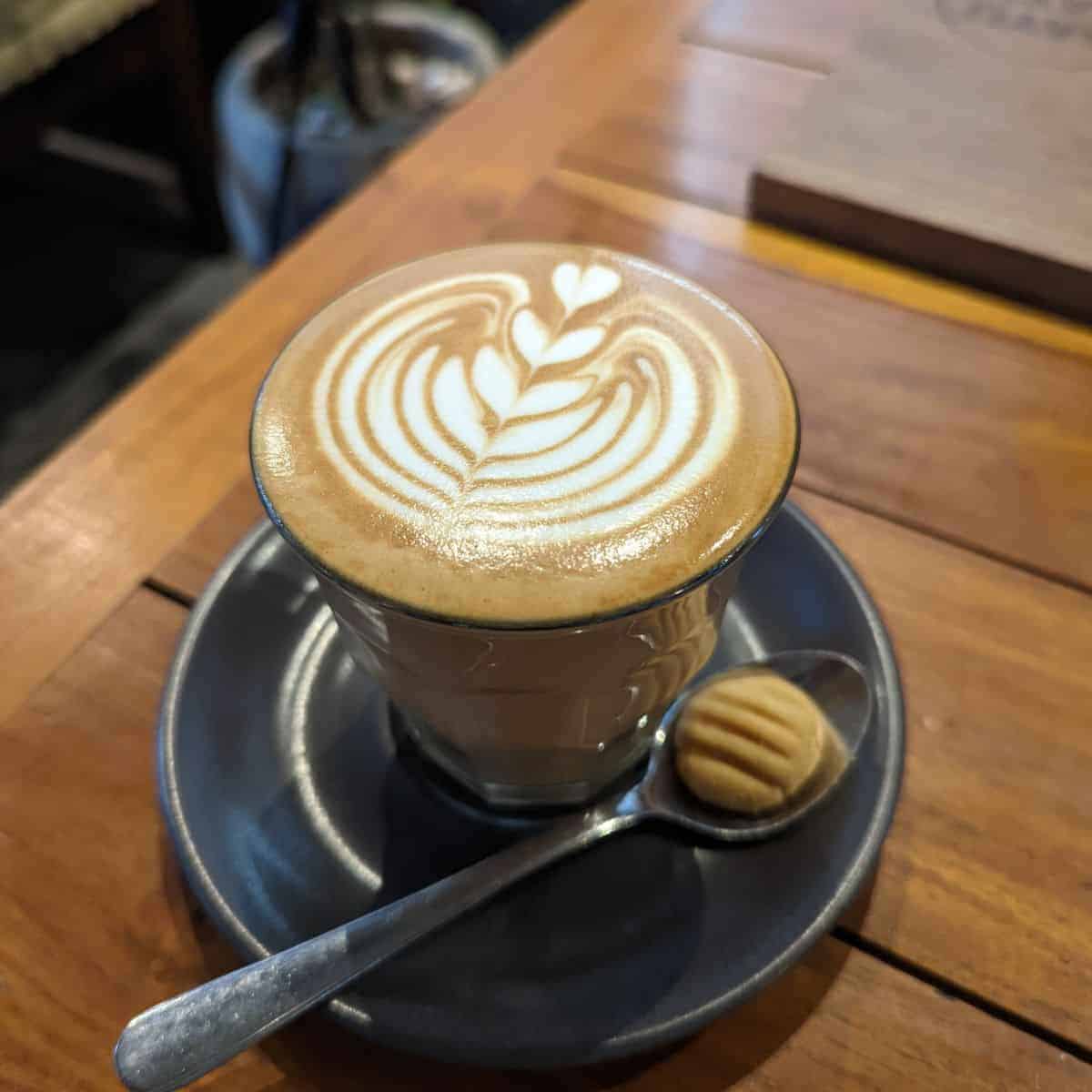 There are lesser-known coffee beans, such as Peaberry coffee. This coffee is prepared from the rare, oval-shaped single seed inside the coffee berry. Want to try different types of roast? Head to Satu-Satu Coffee Company. The family-owned company harvests from its coffee plantations and prides itself on producing coffee most organically. You can get Kopi Luwak and Kinatamari beans here, as well as other less-known beans. Take a thermal mug of coffee to go, so you can continue sightseeing in Canggu! 
Beach hopping
There are five beaches in Canggu: Berawa, Nelayan, Batu Bolong, Echo, and finally, Pererenan Beach. Berawa Beach is a beautiful beach stretching from Seminyak Beach with a panoramic view of the Indian Ocean. This beach is where most professional surfers like to go because the currents are strong, and surfers love the challenge of the waves. We do not recommend swimming here. 
Nelayan Beach is a five-minute walk between Berawa Beach and Batu Bolong Beach. The beach has black sand and is an excellent spot for kitesurfing or a quiet stroll to Batu Bolong Beach. The beach at Batu Bolong also has a 1.5-kilometre expanse of black sand. Batu Bolong is perfect for those who want to swim at low tide or beginner surfers to take lessons.
If you hear the locals refer to it as "Old Man", that's because the trendy bar with the same name is located there. It's also a gorgeous place to catch the most jaw-dropping sunsets. One of Canggu's tourist attractions is its temples, and Batu Bolong temple is nearby for those who want to visit.
Another famous beach is Echo Beach, with plenty of chic bars that dot its black sands. Grab a seat at Echo Beach Club, which overlooks the sea and tuck into seafood as daylight fades. The last beach, Pererenan Beach, is a beach with black sand stretching 500 metres along the coast. It is a great place to swim at low tide or fly kites. While you can go to the beaches anytime, the best time is from April to October. These dry and sunny months are the best for sun, sand, and surfing. You can also lie on the sand and admire the sky, which doesn't cost a cent if you're searching for free things to do in Canggu, Indonesia.
Try surfing
Surfing is one of the top Canggu tourist attractions. Canggu Beach has two famous surf spots: Echo Beach, which has medium-high waves and Batu Bolong, which is more suited for beginners, longboards and funboards.
Surfing is a must when you're in Bali and searching for fun things to do in Canggu. Both beaches are reef breaks, meaning you'll get reliable, strong waves that break over coral or rocky reef patches.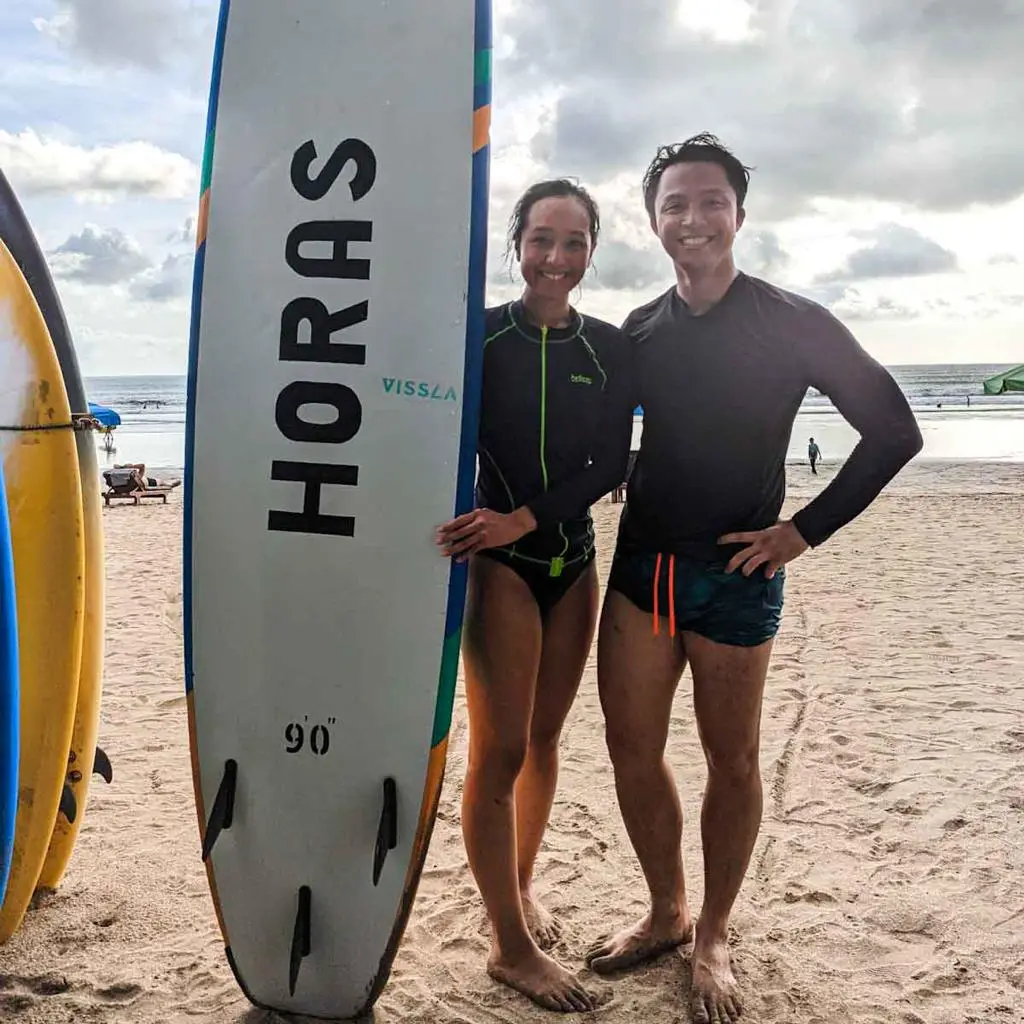 For beginners, if you need help, it's best to take a lesson with a pro because you could fall off your board when the waves hit a break. Plenty of surfboard vendors are along both beaches, so you should be able to find surf lessons or even surf camps, to have a fun and safe time. Batu Bolong is best for beginner surfers, as Echo's waves are stronger. 
However, if you must head to Echo as a beginner surfer, you can try visiting the northern beaches. A stretch of beach called 'Sandbar', the waters here are slightly calmer, although its waves are unpredictable.
Ideal surf conditions are from May to September, as it is the island's dry season. However, if you are a professional surfer, the early morning waves at Echo between the wet weather months of November and March also create conducive surf conditions.
Go to a beach bar
Canggu is a great spot to catch some of the most stunning sunsets in the world. So make it part of your list of things to do in Canggu at night and head to one of the beach bars at Echo Beach and Batu Bolong beach. The beach bars here in Canggu are some of the biggest in Bali. So many people head to the beach bars to socialise and enjoy the view.
If you're at Echo Beach, you must pop into La Brisa. The towering beach bar was built using reclaimed wood from over 500 fisherman boats. Its stunning architecture and fantastic service mark it as one of the top Canggu tourist attractions.
Further down Canggu is the sleek beach bar Lawn. Its stunning marble interior with white lawn beds surrounding its pool is an oasis of calm in the busy beach area. Lounging around while people-watching might sound lazy, but it's one of the most fun things to do in Canggu. 
Apart from La Brisa and Lawn, there are many other big beachfront bars, such as Finn's beach club and The Canggu, which also have lively scenes and fantastic sunset views. You can bar hop and find your favourite. Most beach bars have live bands and events ongoing almost every night. The tip is to check their social media pages and book seats one week in advance. 
Horse riding in Canggu
You might not associate Bali with horses, but it's one of the best things to do in Canggu, Bali. For families travelling with children, let them try horse riding here. The rates are affordable, and the whole family can have a great time.
For instance, at Canggu Beach, Bali Horse Riding offers various horse-riding packages for children and adults. A professional guide will escort you, and you can choose between ponies or horses. The ride takes place along the beach, and the company will equip you with the necessary safety equipment and insurance coverage. Besides, you'll also pass by many Canggu tourist attractions, such as temples and rice paddies along the way!
Royal Sporthorse Bali offers children's riding camps for longer, more intensive sessions where they will learn dressage and jump skills. The horse ride also takes riders around a peaceful route around the village, so you can get a chance to witness Balinese life up close. Whether you enrol in a full class or want a different way to go sightseeing in Canggu, we recommend this activity for all ages. 
Yoga class
While it's almost cliche to mention yoga and Bali, we still encourage you to add yoga to your list of things to do in Canggu. While Ubud is still the yoga hub of Bali, Canggu is catching up quickly. Many studios have various wellness programs to suit a beginning yoga student or a yogi practitioner.
In addition, as more digital nomads flock to Canggu and make it their workplace, more yoga studios have also opened in the last few years. So we can consider yoga studios a must-experience Canggu tourist attraction even, for many travellers now.
If you want a quiet place to unwind, try The Practice. Located just off Batu Bolong, the studio offers traditional tantric Hatha classes, workshops, and teacher training sessions. The studio is constructed from bamboo, giving off a serene, peaceful look.
Alternatively, book a session at The Serenity, just a quick walk from Batu Bolong beach. You can book a day pass to go to different sessions at the open-air studios. Another must-try is Loka Yoga School, which is right beside the beach. Enjoy the ocean breeze while you're in a yoga flow! 
For serious yogi practitioners, there are numerous Canggu yoga retreats here. You can opt for pre-planned sessions or book sessions ahead. These retreats usually cover accommodation and meals, so you can relax and follow the flow. 
Fine dining
If you live to eat, look forward to fine dining in Canggu. There are over 300 restaurants with a diverse range of cuisines. You can get anything from Indonesian, Japanese, Mexican, Italian, and vegan or vegetarian options.
Ulekan, tucked near the quiet Berawa beach, serves traditional Indonesian cuisine in a lush tropical setting. Think mango trees, rattan chairs, and terracotta tiles. Book ahead, as it is a popular Canggu tourist attraction.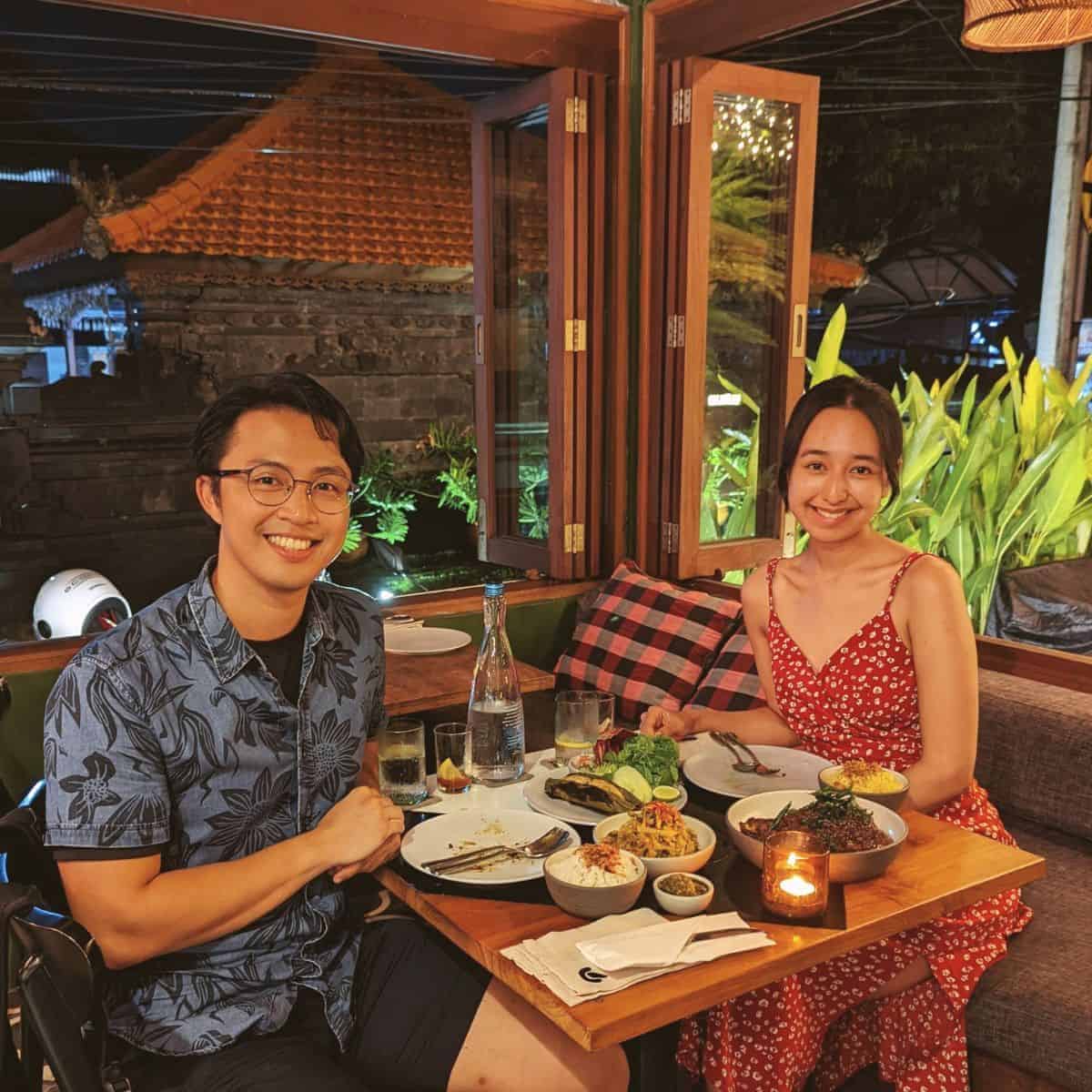 Book a seat at the 100-seater Mason if you're craving Mediterranean cuisine. This restaurant serves high-quality seafood and meat dishes. Their premium drink list is concocted by their in-house sommelier, so you won't find the flavours anywhere else. It's an elegant, minimalist space with an open kitchen - perfect for a romantic date.
Try Sa' Mesa, an Italian fine-dining restaurant at Jl. You can also try Tanah Barak if you are heading out with a large group. The concept is simple: sit at a communal table with 15-20 home-cooked dishes. Dinner over drinks with friends at a fine dining restaurant is something you need to add to your list of things to do in Canggu at night.
Attend a Natural Dyeing Workshop
When you are in Bali, take a break from sightseeing in Canggu and attend a natural dyeing workshop. Bali has some of the best textile masters, so you'll learn how to work with natural dyes from plants and various materials. If you're interested in textiles, make time to also book a live weaving demonstration.
The art of weaving is woven into the economic fabric of Indonesia. In many parts of the country, women weave for their living. Textiles and weaving have a unique artistic style in different places. In some villages, women weavers are inspired by their day-to-day lives. In other areas, rivers and mountains are woven into their fabrics.
If you're fascinated by Indonesian textiles, visit Galeri Wastraku. This place is the best Canggu tourist attraction to learn about the history and art of weaving. It is a private gallery established to display a range of textiles. Each fabric holds significant meaning and distinguishes one Indonesian culture from another.
Over here, you can also attend workshops on cloth handling and materials. Follow them on Instagram if you like art and traditional craftsmanship. Learning the classic art of dyeing and weaving might just be one of the best things to do in Canggu, Bali.
Have a Balinese massage
For many who head to Bali, a Balinese massage should be on the itinerary. You could get a decent massage at a reputable place in Kuta and Ubud. However, Canggu also has amazing massage parlours to enjoy a spa retreat. Besides, after all that sightseeing in Canggu, there's no better way to unwind than a nice massage.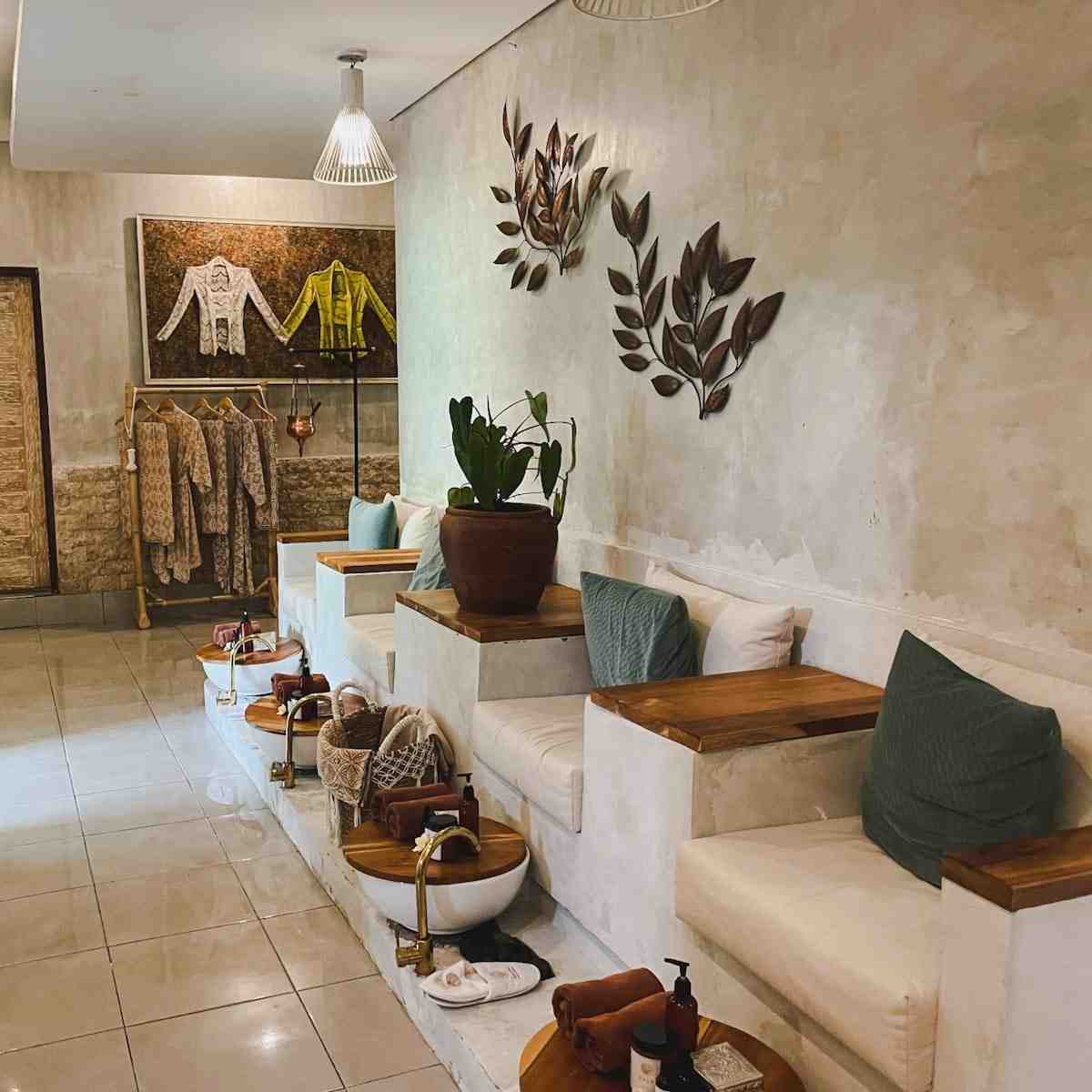 Here's a brief description of Balinese massage. It's a full-body, deep-tissue, holistic treatment. Traditional Balinese massage combines gentle stretches, acupressure, reflexology, and aromatherapy. These movements are supposed to help your blood and oxygen levels circulate better, increasing the "qi" (energy) around your body.
After a day of surfing and swimming, a Balinese massage is undoubtedly one of the best things to do in Canggu, Bali. You can check out high-end parlours such as AMO near Batu Bolong beach. AMO is an all-in-one spa with facial, mani-pedi and massage treatments. Or go for a head-to-toe retreat at COMO Shambhala Retreat. They have massage treatments, yoga classes, and a gym onsite. In addition, plenty of smaller, more affordable massage parlours sit around the edge of Canggu's beaches. So, if you ask around, you can get a noteworthy recommendation! 
Check out a coworking space
Canggu's coworking spaces are undoubtedly lively. Even if you are not a digital nomad, you must find an excuse to check your emails at one of these spacious offices. Many have unique interior designs and amenities at a better rate than the bigger cities. And some of them also provide accommodation, which is excellent for low-budget travellers.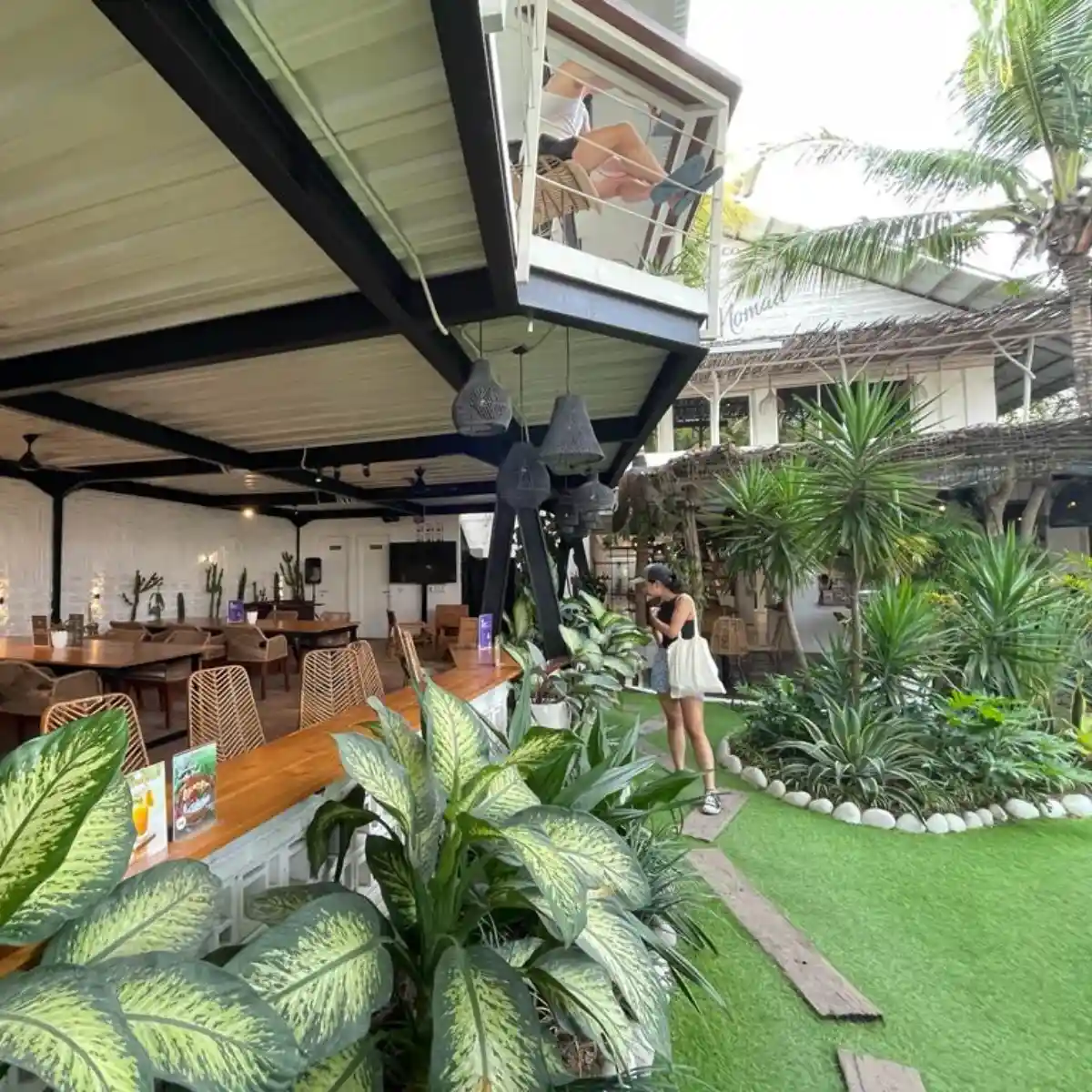 Best of all, if you've ever considered moving to Bali for remote work, these places will give you an insight into the lifestyles of digital nomads here with low tax rates. It's the best thing to do in Canggu, Bali, if you want to learn more about living here.
Check out Dogo. It's a cosy, homely atmosphere in a two-storey villa a few steps away from Echo Beach. The indoors is built around a swimming pool with a lush garden. They also provide accommodation.
Tropical Nomad is another place in Canggu that's worth visiting. Working here gives you a view of green rice fields while seated in an air-conditioned space. If you're looking for free things to do in Canggu, Indonesia - try hanging out at a coworking space. Zin Cafe offers free coworking space.
Most places host free events and talks, such as networking nights and information sessions on moving to Bali. It's an excellent way for newcomers to Canggu to meet other people and learn more about Bali.
Hit the clubs
Canggu is known around Bali for its young, hip atmosphere and club scene! It's great for solo travellers looking for things to do in Canggu at night. The clubs are all clustered together, so you can walk from one to another without worrying about getting lost. And if you want to take a break from dancing and enjoy some drinks with friends, there are plenty of bars nearby.
The clubs in Canggu often have resident DJs who play music on weekends and during peak season. They also bring in guest DJs from around the world who play other genres of music like EDM and hip hop. So it feels a lot like European nightlife, except it's in Bali and one of the most fun things to do in Canggu!
We like to start our Friday nights at Deus Ex Machina in Batu Bolong, where live music and guest comedians usually exist. Then, the next stop is Black Sand Brewery. You can enjoy your beer while looking out at the rice fields. If sipping on cocktails is more to your liking, try the British bar The Shady Pig in the heart of Berawa.
There isn't a best time or season for clubbing in Canggu since there's a nightlife event at a different bar every day of the week. If you prefer dryer nights, then choose the time from April to October. That's when Bali's dry season kicks in, with plenty of sunlight, little rain and low humidity. So for things to do in Canggu at night, try clubbing!
Shopping
Shopping is a must on a list of the best things to do in Canggu, Bali. It's one of the only places in Bali to find unique clothing, like Balinese textiles fused with western cutting for dresses and sportswear. You can also purchase customised surfing gear here!
The best part is that it's not just for tourists, the locals shop here too! Many international and local brands sell everything from surfing gear to fashion staples like t-shirts and jeans. If you're looking for beachwear, sarongs, basket bags or fun jewellery, try Love Anchor at Canggu Centre near Batu Bolong. It's a small bazaar with over 50 stalls, and you can bargain here.
Apart from that, if you walk down busy Batu Bolong, you'll also discover many small standalone local boutiques that sell clothes and surf gear. Be sure to bring your camera and do some sightseeing in Canggu because you can spot colourful murals while walking down Batu Bolong.
If you want things to do in Canggu on Sunday, swing by Old Men's bar on the last Sunday of the month. The restaurant's terrace becomes a lively bazaar scene.
For healthy treats, come by the Sunday organic market near Echo Beach. The small market sells everything from local fruits and vegetables to pastries, fresh juices, coffees and chocolates. Shopping here is always unpredictable and one of the most fun things to do in Canggu!
Balinese cooking class
When you have a break from sightseeing in Canggu, it's time to learn about Indonesian cuisine. Home-cooked dishes here are brimming with herbs, spices and fresh produce. Even if you have never cooked, add a Balinese cooking class to your list of the best things to do in Canggu, Bali. Food is one way to learn more about Bali and more about the daily lives of the locals.
The island has several cooking schools and classes where you can learn traditional recipes and bring them home to wow your friends with your newfound skills. While in class, we learnt everything from ingredient scouting in the local markets to food preparation and various Indonesian recipes.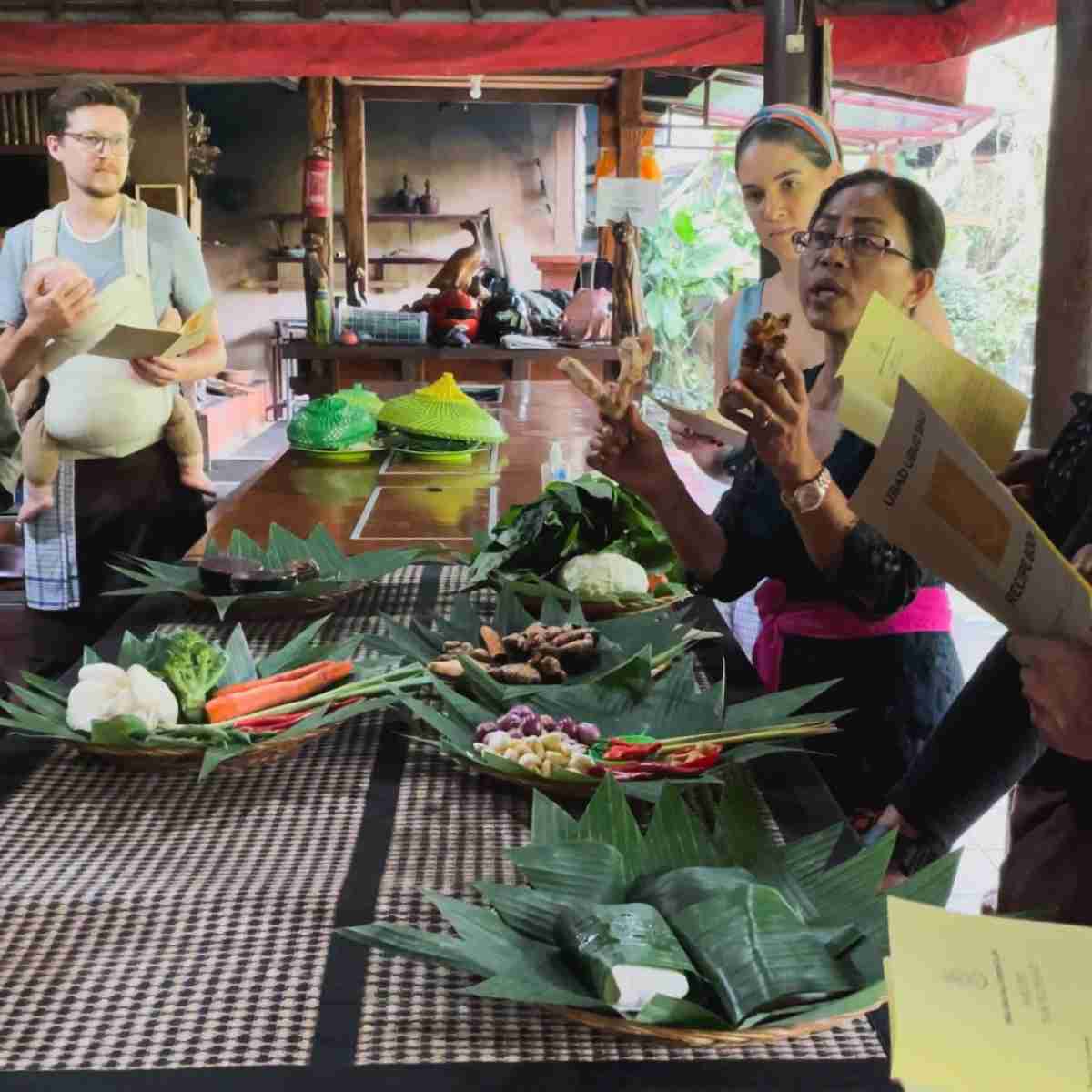 If you're looking for a cooking class, you can book one from travel websites. Some places, such as Bu Dewi Cooking Class & Homestay, offer a homestay experience, where you can stay onsite and learn cooking from the host. Living and cooking like the locals definitely count as a unique Canggu tourist attraction.
Similarly, if you stay in a hotel, you can inquire if they hold cooking classes. Some, like Hotel Tugu Bali, feature cooking classes as part of hotel activities. Interestingly, Hotel Tugu Bali's culinary experience involves cooking in a kitchen outfitted with an ancient wood-fired stove! 
Jewellery making
One of the most unique and best things to do in Canggu, Bali, that we can recommend is to take a jewellery-making class. Many local markets have jewellery shops and stands, indicative of the silver manufacturing industry in Bali. You get to learn traditional techniques of silversmithing and make your own jewellery.
That's why making your own will be a lot more fulfilling if you love jewellery and buying them. Check out Canggu Jewellery classes, which will take you through the entire process. You can book a full-day, private lesson or join a group class if they have ongoing courses. Also, if you have a design in mind, the silversmith can patiently walk you through the steps of customising your jewellery.
Some of the techniques we learnt in the introductory 3-hour classes include soldering, sawing, stamping, texturising, rolling, filing, and polishing. But if you are interested in more advanced skills, such as granulation work, stone setting, and even wax carving, the studio offers a Beginner Silversmithing 4-Class Session or an Advanced 16-Class Session. Book in advance to make sure you get a spot.
Coconut oil making and Jamu making
Besides sightseeing in Canggu, how about making coconut oil and Jamu to take home? Coconut oil keeps your skin and hair healthy. It's also one of the most versatile ingredients in the kitchen, and you can use it to make everything from lip balm to hand lotion! Indonesia is world famous for its coconut oil exports. Joining a coconut oil-making class has to go onto the list of best things to do in Canggu, Bali.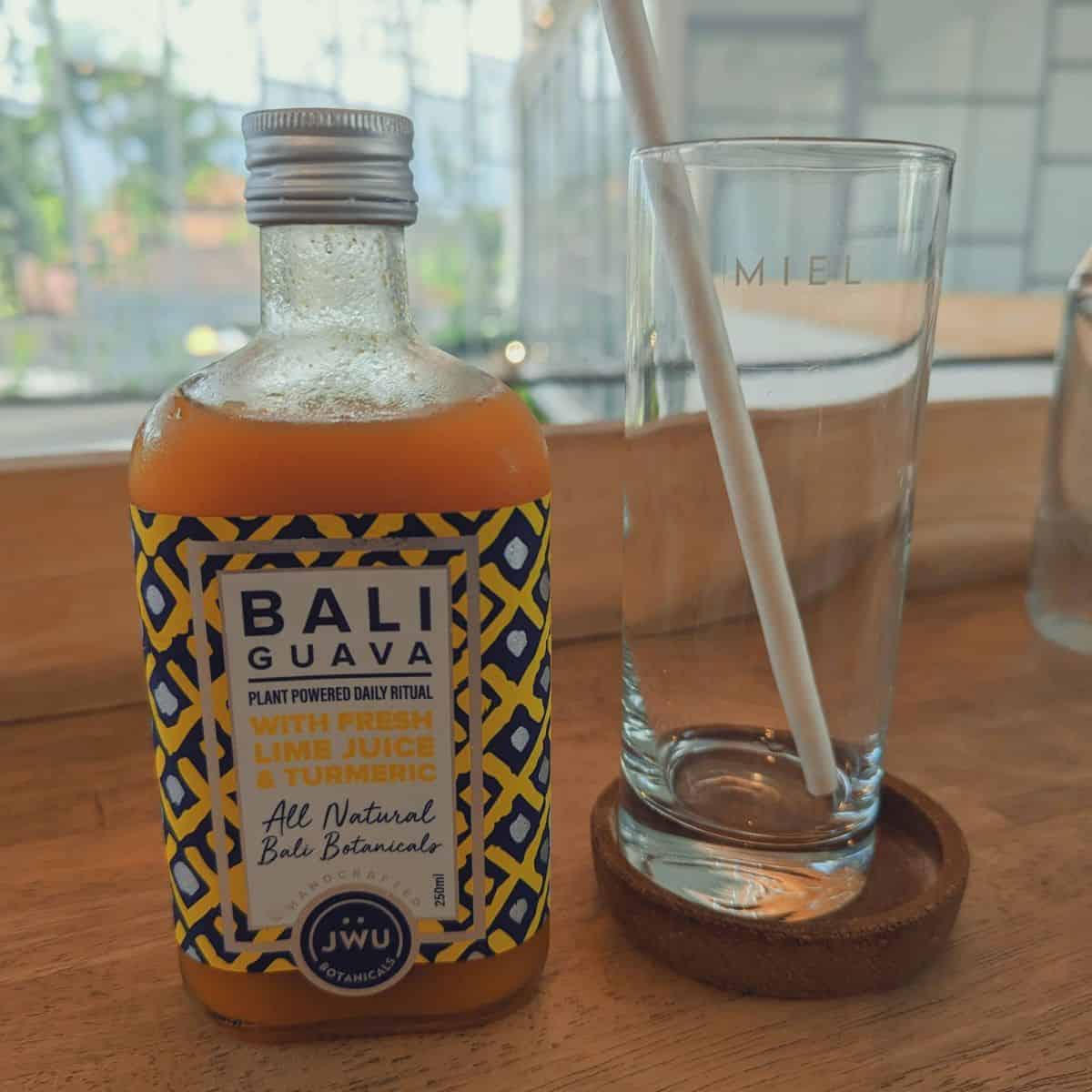 There are a few classes on travel sites such as Airbnb that you can book. Search around and read the reviews before you decide. For example, we loved that our hosts on Airbnb showed us how to make coconut oil by pressing the meat of the coconut, then drying it and grinding it into a paste. This paste is cooked until it becomes a liquid. It's an activity suitable for young and old couples or families.
Another interesting Indonesian export that you should try making is Jamu. This traditional Indonesian herbal medicine has been used for hundreds of years by people all over Indonesia and worldwide to improve their health and wellness. It's made from various plants, herbs, and spices, including turmeric, ginger root, lemongrass, cloves, and nutmeg seeds! So check out a Jamu-making workshop to concoct it yourself.
Try a warung
So you've tried all the smoothie bowls and scrambled eggs available, and now you want some authentic Indonesian food. Go to a warung.
A warung is a local food stall where you pick and mix the dishes you want. It is a cheap and easy way to try many local flavours simultaneously! After a long day of sightseeing in Canggu, tasting delicious Indonesian food in a relaxed atmosphere is the best treatment.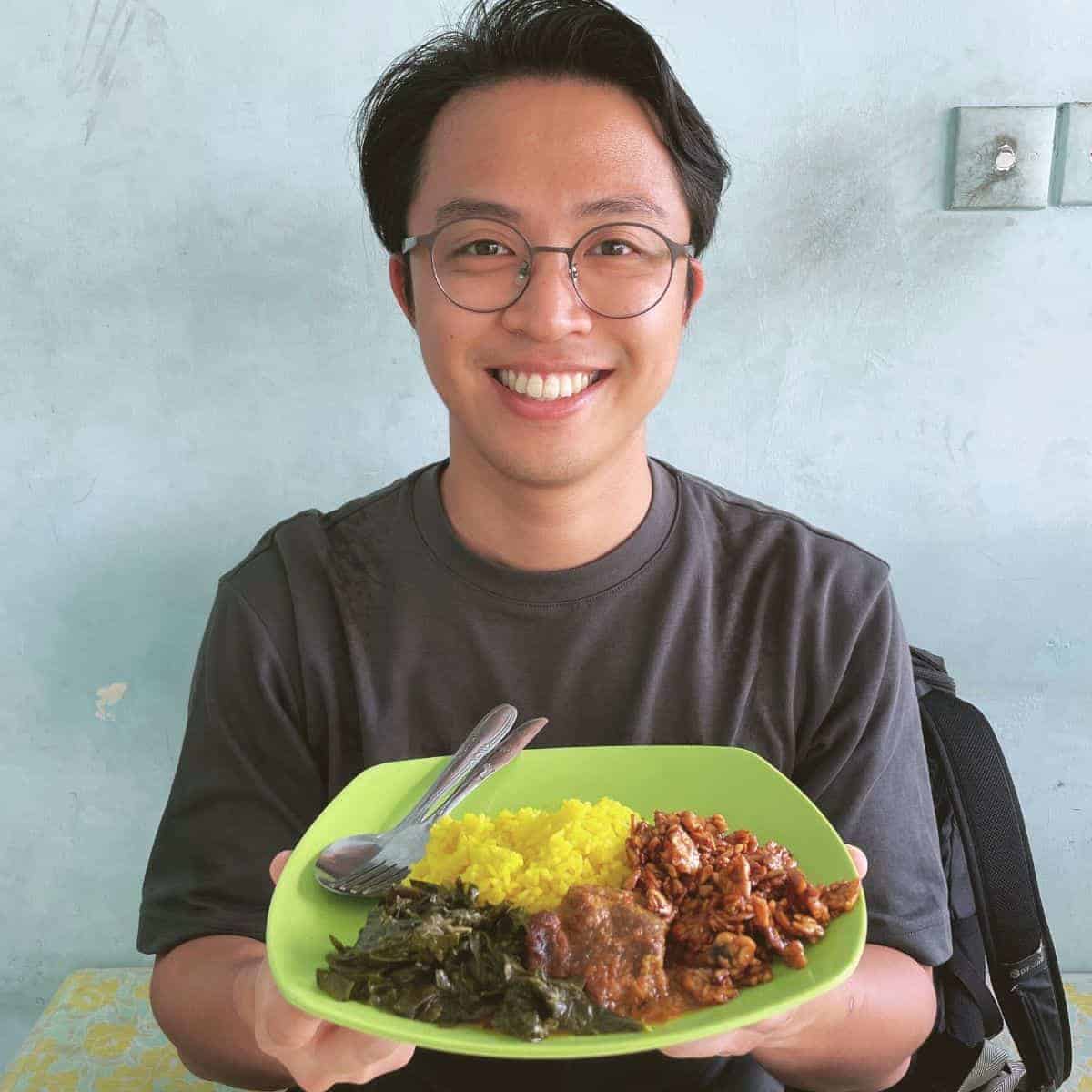 While Canggu has many Western cafes, you cannot leave without digging into good local food. One place we like is Warung Heboh Canggu. It is located at Jl. Raya Semat, near Berawa Beach. The standalone building has a mural spray painted with its name. Once inside, you'll find long rectangular tables and a buffet-style reception. Point and choose the dishes you want, and the server will dish them up for you.
Or you can try Warung Varuna. This place is near Batu Bolong beach. A 2-storey building, this warung also sells Western dishes such as all-day breakfast and pizza. Prices are relatively affordable at warungs, not going beyond $10 per pax for food and drinks. So, if you want to save money, eating at a warung is the easiest way. Besides, you can only say you've tried all the things to do in Canggu once you've tried eating like a local. 
Attend a stand-up comedy show
If you're looking to laugh, we've got your back. Comedy nights in Canggu used to be a regular event until the pandemic happened. Now that travel restrictions have been lifted. The stand-up scene is slowly being revived, so it's time to add laughter when looking for fun things in Canggu.
You can find comedy shows in Canggu at the Bali Comedy Club, which hosts events around the island. They also host events throughout Bali. In Canggu, they perform on Friday nights at Deus Ex Machina. Remember to pre-book your seats!
If you're visiting Deus cafe, check out their range of surfing gear or go for a trim at the barber behind the shop. Comedy shows aside, the popular cafe also doubles as a tattoo parlour, surf shop, and salon.
Nude Canggu, famous amongst the Bali expat community for its brunch options, also hosts comedy nights. While they may not have a schedule online, you can always check with the friendly servers to see if they have live events or performers when you're in Canggu. 
Community beach clean up
If you want to make a positive impact as part of things to do in Canggu, try a beach cleanup. You will notice that while beaches are some of the top Canggu tourist attractions, unfortunately, a lot of litter is left behind. There are several non-profit organisations or groups you can join.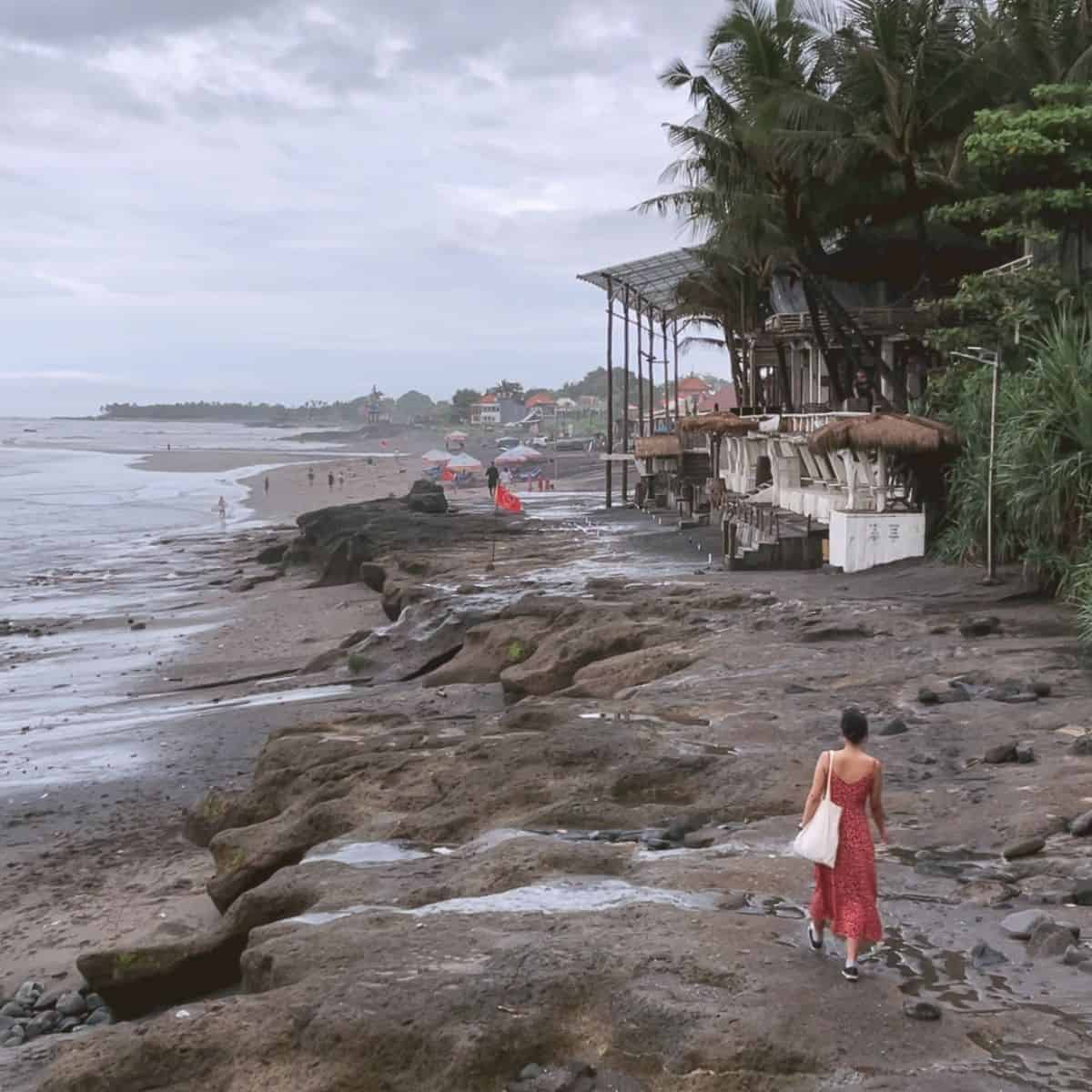 For example, we volunteered our time with Canggu Beach Clean up. The group meets at Berawa Beach at 5 pm every Tuesday. All the trash collected goes to EcoBali, where it can be recycled. Another beach cleanup to look out for is at Old Man's Canggu.
They usually hold the activity every Saturday at 3 or 4 pm and sometimes collaborate with Ocean Mimic and Eco Living. If you want to be a volunteer, they will provide you with a free drink and a goodie bag from Eco Living Bali.
There is usually no need to bring anything because these organisations will provide you with bags and gloves. Also, there is no need to sign-up first. It's an excellent way to meet new friends so you can learn more about life in Canggu. Besides, it's also one of the free things to do in Canggu, Indonesia, which will significantly benefit the environment and your holiday.
Learn how to ride a motorbike
Sightseeing in Canggu is easy if you have personal transport. The best thing to do in Canggu, Bali, is to rent a motorbike to get from one activity to another.
If you're worried about safety, don't be. The roads here are wide and well-maintained, so it's easy to navigate them even if you don't know the area well. In addition, Canggu is one of the safest places in Bali to try since drivers tend to drive slower here than in Ubud and Kuta.
So you'll have plenty of time to get used to driving on your terms before hitting any traffic jams. Besides, it's a fun thing to do in Canggu if you've never driven in Southeast Asia before.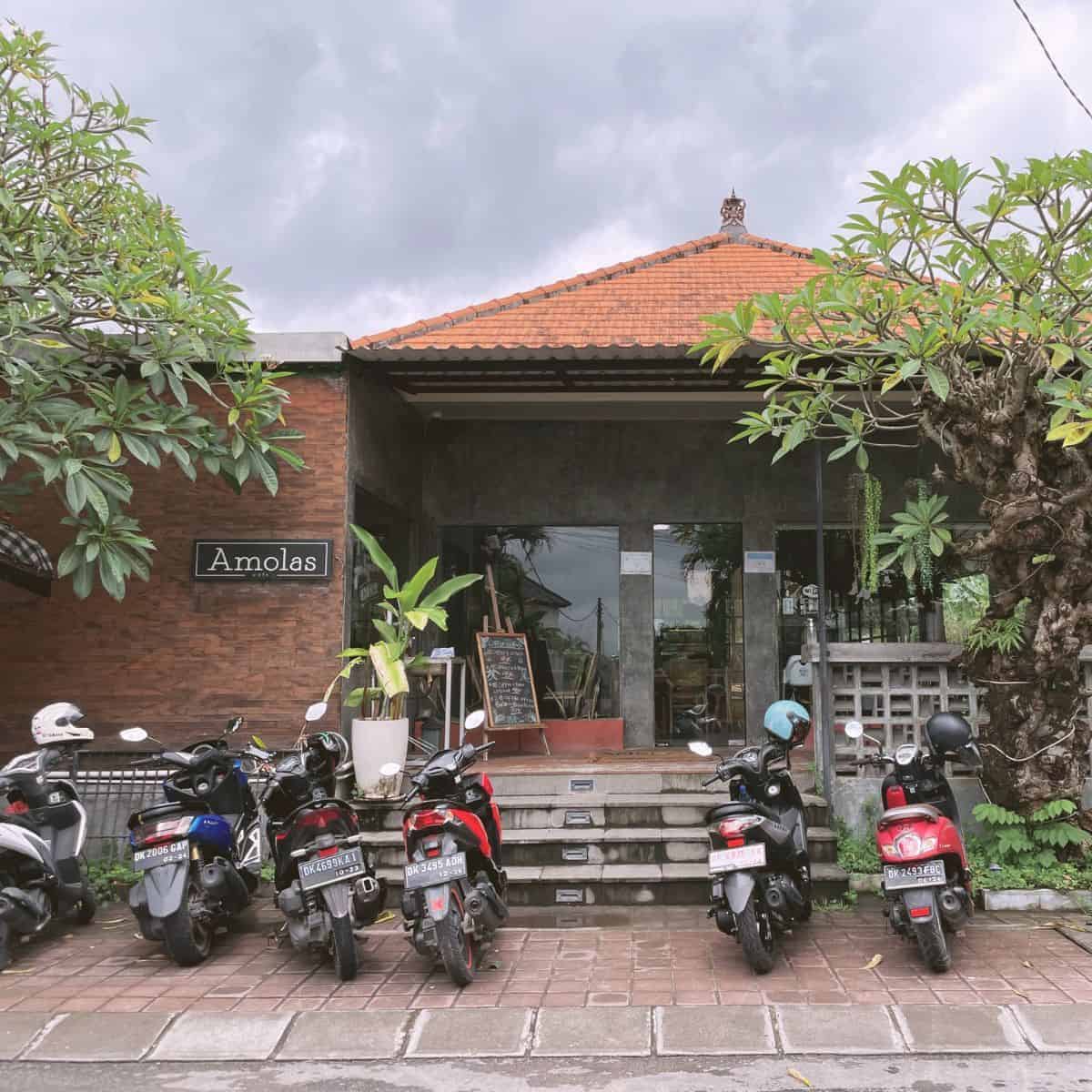 Plus, with most of Canggu tourist attractions within walking distance of each other (and many right on the beachfront property), renting a motorbike is an easy way to see everything without worrying about public transportation or taxis.
However, you will need an international driving licence to ride a motorbike, and you will have to wear a helmet while driving. Additionally, you will need to check with your travel insurance whether bike riding is covered. Most travel insurers should cover you if you possess an international driving permit. Alternatively, buying separate vehicle travel insurance might be best if you intend to rent a motorbike.
Other activities to do in Canggu
There are plenty of other fun things to do in Canggu besides those we have listed above. For instance, you can see the Pererenan and Seseh rice fields. While not as expensive as Ubud, the stacked Bali rice fields are still a sight. Here are other places you can consider for things to do in Canggu and Seminyak, which is just 20 minutes away:
Activities to do close to Canggu
If you want to see more of Bali apart from Canggu, you can also consider making a day trip to nearby regions. Here are our suggestions:
Want more tips to make the best out of your travels in Bali and other parts of Asia? Then, follow us on Instagram @tabitogether for more travel guides!