You'll find the best cafes to work in Canggu are all over this small town. Within this small area of Bali, there are more than 30 cafes where you can easily spend the whole day working in.
Sunny Canggu in Bali attracts tourists who visit for its sun and surf, as well as digital nomads who enjoy working in its numerous cafes. But with so many choices, it might take a lot of work to choose where to go.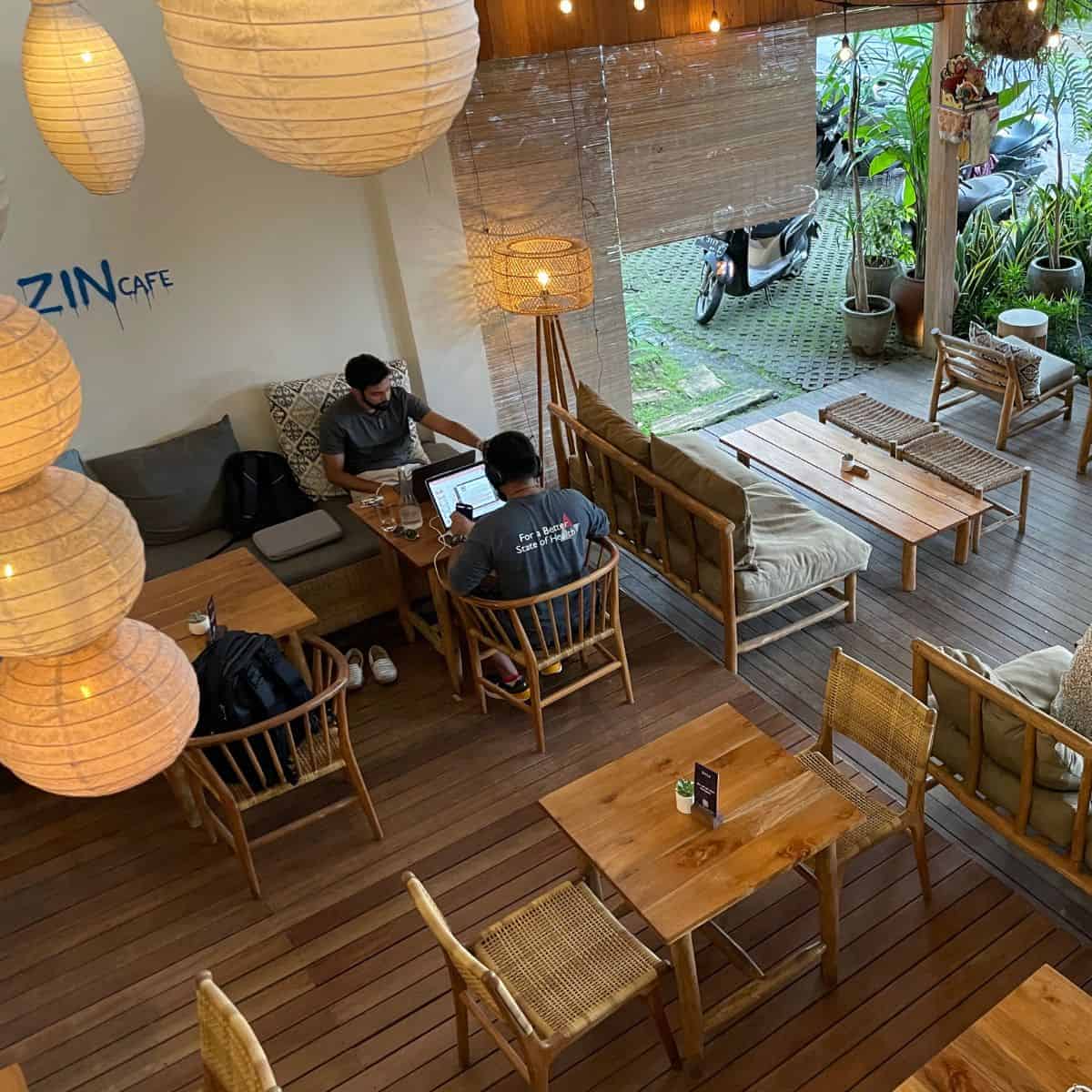 We love a good coffee while we work. So during our time in Bali, we packed our laptops and travelled around this small town searching for our favourite Canggu cafe for work.
We checked out the ambience and crowds, sampled the coffee and tested the wifi speed. We also looked for cafes that opened early in case you need to rush an early morning email and other amenities such as the number of plugs available.
Whether you need somewhere to sit for quiet me-time or need to log a few hours, our list of cafes will help you find your favourite one fast. Let's get started.
Jump to:
Nyom Nyom Coffee
Nyom Nyom coffee is one of the best cafes to work in Canggu. The open space cafe is situated in a 2-storey open-air building. While there's no air conditioning, the numerous wall fans ventilate the place well.
The setup is also spacious and inviting. You can choose to sit at the large wooden tables, which sit two or four persons with high back chairs, or bar top seats overlooking the street. Plenty of plugs were available, and we felt the music was comfortable enough to focus on work or quiet conversations. When we tried the wifi, it was stable enough for a short video meeting, so it's pretty decent.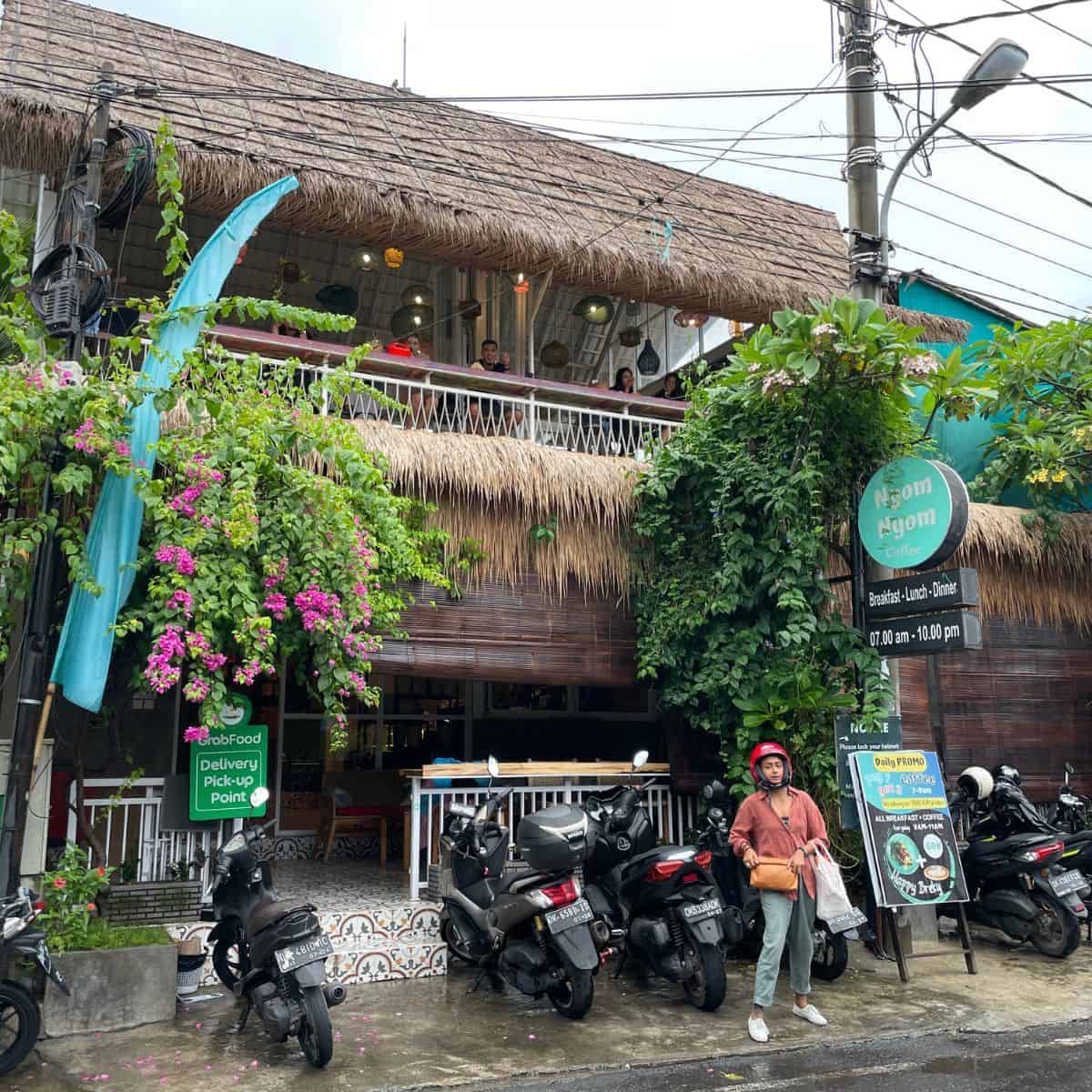 Over here, the menu offers breakfast options, pizza and burgers, as well as Indonesian food. There are vegan and non-vegan options available. Prices are also relatively affordable. We recommend ordering peanut butter toast if you are there for a light snack.
The cafe makes its peanut butter in-house, and we loved the taste. They also donate some of their profits to local charities, so if you want to help, purchase a bag of local coffee beans before you leave.
Nyom Nyom Coffee
Jl. Pantai Berawa Br Pelambingan No 37B Tibubeneng, Canggu, Kec. Kuta Utara, Kabupaten Badung, Bali 80361, Indonesia
Nude Canggu
Cosy Nude is well known for its friendly staff, who make the place feel like a second home. It offers a quiet respite from nearby Berawa beach, overlooking the street.
The cafe is set in a stately white shack. High ceilings with hanging lanterns and green plants trailing from the roof beams complete the Pinterest-perfect look. Outside, there are standing fans to cool the place, but the indoors are also air-conditioned so that you won't feel the heat from the Bali sun. Furthermore, the music is also soft enough to work, and there are enough plugs spaced out between tables. Wifi is stable for a few hours of intense work.
Nude has an extensive menu with vegan and gluten-free options. If you like smoothie bowls, then Nude might be one of the best cafes to work in Canggu. While there's the usual avocado toast, pancakes and burgers available, there's also a good selection of sweet and savoury smoothie bowls.
We love and recommend the Berry Smoothie for a cool treat, and the Pitaya smoothie bowl is also a purple delight! Another thing to know is that this cafe in Canggu serves decaf coffee and also taro lattes.
Nude
Jl. Pantai Berawa No.33, Tibubeneng, Kec. Kuta Utara, Kabupaten Badung, Bali 80361, Indonesia
Miel's Coffee
For newcomers on their first trip to the island, Miel's Coffee is the best cafe in Canggu for pictures. You cannot miss it from the street since it occupies two blocks with a definitive geometrical roof.
The cafe resembles a greenhouse with sweeping floor-to-ceiling glass panels and lush hanging plants from the second floor. The botany theme continues inside with pebbled black rocks as floor tiles, leafy fern plants and an all-white minimalist decor.
With so much sunlight streaming in, this is where we happily took glowy selfies of our date days. If you want to work here, the spacious cafe with air conditioning is an excellent place to do so.
Their wifi is stable, and there are plenty of plugs. The only drawback was if you stayed for lunch, it does get noisy. In addition, you might feel uncomfortable sitting long at the bar stools.
The menu serves just Western selections. There is truffle scramble, brioche french toast, black ink pasta, and wagyu burger, to name a few options. Not many vegan dishes are offered, although staff might be able to customise them.
This is one of the best cafes to work in Canggu if you like tea. Miel excels in the range of teas they have. They have exciting names like Serenity and Remedy. Our favourite brew is Remedy, a green tea combined with ginger, lemongrass, pandan and lemon.
Miel Coffee Canggu
Jl. Pantai Batu Bolong No.5, Canggu, Kec. Kuta Utara, Kabupaten Badung, Bali 80361, Indonesia
Dough Darling
If you want to people-watch and perhaps strike up a friendship with a local stranger, Dough Darling is the best cafe in Canggu to do this. So naturally, it's more popular amongst Indonesians than expats.
Even if that is not your intention, we still highly recommend this place to work and stay productive. There are three stories of spaces, with an air-con on the first two levels and a sheltered rooftop. Its contemporary exterior stands out amongst cafes in Canggu, with slabs of red concrete layered atop each other.
Inside is equally unique, with woven bamboo art by artist Nano Uhero hanging from the top. Unfortunately, its sleek design aside, we only saw a few plugs available. Wifi was also relatively weak. However, if you have hot spot on your phone, you'll be fine here.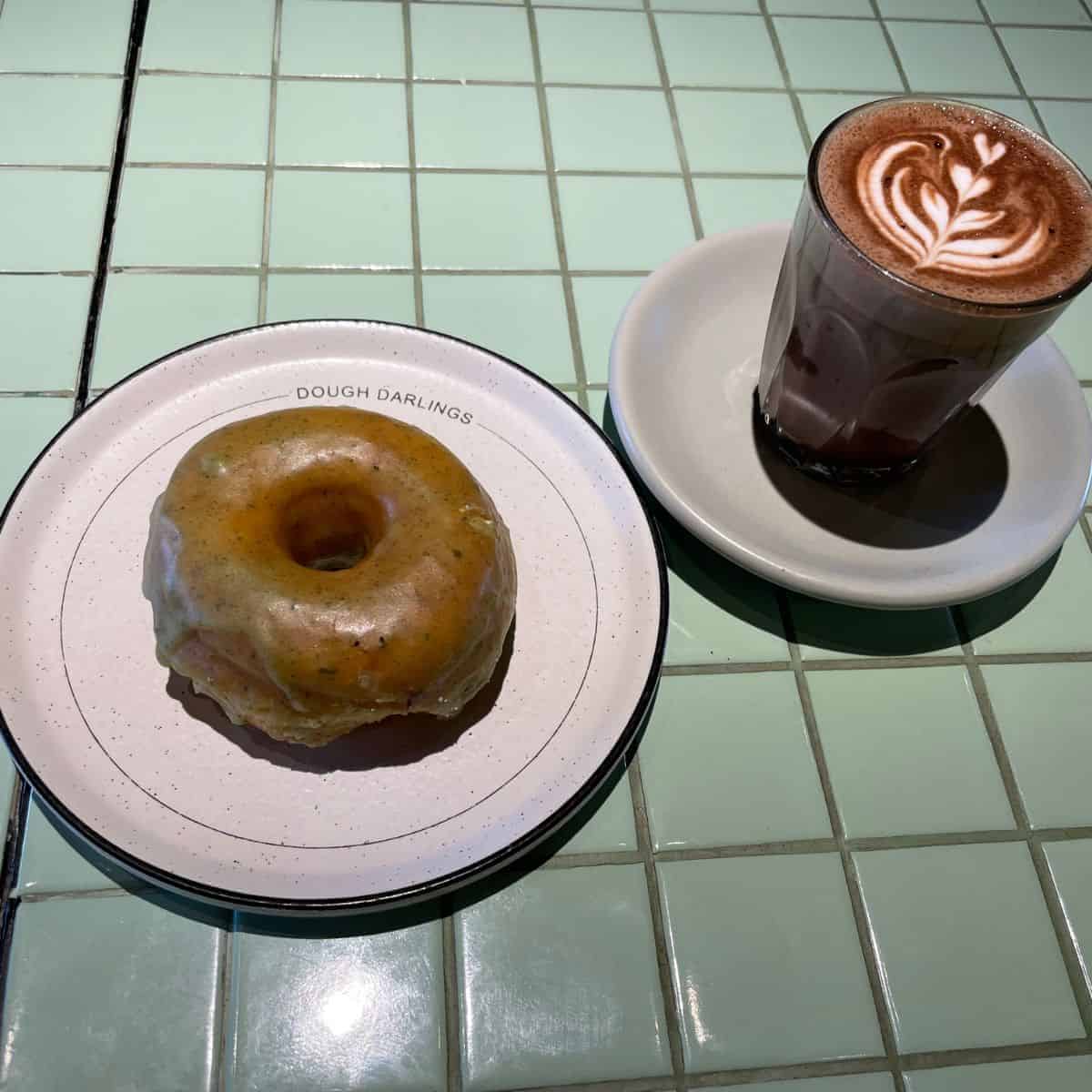 Food-wise, Dough Darling is famous for its soft and chewy doughnuts. That's how the humble doughnut shop started before expanding to this current space. Over here, you'll get to indulge in all kinds of doughnuts, although we recommend going for the Triple Belgian chocolate and Salted Caramel Almond.
There are even vegan doughnut options available. But if you want a more substantial meal, the cafe also has breakfast options. Especially for those who wish to try TikTok food trends, you can go for the Tiktok toast, which is a viral TikTok recipe for pesto eggs. This is one of the best cafes to work in Canggu if you want a varied menu.
Dough Darlings
Jl. Raya Semat No.1D, Tibubeneng, Kec. Kuta Utara, Kabupaten Badung, Bali 80361, Indonesia
Satu Satu Coffee Company
Satu-Satu Coffee is the best cafe in Canggu if you're a coffeeholic. The Sudana family owns the business and is well known for their coffee plantations all over Indonesia.
With that reputation, you can expect strong local coffee from this cafe. But first, let's talk about the vibes. The coffee shop is located along a busy street near Berawa beach. You can sit outdoors or indoors.
There is no air conditioning, but the ceiling and wall fans keep it ventilated. If you're looking to work on your laptop, head upstairs to the quiet room, which offers more privacy. However, it does not have many plugs, so bring your laptops fully charged. The quiet upstairs room also gets filled up from the early morning. So, head there early if you want a seat.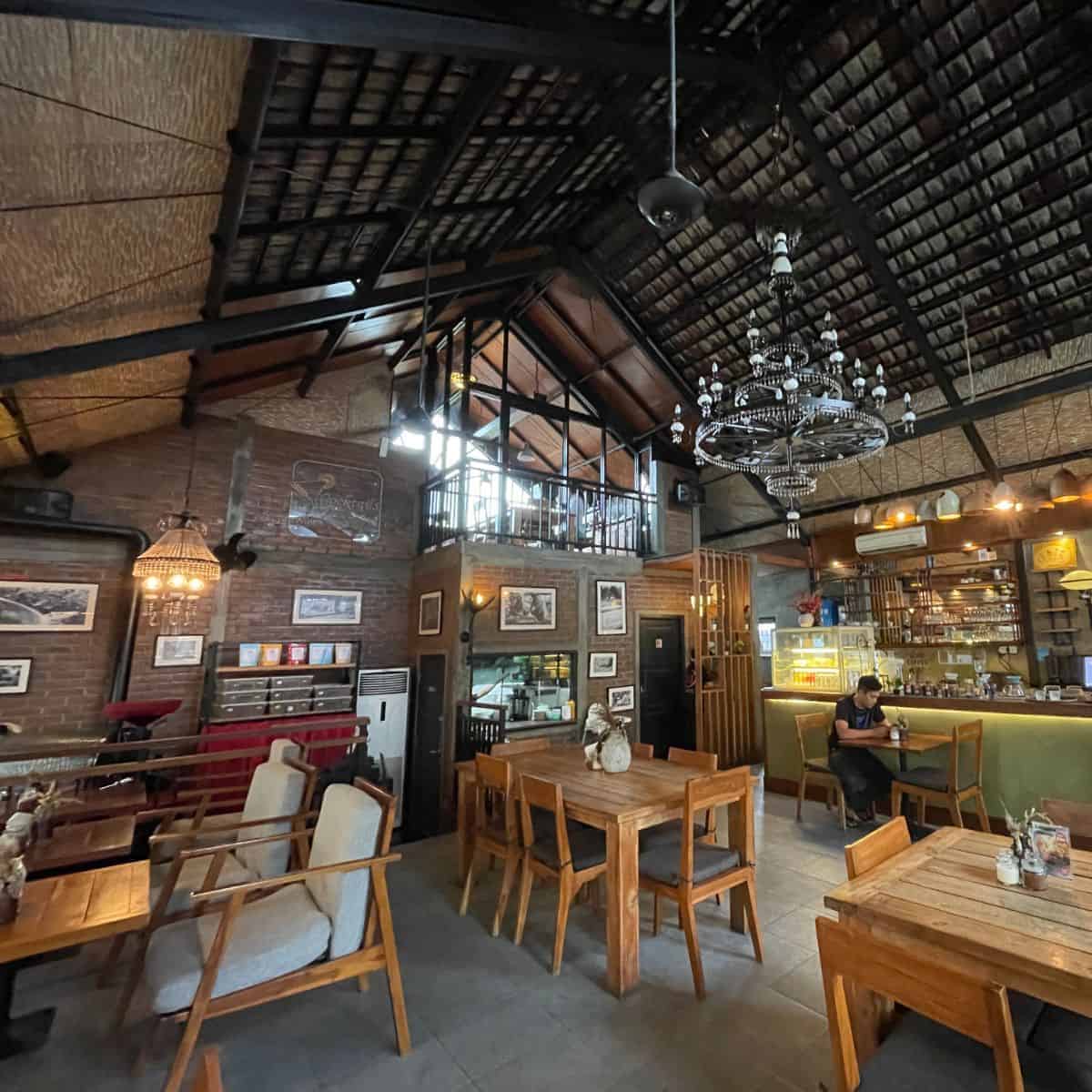 Satu-Satu Coffee has an affordable menu and great coffee, making it one of the best cafes to work in Canggu.
There are plenty of Western breakfast options, although we recommend the Satu-Satu porridge with oatmeal, quinoa and fruits blended for a light meal. There are also smoothie bowls, soups and sandwiches as well. Even if you're not hungry, you should try their coffee. Here, we tried Luwak coffee, and it was delicious. Definitely one of the best things to do in Canggu if you're around town for a long time.
Satu Satu
Jl. Pantai Berawa No.36, Tibubeneng, Kec. Kuta Utara, Kabupaten Badung, Bali 80361, Indonesia
Zin Cafe
Zin Cafe is tucked away in the street near Canggu beach. This Canggu cafe for working is located in a prime location that offers a lot of privacy since it's not too near the noisy seaside. It's also hidden behind the cafe's leafy trees.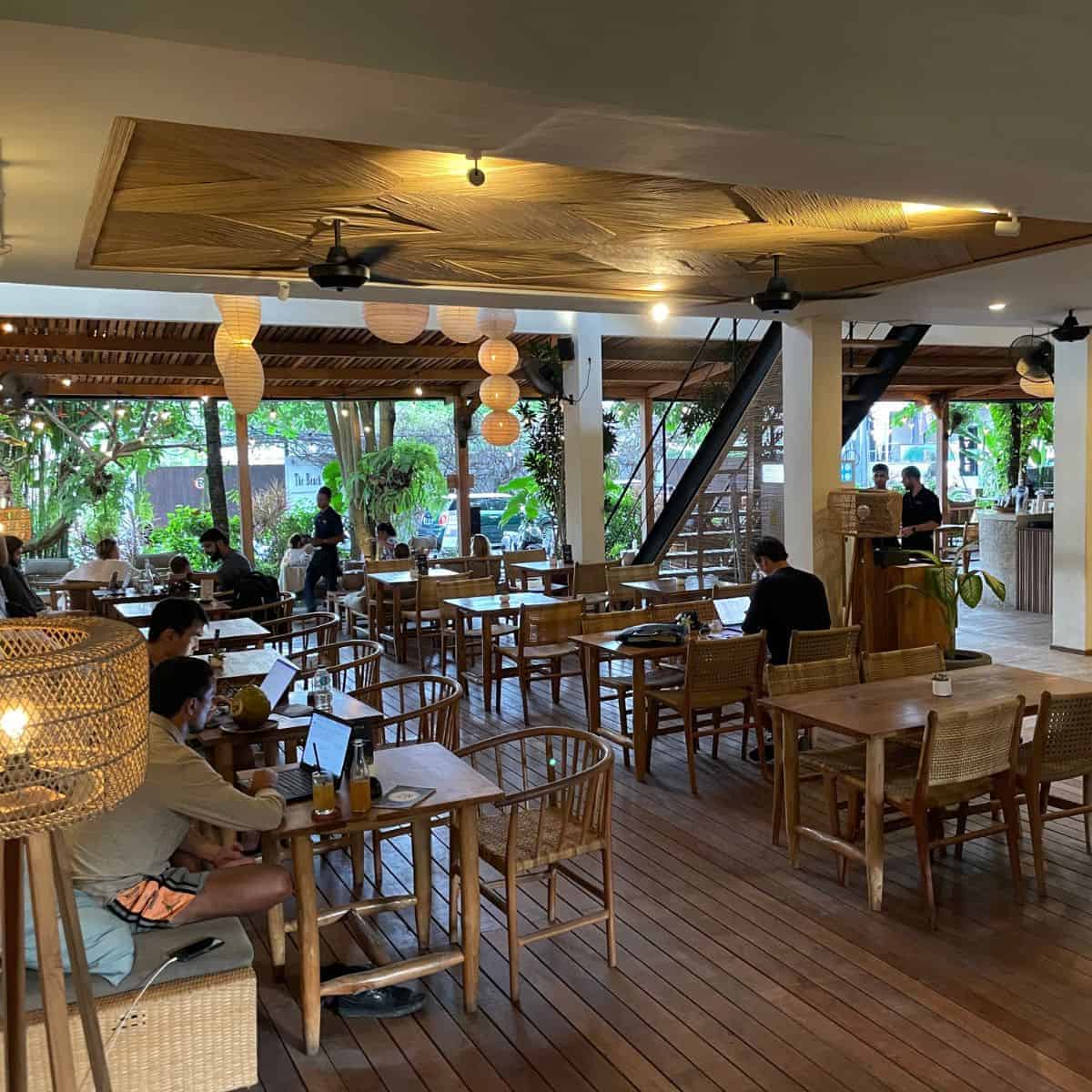 The three-storey building stands in a serene spot. You'll see rattan benches facing the street when you chance upon it. The same relaxed ambience continues inside the building, with plenty of lounge chairs scattered amidst regular seating.
Near the back is a dedicated air-conditioned work zone with free wifi and water. You can also work elsewhere, but there are only fans and no air conditioning. We tested the wifi and felt the connection was pretty weak. Still, the space and rooftop view at night makes up for it.
There is a good variety of food options, and the cafe roasts coffee beans in-store. The menu is primarily Western fare, although there are some unique dishes such as the Kintamani toast, which has crispy sourdough toast and kemangi pesto. Kemangi is the Indonesian word for Basil. There's also Tofu Scramble, a vegetarian dish of silky Lombok tofu cooked with various spices. There's also pasta, burgers and wraps. We suggest eating at the cafe if you're working there, even if the staff do not ask you to order.
Almost everyone here is a digital nomad working with full focus. By far, this is the best cafe to work in Canggu if you want to get some quiet work done surrounded by like-minded people. However, if you need a dedicated coworking space in Canggu, head to Zin Co-Working, just next door.
Zin Cafe
Jl. Nelayan No.78F, Canggu, Kec. Kuta Utara, Kabupaten Badung, Bali, Indonesia
Amolas
Amolas is a Portuguese word which means 'the springs'. This is the best Canggu cafe for working if you want to experience how nomads work. We saw lots of people taking calls and having business meetings. Later on, we found out that most of the diners who come here are digital nomads.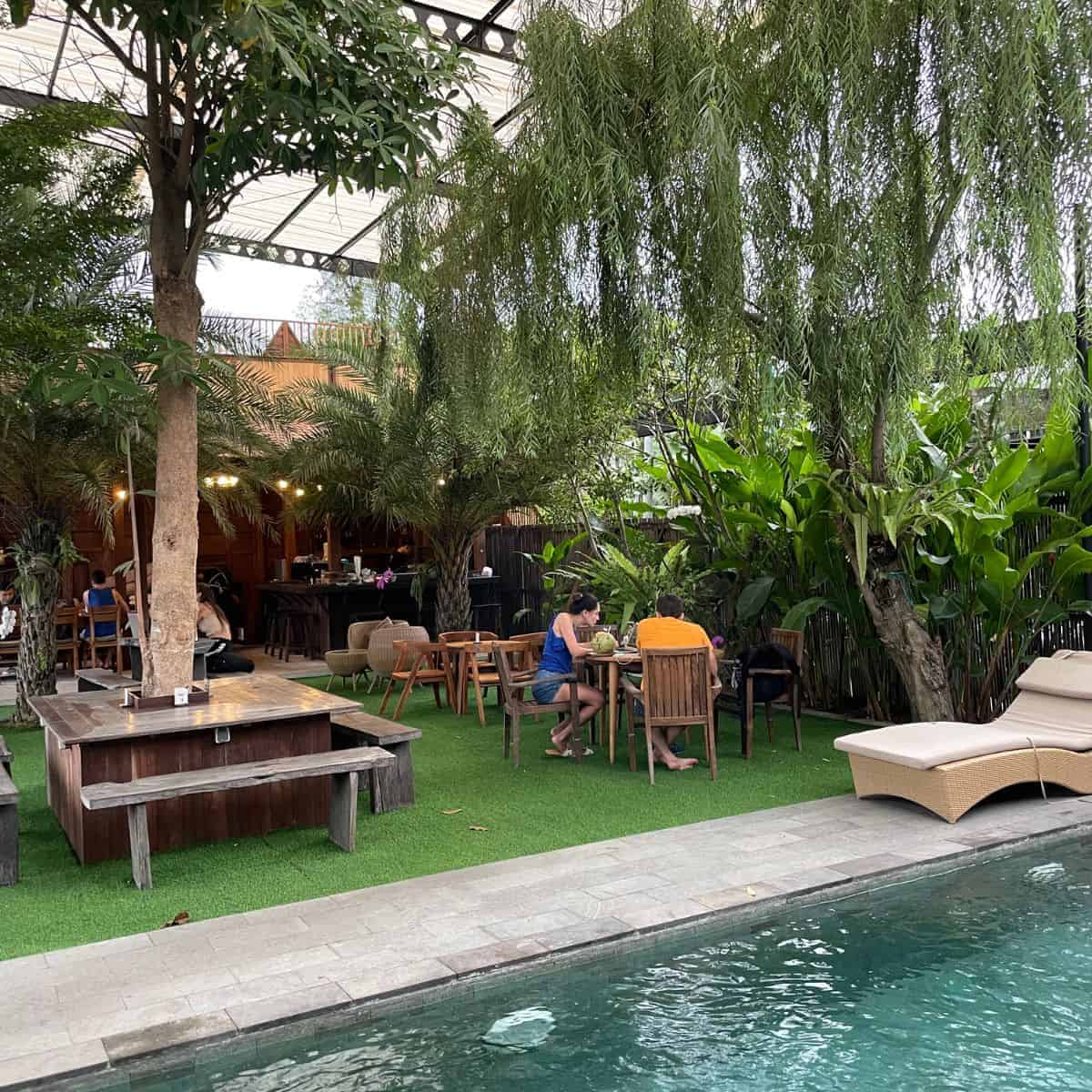 The place is spacious, with three seating areas, including an outdoor space. The outdoor space has lounge chairs amidst neat rows of planted trees and grass patches, which makes for good photo-taking.
There's even a small pool if you feel like swimming. But if it gets hot, take shelter in the air-conditioned indoor space. If you are driving, this is the best cafe to work in Canggu, as there's plenty of available parking space. The wifi connection is also strong, although we experienced a power outage while we were there.
Moreover, there are plenty of Western and local food options for you to choose from. For breakfast, try the Nasi Goreng Amolas. It's steamed rice with red Indonesian spice and other side dishes. Additionally, there are fish and steak options, wraps, and burgers for lunch and dinner.
Amolas Cafe
Jl. Kayu Tulang No.16, Canggu, Kec. Kuta Utara, Kabupaten Badung, Bali 80361, Indonesia
Crate Cafe Canggu
Crate Cafe is near Batu Bolong and is the best cafe to work in Canggu if you need an early start. The place opens at 6 am because many surfers also head there to fuel up before heading to ride the waves.
The cafe is sparsely decorated, seemingly trendy, with a chic industrial design complete with loud electro music at lunchtime. It has a well-ventilated indoor space and an outdoor area. There is also a small gallery selling cafe merchandise.
The indoors have communal tables but also single seats with crates as tables. It also faces a Bali rice field, which is gorgeous when the sun rises in the morning. Therefore, creatives might want to get up and get there early to feel inspired. There is also free wifi available, though it seems most people are there to relax rather than work.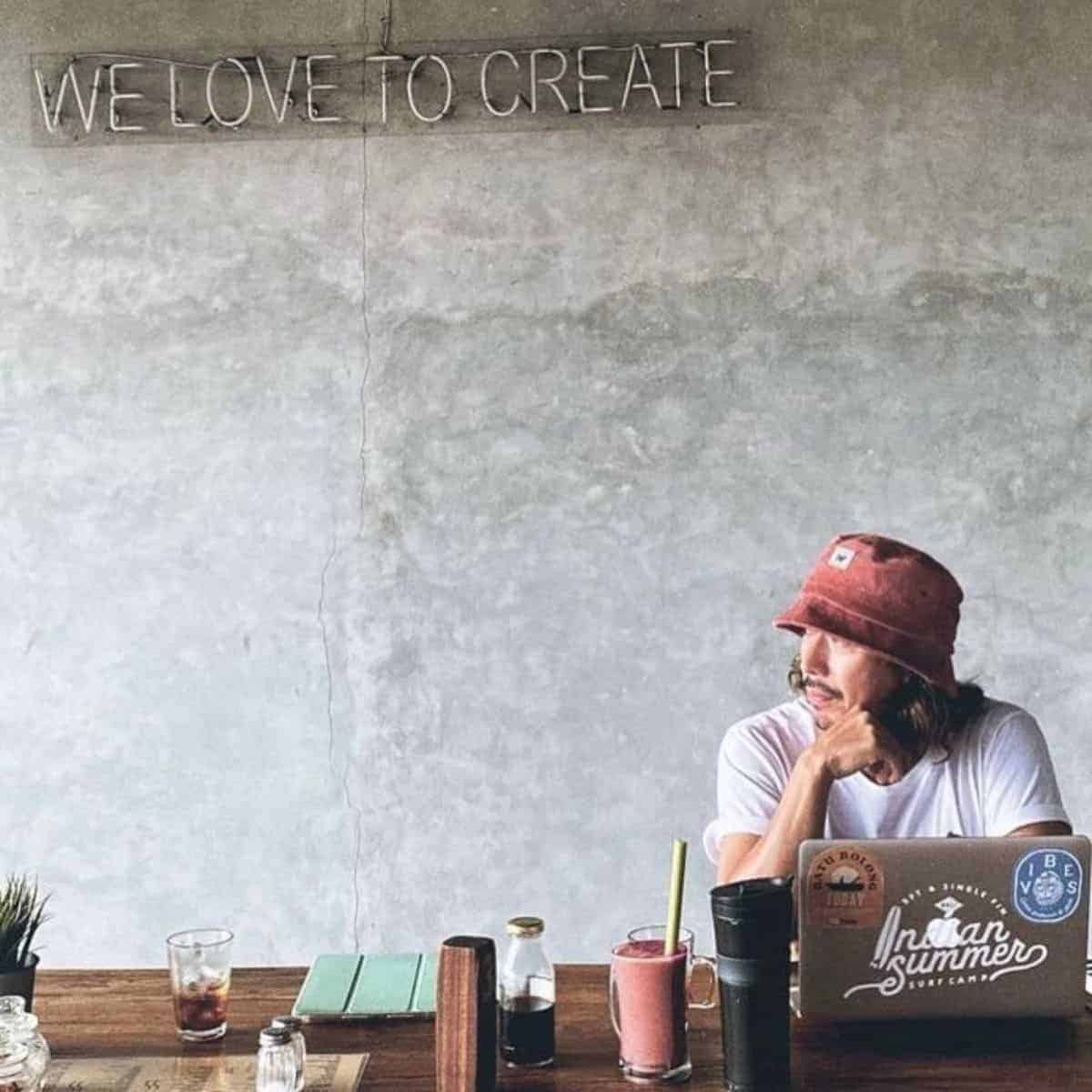 Most people head to this cafe in Canggu to eat and be seen. You can get breakfast wraps, burgers, toasties, smoothie bowls, coffee, or juice. Plenty of vegan options are also available.
We like The Peas Please, which comes with spinach, feta and peas on sourdough with a poached egg perched above. Though if you are not there just for breakfast, note that It can get noisy and crowded at lunchtime, so we recommend heading there in the morning.

Crate Café
Jl Canggu Padang Linjong No. 49, Canggu
The Avocado Factory Canggu 
While the Avocado Factory is not as near the beaches as other cafes, it's right in front of a small rice field and has a large signboard. The front of the wall also has a cute avocado cartoon, so you'll see it once you stop in front of the cafe.
The two-storey cafe is well-ventilated with wall fans, though the second floor can get warm since glass windows surround it. Sit at tables on the first floor's outdoor patio if you want a great view and cooler surroundings. This is the best cafe to work in Canggu if you want to be away from the main roads. Wifi is available for digital nomads who want to work in a quiet location.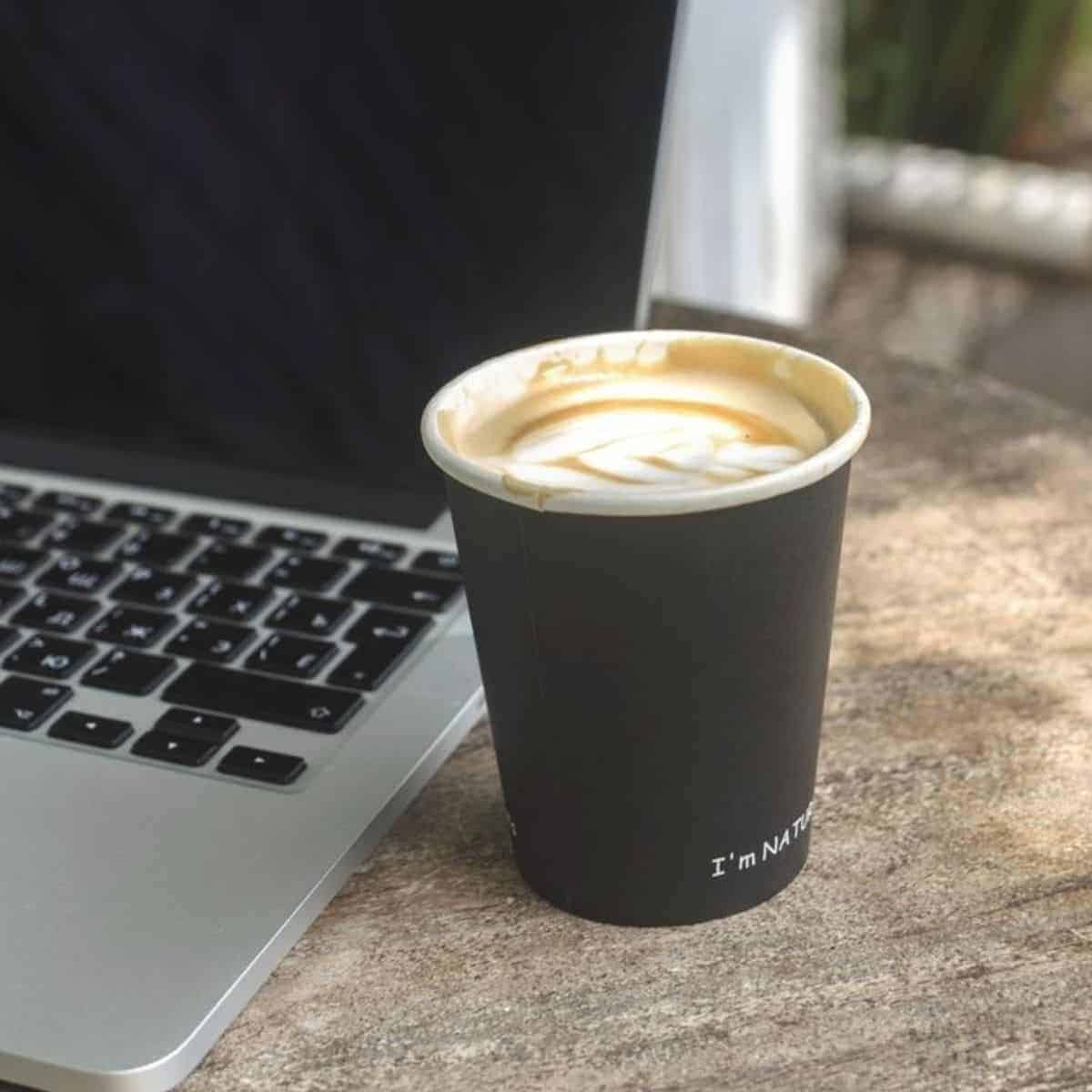 We think this is the best cafe in Canggu if you are tired of the usual menu selections. That's because the menu here is unique - every dish has avocado. You will find avocados in everything, from the breakfast options to the salads, desserts, and drinks.
Go for the avocado pancakes. The soft, fluffy cakes came topped with chocolate gelato and coconut. It's delicious and nutritious at the same time, and we savoured every bite of it.
The Avocado Factory Canggu
Jl. Tanah Barak, Canggu, Kec. Kuta Utara, Kabupaten Badung, Bali 80351, Indonesia
Milk & Madu
Milk and Madu is where you need to go for digital nomads who want a quiet place to work near Berawa Beach. The cafe has won several awards, including a few Trip Advisor recognition.
It's located in a single-storey building, with well-spaced out tables. There is no air-conditioning, but the place is still cool and breezy. While it lacks the fancy flair of some newer cafes, we think it's deliberately understated.
Step into the cafe, and you'll see a high glass ceiling and white brick walls with flowers on every table. You can work here without interruptions since it's relatively quiet. Wifi connection is available.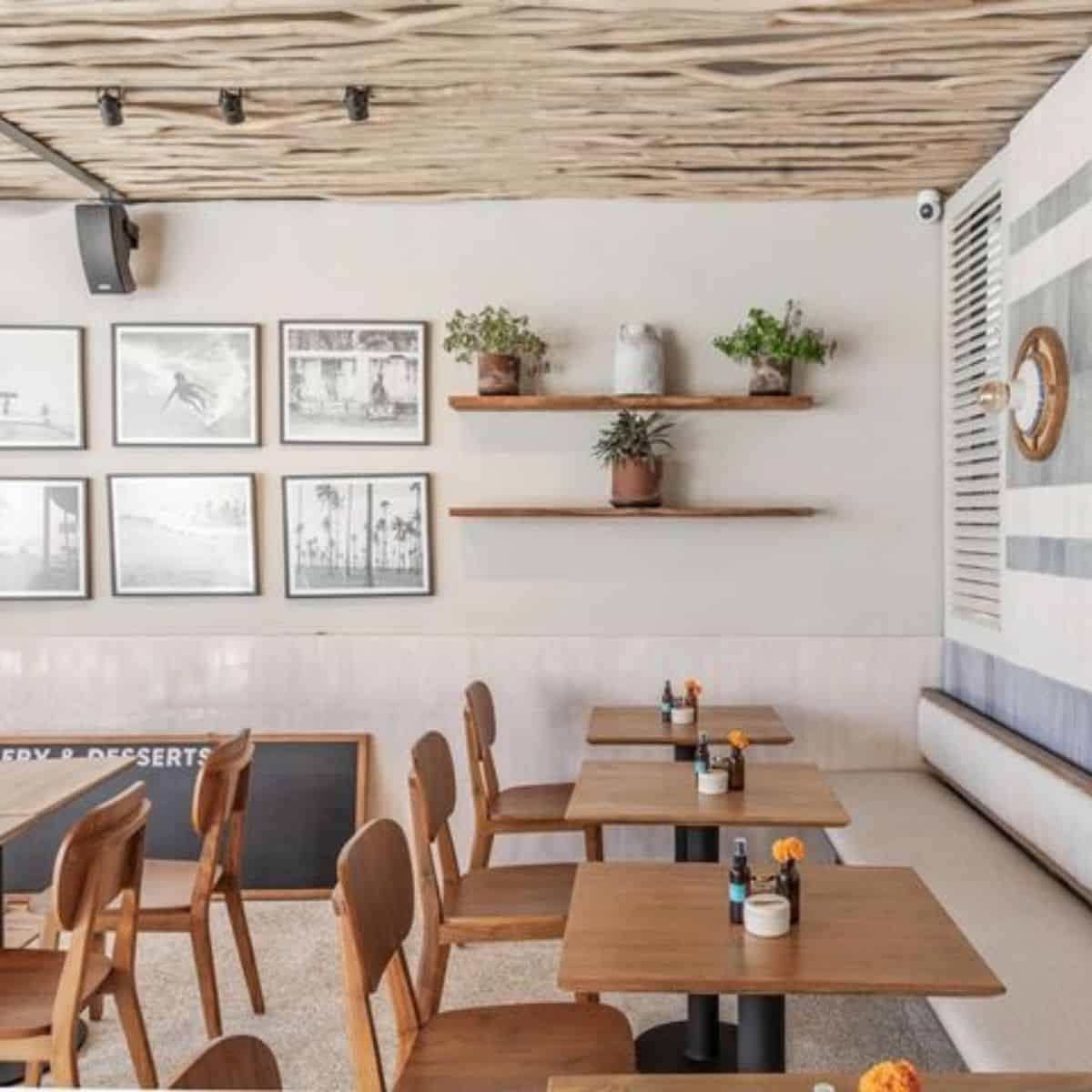 The menu is extensive here, with breakfast, lunch and dinner options, although it does not serve local food. You can get pizzas, pasta, wraps and burgers. There are also smoothie bowls and salads. The Madu poached eggs are popular, topped with hollandaise sauce or get the three egg Skillet with bacon, cured salmon and goat cheese.
Apart from that, this is the best cafe to work in Canggu if you travel with children. The cafe has a kids' menu catered for children and, more importantly, a small playground off the side, keeping the young ones entertained for hours while you work.
Milk & Madu
Jl Pantai Berawa No. 52 and Jl Batu Bolong No. 88a, Canggu

The Shady Shack
As the name suggests, the Shady Shack near Echo Beach offers plenty of shade with its rustic roof. It's located amidst rice fields, so go there if you want a scenic view when you're at a cafe to work.
The place resembles a modern single-storey shack with little touches such as oil lamps in a corner and sporadically placed coconut shells. Spread over a large area, you'll find plenty of seating inside a quirky-looking building. There's no air conditioning, but its location beside the rice fields makes for a pleasant, cool atmosphere. You'll also find relatively stable wifi, although there are few power plugs.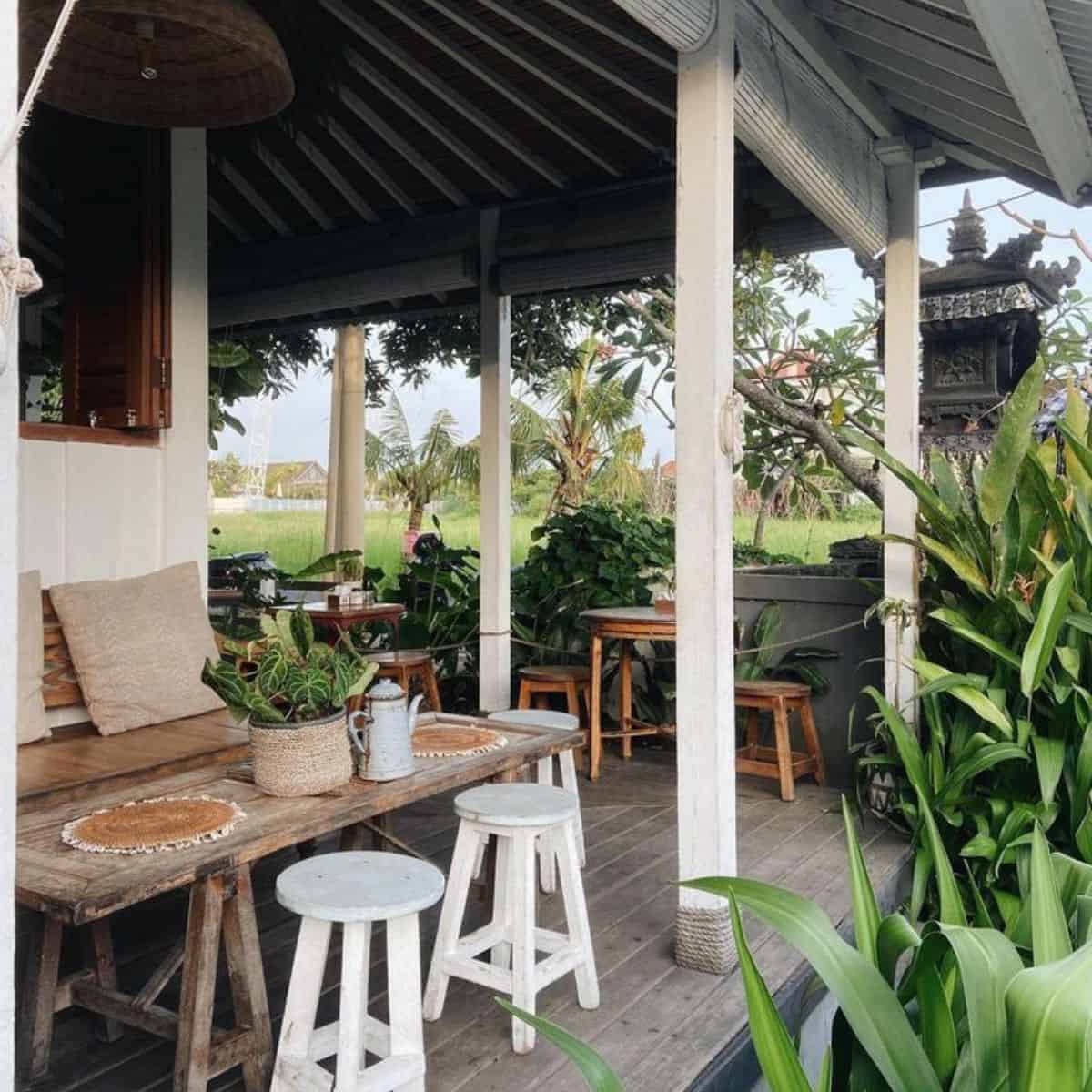 The cafe has a vegetarian menu, which uses plenty of local ingredients. For instance, we liked the Tempe Bowl, which comes with marinated tempeh, vermicelli, and other side dishes. Tempe, or tempeh, is made from fermented soybeans and is a traditional Indonesian dish. You can also get vegan burgers and nachos.
Top off your healthy meal with a turmeric latte for added antioxidant goodness. This is the best cafe to work in Canggu if you want to eat clean while you hustle hard on your laptop.
The Shady Shack
Jl Tanah Barak No. 57, Canggu
Baked
Baked has received a lot of hype for its amazing pastries, and many people flock there just to say they've been there. So if you want a cafe in Canggu to put on your social media feed and catch up on your emails simultaneously, this is it.
We like the two-storey building's clean, white-washed exterior and interior. The minimalist design has cute marketing slogans and a semi-open pastry kitchen hidden by a brick wall counter. While it's not very spacious, the place still feels calm and uncluttered.
Plus, the cafe is fully air-conditioned, and there's wifi. You can also sit at the outdoor mezzanine if you are okay with sharing communal tables. However, it does get crowded quickly, so if you're looking for a place to work the whole day, you might be disappointed.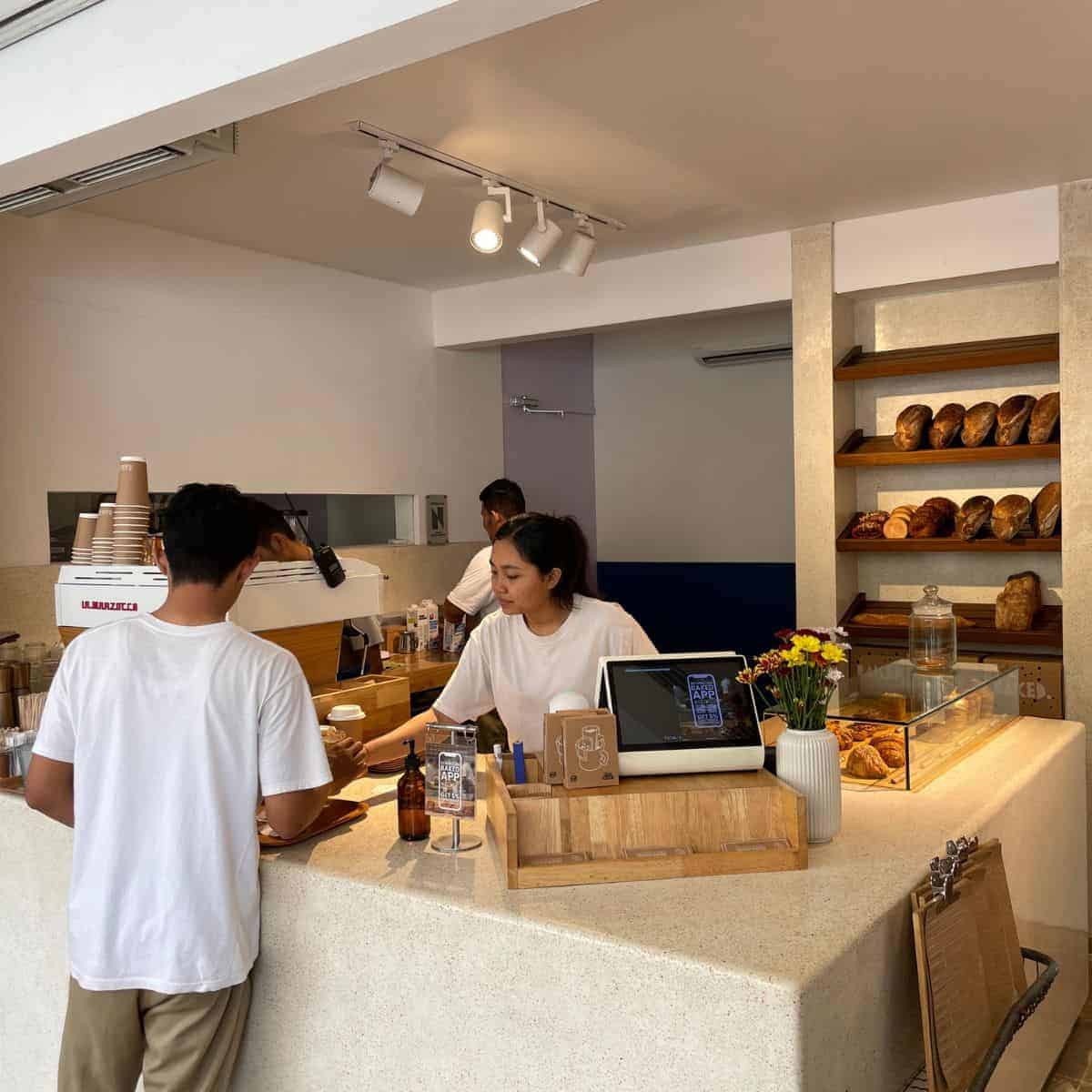 Baked is especially famous for its croissants. There are many flavours, although the most popular ones are the almond and coconut croissants. These flavours sell out by 10 am, so come to the cafe early if you want to try them. If you're here early for breakfast, order the warm sourdough bread and its scrambled eggs.
There are no lunch or dinner options, as the cafe sells all-day breakfast food instead. We feel that the place gets somewhat loud with people catching up and chatting, so it might not be the best cafe to work in Canggu if you're trying to concentrate intensively for a few hours.
Baked
Jl. Raya Semat Gg. Kupu kupu No.1, Tibubeneng, Kec. Kuta Utara, Kabupaten Badung, Bali 80361, Indonesia
Good Mantra
Good Mantra is located at the end of a street near Berawa Beach. From the outside, it looks like a small cafe but indoors is more spacious than it appears.
The cafe has indoor and outdoor spaces, with well-spaced out tables. While there is no air conditioning, the open-air concept means the place is breezy and cool even when it gets hot outside.
There is even a small pool indoors, and wifi connection is relatively stable. This is a hidden spot for digital nomads, making it one of the best cafes to work in Canggu. The restaurant is also located near a surf school, so you can buy cute surfing merchandise at the retail space in the cafe or sign up for surf classes.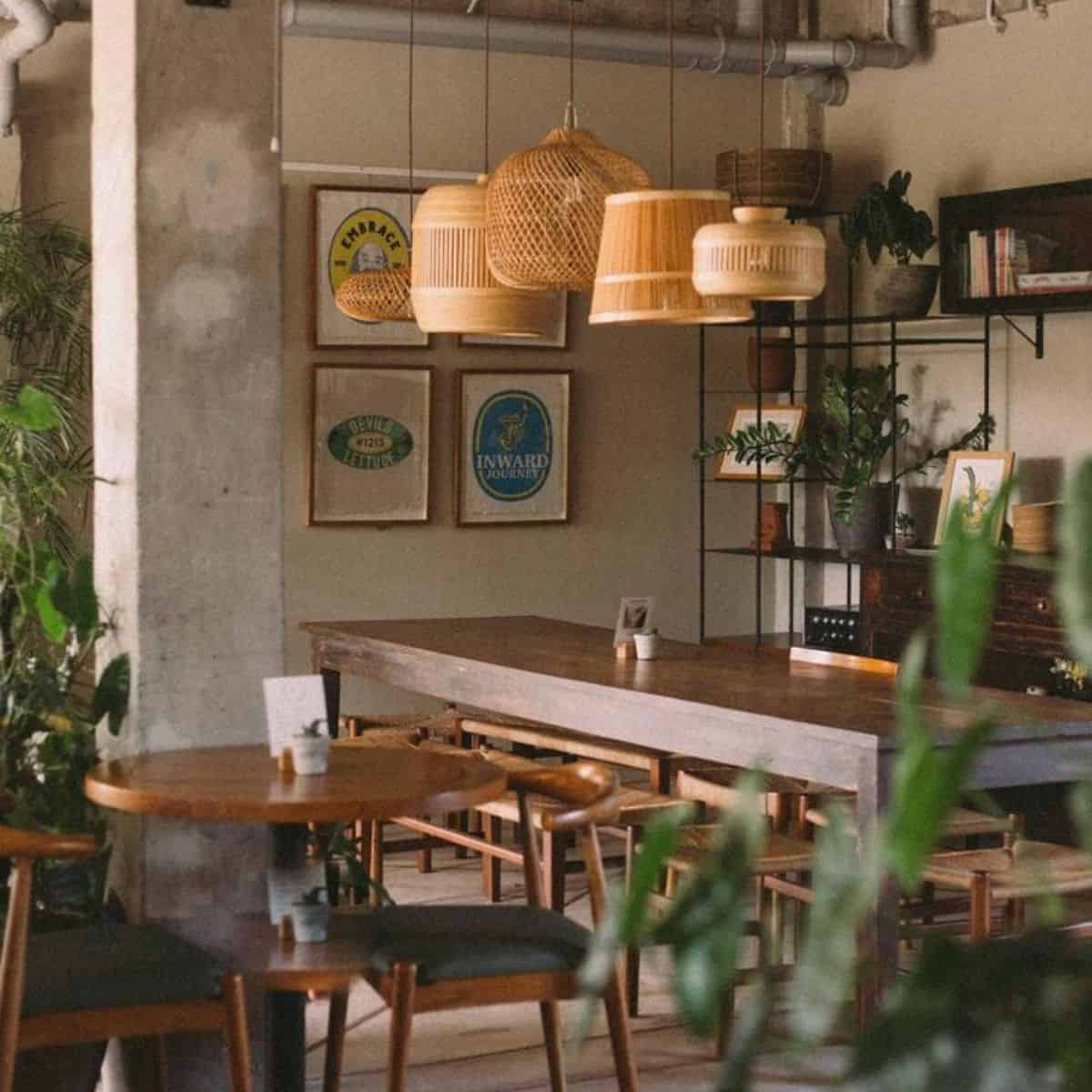 Good Mantra has an entirely plant-based menu, so vegans have various choices. Almost every dish is made from scratch in-house, so you will have the freshest flavours when you eat there. Everything sounded delicious, but we relished the vanilla buckwheat hotcakes that we tried.
You can get salads and sandwiches or tuck into local delights such as kebabs and fried rice. All of it is vegan, with ingredients bought from local farms. The place also hosts events and workshops often, so check out their Instagram before you head down.
Good Mantra
Jl Subak Sari Barat, Gg. Sri Kahyangan No.77, Berawa
Best cafes to work in Canggu, Bali
Here's a summary list of the top coffee shops and restaurants to work in Canggu:
Our Favourite Canggu Cafe to Work
While there are so many great cafes in Canggu that we like, our favourite is a tie between Nyom Nyom and Good Mantra.
Nyom Nyom is well-equipped with wifi and plenty of plugs, so you can work the whole day without worrying about your laptop running out of battery. On the other hand, Good Mantra is well hidden at the end of the street, so it does not get very crowded, unlike other cafes. Besides, it is also air-conditioned.
Ultimately, it's tough to decide which is the best cafe to work in Canggu. Depending on your preference, you will have to try cafe-hopping for a while before finding one you like.
Looking for more digital nomad guides in Asia? Follow us on Instagram @tabitogether to get real-time tips!