If you're searching for the best restaurants in Penang, this magnificent Malaysian island will not disappoint you. It is a unique gastronomic melting pot thanks to its rich heritage of Malay, Chinese, Indian, and Peranakan influences.
Furthermore, dining out here is very affordable, with an average meal costing around RM50-RM70 per person in an eatery and even less for Penang street food. However, it's worth noting that some fine dining spots on our list will be much more expensive than most restaurants.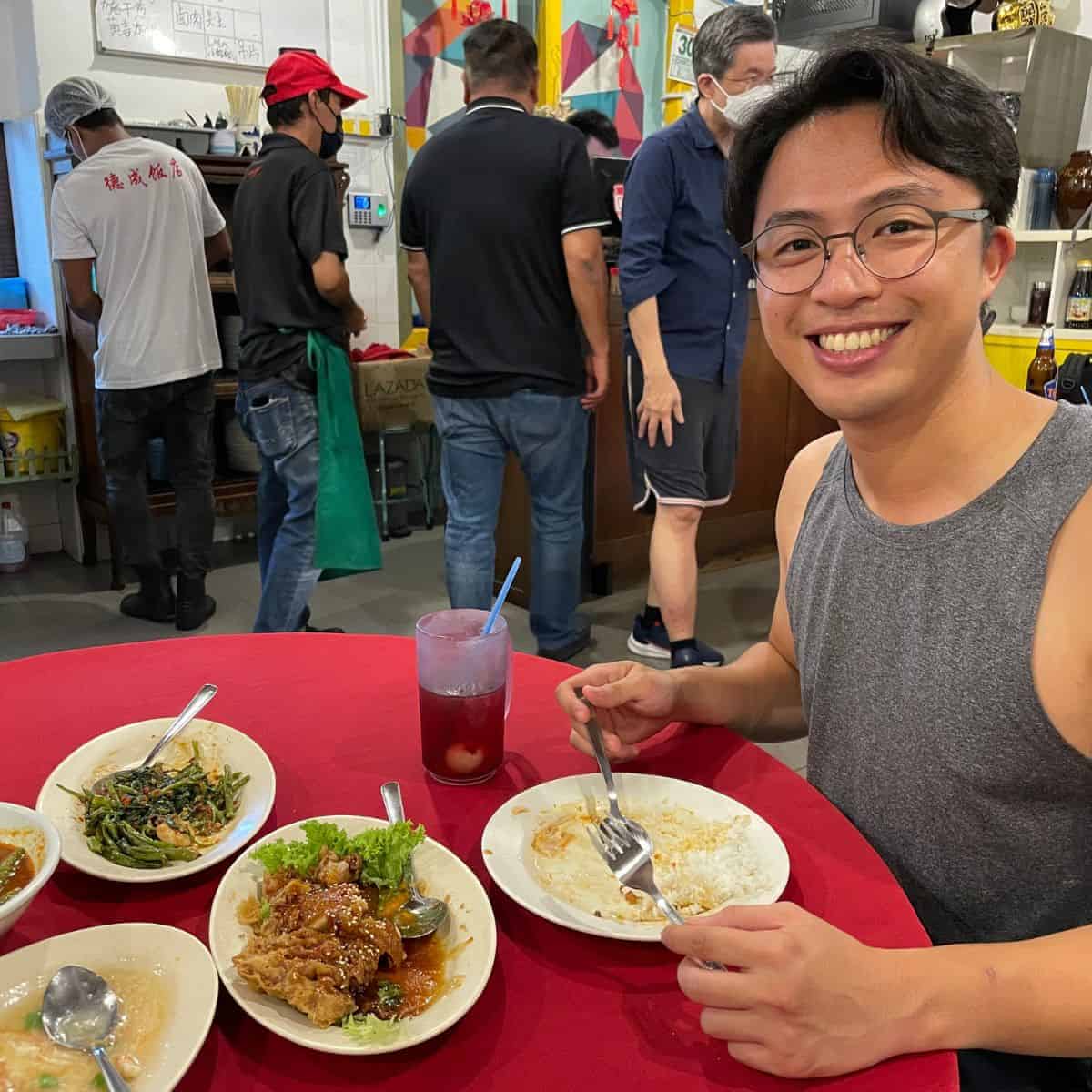 Based on our experience and reviews from other locals, we bring you our guide to the best Penang restaurants. Our criteria that define what is 'best' for us are based on ambience, food options, and the quality of each place. However, we have not included service as a criterion. This is because some places are old-fashioned or busy eateries where you would go solely for the food. 
Ultimately, the island will spoil you for choice. So, loosen your belts and read on as we take you on a culinary journey across Penang island's different cuisines and regions.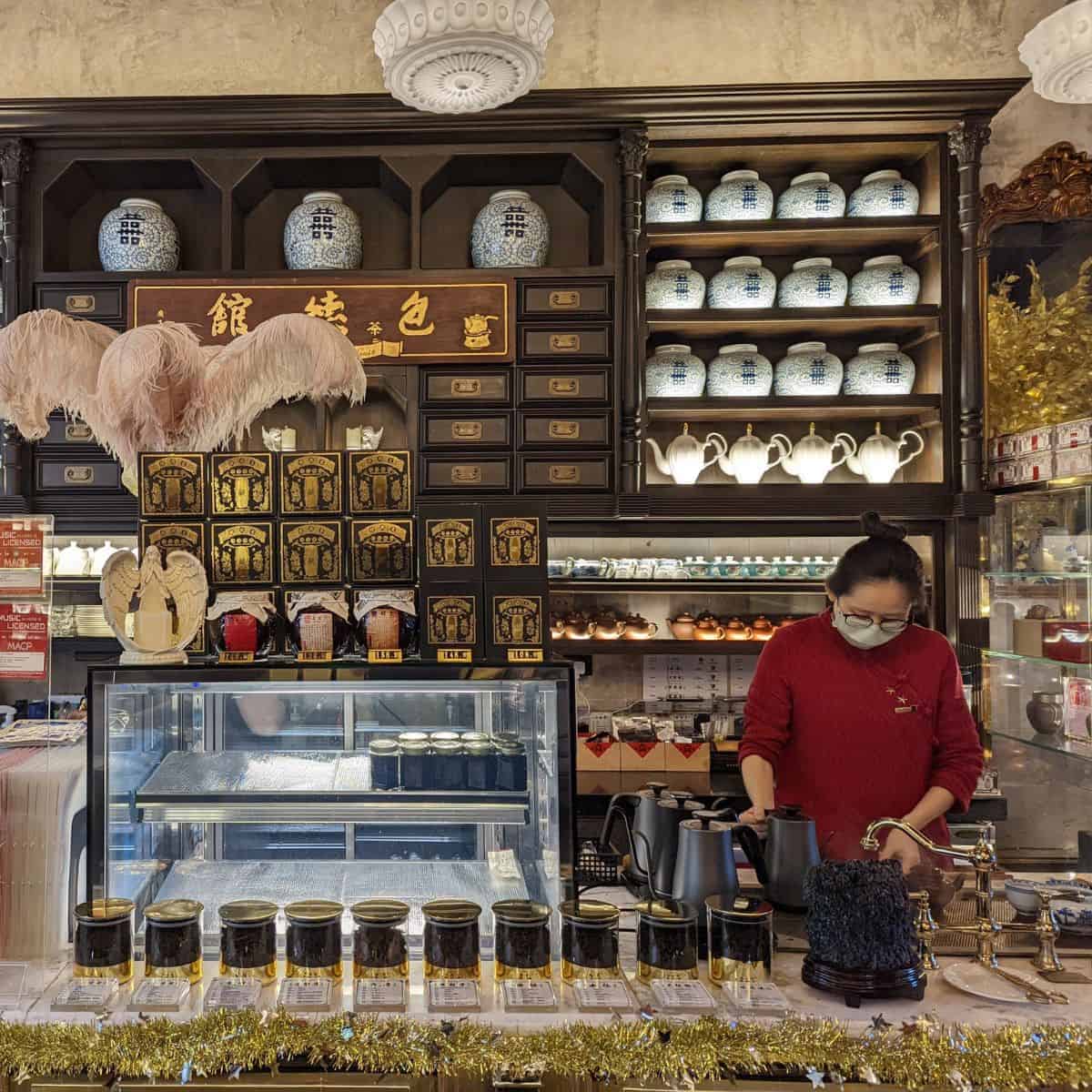 Jump to:
Best Penang Restaurants
This was a hard choice, but our top three places are Teksen, Aunty Gaik Lean's Old Eatery, and Il Bacaro.
Teksen is a family-run eatery that serves comforting Chinese dishes with a modern twist. We loved their crispy and tender signature double-roasted pork with chilli padi.
On the other hand, Aunty Gaik Lean's is a Michelin-starred eatery that graced us with authentic Peranakan cuisine in a nostalgic atmosphere. We recommend their pie tee, a crispy shell filled with vegetables and meat.
And last but not least, Il Bacaro. We found that it was a cosy dining spot known for its Italian flair and local touches. Moreover, their Ribeye Steak and homemade pasta are simply to die for.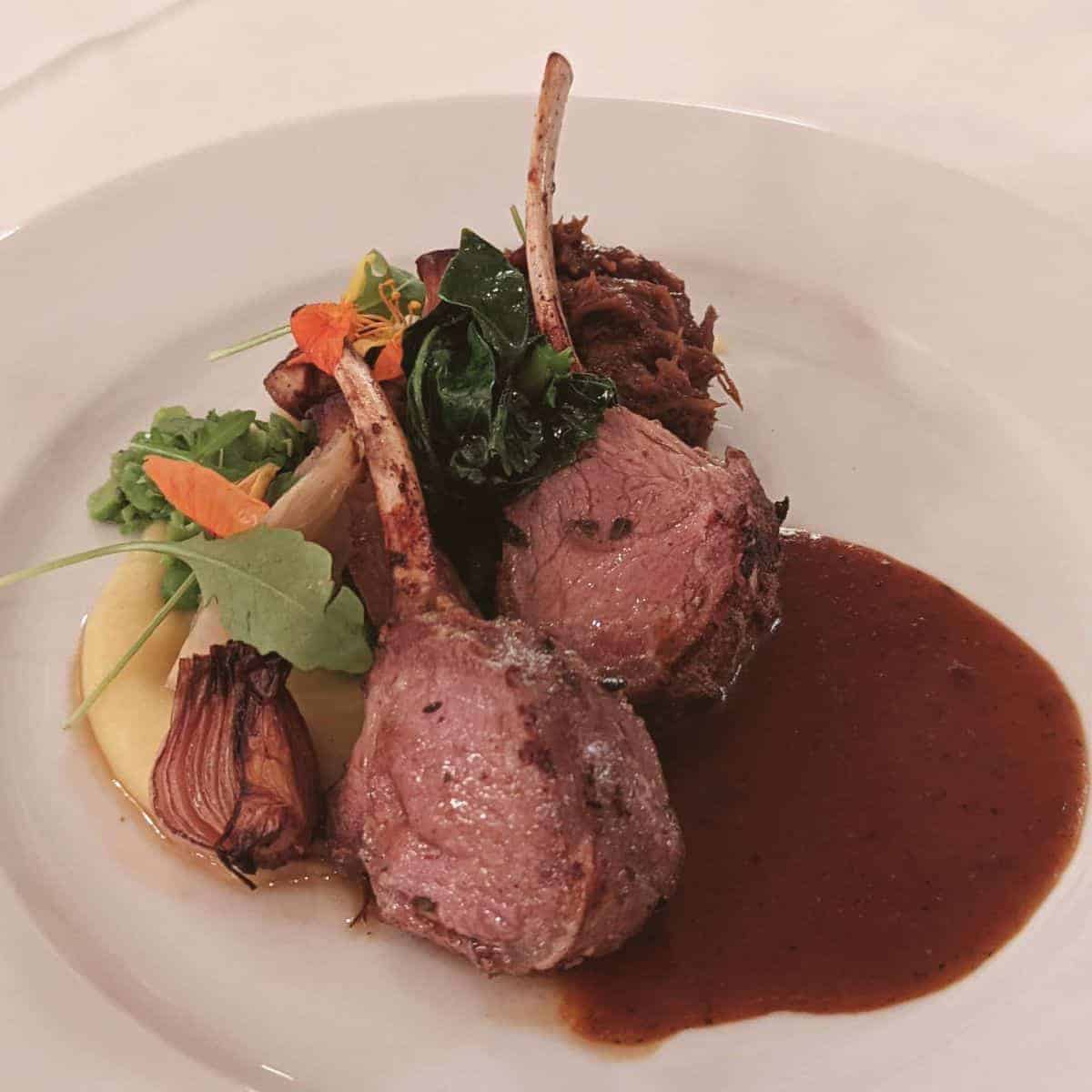 Best Nyonya Peranakan Restaurants in Penang
Nyonya cuisine is a delicious blend of Chinese and Malay culinary influences. It was created by the Peranakans, who were descendants of early Chinese migrants. These migrants married local Malays and settled in Penang, Malacca, Singapore, and Indonesia.
Families have preserved authentic Peranakan recipes, techniques and ingredients for generations in Penang. Therefore, Penang is famous for Peranakan food. So, you can enjoy Peranakan cuisine in its purest form.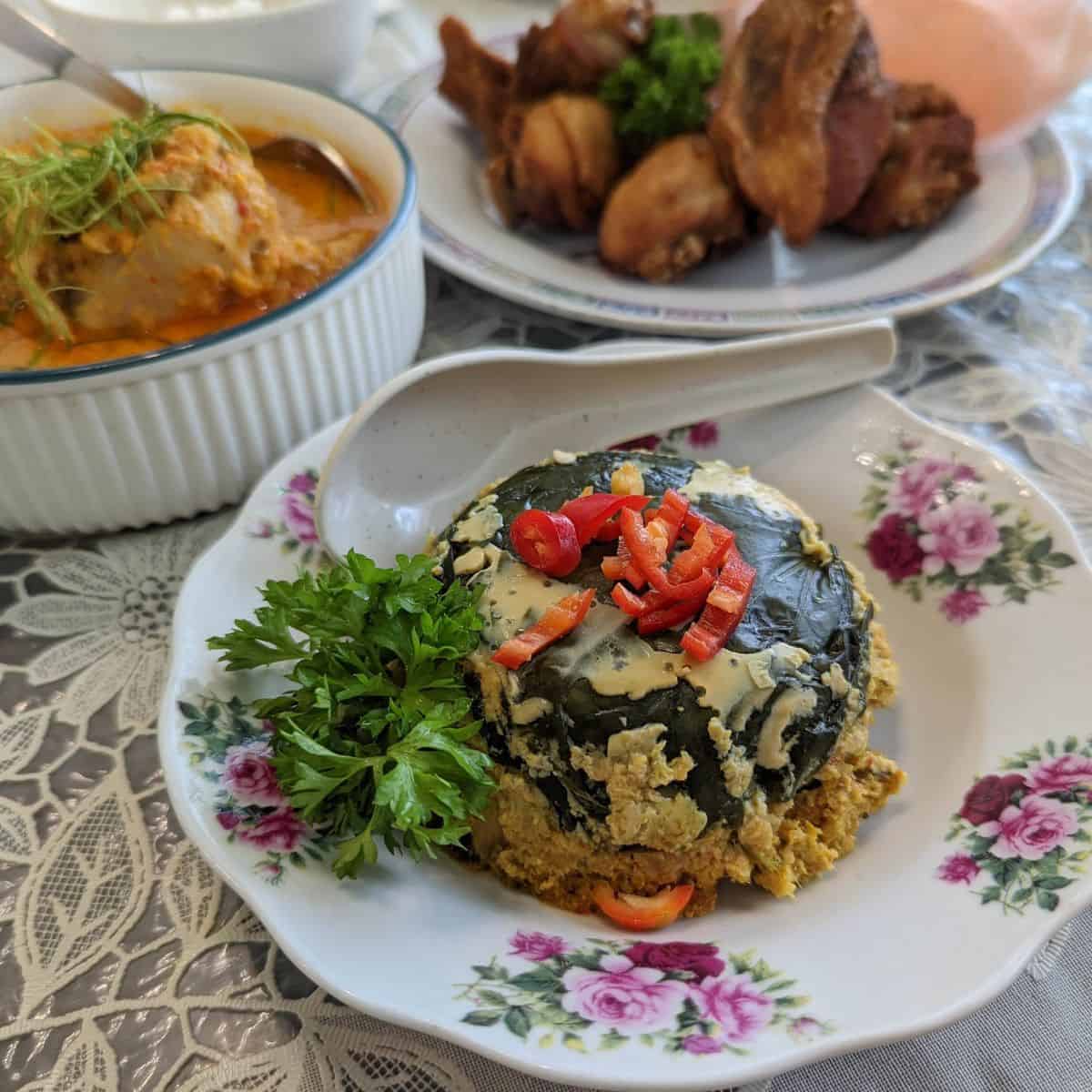 In this article, we have handpicked our favourite Nyonya eateries on the island. We're sure you will inevitably fall in love with this iconic cuisine. However, if you're hungry for more Nyonya spots to dine at, check out our guide on the best Nyonya food in Penang.
Jawi House
This spot is one of the Georgetown Penang restaurants that serve Nyonya dishes with a Jawi Peranakan twist. Jawi Peranakans are descendants of Indian Muslims who married local Malays and Chinese. Furthermore, the dining spot is in a heritage shophouse that illustrates the history and culture of the Jawi Peranakans.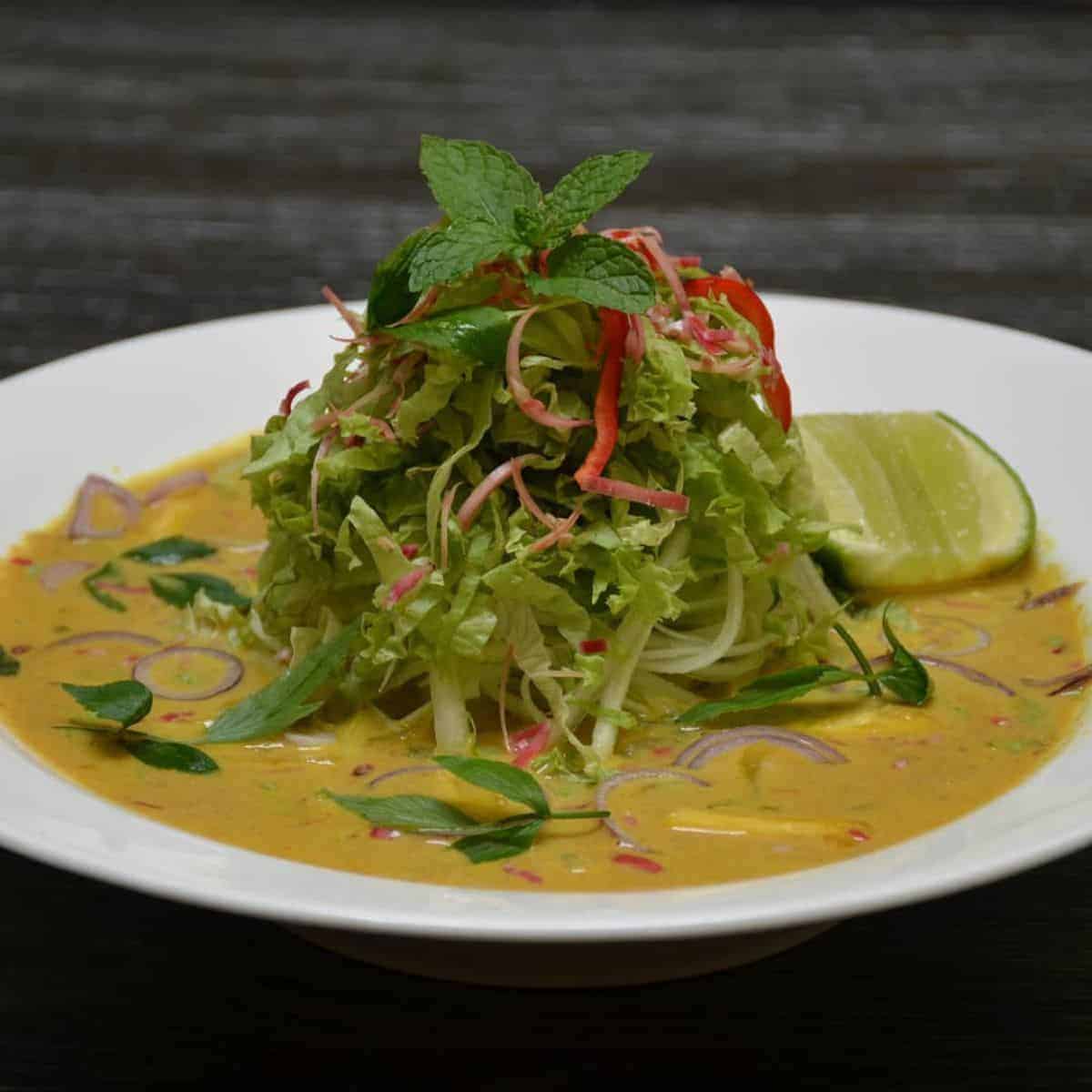 If you are craving a hearty meal, go for their Laksa Lemak. This delectable creation features a deeply rich broth made of flaked tuna and mackerel, coconut milk and spices. In addition, it's served with laksa rice noodles and a heap of local ulam (raw greens).
Alternatively, try the Nasi Lemuni, which is a healthier twist on the beloved Penang Nasi Lemak. The coconut milk-cooked rice is delicately infused with the soothing aroma of lemuni leaves. Lemuni leaves are traditionally known for their therapeutic properties. Moreover, the dish is accompanied by a rich and creamy chicken curry.
Jawi House
85, Lbh Armenian, George Town, 10200 George Town, Pulau Pinang
Aunty Gaik Lean's Old Eatery
We adore this Michelin-starred Nyonya establishment, which we believe is the best restaurant in Georgetown, Penang. Upon entering, you will feel like you've been transported to the swinging 60s. So, prepare to marvel at the vintage interior and fascinating memorabilia.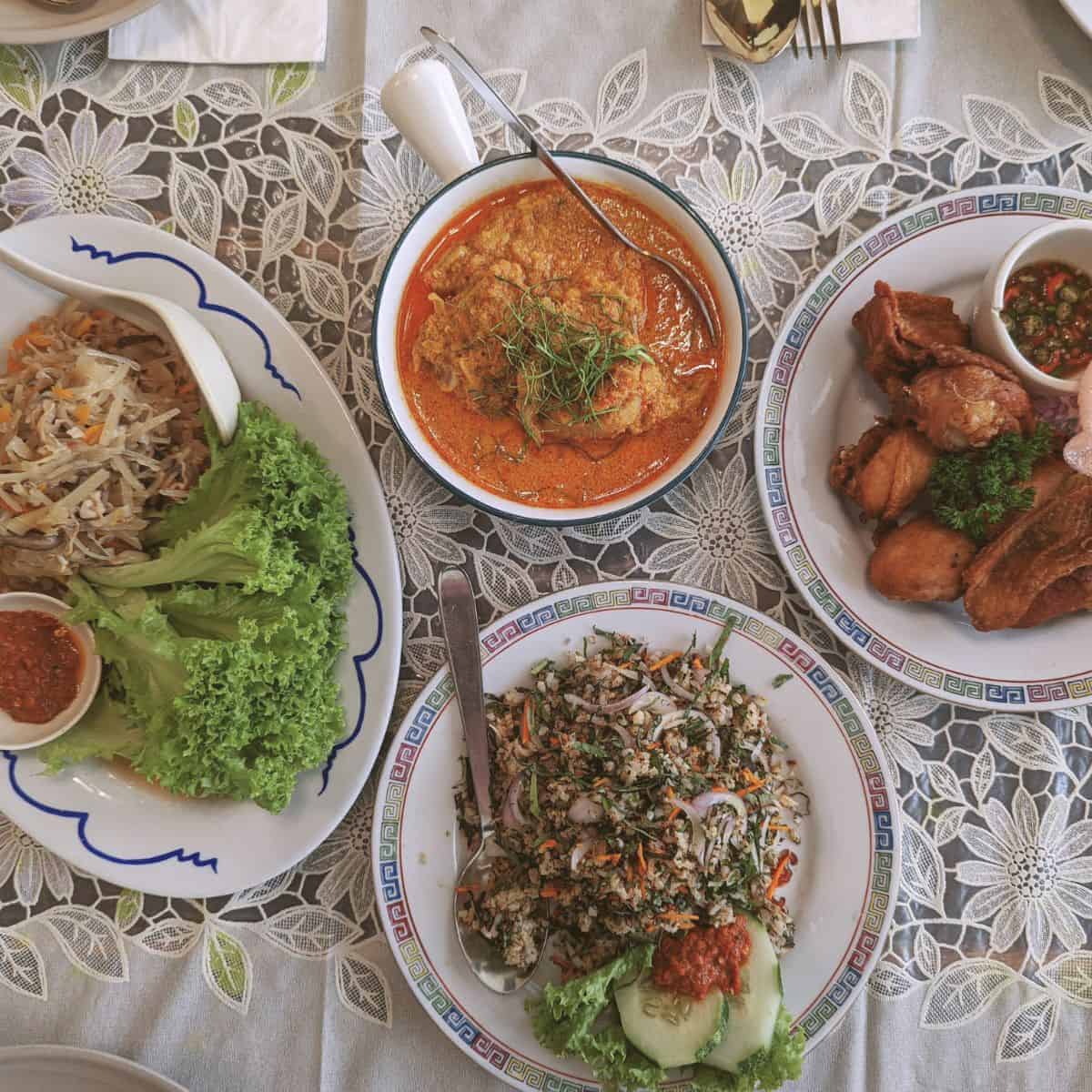 However, you will be more impressed by the kitchen, where the true magic unfolds. Chef Gaik Lean, a culinary guardian, fiercely safeguards her treasured secret recipes. Furthermore, she crafts each dish with love and meticulous care.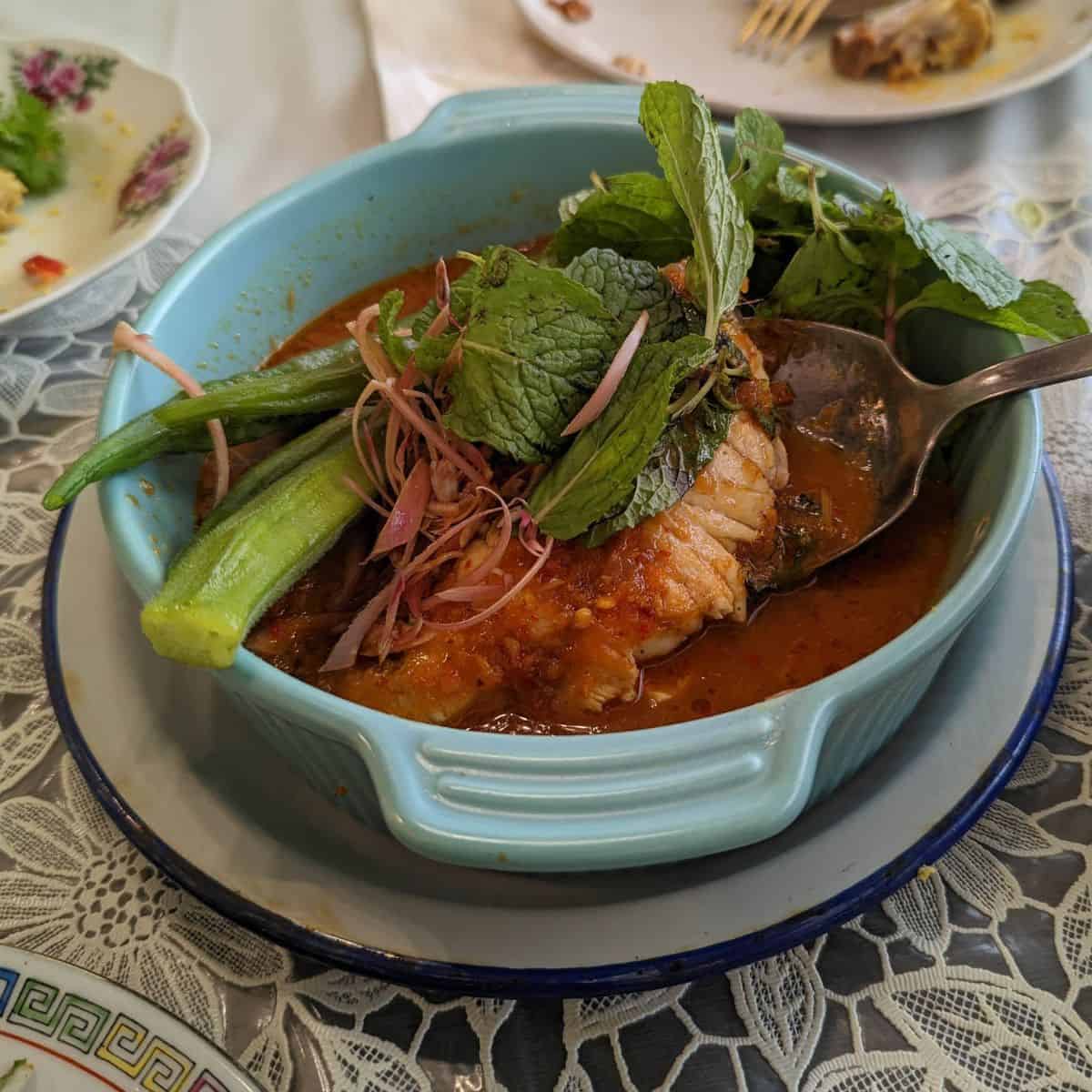 Among the must-try delicacies, we can never resist their heavenly Pie Tee. It is filled to the brim with a delectable blend of vegetables and savoury meat. Therefore, every bite into its crispy, bite-sized shell will serenade your taste buds.
We were able to visit this place before it was awarded a Michelin star and we had to book in advance to secure a spot. So there's no doubt it's become even more popular since they received the award.
Auntie Gaik Lean's Old School Eatery
1, Bishop St, Georgetown, 10200 George Town, Pulau Pinang
Kebaya Dining Room
We recommend Kebaya Dining Room to those seeking a refined and unique restaurant in Penang. They offer the epitome of Nyonya fine dining in this region. You will be enchanted by the elegant setting of the establishment, which is nestled within the luxurious Seven Terraces Hotel. We love that their thoughtfully curated menu presents a tempting array of Peranakan delights that gratify even the most critical foodies.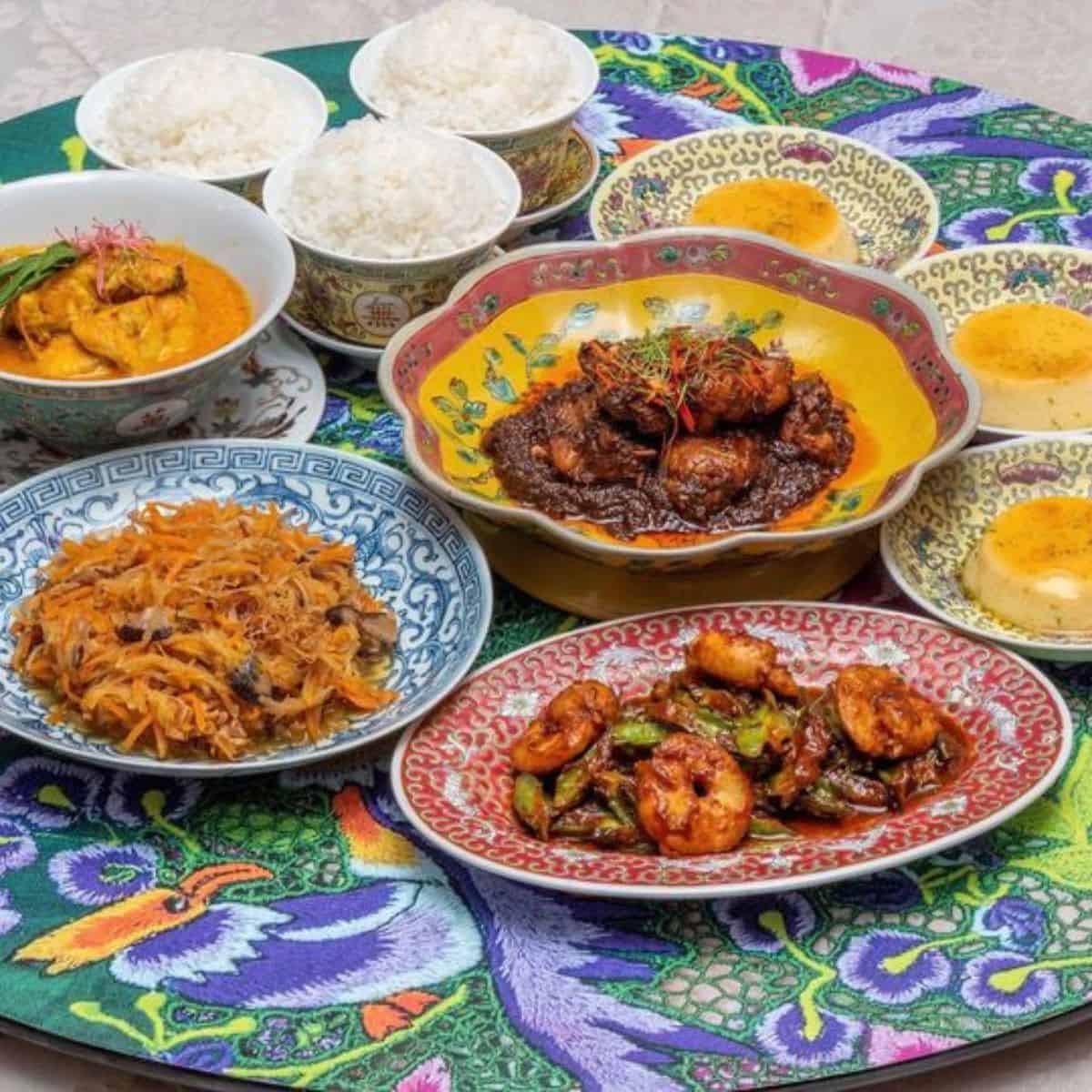 We particularly enjoyed their succulent tamarind-glazed grass-fed beef and their luscious Prawn Geng Curry, both crafted to perfection. Finally, we suggest you conclude your meal with their indulgent Pandan Creme Brulee.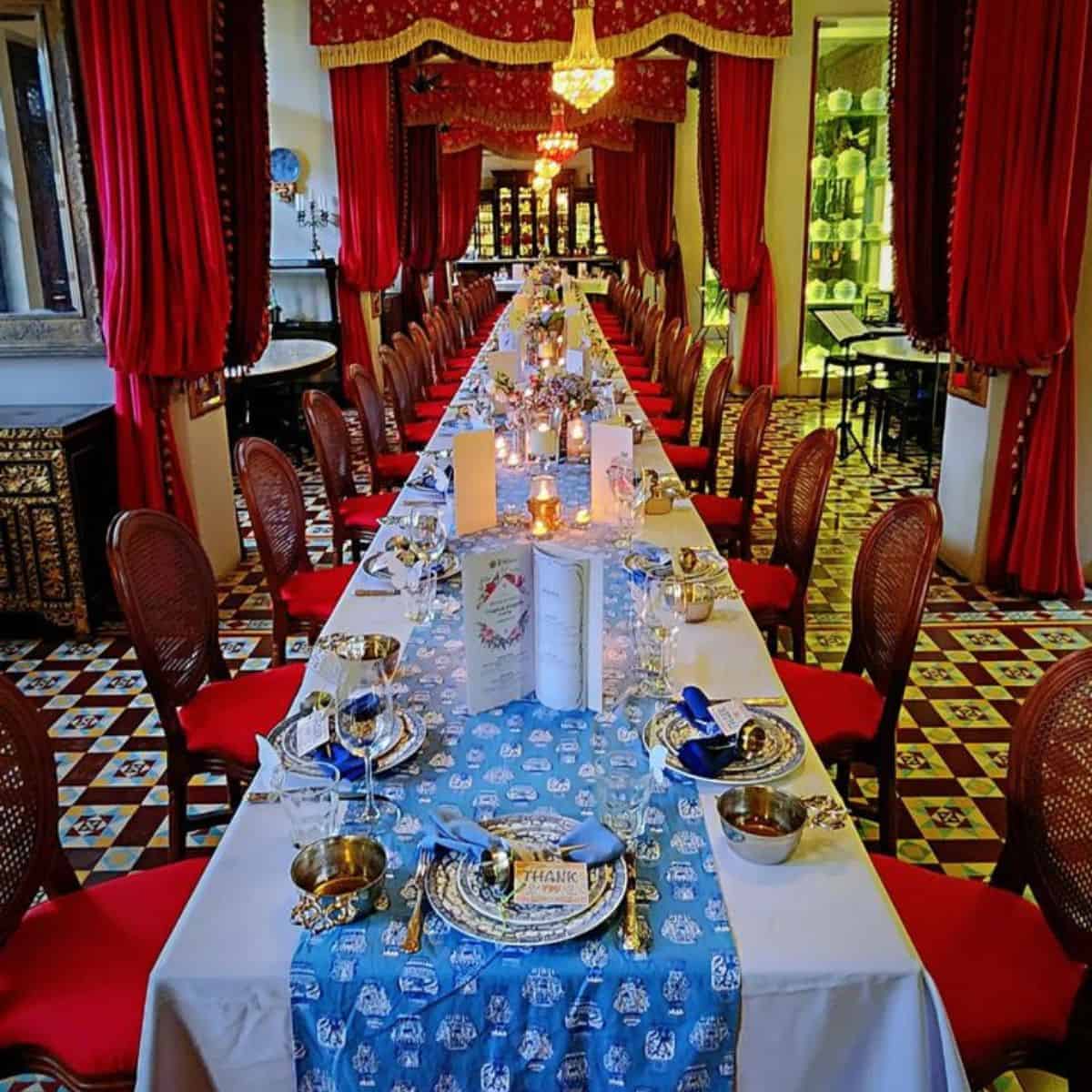 As this establishment is one of the best restaurants in Penang, Malaysia, you need to book a reservation in advance. In addition, we recommend dining here from 6 pm to 10 pm for the best vibes. 
Kebaya Dining Room
14A, Stewart Ln, Georgetown, 10200 George Town, Pulau Pinang
Best Chinese Restaurants in Penang
We are huge fans of Chinese food. So when we were in Penang, we explored every corner of the island to find the best dishes. Fortunately, Penang has a remarkable variety of Chinese cuisine so it was quite easy to find. This is due to the different influences and specialities of the Chinese communities in Penang. 
For example, some of them are the Peranakan Chinese who blended Chinese and Malay influences. On the other hand, some of them are Hokkien, Cantonese, Teochew, and Hainanese immigrants who brought over their regional specialities.
Therefore, whether you are looking for dim sum, noodles, roast meat, seafood, or vegetarian options, you will find them all here.
Tek Sen
Tek Sen has been serving delicious dishes since 1965. This family-run eatery is modern yet has preserved its original essence. Locals have consistently voted this spot as the best and most affordable restaurant in Penang. Additionally, their menus are available in English and Mandarin, making ordering a breeze.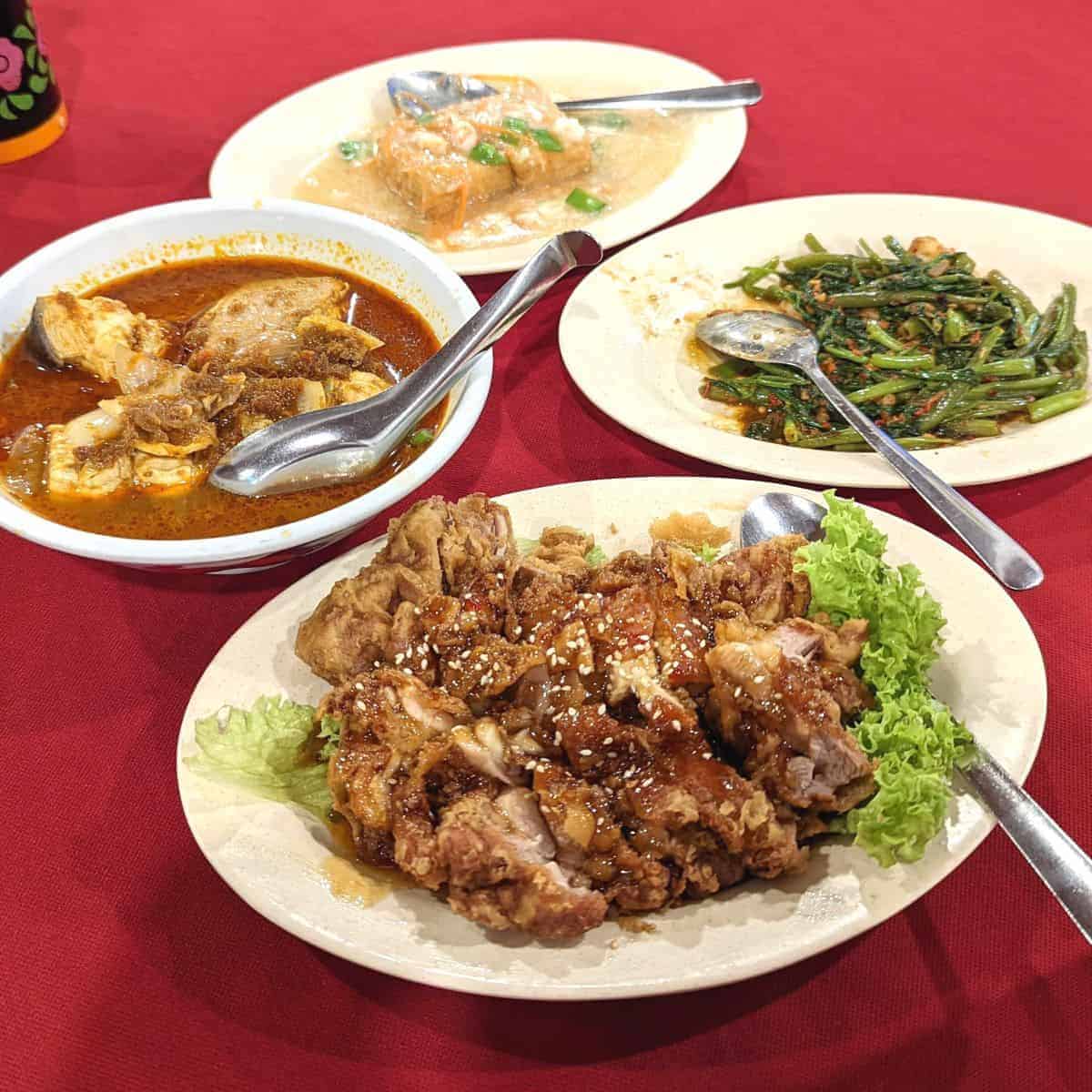 You must check out their mouth-watering double-roasted pork with chilli padi. This dish is a delightful blend of crispiness, tenderness, sweetness, saltiness, and some spice.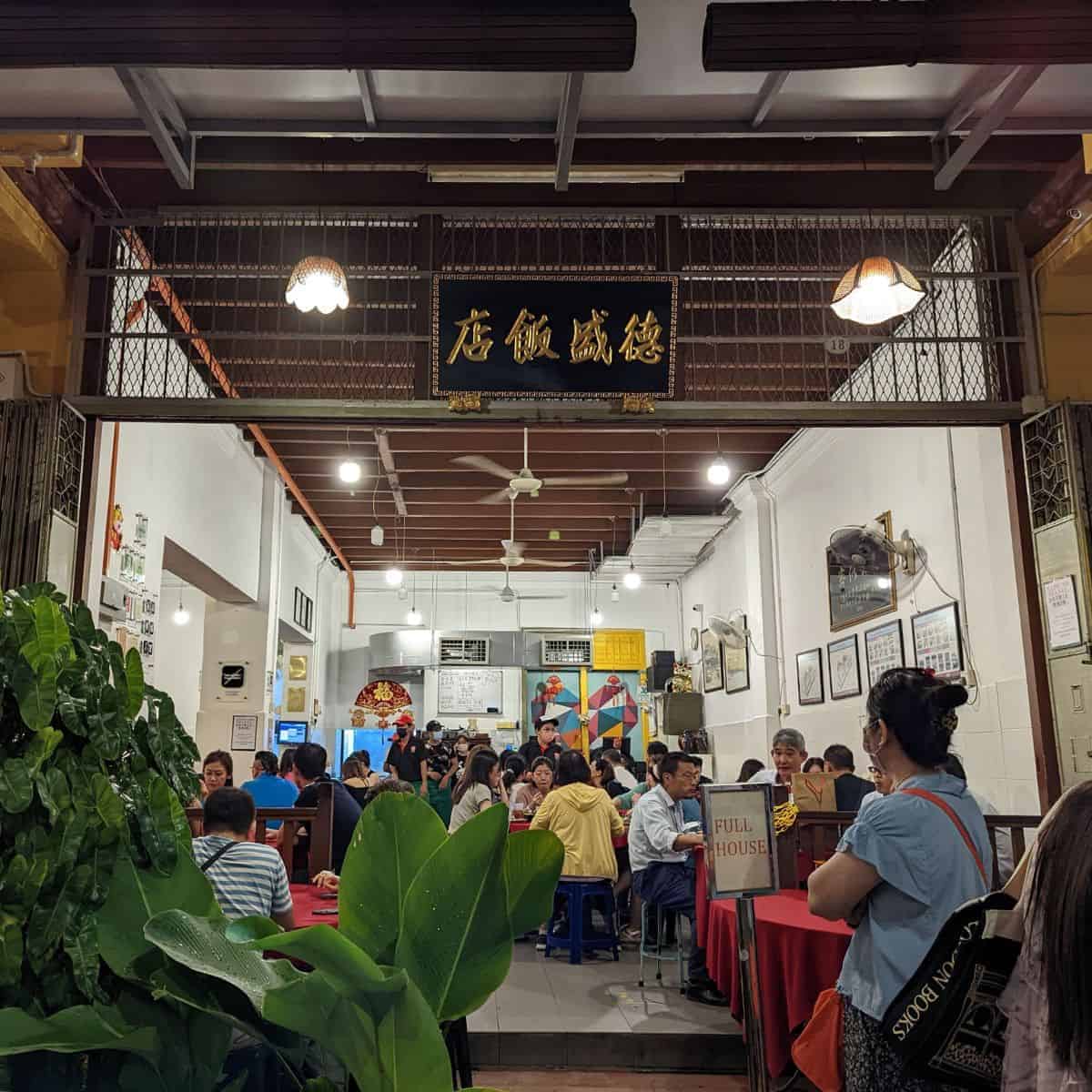 We usually visit Tek Sen before 7 pm to avoid the dinner rush hour. In addition, we recommend that you call the place in advance to secure a table. However, don't call to book on the same day, as they will be too busy to pick up the phone.
Tek Sen
18, Lebuh Carnarvon, George Town, 10100 George Town, Pulau Pinang
Tai Tong
Tai Tong is a Cantonese-style restaurant in Penang serving delectable dishes and dim sum since 1948. We enjoy the nostalgic atmosphere of this heritage shophouse eatery. They offer various classic Cantonese dishes, such as Sar Hor Fun (flat rice noodles with gravy) and Yee Foo Mee (fried noodles with thick sauce). Furthermore, as one of the handful of Hong Kong-style Penang restaurants, Tai Tong also serves dim sum for dinner, which is rare on the island.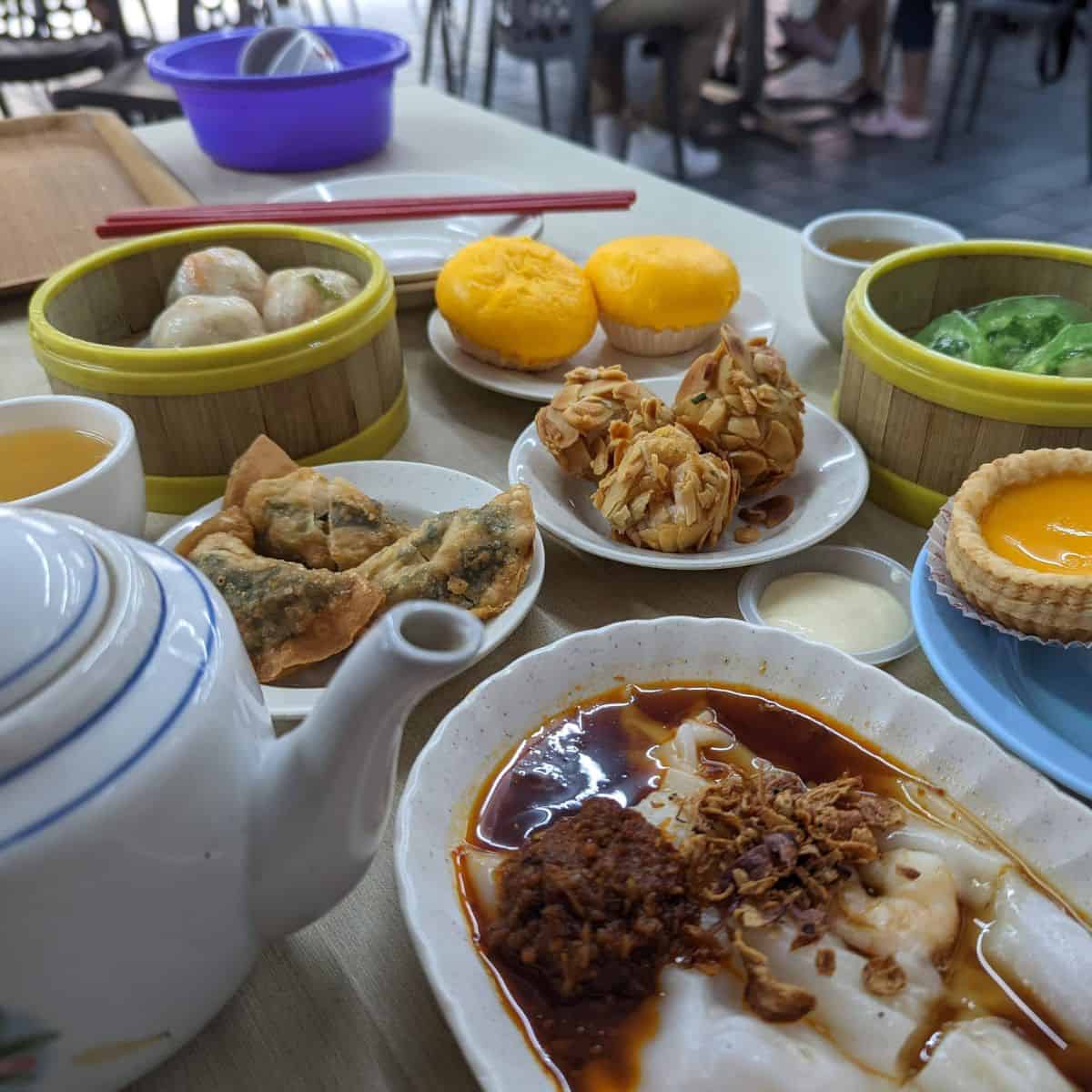 We often come here for an early breakfast and can't get enough of their dim sum. Some of the popular dim sum items include the char siew bao (barbecued pork bun), the siew mai (pork and shrimp dumpling), and the loh mai kai (glutinous rice with chicken).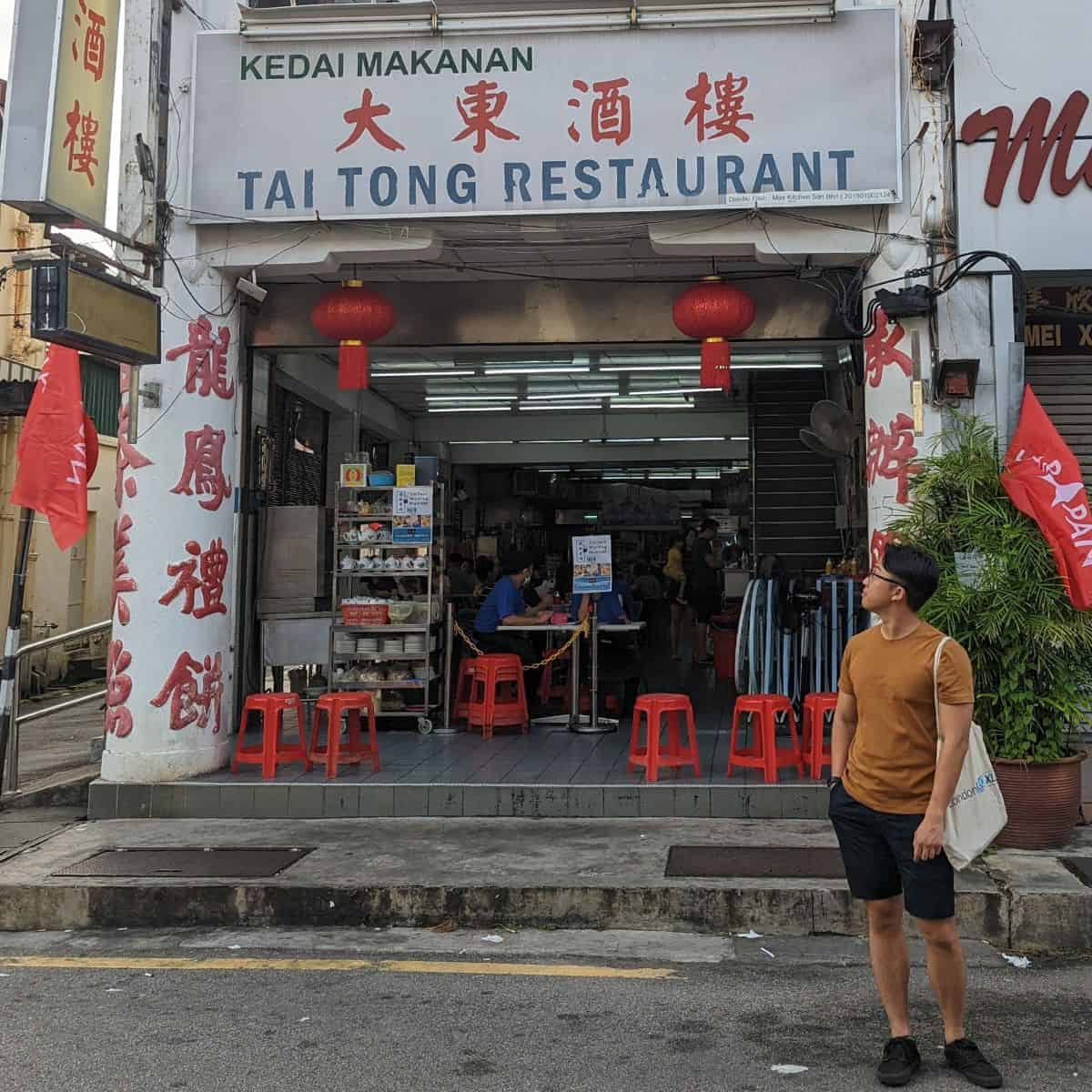 The place is very crowded, especially in the evening, so you should come early or make a reservation to avoid disappointment.
Tai Tong
45, Lebuh Cintra, George Town, 10100 George Town, Pulau Pinang
Bao Teck Tea House
Bao Teck Tea House is a wondrous dim sum restaurant that is unimposing from the outside but is stunning once you step in. Nestled on Lebuh Melayu in a heritage building, this Penang Chinese restaurant is one of the best restaurants in Georgetown, in our opinion.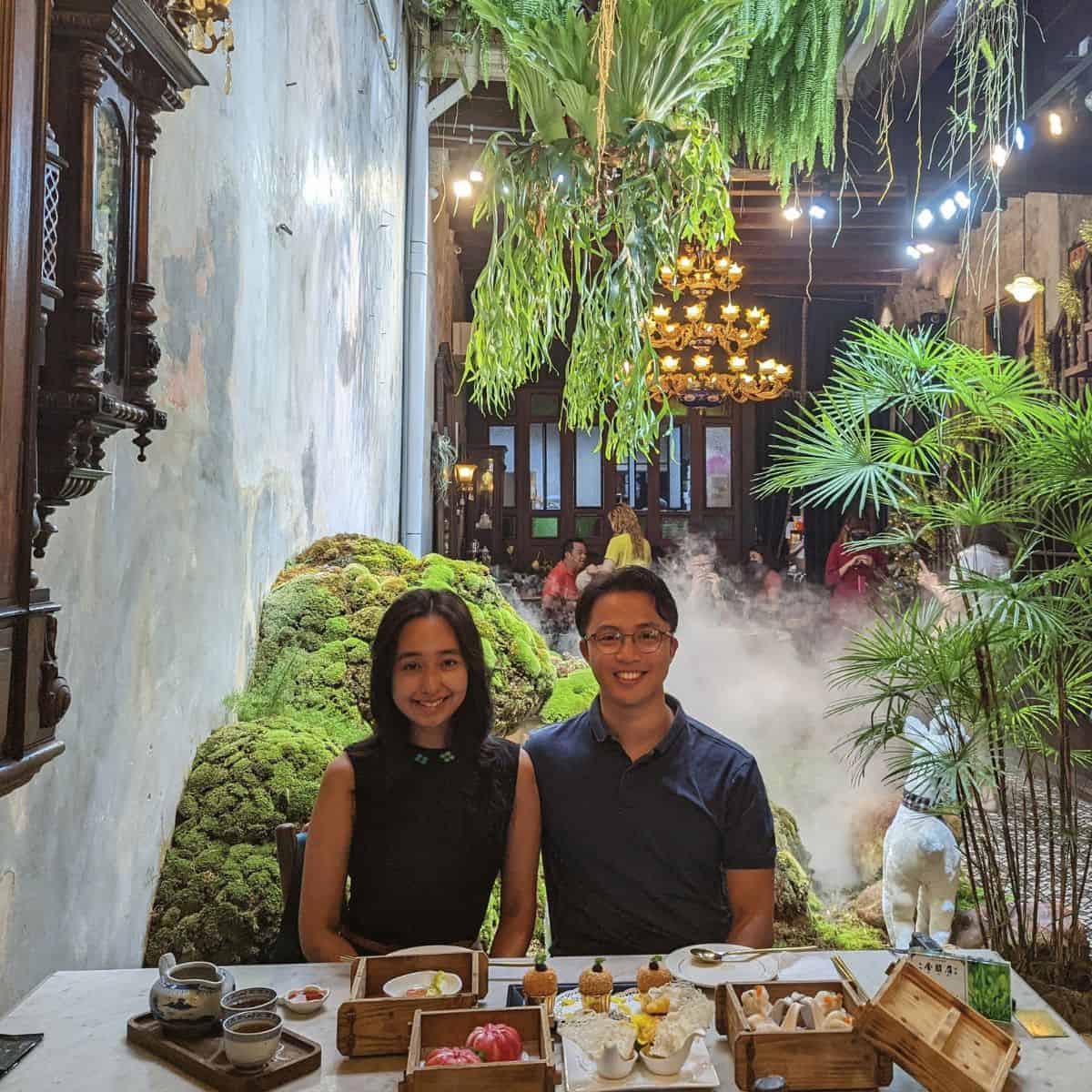 When you dine at Bao Teck, you'll be surrounded by lavish antique furnishings and an indoor moss garden. The atmosphere is calm and elegant, making it a great spot for dates or for a special gathering with families and friends.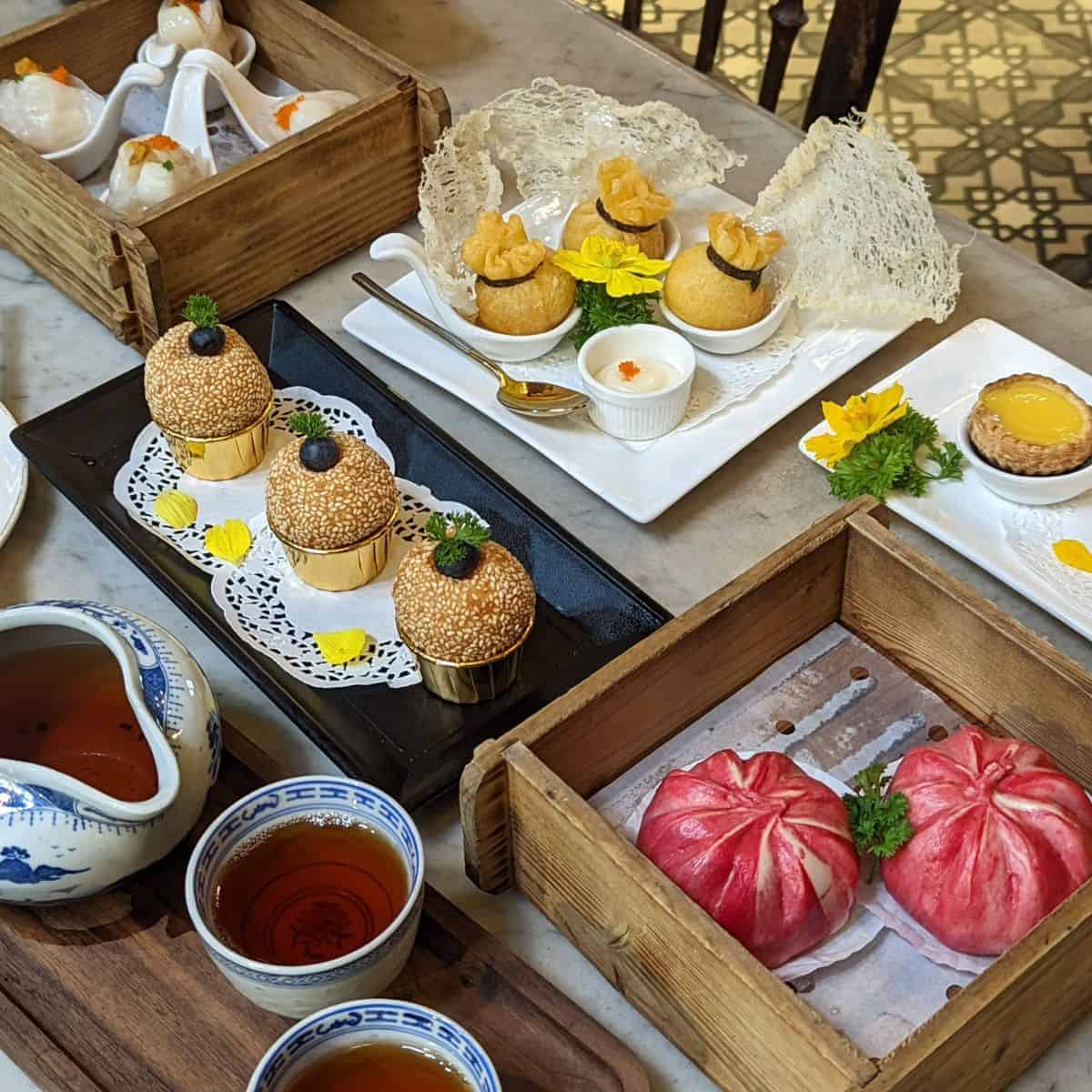 They even have a dedicated tea bar where they keep premium tea leaves and delicately prepare drinks for their patrons. For any tea that you order, they will serve the drink together with a simple guide that explains the origin, type and flavour of tea to further enhance the tea-drinking experience.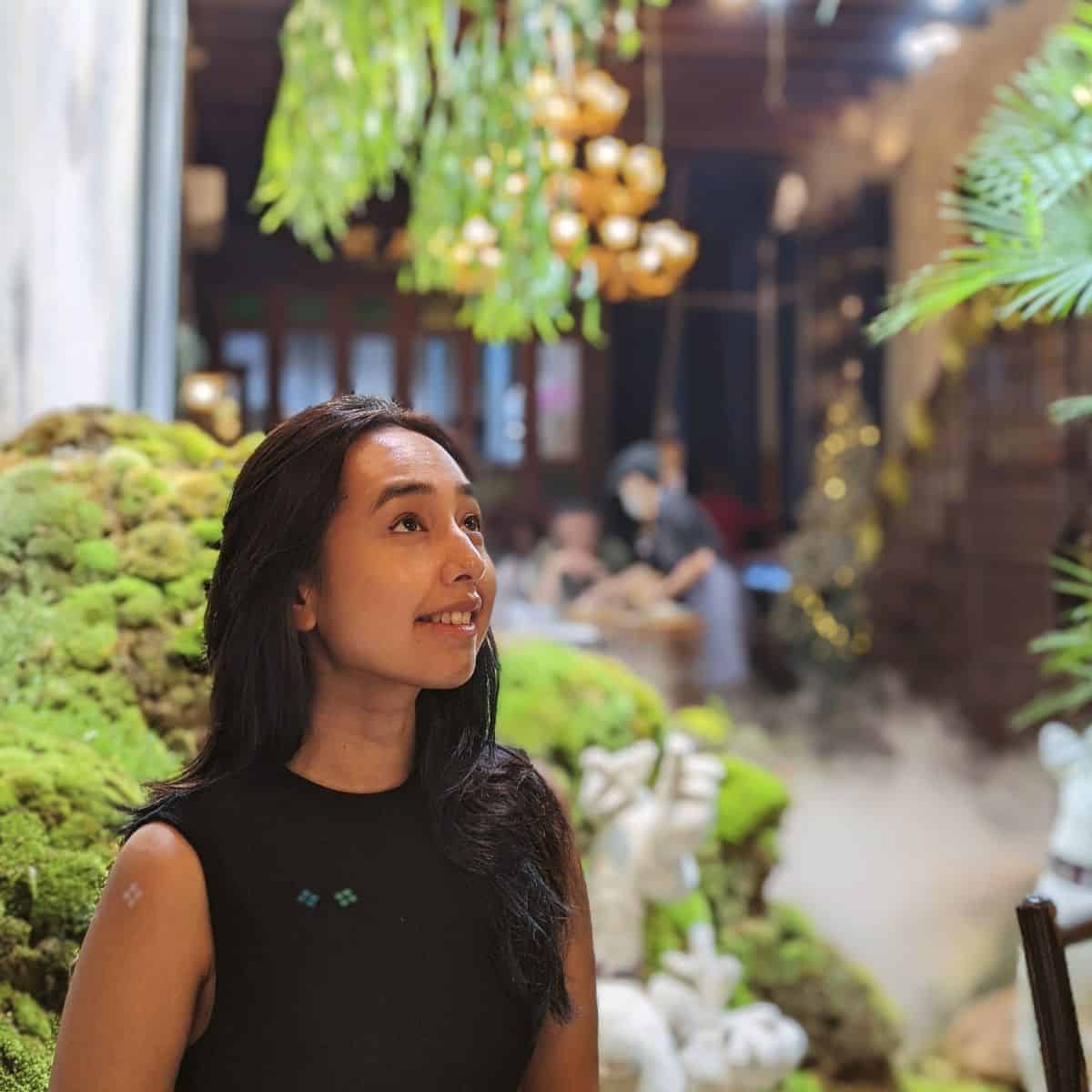 The dim sum at Bao Teck was also one of the best we tried in Georgetown. The har gao shrimp dumplings are prepared using fresh, locally sourced shrimp, and the beetroot bean bao looked as beautiful as it was delicious. While it's pricier than other Chinese cuisine joints, we highly recommend Bao Teck Tea House for an elegant dim sum experience that's close to fine dining.
Bao Teck Tea House
25, Lebuh Melayu, George Town, Pulau Pinang
Indian Restaurants in Penang, Malaysia
Penang's Indian cuisine showcases a fascinating blend of flavours and culinary traditions brought by migrants from various regions of India. The Indian Penang restaurants on this island will satiate you with diverse dishes featuring rice, bread, lentils, and vegetables. Some amazing dishes you must try include nasi kandar, roti canai, tandoori chicken, and biryani. These dishes will satisfy any palate.
Ultimately, the local food scene offers a rich tapestry of Indian culinary delights. So, prepare to be wowed by their bold use of aromatics. For more recommendations, check out our guide on Indian food in Penang. We have selected the best Indian eateries, delighting your taste buds with every bite.
Restoran Kapitan
We always make a point to visit Restoran Kapitan whenever we are in Georgetown. It is one of the most famous and oldest Indian restaurants on Chulia Street. Chulia Street is a vibrant street located in the historic Chinatown, showcasing the rich culture and history of the island. Moreover, we love walking along it and admiring the old shophouses and temples.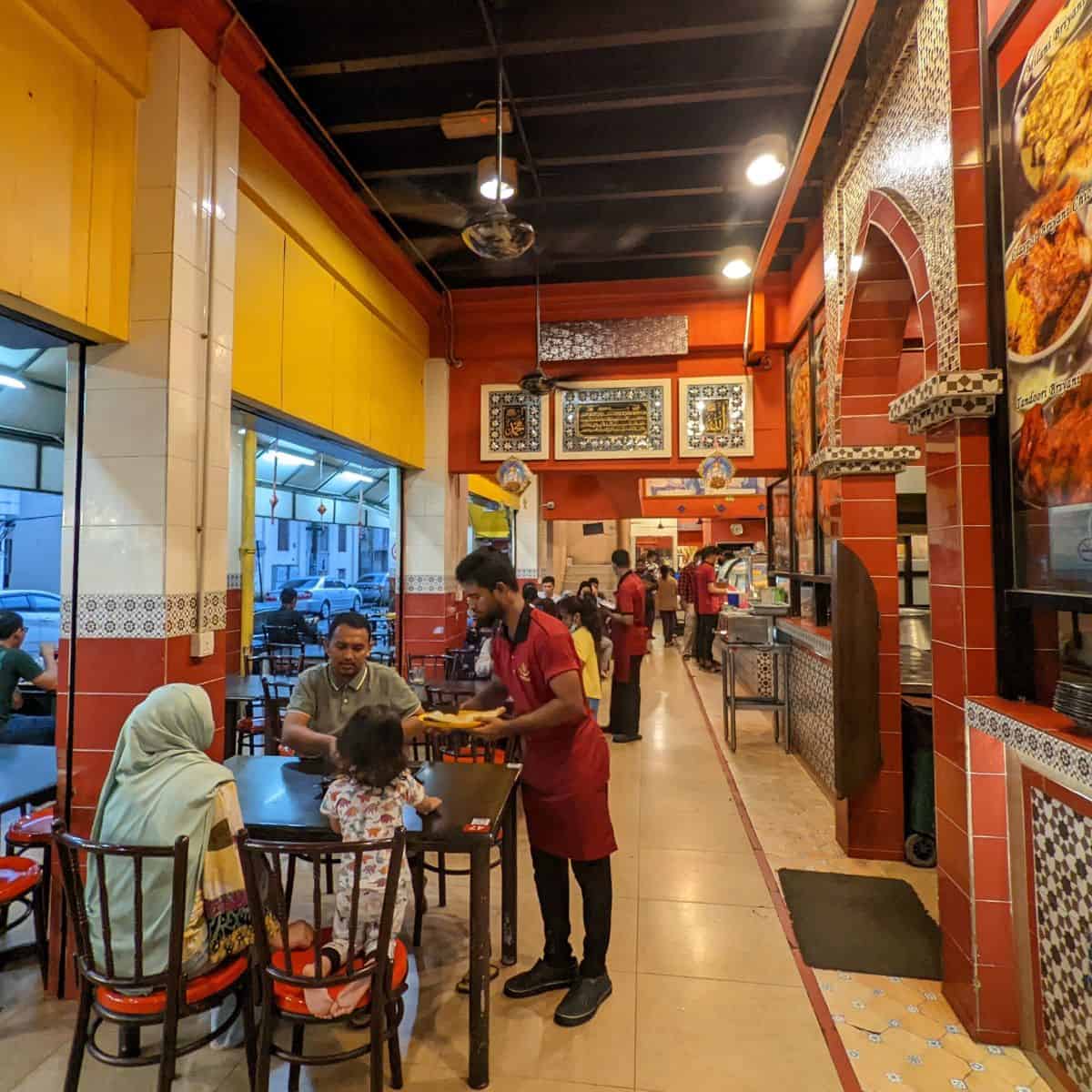 We can never get enough of Restoran Kapitan's clay pot biryani. The chefs perfectly cook this signature dish with aromatic basmati rice, tender meat, and spices in a clay pot. The clay pot keeps the rice hot and moist, making it fluffy and flavourful. Furthermore, we have tried all their delectable biryani options - chicken, mutton, fish, and vegetables.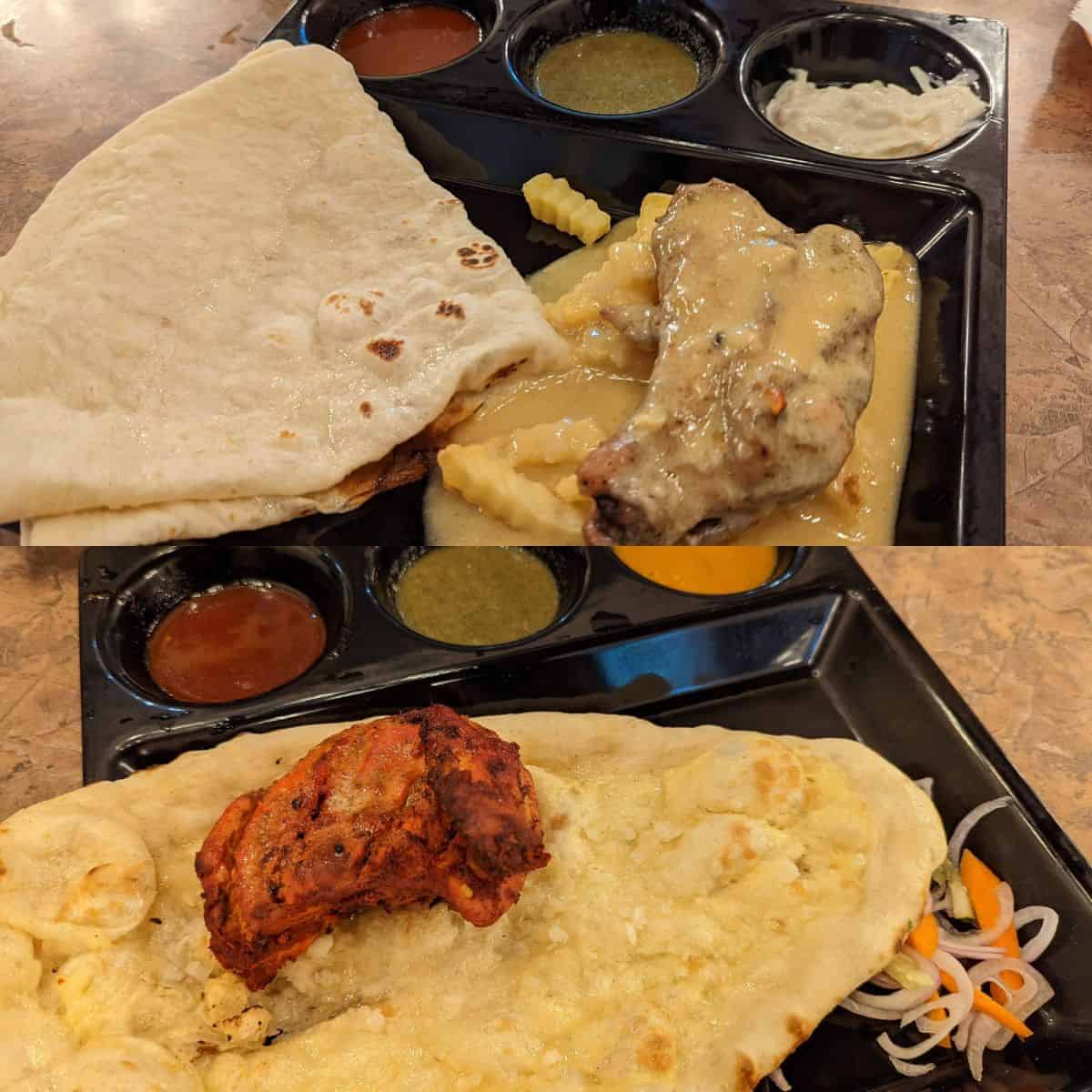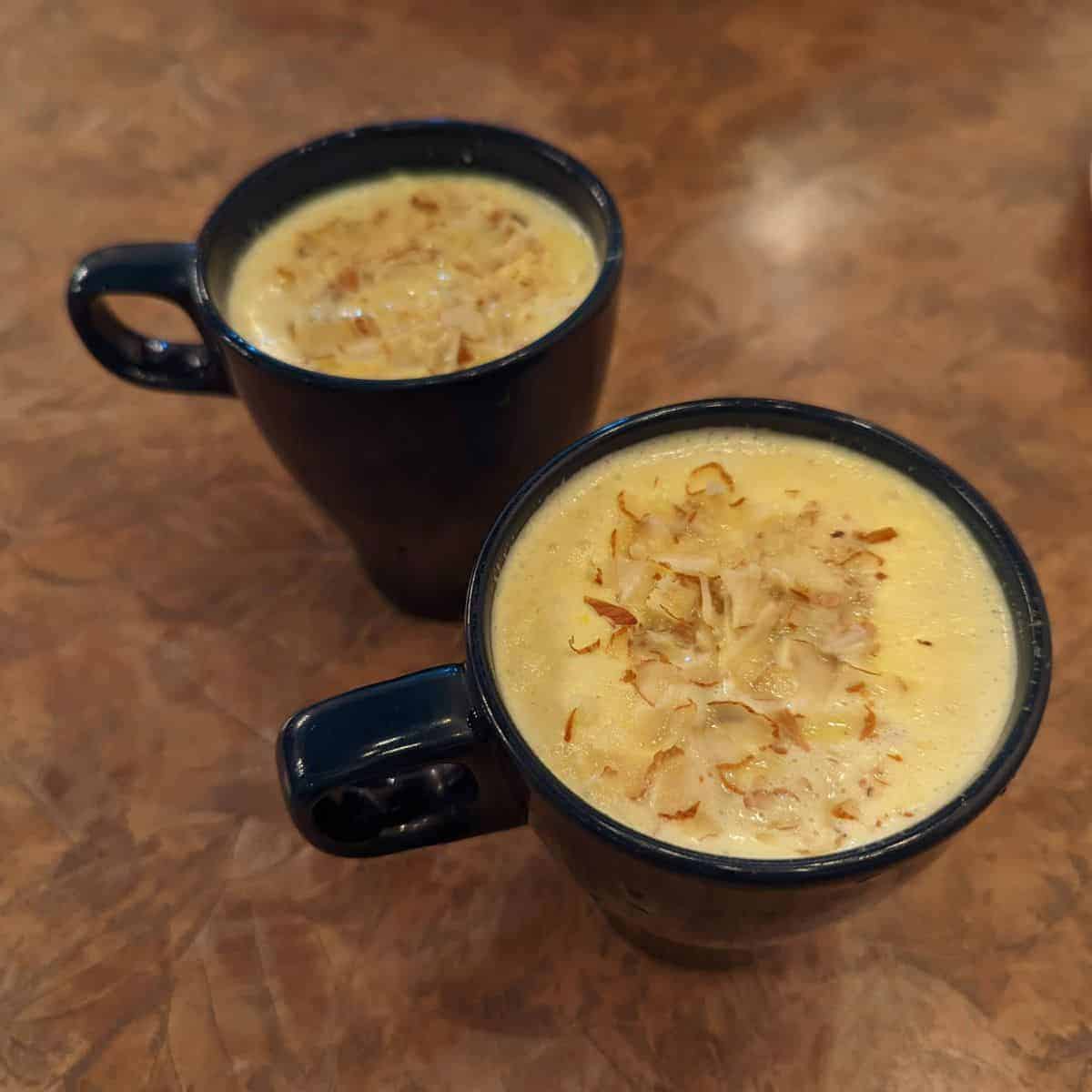 Other dishes that we particularly recommend are their crispy dosas and flavourful nasi kandar. Additionally, one of the best things is Kapitan is one of the many restaurants on Chulia Street open 24/7. So, you can indulge in their food anytime.
Restoran Kapitan
93, Chulia St, Georgetown, 10200 George Town, Pulau Pinang
Kayu Nasi Kandar Penang
This renowned Indian Muslim franchise has established itself as one of the best Penang restaurants. With a presence spanning over four decades, people know Kayu for their amazingly priced fare. Moreover, their nasi kandar dishes stand out as some of the finest offerings on the island. They also offer generous portions and rich flavours.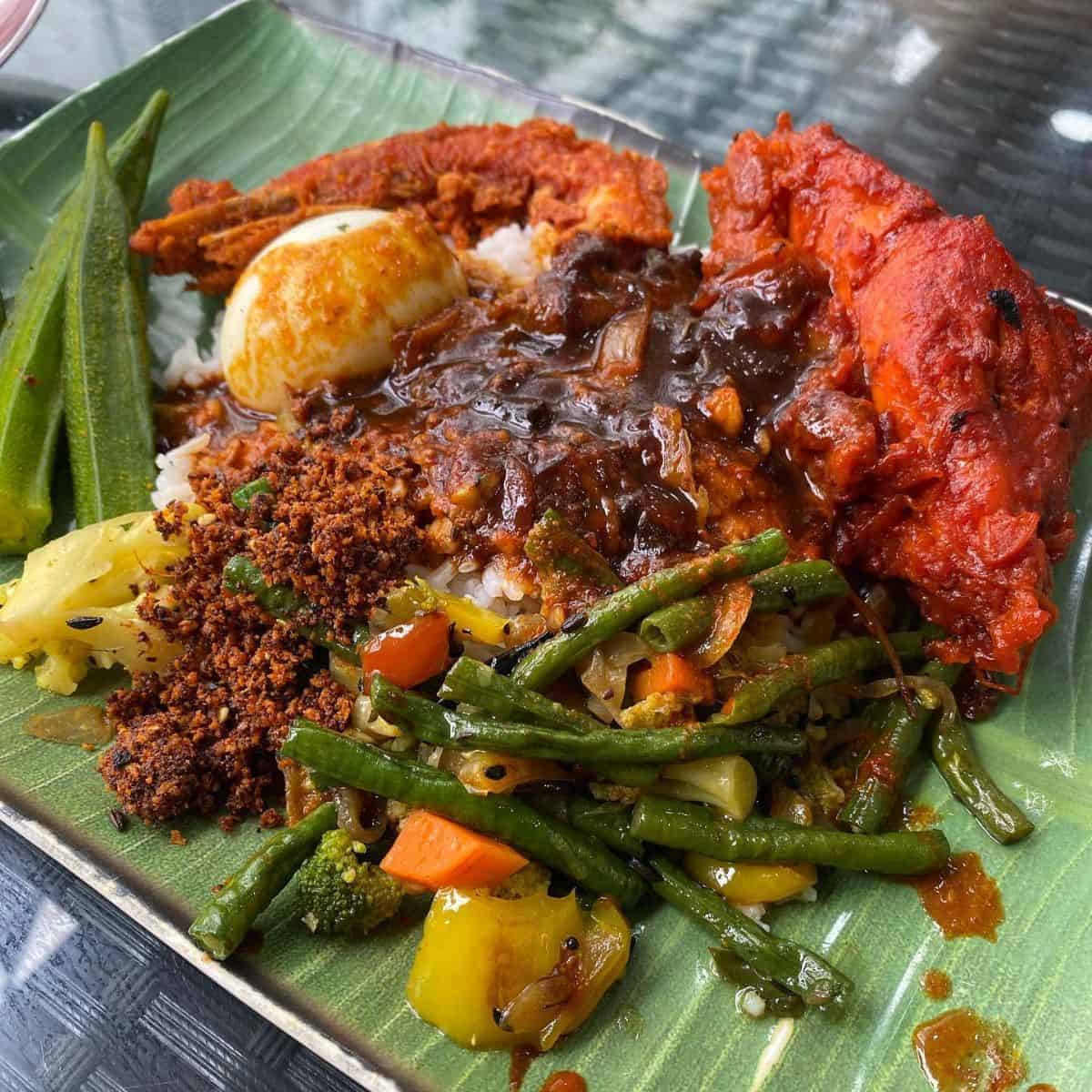 We particularly enjoyed their beef curry, which is cooked with a delightful blend of spices that make it tender and tasty. Furthermore, you must try their Roti Tisu Special, a three-foot-long, thin sweet crispy flatbread. It also makes for a terrific photo opportunity.
This budget-friendly eatery is great for travellers who want to get a taste of local Malaysian food. Whether it's breakfast, lunch, or dinner, Kayu has you covered with their round-the-clock operation. Convenience at its finest.
Kayu Nasi Kandar Penang
15, Lebuh Nipah 6, Bukit Jambul, 11950 Bayan Lepas, Pulau Pinang
Woodlands
Woodlands is an Indian vegetarian restaurant that serves delicious South Indian vegetarian cuisine. You will feel welcomed and relaxed in their cosy and comfortable ambience. Furthermore, we loved the colourful paintings and decorations on the walls, reflecting the culture and heritage of India.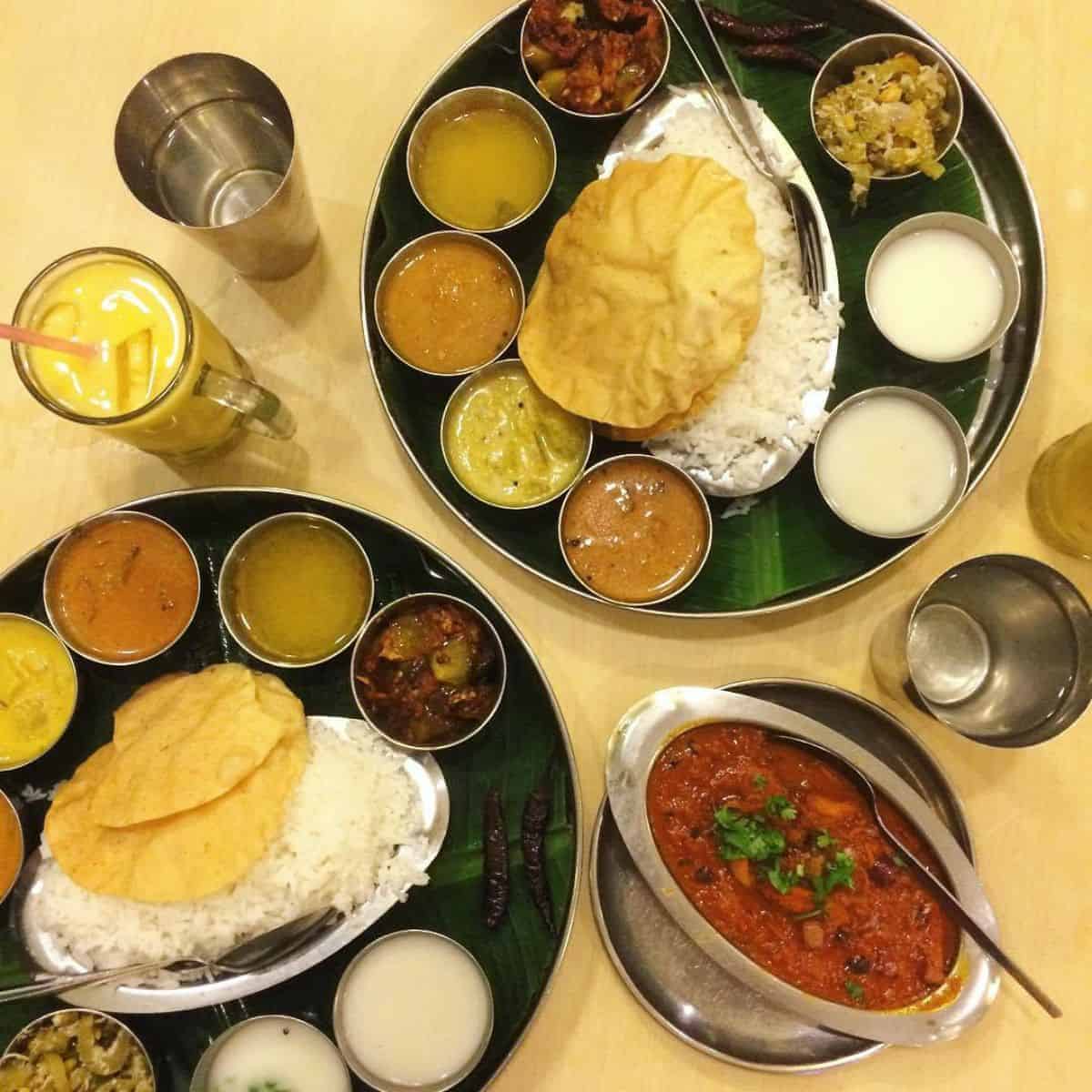 Woodlands is one of the best Georgetown Penang Indian restaurants because of their variety of delectable dishes to choose from. You must try their dosa, idli, uttapam, thali, and chapati. Our favourite dish is their masala dosa, a crispy and thin crepe made from rice and lentil batter. The dosa is stuffed with spiced potatoes and onions and served with coconut chutney and sambar (lentil soup). It's the perfect mix of textures and flavours.
Our top tip for visiting Woodlands is to avoid peak hours, such as lunchtime and weekends, as the place can get very crowded. Therefore, go during off-peak hours when it is more quiet and comfortable.
Woodlands
60, Lebuh Penang, George Town, 10200 George Town, Pulau Pinang
Best Seafood Restaurants in Penang
Penang is renowned for its coastal location and rich heritage as a fishing community. The island offers a thriving seafood scene that attracts locals and tourists alike. The cuisine showcases the bounties of the sea, with fresh catches transformed into delectable dishes. The best seafood restaurants in Penang offer vibrant flavours and diverse cooking styles. So, whether you crave mouth-watering crabs, succulent prawns, or flavourful fish preparations, there is something to suit every palate.
Hai Boey Seafood
Hai Boey Seafood is one of the best Penang restaurants specialising in fresh seafood plates. It is a kampung-style dining spot, offering a relaxing, breezy ambience and a phenomenal sea view.
We love how they blend traditional flavours and ingredients with creative twists to create mouth-watering dishes. Furthermore, we were mesmerised by the beautiful sunset as we tucked into their delicious seafood offerings.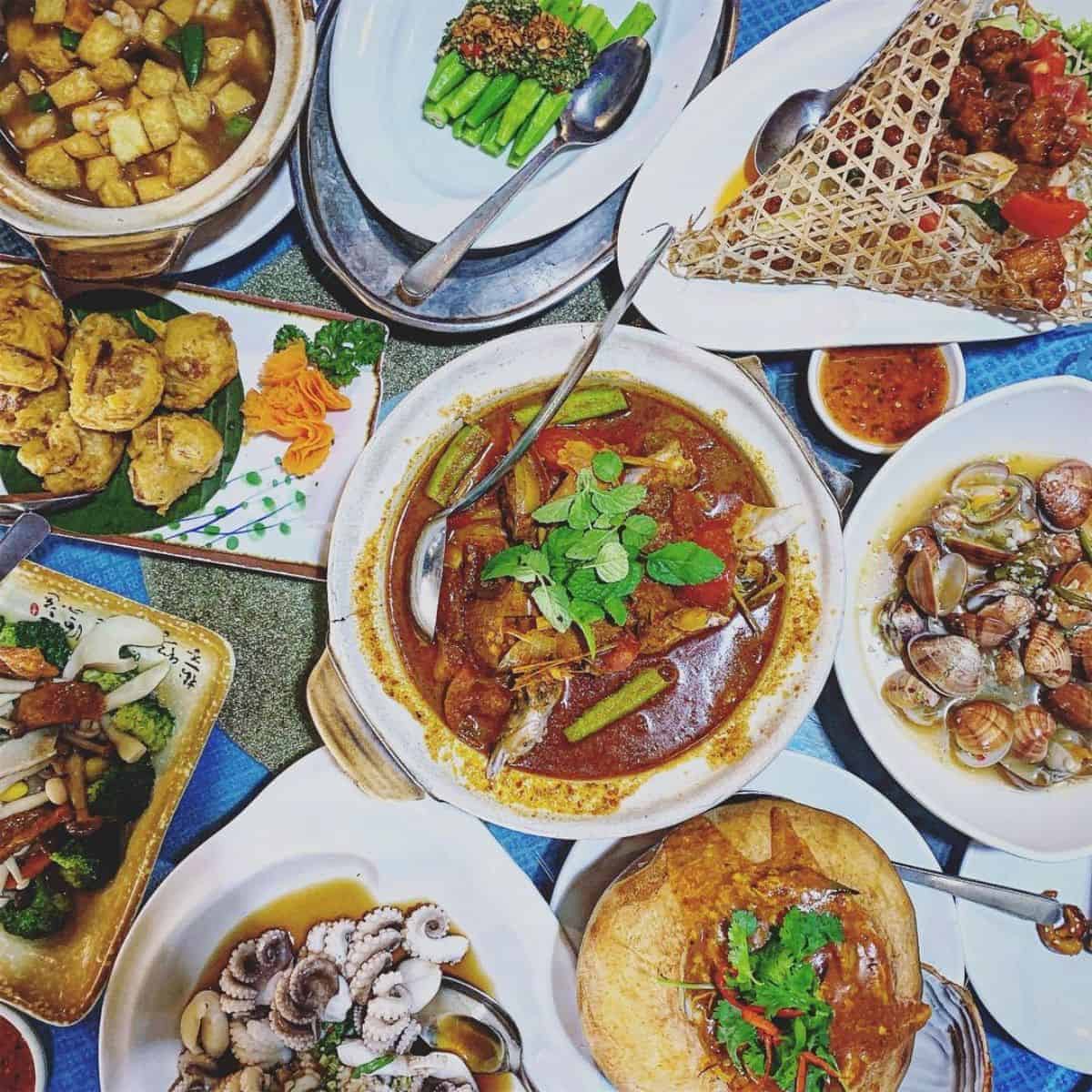 The chefs utilise various cooking styles, such as steaming, grilling, frying, and currying, to showcase the freshness and quality of their seafood. Our favourite dish was their salted egg yolk crab, which was crispy on the outside and juicy on the inside. Additionally, the smooth, creamy sauce paired well with rice or mantou (steamed buns).
Due to their popularity, we suggest you make a reservation in advance, especially during weekends and public holidays.
Hai Boey Seafood
MK 9, 29, Jalan Pasir Belanda, Teluk Kumbar, 11920 Bayan Lepas, Pulau Pinang
Da Shu Xia
We stumbled upon this hidden restaurant in Penang, Georgetown, that offers a seafood feast at a reasonable price. Located under a majestic big tree, this cosy eatery is a perfect spot if you love fresh seafood in a relaxed and laid-back setting.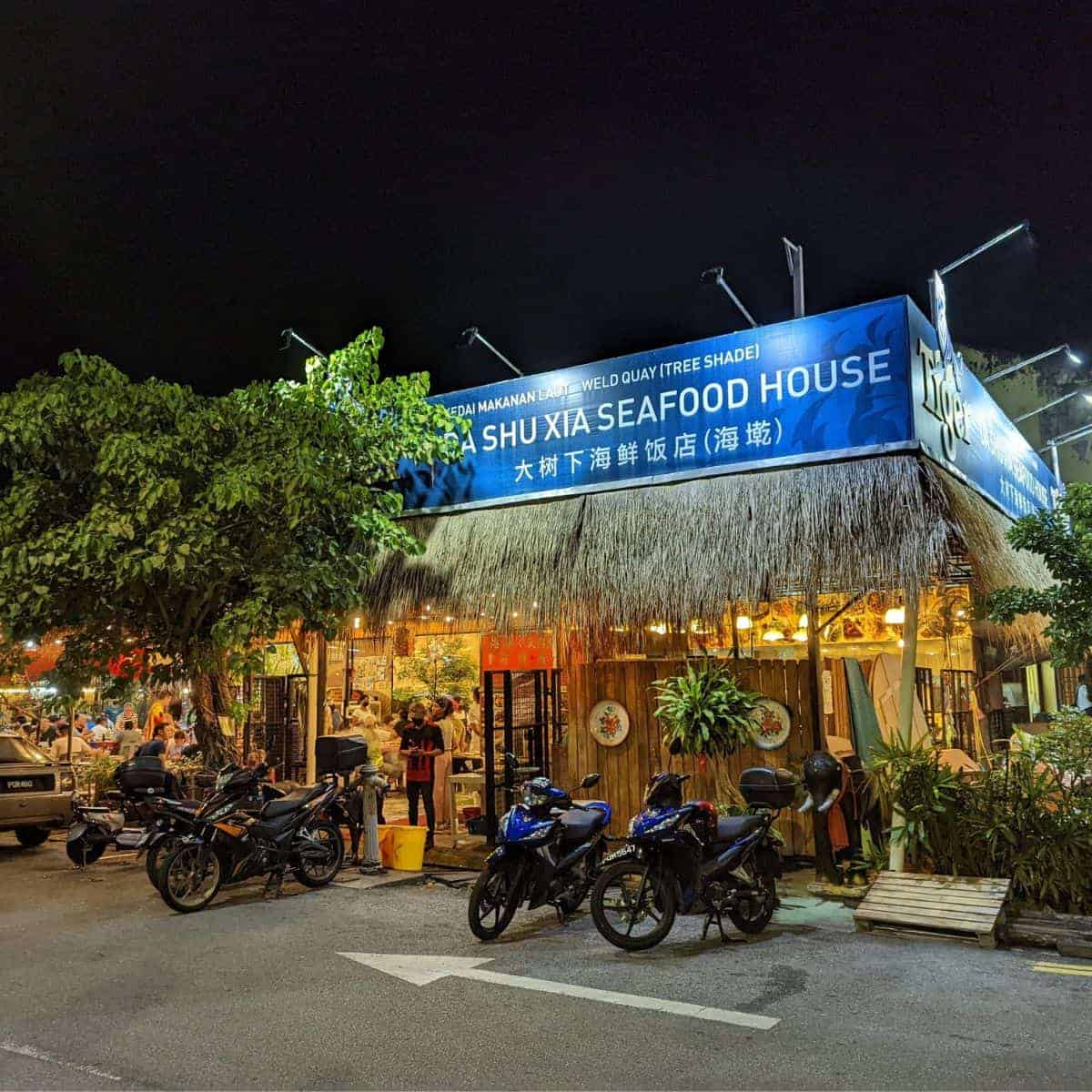 Da Shu Xia is a Chinese-style eatery that prepares fresh seafood in different ways, such as steaming, deep frying or in spicy curry. We were blown away by their signature spicy coconut prawn, which was a fusion of Malay and Chinese flavours. Their prawns boast a crispy shell and succulent flesh, while the spicy and creamy sauce pairs perfectly with rice.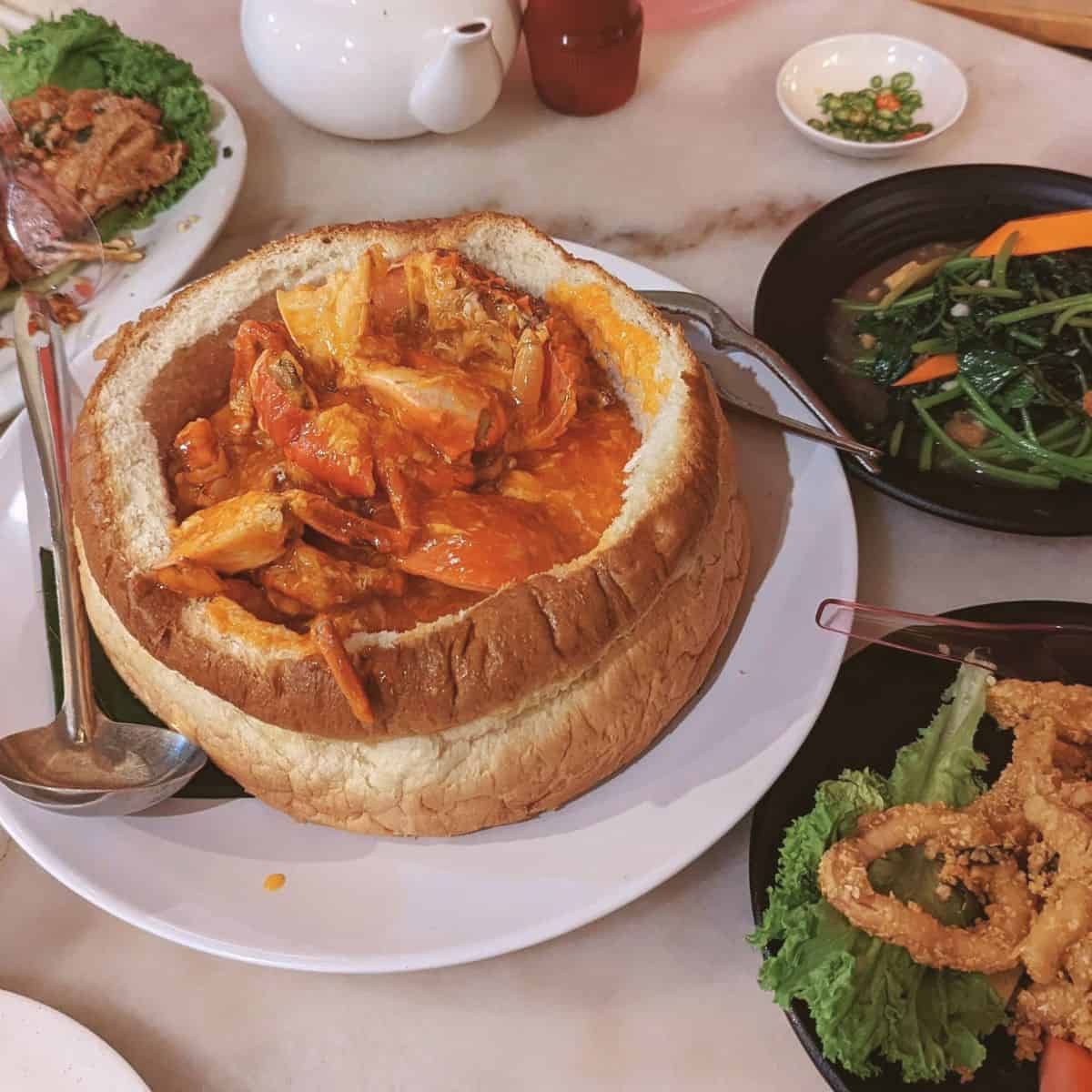 As one of the best restaurants in Penang, Georgetown, it can get busy during peak hours, so be prepared for a possible queue or communal dining experience.
Da Shu Xia
177C, Victoria St, Georgetown, 10300 George Town, Pulau Pinang
Beach Corner
Beach Corner has everything you need - delicious seafood and stunning ocean views. As one of the most charming Penang restaurants in Batu Ferringhi, it has a relaxed ambience, with its outdoor seating facing the sea. Beach Corner prepares fresh seafood with their fusion of traditional Hainanese and Nyonya recipes. As a result, you will experience unique and delightful flavours that are hard to find elsewhere.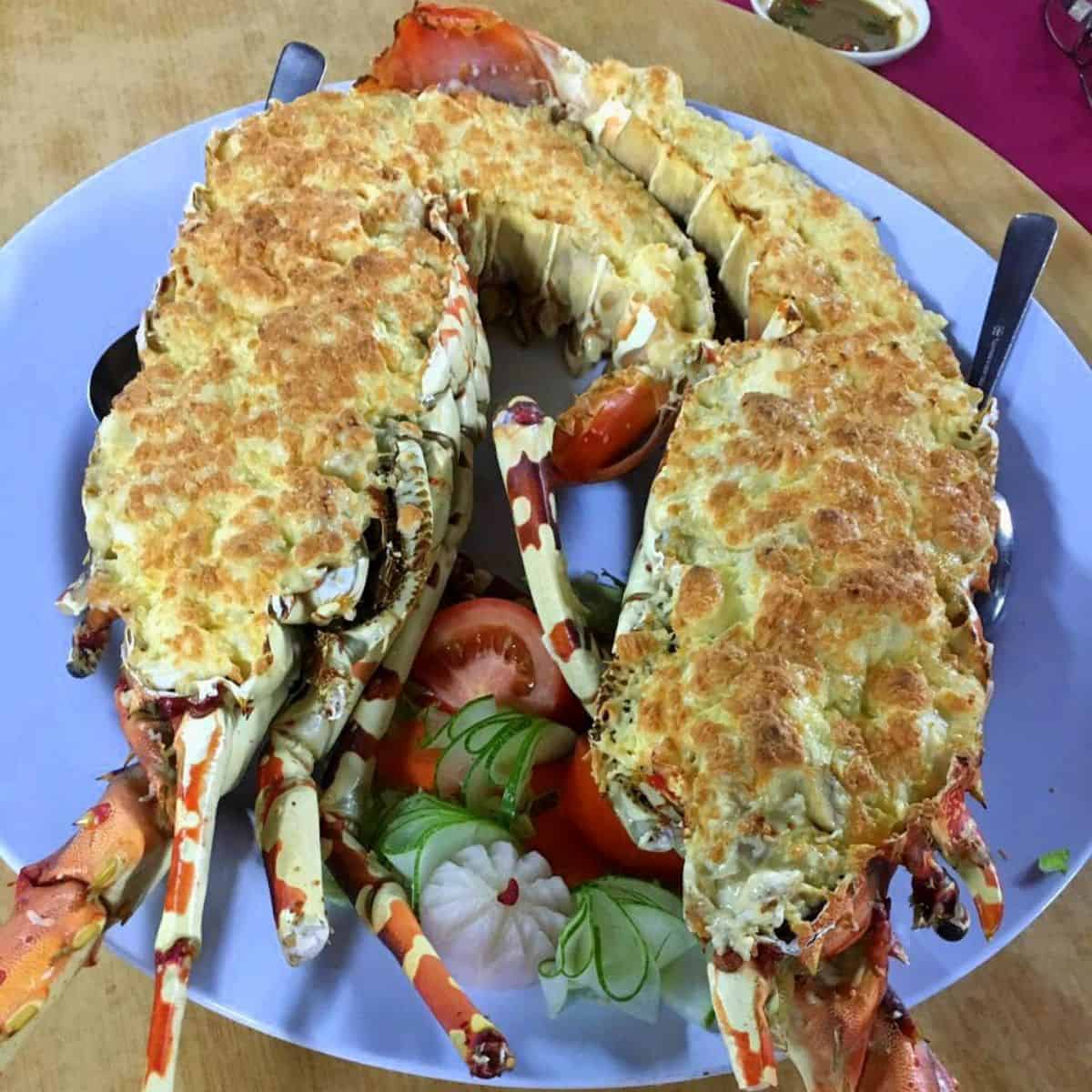 One dish that we couldn't get enough of was their Assam Prawns, a perfect example of their culinary skills and a beloved Nyonya classic. The prawns are coated in a thick and luscious sauce that balances the tangy taste of tamarind with the savoury flavour of soy sauce. Furthermore, the dish has a fruity and rich taste enhanced by a hint of vinegar.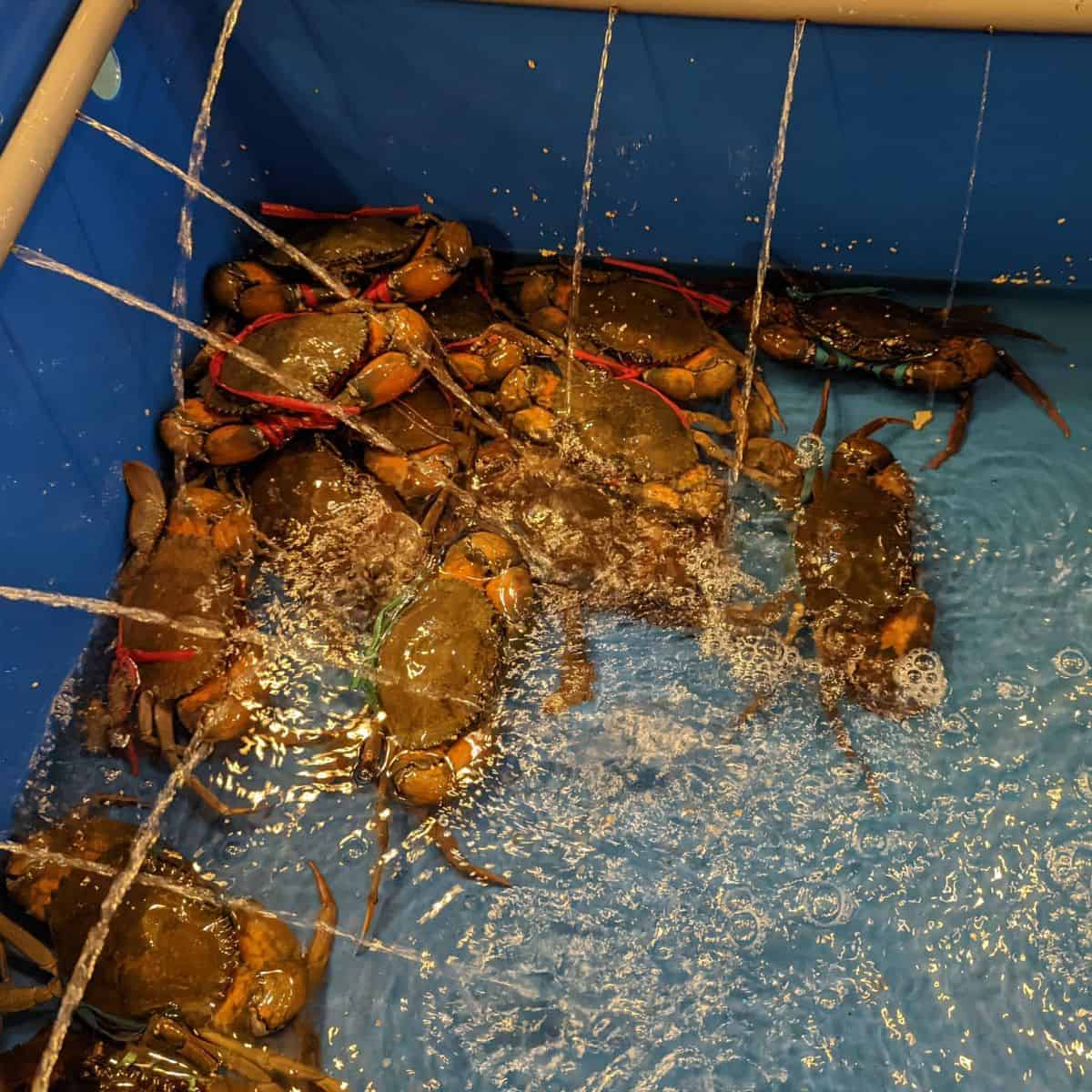 Our tip is that you arrive early and grab your seat to enjoy the best view of the beautiful sunset.
Beach Corner
72D, Jalan Batu Ferringhi, 11100 Batu Ferringhi, Pulau Pinang
Vegetarian Restaurants in Penang Island
The prominent Chinese Buddhist community has long influenced the local vegetarian and vegan cuisine in Penang. Moreover, they have shaped Penang's rich culinary landscape. As a result, the island has become a paradise for those who appreciate and crave delectable vegetarian fare. There are many vegetarian Penang restaurants offering delicious and healthy food made with fresh ingredients.
In this section, we will bring you to some of the best Penang restaurants specialising in vegetarian and vegan dishes that will make you feel good and satisfied. However, check out our article on Penang vegetarian food for a more extensive guide.
Lily's Kitchen
If you are seeking a vegetarian version of the most famous street food in Penang, you should try Lily's Kitchen. This popular vegetarian restaurant in Penang has a variety of vegan curries to choose from, such as Nasi Lemak and Nasi Kandar. We loved their vegan curries for their richness and flavour. Even your meat-loving friends will be satisfied.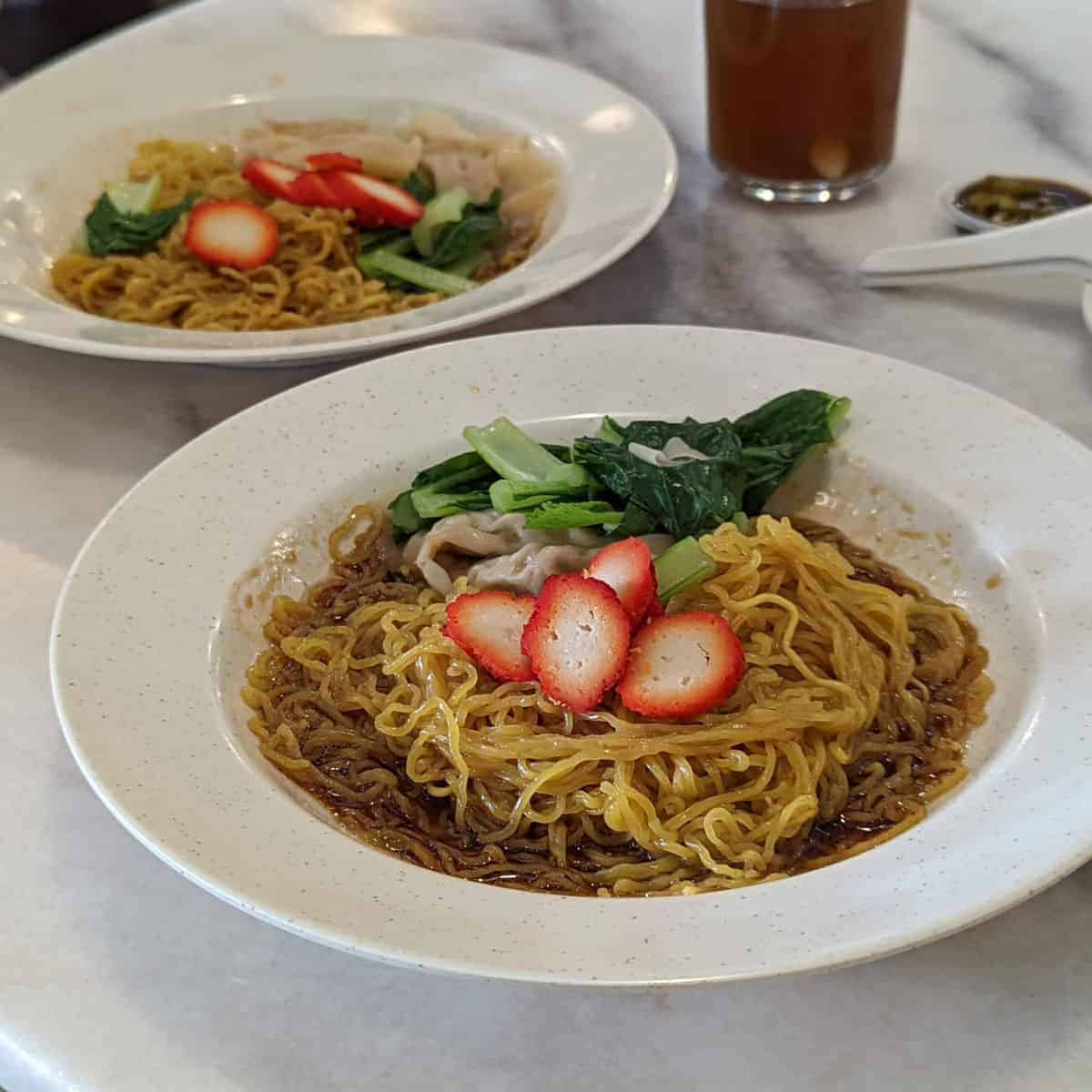 However, the true star of their menu is their Vegan Char Kway Teow. We couldn't believe how they recreated the traditional recipe without using any meat or seafood. They used fresh ingredients instead of processed mock meat to make a delicious dish of vegetables and plant-based proteins. We particularly enjoyed the smoky flavour and the crunchy bean sprouts that added a nice contrast to the soft noodles.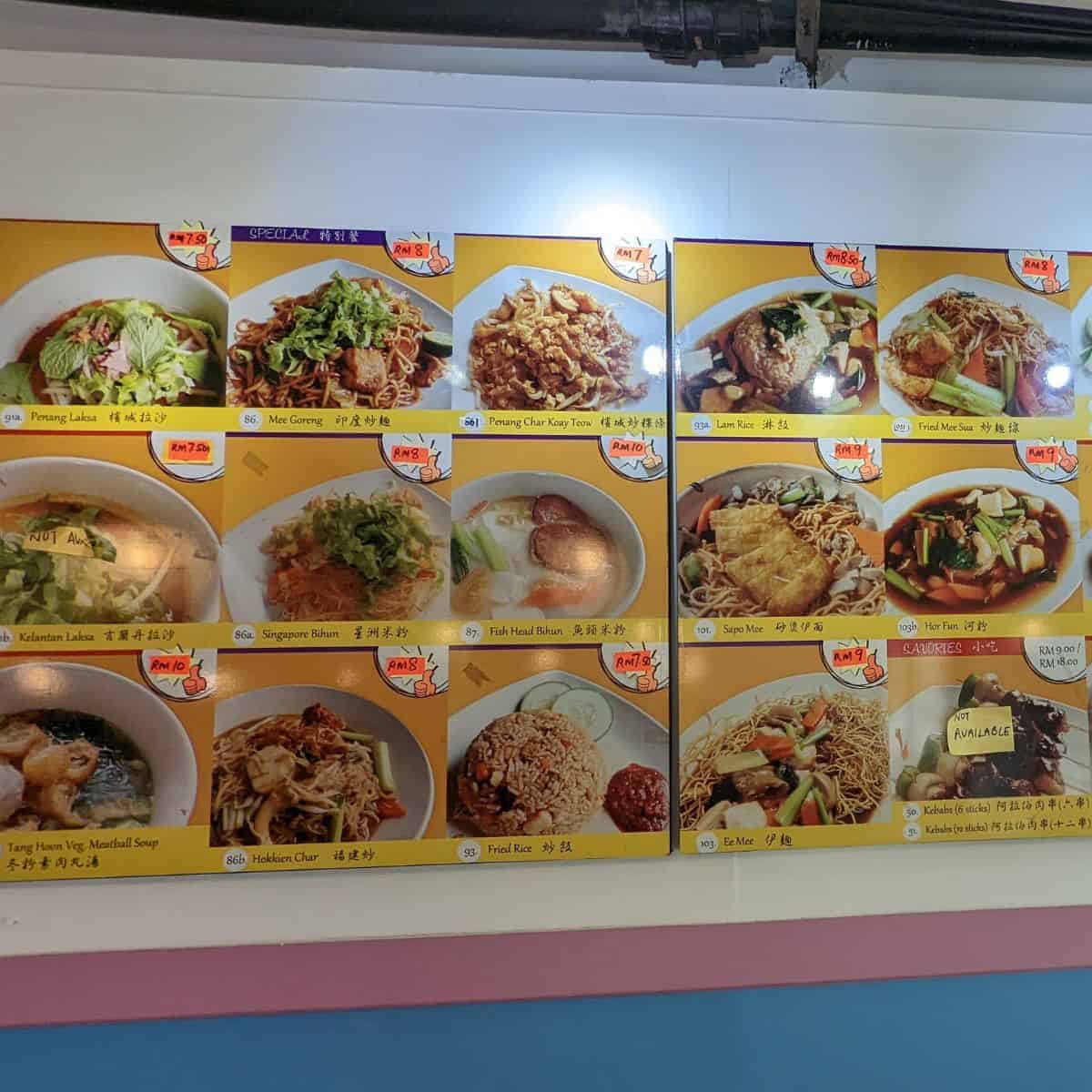 Similarly, another dish we highly recommend is their vegetarian pasembur, which is pretty rare. It is a salad made of shredded cucumber, turnip, potatoes, beancurd, bean sprouts, and vegan fritters, drizzled with a sweet and spicy peanut sauce. Their fare is refreshing and satisfying. They offer great alternatives enabling every veggie-lover to experience local flavours.
Lily's Kitchen
98, Lorong Madras, 10400 George Town, Pulau Pinang
Pinxin Vegan Cuisine
Pinxin Vegan Cuisine is the best restaurant in Georgetown, Penang, that serves healthy, cruelty-free, and enjoyable food for everyone. This vegan establishment offers a variety of local, Asian, and Western cuisines made with fresh and organic ingredients. Moreover, you will be amazed by the taste and the presentation of their dishes, which are well-balanced with nutrition and flavour.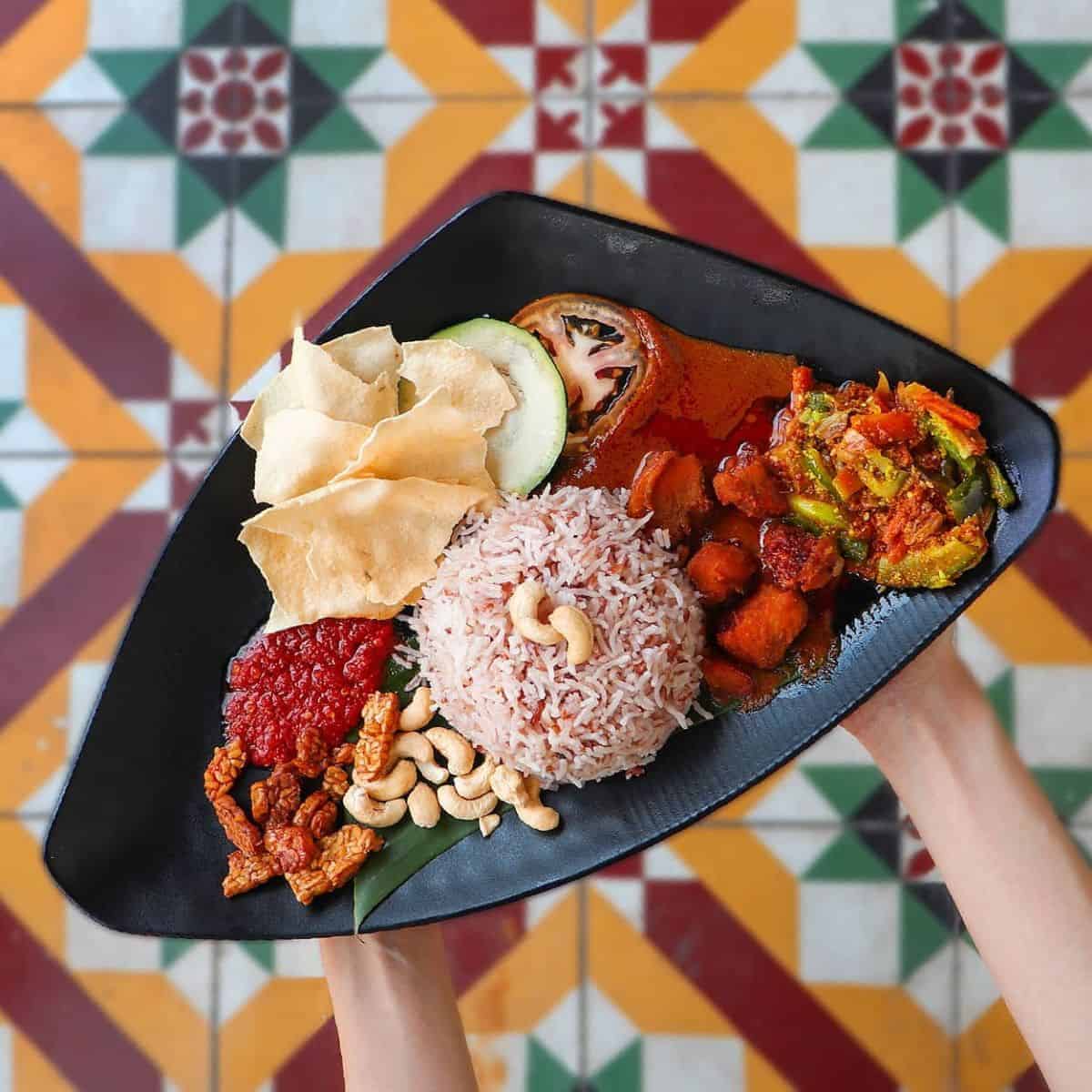 One of the dishes that we loved at Pinxin Vegan Cuisine was the Asam Laksa. The broth was so flavourful and spicy, with a hint of sourness from the tamarind, lemongrass, and galangal. In addition, it was loaded with fresh vegetables and herbs that added to the texture. It was one of the best Asam Laksa we ever had, and we couldn't get enough of it.
Furthermore, you will love that the place is not too crowded. Therefore, you can enjoy your meal in a relaxed atmosphere.
Pinxin Vegan Cuisine
38, Lebuh Tye Sin, 10300 George Town, Pulau Pinang
EE Beng
Come here for an affordable restaurant in Penang that serves a delectable vegetarian buffet. EE Beng has a self-service concept where you can choose from over 50 dishes displayed on trays or pots. In addition, you can also get some dim sum from their counter or order from their menu. The spot has a casual ambience and simple interior that can cater for everyone, even larger groups.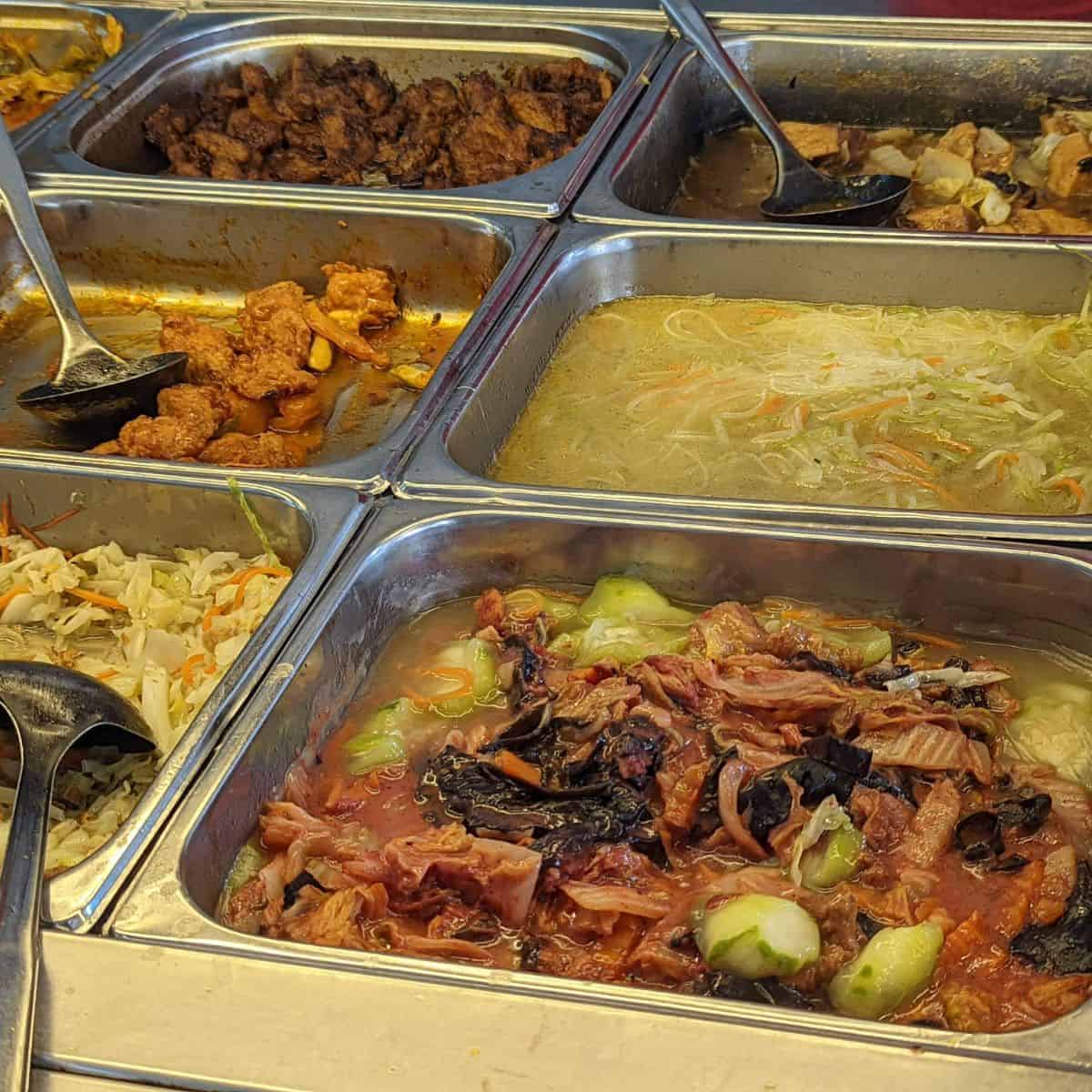 We were impressed by the variety, freshness and sheer variety of the vegetarian Chinese dishes offered. For example, they serve fried rice, fried noodles, curry vegetables, sweet and sour mock meat, spring rolls, dumplings, salads and desserts. Furthermore, the dishes are cooked to perfection and are replenished regularly. We particularly appreciated the free soup and herbal tea with our meal.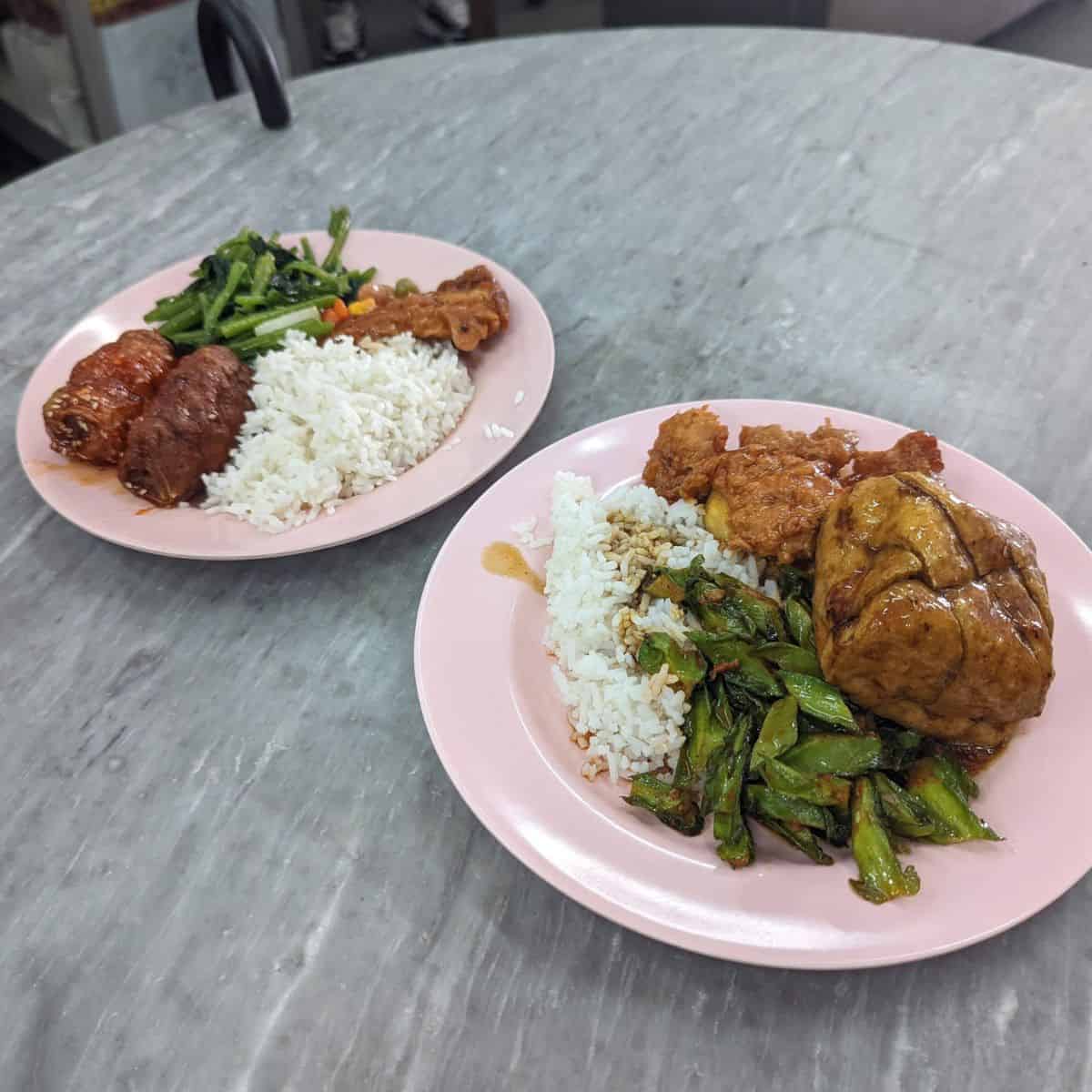 However, remember that EE Beng charges by weight or plate size, depending on your choice. Alternatively, you can opt for their set meals or economy rice if you want a fixed price.
EE Beng
20, Lebuh Dickens, George Town, 10050 George Town, Pulau Pinang
Top Halal Restaurants in Penang Island
Penang is a multicultural and multireligious state that offers a variety of halal food options for Muslim travellers and locals. As avid foodies, we have explored the island and sampled many dishes from different halal-certified cuisines by the Penang Islamic Religious Council.
Whether you are looking for Malay, Indian, Chinese, Lebanese, or Western food, you will find something to suit your taste buds in Penang. So, here are our top picks of halal food places in Georgetown, Penang.
Hameediyah Restaurant
Hameediyah is the oldest restaurant serving Nasi kandar in Penang since 1907. It is run by the descendants of its founder, who came from Tamil Nadu, India. Nasi kandar is a dish of steamed rice served with various curries and side dishes, such as chicken, fish, beef, squid, eggs, and vegetables. Furthermore, the curries are rich and spicy, with a distinctive flavour from coconut milk, tamarind, and spices.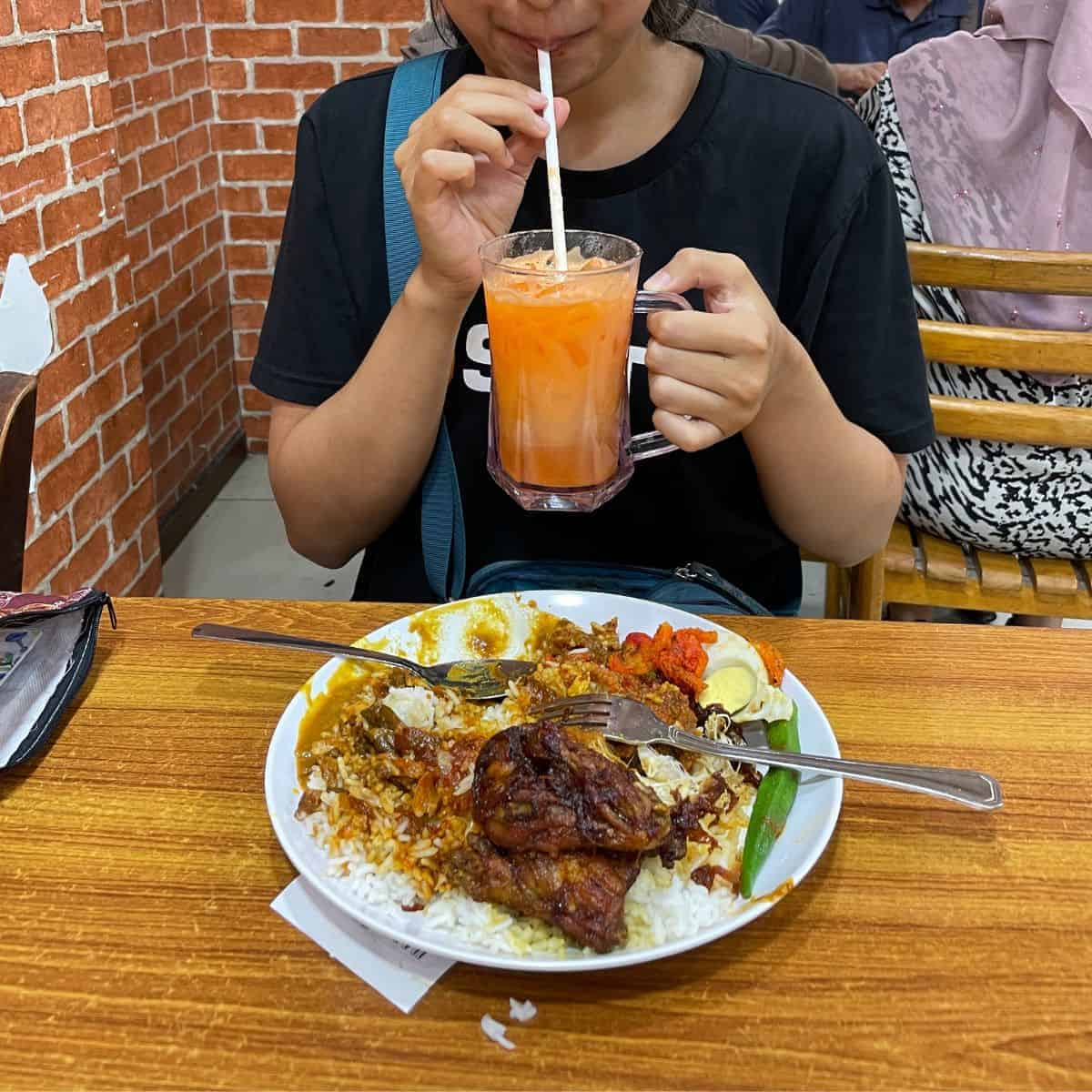 Our experience at this affordable restaurant in Penang was a journey into the rich heritage of nasi kandar. We loved the distinctive flavours of their curries. However, it was their Ayam Ros, with its tantalising aroma and taste, that truly stole our hearts. The chicken was tender and juicy, and the spices complemented each other perfectly.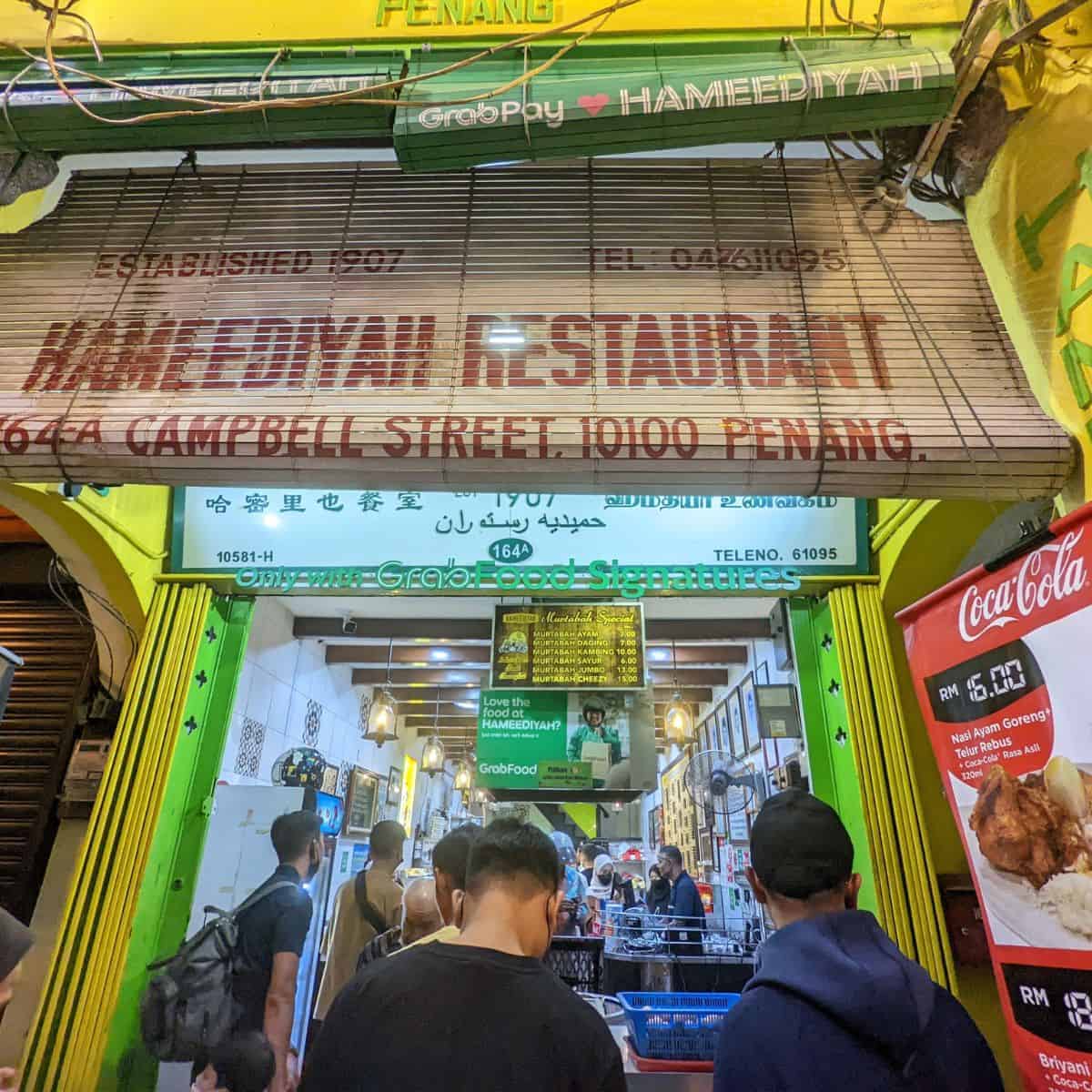 Moreover, with their affordability and unwavering commitment to quality, Hameediyah continues to be a must-visit destination for those seeking a taste of Penang's culinary history.
Hameediyah
164 A, Lebuh Campbell Street, 10100 George Town, Pulau Pinang
Alamak
Alamak Nasi Lemak is one of the best halal Penang restaurants serving the iconic Malaysian dish, nasi lemak. Nasi lemak consists of fragrant coconut rice served with sambal (spicy sauce), anchovies, peanuts, cucumber slices and boiled egg.
Furthermore, Alamak claims to be the first trendy "mamak stall". A mamak stall is an eatery that serves a fusion of halal Malay and Indian Muslim food. Moreover, the place has a cosy atmosphere making it ideal for chilling.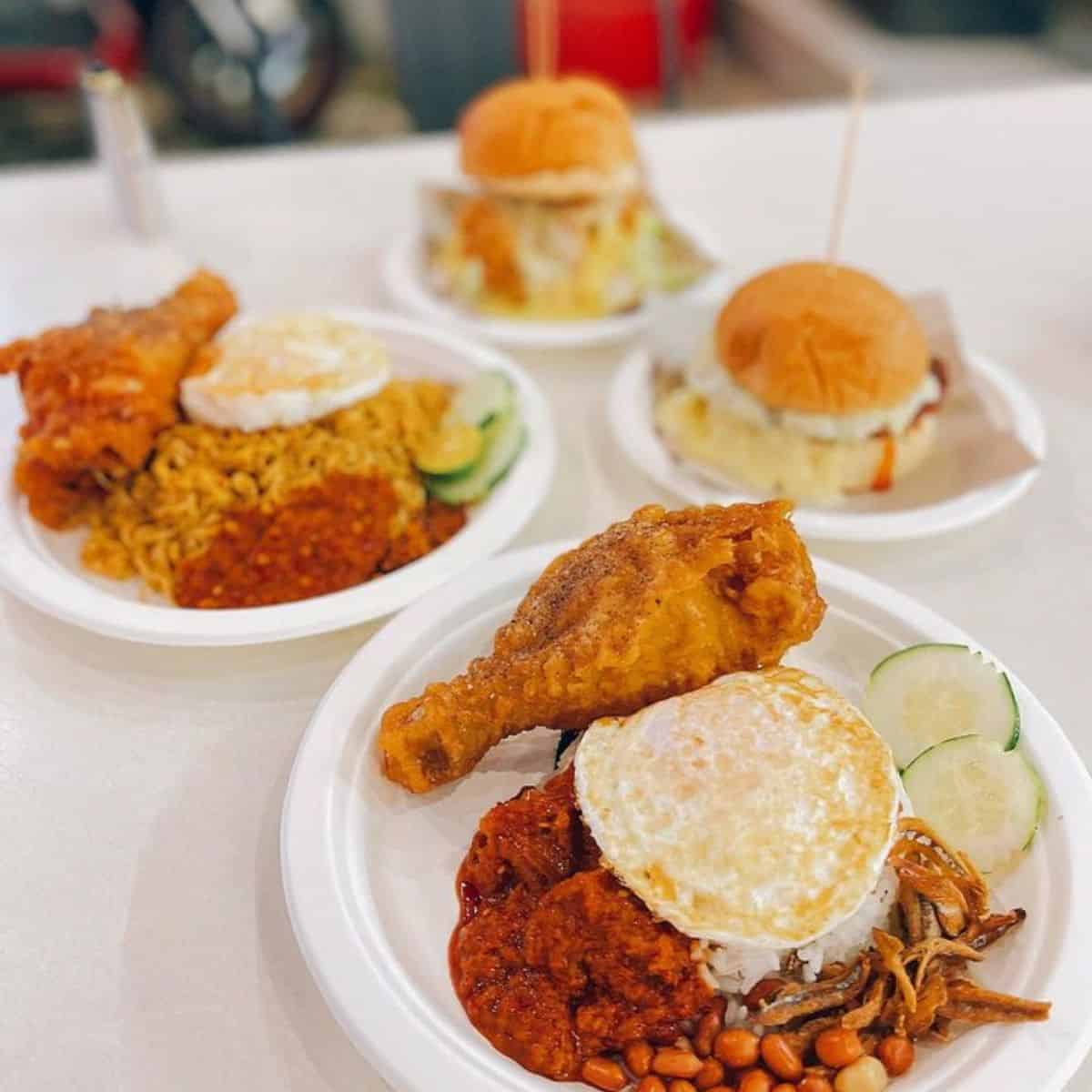 You must try their Signature Ayam Goreng fatty rice. The dish features crispy fried chicken, spicy sambal, savoury anchovies and a sunny-side-up egg on top of fluffy coconut rice. Furthermore, the owners perfectly balance the different textures and flavours.
In addition, the stall offers friendly service and fast deliveries. We suggest you go there early for brunch to avoid the long queues and enjoy a relaxing meal.
Alamak
175, Jalan Argyll, George Town, 10050 George Town, Pulau Pinang
Instagram
D'Seafood Paradise
Nestled in the scenic Batu Maung, D'Seafood Paradise stands out as one of the finest halal seafood Penang restaurants. This establishment boasts an amazing sea view and offers an idyllic setting for seafood lovers. What sets D'Seafood Paradise apart for us is their meticulous use of traditional Malay spices.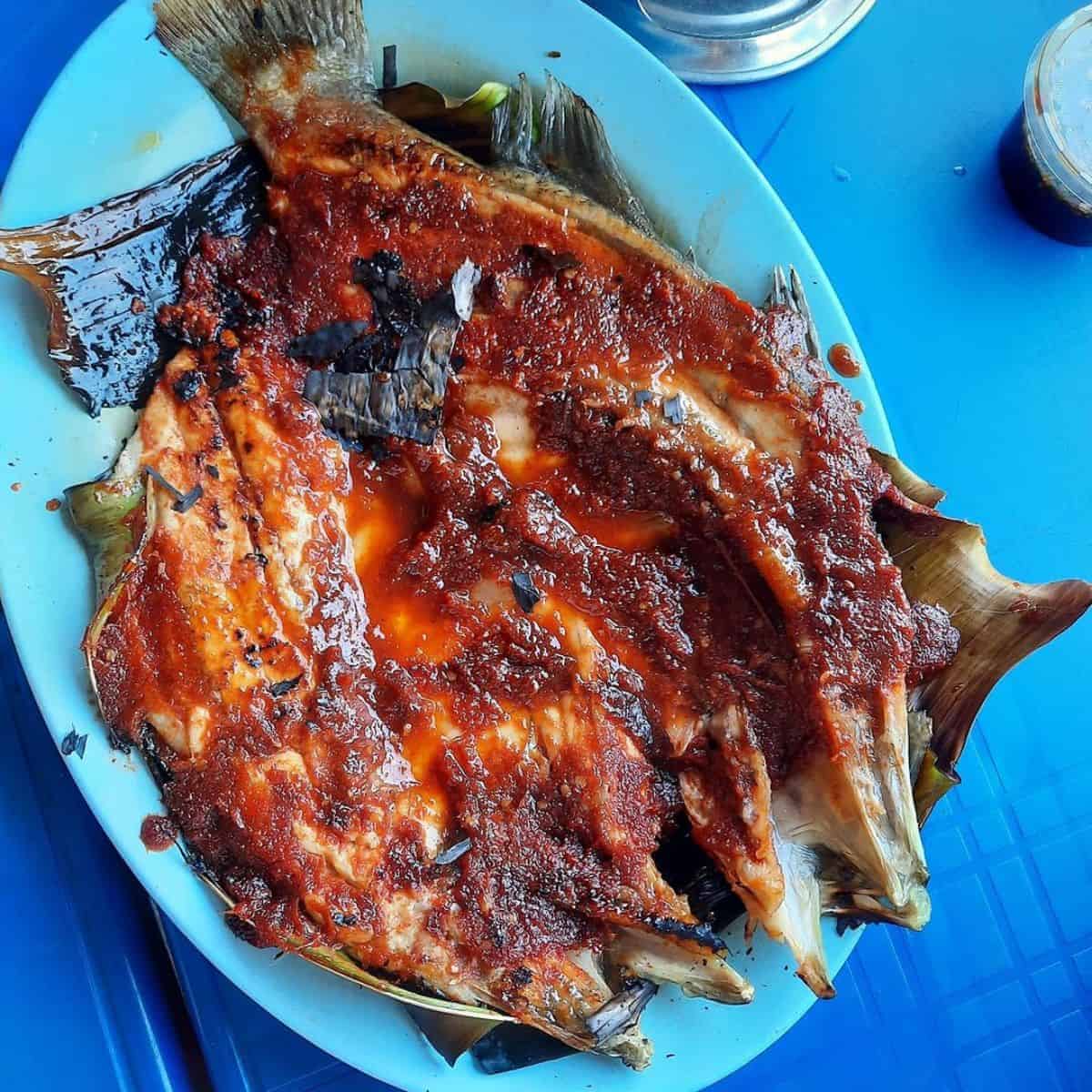 Speaking of exceptional dishes, one that left a lasting impression on us was their Assam Pedas Pari. This classic Malay delicacy featured perfectly cooked stingrays soaked in a tantalisingly spicy and tangy gravy. Moreover, the combination of flavours was simply divine and complemented the rich taste of the fish impeccably. It's a must-try for anyone visiting the place.
D'Seafood Paradise
Jalan Teluk Tempoyak, 11960 Batu Maung, Pulau Pinang
Western Restaurants
Western cuisine has become integral to the region's culinary terrain, offering diverse flavours and culinary experiences. While the state is renowned for its vibrant local food scene, Western Penang restaurants are also on the island. They add a delightful fusion of international tastes to the island's dining options.
These establishments are popular among both locals and tourists, who can savour familiar dishes with a fresh twist. Ultimately, Penang is the best place to enjoy this cuisine because it showcases the island's diverse cultural influences and innovation.
Two Frenchies
If you are wondering what to eat in the Penang Port area, you should try Two Frenchies. This cafe bistro serves authentic and exquisite French cuisine in Lebuh Bishop, near the heritage area of Georgetown. Two French chefs with more than two decades of cooking and catering experience run this eatery. Furthermore, they use fresh and imported ingredients to create rich and flavourful dishes.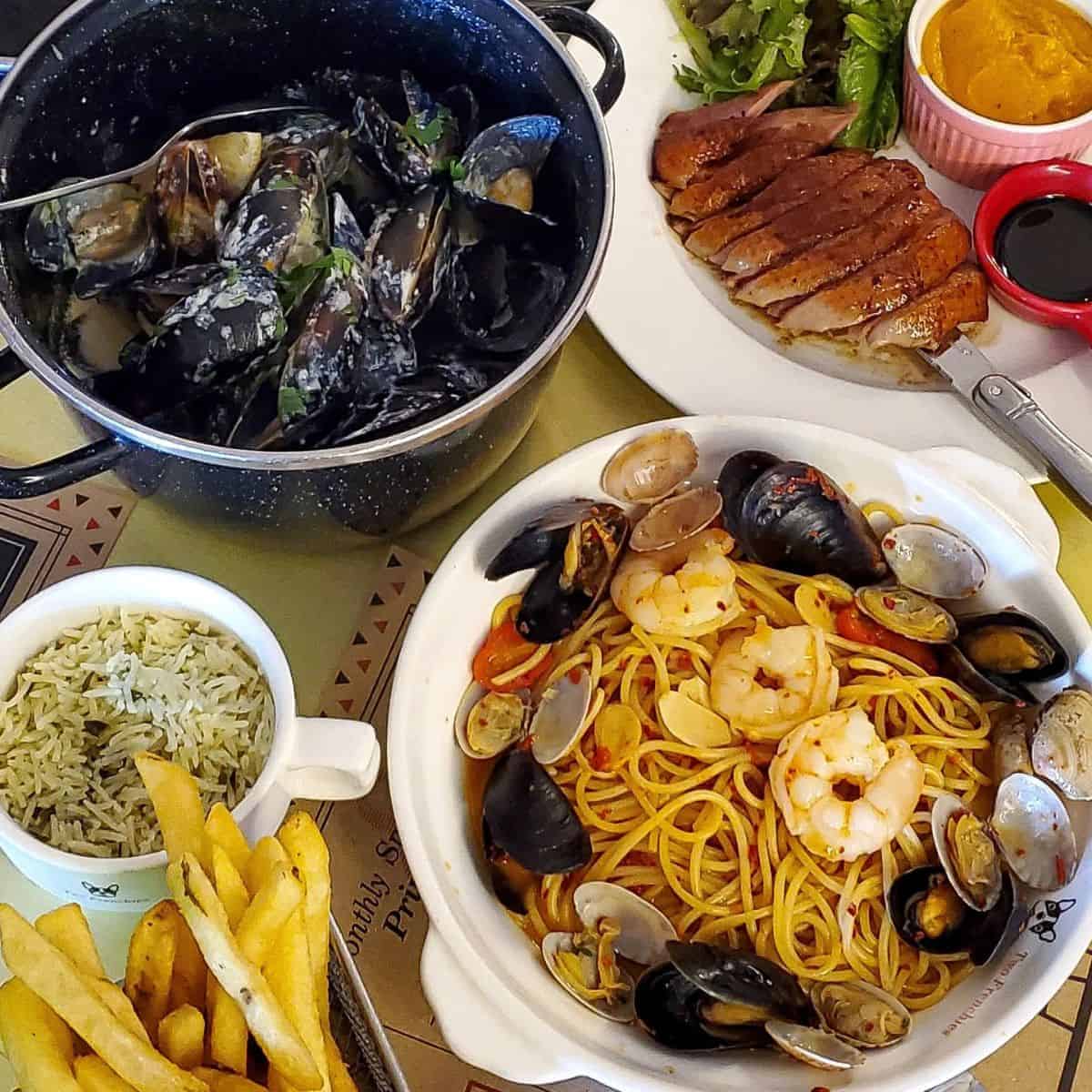 We simply devoured their signature dish, the duck confit. This dish consists of a duck leg simmered in its fat until tender and crispy. In addition, we also tried their daily specials, such as lamb shank, salmon fillet or chicken cordon bleu. They were all cooked to perfection and served in generous portions. Furthermore, you will be delighted by their great selection of French wines. The drinks will enhance the taste and add a touch of elegance to your meal.
The interior of Two Frenchies is stylish and refined, with soft French music playing in the background. Therefore, we recommend going here for a dinner date or a special occasion, as it is one of the most charming Penang cafes we have ever visited.
Two Frenchies
36, Lebuh Bishop, George Town, 10200 George Town, Pulau Pinang
Il Bacaro
Il Bacaro is a hidden restaurant in Penang offering a taste of La Dolce Vita amidst the bustling island city. It is located in Campbell House, which is a boutique Penang hotel. Therefore, this eatery has a cosy and elegant ambience, with wooden furniture, brick walls and dim lighting.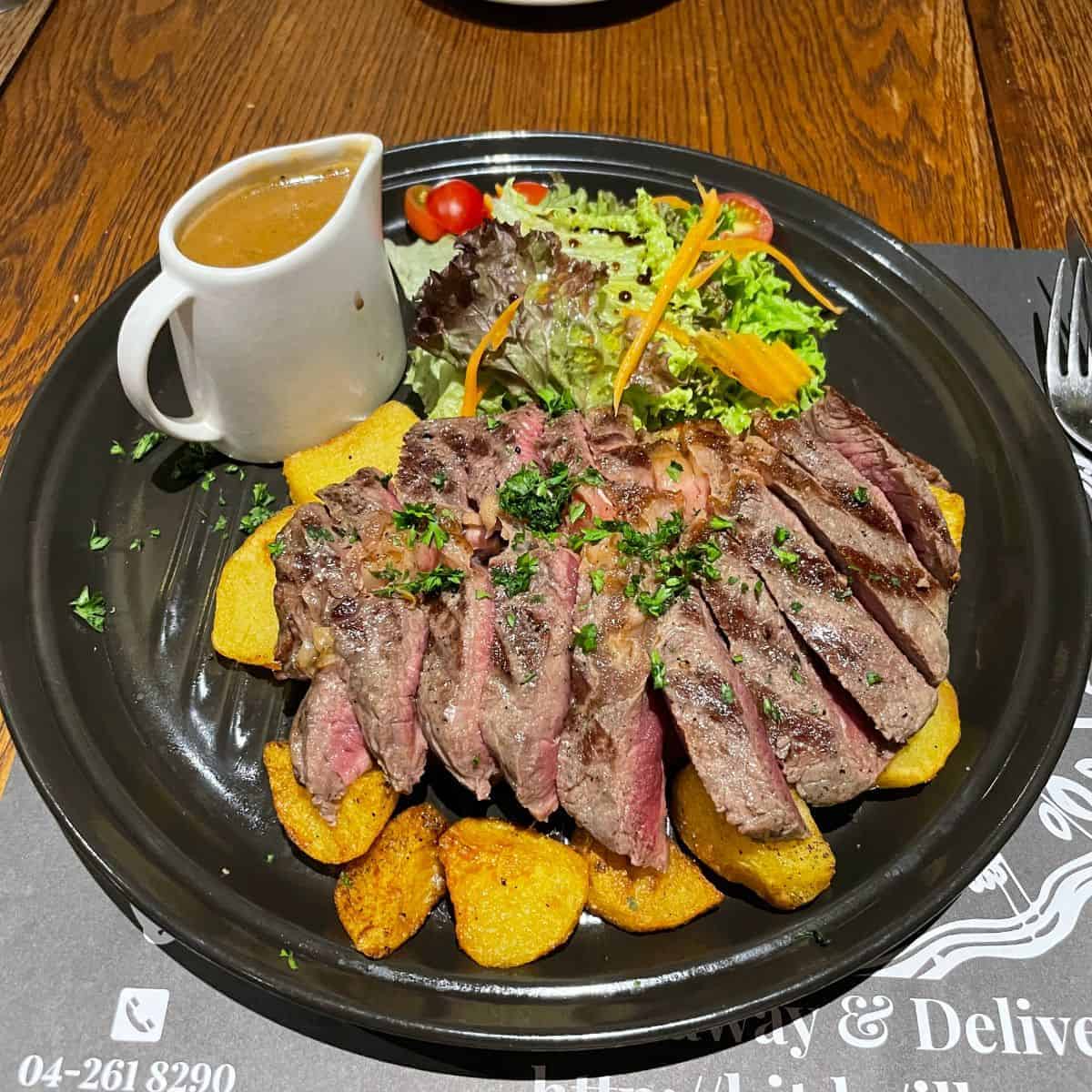 Furthermore, this dining spot prides itself on serving honest, freshly cooked Italian cuisine. They use locally sourced seafood and vegetables and combine them with authentic Italian ingredients in recipes passed down from Mamma.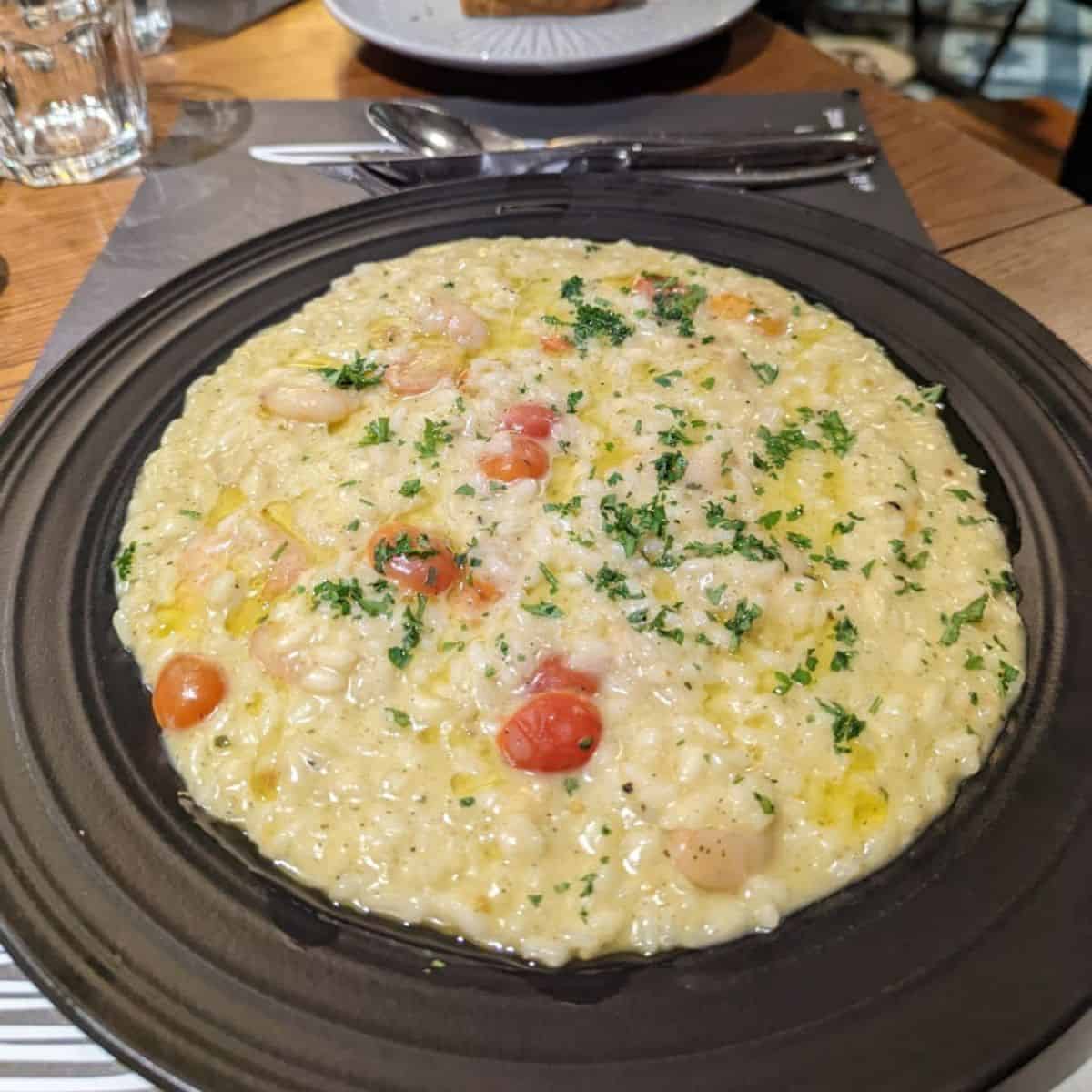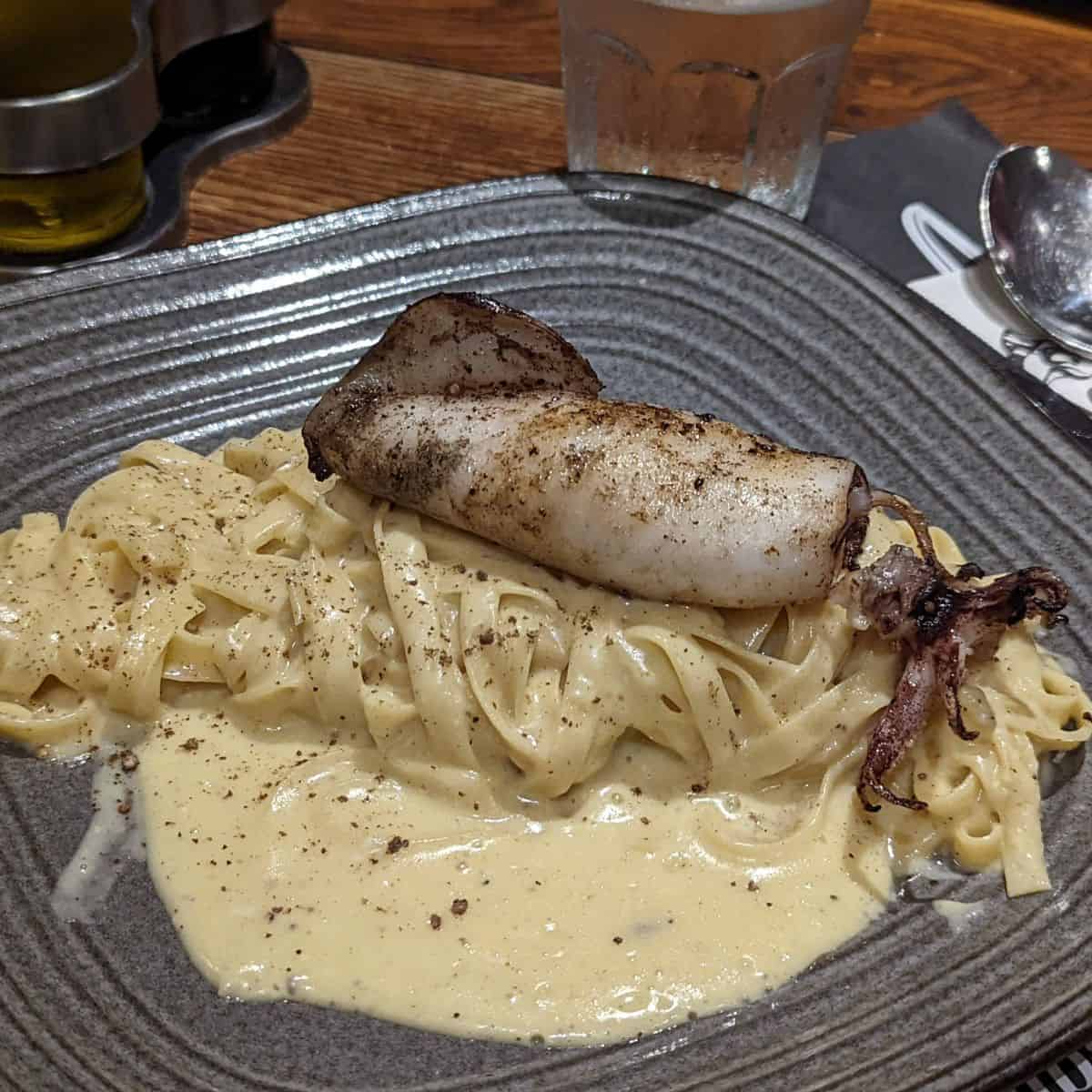 We highly recommend their Grassfed Ribeye Steak. The steak is cooked to perfection, with a seared crust and juicy meat on the inside, every time we have dined at Il Bacaro. As this restaurant is very popular, we suggest giving them a call to book a table in advance.
Il Bacaro
Campbell House, 106, Lebuh Campbell, Georgetown, 10200 George Town, Pulau Pinang
Fine Dining Restaurants in Penang
The island is a gastronomic destination that caters to all palates and budgets. Suppose you want to celebrate a noteworthy occasion, impress a date or treat yourself to a gourmet meal. In that case, you must explore some fine dining Penang restaurants that offer impeccable food, service, and ambience. So, here are our top three fine dining establishments that we have tried and adored.
Suffolk House
Suffolk House, a historical mansion-turned-restaurant in Penang, stands as a testament to Penang's colonial past.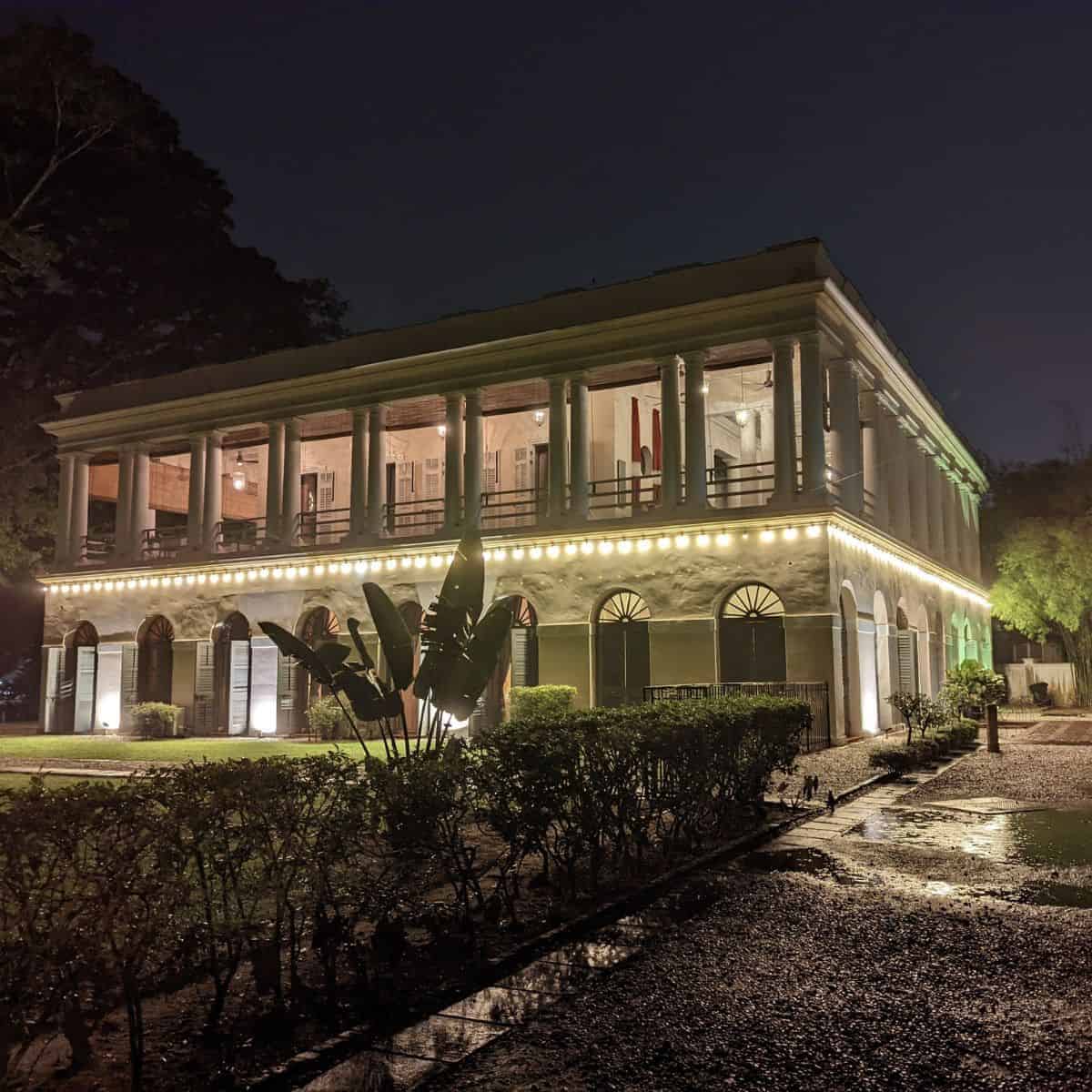 Located near the Kek Lok Si Temple, this eatery is a heritage site that was once the residence of Francis Light, who was the island's founder. We felt like royalty as we dined in the elegant setting and enjoyed the impeccable service.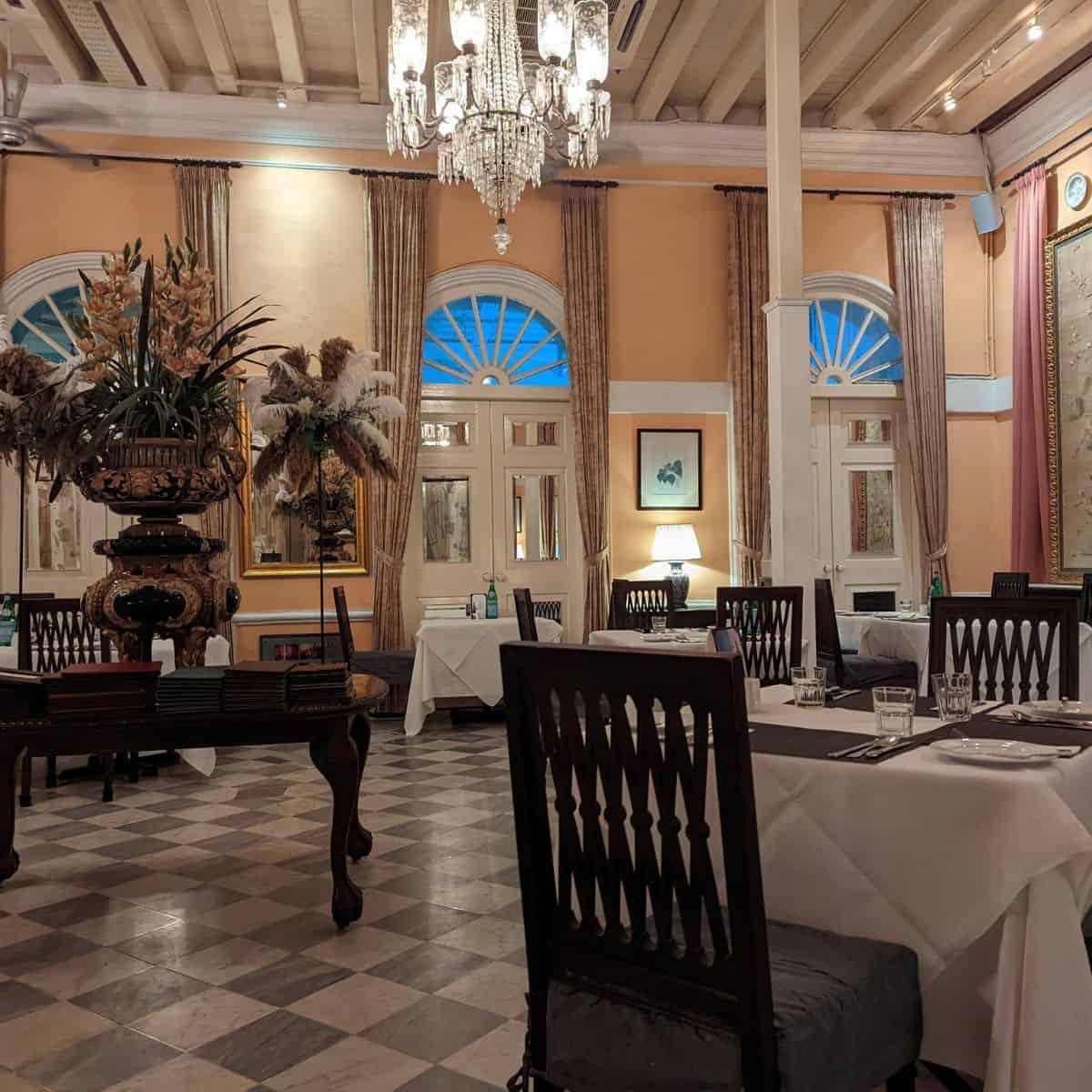 Furthermore, their Local Herb Crusted Lamb Rack was the highlight of our meal. The chefs coat the lamb rack with a crust of local herbs and slow roast until tender and juicy. However, if you want something more laidback, you can also enjoy their afternoon tea set with scones, sandwiches, cakes, and pastries.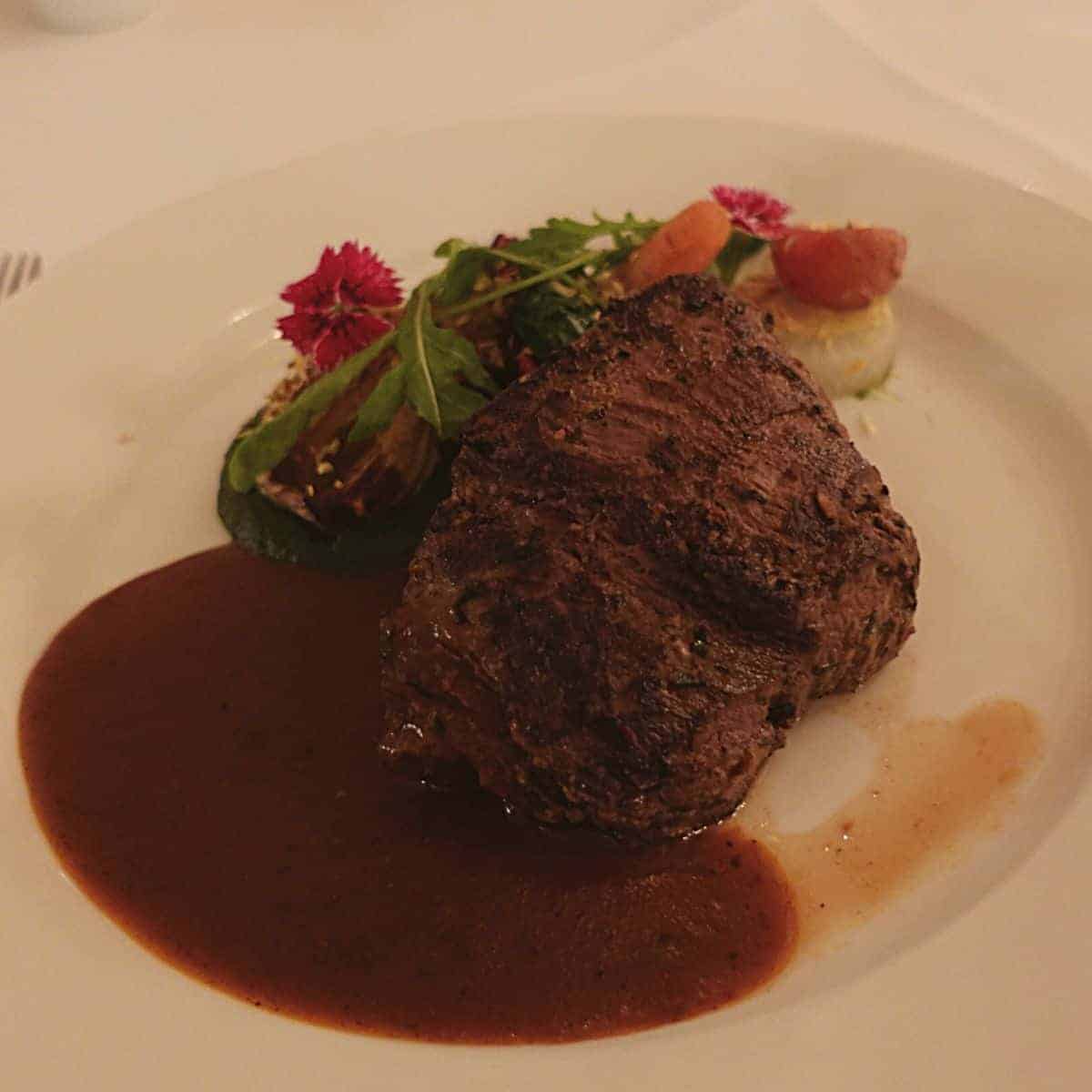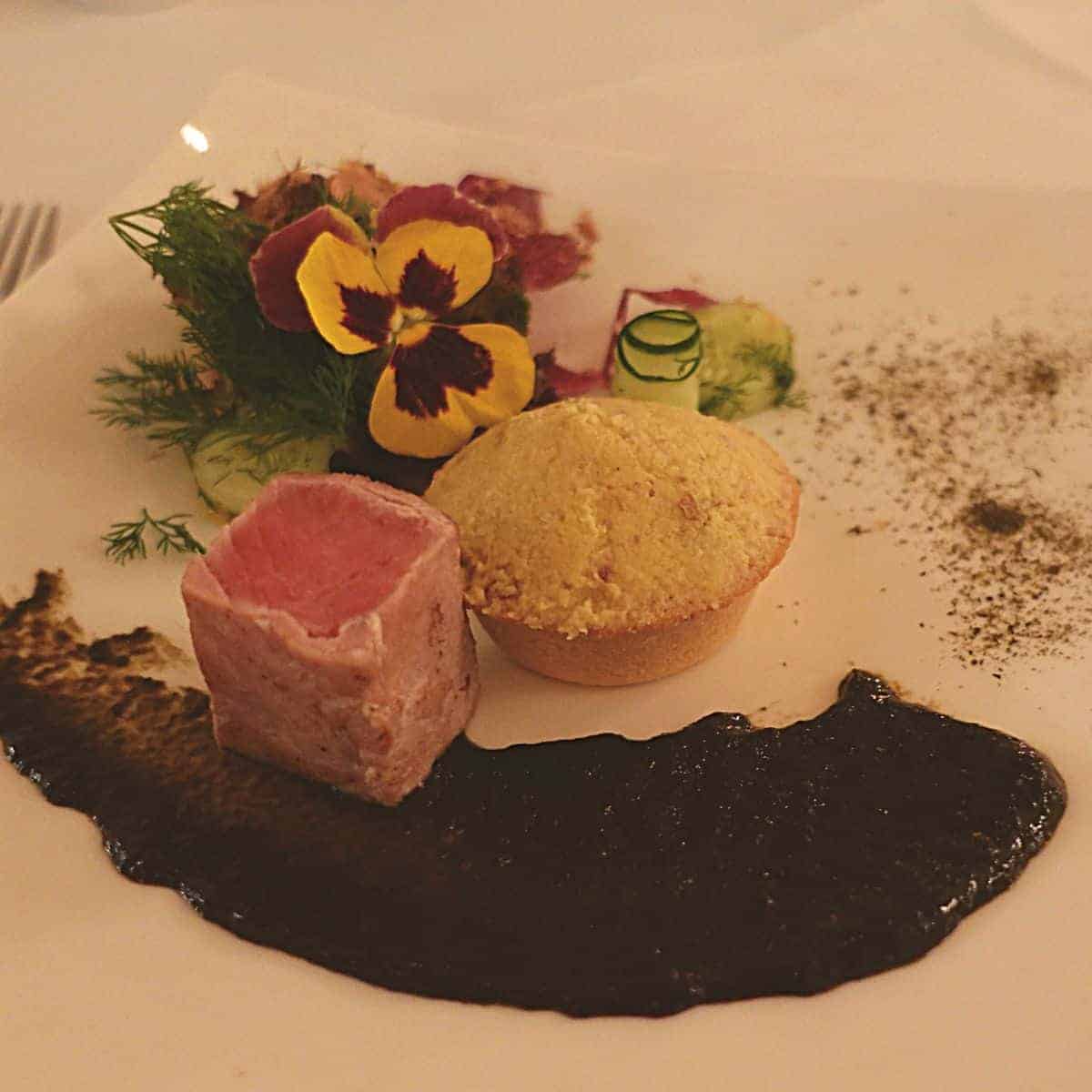 We highly recommend Suffolk House to anyone who wants to experience a slice of Penang's history and culture while enjoying a fine dining experience. The restaurant operates a pork-free kitchen and is happy to cater for any dietary needs if you inform them in advance.
Suffolk House
250, Jalan Air Hitam, Georgetown, 10460 George Town, Pulau Pinang
Au Jardin
Nestled within a charming heritage bungalow, Au Jardin is a hidden gem that enchanted us with its French-inspired cuisine. As one of the finest Georgetown Penang restaurants, they are committed to using locally sourced ingredients to ensure that each dish is a delightful symphony of flavour.
We were utterly blown away by their signature dish, the Cognac & Hay-Aged Duck. It is a fusion of French and Asian tastes and techniques. We learned that the duck is sourced from a local farm in Butterworth. The ducks were raised over 90 days to develop a more mature and intense flavour. Then, they aged the meat with cognac and hay for ten days.
You will savour every bite of the roasted duck, which is golden and crisp and served with a sauce prepared from its juices, cognac and hay. The dish showcases the chef's passion and skill in presenting duck at its finest. We recommend Au Jardin if you love French cuisine with a local twist.
Au Jardin
125, Jalan Timah, 10150 George Town, Pulau Pinang
Indigo Blue Mansion
Indigo Blue Mansion is a fine dining establishment in Cheong Fatt Tze Mansion, a UNESCO World Heritage Site built in the 19th century. This fine dining establishment has a sophisticated and elegant ambience, with blue walls, wooden floors, and oriental ornaments.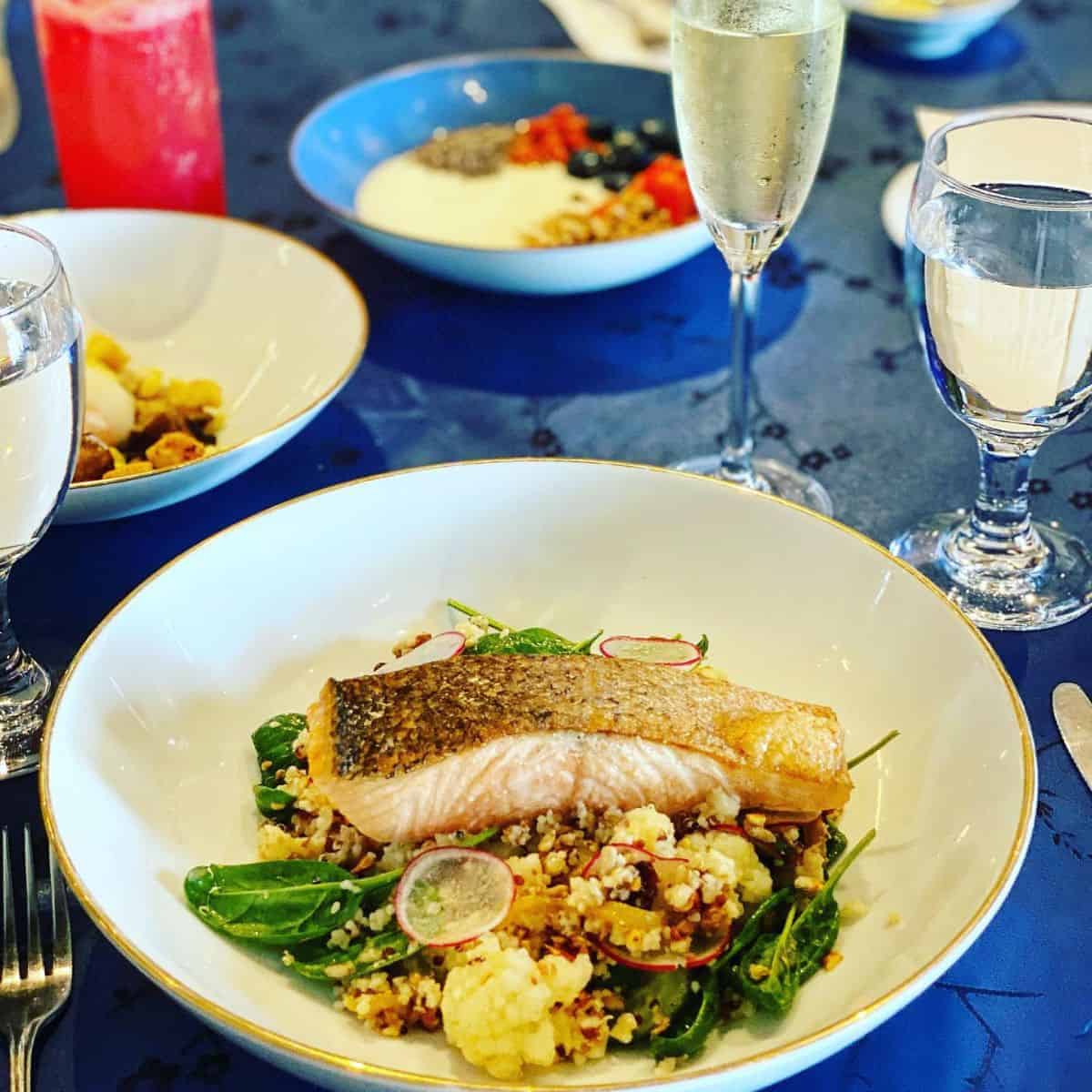 People have consistently voted this spot as one of the best Penang restaurants that serve fusion cuisine. The chefs artfully combine Asian and Western flavours and techniques. However, among their culinary delights, one dish stands out as our favourite - the Australian Black Angus Striploin.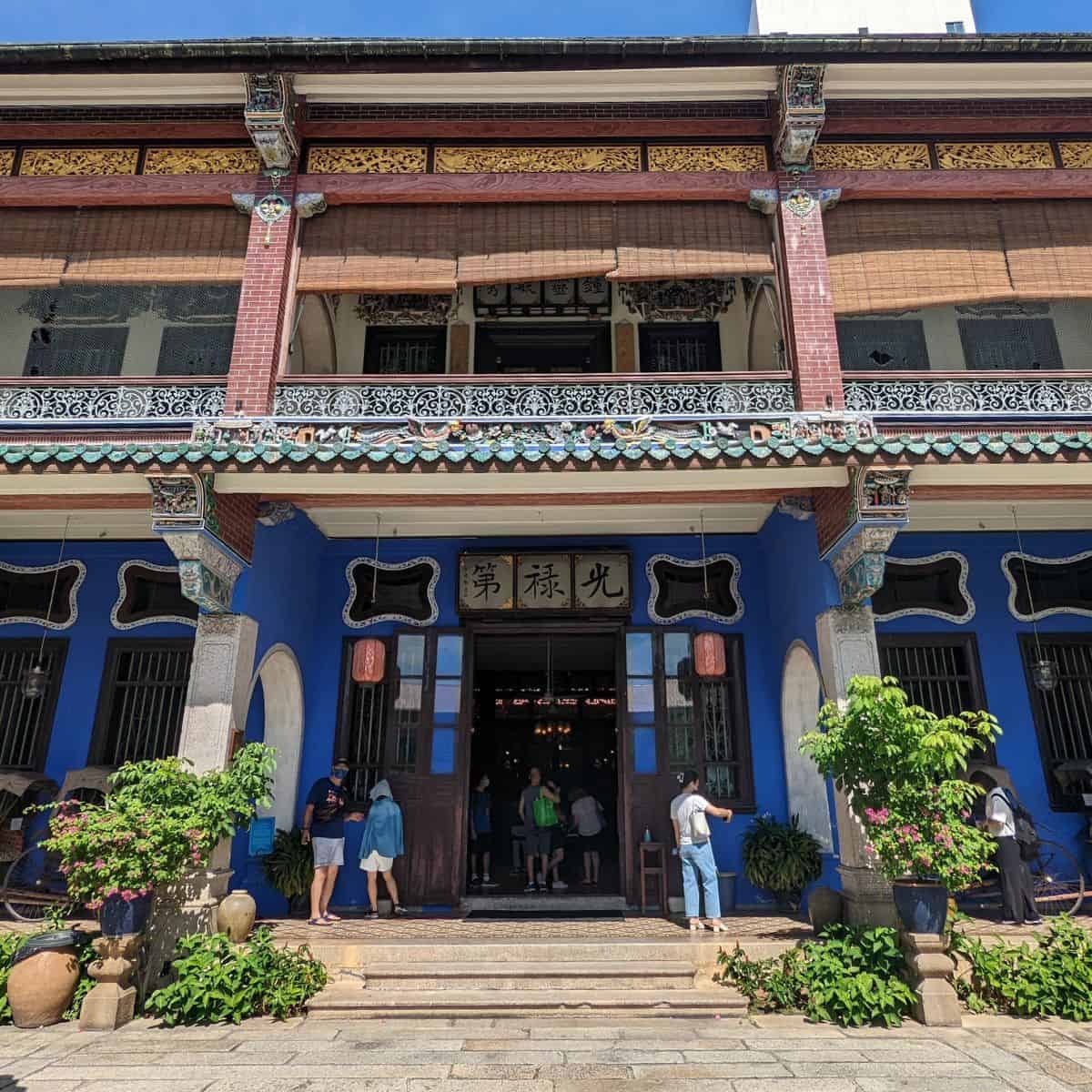 The chefs prepare the striploin with the utmost expertise, revealing a perfect balance of tenderness and rich marbling. Furthermore, they serve this dish with creamy mashed potatoes, field mushrooms, and baby spinach. We enjoyed it with a luscious sauce bordelaise. Indigo Blue Mansion will make you feel like royalty as you enjoy their exquisite cuisine. This establishment is a must-visit if you love fine dining with a touch of history.
Indigo Blue Mansion
Cheong Fatt Tze Mansion, 14, Lebuh Leith, Georgetown, 10200 George Town, Pulau Pinang
Our Top 10 Restaurants in Penang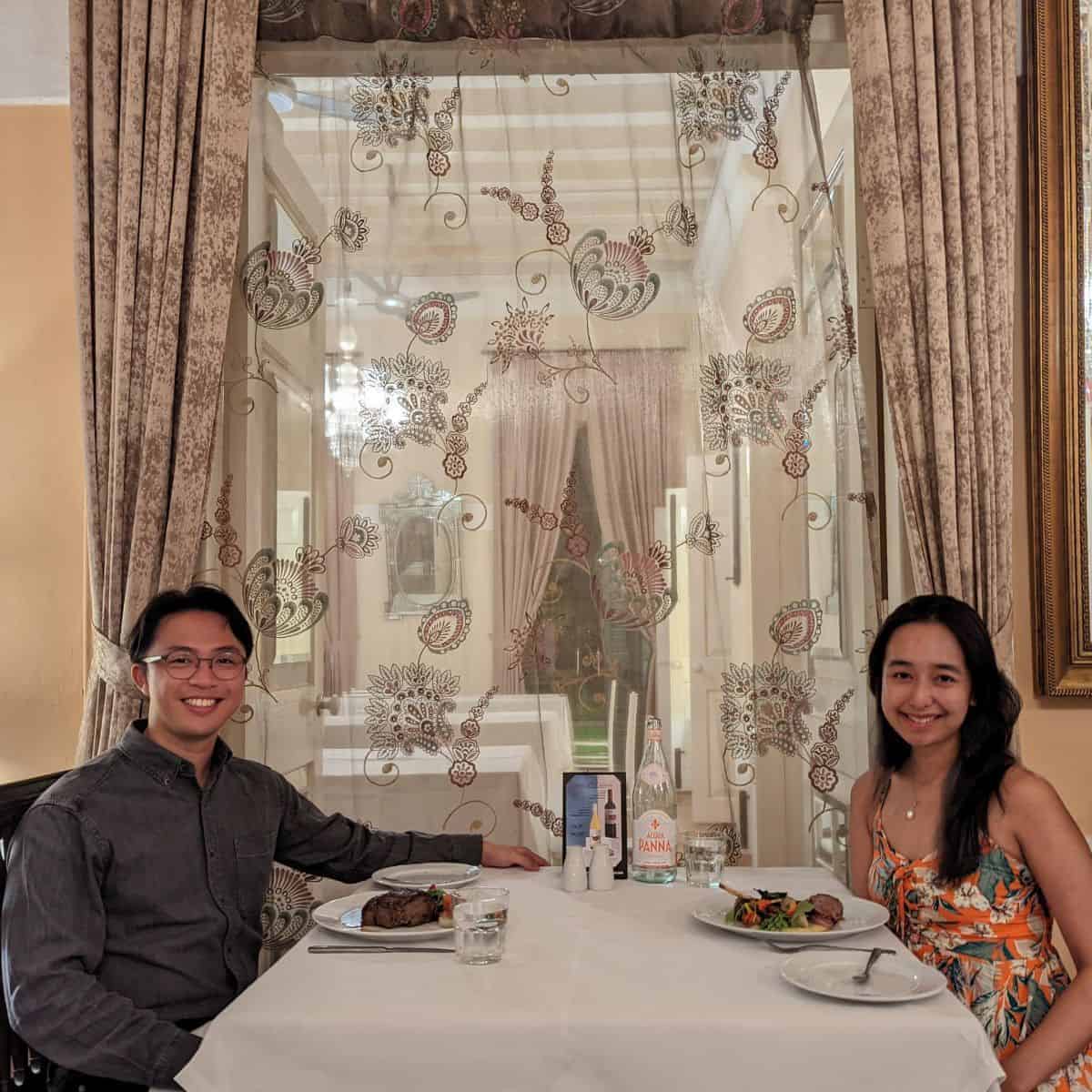 Hopefully, by now, you will know which restaurant in Penang to go to. Follow us on Instagram @tabitogether for more guides and reviews on food and travel recommendations. Until then, bon appétit.