Exploring a Penang night market is one of our favourite ways to end a day on the island. Besides experiencing the local nightlife through restaurants and bars, Asian night markets tend to show you a different side of the hustle and bustle. In Malaysia, Penang you'll find some of the best local delicacies in these night markets.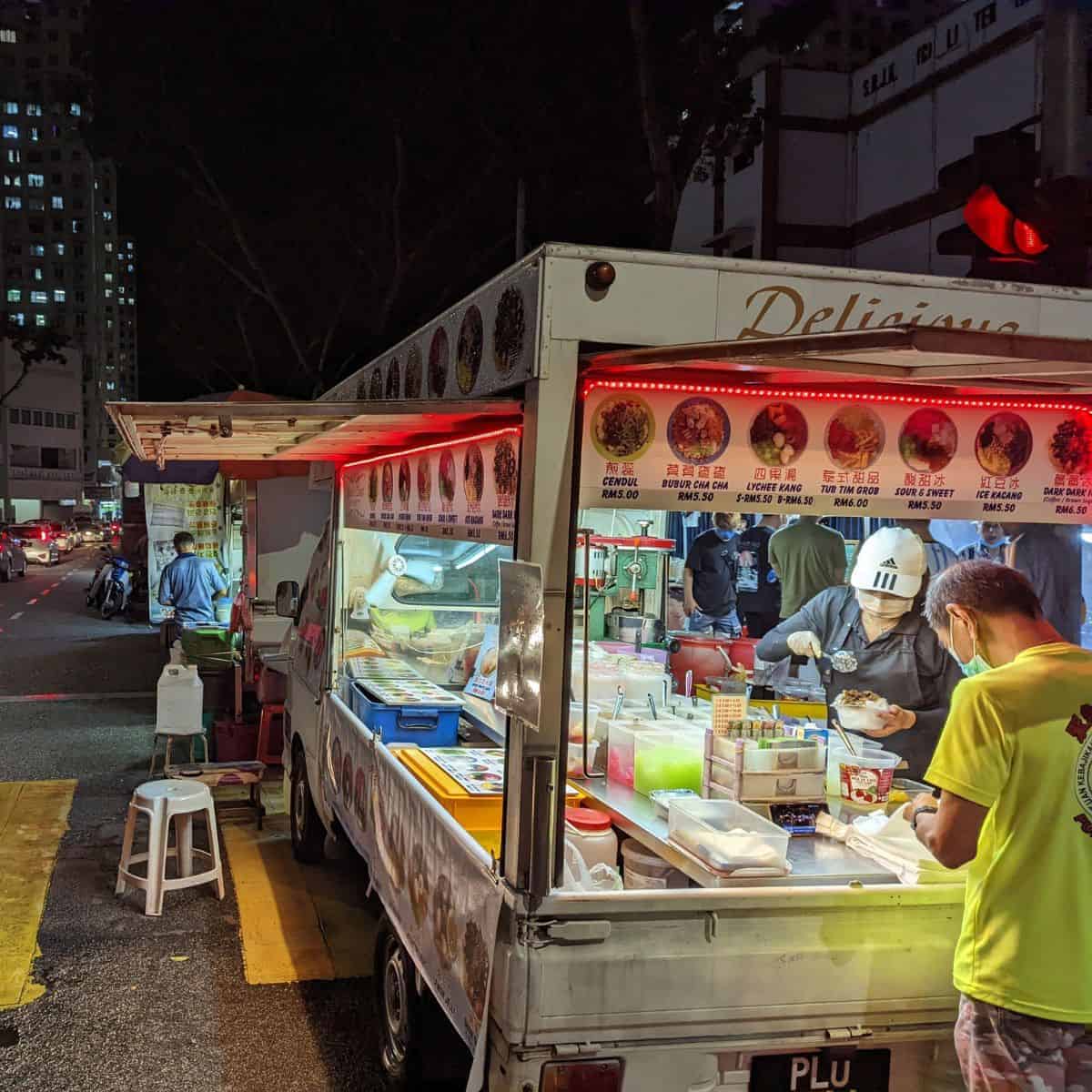 Unlike most evening bazaars in Malaysia, the ones on this island mainly exist to entertain your tastebuds with culinary delights. Therefore, they are perfect for those who travel with their stomach as a compass. A lot of international tourists don't know about these night stalls so you're in for a real treat on getting some of the best bites in town.
After our own foodie adventures at night, here's our list of the top spots worth visiting and the days they're open.
The majority of these Penang night markets aren't open every day. We found that the most reliable way to make sure they're open is to check their social media pages as well as Google reviews. So far, this has helped us travel in Asia and avoid disappointment.
Jump to:
Everyday
Kimberley Street Night Market Penang
This is an ideal place to immerse yourself in a lively atmosphere while savouring good food. We suggest visiting around 4-5 PM for a more relaxing and crowd-free experience. Furthermore, this Penang street food night market is within walking distance from other attractions like Komtar and the Upside Down Museum.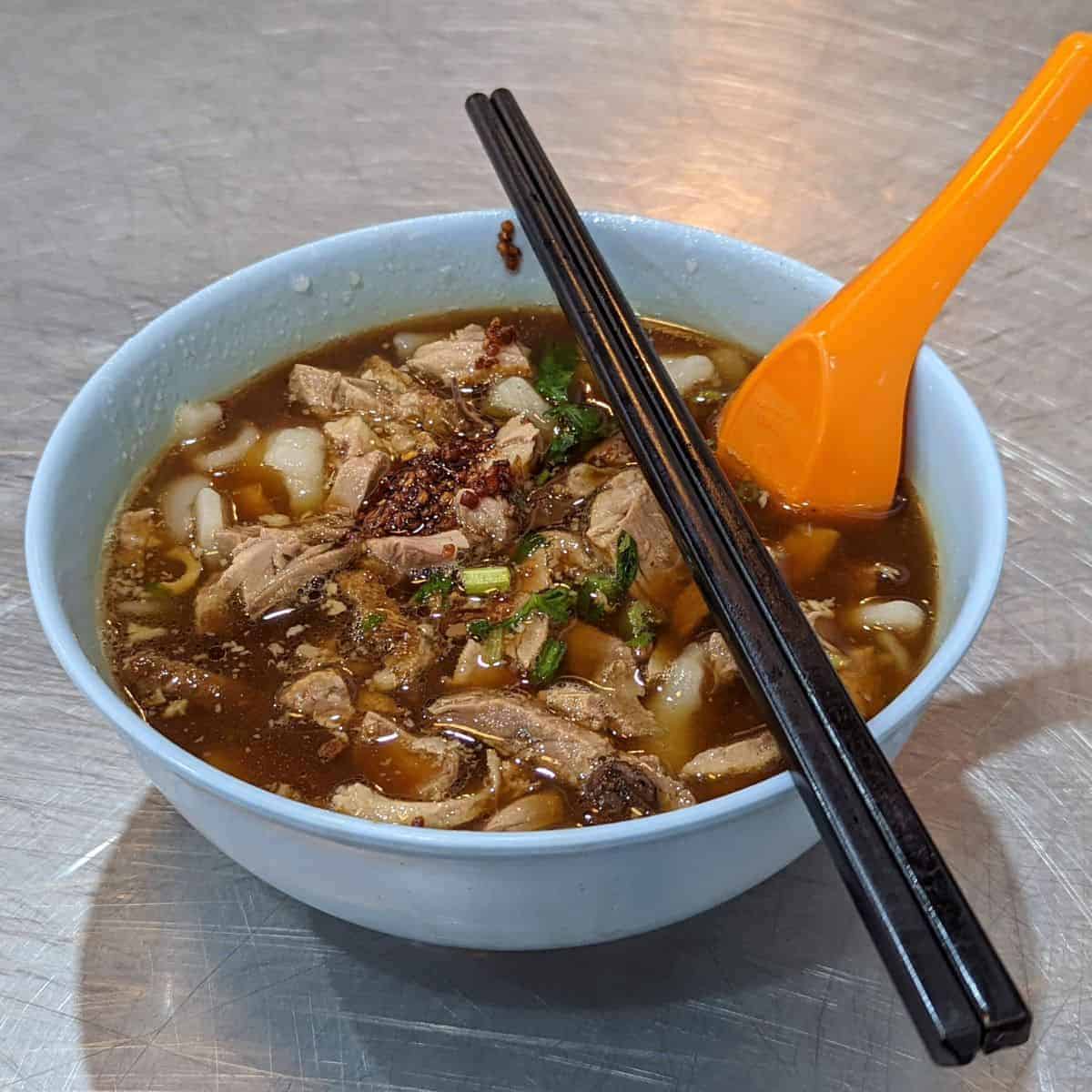 Among its famous hawker dishes are Duck Kway Chap and Char Koay Teow. These meals are best paired with Shi Gua Th'ng, or Leng Chee Kang, which is a refreshing lotus seed soup. Additionally, you can try a variety of sweet desserts at the Traditional Home of Desserts located there. One of their must-tries is a satisfyingly smooth, thick, and sweet Almond Soup with Ginko Nuts. 
Kimberley Street Food
1, Jalan Sungai Ujong, George Town, 10100 George Town, Penang, Malaysia
Batu Ferringhi Night Market
Batu Ferringhi houses some of the best Penang night attractions, including a vibrant bazaar serving as a shopping paradise. Along the 1-kilometre stretch of stalls, you'll find clothing, accessories, souvenirs, toys, and more. Here, you can unleash your negotiating skills and secure items at a reasonable price.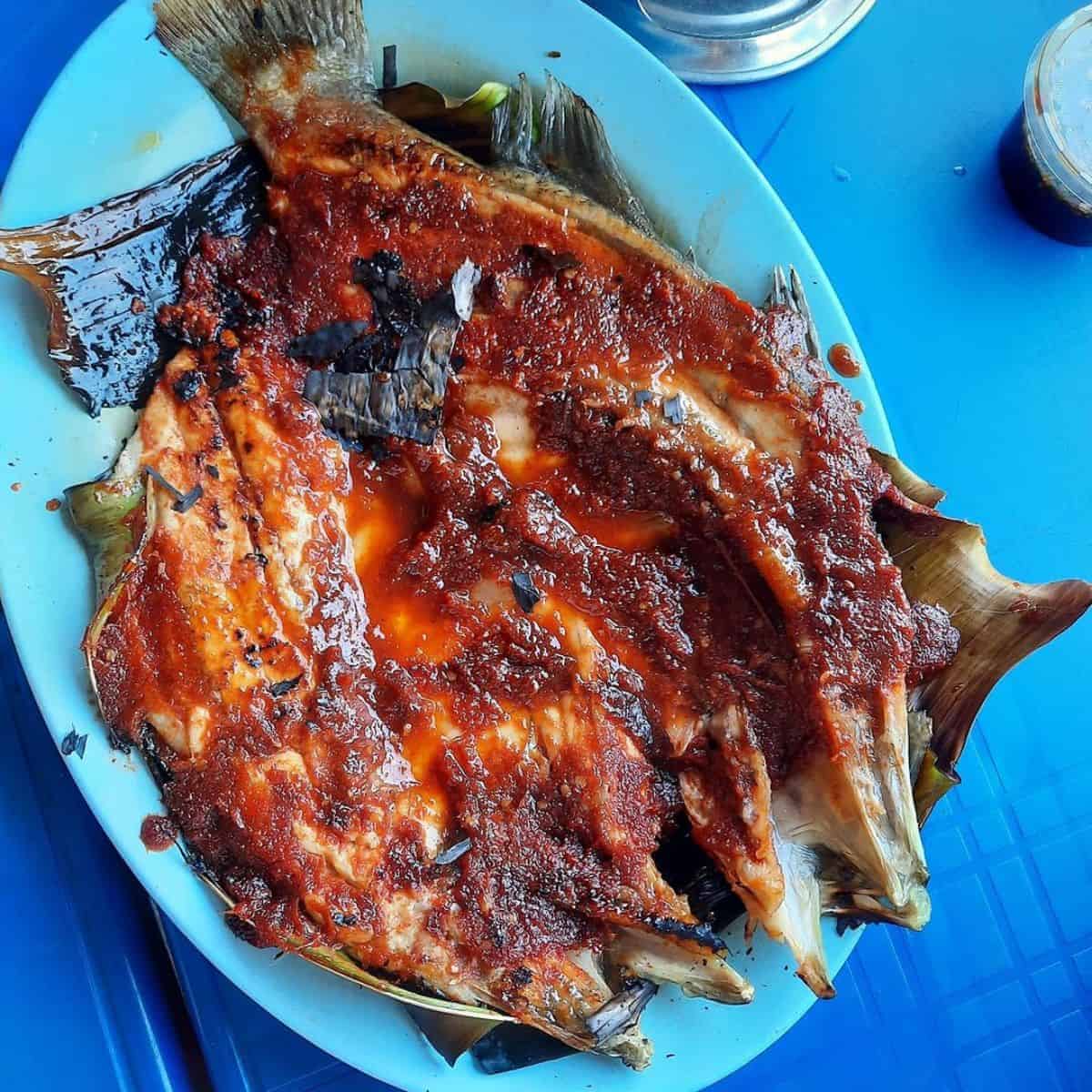 However, please note the number of stalls has dwindled since the pandemic years. While there are plenty to do here, don't expect it to be as lively as the photos or videos you've seen from the past.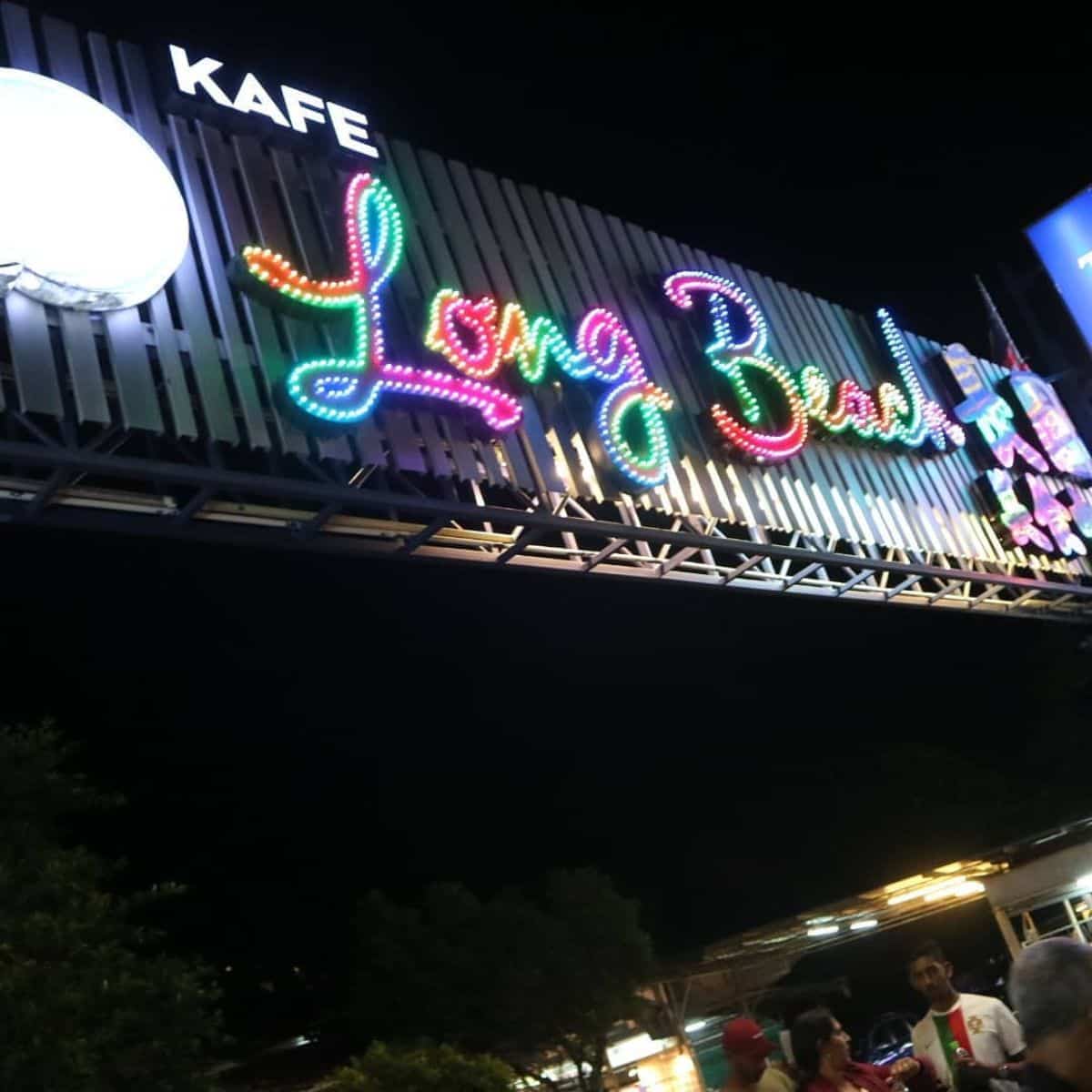 Make sure to prepare some cash if you plan on shopping here, as most stalls do not accept card payments. Once you're done with your shopping quests, you can check out the hawker stalls at Long Beach Café. It is our favourite place on the strip to get Char Koay Teow and chicken satay. 
Batu Ferringhi Night Market
Jalan Pantai Batu, Taman Pantai Batu, 11200 Tanjong Bungah, Penang, Malaysia
Sunday Penang Night Market
Paya Terubong Night Market
This Penang night market is less known among tourists, and the stalls mostly cater to the locals. Therefore, you won't be engulfed by a big crowd and can explore the spot more easily. So, trust us when we say this spot will not disappoint you if your main visit agenda is to indulge in Penang street food.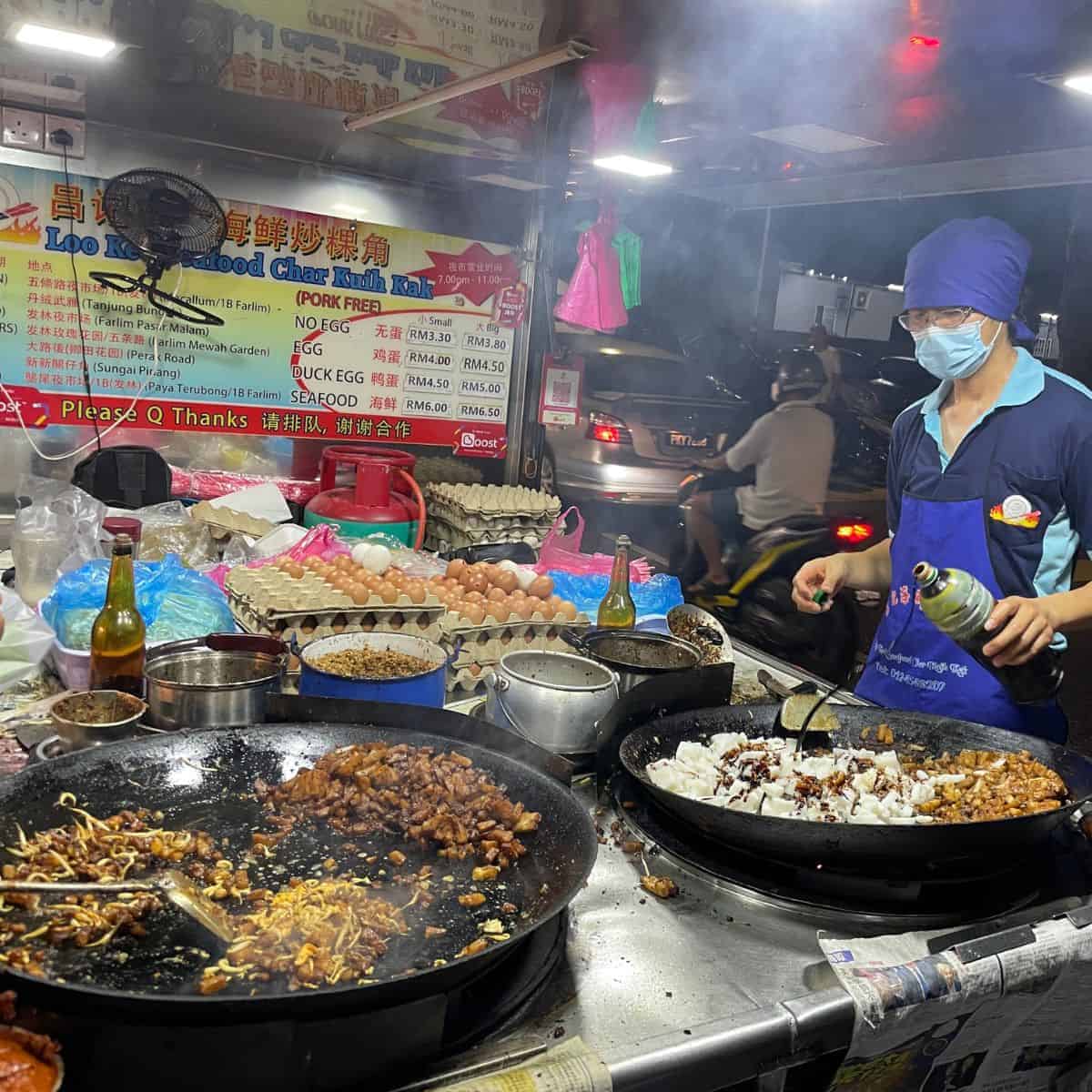 You should try the Laksa and Char Koay Kak during your visit. The savoury and soft rice cake makes a great snack as you wander through the stalls. However, we suggest finding a good spot to sit and enjoy the hot and flavourful laksa. 
Pasar Malam Paya Terubong 
122I, Jln Paya Terubung, Bandar Baru Air Itam, 11500 Ayer Itam, Penang, Malaysia
Nibong Tebal Night Market
This evening bazaar is on the mainland and is one of the biggest night markets in Penang. The exceptionally long market boasts an array of mouthwatering delicacies like Kueh Teow Soup, Nasi Lemak, and tangy Assam Laksa. However, the stalls predominantly cater to Chinese people, so most of the food here is not halal. Nonetheless, we still the area is worth visiting to check out the interesting lineup of stores offering various items.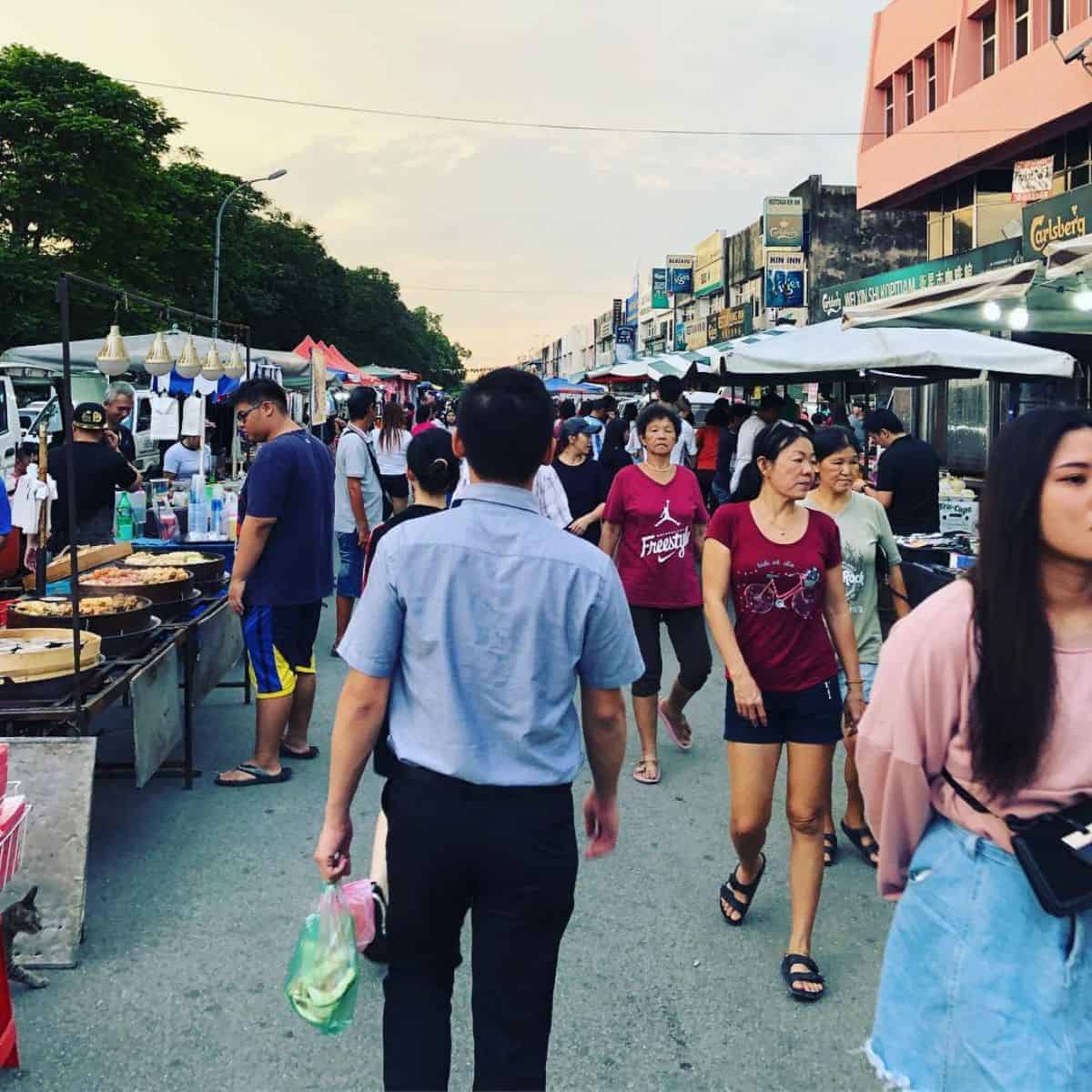 We suggest allocating your whole Sunday evening here since it can take up to five hours to get from one end to the other. It is also better to allocate your daytime hours in Nibong Tebal to ensure an early arrival to this foodie haven. Lastly, we recommend getting there via Grab or via public transportation since it can be difficult to find a parking spot.
Pasar Malam Nibong Tebal
14, Jalan Sungai Daun, Taman Nibong Tebal Jaya, 14300 Nibong Tebal, Penang, Malaysia
Balik Pulau Night Market
This place is a literal food paradise due to its huge variety of culinary delights. You'll find this bustling bazaar next to a mosque known as Masjid Daerah Barat Daya. Starting from 5 PM you can easily wander through the stalls since the area is quite spacious.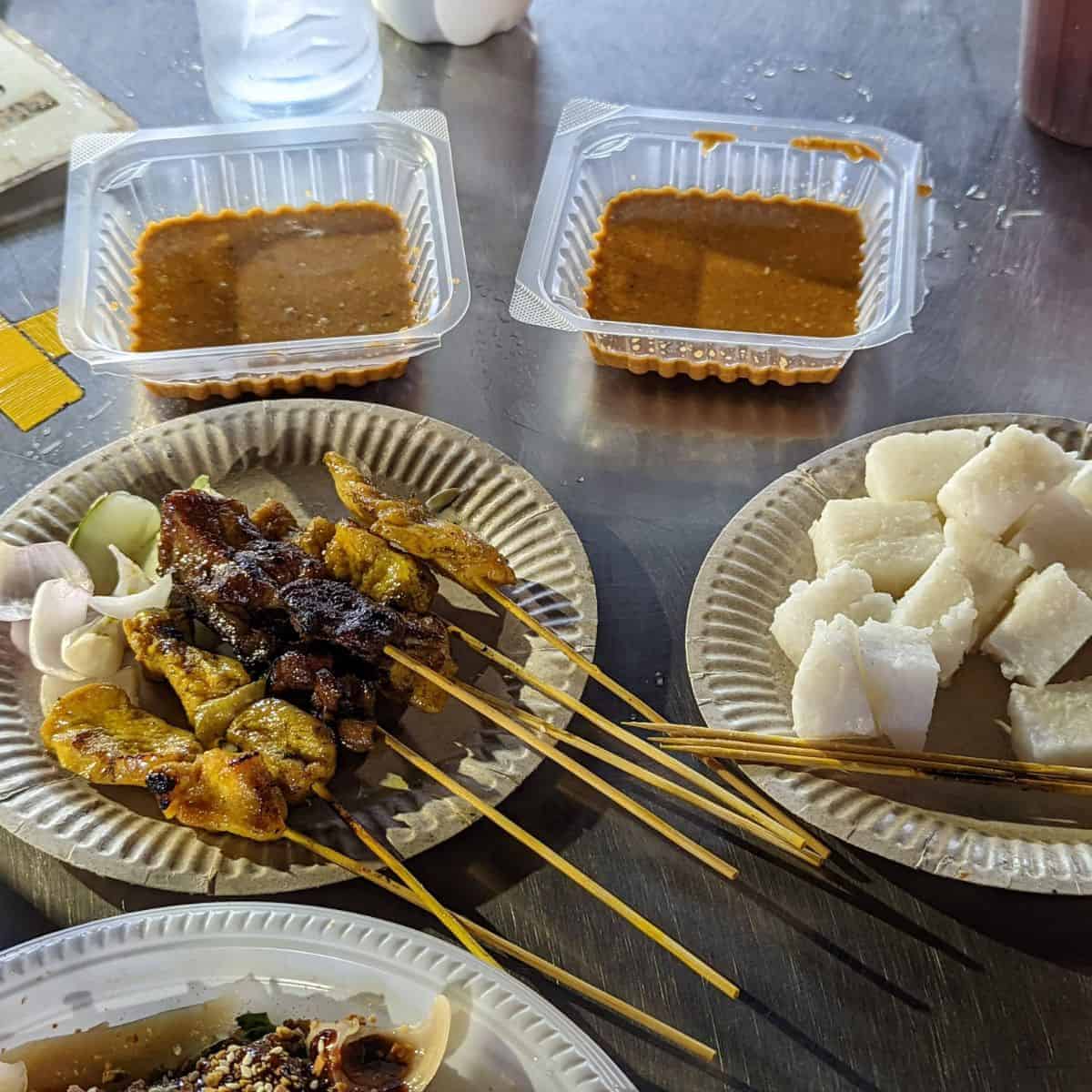 Despite being a spot catered to Malays, it will astound you with its diverse cuisines. Some of the best-selling dishes there are Char Kuey Teow, fried rice, and satay. There is also the iconic Ramly burger stall where you can get your Malaysian burger craving fixed. We recommend trying the beef bone soup for a hot and comforting option. 
Pasar Malam Balik Pulau
Jalan Balik Pulau, Kampung Permatang Tengah, 11000 Balik Pulau, Penang, Malaysia
Monday
Macallum Street Night Market 
This night market in Penang is popular among locals and tourists alike for its tasty offerings. You can get crispy Apam Balik, long cheesy fries, and curry puffs or go for treats like waffles and pancakes. This evening bazaar is also our favourite spot to buy tropical fruits like mangosteens and durians.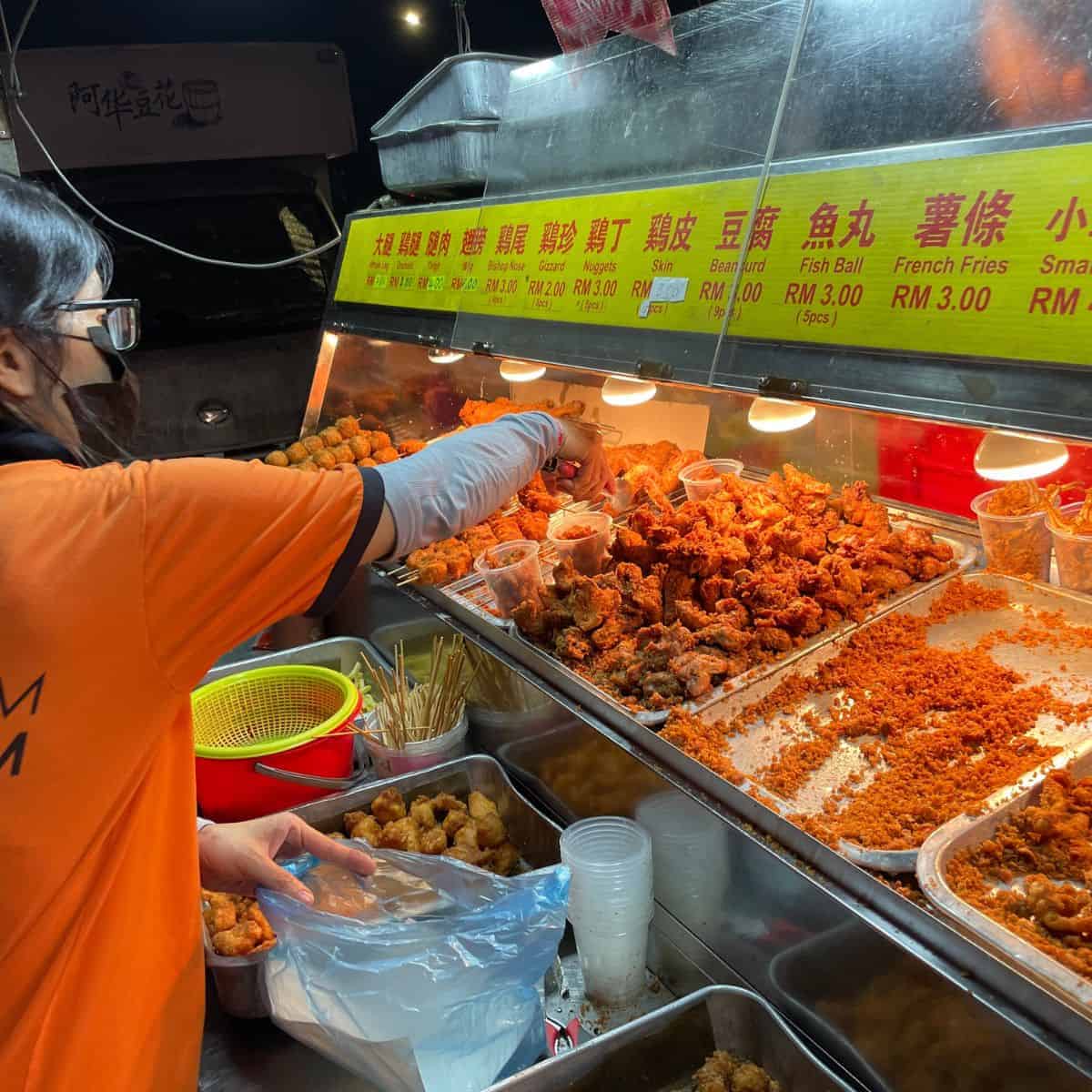 We love shopping at this Penang street food night market since the goods are cheaper than in other bazaars. Plus, allocating an hour is more than enough since it is quite easy to navigate through the crowds. Although the stands officially open at 5 PM, we recommend arriving around 6-7 PM, when most stalls are already up and running.  
Macallum Street Night Market
Lintang Macallum 1, Pengkalan Weld, 10300 George Town, Penang, Malaysia
Kampung Melayu Monday Night Flea Market
Make your way to this Penang night market for budget-friendly Malay delicacies. If you love Malay cuisine, this food-centric bazaar will thrill your tastebuds with dishes like satay, nasi lemak, and laksa. The street foods offered here are halal, as the bazaar mainly caters to Malays and Muslims. 
You should try the Mee Rebus and enjoy some sweet tapai with cendol while you're here. We also suggest visiting this night market in Penang during Ramadan for a livelier atmosphere and more food options. 
Pasar Malam Kampong Melayu
Jalan Pisang Raja, Kampung Melayu, 11500 Ayer Itam, Penang, Malaysia
Tuesday
Tanjung Bungah Night Market
Head over to this bazaar for an exciting Tuesday evening gastronomical adventure. The night market in Penang is renowned for tasty snacks like Putu Mayong and Char Koay Kak. However, our favourite choice for dinner here is Nasi Kerabu, with some refreshing sugarcane juice. The combination of a flavourful blue rice dish and a sweet drink is truly exceptional.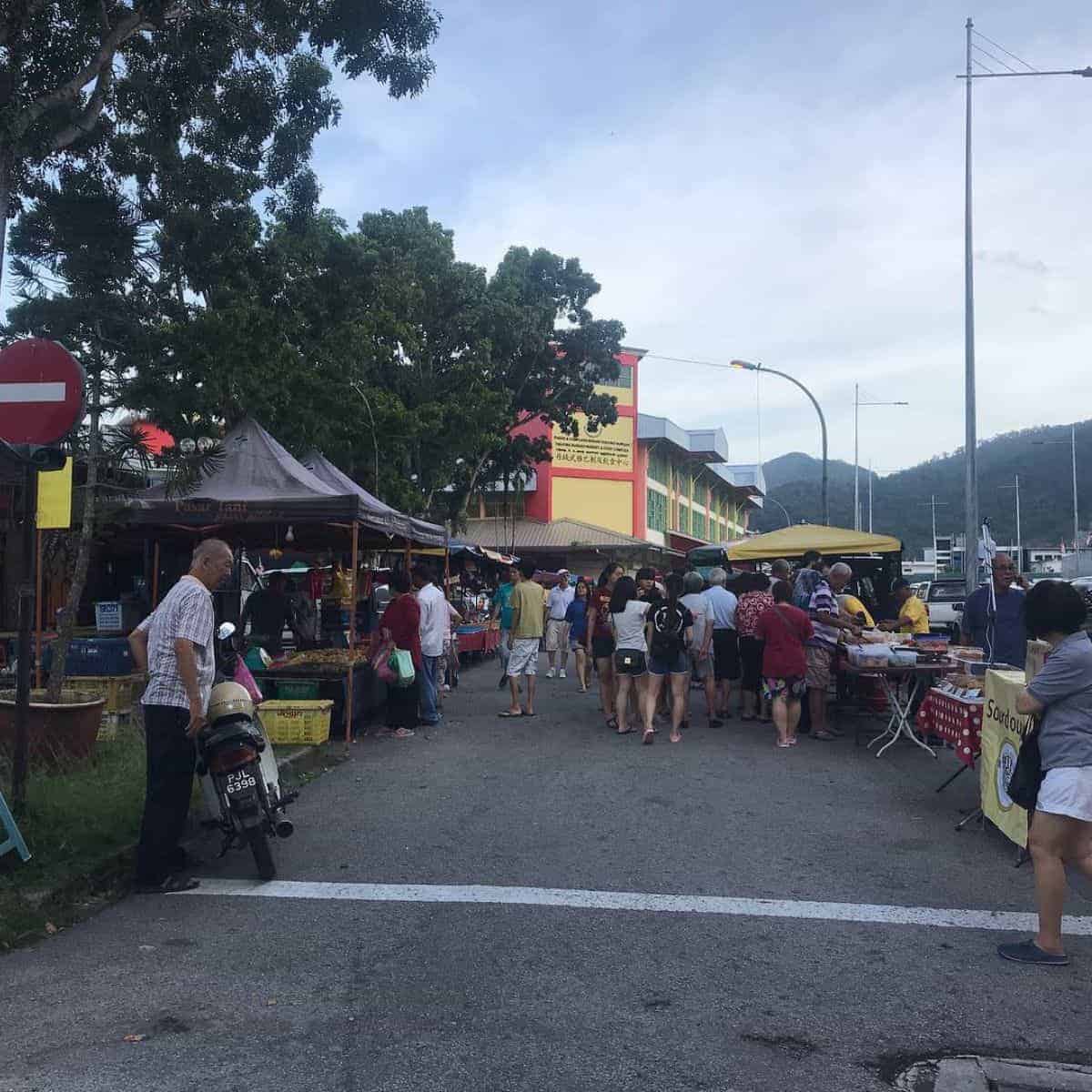 In addition to local delicacies, you can also indulge in international snacks here. Our favorites are xiao long bao and aligot. The former is soft Chinese soup dumplings, while the latter is an addictive French snack made of potato and cheese.
Tanjung Bungah Market
Jalan Tanjung Bungah, Taman Tanjung Bunga, 11200 Tanjung Bungah, Penang, Malaysia
Teluk Kumbar Weekly Night Market
This night market in Penang offers a delightful mix of goods, street foods, and fresh fruits. If you are seeking recommendations, try the comforting Bihun Soup. Then, indulge in some sweet and creamy cendol for the dessert. We had these during our visit to the bazaar, and they made an unforgettable dinner for us.
If you plan on arriving there early, you can dedicate your day to adventures in Teluk Kumbar. We suggest taking advantage of your visit by catching the sunset at the Sunset Viewpoint nearby.
Teluk Kumbar Weekly Market
Bandar Baru Telok Kumbar, 11000 Bayan Lepas, Penang, Malaysia
Wednesday
Farlim Night Market
Farlim is another one of the biggest night markets in Penang, situated near Kek Lok Si temple. Instead of running along a street, this street food spot operates on an open field. You'll be welcomed by tons of food trucks serving various tasty options like salted fish, steamed bao and pineapple tarts. It also has a famous pizza food truck known as Frankie Pizza. We absolutely love their Hawaiian chicken pizza.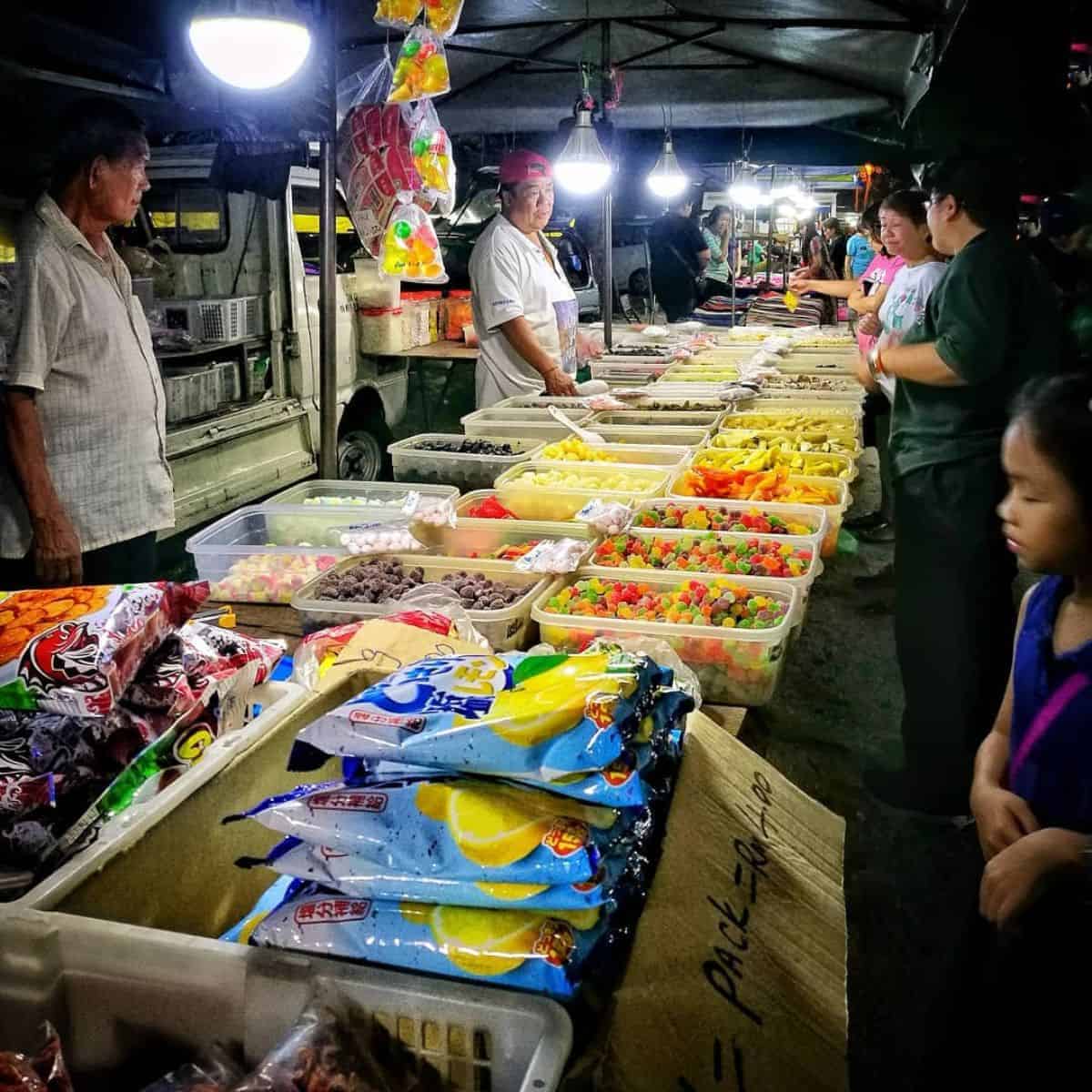 Shopping-wise, you can find affordable faux leather handbags, toys, and wooden crafts. However, note that the items' prices here are slightly higher than in other bazaars. So this is why, we suggest only spending on items that are hard to find elsewhere, such as handmade souvenirs and wooden crafts.
Farlim Night Market
27-75, Medan Angsana, Bandar Baru Ayer Itam, 11500 Ayer Itam, Penang, Malaysia
Taman Pantai Jerjak Night Market
The street stalls here specifically cater to the locals residing within the vicinity, especially those who prefer grocery shopping in the evening. Therefore, you will find many vendors selling vegetables and fruits here. Nonetheless, the night market in Penang is a must-visit for food lovers as it offers many good eats.
This evening bazaar has gained recognition for its legendary Cucur Udang (prawn fritters) stall. It is located next to an Apam Balik stall, which is equally tasty, so we recommend getting both snacks. You must also stop by the Satay Pantai Timur stall and try their juicy satays. 
Pasar Malam Pantai Jerjak
15, Jalan Pantai Jerjak 14, Taman Pantai Jerjak, 11900 Bayan Lepas, Penang, Malaysia
Thursday Penang Night Market
Sungai Batu Night Market
Sungai Batu bazaar is another local market frequented by those living within Teluk Kumbar. The bazaar has a lot of gastronomical gems to offer despite its lack of popularity. Check out the stalls here to indulge in tasty Malay foods without facing the crowds.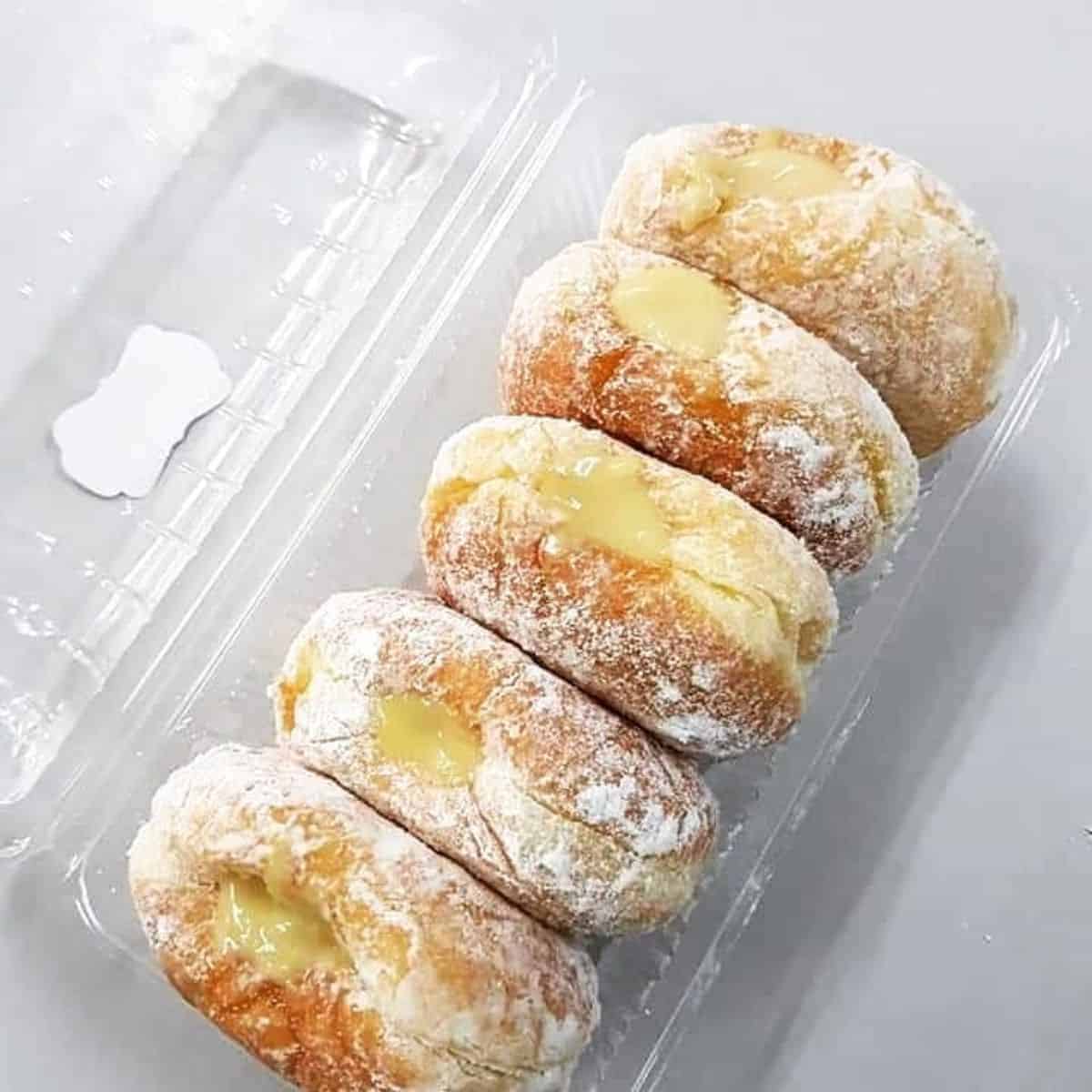 We visited the place after stopping by the nearby Sungai Batu Seaside for some photos. Out of all the snacks that we've tried, the most memorable treat was the Durian Doughnuts. It was a soft, fluffy doughnut with a creamy durian filling that tasted exactly like the fruit.
Pasar Malam Sungai Batu
Lintang Sungai Batu, Taman Teluk Kumbar, 11950 Bayan Lepas, Penang, Malaysia
Bayan Baru Night Market 
This is another destination to explore for cheap local foods, particularly Malay dishes. Hence, many Malay families hang out here for some tasty dinner. Therefore, we suggest arriving early or by 5:30 PM to secure parking and dinner spots.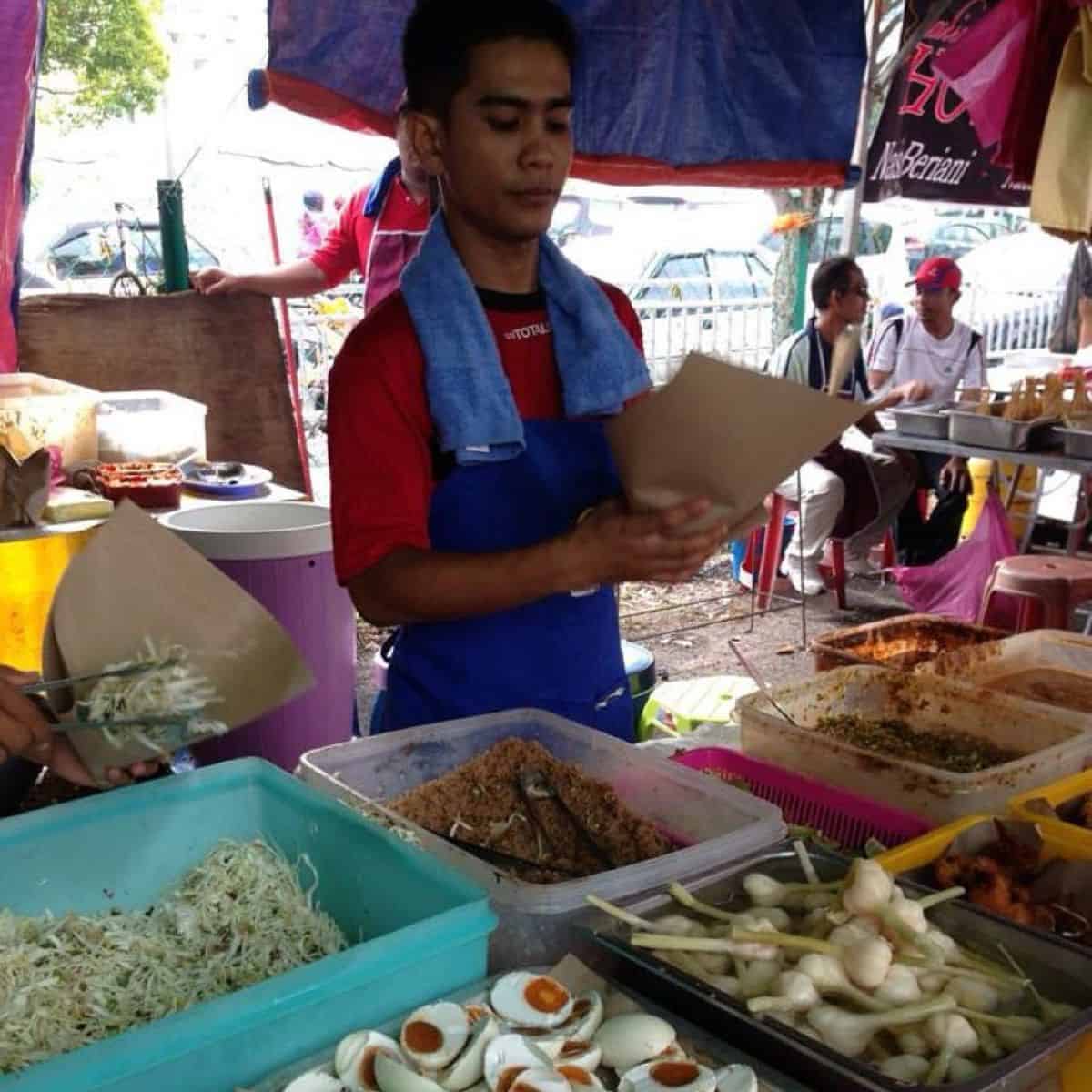 While various street foods are offered, people usually go for Nasi Kerabu and Yong Tau Foo. The Yong Tau Foo left a lasting impression on us with its spicy Tom Yum soup base. This dish, paired with some fresh orange juice, made the experience all the more enjoyable. 
Pasar Malam Bayan Baru
24, Lorong Mahsuri 7, Bayan Baru, 11950 Bayan Lepas, Penang, Malaysia
Friday Penang Night Market
Jelutong Night Market
Not sure what to do in Penang on a Friday evening? Then, head to Pasar Malam Jelutong, or Pasar Malam Van Praagh, where you will be delighted by mouthwatering Asian delicacies. It is among the best places to enjoy Nasi Kandar in Penang.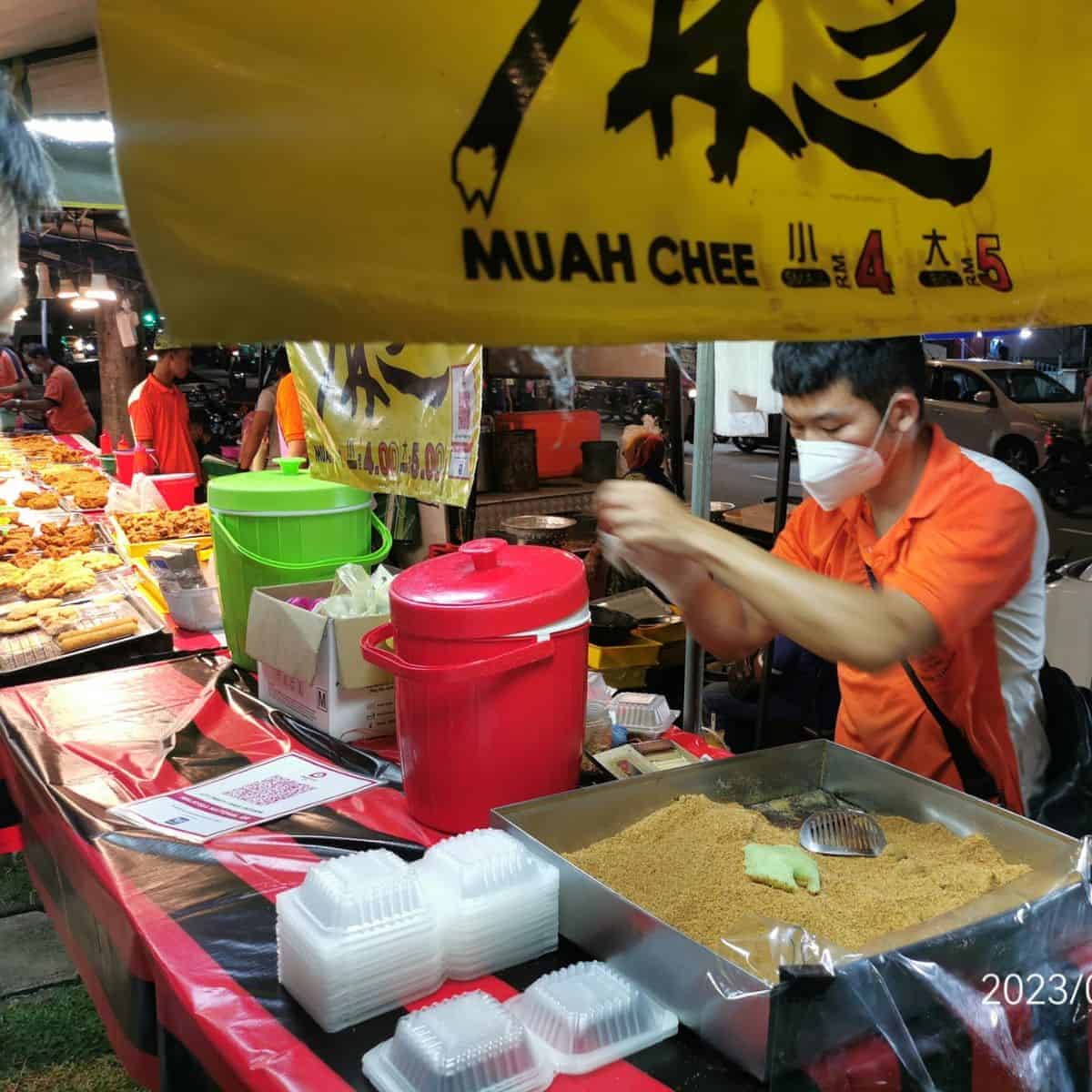 This place is also well-loved by the locals for Muar Chee, a Chinese dessert with peanuts and sugar fillings. Interestingly, you'll also find unique items like antiques, furniture, and garden appliances sold here. Traditional medicine and incense are also available at this lively night market in Penang.
Pasar Malam Van Praagh
Taman Continental, 11600 Jelutong, Penang, Malaysia
Saturday Penang Night Market 
Sungai Dua Night Market
This foodie spot is located close to the outskirts of Universiti Sains Malaysia (USM). Among foodies, the Penang night market is known for its wide selection of Malay, Indian, and Chinese street food. You can enjoy delicacies like kebabs, Chee Cheong Fun, and laksa.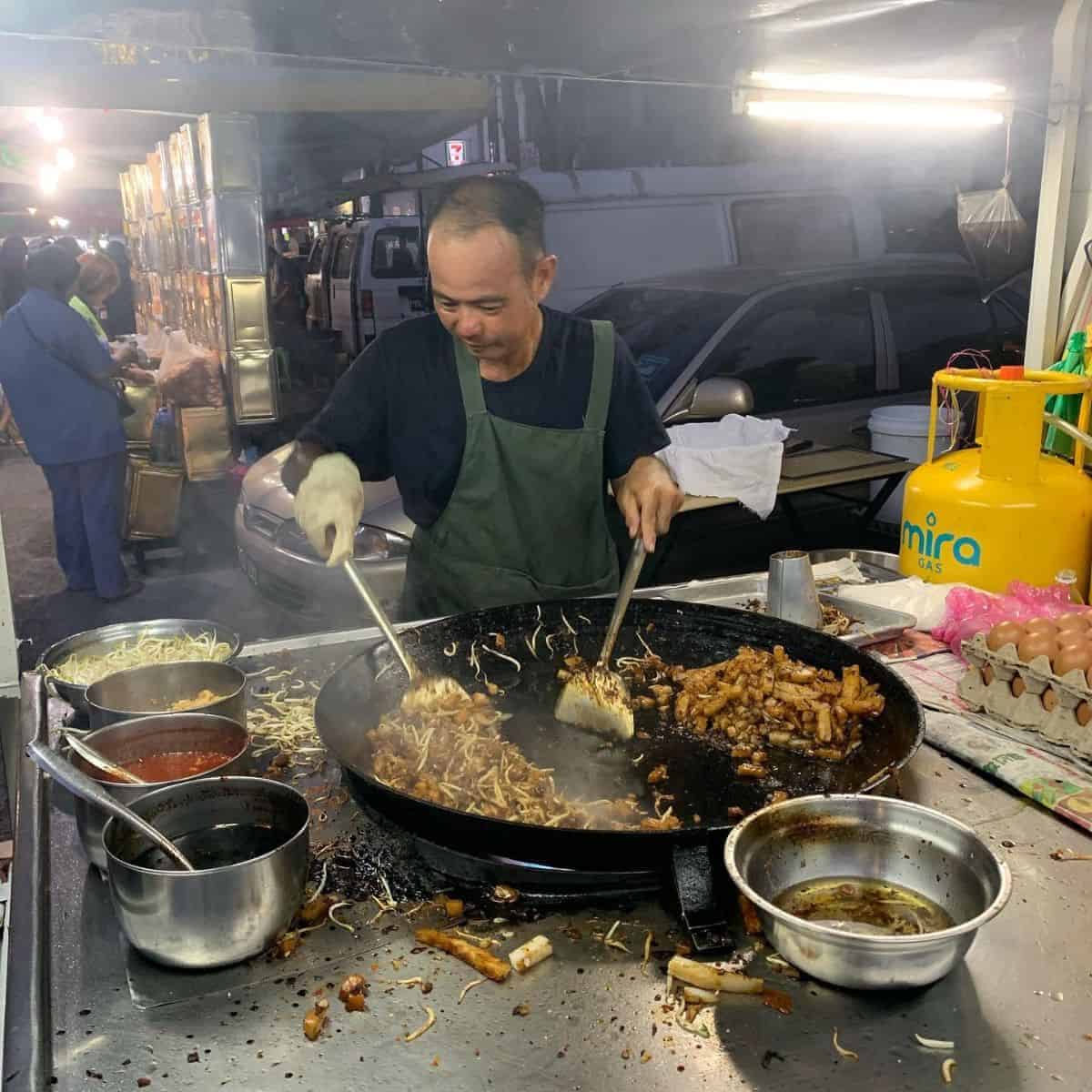 There are some amazing stalls here selling sweet desserts like baked goods, homemade sweets, and shaved ice. However, our favourite ending to our meals here is a refreshing cup of sugarcane juice. The stands run from 5 PM, but it is best to go after 7 PM when most stalls are fully set up. 
Pasar Malam Sungai Dua
1, Jalan Sungai Dua, Sungai Dua, 13800 Gelugor, Penang, Malaysia
Batu Lanchang 
Also known as Food Truck Party, this night market in Penang stands out among the others with its food options. It has over 20 food trucks offering international cuisines like Korean, Japanese, Italian, American, and Middle Eastern. Hence, this is the perfect spot to enjoy tteokbokki, takoyaki, pizza, or even steaks alongside the local vibe.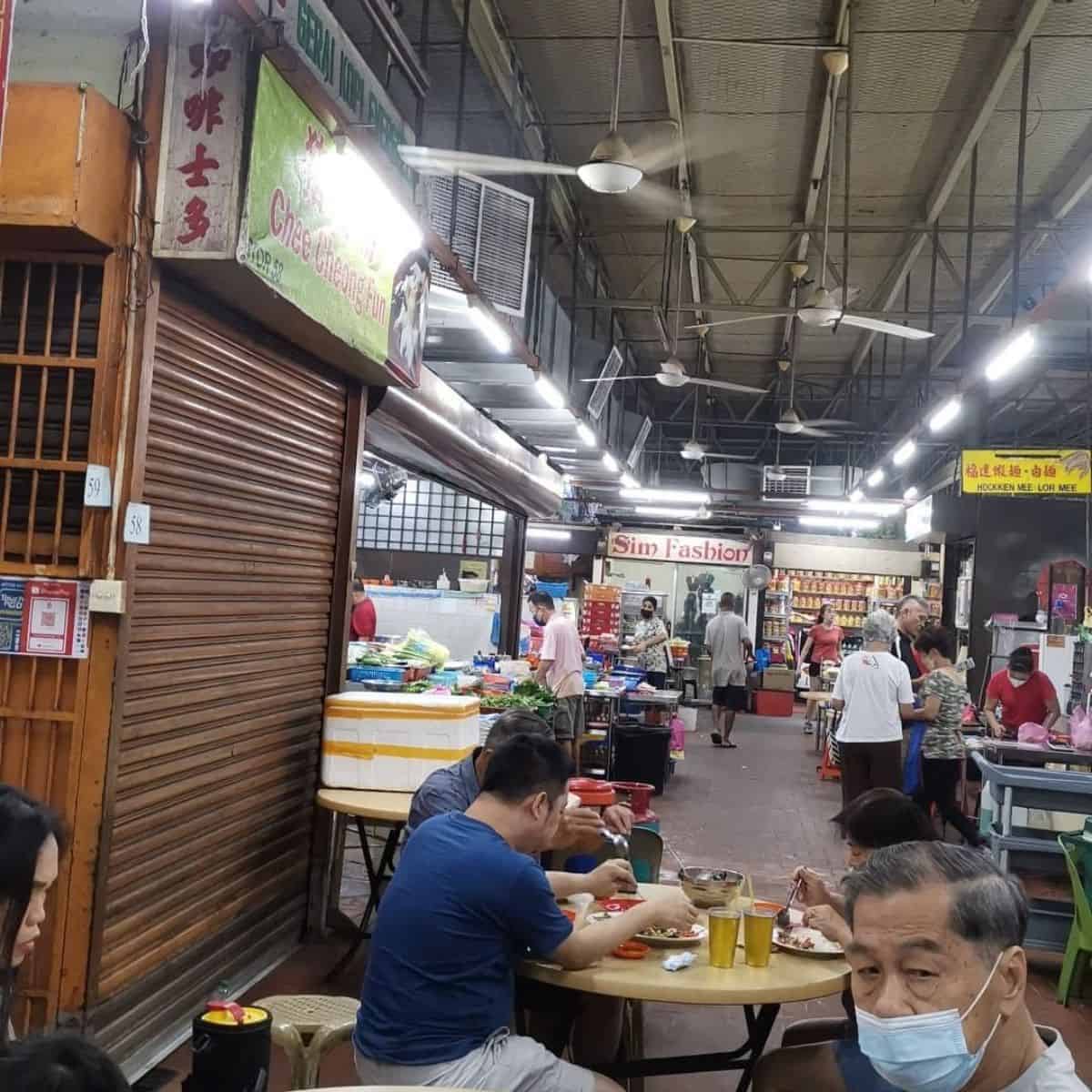 We love getting milk tea from a stall called Teadora to pair with our meals. As for dessert, our pick is Cake Time's Berry Berry Cheesecake. In fact, this Penang night market usually gets flooded with visitors as soon as it opens. So, make sure to arrive early to secure a dinner spot.
Supper at Batu Lanchang @ Food Truck Party
21, Lebuhraya Batu Lancang, Jelutong, 11600 George Town, Penang, Malaysia
Penang Night Markets
Paya Terubong Night Market
Nibong Tebal Night Market
Balik Pulau Night Market
Kampung Melayu Monday Night Flea Market
Teluk Kumbar Weekly Night Market
Taman Pantai Jerjak Night Market
Sungai Batu Night Market
Bayan Baru Night Market
Sungai Dua Night Market
Of all the bazaars we've mentioned, our two favourites are the ones in Batu Ferringhi and Balik Pulau. We love the one in Batu Ferringhi due to its vibrant atmosphere, meanwhile Balik Pulau market provides endless food options. 
This iconic island has a lot to offer. So, follow us on Instagram @tabitogether to unlock more hidden gems waiting to be discovered.