It's hard to pick the best nasi kandar in Penang, as there are so many, with each restaurant offering a unique taste and experience. Nasi kandar is a popular Indian Muslim dish in Malaysia. Translated as "rice on the shoulder", it's a spicy mix of rice, curries, and sides. 
It is a must-try dish in The Pearl of The Orient. The unique blend of spices and flavours sets this mixed rice apart from other rice dishes in Malaysia. This beloved halal mixed rice gained popularity among locals and tourists due to its convenience, deliciousness and affordability. Many restaurants mentioned here are open 24 hours, making them convenient options for those who want a quick bite to eat anytime.
Let's dive into this article, where we'll share 13 of the best spots to enjoy this classic Indian Muslim platter.
Jump to:
Our Favourite Nasi Kandar In Penang
Regarding our favourite spots to savour this national treasure - we have to go for Hameediyah, Deen Maju, and NS Nasi Kandar. 
We loved Hameediyah for its signature spicy Ayam Ros, made from a secret blend of spices passed down from generation to generation. Meanwhile, Deen Maju's crispy fried chicken dazzled us. Also, this chicken dish pairs perfectly with their spicy curries and rice. Lastly, we selected NS for its affordable prices without compromising on the ingredients or taste. 
Famous Nasi Kandar in Penang  
These famous spots are classic establishments well known for their authentic flavours and history. 
Nasi Kandar Penang Line Clear
This alleyway eatery is a cult favourite among locals and visitors alike. This nasi kandar on Penang Road is known for its long queues extending to the street. They prepare the food traditionally with a mix of various curries. Furthermore, the customers get to choose what they want to eat from the multiple options. 
This place is famous for its signature dishes, such as sweet and sour flower crabs, fish head curry, and succulent tiger prawn curry. They use a unique blend of spices, which includes coriander, cumin, fennel, and fenugreek, to create a rich and aromatic curry that is unlike anything else. So, if you're willing to brave the crowds, try their spicy tiger prawn curries and crispy fried chicken. 
Although they operate for 24 hours, we recommend visiting this nasi kandar on Penang Road during the late evening when the humidity is lower. Unfortunately, the establishment does not have air conditioning. So, visiting during lunchtime could result in an uncomfortable and sweaty experience, especially when coupled with spicy food.
Restoran Nasi Kandar Line Clear
Beside 161 & 177 Penang Road, George Town, 10000 George Town, Pulau Pinang
Hameediyah Nasi Kandar Penang
Hameediyah serves the oldest nasi kandar in Penang, established in 1907. The restaurant is located in the heart of Georgetown. The interior has a traditional feel with wooden chairs, tables, and an open kitchen. Its rich heritage and authenticity are evident in every dish they serve, which is a testament to its commitment to quality and tradition.
Hameediyah is known for its Ayam Ros (Rose Chicken). The succulent chicken is marinated in a blend of secret spices and herbs, some of which include turmeric, ginger, garlic, chilli, and lemongrass. So, the dish has a fragrant and aromatic flavour that is simply irresistible. The lamb curry is also a fan favourite, with its tender and juicy meat that practically melts in your mouth. 
Hameediyah is an absolute gem and a must-visit for any foodie out there. This eatery operates from 10 am to 10 pm. However, we recommend you go around 6 pm for an early dinner to avoid the crowd. 
Hameediyah Nasi Kandar Penang
164 A, Lebuh Campbell Street, 10100 George Town, Pulau Pinang
Nasi Kandar Penang Deen Maju
Deen Maju Nasi Kandar in Georgetown Penang is a hidden gem tucked away in a quiet corner of Jalan Gurdwara. But don't let its unassuming location fool you. Once you step inside, the sight and smell of delicious food will make your mouth water. 
The standout dish here is their crispy and succulent fried chicken. The golden-crusted chicken is almost as satisfying to hear as it tastes. But Deen Maju isn't just about their fried chicken. Their other dishes, such as lamb curry and fried bitter gourd, are equally delicious and memorable. 
The restaurant is open 24/7, making it an ideal spot for late-night eats. However, we recommend everyone to go there for a late lunch when the queue is shorter.
Nasi Kandar Penang Deen Maju
170, Jalan Gurdwara, 10300 George Town, Pulau Pinang
Beratur Original 
Located in Chulia Street, Georgetown, Beratur Original is one of the most famous nasi kandar in Penang. The name "Beratur" means "queue" in Malay, and you can expect to wait in line for a table during peak hours. The restaurant has been around since the 1940s and is known for their tender and juicy fried chicken. 
The chicken is marinated in a secret blend of spices and then deep-fried to crispy perfection. But the chicken is just the beginning. Beratur Original offers many dishes, from classic curries to bold options like squid and fish. 
This eatery is open from 9.30 pm to 9.30 am. Hence, this is one of the best spots to go to for a late night feast! Also, customers get to enjoy their food while sitting on plastic chairs along the roadside. So, if you want to experience authentic local culture, Beratur Original is your spot.
Beratur Original
98, Jln Masjid Kapitan Keling, George Town, 10200 George Town, Pulau Pinang
Viral Nasi Kandar in Penang
If you like to follow the hype or check out popular social media spots, this section is for you. Here are a few worthwhile spots you should visit for some viral nasi kandar in Penang.
Kayu Nasi Kandar Penang
This restaurant is a popular franchise in Malaysia. This establishment has been around for over 40 years, and the chain has a reputation for being affordable. Moreover, their mixed rice dishes are some of the best you can find on the island.
One of their must-try dishes is their tender beef curry. The beef is perfectly cooked, with just the right amount of spice to tantalise your tongue. This establishment is also famous for their instagrammable Roti Tisu Special. This speciality includes an astonishing 3 feet long, thin sweet flatbread. Furthermore, you can have breakfast, lunch, and dinner here because they operate 24/7. Talk about convenience!
Kayu Nasi Kandar Penang
15, Lebuh Nipah 6, Bukit Jambul, 11950 Bayan Lepas, Pulau Pinang
Restoran Deen
Restoran Deen is another popular spot on the island that has gained much recognition recently. It is considered to have one of the best nasi kandar in Jelutong, serving flavourful and fiery dishes. 
The star of the show is their nasi kandar but with biryani rice, which is a unique twist on conventional white rice. Additionally, their curries are also a standout. They are rich and their fragrant flavours that transport you straight to the bustling streets of Malaysia. Restoran Deen and their nasi kandar in Jelutong have a loyal following. Furthermore, their popularity has only grown with social media. 
This spot is open for almost 24 hours, from 6.30 am to 11.30 pm. So, you can satiate your appetite anytime!
Restoran Deen
598-D & 598-E, Jalan Jelutong, Taman Jelutong, 11600 Jelutong, Penang
Nasi Kandar Kampung Melayu
This modest restaurant has become a viral sensation in the world of nasi kandar in Penang, and it's easy to see why. They have a range of mouth-watering dishes, such as fried chicken and beef rendang. However, their speciality lies in serving Sri Lankan-style curries that have been passed down through generations. 
For example, their vast curry selection includes an amazing signature Sri Lankan-style chicken curry. Their rich blend of spices, the slow simmering process, and the addition of coconut milk give the curry a complex flavour profile that will leave a lasting impression. You must try this dish for a unique and flavorful culinary experience.
The atmosphere here is lively and bustling, with friendly staff and a diverse crowd of diners. The restaurant operates from 6.30 am to 1.30 pm and 4.30 pm to 10.00 pm.
Nasi Kandar Kampung Melayu
A-29, Jalan Kampung Melayu, Kampung Melayu, 11500 Ayer Itam, Pulau Pinang
Pelita 
For a good reason, this beloved establishment has been a staple in the Malaysian food scene for years. When you walk into this 24-hour establishment, you're greeted with the intoxicating smell of spices and curries and the bustling atmosphere of hungry diners eagerly queuing for their next fix.
From the succulent and juicy tandoori chicken to the fiery and fragrant fish curry, every dish is a symphony of flavours that dance across your tastebuds. And let's not forget about the biryani rice, which is the perfect complement to Pelita's delectable curries. 
The restaurant is nothing fancy - just an unassuming space filled with communal tables and friendly staff. But it's the food that keeps people coming back time and time again. So if you're searching for a satisfactory late-night supper on the island, Pelita is the place to go!
Pelita
146A, Jalan Macalister, George Town, 10400 George Town, Pulau Pinang
Kapitan Maju
Kapitan Maju in Georgetown has been around for over two decades and deserves much hype for its authentic Indian Muslim cuisine. 
Their signature dish, lamb shank masala features tender, succulent lamb shanks braised in a rich and aromatic blend of Indian spices. Afterwards, it is cooked until the meat falls off the bone. The masala sauce is thick, creamy and packed with a punch of flavours that will leave you dancing with joy.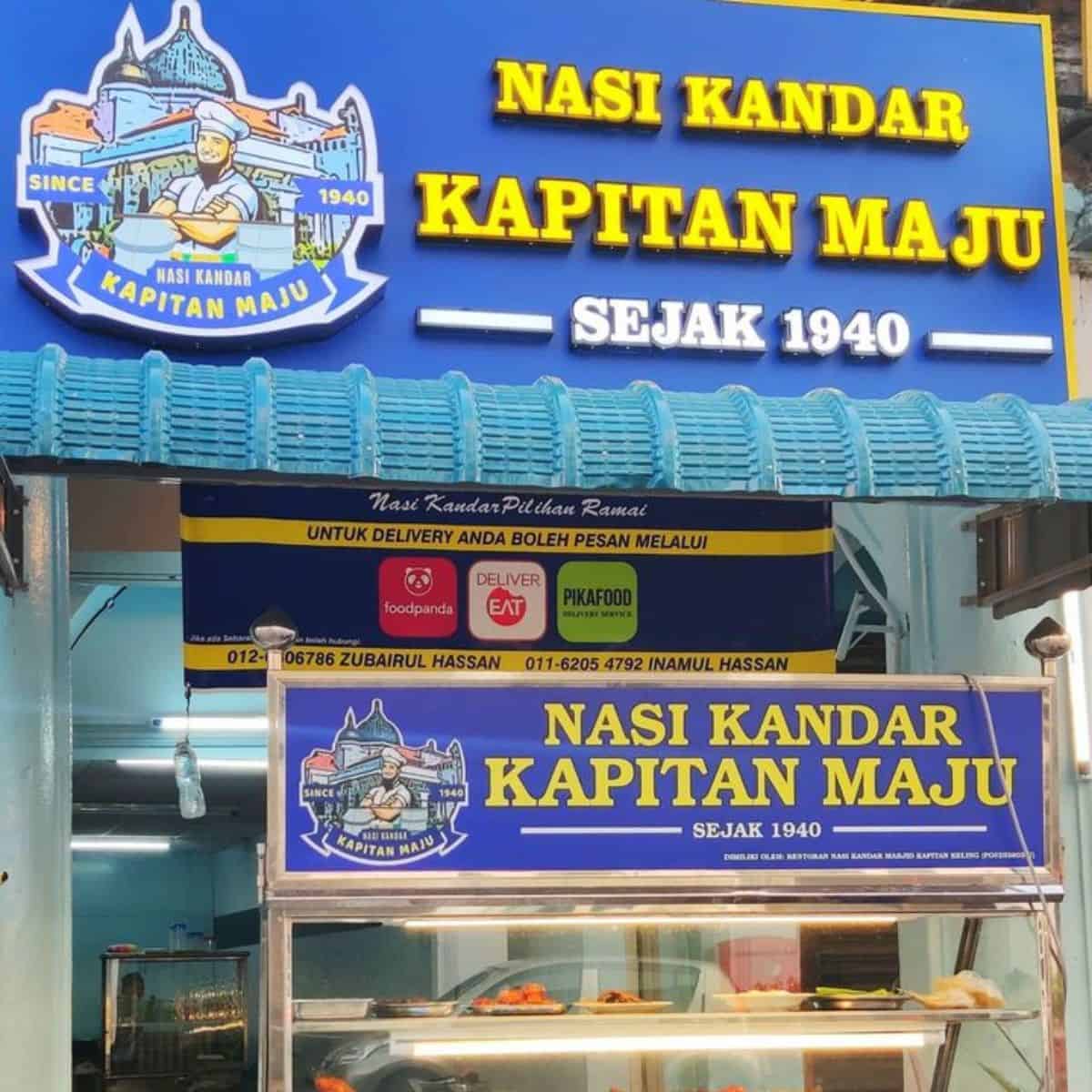 This spot opens from 10.30 am to 9.30 pm and is the place to satisfy your cravings with this delicious mixed rice platter from morning to night.
Kapitan Maju
92, Jln Masjid Kapitan Keling, George Town, 10200 George Town, Pulau Pinang
Sedap Nasi Kandar In Penang  
If you're looking for some relatively unknown best nasi kandar in Penang, this section is for you. Although these sedap (which means delicious in Malay) insider spots may not be known by tourists, these local favourites are cherished by the locals.
Merlin
Merlin is a legendary eatery located at Union Street, Georgetown, serving up this Indian Muslim dish for almost half a century. It's a place where locals of different ethnicities enjoy good food and great company, making it a true embodiment of Malaysian culture and hospitality. 
Their curries cooked with meat such as chicken, beef, and prawn are rich in flavour, mildly spicy, and addictive. The restaurant opens from 8.00 am to 3.00 pm, shorter than other similar spots, so go early!
Merlin Hotel Nasi Kandar
1A, Union St, Georgetown, 10200 George Town, Penang
Restoran Mohamed Raffee
If you're looking for a spot with a great mix of flavours and textures, look no further than Restoran Mohamed Raffee. They've served this sedap Malaysian dish since the 1970s, and locals can't seem to get enough.
Restoran Mohamed Raffee's use of fresh, quality ingredients is what sets them apart. Furthermore, their chicken and beef dishes are especially popular and known for their fragrant biryani rice. Additionally, they also serve excellent fish head curry and mutton options. So, if you're looking for an authentic dining experience full of flavour and character, head over to Restoran Mohamed Raffee - you won't be disappointed! 
Mohamed Raffee operates from 7.30 am till midnight. We recommend heading there for an early lunch around 11 am to avoid the long queues!
Restoran Mohamed Raffee
295-A, Jalan Burma, Pulau Tikus, 10350 George Town, Penang
Sulaiman Nasi Kandar Penang
This humble eatery is tucked under a flat in the bustling neighbourhood of Air Hitam. It is widely considered to have the best nasi kandar in Penang and has been around for over 40 years. 
One of the dishes that you must savour at this place is its rich and flavourful mutton curry. This mutton masterpiece is slow-cooked to perfection and packs a serious punch of spice. And their top-notch chicken and fish curries are made from their aromatic blend of herbs and spices. 
Moreover, with more than reasonable prices, you can indulge in all their delicious food without breaking the bank. This stall opens daily from 6.30 am to 2.30 pm. However, the best time to get here is bright and early when you have more dishes available. 
Sulaiman Nasi Kandar Penang
739, Jalan Air Itam, George Town, 10460 George Town, Pulau Pinang
NS Nasi Kandar Penang
For over 80 years, this restaurant has served this Indian Muslim mixed rice with unwavering commitment, 24/7. From the moment you step into this bustling restaurant, you can feel the energy and excitement of the locals who flock here to satisfy their cravings for delicious food. 
One thing that makes their restaurant so unique is its sheer variety of dishes. From spicy curries to crispy fried chicken and everything in between, there's something here to suit every taste and craving. If you want to sample this delicious nasi kandar in Georgetown, Penang, go there before midnight to avoid long queues during peak lunch hours. 
NS Nasi Kandar Penang
142, Jalan Burma, 10400 George Town, Pulau Pinang
Top Nasi Kandar in Penang
In the earlier part of the article, we mentioned our three favourite places to devour nasi kandar in Penang. Still, if we have to winnow down to two winners, they must be Hameediyah and NS Nasi Kandar. 
We liked Hameediyah because of its rich heritage and authenticity, as evidenced by its commitment to traditional cooking methods and the use of secret spices and herbs. Their fragrant and aromatic Ayam Ros is a standout dish everyone must try.
Meanwhile, NS Nasi Kandar on Jalan Burma stood on top of our list because of the sheer variety of dishes on offer, from spicy curries to crispy fried chicken, and their unwavering commitment to quality. 
Follow us on Instagram @tabitogether to find out more about what to do in Penang. Next up, try out Nasi Lemak in Penang or see our Penang street food guide.