Penang nasi lemak is a fluffy coconut rice dish infused with pandan and served alongside many different side dishes. It is loved by Malaysians and has become a staple in the country's food culture.
This dish translates to "fatty rice" and has many contrasting flavours. It combines harmoniously, like its country of origin, a melting pot of cultures, races, and religions.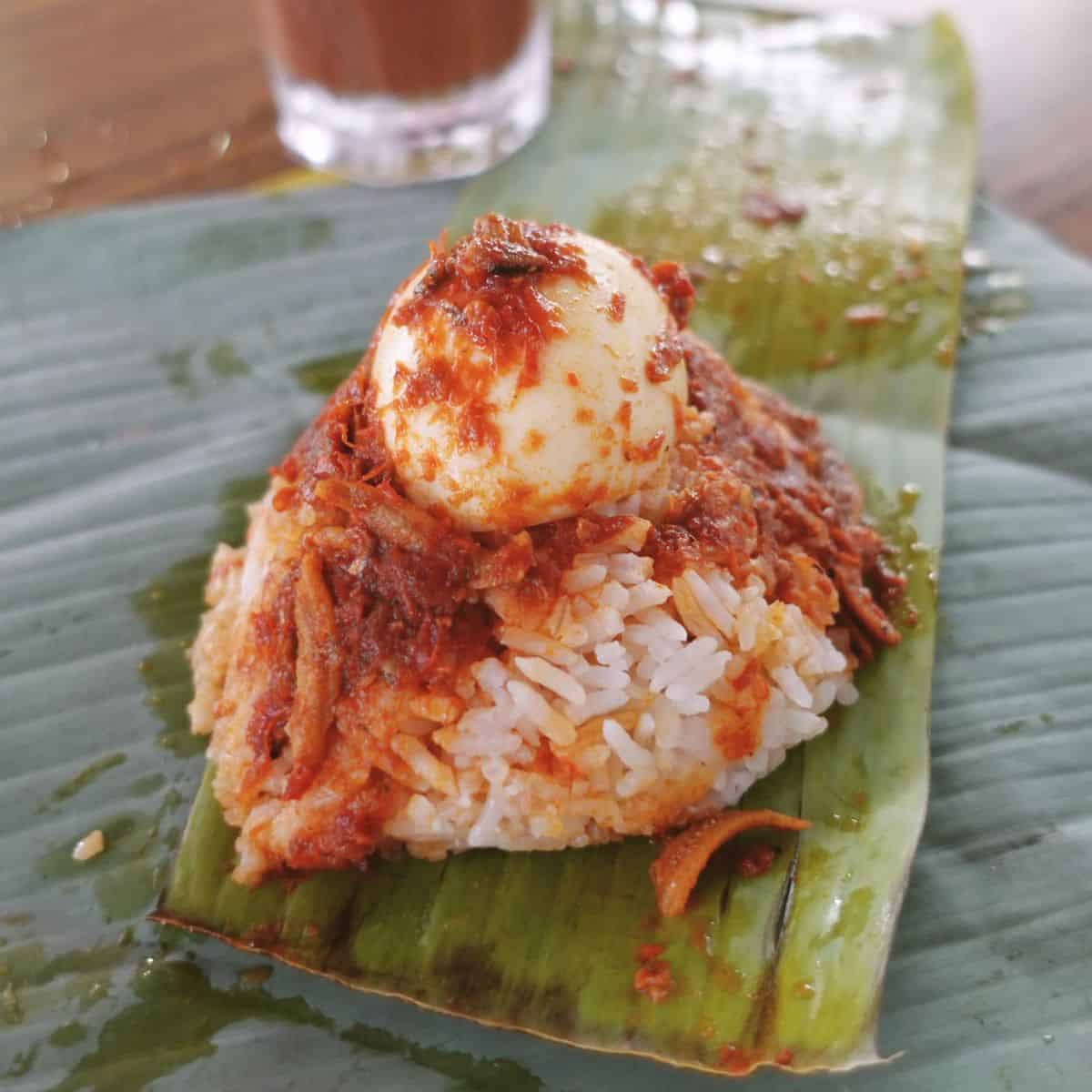 Although you can find this plate throughout Malaysia, this island is known for its unique take on this specific national dish. The nasi lemak here has unique variations and flavours, with stalls adding a plethora of different ingredients. For example, they may add squid, chicken, or shrimp to the sambal. Furthermore, some serve the dish with unique side dishes like fried chicken or fried chicken curry.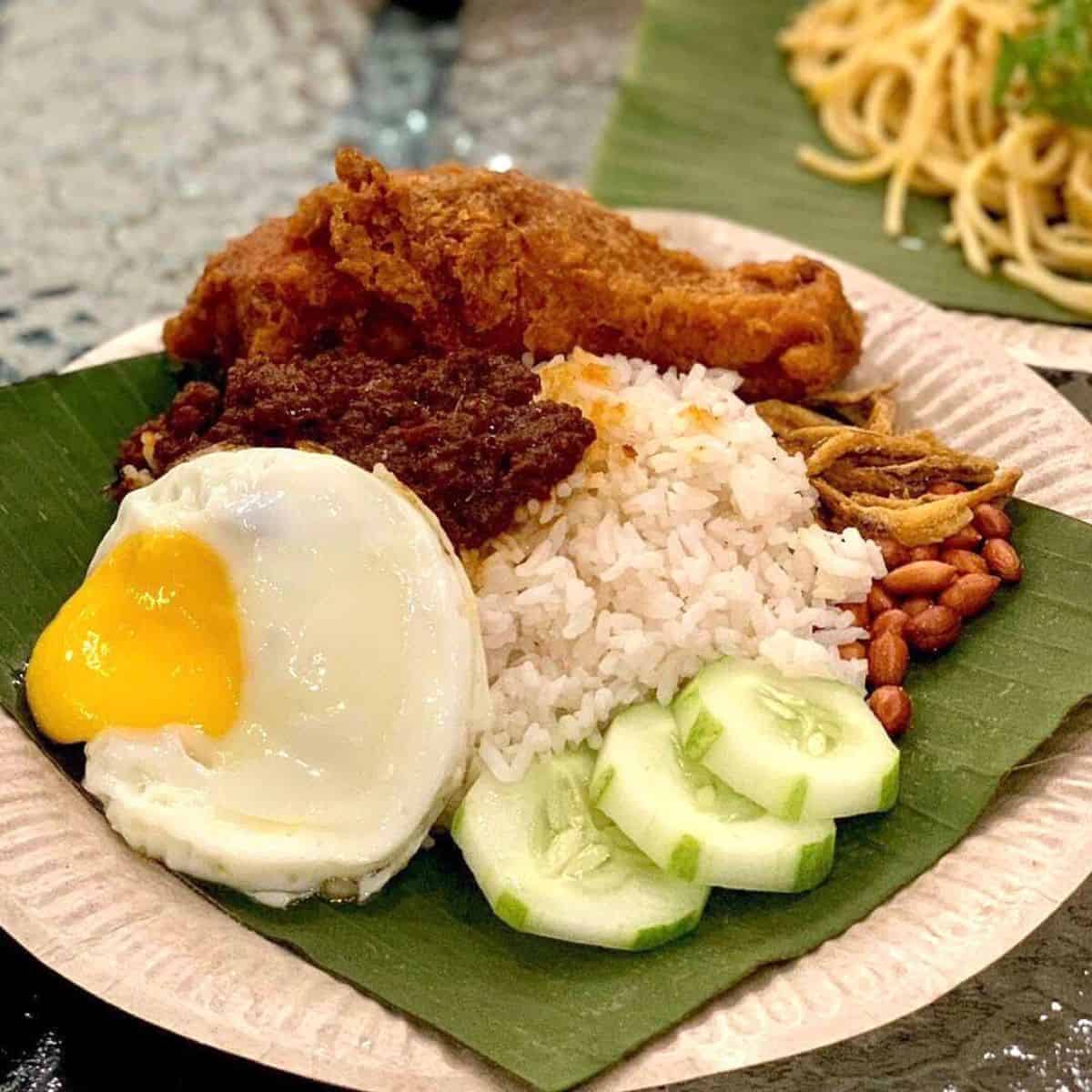 With so much variety to choose from, it can be overwhelming to find the perfect plate of fatty rice. So, in this article, we've compiled multiple spots on the island that serve the best nasi lemak in Penang. We have highlighted the top spots to sample this heavenly and mouth-watering dish, from Georgetown to Bayan Lepas. So, buckle up as we are about to hit flavour town.
Jump to:
Best Nasi Lemak in Georgetown, Penang
Ali Nasi Lemak Daun Pisang
Located in the heart of Georgetown, Ali Nasi Lemak is a must-visit for any fatty rice enthusiast. This famous Penang nasi lemak stall has been serving up some of the best nasi lemak in Penang Island for decades. Moreover, this humble stall is listed in the Michelin Guide in Penang as a testament to its amazing flavours. Despite the lofty status, they sell affordable fatty rice wrapped with banana leaves in triangular shapes.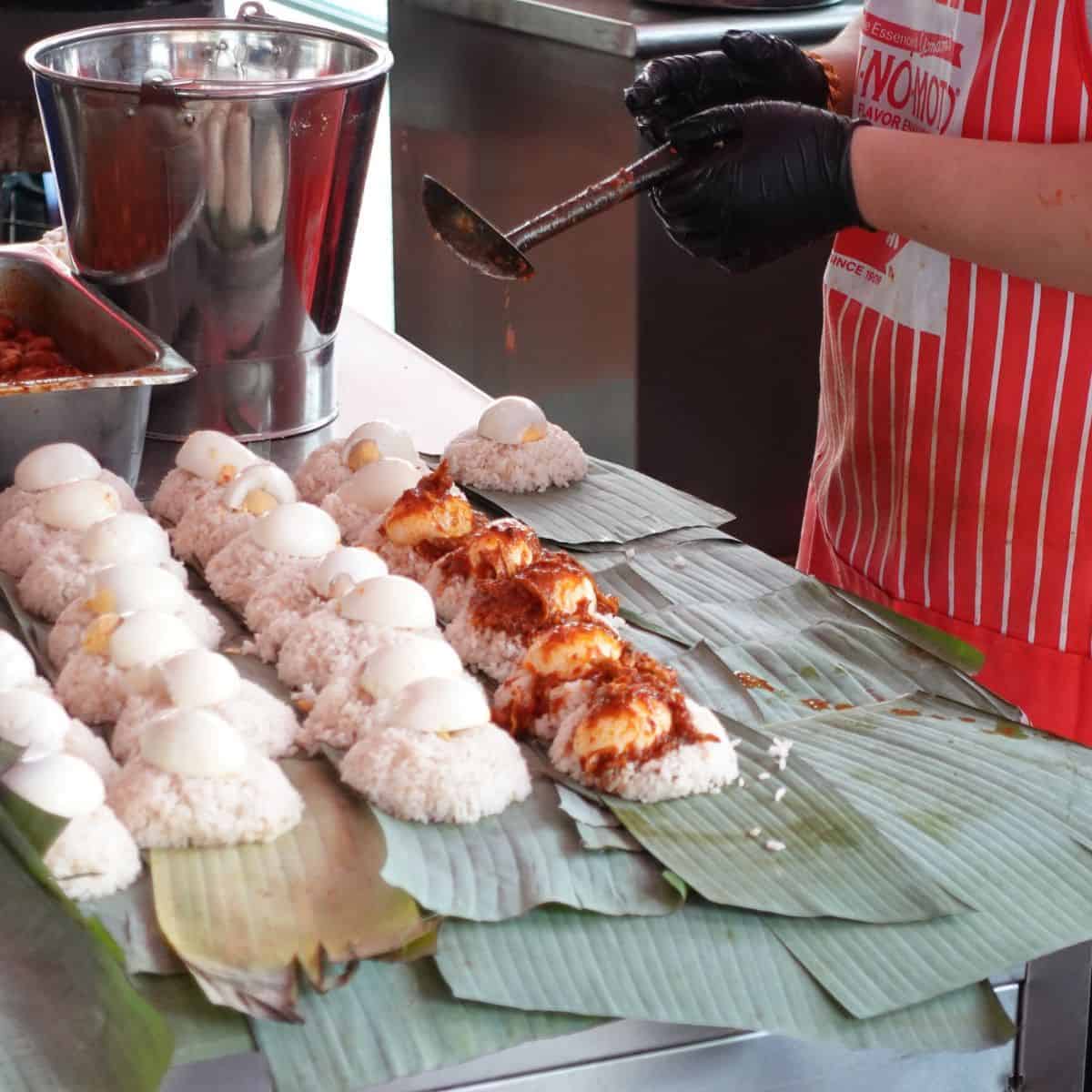 What sets them apart is that they cook their rice perfectly with just the right amount of coconut milk. In addition, their sambal is spicy and full of flavour. You can also try several versions of this Malay rice at this stall. Try munching on their rice with anchovies, eggs, prawns, fish or even squid.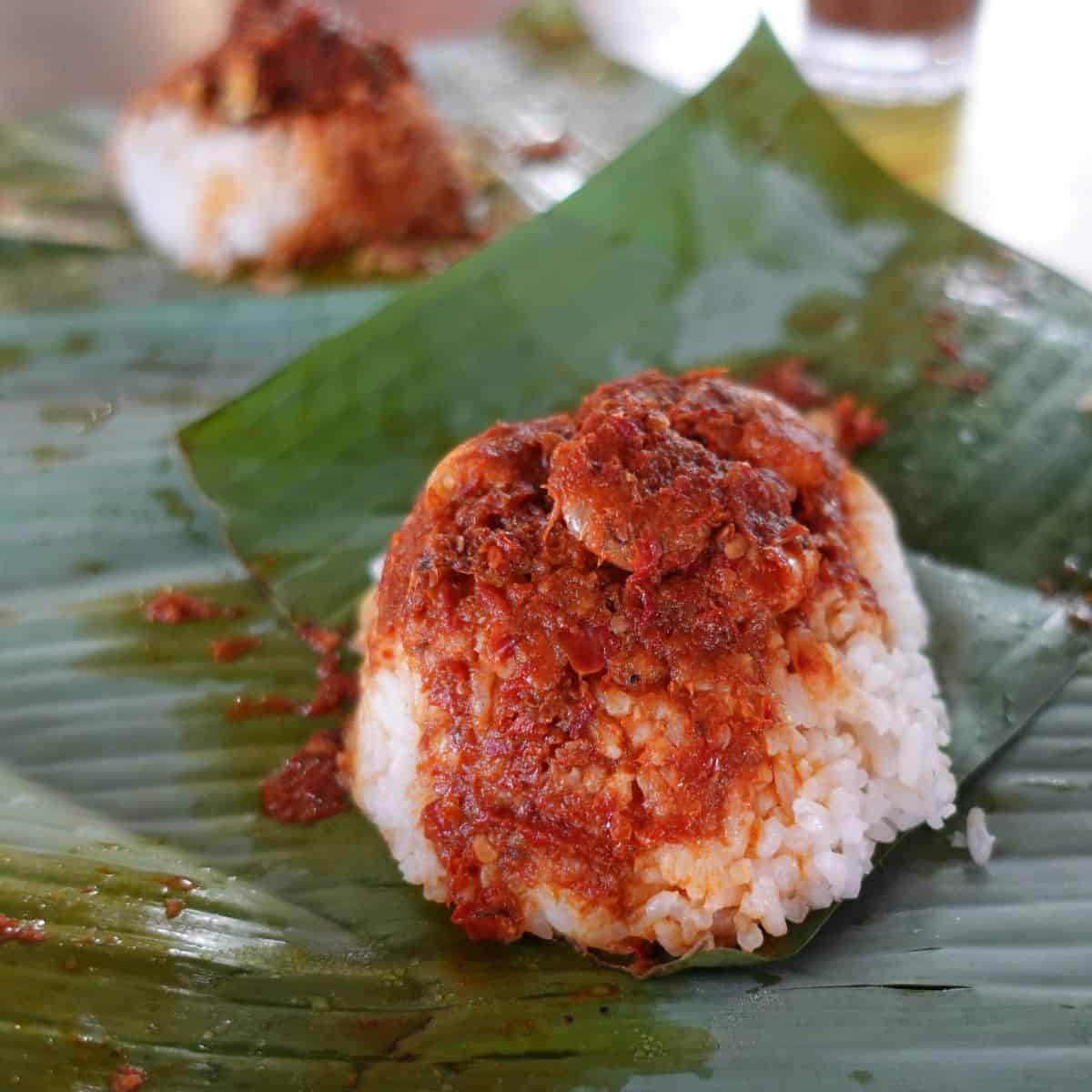 The stall opens from 7:00 am to 5:00 pm. But we recommend going in the morning for the freshest batch. Ultimately, this is the place to be if you want a no-frills, authentic dining experience.
Ali Nasi Lemak Daun Pisang
Sri Weld Food Court, Beach St, Georgetown, 10300 George Town, Penang
Nasi Lemak Liverpool Penang
Are you a fan of the Liverpool football club and fatty rice? If so, you wouldn't want to miss out on this place. This cafe is located in the bustling area of Jelutong. Its interior is all decked out in fiery red Liverpool paraphernalia matching their equally fiery and flaming hot sambal.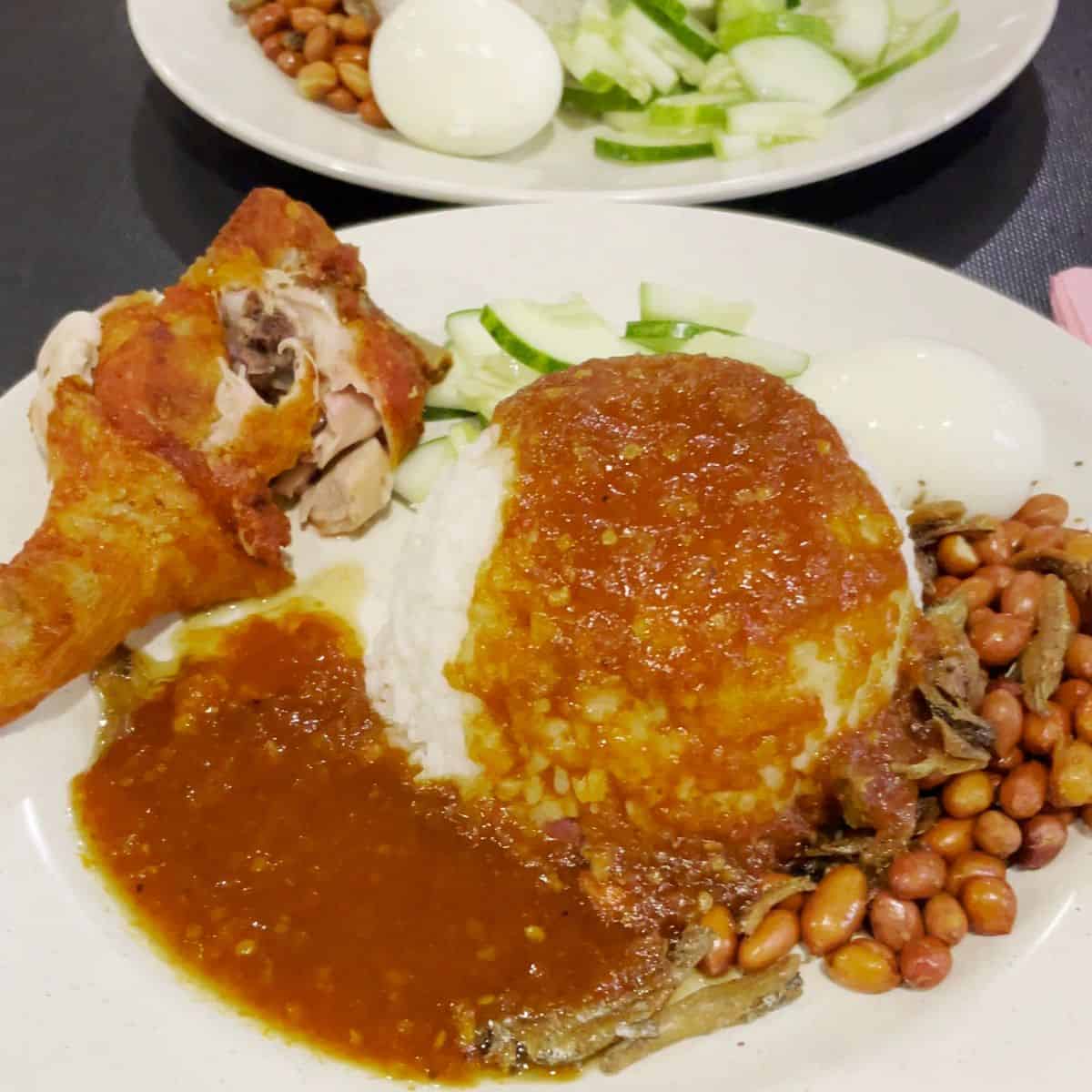 Like most traditional fatty rice stalls, they serve their fragrant rice with zingy sambal, eggs, crunchy anchovies, cucumber, and peanuts. However, they also offer different side dishes such as chicken rendang and sambal prawn. You can mix and match these with your order at an additional charge. We highly recommend the deep-fried chicken, which comes in a generous portion.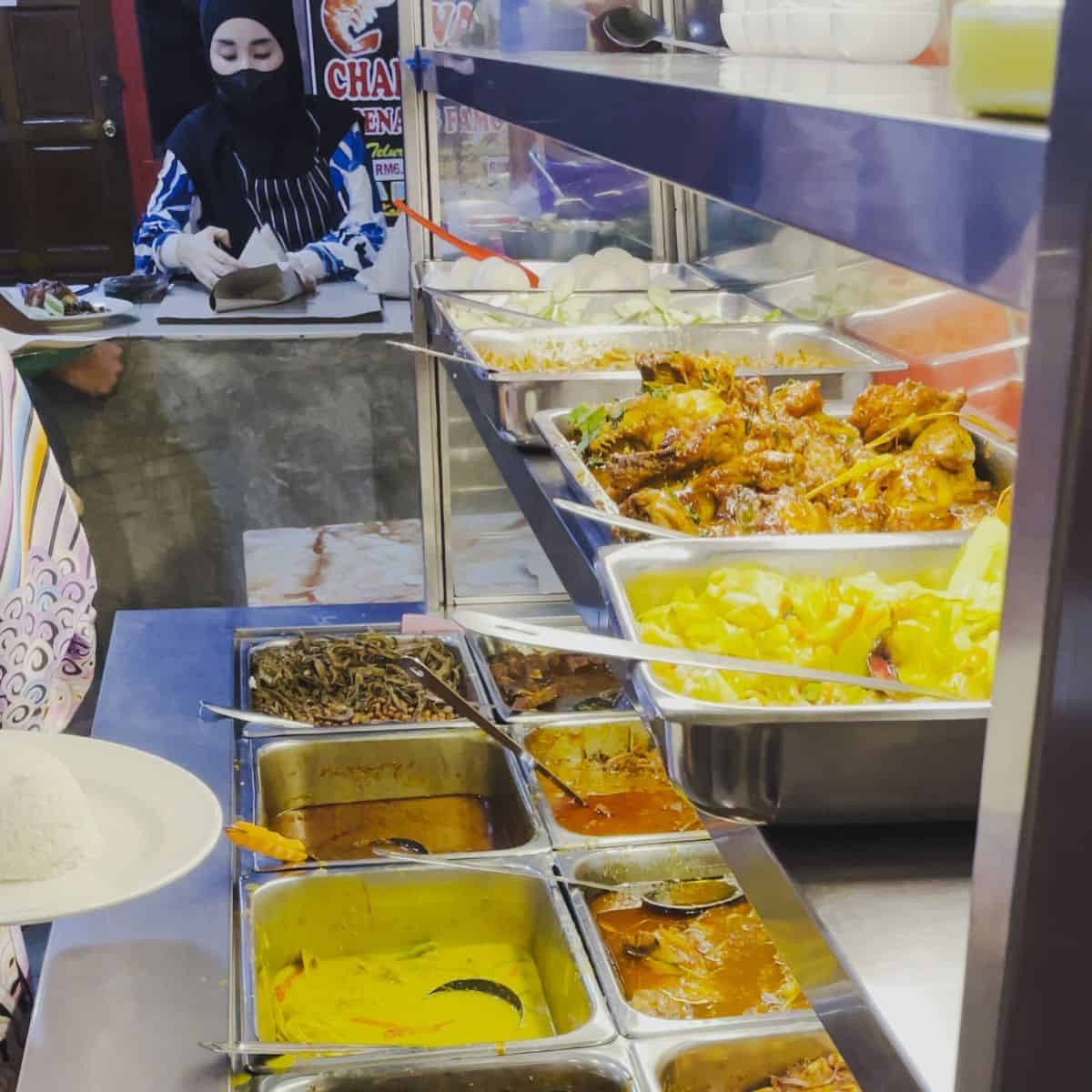 There are a plethora of things to do in Penang. But, if you're looking for a top activity, consider enjoying this best nasi lemak in Penang. You can munch away while watching live screenings of football matches. Moreover, you can do this while sitting outdoors at this eatery, making it a must-do on your list.
Nasi Lemak Liverpool Penang
92, Jalan Tan Sri Teh Ewe Lim Jelutong, 11600 George Town
Alamak
Alamak, located at Georgetown's Argyll Road, is a remarkable establishment for those seeking the ultimate local culinary experience. This is because locals consistently vote for this stall as serving the best nasi lemak in Georgetown, Penang. Hence, Alamak dubbed itself as the first trendy "mamak stall".
A mamak stall is a restaurant that serves a fusion of halal Malay and Indian Muslim food. Additionally, the cosy ambience of the place creates a perfect setting to indulge in the flavours of this national dish.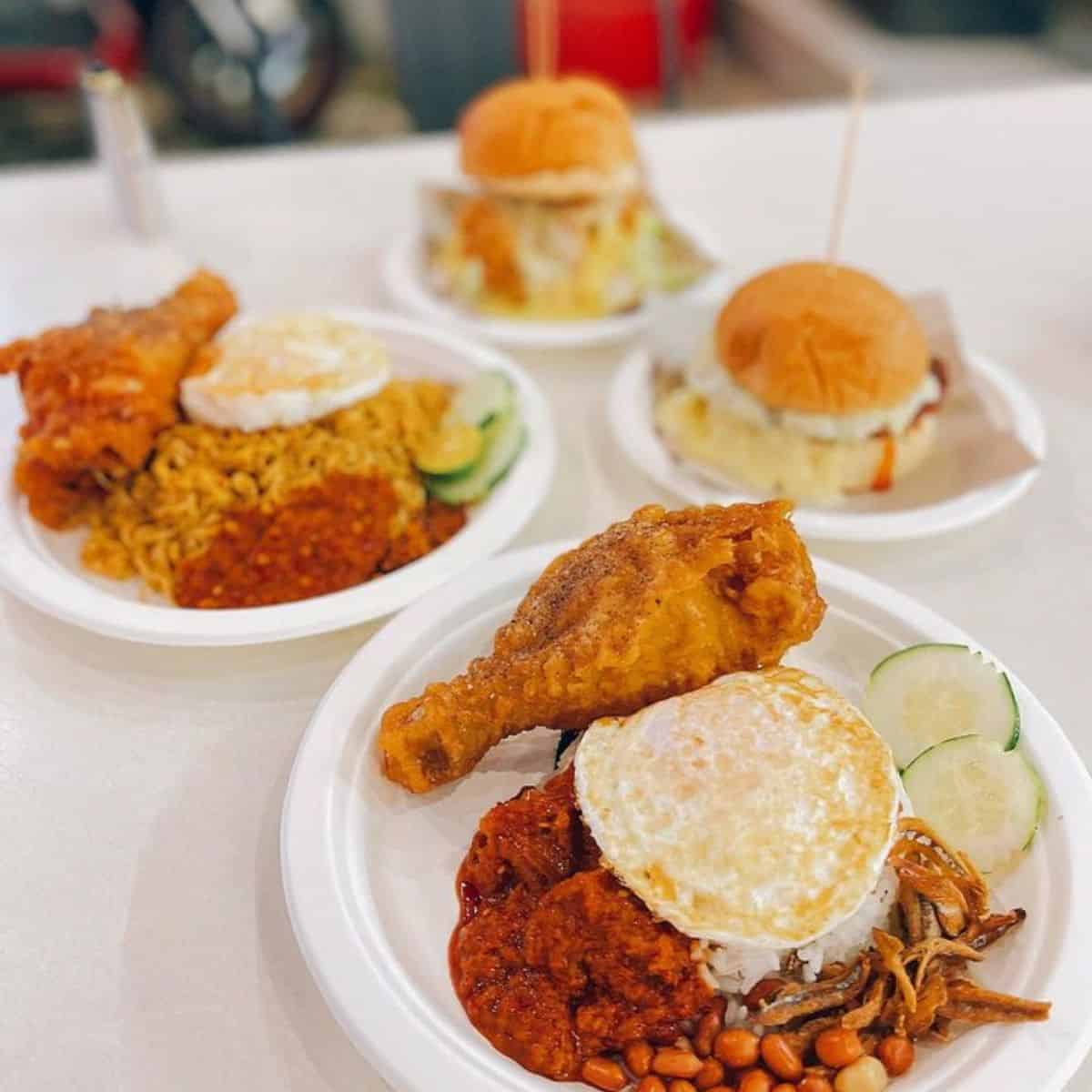 If you ever stop by, order their highly raved Signature Ayam Goreng fatty rice. This crunchy fried chicken meal is served with spicy sambal, salty anchovies, and a sunny-side-up egg.
Alamak operates daily from 11.00 am to 2.45 pm and 5.00 pm to 9.45 pm. We recommend everyone go early during opening hours to avoid the crowds and indulge in a hearty brunch.
Alamak
175, Jalan Argyll, George Town, 10050 George Town, Pulau Pinang
Instagram
Wakzee (Ms Food Court Penang Nasi Lemak)
Talking about the best nasi lemak in Georgetown, Penang, be sure to check out Wakzee at Ms food court in Jalan Macalister. Two former airline employees who lost their jobs during the pandemic run this hidden gem. Wakzee sells authentic Penang nasi lemak bungkus wrapped in banana leaves.
What sets this stall apart is the generous portions and affordability without compromising the freshness of the ingredients. Therefore, coming here is an excellent option for those on a budget. Additionally, they offer four varieties of this national dish: regular, chicken, fish, and prawn, starting from less than RM2 per packet. Also, you can get some other nibbles with your fatty rice, such as banana and prawn fritters.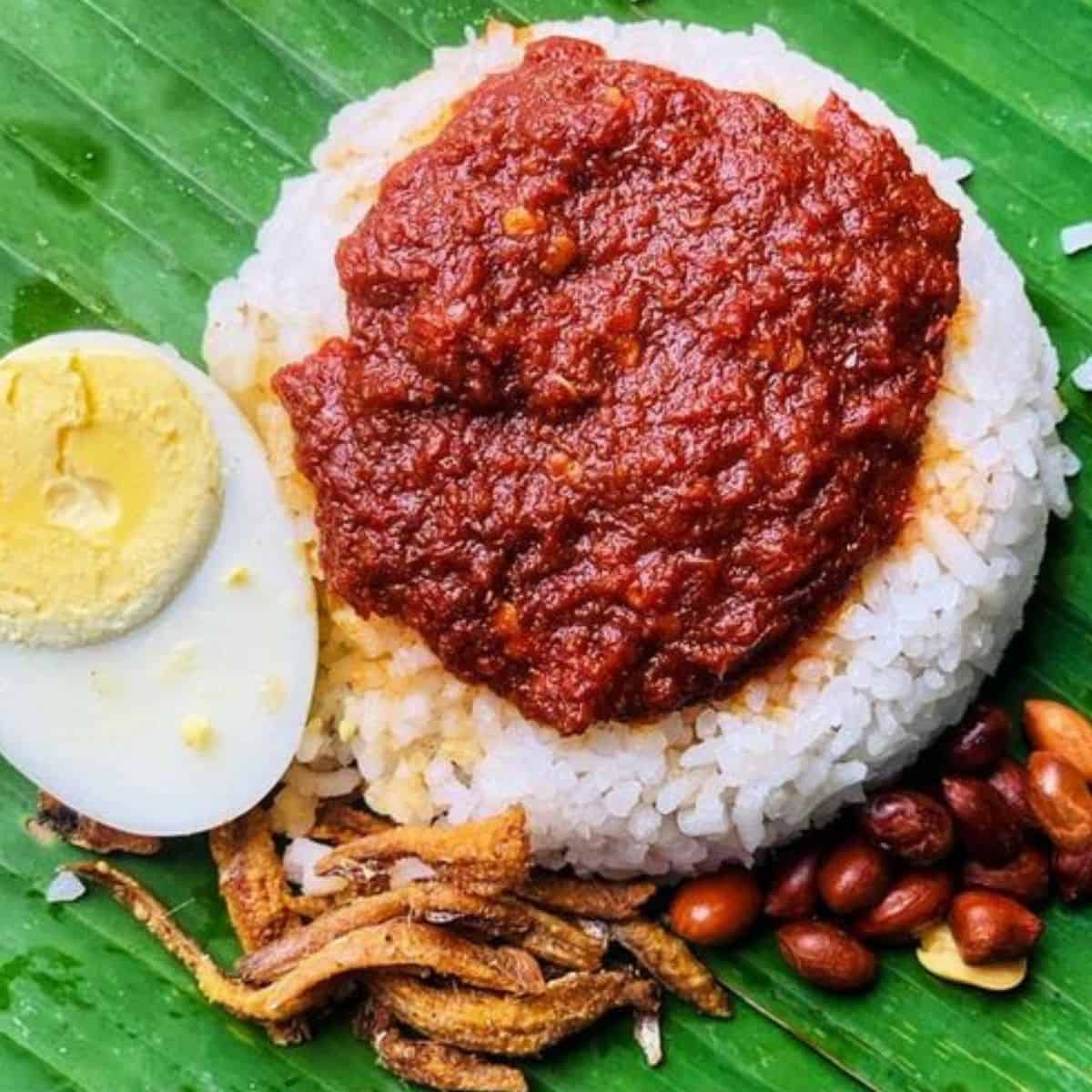 They operate the stall from 7.30 am to 3.00 pm. So, if you're in the area and looking for a great breakfast, MS food court Penang Nasi Lemak by Wakzee is your spot.
Wakzee
MS Food Court, Jalan Macalister, 10450 George Town, Penang
Instagram
Ali Mamak
Ali Mamak is a monumental spot in Georgetown for those seeking a unique twist on this classic beloved dish. Dubbed the best nasi lemak in Penang Island, this famous Penang nasi lemak stall is on a busy street in Georgetown. It provides a welcoming and bustling atmosphere for anyone seeking an authentic Penang street food experience.
Ali Mamak is renowned for its signature dish, the Penang Nasi Lemak Goreng. This is a stir-fried dish with various vegetables and eggs. What sets this place apart is that it takes the already sinfully delicious wrapped rice to another level. Eventually, you are presented with a plate of steamy hot, spicy golden perfection. If you're a fried rice aficionado, you must try this variation. We guarantee it will leave you wanting more.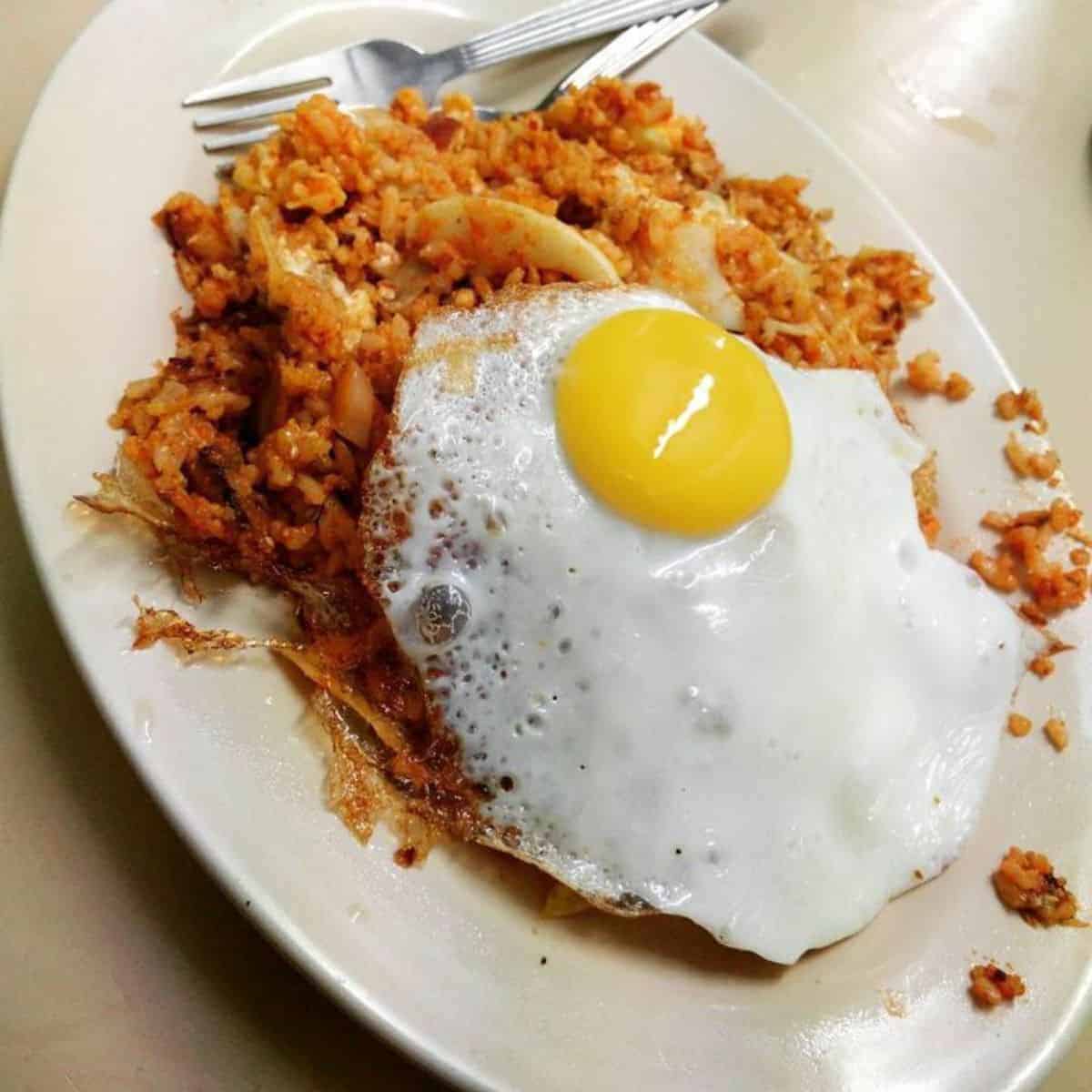 Ali Mamak operates 24 hours daily. We recommend you visit the stall after a night out in Penang if you're hunting for something heavy to satisfy your midnight cravings.
Ali Mamak
21, Jalan Lunas, Kampung Syed, 10250 George Town, Pulau Pinang
Jin Hoe Cafe
Time and time again, when you're looking for the best nasi lemak in Georgetown, Penang Jin Hoe Cafe is a spot you should not miss. Jin Hoe Cafe is conveniently located in Pulau Tikus, among a row of unassuming shop lots. This Penang cafe has been serving Nyonya-style fatty rice for many years, as evidenced by the constant long queues outside. We can attest to the lip-smacking deliciousness of their food.
This Nyonya variant, unlike the traditional one, is served with sambal belacan. Sambal belacan is a raw and spicy condiment seasoned with lime juice to give it a tanginess. Instead of anchovies and fried chicken, the Nyonya variation is accompanied by assam (tamarind) marinated fried fish and prawns, giving you a flavour explosion in every bite.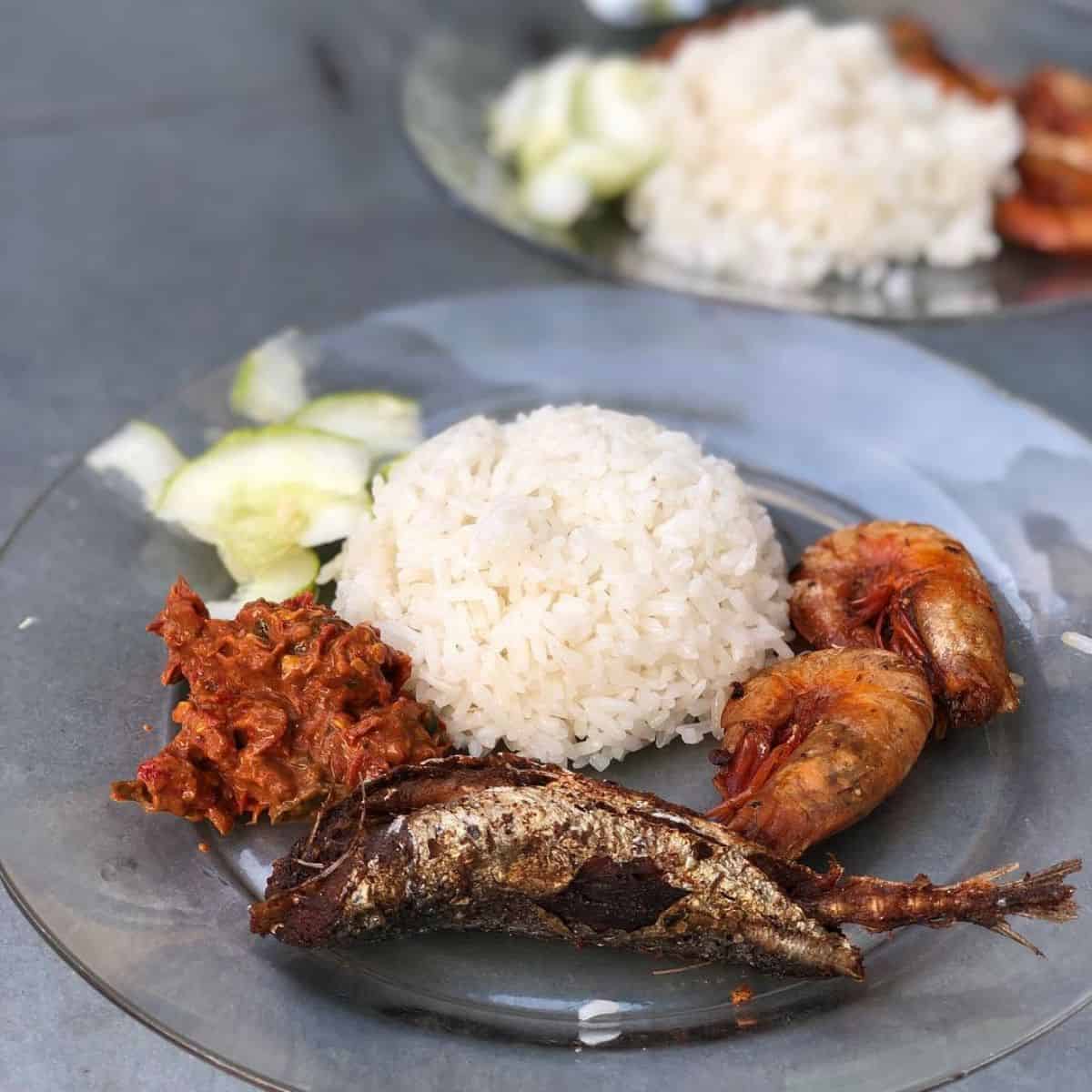 Whether a local or a tourist, you'll love the warm atmosphere and friendly service. Our top tip is to pair your fatty rice with a cup of their signature coffee. Their coffee is roasted and brewed in-house, resulting in a rich, full-bodied flavour.
Jin Hoe Cafe
48, Jalan Cantonment, Pulau Tikus, 10350 George Town, Pulau Pinang
Nasi Melayu Kak Ema
If you're searching for the best nasi lemak in Penang in authentic Malay style, look no further than Nasi Melayu Kak Ema. Hidden at an inconspicuous corner in the main thoroughfare of Georgetown, Jalan Burma (Burma Road), this family-owned modest establishment is a famous Penang nasi lemak stall.
Kak Ema's take on the national dish reflects the authentic flavours of Malay cuisine. It features a rich sambal that is not too spicy and a variety of traditional toppings. These toppings include crispy anchovies, peanuts, and cucumbers to add an extra crunch.
Aside from their Penang nasi lemak bungkus, you can find other Malay dishes such as beef rendang, honey roast chicken, and gulai lemak ayam (coconut chicken stew).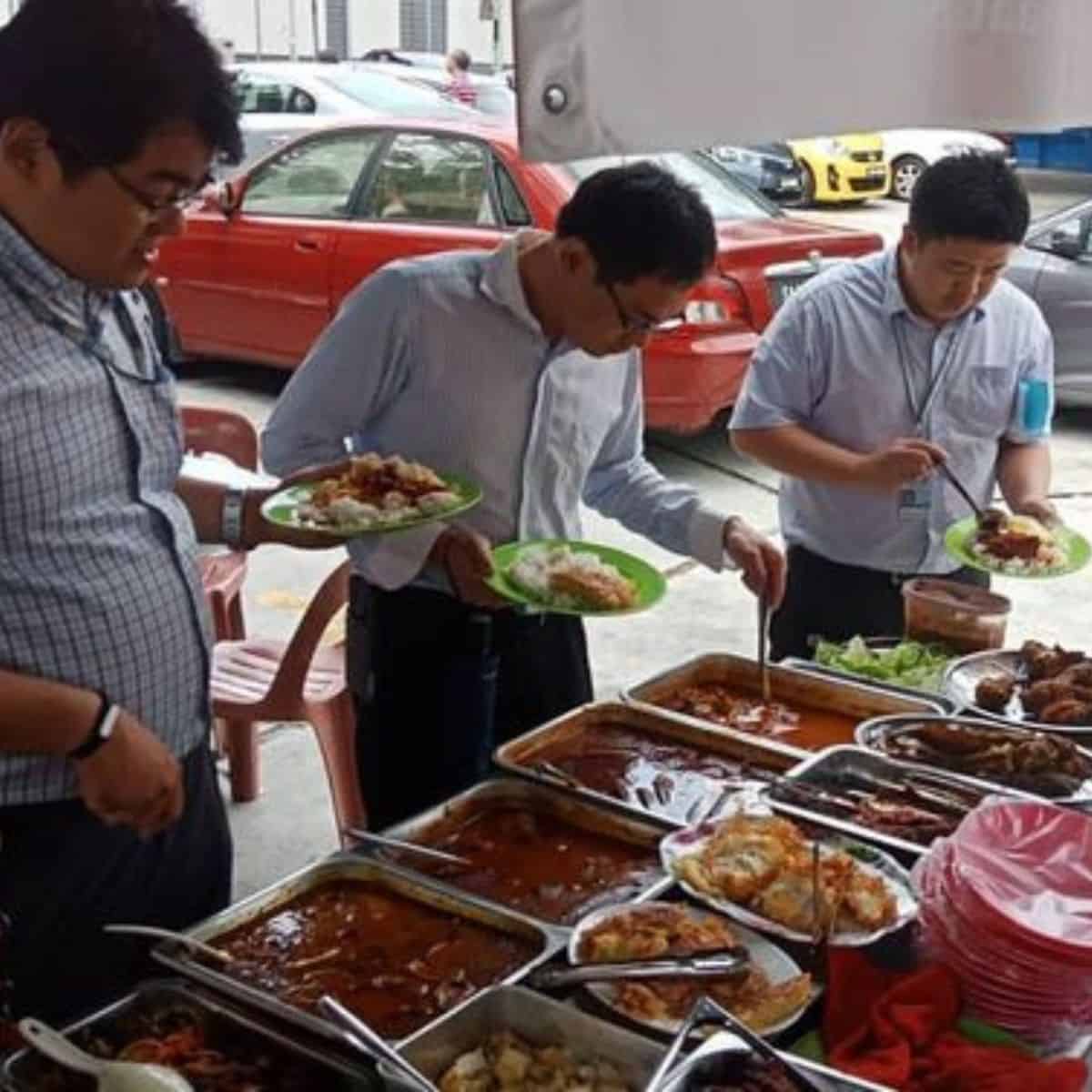 The eatery is often crowded, but the staff is friendly, and the service is quick, so you won't have to wait too long. The best time to go here is for lunch, as they serve a wider variety of dishes during this time. Ultimately, this is the place to be if you want an inexpensive and delicious meal.
Nasi Melayu Kak Ema
Jalan Burma, 10000 George Town, Pulau Pinang
Nasi Lemak Cik Sue
Locals have constantly been recommending this unassuming eatery as having one of the best nasi lemak in Penang Island, and for a good reason.
What sets this stall apart from the rest is its heavenly sambal. Their sambal packs a spicy punch that'll leave you sweating yet satisfied. You can also taste the passion and dedication that goes into making it. So, it's no wonder locals keep coming back for more.
Aside from the sambal, the restaurant also serves a variety of creative pairings. For instance, they do sides such as kung pao chicken, turmeric squids, turmeric clams, salted double-spotted queenfish, and fried sardines. Remember to finish your meal with a refreshing drink like their iced rose syrup, which is the perfect way to cool down after a spicy meal.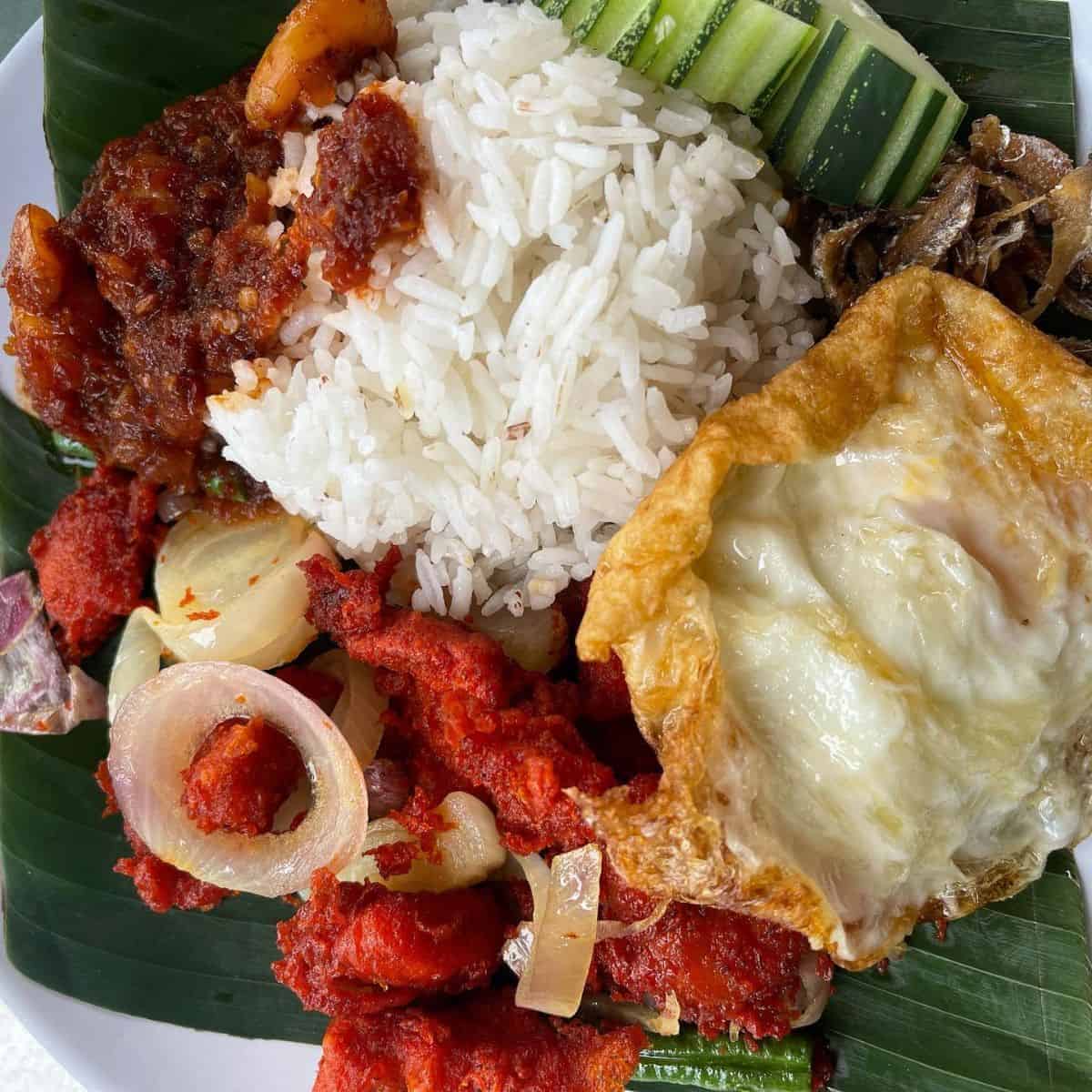 So, if you are sightseeing around the Georgetown heritage zones, stop by Cik Sue to taste one of the best nasi lemak in Georgetown, Penang. The best time to visit is early morning for a hearty breakfast before your sightseeing tour. The cafe opens daily from 7 am.
Nasi Lemak Cik Sue
195, Jalan Dato Keramat, 10150 George Town, Pulau Pinang, Malaysia
Facebook
Best Nasi Lemak in Bayan Lepas, Penang
Uncle Lanz
As we went further down to the Southeastern part of the island, we discovered another spot to satiate our fatty rice cravings. Touted as one of the best nasi lemak in Bayan Lepas, Penang, Uncle Lanz is also a popular supper spot among Penangites. And it's not hard to see why.
Their unconventional take on this national dish - the nasi lemak burger has made tourists and locals fall head over heels. The deep-fried succulent chicken patty is topped with a fried egg and drizzled with a generous dollop of their sweet and spicy sambal sandwiched between toasted burger buns. If you ask us, this best nasi lemak in Bayan Lepas, Penang, tastes better than any fast-food chain's chicken burgers.
Another dish to try out is their fatty rice with deep-fried squids. Each squid is fried to golden crispiness and paired with the fragrant coconut milk-cooked rice that tantalises your taste buds with every bite.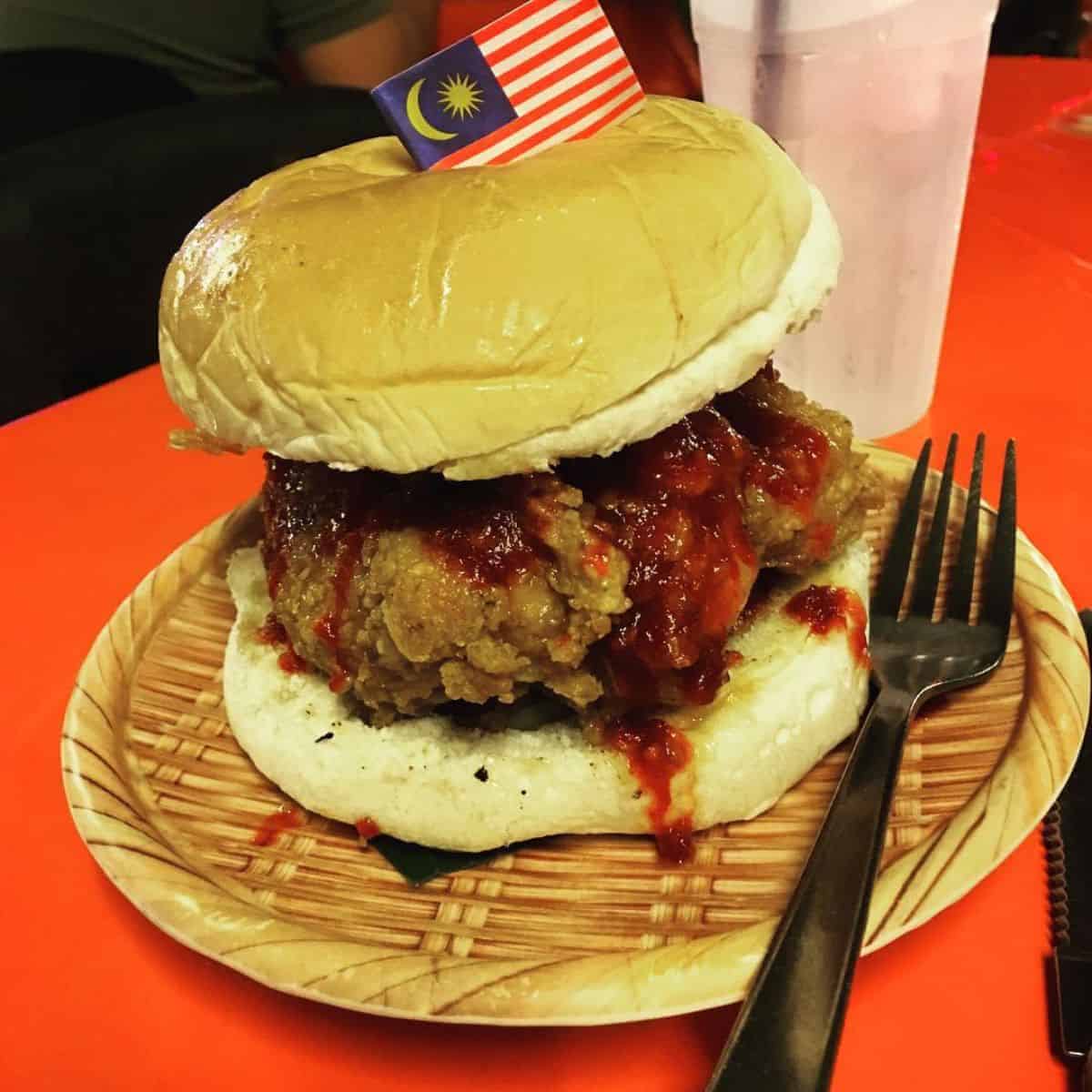 If you're a spice lover, request extra sambal with your order. So, if you're looking for the best nasi lemak in Bayan Lepas, Penang, visit Uncle Lanz at 10 pm for a late-night supper. You will not regret it!
Uncle Lanz
82, Jalan Mahsuri, Bayan Baru, 11950 Bayan Lepas, Pulau Pinang
Best Nasi Lemak in Air Hitam, Penang
Paya Terubong Nasi Lemak
Our quest for the best nasi lemak in Penang has led us to Paya Terubong, a small stall in a hawker-style cafe in Sin Teong Nam, Air Hitam. For over 30 years, this Chinese-owned stall has been serving fatty rice with curries that pack a punch of chilli peppers and dried shrimp.
Locals rave about their golden turmeric fried chicken and sweet, salty soy sauce chicken. Also, this picturesque locale is one of the best places to sample other local cuisines, such as Nasi Kandar (mixed rice), Char Keoy Teow (stir-fried flat noodles with seafood), and Penang Pasembur. Pasembur is an Indian Muslim salad with shredded vegetables, eggs, tofu and fritters topped with a spiced, nutty sauce.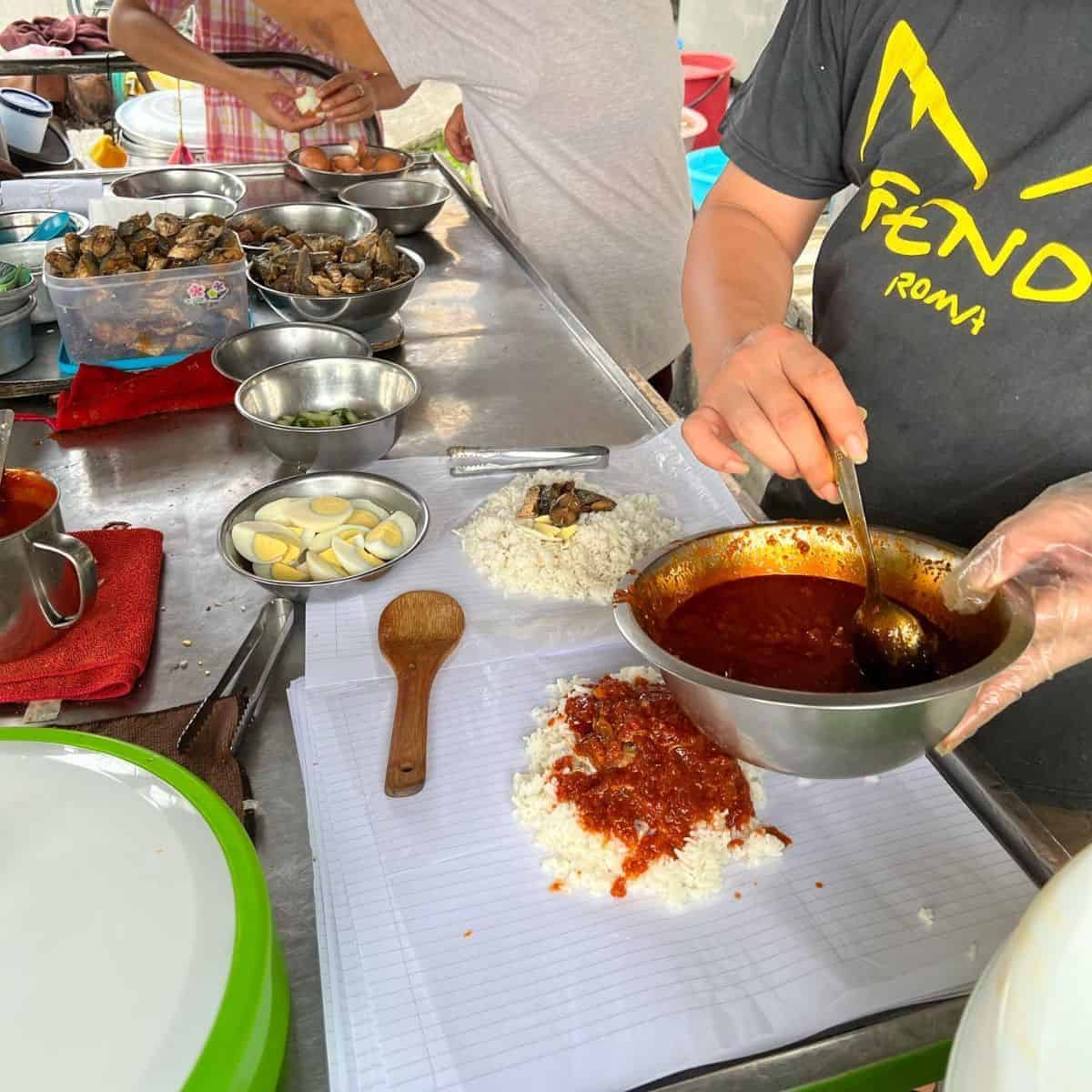 To beat the crowds, visit earlier in the evening when the stall operates from 4.30 pm to 9.30 pm. Prepare to indulge in a freshly cooked delicacy that will leave your taste buds begging for more of this best nasi lemak in Penang.
Paya Terubong Nasi Lemak
200, Jln Paya Terubung, Paya Terubong, 11060 Ayer Itam, Pulau Pinang
Best Nasi Lemak in Butterworth, Penang
Penang Island Glades Nasi Lemak
Located in the neighbouring town of Butterworth, this spot is a must-visit for those looking to venture out of Georgetown in search of the best nasi lemak in Penang.
This local gem has gained a reputation for its vegetarian Penang nasi lemak bungkus. It is served with stir-fried lady fingers, cabbages, or long beans. Furthermore, the rice here is fluffy and has a hint of sweetness, making it the perfect base for their spicy and savoury sambal. The portions here are also quite generous, making it an excellent value-for-money option.
Alternatively, the stall has a wide range of delectable non-vegetarian side dishes for those looking for a meatier option. For instance, they serve side dishes such as Assam fish, fried chicken, curry chicken, and cuttlefish.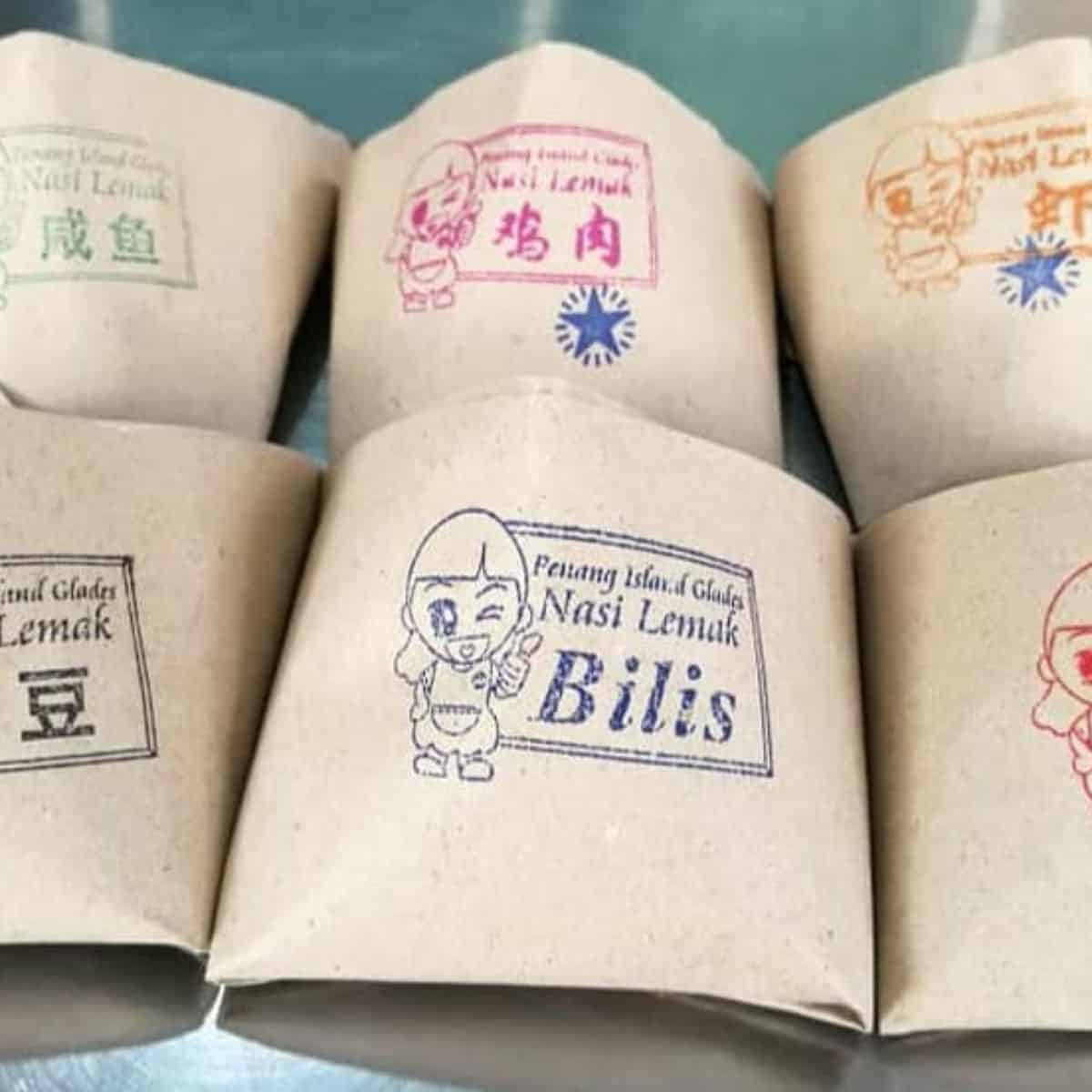 The stall opens daily from 10.30 am to 2 pm. However, be sure to make it there early so you can have more options for the side dishes. The location is convenient and easily accessible as it's on one of the main roads in Butterworth. So, don't miss out on this hidden gem, and add it to your foodie bucket list!
Penang Island Glades Nasi Lemak
941, Jalan Raja Uda, Kampung Kastam, 12300 Butterworth, Pulau Pinang
Top Nasi Lemak in Penang
Ali Mamak
Jin Hoe Cafe
Nasi Melayu Kak Ema
Island Glades Nasi Lemak
Our Personal Favourites
Malaysia's Pearl of the Orient is the ultimate destination for Penang nasi lemak lovers. From Georgetown to Bayan Lepas, there is no shortage of great spots to enjoy this cherished national dish. We tried all the best nasi lemak in Penang Island, and two stalls stood out.
At Ali Nasi Lemak, we were impressed by their perfectly cooked and fragrant rice paired with sambal. This pairing struck the right balance of sweetness, saltiness, and spiciness without overpowering our taste buds.
Meanwhile, Uncle Lanz's nasi lemak burger was a revelation - a combination we never knew we needed until we tried it. It was so good we went for a second round during our stay there. Come here for the best nasi lemak in Bayan Lepas, Penang.
These two places are always packed with locals and tourists, which is a testament to their quality. So if you are a fatty rice fan, take advantage of these places on your next visit to the island!
Follow us on Instagram @tabitogether as we embark on our foodie tour in Penang.