New, quirky and unique Penang cafes are in no shortage on this island just off the main Malaysian Peninsular. For years, Penang has been a foodie hot spot for domestic tourists all over Malaysia. However, it is quickly becoming a top global destination for foodies and coffee enthusiasts.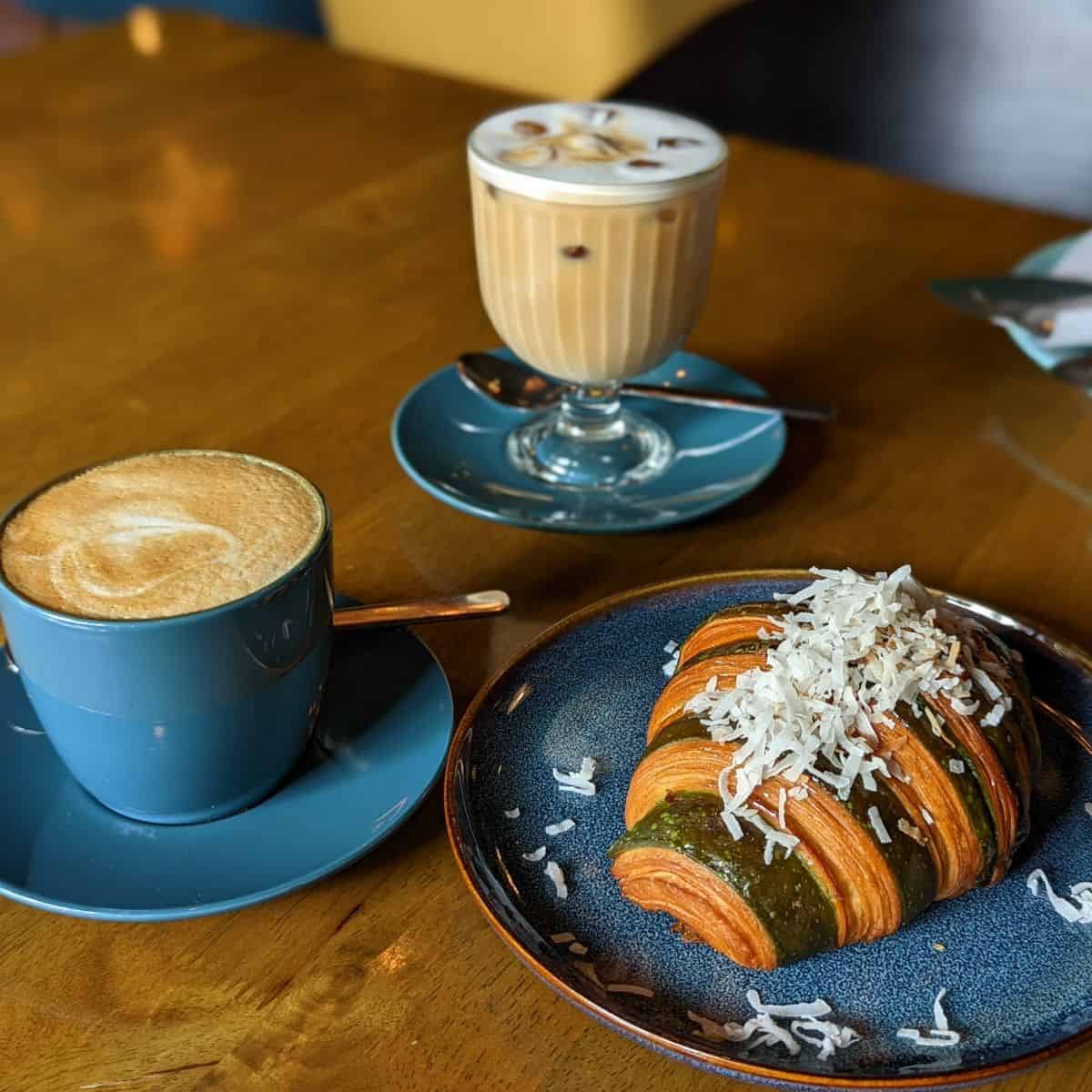 With new coffee shops popping up almost every few months, our list of the best cafes in Penang was hard to compile. So we spent over a month cafe hopping on the island, often visiting the Penang coffee shops on our list twice or more. Therefore, only the Penang cafes that we were impressed by the coffee, cake and brunch selection made it onto our guide.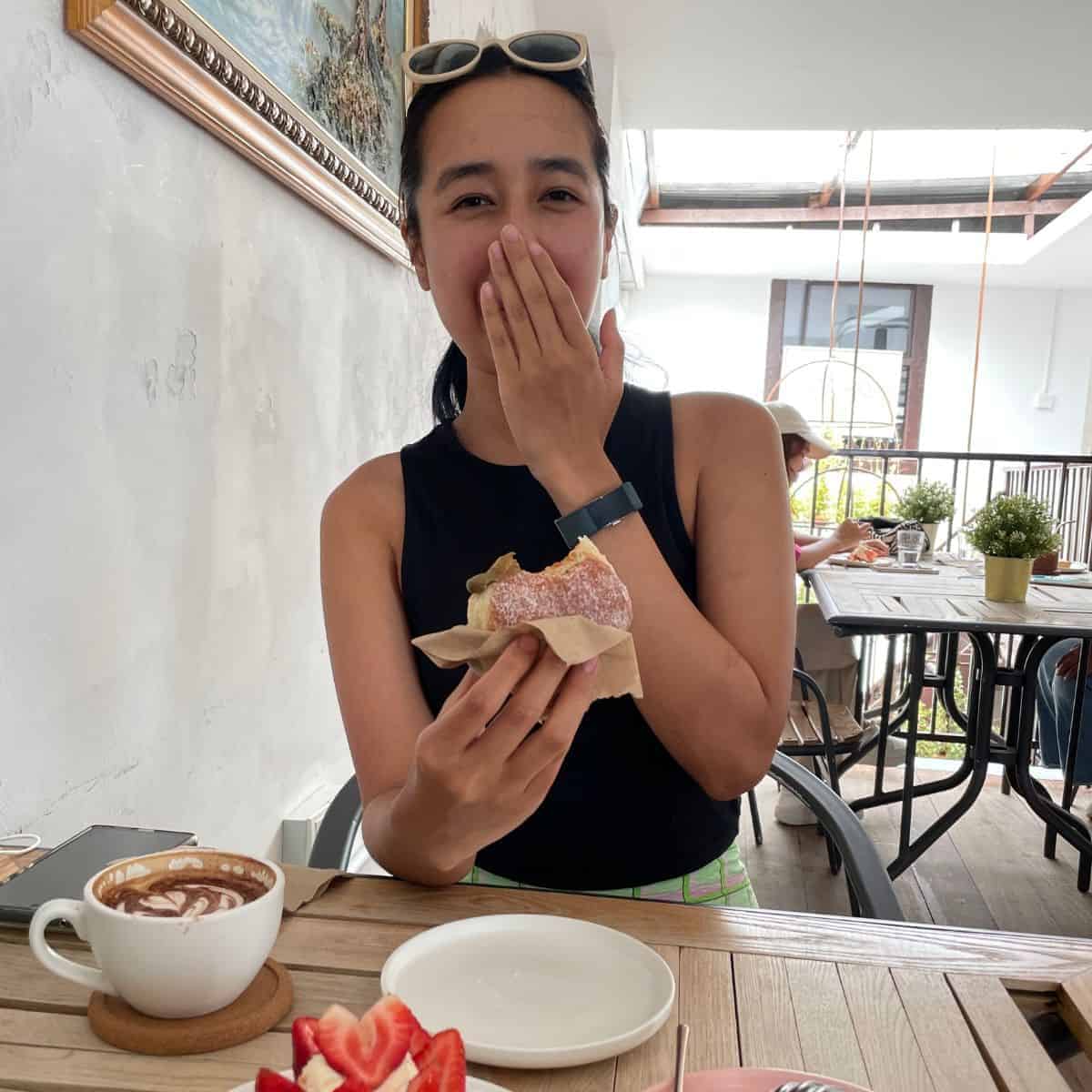 We've chosen the following spots based on the ambience, coffee bean selection, and food quality. Other than basing it on our experience, we also factored in the average reviews online and the location. So, have a read, and we hope you'll enjoy top-quality Penang coffee at one of our top recommendations.
Jump to:
Best Cafes in Penang
Our list includes over 30 of the best cafes in Penang across George Town, Balik Pulau, Batu Ferringhi and Penang Hill.
However, if you have little time in the region or are looking for a quick fix, visit one of our all-around best options.
| | |
| --- | --- |
| Best Coffee | Ome by Spacebar, Constant Gardener, Bean Sprout Cafe |
| Best for Brunch | Wheeler's, Nyonya Palazzo, Daily Dose |
| Trendy Hipster Spots | Narrow Marrow, The Postcard Shop |
| Most Instagrammable | China House, Kopi Hutan, Emily Darling, Pace |
| Pastries and Desserts | La Vie en Rose, Le Petit Four, Nely's Passion Heart Cafe |
| Best for Working | Black Kettle, More by Arang Coffee, Secawan 'n' Such |
| Kid-friendly | Mugshot Cafe, 2acres Cafe, Bricklin |
A lot of these Penang cafes cross over into each other's offerings, so you might find that one spot will be able to cater for all your needs. Our favourite Penang cafes include Ome by Spacebar Coffee, China House, and 2acres Café.
All three eateries offer a relaxing ambience, excellent food and drink options, and a prime locale. See our full guide below on what's best to order and more recommendations on the best cafes in Penang.
Best Penang Coffee
Although you will discover many unmissable classic caffeine drinks at a Penang Kopitiam, modern coffee baristas are strong contenders for the best speciality blends in the region.
Ome by Spacebar Coffee
Ome is a space made for serious coffee drinks. Speciality coffee connoisseurs will find an unrivalled experience at this minimalist spot in Penang.
Ome puts the focus on their expertly-crafted high-quality beans and precise brewing methods. From pour-over to French press or cold brew - their highly trained baristas will guide you through a world of flavour profiles as they take your order.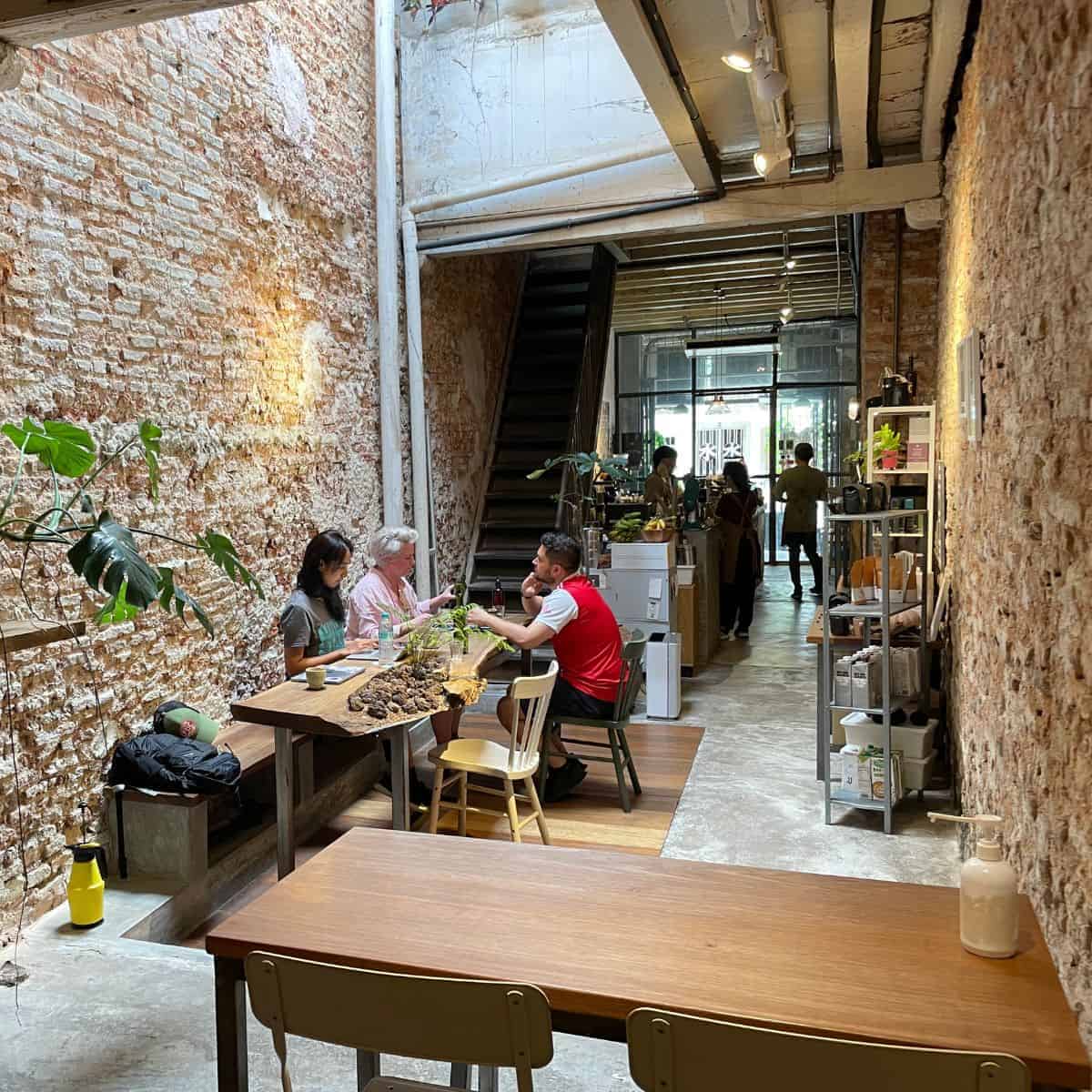 At Ome, you'll find a rotating selection of unique beans from around the world to ensure an exciting, varied coffee experience. During our time there, we had Hand brew black coffee, Double shot latte and Pahang-origin Hot Cocoa. While they don't serve large plates, they have a small cake and biscuit selection. We recommend trying their Turmeric Persimmon Cake, Almond Ricciarelli and Zucchini Olive cake.
Ome by Spacebar
1 Lorong Toh Aka, George Town, Penang Island 10100 Malaysia
Kopi Hutan
With the literal translation to mean Jungle Cafe, Kopi Hutan beckons you to its sanctuary of tranquillity amidst one of Malaysia's lush tropical jungles. Enjoy a steaming pot of black coffee in its perfectly harmonious stone seats and tables while tall trees and overgrown leafy plants shelter you.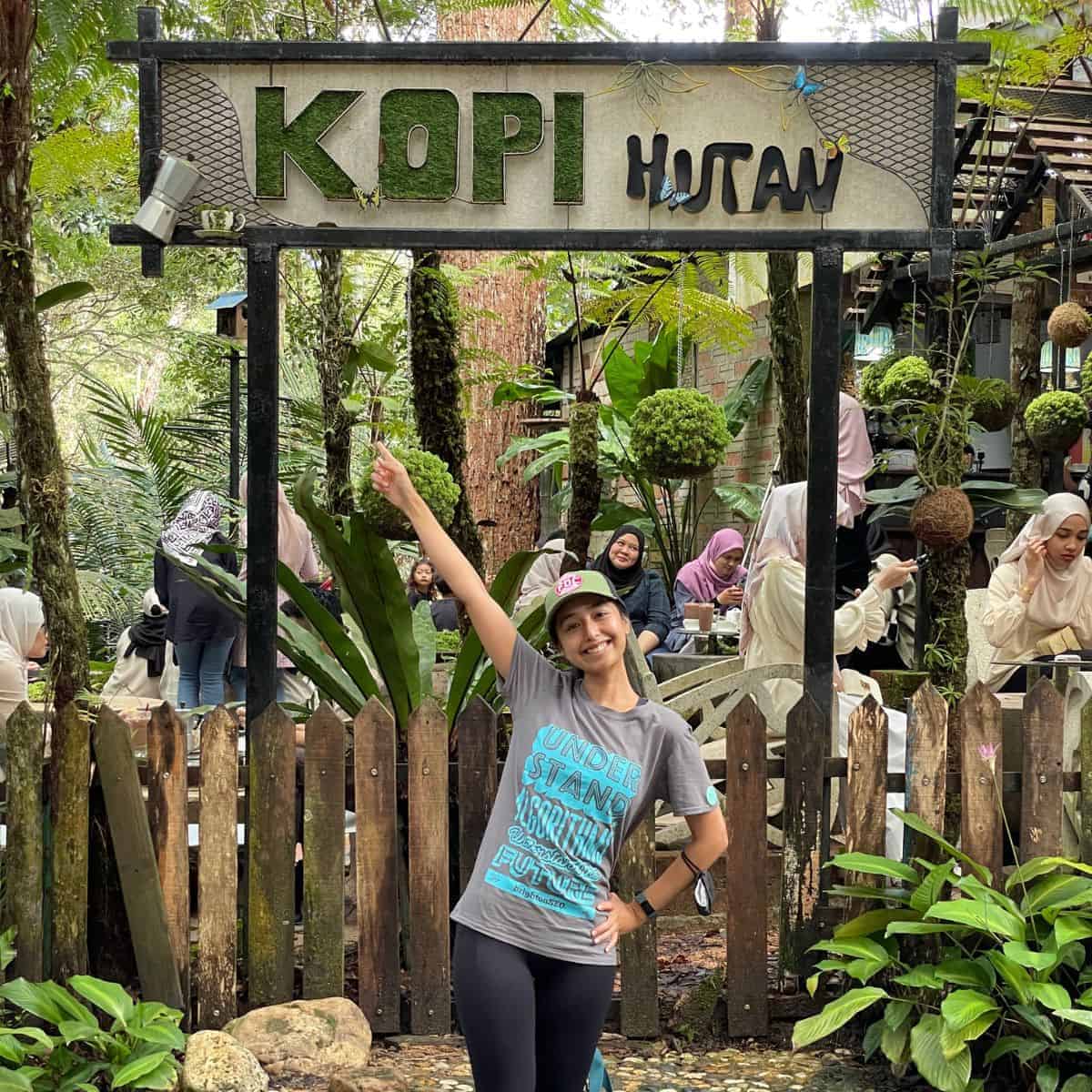 This coffee shop is located atop Penang Hill, the highest point on the island. It's a great change of scenery from Georgetown and a short break from Malaysia's usual heat. Go in the morning when it's cooler to enjoy their speciality coffee, good value sandwich and their homemade cakes. We especially loved their Kopi Hutan prepared in a Mokapot, Maple Walnut Cheesecake, Salmon quiche and Club sandwich.
How to get here
To get to Kopi Hutan, you can either hike up the hill or take a funicular ride and then a short buggy ride. If you take the buggy ride run by the new Penang cafe, it is free of charge to head towards Kopi Hutan. However, you will need to keep your receipt from the Penang cafe to get a free ride back.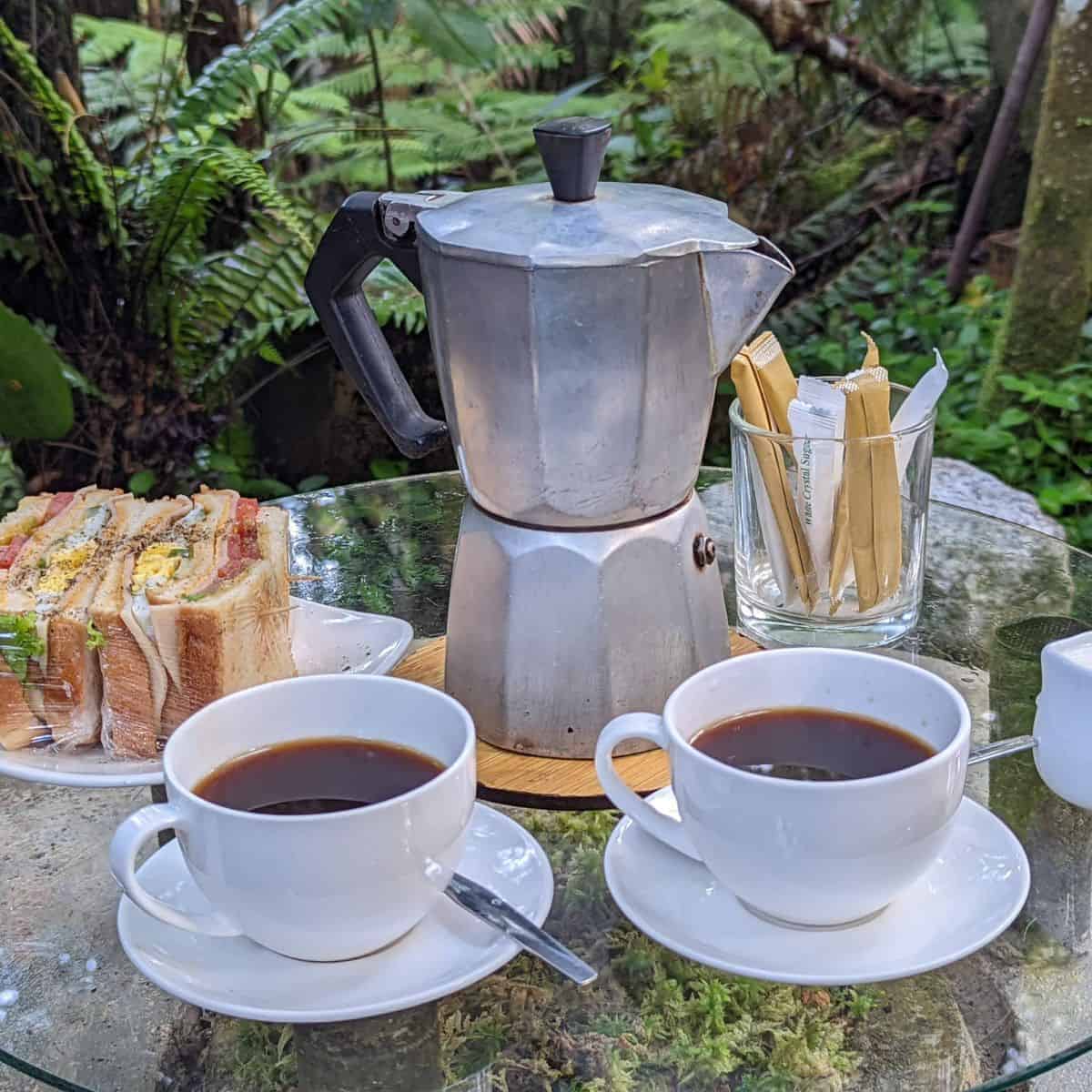 There are also other buggies around which will charge you to drop you off. We took the funicular ride and then decided to walk towards Kopi Hutan. It was an easy 20-minute walk, and we even saw Penang island's resident Dusky Leaf monkeys on our way.
After your trip to Kopi Hutan, make sure you take a stroll towards the Curtis Treetop Walk. It's one of the best places to visit in Penang for a stunning view of the island.
Kopi Hutan
Summit Road, Penang Hill 11500 Penang
Constant Gardener
Constant Gardener is a local's favourite for their coffee craftsmanship and decadent hot chocolates. Founded on the concept that life is a continuous journey of learning, improvement and discovery, they embody this in each cup of Penang coffee.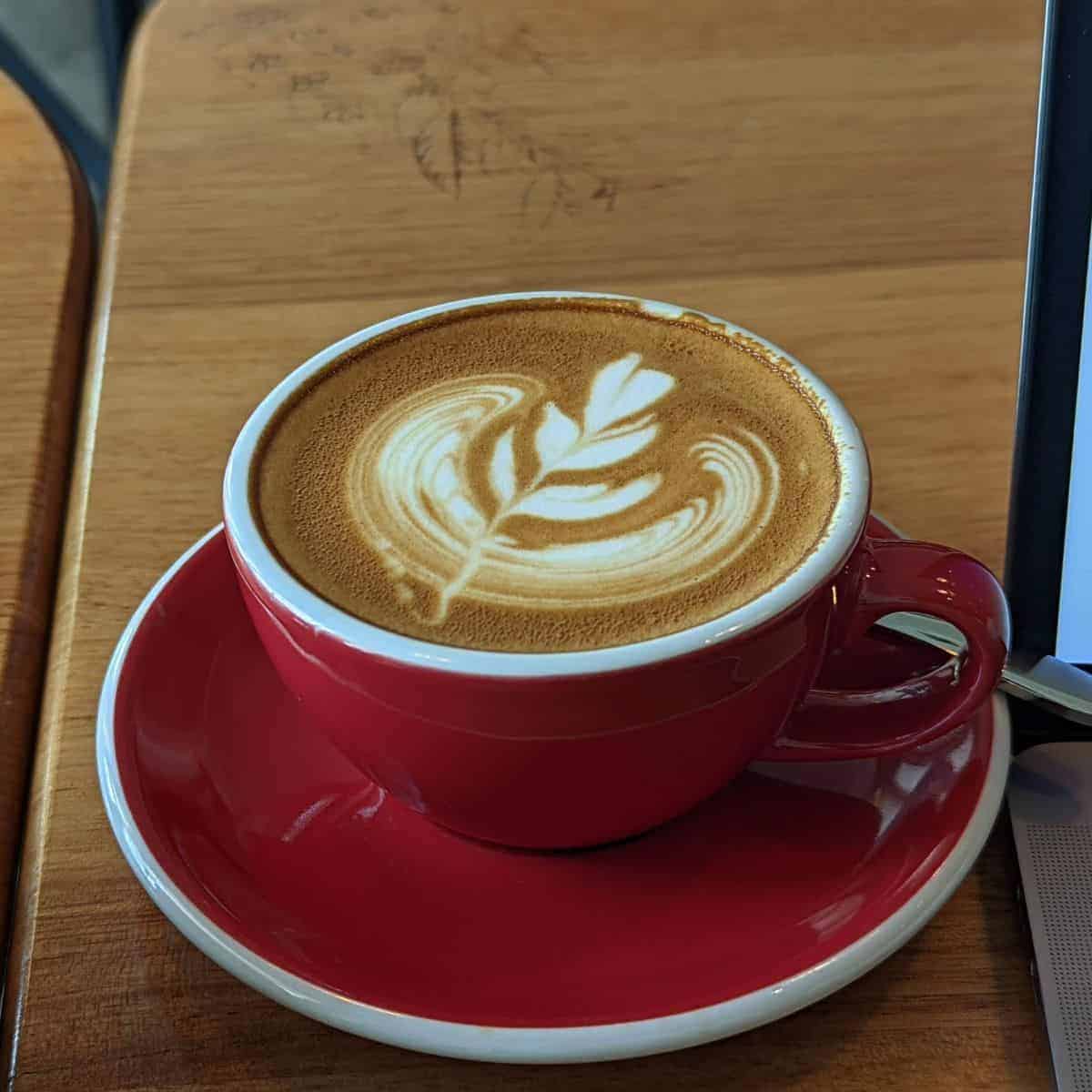 Constant Gardener aims to create a sustainable, cost-effective coffee with an outstanding customer experience. To achieve this, they utilise innovative methods. From water filtration, temperature control, bean storage and years-long recipe experimentations, all to raise the quality of the Penang coffee they provide.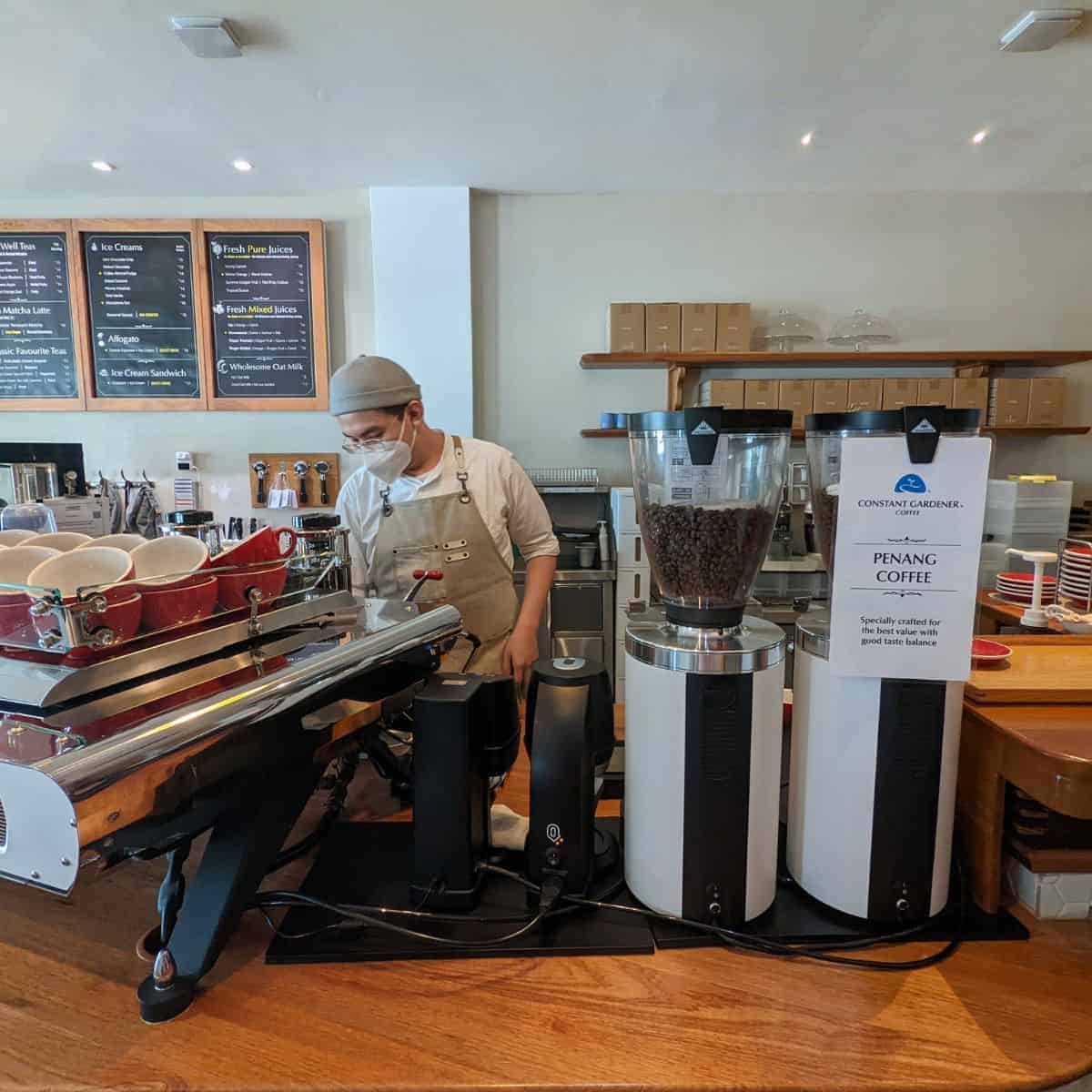 We recommend trying their speciality Penang coffee, which uses locally sourced beans and has a well-balanced flavour. If you want to avoid caffeine, Gardener's dark magic hot chocolate left quite an impression on us. You can also choose single-origin coffee and cocoa at Constant Gardener.
Besides creating great drinks, they also support vulnerable groups on the island. For example, they partnered with local senior groups during our trip and donated some of their profits.
Constant Gardener
9 Lebuh Light Chinese Chambers of Commerce Building, George Town, Penang Island 10200 Malaysia
Bean Sprout Cafe
Step into an inviting interplay of raw industrialism and lush greenery at Bean Sprout cafe. It's a mesmerising blend that creates an urban oasis perfect for taking artistic photos and quiet mornings.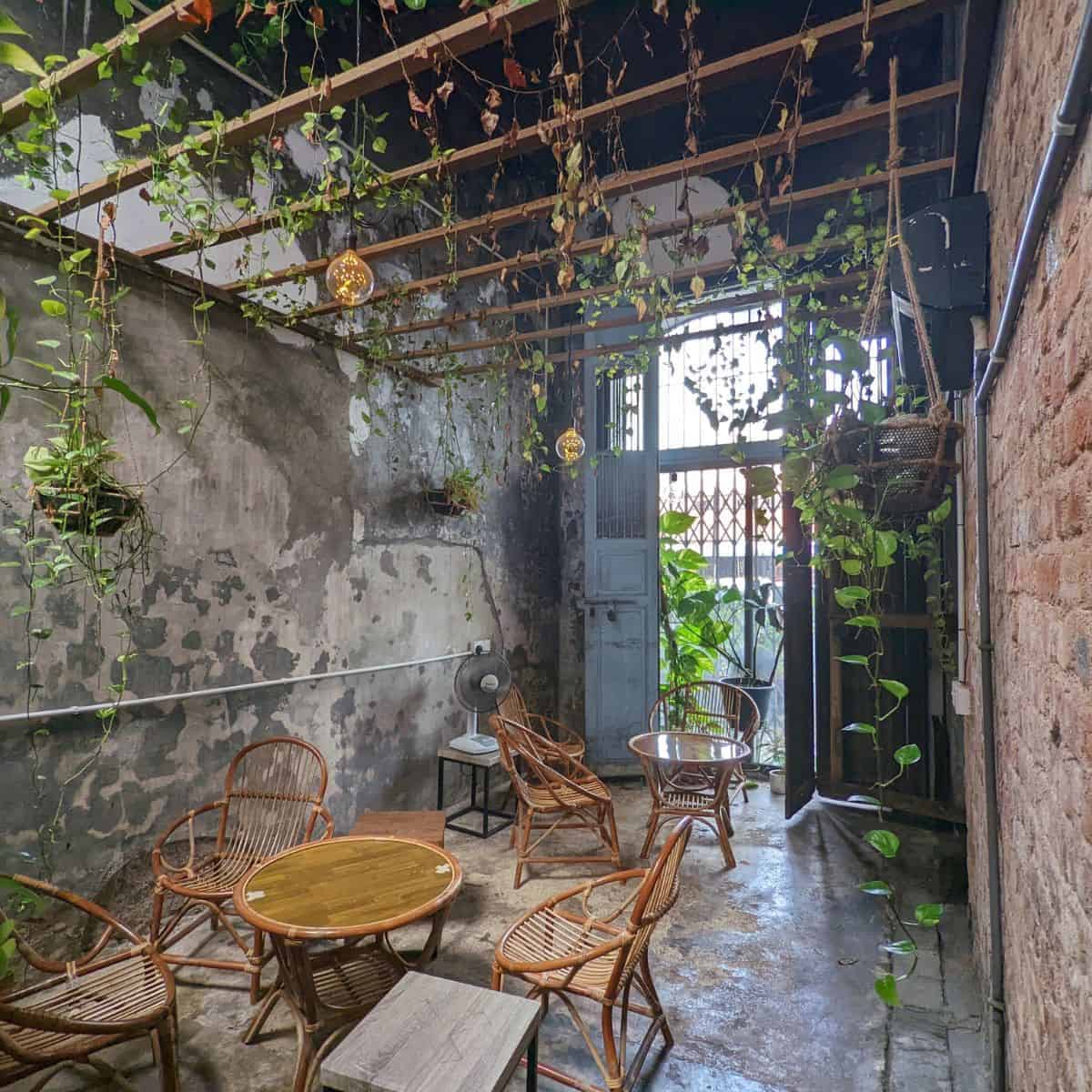 This instagrammable cafe in Penang is characterised by exposed pipes and concrete walls juxtaposed with wooden furniture and hanging vine plants. The wooden accents provide comfort while the natural lighting casts its warm glow across this edgy layout.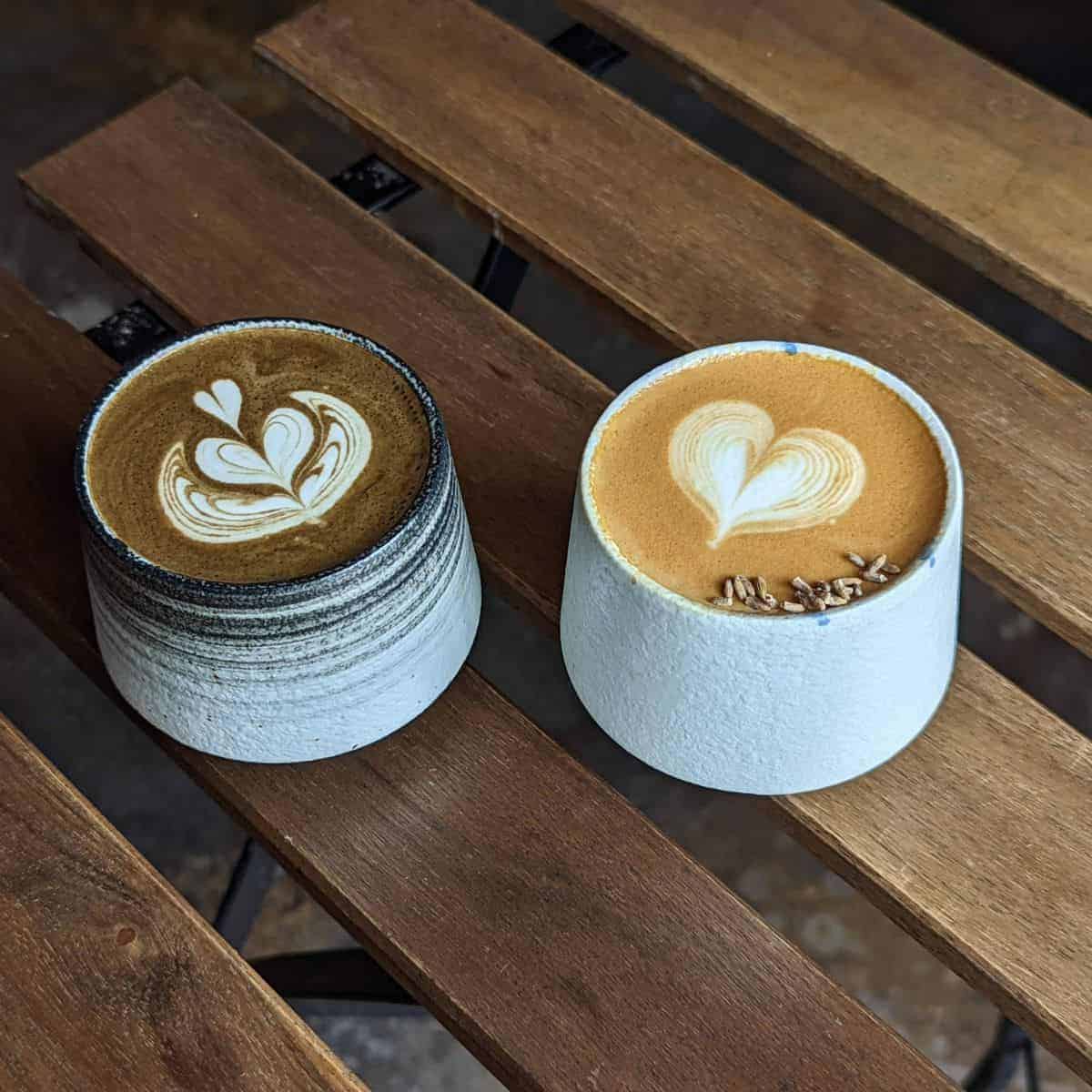 With almost everything at Bean Sprout cafe locally sourced and crafted in-house, you will enjoy their fresh brews and rich lattes. We tried the Lavender latte and Dirty Hojicha latte, and loved both of them. They had a wholesome coffee brew which enhanced the respective flavourings.
Stop by in the early mornings or late afternoons, when it's most quiet and enjoy the time passing by.
Bean Sprout Cafe
35 Jalan Masjid Kapitan Keling, Penang Island 10200 Malaysia
Best Brunch Cafe in Penang
The best cafes in Penang for brunch are primarily congregated in Georgetown. While the prices are similar to Kuala Lumpur, the quality and good portions make it worth the price.
Wheeler's
Wheeler's is a top brunch destination for Malaysian foodies — and it's no secret why. As one of the best Penang cafes, the brunch spot offers some of the best bites on Love Lane. From duck's egg benedict, their signature big breakfast, to burnt blueberry cheesecake, Wheeler's offers unique eats at an affordable price.
Despite this nice Georgetown Penang cafe's popularity, the staff are calm and collected during rush hours and cheery. They make ordering and asking for recommendations a delight. The food presentation at Wheeler's was meticulous, and the portion sizes were generous.
Wheeler's
67 Jalan Love Lane, George Town, Penang Island 10200 Malaysia
Nyonya Palazzo
Located next to the Pinang Peranakan Mansion at Church Street, Nyonya Plazzo is a great place to experience the Nyonya food in Penang. In this beautiful interior space that blends Chinese and Malaysian elements, try the variety of Nyonya Kuih.
Nyonya Kueh comes from the Peranakan Nyonya ethnic group in Malaysia. 'Kueh' or 'Kuih' means snacks in the local Malay dialect and is a type of traditional Southeast Asian delicacy. The sweet versions are often made from a blend of glutinous rice flour, coconut milk, and palm sugar. However, the snack comes in many flavour varieties and shapes, like cakes, dumplings or balls.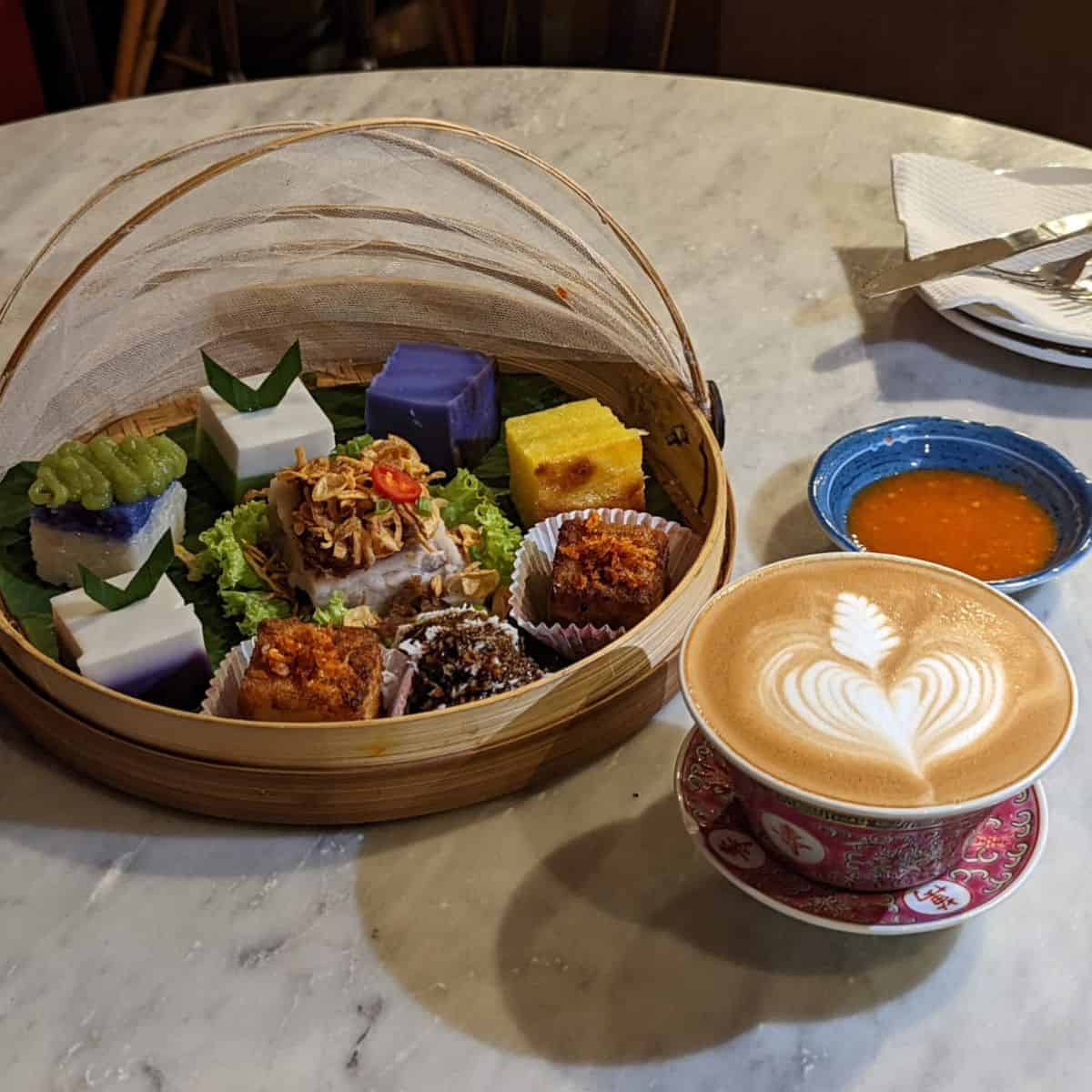 The Georgetown Penang cafe offers an afternoon tea set which will let you try a variety of traditional snacks.
Each one is masterfully created with vibrant colours made from natural food dyes, adding delightful notes to its flavour profile. The array of textures and tastes will have you wanting to try out the other Kuihs they have.
Here is what was served to us when we ordered their Little Nyonya Set:
Kueh Bunga Telang (Blue Pea Butterfly Cake)
Kueh Talam Pandan (Pandan Tray Cake)
Kueh Talam Keledek Ungu (Purple sweet potato Tray Cake)
Seri Muka Pandan (Glutinous Rice Coconut Cake w Pandan)
Bingka Ubi (Sweet potato Frame Cake)
Kueh Kasui (Steamed rice cake with desiccated coconut and Melaka sugar)
Deep-fried radish cake
Steamed yam cake
You can also order their Nyonya coffee which uses Gula Melaka, palm sugar from Southeast Asia. It adds a peculiar caramel taste and smokiness to your typical cup of coffee.
Nyonya Palazzo
29, Church St, George Town, Penang Island 10200 Malaysia
Kafka
Come kick back with a delicious cup of joe and explore the delightful dishes locals and social media rave about at Kafka, a relatively new Penang cafe inspired by Franz Kafka. This cosy spot is nestled on the corner of Flying Club near Gurney Drive.
Enjoy hearty cooks from breakfast to dinner, presented personally by friendly owners. In addition, Kafka offers a lengthy dine-in menu with reasonably priced items. You can bring your own mug for coffee or order one of their espresso specials.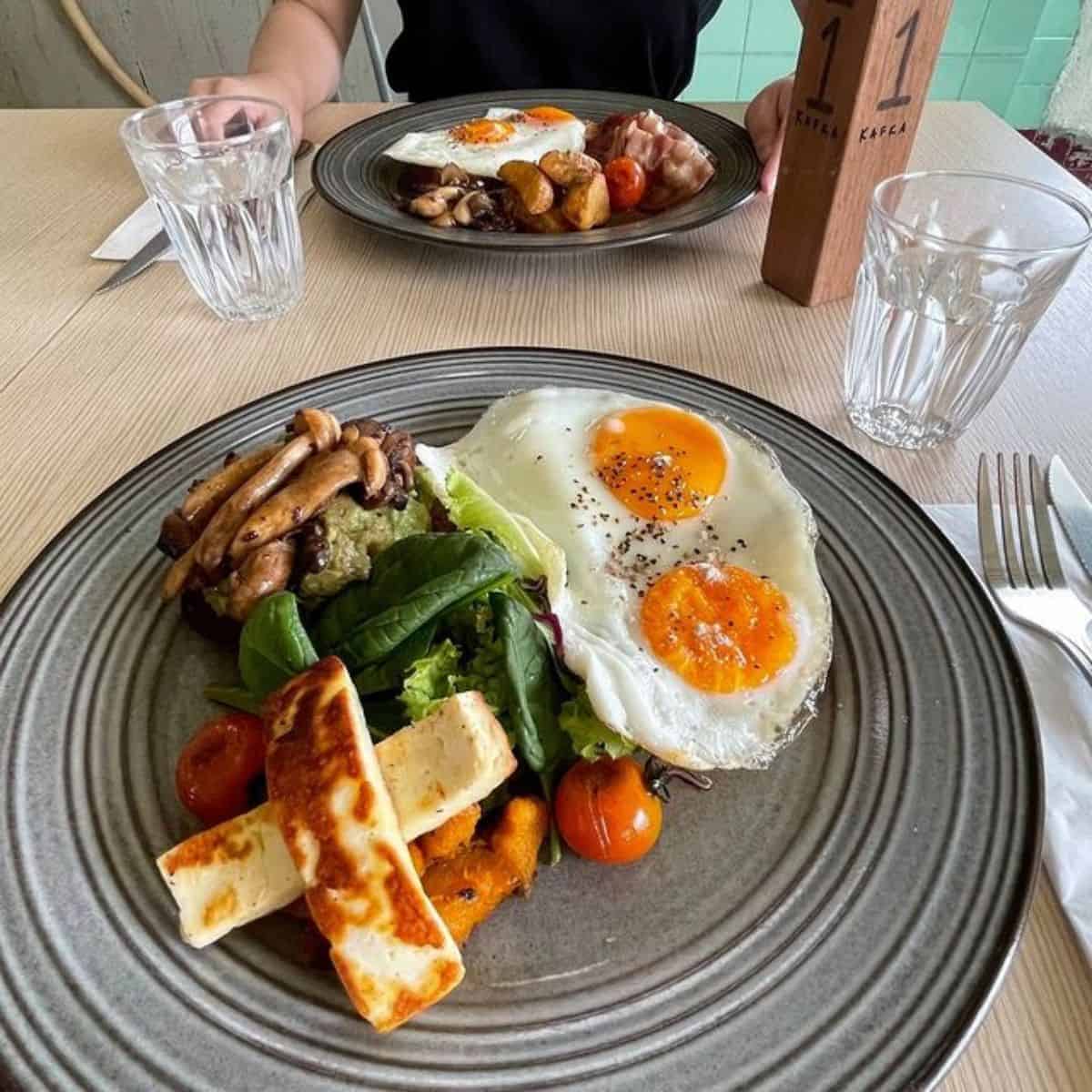 We shared their Almond Crumble French Toast and their signature pandan pancakes. However, you can also try their vegan Beetroot Hummus Avocado toast or indulge in their tasty chorizo tostada - whatever suits your taste.
Kafka
15 Jalan Kelawai, George Town, Penang Island 10250 Malaysia
Juice by Pitaya Code
As its name suggests, this Penang cafe offers some of the best fresh blended juices and smoothies in the area.
Juice by Pitaya Code is a healthy juice bar and restaurant with an excellent brunch menu that includes crushed avocado toast and delicious egg and omelette combinations.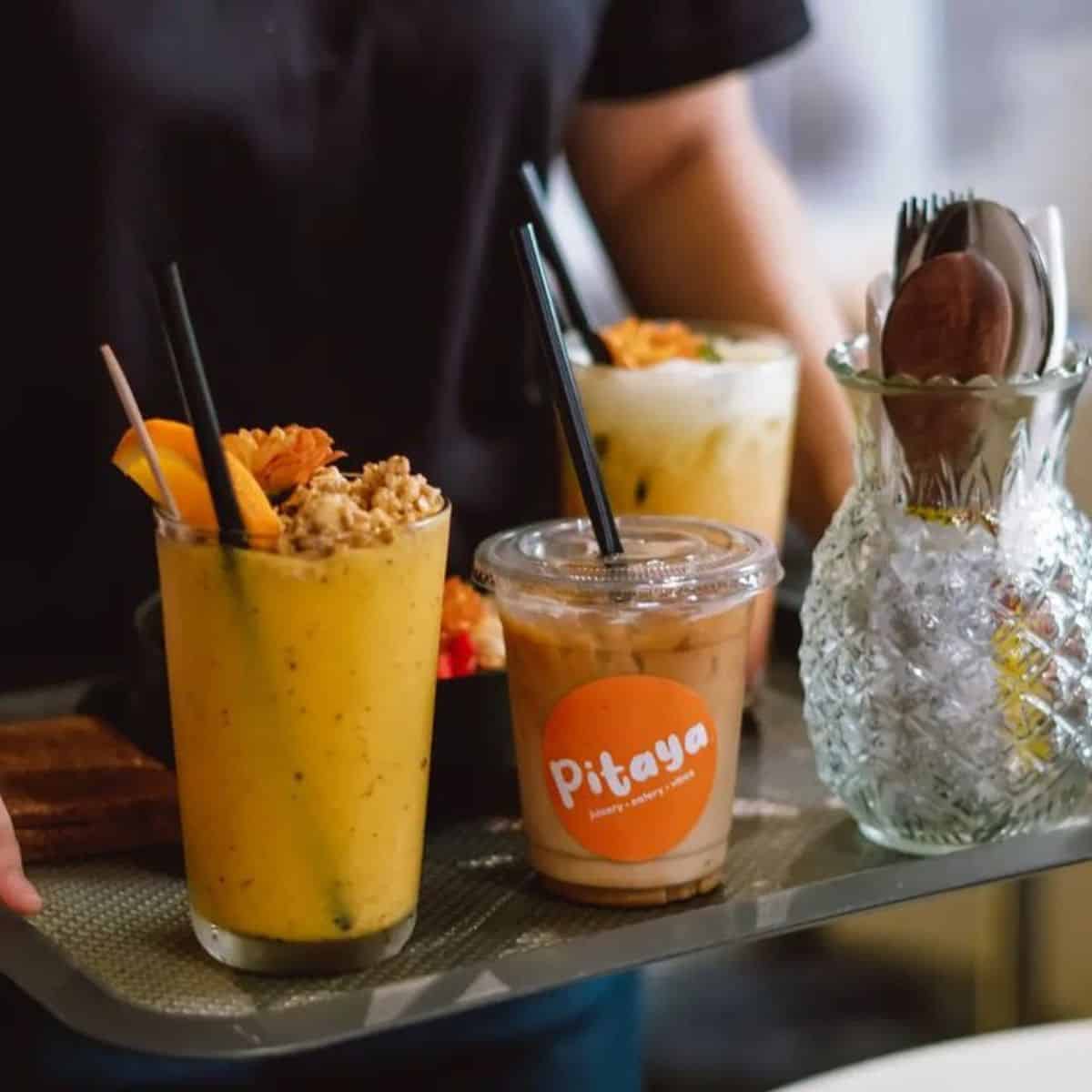 The restaurant prides itself on sustainable practices and locally sourced ingredients, so you can feel good about splurging on a green juice or coconut water blend. Best of all, they sell reusable straws and utensils, so you can bring your juice wherever you go.
Juice by Pitaya Code
Juice Code 230 Beach Street Georgetown, Penang Island 10300 Malaysia
Urban Daybreak
Urban Daybreak is a top coffee shop in the area for locals and tourists alike. This little nook serves an unbeatable iced latte fitting for a hot day exploring. Their sandwiches also rival most American diner options on the island.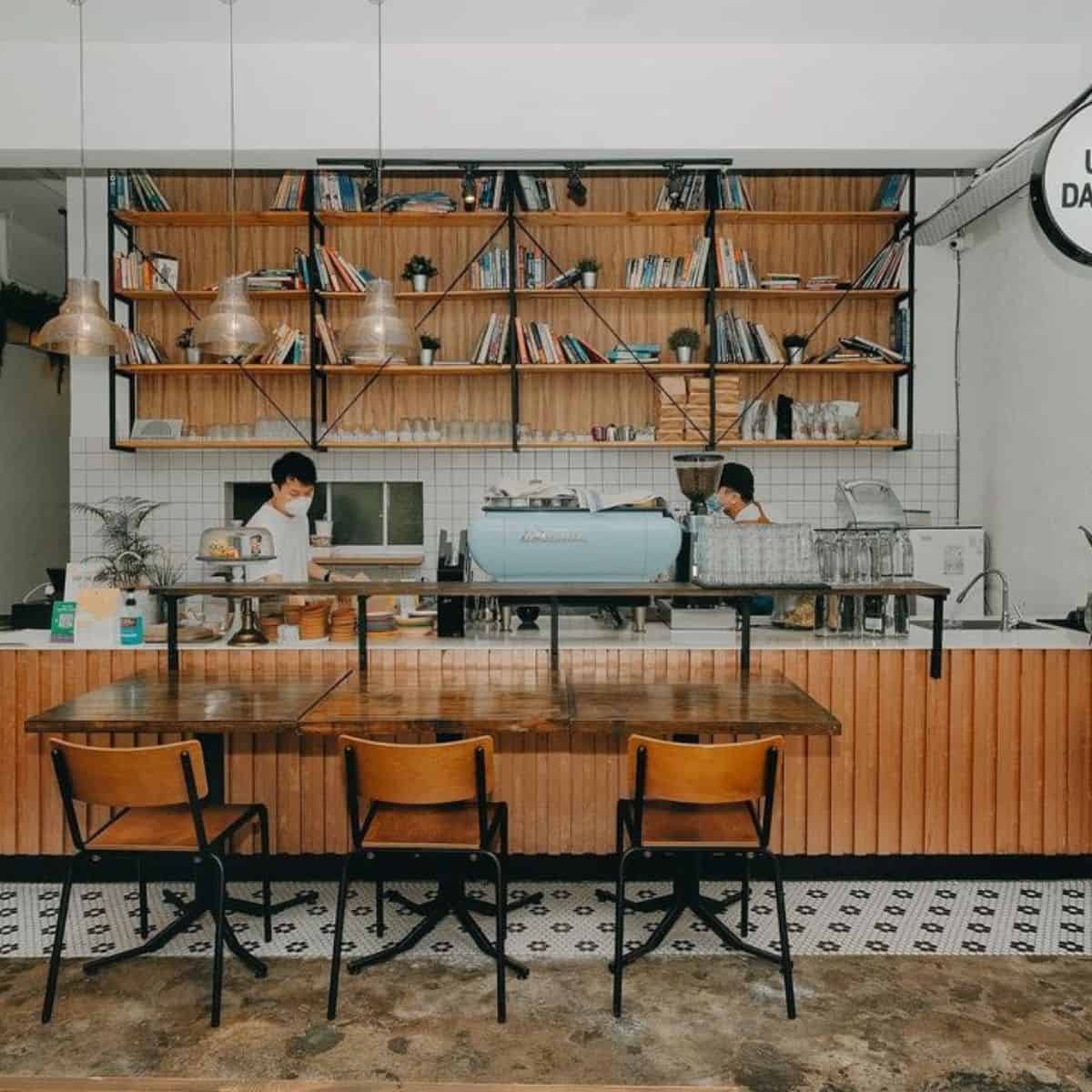 Urban Daybreak's peach waffles are a hit, though any number of their signature dishes would do the trick. Try an egg sandwich, fried chicken, and waffle combo for a hearty meal, or choose a vegetarian plate.
Urban Daybreak offers all-day brunch for early risers and late stragglers too.
Urban Daybreak
338 Lebuh Pantai, George Town, Penang Island 10300 Malaysia
Daily Dose
This unique cafe in Penang boasts one of the best ambiences of all. With tons of natural lighting, an excellent playlist, and an open-air design, Daily Dose is the perfect place to crack open a book or get some work done.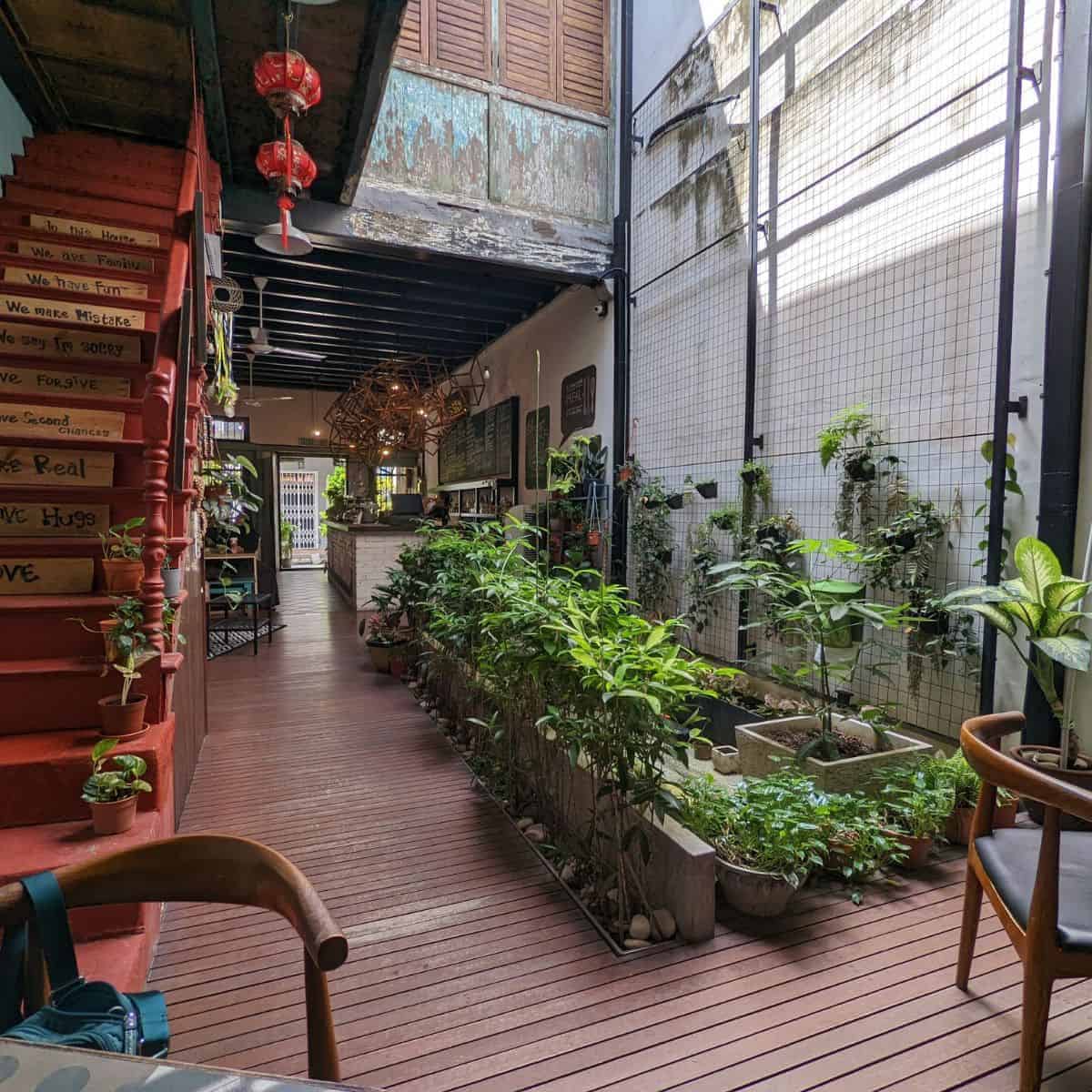 The scrambled eggs in this Penang cafe are fluffy and creamy, and sweet dishes come with fresh fruit and powdered sugar.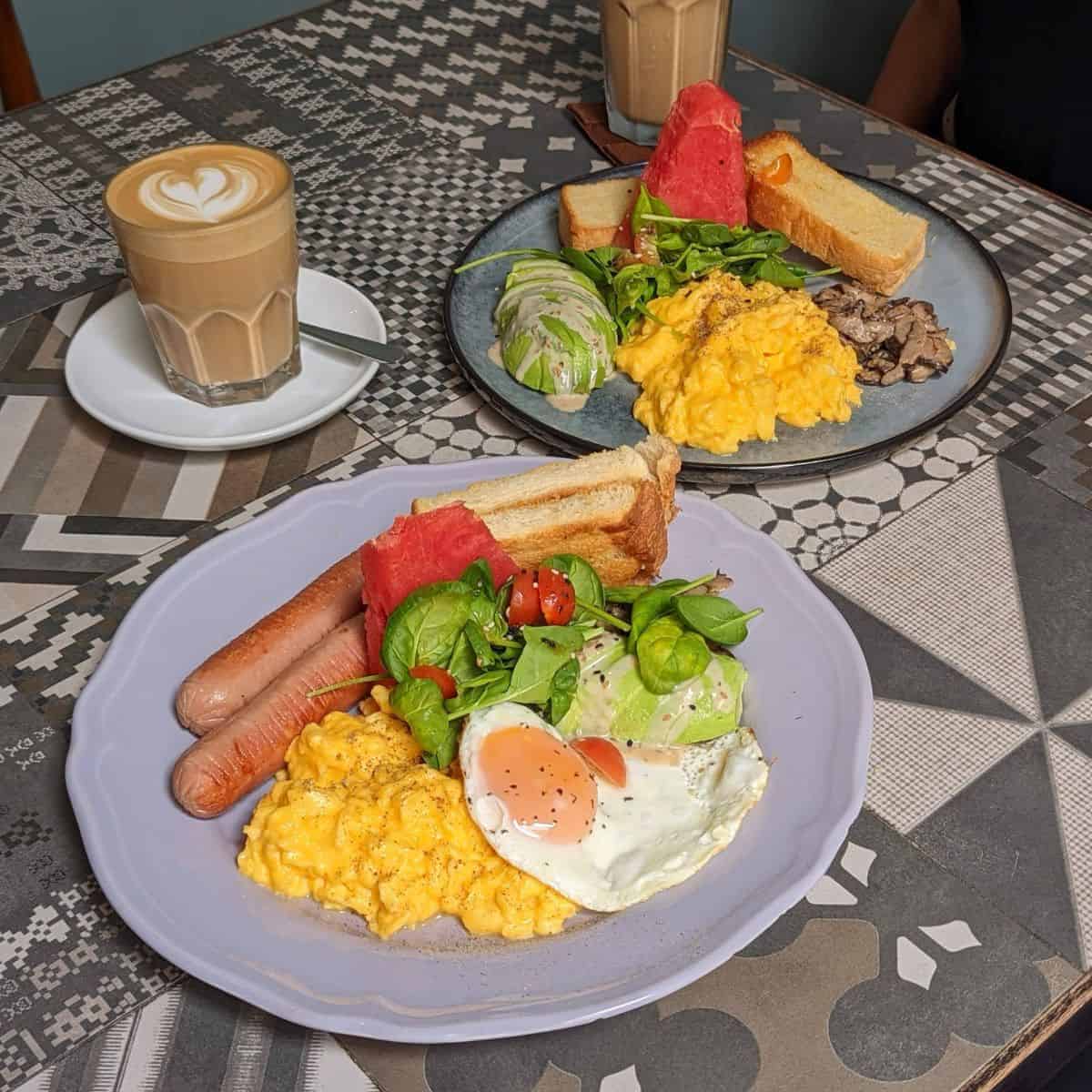 Consider trying their speciality coffees, including salted caramel lattes and Australian-style flat whites.
Daily Dose
36 Stewart Lane, George Town, Penang Island 10200 Malaysia
Hipster Penang Cafes
Get ready to explore Penang's offbeat coffee shops that boast eclectic vibes, independent character, and speciality coffees paired with artisanal delights. Here is our handpicked list of some of the most notable hipster Penang cafes.
Narrow Marrow
Locals widely consider Narrow Marrow as one of the foremost creative hotspots in Georgetown. You will often catch local creatives and nomads working on their pieces in this gorgeous, Instagram-worthy setting with antique furniture and quirky artwork.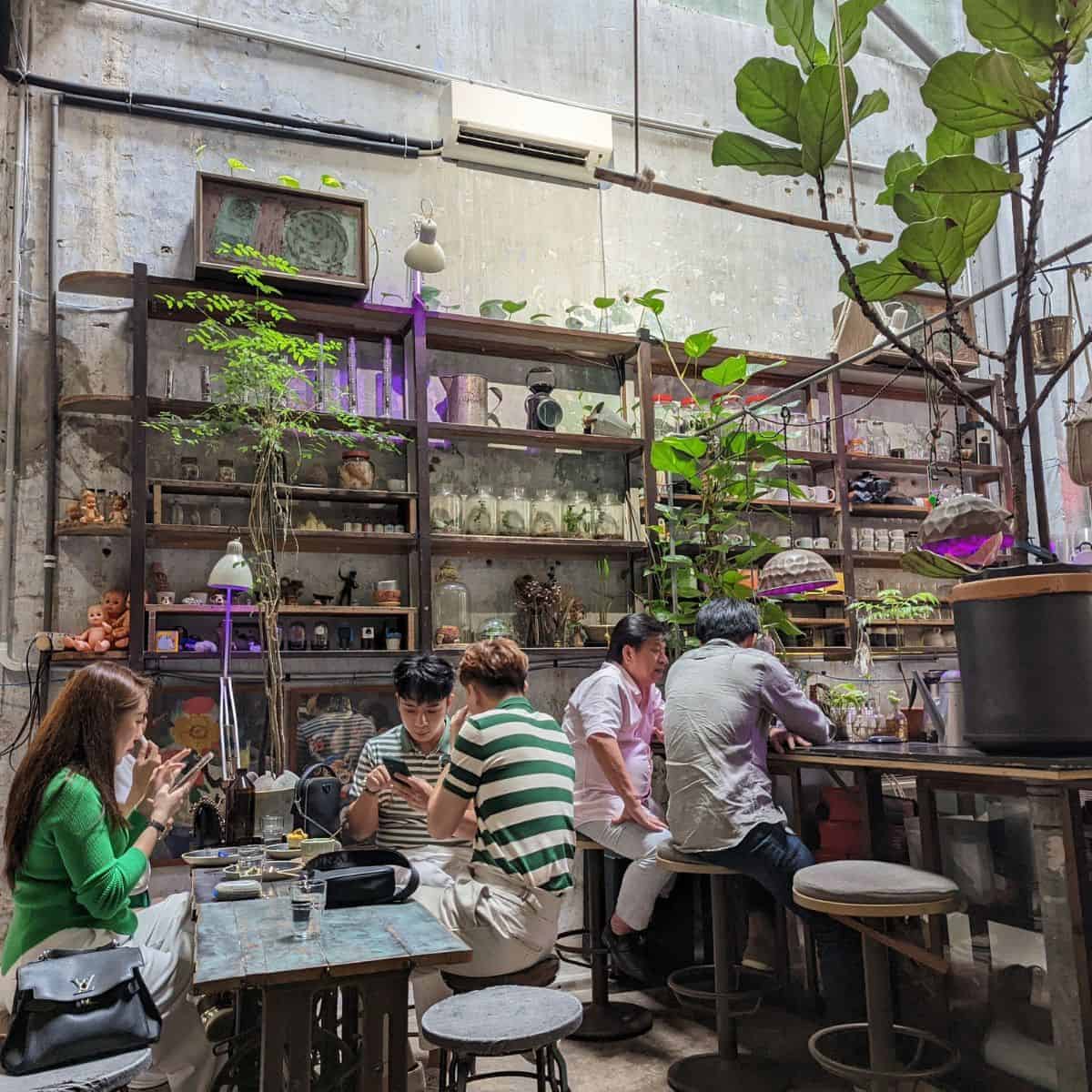 This Georgetown Penang cafe is the brainchild of architects Alvin Neoh and designer Jamie Oon. The raw concrete, pink neon lights and scattered plants create a modern, inviting space that testifies to their vision.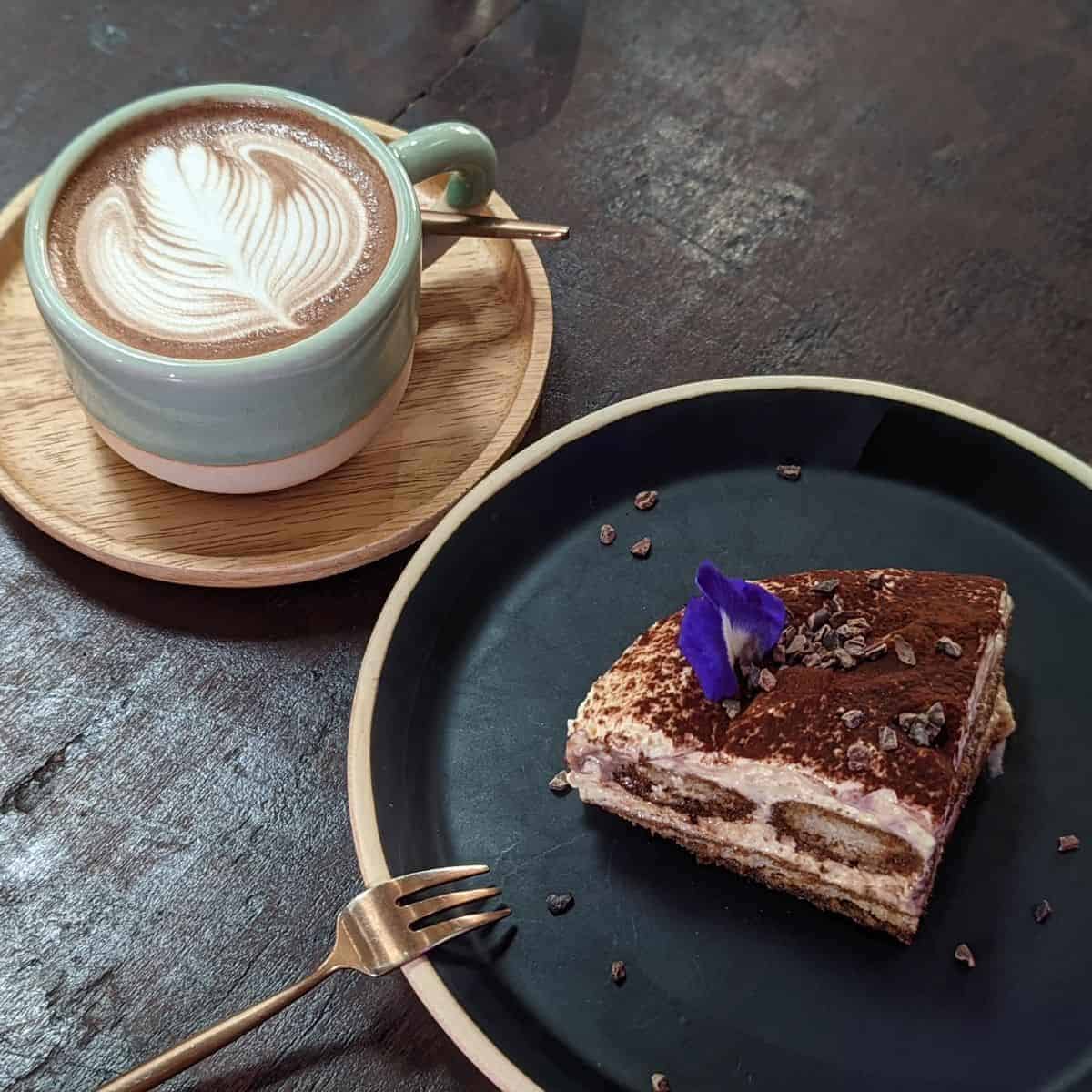 Just like its name, the cafe focuses on a narrow range of dessert snacks, coffee and alcoholic drinks. Their signature dessert item is the tiramisu, which has unique flavours such as Espresso Kahlua, Matcha Malibu and Dirty Chai. Meanwhile, their bar specialises in making Toddy, which is Coconut Palm Wine.
Narrow Marrow
252 A Carnarvon Street George Town Penang
Macallum Connoisseurs
Immerse yourself in a world of coffee lovers at Macallum Connoisseurs, the perfect spot for professional meetings and relaxed gatherings. This Georgetown Penang cafe is renowned amongst expats and groups for their exquisite range of superbly roasted coffee blends, from bitter beans to creamy cappuccinos.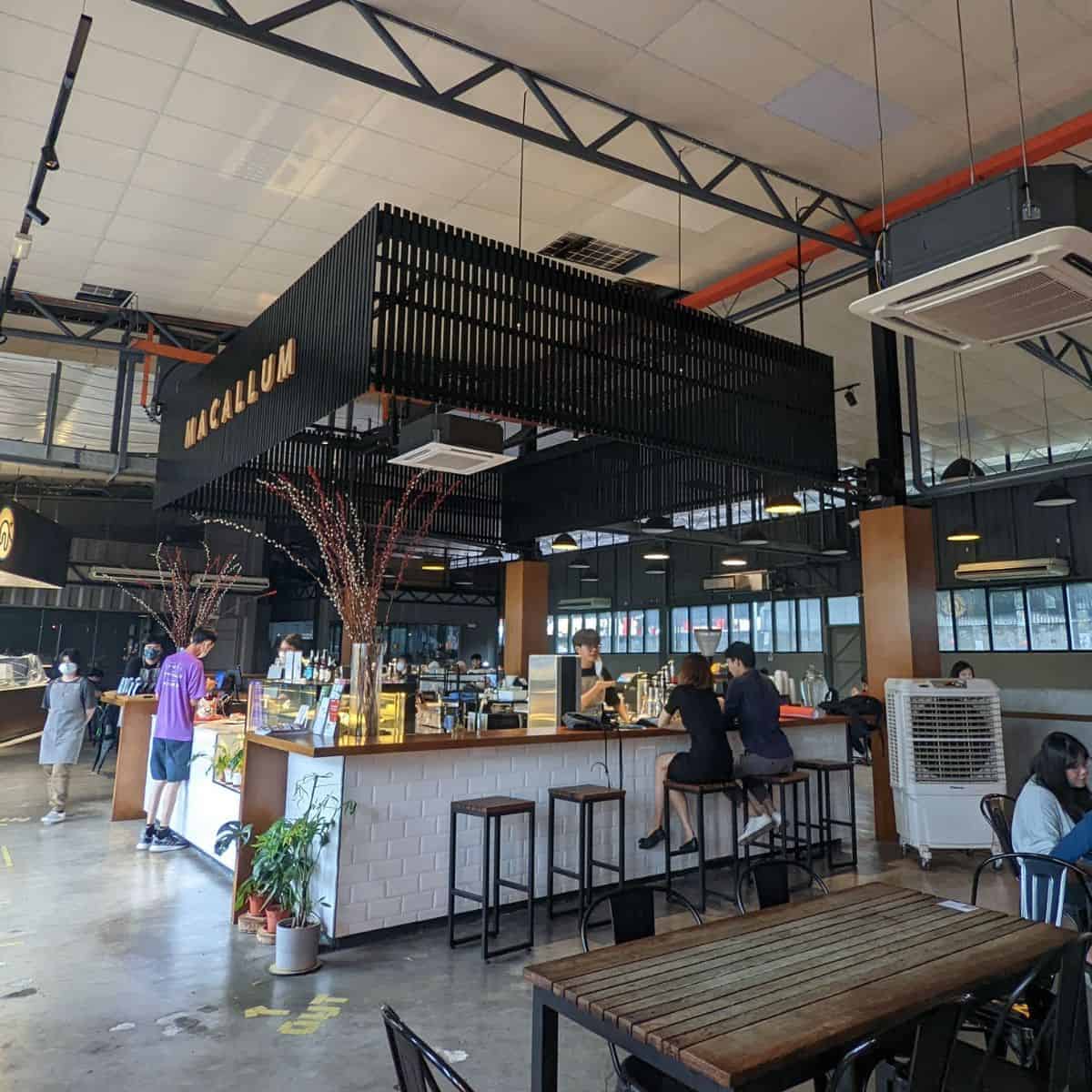 In the late afternoon, the team of baristas will do a blind taste test and exchange their thoughts on a scorecard.
Alongside their caffeine beverages, their non-caffeine options are refreshing. Try their chocolate banana mix or their simple iced matcha. Their brunch options are also crowd-pleasers.
As coffee lovers ourselves, we had to try the Macallum Coffee Spaghetti. Our verdict? We loved it. The coffee wasn't too overpowering in the spaghetti dish and instead, it added depth to the flavour with a slight bitterness.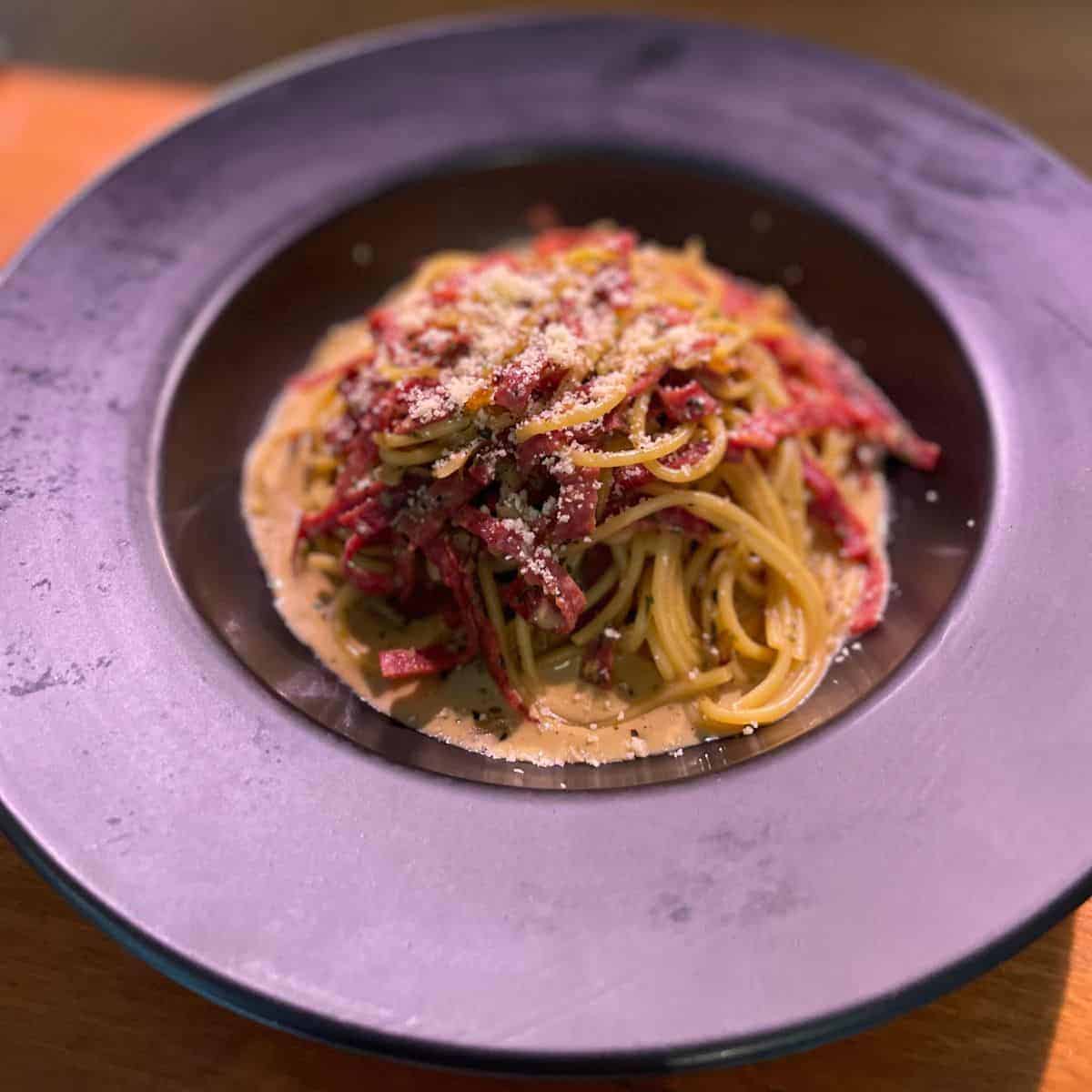 While the space is ample and there are many seats, the air conditioning could be stronger. So, make sure you pick a spot close to the AC, as it can get stuffy in some parts. If you come here on a Monday afternoon, we recommend you stay until the night. Then, you'll also be able to check out one of the largest Penang night markets in the area.
Macallum Connoisseurs
1 Gat Lebuh Macallum, George Town, Penang Island 10300 Malaysia
SUSU Vegan Mylk Bar
SUSU Vegan Mylk Bar is an alternative coffee shop and vegan restaurant in Penang offering friendly vibes and popular cafe food.
Try a beet burger or vegan pastry while you sip your caramel iced coffee. Alternatively, try any vegan cakes or pudding cups, as this Georgetown Penang cafe is known for its sweets.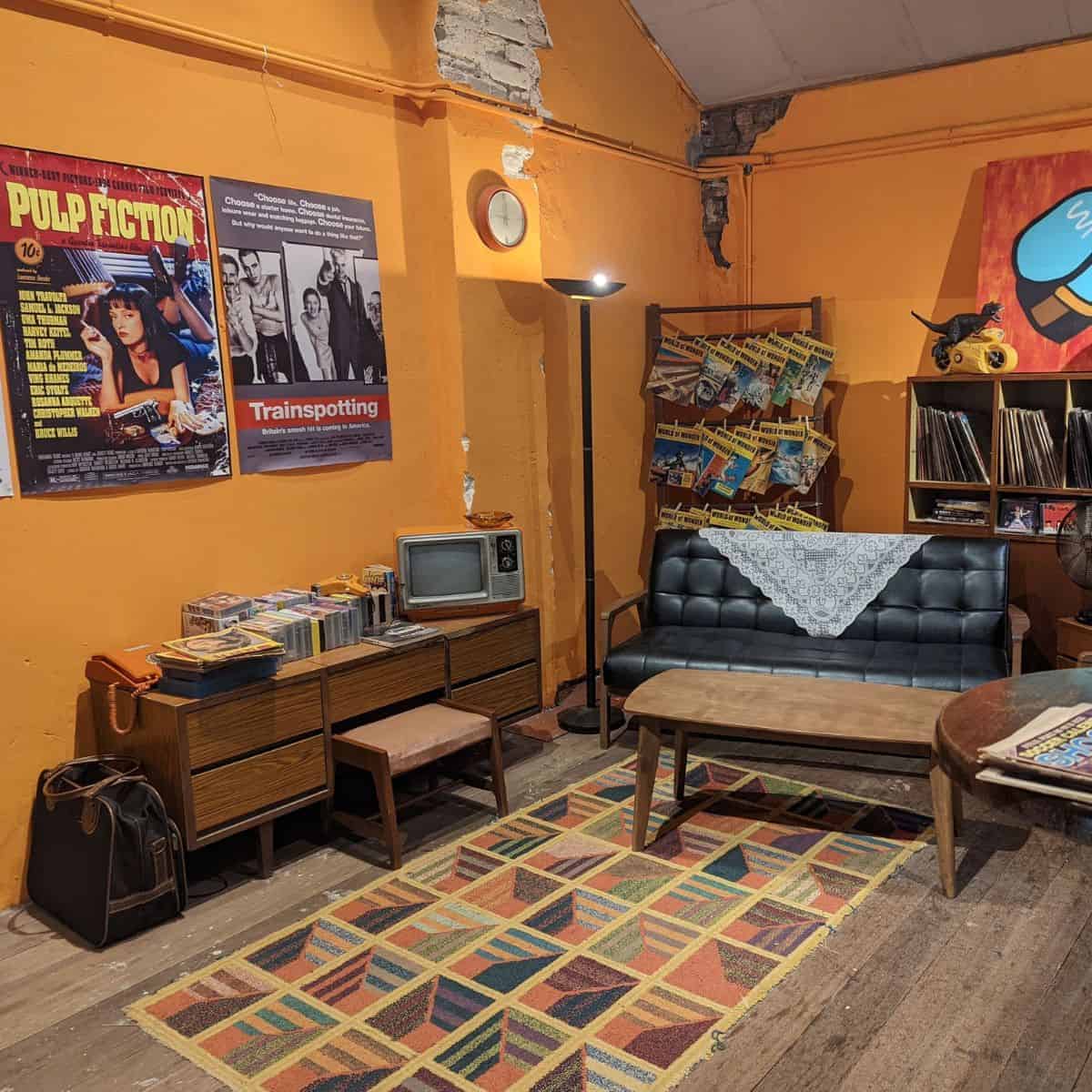 This spot is ideal for hipsters seeking a hidden cafe in Penang to call their own, as it is discretely tucked into a side street and out of sight.
Just remember to use your Maps, or you might miss it.
Susu Vegan Mylk Bar
35, Pengkalan Weld, Georgetown, Penang, Malaysia, 10300
Website
The Postcard Shop
The Postcard Shop is a unique cafe in Penang and one of the island's off-the-beat attractions.
Experience the charm of Georgetown's past when you visit The Postcard Shop. This quirky shop provides lots to explore with its wide selection of postcards featuring iconic landmarks and scenes from Penang and across Malaysia alongside elegant souvenirs crafted by local artisans.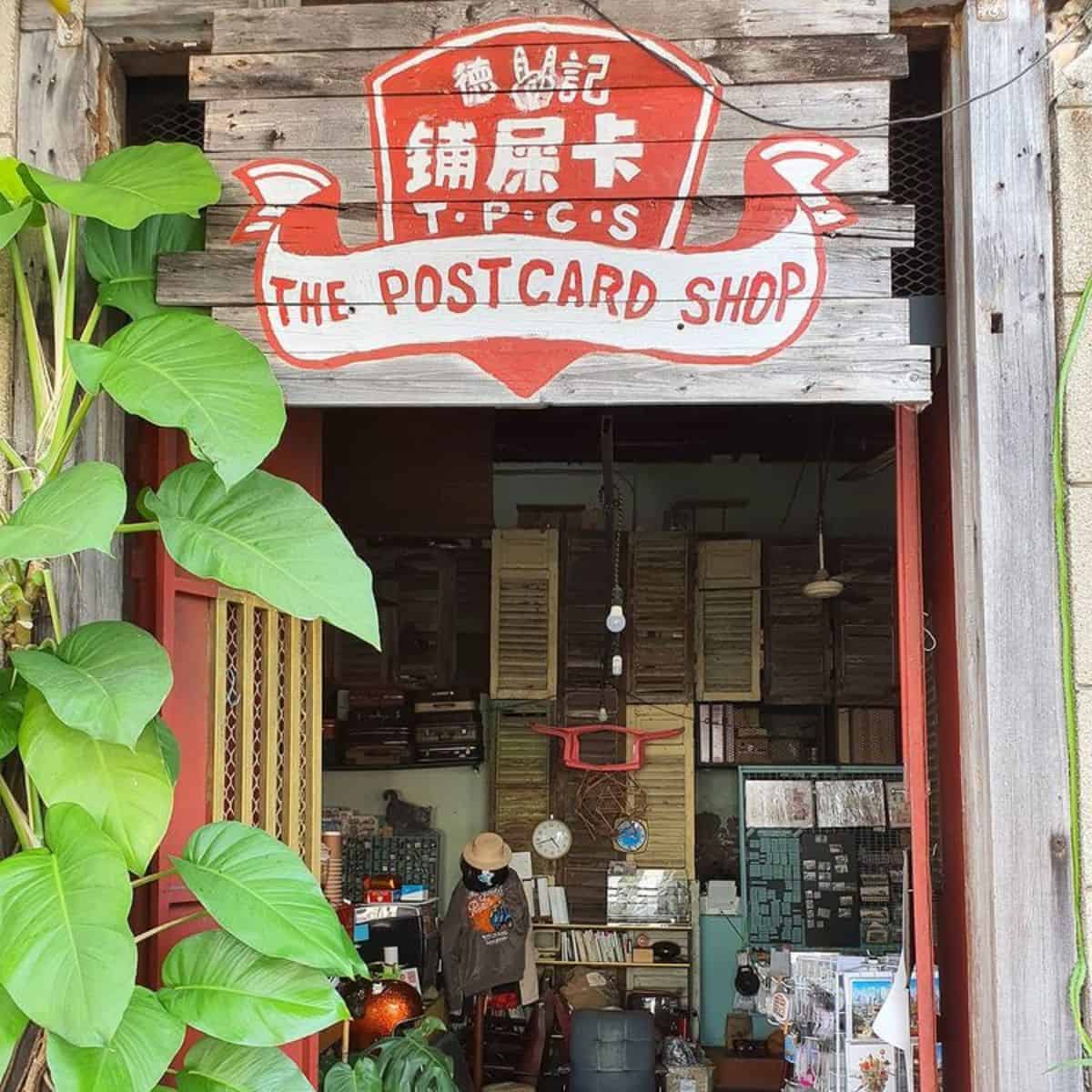 This quaint little treasure is a coffee shop and postcard provider for the masses. Choose from hundreds of antique and modern Malaysian postcards and order your coffee. Then, enjoy writing a postcard to your loved ones while you sip on the coffee. Once you're done, drop your postcard into the postbox just outside the cafe.
It's also on the corner from a few famous Penang street art which you'll also be able to tick off your list. Remember that seating is often limited, so try to come early or late in the day to avoid crowds.
The Postcard Shop
57, Gat Lebuh Chulia 10200 George Town Penang
Most Instagrammable Cafe in Penang
China House
Head to China House, one of the best cafes in Penang, and take a journey back in time. Set up in the heart of George Town, this cultural and creative space comprises 3 pre-war shophouses restored to their former glory with one twist. They feature an eclectic mix of modern elements perfectly blended with traditional furnishings, creating an alluring atmosphere from the moment you walk through its door.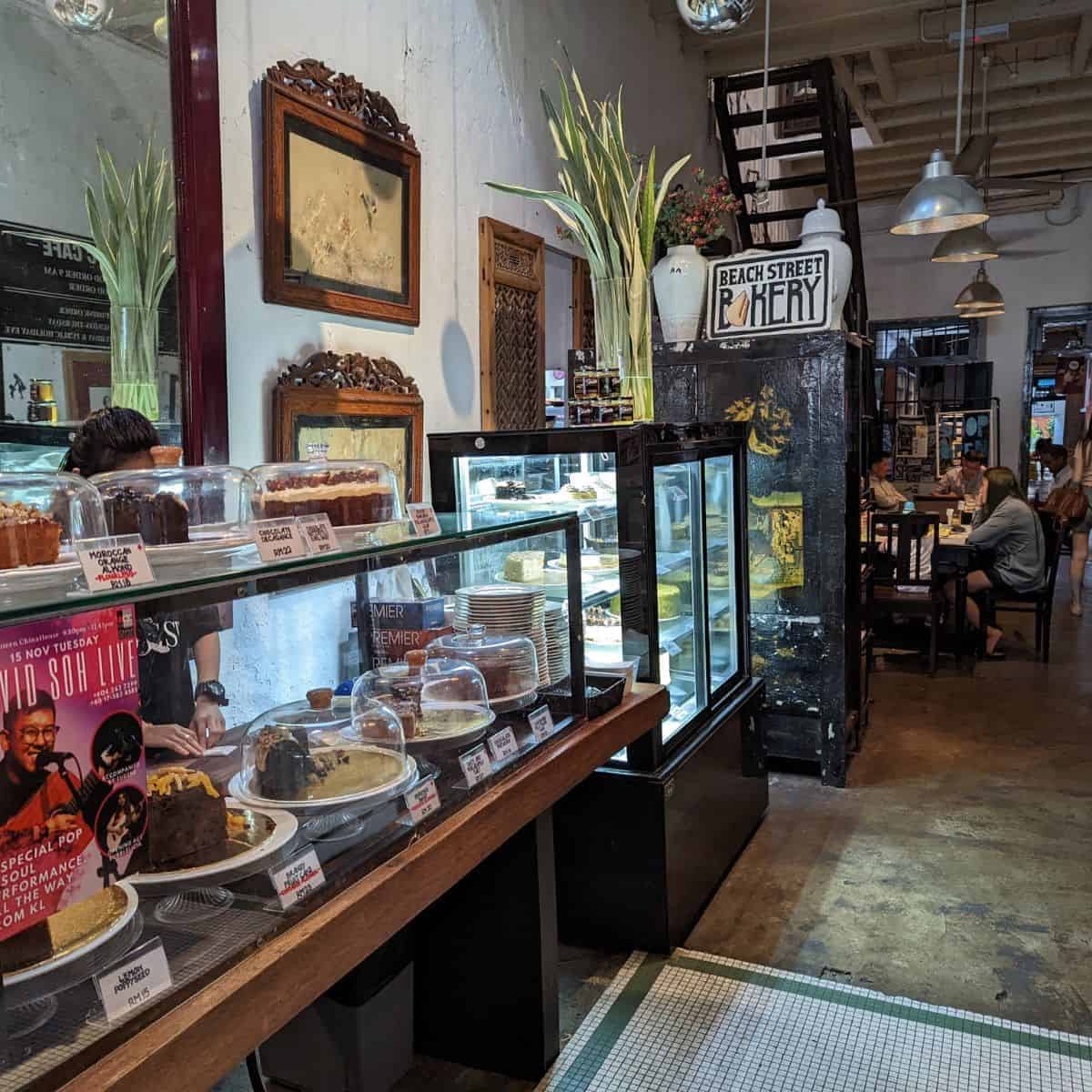 Not only is it home for art exhibitions showcasing both local and international talent, but also a variety of exciting workshop events. You will also find a cafe, restaurant, and wine bar when you wander through this Georgetown Penang cafe.
Try their Tiramisu cake
This famous cafe in Penang is known for its Tiramisu Cake. It comes in two versions, one alcoholic and non-alcoholic, both of which are amazing. It comes as no surprise that many Malaysians from other states travel far just to grab a bite of their rich Tiramisu cake.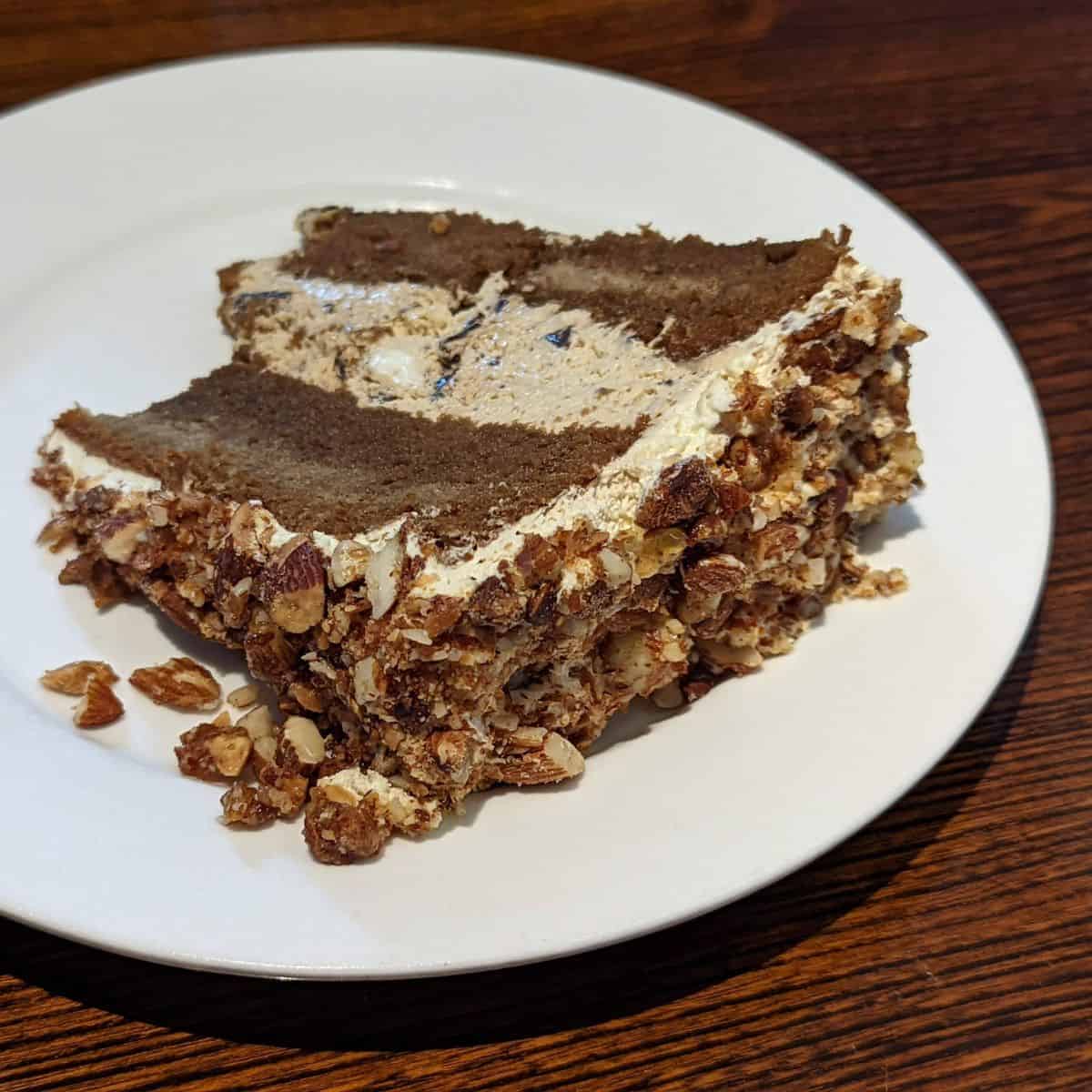 The cafe's atmosphere is significantly different between day and night. Visit at night for a taste of Penang nightlife as China House transforms into a trendy live music spot with speciality cocktails.
China House
153-155 Lebuh Pantai, George Town, Penang Island 10200 Malaysia
Norm Micro Roastery
Norm Micro Roastery focuses on sourcing, roasting and brewing only the highest quality beans on the island. The industrial, warehouse-style building makes for social media snaps. The raw concrete interior, high ceilings and natural light from the roof keep the atmosphere here airy and relaxed.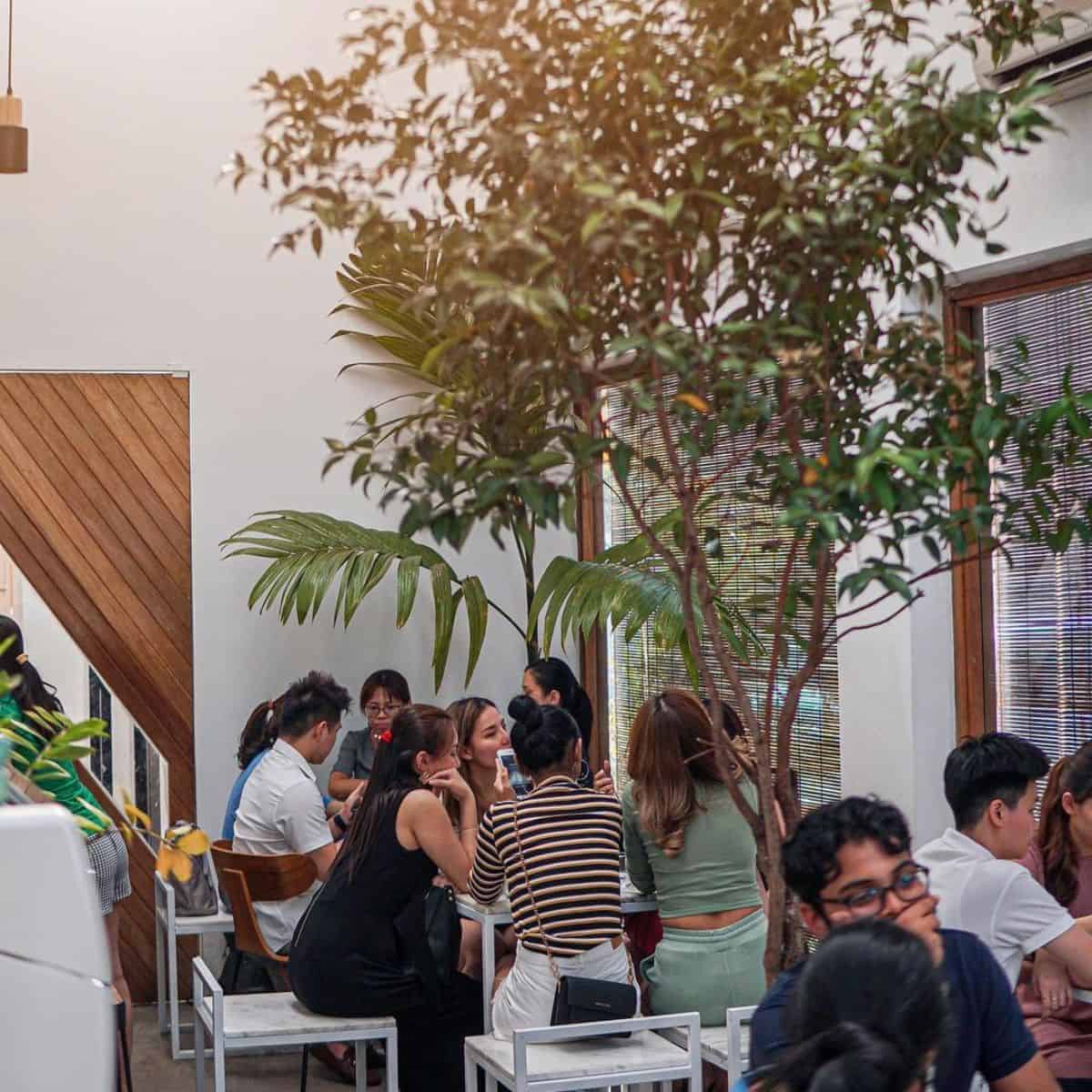 The open space shows the barista brewing your cup of artisanal coffee right before your eyes. The food here is also photogenic and makes it one of the most Instagrammable cafes in Penang. Get yourself one of their signature waffles or a baked cheesecake with your coffee. If you're peckish, try their vegetarian pasta dish for lunch.
Norm Micro Roastery
13, Gat Lebuh Gereja, George Town, Penang Island 10300 Malaysia
Emily Darling Cafe
Perched on the busy main road in town, Emily Darling offers a break from the chaos and freshly baked pastries.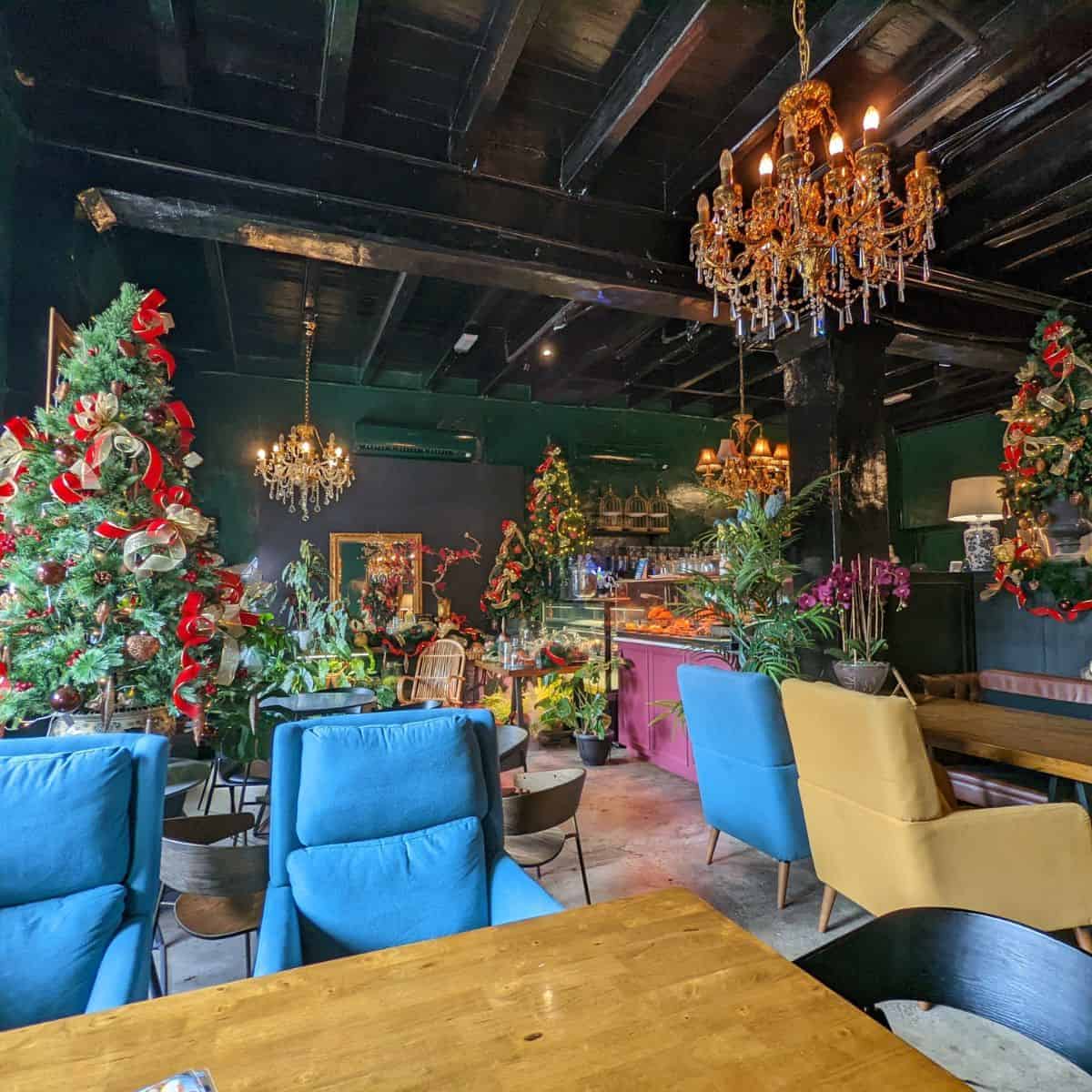 This new Penang cafe in Georgetown boasts a charming, old-world smoking-lounge decor that makes it one of the most Instagrammable cafes in Penang.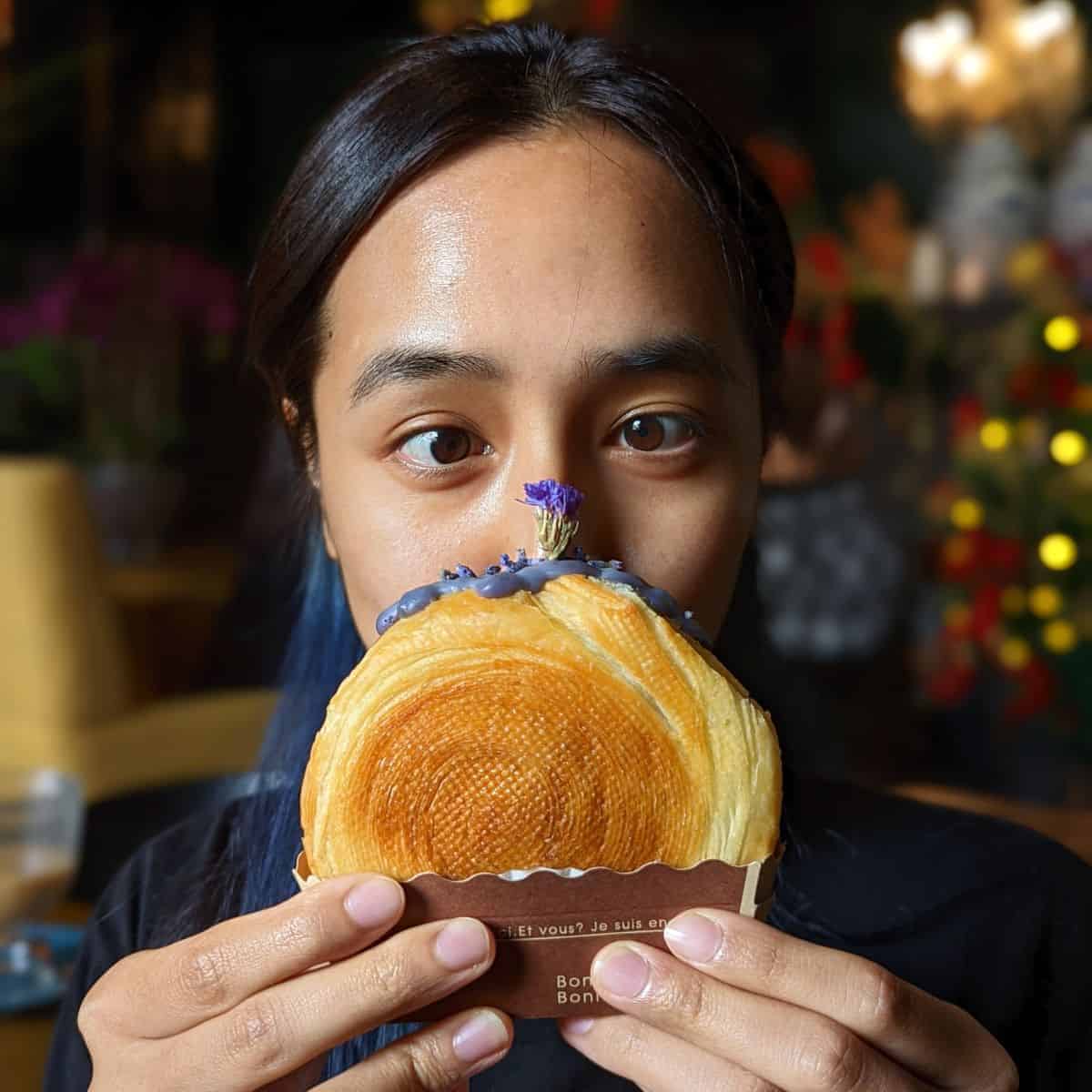 Patrons rave about their delicate flaky croissants, which you can get starting at 8 am sharp on the weekends. We particularly liked their Lavender custard croissant roll that had an aromatic lavender flavoured which enhanced the richness of the butter pastry.
Emily Darling Cafe
Penang Road 10000 George Town, Penang, Malaysia Penang
Penang Best Coffee
PBC isn't far from its claim to having the best coffee in Penang. Have your caffeine fix taken care of at this small cafe with a limited but solid selection of coffee beans. While their main focus is their online products, they have a small seating area at their branch.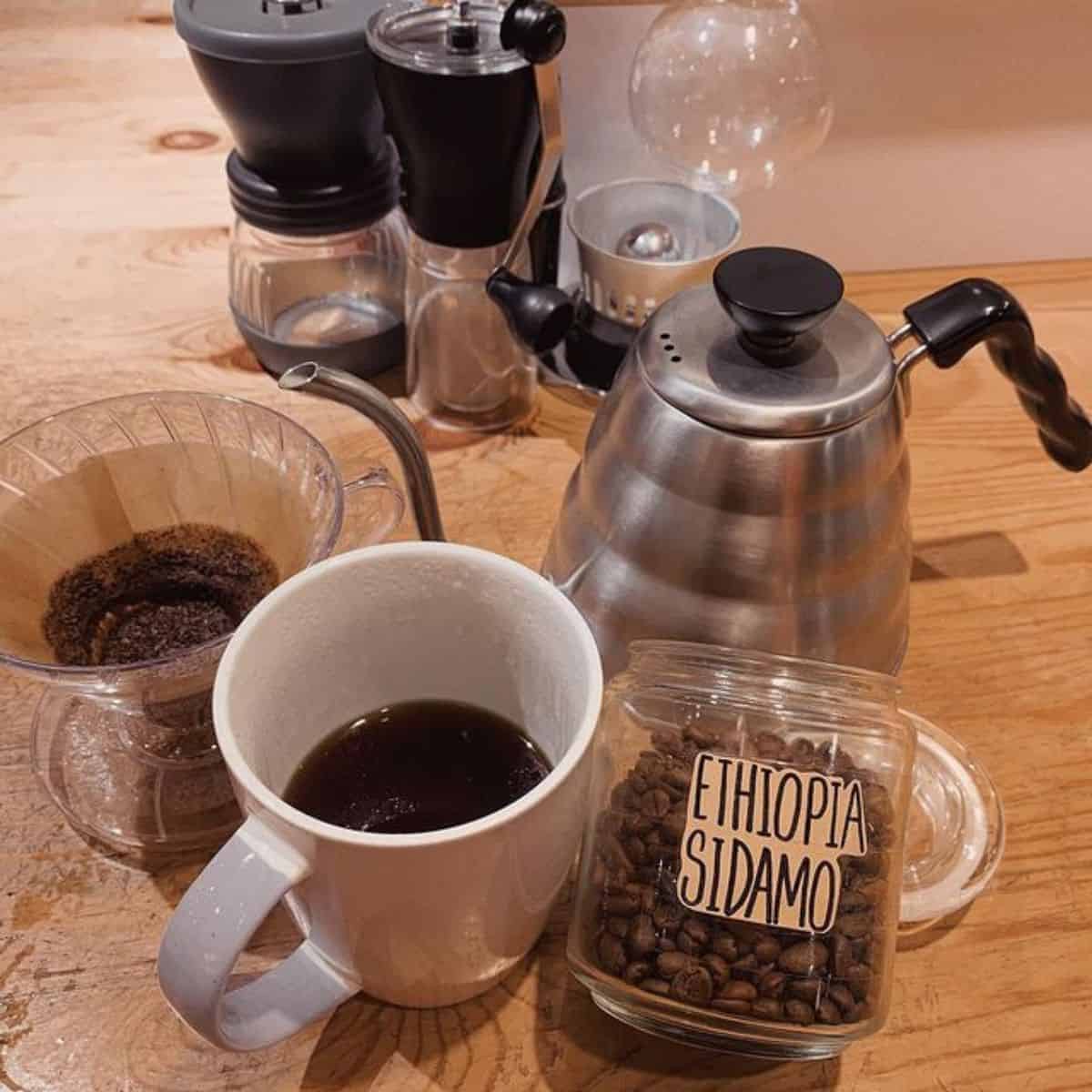 The knowledgeable staff will help create the perfect cup for you by recommending blends you should try based on your taste. It will kickstart or end any day, just right.
Come learn how to make an unforgettable americano through one of their french press, drip coffee or syphon demonstrations. The experience is what makes it such an instagrammable cafe in Penang.
Feel free to ask for a few brewing tips so that every single drip at home will be crafted just like a professional.
PBC Coffee
B-3-9 Vantage, Jalan Seri Tanjung Pinang 1, Tanjung Tokong, 10470, Pulau Pinang, Malaysia
Pace
Pace Cafe creates an inviting space to hang out by blending together both industrial and bohemian interior styles.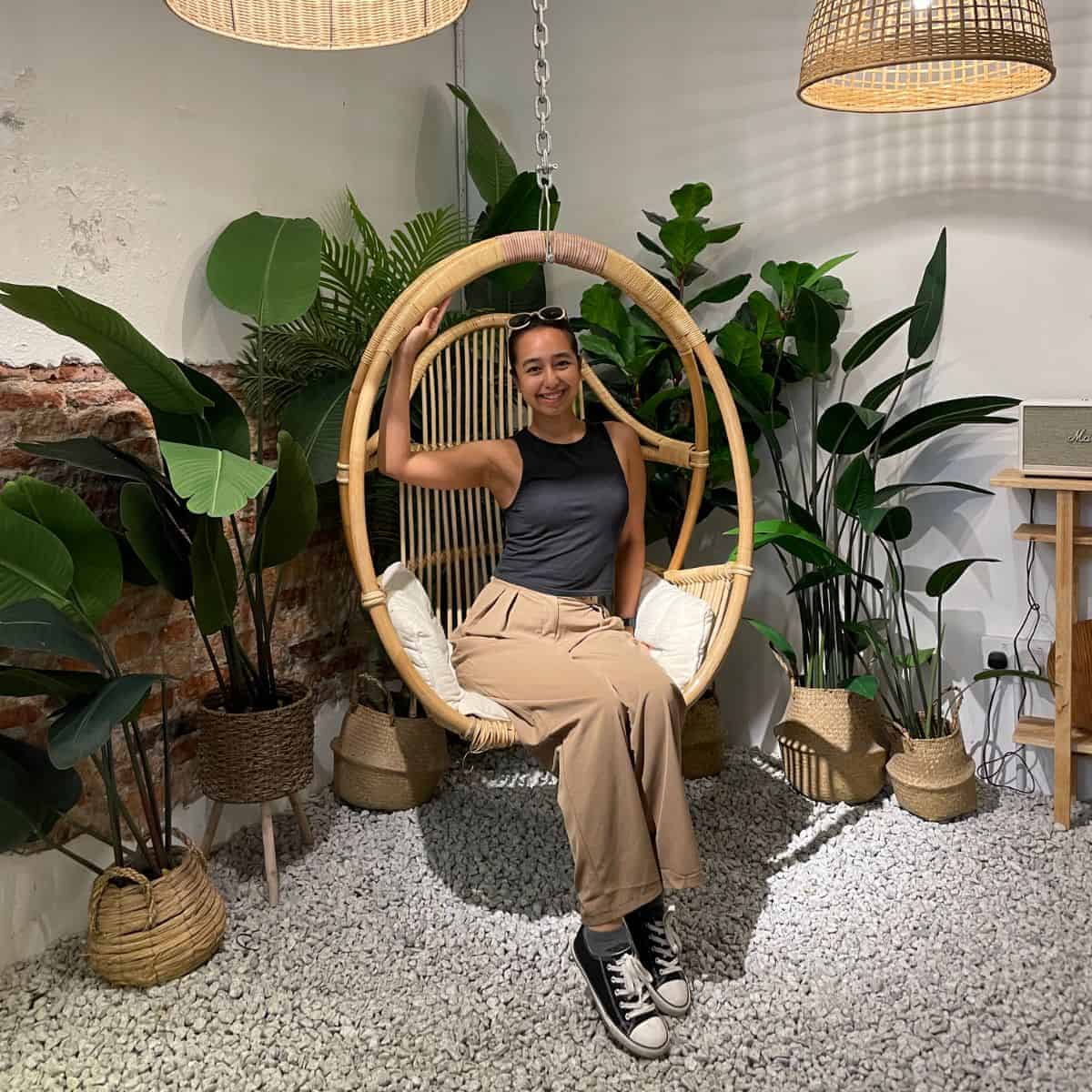 At this Penang cafe, you'll find exposed brick walls and concrete floors beneath warm rattan lampshades. The leafy plants dotted around Pace cafe add a vibrant charm while enveloping you with peacefulness. This contrast between raw urban elements and organic warm tones makes every corner of Pace instagrammable.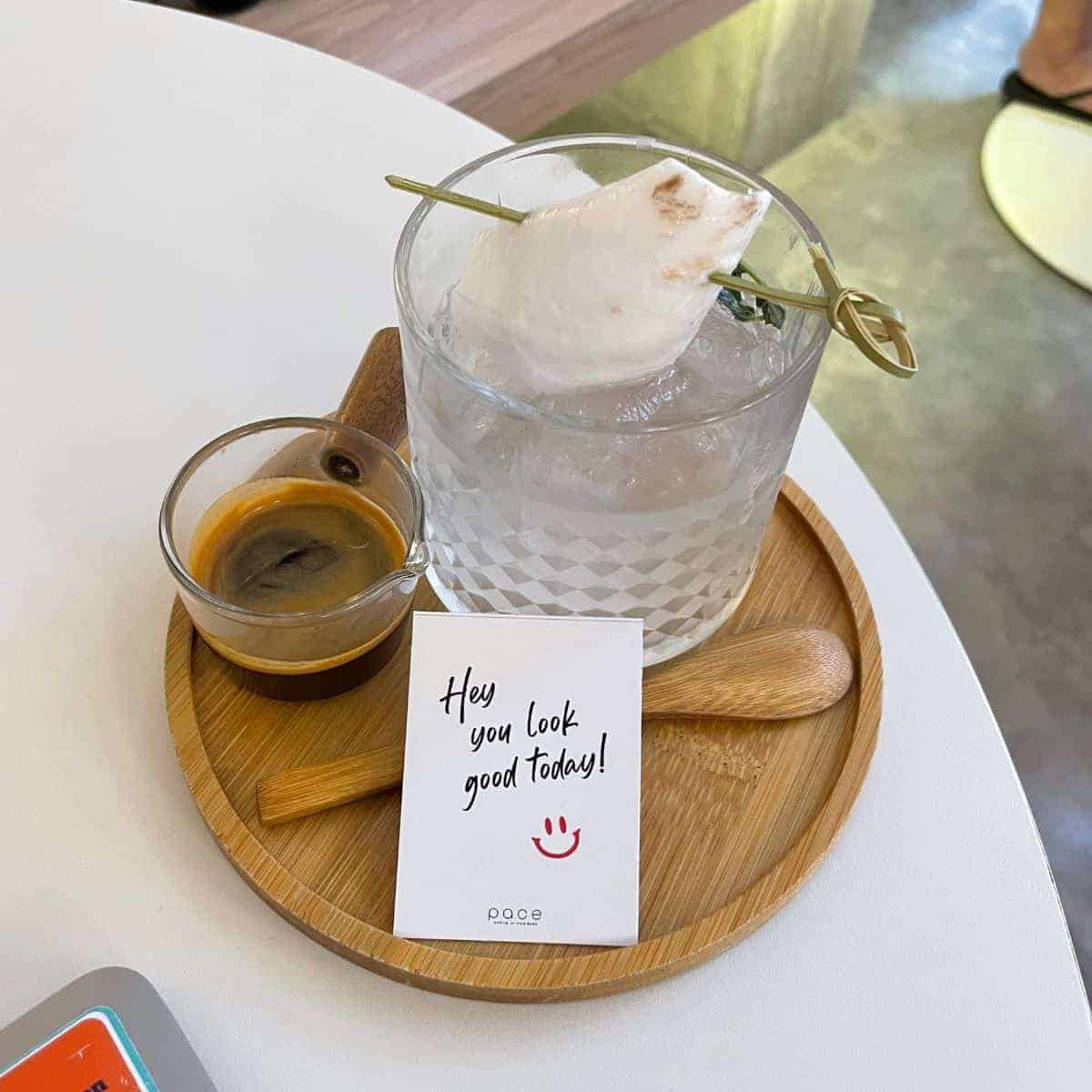 We recommend trading your regular latte for coconut coffee at Pace. This espresso and coconut water blend provides a surprisingly refreshing flavour combination that will put a regular cup of joe to shame.
Pace
397, Beach St, Georgetown, 10300 George Town, Penang, Malaysia
Website
Best Penang Cafe for Pastries and Desserts
To us, the best Penang cafe with baked goods should have a delectable selection of bakery treats that are freshly made each day in-house. The pastries should showcase local flavours, the pastry chef's creativity or simply perfect the classics. From croissants, and savoury pastries to cakes, here are some of the best Penang cafes where you can indulge in sheer sweetness.
La Vie En Rose
The cafe's name means life through rose-coloured glasses and feeling happiness and contentment. It's a fitting name with the pastel pink interior, tasteful Parisian decor and delicious french pastries that bring joy to patrons.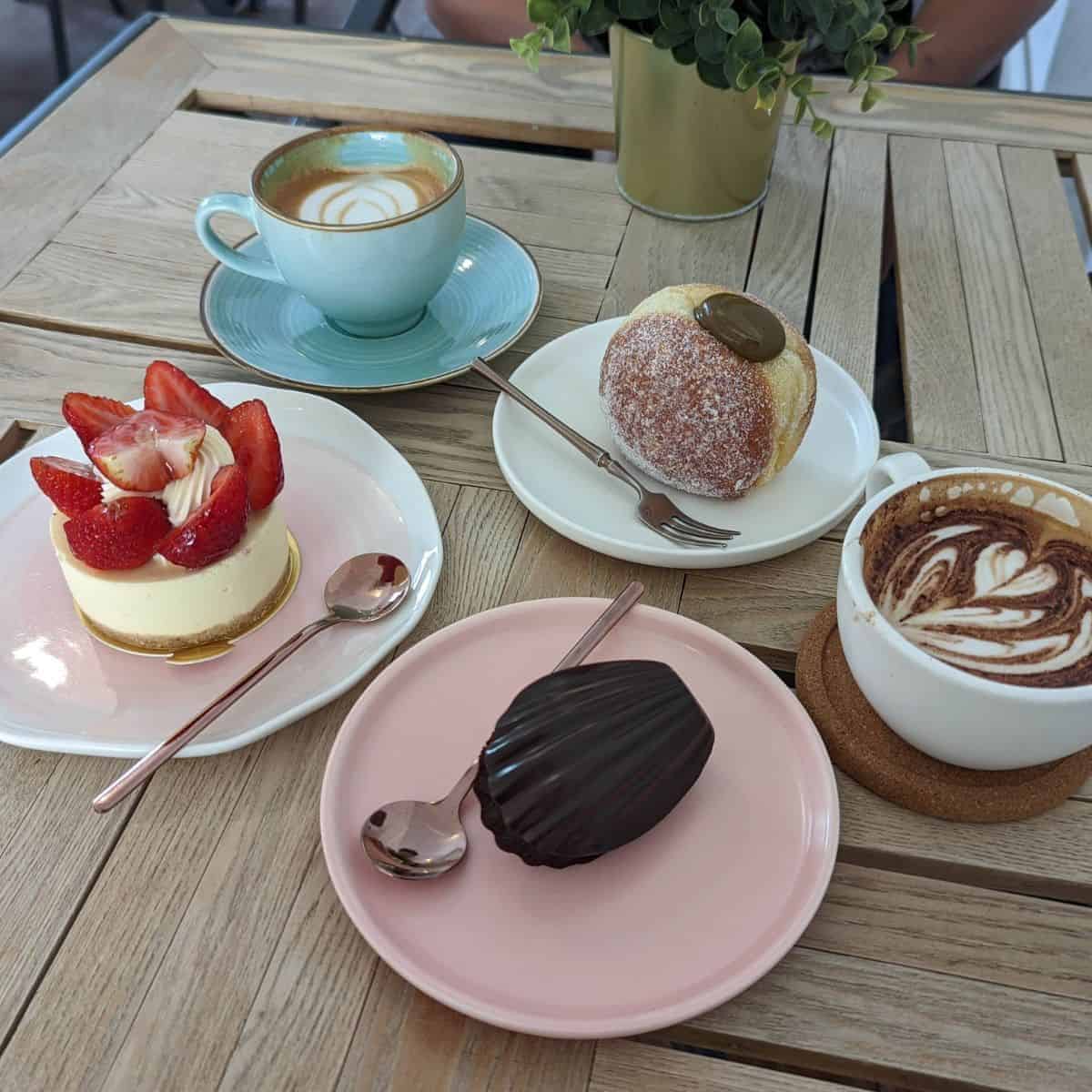 This French-inspired Georgetown Penang cafe is most notable for its buttery, flaky croissants and lemon tart. However, you should also try their beignets in various flavours. We love the hojicha beignet that had a deep-roasted tea flavour wrapped in a soft doughnut pastry. Alternatively, opt for a dirty chai latte if you want a change from your usual caffeine fix.
La Vie en Rose
19 Lebuh Melayu, George Town, Penang Island 10100 Malaysia
Le Petit Four Patisserie
This simple little french bakery is a short walk away from Armenian street in Georgetown. While the interior may seem simplistic, their drinks menu and french pastries are works of art.
From croissants, eclairs, and danish to apple strudels and mousse cakes, their selection of expertly crafted treats won't disappoint. You will be treated to some mouthwatering treats and a show. Thanks to the tall glass panelling, you'll be able to get an intimate look at each step of creating these heavenly sweets.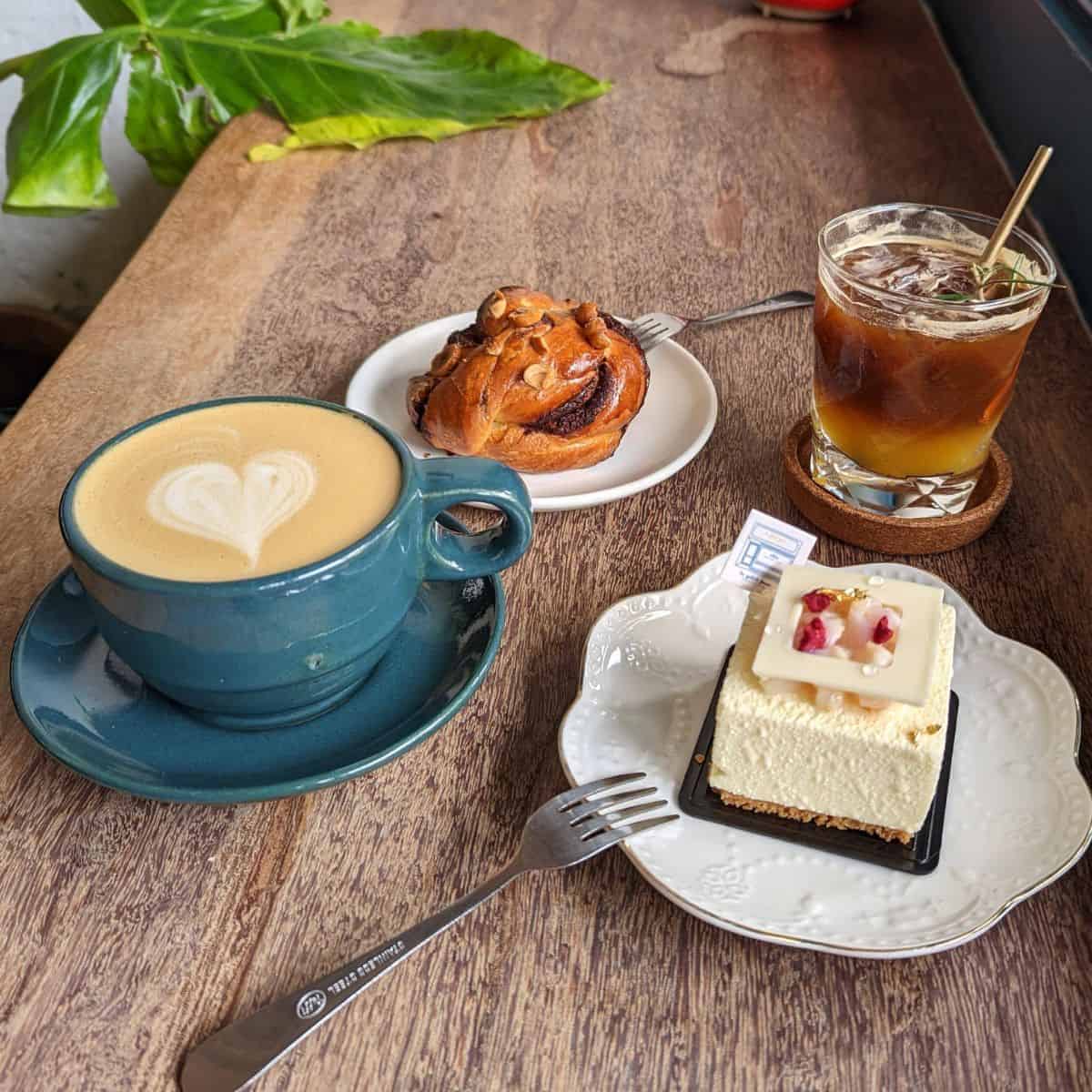 The thriving patisserie is helmed by the talented duo of Ooi Hooi Shing, a prestigious graduate from Le Cordon Bleu and Elveen Tai. If you're looking for something new and sweet, no place is better than Le Petit Four Patisserie.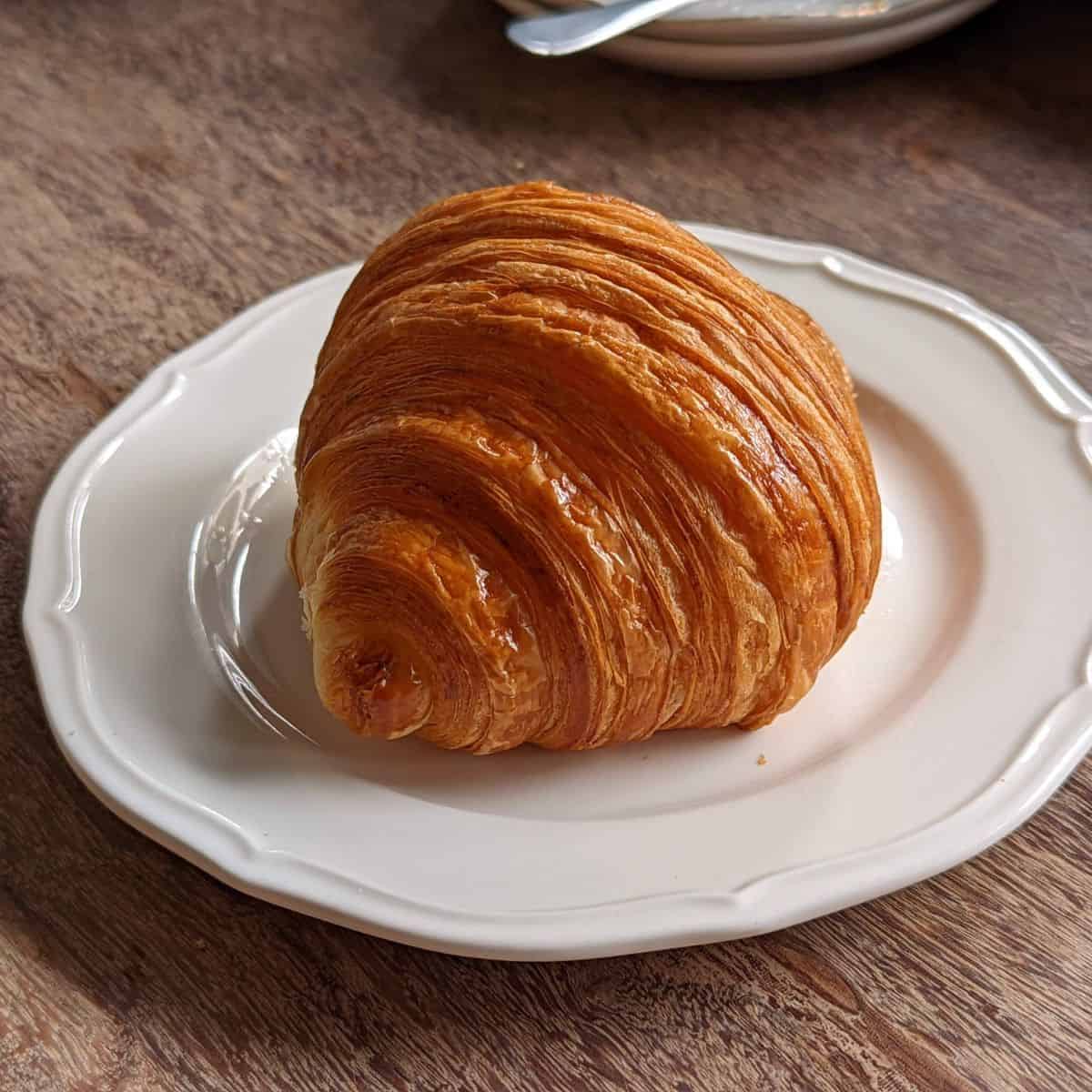 Every season, their creative team come up with inventive flavour combinations that are almost too beautiful to devour. Le Petit Four Patisserie makes it delightful to revisit its cake selection. It makes you feel like you're in a new cafe in Penang every time.
Le Petit Four Patisserie
310 Lebuh Pantai, George Town, Penang Island 10300 Malaysia
Nely's Passion Heart Cafe
Located in a quiet residential area, this hidden Penang cafe in Georgetown is a locals' hangout spot and one well-kept secret - until now.
Nely is an energetic retiree who, together with her children, operates this beloved family-run cafe. At this café you can delight in more than 20 baking creations each day – all inspired by Nely's delicious recipes.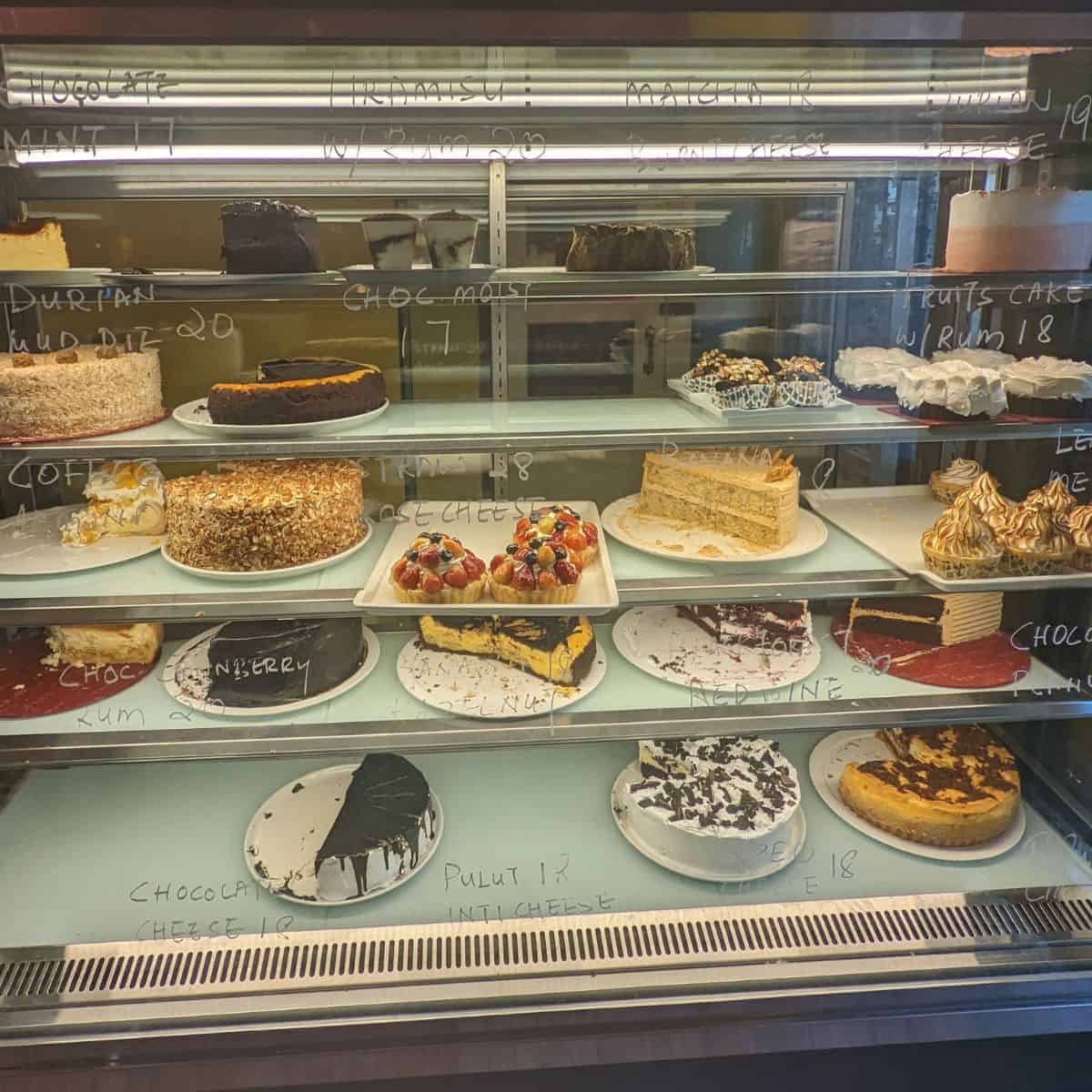 Here you'll experience a warm, inviting atmosphere. Nely welcomes you with open arms, eager to share her delicious creations made from local fresh fruits. Despite the laborious process, it takes for each cake to be crafted and perfected - the price is excellent.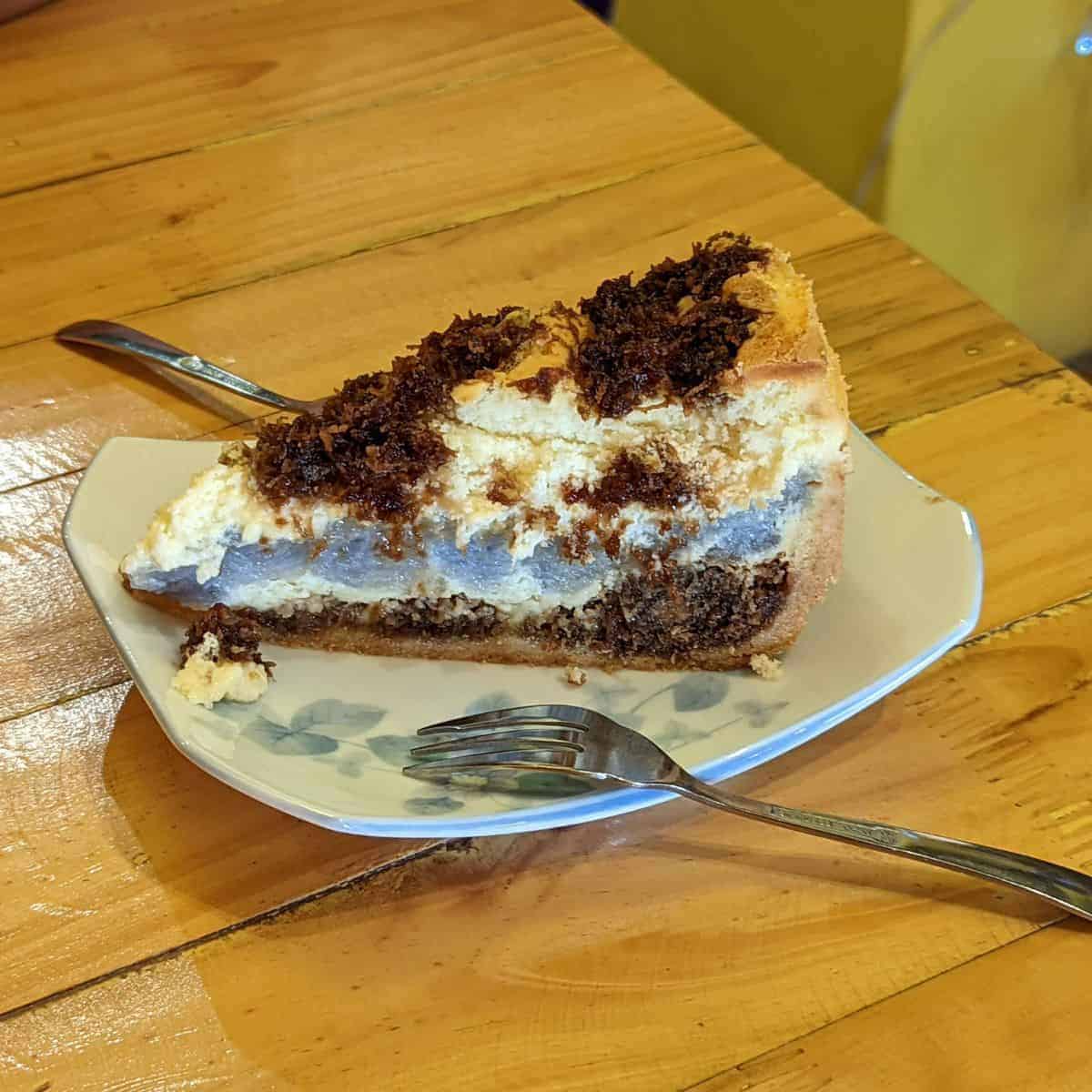 For breakfast or an afternoon treat, the homemade Malaysian bakes are sure to be winners. From classic banana and carrot cakes to one-of-a-kind pastries such as Cempedak crumble and Pulut inti and Gula Melaka cake. Your taste buds will thank you for discovering these new flavour combinations. Get there early though as they run out quickly.
Nely's Passion Heart Cafe
23, Jalan A.S. Mansoor, George Town, Penang Island 10050 Malaysia
Moody Cow Cafe
Moody Cow is a long-time favourite in Penang with humble beginnings. They have now expanded to having a few branches across the island to offer their gigantic cake slices. Slogans on the wall say diets are for losers and indeed their gigantic cake slices encapsulate this very idea. Their decadent cakes can be easily shared between 2 - 3 people.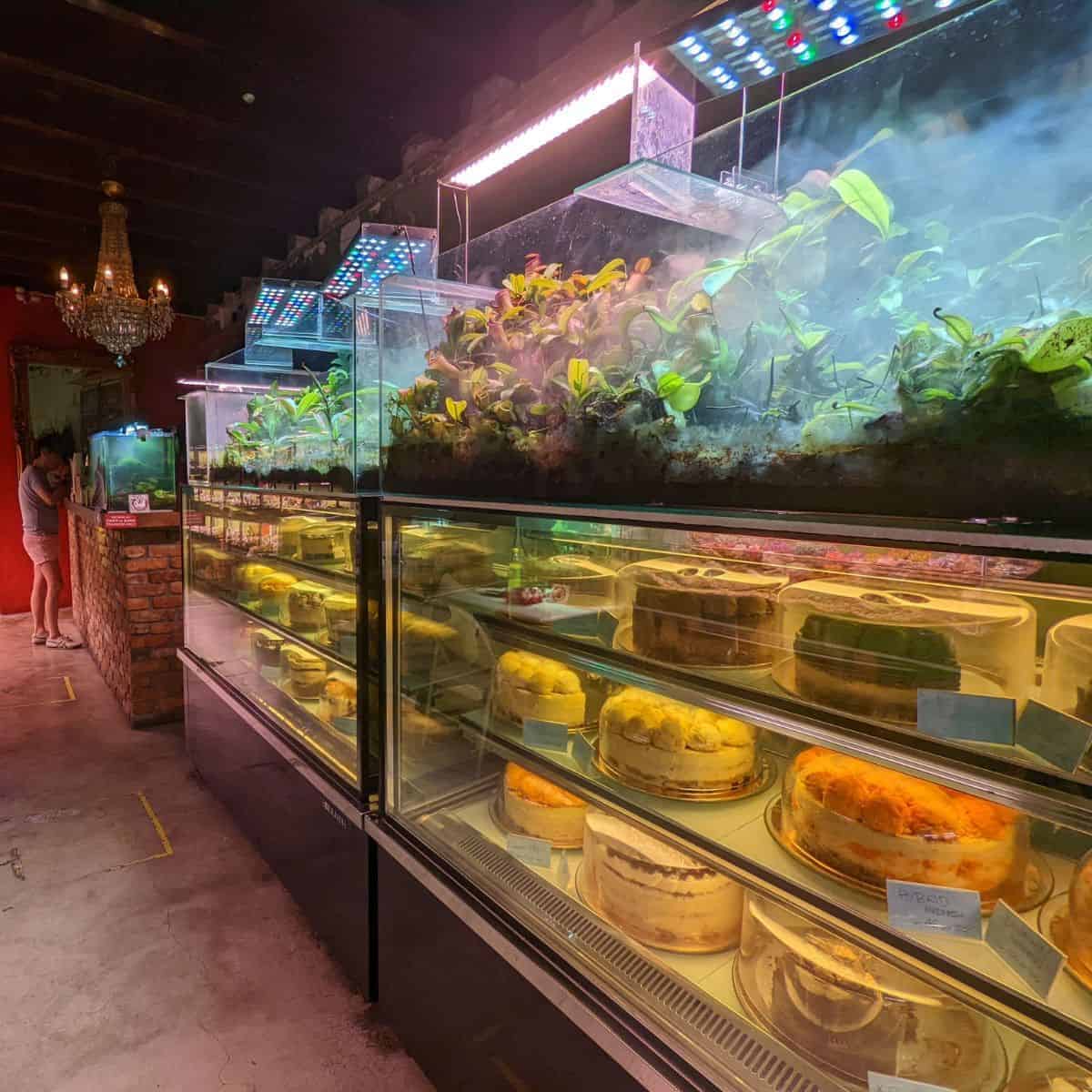 Walk past the lush greenery and flowering plants to make your order and pay at the counter. The staff will then lead you behind the curtains to a separate art deco seating area. Relax amidst the plush velvet cushioned seats, basking in an intimate ambience conjured by dim lighting. Additions such as the gilded mirrors give off hints of opulence throughout, while fresh flowers on the table and oil paintings add a subtle touch of history and refinement.
Try their famous Cempedak cheesecake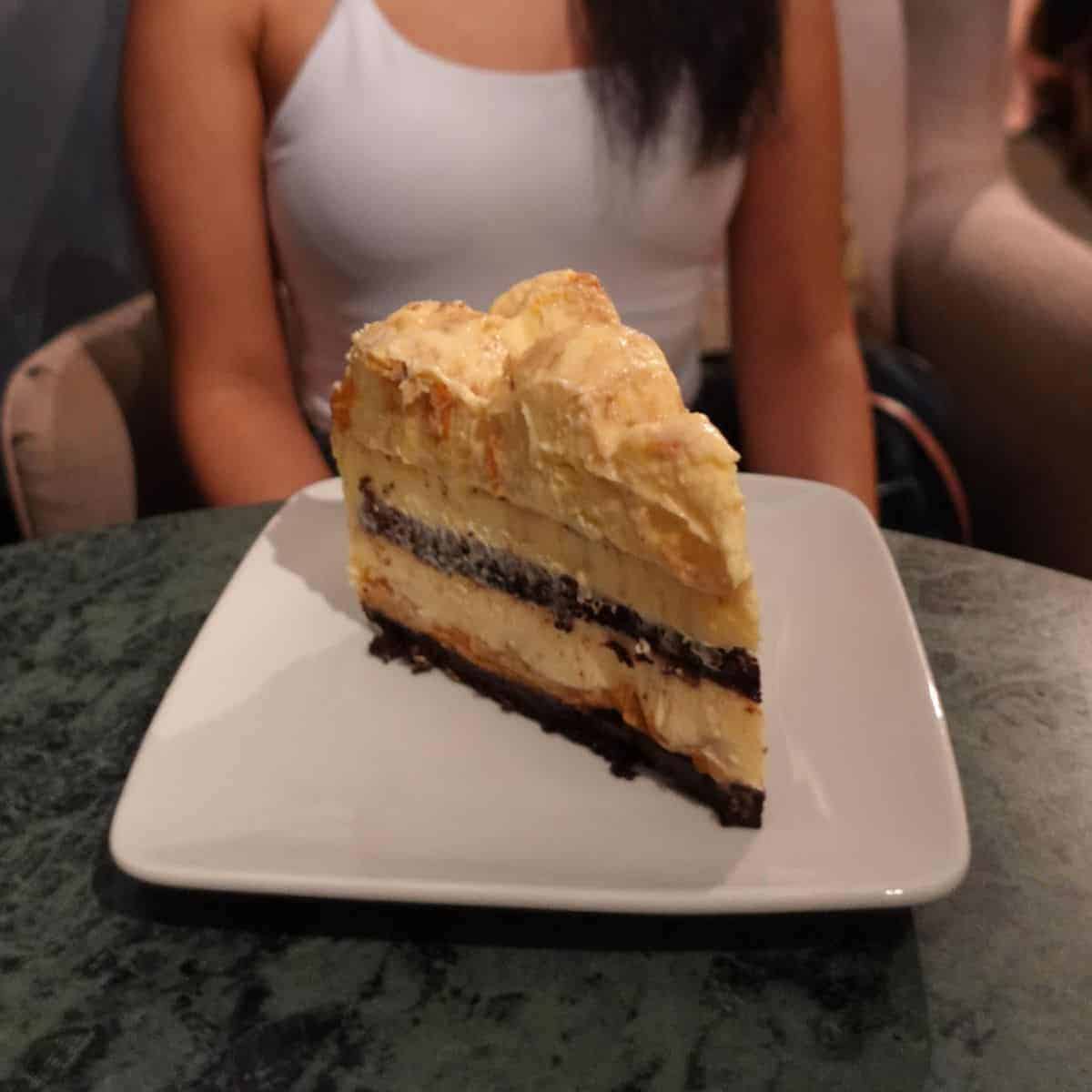 When they bring you your cake, sit back and indulge in a luxurious dessert experience. Their decadent, unbeatable cheesecakes have a smooth and creamy texture that is irresistibly pleasing. You'll get hints of sweetness from the heavy cream paired perfectly with tangy notes of richness derived from the blend of eggs and cream cheese. Whether it's their salted egg or Durian cheesecake specialities that steal your heart, these thick-cut cakes are sure to leave an unforgettable impression.
Moody Cow Cafe
170 Jalan Transfer, George Town, Penang Island 10050 Malaysia
Best Work Cafe in Penang
Penang is home to some great work cafes with tranquil atmospheres featuring generous seating, plentiful power outlets, natural lighting, fast Wi-Fi and delicious food options. Here are our favourite work cafes in Penang that promote productivity.
Black Kettle
Black Kettle is a quiet Penang cafe located in a historic Georgetown building on Beach street. Grab a seat and plug your laptop into one of the many available outlets to get some work done surrounded by natural lighting, without the worry of being asked to leave when other productive-minded visitors are around too.
You can get traditional coffees like cafe lattes and mochas for a good price but the highlight is their good value lunch menu. Black Kettle offers speciality sourdough, succulent seafood entrees and signature five-star burgers. There are many other great options to keep you refuelled throughout the day.
We highly recommend trying their Artisan beef burger with truffle fries. If you're craving for steak, then you won't be disappointed with their French-style Steak and Frites.
Black Kettle
105 Beach Street, George Town, Penang Island 10300 Malaysia
More by Arang Coffee
With a blend of both Western fare and local coffee specialities, More by Arang Coffee is the ideal spot to work in. Located beside a business hotel lobby, the atmosphere is surprisingly calm with plenty of room to enjoy a meal or focus. It's no wonder that office workers flock here during lunch hour.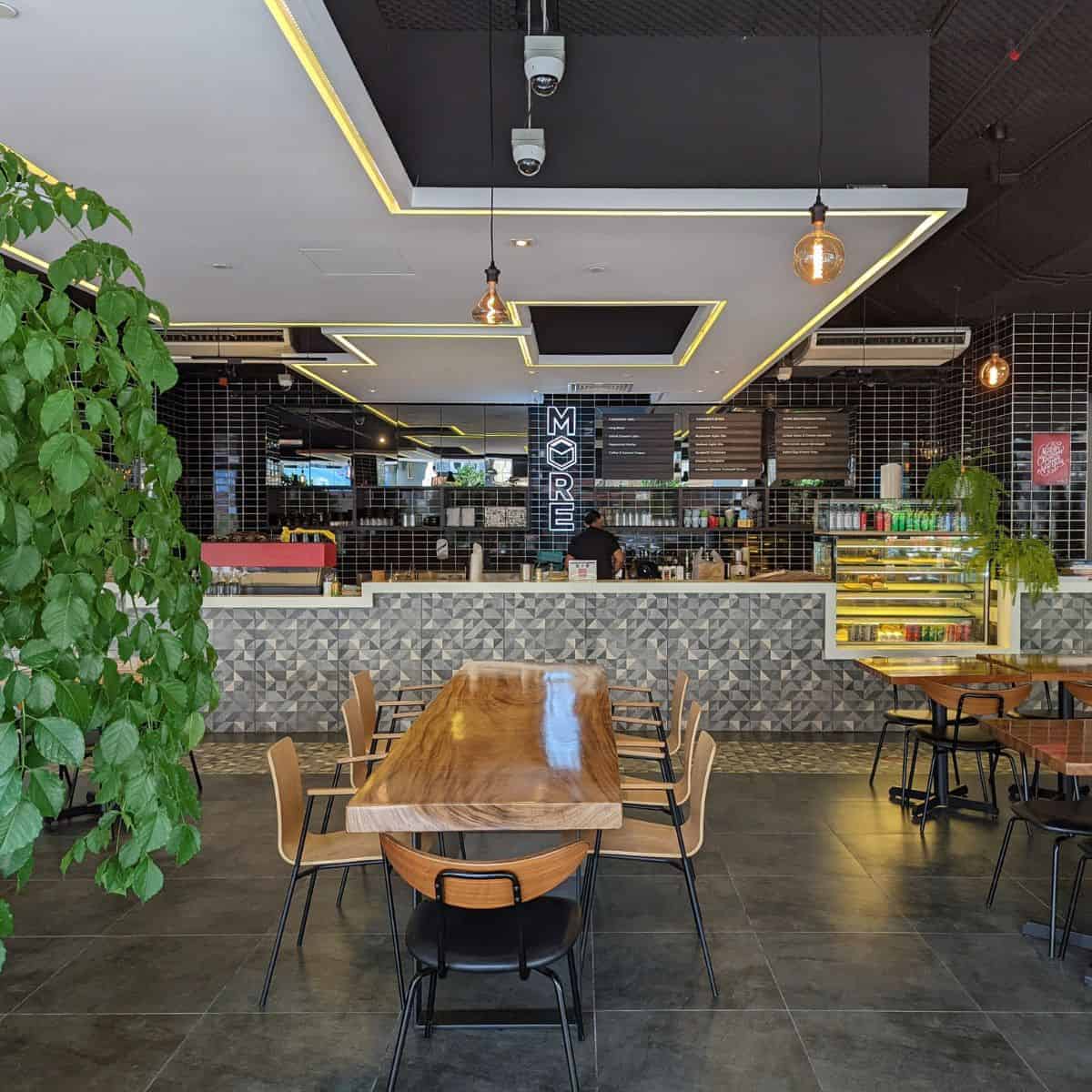 But whatever your reason for visiting, you won't be disappointed by this quaint haven. Not only will you experience friendly service but also generous portions in an instagrammable setting perfect for snapping pics.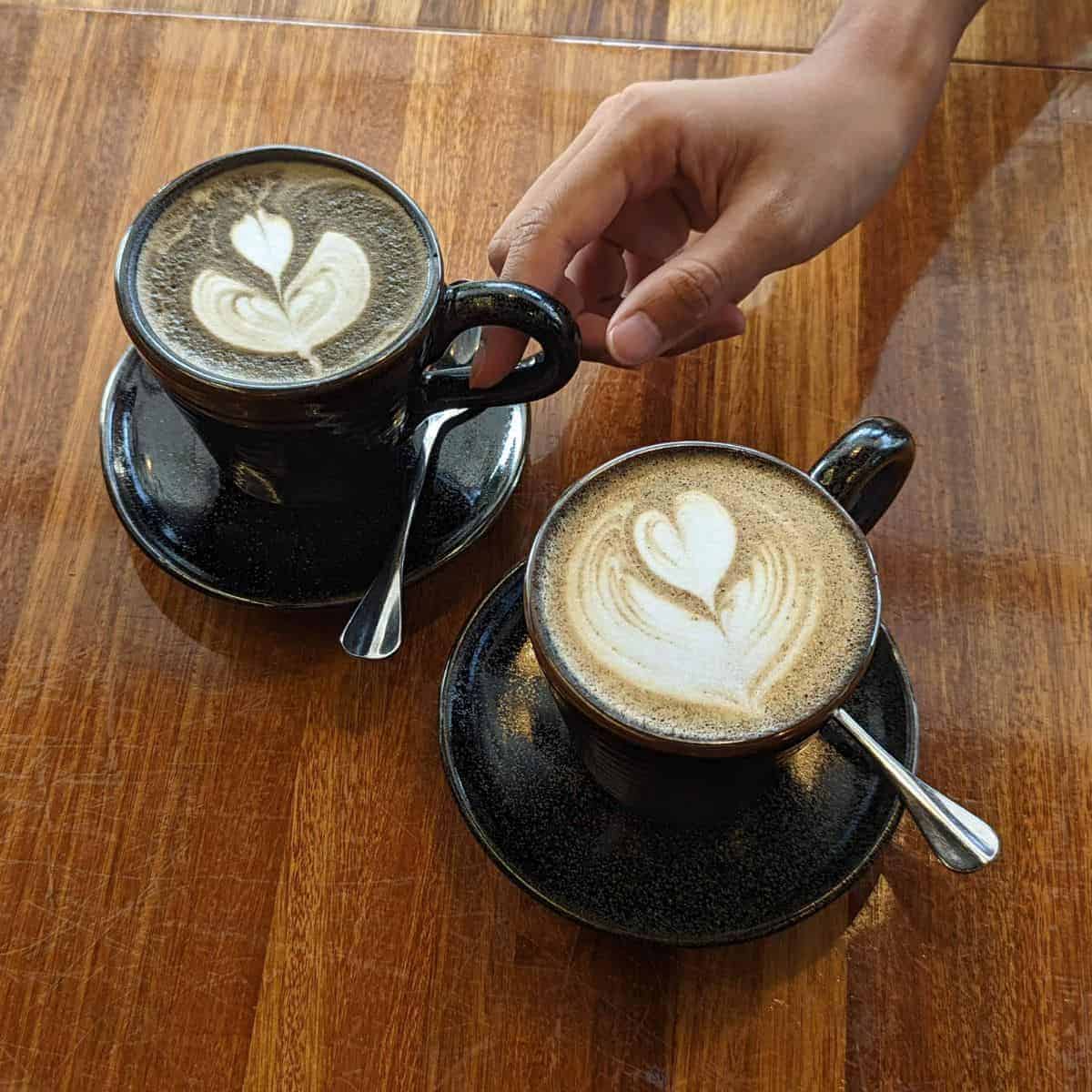 Consider trying the grilled cheese sandwich or the coffee shop's signature chicken bites for a home-cooked feel. For drinks, we recommend trying their Goma Caffe Latte and Carbon Kopi Latte.
More by Arang Coffee
170-G Argyll Road Livingston Tower, George Town, Penang Island 10050 Malaysia
Gudang Cafe
Gudang is a hidden cafe in Penang tucked away in an unlikely spot - an old warehouse. This charming eatery on Penang island is anything but drabs. Its industrial decor with quiet music, makes it great for entrepreneurs or families alike looking to catch their breath amid Georgetown.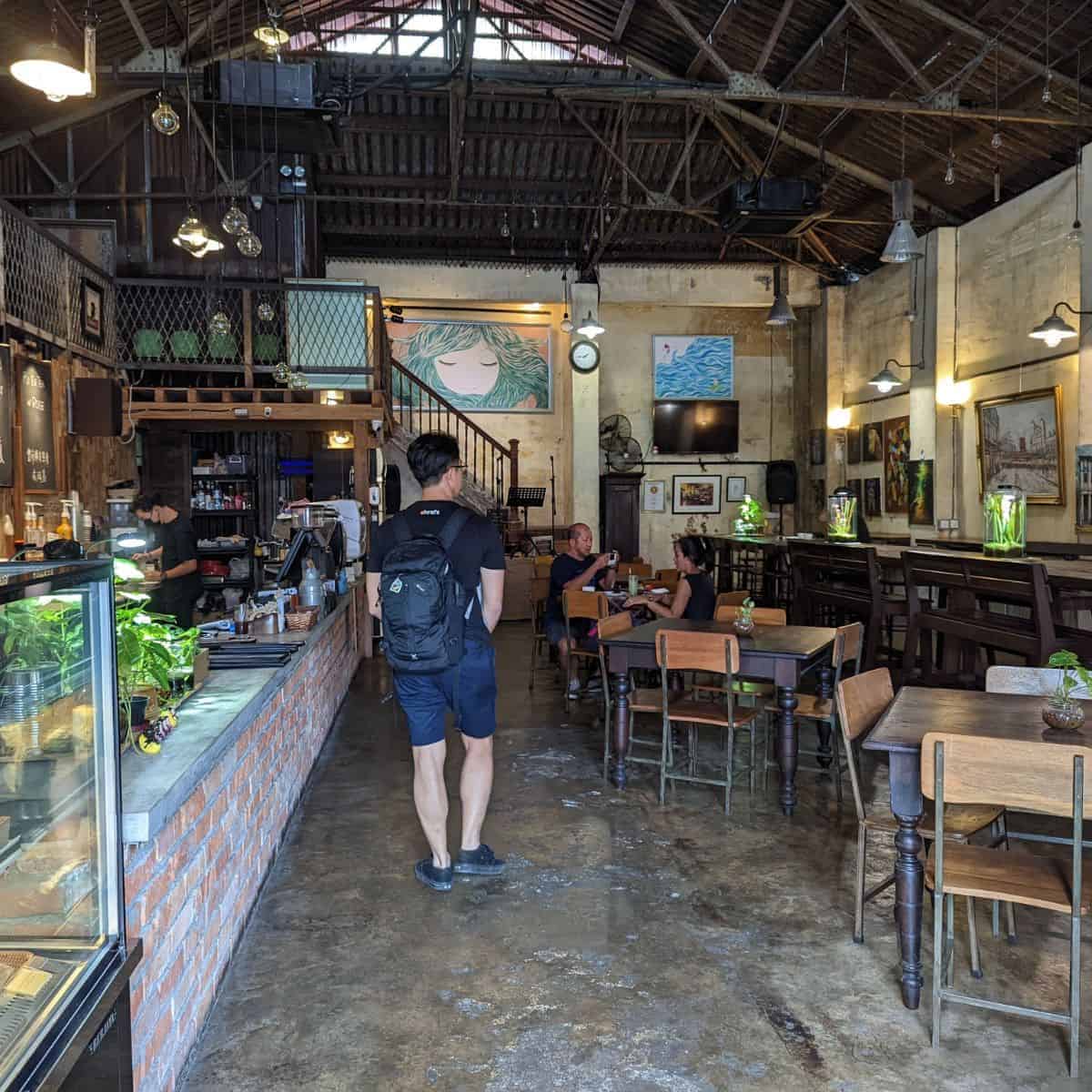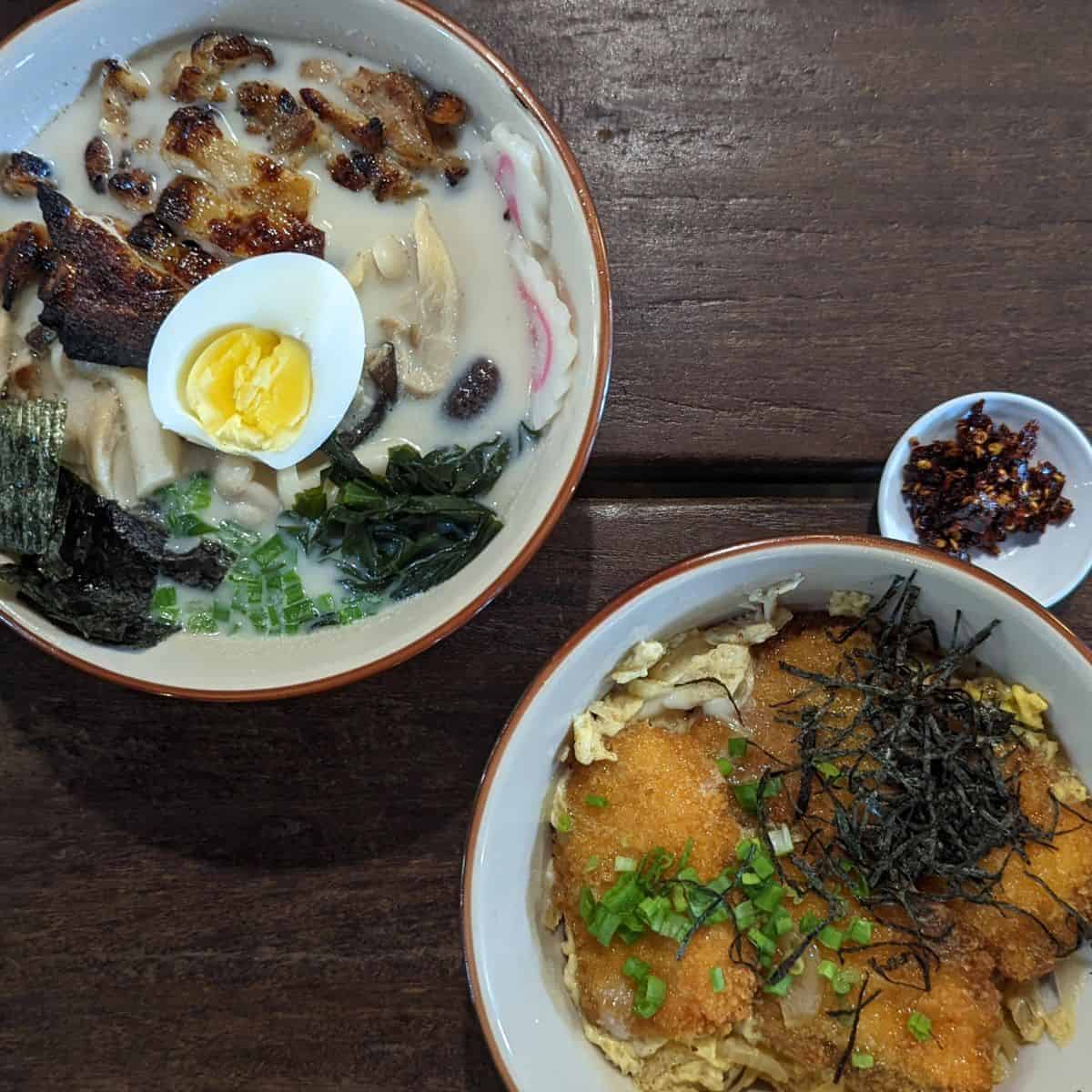 Take your pick from freshly-brewed coffee, handcrafted juices and homemade treats all at this cosy lair where you won't have a shortage of creative sparks. We went and tried their White Curry Ramen as well as their Salmon Tama Don, both of which satisfied our cravings for something.
Gudang Cafe
5 Gat Lebuh Armenian, George Town, Penang Island 10300 Malaysia
Temu Coffee
If you're looking for a spot to relax and get some work done while exploring Georgetown, then this coffeehouse is just what you need. This quaint, unique coffee shop in Penang is known for its Temu coffee, a delicious latte blend coated with sweet, soft cream and cinnamon powder sprinkled on top. We also recommend their homemade tiramisu paired with their black-coloured beverage named Greyt.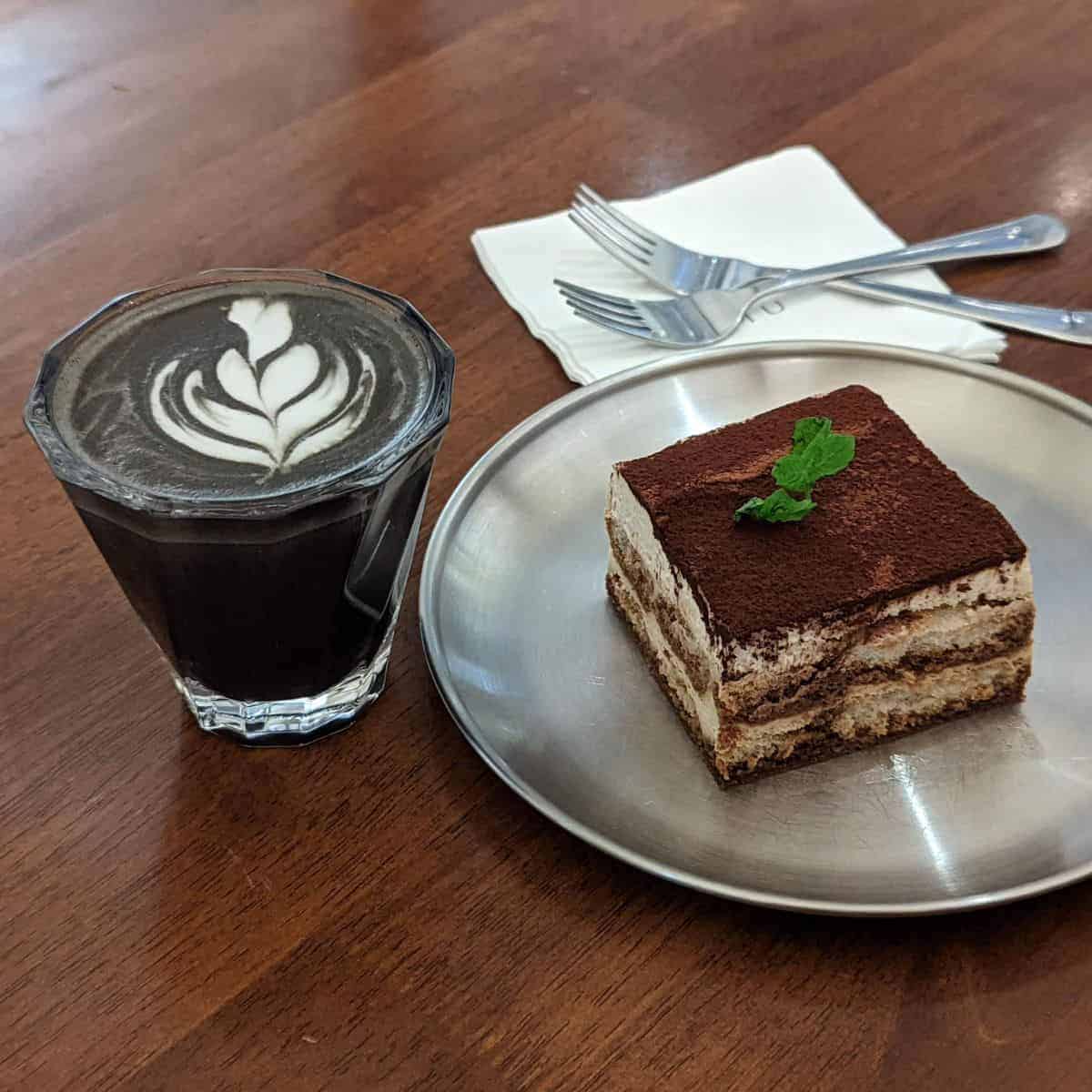 Temu Coffee's calming, minimalist atmosphere will make hours fly by in between sipping your favourite caffeinated beverage. It's also conveniently located near downtown and makes a great stop while you explore the fun things to do in Penang.
Temu Coffee
62 Lebuh Melayu Lebuh Melayu 10300 George Town, Penang Malaysia
Website
Secawan 'n' Such
This unpretentious breakfast eatery caters primarily to locals. However, the coffee here offers a more decadent alternative to traditionally bitter Malaysian blends.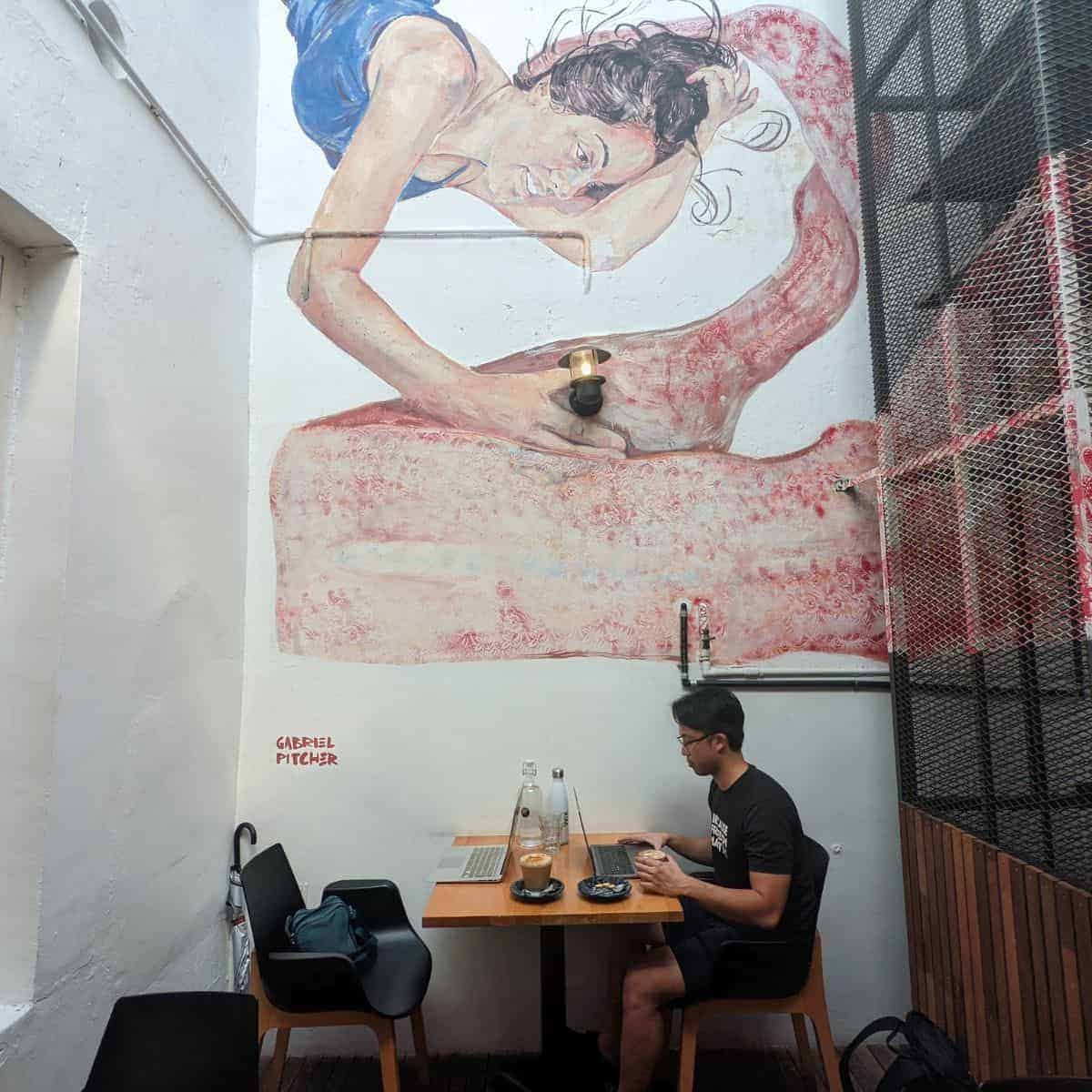 You can also enjoy breakfast foods like pancakes, eggs, and other spins on traditional Western foods. It's the perfect place to hide from the crowds and get your work done.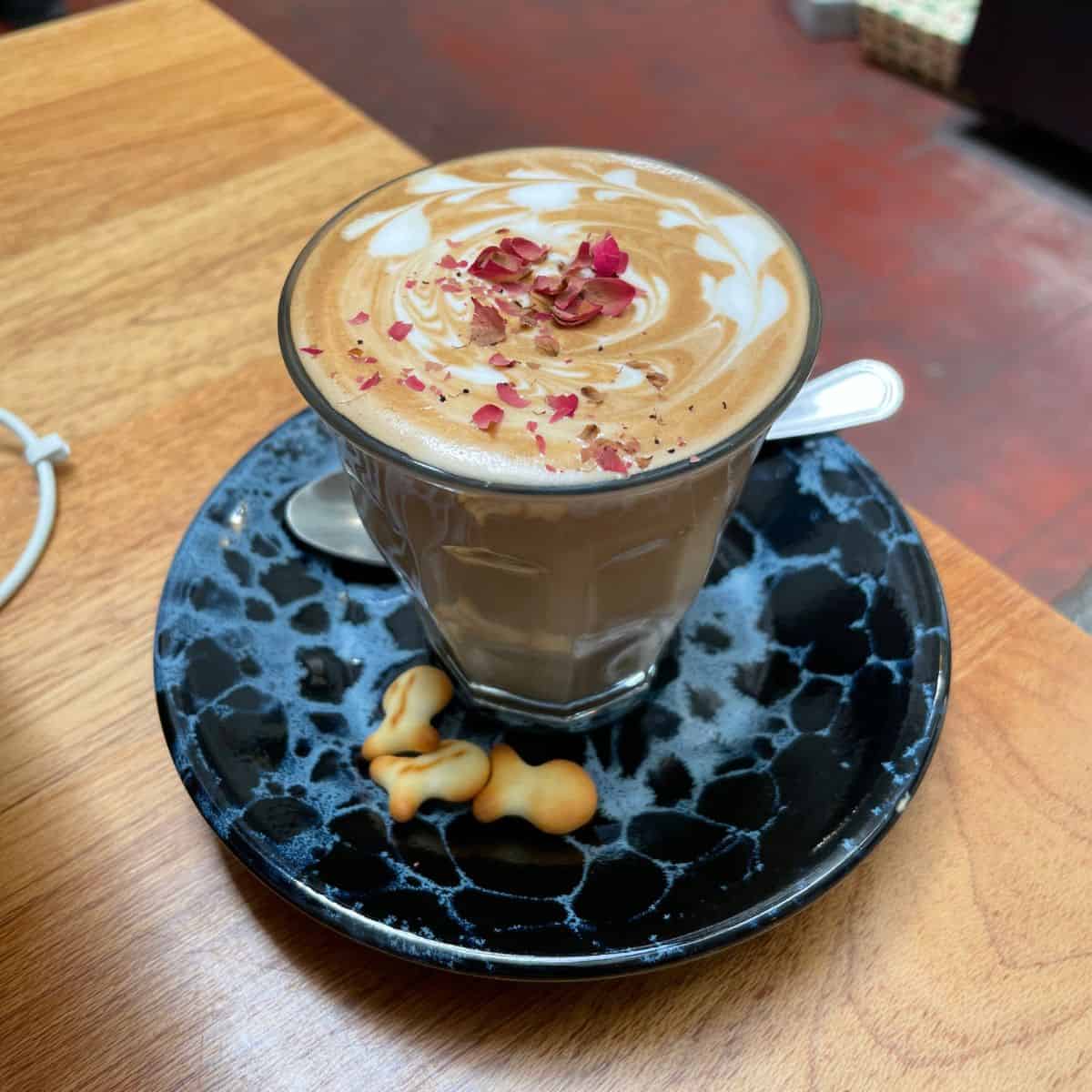 If you love white coffee, give their Rose latte a go. If you want something more refreshing, we recommend trying their Secawan Special, which is an iced long black mixed with tangerine.
Secawan 'n' Such
205 Jalan Hutton, George Town, Penang Island 10050 Malaysia
Kid-friendly Cafe in Penang
Here are some fantastic kid-friendly cafes in Penang we came across during our trip to the Malaysian island. We've decided to feature spots with designated children's play areas, large spaces or a family-friendly environment with games to keep the kids entertained.
Mugshot Cafe
Not only is Mugshot Cafe one of the best cafes in Penang, but it's also a kid-friendly eatery.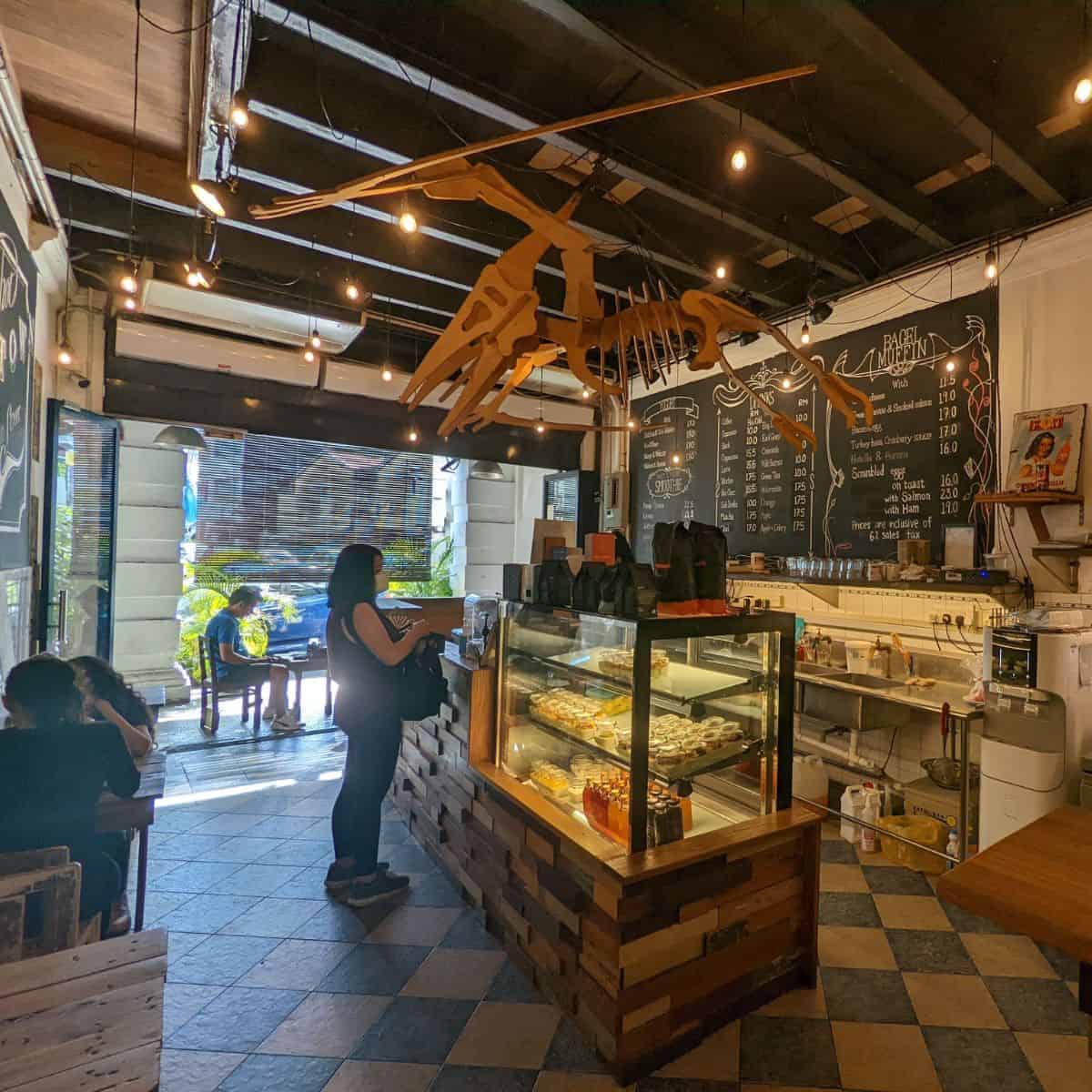 Despite its name, it is the perfect place to bring kids. With freshly baked goods, warm and rich coffee, and a European-style menu, Mugshot cafe in Penang enjoys a great reputation among locals and domestic tourists. We keep repeating our orders of their salmon cream cheese bagel and cafe latte whenever we drop by.
After the counter, you'll find the mugshot wall, where you can pose and take some fun photos. There's even a weighing scale if you want to know how much weight you've gained from all the delicious Penang food!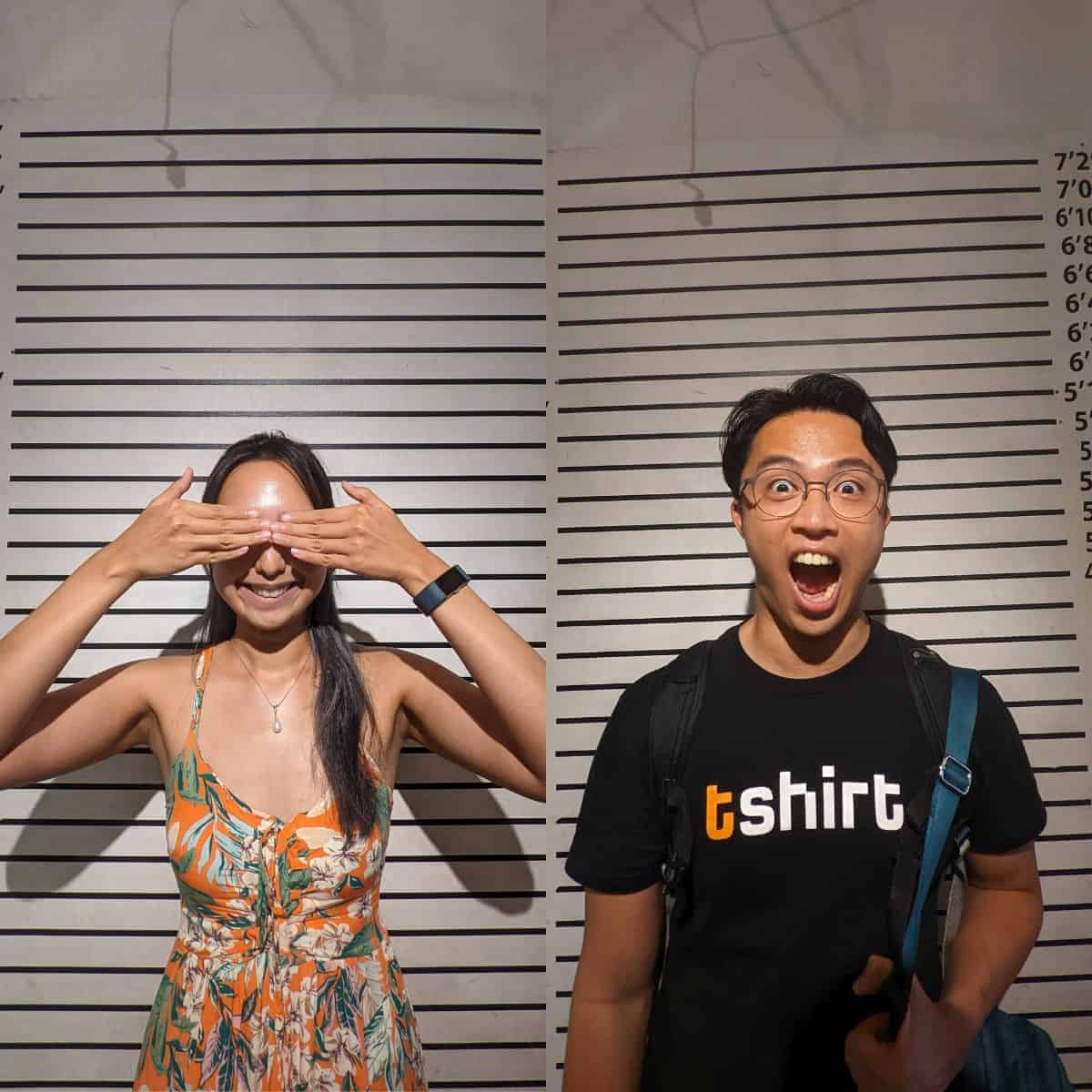 Further down, there is a small nook with mind teaser games and Jenga, which you can borrow for free.
Mugshot Cafe
302, Chulia Street 10200 George Town Penang
2acres Cafe
Experience tranquillity and playfulness at 2acres cafe, a former durian farm turned restaurant. The father and son duo transformed part of their durian farm into a trendy, unique cafe in Penang. You'll find two floors, an outdoor seating area, and a small pond to explore at this spot in Balik Pulau.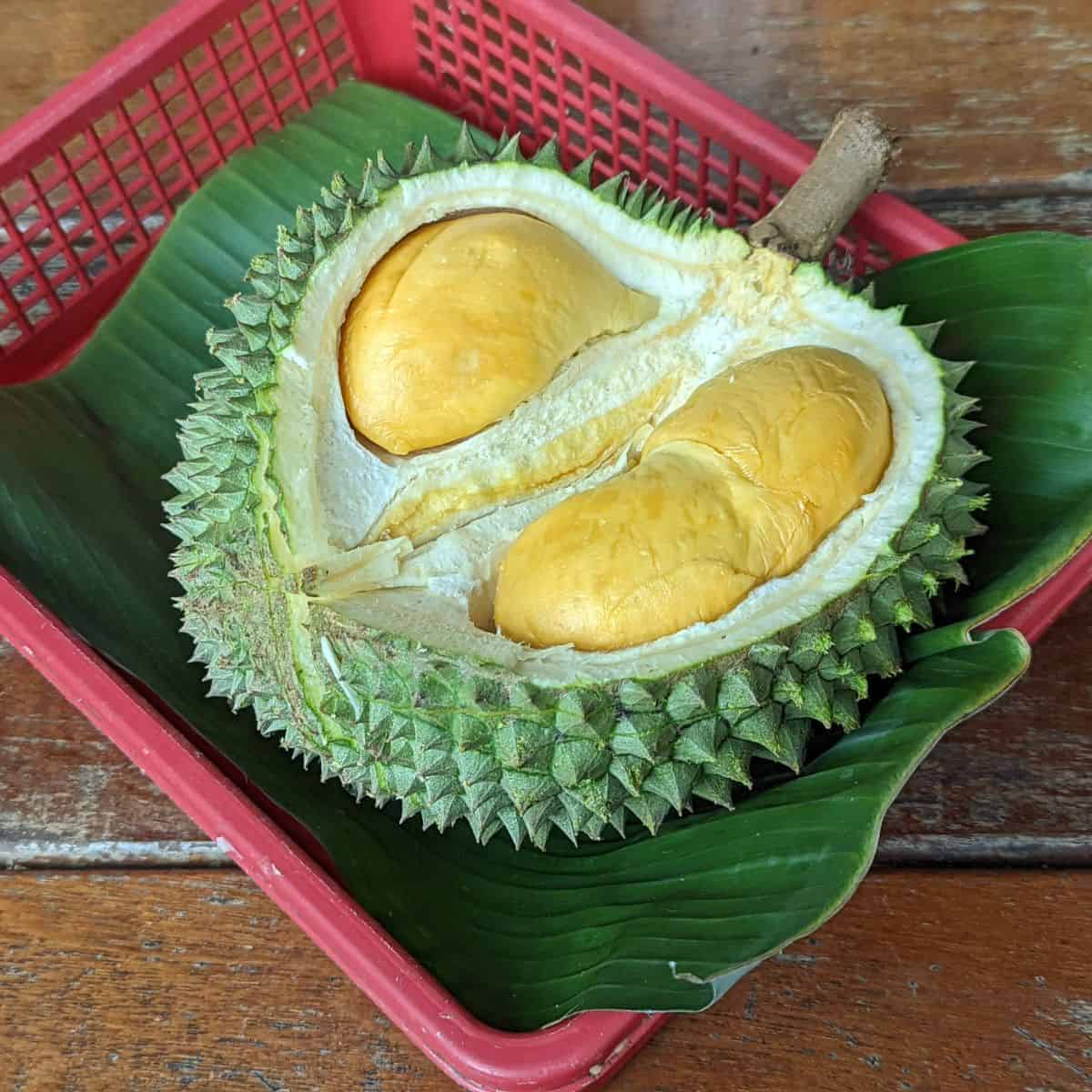 The outdoor space features a small pond with fish and ducklings, providing a serene and peaceful bliss. The giant swing on the corner before the spiralling staircase, which leads up to the second floor, adds a playful touch to the space. The second floor is a smaller, quiet area that accommodates less than 10 people but has a great view of the pond.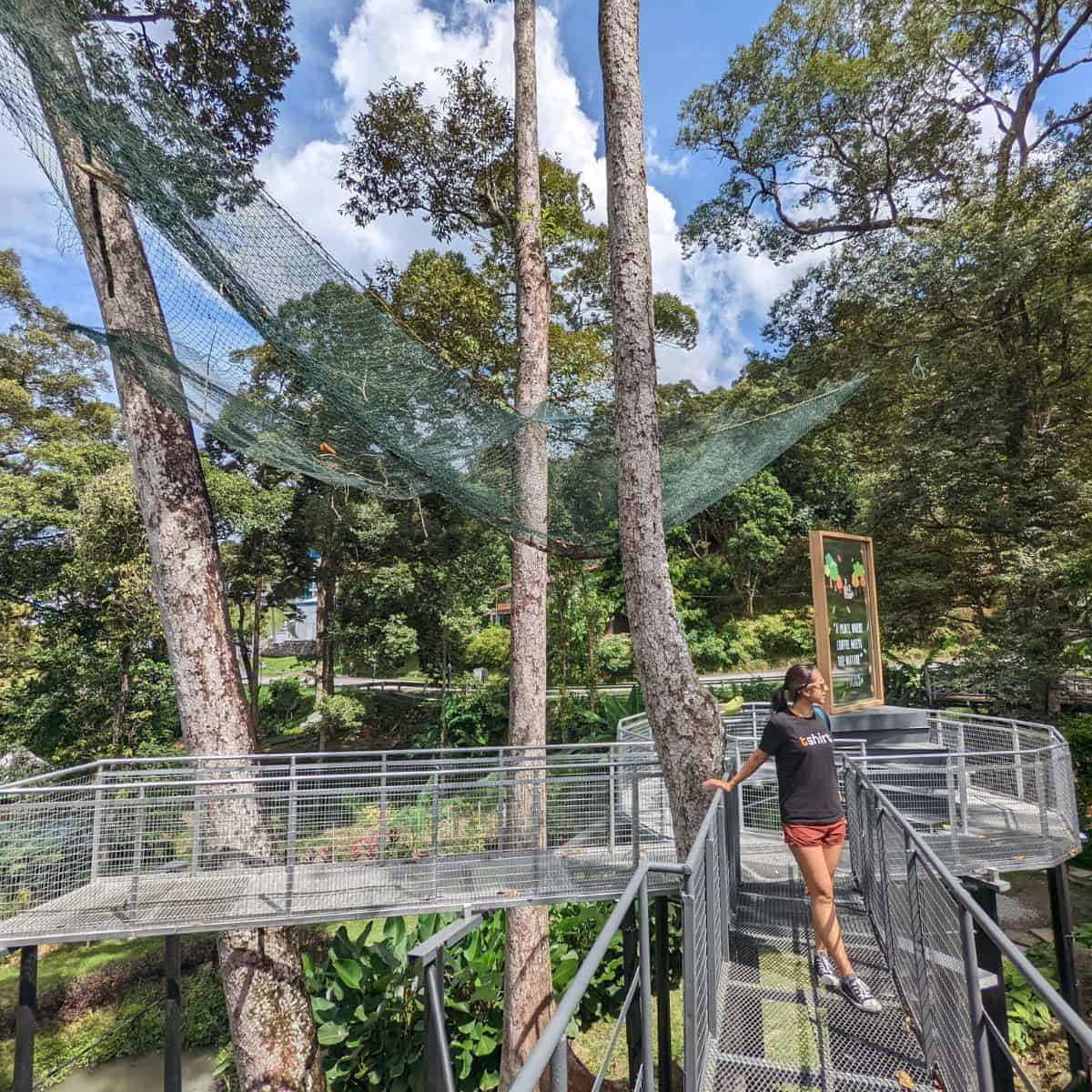 The first floor is designed with an expansive window view of the greenery, allowing a lot of natural light in the room. The owner sells durians outside the cafe. So you can get a taste of durian in a clean, idyllic setting.
What to try here
Don't miss out on the 2acres cafe's menu, which combines Southeast Asian flavours and Italian cuisine. Our favourite dish is their Tom Yun Prawn Pasta, which perfectly strikes the balance between spice, cream and umami.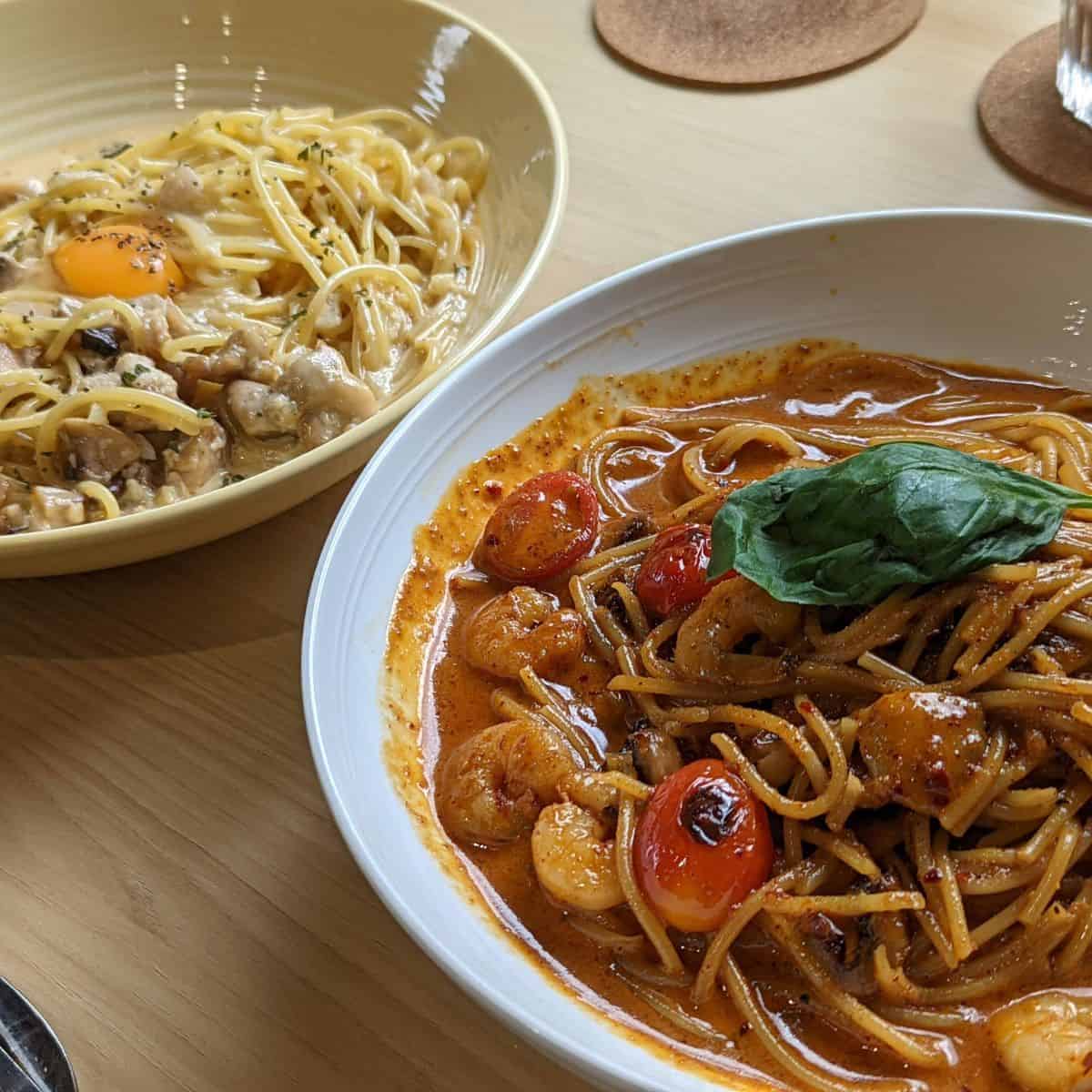 We also recommend trying their beautiful and refreshing drinks such as the Matcha Strawberry and Hojicha Berries.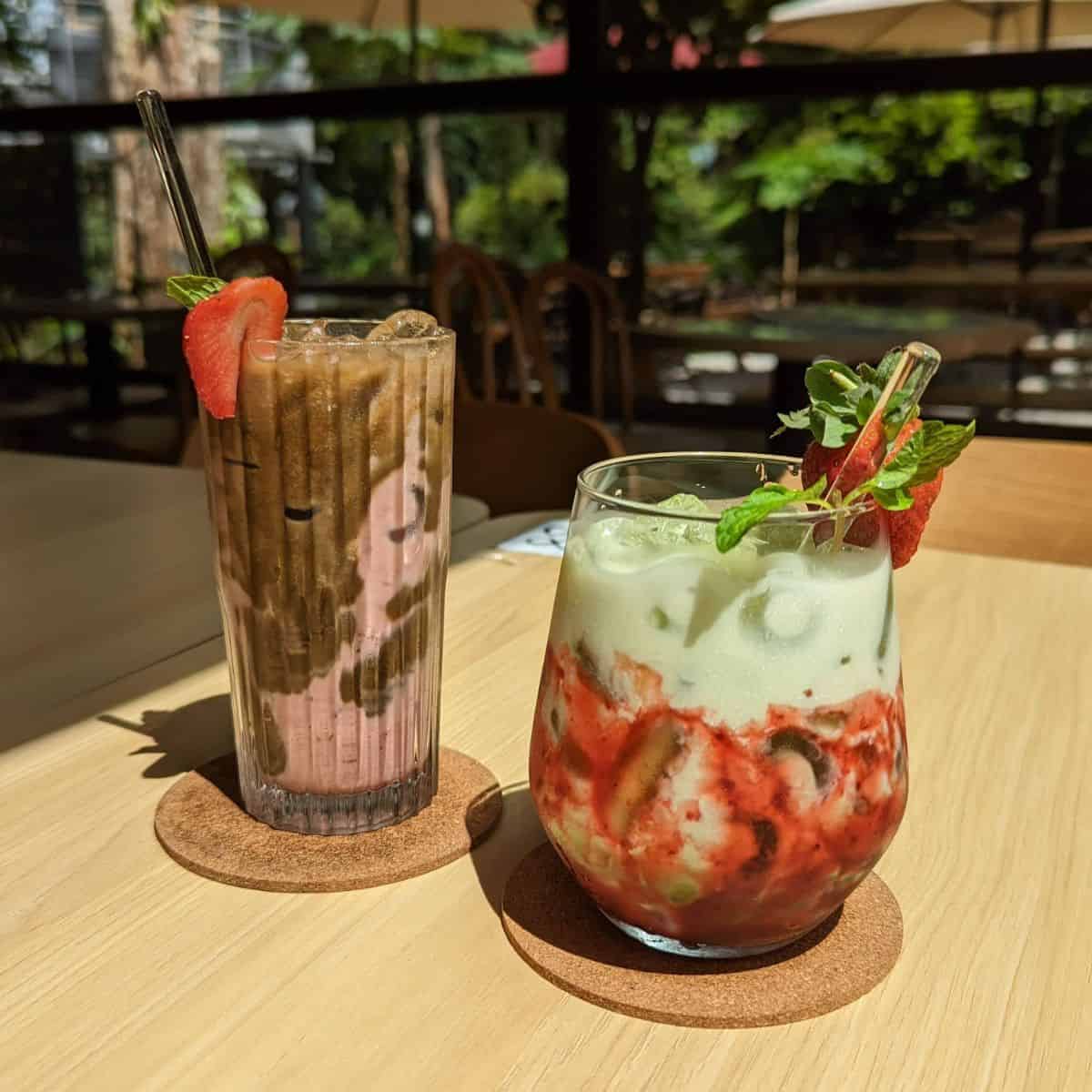 2acres cafe is also close to some great things to do with kids in Penang. It's less than a 20 minutes drive away from Escape Adventure Park and some of the best Penang beaches near Batu Ferringhi. So you can easily bring the family here for a lunch break after some fun in the water.
2acres Cafe
Lot 313, Jalan Teluk Bahang, Kampung Sungai Pinang, Balik Pulau, Penang Island 11000 Malaysia
Bricklin
Bricklin is a hip, bright little Georgetown Penang cafe that caters primarily to families with children. It's located on the corner of Hin Bus Depot, making it a popular weekend spot.
Hin Bus Depot is a vibrant cultural hub buzzing with energy from local and international talent, featuring an outdoor art gallery, a weekend market full of handmade goods created by Malaysian traders, and live music performances.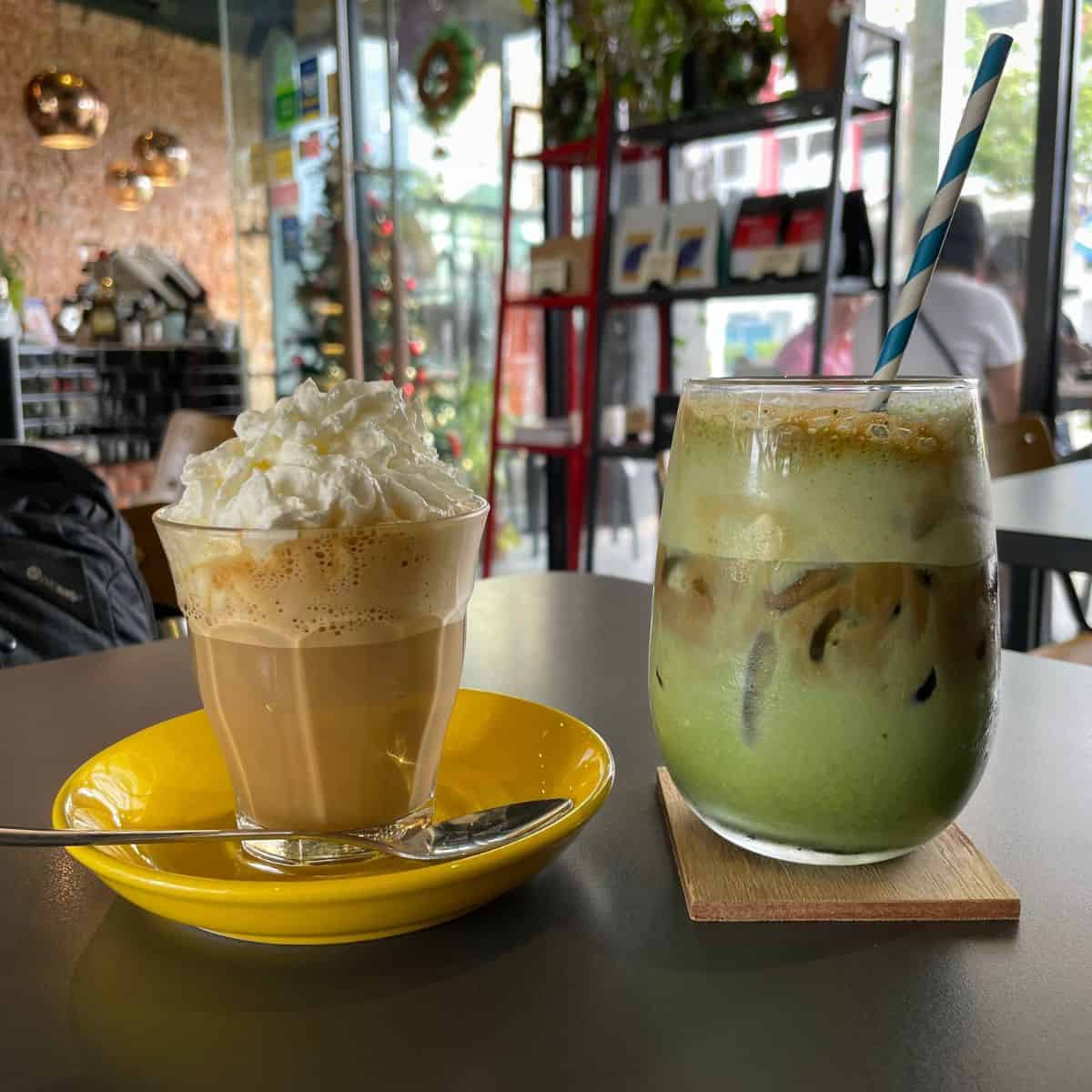 Kids will love playing in the spacious green area at the centre for hours on end. There's plenty to explore here, no matter young or old. Bricklin is situated just in front of this open green space and has plenty of room to accommodate your little ones. The coffee is excellent, and you can order your coffee with a decadent twist: ice cream or whipped cream. We tried their White Vienna coffee and Dirty Matcha as a pick-me-up after going around the weekend market.
Bricklin
31a Jalan Gurdwara, George Town, Malaysia (next to Hin Bus Depot)
Chatto Coffee and Tea
Step into a world of Japanese enchantment at Chatto, Georgetown's coffee and tea destination. Here you will find exquisite combinations of Japanese tea blends with a modern flair. Their signature bubble teas are delectable Japanese tea blends with chewy, fun tapioca pearls. We particularly love their Charcoal Pearl Oolong Milk Tea.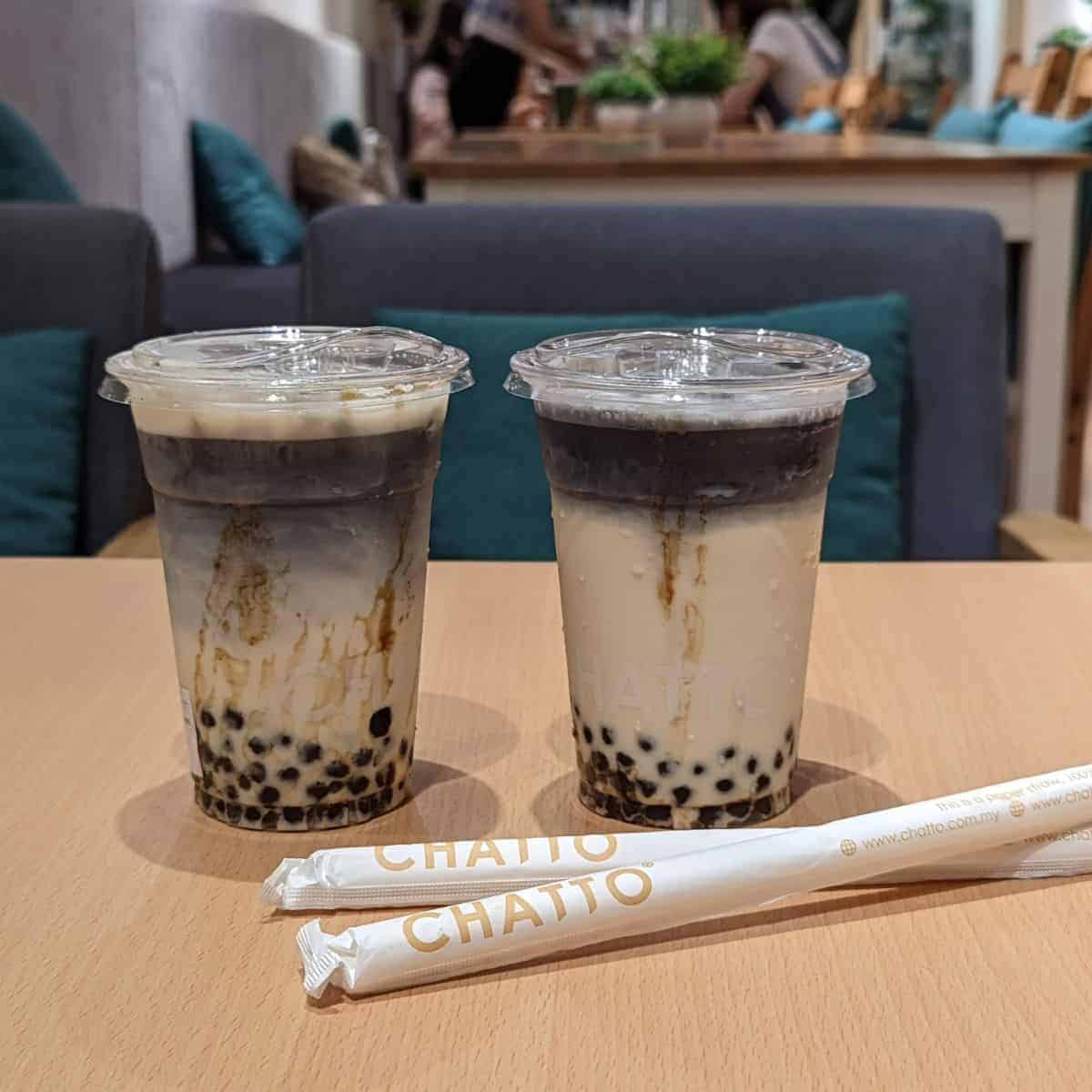 Enjoy some light snacks like taiyaki while unwinding in the cosy atmosphere of natural wood furnishings and plush sofa seating. It's quiet, quaint, and comfortable. However, children are welcome and will quickly settle into the space.
Chatto Coffee
143, Lebuh Carnarvon 10100 Bandaraya George Town Penang
Kazan by the Volcano
Kazan by the Volcano is a Japanese-inspired cafe famous on Penang island for its pocket cheese toast and creamy, dairy-filled drinks.
Chiang Mai and Penang street food inspired the owners of this unique Penang cafe to make an on-the-go cheese sandwich.  Their creation of the pocket cheese toast is not only deliciously moreish but also fun to eat. It's crunchy on the outside and gooey on the inside.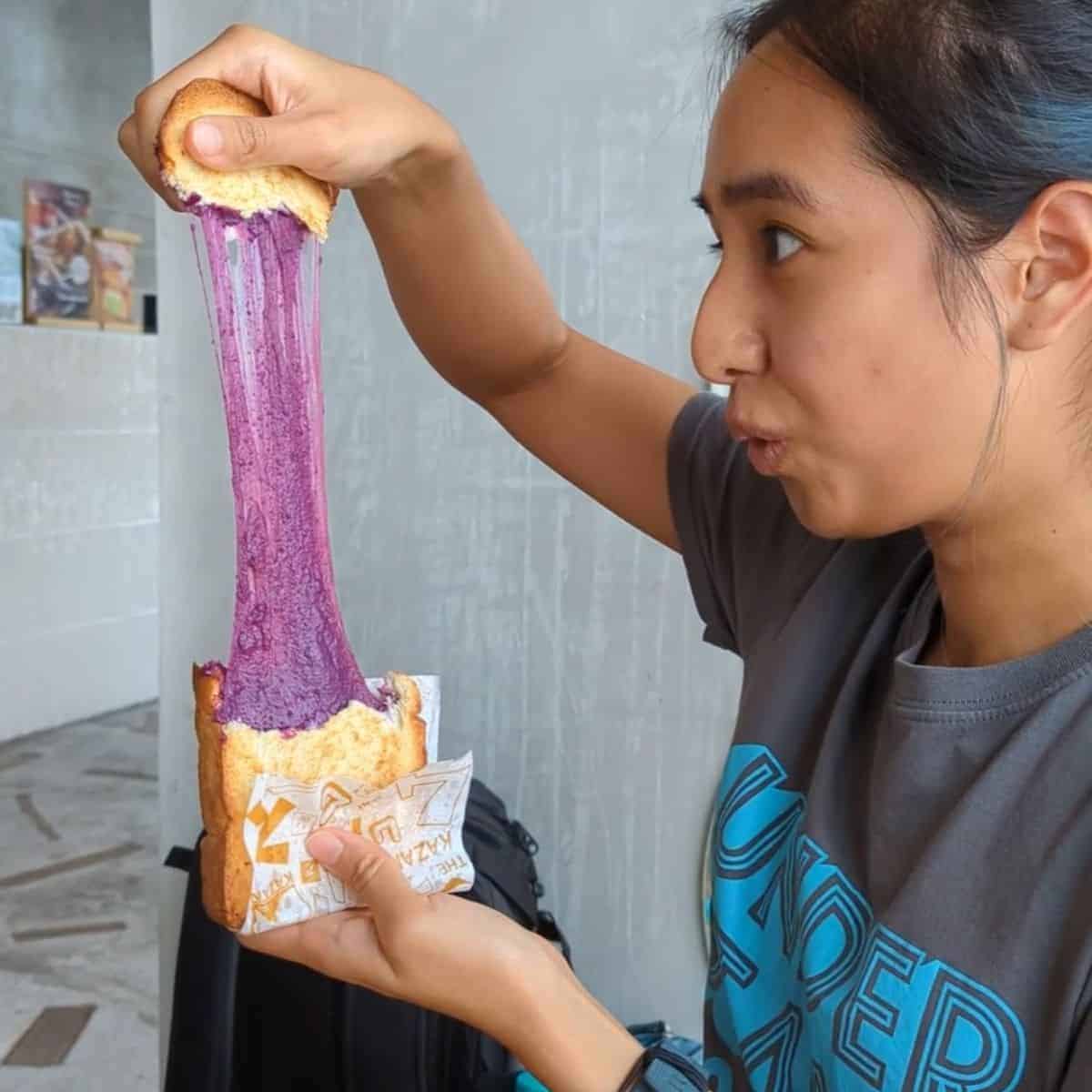 Kazan by the Volcano has multiple pocket cheese toasts, including the super cheese and purple sweet potato. One is enough to fill you up. The setting is clean, crisp and spacious enough for kids to roam safely. They also have several board games to keep older kids busy.
Kazan by the Volcano
No 56, Lebuh Victoria 10200 George Town, Penang, Malaysia Penang
If you enjoyed this article, give us a follow on Instagram @tabitogether for more content like this.