With the best vegetarian restaurants in Penang scattered across the island, you'll definitely be amazed by the flavours here. We spent over a month on the island to try out different foodie spots. We tried out the most hyped-up hawker stalls, eateries, and cafes during our adventure. As a result, we now have a solid list of the best vegetarian food in Penang.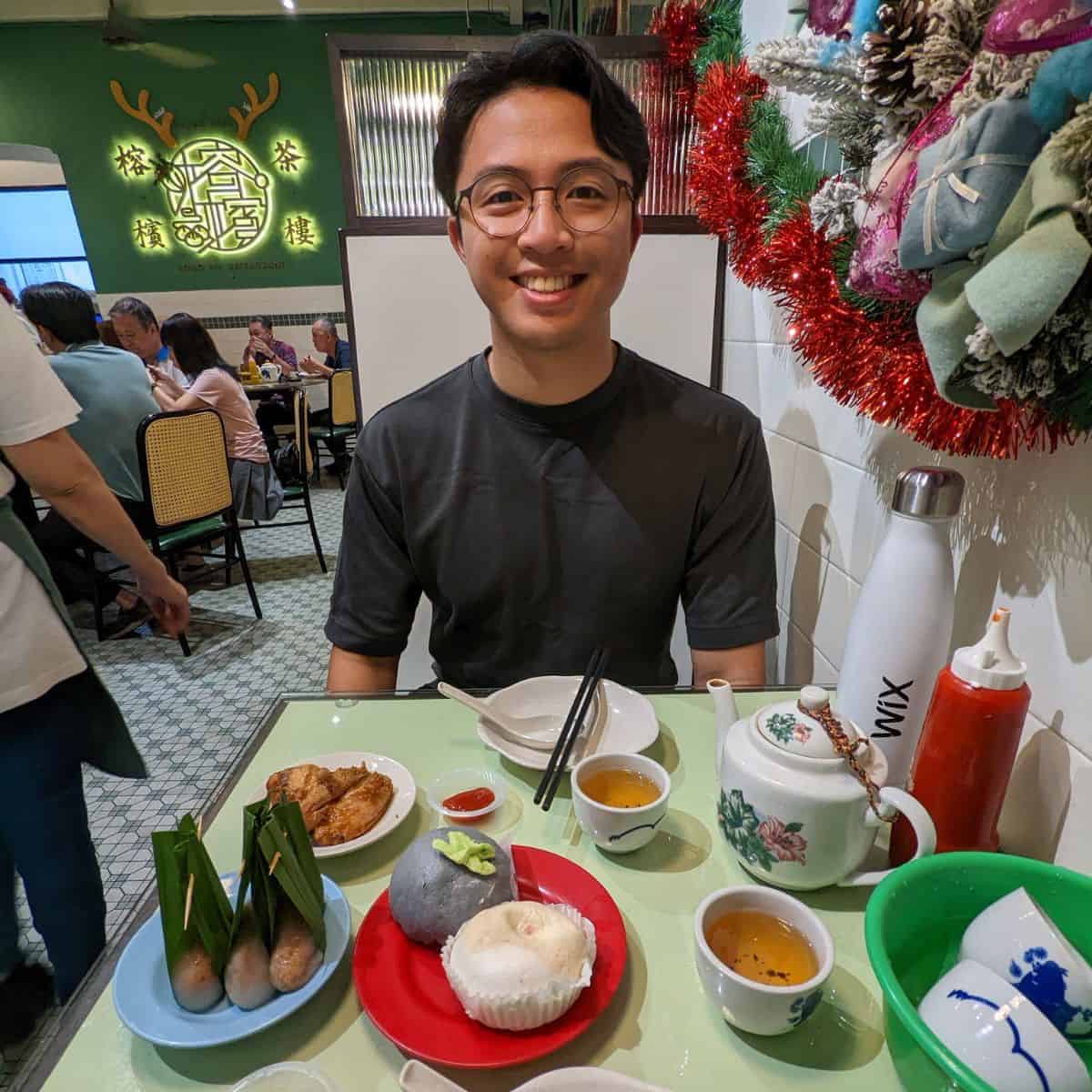 The island's significant Chinese Buddhist community has influenced the local vegan cuisine for centuries. Therefore, this island is a haven for veggie food lovers. Furthermore, our selection of the best vegetarian restaurants in Penang is based on reputation, history, and, of course, taste!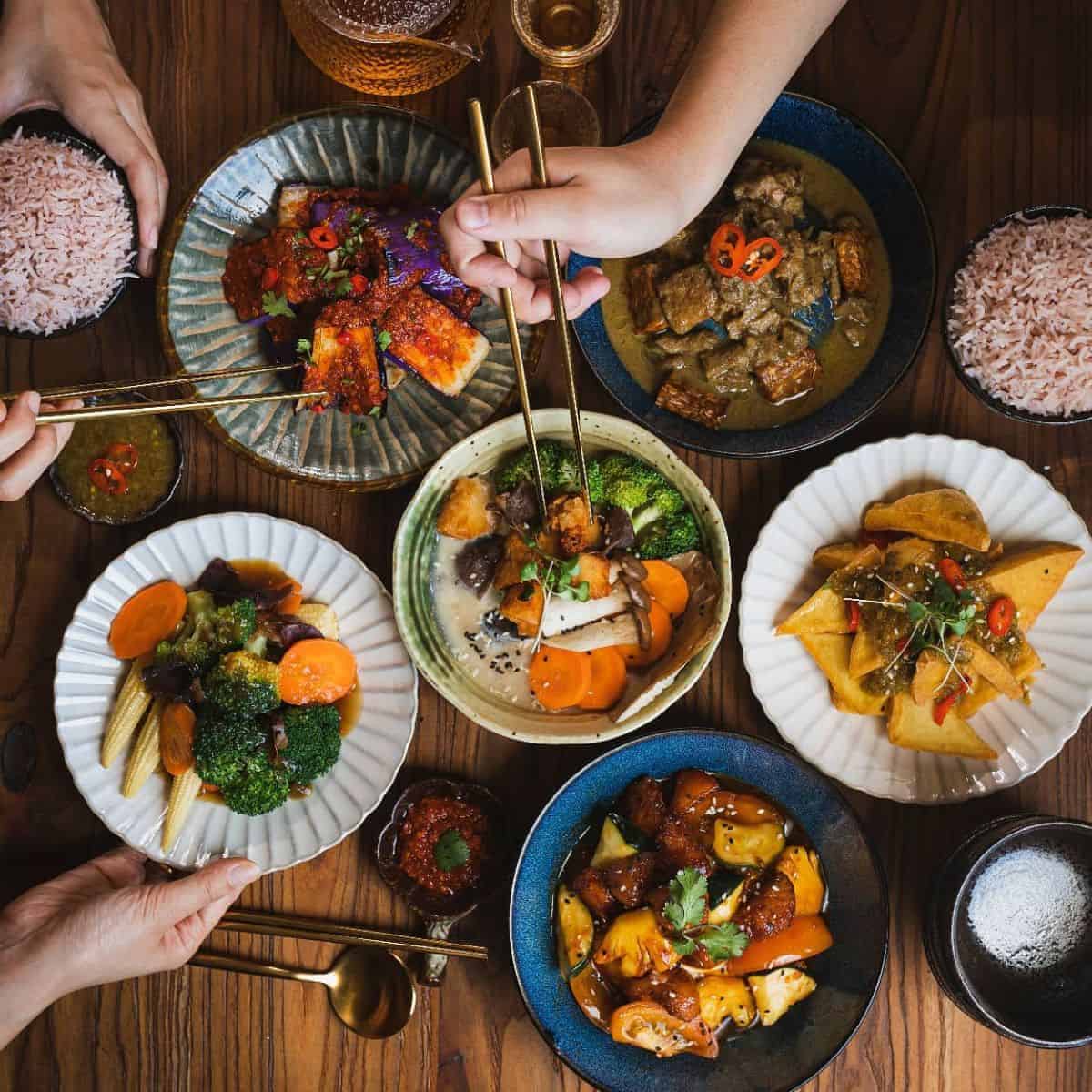 But, before we dive into our list, here's our top tip. Avoid visiting these places on the 1st and 15th of the lunar calendar to avoid large crowds. Religious Chinese people will often visit these restaurants before or after their prayers.
Jump to:
Best Penang Vegetarian Food Spots 
If you are a vegetarian in Penang, you will not be disappointed by the abundance of options available. From Indian to Chinese to Malay cuisine, you can find veggie versions of almost any dish you crave. Therefore, narrowing down our favourite vegetarian restaurants in Penang, Malaysia, is difficult. But if we had to choose two, they would be Lily's Kitchen and Woodlands.
At Lily's Kitchen, we were pleasantly surprised by the full-flavoured vegan Wantan Mee. While at Woodlands, we were blown away by their crispy and aromatic dosa. Woodlands is definitely one of the most underrated vegetarian restaurants in Penang Island. 
Lily's Kitchen (Vegetarian Char Kway Teow in Penang)
For a vegetarian twist on Penang's famous street food, come to Lily's Kitchen. It is dubbed as one of the local's most favourite vegetarian restaurants in Penang. Moreover, it boasts an incredible selection of vegan curry options, including Nasi Lemak and Nasi Kandar. Their selection will leave even the most die-hard meat eater envious.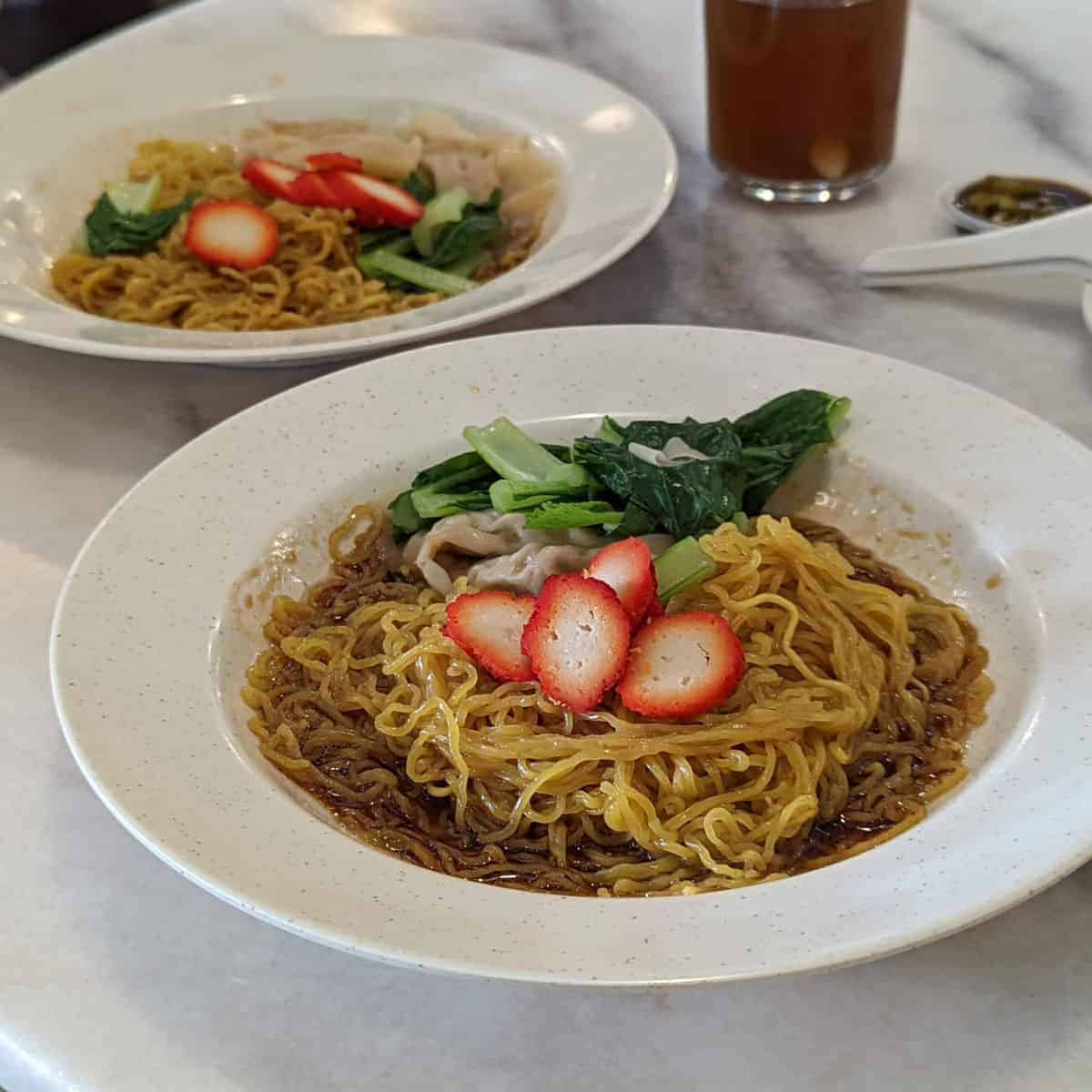 However, the actual star of the show is their Vegan Char Kway Teow. Their version has become a game-changer for this traditional dish. While the original recipe relies on meat and seafood for its signature umami flavours, Lily's Kitchen has found a way to create a plant-based version. It is just as delicious, if not better! The chefs use fresh ingredients instead of processed meat substitutes. They incorporate a variety of vegetables and also plant-based proteins to create a rich flavour profile. 
Alternatively, if you're looking for another spot to find Vegetarian Char Kway Teow - check out Chang Sow Chai. This restaurant is a Penang famous vegetarian restaurant that serves up a mean plate of this popular dish.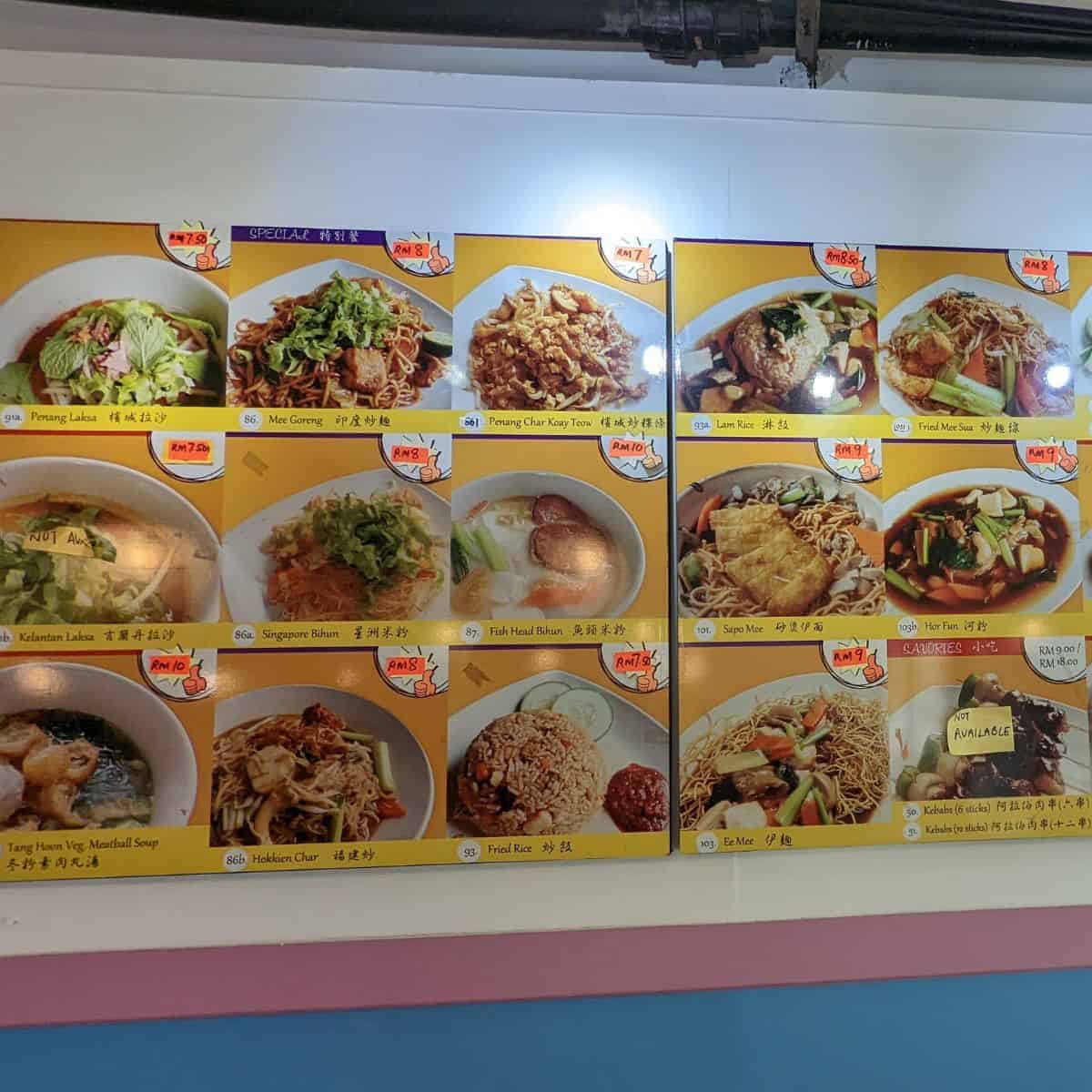 Lily's Kitchen is open daily from 8 am to 8 pm (closed on Mondays). However, for a quieter dining experience, consider visiting for an early lunch or a late dinner. 
Lily's Kitchen
98, Lorong Madras, 10400 George Town, Pulau Pinang
Evergreen (Vegetarian Penang Curry) 
Evergreen is a Penang famous vegetarian restaurant that serves up a smorgasbord of Malay and Chinese cuisine in a buffet-style format. They have over 30 vegetarian dishes, for example, stuffed steamed buns, fried noodles, and delicious mock-meat dishes. Therefore, you'll have no trouble finding something to tickle your taste buds. This place is especially great for those with dietary restrictions who avoid garlic or onion, as these ingredients are not used in the dishes.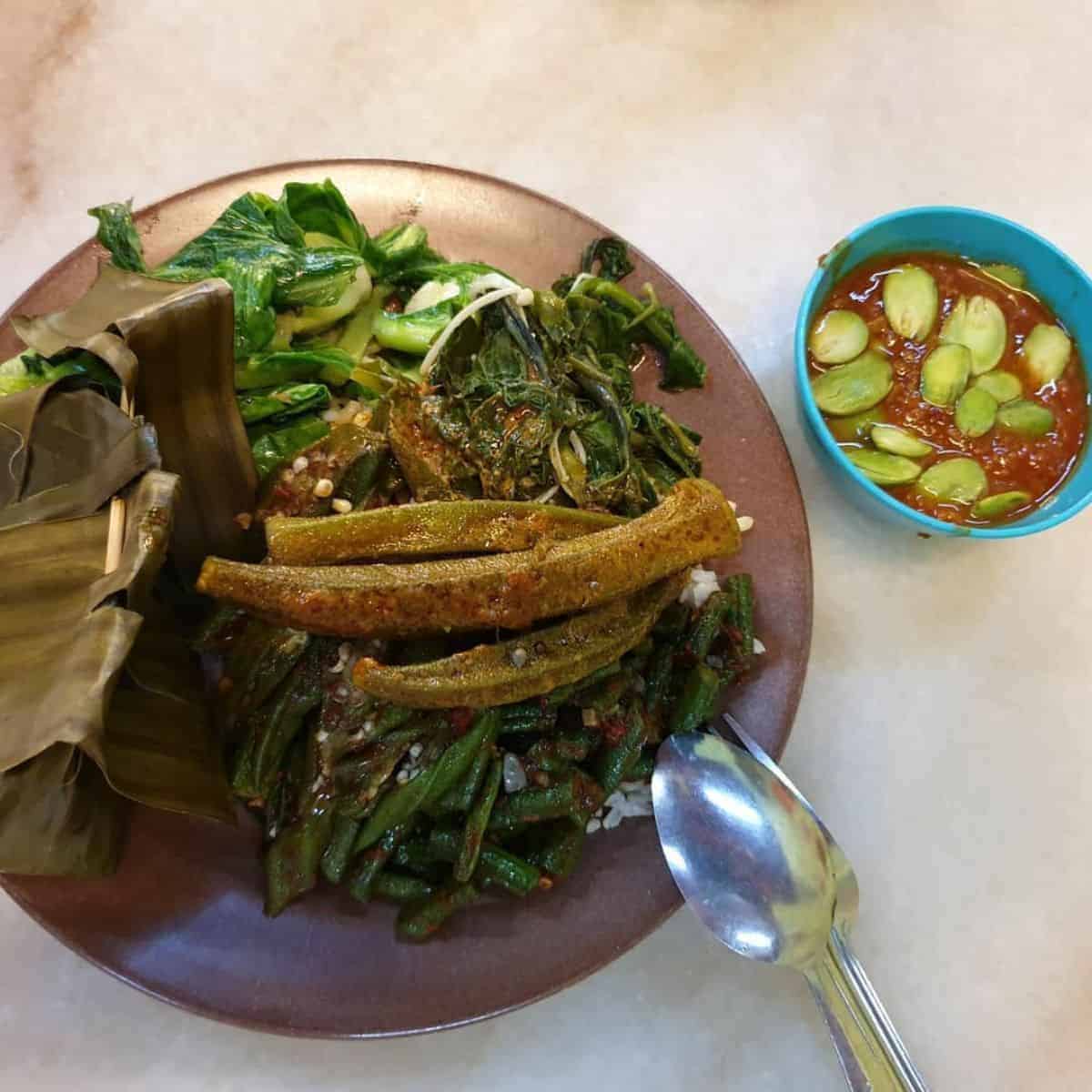 Their standout dish is the Penang curry mee. This dish features a rich and spicy curry broth, rice noodles, and an assortment of vegetables and tofu. Equally as delicious is their Hokkien mee. It features yellow noodles stir-fried with various vegetables and protein sources with a flavourful dark soy sauce-based gravy.
Similarly, another place you must try veggie Penang curry is the restaurant Idealite. This vegetarian restaurant near Bayan Lepas also serves delicious vegetarian curry dishes.
Evergreen operates daily from 8 am to 8 pm (except Wednesdays). However, we recommend you visit around 11.30 am for an early lunch before the office crowd builds up.
Evergreen
39 A, Jalan Cantonment, 10250 George Town, Pulau Pinang
Facebook
Yong Pin (Vegetarian Dim Sum in Penang) 
To experience dim sum heaven, come to Yong Pin. Your taste buds will be delighted. Although they are not strictly a vegetarian restaurant in Penang, they offer a wide selection of sweet and savoury vegetarian dim sum options. So you and your fellow herbivores will surely jump for joy.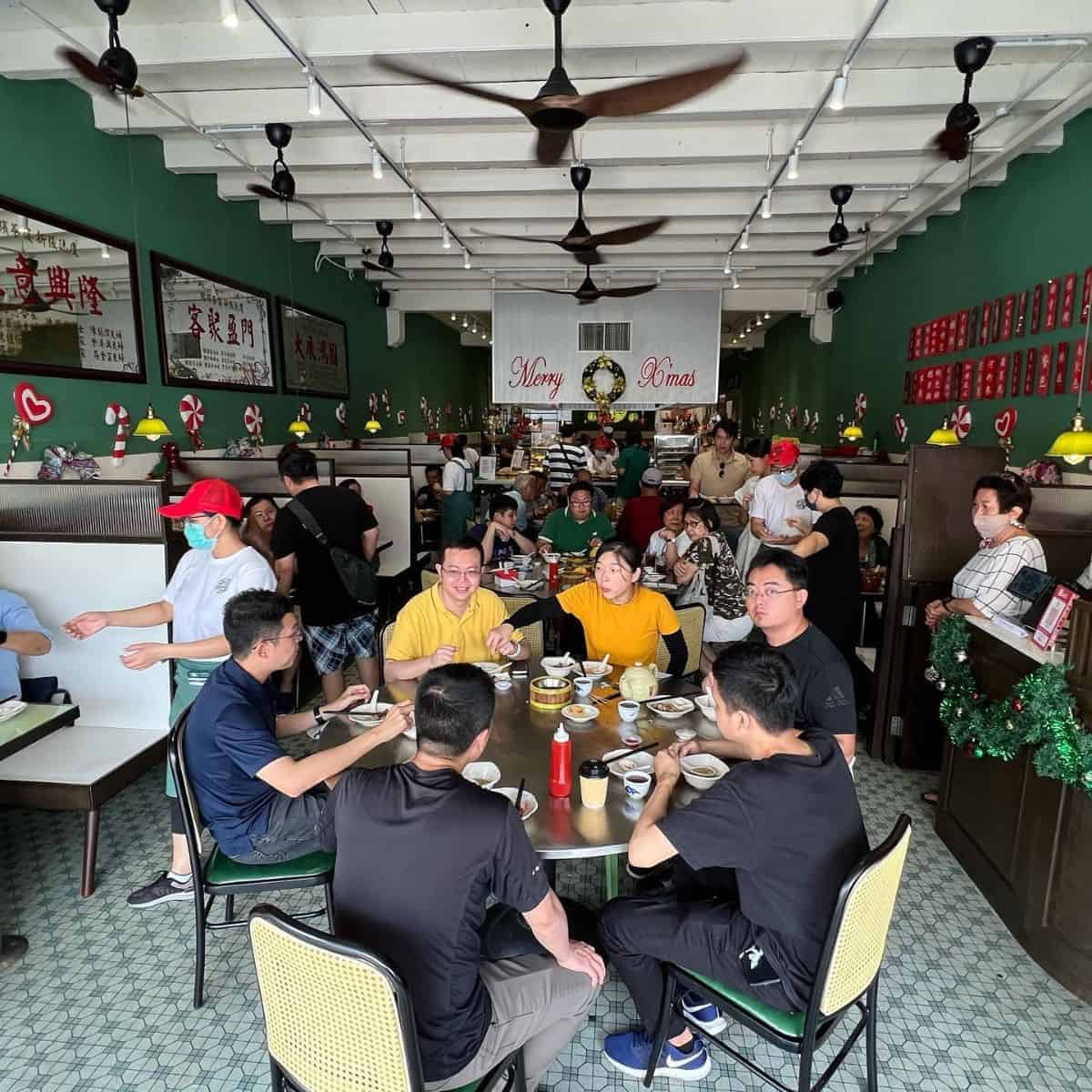 Their dim sum menu is so diverse and mouth-watering that you may find yourself second-guessing how many plates you can fit in your belly. With options like fluffy red bean bun to crispy yam puff, their vegetarian choices are an absolute treat if you want to try something different.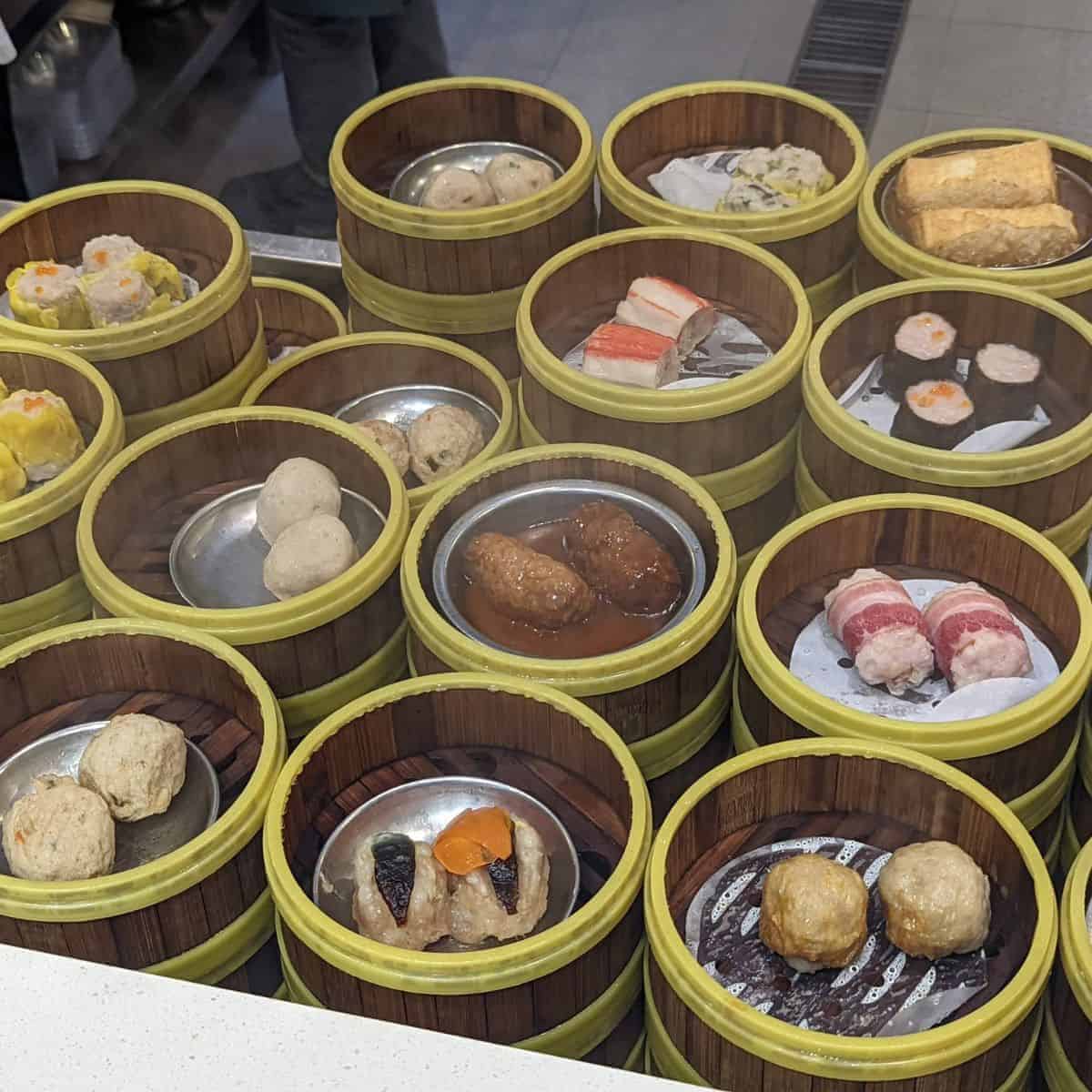 The best part? The staff at Yong Pin are fluent in English and are more than happy to guide you through their menu to help you find the perfect options. Their patience and willingness to help make the dining experience even more enjoyable.
The restaurant is open from 6.30 am to 2.30 pm on weekends and 7 am to 2.30 pm on weekdays, except on Mondays. So, we suggest you go as early as possible to avoid long waits for a table.
Yong Pin
59A, Lebuh Kimberley, George Town, 10100 George Town, Pulau Pinang
Pinxin Vegan Cuisine (Vegetarian Laksa in Penang) 
Pinxin offers some of the best vegetarian food in Georgetown, Penang. This eatery prepares a range of local vegan delicacies using natural and organic ingredients.
However, their standout dish is their Asam Laksa, a pure indulgence bowl. The perfectly spiced broth is infused with tamarind, lemongrass, and also galangal, giving it a tangy and aromatic taste. It is then topped with a mountain of fresh herbs and vegetables to enhance the flavour. It is a must-try dish.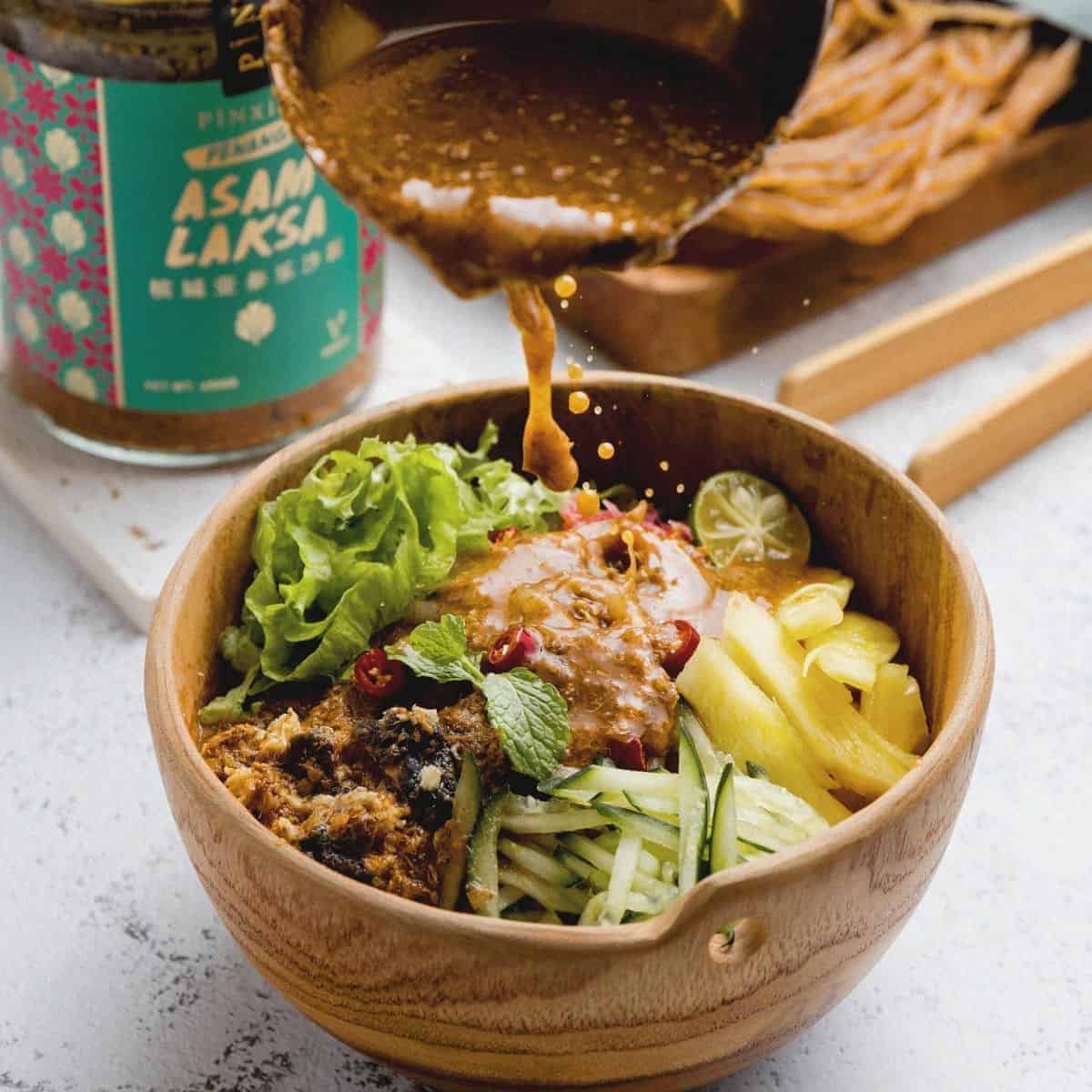 But Pinxin isn't just about Asam Laksa. Their menu combines various Chinese and Malaysian cuisine with a modern fusion twist. Furthermore, each dish is prepared with care and attention to detail, from stir-fried noodles to dumplings. 
Alternatively, Luk Yea Yan is another one of the many vegetarian restaurants in Penang where you can drop by for some plant-based laksa. They serve a delicious version of this iconic dish that is just as tasty as Pinxin's offering. Pinxin opens daily from 11 am to 9 pm. You can visit anytime as there is usually little crowd, even during peak dining hours.
Pinxin Vegan Cuisine
38, Lebuh Tye Sin, 10300 George Town, Pulau Pinang
Ee Beng (Penang Vegetarian Buffet)
Are you searching for satisfying and affordable vegetarian food in Georgetown, Penang? Then head to Ee Beng for their chap fan or economy rice. The eatery is on a small street connecting Jalan Penang and Jalan Transfer. Additionally, it is a popular spot among locals and tourists.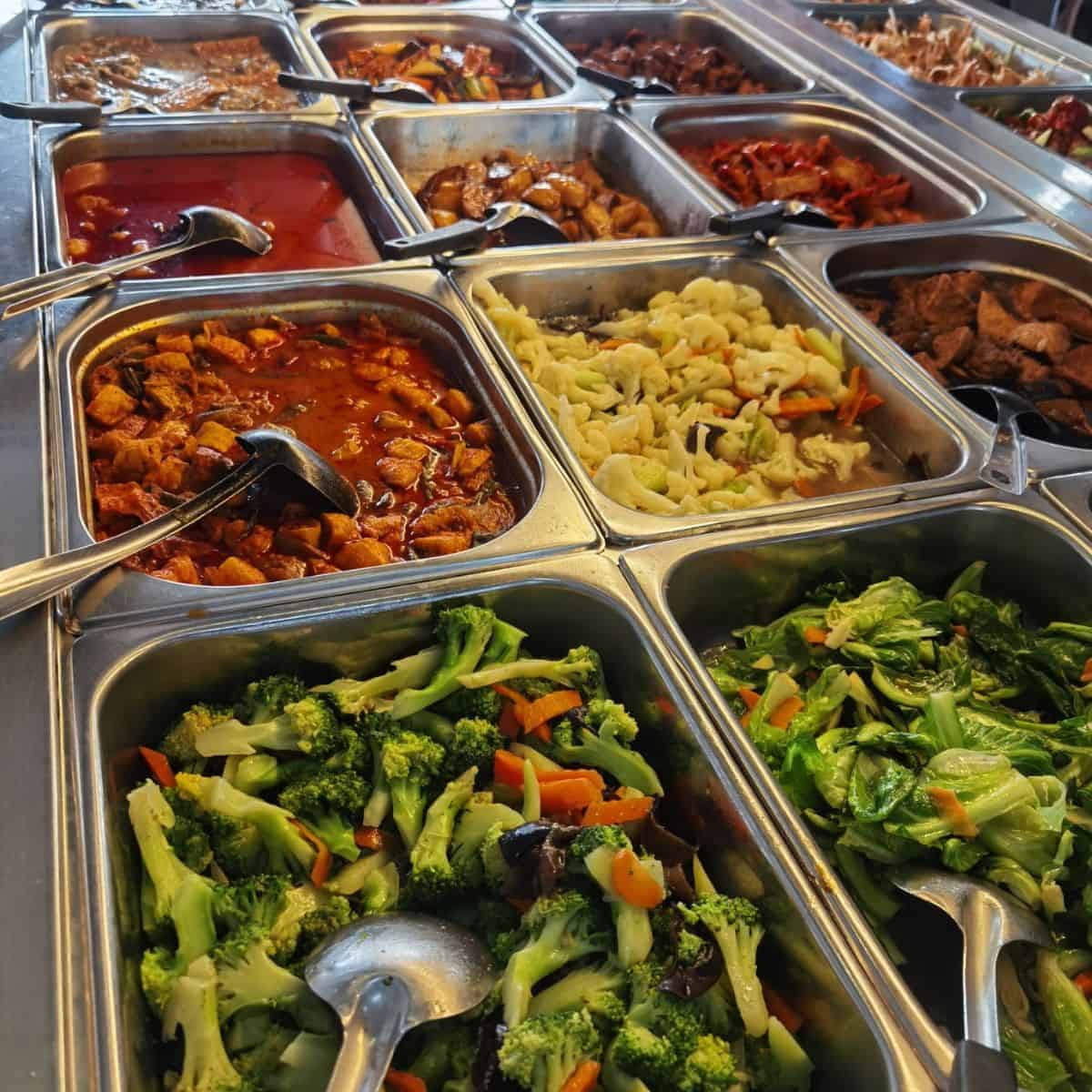 Ee Beng specialises in authentic Chinese cuisine. For example, they serve delectable steamed buns, fried mee, and fried rice. With a large selection of dishes to choose from, you are spoilt for choice. However, note that this is not an all-you-can-eat buffet. Instead, you pay based on the number of items you select, allowing you to try a little of everything.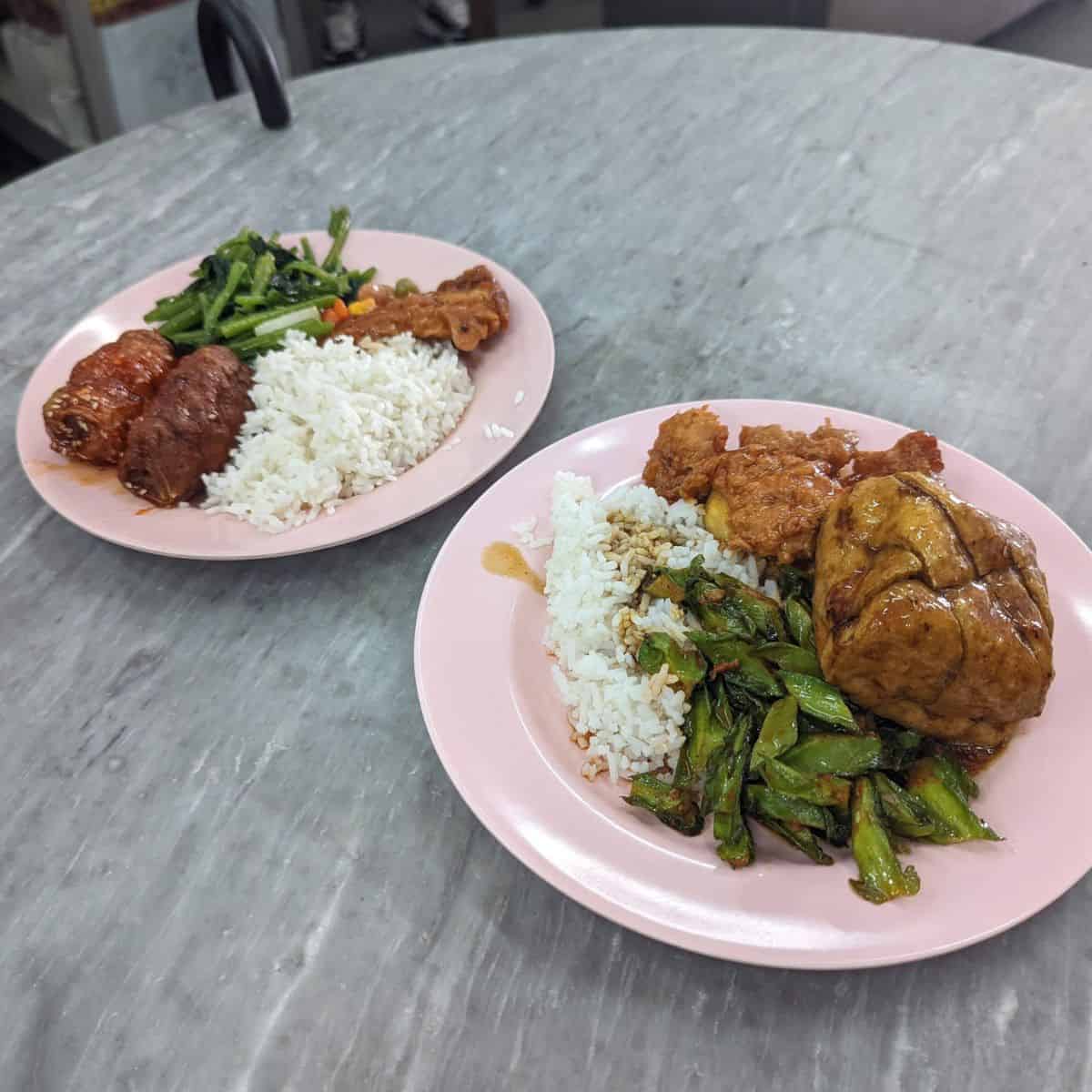 If you want a similar experience, visit Evergreen, which also offers economy rice. Ee Beng serves vegetarian food in Penang Island every day from 7 am to 8 pm, except on Sundays. Based on our experience, arriving around 10 am for a late breakfast is best to avoid the crowds. Also, it gets quite busy between 8 am and 9 am. 
Ee Beng
20, Lebuh Dickens, George Town, 10050 George Town, Pulau Pinang
Woodlands (Indian Vegetarian Food) 
Woodlands Vegetarian Restaurant is located in the heart of Little India in Georgetown. It is also one of the best vegetarian restaurants in Penang. 
Their menu offers a variety of authentic Indian dishes, such as crispy dosas, fluffy naans, rich veggie curries, and refreshing lassis. Your tastebuds will be singing with delight. We highly recommend their killer Masala Rava Dosa. It's made with semolina flour, cumin, ginger, coriander leaves, and green chilli served with refreshing coconut chutney.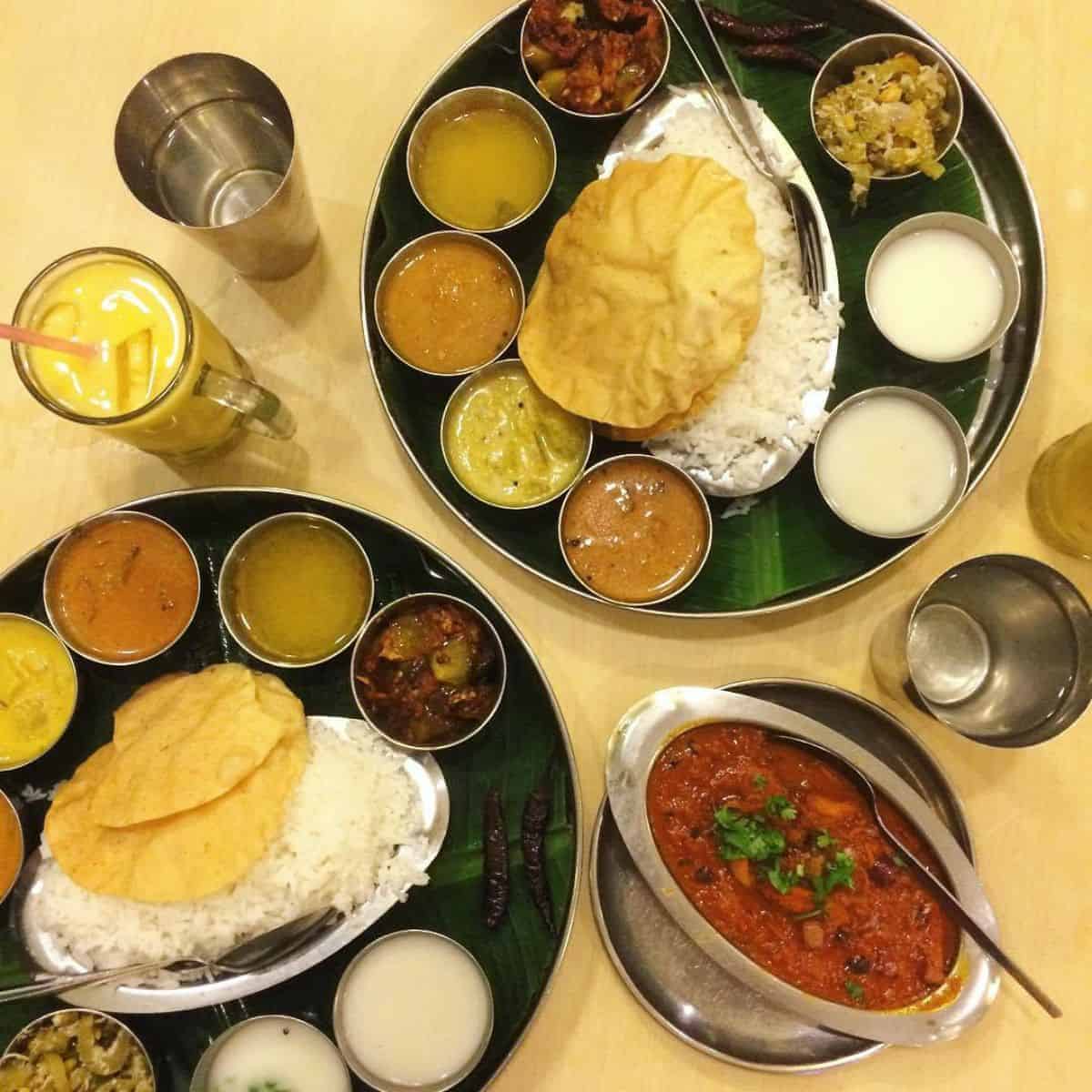 Similarly, Sri Ananda Bahwan is another great spot for Indian-inspired Penang vegetarian food. This spot is also located in Little India. Known for its extensive menu of veggie and non-veggie options - it's the perfect spot for a light and quick breakfast.
Arrive early in the morning to avoid the crowds, as there are always huge groups during peak breakfast hours around 9:30 am. Afterwards, you can explore the many nearby cafes in Penang for a second breakfast. Woodlands is open daily from 8:30 am to 9 pm. Therefore, plan your visit accordingly to avoid long waiting times.
Woodlands
60, Lebuh Penang, George Town, 10200 George Town, Pulau Pinang
Brown Poodle (Vegetarian Cafe in Penang) 
Located on the outskirts of Georgetown, Brown Poodle is a must-visit for anyone seeking the best vegetarian food in Penang. This cafe has been serving delicious plant-based dishes since 2015. Hence, it is a popular spot among locals and tourists. Moreover, what sets Brown Poodle apart is their commitment to veganism - everything on the menu is vegan-friendly.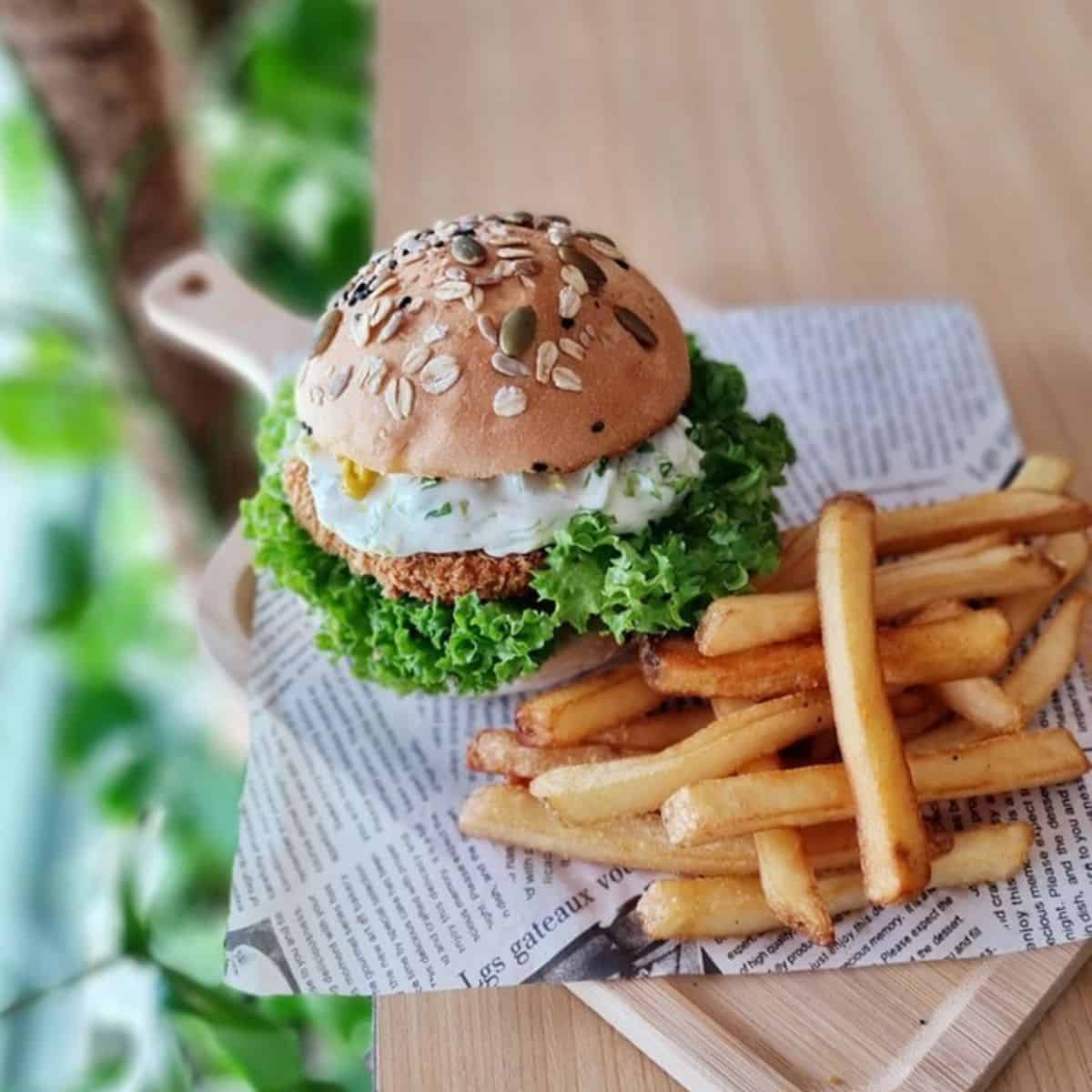 We highly recommend trying the Fat Poodle double cheeseburger platter, hazelnut cheesecake and creamy shroom spaghetti with truffle oil. After enjoying the delicious veggie food, you can also take a stroll along the nearby beach in Penang to admire the stunning view. 
If you're closer to Georgetown, Sincerely Crafted is another amazing veggie restaurant that you must visit for a chic modern experience. If you're looking for a vegetarian restaurant in Batu Ferringhi, then check out Ferringhi Coffee Garden. 
Brown Poodle opens daily from 8 am to 9 pm (closed on Thursdays). We recommend going around 6 pm for an early dinner and an evening beach stroll afterwards.
Brown Poodle
B-G-8, Vantage, Jalan Seri Tanjung Pinang 1, 10470 Tanjung Tokong, Pulau Pinang
Janxden Greenlife (Vegetarian Western Food in Penang) 
JanxDen Greenlife Cafe is one of the vegetarian restaurants in Penang Island that offers Western-style vegan dishes. Their menu features vegan twists on classics such as pasta, pizza, burgers, and sandwiches. Located on the peaceful Chow Thye Road, the cafe's quiet atmosphere is perfect for a relaxing meal with loved ones.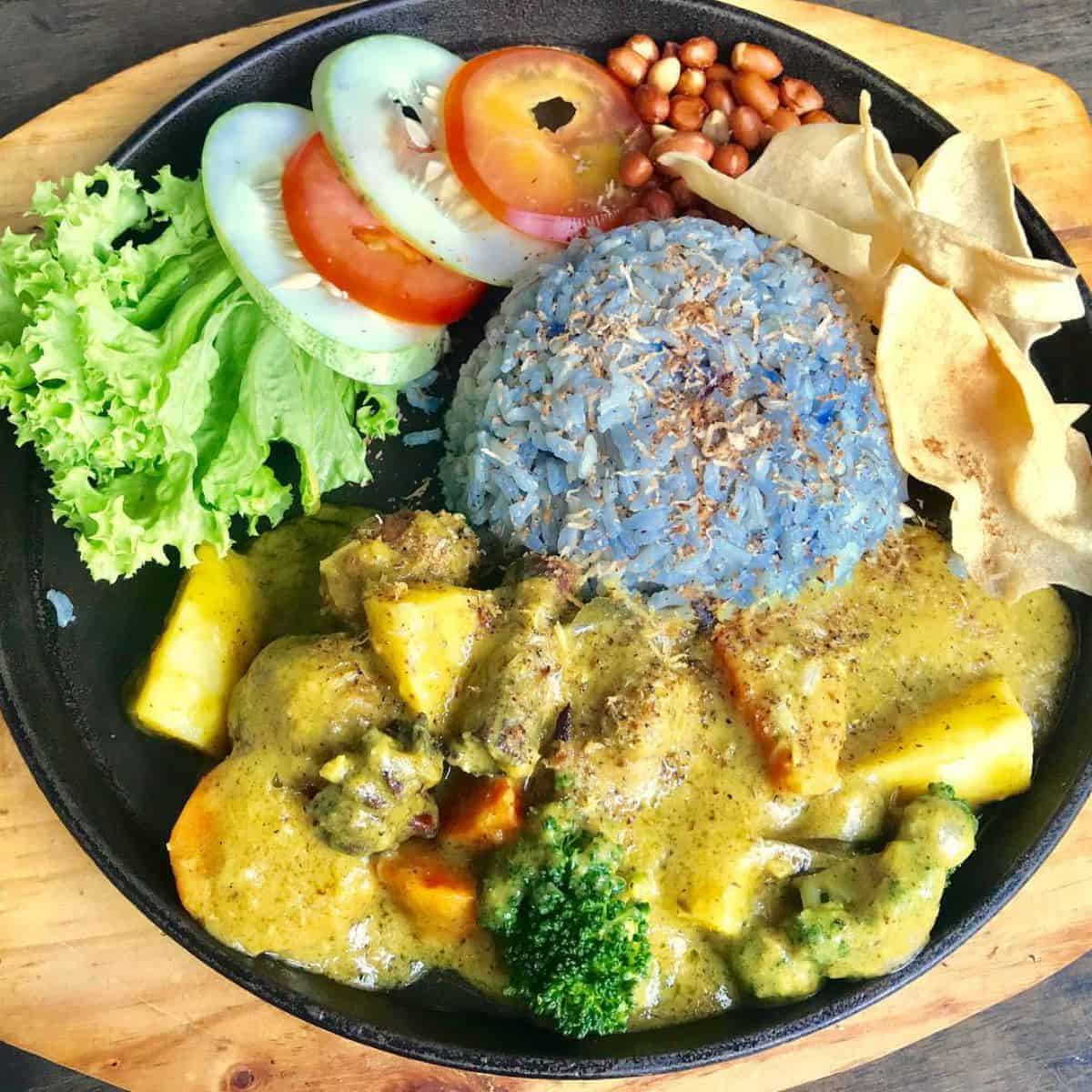 For example, their Creamy Cheese Bake Rice, Mushroom Chop, Aglio-Olio, and Hawaiian Pizza are just some dishes you should not miss out on. You'll be amazed at how they've elevated vegan cuisine to the next level! If you have a sweet tooth, ensure that you also indulge in their delicious cheesecake for the perfect ending to your meal. 
The cafe is open daily from 11.30 am to 9.30 pm (closed on Wednesdays). We suggest experiencing a romantic night out in Penang and enjoying the best vegetarian food in Penang during the less crowded evening hours. 
Janxden Greenlife
50, Jalan Chow Thye, George Town, 10050 George Town, Pulau Pinang
Zen Xin (Vegetarian Chinese Food in Penang) 
You must not skip Zen Xin if you're looking for decently priced and nutritious Chinese-style vegan food at one of the best vegetarian restaurants in Penang. The spot is housed in a renovated heritage house on Nagore Road. 
Some of their must-try dishes are tangy and spicy Kung Pao monkey head mushrooms and their jiggly smooth steamed Pumpkin Tofu. Although the vibe of the place is old-school, the environment is modern and upholds the highest hygienic standards, ensuring a comfortable dining experience.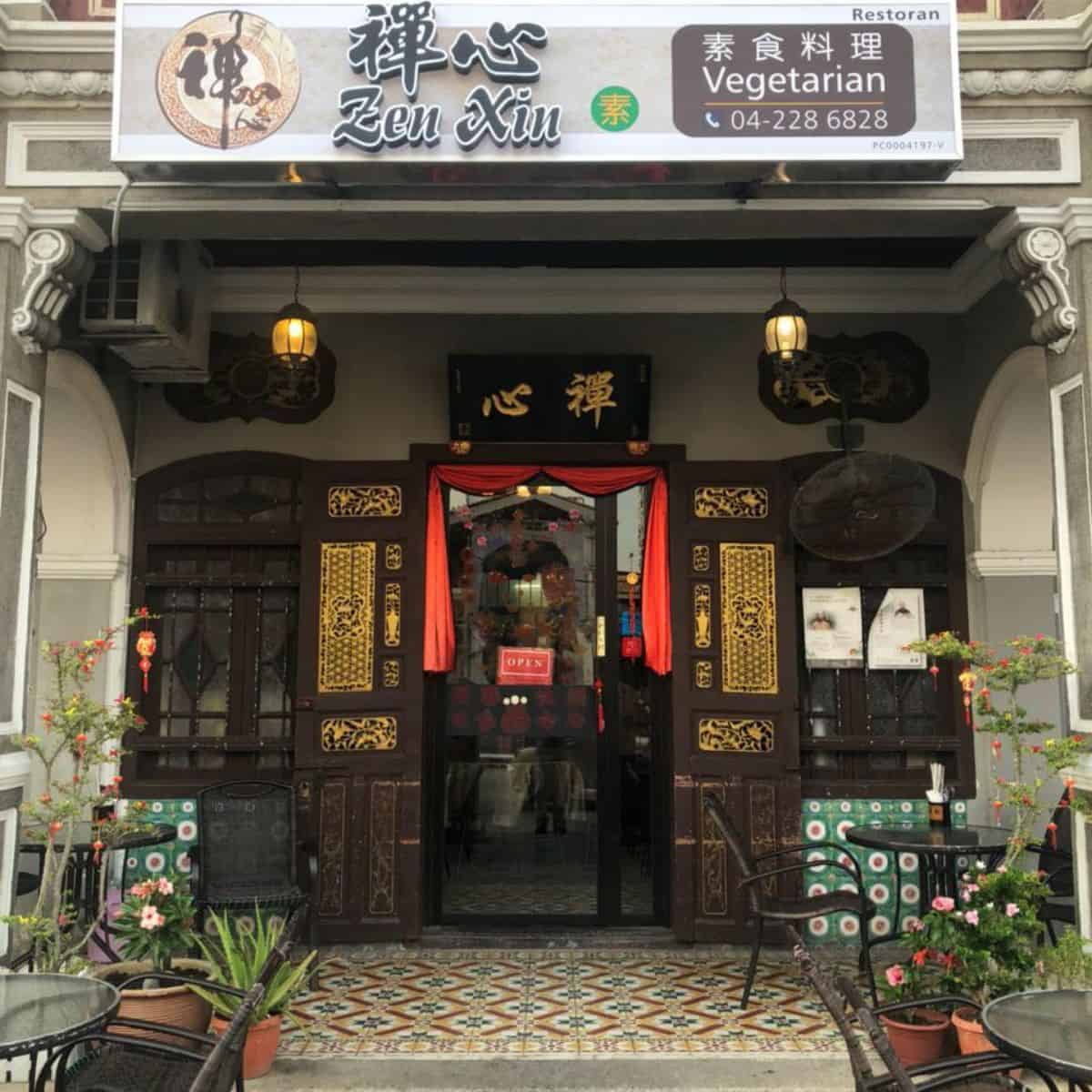 Additionally, the nearby Grand Vege Creative is also worth a visit for those with more adventurous taste buds. Unlike traditional vegetarian food in Penang Island, which focuses on mock meat dishes, Grand Vege Creative is known for its innovative plant-based cuisine. They use fresh, local ingredients to create dishes that are not only healthy but also brimming with flavour and creativity.
Zen Xin opens daily from 11 am to 4 pm and 5:15 pm to 9 pm (Closed on Mondays). We came for an early dinner at around 5.30 pm plus, but many tables were already occupied when we arrived. So, we recommend you visit around 11 am for an early lunch instead.
Zen Xin
42, Jalan Nagor, 10050 George Town, Pulau Pinang 
Vegie Café (Vegetarian breakfast in Penang)
Located on the scenic Gurney Drive, Vegie Cafe is the best vegetarian restaurant in Penang for a wholesome and guilt-free breakfast. With a fresh ocean breeze, it's an ideal spot for a breakfast date. We ordered their herbal noodle soup and Petai (bitter beans) Nasi Lemak. We were surprised by their umami flavours despite only using vegan ingredients.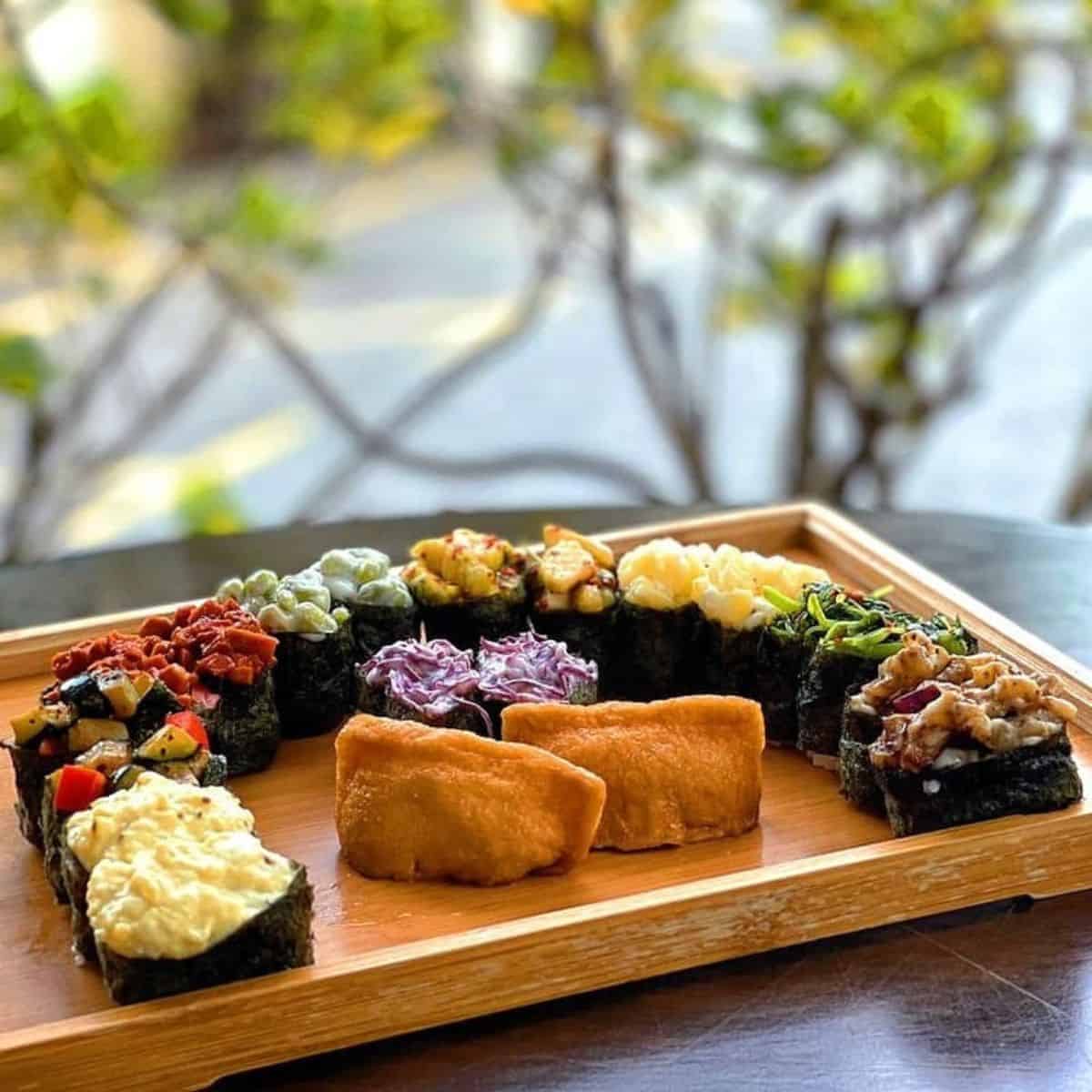 To round out the meal, we also tried their taro black sesame vegan cake and dirty coffee, which blended coffee with matcha. The grassy flavour of the matcha and the nutty taste of the coffee was a match made in heaven! We recommend that you have a sip whenever you pass this area. Vegie Cafe operates daily from 8 am to 8.30 pm. So the best time to visit is early in the morning to start your day off right.
Vegie Café
No 75, Gurney Dr, 10250 George Town, Penang
SUPE Vegan (Penang vegetarian sushi) 
Being a vegetarian in Penang is a blessing. The island has many restaurants that cater to dietary restrictions. Most vegan establishments fall into three categories: Chinese, Indian, and Western. However, SUPE Vegan breaks the mould with their Japanese vegan cuisine.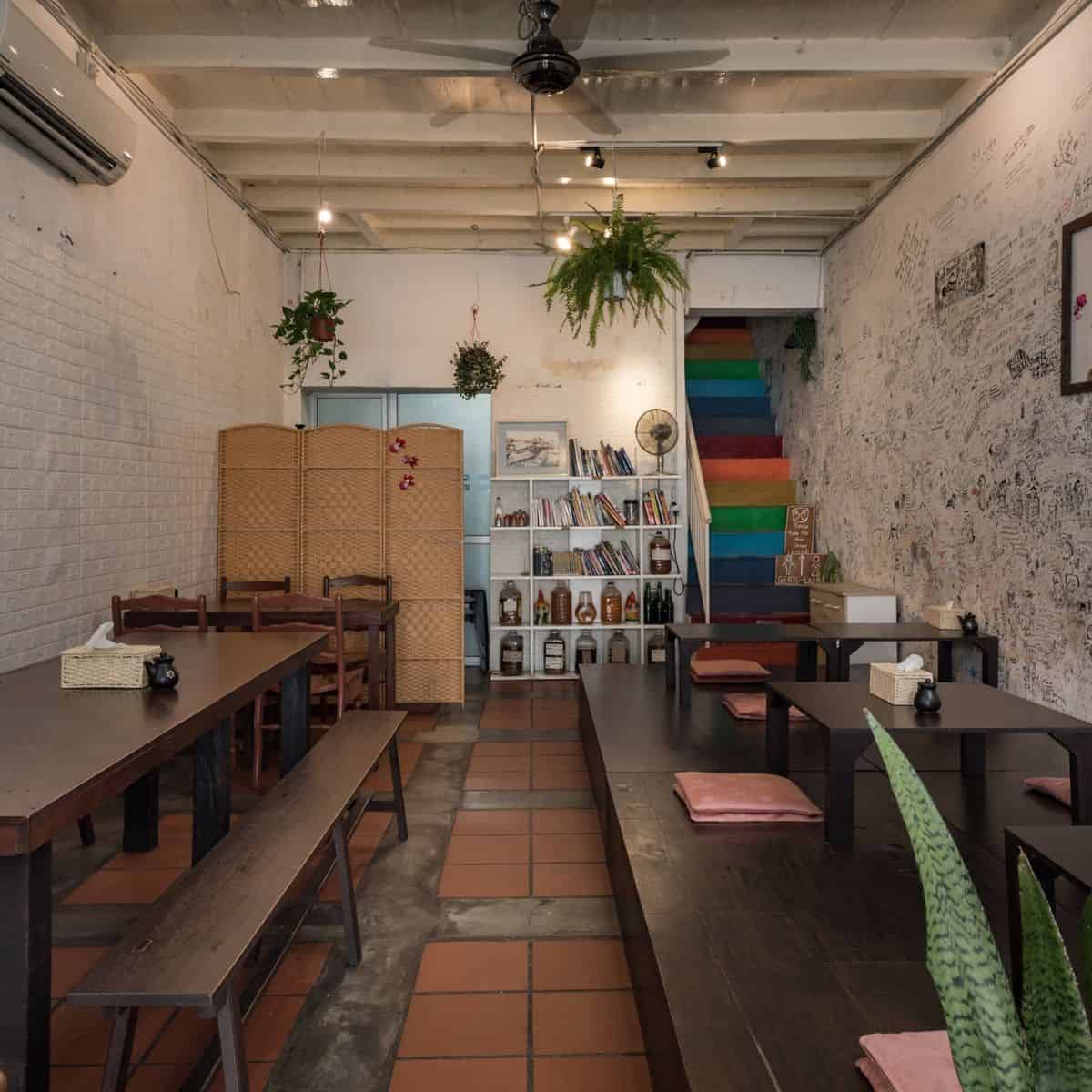 Formerly known as Sushi Kitchen, SUPE Vegan offers an impressive range of plant-based Japanese dishes that are both nutritious and delicious. We fell under the spell of their colourful and crunchy Climate Maki and nourishing edamame fried rice. Their food is visually appealing and tastes even better than it looks.
Additionally, if you're looking for more plant-based sushi, check out Plant a Seed Vegan and Neko Vegan House. These Japanese vegetarian restaurants near Bayan Lepas serve fantastic food. 
SUPE Vegan has several branches on the island and is open daily from 11 am to 3:30 pm and 4:30 pm to 9 pm, so you can visit anytime.
SUPE Vegan
12, Gat Lebuh Acheh, George Town, 10300 George Town, Pulau Pinang
Jian Jian (Vegetarian hawker food in Penang) 
Jian Jian is a must-visit if you want to explore the vegetarian restaurants in Penang Island and try out a range of delicious plant-based hawker food. This cosy eatery has two stalls that offer a mouth-watering variety of noodles, rice dishes, and steamed buns. Their menu features famous hawker dishes like Hokkien mee, Char Kway Teow, and Nasi Lemak, all made with plant-based ingredients.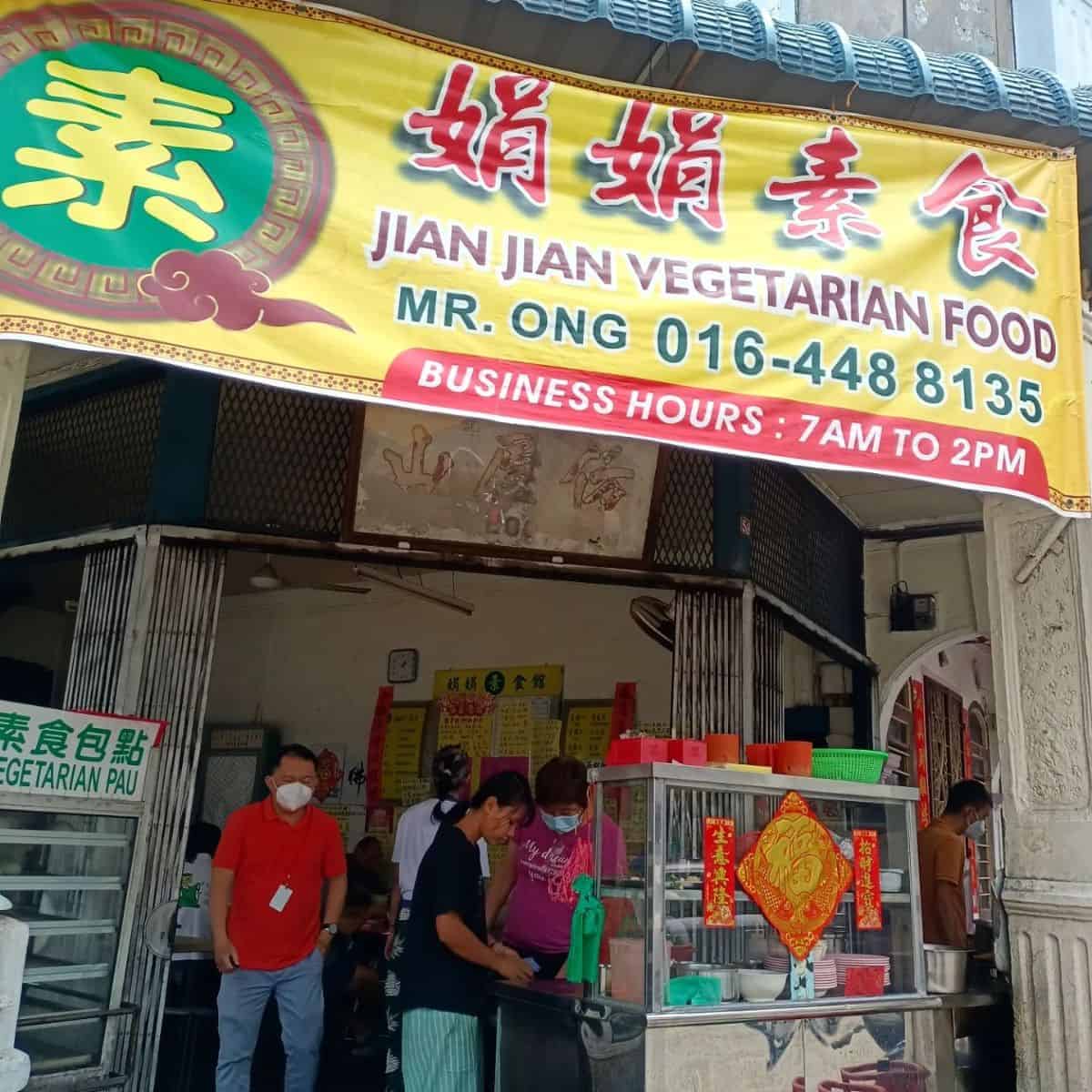 This charming and compact local spot is ideal for those seeking a quick bite. Even though it closes at 2 pm, it is the perfect place to begin your day with a healthy and filling meal. Jian Jian opens daily from 7 am to 2 pm, except for Sundays when it's closed.
Jian Jian
58, Lebuh Tye Sin, George Town, 10300 George Town, Pulau Pinang
Google Maps
Lu Ye Yuan (Vegetarian noodle soup in Penang) 
Lu Ye Yuan is a vegetarian restaurant in Bukit Mertajam that serves Chinese plant-based economy rice and some classic noodle dishes. Although some of their offerings contain dairy, most items are egg-free. In addition to their main dishes, they offer a range of tasty bakery items such as pizza, steamed buns, and bread.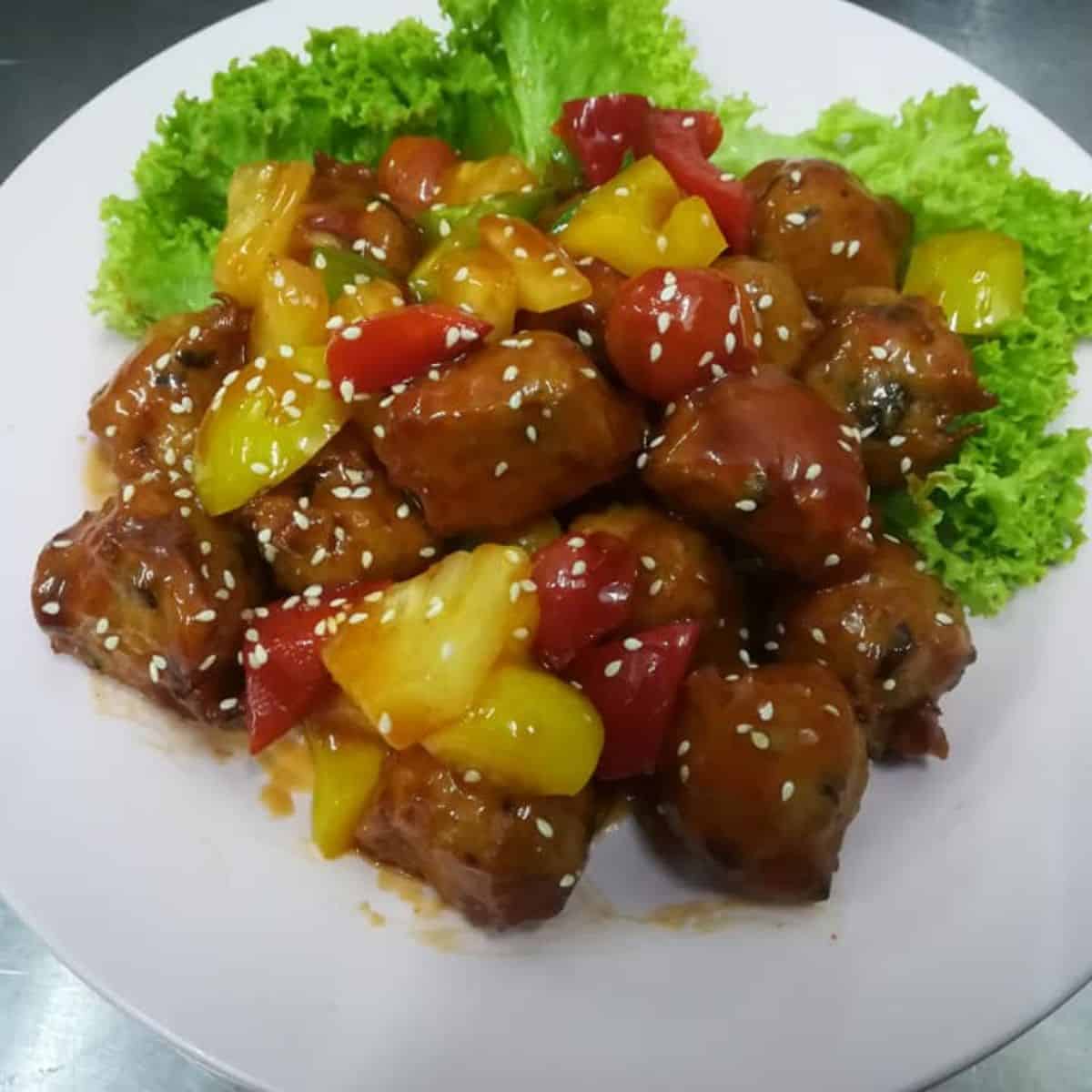 Their plant-based curry mee especially blew us away. This noodle soup stands out from other vegetarian restaurants in Penang Island due to its rich and fiery coconut milk broth infused with fragrant spices and herbs. The soup is packed with vegetables such as bean sprouts, tofu puffs, and long beans. As a result, we are left with a deliciously complex and satisfying bowl of noodle soup. 
Lu Ye Yuan is open daily from 9.30 am to 6.30 pm (Closed on Sundays). Be sure to arrive before 12.30 pm to have a wider selection of economy rice dishes.
Lu Ye Yuan
106, 108, Jalan Tembikai, Taman Mutiara, 14000 Bukit Mertajam, Pulau Pinang
Facebook
Taking a Vegetarian Penang Cooking Class 
One of the many fun things to do in Penang is to take a cooking class. Not only do you get to learn how to cook traditional local dishes, but you also get to experience and interact with the local culture. In addition, you can learn how to make vegetarian food in Penang from many of these cooking classes. It's an excellent opportunity to learn how to cook delicious plant-based local dishes and bring a piece of Penang back home. 
Top Vegan and Vegetarian Food in Penang
We hope our list of the top vegetarian restaurants in Penang, Malaysia has inspired you to try some fantastic plant-based dishes.
If you want to keep up with more food recommendations and travel tips, follow us on Instagram @tabitogether. Happy eating and exploring!