Penang beaches are great places to hang out, relax and have fun if you visit Malaysia. There are more than ten beaches in Penang. Each has its charm, so you're sure to find your favourite spot worth visiting. These spaces are also safe for all. So, you do not have to be concerned about bringing your kids along to join the fun.
Some of Penang seashores are great choices when it comes to offering water activities. You can go scuba diving, snorkelling, and surfing. You can even try water sports like jet skiing and banana boating. Additionally, if you are wondering whether you can swim on Penang beaches, quite a few offer clear water and beautiful scenery.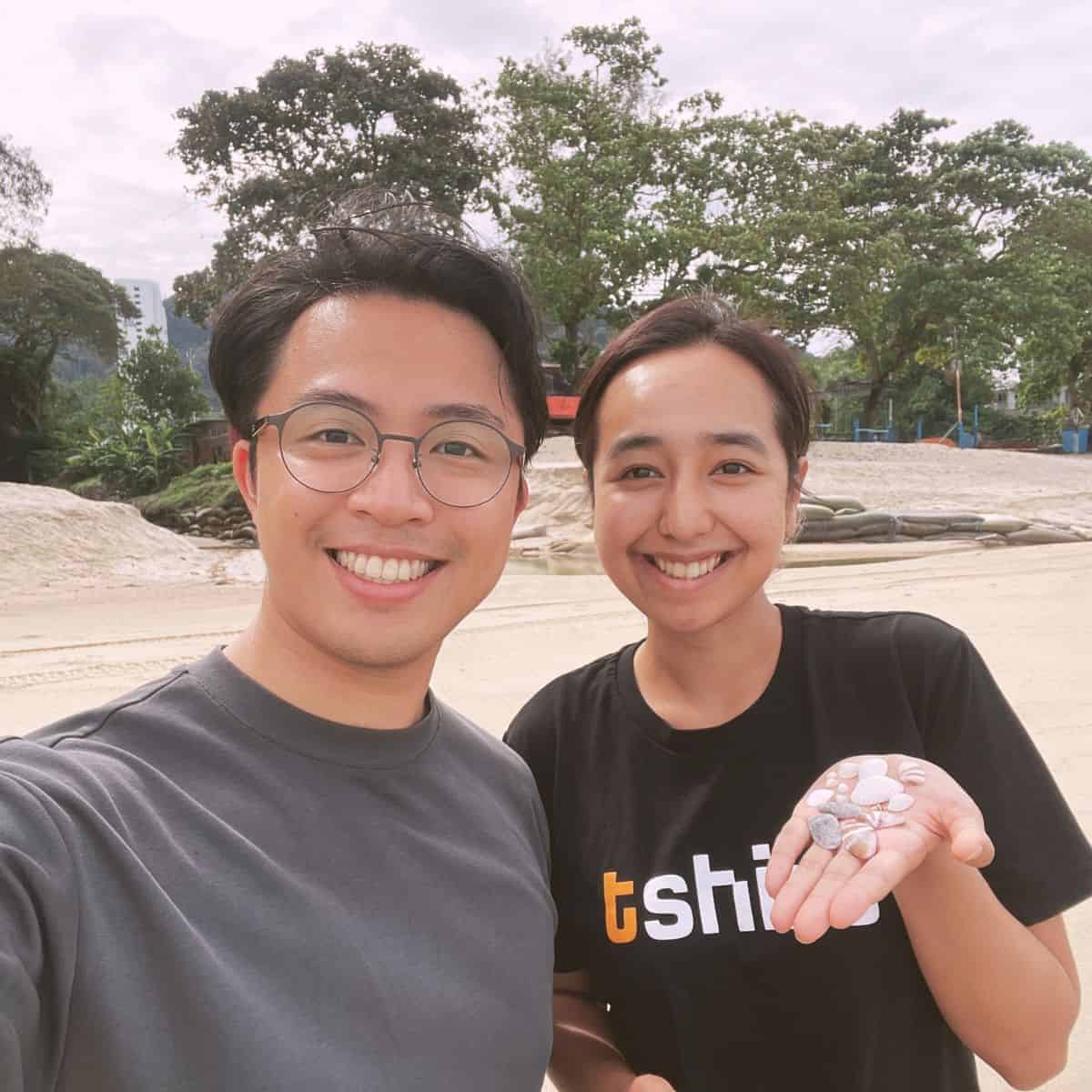 However, most people prefer to lie down on the white sand and sunbathe rather than swim, for some reason. For instance, some individuals find the coast to be murky from time to time. The presence of jellyfish in some areas also limits people from swimming. As such, most individuals will choose to spend some quality time on the white sand, which is still a fun thing to do.
Therefore, if you are looking for a nice coastline vibe, then such beaches are in Penang. Here are our top recommendations to make your trip more enjoyable when contemplating what to do in Penang.
Jump to:
Pantai Pasir Panjang (Long Sand Beach)
If you are looking for a relaxed and quiet place, then Pasir Panjang is one of the best Penang beaches you can visit. Also, if you love a peaceful family outing, this is your perfect choice. This beach incorporates a palm-fringed setting to enjoy beautiful sunset views and clear waters.
Here, you won't find many recreational activities since it's a hidden beach in Penang. But you can still enjoy picnicking and swimming. However, it would help if you took utmost caution while swimming here since the currents are quite swift. There is a significant undertow, so it's not an ideal swim spot for families or children.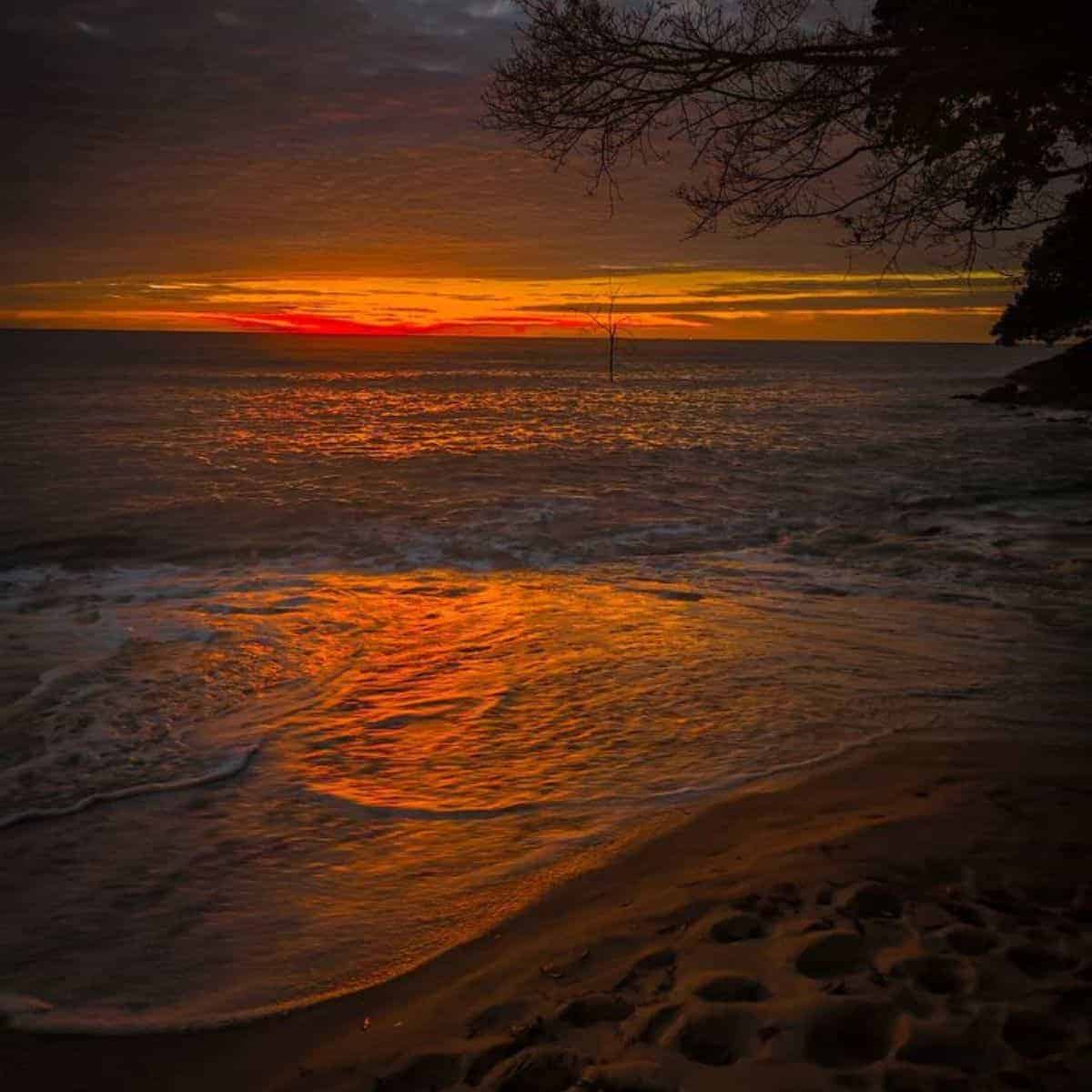 This can be a perfect place for visitors interested in fishing. Some of the saltwater fish in the area include Spanish Mackeral, Mahi Mahi, Giant Trevally, and Sailfish. They can get caught by using live bait, and it can be a truly unique experience.
Hikers can choose to easily trek to this beach through several winding hills and paths. After enjoying the atmosphere, you can dip in the sea or walk back to the town. Pantai Pasir Panjang can also be an ideal place to sit and watch the sun go down.
Just note that finding public transport from this area may be difficult. Not many buses, taxis, nor Grab drivers pass through the area. We've also heard about issues with connecting to a phone line and mobile data at the seaside. So, be sure to plan your private transport back home.
Batu Ferringhi Beach
If you are looking for a developed beach near Georgetown Penang, then Batu Ferringhi is your place. The coastline here incorporates a beautiful picturesque setting alongside a long stretch of white and soft sandy beaches. It also hosts several oceanfront resorts, a vibrant night market providing different bargain items and international and local restaurants.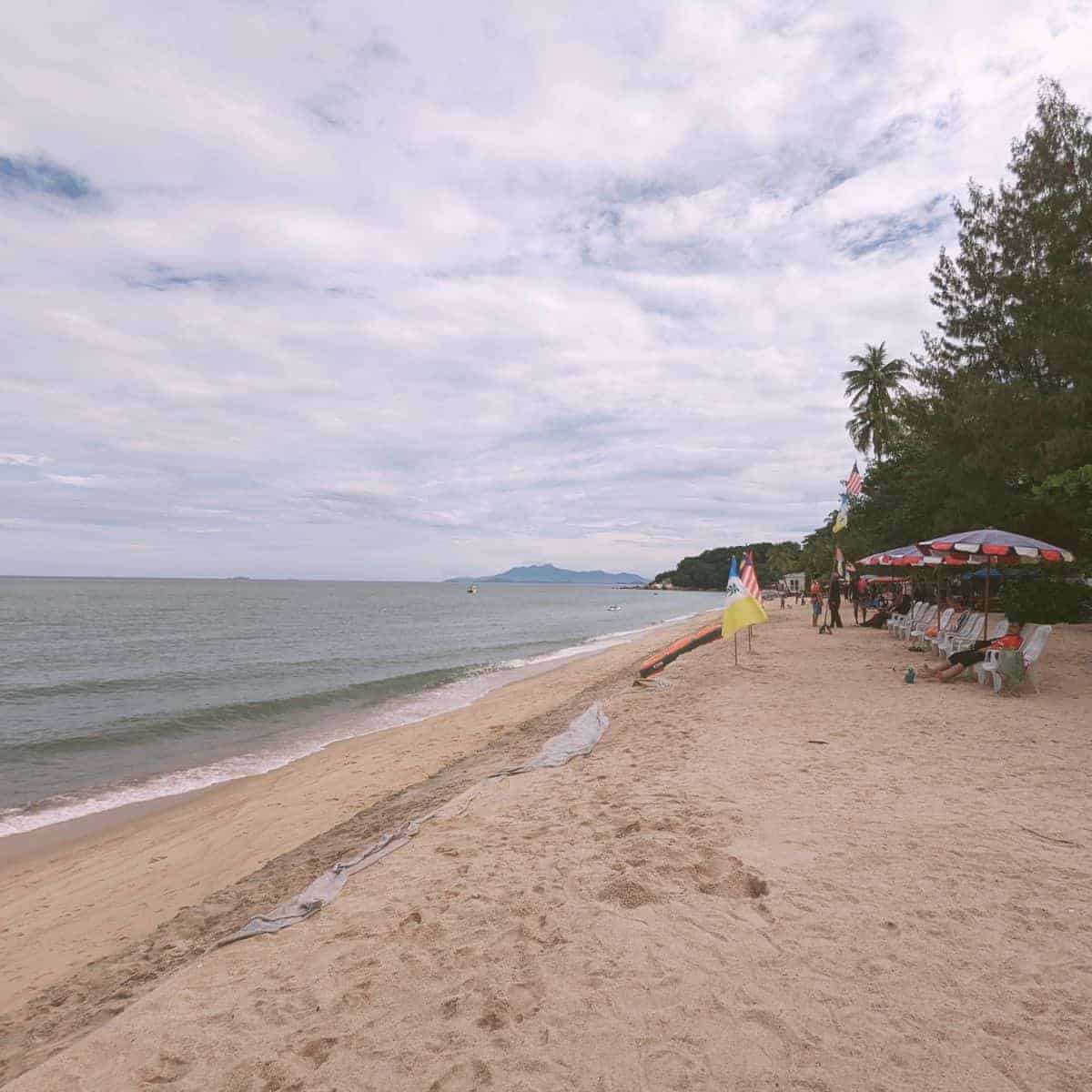 The beach is just 30 minutes away from Georgetown when using a vehicle. The distance makes it an appropriate getaway after a long day interacting with centuries-old temples, colonial structures, and vibrant street art.
However, please note that the traffic between Georgetown and Batu Ferringhi can get quite packed as only one main road connects the two areas. So, we recommend heading there early to avoid peak traffic hours.
Additionally, this place is ideal for all thrill seekers. You can enjoy water activities like windsurfing, jet skiing, and parasailing here. Most watersports vendors here operate independently, but most of them have been there for years providing quality service. You'll be in safe hands, so enjoy the rides!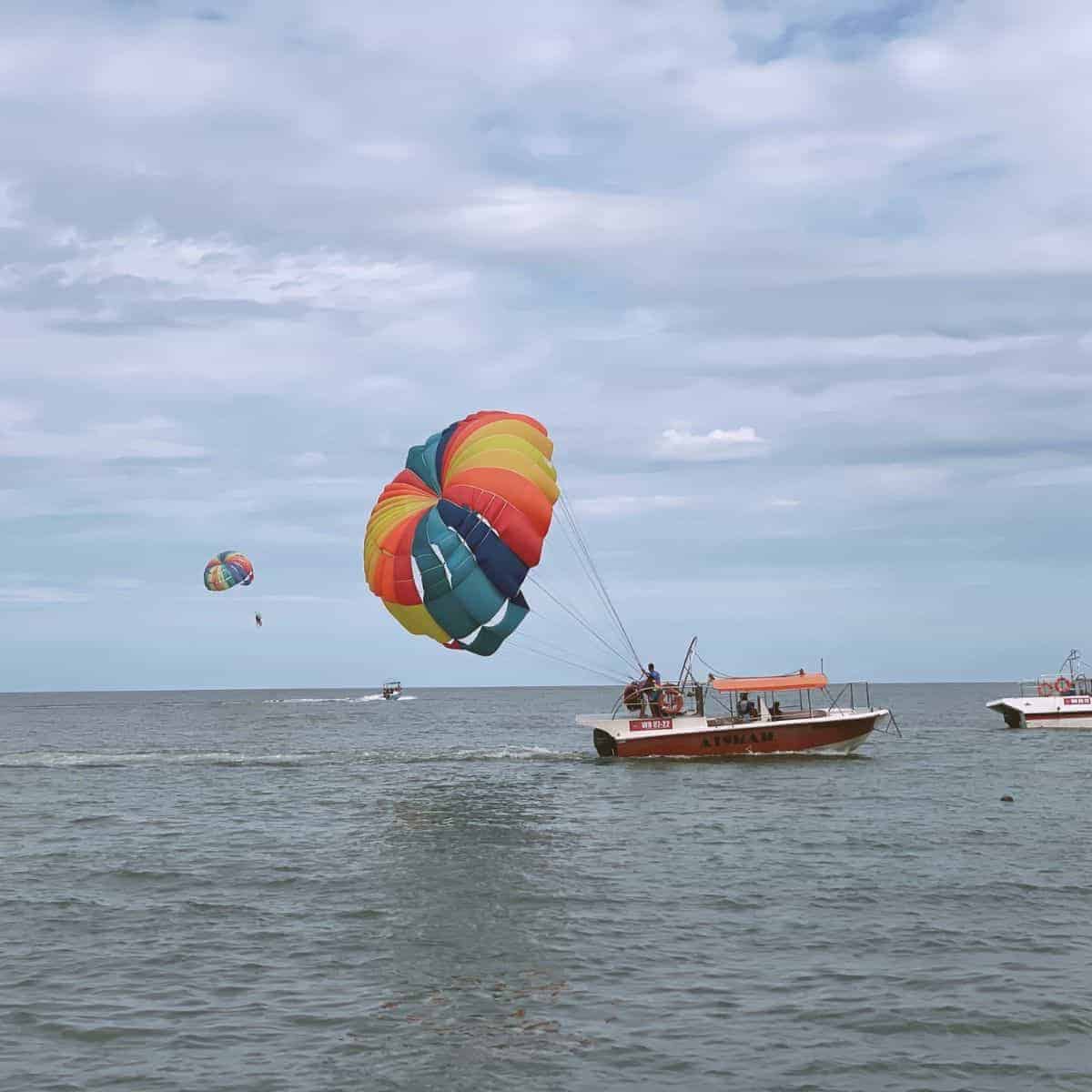 Otherwise, you can choose to just relax on the soft white sandy shore and enjoy the beautiful sunset views. We also found the seashells along the Batu Feringghi seashore to be particularly pretty. So, look down and play a game of who can find the prettiest seashell with your loved ones!
Pantai Teluk Bahang
Teluk Bahang is a beautiful and peaceful beach located 5 kilometres away from Batu Ferringhi. This beach is ideal if you love relaxing by the sea during the day. The beach also hosts several must-visit attractions close by including the Spice Garden and ESCAPE Penang.
Additionally, this Penang beach for picnics offers cooling waters and fine white sand. The local Penangites love the Teluk Bahang seaside. Compared to Batu Feringghi, it is less crowded, more peaceful and cleaner as it's further away from the resort areas.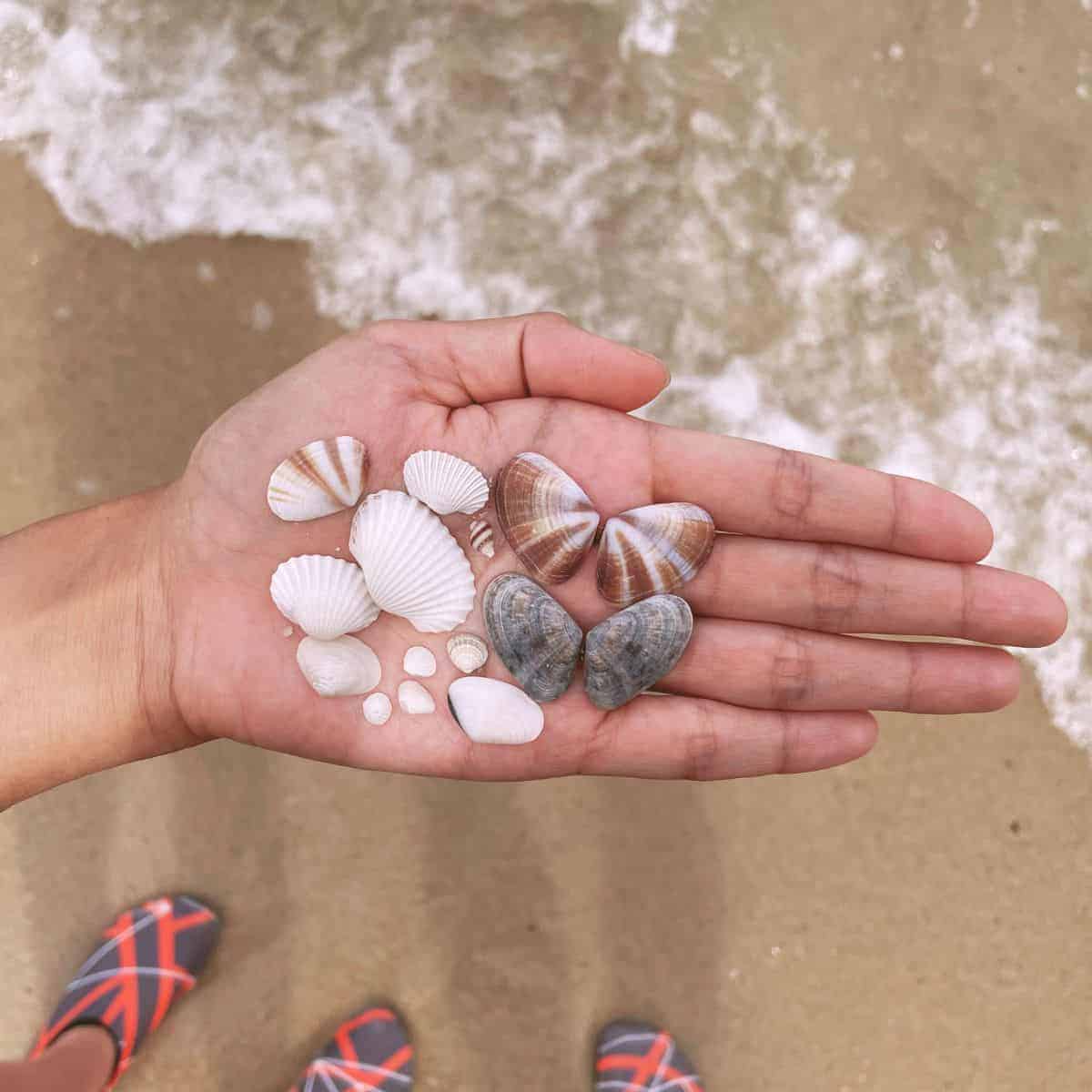 If you love barbequing by the beach with your family, consider visiting Teluk Bahang. The seashore area is close to a free parking spot. So, you can prepare and bring your barbecue tools by car and easily set it up facing the ocean. Just remember to clean up after yourselves to preserve the pristineness of the sands!
The water here isn't ideal for swimmers due to jellyfish presence, but you can still enjoy camping grounds at this picturesque beach. Also, during the day, you can go jungle trekking to ease your mind.
Monkey Beach
You will find the location of the lovely Monkey beach inside the Penang National Park. The beach incorporates a long stretch of white sand alongside turquoise waters, making it among the best Penang beaches for swimming.
Monkey beach Penang is also known among the residents as Teluk Duyung, which means 'mermaid bay'. While we can't say for sure if you will see mermaids, you will very likely see some monkeys when visiting this bay area! The name pays homage to the family of monkeys that reside in the forest of the beautiful bay.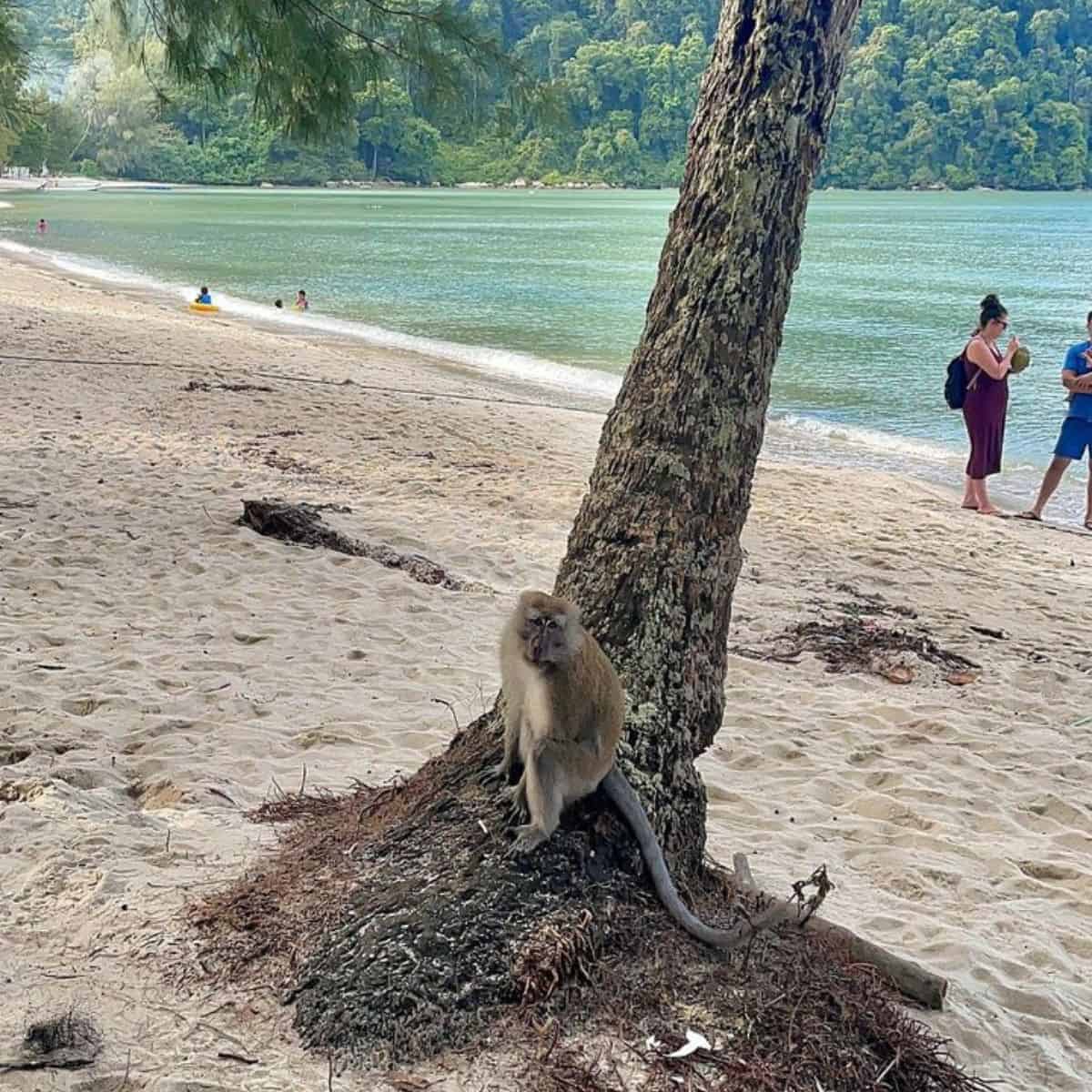 This immaculate paradise is also great for hikers or people who love adventure. That is because such people can consider accessing the shore by trekking the jungle, which takes about 2 hours.
Monkey beach Penang also provides an ideal environment for a family setting where people can enjoy a romantic and relaxing break by the sea. The bay doesn't have fancy restaurants, resorts, and the usual Penang beach water activities, making it a perfect place to chill and enjoy the beautiful views.
Tanjung Bungah Public Beach
Tanjung Bungah beach has its location between Batu Feringghi and Gurney. The place was a sleepy fishing village in the past that was hidden among rocky landscapes and lush greens. As time lapses, this pristine area has grown in popularity to be among the best Penang beaches one will ever come across. Some attractions you can enjoy while visiting this beach include the Penang Floating Mosque and the Toy Museum.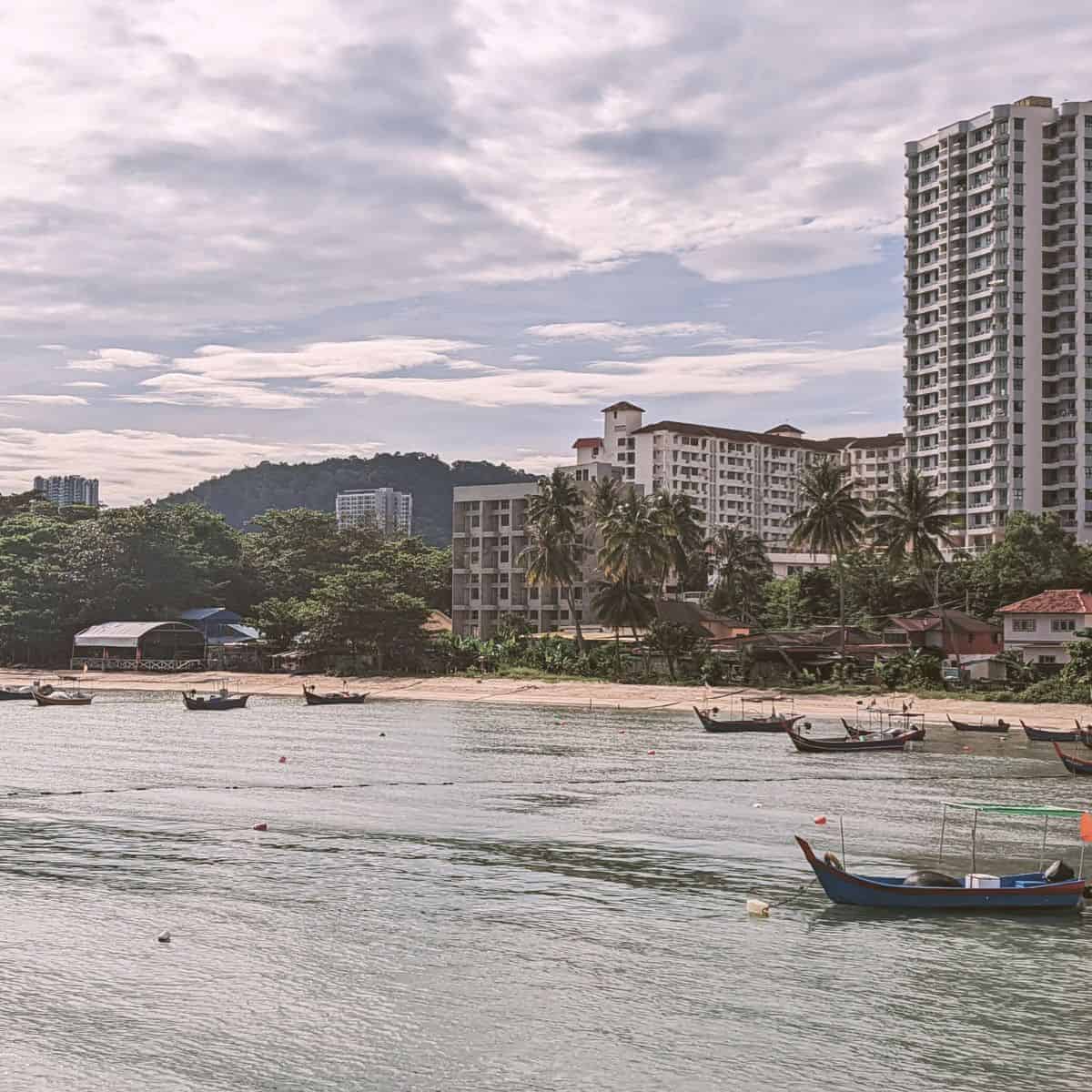 Additionally, for thrill seekers, Tanjung Bungah beach is a place you can't miss. Since it hosts the Penang Water Sports Centre, you can enjoy a variety of activities while here. For instance, you can rent canoes, kayaks, and boats at affordable fees and explore the waters. You can also indulge in other fun-filled activities like soccer and volleyball while on the shore.
For foodies, here's an insider tip on a great place to eat local Malay Penang food near the seashore. At the west end of the Tanjung Bungah coast, just opposite the entrance of the Floating Mosque is a small hilly area that is home to Kedai Makan Lidiana. This open-air warung offers Penang-style Malay Nasi Campur for breakfast and lunch. It has been a favourite among locals for decades, and we highly recommend eating here!
Teluk Kampi Beach
This long sand beach in Penang is another incredible attraction you will encounter in the National Park of the state. The seashore is also among the best Penang beaches that offer hikers an adventurous opportunity. That is because it incorporates a challenging route full of branches and fallen leaves, which hikers use to access this bay area. The trail is also steep in some places and becomes slippery during the rainy season.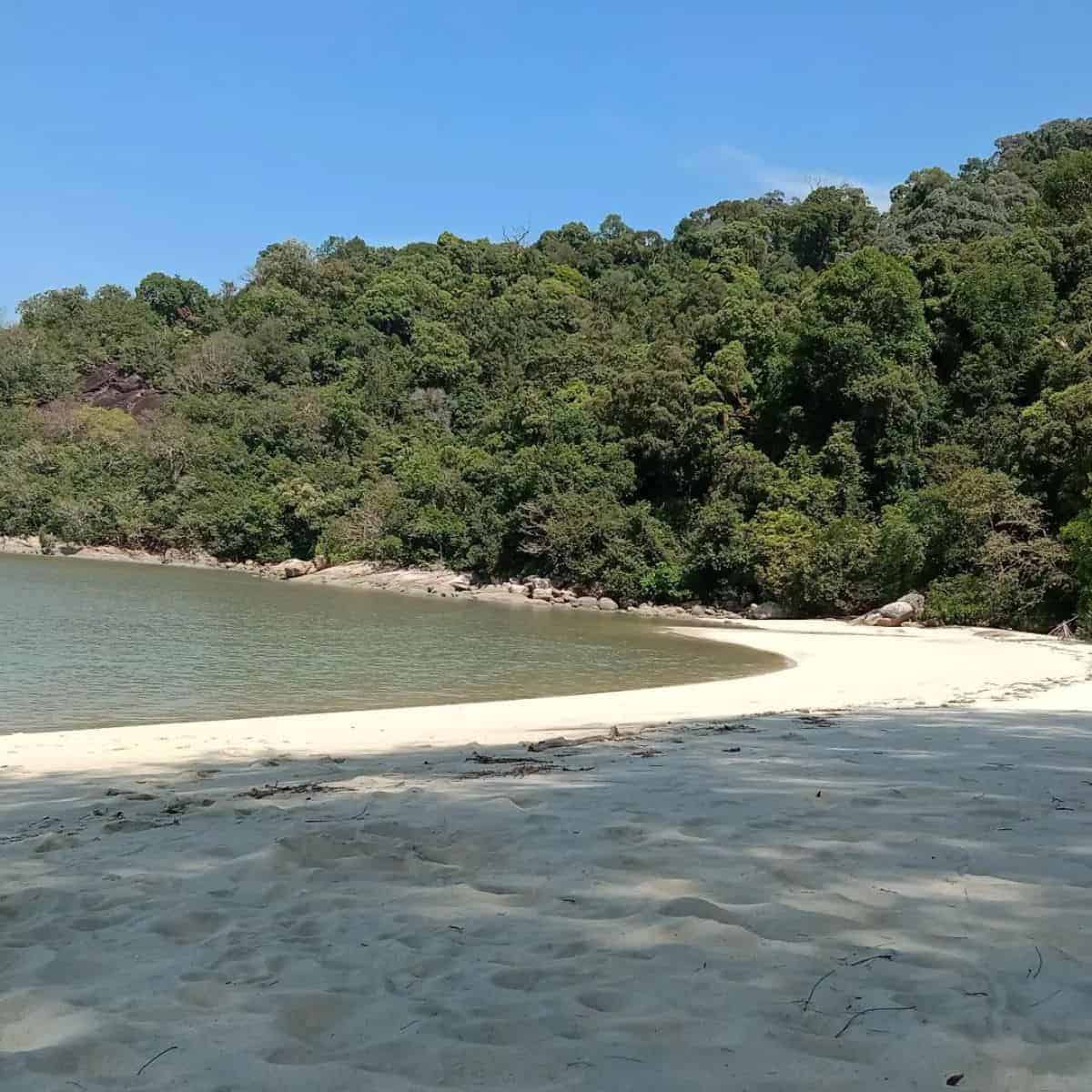 Teluk Kampi is also among the best Penang beaches for swimming. Here, you will find ideal water for swimming and sunbathing. Also, this is a fantastic place to go if you love bird-watching.
Furthermore, this spot provides a calm atmosphere throughout the year. As such, camping grounds here are ideal for families who want to enjoy a peaceful get-together during the day.
Pantai Kerachut (Turtle Beach)
If you are looking for another hidden beach in Penang, Pantai Kerachut is the place to visit. This beach is one of the most interesting Penang beaches known for its turtles.
It hosts several types of turtles between September and February, including the hawksbill turtle and olive ridley turtles. The sand crystals of this seashore are suitable for turtles, which is why sea turtles would come by Pantai Kerachut to lay their eggs. The turtle nursery and research centre are also located here to focus on the conservatory efforts of these beautiful animals.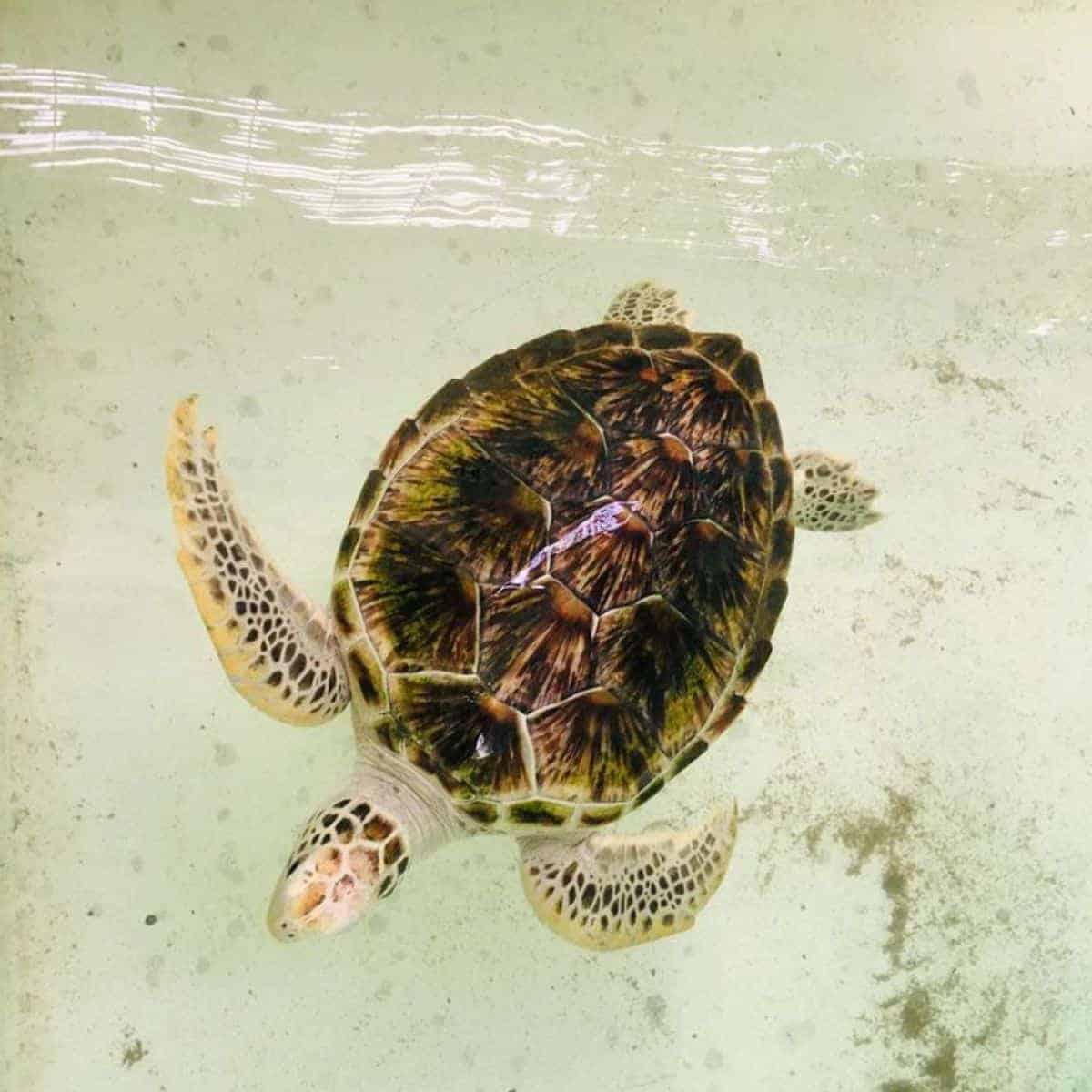 Additionally, those who love hiking can access this beach from Teluk Bahang through a connected suspended bridge. The coastline also has interesting geological formations. It hosts a meromictic lake where fresh water and sea water don't intermix even though they co-exist. The unique phenomenon only can be experienced between May and August, so do plan accordingly if you're interested.
Swimming is not the best option at this beach since it attracts jellyfish during certain times of the year.
Beach of Moonlight Bay
Moonlight Bay Beach has an amazing ocean view and is located between Miami Beach and Batu Ferringhi. The seashore incorporates pebbly-grainy sand and larger rock formations, which is perhaps why the Bay doesn't appear on the Penang beaches map.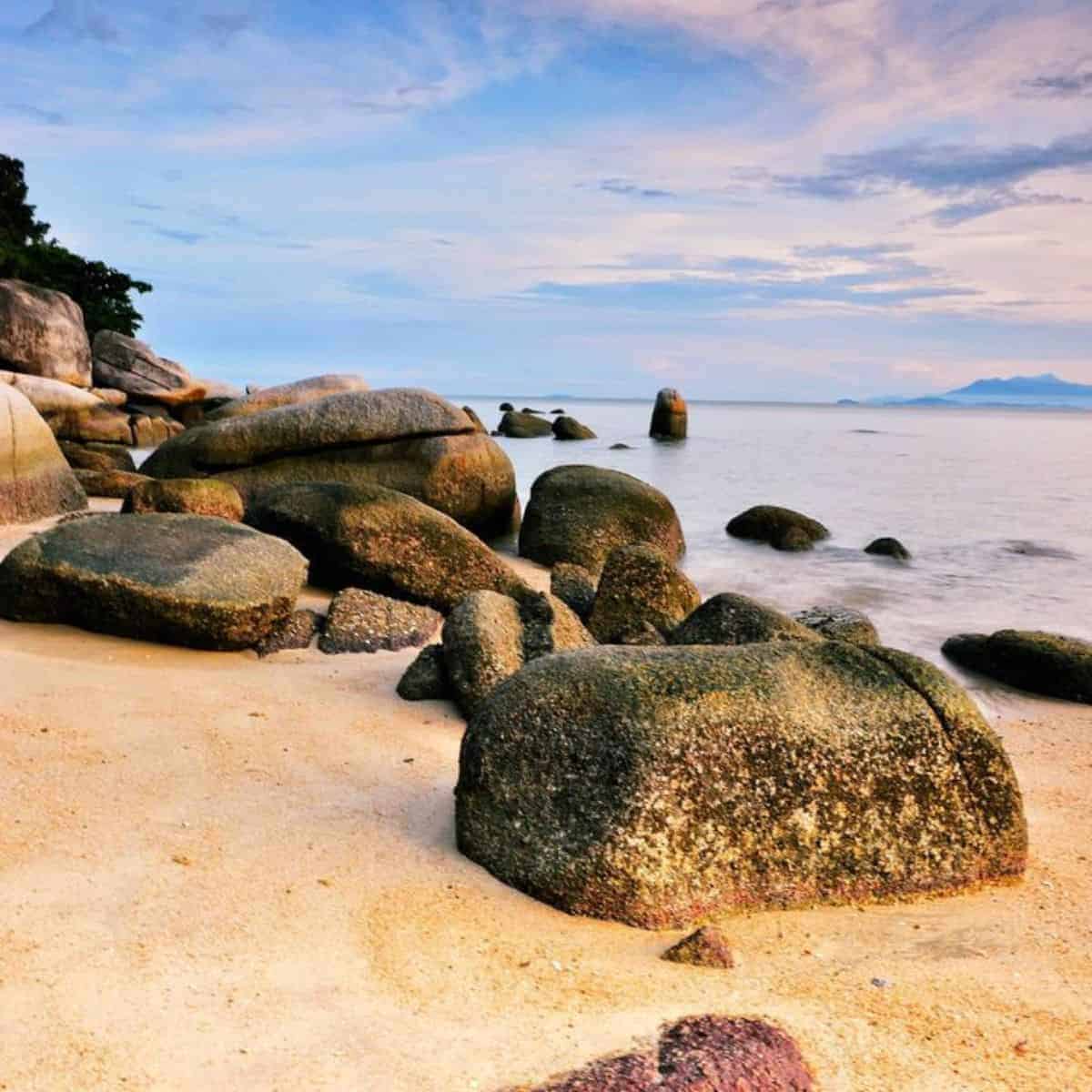 However, we feel that the Moonlight Bay area is underrated and deserves better praise. It has cool, clear waters that make it suitable for swimming. The combination of white sands, pebble sands and larger rock structures make it a very picturesque bay. It's also a good location if you want to hang out as a couple or with family, as it is less crowded than Batu Feringgi.
Additionally, this bay area is an excellent choice if you are looking for a Penang beach for a picnic. It is ideal since it offers a picturesque setting with blue-green waters and tall trees surrounding the seashore. As such, you will experience gorgeous views and get enough room for your picnic.
You can visit the Hidden Beach to escape the numerous tourists thronging the other Penang beaches daily. It is located just before Pantai Teluk Bahang if you're coming from Batu Ferringhi area. The seashore incorporates a short stretch of white sand and clear waters, making it ideal for swimming.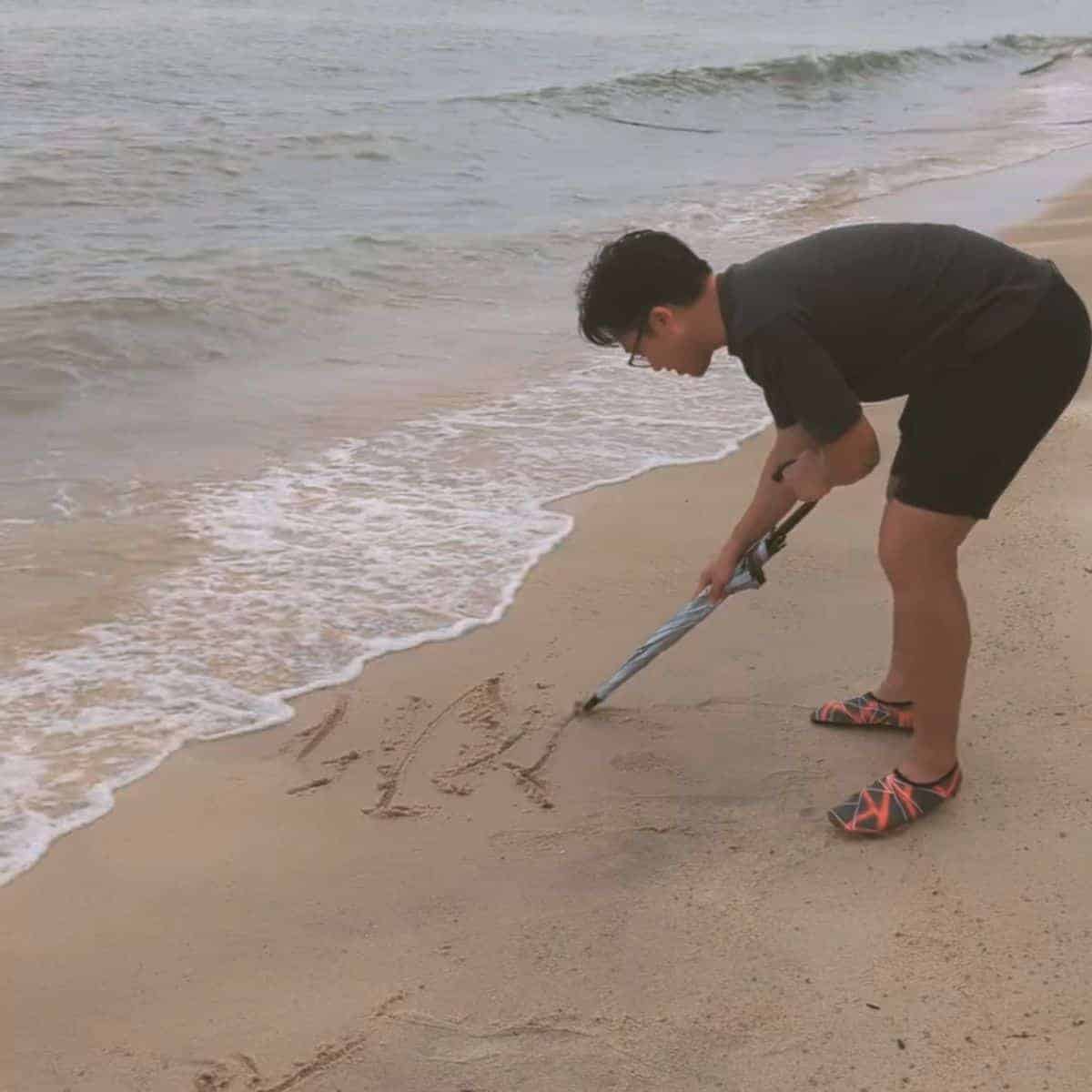 Additionally, consider visiting this area if you want to hang out as a family without doing any paid activities. That is because it provides an ideal environment for a family setting within waters that are just perfect for swimming. It is also quiet and peaceful, making it a great place to relax.
However, please note that Hidden Beach doesn't have restaurants, resorts, or other water activities. It is best to come here if you just want to enjoy the sands, waves and peaceful atmosphere without many tourists.
Pantai Tanjung Asam
The natural mystic quality of Pantai Tanjung Asam is endearing, making it one of the most beautiful Penang beaches. The seaside here also qualifies as the best beach to swim in Penang because it has clear waters that are safe for swimming. As such, if you have children that love to swim in the sea, here's a spot that's safe and fun for the whole family.
You can also relax on the warm rocks at Pantai Tanjung Asam and try a little fishing during your stay. Your kids in Penang can also build sand castles and have fun with the locals on the shore.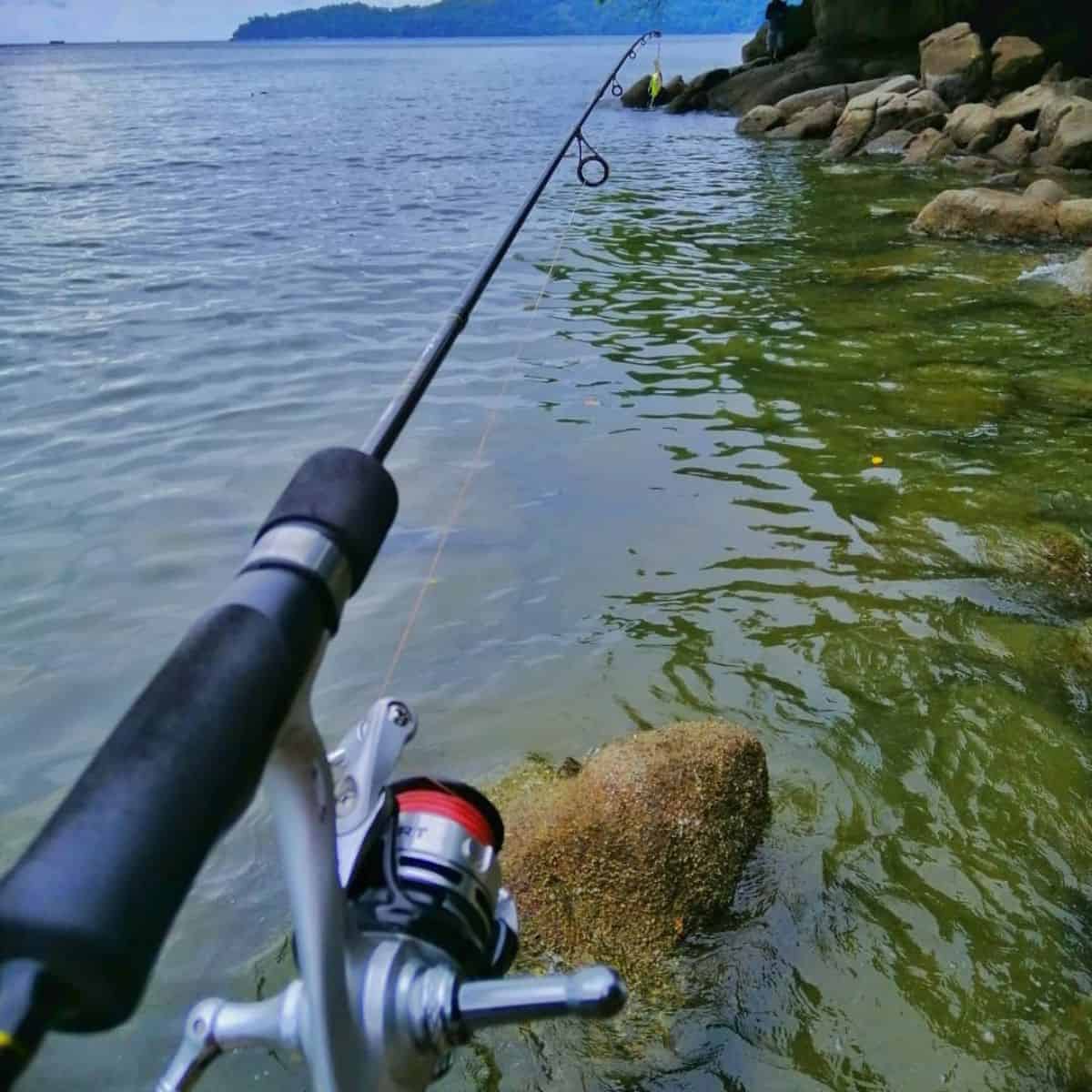 The other activity common to this seashore is sports. You can use your beach balls and volleyball to engage in beach sports during your stay.
What's great about this spot is that you can easily access it by car. There is a parking spot next to the beach area. Moreover, the locals have also praised the laksa and cendol stalls at Pantai Tanjung Asam. So, you also have good food and refreshments sorted when you're there!
Gertak Sanggul Beach
Delicious seafood, white sands, and beautiful sunset views are why people choose this beach near Georgetown Penang. Also, the picturesque scenery of Pulau Kendi and the majestic mountains increase the charm of this coast.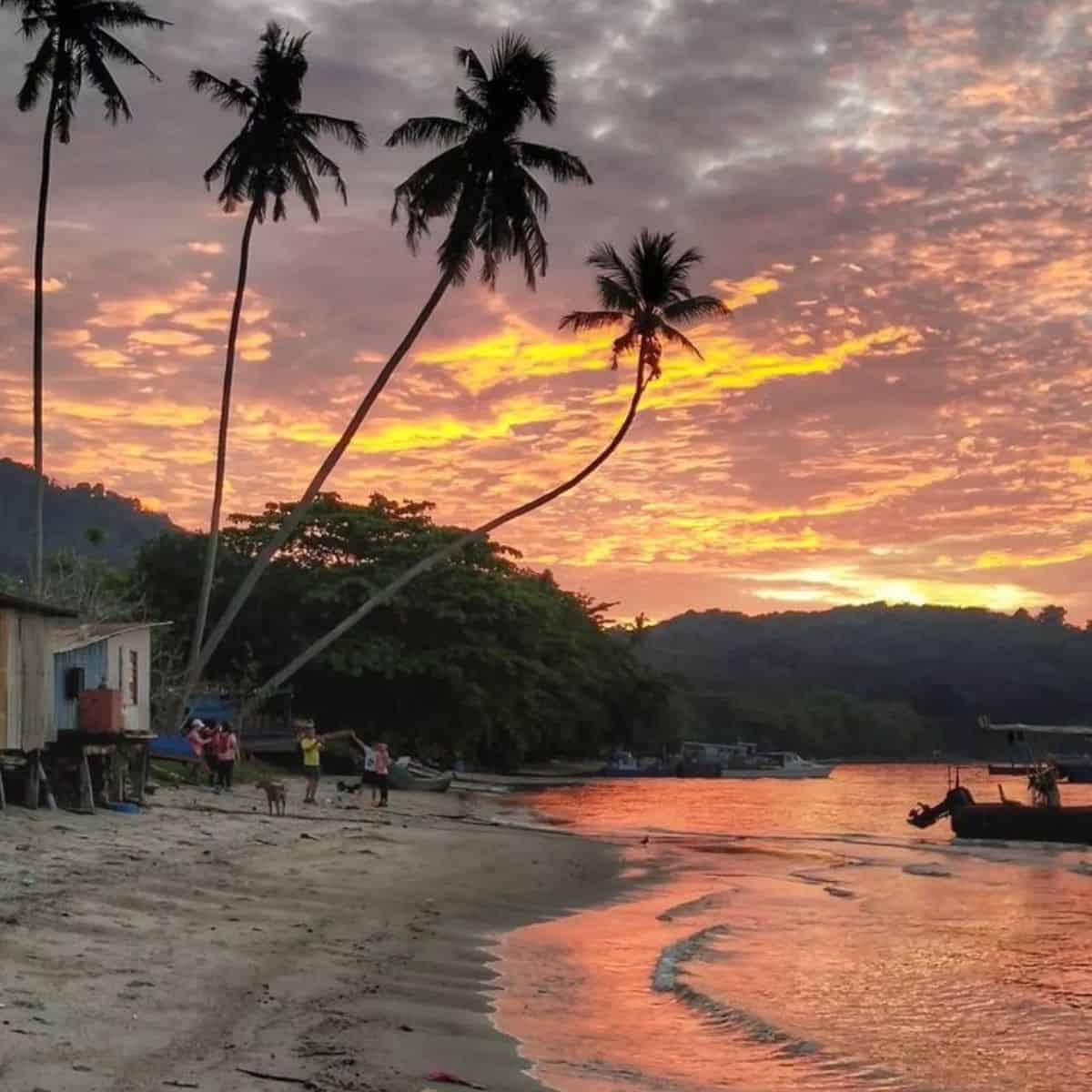 If you want to experience a delightful setting with your significant other, the Hai Boey Seafood restaurant on this beach is the place to be. The restaurant provides a tranquil and secluded setting alongside delicious seafood dishes. The restaurant has been rated as one of the best seafood restaurants in Penang!
However, the seawater at Gertak Sanggul doesn't qualify as the best place to swim in Penang. That is due to the many fishing boats that get docked there.
Pulau Jerejak (Jerejak Island)
This tropical island is amongst the beaches on the east coast of Penang. The island's coastline hosts lush rainforests that contribute to its pristine natural beauty. Also, its tranquil vibes, verdant landscape, and the fact that it is among the cleanest Penang beaches make this spot an eco-tourism hub.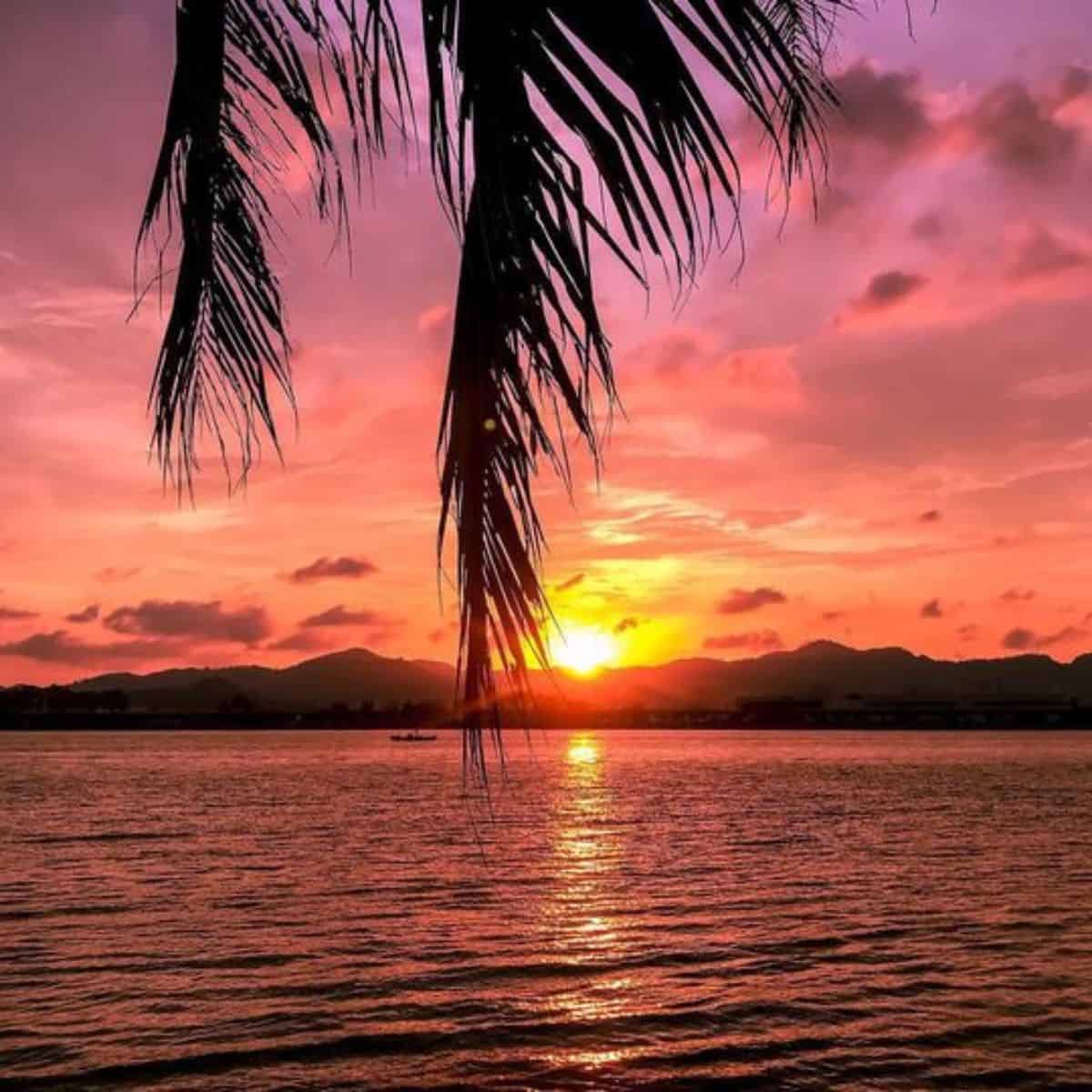 If you are looking for a Penang hotel with a private beach, consider staying at the on-site resort here. You will be able to enjoy relaxing Penang spa treatments. Furthermore, the water on this beach is great for kayaking and swimming, which is ideal for thrill seekers. Other activities, such as jungle trekking and beach volleyball, are also available.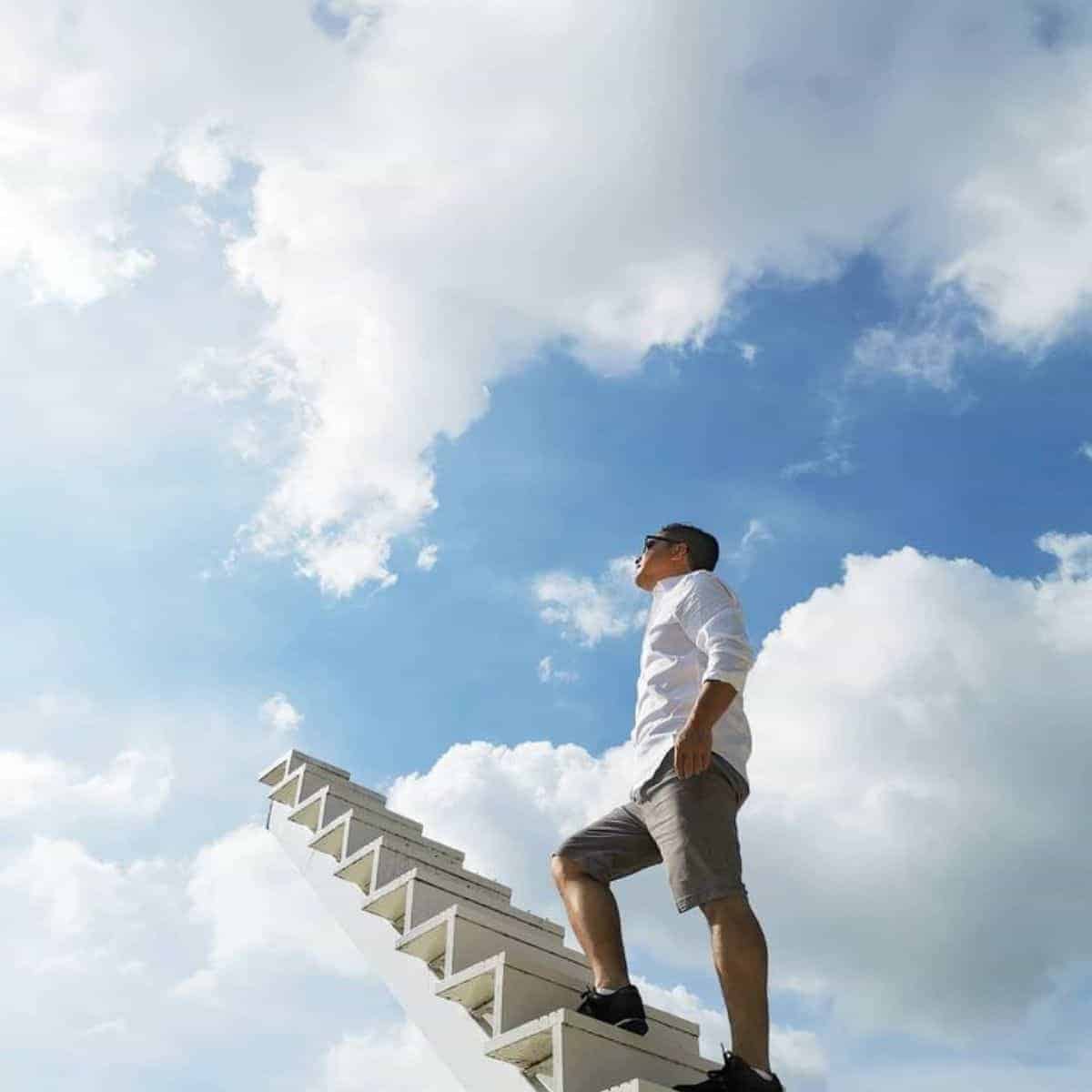 The sunset view from here is spectacular. Many people like to go here to conduct photoshoots for the beautiful scenery that the coast and sunset provide. It is perhaps the most Instagrammable Penang beach you will find as there are many photo spots prepared for public use. If you're not staying at a hotel on the island, you can also take a 10-minute ferry ride from Penang Island to get there.
Pulau Aman (Aman Island)
Pulau Aman is a tranquil island that has beaches on the east coast of Penang. However, it is closer to the mainland side of Peninsular Malaysia. You will have to get to the jetty in Simpang Ampat, and board a 10-minute ferry ride to get to the island.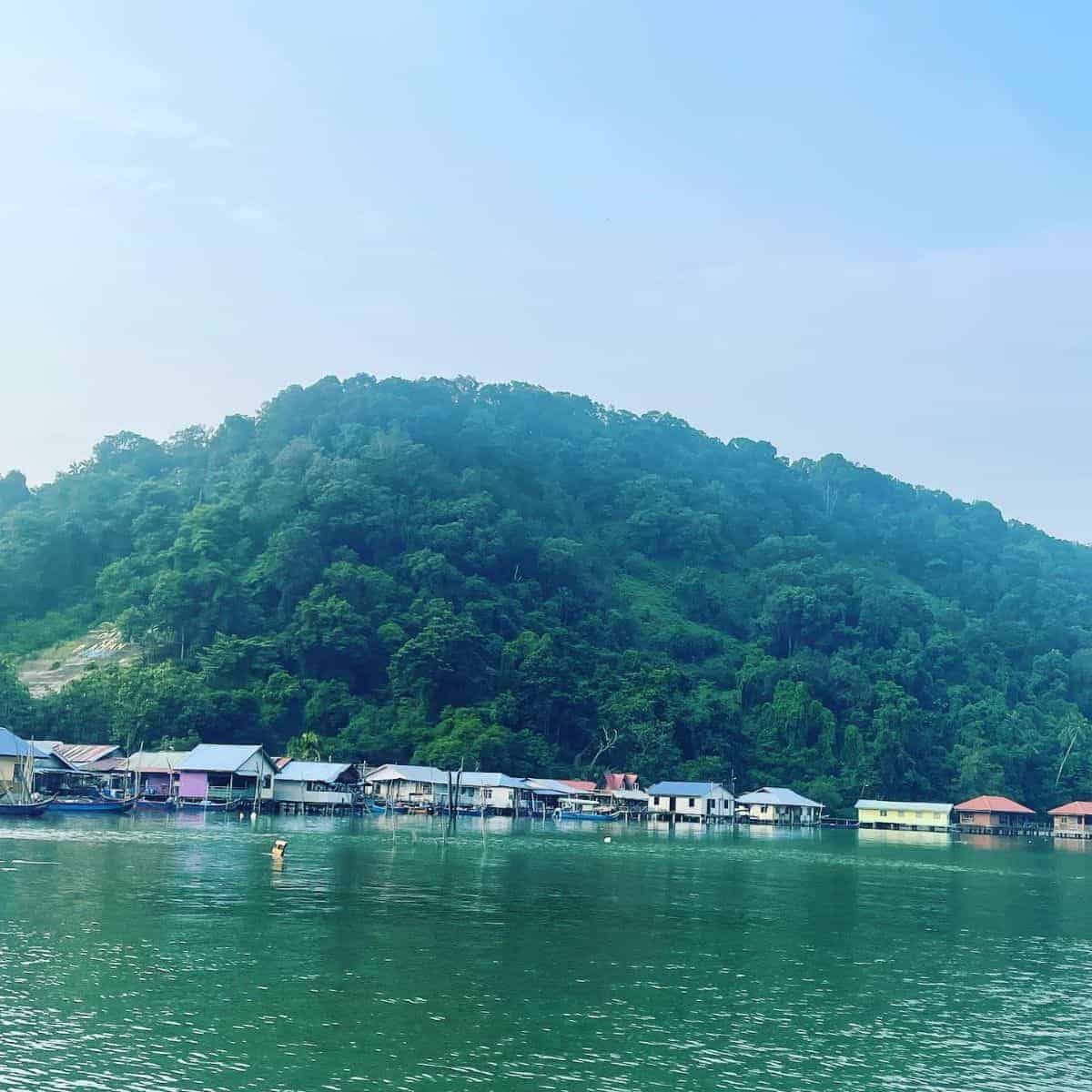 The journey there may take a while, especially if you're from Penang Island, but it's worth it. The place hosts a picturesque fishing village and white sand beaches. It has a relaxing kampung vibe that is great for anyone looking to unwind. In addition, the prawn mee served here is also a local delicacy that you must try!
On the other hand, Pulau Aman also attracts thrill seekers who love trekking, cycling, and kayaking. You can also explore the Telaga Emas, a special well that holds fresh water even though it's next to the sea.
Pulau Kendi
Pulau Kendi is a small inhabited island about 3 kilometres south of Penang Island, and has one of the most beautiful Penang beaches. While it doesn't incorporate any Penang hotel with a private beach, it still offers the perfect place to enjoy swimming and snorkelling without the risk of jellyfish.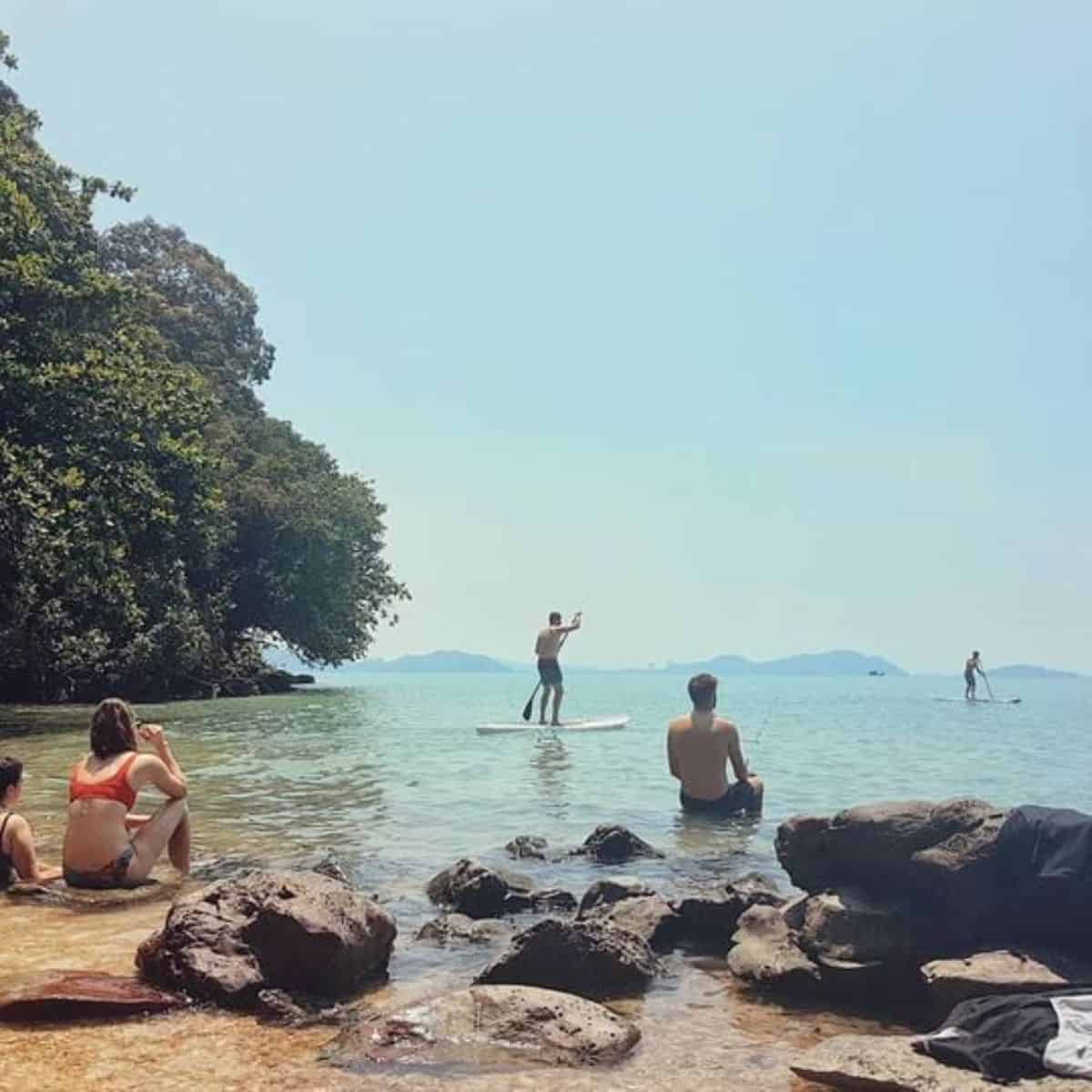 The island is known for its unique rock formations in different sizes, hues, and shapes. It also incorporates plenty of coral reefs. Hence, Pulau Kendi also attracts many fishing fanatics as it's a great spot to catch a variety of fish.
Individuals can best view the coral reefs between October and March. While exploring the live corals, it's vital not to touch them to avoid interfering with their fragile ecology. So, if you're looking for the most pristine beach in Penang, plan a trip to Pulau Kendi.
Best Beaches in Penang
The Pulau Jerejak and Batu Ferringhi Beach are the most popular and best Penang beaches in our opinion. With Pulau Jerejak, you experience tranquil vibes, a clean beach, and beautiful sunset views. On the other hand, Batu Ferringhi Beach offers several activities and amenities, making it an ideal beach to hang out with your family and friends.
| | |
| --- | --- |
| Best for kids | Batu Ferringhi, Teluk Behang, Tanjung Asam |
| Best for watersports | Tanjung beach, Teluk Kampi, Pulau Kendi |
| Quiet beaches in Penang | Long Sand Beach, Pulau Jerejak, Hidden Beach |
| Romantic seaside spots | Moonlight Bay, Gertak Sanggul |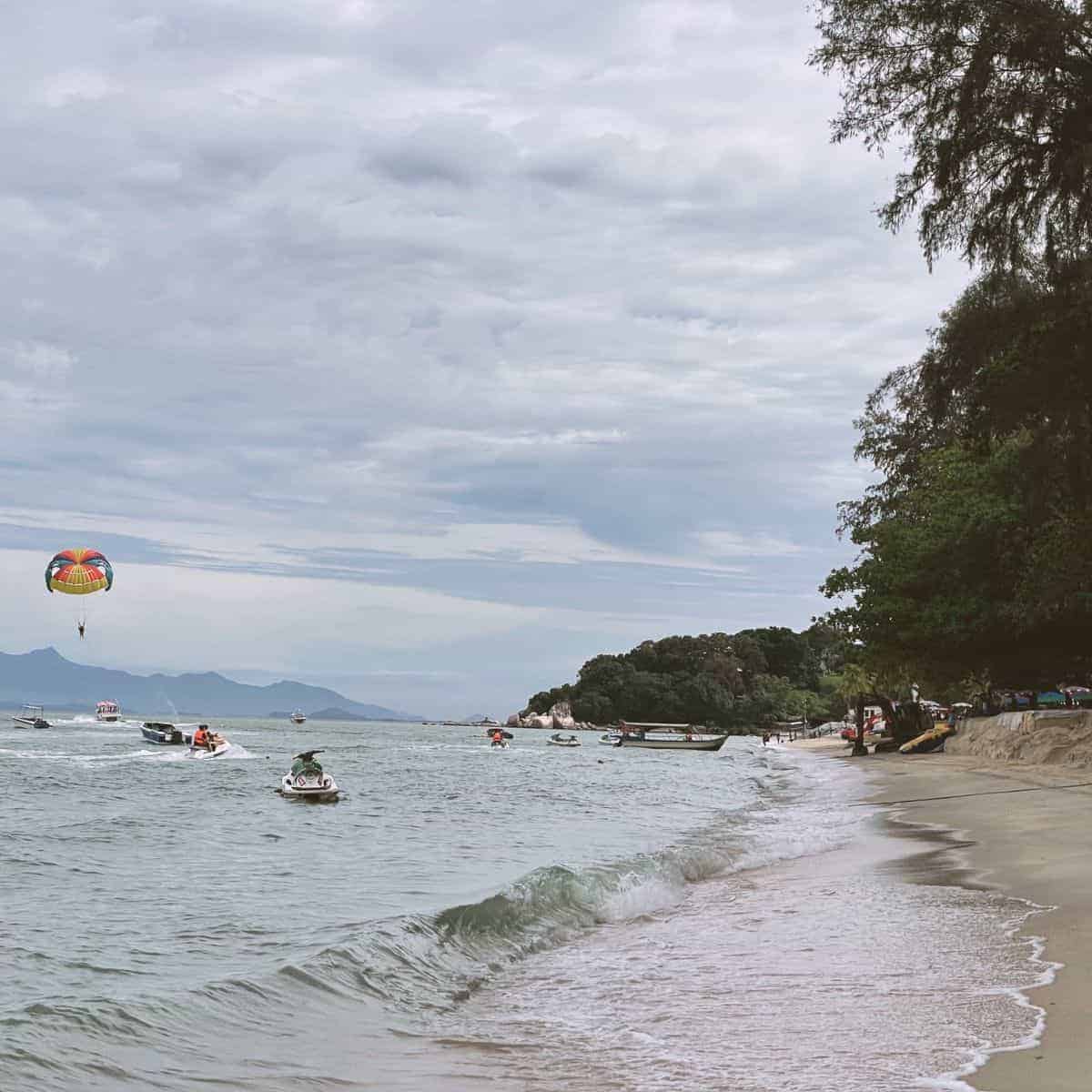 Are you looking for more things to do in Penang alongside the best Penang beaches? Follow us on Instagram @tabitogether to get updates on the places in Penang to explore.