Penang street art is one of George Town's most captivating attractions, luring in tourists worldwide. Indeed, Penang has many other historical marvels to offer. However, the murals are popular among local and international tourists for a reason. 
Apart from livening up the bleak walls of Penang, the artworks reflect the historic town and its local community. Moreover, you can enjoy street art in Penang without any prices and have unique photo shoots.
We've decided to create a guide on street art in Penang as the artworks are scattered everywhere in town. However, this isn't an exhaustive guide since the maps are based on our discoveries. Plus, the town is constantly painted with new artworks and some of the old ones might not be worth visiting anymore. Therefore, we will leave a bit of fun for you to discover some of the town's artworks yourself. 
Continue reading to discover everything from the most popular artworks to the best streets to visit. 
Jump to:
Penang Street Art Map (Google Map Locations) 
This is a Google map highlighting all the famous street art in Penang. However, we haven't included all of them in our guide, as some have worn away over the years. Nonetheless, you can use our Penang street art Google map and print it out to plan your mural adventure.  
Famous Penang Street Art
'Little Children on a Bicycle' and 'Boy on a Motorbike' are the town's most famous artworks. They are two of the earliest artworks painted by Ernest Zacharevic, a Lithuanian artist, in 2012. 
Penang street art history began when he completed some artworks for the George Town Festival in 2012. Since then, many artworks representing Penang's rich history have beautified the island. 
Penang Street Art around Armenian Street
Armenian Street is a great place to find some of the most famous artworks in George Town. For example, you'll find the popular mural by Ernest Zacharevic, 'Little Children on a Bicycle' here. 
In addition, you'll find seven cat murals gracing the walls as part of the '101 Lost Kittens' project by Artists for Stray Animals. However, we're only including the two most famous ones on the list.
Furthermore, you should go to this street if you want to find interactive and food-related murals. If you get peckish looking at all the art, you should check out an ice ball shop and try some ais kepal.
Cat Chasing a Mouse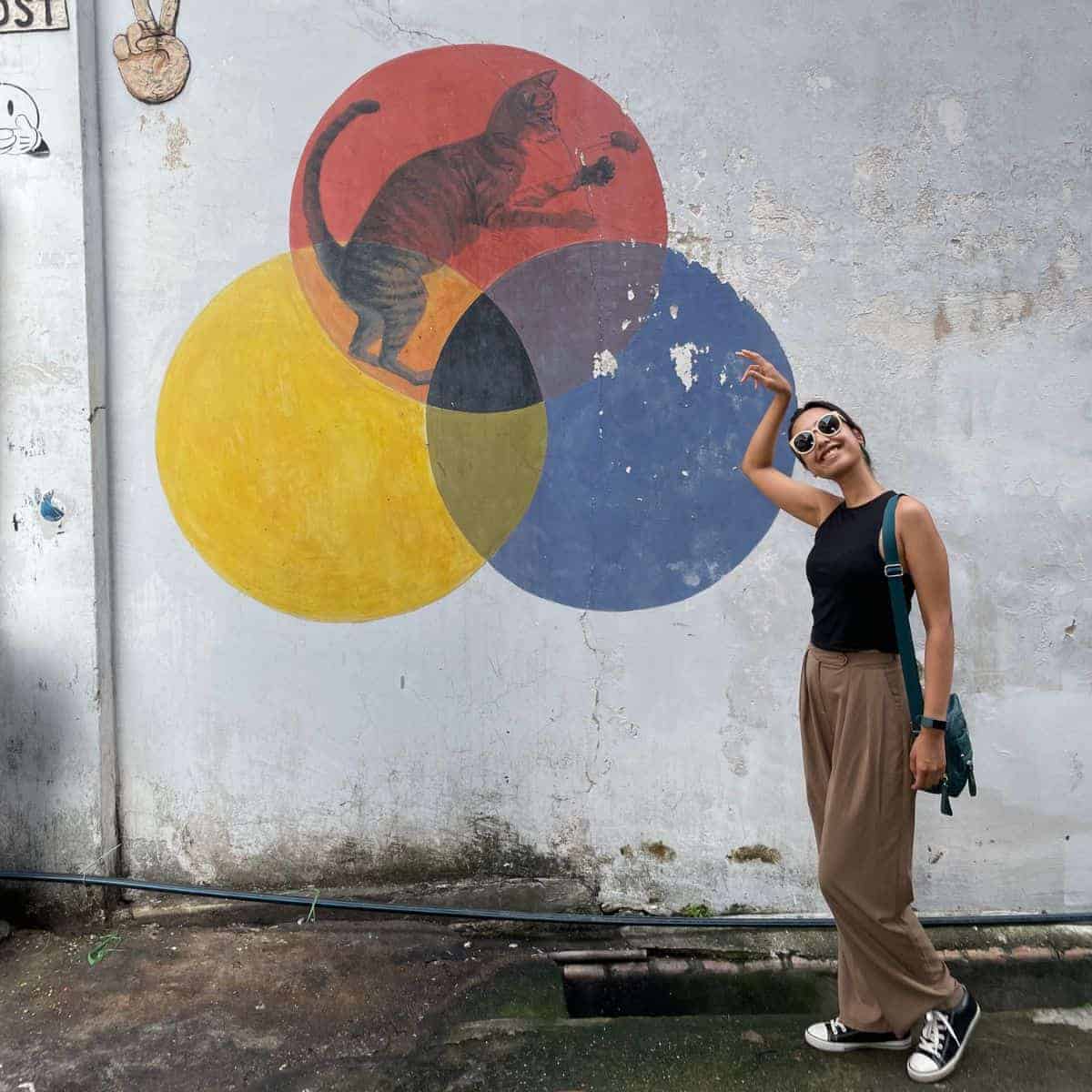 This is one of the twelve cat-themed murals Artists for Stray Animals (ASA) created. It depicts a cat prancing after a rat, convincing the locals to keep cats as pets to prevent rat infestations. 
You might miss this masterpiece as the artist painted it on the wall of an alleyway. However, it is relatively easy to find. Just walk along Armenian Street until you spot a right junction leading to a Soo Hong Lane branch.
Little Children on a Bicycle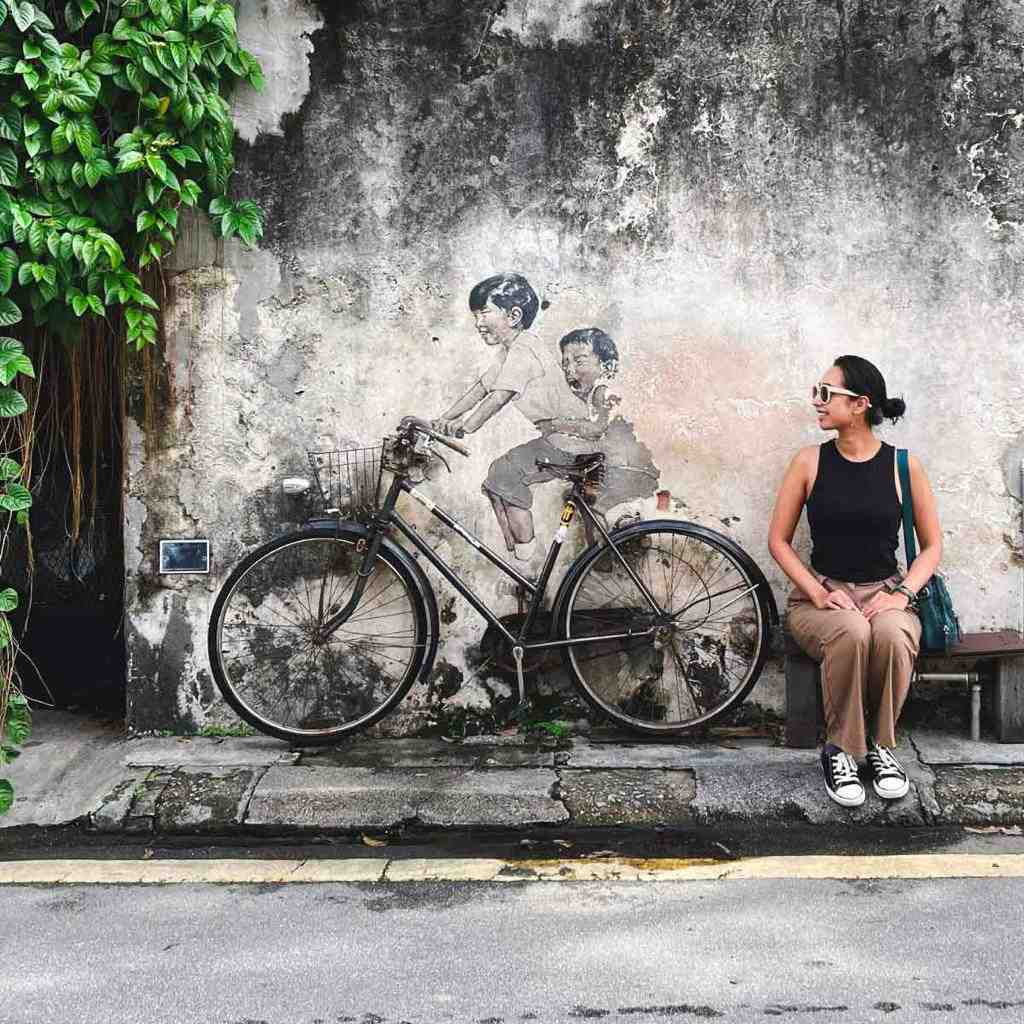 This ever-popular Penang street art, by Ernest Zacharevic, depicts two children riding a bicycle. He painted this work for the 2012 George Town Festival. Interestingly, the artwork was inspired by real children who played with his bicycle at an event. 
Moreover, the artwork is famous for its unique appeal. The street art consists of a combination of a mural and the installation of an actual bicycle. 
Three Girls
The 'Three Girls' painting depicts a Chinese, Indian, and Malay girl in their respective traditional dresses. The painting represents the town's multi-ethnic cultural heritage, which is a mix of Malay, Chinese, and Indian culture. 
But unlike most popular street art in Penang, this particular painting is tiny. So, you must look for it as you stroll along Lebuh Armenian. Moreover, you'll see that it shares the same wall with the 'Speak Hokkien' artwork facing Soo Hong Lane.
Teach You Hokkien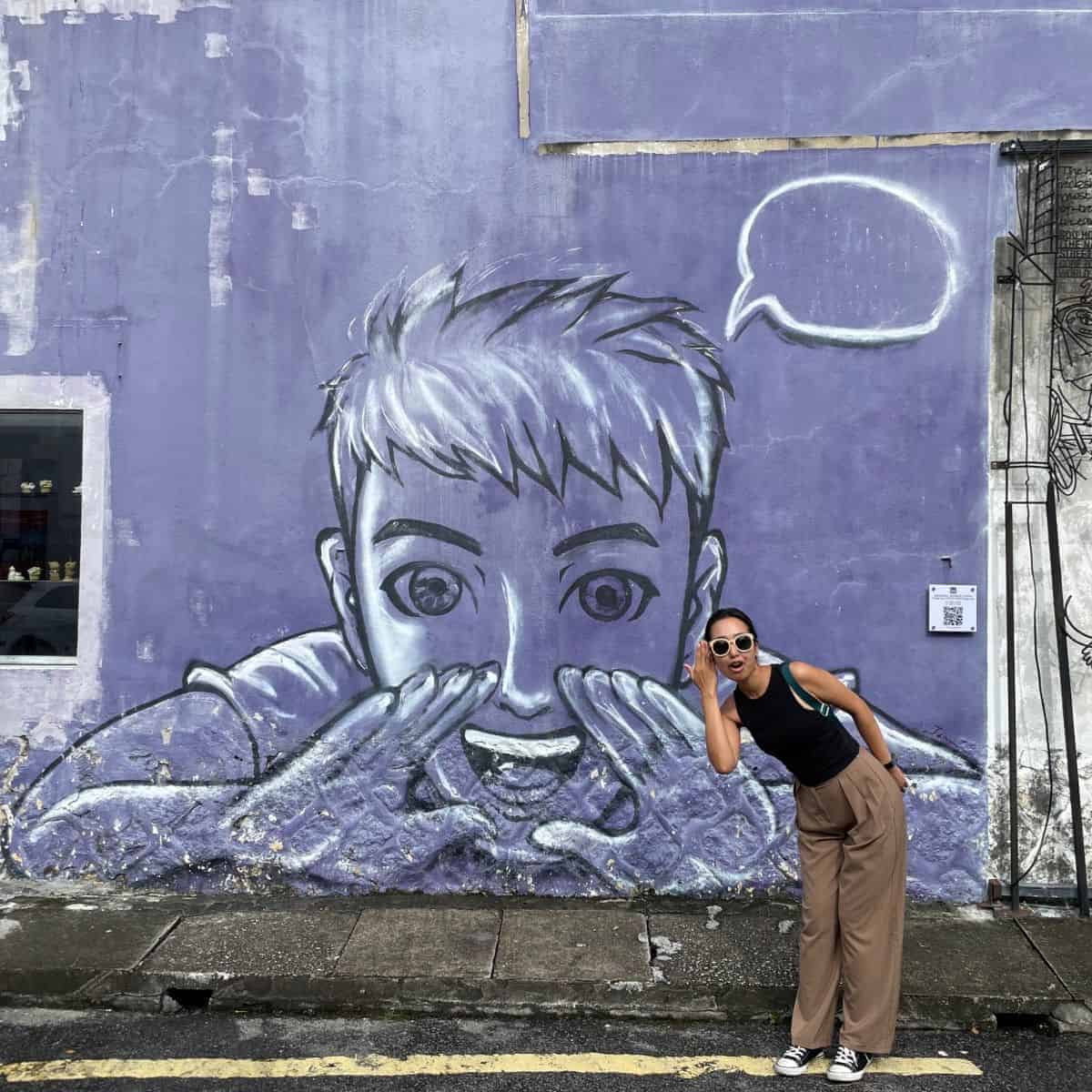 You can easily spot this giant purple mural beside the 'Three Girls' artwork. Created by Jim Oo Chun and John Cheng, this 2-metres tall artwork depicts a boy shouting. Initially, the speech bubble contained a message saying the boy could teach you Hokkien. 
Hokkien is a Chinese dialect widely spoken by Chinese Penangites. However, it was removed when we last visited the spot, so hopefully, it will be updated with a new message soon.
Love Me Like Your Fortune Cat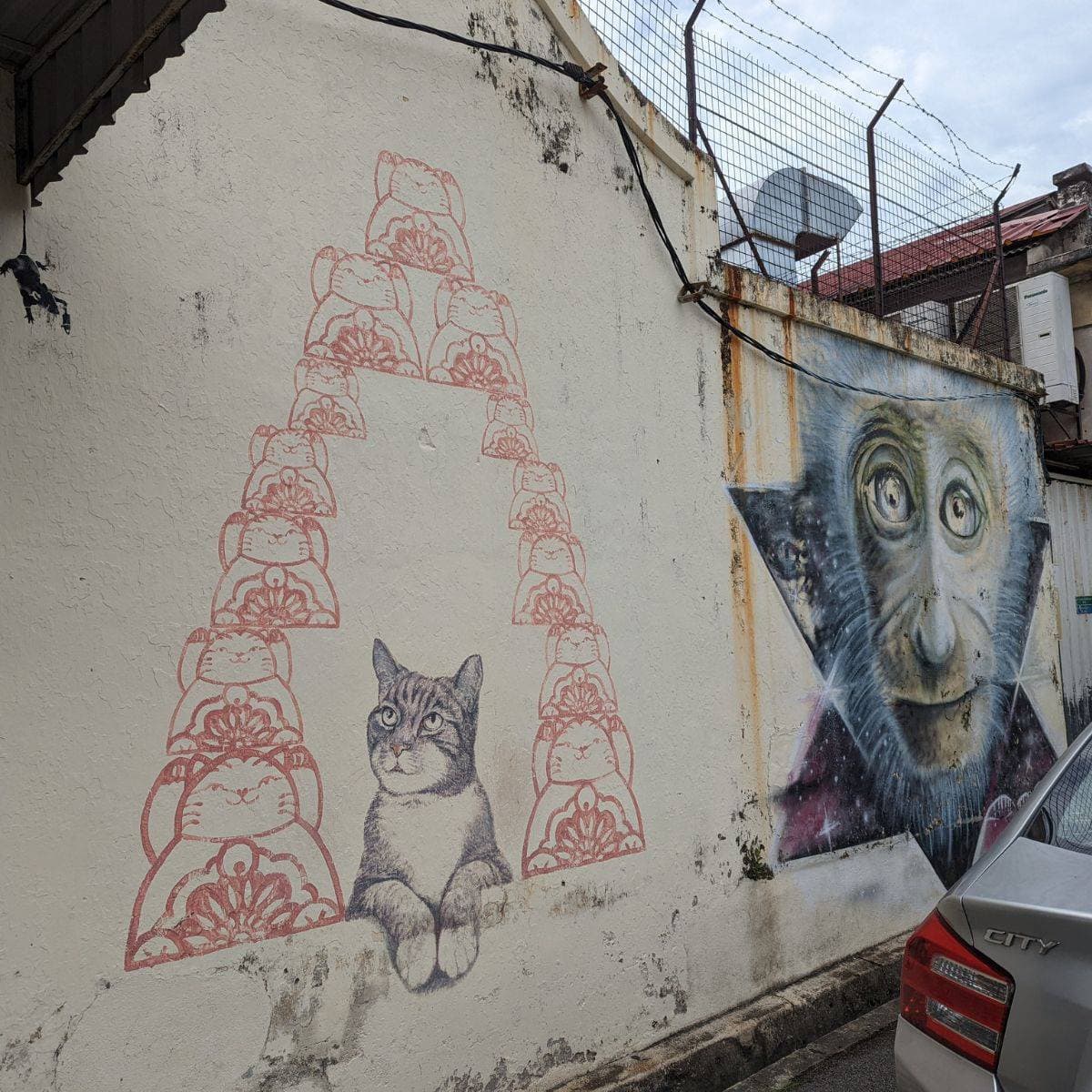 This Penang Street art is the second of the twelve cat murals done by ASA. It represents a cat gazing upon a group of fortune cats, yearning for better luck like them. You will often see fortune cats placed in Asian restaurants to bring good fortune and business. Similarly, you receive the mural's message of treasuring real cats as you would treasure a fortune cat. 
You can find this meaningful painting gracing a wall along Armenian Street Ghaut. Additionally, you will also see a monkey painting on the same wall beside this cat mural. 
I Want Bao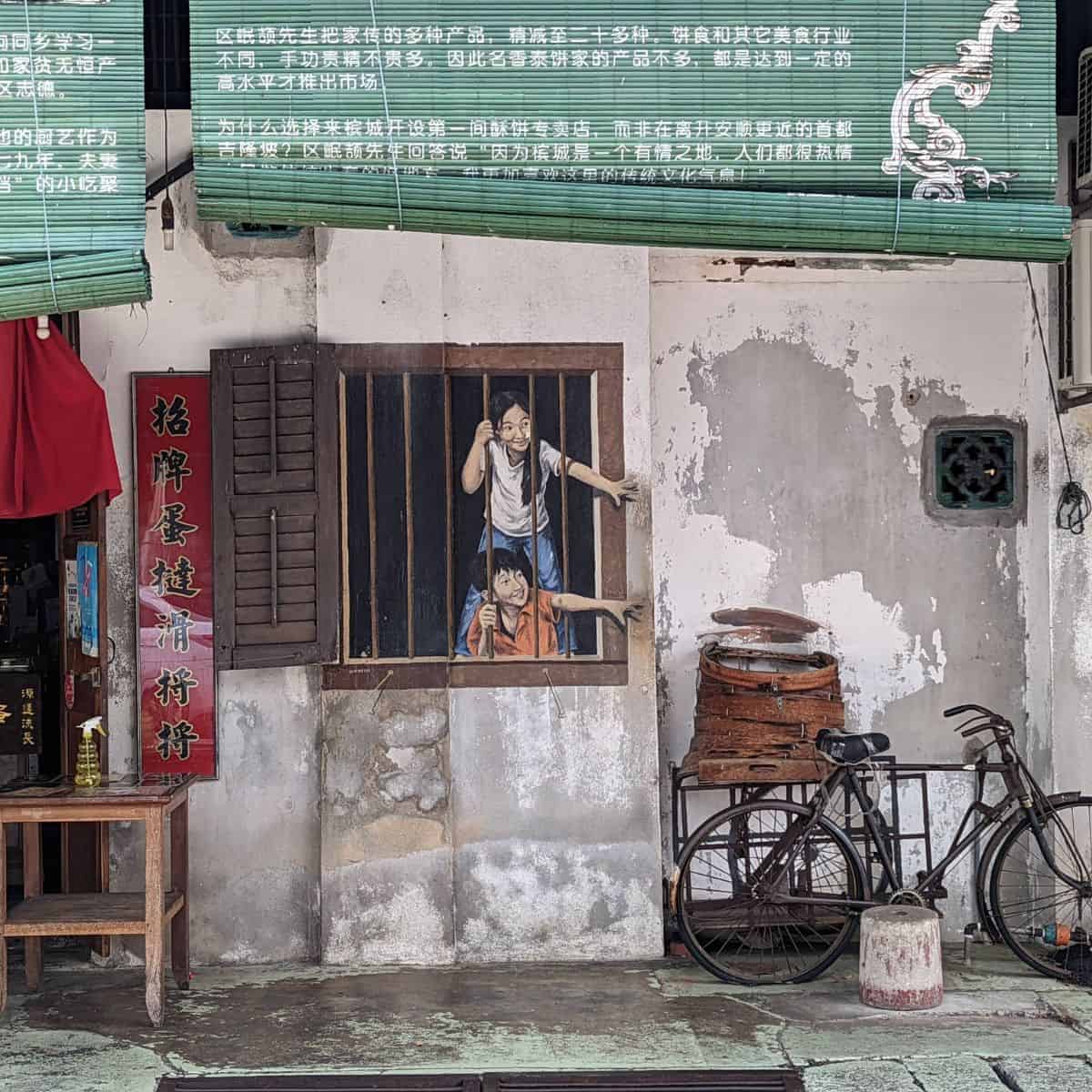 'I Want Bao' pictures two children reaching for Chinese steamed buns, Bao. It is among the most famous food-related murals in this heavily pedestrianised area. In fact, it is an artsy advertisement commissioned by the pastry shop next to it, Ming Xiang Tai Pastry Shop. 
The shop is famous for its handmade Cantonese-style pastries like Kaya Puff and Salted Egg Pastry. We highly recommend trying this Penang street art food while you're here.
Street Art on Cannon Street
Cannon Street houses a lot more cat-themed Penang street art than Armenian Street. However, we are only mentioning two feline murals that can be easily spotted here. So, this is where cat lovers should head to spot more cute and pretty paintings of felines. You can walk down this road before or after visiting Armenian Street. 
Boy on Chair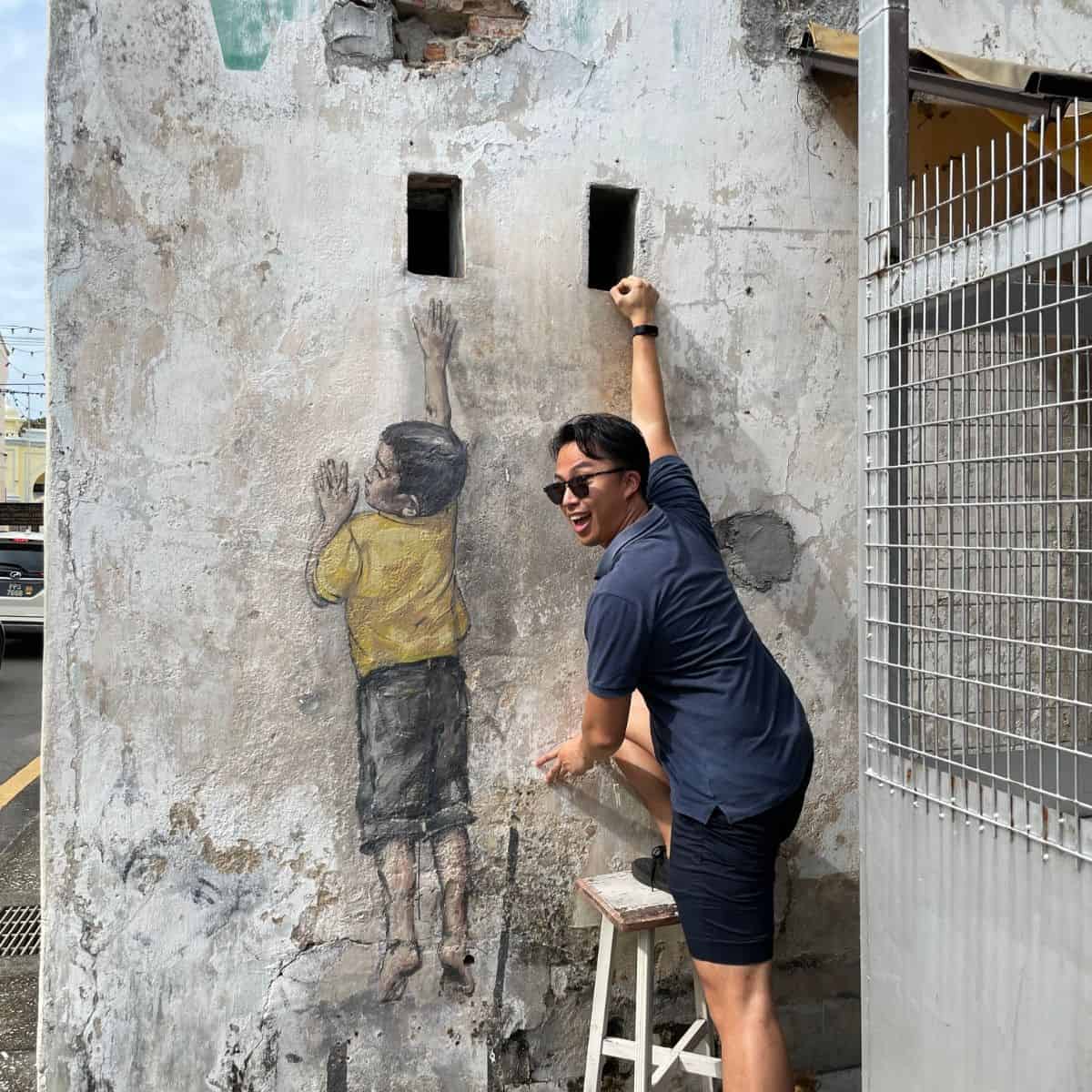 You'll spot another famous creation of Ernest Zacharevic, 'Boy on Chair,' as you stroll along Cannon Street. This art piece shows a boy reaching for something inside the hole in the wall. The original piece included a chair which popped out of the wall. However, it was no longer there when we visited the place. Instead, we found there was a white tall stool placed closeby for people to pose with.
Nevertheless, it remains an interesting piece of 3D street art in Penang and a great photo spot. So, we suggest using your creativity to be a part of the masterpiece. For instance, try posing as if you're giving the little boy a lift to reach for the hole. Also, remember to stop at the nearby ice ball shops for some ais kepal.
Window Cat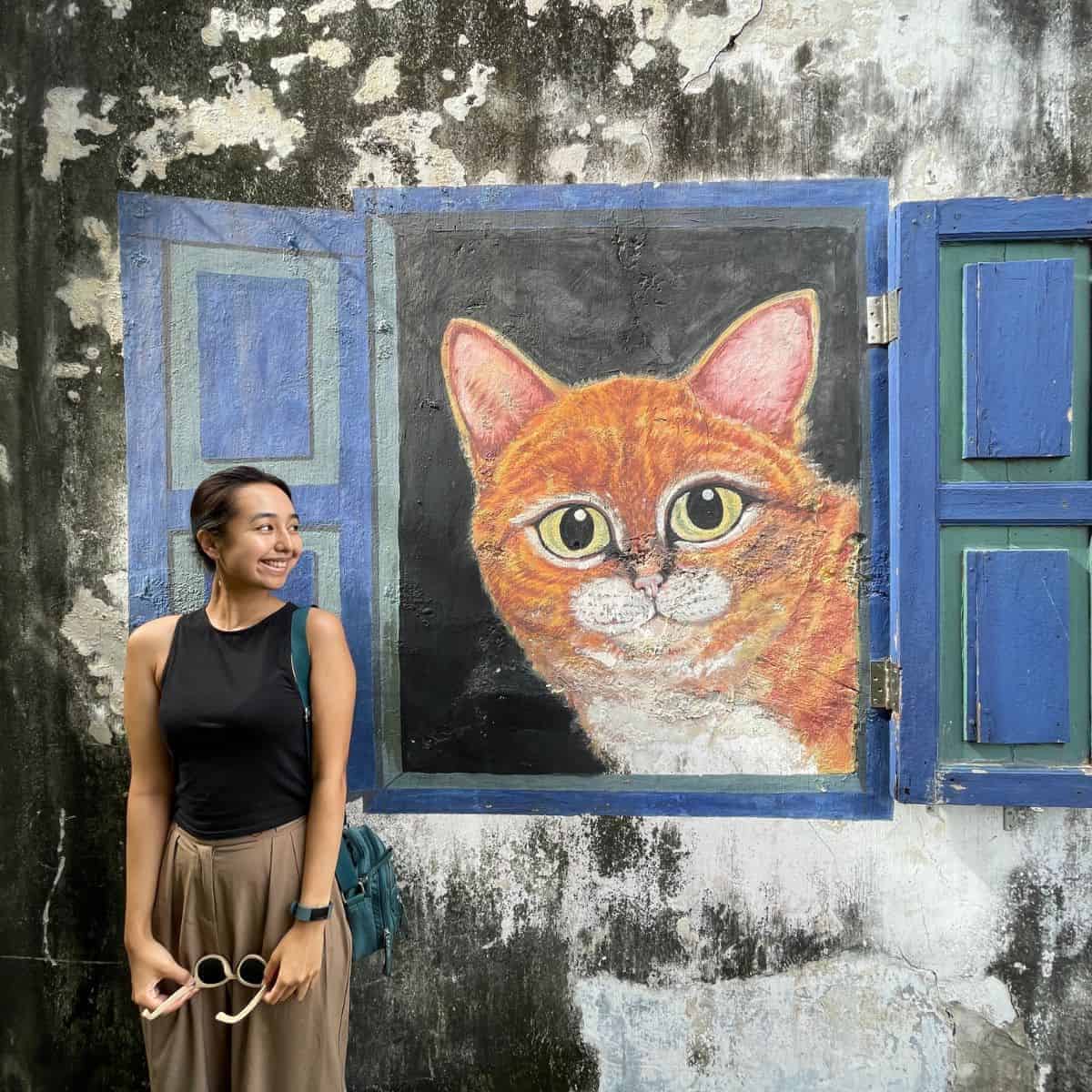 You'll find this cute cat mural in an alley across from the 'Boy on Chair' artwork. It is another must-visit spot for cat lovers travelling around George Town. This is because the wall is filled with cute cats. 
You'll spot this painting of a cat looking out of a blue window. Furthermore, another wonderful painting of cats looking out of a window exists just a few centimetres next to it.
Butterfly Cat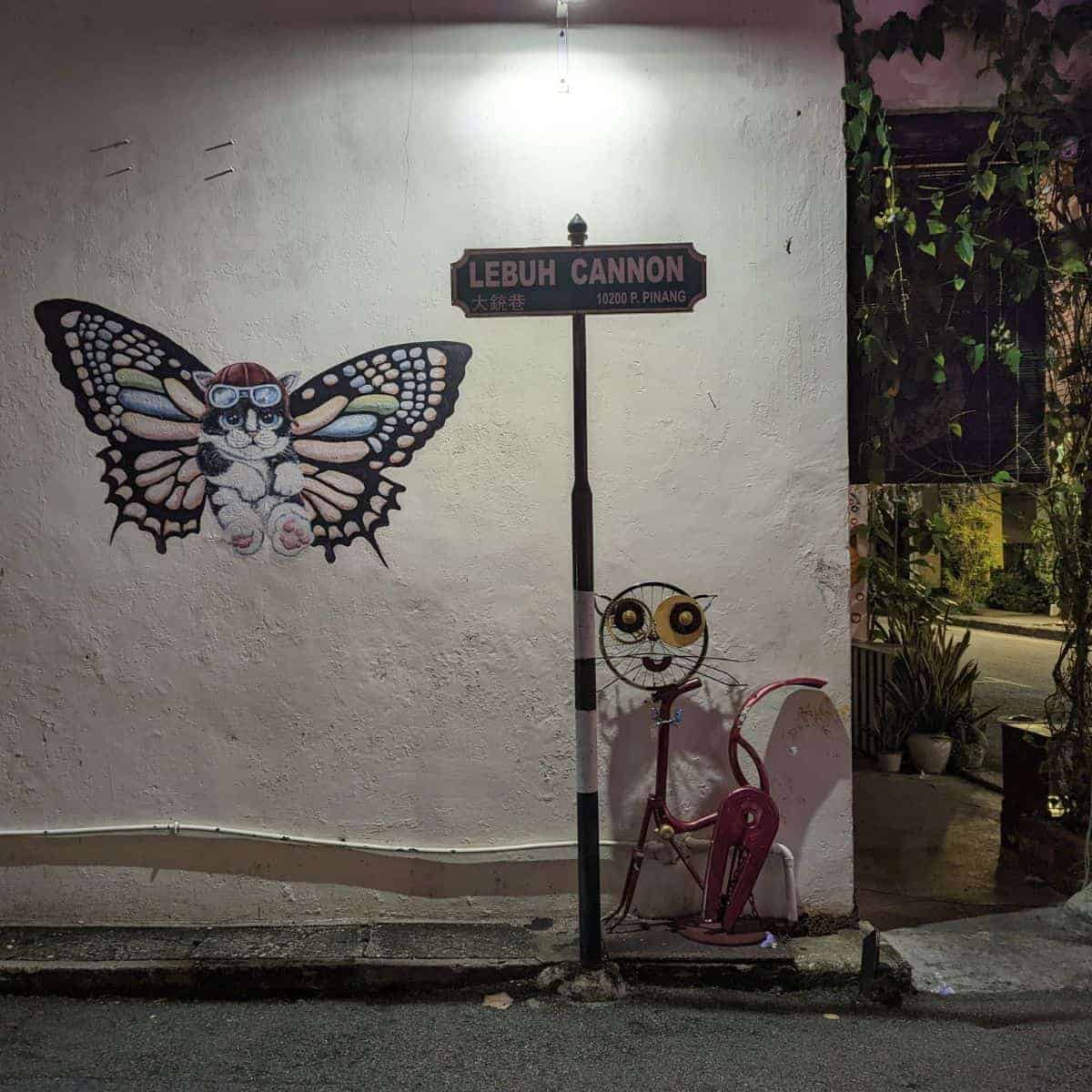 This piece is not part of the 101 Lost Kittens project. However, you should definitely check it out since the artwork is adorable, making it one of our favourite Penang murals. It depicts a cat with colourful butterfly wings, which also makes a pretty photo spot. In addition, you will find a unique pink steel sculpture of a cat next to it.
Penang Street Art in Love Lane Area
Despite being filled with bars and restaurants, Love Lane does not contain as much street art as the others. However, you must still visit as there are a few artworks worth seeing there. To find Penang street art around this area, walk towards the junction on Muntri Street. From there, you'll find artwork on the left and right sides of the junction. 
Street Busker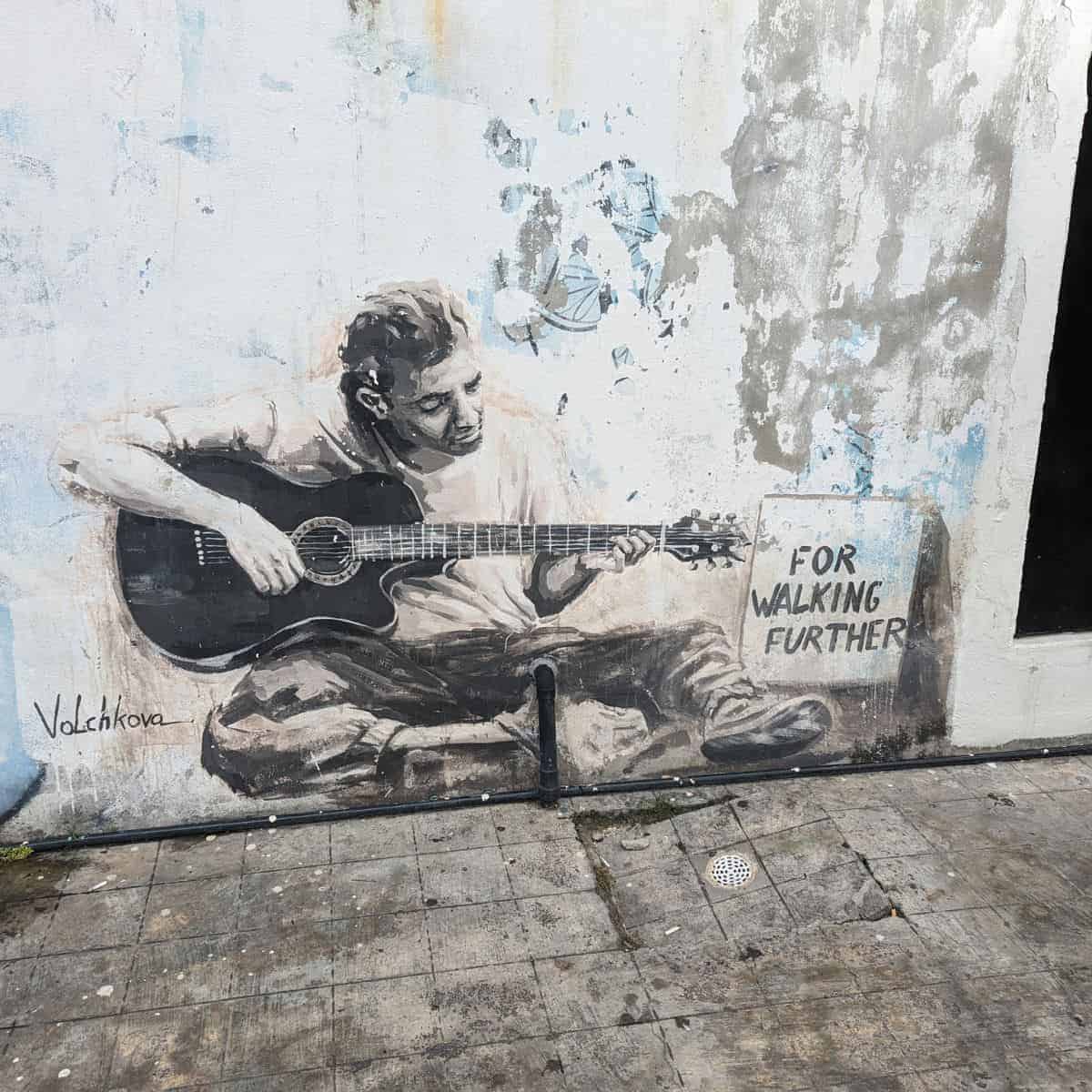 'Street Busker' is one of Julia Volchkova's most magnificent artworks. It depicts a man with an amputated leg playing the guitar and is inspired by a real-life event. 
The Russian artist was inspired by a man busking that she saw while strolling in Georgetown. She then danced to his music. Her act lured other people to pay attention to the busker, who then cried out of gratitude. 
So, with the goal of making her art represent the local society, she decided to make a mural of the busker. This artwork now overlooks the music and parties that often fill the streets of Love Lane.
Ballerina On the Five Foot Way
Another artwork that fits the scenery of Love Lane is this mural of a dancing woman. It shows a ballerina balancing herself on top of the five-foot way. As of now, the artist who created the artwork remains unknown. However, it has been a popular photo zone for many tourists. You will find it gracing the wall of a shop lot on Stewart Lane, which faces Love Lane.
Indian Fisherman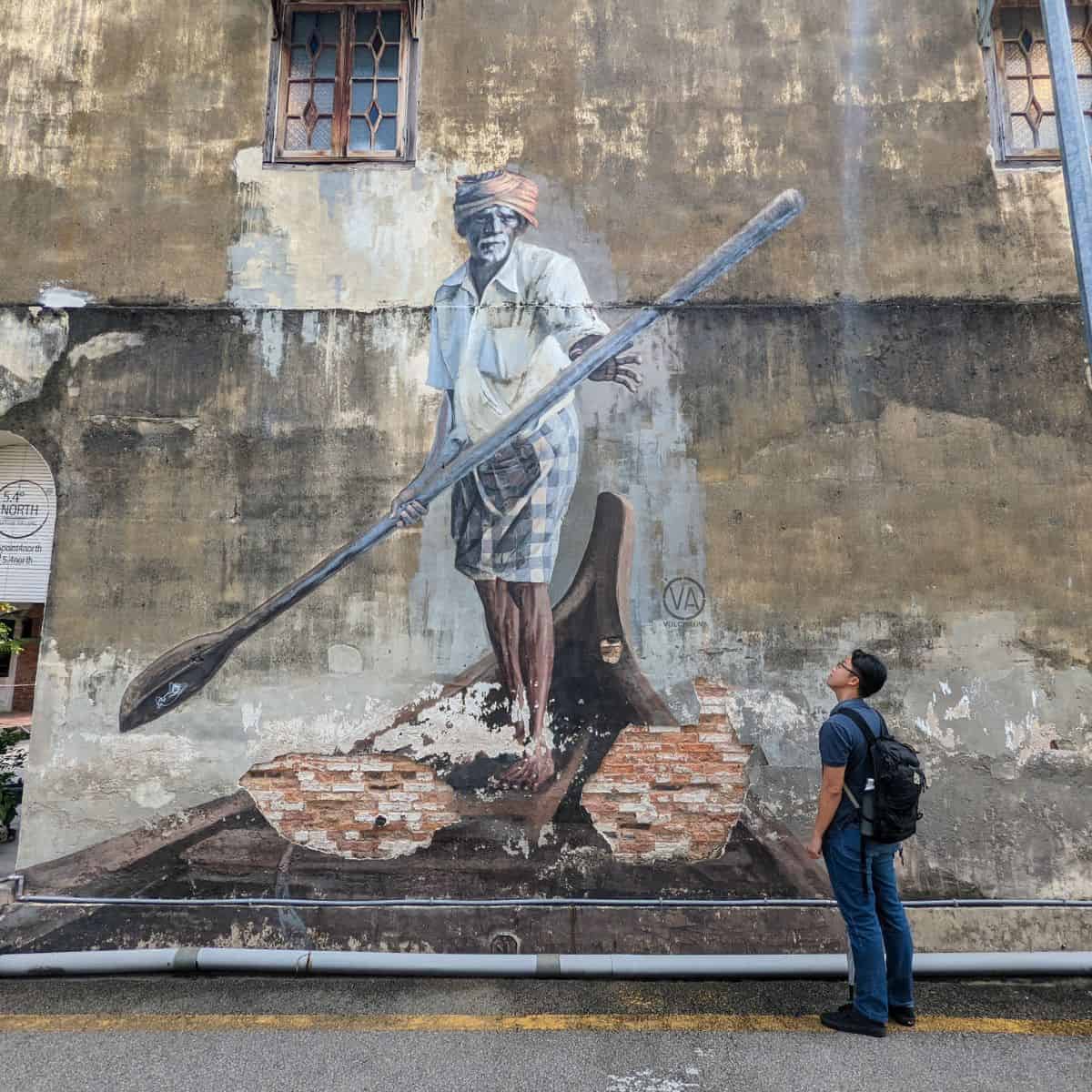 Stroll along Stewart Lane, and you'll find this large mural of an old Indian man rowing a boat. This artwork is Julia Volchkova's second painting in Penang, which took ten days to complete. 
Unfortunately, not many Penang street art featured Indians back then. Therefore, the artist took the opportunity to make a mural that acknowledged the Indian community. If you love realism, then you would appreciate Julia's vivid artwork.
Penang Street Art on Ah Quee
Sandwiched between Armenian Street and Chulia Street, Ah Quee Street has a lot of masterpieces to offer. You'll see more of Ernest Zacharevic's early works in this Penang street art location. Additionally, you'll spot interesting sights like the Ah Quee Sculpture and Lim Kongsi (Hall of Nine Dragons). 
Boy on Motorbike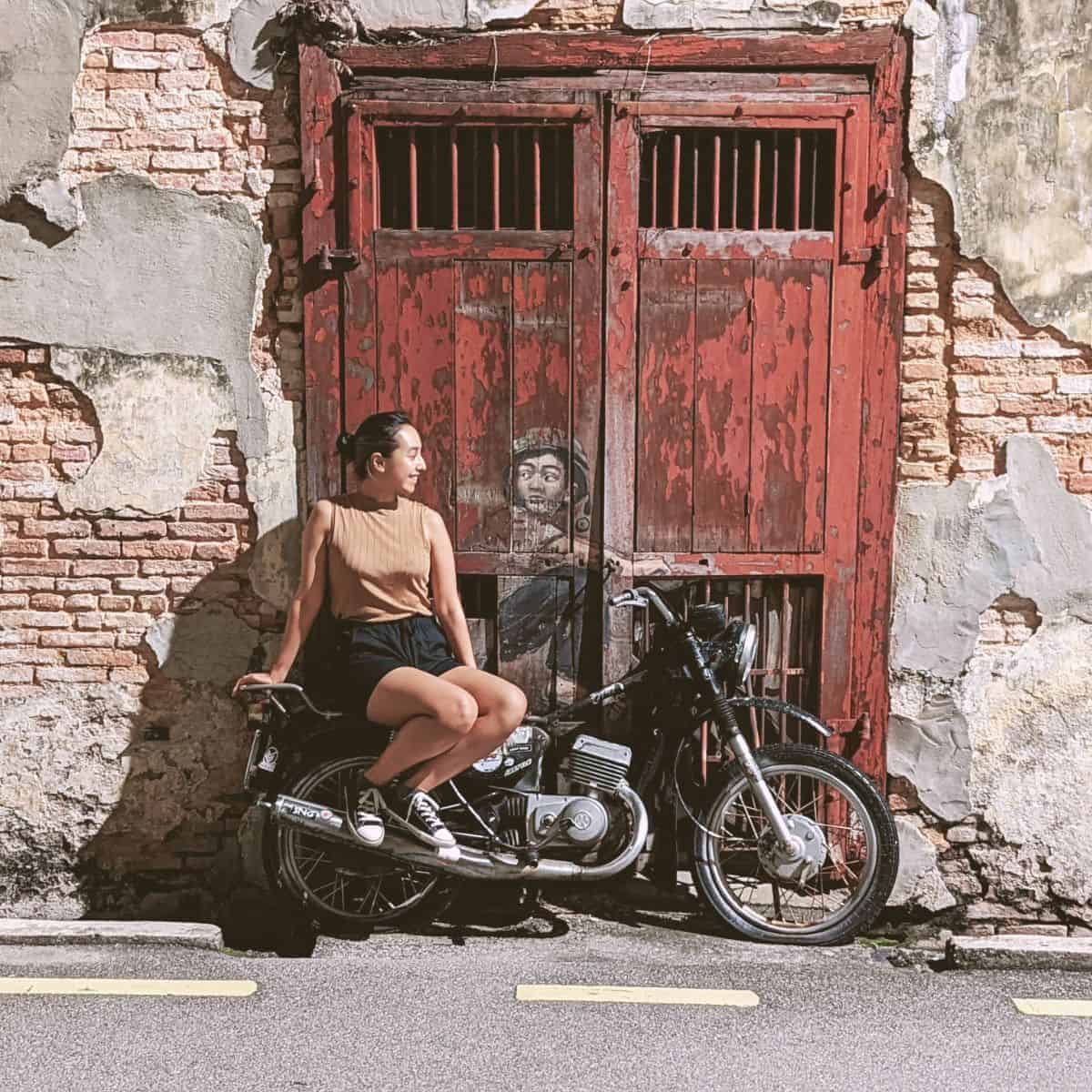 If you can't tell by the art style itself, this is another masterpiece by Ernest Zacharevic. The motorcycle used in this artwork was abandoned by a tourist who rode it from Vietnam to Penang. 
Even after years since its completion, this street art in Penang remains popular among tourists. So, if you plan on snapping photos, we recommend going there early in the morning to avoid the long queue or going at night instead.
Malaysian Man In A Flag Shirt
As the name suggests, this mural portrays a man wearing a Malaysian flag shirt. You can find it across Zacharevic's 'Boy on Motorbike'. Unfortunately, this art piece has been slowly fading, and there haven't been any signs of restoration. Therefore, you should check it out before it is gone.
Happy Dog with Steak
This vibrant mural was painted in 2016 by Kenji Chai, who is known for creating the turquoise dog Chaigo. Chaigo is a popular graffiti dog who has graced many walls in the streets of Kuala Lumpur. However, this is the only spot in Penang where you can find the dog. It depicts Chaigo enjoying a steak, which encourages the locals to feed the stray dogs.
Moreover, this mural is located near Lean Thye Coffee Shop, which is famous for its Loh Mee. Loh Mee is a Chinese Hokkien noodle dish served in a thick, flavourful gravy. Many claim it to be the best in town, so we suggest stopping by the eatery. Please note this is not a halal restaurant, as they serve pork. 
Penang Street Art on Gat Chulia Street
You can also find Penang street art along Gat Chulia Street. However, only a few are worth visiting, as many original artworks have deteriorated without restoration. Despite that, you see that this area remains frequented by tourists since it is packed with cafes. 
Brother & Sister on a Swing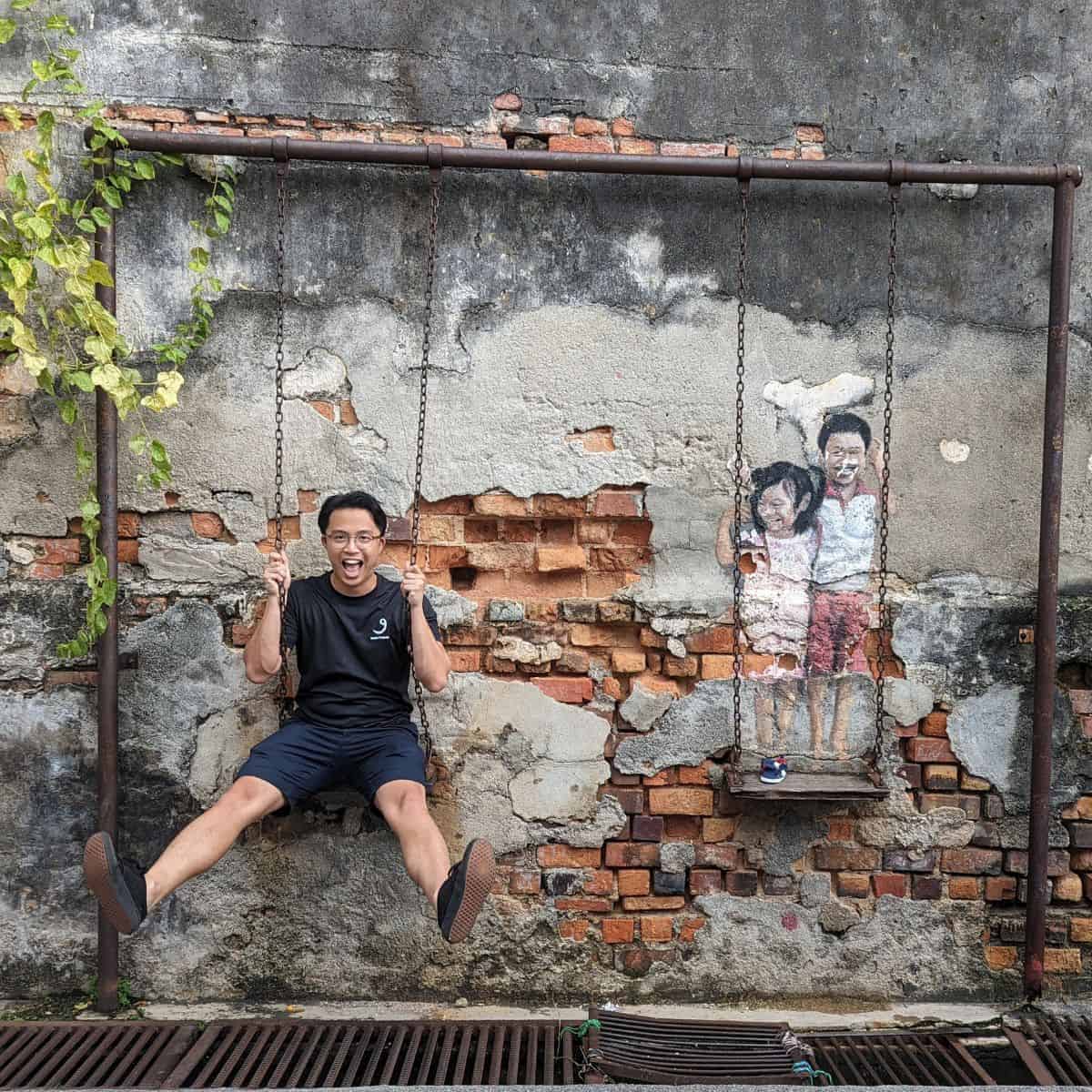 'Brother & Sister on a Swing' is an interactive mural that will allow you to join the siblings for some fun. You can sit on the installed swing set and pretend to play with the children. 
This artwork was completed by Louis Gan, a Penang artist whom the building owner commissioned. Furthermore, the children featured in the mural are the owner's children.
Susu Soya Asli & Segar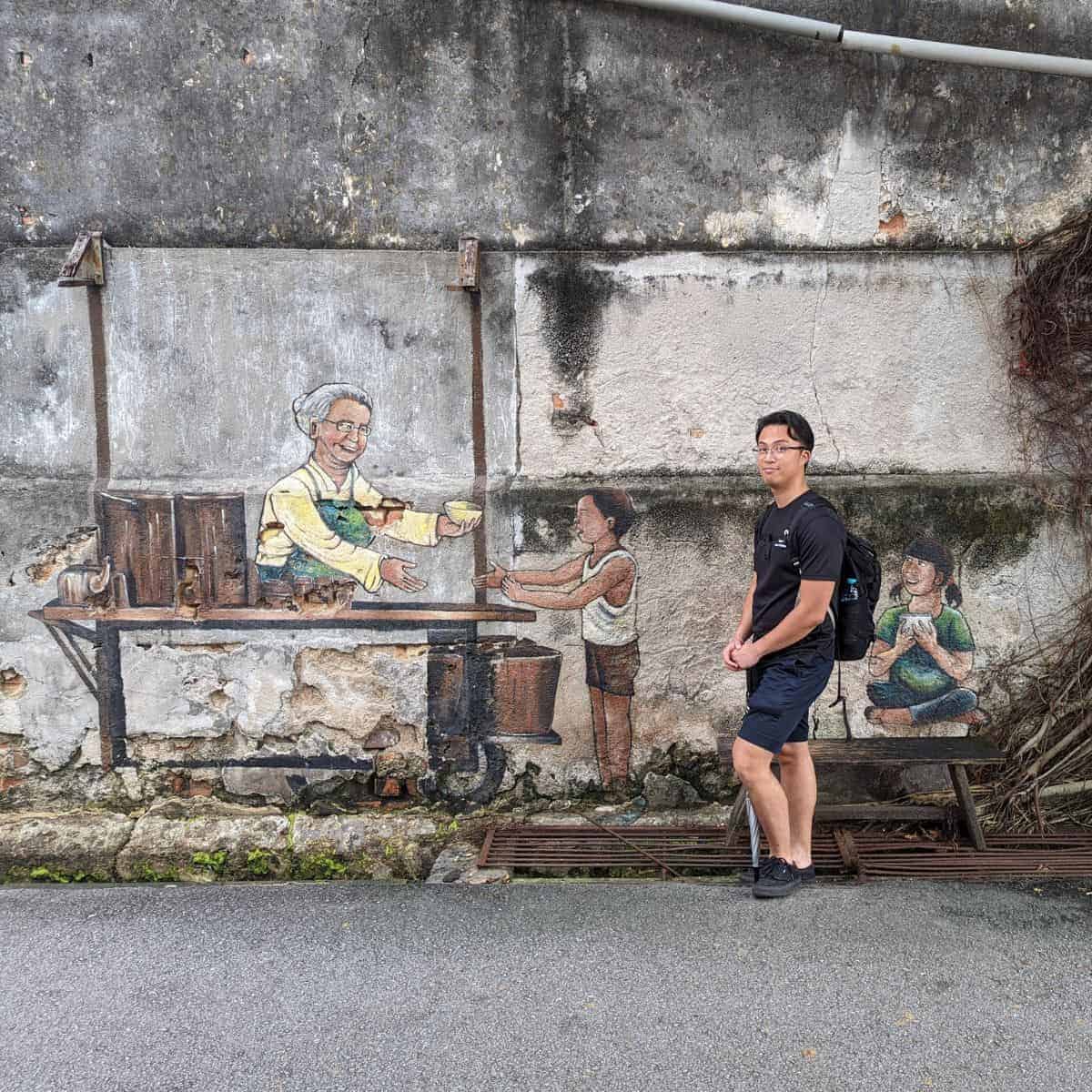 Beside 'Brother & Sister on a Swing' is a beautiful mural of an old woman serving soy milk to children. St. Xavier's Institution, Homesoy, and Vilmedia collaborated to make this artistic advertisement. 
The food cart used to have a sign that said 'Fresh Soy Milk' in Malay. However, it is disappearing as the wall it graces continues to crumble. Despite that, it remains one of the prettiest and most popular pieces of street art in Penang up until today.
Hoola Hoop Basketball
'Hoola Hoop Basketball' is another fun and interactive artwork around this area. It makes an interesting photo zone as you can shoot a basketball into the basket. 
However, be careful as you do this since the mural is located above a drain.
Other Areas in Penang
Other than the areas we've covered, you can also find murals in other spots like Penang Road and Chew Jetty. Besides that, you should also visit interesting art spaces like the Hin Bus Depot.
Hin Bus Depot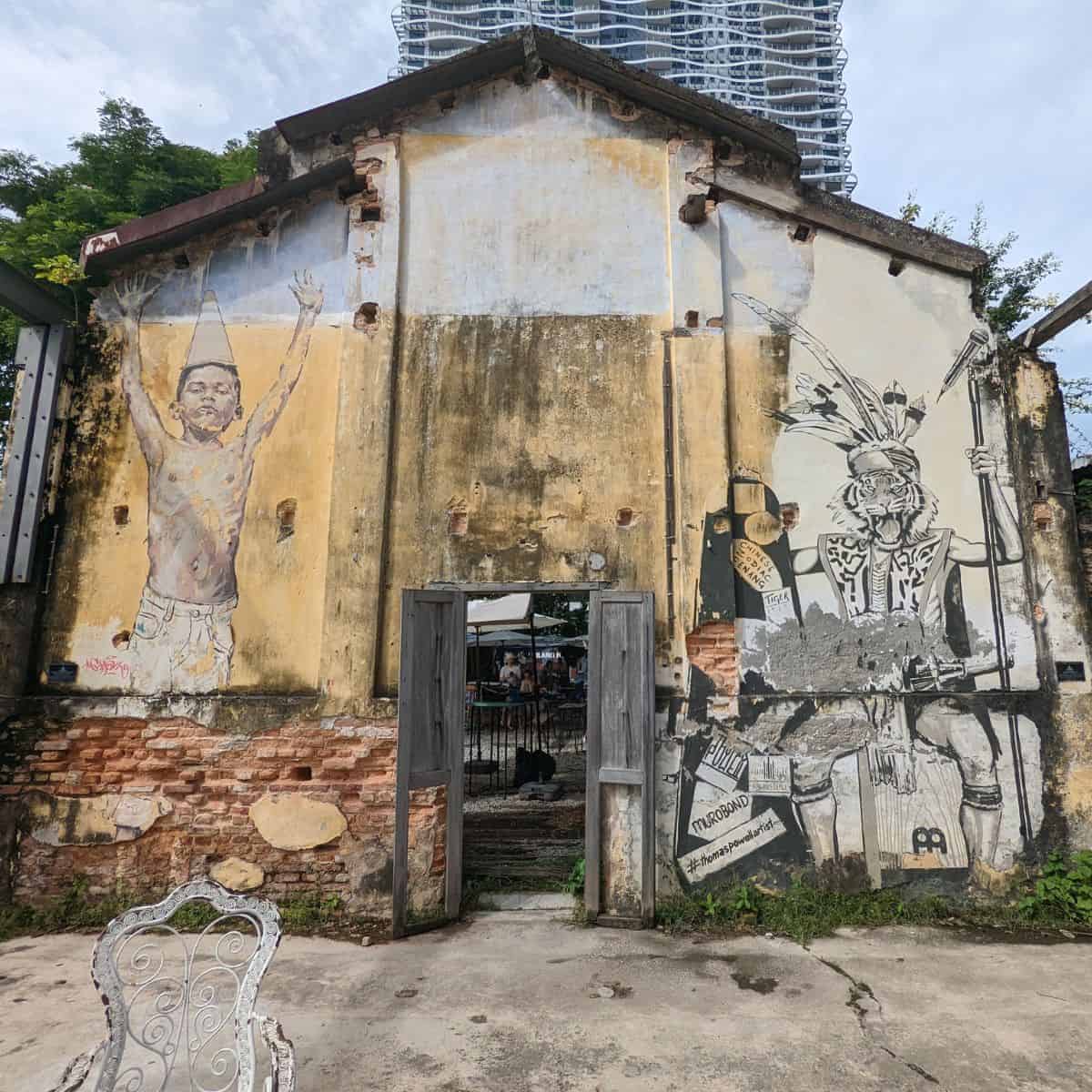 Hin Bus Depot is an old bus depot turned art centre in George Town. You'll be able to spot exciting murals adorning the venue's walls. Some of Ernest Zacharevic's works are also located here.
Penang Street Art Projects 
Local authorities and small businesses commission most street art in Penang. But some are created and scattered around the town as part of art projects. The '101 Lost Kittens' and the iron rod caricatures are two examples.
101 Lost Kittens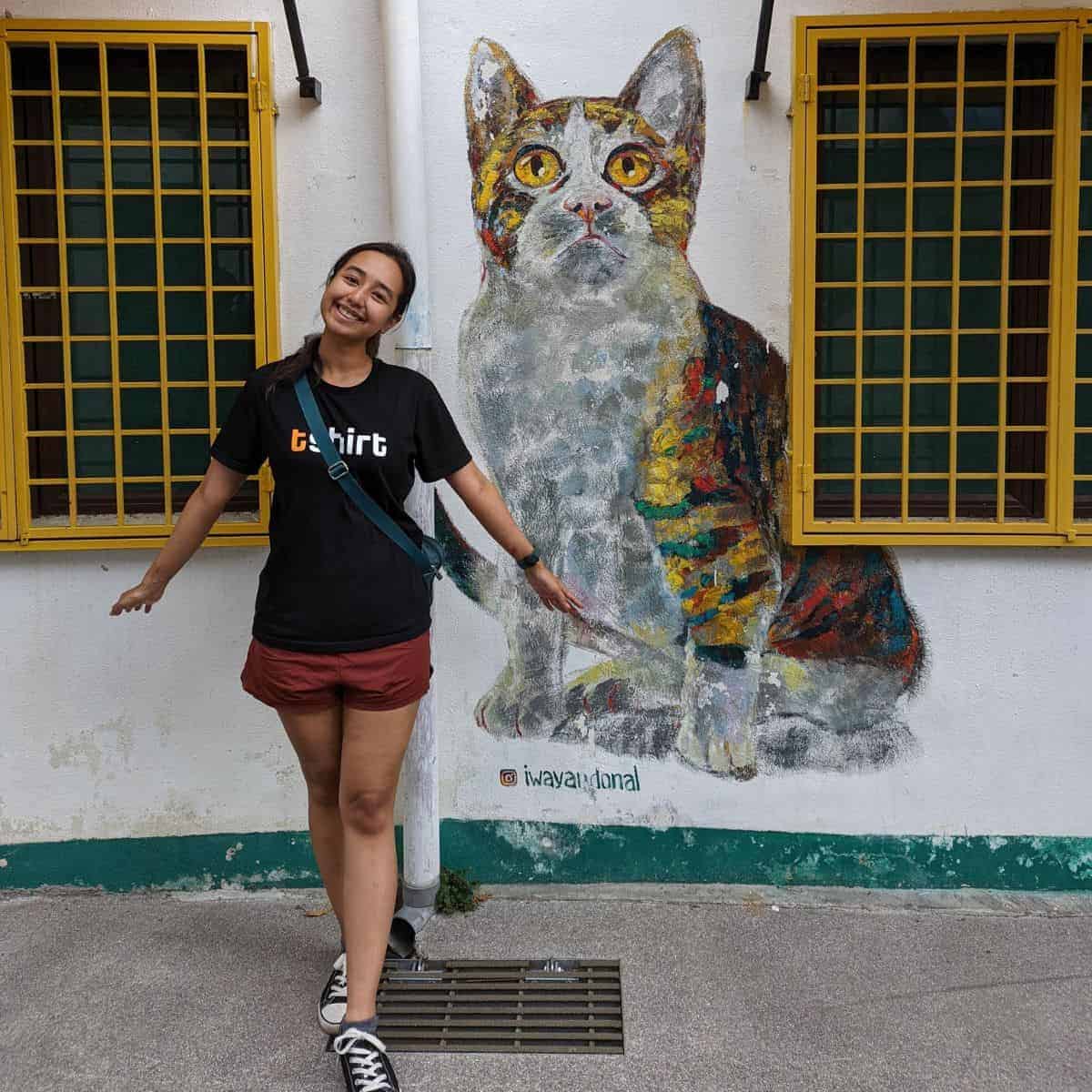 '101 Lost Kittens' is a project run by a group of artists collectively known as Artists for Stray Animals. It involves the creation of twelve cat-themed street art in Penang at various parts of Georgetown. 
Ultimately, the main idea is to raise awareness of the need to find homes for stray animals. For example, 'Cat Chasing a Mouse' and 'Love Me Like Your Fortune Cat', which we've mentioned above, are part of this project. 
Iron Rod Caricatures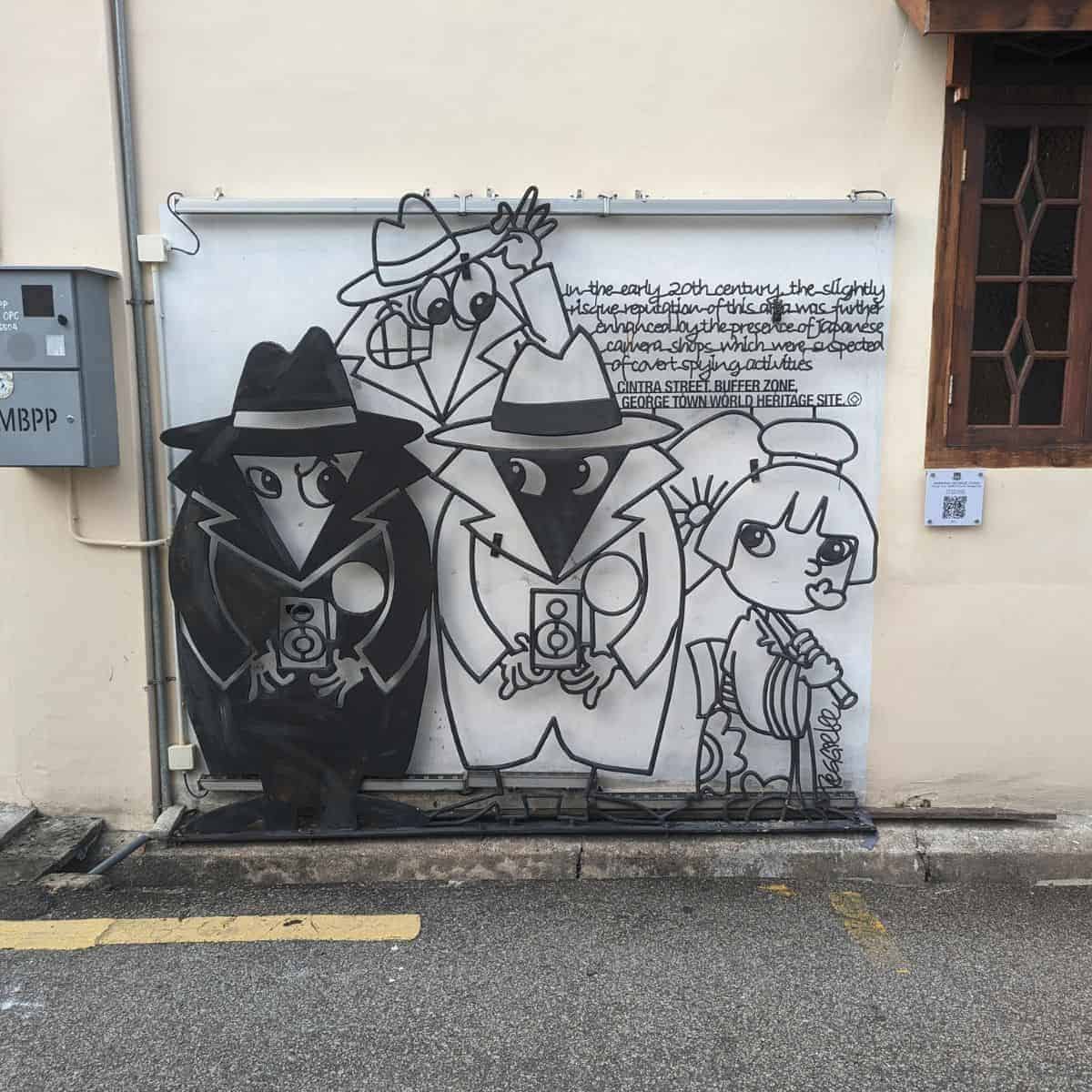 Before the emergence of street art, George Town only had a collection of iron caricatures on its streets. The iron rod caricatures are also known as the Marking George Town Steel Rod Sculptures.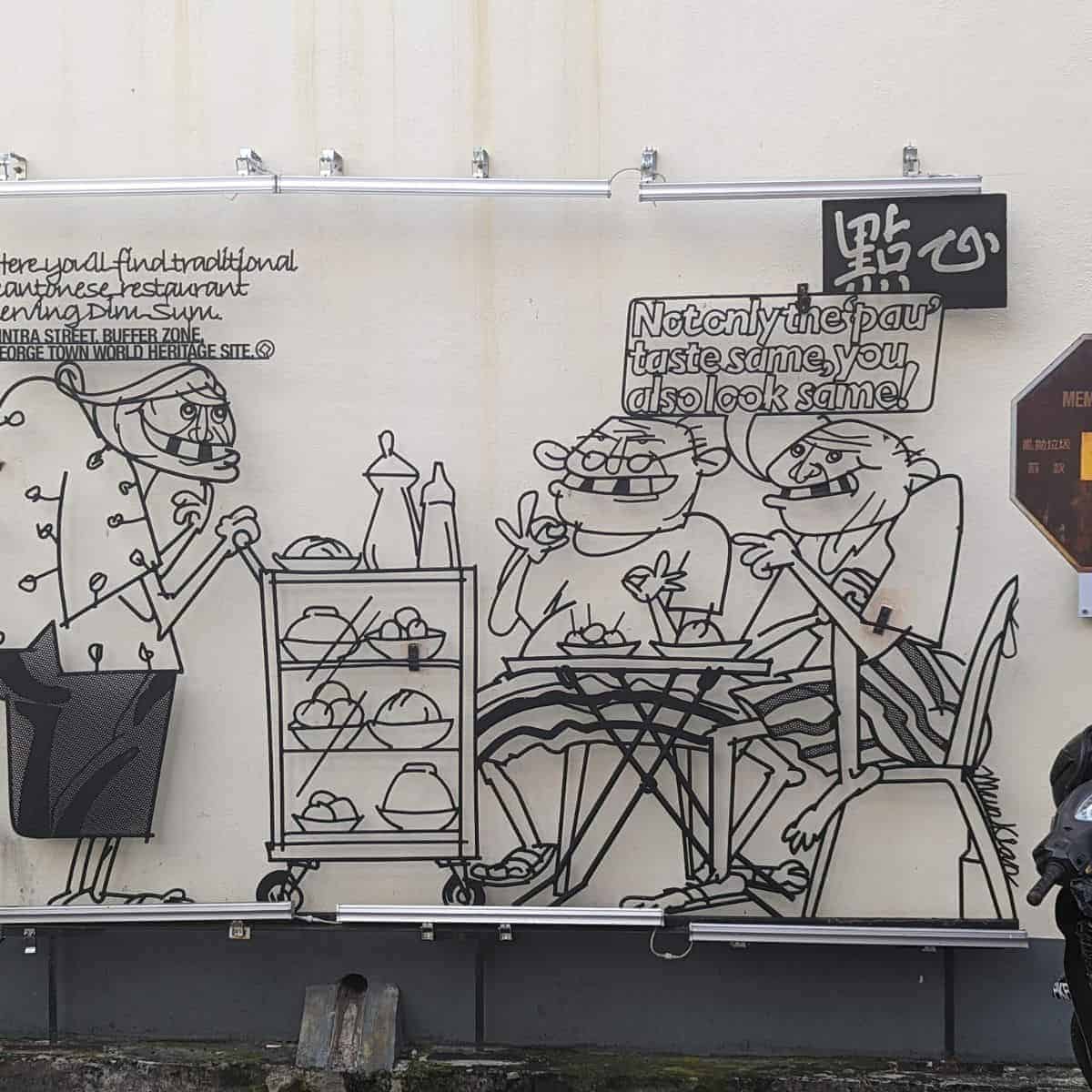 Moreover, these caricatures were installed to share George Town's history with everyone in an interesting and comical manner. Some of the popular ones include the '" Ah Quee?" Sculpture' and 'Jimmy Choo Sculpture'.
Penang Street Art Tips 
Walk around in the early mornings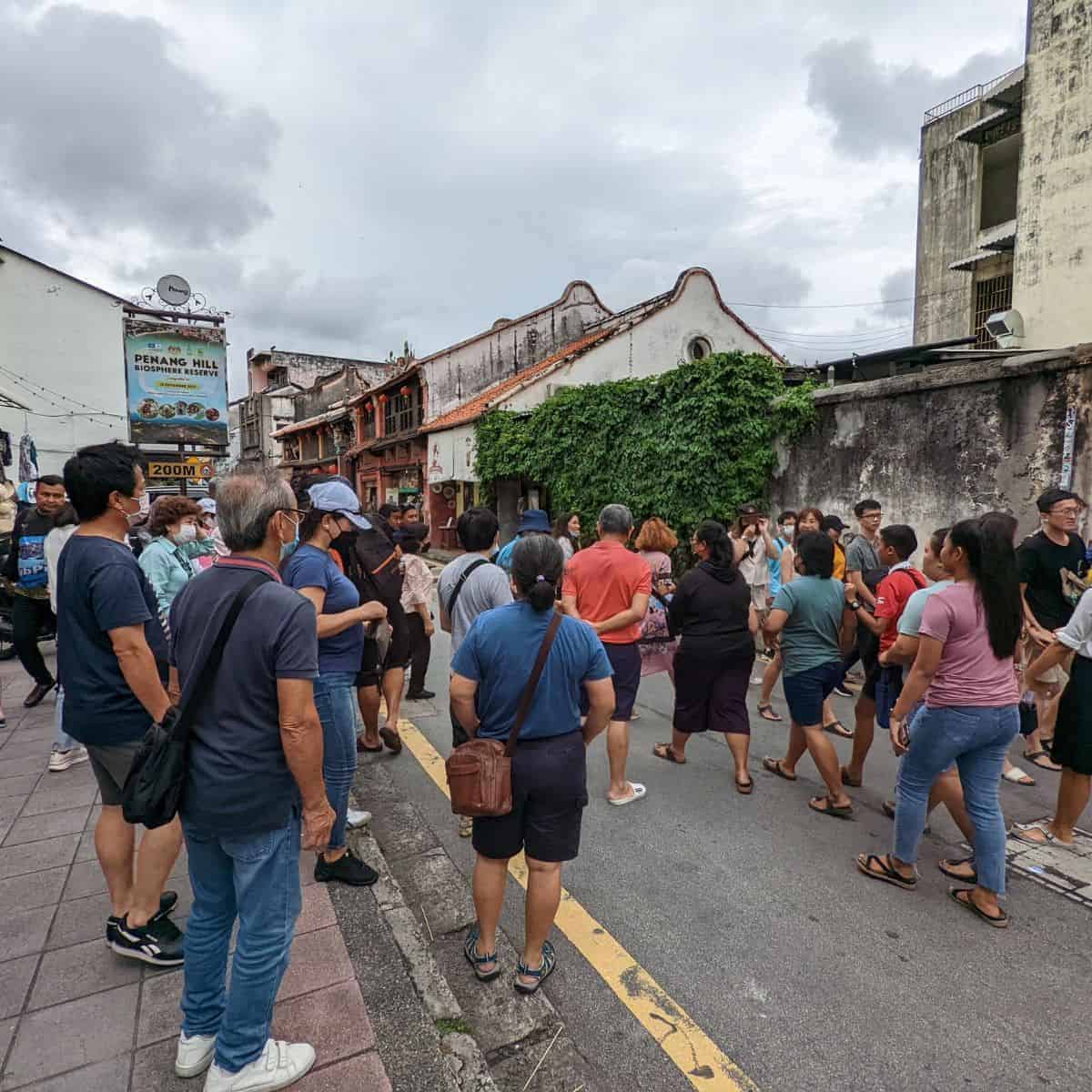 It is best to start your street art adventure early in the morning to escape the crowds. You can take your time to stroll around and enjoy the art pieces. Plus, it wouldn't be too hot to stay outside. Alternatively, you can go in the evening to avoid the heat.
Take a bike or e-bike ride at night
Rent a bicycle if you want a fun and quicker way to see the artwork. This is very easy to do as you can rent bicycles almost anywhere in the city for a reasonable price. You can also use mobile apps like LinkBike for a cheaper rental fee.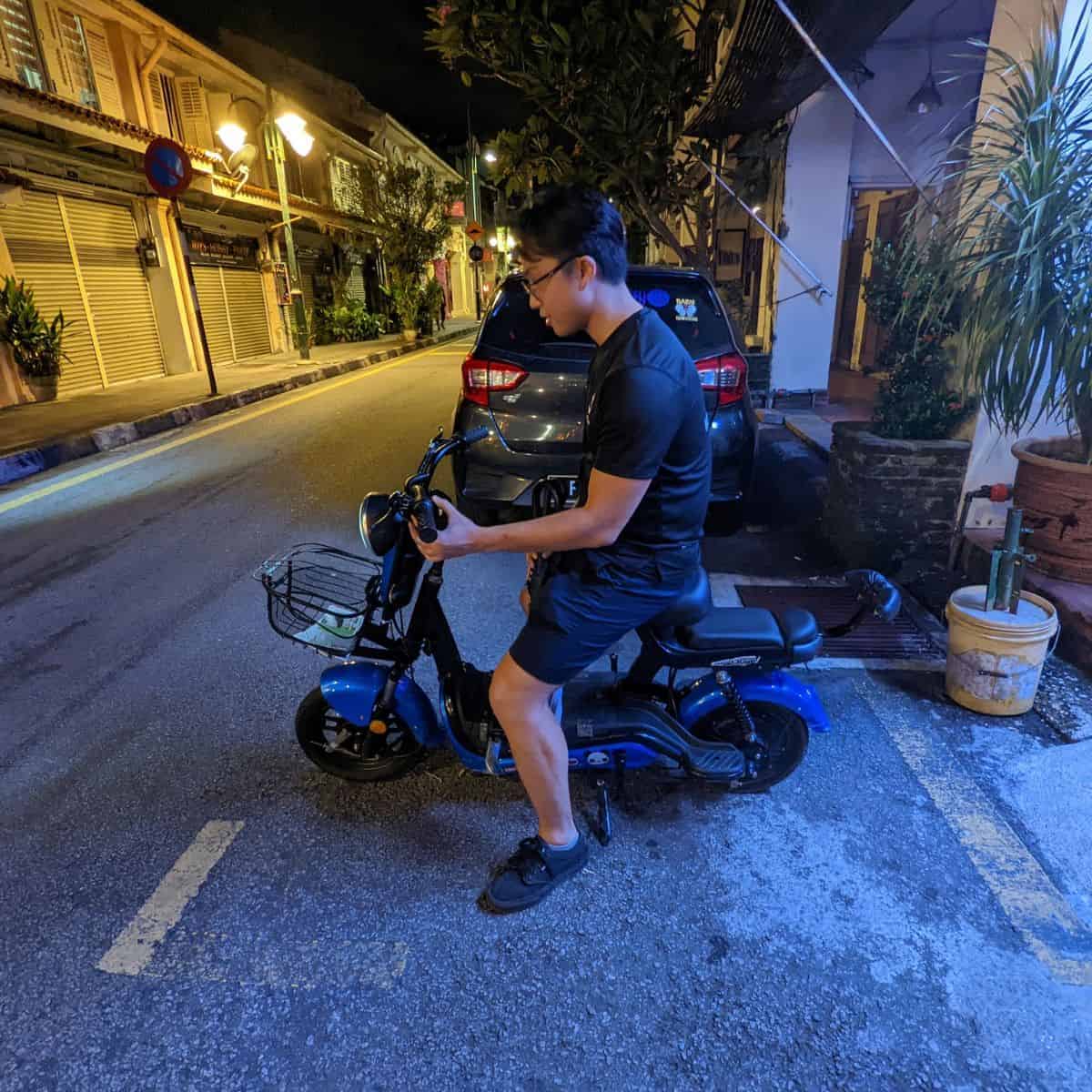 We also highly recommend exploring the artsy lanes and alleyways during the night. While some artworks are clearer during the day, seeing the pieces at night provides a different thrill.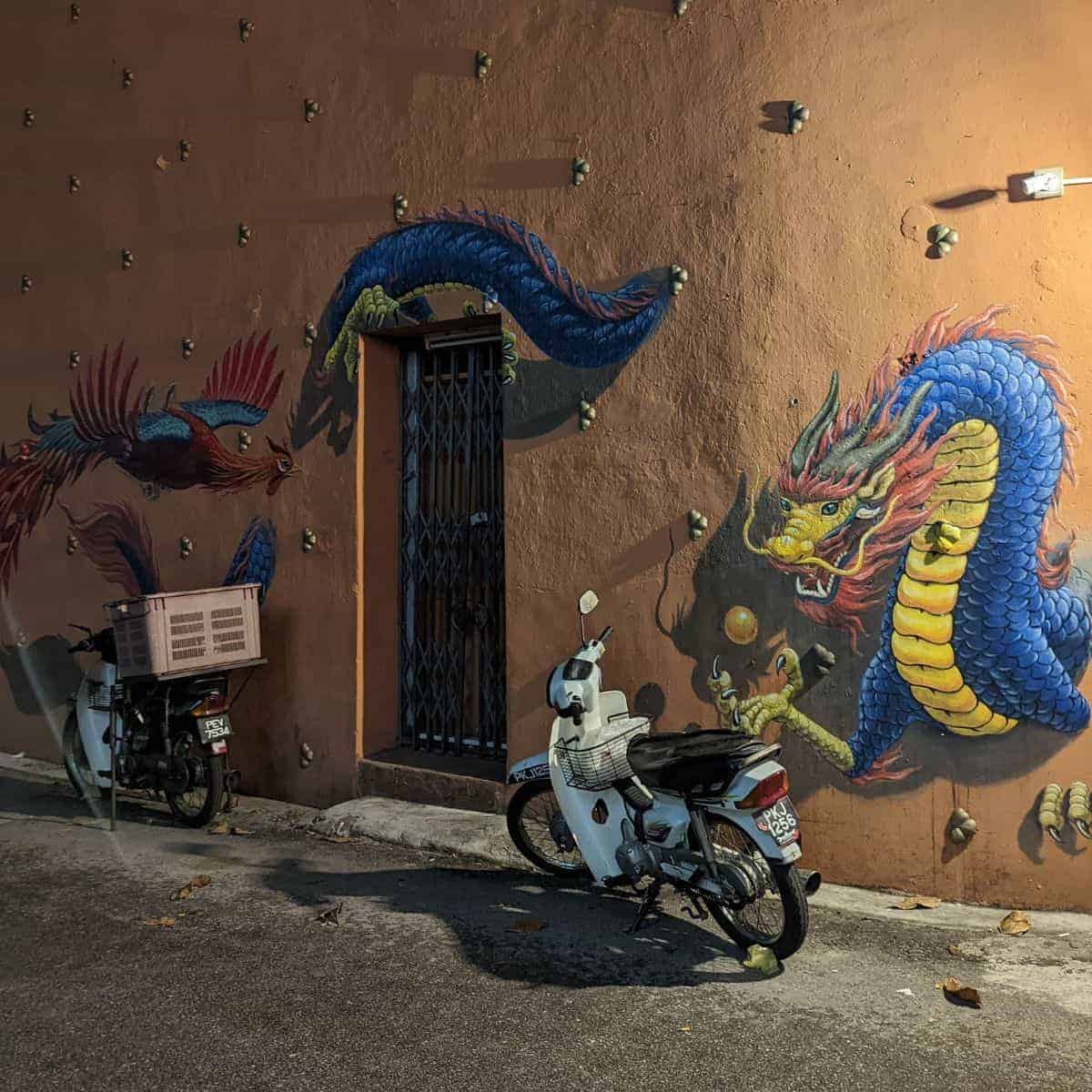 Look up and down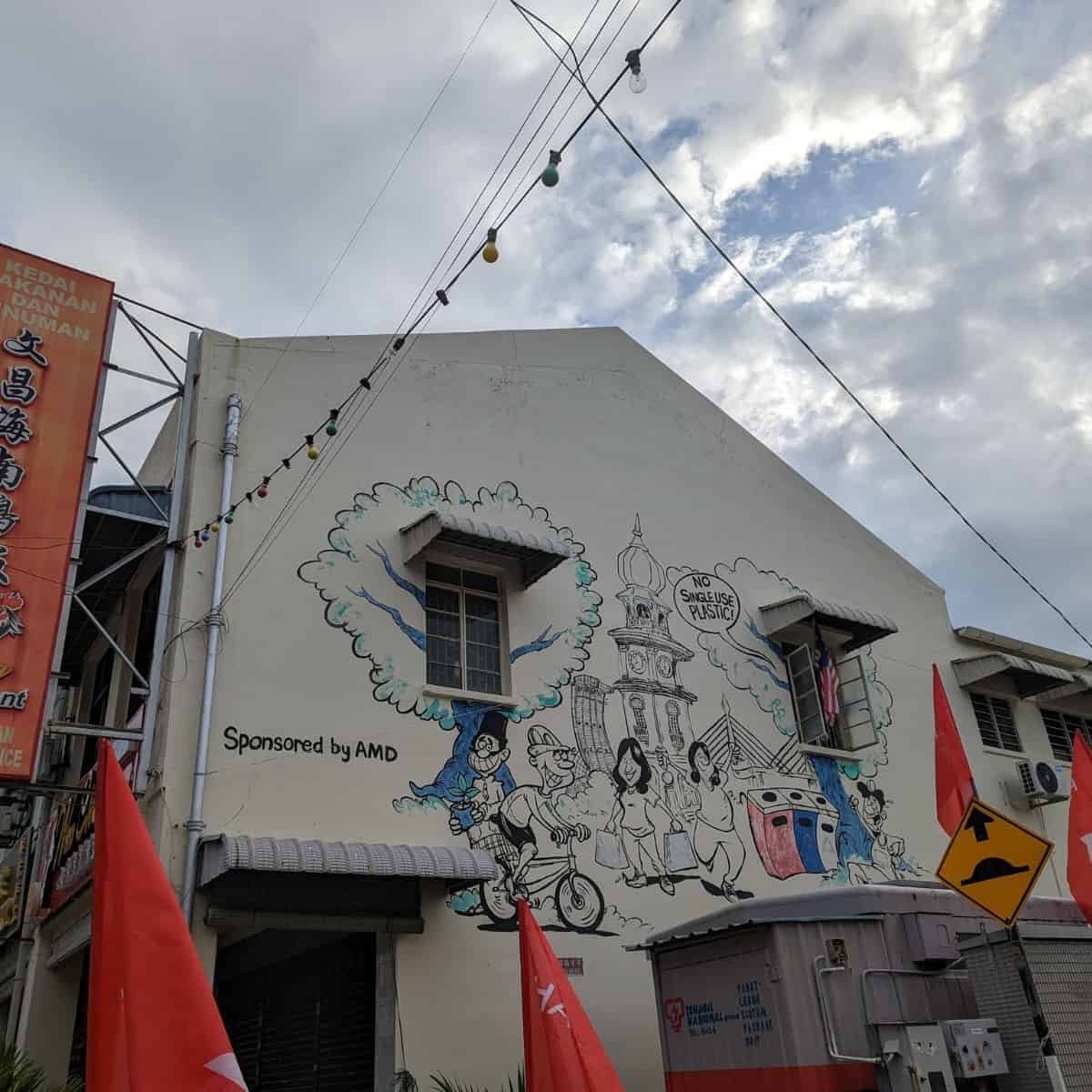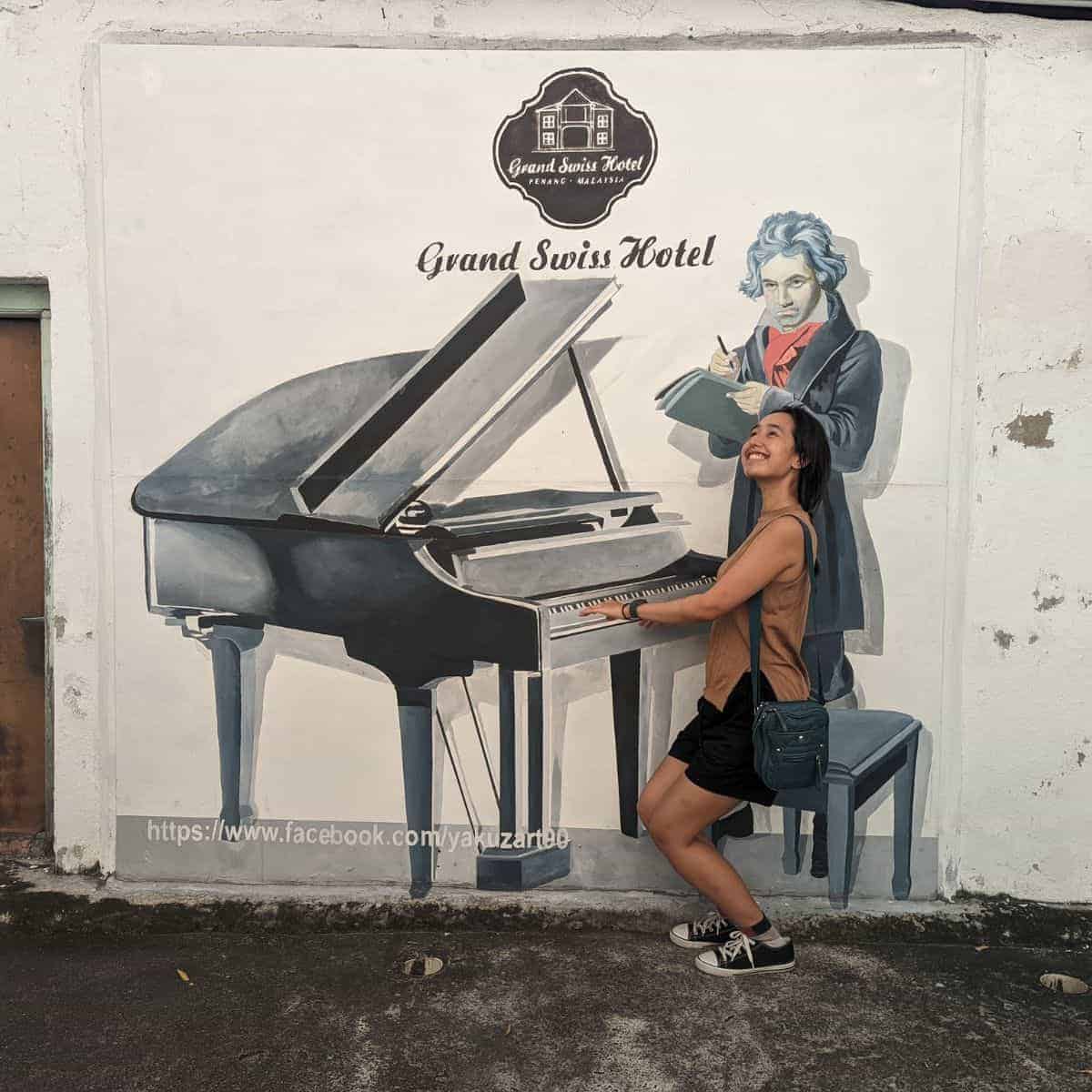 One thing about Penang street art is that they are everywhere. Besides referring to your Penang street art map, keep an eye out for other hidden artworks wherever you go. You'll find that many small businesses have their own murals. 
For instance, Penang Cendol has a colourful mural of a boy eating cendol.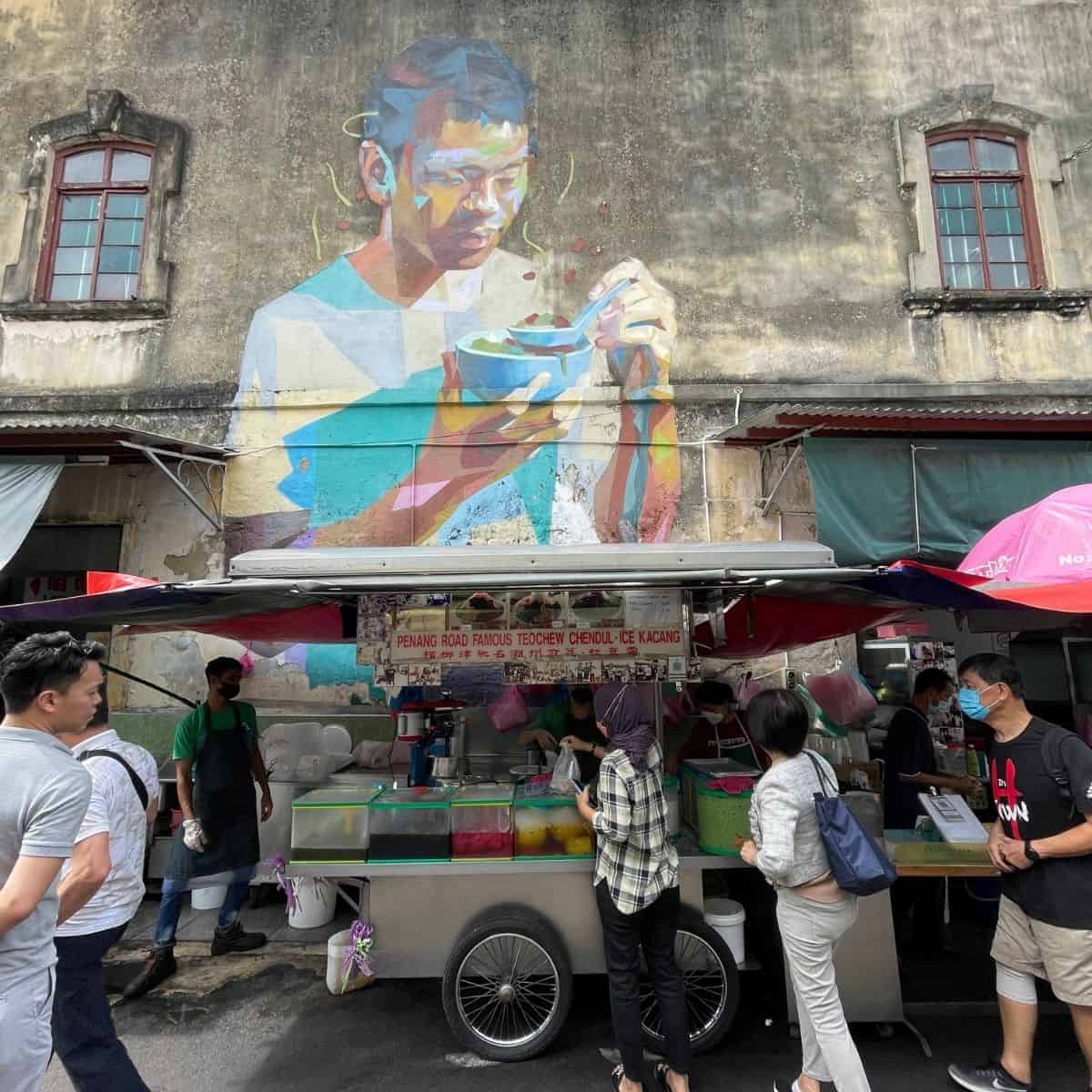 Chatto Bubble Tea has a silly mural outside of the store.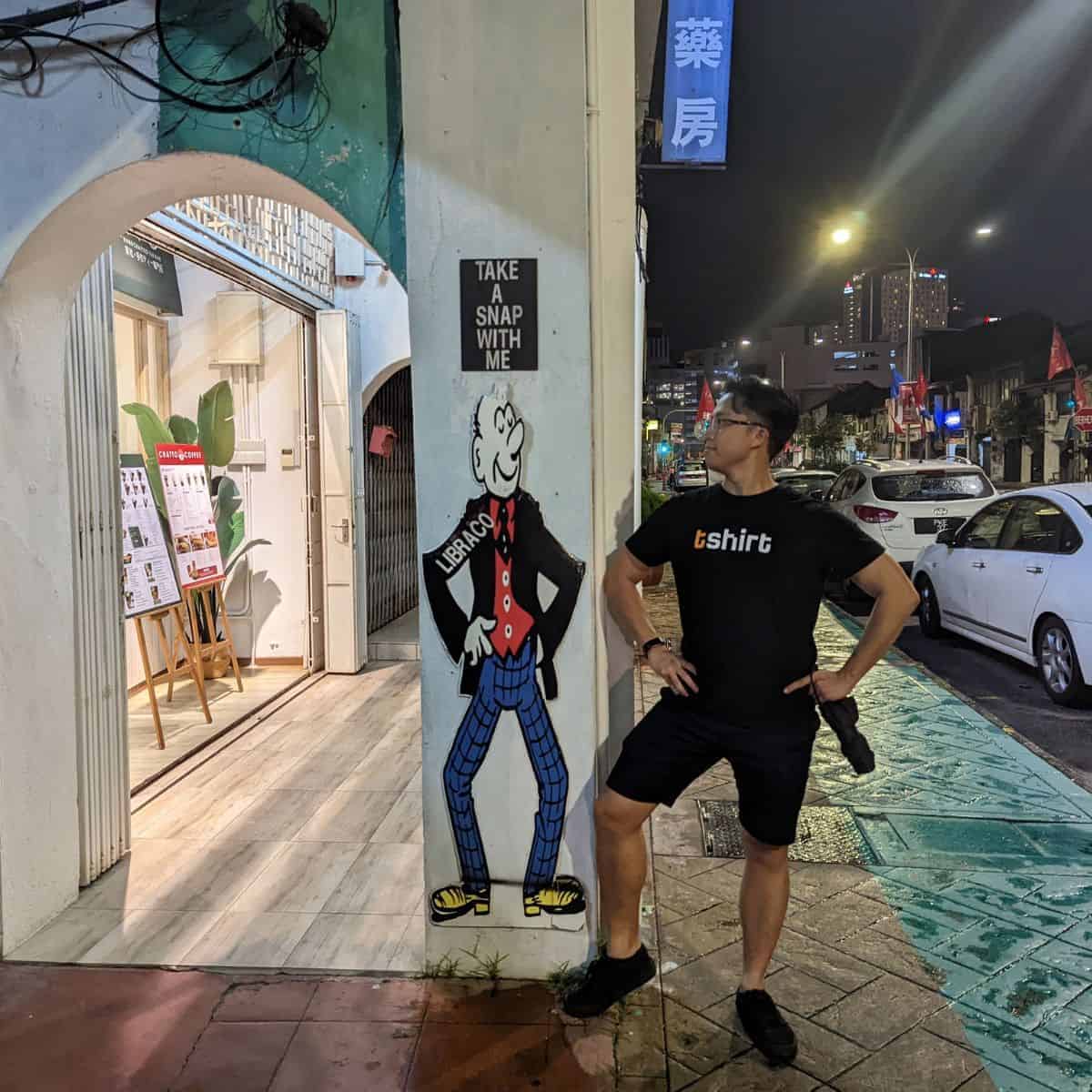 We also spotted this mural outside of Toh Soon café and Ban Heang. Toh Soon is a famous kopitiam in Penang, whereas Bah Heang is a well-known bakery that sells delicious Penang tau sar piah.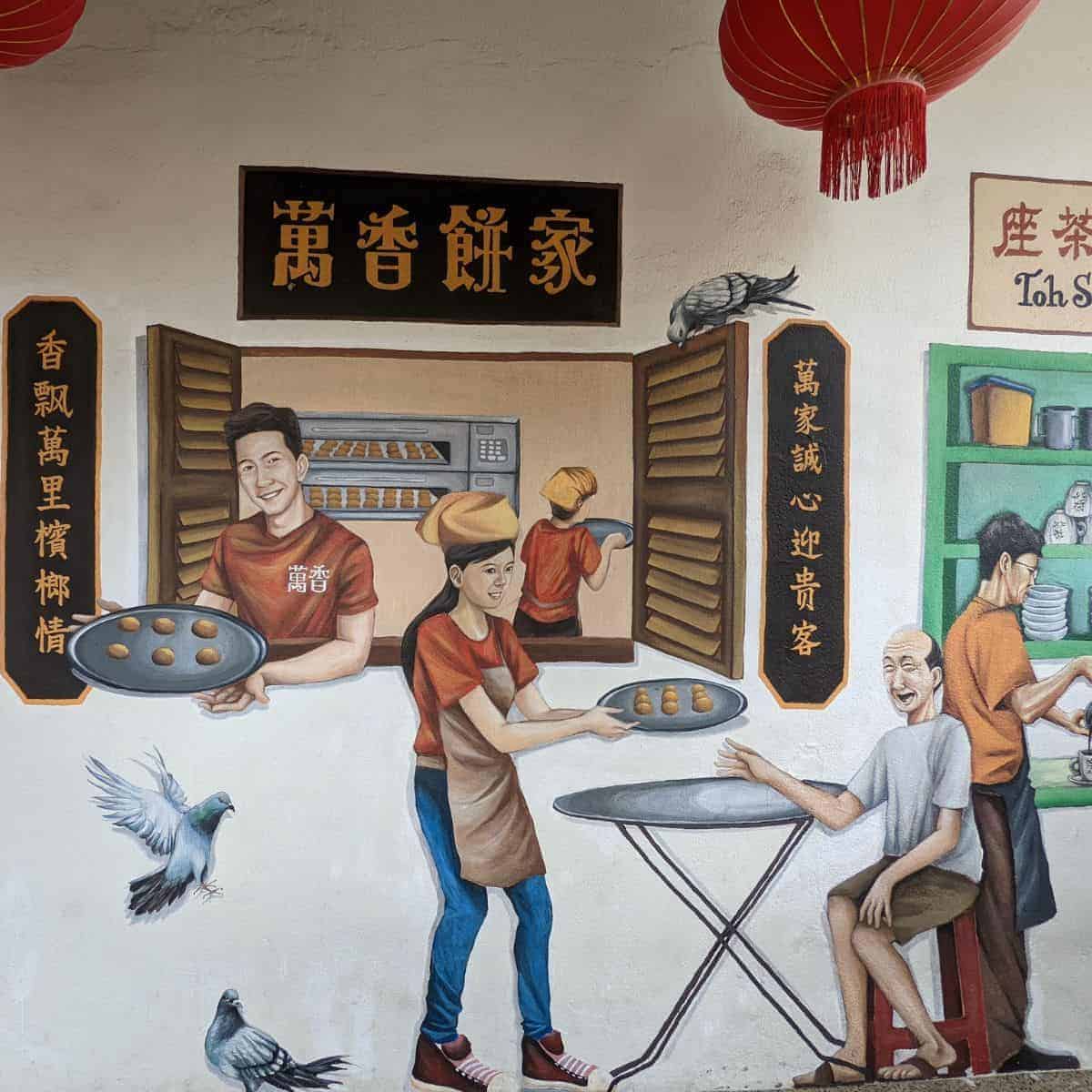 Take breaks at cafes in Penang
Taking breaks between your street walks at cafes in Penang is a good idea. Furthermore, some Penang cafes also have great murals decorating their walls. These are the Penang street art cafes we've discovered:
Mugshot Café
Mugshot Café is one of the pioneer cafes in town, which earned its fame for its bagels and homemade yoghurts. This is the place if you want to try the best bagel in town while looking at cool animal murals.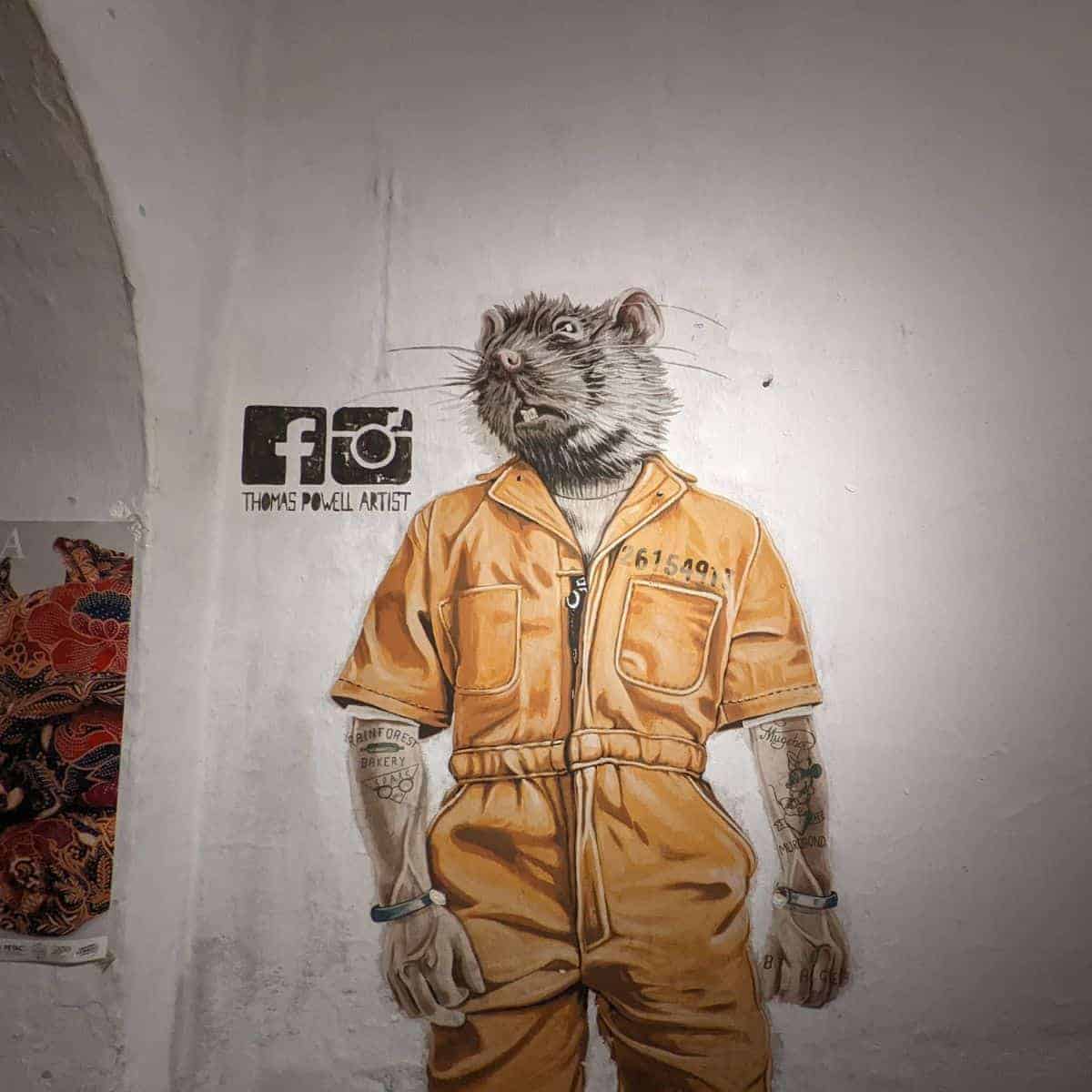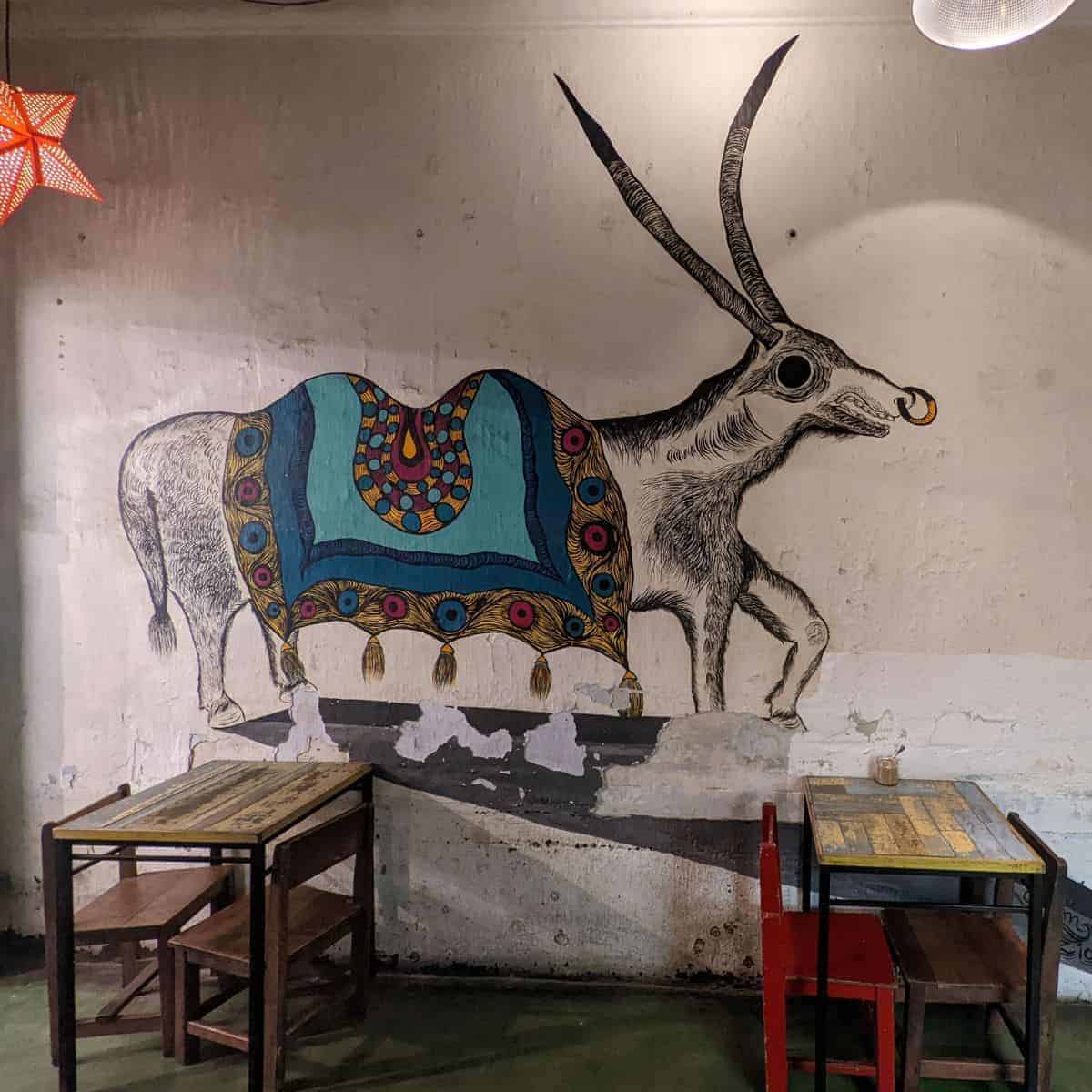 China House
Need some desserts to conclude your day of indulging in all the street food in Penang? China House is a great choice for various desserts and some vibrant murals. You can try their Upside Down Mango Cake and Tiramisu (one of the best in town!) while you're there.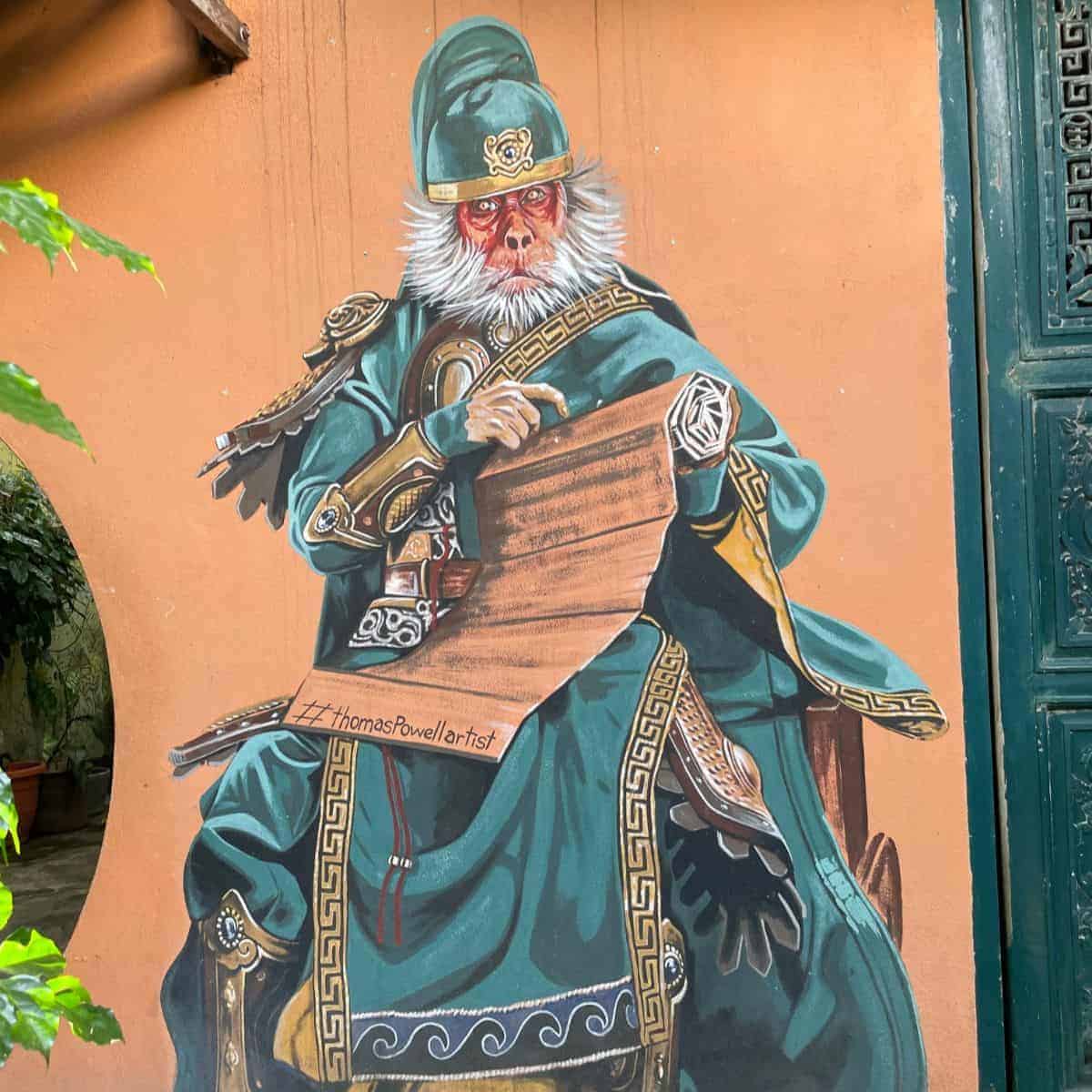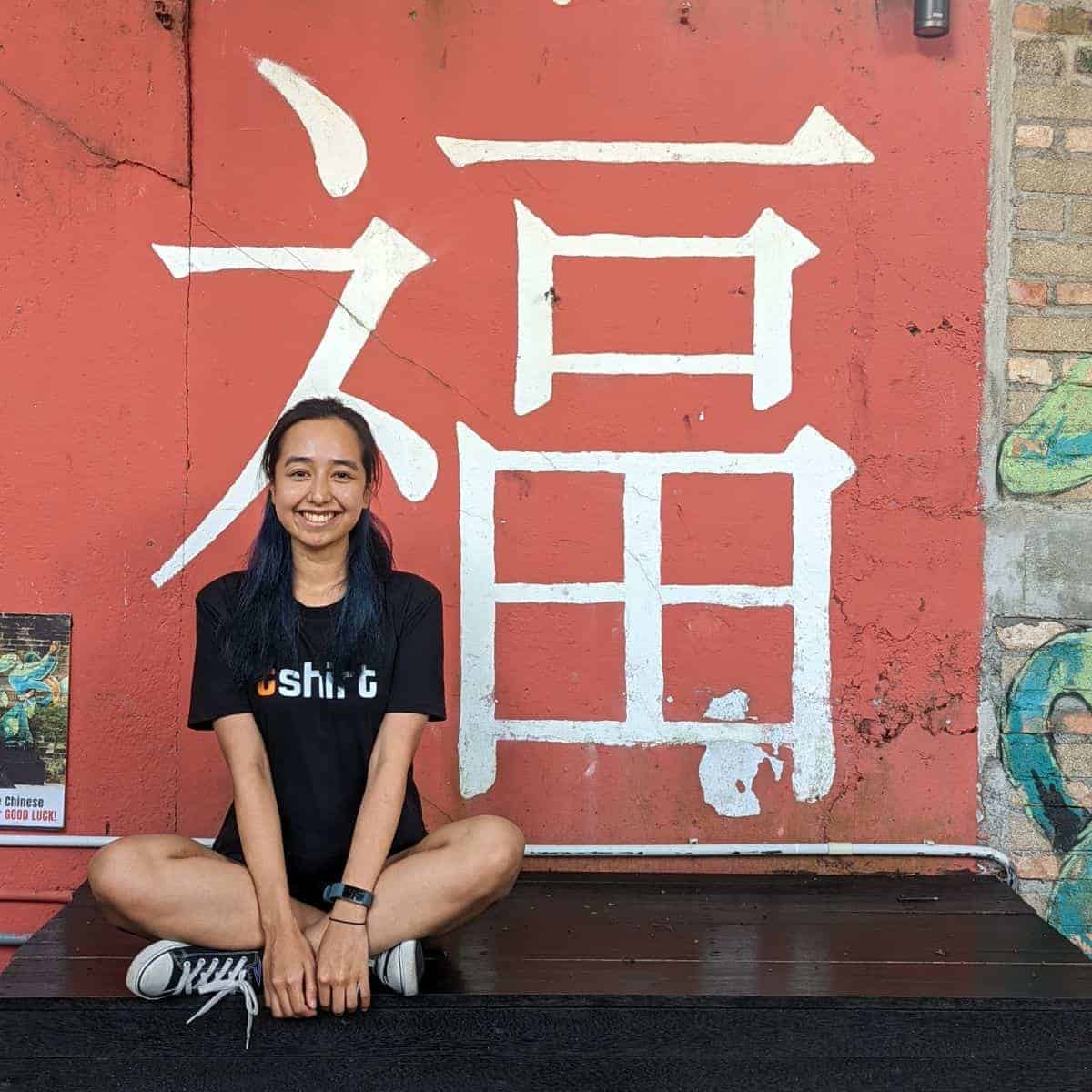 Secawan n Such
Secawan n Such used to house one of Gabriel Pitcher's artworks within the cafe. However, the café has been permanently closed since February 2023. We look forward to seeing if they reopen or become a new home for another store.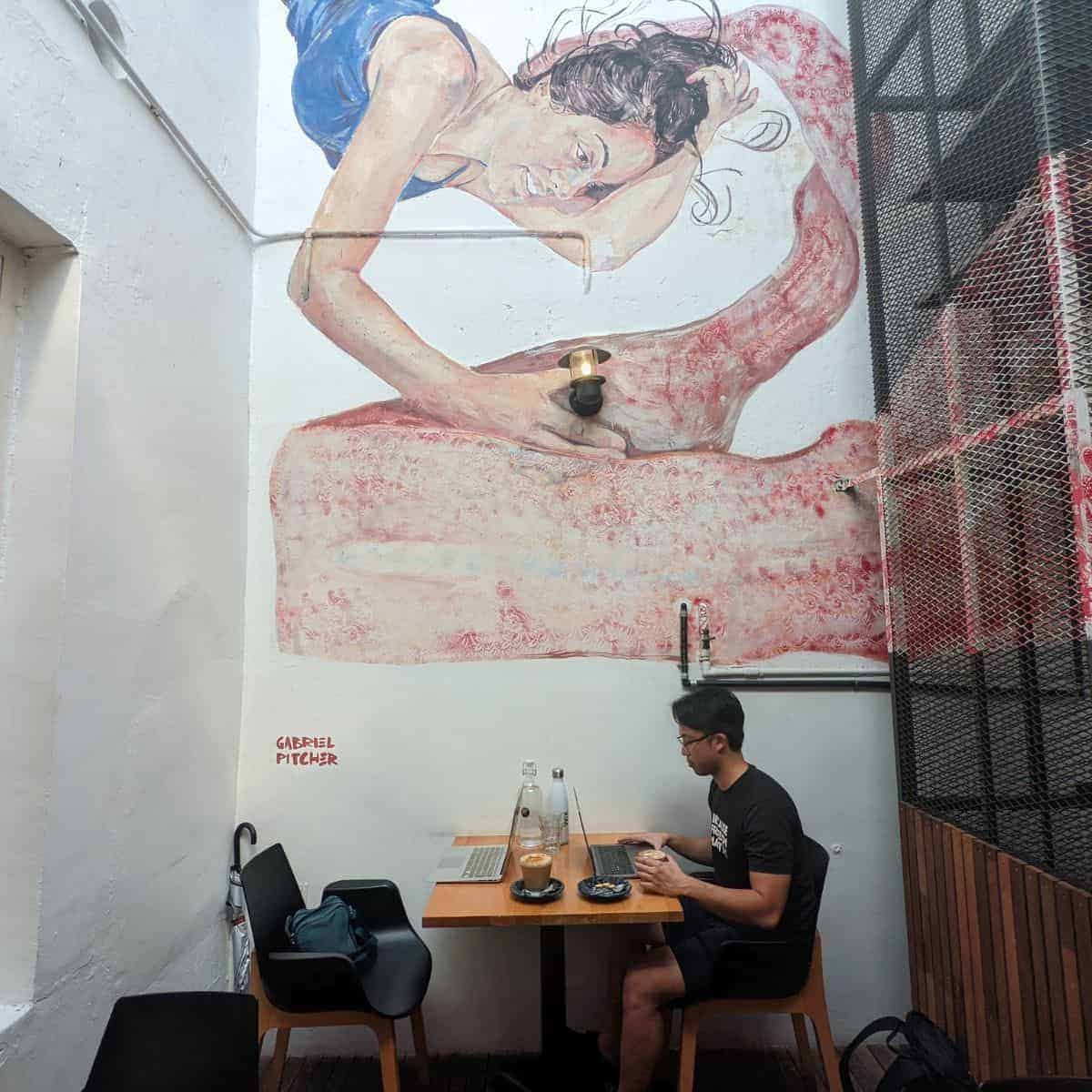 Ome by Spacebar
You'll find a good cup of coffee and a stunning mural in this Penang Street cafe.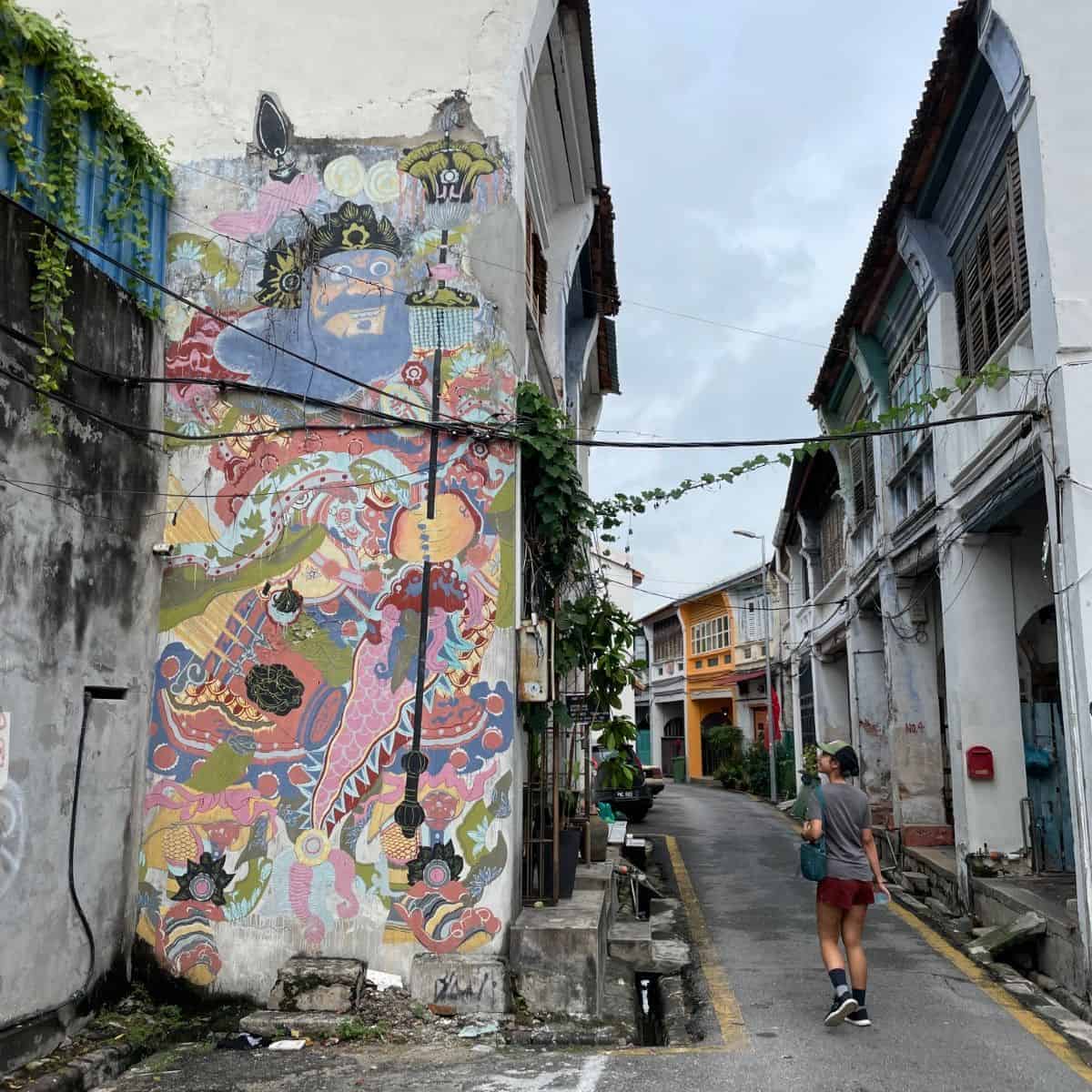 Penang Street Art Tours
We recommend going on a street art tour for a stress-free adventure. Most Penang Street art tours will allow you to see around 50 artworks and other attraction sites. You can either go for a walking tour or ride a trishaw at a reasonable price. 
However, the ones on the trishaw are ideal for those travelling with older family members or young children. Trishaw tours are also great for those who want to enjoy the town's scenery while touring. 
Follow us on Instagram @tabitogether for more exciting travel content and guides on all the best things to do in Penang.