Fine dining in Penang is a luxurious experience that should be on every serious foodie's bucket list. Many people will visit this island for Penang's famous street food. However, few know it is also a fine dining haven offering more than high-end dishes.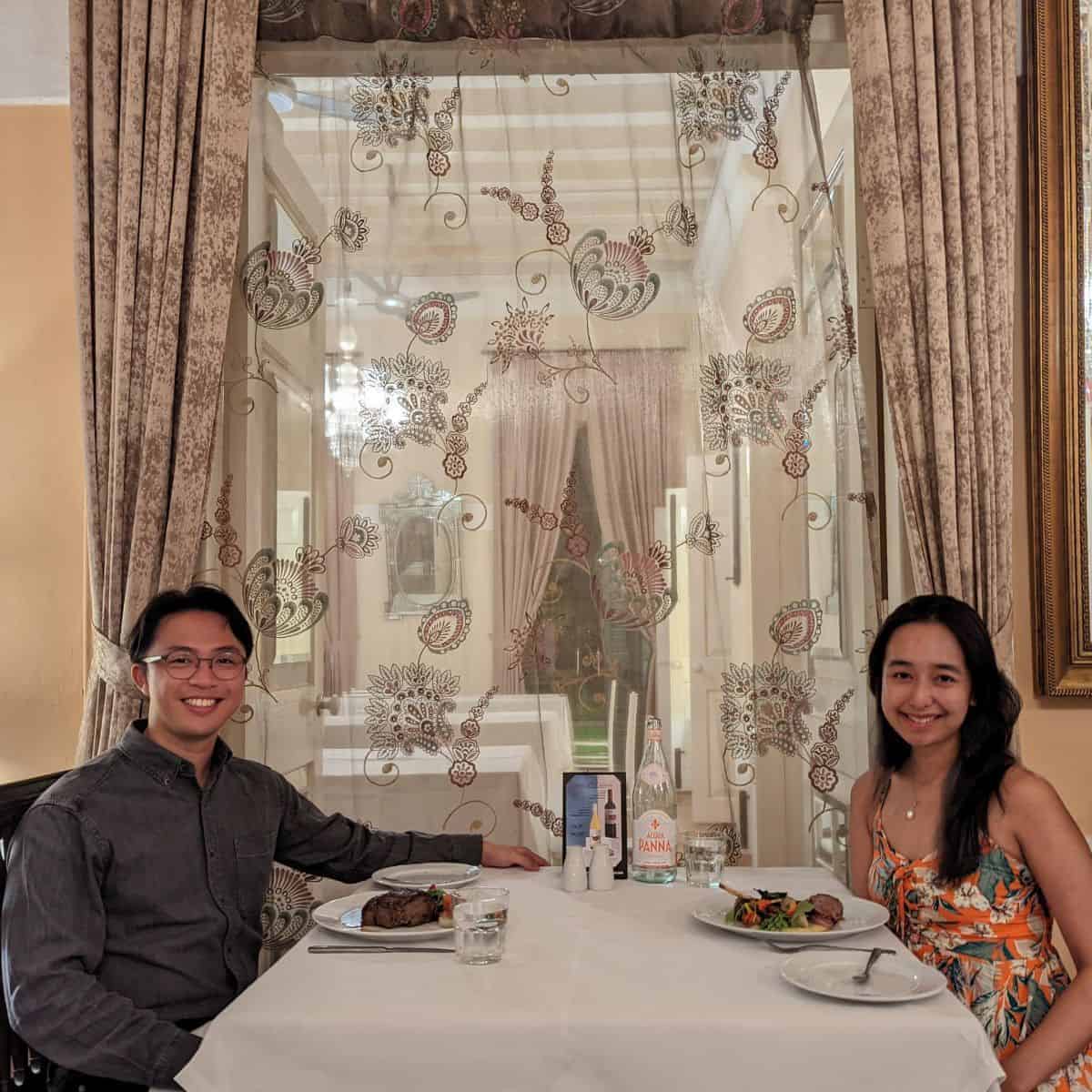 Diverging from upscale eateries elsewhere in Malaysia, this island presents exquisite dishes influenced by cultural diversity. You'll find that the Penang fine dining scene is unique for its diverse culinary traditions, including Peranakan influences.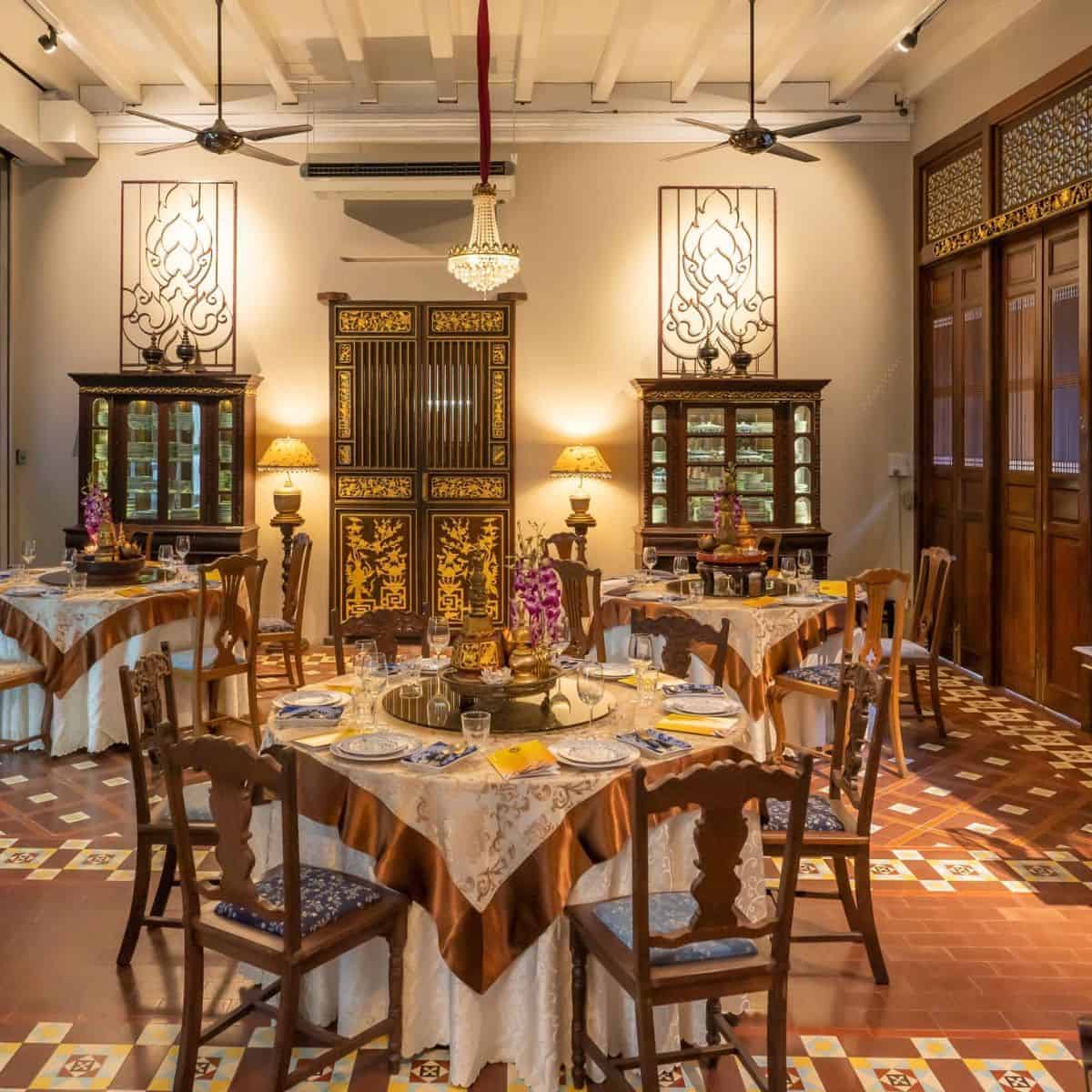 You'll find countless fancy eateries and fine dining restaurants in Penang. So, we've narrowed it down to 13 for your ease. We've selected these spots based on their food options, ambience, value for money and general reviews. So, continue reading to indulge in a fancy feast.
Jump to:
Best Penang Fine Dining Restaurants
After several decadent meals, we've concluded that Suffolk House and Kebaya Dining Room are the two must-go spots.
Suffolk House offers high-quality and affordable meals. Meanwhile, Kebaya Dining Room provides an authentic local fine dining experience.
Maple Palace (Chinese Fine Dining in Penang)
Maple Palace is where you can indulge in a blend of traditional and avant-garde Cantonese delicacies. This Penang fine dining Chinese restaurant is an award-winning eatery offering Chinese dishes with a modern twist.
Whether you'd like some classic chicken rice or a one-of-a-kind platter, this spot will not disappoint. Located inside a grand and historically preserved building, the restaurant is perfect for family gatherings, romantic dinners and weddings. If you're seeking something different from the typical Penang kopitiam, you will surely enjoy this elevated eating experience. Maple Palace instantly became one of our favourite fine dining in Penang.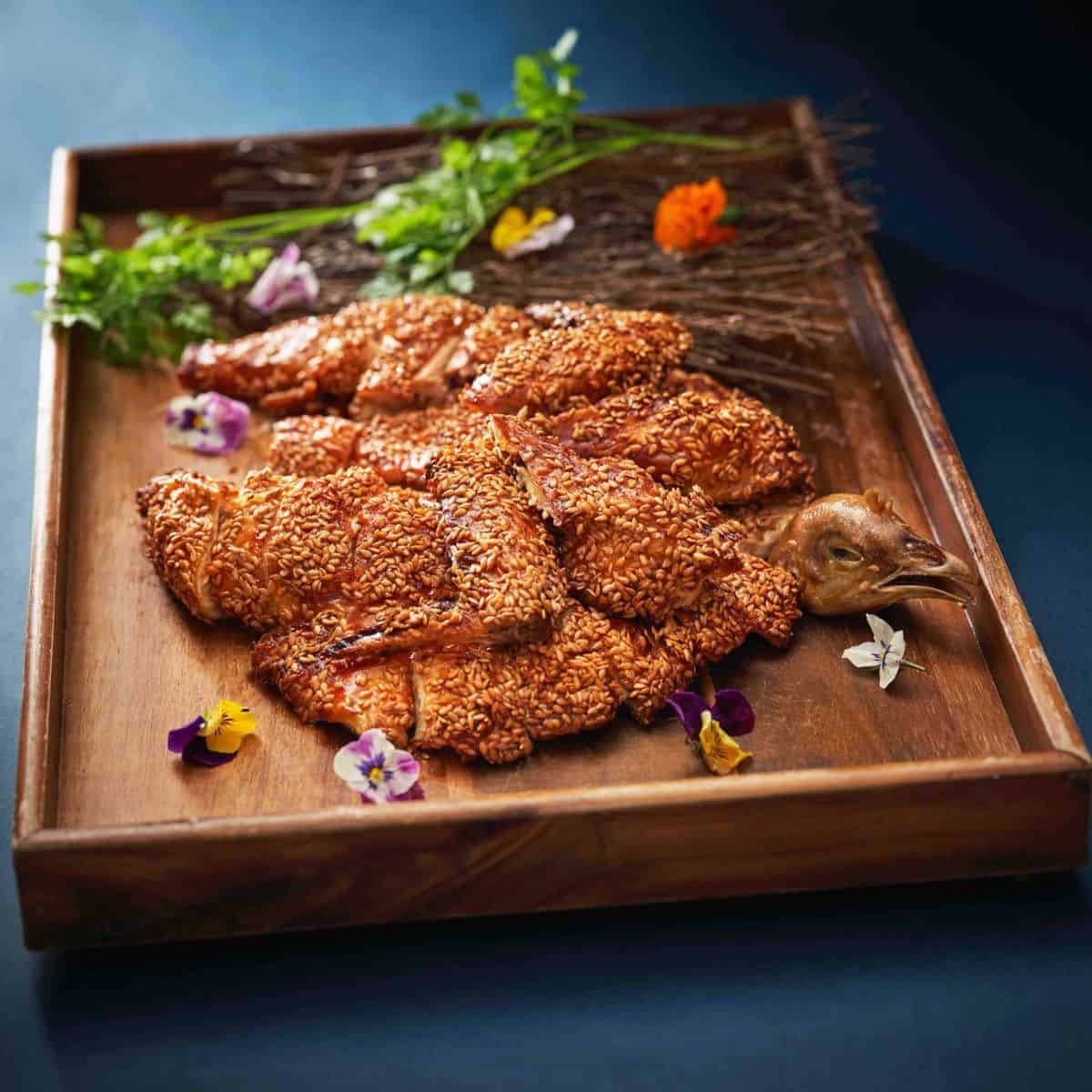 We highly recommend one of the chef's signature creations, the Wok-fried Australian lobster with Signature Spicy Tomato Sauce. Alternatively, their Crispy Boneless Chicken filled with Glutinous Rice is also a must-try.
All dishes must be pre-ordered to allow the chef to prepare them with the freshest ingredients. Despite the extra effort, you can expect your meals to be high-quality and made with the finest ingredients.
Maple Palace Chinese Restaurant
47, Jalan Sultan Ahmad Shah, Georgetown, 10050 George Town, Penang
Suffolk House (Most affordable)
Those who wish to experience dining in an elegant mansion should consider Suffolk House. It is Malaysia's only surviving Georgian mansion, providing fancy meals with a historical twist. Visitors can take guided tours to learn its rich history and savour palatable meals in the grand ballroom.
Despite the grandeur of the whole place, it is one of the most affordable fine dining restaurants in Penang. Therefore, we highly recommend this eatery for those who want a budget-friendly fancy meal.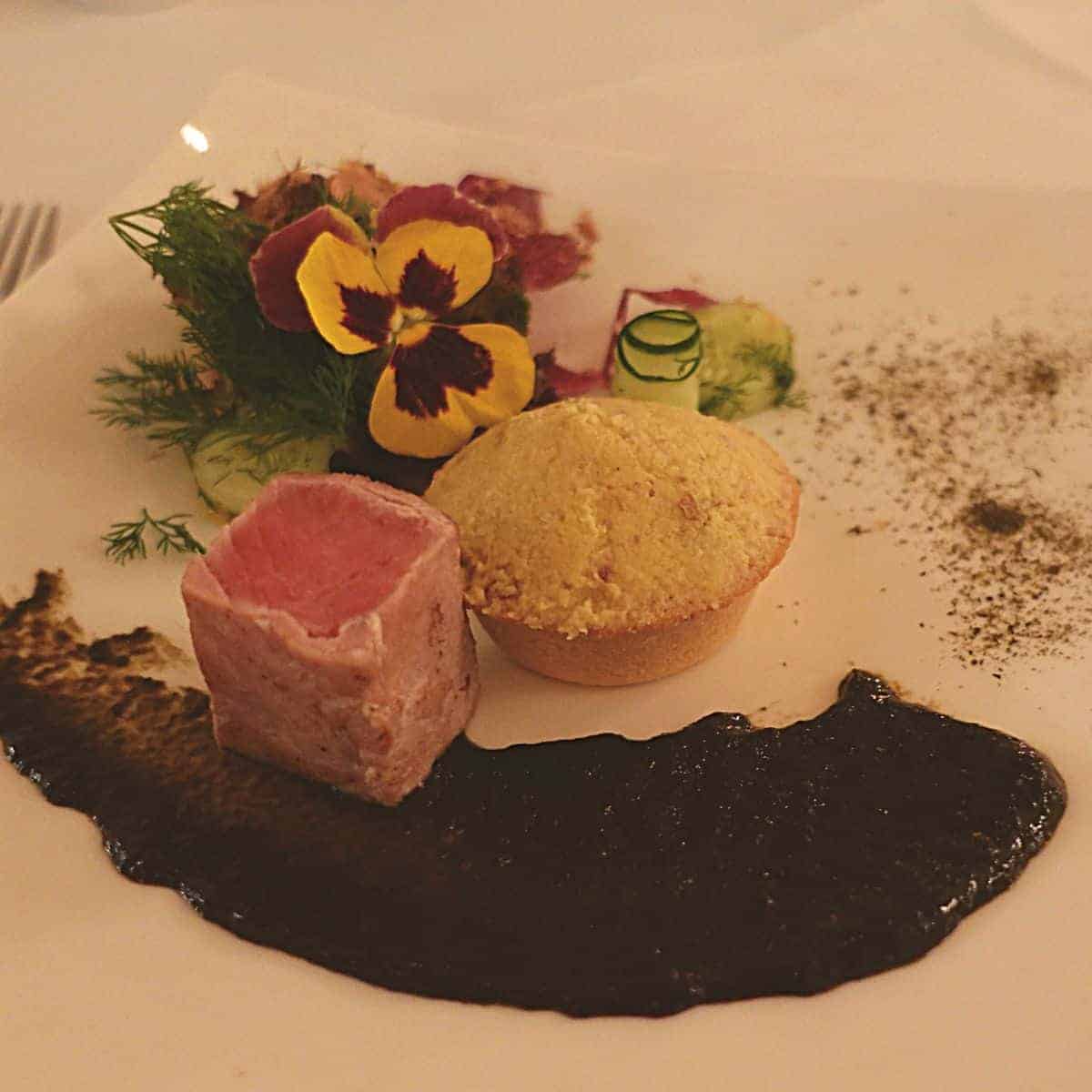 Although they serve a variety of foods, their seafood dishes are the best. We particularly enjoyed their rich and slightly tangy seared sea bass. It was served with a medley of fresh local greens, which complemented the dish's taste. For starters, we had fish rillettes and potage, which were equally impressive.
Furthermore, if you're a meat lover, you will fall in love with the sumptuous grilled tenderloin steak served at this affordable restaurant in Penang.
Suffolk House Restaurant
250, Jalan Air Hitam, Georgetown, 10460 George Town, Penang
Kebaya Dining Room (Penang Nyonya Fine Dining)
Kebaya Dining Room is a restaurant specialising in Nyonya fine dining in Penang. Attached to the Seven Terraces boutique hotel, it boasts a magnificent interior inspired by tradition and modernity.
We had the luxury of visiting this unique restaurant in Penang and enjoyed soaking in the grand and romantic ambience. However, the luxurious setting is one of many things to marvel at, as this restaurant also offers a unique dining experience.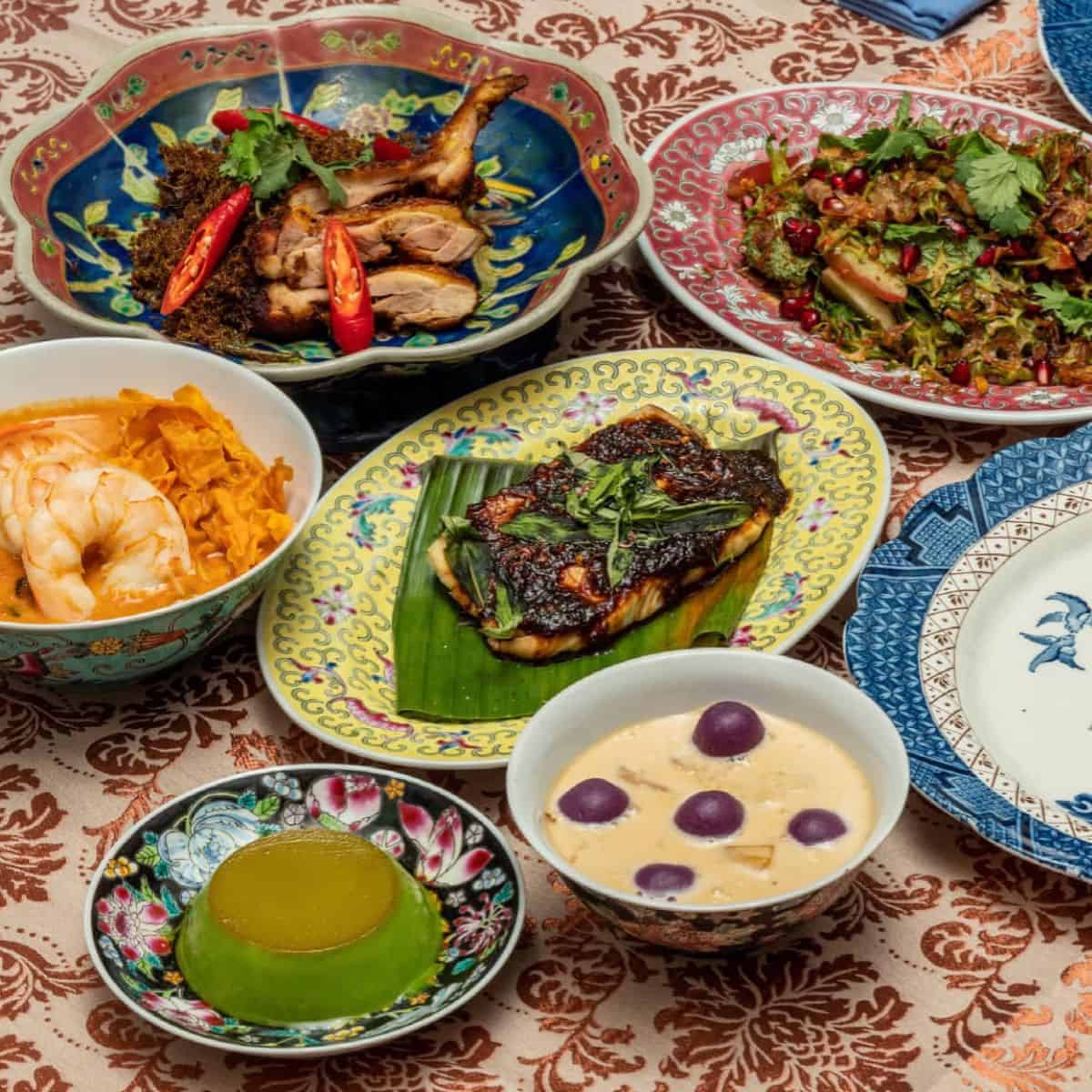 This elegant eatery serves classic Indo and Straits Chinese Nyonya dishes refined with French cooking techniques. Combined with innovative presentations, it delivers delicious traditional eats that appeal to older and younger generations. This establishment is a must-visit if you prefer meals with Malaysian flavour profiles.
You should try their Prawn Geng and Gulai Tumis Pomfret for a burst of flavours. Then, end your flavoursome feast with their sweet Pandan Crème Brulee and Gula Melaka Parfait.
Kebaya Dining Room
14A, Stewart Ln, Georgetown, 10200 George Town, Penang
Orinea by Farquhar Mansion (Penang French Fine Dining)
Your sudden French cuisine craving can instantly be fixed at Orinea by Farquhar Mansion. You can also enjoy an incredible view of Gurney Wharf as you savour your lavish meal, as this fancy establishment is located in the high-rise Sunrise Gurney. With a captivating ambience and excellent cuisine, Orinea gave us an amazing taste of fine dining in Penang.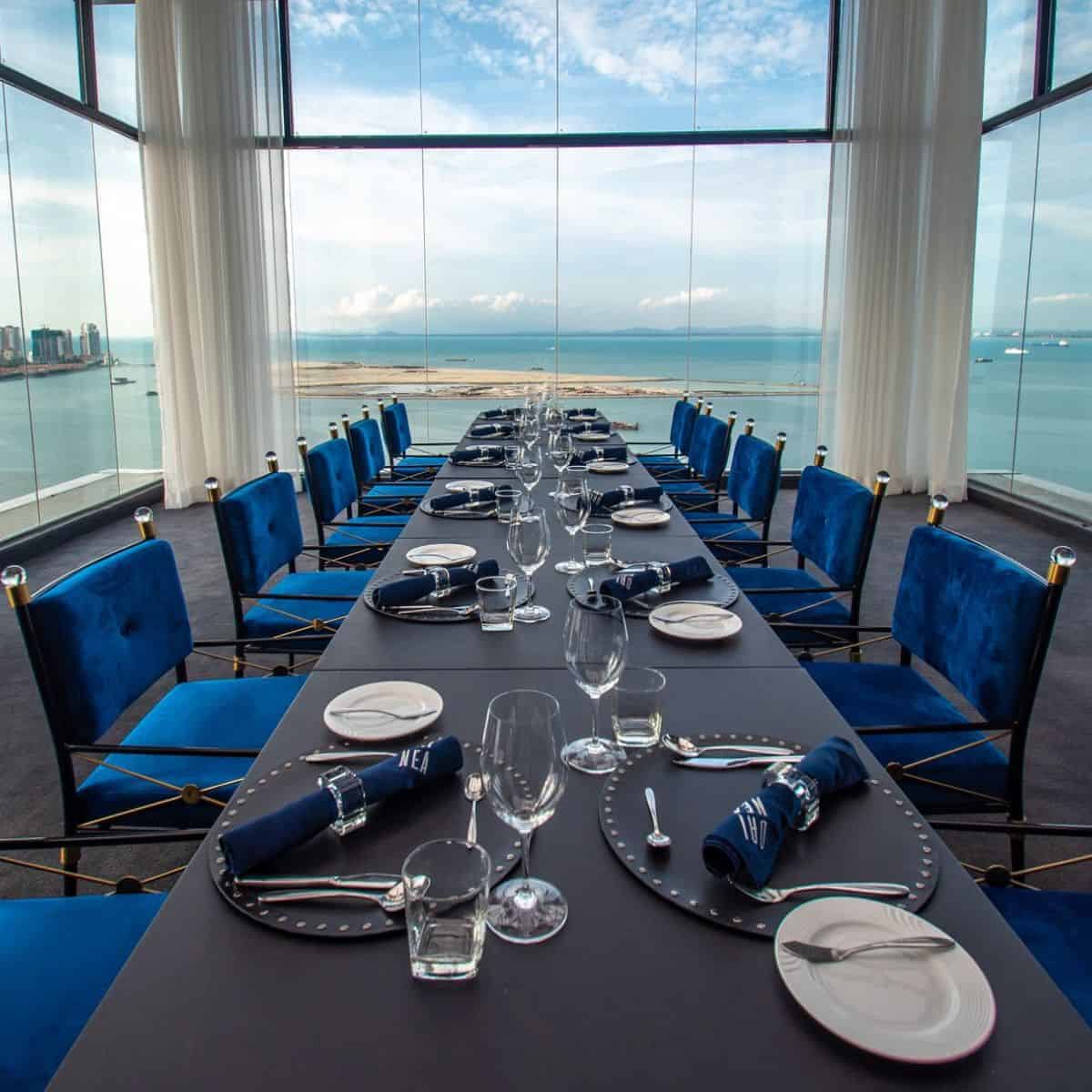 Besides having a full-course meal, visitors can also book a grand high tea session. This French fine dining restaurant in Penang serves sweet and savoury dishes as part of its high tea menu.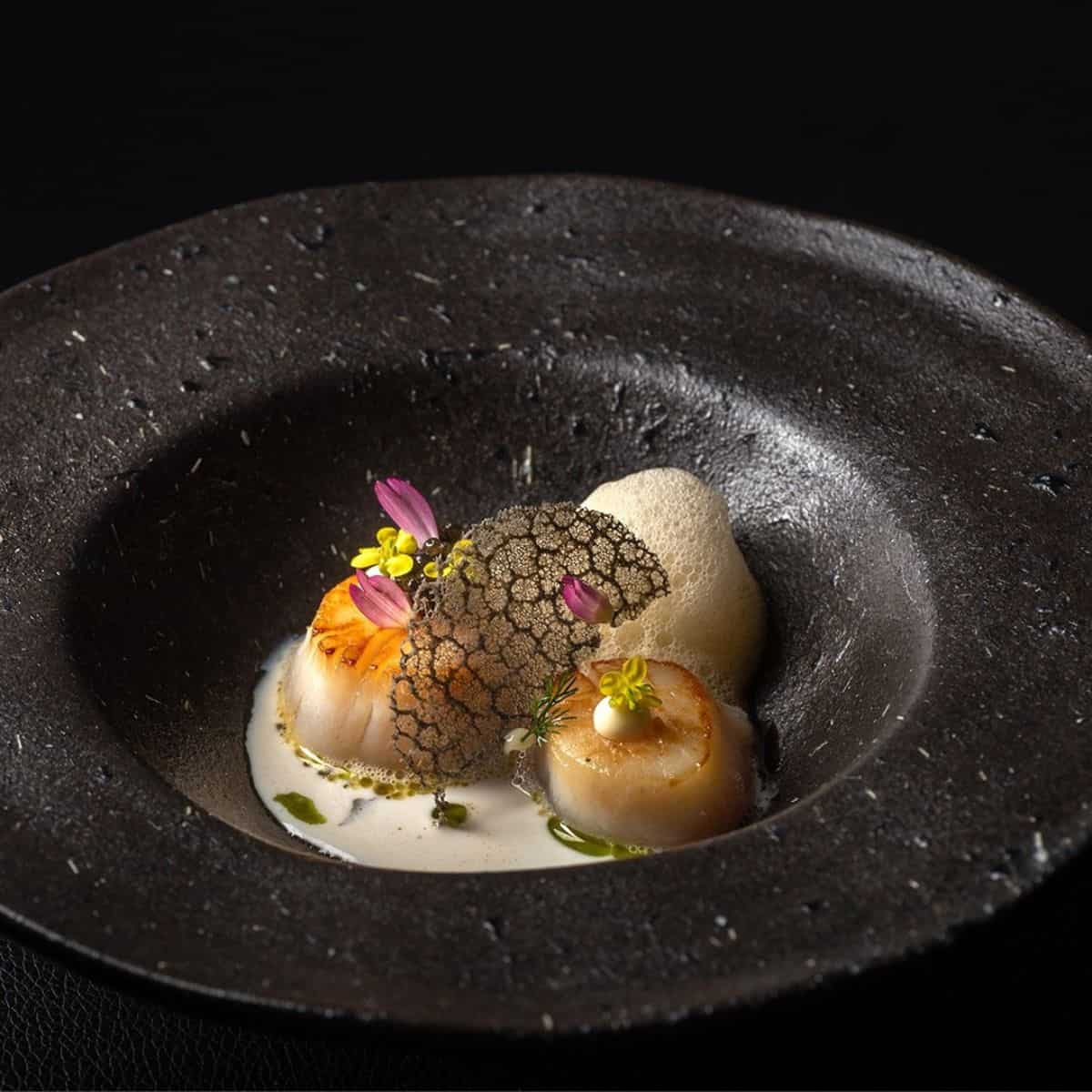 The savouries include offerings like the juicy Prawn Fountain and Scallop Pai Tee, featuring scallops with a crispy pastry shell. They also serve sweet and decadent desserts like Mille-Feuille and traditional scones. However, our favourites are the cream puffs, which are generously filled with mango custard, French Chantilly, and mango gel.
Orinea Restaurant
68-18-1, Sunrise Gurney, Gurney Drive, 10250 George Town, Penang
Indigo Blue Mansion
The Blue Mansion, or Cheong Fatt Tze Mansion, is among the most famous mansions on the island and houses a gastronomical gem. Indigo Restaurant is one of the most popular fine dining restaurants in Penang. Mirroring the mansion, the dishes crafted here boast a harmonious marriage of the East and West.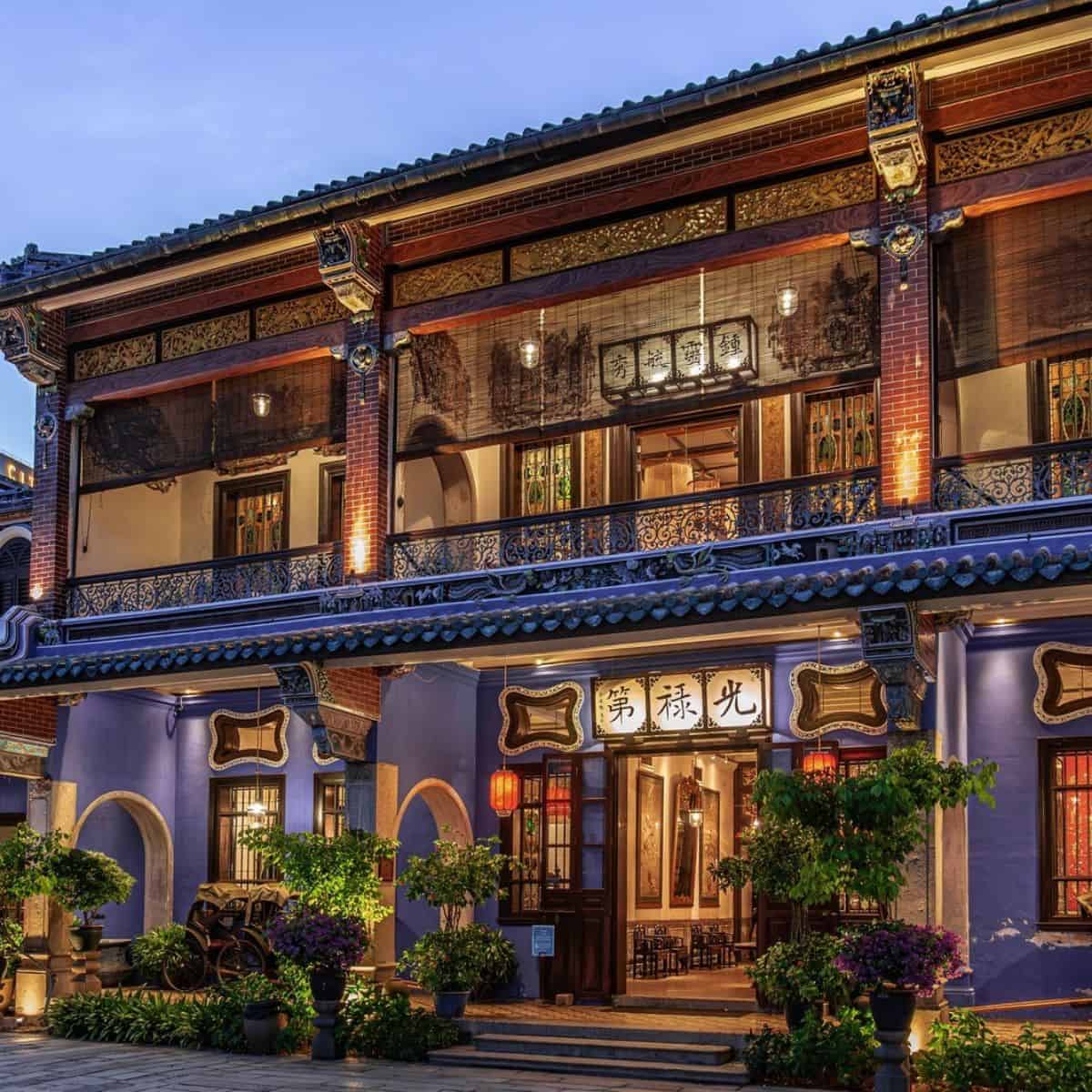 You can bring the kids along to this luxurious eatery as they also provide a kid's menu. Perfect for a fancy family dinner in Penang. If you're looking for a family-friendly Penang hotel, you can also book one of their townhouses. 
We visited this spot for a luxe break from the island's hawker foods. We savoured their Hokkaido Scallops. The scallops had an unforgettable, rich flavour and were a part of the 5-Course Chef's Menu that we tried.
Besides that, we also tried their amazing tender Chateaubriand with their buttery mashed potatoes. Additionally, they also offer a few delicious vegetarian dishes.
Indigo Restaurant at The Blue Mansion
Cheong Fatt Tze Mansion, 14, Lebuh Leith, Georgetown, 10200 George Town, Penang
Au Jardin
One of the must-visit European fine dining restaurants in Penang is Au Jardin. It has gained immense popularity since being awarded a Michelin star in 2022. Located within the historical Hin Bus Depot, the establishment offers distinctive modern European cuisine with subtle local twists.
Despite the building's old outer appearance, the eatery's interior displays a modern, sophisticated look that mirrors its cuisine. If you want satisfactory French fare, this place is worth stopping by.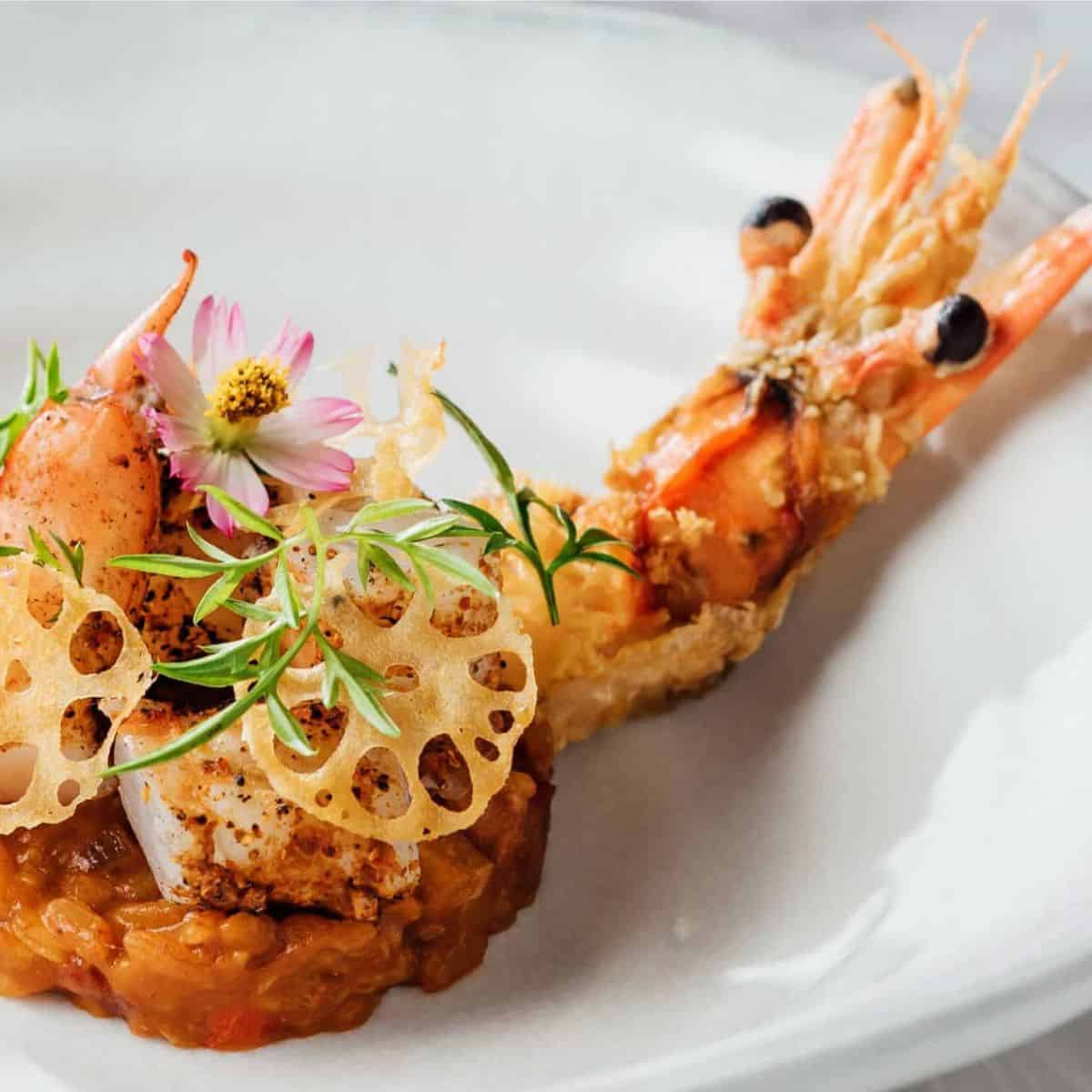 Our Penang fine dining experience was positive, starting off with a flavourful salt-cured snapper. However, the highlight of our 5-course meal was their battered soft-shell crab. If you're a meat lover, we highly recommend getting their A3 or A5 Wagyu, as it is worth the splurge.
The culinary experts at Au Jardin only use the freshest seasonal ingredients, so their menus change frequently. Therefore, you can expect to be served with the finest and most unique dishes while you're there.
Au Jardin
125, Jalan Timah, 10150 George Town, Penang
Gen (Japanese Fine Dining in Penang)
Gen is a famous Japanese fine dining restaurant in Penang known for their meticulously crafted tasting menus. The eatery prides itself on serving Japanese dishes with an exquisite fusion of Malaysian ingredients and innovative cooking techniques. Their offerings invoke nostalgia, especially for those with fond memories of Malaysian ingredients.
Their blend of traditional and modern Japanese-style interiors also creates a relaxing ambience. Moreover, we think Gen makes one of the best fine dining restaurants in Penang for private celebrations like anniversaries.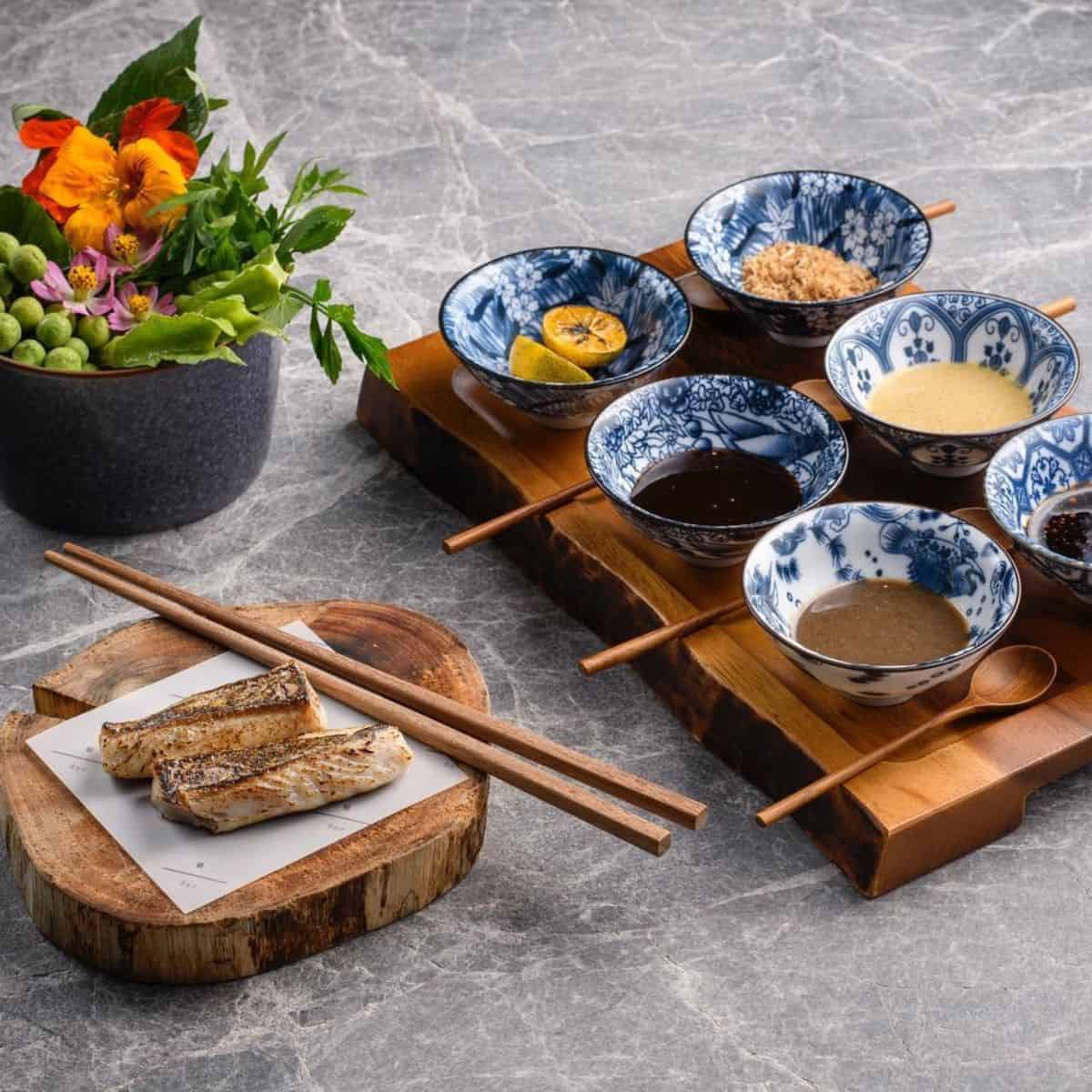 Their menus tend to change based on seasonal ingredients. We were served a 7-course meal during our visit. The highlight of our dinner was the luxurious Kaluga Amur Caviar served on top of cured prawns in a can. Another memorable dish was a savoury dry-aged duck served with bao buns.
Our 7-course meal ended perfectly with a sweet and refreshing pineapple sorbet served with a pineapple tart. If you are a fan of Japanese dishes and a lover of rich Malaysian flavours, this place will awe you.
Gen Restaurant
The Prestige Hotel, Unit 6, 8 Gat Lebuh Gereja, 10300 George Town, Penang
David Brown's (Fine Dining on Penang Hill)
David Brown's Restaurant & Tea Terrace is a bougie establishment situated on the corner of this iconic Hill. Therefore, you can enjoy the panoramic view of the island from above alongside your wholesome meal. Furthermore, their well-manicured garden and lotus-decorated pond provide a romantic vibe and scenery.
Hence, this hidden restaurant in Penang also makes an ideal spot for special occasions such as anniversaries and weddings. The eatery is also an affordable spot where you can enjoy Western cuisine.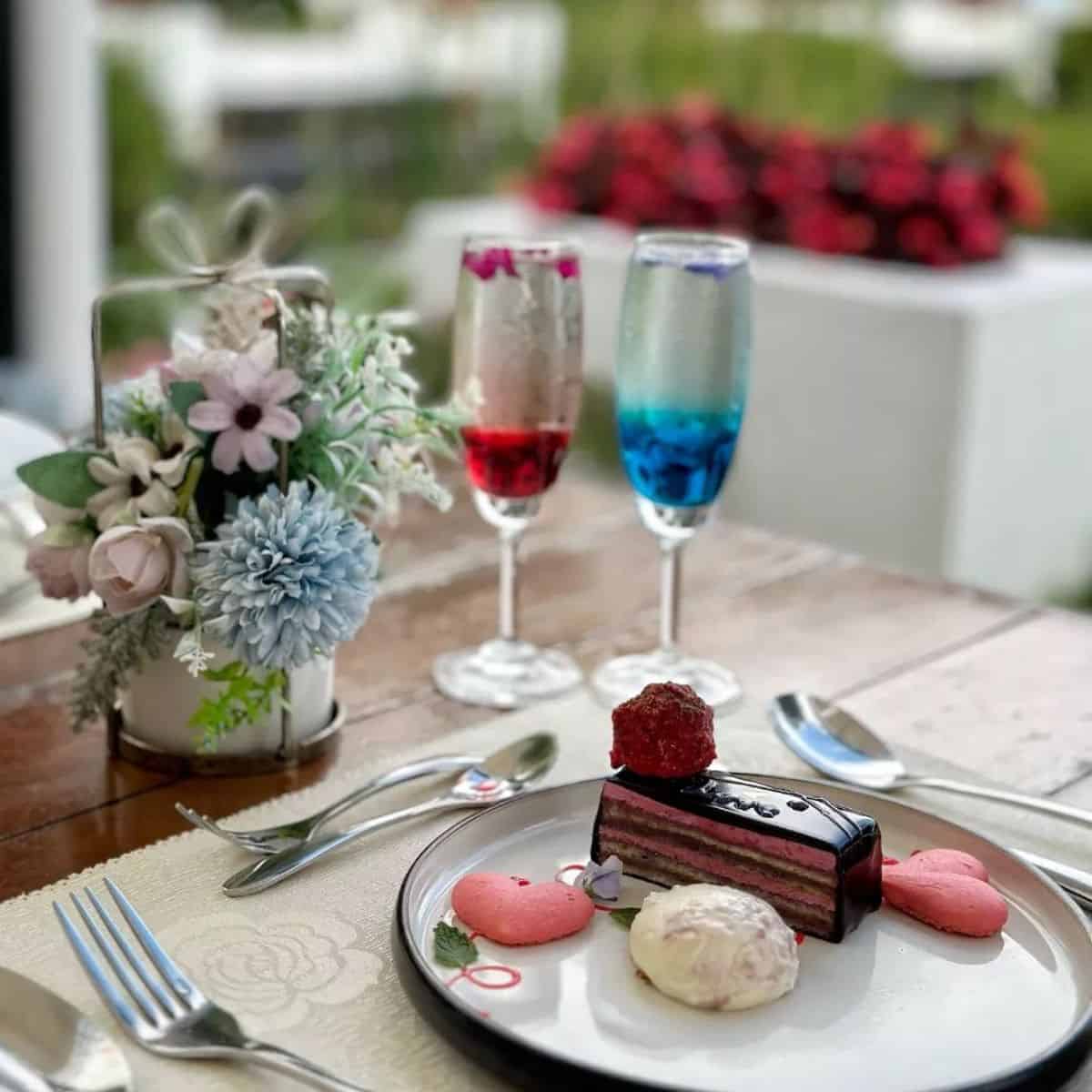 Despite focusing mainly on Western dishes, they also have a limited selection of local delicacies. If you want a combination of both, we recommend the Asian Spice Braised Beef Short Rib from their lunch menu. There is also an afternoon tea menu consisting of assorted pastries and sandwiches.
We suggest getting their afternoon tea set, consisting of tea, scones, canapes, fruits, sandwiches, and assorted mini pastries. Furthermore, you can skip Penang cafes and enjoy a delightful Gula Melaka Latte here.
David Brown's Restaurant & Tea Terrace
Strawberry Hill, Penang Hill, Bukit Bendera, 11300 Air Itam, Penang
ThirtyTwo at the Mansion
Those who want to dine at Penang restaurants with a fancier and quieter environment should check out this eating spot. It has a romantic setting that makes you feel like you're in an Italian mansion.
Interestingly, the eatery doesn't claim or market itself as to be a Penang fine dining establishment. However, they offer full-course meals, which you can enjoy in the main dining room of a stunning 1920s Italianate villa. The restaurant serves a variety of Western options and a few Asian dishes.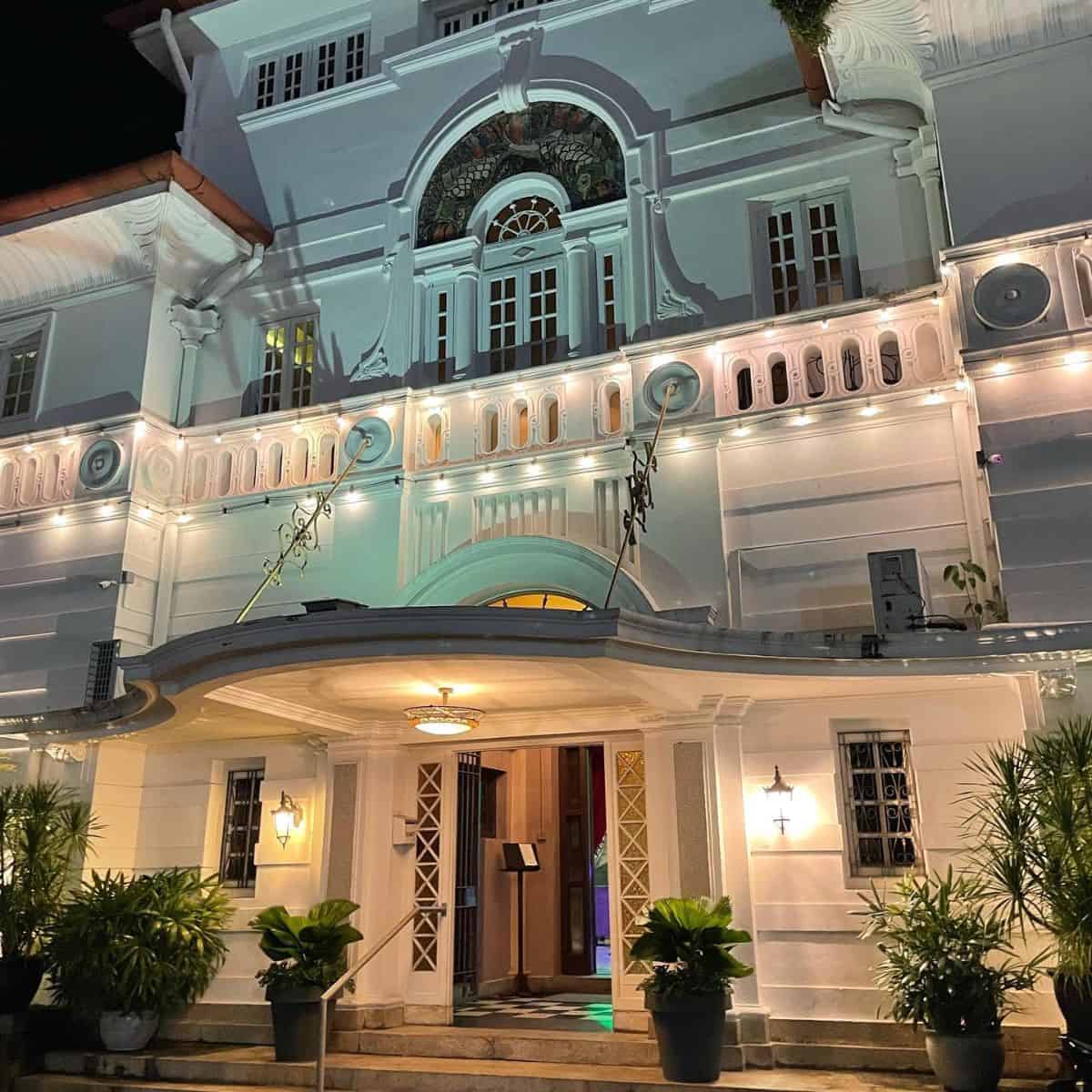 Despite excluding themselves from the list of fine dining restaurants in Penang, ThirtyTwo excels in making the finest dishes. We've recently visited the place for dinner and were impressed with the food.
Moreover, we relished their Angus Ribeye served with vegetables, mashed potato, and café de Paris butter. Additionally, we approve of their Sticky Toffee Pudding and Crepe Suzette. All in all, ThirtyTwo is an excellent choice for good food, ambience, and service.
ThirtyTwo at The Mansion
32, Jalan Sultan Ahmad Shah, Georgetown, 10050 George Town, Penang
Feringgi Grill at Shangri La
You can also enjoy a sophisticated meal at one of the best resorts in Penang, Shangri-La's Rasa Sayang Resort. Known as Feringgi Grill, this lavish eatery offers modern grill cuisine that you can enjoy with a scenic beachfront view.
However, our favourite part of dining here is the live piano performances that enhance the spot's cosy ambience. It is a wonderful place to experience fine dining in Penang and unwind with your loved ones.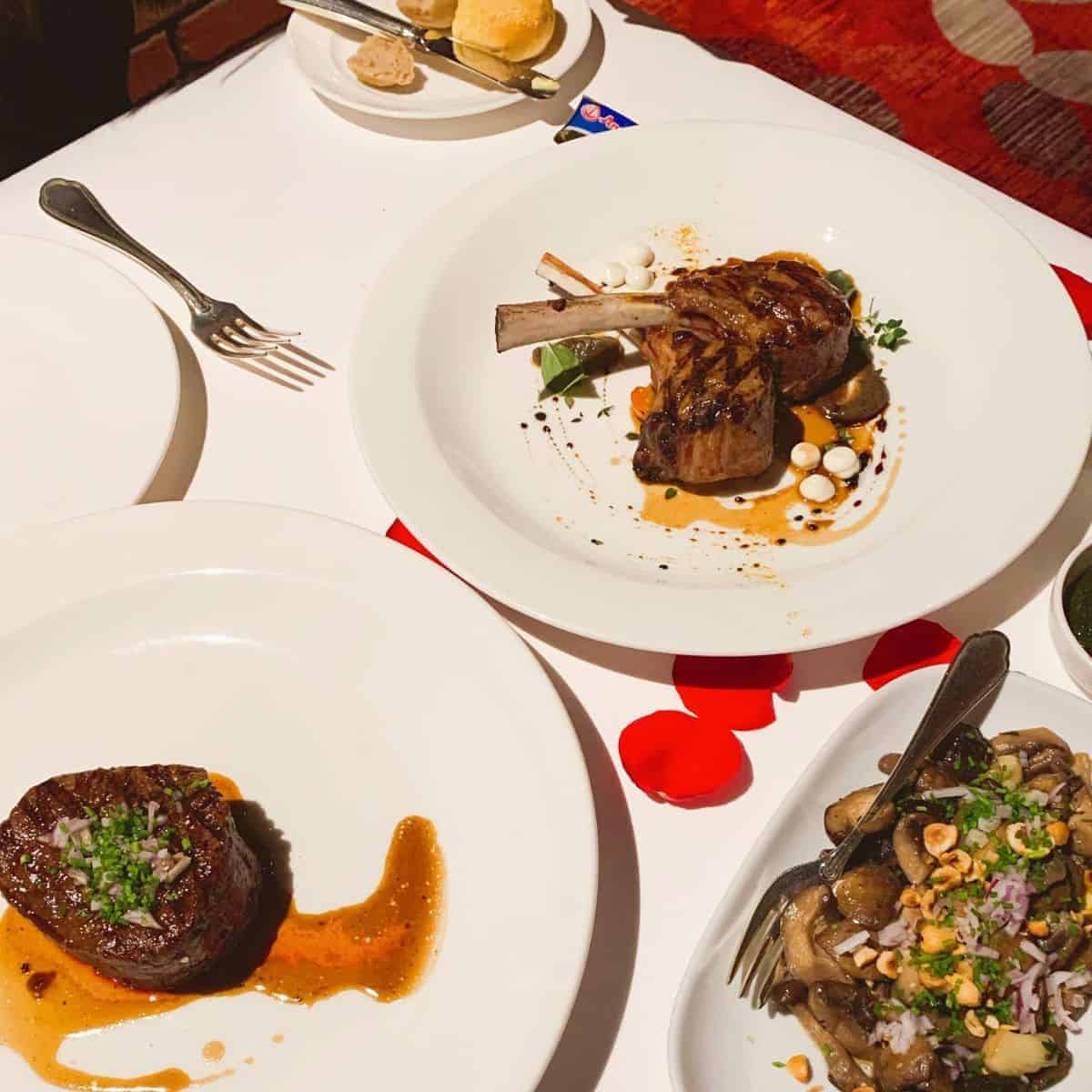 When it comes to food selections, Feringgi Grill has plenty of must-orders. However, we were particularly impressed by the steaks, especially with their Wagyu Prime Rib Cooked on the Bone.
We tried the King's Cut, and it was, by far, the best dish we've had there. It is satisfyingly flavourful and pairs well with the creamy Truffle Potato Puree. Regardless of your mains, we highly suggest kicking off your meal with their signature tomato soup.
Feringgi Grill at Shangri-La's Rasa Sayang
Mezzanine Level, Rasa Wing Lobby, Batu Ferringhi Beach, Kampung Tanjung Huma, 11100, Penang
Website
A Maze (Molecular Gastronomy)
A Maze is one of the many fine dining restaurants in Penang that provide a unique experience. Compared to other haute cuisine establishments, a menu is not something you'll find here. Instead, visitors will be entertained with an Omakase-style dinner consisting of 7-8 courses, including a beverage.
They incorporate a Japanese dining concept where the chef puts together the dishes in front of you. So, be prepared for exclusive gastronomic surprises upon your visit here.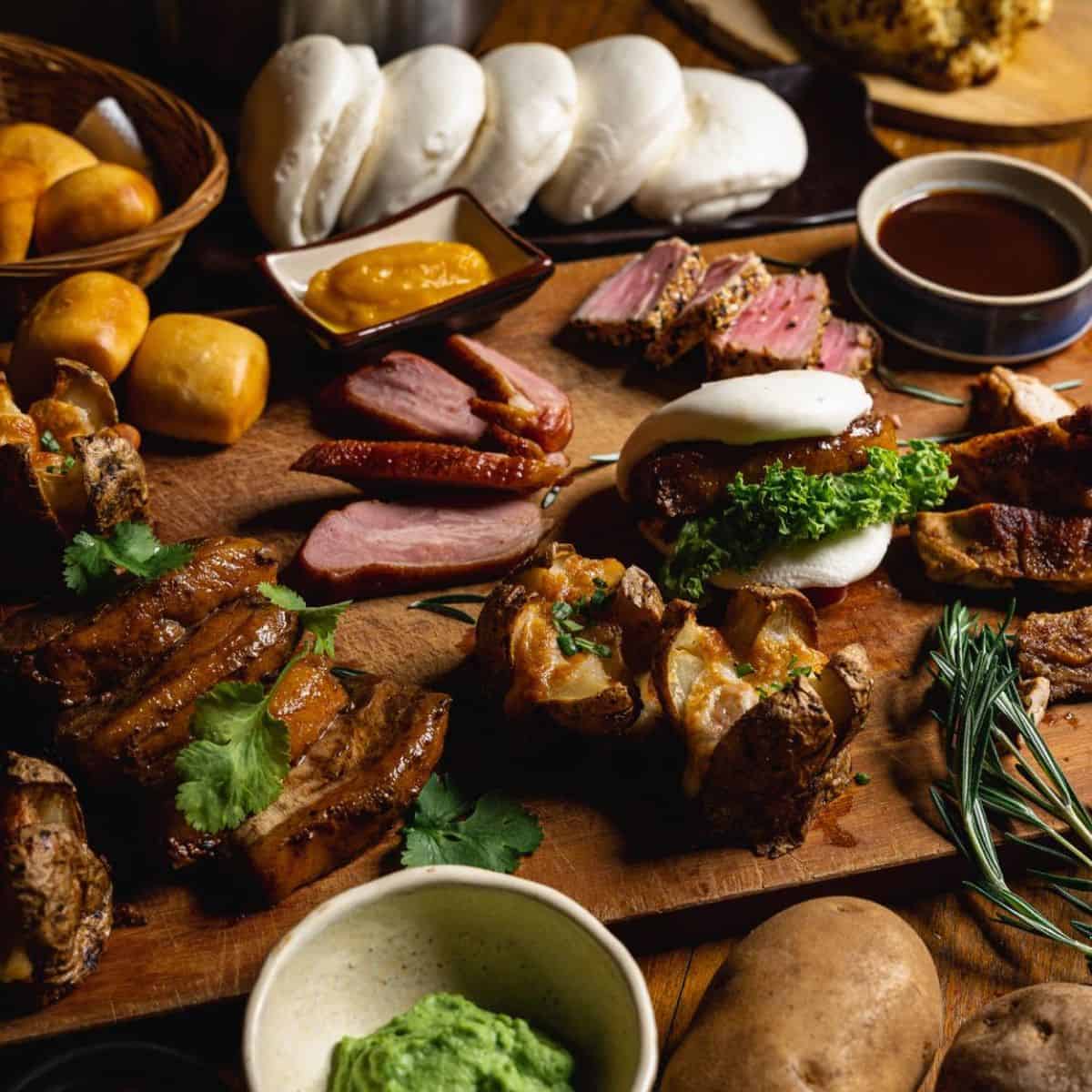 If you're an adventurous eater, you will surely enjoy this sort of fine dining in Penang. We had a delightful start with homemade Ciabatta bread and Mushroom Butter during our first visit there. We also enjoyed a flavour-packed pan-seared salmon and steak during the meal. However, the highlight of the entire experience was Chef Wei's engaging dish explanations as we watched the culinary magic unfold.
A Maze
2-G-5, Bangunan Lip Sin, Lebuh Pekaka 1, Taman Pekaka, Sungai Dua, 11700 George Town, Penang
Mano Fine Dining
This is one of the best fine dining restaurants in Penang if you want to dine in an ethereal setting. The restaurant brings a magical concept, making you feel like you've been transported into the world of Harry Potter. Despite that, it maintains an elegant vibe and provides a lovely ambience for a romantic date.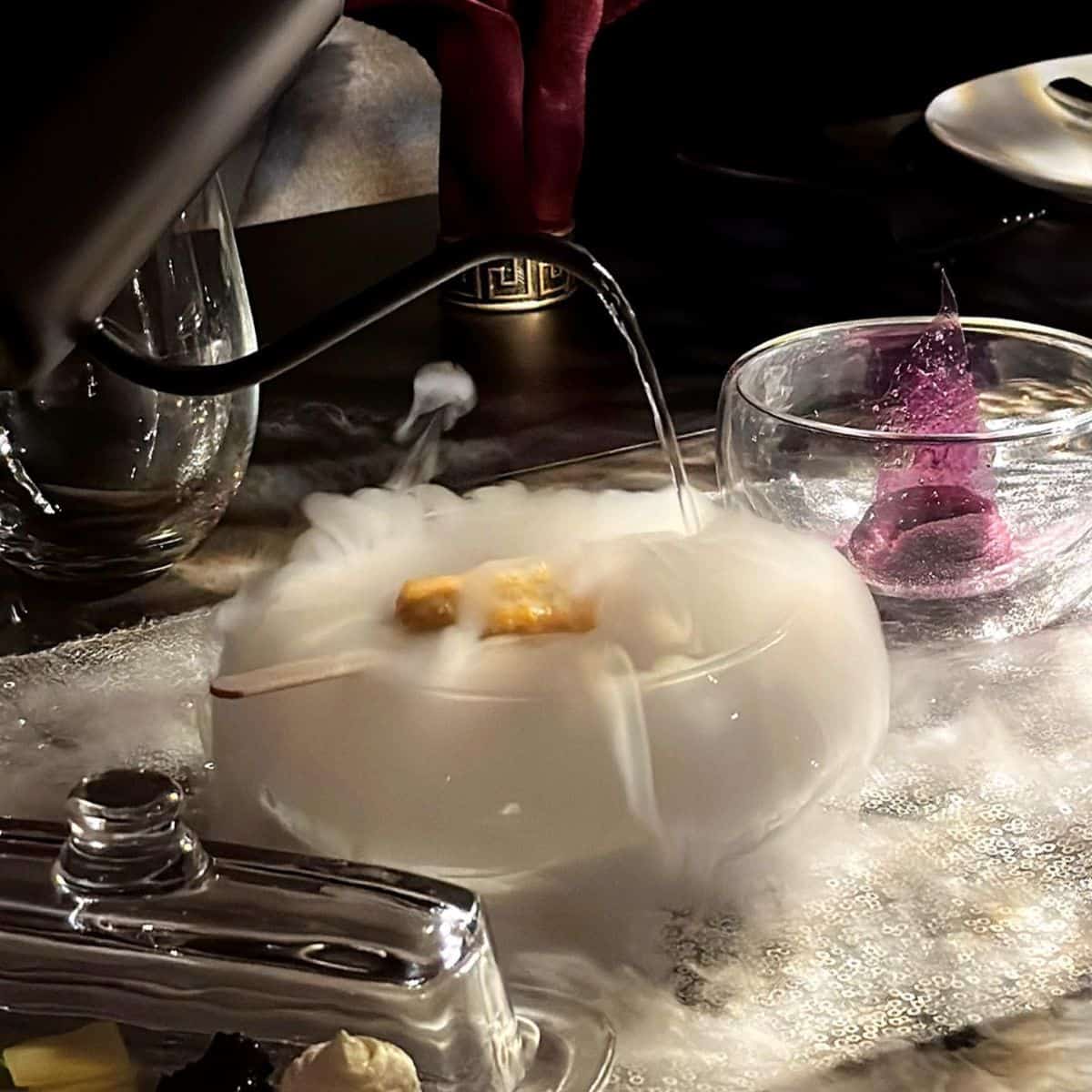 Sticking to its rare concept, the restaurant aims to serve seasonal menus consisting of interesting magical treats. Some of its offerings include a stardust drink displaying the starry sky, an edible voice-changing balloon, and a curry potion. Apart from serving fun and photo-worthy creations, the restaurant also excels in the flavouring of the food.
One of their best dishes is Hokkaido Scallop, which is fresh and juicy. We also recommend trying out their teatime set with nine types of pastries, ranging from savoury to sweet. So, pastry lovers must indulge in their excellent teatime snacks before relishing a tasty dinner.
Mano Fine Dining & Cellar
61, Jalan Magazine, Georgetown, 10300 George Town, Penang
Niche Private Dining
NICHE Private Dining stands among the most exquisite fine dining restaurants in Penang, offering modern European cuisine. As the name suggests, the restaurant also offers private spaces perfectly suited for many occasions, such as business and family gatherings. This will allow you to experience more intimate time with friends and family. They also boast a beautiful interior reflecting their cuisine and a pleasant dining atmosphere.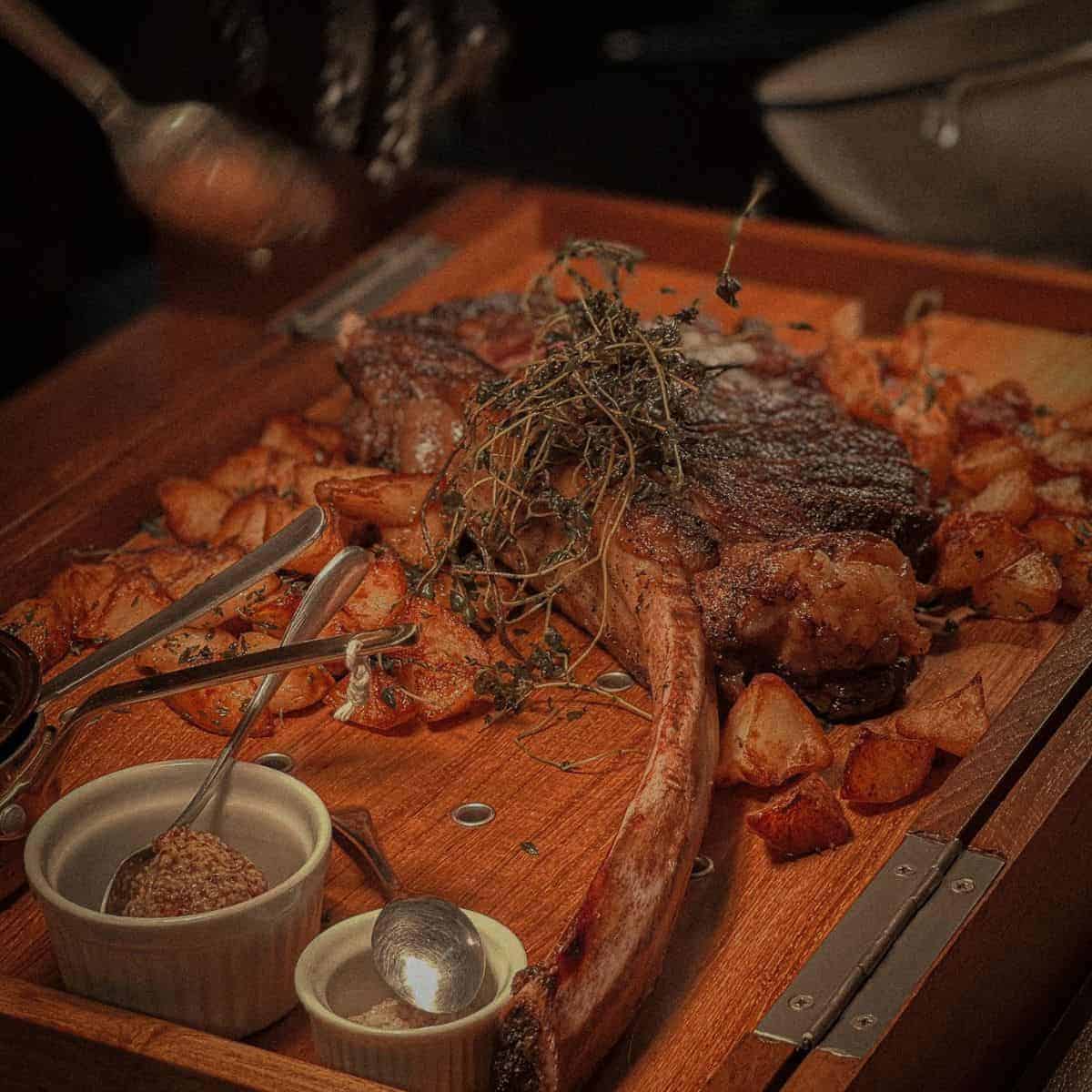 We had a chance of tasting their famous Wagyu Tomahawk, which was perfectly made. Expensive but the marbling was spot on, and the steak was incredibly juicy. It was no wonder this extravagant dish is one of the restaurant's best-sellers. 
This restaurant used to operate on a reservation basis but is now open for walk-in customers. Therefore, you can fix your fancy cravings and enjoy NICHE Private Dining's palatable dishes anytime.
NICHE Private Dining
2, Lebuh Melayu, Georgetown, 10100 George Town, Penang
Facebook
If you're looking for broader recommendations that are not limited to fine dining, check out our guide on the best Penang restaurants. Follow us on Instagram @tabitogether for more gastronomic gems to explore.