The resorts in Penang are great destinations if you want to have some private time away from the everyday life's hustle and bustle. The island is a favourite tourist destination due to its beautiful beaches, landscapes, rich culture, and delectable cuisines. Moreover, you can find a range of resorts from luxury hotels to budget-friendly accommodations too.
Based on experience, whether you're looking for a romantic getaway or a family adventure, there are many choices for island resorts in Penang that will suit your needs. Dive into our list to learn about the best resorts in Penang and find one for your next holiday trip!
Jump to:
Our Favourite Resorts in Penang
Our pick for the top Penang private and luxury getaways are Shangri-La Rasa Sayang, Bayview Beach Resort, and DoubleTree Resort by Hilton. 
Shangri-La Rasa Sayang sits in a quiet area and offers a private beach away from the open. Furthermore, its cosy and welcoming ambience makes it the perfect place for a romantic getaway retreat. We find it to be the best luxury 5 star Penang resort. 
Bayview Beach Resort is one of our top recommended hotels in Penang from our list. It offers the best dining places and focuses more on service and guest comfort, all while offering a pocket-friendly price. The Penang beach hotel rooms feature all the amenities you'll want to make your vacation unforgettable.
Angsana Teluk Bahang has a breathtaking seafront view on one of the best beach in Penang, amazing service, beautiful rooms and great restaurants. It is our pick for the most romantic resort in Penang.
Shangri-La Rasa Sayang (Best Luxury Beach Resort in Penang)
Shangri-La Rasa Sayang is the first place we would consider when looking for a luxury resort in Penang. The resort is an outstanding combination of contemporary and traditional Malaysian design. It's at the northend and more private end of Ferringhi Beach. So, you will enjoy the beach without much noise from the crowds.
For a unique dining experience, you should explore the Pinang Restaurant and Bar along the seaside. There aren't many top resorts in Penang that offer a sizable buffet like theirs. The Feringgi Grill and Spice Market Café are also worth a visit since they serve authentic Malaysian cuisine and fresh seafood. 
Play golf, dip in the pool, get a massage at their spa, or unwind at Batu Ferringhi Beach to embark on your luxurious vacation! The resort is perfect for couples. However, if you want to bring your family along, there's a special lounge (FIP Lounge) for families with children. The place offers a range of indoor and outdoor activities for children, including the Adventure Zone - which is a three-story underground playground with slides and wall climbing.
Children aged 5 to 12 are welcome to spend the day at the Cool Zone Kids Club, an indoor play centre with full-time supervision. Thus, parents can have the much-needed break to unwind and refresh as their kids enjoy, making this a great resort for families of all types. We highly recommend staying here if you want to experience one of the most romantic resorts in Penang or prefer an adult environment that can accommodate kids.
Our Favourite at Shangri-La Rasa Sayang
You will love the Rasa Wing's rooms, especially the king-sized deluxe suite. Like a club level, the Rasa Wing features a separate bar and pool for adults only. Here, you'll enjoy drinks and appetisers before dinner. 
Alternatively, you can choose to stay in the Garden Wing rooms. The Garden Wing's Terrace suite is the most affordable option and perfect for partners. You'll appreciate the room's private landscaped yard and big balcony space. 
As one of the best beach resorts in Malaysia, we highly recommend you consider staying at Rasa Sayang. However, be ready to spend as it is one of the more expensive hotels in Penang.
Shangri-La Rasa Sayang
Batu Feringgi Beach, Batu Ferringhi, Pulau Pinang
PARKROYAL (Top Hotel Resort in Penang)
The Parkroyal Penang resort is located at the centre of Batu Ferringhi beach. It's one of the best 4-star beach resorts in Penang because of its spacious rooms, prime amenities, and access to fantastic attractions. 
Their luxurious rooms are decorated in an Eastern theme which is perfect for those who want to be immersed in Malaysian culture. Furthermore, this hotel offers one of the best vantage points for gorgeous views of the water.
On-site dining options include the Javana Lounge serving, Gustoso, and Cinnamon Asian Cuisine. The three dining establishments serve local and international dishes in a la carte and buffet during opening hours. The food served is a mixture of local cuisine and Western favourites, and it's delicious! The sunset bar at night serves yummy cocktails alongside breathtaking views.
Like any other Penang resort with a private pool, Parkroyal offers a large, free-form pool as well as a smaller pool with a wading section and two water slides for kids. This resort is unique in the way it caters to children just as much as their parents: their Amazonia Kids Club offers plenty of fun indoor and outdoor activities as well as games for children between 4 to 12 years old.
When you're ready for treatment, the St. Gregory Spa blends an oceanfront view and a verdant landscape. The spa offers various beauty, skin, and body therapies using Western and Malay practices. We also loved their spacious fitness facility offering wellness and yoga classes.
Nearby the hotel, you can easily enjoy the beautiful views of tropical forests and crystal clear water if you visit the nearby Penang National Park. You can also visit the Tropical Spice Garden where they teach about local South East Asian ingredients as well as conduct hands-on cooking lesson.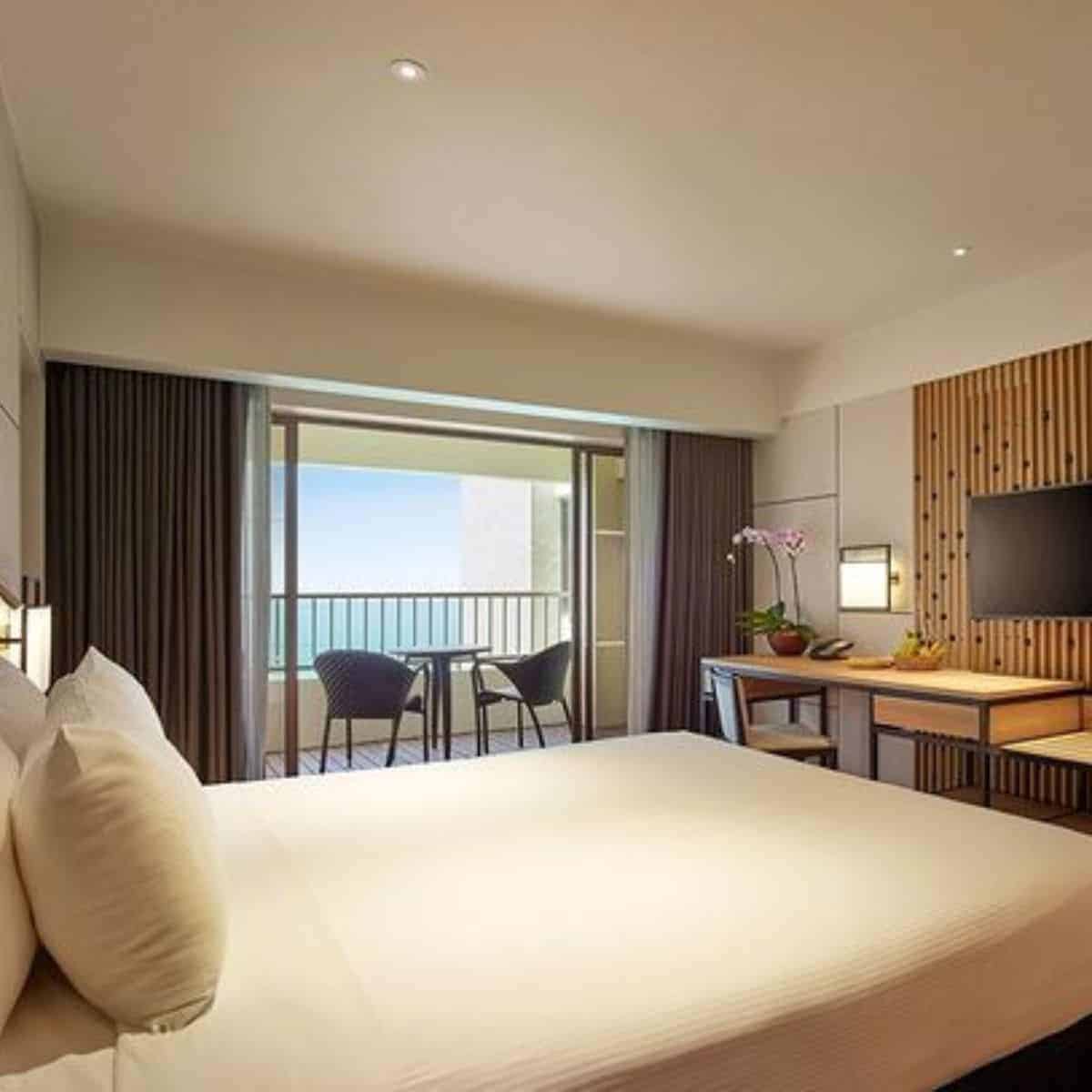 Our Favourite at Parkroyal Penang Resort
They offer deluxe suites as the cheapest option. However, we loved the premier double rooms as well! Premier double rooms have a comfortable bed, a spacious sitting area that leads to a furnished balcony, and a lovely garden terrace.
PARKROYAL Penang
Batu Feringgi Beach, Batu Ferringhi, Pulau Pinang
Bayview (Cheap Beach Resort in Penang)
We consider Bayview Beach to be one of the top resorts in Penang for travellers looking to have a cheap vacation in Penang. It's located on the main road of Batu Feringghi, so you can access the shops along Jalan Batu Feringghi by foot. At the same time, you don't have to drive far to go to nearby attractions such as the Penang National Park, Tropical Spice Garden and ESCAPE Theme park.
While their rooms go for at a cheaper rate compared to other resorts in Penang, many travellers including us find them to be clean and comfortable. You'll also the enjoy floor-to-ceiling windows and a furnished balcony in each room and suite. 
La Veranda Coffee House within the resort serves a buffet breakfast, lunch, and dinner. The establishment also serves in late hours. Marco Polo, their opulent joint, serves a family meal every evening. Joining the two is a pool snack bar and a lounge area. 
If you're interested in spending time on the water, there is a watersports centre where you may hire stand-up paddleboards, jet skis, parasail equipment, and other water-based recreation equipment. You'll also have access to volleyball, basketball, and tennis facilities and a huge fitness centre featuring ping pong tables.
Bayview Beach Resort caters to families by providing multiple child-oriented play spaces, daycare facilities, and kids' two swimming pools. A small spa with a backyard massage tent is available for couples to unwind.
Our Favourite at Bayview Beach Resort
The cheapest deluxe king rooms have one king bed. The rooms are stylish and with fine furniture but not much décor or artistic embellishments. However, you'll love the family suites because it features one double bed and two single beds. They also offer stunning views of the ocean and the mountains. 
Bayview Beach Resort
Batu Feringgi Beach, Batu Ferringhi, Pulau Pinang
Hard Rock Hotel (Best Spa Resort in Penang)
As one of the best spa resorts in Penang, you'll enjoy relaxing treatments while in a stunning atmosphere at Hard Rock Hotel.
For instruments and music lovers, this is one of the best hotel resorts in Penang that's worth your time. Whether you want to stay in an atmosphere surrounded by music or want to experience the amenities offered to have your own jam session, don't miss the Hard Rock Hotel.
For example, their PICKS amenity permits guests to request a Fender guitar and amplifier into their room to rock in private. Additionally, the MIX amenity has special access to the hotel's disco, where you can use their DJ equipment.
The nearby attractions of this 5 star Penang resort include East Wind Water Sports, where you can engage in water skiing, tubing, and wakeboarding. The place also stands near one of Malaysia's biggest free-form swimming pools, making it a perfect choice for families with kids. 
The hotel offers six distinct dining options which is the most among resorts in Penang. The Hard Rock Cafe and Starz Dinner serves the best local and international cuisines. Meanwhile, Lena At Pizzeria serves Mediterranean dishes and fresh pizzas cooked with wood fire. Furthermore, the Sand Bar serves chilled beers, whereas the Lobby Lounge offers fire cocktails accompanied by live music performances. 
Besides all the music, they also have three different kid-friendly clubs for all ages. These include the TABU Teens Club for teenagers, the Roxity Kids Club for 4 to 12 years, and Lil' Rockers Club for kids under three years. Perfect if you want to go have a moment to yourselves! 
Our Favourite at Hard Rock Hotel 
The Sea View Suite is our favourite because it's relatively affordable and offers a stunning ocean view. 
The Roxity Kids suite is the better choice if you're travelling with children. Here, you'll find books, a PlayStation 4, and toys. Parents have a private bedroom with a single bed and a pull-out second bed in the play area.
Hard Rock Hotel
Batu Feringgi Beach, Batu Ferringhi, Pulau Pinang
DoubleTree Resort by Hilton
If you're travelling with children or are fond of teddy bears, DoubleTree Resort by Hilton is a great Penang resort for families. 
It is located at the end of Tanjung Bungah area and at the start of Batu Feringghi. Due to it's location, you can easily reach Georgetown is just 30 minutes away. It's a great location for those who are planning to spend some time at the beach as well as the town area.
However, please note that unlike other resorts in Penang, this hotel is situated along a highway and connected to the sands by a pedestrian bridge. Although this resort is not on the beach, most of its rooms and suites enjoy spectacular ocean views. 
DoubleTree offers three distinct dining options. The food store serves snacks and coffee, whereas the Makan kitchen offers a big buffet by the poolside featuring live cooking stations. The DoubleTree Axis, a hallway lounge, serves light meals and refreshments. Fun amenities include an indoor playroom, an outdoor playground, a gymnasium, a large pool with a slide, and a kids' pool. 
TeddyVille, the resort's teddy bear museum, is unlike anything else. It is a great spot to bring your children to and for souvenir and gift shopping. We also love the fact this resort sells discounted Teddy Museum tickets at the front desk. 
Apart from that, the hotel is also nearby the Masjid Terapung or Floating Mosque. This beloved Penang mosque is friendly to all types of travellers and tourists alike. You will be able to see beautiful Islamic architectural and interior designs of the place of worship. However, we recommend avoiding beachwear and instead wearing modest clothing when you pay the mosque a visit. 
Our Favourite at DoubleTree Resort by Hilton
The suites and rooms feature elegant modern interiors. The favourite deluxe rooms on the upper floors feature private balconies and a waterfront view. The terrace suites, which are less expensive than the deluxe rooms, are ideal for families with kids since they come with two bedrooms.
DoubleTree Resort by Hilton
56 Jalan Low Yat, Batu Ferringhi, Pulau Pinang
Angsana Teluk Bahang (Most Romantic Resort in Penang) 
Angsana Teluk Bahang is among the newest beach resorts on this list. It's also one of the best beach resorts in Penang. Angsana Teluk Bahang is in a quiet area away from Batu Ferringhi's hustle and bustle but still close enough to walk to local restaurants, shops, and hawker stands. 
For us, this is the most romantic resort in Penang and is ideal for couples searching for an exciting getaway.  Angsana Teluk Bahang offers deluxe suites and superior rooms that will let you enjoy breathtaking views of the Straits of Malacca. Furthermore, you will enjoy the rooms' lavish furnishings, beautiful artwork, and wooden floors in all of their rooms! 
Additionally, many of the rooms feature a private balcony and courtyard. Angsana is also one of the few Penang resorts with private pools in their suites. 
There are five on-site restaurants, meaning you won't have to dine at the same spot twice. Jendela serves local and regional dishes, No.11 delicious grilled cuisine, while Fire & Ice serves snacks and refreshing beverages. We love smoothies and pastries, so one of our go-to spots is Chill and Jamboree. 
As one of the many luxury beach resorts in Malaysia, they offer an infinity pool overlooking the sea, a family pool, and a kid's pool featuring a large waterslide and play area. Additionally, for your physical and mental health, they have a wellness centre. Here you'll find a Banyan Tree spa, a gym, and a schedule of everyday activities like hiking, meditation, and yoga. 
The resort is also in close proximity to numerous points of interest, such as the ESCAPE Theme Park and Entopia Butterfly Farm. 
Our Favourite at Angsana Teluk Bahang Penang
The Angsana Deluxe Seaview suites are perfect for couples because they feature a spacious bedroom, a private terrace, and a magnificent lounge. Although the more affordable superior sea view rooms don't have a courtyard, they do have a comfortable window-side daybed ideal for taking in breathtaking ocean views. 
Angsana Teluk Bahang
11, Jalan Teluk Bahang, Teluk Bahang, Pulau Pinang
Hompton Hotel by the Beach (Best for long stays)
You can find this luxurious Penang beach resort in northern Georgetown. Hompton Hotel is a nice place to stay in Penang and offers incredible views of the city and water. It is located near Tanjung Tokong area, which is just 15 minutes from both Georgetown and Batu Feringghi areas.
As one of the best 4 star beach resorts in Penang, you will enjoy sunlight at the ground-level Elementos restaurant, which features an outdoor seating area and fusion cuisine. Breakfast at the 11th-story Spice Garden will get your day going. They also serve a la carte lunch and dinner during opening hours. 
You can't help but fall in love with the hotel's facilities, which include a steam room where you can unwind after a long day and a gym for fitness enthusiasts. Moreover, they have an amazing infinity pool facing the ocean. 
Guests also have easy access to the sandy beach in front of the hotel. As this beach area is smaller than other ones, like in Batu Feringghi or Tanjung Bunga, you will not get large crowds making it great for some quiet time on the sands. However, as a downside, you will not find access to watersports activities like jet skiing or parasailing. 
The Straits Quay Retail Marina is also just a few minutes away by car from Hompton Hotel. It is great shopping mall if you are looking to buy some gifts for yourself or for others. 
Our Favourite at Hompton Hotel by the Beach
The deluxe room is the cheapest option, while the family two-bedroom suite is the perfect option for individuals who need extra space. No other room on the property can compete with this one for a longer stay due to its floor-to-ceiling windows and breathtaking views of the entire ocean. Due to the spacious rooms that are well equipped, Hompton Hotel is a nice place to stay in Penang for a long time.
Hompton Hotel
No 533 Jalan C.M. Hashim Tanjung Tokong, Pulau Pinang
Shangri-La Golden Sands (Best Penang Resort for Families) 
As one of the luxury beach resorts in Malaysia, Shangri-La Golden Sands is our pick for the best Penang resort for families. 
The property sits in the middle of Batu Ferringhi Beach. The neighbourhood night market, where you can purchase goods and crafts from local vendors, is just a few metres from the walkway leading up to the resort. 
There are numerous dining options and settings for adults and families. The Garden Cafe serves normal meals throughout the day and buffets on the weekends. In addition, Sigi's, an on-site Italian restaurant with a beachside location, serves delicious pizzas and other Italian dishes. The Lobby Lounge serves light appetisers and snacks.
The hotel is among the few island resorts in Penang Batu Ferringhi, with a large private beach area where guests can enjoy various water-based activities together as a family. You may also have fun in the Splash Zone, one of the resort's pools with a waterslide and other aquatic attractions.
Guests can access family-friendly activities, such as gym classes, cooking lessons, art workshops, and animal exhibits throughout the day. The kids' club is open 24 hours daily and offers free meals.
Shangri-La Golden Sands is a perfect choice for families with kids. However, if you're looking for a quiet vacation, we recommend staying elsewhere.
Our Favourite at Shangri-La Golden Sands
Their deluxe rooms are the cheapest and offer a stunning pool view. The executive suites come with private balconies, terraces, and seafront views. We also recommend the breakfast buffet, which has an excellent spread of food and drinks.
Shangri-La Golden Sands
Batu Feringgi Beach, Batu Ferringhi, Pulau Pinang
Rainbow Paradise Beach Resort
Rainbow Paradise Beach Resort is a favourite among beachgoers because of its convenient location near Tanjung Bungah Beach. It's best for families, couples and solo travellers thanks to the variety of amenities and attractions offered. 
There are numerous on-site restaurants for your dining needs. The beachfront restaurant, Gaya's, features a sizable outdoor deck ideal for dining during the sunset. The Breeze Cafe serves food throughout the day and also features a deck. Meanwhile, the Planter's Lounge offers food options, including light meals, snacks, and takeaways. A coffee shop and convenience store are also in the property's hallway. 
Our favourite spot was Gaya's. You can't beat the beautiful view of sunset on the beach while enjoying your meal! 
You'll enjoy a range of activities at the beach, including banana boat riding, parasailing, and hiking. You can also hire various motorised and non-powered water toys. They offer volleyball courts located on the sand and a roped-off swimming area.
A spacious gymnasium and tennis court are a short distance from the beach. It's among the select resorts in Penang that do not feature a spa. However, a hair and beauty salon is available for guests' use.
If you're looking to head out, Georgetown is only a 20-minute drive eastwards. Otherwise, you can also discover the shops and attractions at Batu Feringghi, which is just 15 minutes westwards by car.
Our Favourite at Rainbow Paradise Beach Resort
They offer deluxe rooms featuring ample living space, air conditioning, and furnished balconies. But, their design and furniture are somehow old. Deluxe options range from studios to one- and two-bedroom designs, with the studios being the least expensive. 
Rainbow Paradise Beach Resort
527 Jalan Tanjung Bungah, Tanjung Bungah, Pulau Pinang
Lexis Suites (Penang resort with private pool)
The Lexis Suites is among the cheap beach resorts in Penang. It's on the island's south shore and only 10 minutes drive away from the international airport. It's also about 20-minute drive from Queensbay Mall, a huge mall where you can shop for gifts and souvenirs.
Once the sun goes down, relax at the Satellite Bar or Sky Terrace for an upscale bar atmosphere before heading to UMI Japanese Restaurant for authentic cuisine. 
You may visit the spa centre, watch your children play in the secure and exciting Kidz World, or join karaoke in the club when you're not lounging on the beach. Otherwise, you can have a relaxing massage at their spa or break a sweat at their indoor gym facility.
Furthermore, if you are a sports lover, you will have a great time at the Lexis Suites, which offers facilities to play beach volleyball court, mini futsal and sepak takraw (a local sports activity).
Our Favourite at Lexis Suites 
You can choose between the premium pool suite and the executive pool suite, with the premium pool suite being less expensive. The interior of both suites are as plush as it gets, featuring a private pool, bathtub, and a large balcony with magnificent ocean views. All rooms offer modern amenities, such as free Wi-Fi and cable TV.

Lexis Suites
28 Jalan Teluk Kumbar, Bayan Lepas, Pulau Pinang
Eastern & Oriental Hotel (Best resort in Georgetown)
Situated in Georgetown, the Eastern & Oriental Hotel dates back to 1885 and qualifies as one of the best spa resorts in Penang. It offers a unique blend of Western influence and modern convenience. 
For a unique dining experience, check out the Poolside Terrace, which features a bar and restaurant with breathtaking views of the Straits of Malacca. However, the hotel's best dining place is the Planters Lounge and Sarkies restaurant, where they serve international and local cuisines.
Unwind by visiting the on-site art museum featuring Penang's heritage exhibitions. Guests will enjoy various activities such as tennis courts, an outdoor pool, a gymnasium and a kids' club. Treat yourself to free yoga classes, an infinity pool, a spa offering Thai massage, and a modern fitness centre.  
As the hotel is conveniently located in Georgetown, this is the perfect place for travellers who want to explore the former British colonial city. The hotel also offers a complimentary shuttle to the city centre and nearby attractions. The place is great for families with kids, couples, and solo travellers. 
It's also located a few minutes away from The Blue Mansion (Cheong Fatt Tze), which is Penang's UNESCO Heritage Site. Also known as Cheong Fatt Tze, the Blue Mansion is also where the famous Crazy Rich Asian movie was filmed.
Our Favourite at Eastern & Oriental Hotel
We highly recommend staying in the hotel's Heritage Wing. It is separate from the more commercial Victory Annex and features antique furniture as well as vintage fixtures. The bathroom comes with a classic garden tub where you can relax in and let your worries melt away. If you want to stay nearby Georgetown, then Eastern & Oriental Hotel is one of the best hotel resorts in Penang to stay at.
Eastern & Oriental Hotel
10, Lebuh Farquhar, George Town, Pulau Pinang
Mercure Penang Beach
As a big Accor hotel company member, Mercure budget resort hotel in Tanjung Bungah constantly offers spotless, comfy rooms, excellent service, and a fantastic beach location. 
It's about a 15-minute drive from Batu Ferringhi and 20-minute drive from Georgetown, so you may need a car to shop or dine out in those areas. Otherwise, you can always just use the local e-hailing service, Grab, to go to those areas.
As one of the best beach resorts in Penang, Mercure has an on-site restaurant, the Ombak (meaning "wave" in Malay), serving both foreign and Malay dishes. They have breakfast, lunch, and dinner menu options. 
The establishment's primary selling point is its proximity to the beach. While all of the resorts mentioned on our list are close to a beach, Mercure sits right on it - you can reach the sand in a few steps past the pool. The beachfront pool is the perfect place to relax on hot summer days. There's also a spacious fitness facility that features a steam room and sauna. It's a great place for couples and solo travellers. 
Our Favourite at Mercure 
The cheapest superior twin rooms offer breathtaking ocean views but lack terraces or other outside spaces. The superior suites feature separate living areas, balconies, and terraces. They are also spacious if you have kids. 
Mercure
505 Jalan Tanjung Bungah, Tanjung Bungah, Pulau Pinang
Lone Pine Hotel (Nature resort in Penang)
Lone Pine is among the few resorts in Penang Batu Feringghi with an earthy and nature-centric design. Furthermore, the place offers direct access to the beach. The hotel is an excellent choice for all kinds of travellers, as they provide a variety of facilities, including babysitting services, a kids club, honeymoon suites, and an airport shuttle. 
The Bungalow at Lone Pine offers a full breakfast, lunch, and supper buffet. They serve Western and Malay cuisines, including steaks, burgers, pasta and noodles. In addition, couples can opt for a four-course set meal served by an attendant. This is the only dining option on-site. 
Fortunately, Lone Pin is located at the centre of Jalan Batu Feringghi. Hence, it is in close proximity to many seafood restaurants as well as the Batu Feringghi Night Market. Otherwise, you can also opt to walk to one of the neighbouring resorts, such as Shangri-La Golden Sands or Rasa Sayang to try their restaurants too.
The hotel's Pure Energy Spa offers beauty, skin, and massage services. Being one of the best 4-star beach resorts in Penang, they also have a gaming room where you can enjoy a round of billiards. And there's a world-class gym if you're trying to maintain all your muscle gains! 
The hotel is in close proximity to popular attractions such as TeddyVille Museum, where you can learn about the history of the teddy bear. In addition, the Tropical Spice Garden is also nearby, where you can not only shop for spices but take a cooking class.
Our Favourite at Lone Pine Hotel
This nature resort in Penang's cheapest deluxe rooms feature private balconies and plunge baths. The premier suites come with two queen-sized beds, a private garden, and majestic views of the ocean. The beach is also literally a stone's throw away, so you can easily enjoy its breeze and white sands.
Lone Pine
97 Jalan Batu Feringghi, Batu Ferringhi, Pulau Pinang
Best Beach Resorts in Penang
Finding the best beach resort in Malaysia isn't easy, and you don't want to spend your vacation anywhere less than spectacular. The resorts discussed above are the top Penang private and luxury getaways, and you're sure to love whichever resort you choose. 
Of course, you can follow us on Instagram @tabitogether for more things to do in the Malaysian island, learn more about the best luxury beach resorts in Penang, get the details on 5-star Penang resorts, and get details on cheap vacations in Penang.