Kopitiam in Penang is synonymous with comfort food, friendly conversations, and a laid-back atmosphere. The word originates from the Hokkien word 'coffee shop'. So you can think of it as the Malaysian version of a Western cafe. The island has some of the best coffee shops in Malaysia because these places have been a fixture of life for over a century. So they have perfected the laidback, coffee-drinking culture.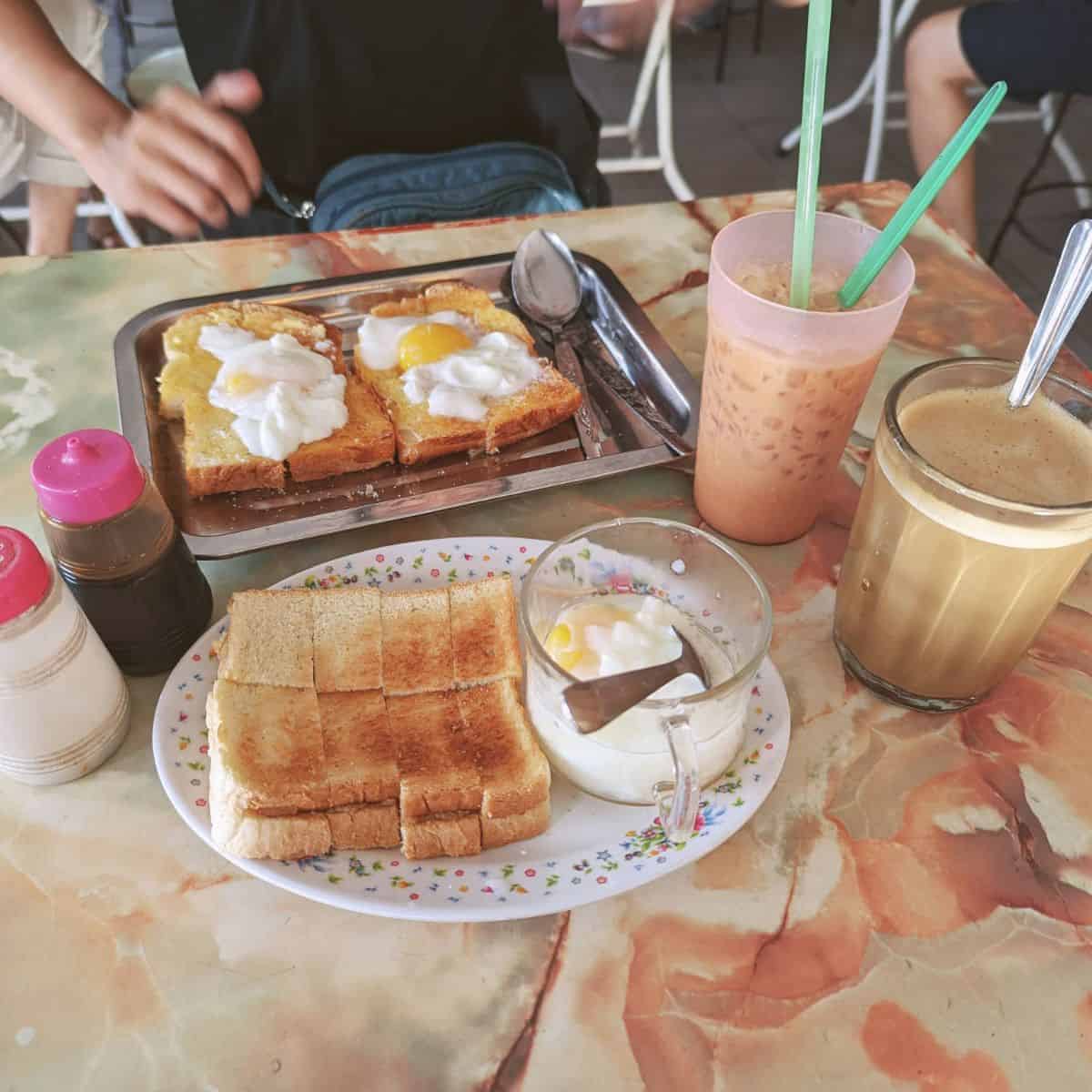 Penang stands out as a must-visit destination for coffee enthusiasts and foodies alike. The island is known for its rich heritage, beautiful landscapes, and diverse culinary traditions. In addition, we love how the vast treasure trove of delectable food that will leave your taste buds craving more.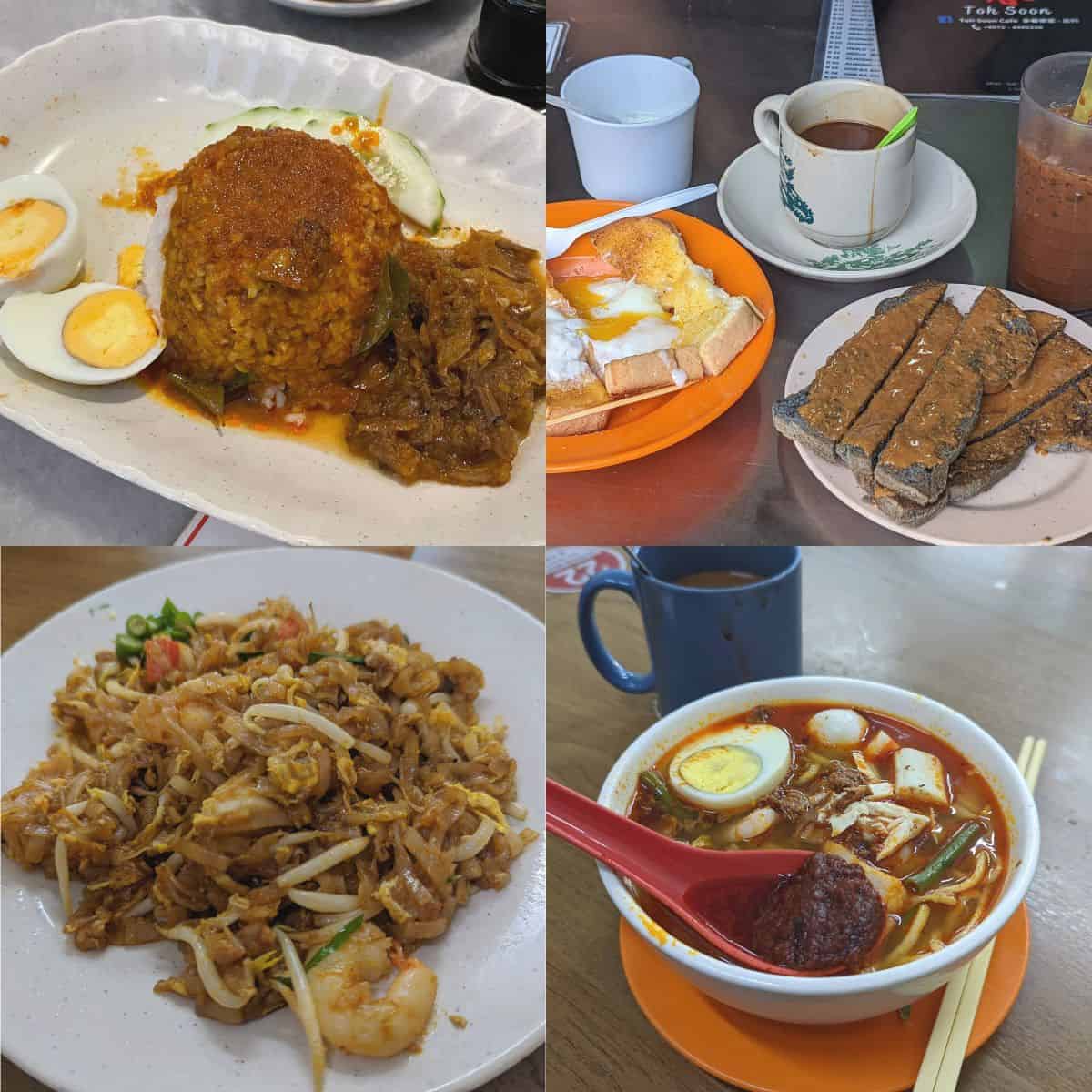 In our guide, we'll take you through some of the best kopitiam in Georgetown, Penang that we explored. They offer an authentic experience of the island's unique food culture. So whether you're a coffee lover or a traditional Malaysian breakfast fan, these coffee places are sure to impress.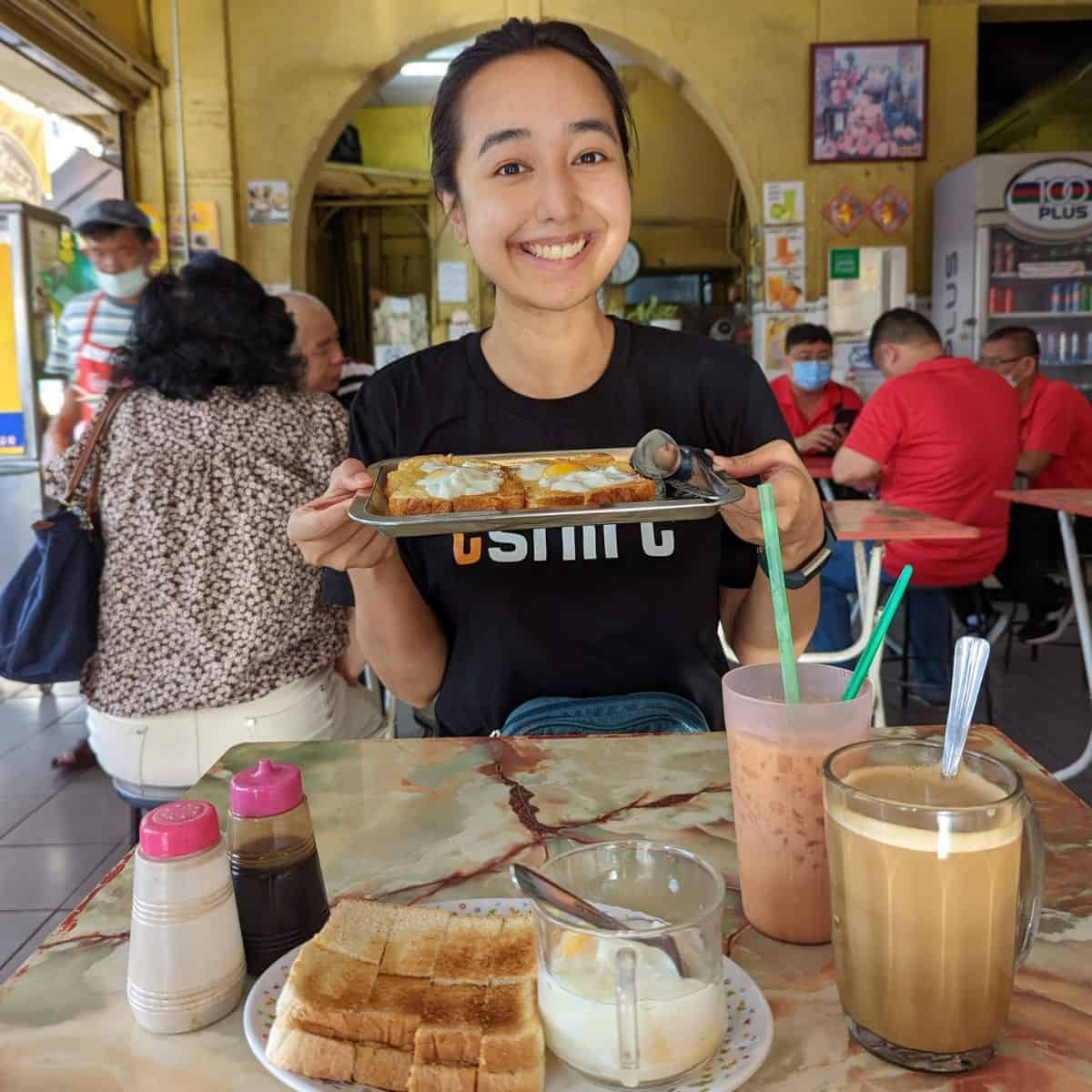 Jump to:
Toh Soon Cafe
Toh Soon Cafe in Penang is a must-visit spot for anyone looking to experience a traditional kopitiam in Penang. First, you need to go past the rustic gate of Medan Lebuh Campbell. Then, you'll find this quaint cafe along an alleyway of an old shophouse along Campbell Street. It has retained its vintage charm with its classic interior and antique furnishings.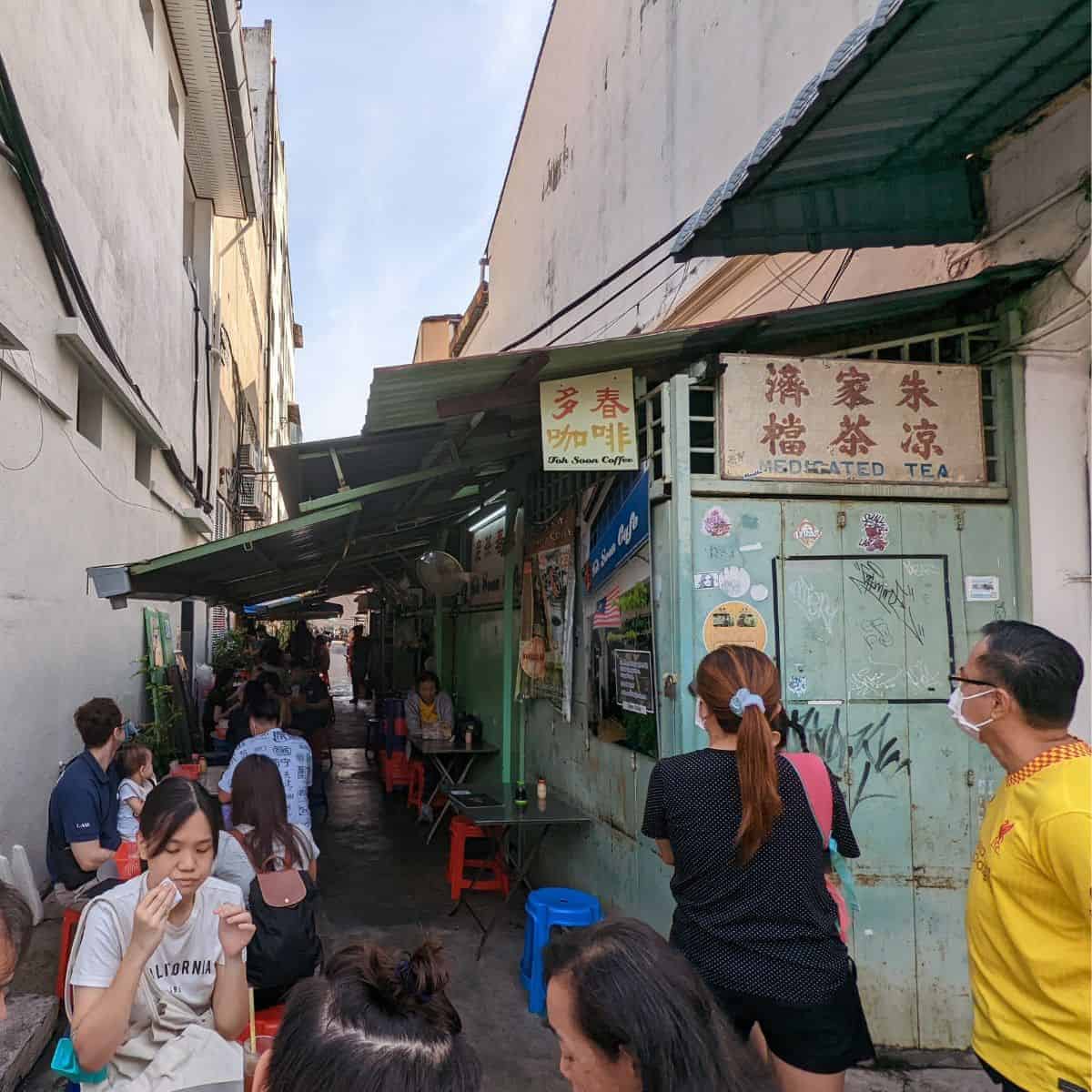 Toh Soon Cafe stands out because of its signature dish, the charcoal-grilled toast served with homemade kaya (coconut jam) and butter. In their open kitchen, you can see the staff toasting the bread over charcoal, giving it a unique smoky flavour. The staff were kind enough to let us walk closer to take some photos. If you also want to see this up close make sure you go when up when its less busy.
The grilled bread perfectly complements the kaya's sweetness and the butter's creaminess. It's a simple yet delicious dish that has won our hearts and the favour of locals and tourists. Another favourite dish is the $1 packet nasi lemak, served with rice and kuning (fried fish).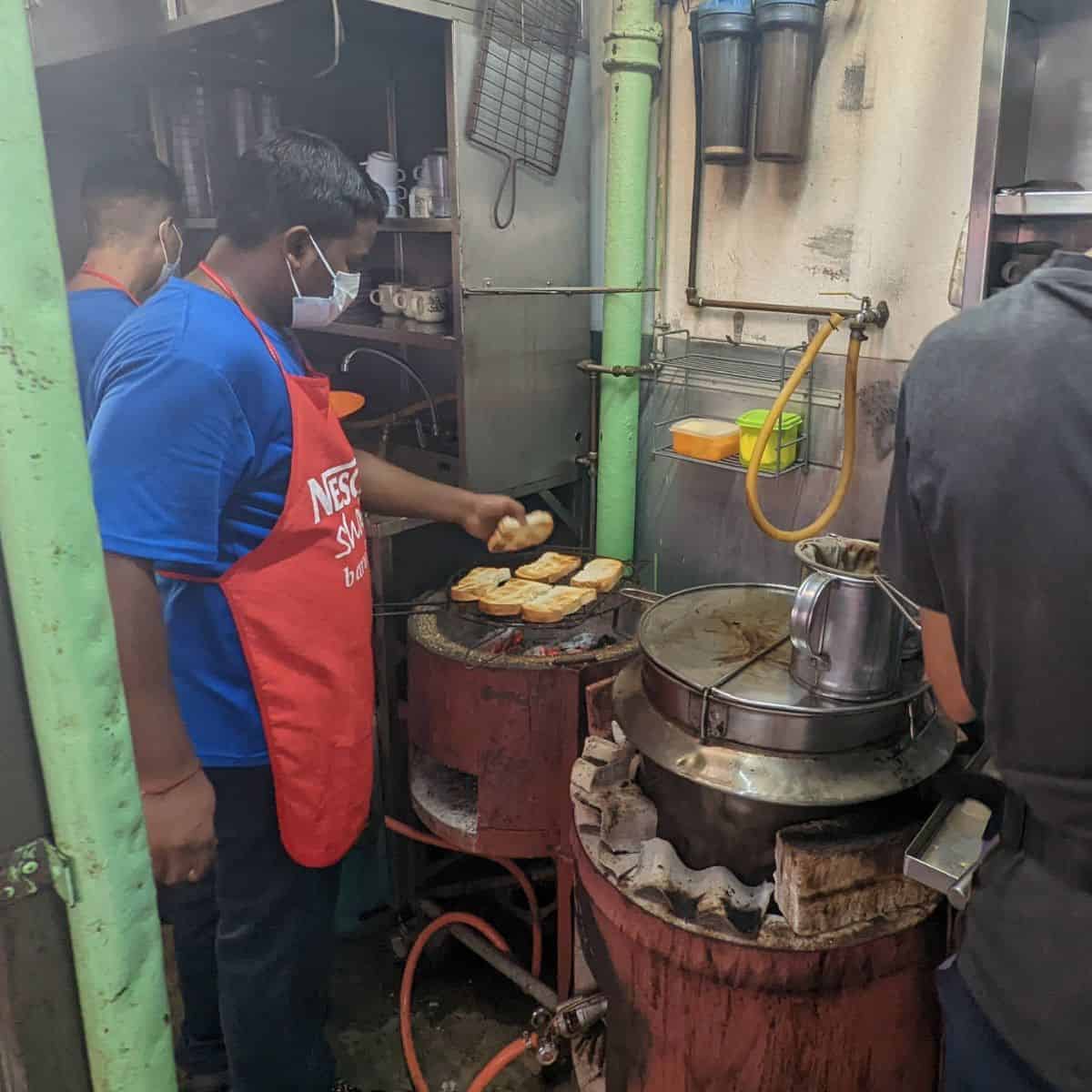 If you want to visit Toh Soon Cafe, go to the place at 8 am. We recommend going this time to avoid the crowd and get a seat before it gets too busy. Another tip is that the staff can get your orders mixed up. So if you're in a large group, order only a few items simultaneously. Furthermore, while the cafe is not a certified halal kopitiam in Penang, the owner serves no pork or lard.
Toh Soon Cafe
Lebuh Campbell, George Town, 10450 George Town
Kopi Seng Thor
This is a popular spot, loved for its traditional kopitiam vibe and delicious food offerings. Located along Carnavon Street, Kopi Seng Thor has been around since 1930. The century-old famous kopitiam in Penang has retained its old-world charm. Step inside, and you'll see open-air cooking at hawker booths, side by side with picnic tables for dining.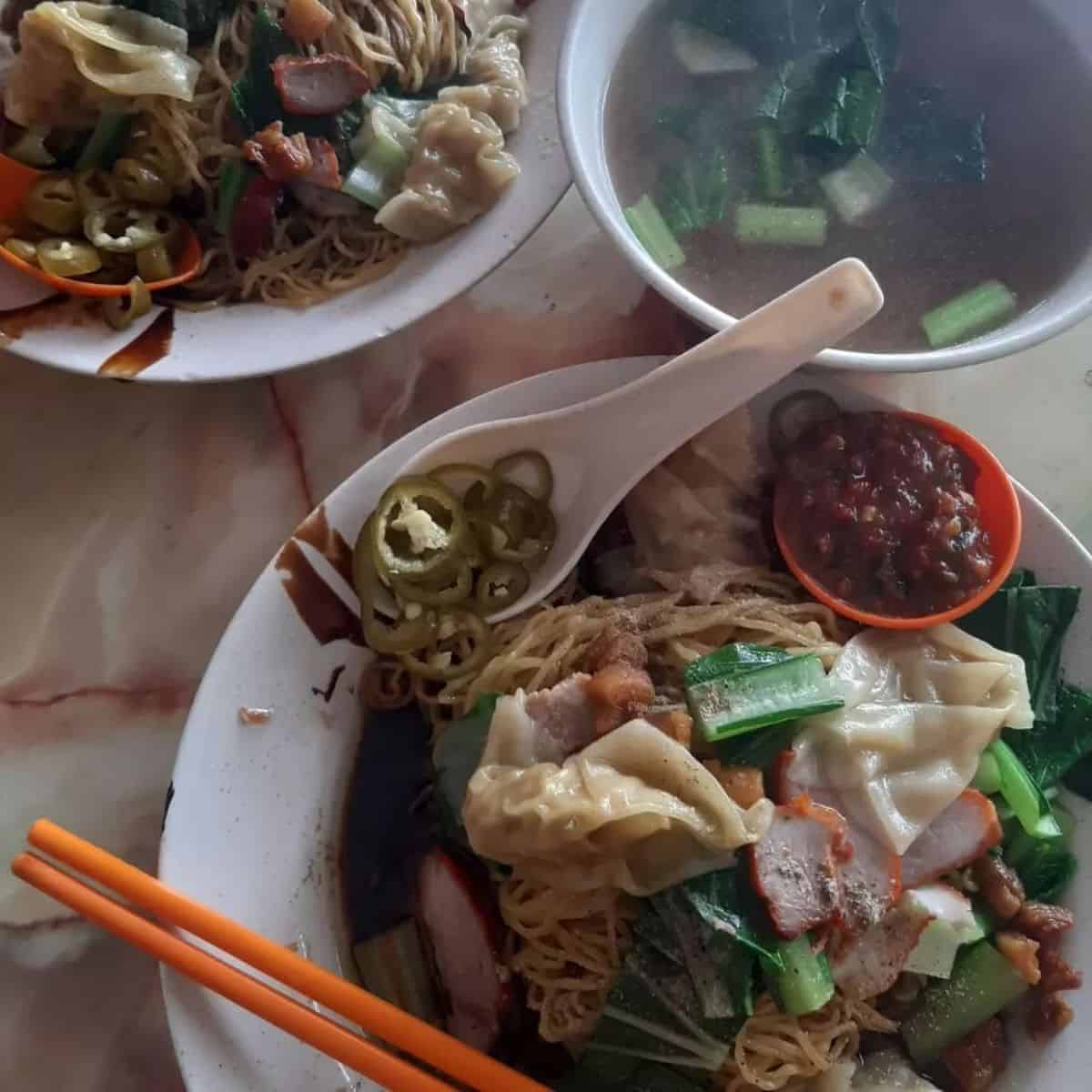 The must-try dish at this coffee is their Char Siew Wantan Mee. It is a Cantonese dish that combines the umami flavours of egg noodles, dumplings, soy-based broth, green choy sum, and smoky BBQ pork (char siew). Identifying the Wantan Mee hawker stall at Seng Thor Coffee Shop is easy as it's the most popular one at the corner coffee shop.
Another Penang street food dish to try at Kopi Seng Thor is their white oyster omelette. It's a dish with delightfully plump juicy oysters deep-fried with egg to get a crispy omelette batter. The proprietor's son operates a huge cast iron wok, and the delectable aroma of oyster omelette will reach you before you find the coffee shop. But, of course, there are also other local favourites like Roti Goyang and white coffee.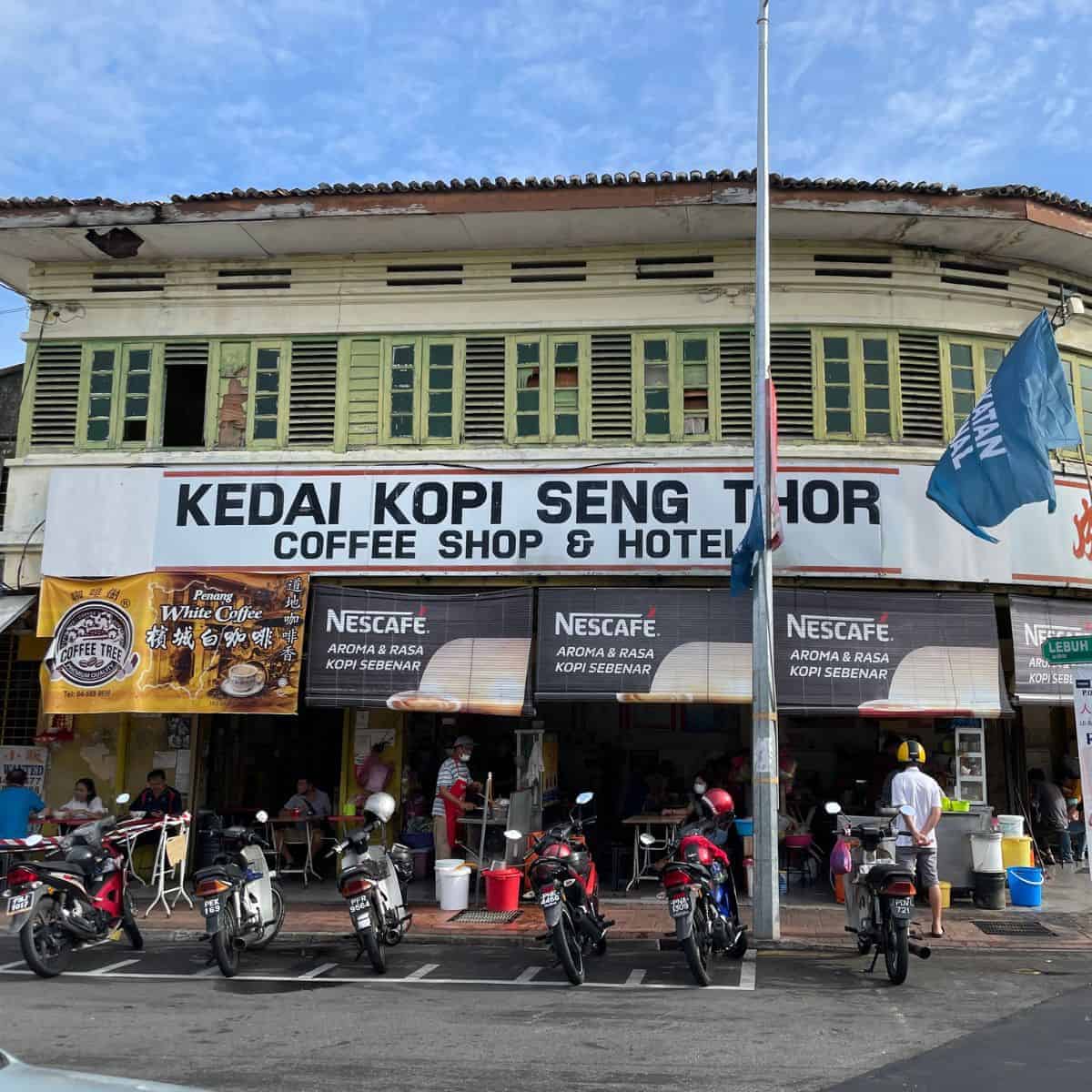 Our insider tip for visiting Kopi Seng Thor is to come early when they first open at 7 am. This is the best time to savour their signature coffee and munch on their delicious breakfast offerings in a quiet and peaceful setting.
Kopi Seng Thor
160, Lebuh Carnarvon, George Town, 10100 George Town
OO White Coffee
Another must-visit Penang kopitiam is OO White Coffee. There are several outlets, one in Carnavon Street (Georgetown), Queensbay Mall and the Waterfall Hotel. All three outlets are well-located, with spacious dining halls and ample seating. However, despite having three other outlets, we recommend visiting the Carnavon Street outlet. We love eating here because their delicious food offerings and quaint decor transports you back in time.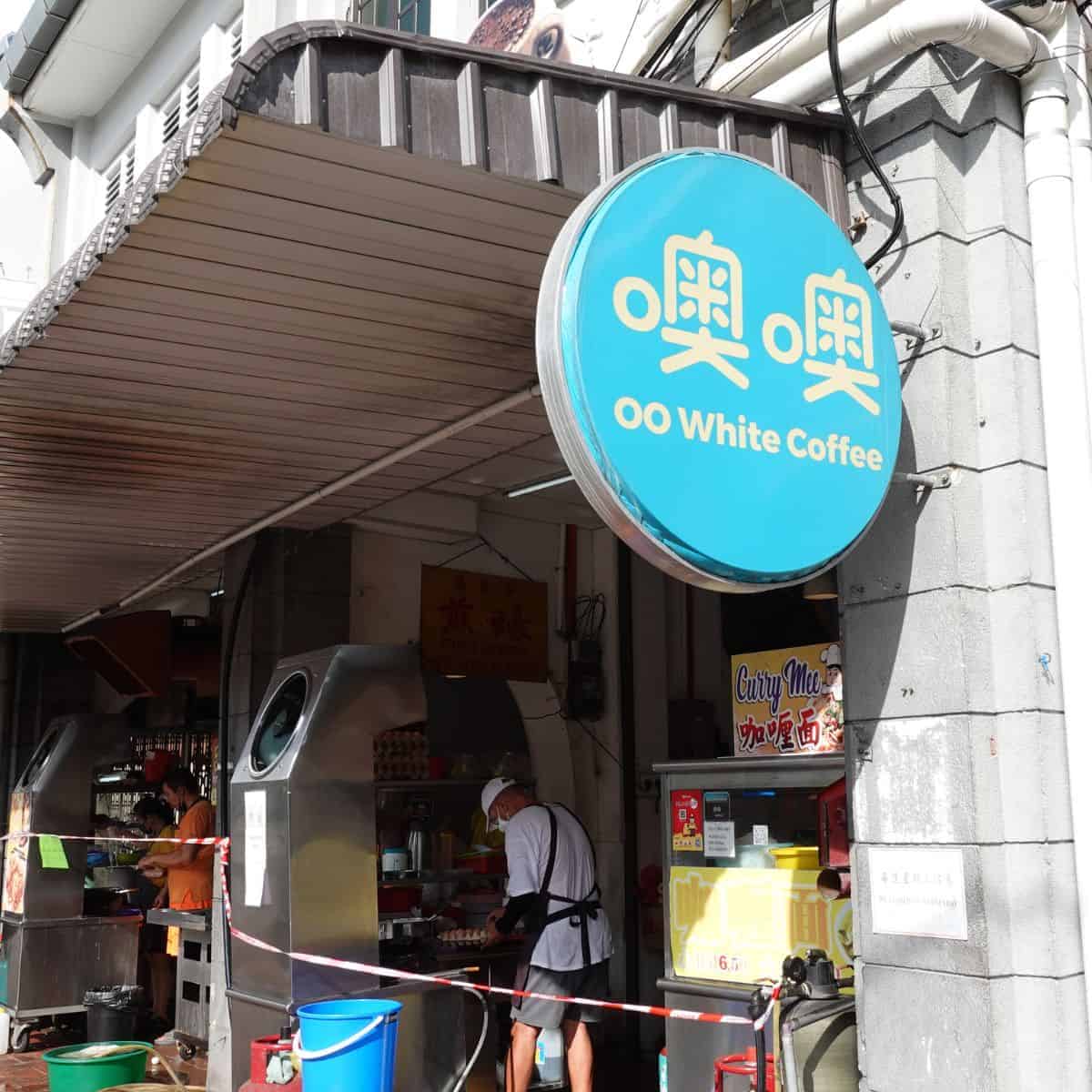 OO White Coffee Cafe boasts an extensive menu featuring an array of delectable dishes. This variety includes signature toast, coffee, and irresistible mains such as nasi lemak, chicken rice, Hokkien mee, and oyster omelette. All dishes are affordable, making it an excellent meal option, whether breakfast or lunch.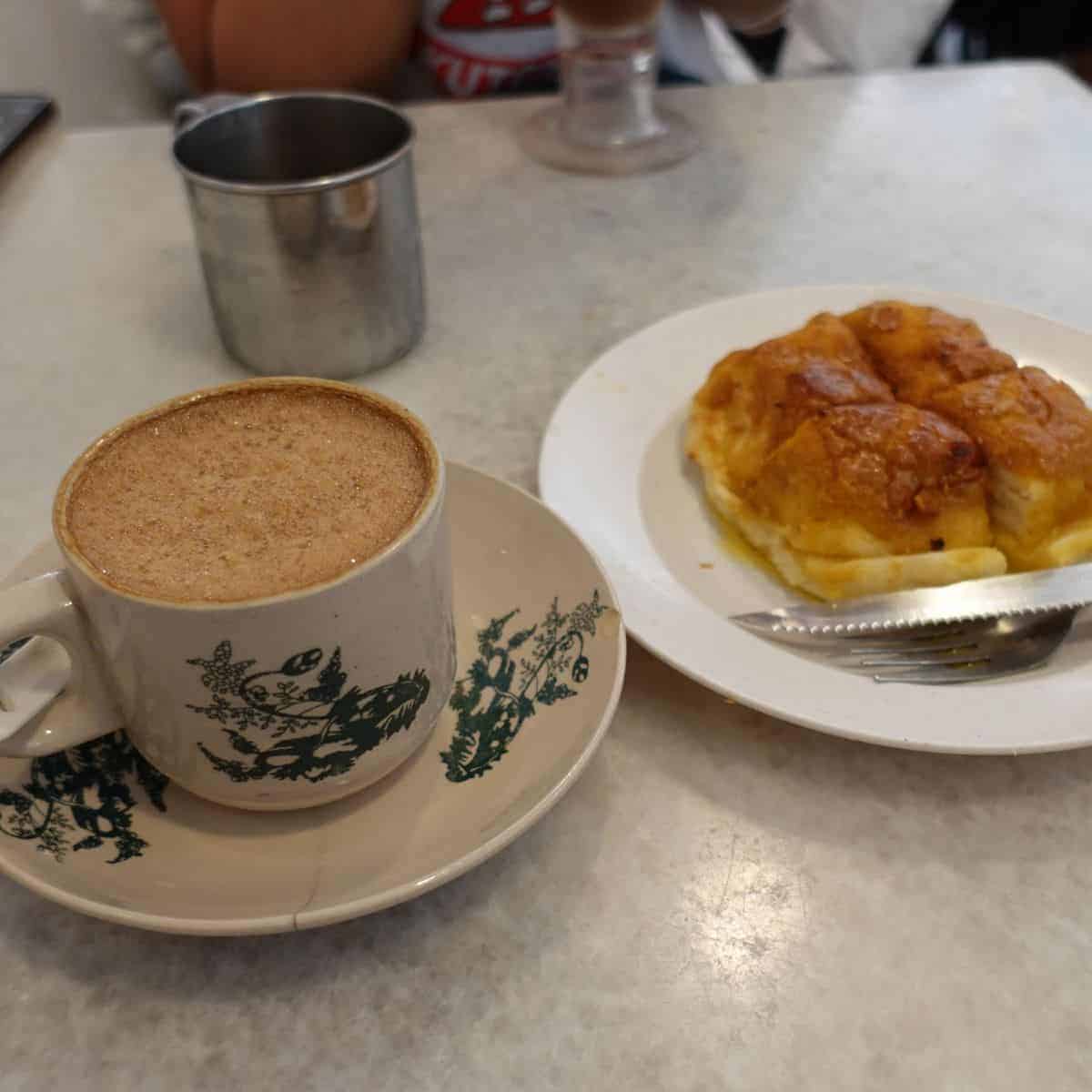 The must-try dish at OO White Coffee is their curry mee. This popular Malaysian dish has thick noodles in a rich curry broth topped with shrimp, tofu puffs, and cockles. It's a satisfying and comforting dish perfect for breakfast or lunch. Their white coffee is one of the most recommended blends on the island, so order a cup if you're there.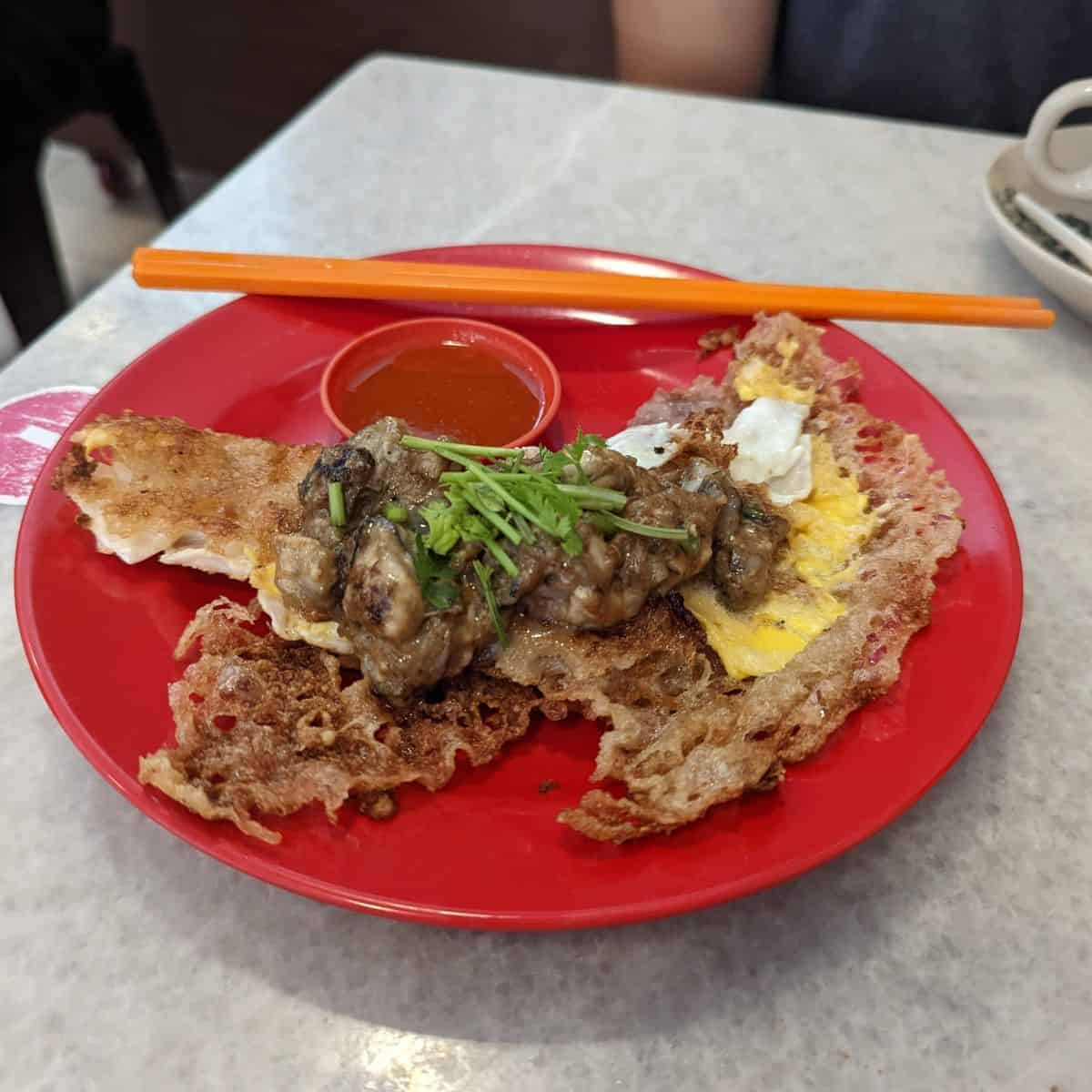 Moreover, we recommend visiting OO White Coffee's Queensbay and Waterfall Hotel branches if you're visiting Penang with kids. The cafe is air-conditioned and spacious, which makes it easier for children to sit still. There are also fewer crowds in these two branches. You also don't have to wait too long to get a cup of their signature white coffee and indulge in their delicious curry mee, which is especially helpful if you have hungry whiny children.
OO White Coffee
262-264, Lebuh Carnarvon, Georgetown, 10100 George Town, Penang, Malaysia
Bee Hwa Cafe
Bee Hwa Cafe is a halal kopitiam in Penang known for its traditional Hainanese dishes and cosy ambience. The cafe has a huge name sign board that looks just like it used to 50 years ago. Step inside, and you'll find yourself in a spacious dining hall with communal tables.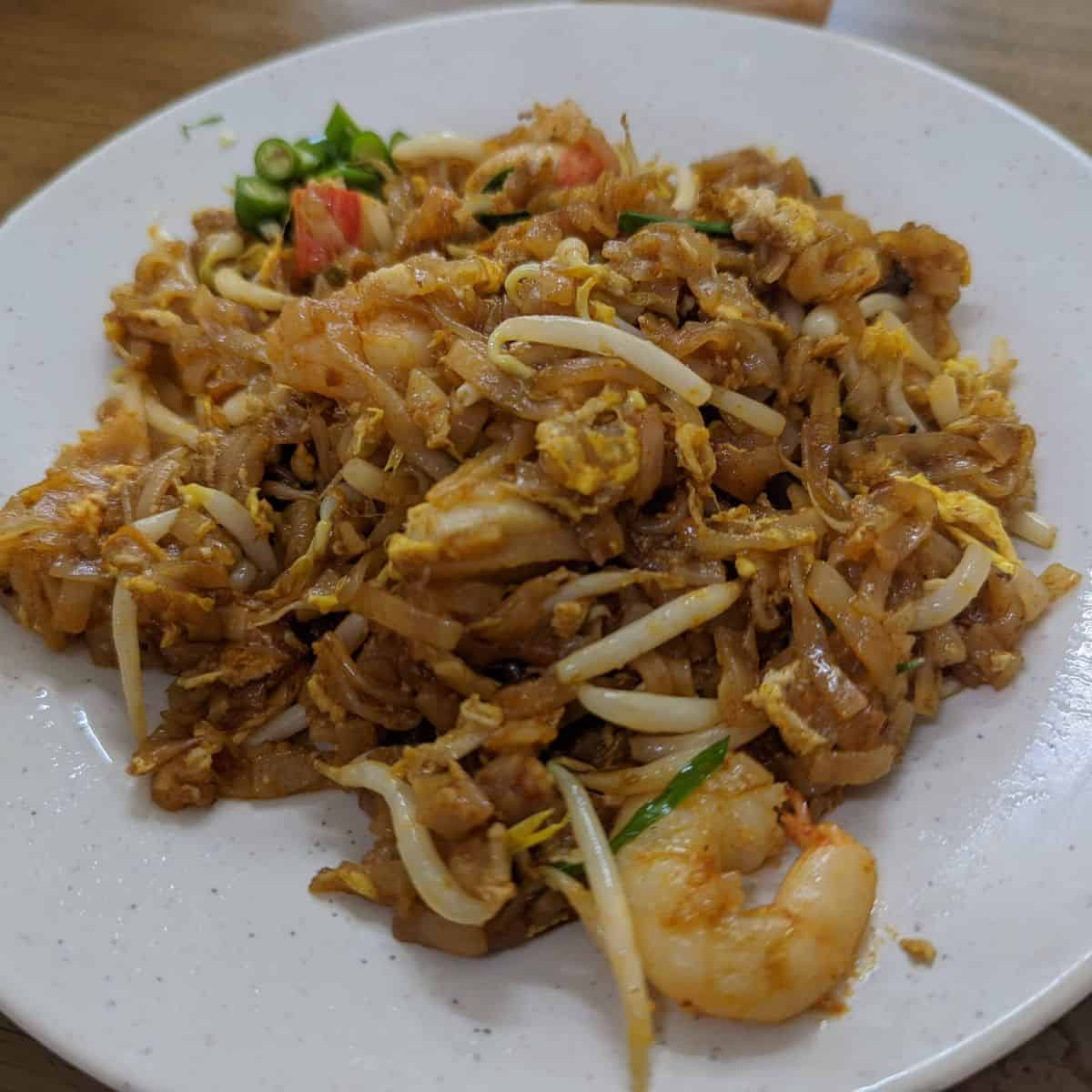 This gem is right across from the police headquarters, so it's easy to find. As the dishes are all halal, there is no alcohol or pork served here. They also do not serve beef.
We recommend that you try their signature char kuay teow (deep-fried noodles), white curry noodles and prawn mee. The dishes are in small portions so that you can order a few items. However, our favourite must-try dish is their white curry noodles.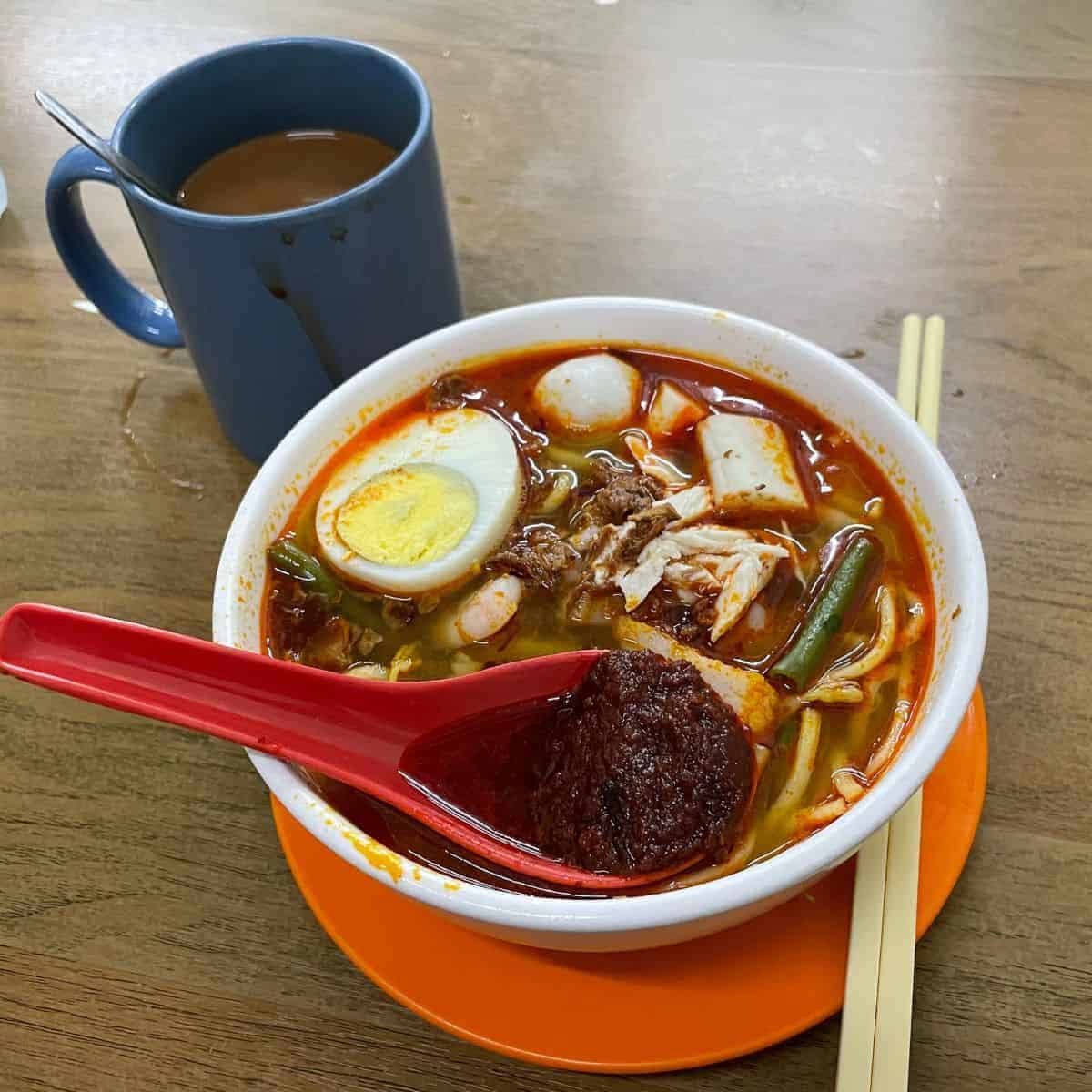 White curry noodle is a uniquely local dish that tastes unlike any other curry noodles in Asia. The broth is a deep and robust blend of lemongrass and spices, complemented by succulent prawns and other fresh ingredients.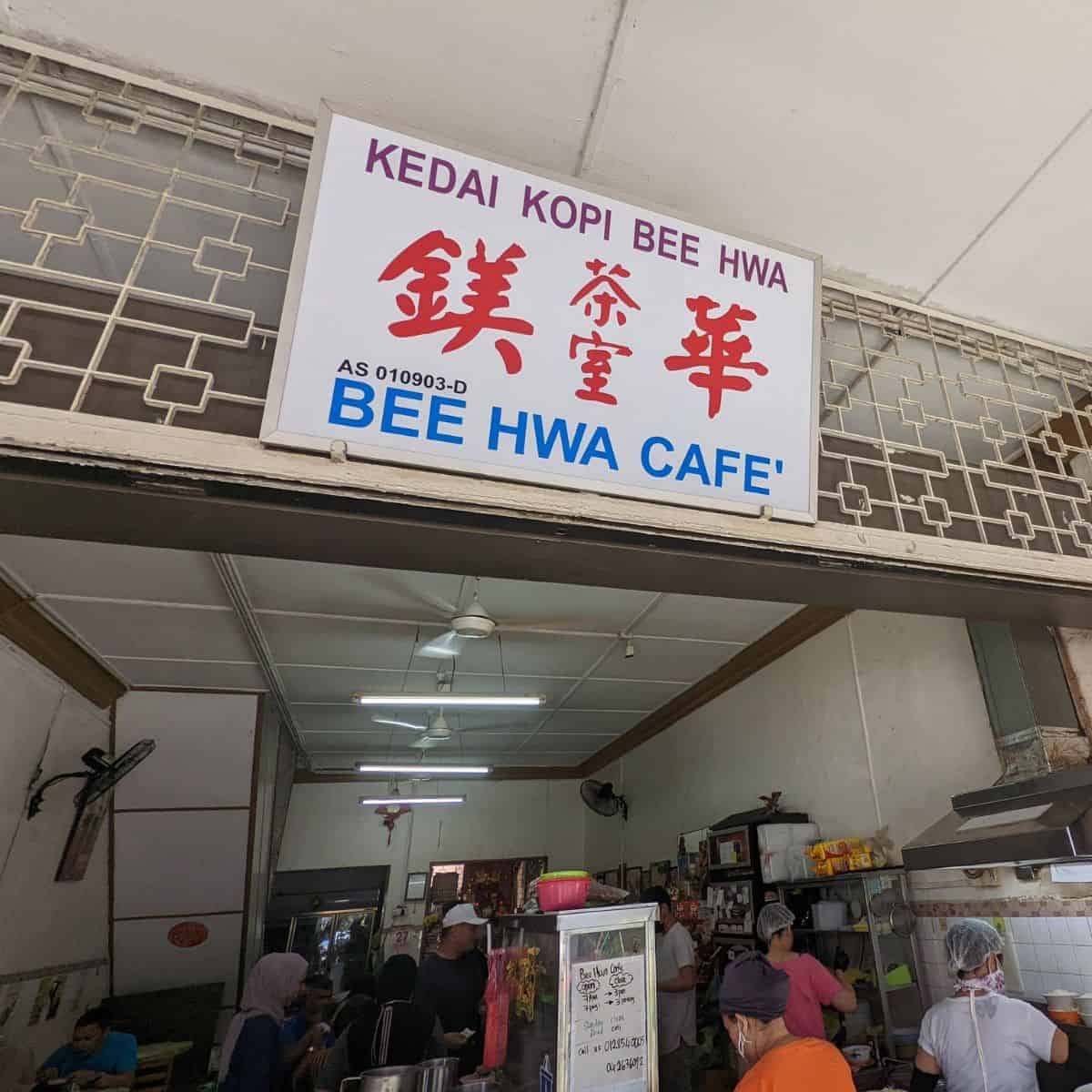 An insider tip for visiting Bee Hwa Cafe is to hail a taxi instead of driving because parking is extremely limited. Also, we recommend coming in the early morning or late afternoon. This is the best time to indulge in their food in a quiet and peaceful setting. For more halal food in Georgetown check out our other guide.
Bee Hwa Cafe
10, Lebuh Dickens, George Town, 10050 George Town
Dong Guan
A great place to get breakfast in Penang is Dong Guan Kopitiam. Come to this coffee shop if you want to eat like the locals. The coffee shop is inside a heritage shophouse. It is also a popular place for locals in this quiet residential area. The ambience is authentically colonial-style Chinese, with traditional wooden furnishing, ceramic utensils, and rustic posters. The restaurant is known for its various dishes cooked using traditional Chinese methods and ingredients.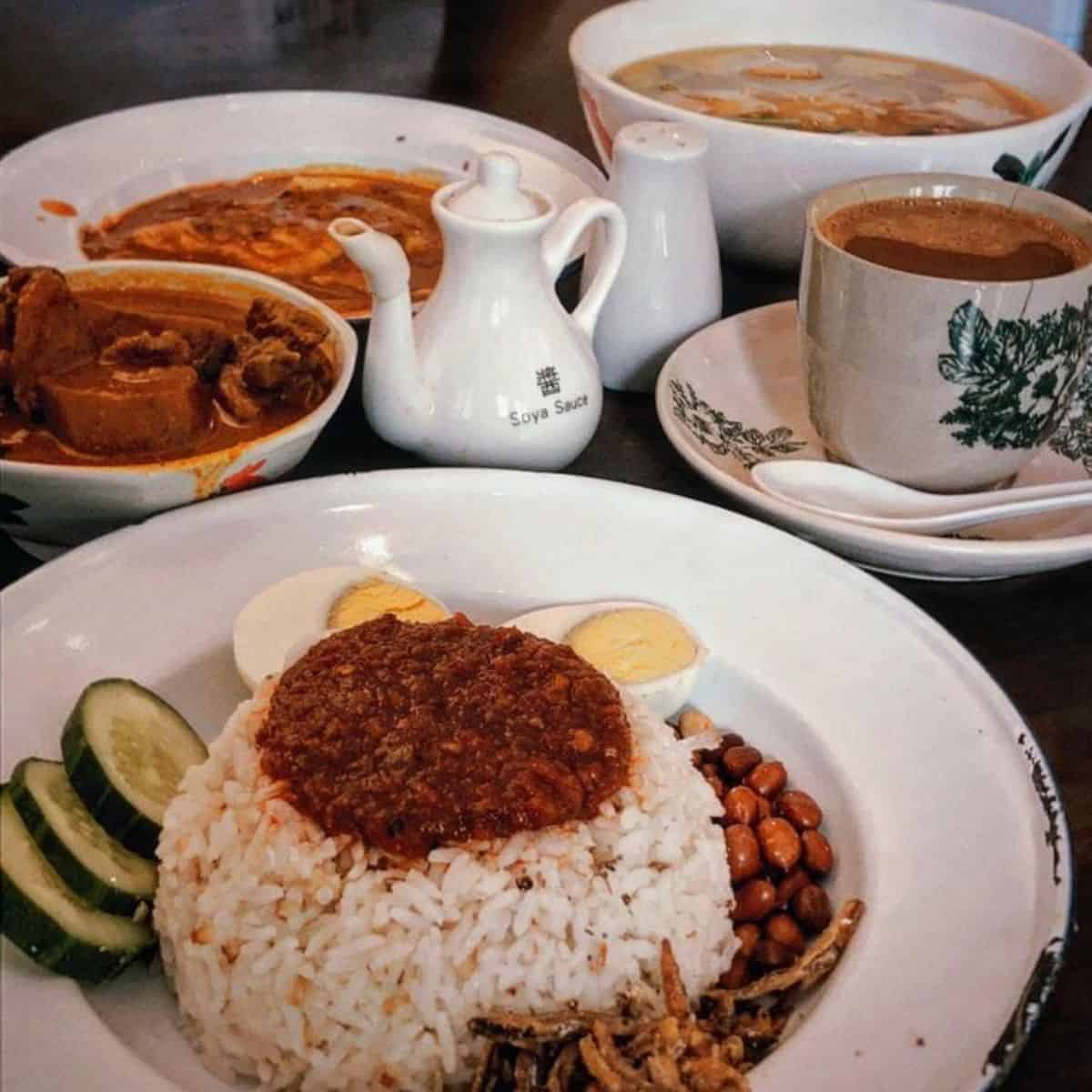 The must-try dish at Dong Guan is their nasi lemak. The sumptuous and fragrant rice is cooked in coconut milk and pandan leaves and is served with various side dishes. These side dishes include fried chicken wings, ikan bilis (local anchovies), peanuts, sambal tumis (a chilli paste), cucumber and omelette. We suggest you pair it with a cup of their strong white coffee. Ultimately, this plate is one of the island's signature dishes, so we highly recommend getting a packet of Nasi Lemak in Penang.
Furthermore, the cafe is air-conditioned, perfect for hiding from the hot weather. Please take note that it closes at 3.30 pm. Therefore, our tip is to reach the coffee shop early if you want to eat the nasi lemak, which is known to sell out early.
Dong Guan
16, Jalan Irrawaddi, 10050 George Town
Joo Leong Cafe
Joo Leong Cafe is a Penang Kopitiam renowned for its delicious local and traditional dishes. The cafe is a favourite among locals, who love its laid-back atmosphere and friendly service. You can go there for breakfast and brunch. This spot is another of the best kopitiam in Georgetown, Penang, for nasi lemak.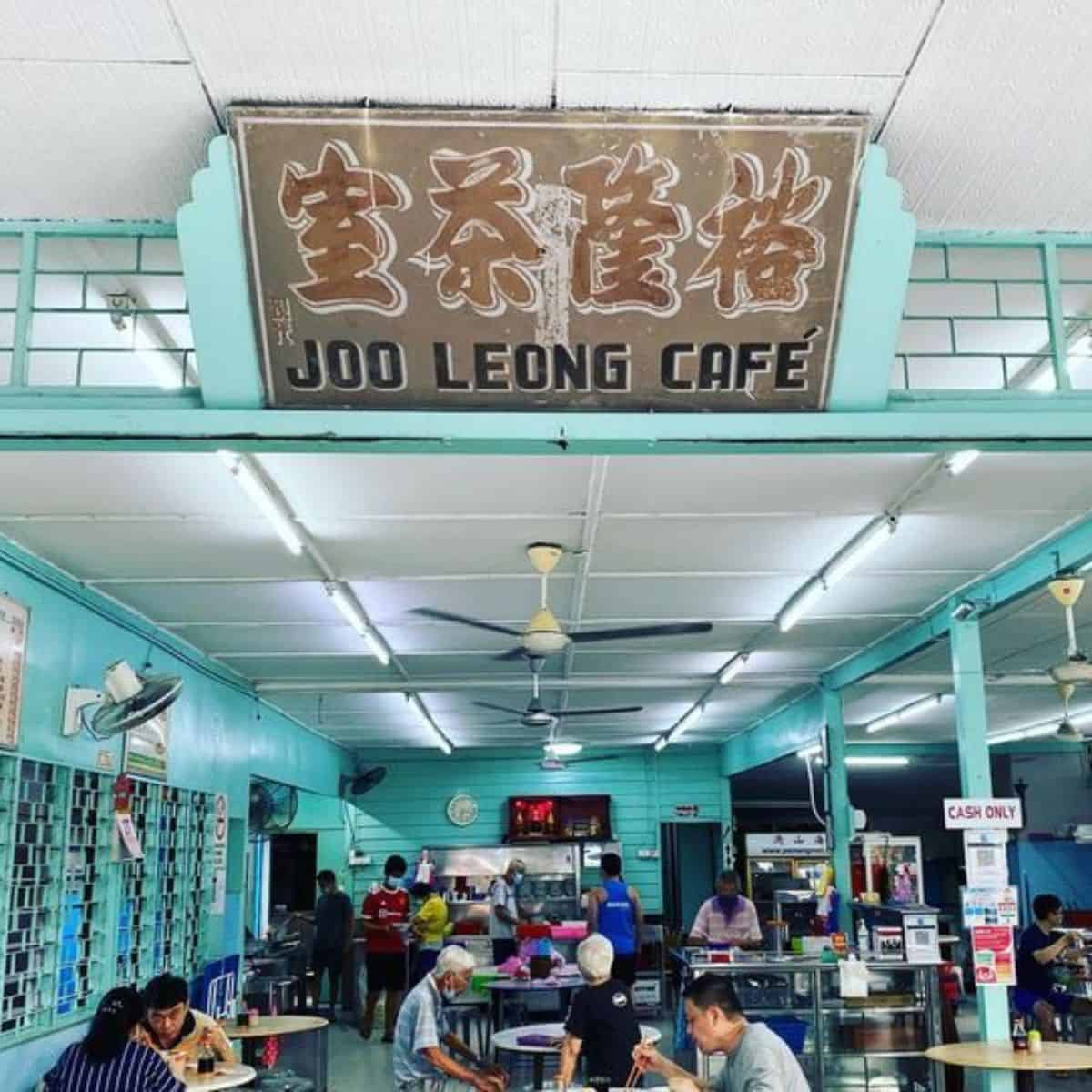 Nasi lemak is a fragrant and flavourful dish consisting of coconut rice served with various delectable toppings, including sambal, crispy anchovies, peanuts, and a boiled egg. In addition, the dish consists of aromatic pandan-infused rice and sambal sauce, a delightful blend of spicy and sweet.
Furthermore, their toast and eggs breakfast are also pretty delicious. Another well-loved dish is their Penang seafood porridge, served only at 5 pm. Diners say the sweet broth is worth the wait.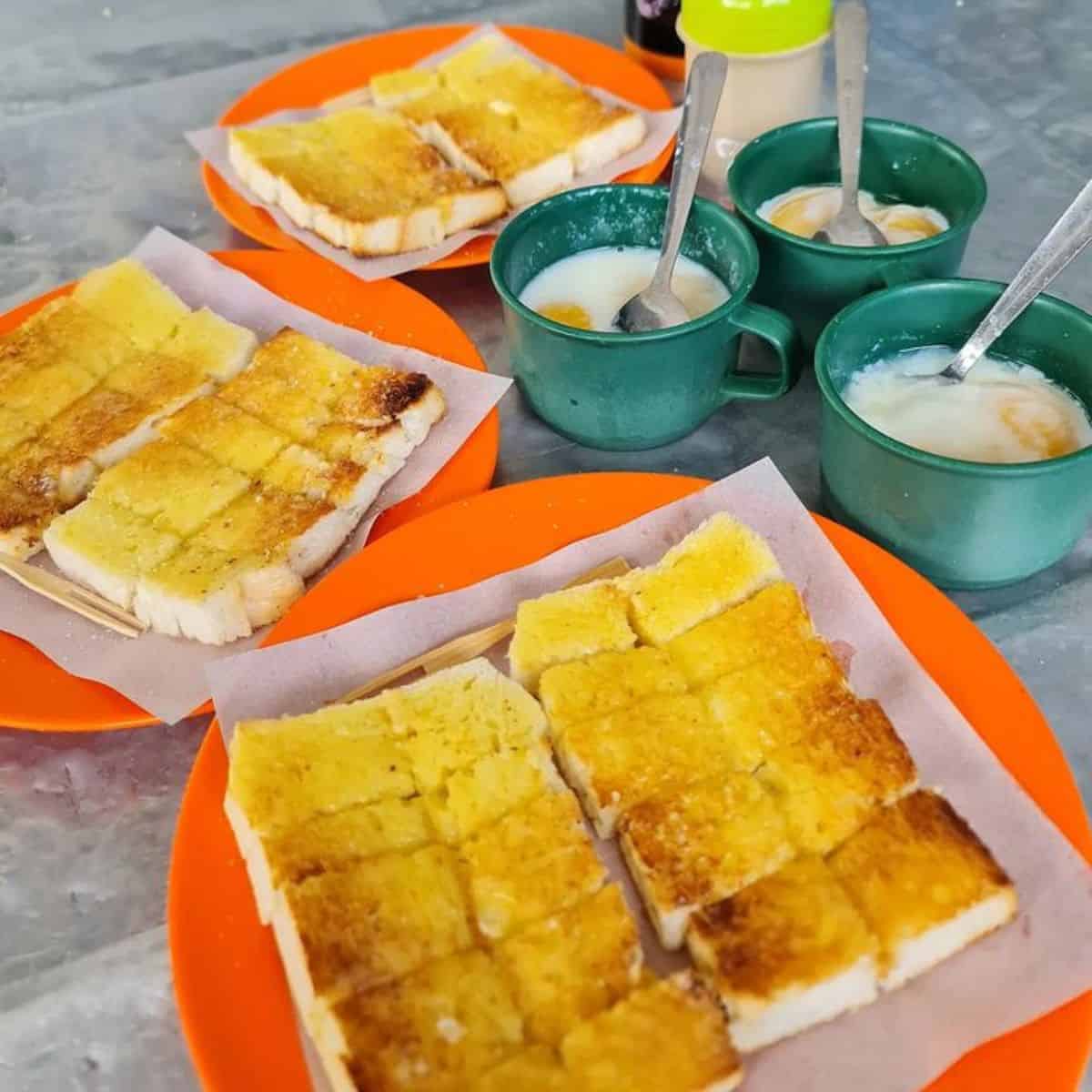 Note that this coffee shop is 20 minutes away by car from Georgetown. Our travel tip is to head there after arrival by plane or if you're leaving the island. As it's a ten-minute drive from the Penang International Airport, you can get breakfast here before boarding your flight.
Joo Leong Cafe
Mk. 12, Jalan Sungai Tiram, Kampung Sungai Tiram, 11900 Bayan Lepas, Pulau Pinang
Genting Cafe
For a popular Penang Kopitiam with a cosy and inviting atmosphere, come here. Genting is famous for their coffee and snacks. If you want affordable Penang-style cuisine, try this coffee shop. Furthermore, their dishes here have stuck to their original recipes, with minimal tweaking of the ingredients or sauces.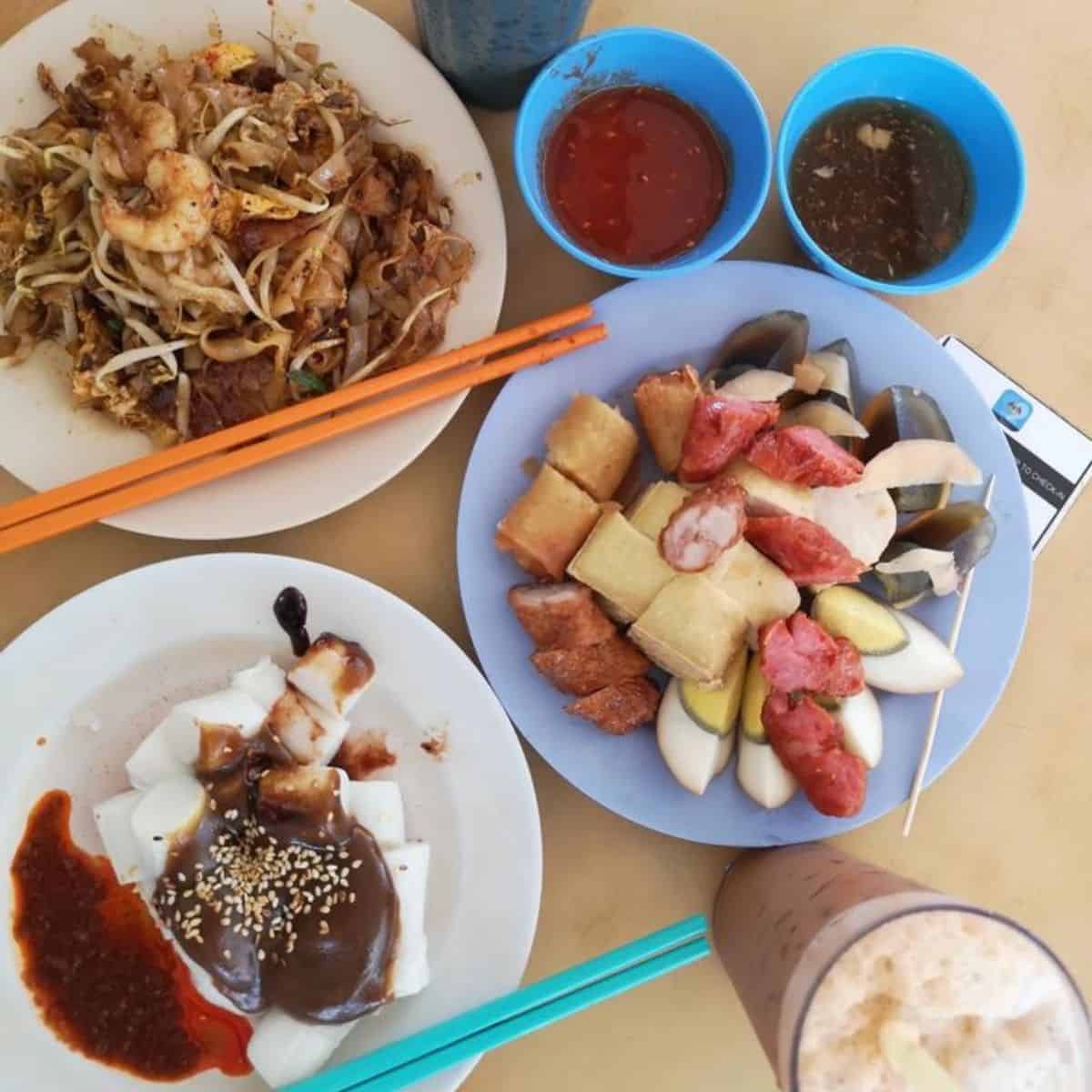 The must-try dish at Genting is their Penang-style Char Kway Teow, a stir-fried noodle dish packed with flavour. The dish is made with flat rice noodles, shrimp, bean sprouts, and chives, cooked with a blend of dark soy sauce and spices. The 'wok hey' smell is intense. It's a smoky, delicious scent thanks to the skilful frying of the noodles. The result is a savoury and satisfying dish that we absolutely devoured.
An insider tip for dining at Genting is to try their signature iced coffee made with strong, freshly brewed coffee and sweetened condensed milk. This creamy and indulgent drink is the perfect accompaniment to any meal. Other dishes, such as their chee cheong fan (rice rolls), also deserve mention if you want to eat a light breakfast in Penang.
Genting Cafe
2 Lorong Delima 6 (At Lrg Delima 3), Gelugor, Penang Island 11700 Malaysia
Ah Koo's Hokkien Mee @ Classic Cafe
If you are on the hunt for one of the best kopitiam in Georgetown, Penang, for Hokkien Mee, this cafe is your best bet. This accessible and convenient coffee shop is near City Penang stadium. The cafe has a simple and no-frills ambience, which adds to the place's charm.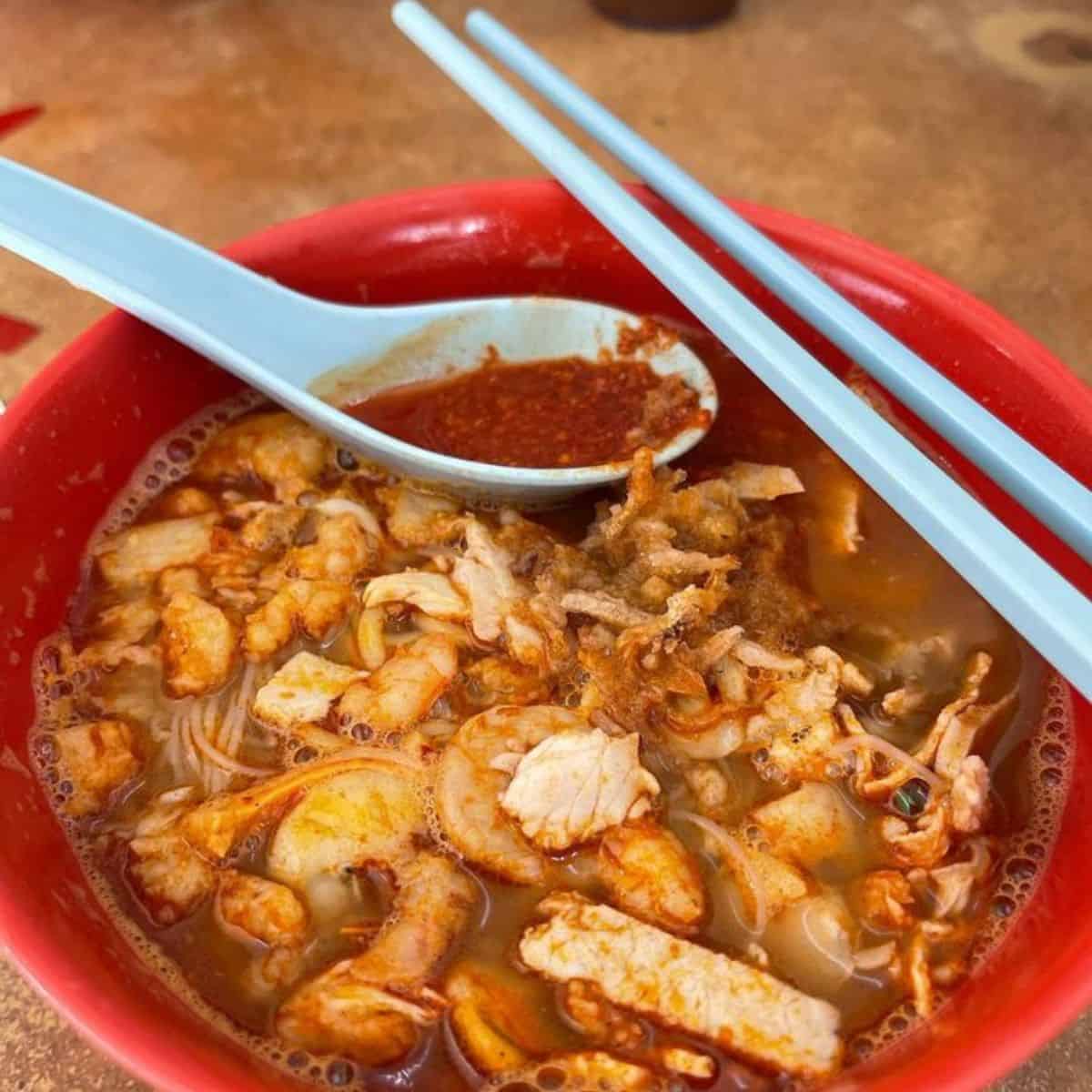 This is a must-visit establishment for those looking for authentic Hokkien mee in Penang. Ah Koo's Hokkien Mee stands out because of its unique recipe and preparation method. This method involves combining prawn and pork broth, resulting in a rich and flavourful dish. We highly recommend trying out their Hokkien Mee when visiting the island.
Our top tip is to head there early because this Penang Kopitiam closes at 11 am! Another recommendation we have is to request chilli. While the dish is mildly spicy, adding the chilli elevates the experience even more. Furthermore, other stalls are also around if you want to order ice-cold drinks, so don't worry about beating the heat.
Ah Koo's Hokkien Mee @ Classic Cafe
Jln Perak, 10450 George Town, Pulau Pinang, Malaysia
Website
Kedai Kopi Malabar
Kedai Kopi Malabar is a go-to spot for breakfast lovers interested in local flavours. This eatery offers a charming, inviting atmosphere perfect for casual dining. Visitors love this spot for its traditional dishes passed down for generations and its innovative twists on classic favourites.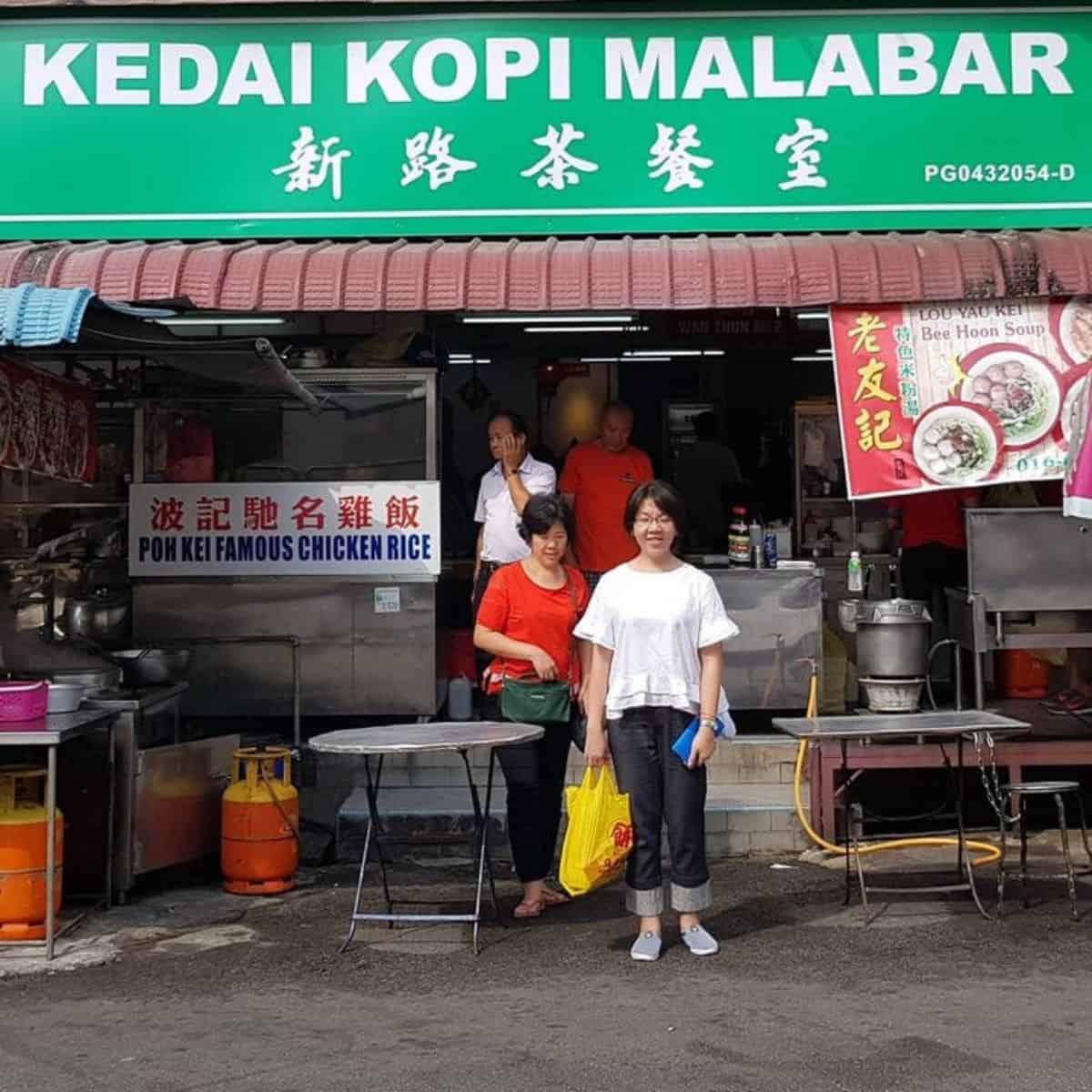 For example, if you order rice dumplings at the Lor's family hawker booth, you'll find traditional favourites with fillings such as pork and water chestnuts. However, you can also get bold and order dumplings with mung bean paste or even taro cake. These are unusual, creative fillings that you cannot get elsewhere.
Another secret is that it is one of the best kopitiam in Georgetown, Penang, to get beef noodles. The Cantonese-style dish is cooked with a recipe that has been around for 60 years. It's a generous serving of beef brisket and noodles in a broth made with spices such as star anise, cinnamon, and cloves. The soup is usually simmered for hours to achieve the rich taste that we love.
The best time to visit Kedai Kopi Malabar is to enjoy a full meal during lunch or dinner. Our insider tip for visitors is to arrive early to secure a table during peak hours. Also don't drive to here, as parking spaces are hard to find. 
Kedai Kopi Malabar
55, Kampong Malabar, George Town, 10200 George Town, Pulau Pinang, Malaysia
Kheng Pin Cafe
If you want the best of the island's street food, head for this Penang Kopitiam. Kheng Pin Cafe is known amongst foodies for serving authentic local dishes. So come here if you want to experience old-school, traditional Malaysian dishes.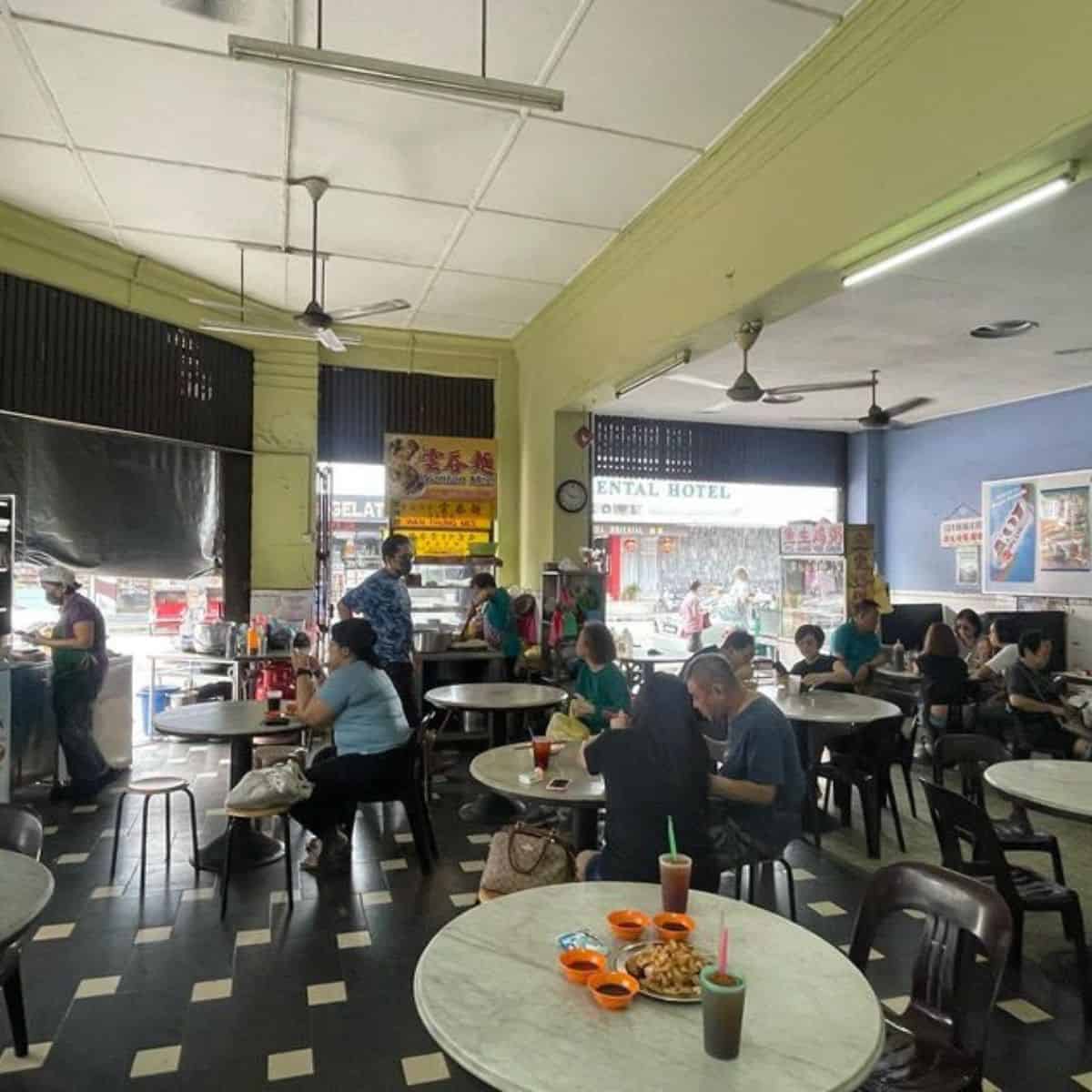 The special dish here is the Lor Bak. This dish is made of marinated pork wrapped in bean curd skin and deep-fried. It usually comes with chilli sauce, a sweet hoisin sauce, sugar, and garlic sauce. Another must-try plate is their chicken rice. Many Singaporeans flock to this store for their chicken rice for its authentic flavours and satisfying taste.
Unfortunately, it's an old-school unrenovated cafe. Unlike a typical modern kopitiam in Penang, the cafe does not have toilets or wash basins. The place is spotless, but our tip is to visit the washroom and bring wet tissues if you visit here.
Kheng Pin Cafe
80, Jln Penang, George Town, 10000 George Town, Pulau Pinang, Malaysia
Lee Huat Cafe
If you head to Jelutong, south of the Pinang River, drop by Lee Huat Cafe. It's a ten-minute drive from Georgetown. This popular spot for locals and visitors has as many as 15 stalls for visitors to order food. So it's worth a visit if you travel the distance, especially since food prices are lower than in the city area.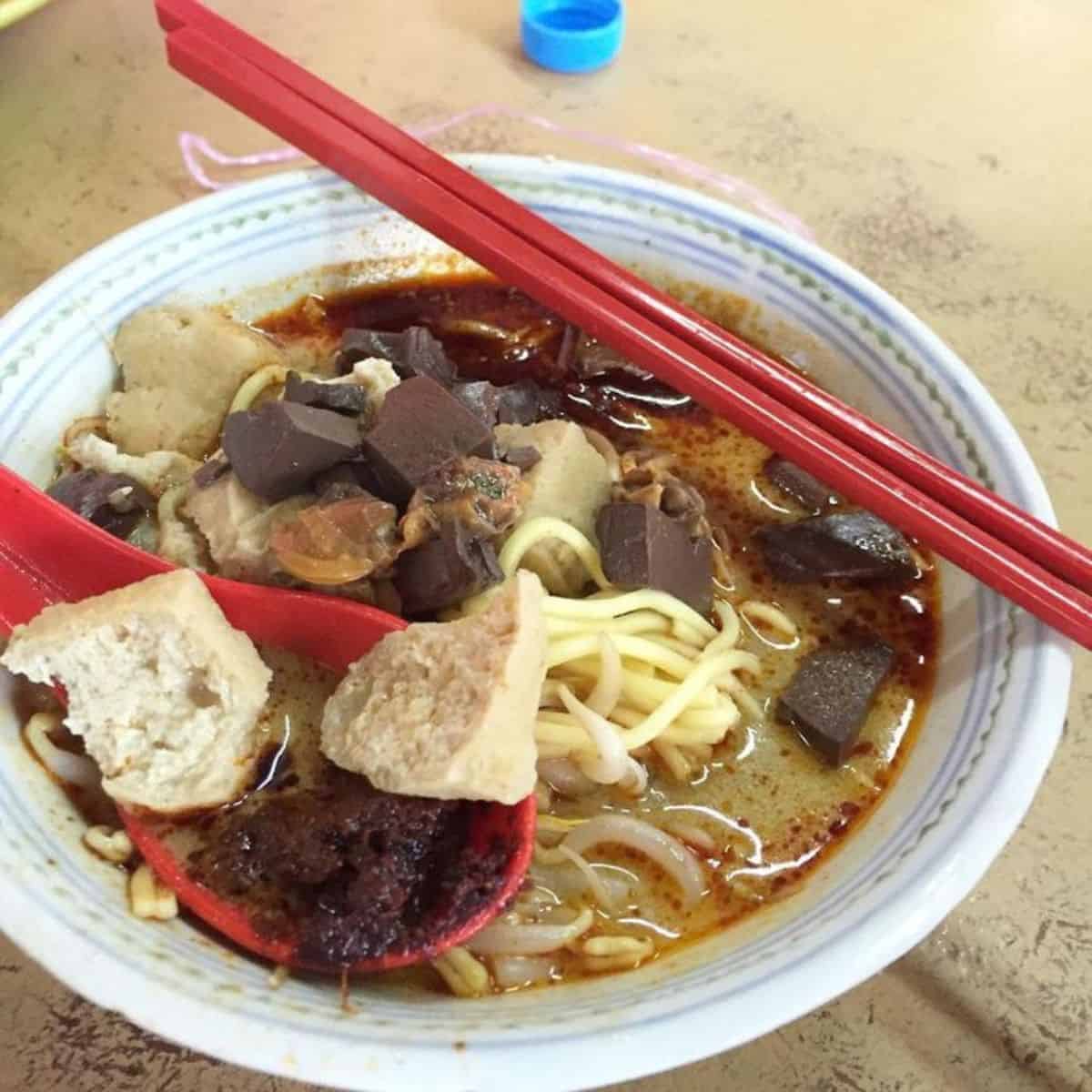 This spot is considered the best kopitiam in Penang for traditional Hainanese-style dishes cooked to perfection. One of the must-try dishes at Lee Huat Cafe is their Curry Mee. It is a dish containing spicy noodle soup served with various toppings such as pork blood, tofu and cockle. Oyster porridge is another one of our favourites. 
There is ample parking space behind the coffee shop, and it only costs RM2 for a full day of parking. We recommend you go early to try signature dishes like the curry mee and oyster favourite, as they often sell out before noon.
Lee Huat Cafe
377-B, Jln Masjid Negeri, Taman Green Lane, 11600 Jelutong, Penang, Malaysia
Old Green House
Restoran Old Green House is a popular restaurant with a midnight crowd, as it is open until 1 am. The caveat, however, is that it only opens after 3 pm. The restaurant has a spacious, airy setting with outdoor seating, perfect for enjoying the tropical weather while indulging in delicious food.
You can order their prawn mee, cooked for hours with fresh prawns. The result is a sweet broth with juicy, succulent prawns topping yellow noodles. For those looking for a satisfying supper after night activities in Penang, go for their chicken porridge. The porridge at this eatery is delicious. It has a smooth and silky texture. Furthermore, adding soy sauce and sesame oil takes this dish to comfort food perfection.
This is one of the best kopitiam in Georgetown, Penang, if you are searching for a convenient place to eat. It's conveniently near many tourist attractions. Furthermore, just under a 10-minute drive away are tourist attractions like Cheong Fatt Tze Mansion and the Penang Peranakan Mansion. Besides, the place is open till 11 pm, so you can get dinner anytime.
Old Green House
223 Jalan Burma, George Town, Penang Island 10500 Malaysia
One Corner Cafe
Early birds looking for breakfast in Penang will appreciate One Corner Cafe. It opens at 7 am. The airy food court is a great breakfast spot. Enjoy a steaming cup of coffee, toast, and other mouth-watering delicacies. The cafe is known for its traditional Malaysian breakfast dishes, which are affordable and delicious. The casual and laid-back atmosphere makes it a great spot to start the day.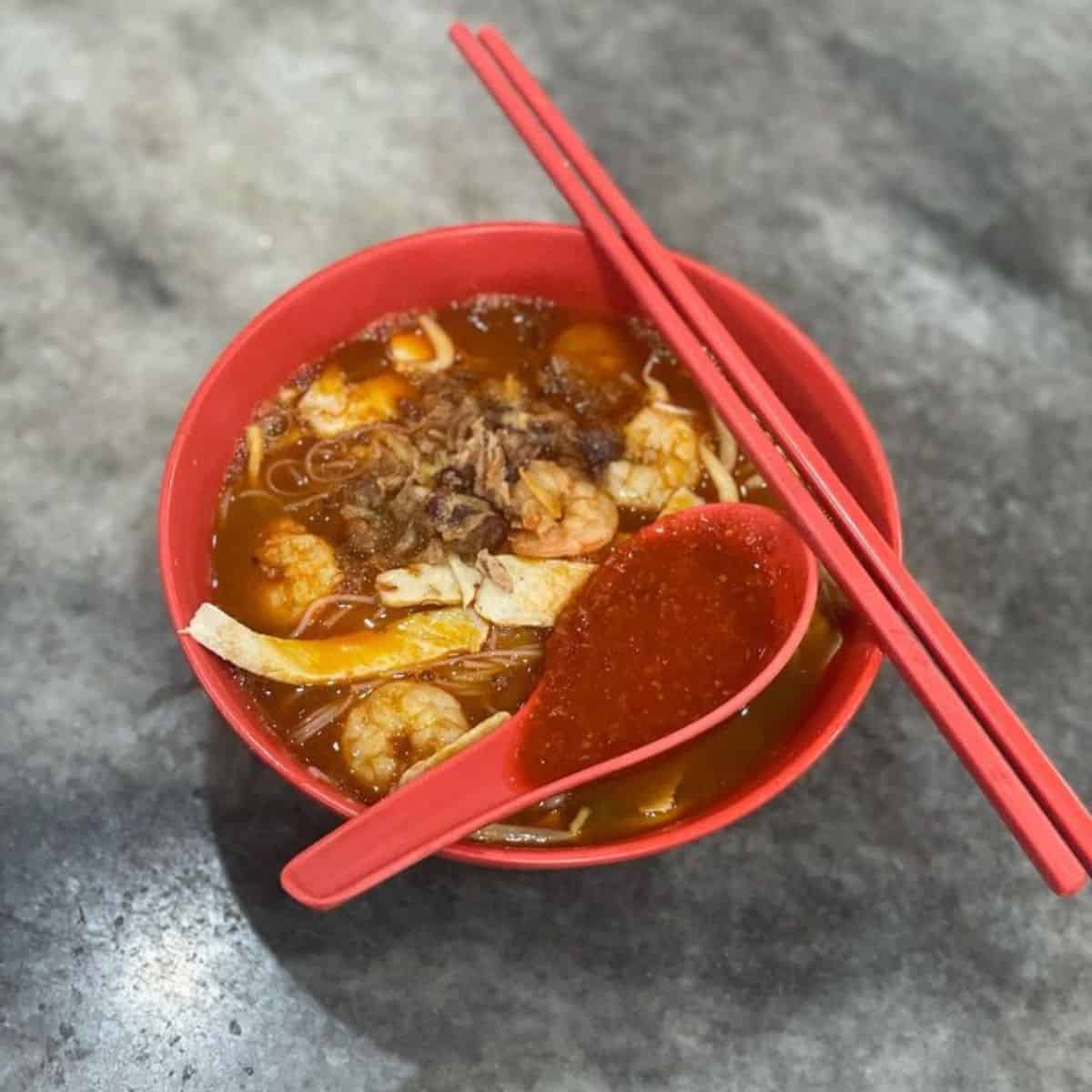 Their signature dish is their Super Hokkien Mee. The Penang version is a classic Chinese noodle dish with thick yellow noodles in a soupy broth made with prawn stock, soy sauce, garlic, and other spices. You also get a variety of toppings. The toppings include prawns, pork, squid, and vegetables. Other dishes, such as the chee cheong fan (rice rolls) and wanton noodles, are also recommended.
Our tip is to visit as early as possible and prepare to wait. It takes as long as 40 minutes for one order of Super Hokkien mee. So bring your cash and your patience along when you come to One Corner Cafe.
One Corner Cafe
12, Jalan Bawasah, George Town, 10050 George Town, Pulau Pinang, Malaysia
Our Favourites
Our favourite places to get breakfast in Penang are OO White Coffee and Dong Guan Cafe. While you can find local fare like toast with kaya at both locations, we love these places for different reasons.
OO White Coffee wowed us with their Penang white coffee. It was the best one we had on the island, and we will revisit the Carnavorn Street branch again just for their coffee. Furthermore, unlike most of the cafes on this list, all their outlets are also air-conditioned. So if you want to beat the warm weather, OO White Coffee is your top choice. 
Dong Guan is inside a heritage shophouse, making it a perfect Insta-worthy spot. We like killing two birds with one stone - tucking into an amazing breakfast in Penang while also taking photos for the gram!
If you enjoyed this, join us on our journey to visit some more of the best Penang cafes. Follow us on Instagram @tabitogether for more travel tips, tricks and recommendations.