Halal food in Georgetown, Penang is a must-go for serious foodies to get delicious and authentic halal food. Why? Because Penang is known as the Food Capital of Malaysia.
Most of Penang's famous halal food comes from rich culinary history passed down through generations. Each recipe has gone through generations of recipe modifications, creating some of Penang's best unique halal flavours of today that you won't find anywhere else.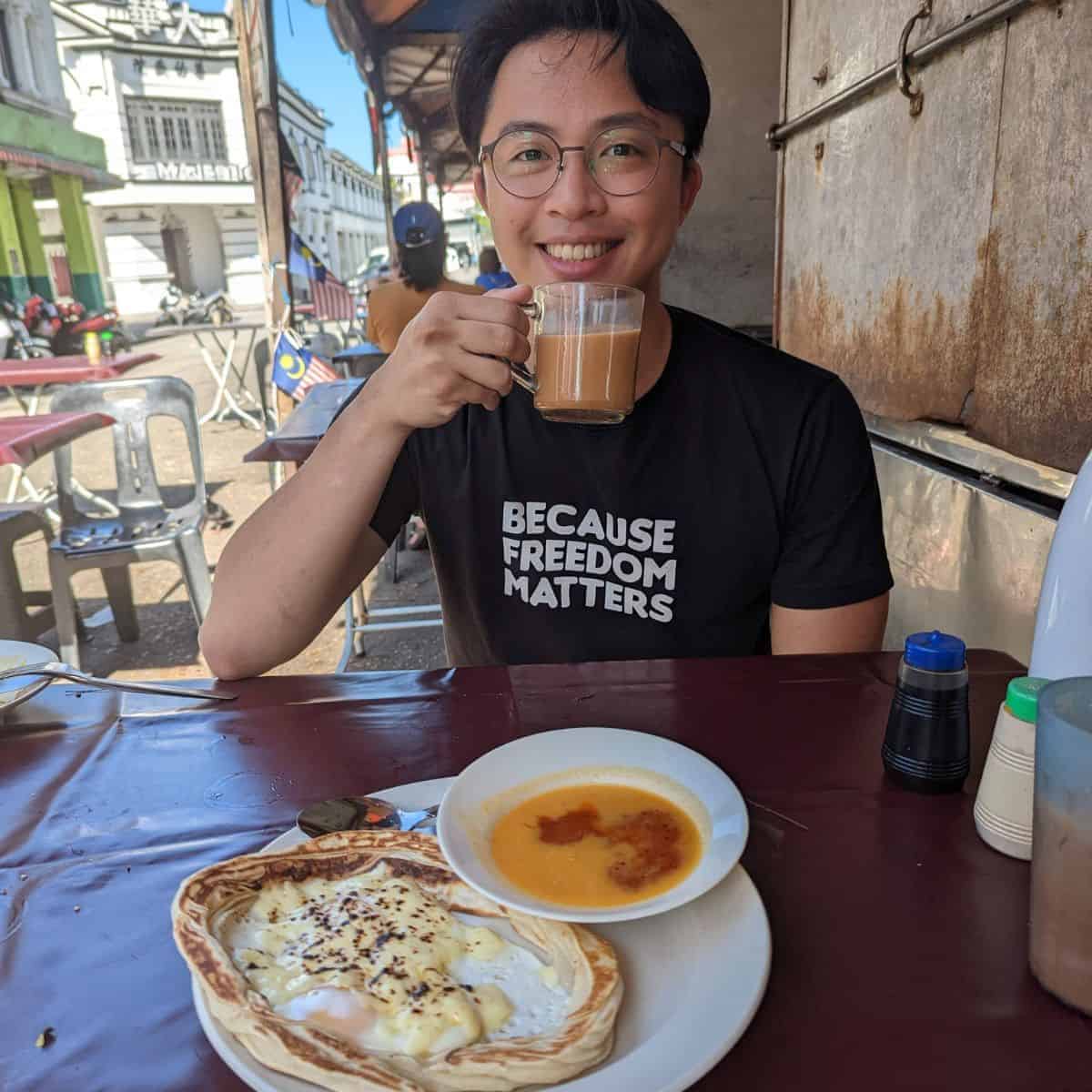 We also always enjoy food hunting in Penang because halal food in Georgetown, Penang is very accessible. This location is a food lover's paradise because of its diverse population of Malays, Chinese, and Indians.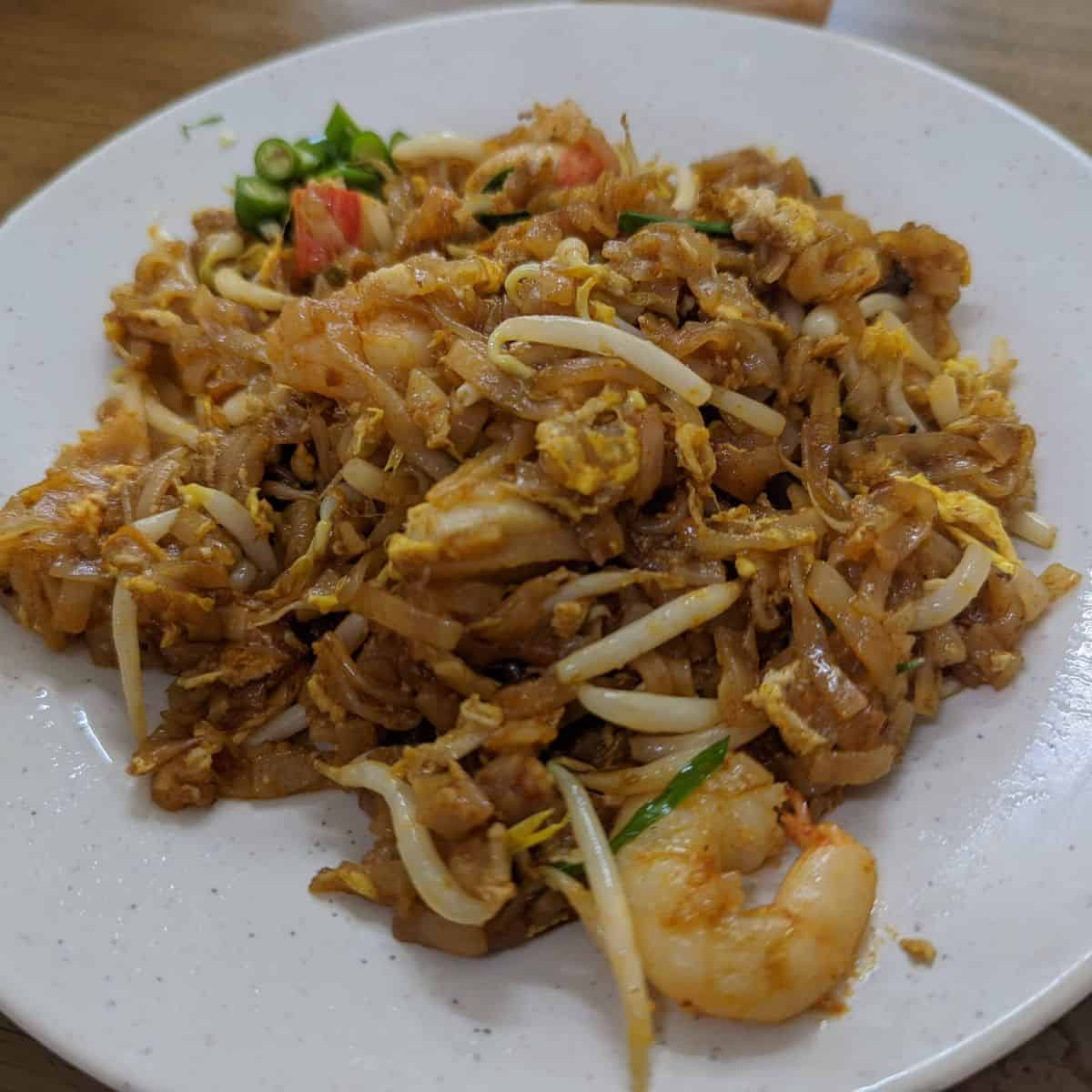 Thanks to the majority of the population being Muslims, we can easily find all the best halal food conveniently in Georgetown, Penang. So whether you're a local or a tourist, exploring the best halal food in Georgetown, Penang, is an experience not to be missed.
Jump to:
Roti Canai Transfer Road (Best for Halal Breakfast)
Roti Canai Transfer Road is a famous breakfast spot in Georgetown, best known for its roti canai. For those who have yet to visit Penang or Malaysia, roti canai is a fried flatbread dish found in several countries in Southeast Asia.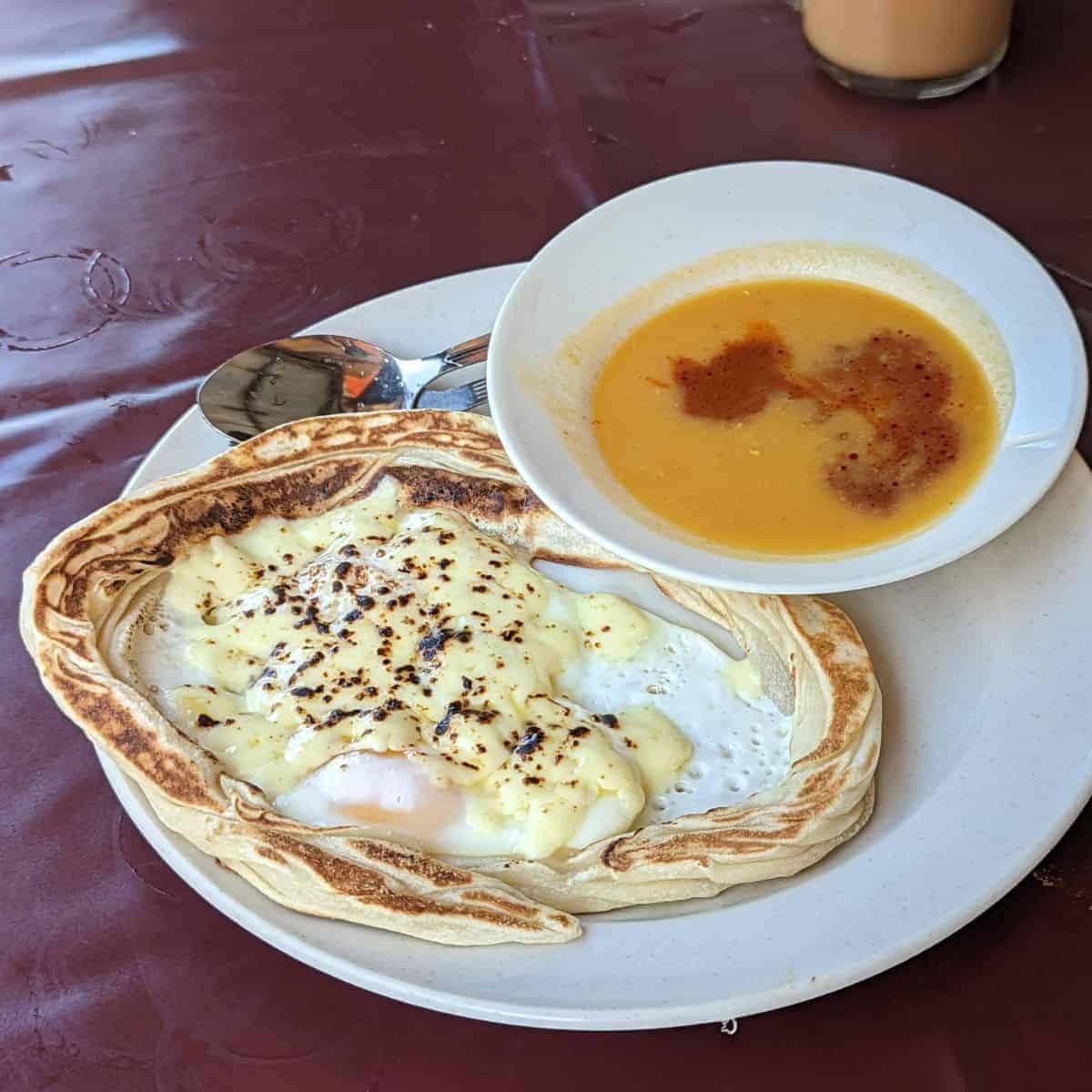 What makes the roti canai at this restaurant so unique is that the roti canai here is served with whole chicken drumsticks and beef slices. We highly recommend this halal breakfast spot in Georgetown, Penang, to anyone looking for a warm hearty meal.
In addition, the view of Transfer Road's bustling streets is one of the things you would like if you enjoy people-watching like us. For us, observing the locals go about their days helps us immerse in the culture and appreciate the simple street food.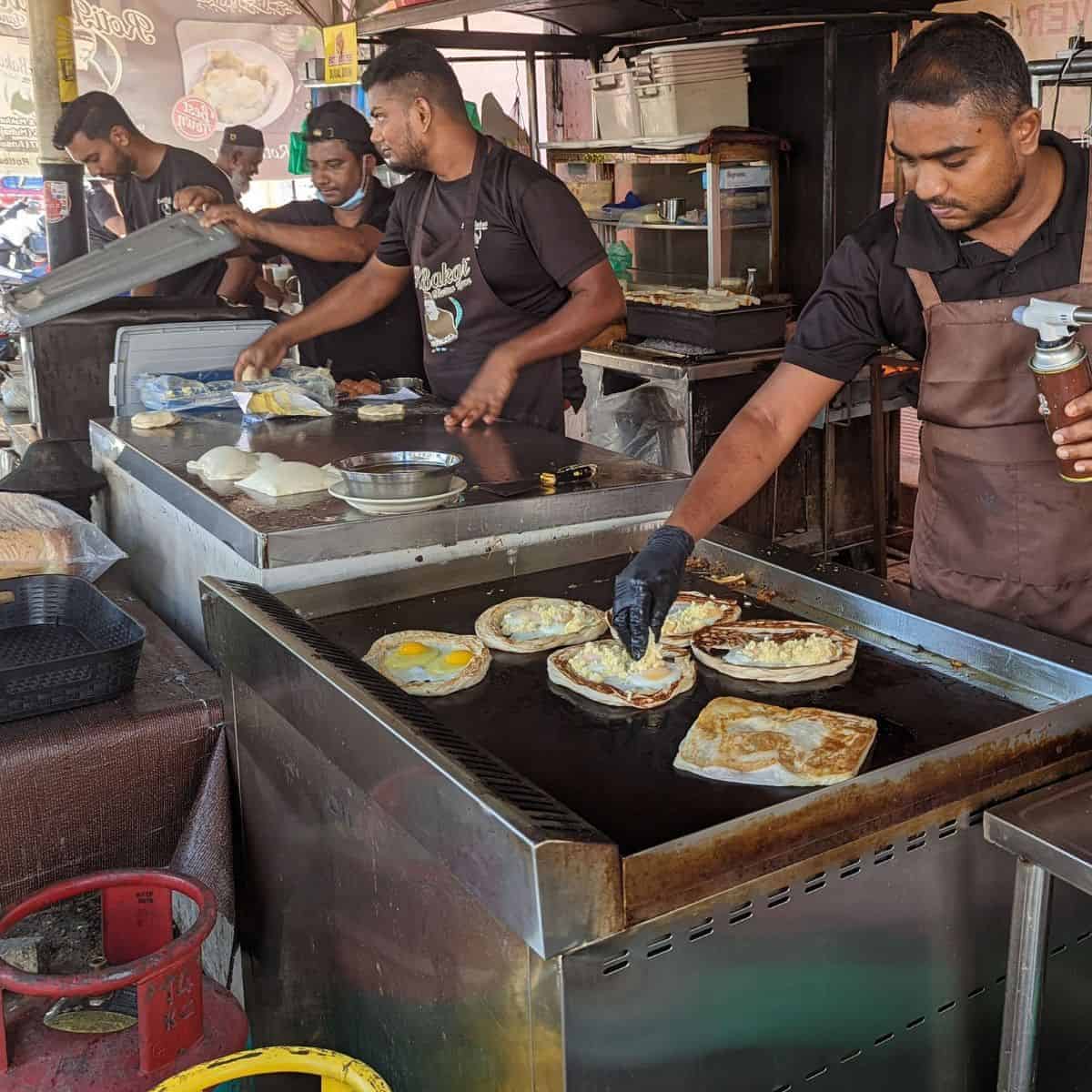 Roti Canai Transfer Road is open daily from 7 am to 12 pm (7.30 am on Sundays). However, as mentioned, the streets are busy on Jalan Transfer. So you should head over earlier to secure a parking spot if you are driving.
Roti Canai Transfer Road
114, 110, Jalan Transfer, George Town, 10050 George Town, Pulau Pinang
Bee Hwa Cafe
Bee Hwa Cafe in Georgetown, Penang, is popular among the local Muslim community for serving a halal variety of breakfast. They have Char Kuey Teow, Hokkien mee, and many other options, making it popular for street food lovers. So, this Penang kopitiam is great for those who want to try all the island's most well-known dishes in one place.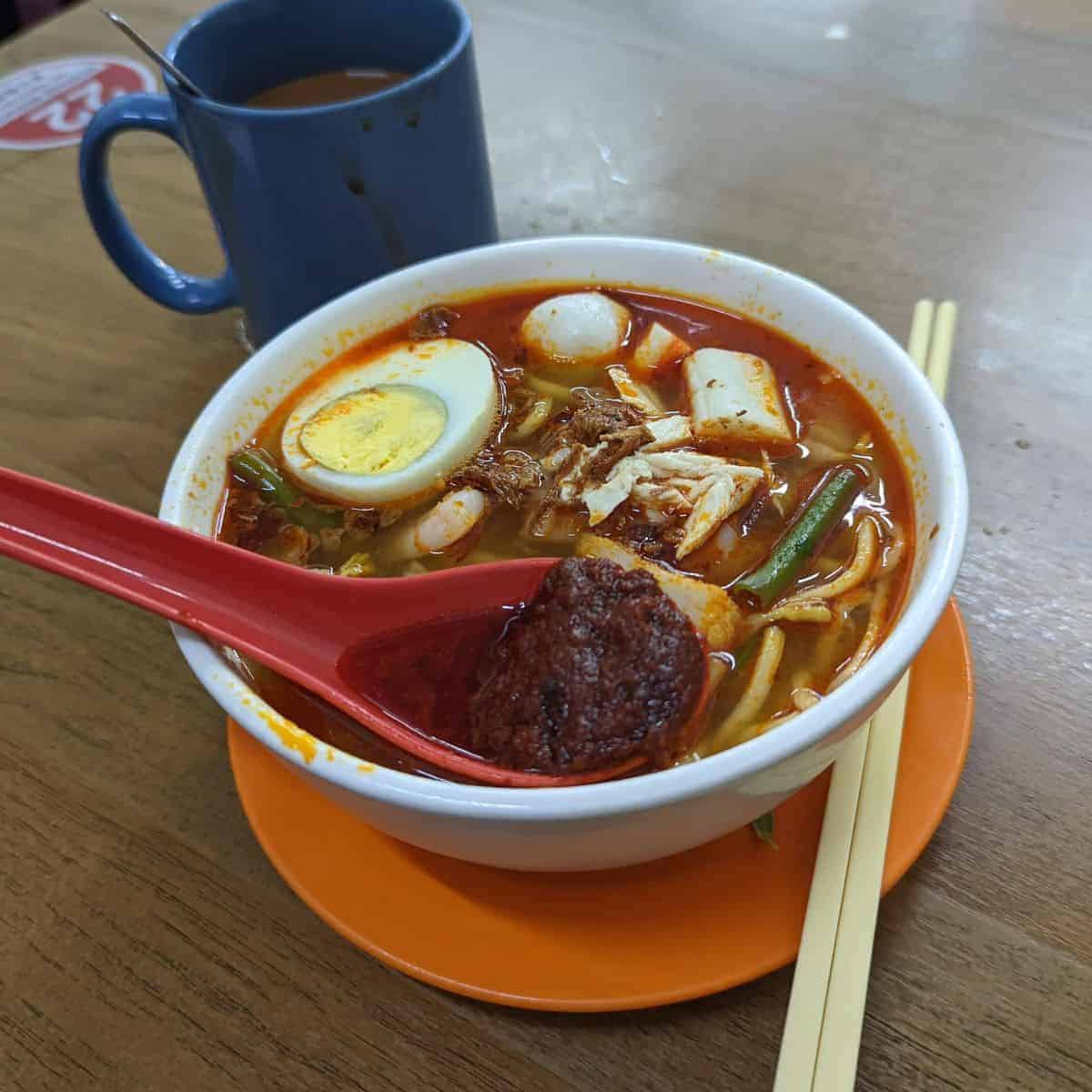 Moreover, if you're a coffee enthusiast, try their rich and fragrant coffee at Bee Hwa. It is a must-try for those who have yet to experience Malaysia's iconic Kopitiam-style brew.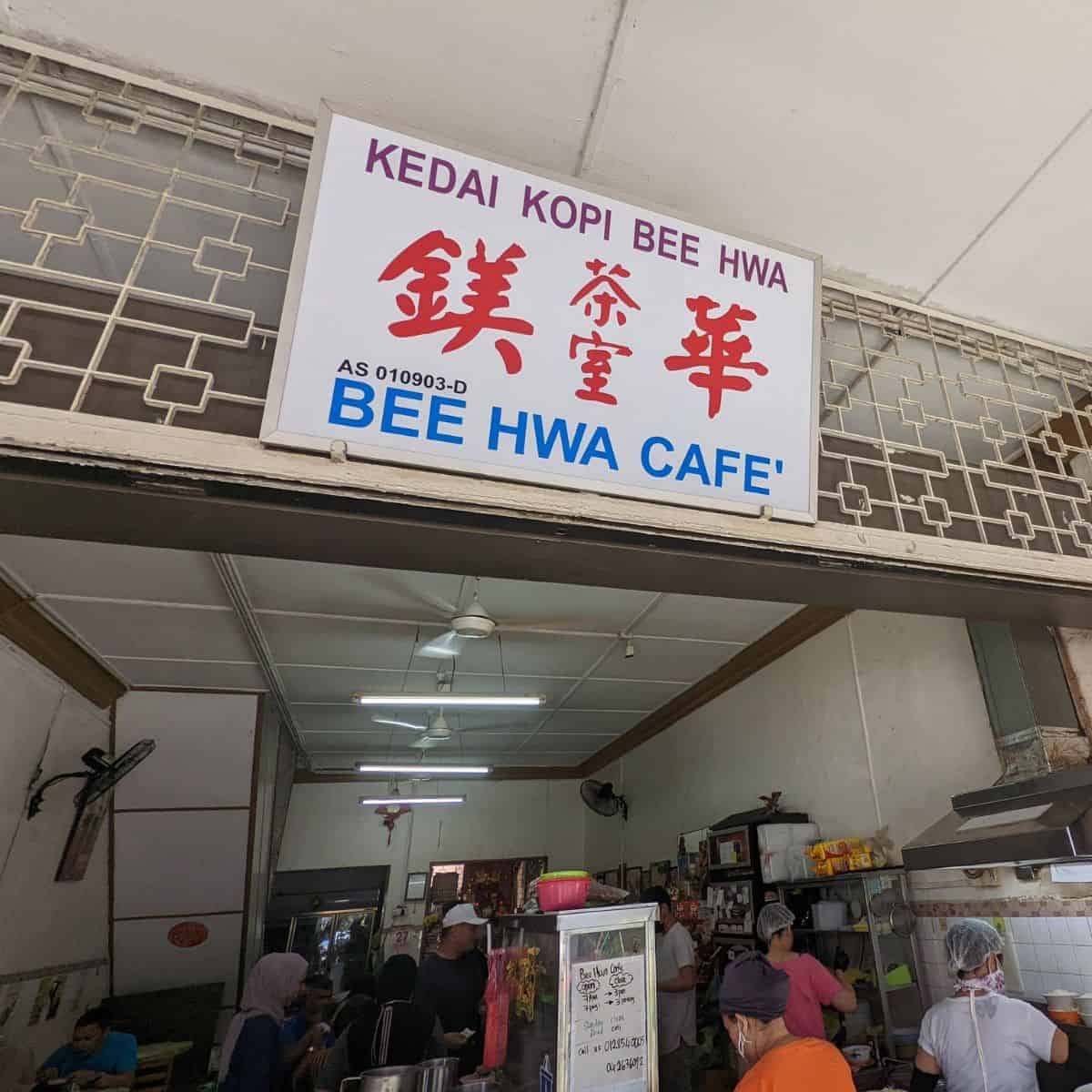 Bee Hwa Cafe is open every day except Sundays, from 7 am to 3 pm. So don't miss out on this delectable halal breakfast spot in Georgetown, Penang!
Bee Hwa Cafe
10, Lebuh Dickens, George Town, 10050 George Town, Pulau Pinang
Rastuff (Great Halal Western Food)
Rastuff serves up Western halal food in Georgetown, Penang. It also comes with a side of good music and greater vibes. This famous halal eatery serves big portions of Western dishes, and we love how good value it is. Some of the dishes they have are burgers, lamb chop, and chicken chop.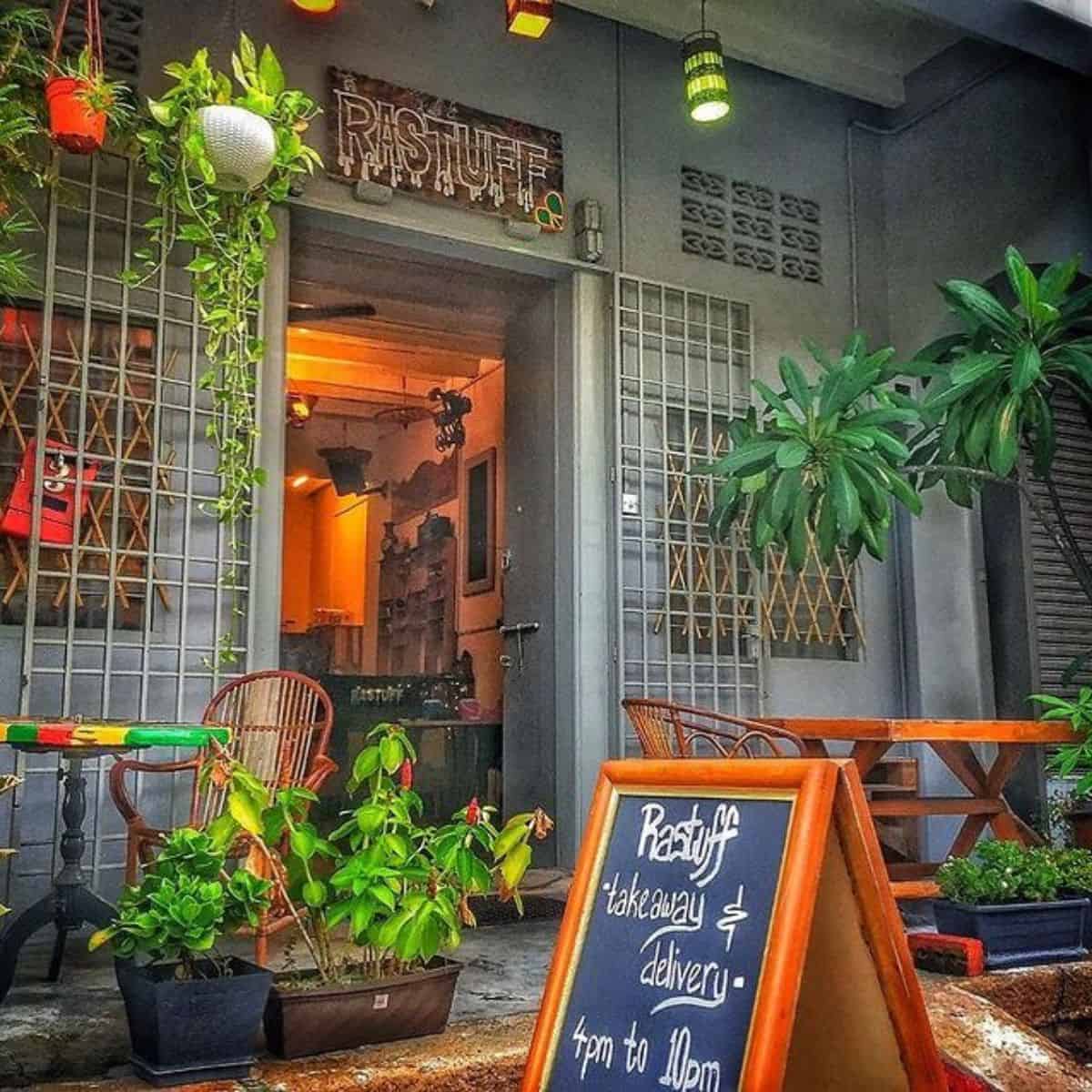 Additionally, customers love the reggae-themed ambience and remixed music at this halal restaurant in Georgetown. Perfect for a chill night out with good company and good food. Speaking of good food, the Lamb Grill is one of their crowd's favourite dishes at Rastuff.
This halal dinner place is open daily from 4 pm to 12 am, making it a good choice for late lunches, dinners, and suppers.
Rastuff
3, Lebuh Melayu, George Town, 10300 George Town, Pulau Pinang
Facebook Page
Lagenda House & Cafe
Lagenda House & Cafe is a famous fusion halal restaurant in Georgetown. This halal eatery is unique because of its theme and interior design. In addition, the interior pays tribute to the late P. Ramlee, is a legendary and iconic Malaysian actor. Fans of P. Ramlee can definitely appreciate the appreciation of his art.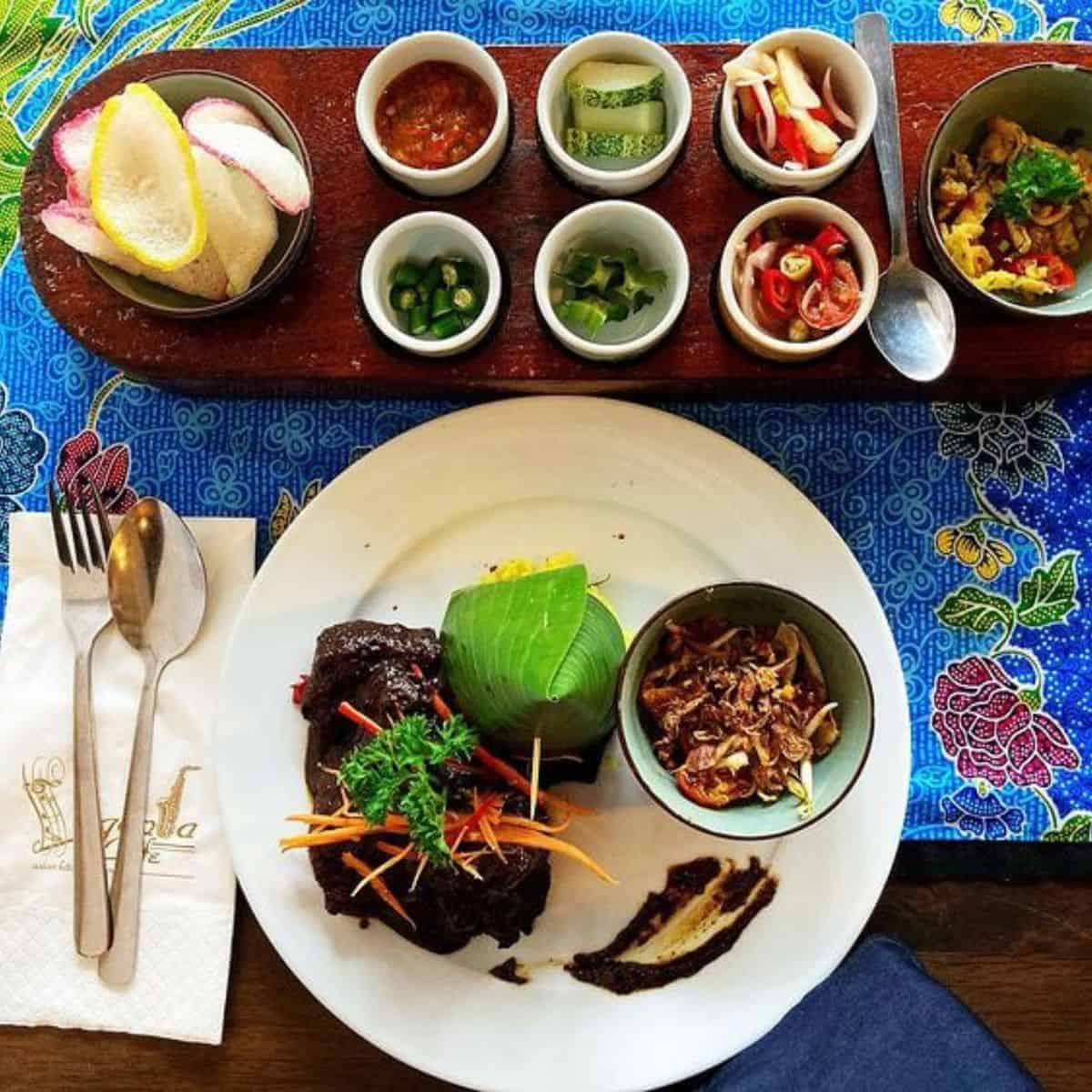 This restaurant serves famous halal food that suits all palates. For example, they have options from local Malaysian favourites like nasi lemak and chicken rendang. They also serve unique fusion creations like fried mozzarella dip in sambal belacan. This place makes a great alternative if you don't have the time to check out some of the other Penang nasi lemak places.
Lagenda House & Cafe operates from 12 pm to 10 pm from Mondays to Thursdays and until 11 pm on Fridays to Sundays. They are usually crowded, so calling or booking before going is advisable.
Cafe Lagenda
2, Lebuh Carnarvon, George Town, 10100 George Town, Pulau Pinang
Deens Maju Nasi Kandar (Cheap Halal Eats)
Our personal all-time favourite nasi kandar restaurant is Deens Maju Nasi Kandar. If you are looking for the best halal food in Georgetown, Penang, then this is definitely one of the top choices. This halal eatery is famous for its yummy savoury selection of dishes. Customers can also mix the different sauces to create a unique flavour.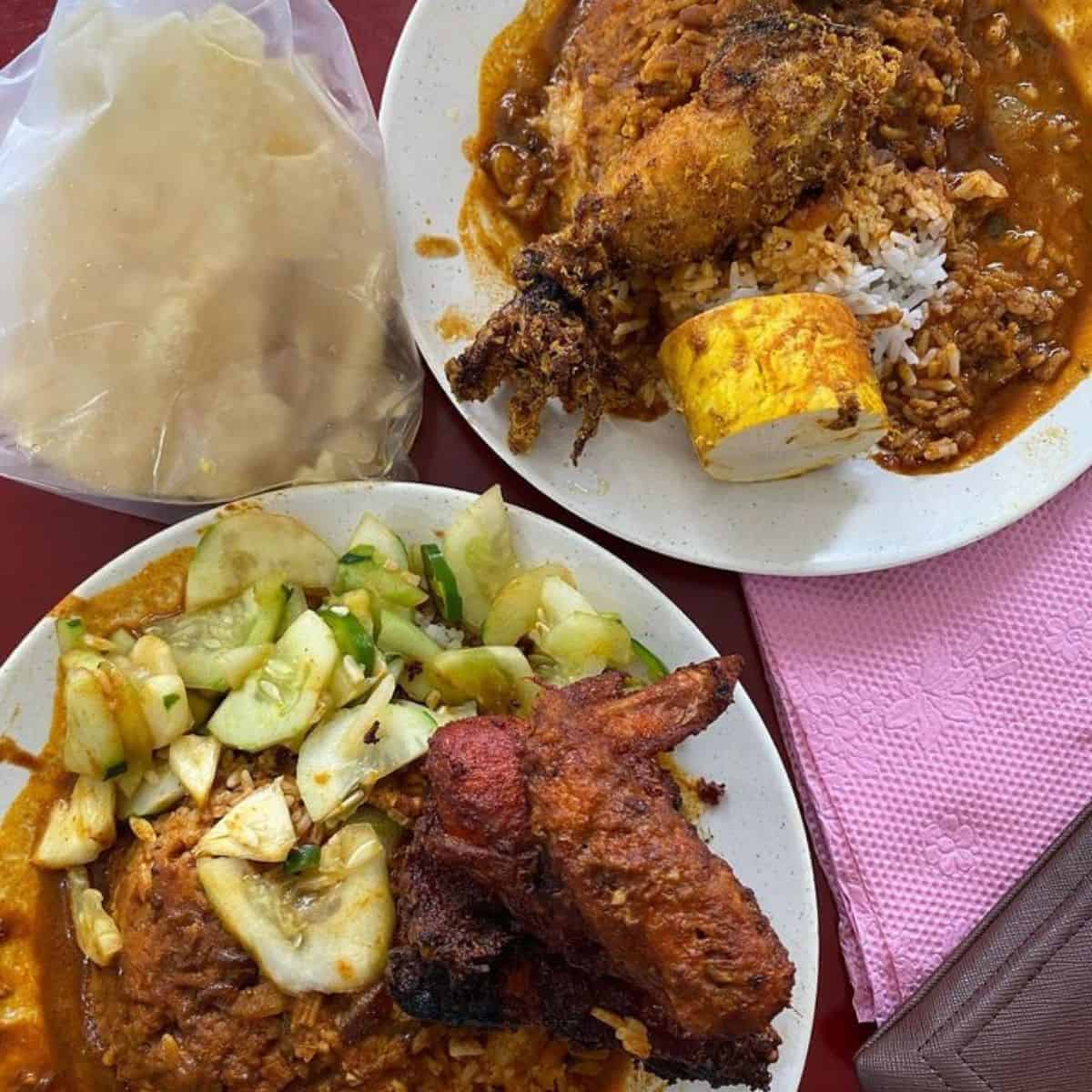 The price at this halal restaurant in Georgetown varies depending on the dishes chosen. The price ranges from affordable vegetarian options to higher prices for premium dishes like seafood.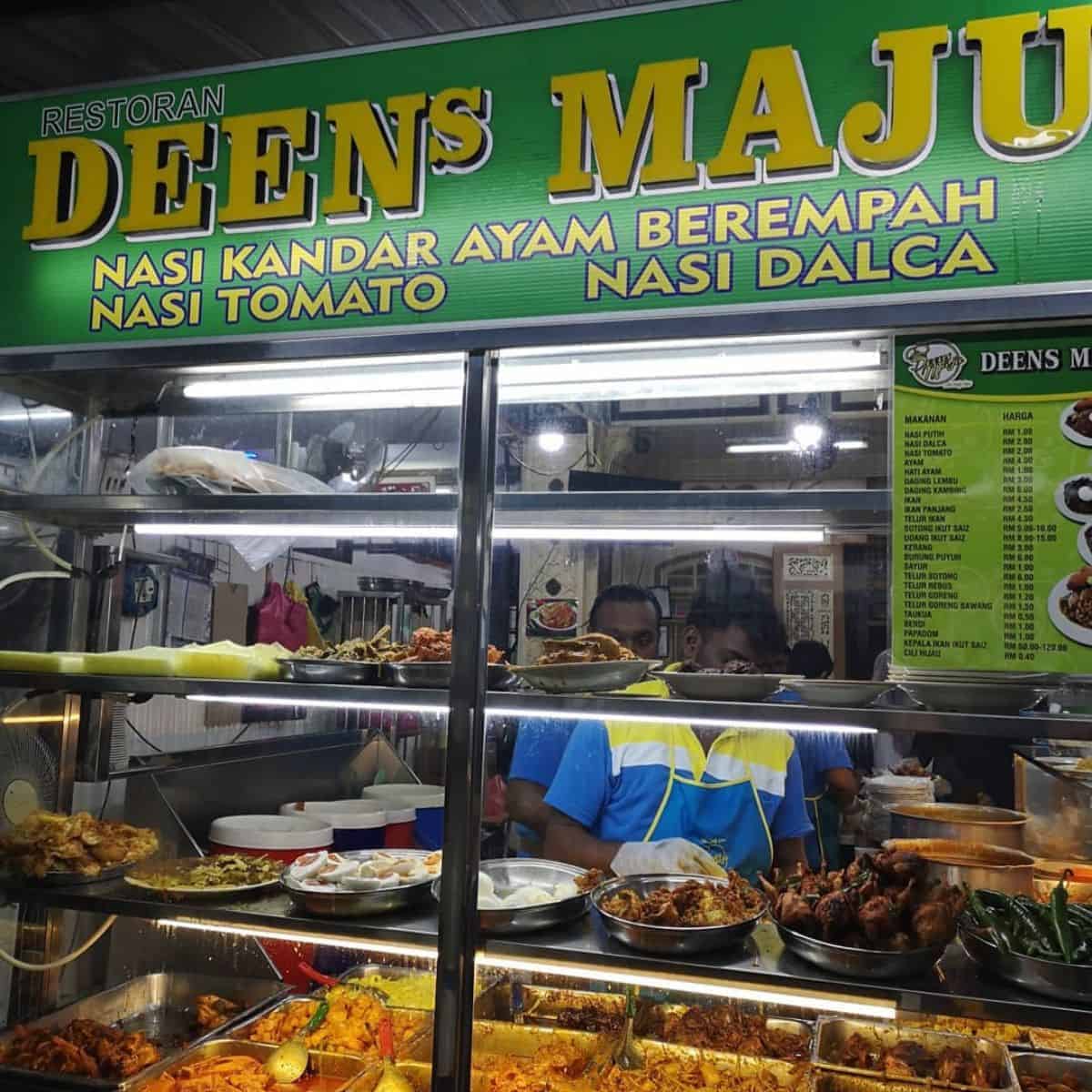 The restaurant offers a casual and welcoming setting. But, limited parking and dining seats may be available. Deen's Maju is open daily from 12 pm to 9.30 pm, except for Fridays. So, if you are craving Penang nasi kandar, Deen's Maju is a well-loved eatery worth trying.
Deen Maju
170, Jalan Gurdwara, 10300 George Town, Pulau Pinang
Hameediyah Restaurant
Hameediyah serves an exciting variety of nasi kandar. We ordered a serving of both signature dishes and were pleasantly surprised by how well the murtabak and nasi kandar paired together.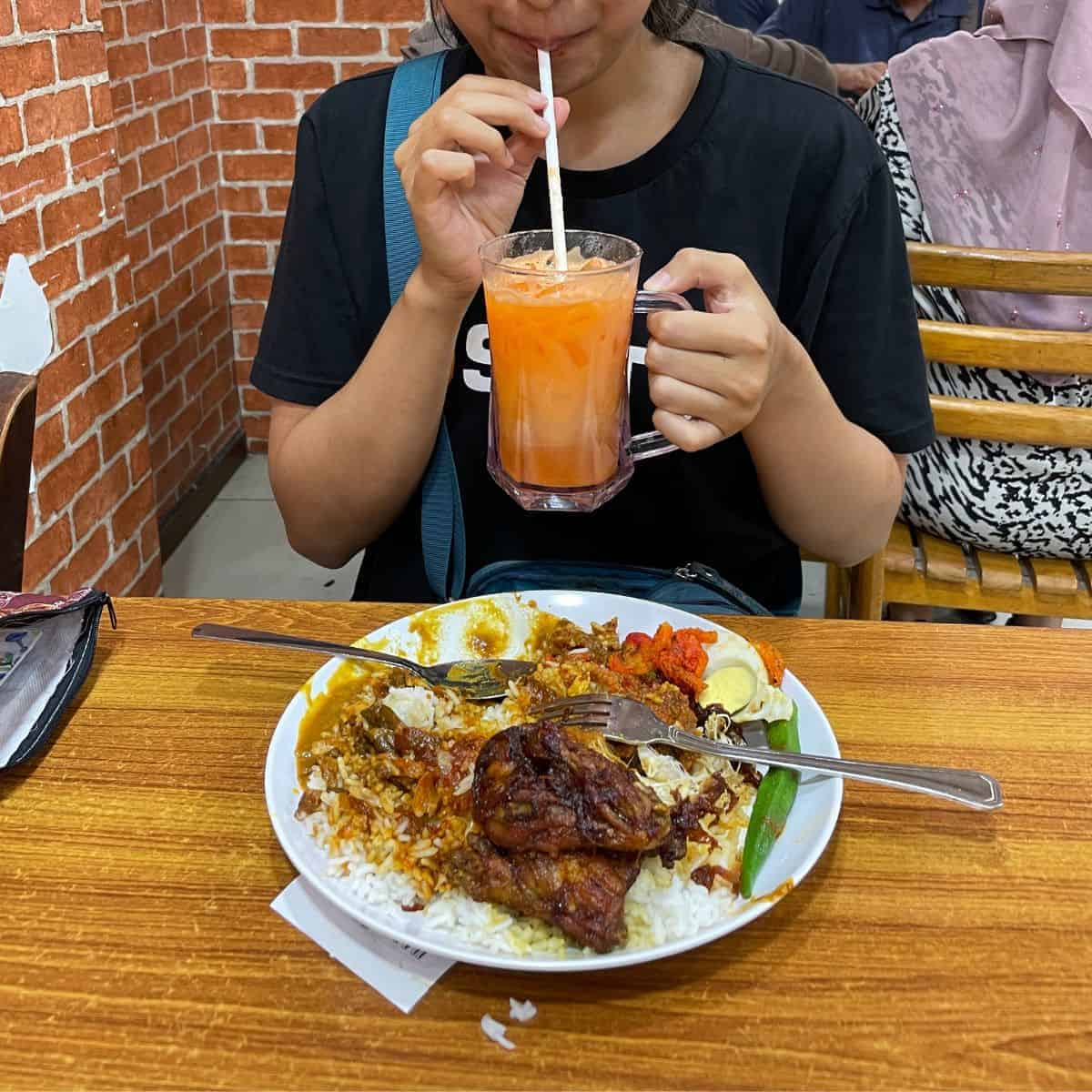 Hameediyah Restaurant also serves great murtabak. It is a thin, flaky pancake filled with minced meat made famous in Malaysia. You can share this dish as a snack with friends or have it as a meal. The murtabak is unique here because of its delicious and generous filling.
Fun fact! This restaurant is one of the oldest Malay restaurants in Penang. This makes the interior design of this place even more meaningful. The nostalgic decor and the presentation of the food complement the ambience.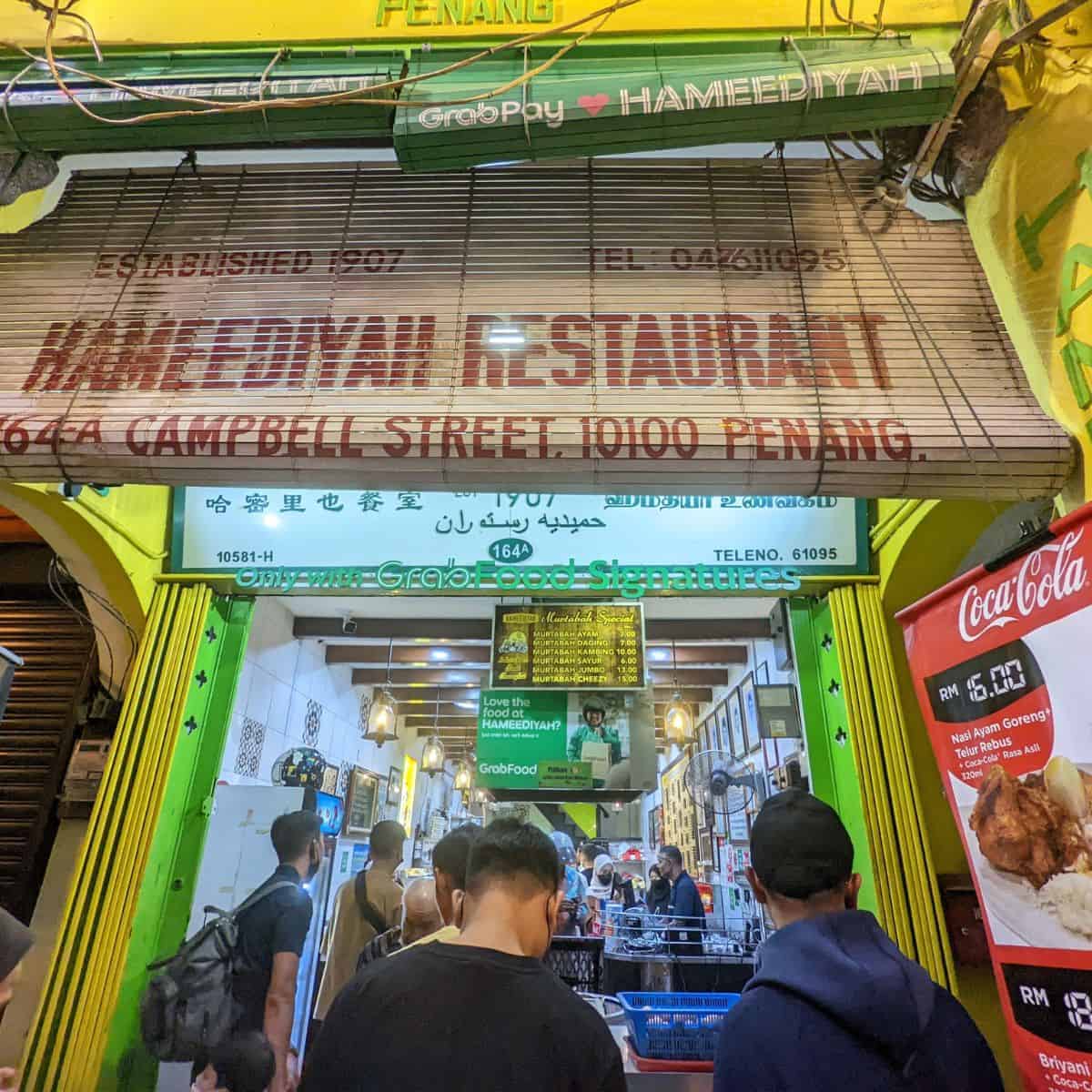 The restaurant operates daily from 10 am to 10 pm. But it's important to note that traffic congestion near this halal restaurant in Georgetown frequently happens during weekends. So arriving early to secure a parking spot is advisable if you plan to drive.
Hameediyah Restaurant
164 A, Lebuh Campbell, street, 10100 George Town, Pulau Pinang
Epicure (Halal Fine Dining)
Epicure is a halal contemporary fine dining restaurant in Georgetown, Penang. This restaurant is suitable for those looking for an elevated dining experience. At Epicure, they also cook using the World's Best Charcoal Oven.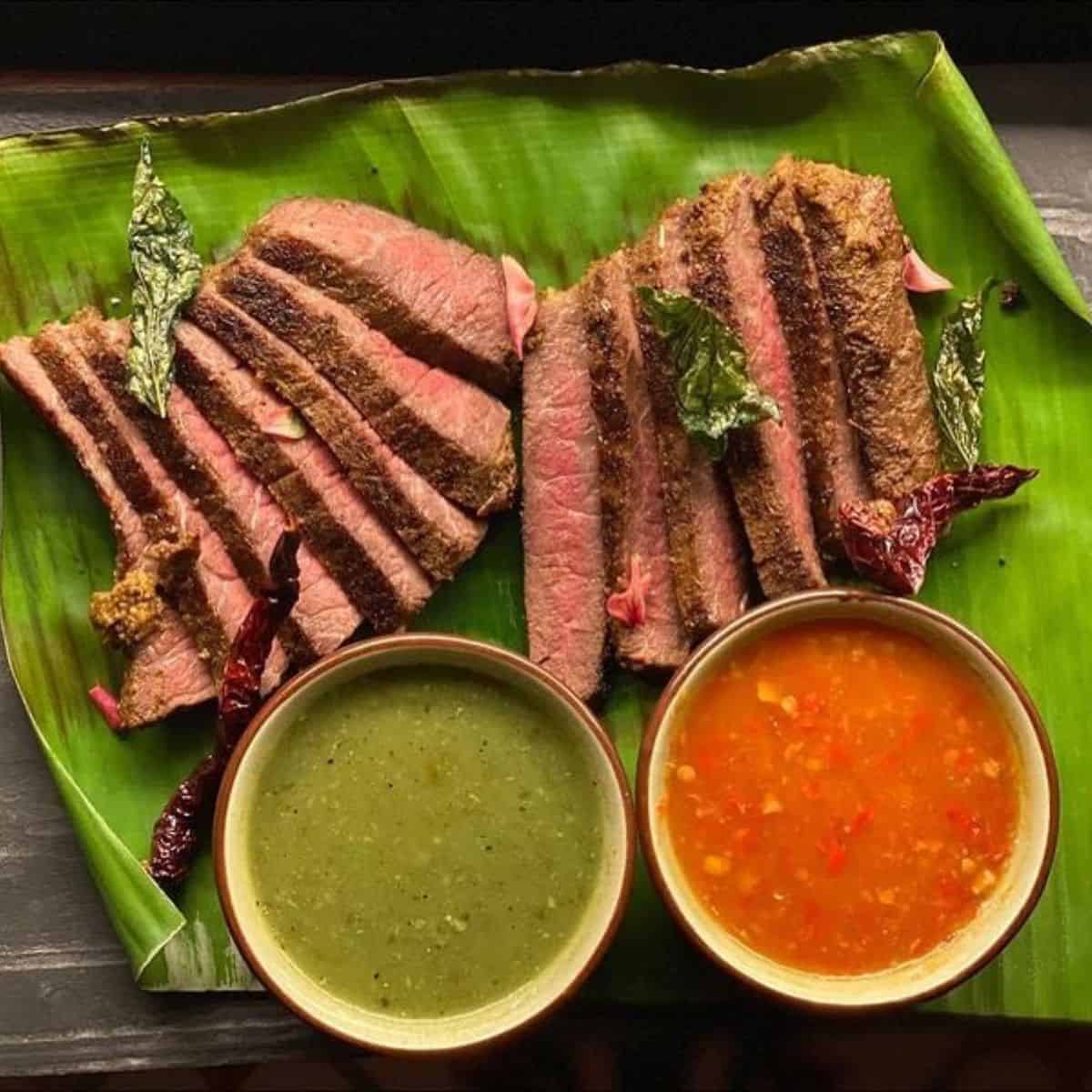 Moreover, the ambience at this restaurant is very cosy and inviting. In this halal eatery, customers can expect many options to choose from. They offer local favourites like cucuk udang and international flavours such as grilled sea bass. You can dine in with a pre-set course meal or order ala-carte dishes.
Open from 12 pm to 11 pm daily. Epicure is a must-go if you crave halal Western food in Georgetown, Penang, or looking to celebrate a special occasion during your stay.
Epicure
9, Jalan Kek Chuan, 10450 George Town, Pulau Pinang
Facebook Page
Aroma Eatery
Aroma Eatery is a halal restaurant in Georgetown famous for Malaysian and Middle Eastern food. We immediately understood why the locals loved this place when we arrived. The cosy ambience and tasteful interior decorations make you feel right at home.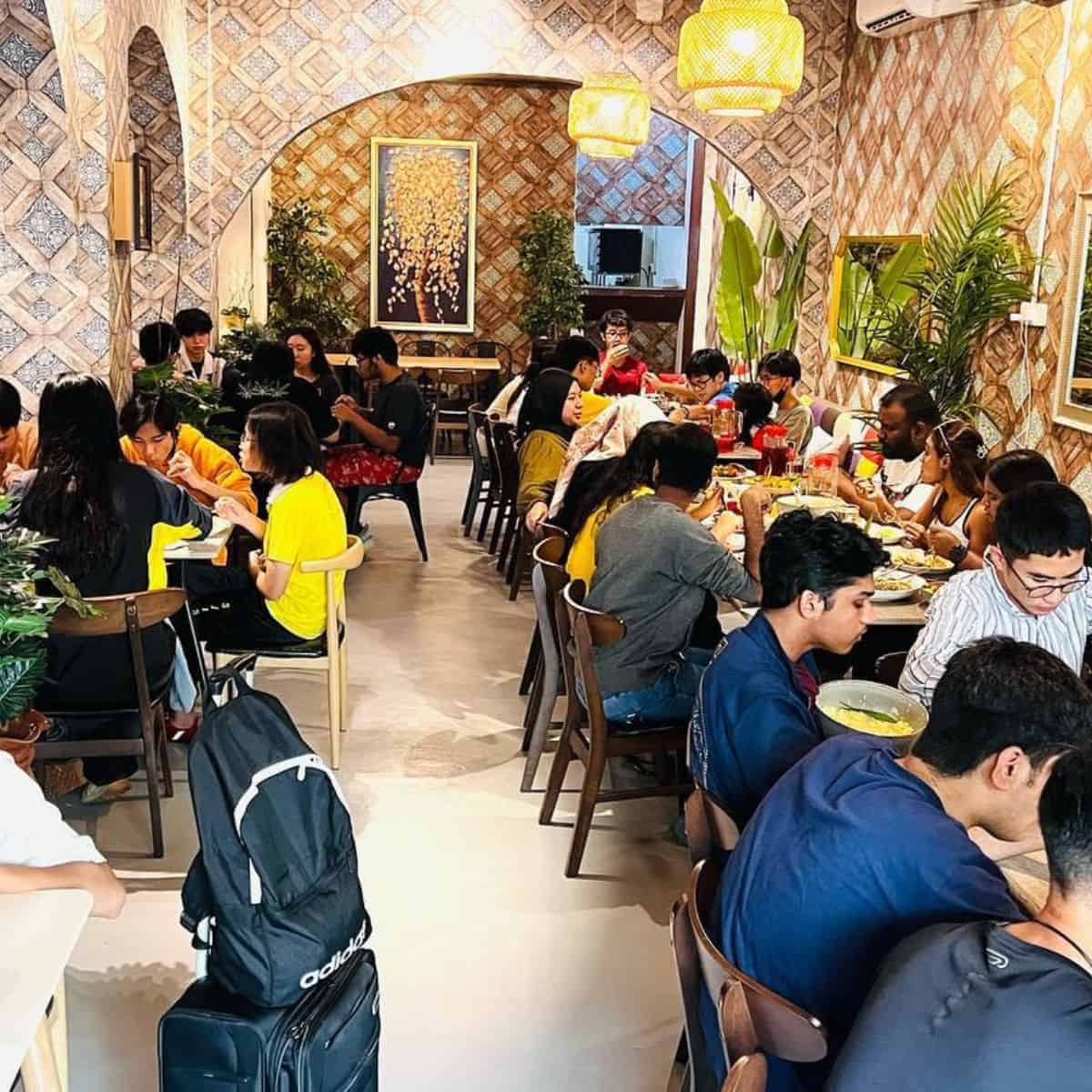 Their friendly staff are attentive, and they help recommend dishes if you need help. This is a problem that both of us always face! They also carefully consider any dietary restrictions you may have before recommending.
One dish you have to try here is their Beef Steak. It's highly raved about by a lot of their loyal customers. We love their Crispy Prawn fritters and Beef Pumpkin Lasagna. The food was delightful. So, do give this place a try if you want to experience good halal Western food in Georgetown, Penang. 
They are open daily from 3 pm to 11 pm. Its strategic location allows tourists to explore many historical spots, such as the Pinang Peranakan Mansion, Clan Jetties of Penang, Fort Cornwallis, and many more. You may also take this opportunity to walk past several of Penang's famous street art on your walk to the historical spots and take memorable pictures for keepsakes.
Aroma Eatery
28, 30, Jalan Pintal Tali, George Town, 10100 George Town, Pulau Pinang
Facebook Page
Holy Crab Penang (Best for Seafood)
Holy Crab Penang is a famous pork and alcohol-free seafood restaurant in Georgetown. It offers a wide variety of seafood dishes and is also a popular choice amongst Muslim customers.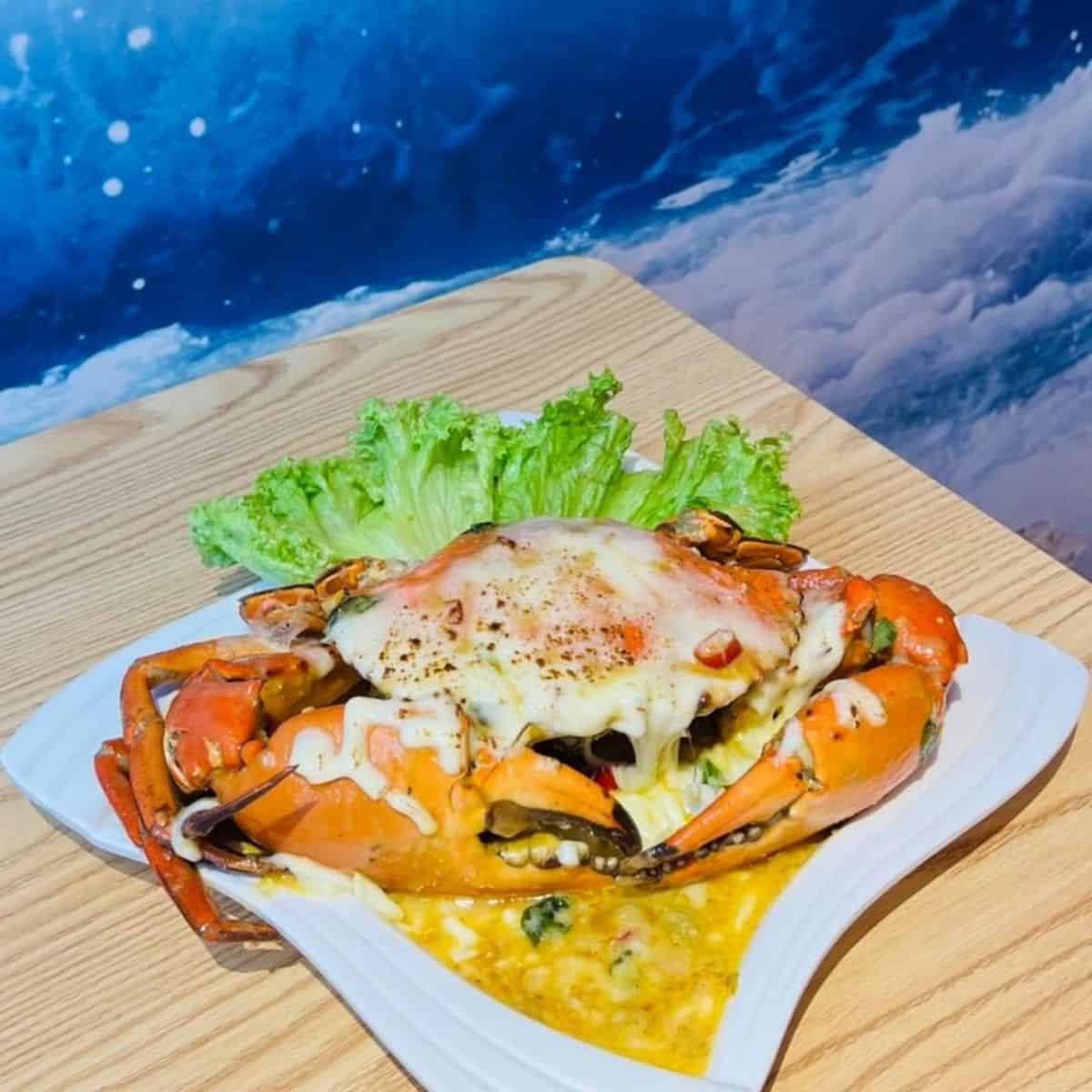 As you can tell from their name, this halal seafood restaurant specialises in crabs. But they also serve other types of seafood like prawns, clams, and fish. They cook all their dishes in various sauces, such as salted egg, chilli, and black pepper.
We ordered a selection of their dishes, and our choices were satisfying. Their seafood is fresh and also pairs well with the recommended sauces. For example, one of our highlights was the crab cooked in salted egg sauce. You can taste the ocean based on the freshness of the crab roe. 
The ambience at Holy Crab is comfortable. It is not too crowded with customers squeezing from table to table. So, this place would suit those looking for a halal dinner in Georgetown with friends and family.
They operate daily from 11 am to 2.30 pm and 5.30 pm to 9 pm. This halal seafood restaurant is excellent for anyone looking for delicious halal seafood.
Holy Crab Penang
52, Lebuh Tye Sin, 10300 George Town, Pulau Pinang
Oriental Seafood
Oriental Seafood Penang is a hidden gem for some of the freshest halal seafood in Georgetown. This restaurant offers a more Chinese-style cuisine compared to our previous recommendation.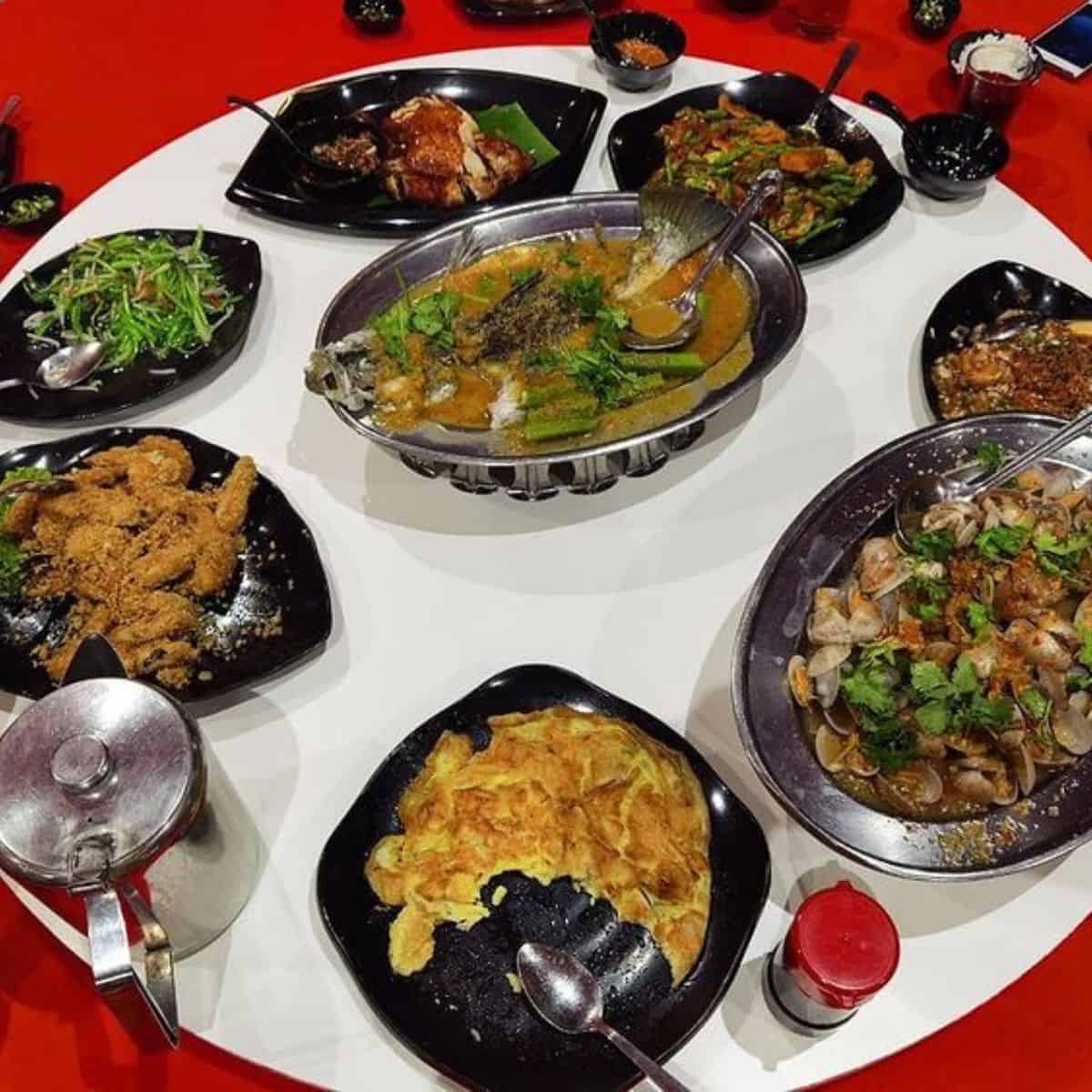 Located near Gurney Drive, customers can enjoy a breathtaking ocean view at this halal seafood restaurant. It is also complete with stunning sunsets and gentle breezes. In addition, the aquariums on display are placed to ensure customers fresh seafood every day.
With its generous portion size, we recommend diners order and share among a big group of friends. We also find the price point of this restaurant very reasonable for fresh seafood. For example, some highlights were the mantis prawn, steamed crabs, and fried rice with crab meat.
Oriental Seafood is open daily from 11.30 am to 2.30 pm and 6 pm to 11 pm. We enjoyed coming here. This halal seafood restaurant gave us a different, more relaxed experience of Penang compared to the usual hustle and bustle from the heart of Georgetown. 
Oriental Seafood
Bulatan Gurney, George Town, 10250 Jelutong, Pulau Pinang
Food Dynasty
Food Dynasty Penang is one of the best halal restaurants in Georgetown, serving their well-known fusion of Chinese and Malay flavours. We're so glad to have found this place by accident because finding a halal dim sum in Penang is not easy.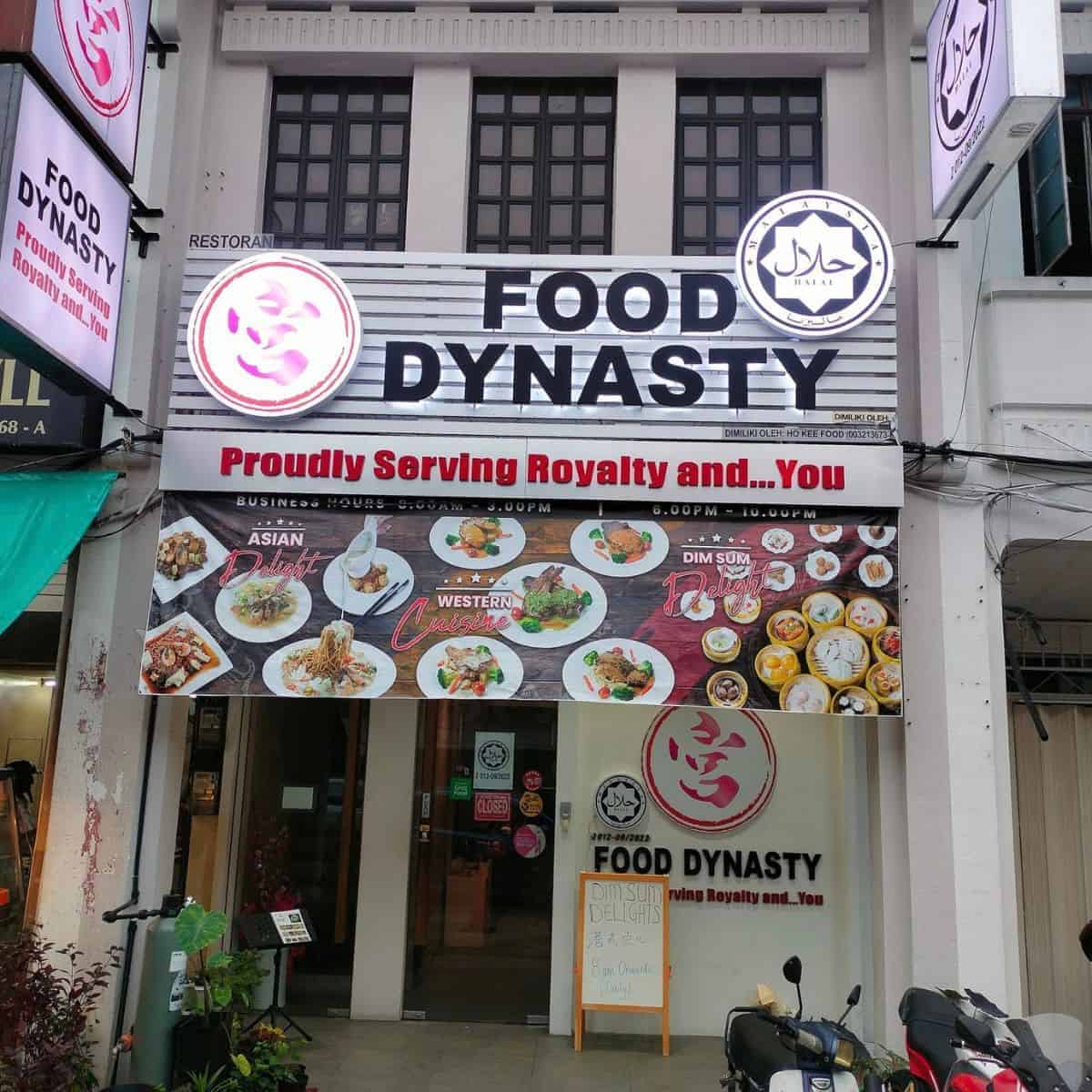 The staff introduced us to some of their signature dishes. They cook many of their dishes in Hong Kong style, which reminds us of the food we enjoyed in Hong Kong. They say that the founder of the Food Dynasty also cooked for the royal family. Whether that's true or not, the food here was top-tier.
Apart from the dim sum, one dish worth highlighting is the steamed rice rolls. Steamed rice rolls are also otherwise known as chee cheong fun. It is well steamed and has a soft texture, paired well with the sauce provided. 
They are open daily from 8 am to 3 pm and also from 6 pm to 10 pm. This place is a convenient choice for halal food lovers. We are definitely adding this hidden gem to our go-to spot the next time we return to Georgetown.
Food Dynasty
25, Jalan Argyll, George Town, 10050 George Town, Pulau Pinang
Facebook page
Our Personal Favourites
Of all the recommendations, we think the best spots for halal food in Georgetown, Penang are Deens Maju Nasi Kandar and Rastuff. These halal eateries bring a unique dining experience at a great price point. We also recommend checking this famous halal food out for an unforgettable fun-filled adventure!
We fell in love with Deens Maju Nasi Kandar the moment we walked in. It felt like a friend invited us to their home because the dishes tasted very home-cooked. The friendly staff greeted us when we stepped in and introduced us to their signature dishes. The food wasn't too spicy or salty and was well-seasoned to our liking.
The price of their meals is also very affordable if you pick the basic dishes. But the premium options are also priced reasonably. Deens Maju Nasi Kandar is one of Georgetown's best halal dinner restaurants. So we recommend this eatery to anyone looking for the whole Penang experience.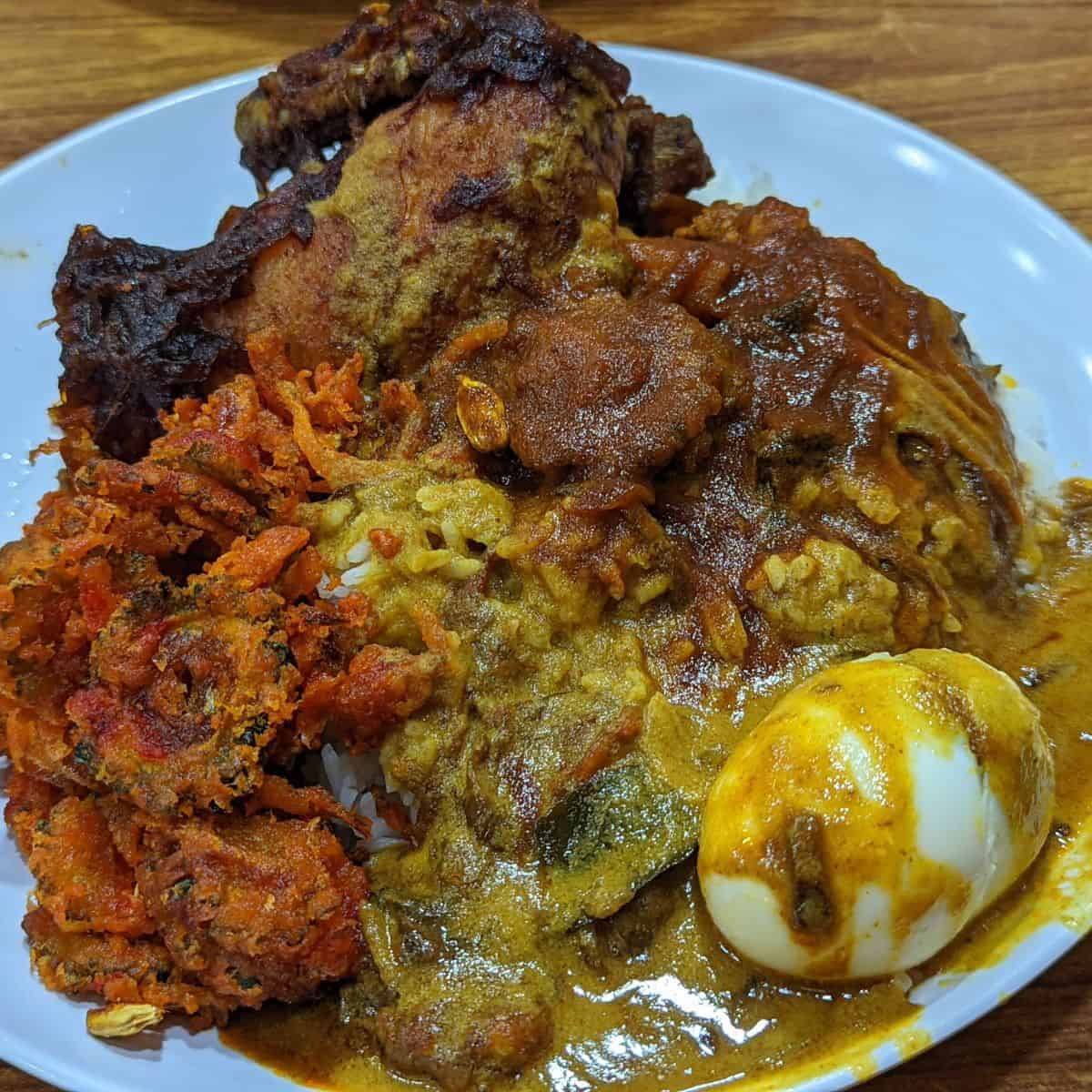 Rastuff is our next favourite because we had a unique dining experience there. The vibe at Rastuff screams young, fun, and chill all at the same time. Also, this restaurant left a lasting impression on us because of its music choices. Experimental music fans would definitely enjoy this cosy spot.
The food served at Rastuff is large and cooked with so much love. We enjoyed the lamb grill, burgers, and pasta the most. This is the place for anyone looking for a chill environment with good food.
Top Halal Food in Georgetown
We recommend all food lovers explore the best halal food in Georgetown, Penang, as its an excellent halal-friendly destination offering a rich cultural experience.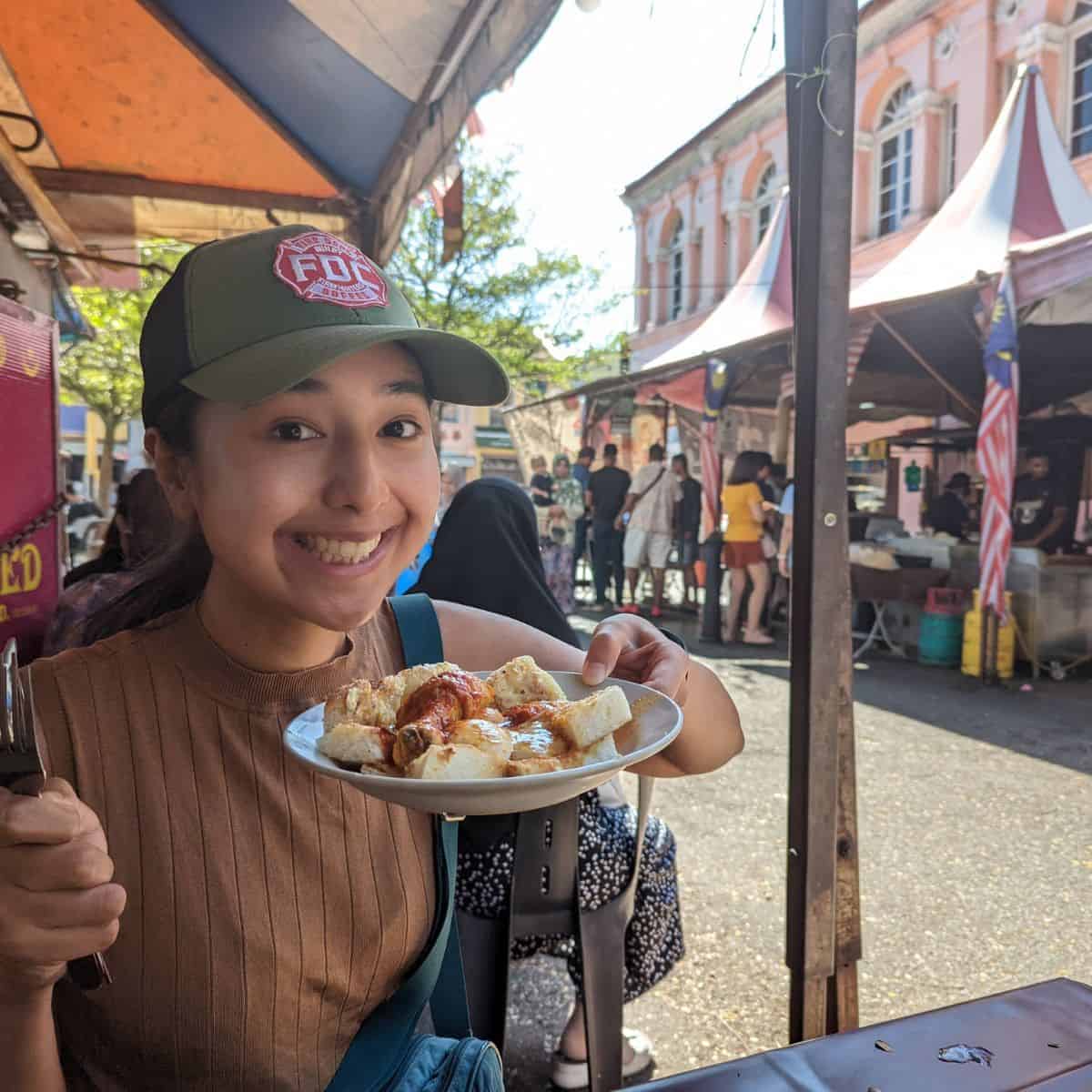 However, there are many other places that we have been to, and we can't wait to share them real soon. Are you planning a trip to Penang? Then, check out our other post on what to do in Penang to help you. 
Kindly share this article with a friend and follow us on Instagram @tabitogether for more adventurous content like this.