Penang seafood is a must-try for any fish lover who visits the island. Imagine eating fresh seafood cooked in spicy marinade, chargrilled to perfection in a banana leaf wrap, while enjoying the sea breeze. Penang is famous for its street food, but it also boasts some of the best seafood in Malaysia, as the island is blessed with abundant marine resources.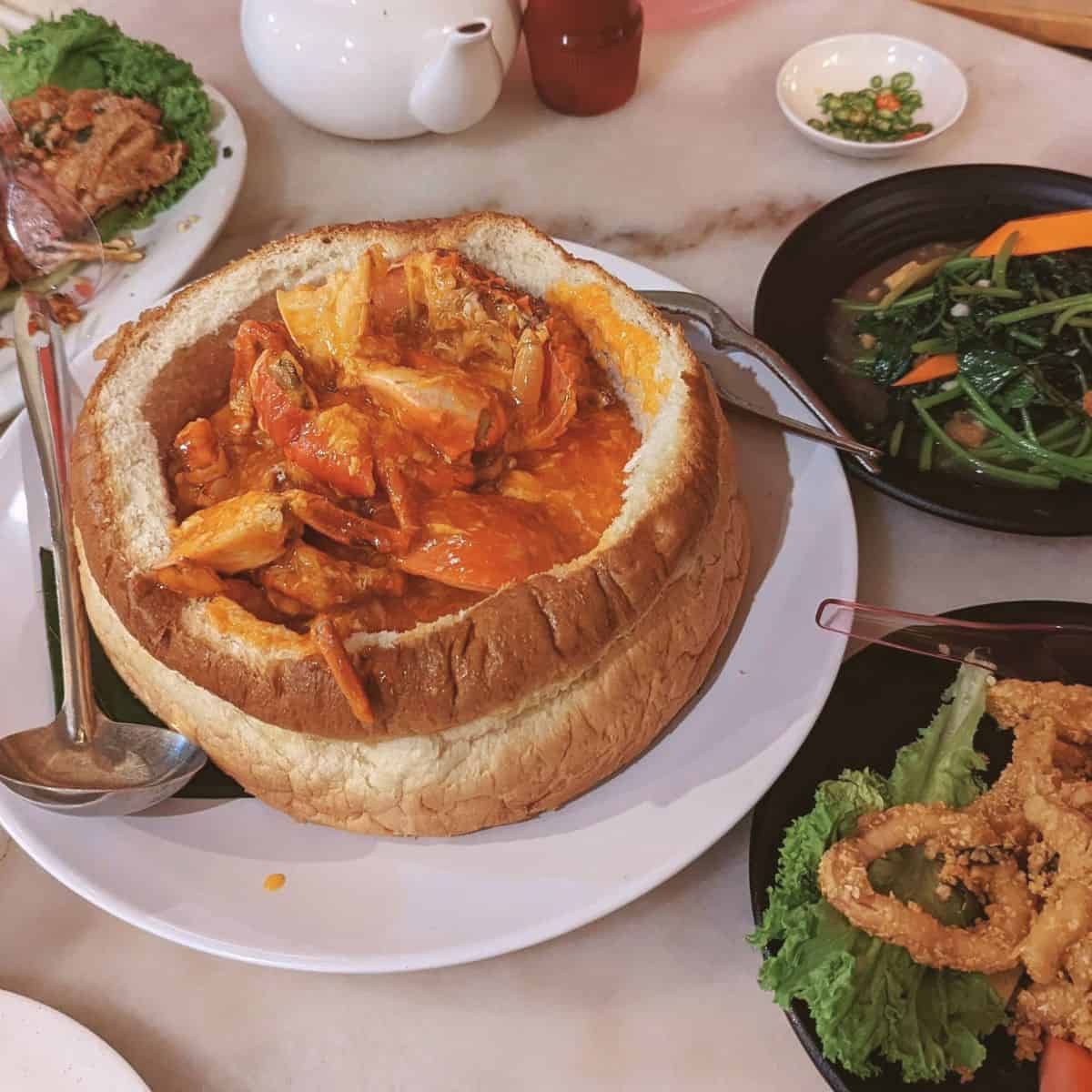 So, whether you're looking for fancy seafood restaurants in Penang, a cheap stall by the roadside, or a buffet with various choices, you will not be disappointed by the quality and quantity of Penang seafood.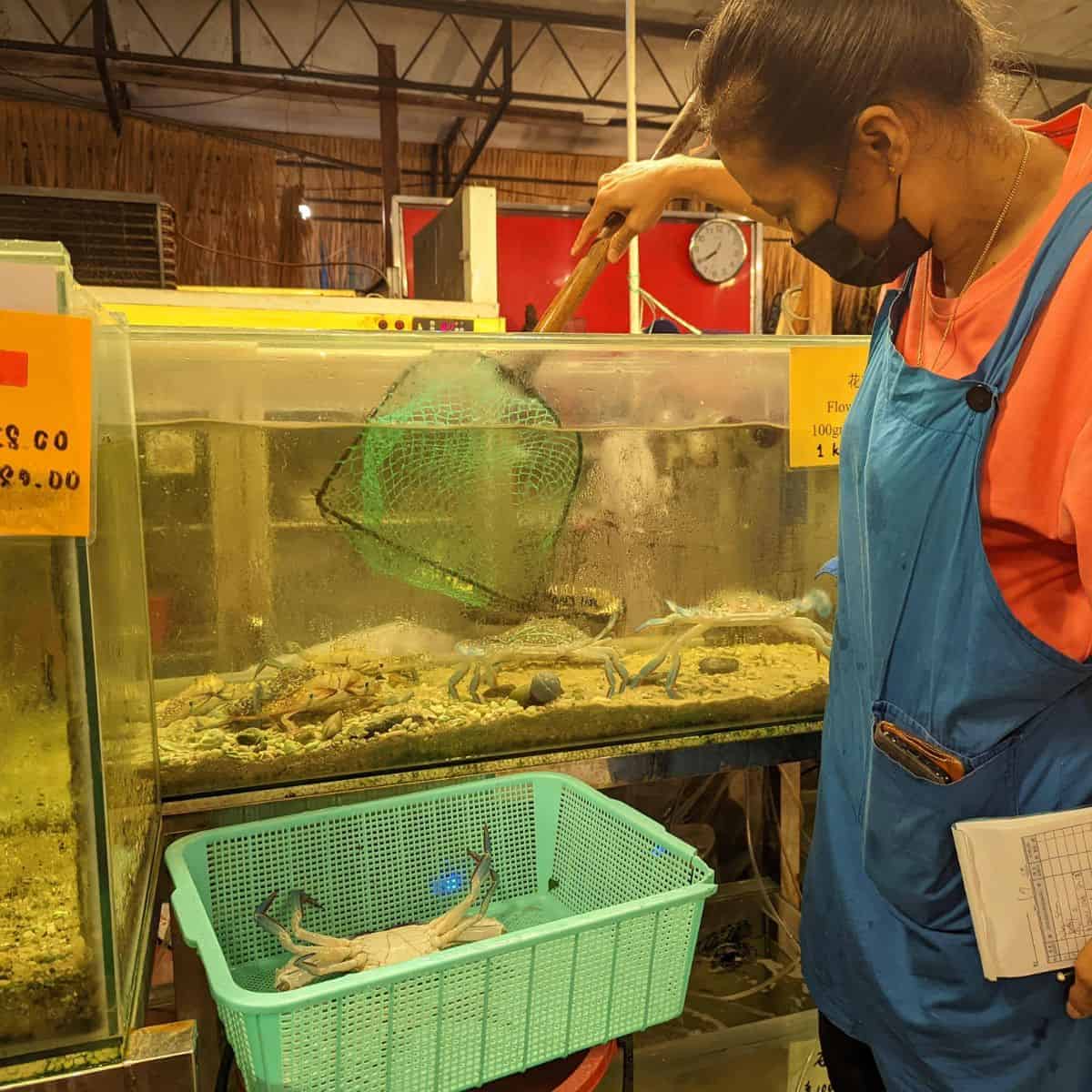 But with so many choices available, you might feel confused about where to get the best seafood in Penang. That's where we come in. We spent over a month on the island on our most recent trip and tried out almost all the spots we mentioned here. We did decide to feature 2 spots we didn't try but have heard rave reviews from our close friends.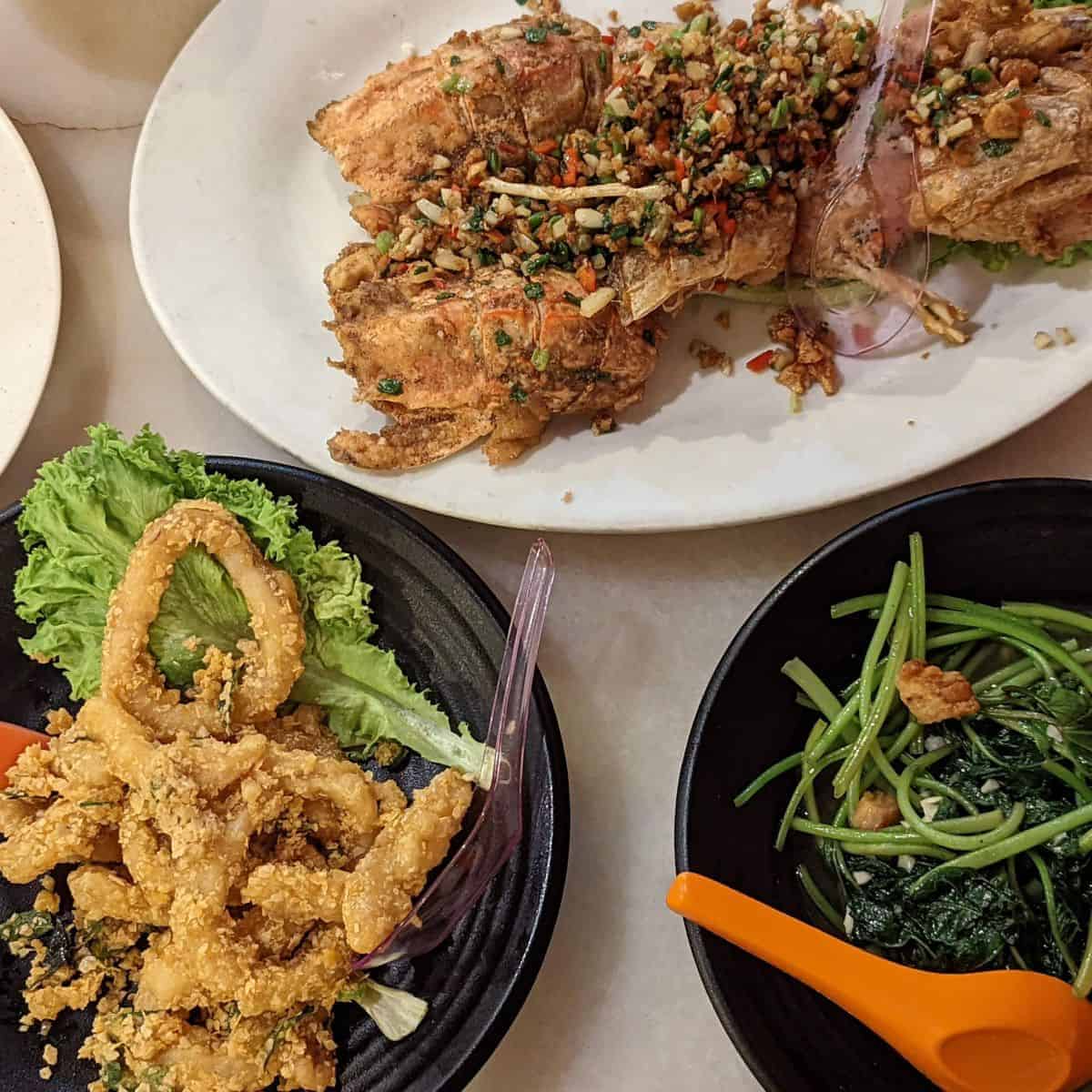 Our comprehensive list of the best places that serve mouth-watering fresh catches is the answer to all your cravings. These places have everything from crabs to prawns, fish to squid, and clams to oysters. So, grab your fork and spoon, or better yet, your hands, and get ready to feast on some of the best seafood in Penang.
Jump to:
Hai Boey Seafood
For fresh seafood in Penang, Bayan Lepas, many people go to Hai Boey restaurant. Located at the end of Gertak Sanggul Beach in Teluk Kumbar, this place also offers a stunning view of the sand and sea.
What sets their food apart is the skillful blend of traditional flavours and ingredients. Their food is infused with captivating culinary twists that enhance its taste. Their expertise lies in preparing the day's fresh catch using diverse cooking styles such as steaming, grilling, frying, or currying. So, you're in for a delightful and varied culinary experience.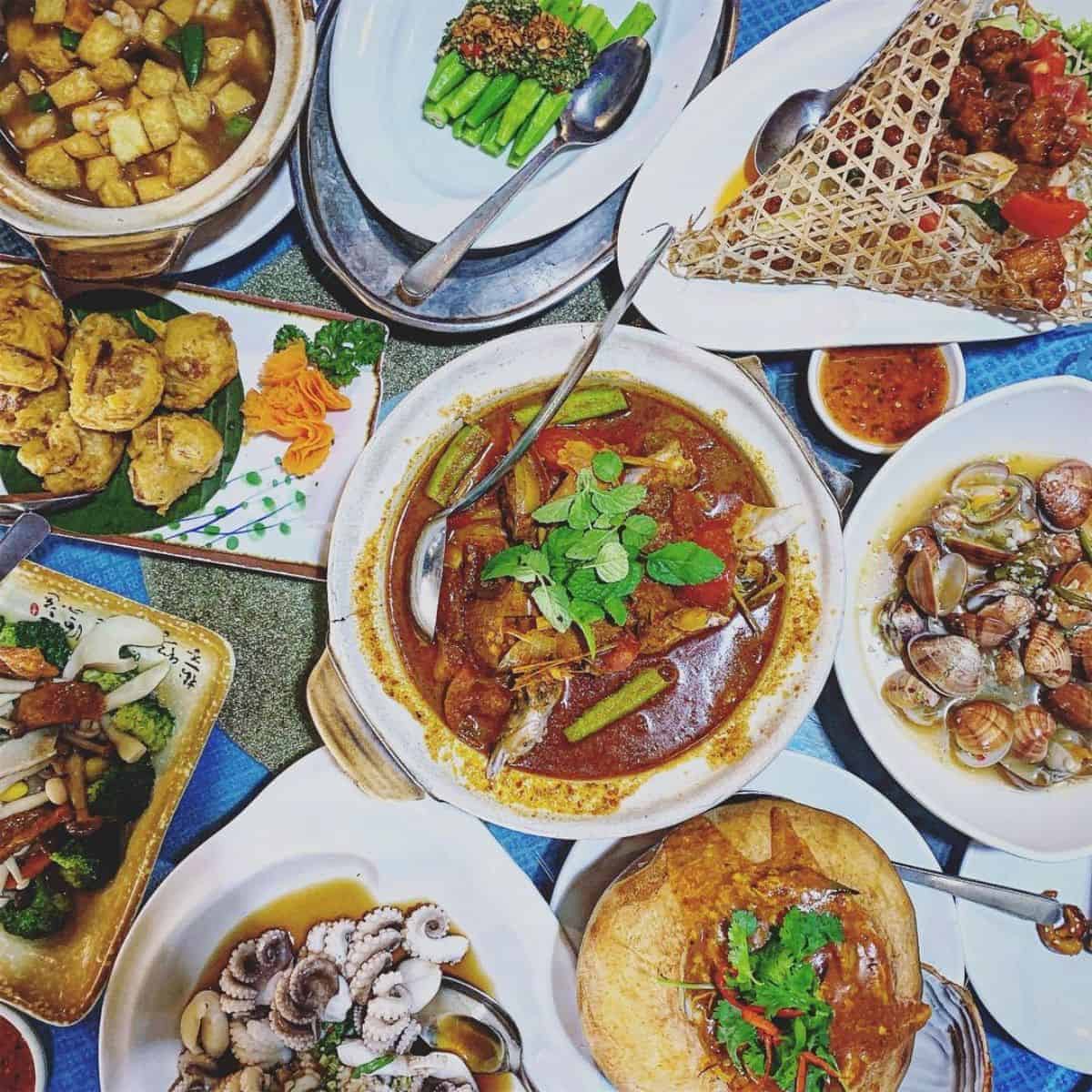 We recommend the salted egg yolk crab, which has a crispy shell and succulent flesh. The sauce is smooth and creamy and also goes well with rice or mantou (steamed buns). Another must-try dish is the assam fish head curry, which is tangy and spicy, and loaded with vegetables and okra. The fish head is fresh and tender, and the curry is perfect for dipping your bread.
Hai Boey is open daily from 5:30 pm to 10:30 pm. However, it can get quite crowded during weekends and public holidays. Therefore, we recommend getting there early. It is far out from all the main attractions in Penang, but this restaurant is worth the drive out.
Hai Boey Seafood
MK 9, 29, Jalan Pasir Belanda, Teluk Kumbar, 11920 Bayan Lepas, Pulau Pinang
Ocean Green
In our opinion, Ocean Green is one of the best seafood restaurants in Georgetown, Penang. They have been serving customers since 1993 and have lots of loyal customers. This spot has a cosy and elegant ambience that suits any occasion. Moreover, Ocean Green is a place where you can enjoy halal shellfish and fish dishes.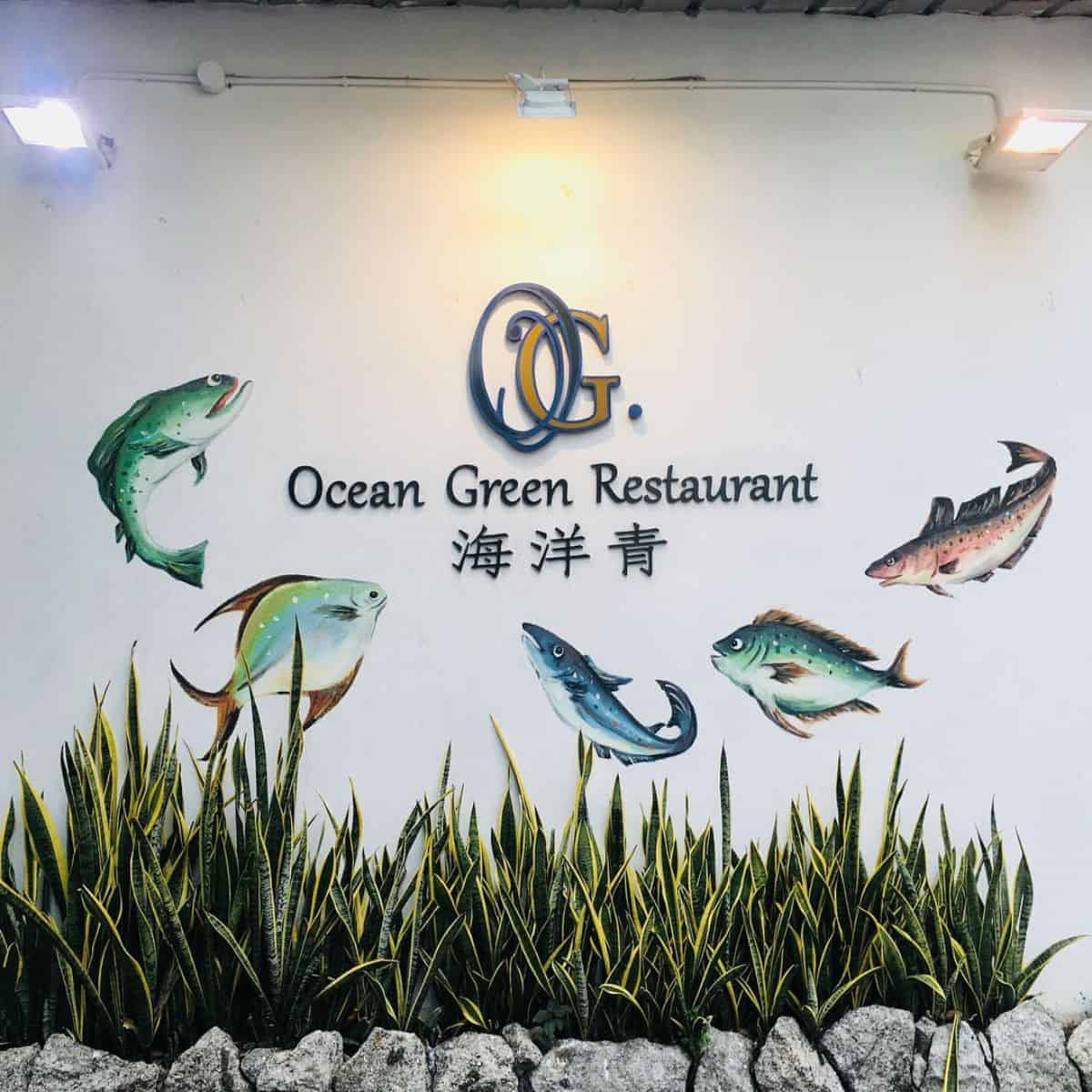 The catch of the day here is sourced daily from local fishermen and cooked in various ways, such as in a Chinese, Malay, or Western style. We really enjoyed the butter prawns, deep-fried until golden and coated with crumbs. The prawns are crunchy and juicy, and the buttery flavour is simply irresistible.
Ocean Green is open daily from 12:00 pm to 3:00 pm and 6:00 pm to 10:30 pm, except for Tuesdays. However, the best time to come here is during the evening, when you can enjoy the sea breeze and the sunset view while savouring the gourmet fare.
Ocean Green
Jln Sultan Ahmad Shah, George Town, 10050 George Town, Pulau Pinang
Da Shu Xia (Seafood Restaurant in Georgetown)
If you're looking for cheap and tasty seafood in Penang, Georgetown, don't miss Da Shu Xia (Big Tree Shade) - it's truly a hidden gem.
Located under a big tree, this place is a favourite among those who want to enjoy fresh catches from the sea in a casual, laid-back atmosphere. Moreover, you can choose from a plethora of dishes, such as grilled fish, fried squid, steamed clams and curry crab.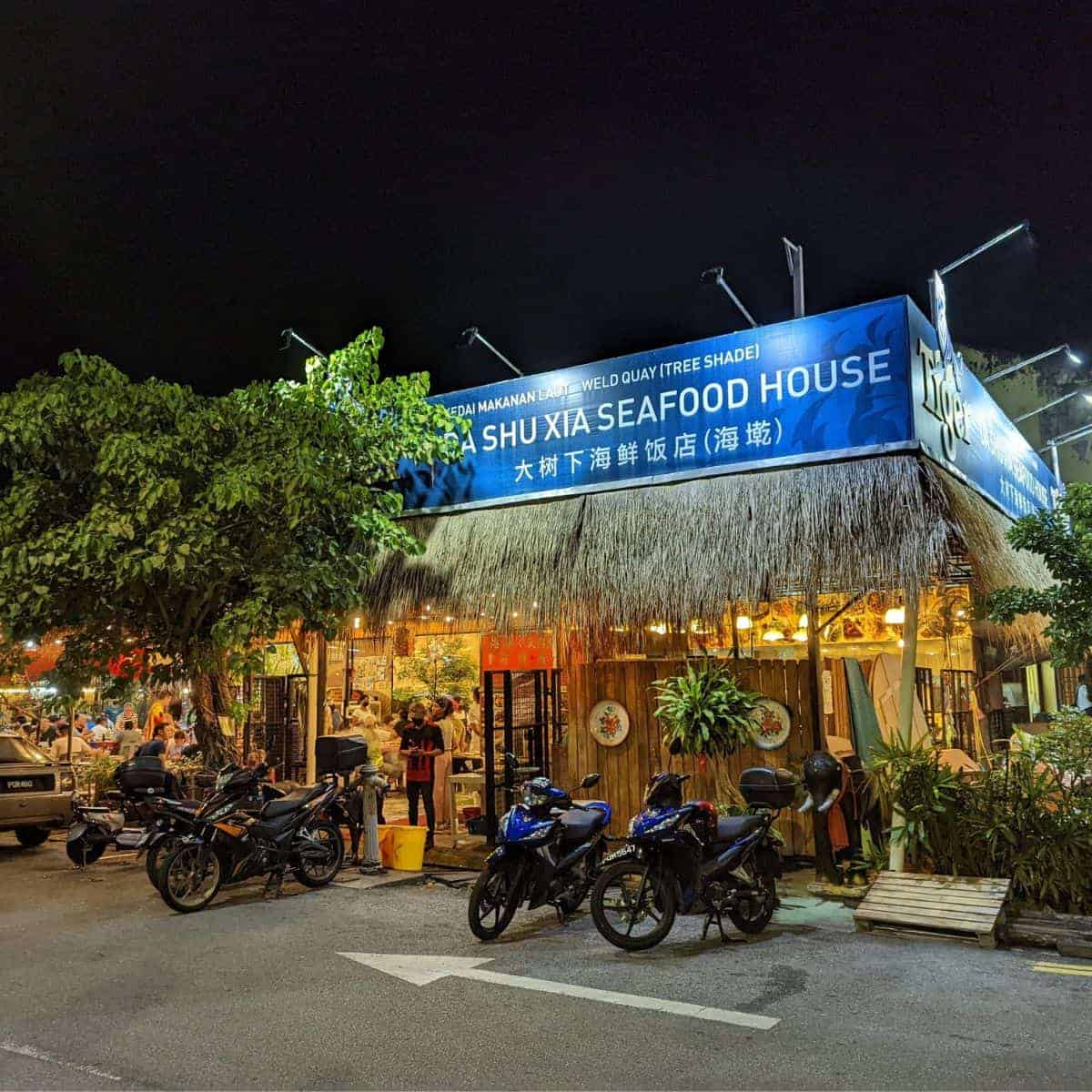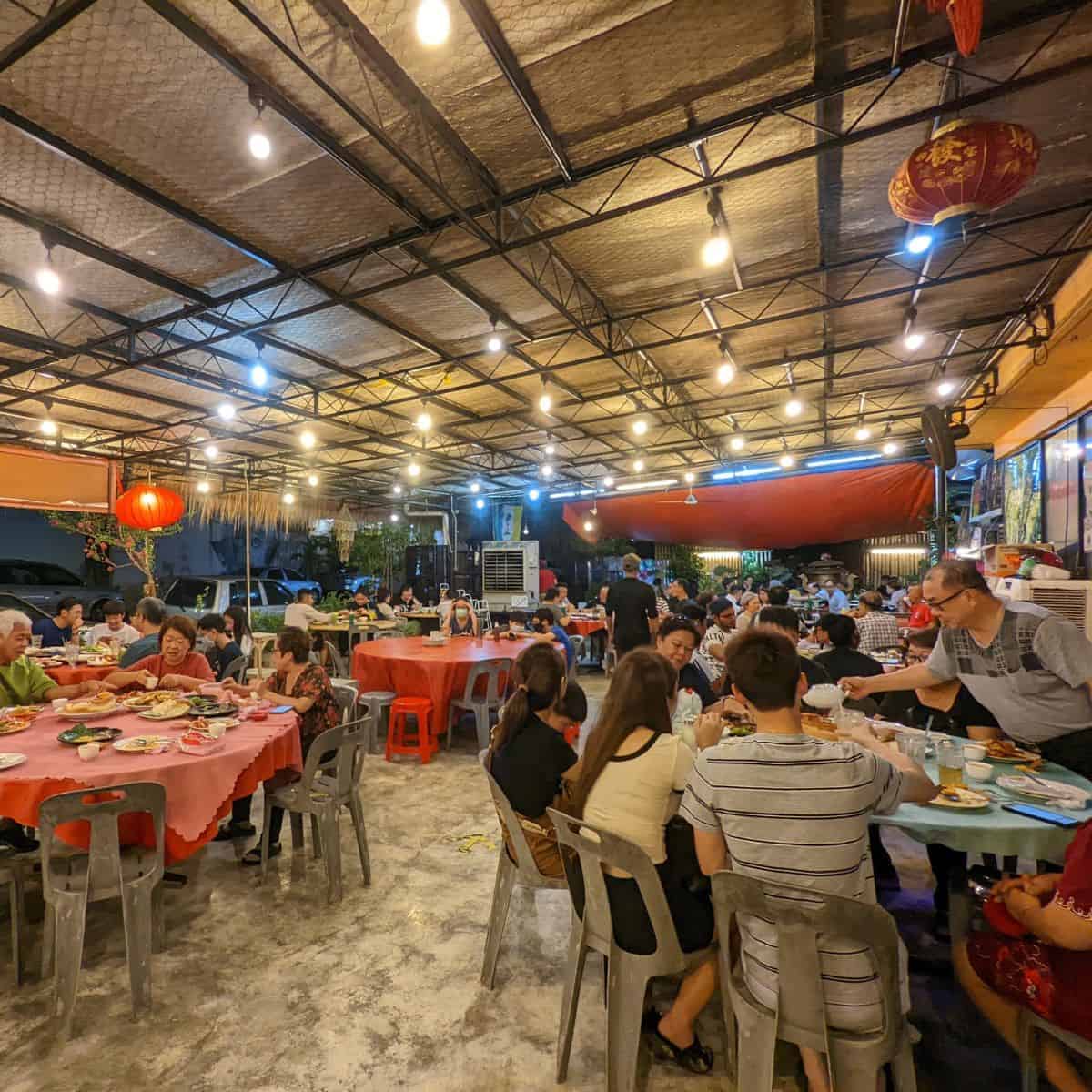 Their dishes stand out because they serve fresh fish and crustaceans using traditional methods. However, they also like to incorporate culinary twists. For example, their signature spicy coconut prawn is a dish that combines the flavours of Malay and Chinese cuisine, creating a unique and delicious taste. The prawns have a crispy shell and succulent flesh. Furthermore, the dish's spicy and creamy sauce pairs excellently with rice.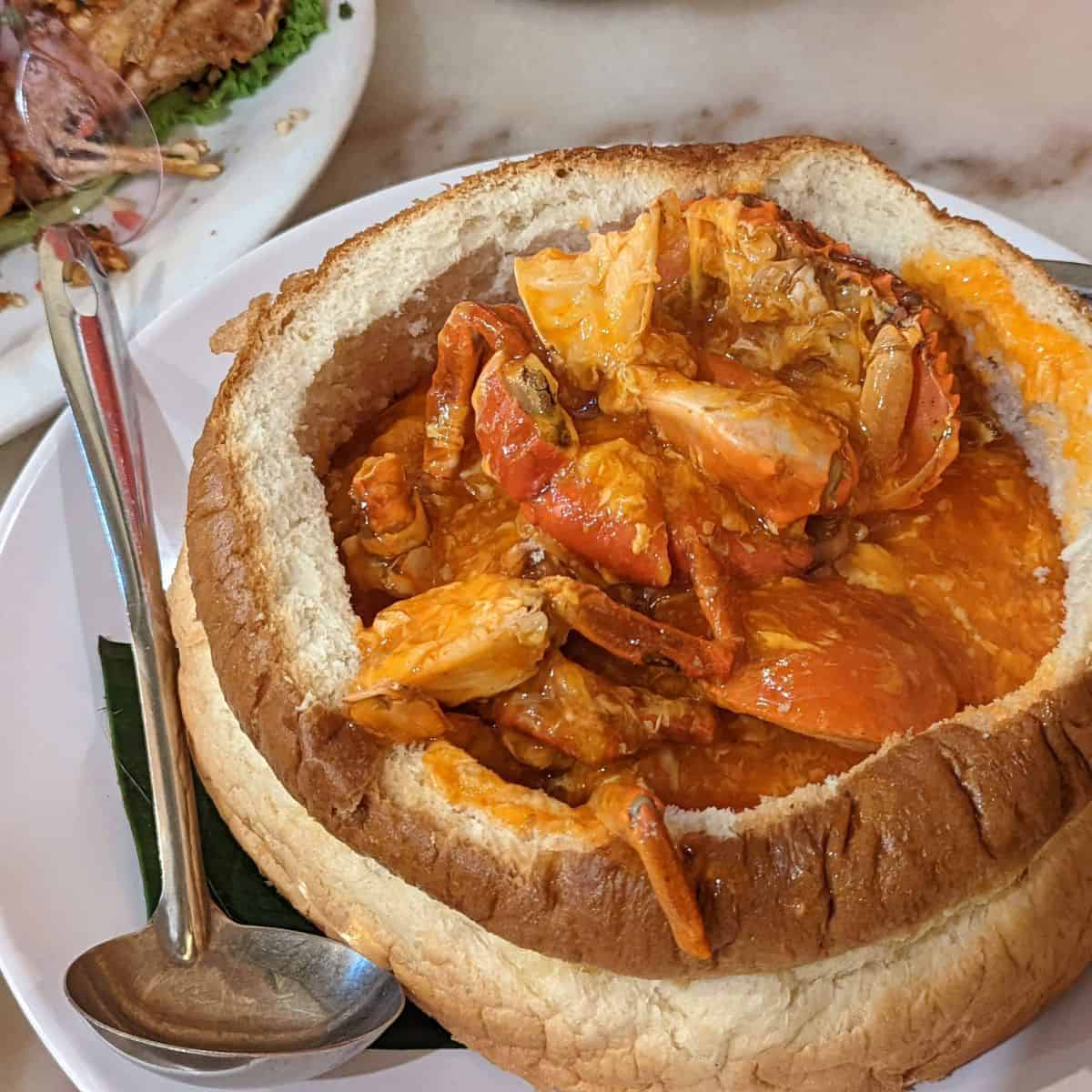 Da Shu Xia is open daily from 11:00 am to 3:00 pm and from 5.00 pm to 9.30 pm. However, as one of the best seafood restaurants in Penang, it can get quite busy during peak hours. Therefore, you might have to queue for a seat or share a table with other diners. The portions here are huge! So, make sure you go in a group or order smaller portions.
Da Shu Xia
177C, Victoria St, Georgetown, 10300 George Town, Penang
Lan's Corner Ikan Bakar
If you're looking for halal grilled fresh fish, try Lan's Corner Ikan Bakar. This spot is a popular roadside eatery located in Tanjung Bungah. This establishment is run by a friendly Muslim couple who have been in the trade for over a decade.
Lan's Corner Ikan Bakar is known for its traditional Ikan Bakar. This dish consists of grilled fish marinated with a spicy paste and also served with a tangy chilli sauce. Furthermore, you can choose from different types of fish, such as stingrays, mackerels, or catfish. The fish is grilled over charcoal, giving it a charred flavour. Moreover, the spicy paste and the chilli sauce add a fiery heat and zest to the dish.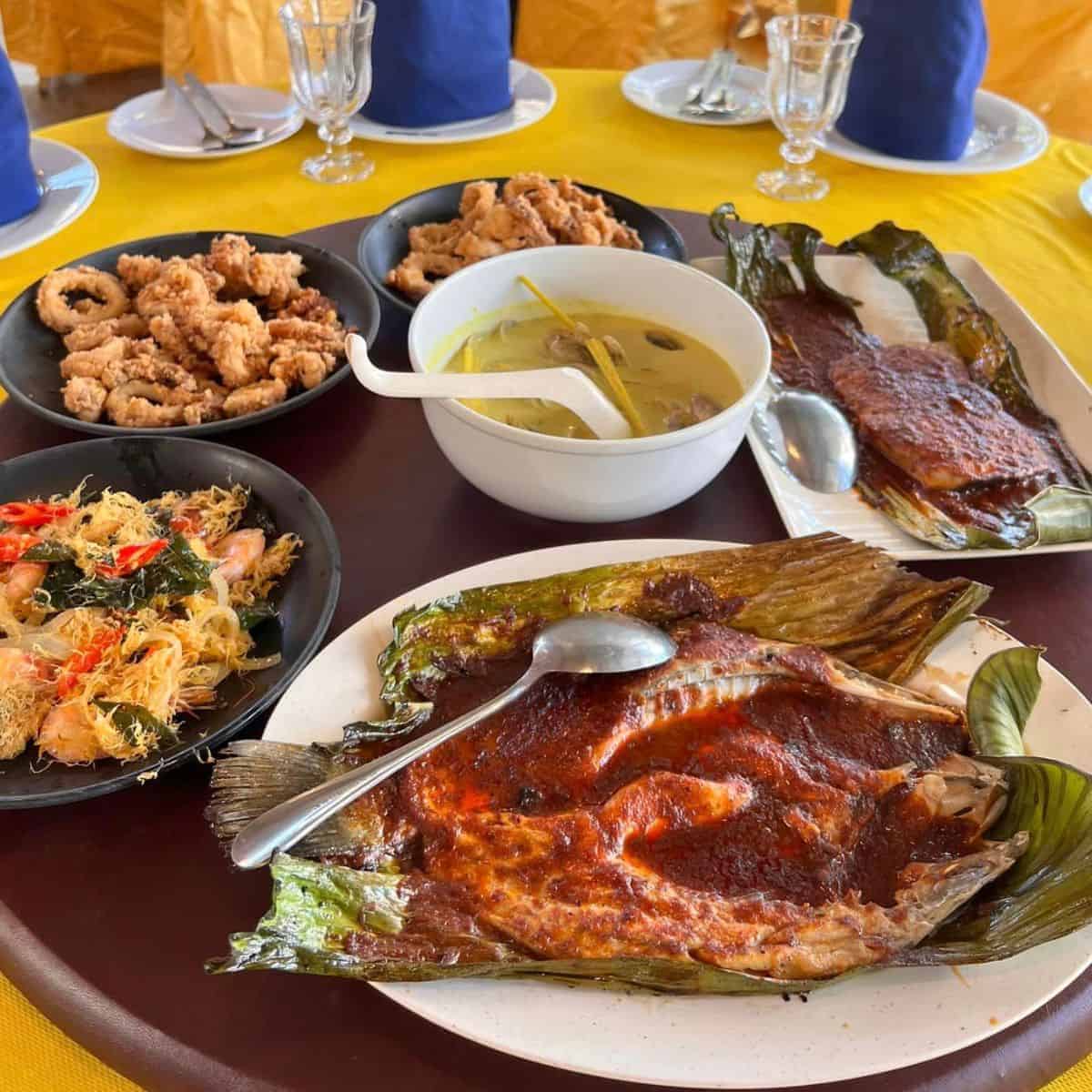 We recommend the grilled stingray with sambal (chilli paste), which is spicy and tangy. The stingray is moist and flaky, and the sambal adds a kick to it. Similarly, another dish we adored was the grilled squid with honey, which is sweet and savoury. Not only is the squid chewy and tender, but the honey glaze also gives it a nice caramelisation.
Ultimately, if you're looking for some cheap seafood in Penang, Lan's is the place to go. The eatery is open daily from 5:00 pm to 12:00 am, except for Tuesdays. So, it's better to come here early as parking space is scarce and you might have to wait long after 7 pm.
Lan's Corner Ikan Bakar
554, Jalan Tanjung Bungah, 11200 Tanjung Bungah, Pulau Pinang
De Happy
De Happy, located at Jalan Macalister in Georgetown, has a large selection of fresh catches. You pick from live fish and shellfish from their aquarium tank and have them cooked in multiple ways, such as steamed, fried, braised, or baked.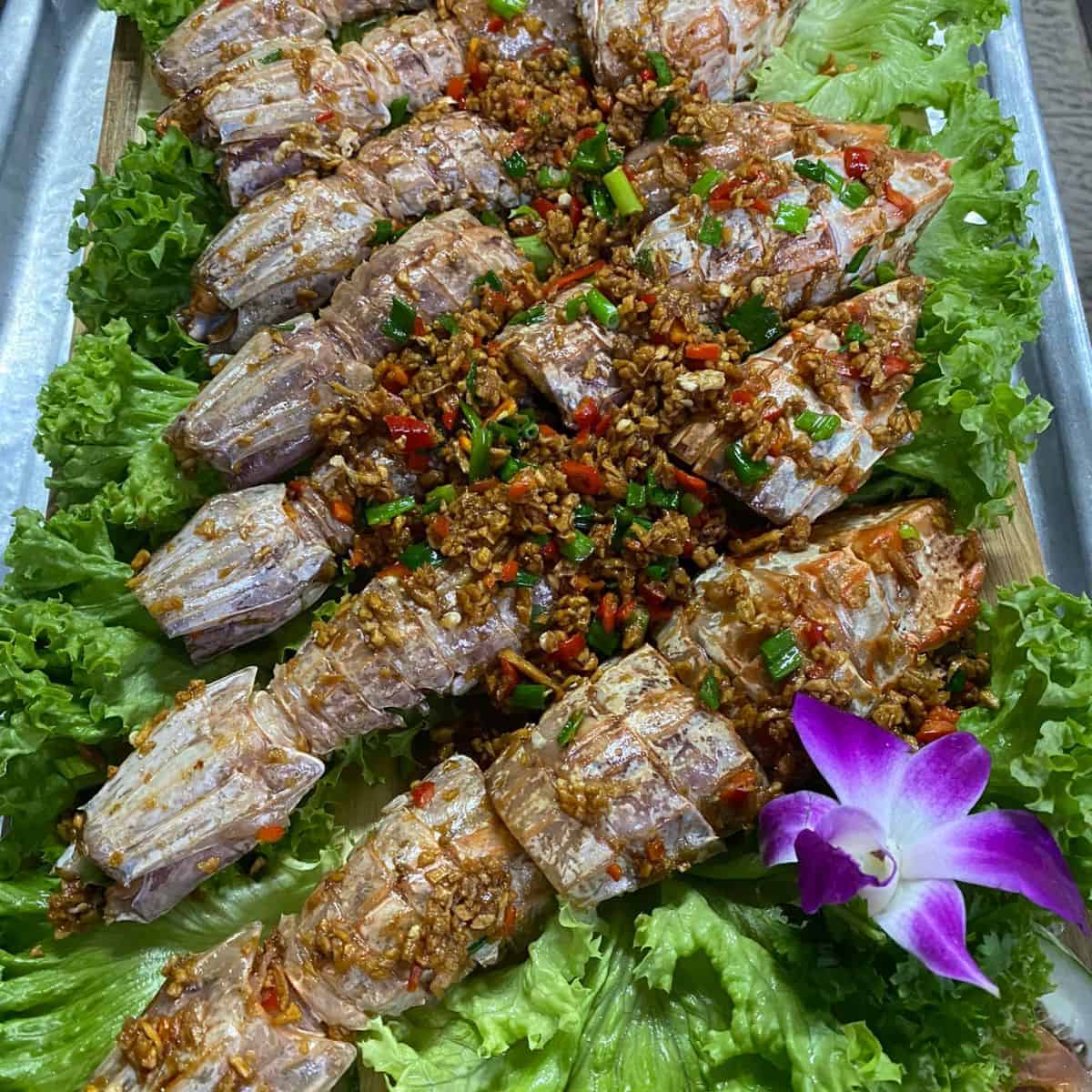 Our favourite dish at De Happy is steamed fish with ginger and soy sauce. The plate has a light and delicate feel. The fish is fresh and smooth, and the sauce is also fragrant and savoury.
It's easily one of the best Chinese seafood restaurants in Penang that also caters to Muslim customers. It's also great for large parties with a simple and clean interior.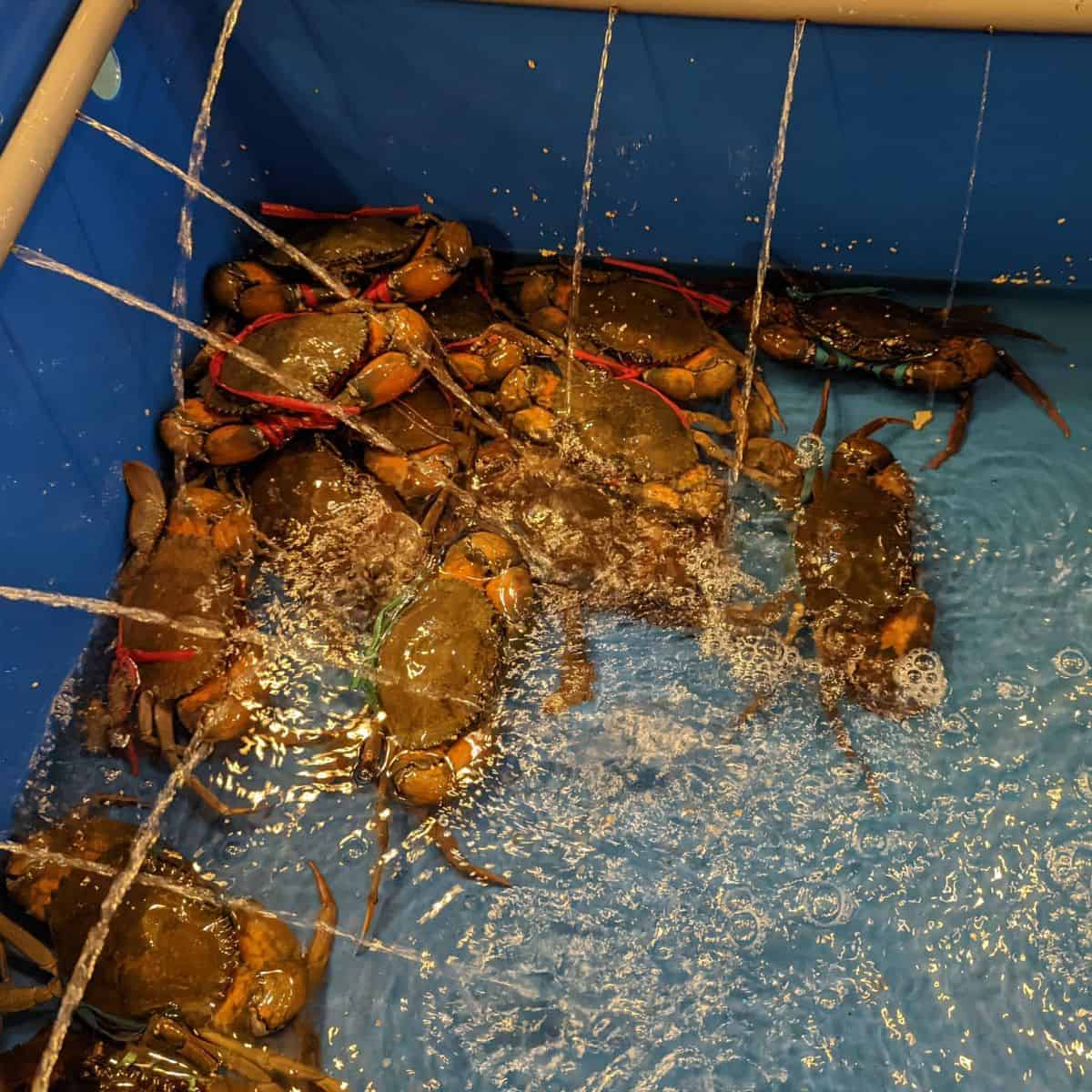 De Happy is open daily from 4:30 pm to 11:00 pm. Therefore, arrive early before peak hours to choose the freshest catch of the day. Additionally, you can also explore some of the best cafes in Penang on the same road, killing two birds with one stone. You'll leave this spot as one of the 'De Happy-est' people to grace the streets of Penang.
De Happy
Next To Restoran Zim Sum, 58, Jalan Macalister, 10400 George Town, Pulau Pinang
Nurul Seafood Penang
For cheap seafood in Penang, you should head to Nurul. This humble spot serves grilled fresh catches and other dishes. In addition, this place in Gelugor has a spacious, airy dining area.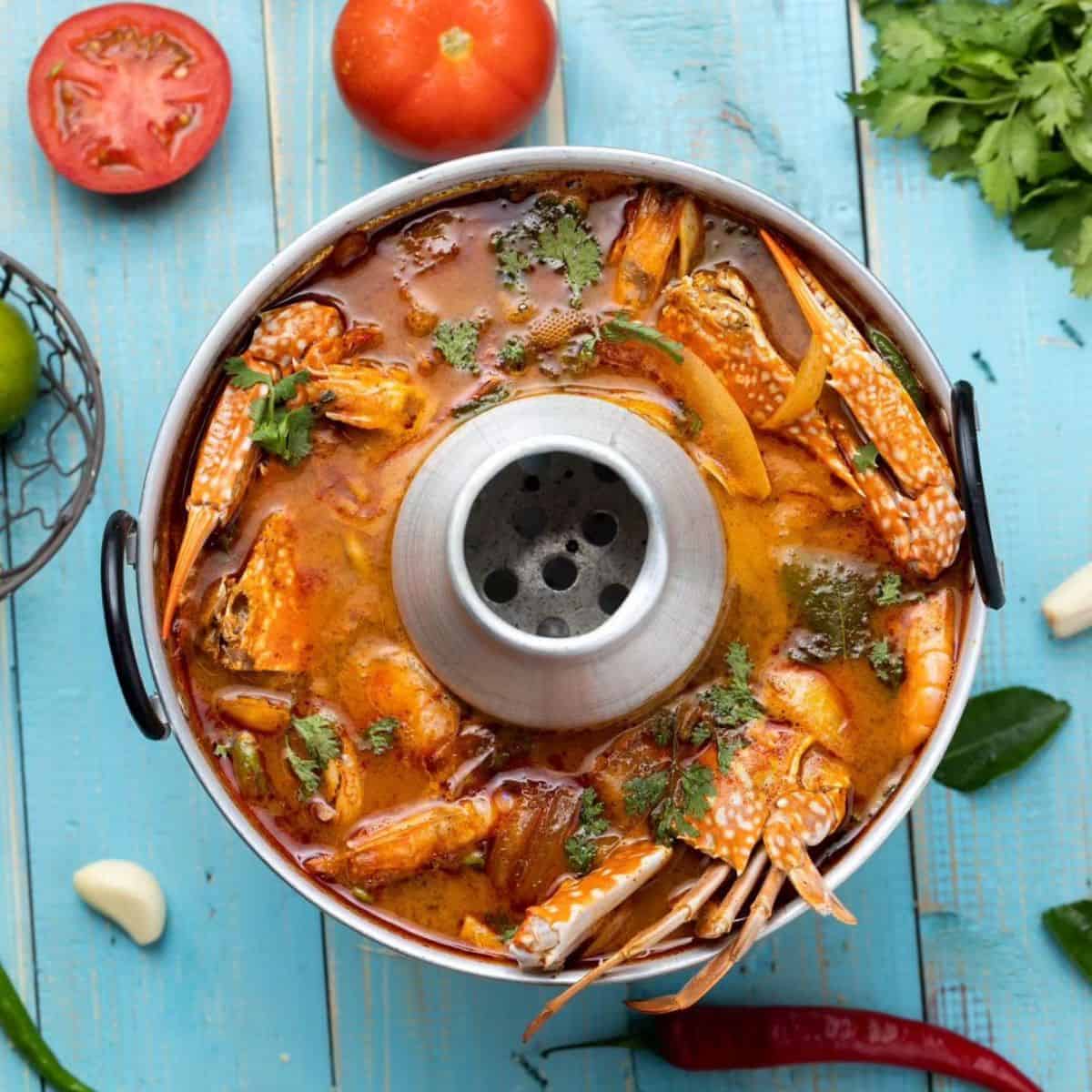 Nurul specialises in Ikan Bakar. The grilled fish dish is marinated with a spicy paste and served with a tantalising tangy chilli sauce. We loved its smoky flavour and moist texture. We even ordered a second serving because the flavour was just so irresistible!
Additionally, we tried the Penang nasi lemak here, which we found pretty decent. Nurul opens daily from 4 pm to 12 am. So go for a late supper and experience the lively crowd and fun atmosphere of Penang nightlife.
Nurul Ikan Bakar
25, Persiaran Bayan Mutiara 3, 11700 Gelugor, Pulau Pinang
D'Seafood Paradise
D'Seafood Paradise is one of the best halal seafood restaurants in Penang that serve Malay-style plates. Located in Batu Maung, this place offers a stunning sea view.
The special thing about their food is that they serve dishes cooked with a medley of traditional Malay spices. For example, these spices include chilli, lemongrass, galangal, turmeric, shrimp paste, candlenut and more.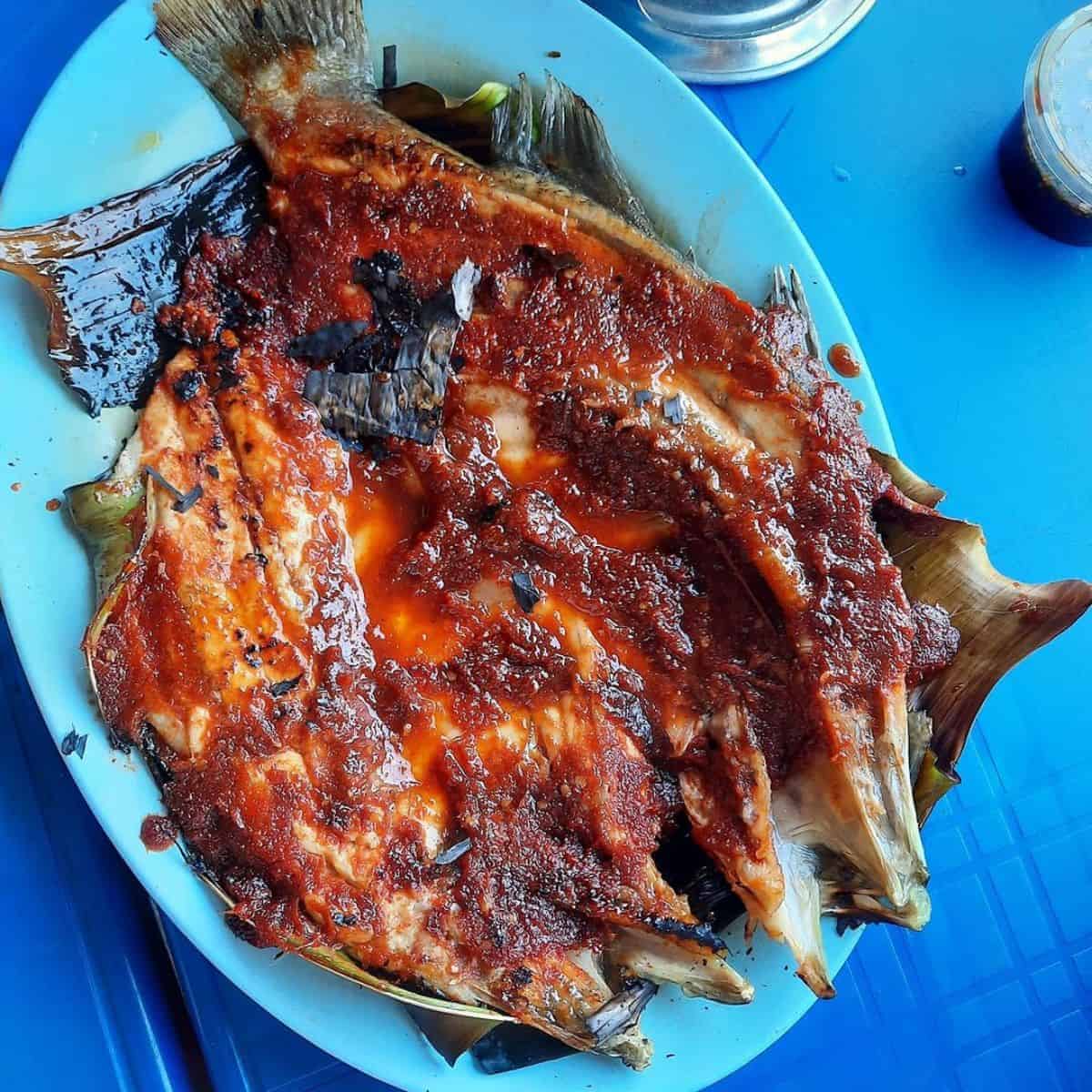 Their must-try Asam Pedas Pari is a classic Malay dish consisting of a stingray and a spicy, sour gravy that perfectly complements it. Similarly, their grilled fish is also phenomenal because they use a special sauce that brings out the natural flavour of the catch. The restaurant is open daily from 3:30 pm to 11:00 pm. However, arrive around 6 pm to watch the sunset while enjoying your meal.
D'Seafood Paradise
Jalan Teluk Tempoyak, 11960 Batu Maung, Pulau Pinang
Bali Hai Seafood Market, Gurney Drive
For a place where you can choose a live fish and shellfish from over 4 rows of tanks, head to Bali Hai. It's a Penang seafood restaurant in the popular Gurney Drive area, offering a huge variety of sea fare. For example, you can find everything from crabs to lobsters to prawns here. Furthermore, they will cook your catch exactly the way you want - deep fried or steamed, and with a variety of sauce options.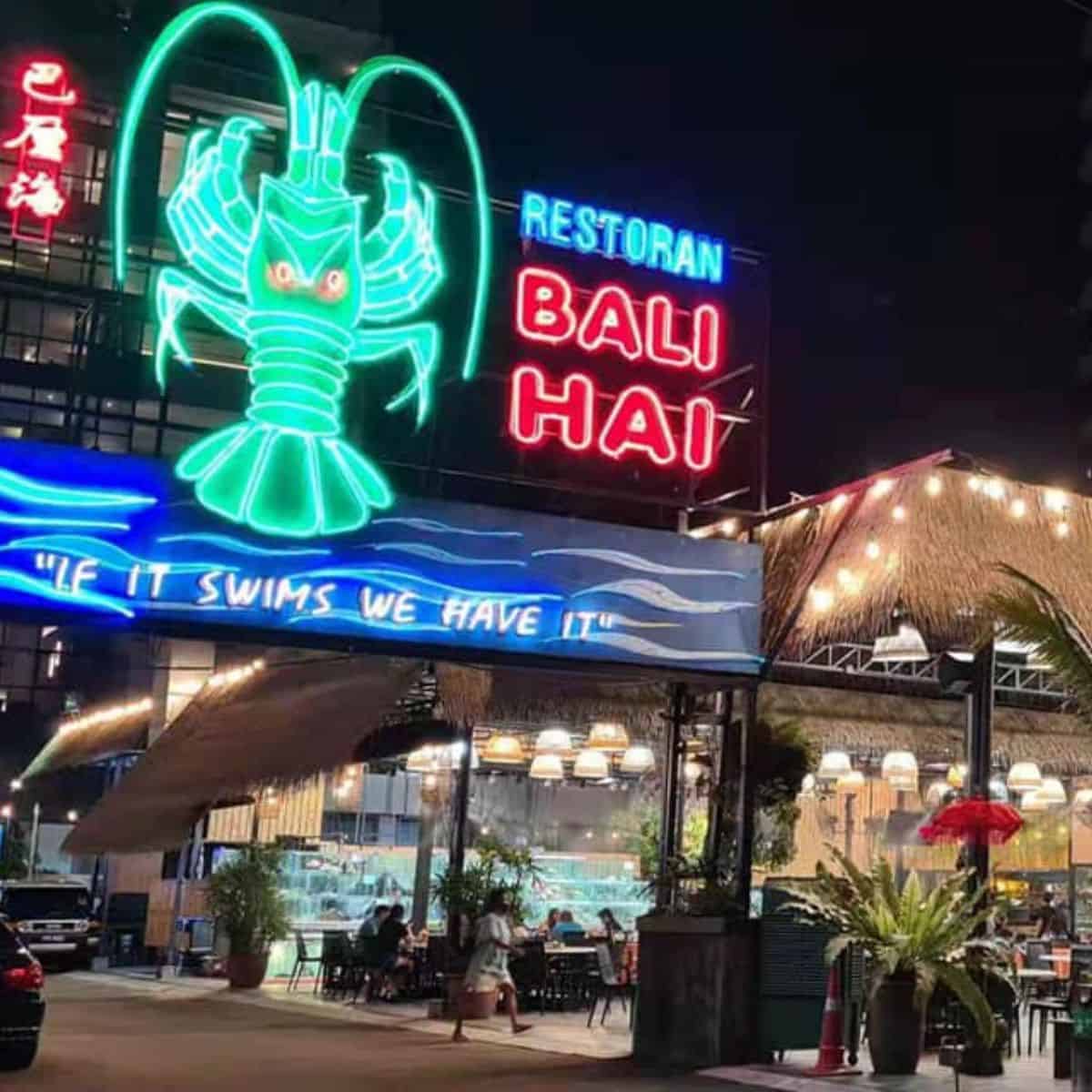 We were particularly impressed by their clay pot crab with glass noodles and a spicy and savoury sauce. Their flavourful sauce includes chilli, garlic, ginger, peppercorns, tamarind, and tom yum paste. The crabs are tender and juicy, and the glass noodles are also soft and chewy.
The market is open daily from 8:00 am to 3:00 pm and 5:00 pm to 12:00 pm. Bali Hai is one of the best seafood restaurants in Georgetown, Penang, so it can get quite busy during peak hours. Therefore, it's best to arrive early to avoid the rush. Also, while you are in Gurney Drive, why not also try some popular pasembur in Penang at Menari's?
Bali Hai Seafood Market
90C & 90 D, 90, 90A, 90 B, 90, Persiaran Gurney, George Town, 10250 George Town, Pulau Pinang
Ara (Seafood Restaurant in Bayan Lapas)
Ara is famous for its halal and fresh seafood dishes, cooked in an authentic Thai and Malay style. This spot is definitely one of the best seafood restaurants in Penang. The place has a simple and cosy interior in the Bayan Lepas area. In addition, they use the freshest catches of the day to prepare every dish as they directly source their ingredients from the local fishermen.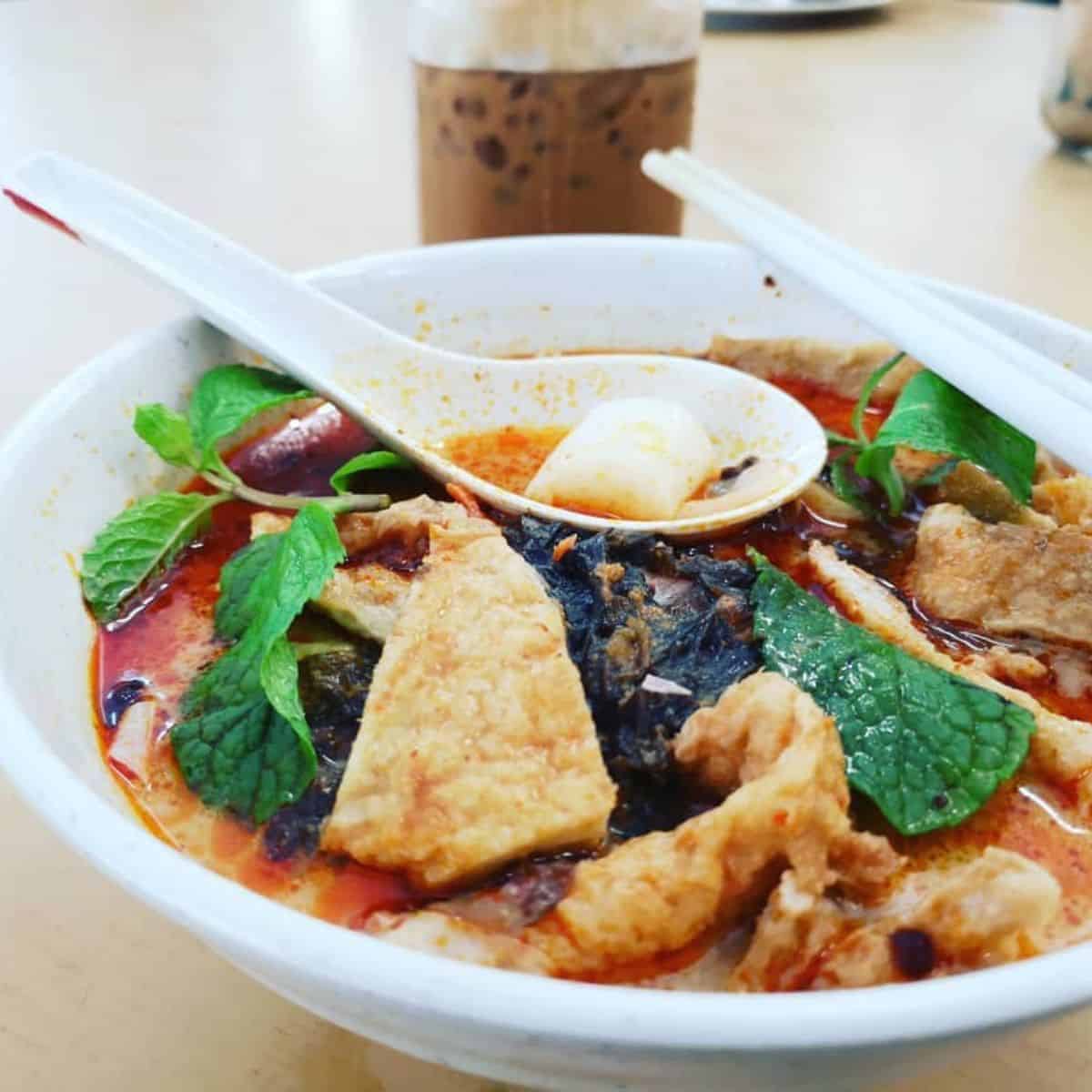 We had to try their signature Tom Yum, which is a popular dish in Thai cuisine. The Tom Yum consists of shrimp, squid, fish, or clams cooked in a spicy and sour broth. The broth is made with lemongrass, galangal, kaffir lime leaves, bird's eye chillies, lime juice and fish sauce. Although we found the dish a tad too spicy, the flavours are simply unforgettable. However, we did enjoy the freshness of the ingredients.
Ara is open daily from 5 am to 2 am. Therefore, you can visit whenever your shellfish cravings hit.
Ara
4,5, Gerai Perda, Jalan Tokong Ular, Bandar Bayan Baru, 11900 Bayan Lepas, Pulau Pinang
Google Maps
Chai Seafood
If you are looking for Chinese-inspired Penang seafood dishes, you will want to check out this place. This modest coffee shop in Batu Maung is often under the radar and usually caters to the factory workers in the surrounding area. Moreover, their use of the freshest ingredients alongside traditional Chinese methods and flavours is what makes them stand apart.
For example, their must-try dish, the fish head curry, is not the typical Indian or Malay style but rather a Chinese version that uses more spices and less coconut milk. The fish is tender and flavourful, and goes perfectly with the curry sauce and steamed rice.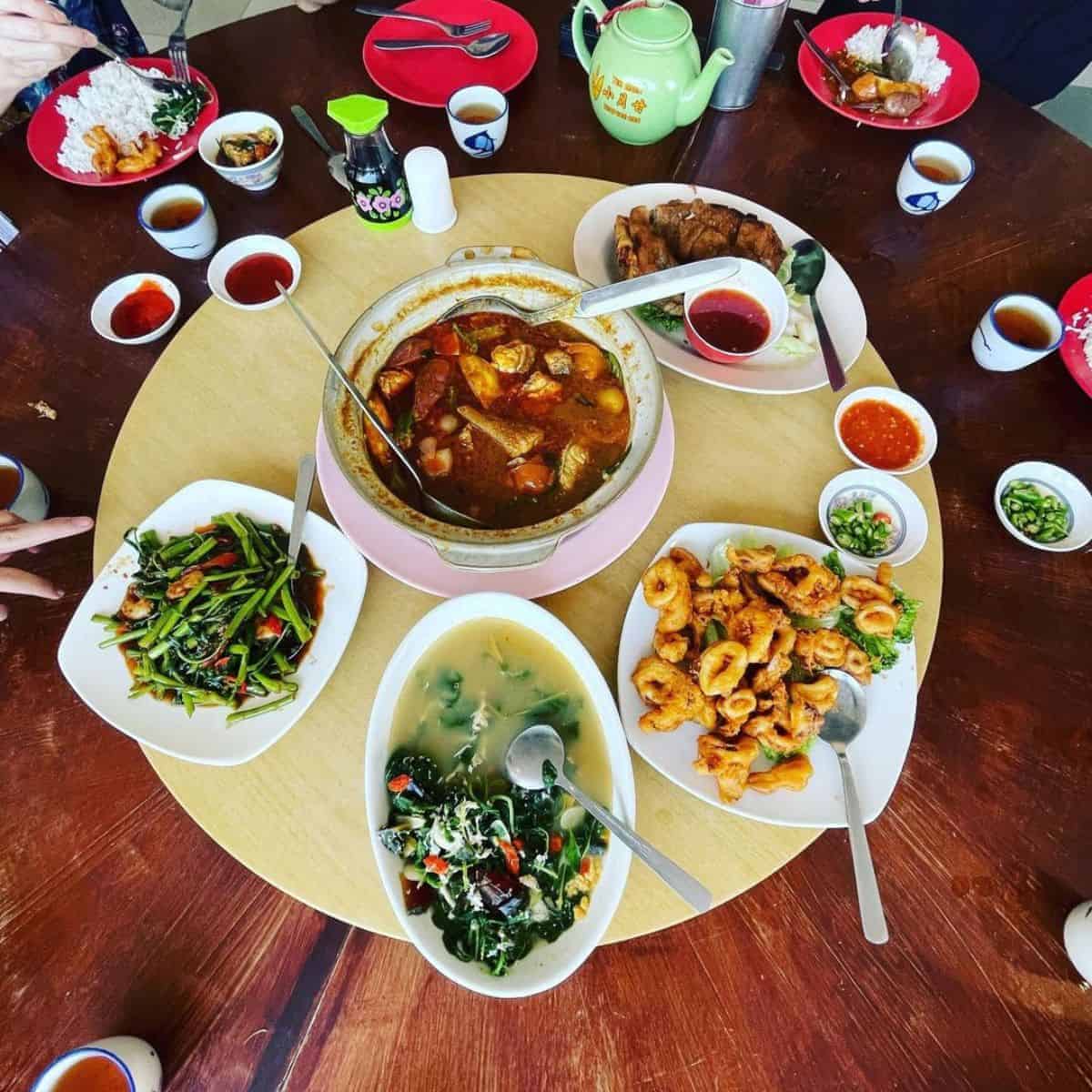 Another dish that we recommend is their Kam Heong mantis prawn. This dish consists of stir-fried, deep-fried mantis prawns with a spicy and fragrant sauce made with curry powder, dried shrimp, curry leaves, chillies and other seasonings. It is a delicious and satisfying dish that showcases the crunchy texture and sweet taste of the shellfish.
The shop is open daily, except Tuesdays, from 10 am to 2:30 pm and 5 pm to 10 pm. However, visit during the evening to avoid the lunch crowd.
Chai Seafood
Unit1-3a-28&29 Puncak southbay No 1 Changkat Batu Maung, 11960 Bayan Lepas, Pulau Pinang
Facebook
Beach Corner (Seafood in Batu Ferringhi)
Put Beach Corner on your list if you're looking for amazing seafood in Penang, Batu Ferringhi. The spot has a laid-back vibe, with outdoor seating offering panoramic ocean views. However, the special thing about their plates is that they combine traditional Hainanese and Nyonya recipes with a twist of their own.
One of the dishes that we enjoyed was the Assam prawns, a Nyonya classic that they executed perfectly. The prawns are coated in a thick, sticky sauce that tastes of a harmonious blend of tamarind, soy sauce, and sugar. As a result, we are left with an iconic rich, fruity flavour with a hint of vinegar.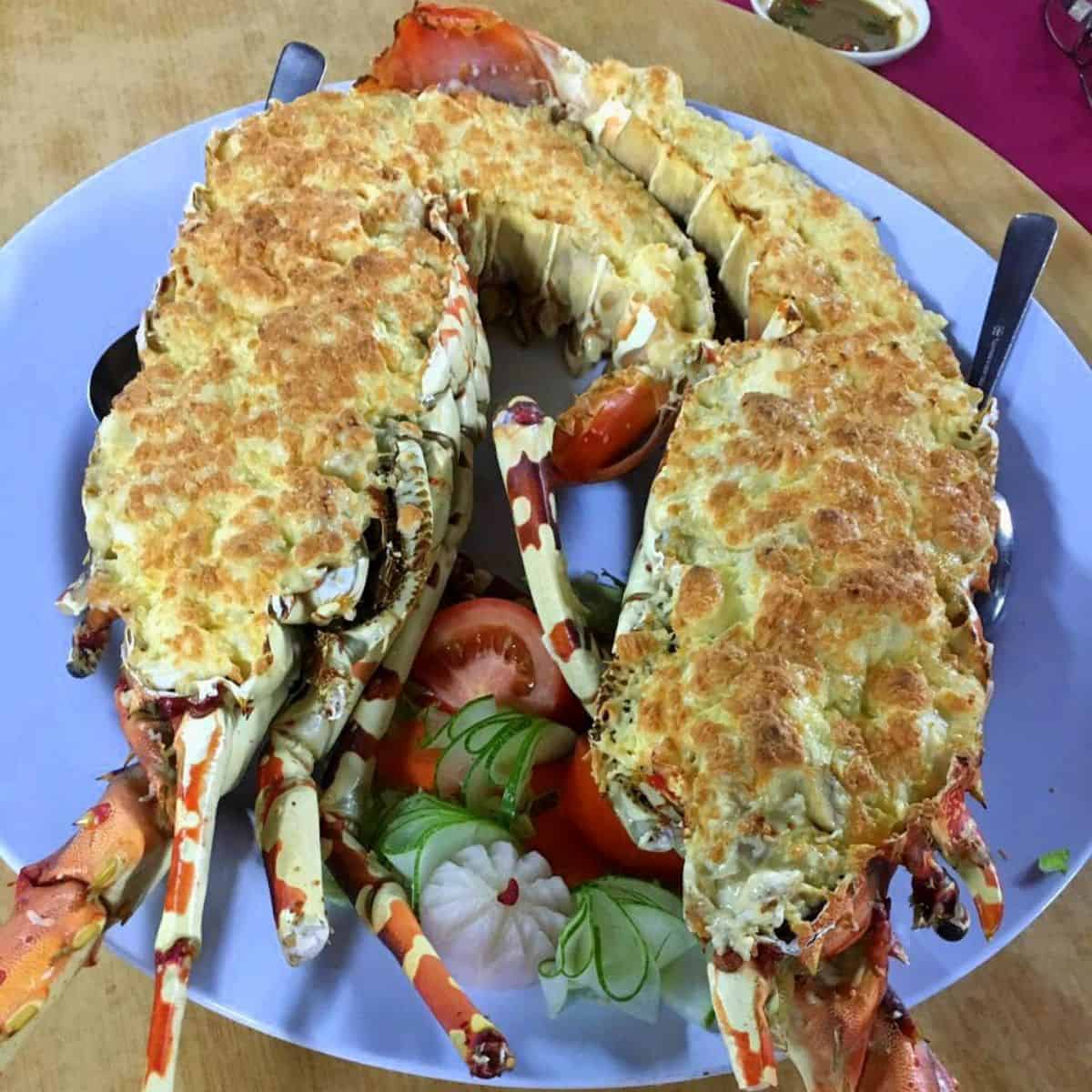 In addition, another dish that impressed us was their signature "Choon Phneah". Choon Phneah is a type of Hainanese spring roll with a thicker skin and a bigger size than the standard spring roll. The roll is filled with meat and vegetables and deep-fried until golden and crispy. Then, it is cut into four pieces and served with Worcestershire sauce mixed with chopped red chillies. The sauce brings the spring roll to life with a tangy and fiery kick.
Beach Corner operates daily from 6 pm to 10 pm, except Wednesdays. However, to enjoy their Penang seafood with the best sunset views, make sure you come and book your seat early.
Beach Corner
72D, Jalan Batu Ferringhi, 11100 Batu Ferringhi, Pulau Pinang
Ah Chui (Air Itam)
Come to Ah Chui for a casual, family-style eatery serving a range of freshly cooked seafood upon order. This simple and humble eatery has been in business for decades and is popular among locals and tourists. All of their food is amazing, but their iconic chilli crab dish is the true star of the show.
Chilli crab is one of the most beloved dishes in Singapore and Malaysia, with different variations depending on region and personal preference. For instance, Ah Chui's version of chilli crab is mildly spicy and sweet, suitable for those not used to spicy food. Furthermore, it also goes well with their grilled fish and other seafood dishes.
If you are looking for a satisfying and authentic dining experience at one of the best seafood restaurants in Penang, you should come here. They open up daily from 4 pm to 10 pm. But it can get crowded around 7.30 pm, so be there early to book a table.
Ah Chui
1238 T, Jln Paya Terubung, Taman Nyaman Indah, 11060 Ayer Itam, Pulau Pinang
Spice Market Cafe at Shangri-La's Rasa Sayang Resort and Spa
Treat yourself to an All-You-Can-Eat Seafood Live Cooking buffet at The Spice Market Cafe, Shangri-La's Rasa Sayang Resort. Located in Batu Ferringhi, this renowned cafe boasts a wide variety of Penang seafood options, including fresh oysters, lobsters, prawns, and crabs, just to name a few.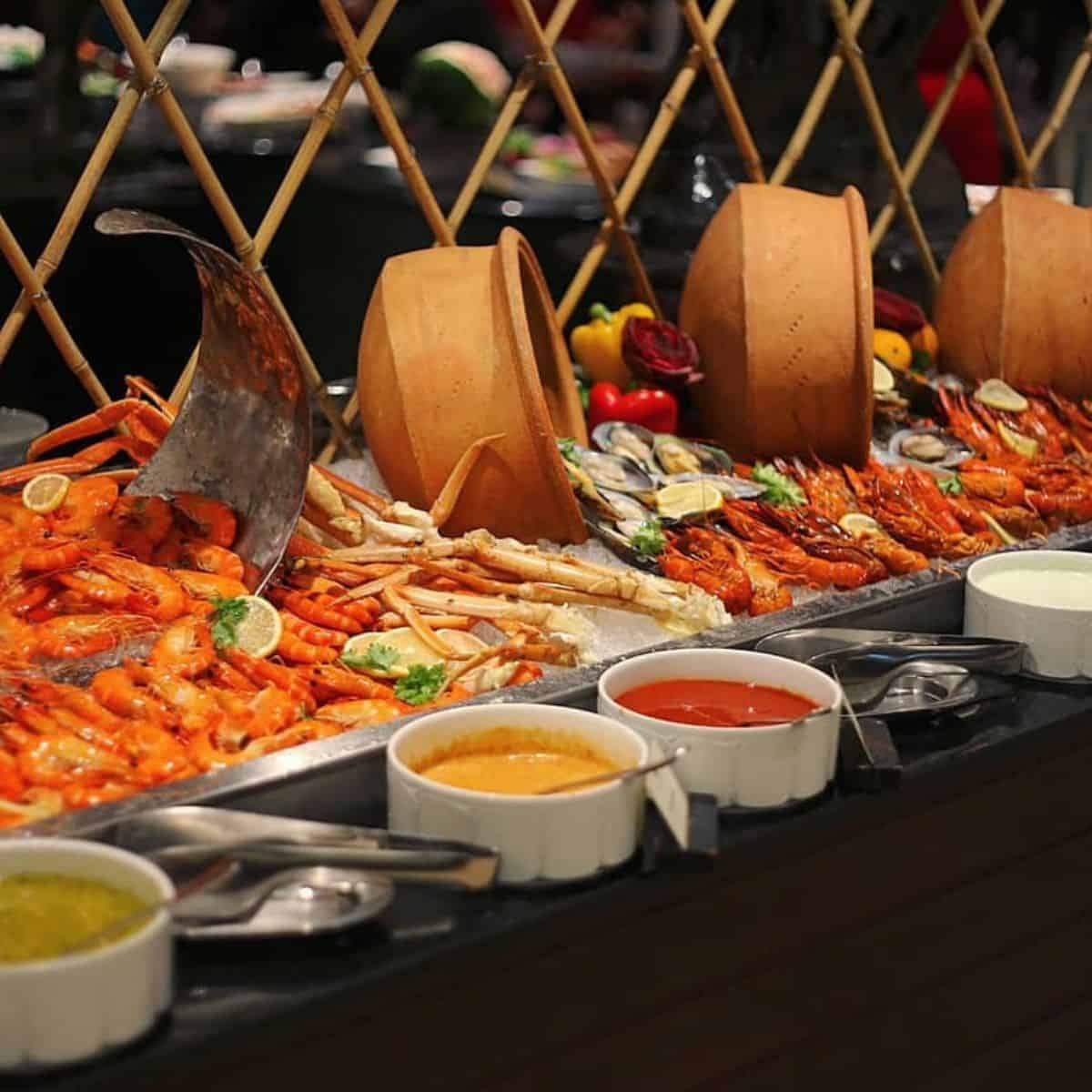 The chefs expertly prepare the fresh catches with various cooking techniques, from grilled to steamed to stir-fried, resulting in a flavourful and succulent plate. But one dish that we absolutely fell in love with was the black pepper crab. It has the perfect balance of spiciness and sweetness and is cooked to perfection. Alternatively, we highly recommend the sashimi platter if you prefer something lighter.
This buffet is available for dinner only and is on the pricier side. But the dining experience is worth every penny, given the food quality and breathtaking beachfront view. Unfortunately, the buffet is only available every Friday, Saturday, and Sunday from 6.00 pm to 10.00 pm. Therefore, reservations are a must.
Spice Market Cafe at Shangri-La's Rasa Sayang
Beach Garden Wing, Kampung Tanjung Huma, 11100 Batu Ferringhi, Pulau Pinang
Top Seafood Restaurants in Penang
Our favourites
The island offers countless dining experiences to cater to different tastes and preferences. However, if we had to choose our top two favourite seafood restaurants in Penang - they would be Ocean Green and Spice Market Cafe.
Ocean Green impressed us with its charming seaside setting, fresh offerings, and reasonable prices. Meanwhile, Spice Market Cafe at Shangri-La's Rasa Sayang Resort and Spa amazed us with its lavish buffet of fresh catches that catered to our every whim. It was truly a buffet experience like no other.
For more tips, tricks and travel guides on the best places to eat in Penang, follow us on Instagram @tabitogether. Join us on our quest to eat our way around the world!