Pasembur in Penang is a must-have on your unique food list in Malaysia. The salad dish is famous for its sweet and sour ingredients, all mixed together 'rojak' style. Rojak is a colloquial Malay term describing a haphazard mix. The dish is also known as Indian rojak, mamak rojak, or simply rojak in other parts of Malaysia and Singapore. This dish is famous because it's a sweet and savoury mix and makes for a delicious yet light meal.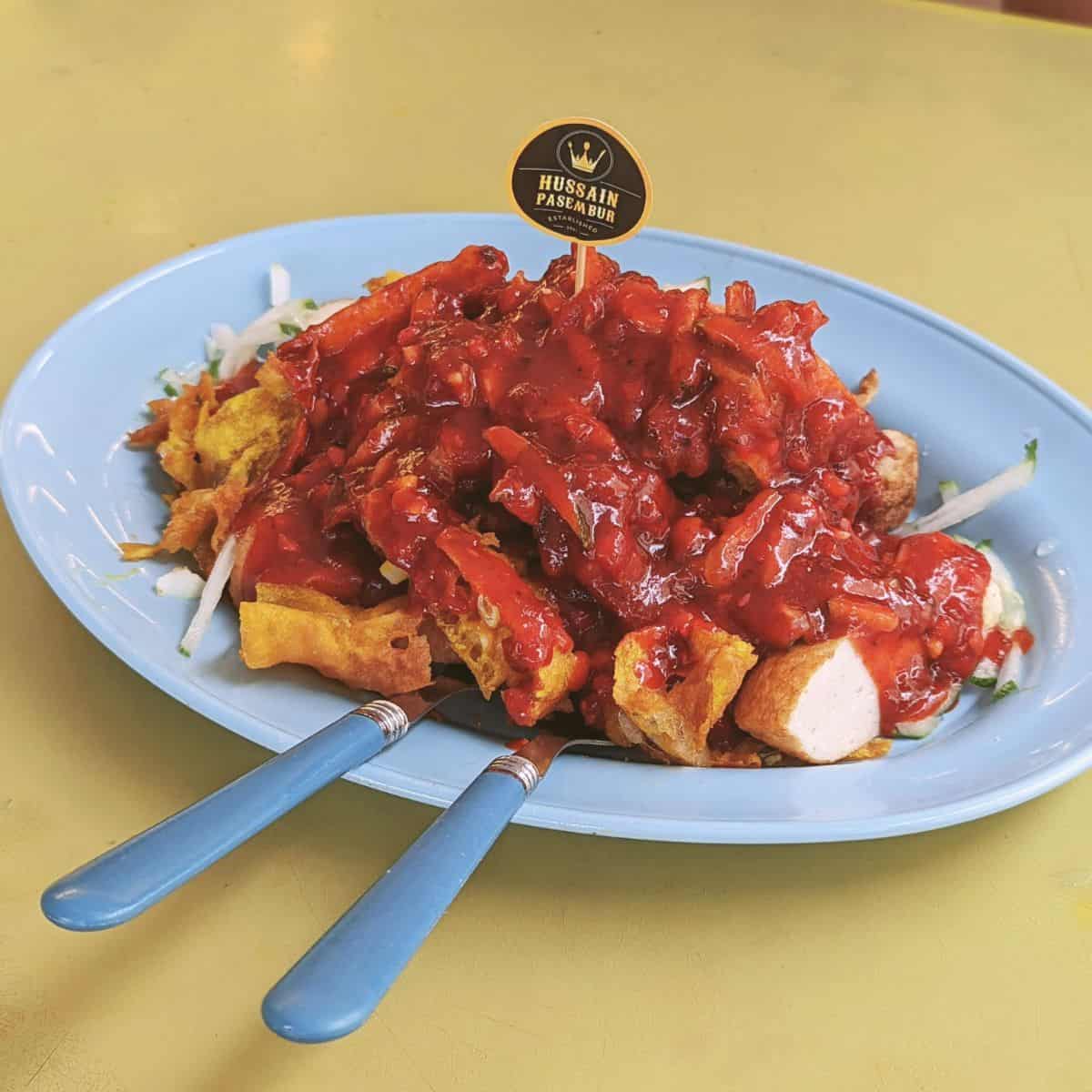 Unlike Western salads with only vegetables, you'll find crunchy bean sprouts, cucumbers, and turnips with chopped deep-fried foods such as prawn fritters (also known as cucur udang). Furthermore, you will also find other protein-packed ingredients such as eggs and beancurd in the mix. The cooks then top the dish with a thick peanut sauce.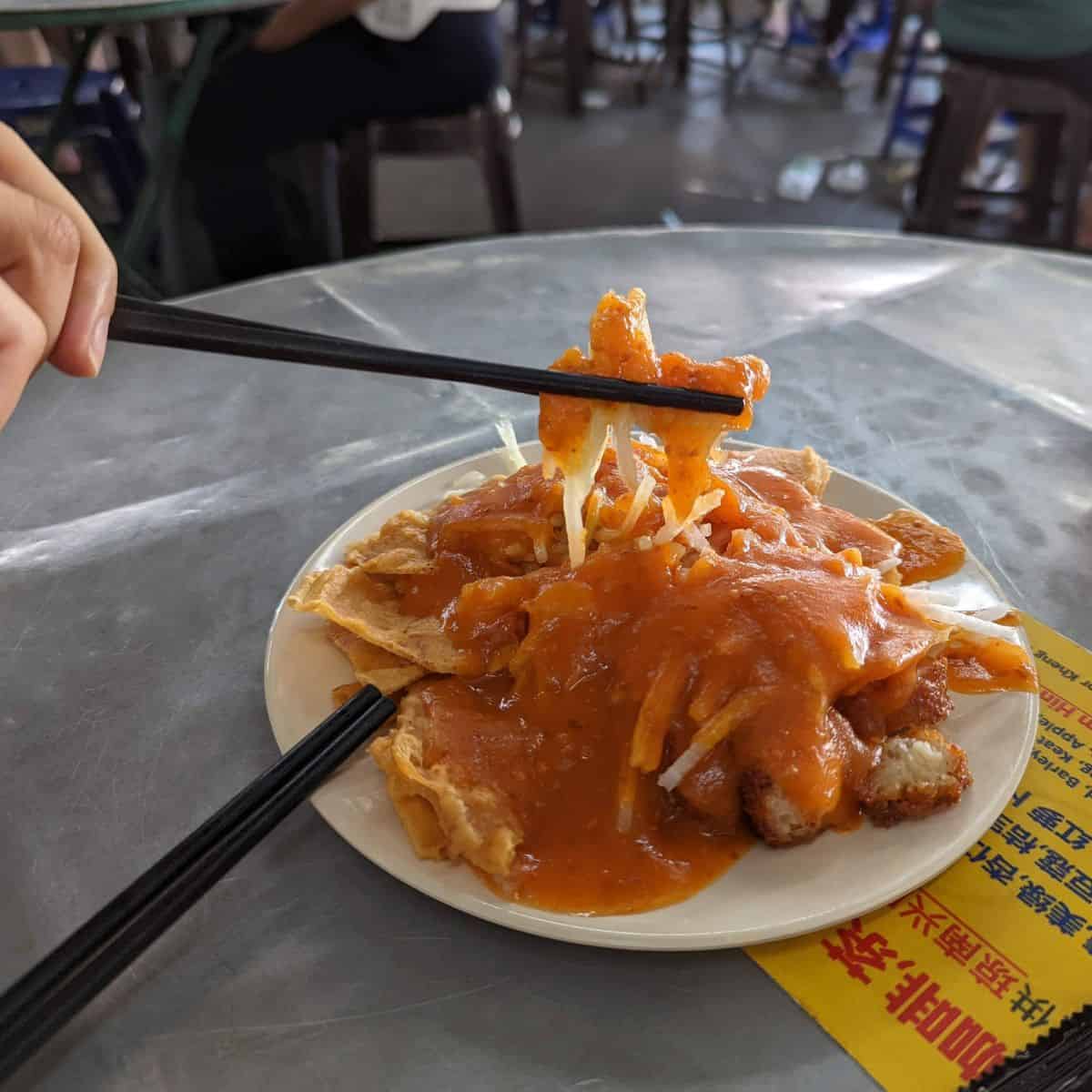 While no one knows how or when the dish came about, it is mostly sold by Indian-Muslim hawkers. However, there are also Chinese hawkers selling a Chinese version. Because it is usually sold at a mamak stall (a local term for a hawker stall), Malaysians also call the dish mamak rojak. Penang, especially, is reputed to have the best mamak rojak in Malaysia. So, if you're curious about where to enjoy the best pasembur in Penang, keep reading.
Jump to:
Medan Selera (Halal) Padang Brown
Zulaika Pasembur Rojak at Medan Selera Padang Brown food court is near the Penang City Stadium in Georgetown. This prime location means it's easy to find. We like the semi-open-air seating of the food court. Therefore, you must make a trip here if you want affordable alfresco dining.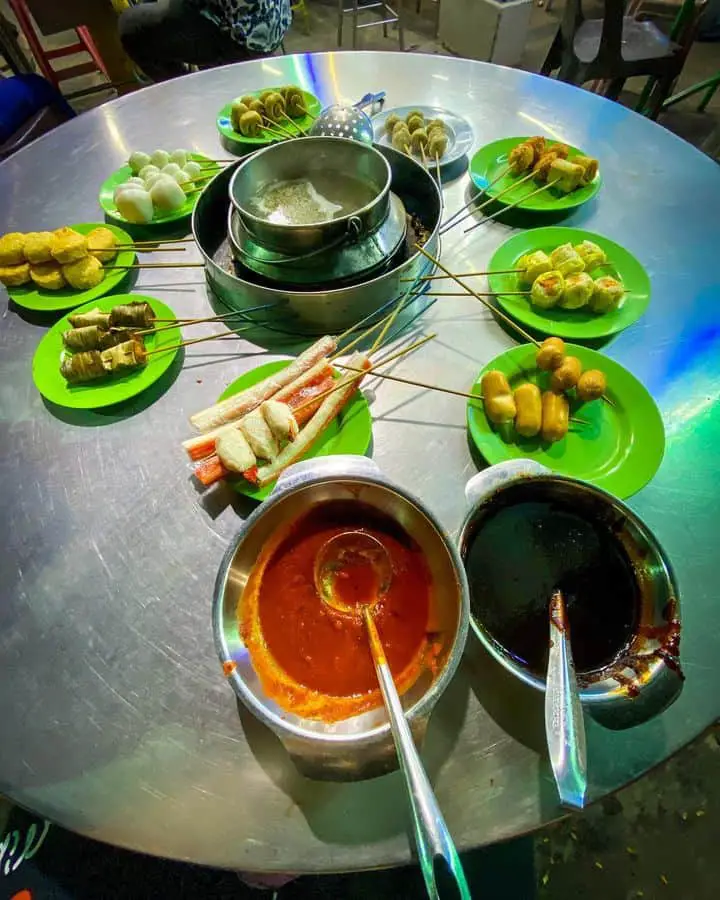 This Penang Pasembur in Georgetown is well-loved by its fans because of the fresh ingredients and large portions. If you like a mild gravy, then their rojak is for you! There is also a good selection of sides, such as prawn cakes, sausages, and fishcakes.
The food court is usually relatively quiet in the afternoons - which is a great time to go. However, we suggest that you avoid the weekends. Although plenty of dining seats are available, finding a parking spot during the weekend is quite challenging. This time is not very convenient unless you come by taxi or are within walking distance. A cool thing about the market is that it closes at 1 am! So, for a full Penang nightlife experience, head here for a rojak to end your night out. 
Medan Selera (Halal) Padang Brown
Jln Perak, 10400 George Town, Pulau Pinang, Malaysia
Gani Pasembur Penang 
This stall is located in Medan Renong food court in Georgetown, Penang's capital. Apart from enjoying Penang pasembur in Georgetown, you can also try other local dishes within this food court. From rice and noodle dishes to desserts like bubur chacha (a sweet shaved ice dessert), there's something for everyone! Best of all, the food court is located near the seaside. We like having the sea breeze in our hair while we eat.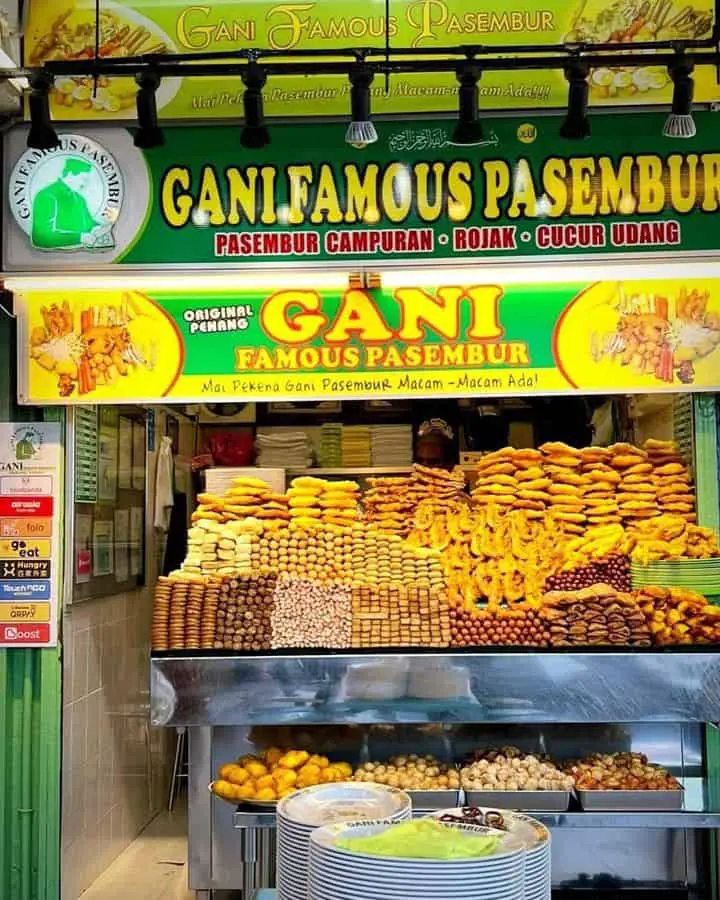 But back to Gani Pasembur Penang! They serve some of the best pasembur in Penang, with an iconic and intensely sweet red sauce. They have a special way of making the sauce (or cara buat kuah in Malay) that makes it taste unlike other rojak stalls. It is also known to be very addictive! Additionally, the booth also offers a wide variety of sides to add to your rojak. You get traditional ingredients like cucur as well as more contemporary components, such as cheese sausages and fishcakes.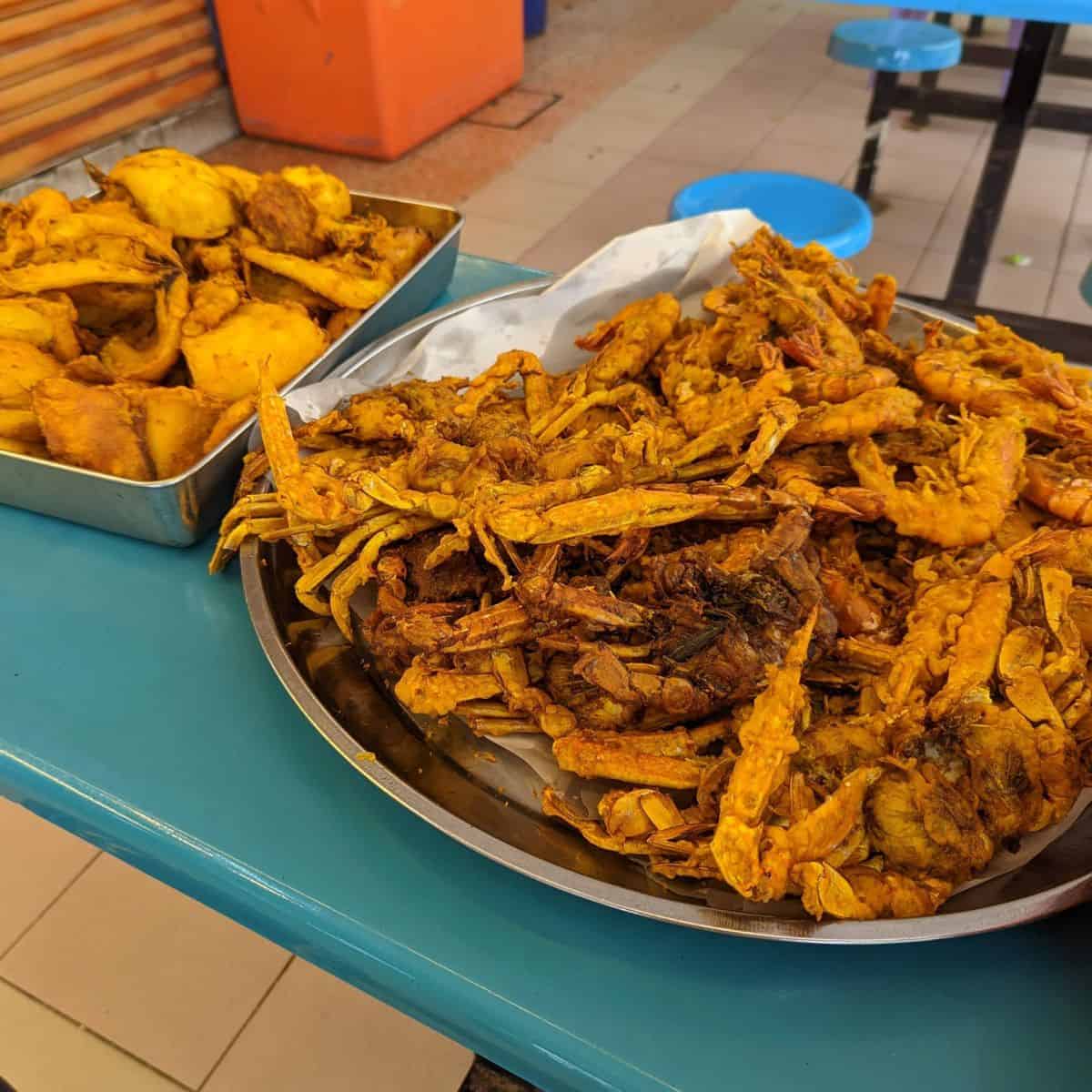 It gets very crowded here, and along with the long queues, the dining environment may get too chaotic to eat. So, if you want to enjoy your meal in peace, go early in the late afternoon before the dinner crowds descend. Also, some seafood dishes can be pricier than others, so if you want to avoid a bill shock, it's best to ask before you point. 
Gani Pasembur Penang 
3, Medan Renong,Padang Kota Lama, Jalan Tun Syed Sheh Barakbah, George Town, 10200 Georgetown, Pulau Pinang, Malaysia
Website
Menari
Pasembur Menari is known to the locals as Pasembur Stall no. 09 Anjung Gurney. The stall itself is located amidst a colourful line of other mamak stalls. But you won't be able to miss it because the stall front has a fringe of bright streamers. So if you're looking to stop by and take away some Penang Pasembur on your way to Batu Ferringhi, this is your spot! 
This viral pasembur in Penang became famous all over social media for a unique and musical reason. People were mesmerised by the stallholders who would rhythmically sing "rojak, rojak" as they chopped their food. We love the cheerful vibes and upbeat ambience, especially at night. So imagine enjoying your rojak while watching the viral pasembur joget (dance in Malay) show by the stallholders!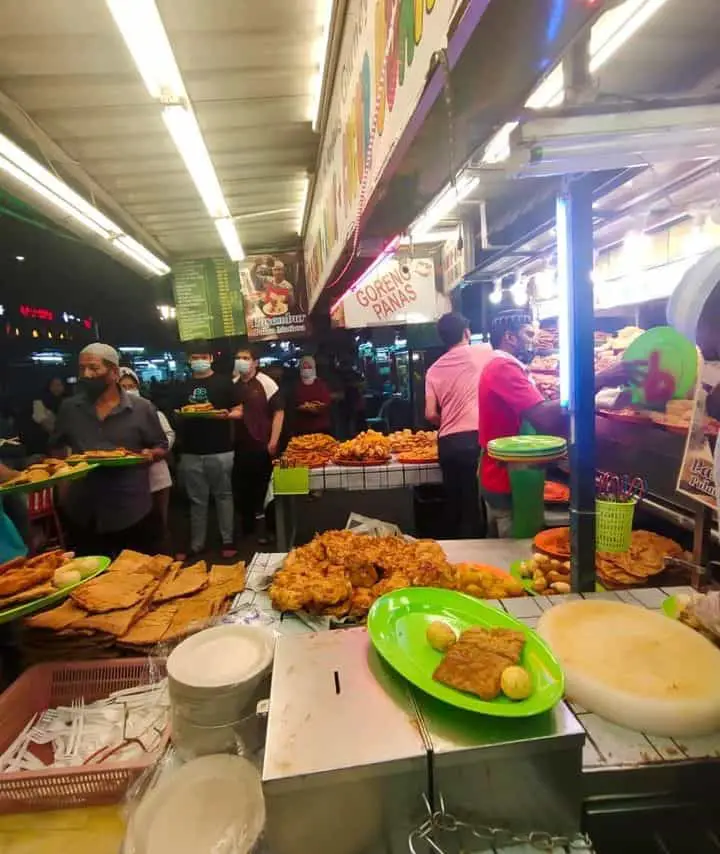 This Penang pasembur in Gurney has diehard fans who wax lyrical about their special savoury sauce. There is also a wide selection of deep-fried fritters, fish cakes, crabsticks, dumplings and so on. Furthermore, eating alfresco with so many options is an experience you cannot miss! To order, tell the stallholder your budget, so they know what to add.
The best time to arrive at Pasembur Menari is around 6 pm. The service is fast, so you won't have to queue too long. But the seats at the food court do fill up quickly at dinner time. Another tip is to bring an umbrella, as there is little shelter when it rains. Since there is no notable Penang pasembur in Batu Ferringhi, this one in Gurney Drive is the closest one worth travelling to. 
 Menari
No.9, Persiaran Gurney. T.P.S Gurney Drive(Baru), Menara Sunrise, Township, 10350 George Town, Pulau Pinang, Malaysia
Website
Kareem Pasembur Penang
Kareem Pasembur Penang is considered one of the best pasembur in Penang. Its location is in the middle of Penang's capital city Georgetown. Because it's near many tourist attractions and banks, it has a majority white-collar crowd at breakfast and lunch. As a result, the stalls are much cleaner than the usual mamak stall. Another plus point is that the nasi lemak (coconut rice with dishes) stall beside it provides us with more options if you want to eat more than just rojak.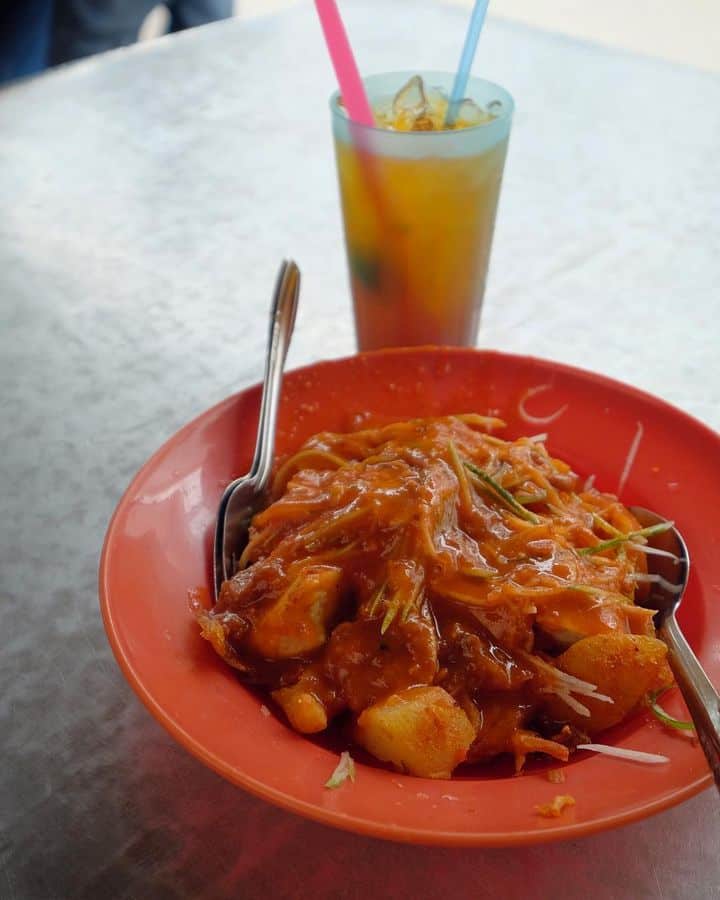 The serving size and affordability are notable about this famous pasembur in Penang. You can share a plate with two people. Another distinctive feature is their homemade peanut sauce. The 'cara buat kuah', or how they cook their sauce, makes it less sweet than other stalls and paler in colour. Some people prefer this sauce because it is milder than other stalls. The stall has been around since 1945, so it's the best place for traditional rojak. 
The stall opens at 11 am and closes at 7 pm. Lunchtime and dinner time are peak periods. So if you want to get your hands on a plate of Penang pasembur in Georgetown, come as soon as it opens. You should be able to grab a seat since only a few customers settle there to dine as most customers head back to their nearby offices to eat. 
Kareem Pasembur Penang
 7, Lebuh Union, George Town, 10200 George Town, Pulau Pinang, Malaysia
Pasembur King (Hussain)
Pasembur Hussain is located just a few stalls down from Gani at Medan Renong food court. So if you want to compare two famous pasembur in Penang, this open-air food court is the best place. We like that you can also get other local dishes to try.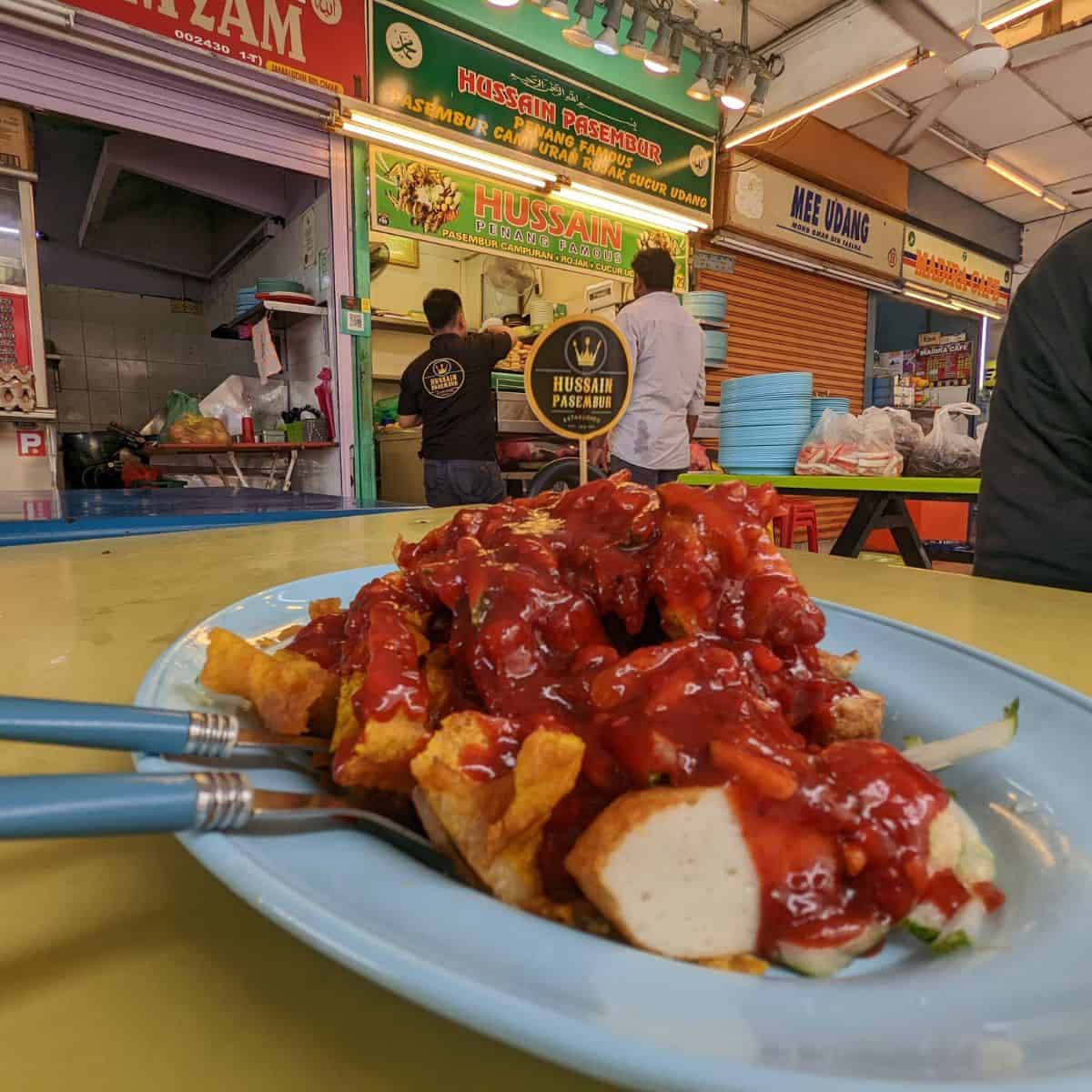 This Penang Pasembur in Georgetown is famous for its sweet and spicy sauce. Try their version if you prefer rojak with a fiery kick. There's a smaller selection of dishes than in Gani, but the service is friendly and fast. 
Because the food court is famous amongst locals on weekends, it's best to go on a weekday. Also, avoid dinner crowds after 6 pm. The best time to go is during late noon. Remember to bring an umbrella in the case of rain, as pasembur Hussain is in an open-air area. 
Pasembur King (Hussain)
Medan Renong, George Town, 10200 George Town, Pulau Pinang, Malaysia
Chinese Pasembur at Lebuh Cecil
While this mamak dish is usually sold by Indian Muslim hawkers, there is also a Chinese version. You get to try this at the sheltered market at Lebuh Cecil. We like its convenient location in Georgetown as it is easy to find. Plus, there is a good selection of local food here, especially kueh (Malay pastries). So come here to try a different take on this iconic dish!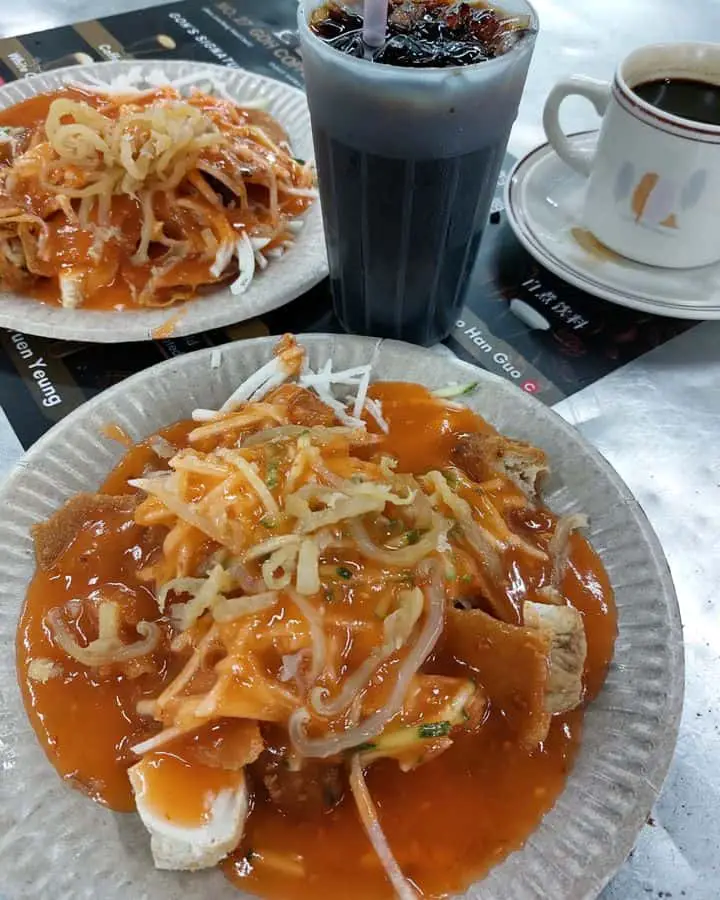 The Chinese version of this dish is called cheh-hu. This is a Hokkien term that means 'raw fish'. As the name suggests, the Chinese version has raw jellyfish slices added to it. It has the same cucumber, turnip, and potato combination, but Chinese cooks tend to add fewer fried foods. The sauce is also milder, with plenty of sesame seeds and ground peanuts. Some food blogs also call this the Chinese version of rojak.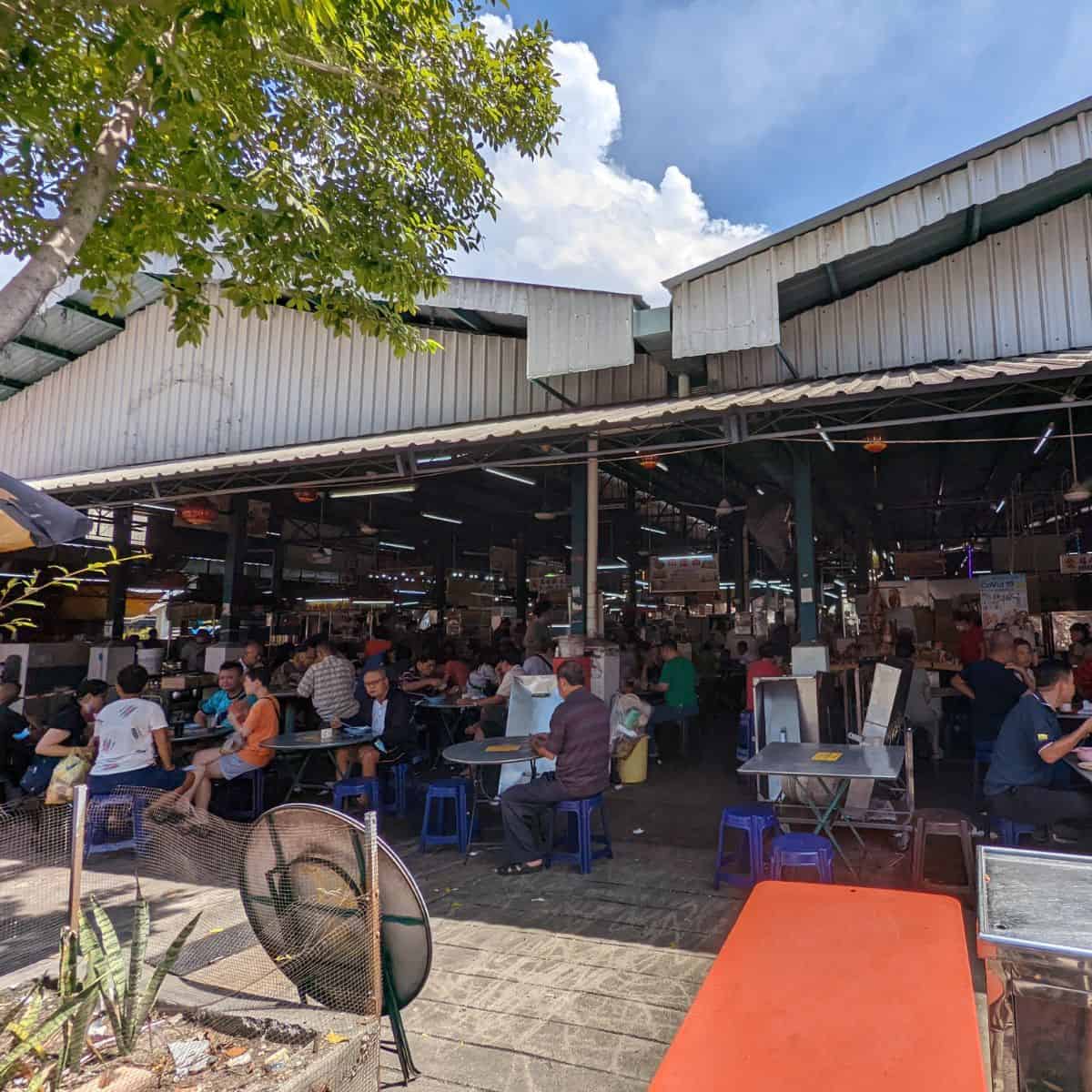 It's much harder to find this famous pasembur in Penang. That's why Lebuh Cecil has gone viral with this mamak dish. The market is open till the late afternoon, but be warned - parking is hard to find. Therefore, our top tip would be to take a taxi here. It's best to go in the late morning or early afternoon. Although sheltered, the place can get warm and crowded in late noon. So if you're nearby, do try this viral pasembur in Penang!  
Chinese Pasembur at Lebuh Cecil
Lebuh Cecil, 10300 George Town, Pulau Pinang, Malaysia
Pasembur at Batu Lanchang Market Food Court
Batu Lanchang food court may be slightly out of the way since it's a 30-minute drive from Georgetown, but we recommend you head here anyway. The multi-storey market offers a peek into local life since it's in the neighbouring areas, away from the touristy parts of Penang. Above all, the food is definitely worth the extra drive! 
Over here, you get to try their viral pasembur in Penang. Their Chinese version of mamak rojak became super popular. It became viral because Batu Lanchang is one of the two places in Penang that comes up often in food blogs when you search for Chinese cheh hu.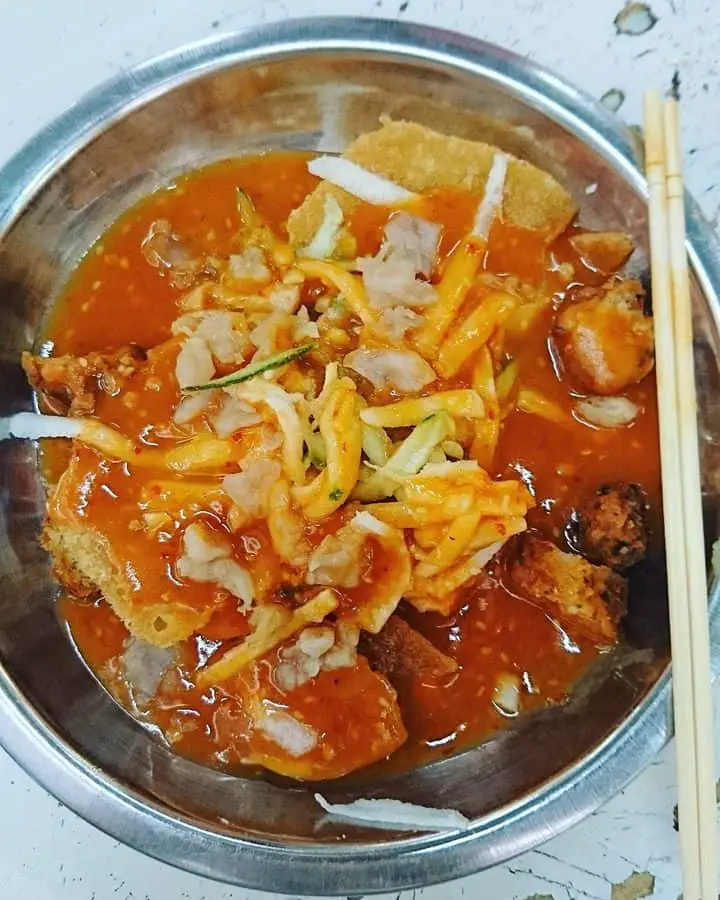 Another reason is that Chinese rojak is milder tasting with less savoury foods. Therefore, finding a version that hits a sweet spot is challenging, and most chefs cannot cook it well. However, Penang citizens say the cook does an excellent Chinese rojak here!
We also recommend trying it because you can add jellyfish (cheh hu in Chinese) to your typical rojak. The texture of jellyfish will definitely be something different if you've never tasted it before. If you want to try something else on the side, you must try their char kway teow (fried Hokkien noodles). It is genuinely 'sedap' (Malay for delicious)! 
Thankfully, it is not crowded here except in the early mornings. Additionally, the market also uses mobile payments, which is super convenient! Suppose you plan to visit the famous Snake Temple, a key Penang attraction near Bayan Lepas. In that case, you might realise there are few Google recommendations for Penang pasembur in Bayan Lepas. However, we recommend you take a quick pit stop to fill your fill first before visiting the Snake Temple, as this stall is only 15 minutes away by car!
Pasembur at Batu Lanchang Market Food Court
Lrg Batu Lanchang, Taman Sri Damai, 11600 Jelutong, Pulau Pinang, Malaysia
Top Spots for Pasembur in Penang
These are the best places to grab Penang Pasembur: 
Our Favourites
For us, eating Chinese rojak at Lebuh Cecil and Menari topped our list of things to do in Penang. Lebuh Cecil Market offers a glimpse into locals' life while tasting delicious Penang street food. It's also worth driving here to taste cheh hu and mingle with the locals.
As for Menari, if you've seen the adorable viral video of the stallholders singing, you'll want to witness the lively pasembur joget while enjoying their wide selection of sides with your mamak!
If you've enjoyed reading this article and want more travel recommendations and insights on local foods, make sure to follow us on Instagram @tabitogether!