The best Indian restaurants in Penang offer a unique blend of flavours that are not found elsewhere. On this island, you can experience many fantastic South Asian delicacies, given the existence of Malaysia's deep-rooted Indian communities.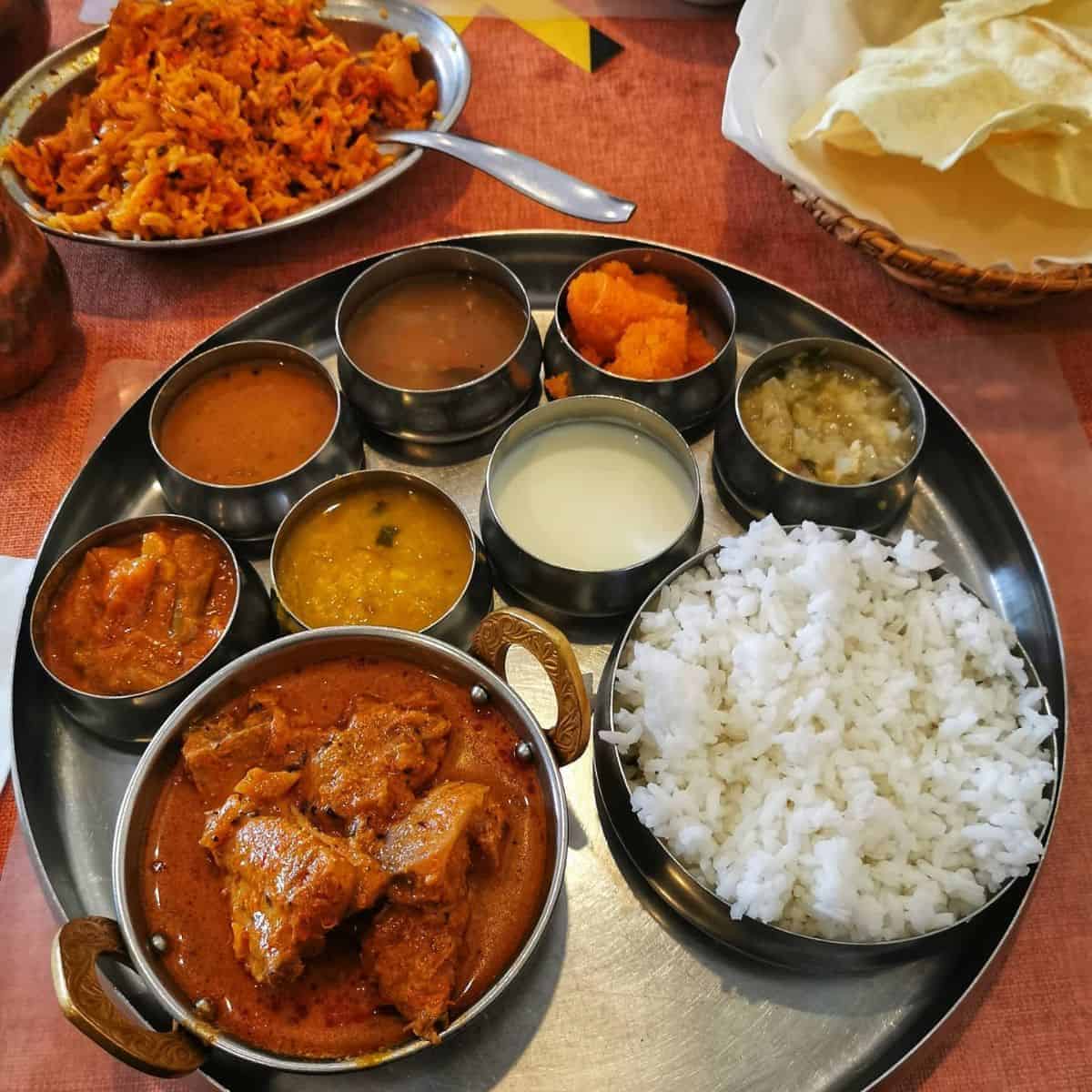 Numerous Malaysian Indians have created excellent delis that highlight their culture and are not to be missed. Furthermore, there is also the marrying of Malay and Indian food culture, giving us a beautiful hybrid known as Mamak or Peranakan cuisine.
Therefore, whether you're looking for a throwback to the lush greenery of Kerala in a south Indian restaurant in Penang, to the majestic palaces of Rajasthan or even to the bustling streets of Mumbai - we got you. So, continue reading to get all the deets on some of the most famous Indian restaurants in Penang and for the best authentic Indian grub you can get on this island.
Jump to:
Veloo Villas Restaurant (Best Indian Banana Leaf restaurant in Penang)
Veloo Villas is perfect if you're looking for a no-frills dining experience. This place has been in business for over 30 years and offers many options on its self-service menu. The cosy diner is always packed, given the amazing attention to quality. Furthermore, their chefs hail from Tamil Nadu, which explains the fantastic food served on fragrant banana leaves. Interestingly, they don't add coconut milk to their dishes to preserve the masala flavour of their curries.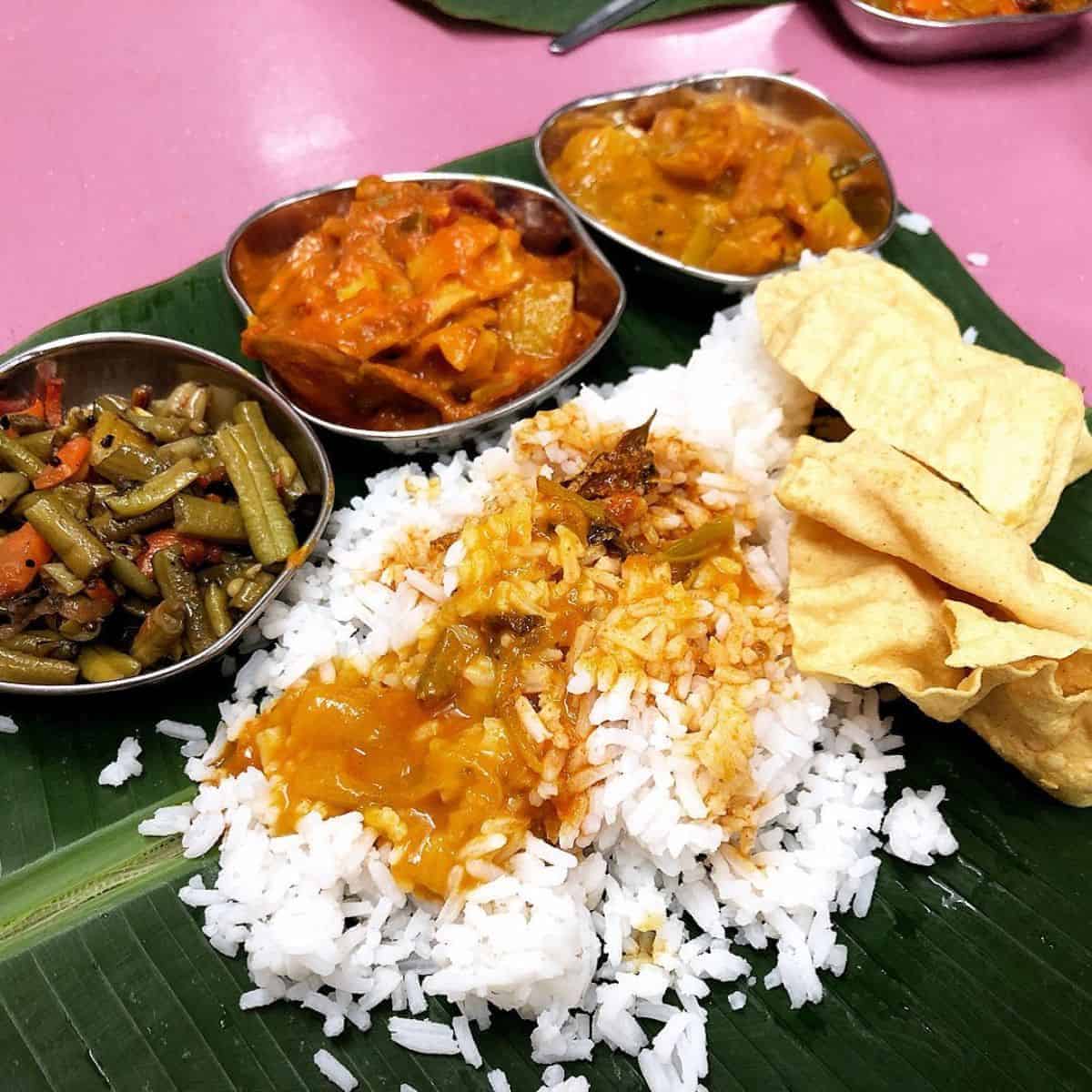 At this banana leaf joint, there are many must-try dishes! First, you must try their signature banana leaf rice served alongside some crunchy poppadoms and a plethora of side dishes you can choose from. The selection includes a delectable snake gourd coconut curry, an aromatic dhal and a variety of other veg and non-veg options! This spot has definitely earned its title as the best Indian banana leaf restaurant in Penang.
One of their must-try 'exclusive' specialities is chicken rasam, served only on Thursdays and Sundays. This dish consists of a succulent chicken that has been simmered in a concoction of spices and herbs - resulting in a soupy curry of absolute perfection! You could also pair it with one of their famous masala dosas. 
Located in the centre of town, Veloo Villas is worth checking out. Alternatively, Muthu Banana Leaf Restaurant is another good Indian restaurant in Penang that serves banana leaf meals. We recommend avoiding the lunch crowds and coming to either restaurants in the afternoon for a late lunch.
Veloo Villas
No.22, Penang St, Georgetown, 10200 George Town, Penang, Malaysia
Sri Ananda Bahwan 
Sri Ananda Bahwan is the place to go if you want to taste and experience one of the best Indian restaurants in Penang. This spot is a local favourite, given their affordable and flavourful dishes. Furthermore, the place is known for its mouth-watering chicken tandoori and sumptuous curries.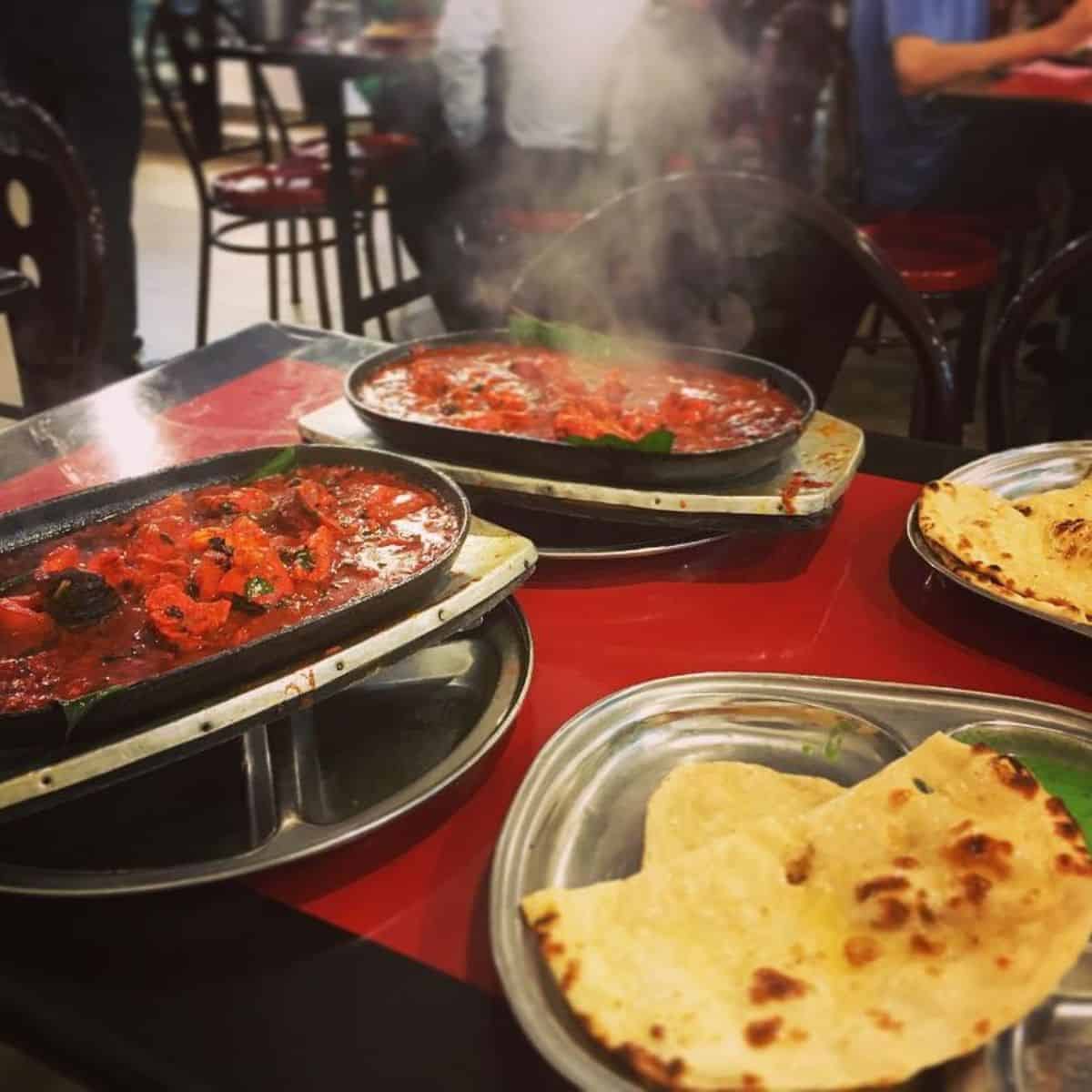 The famous Indian restaurant in Penang provides a variety of Southern and Northern meals, but their banana leaf rice is the main highlight. The rice pairs incredibly well with their 'banjir' curries which are highly tempting when poured all over the rice. Another must-try is their prawn biryani, made from fresh, local ingredients.
We recommend that you pair their butter chicken masala with your biryani. The chicken is tender, and the curry is flavourful. But the best part is the unlimited gravy! Furthermore, they serve a hot cup of rasam upon request. 
Sri Ananda Bahwan has multiple branches, so you won't run out of the best Indian food in Little India, Penang. Although their service could improve, there is no denying that their meals are excellent! They open at 7 am. So, come around 11 am for an early lunch, as locals say it gets packed fast.
Sri Ananda Bahwan
Multiple locations on Penang Island
Woodlands Vegetarian Restaurant (Best Indian vegetarian restaurant in Penang)
If you are searching for amazing vegetarian fare, this is your spot! Located in the bustling neighbourhood of Lebuh Penang, aka Little India, lies one of the best Indian vegetarian restaurants in Penang. Woodlands is a genuine and authentic diner that consistently dishes out mouth-watering grub. 
Start your meal with one of many delicious appetisers to satisfy your stomach, such as their fried mushrooms and samosas. If you're there for lunch, take the chance to try their famous Woodlands Special Thali. It consists of a round, deep platter covered in a banana leaf, rice or roti and several metal bowls filled with side dishes. Some sumptuous side dishes to include are sambar, dhal and rasam. However, there are many other dishes to try out.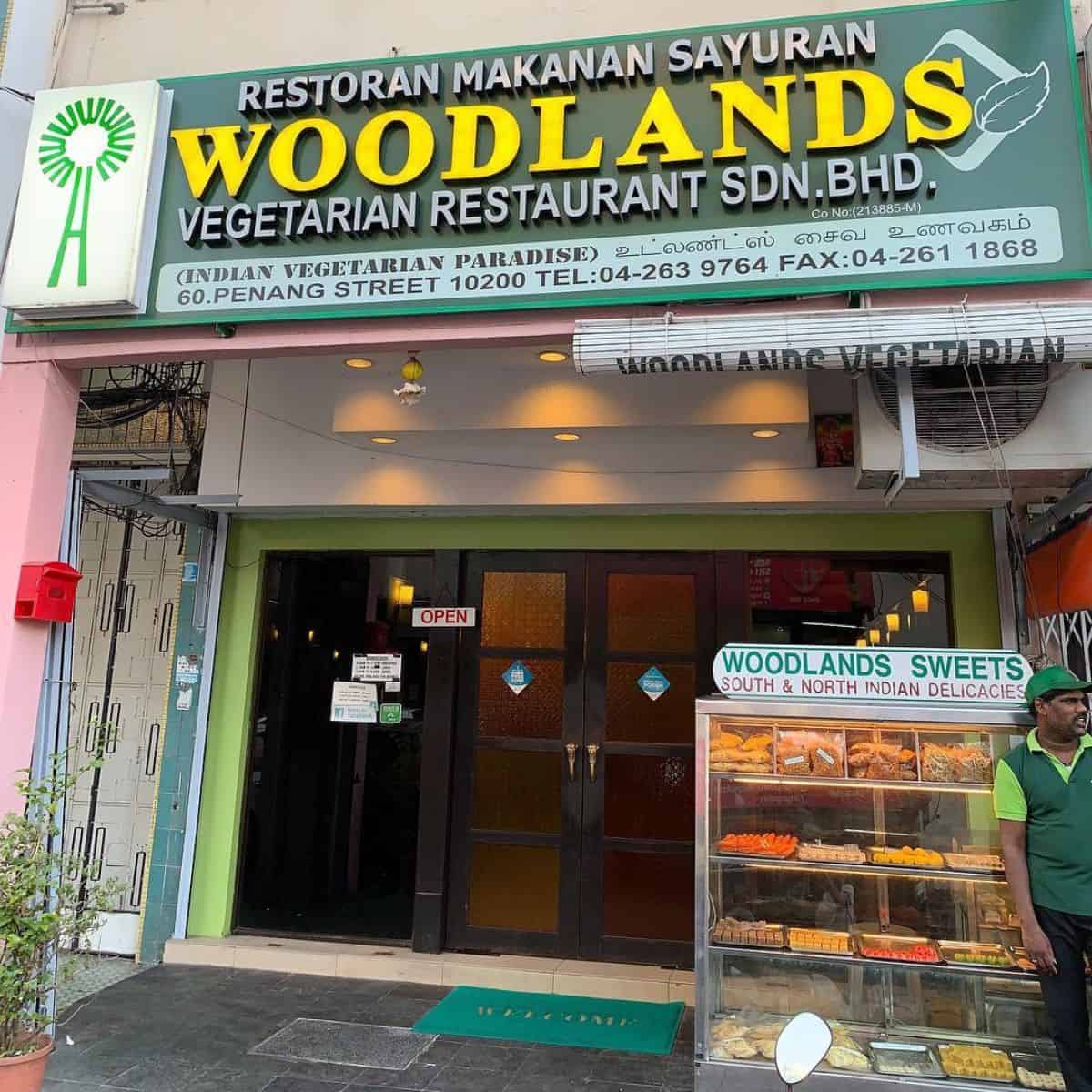 Ultimately, you will receive a good balance of sweet, sour, and mildly spicy flavours from all their options. Even if you're not a big fan of vegetarian food, this famous Penang restaurant's dishes will convince you otherwise. They open daily at 8:30 am, and the place can be crowded, so be there early!
If you're feeling extra hungry, we also recommend Annalakshmi Penang which offers a vegetarian buffet. The range of menus you get there will surely satisfy your cravings and is another very popular spot among vegetarians.
Woodlands Vegetarian 
60, Lebuh Penang, George Town, 10200 George Town, Pulau Pinang, Malaysia
Hameediyah Restaurant
The answer to all your Nasi Kandar cravings is Hameediyah. This century-old spot is one of the greatest Indian restaurants in Penang mainland. Many people rave about how they serve one of the best Nasi Kandar in Penang!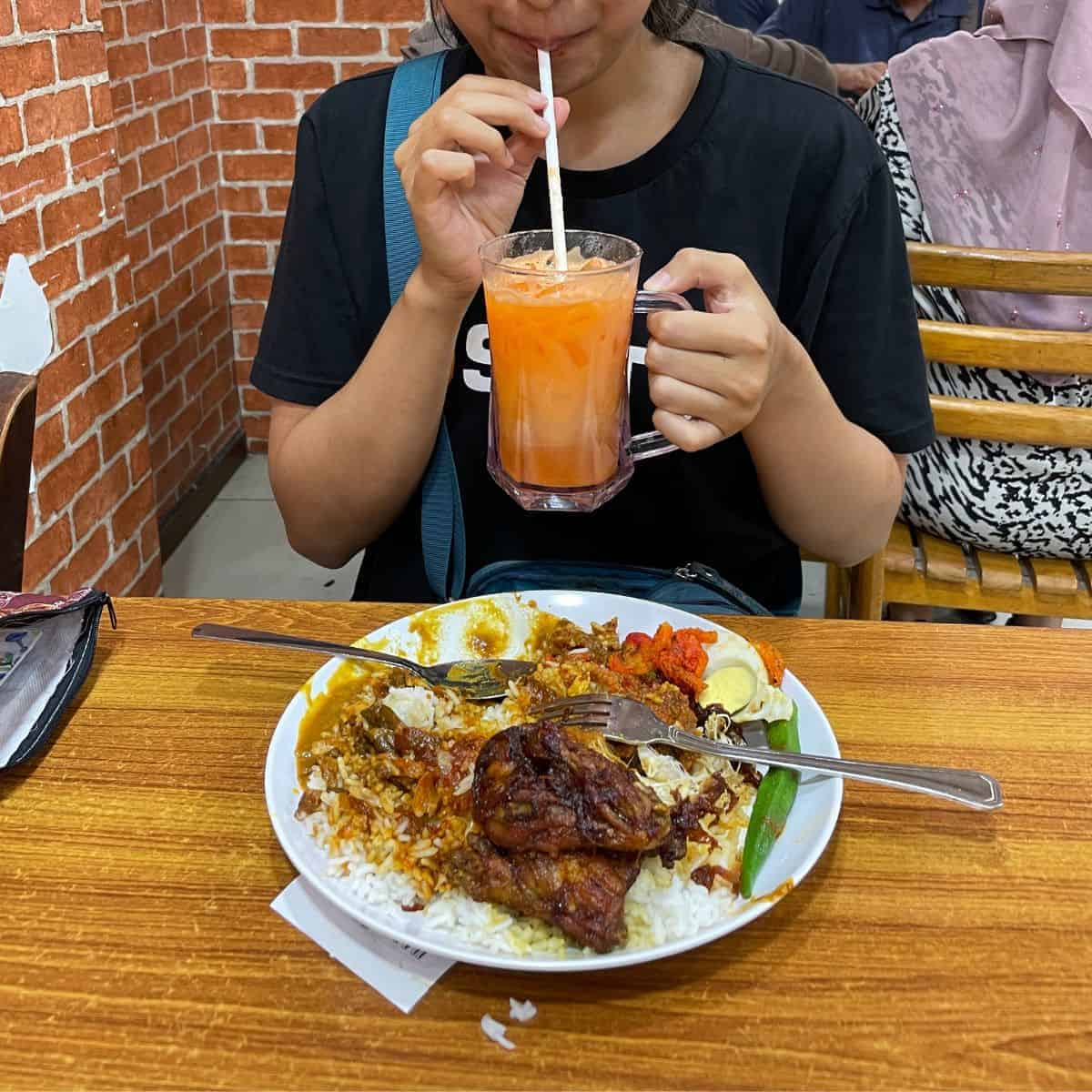 Their nasi kandar has been their top seller for a long time, along with dishes like Beef Rendang and Chicken Murtabak. Their Nasi Kandar is served with a sublime sauce and steaming white rice. Furthermore, if you want to experience the whole Hameediyah experience, choose their Nasi Biryani to pair with one of their meat dishes. Their use of a secret blend of Pakistani rice and spices truly brings the dish combo to life.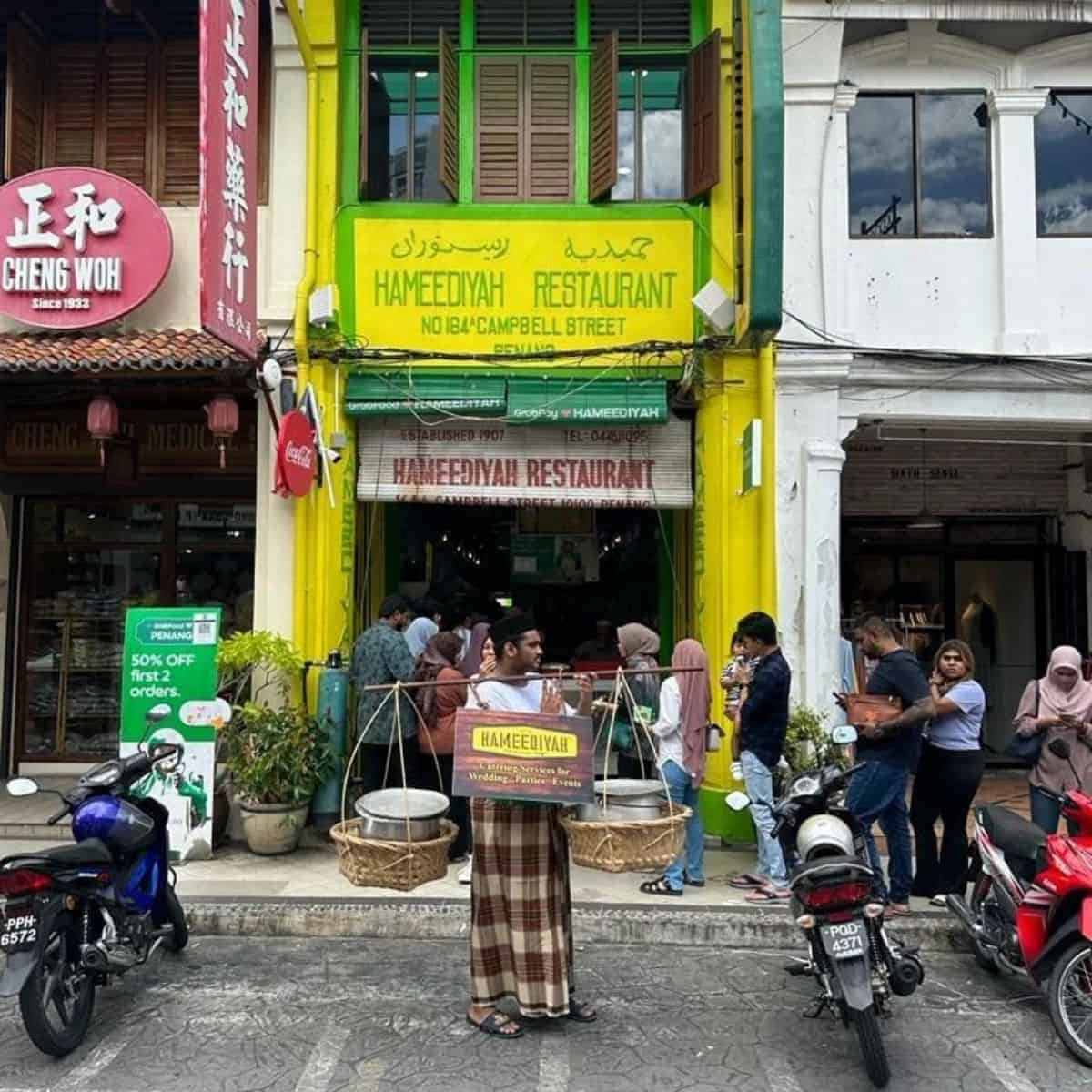 For generations, their recipes have remained unchanged, which is why they continue to be the best. This iconic establishment is open until 10 pm every day, but we suggest you come here before noon to taste their succulent Ayam Ros before it gets sold out.
Hameediyah
164A, Lebuh Campbell, 10200, George Town, Penang, Malaysia
GEM Restaurant
GEM may initially appear as a shabby and ordinary spot. However, despite what it may look like from the outside, they are one of the best Indian restaurants in Penang. Truly a gem for us curry lovers.
We adore this top Indian restaurant in Penang for their iconically rich, thick, and spicy curries. Moreover, they serve various regional Indian food, tandoori, and vegetarian choices. They serve nothing extravagant or expensive. Just wonderful and reasonably priced meals for everyone.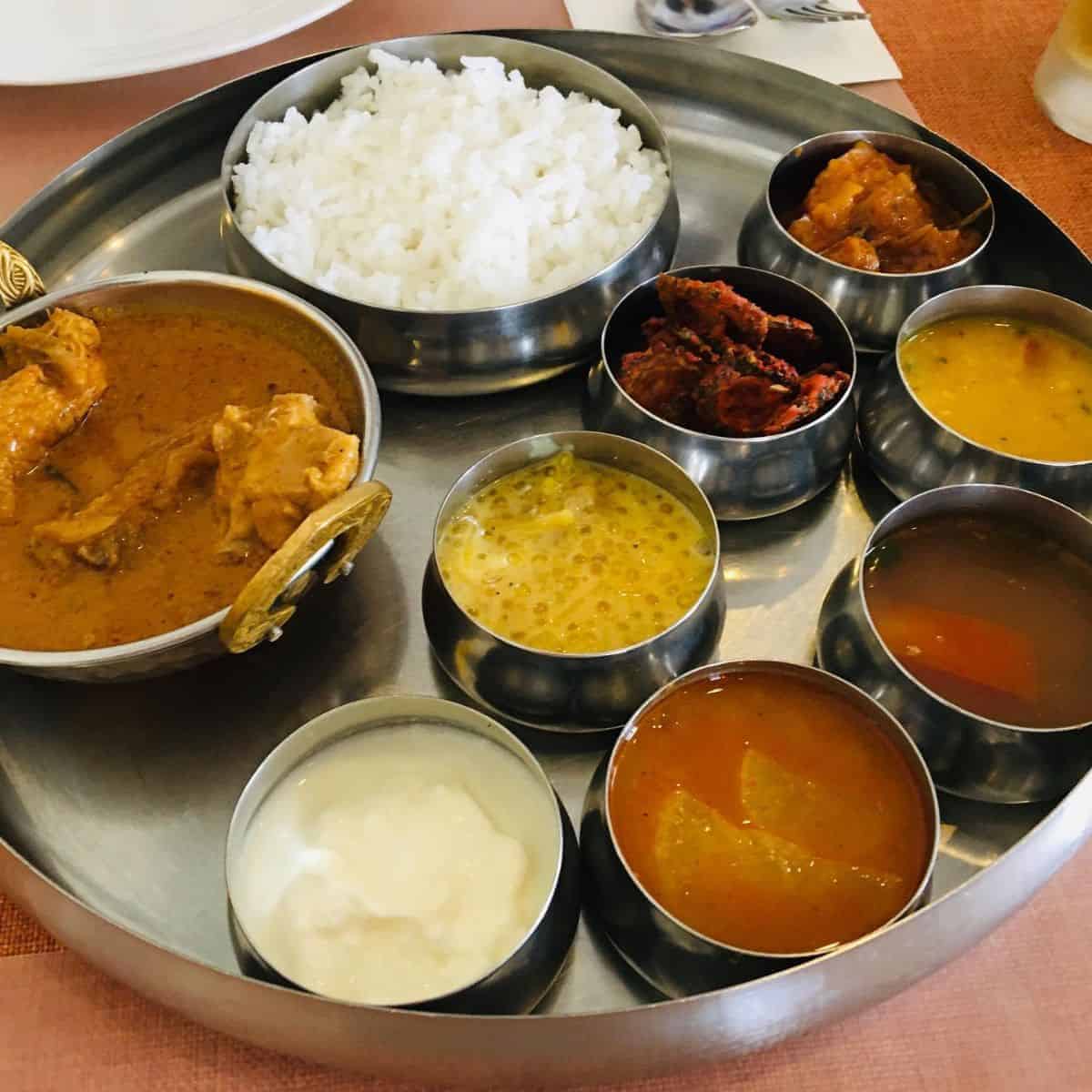 Their palak paneer, chicken biryani, and naan with chicken masala are just some of their genuinely excellent meals. However, if you're craving some crustaceans, you must order their chef's special Sizzling Prawn platter. They cover the prawns in freshly ground masala and serve them to you on a hot plate - hence the 'sizzling'.  
Another great thing about this spot is its quick and polite service. Furthermore, locals say it's best to eat here on the weekends. So if you find yourself in the neighbourhood, swing by for some of the best Indian food in Little India Penang.
GEM
66, Lebuh Bishop, George Town, 10450 George Town, Pulau Pinang, Malaysia
Kashmir Restaurant (Best north Indian restaurant in Penang)
For a unique fine-dining experience, come to Kashmir. This nice Indian restaurant in Penang has been serving since 1984. Locals will tell you it is one of the first places on the island, if not the entire country, to serve north Indian food. In addition, their tandoori and rice dish options are guaranteed to satisfy customers' cravings for North Indian or Mughlai cuisine. 
Our favourite dish here was their Tandoori "kampung" chicken. The chefs carefully barbeque free-range chicken in a traditional tandoor oven. The chicken is succulent and flavourful since it has been marinated in a complex mix of spices and yoghurt. Furthermore, if you want a fragrant rice dish, order their Kashmiri pulao. The rice is infused with saffron and mixed with dried fruit and grated nuts to add a textural edge. 
Today, Kashmir remains famous for consistently serving the best Indian food on Penang Island. Although the menu is quite pricey, it offers authentic North Indian cuisine. It also has a bar for cocktails to complement your meal. Locals recommend dropping by at 6 pm to enjoy a live band at night.
Kashmir Restaurant
105, Jalan Penang, George Town, 10000 George Town, Pulau Pinang, Malaysia
d' Tandoor Restaurant
Tanjung Tokong is home to the North Indian fine dining restaurant d' Tandoor. This 5-star restaurant in Penang offers vegetarian cuisine and a children's menu. Furthermore, d' Tandoor is a halal Indian restaurant in Penang that focuses mainly on Mughalai cuisine.
They provide set lunch and supper menus at reasonable pricing. You will be torn between various curries, delicacies, vegetarian options, and relishes as they serve the best Indian food in Penang island.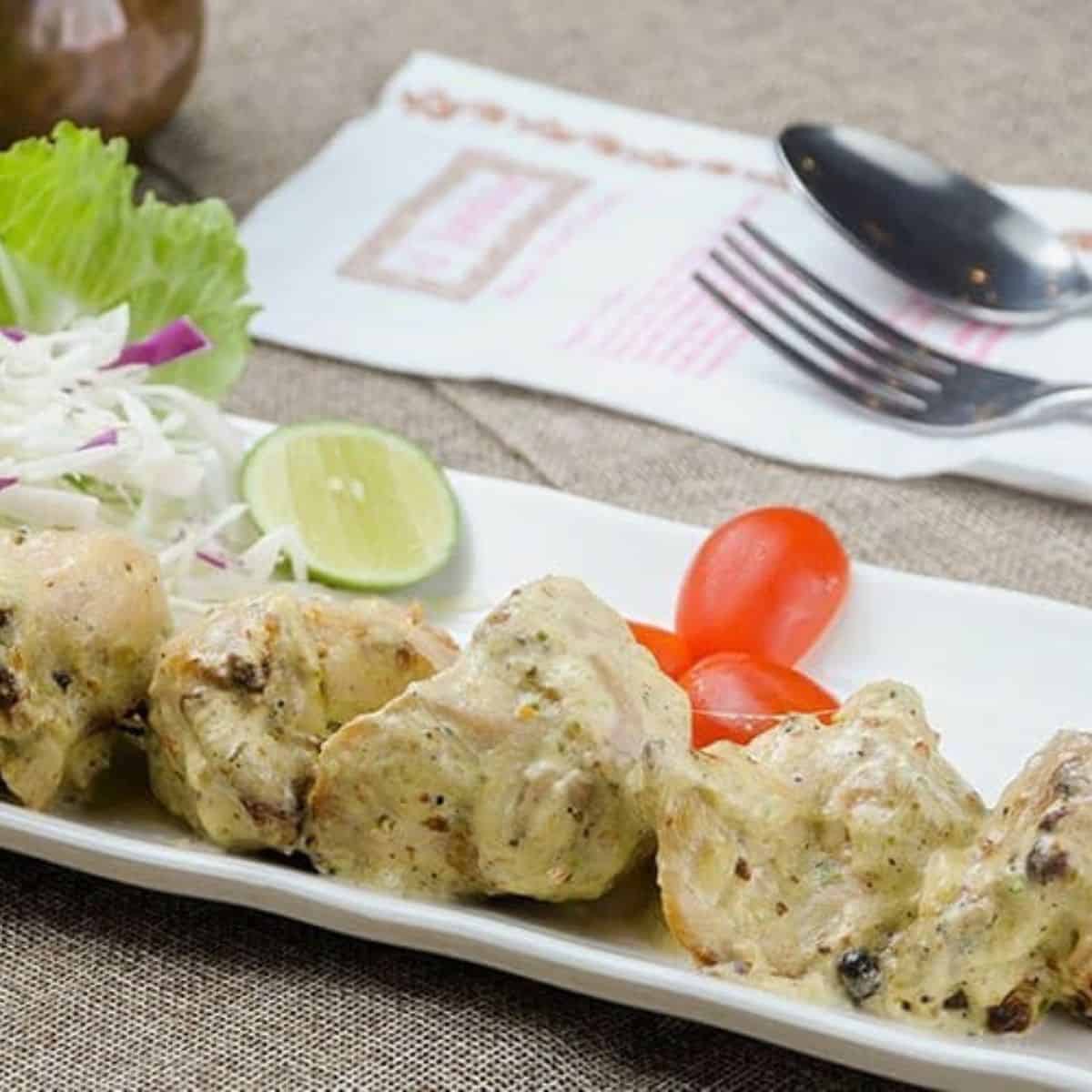 Chicken biryani, butter masala and gajar halwa are a few of the many delectable dishes they serve. Furthermore, their complementary thin, crunchy poppadoms and creamy mint yoghurt are the perfect appetisers. But we think that their chicken tandoori is the true showstopper. The chicken is seasoned to the heavens and is served in a rich, creamy yoghurt sauce.
D'Tandoor accepts advanced reservations, so we suggest reserving a table for 12 pm or 6 pm. If you're looking for a fancy dinner on your night out, this is the best place to kickstart your discovery of the amazing nightlife in Penang Island. 
D' Tandoor
10-C-22, Precinct, 10, Jalan Tanjong Tokong, 10470 Tanjung Tokong, Pulau Pinang, Malaysia
Thali NR Sweets Café Restaurant (Best in Little India)
Thali is well-known for its authentic Indian sweets and its vegetarian cuisine. In fact, they are the best Indian restaurant in Little India, Penang. It's one of the greatest places on the island to eat vegetarian Indian food, and they offer amazing set meals.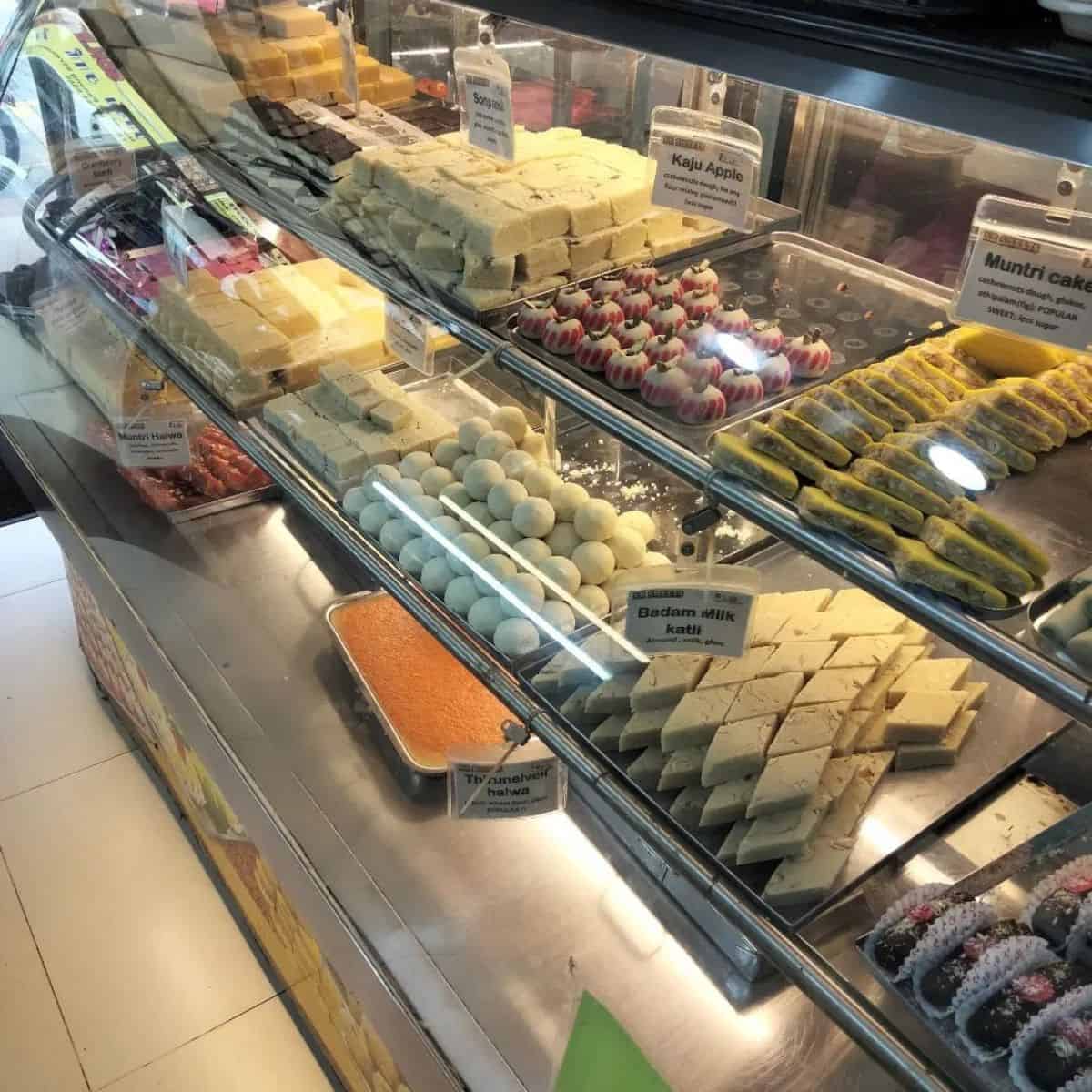 We highly recommend trying their gosht set meal if you want to try a little of everything. The set meal includes naan, basmati rice, dal tarka, vegetable makhanwala, raita, and a beverage.
They also offer chutney, achar, and spicy papad as side dishes. Try some of their freshly made traditional desserts to round out your meal. They have everything from gulab jamun to ghee ladoos - you will be spoilt for choice.
This Penang famous restaurant is open every day until 10 pm. However, the best time to stop by is noon for lunch. But go earlier if you need a parking space.
Thali NR Sweets Cafė Restaurant
75, Lebuh Penang, George Town, 10200 George Town, Pulau Pinang, Malaysia
Masala Hut Authentic Indian Cuisine Restaurant (Best in Bayan Lepas)
Previously known as Bocadillos Restaurant and Bar, this Indian restaurant in Bayan Lepas has been serving phenomenal food since 2019. The newly established Masala Hut Bayan Lepas serves a variety of vegetarian and non-vegetarian options. Not to mention, it's also a halal Indian restaurant in Penang.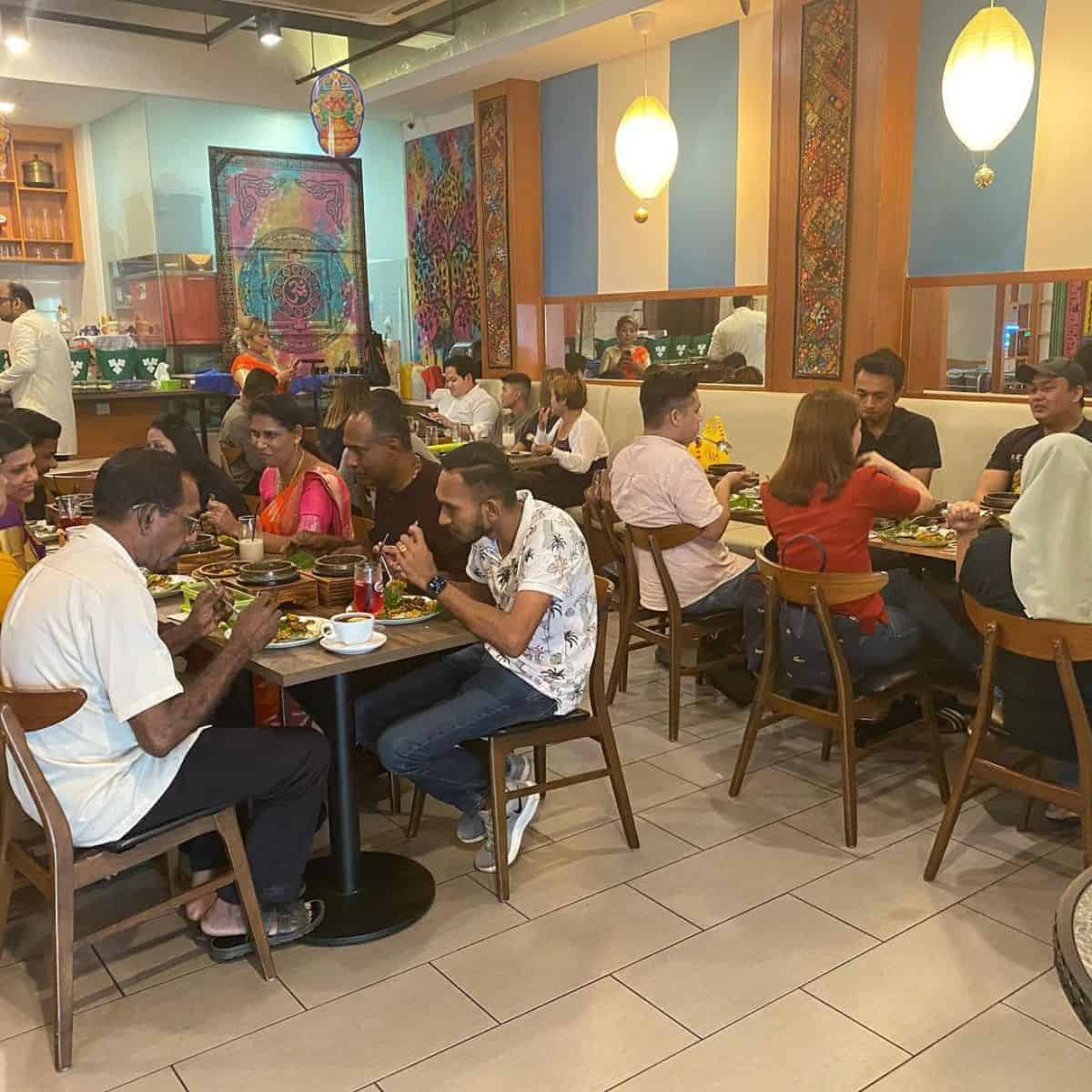 Naan pizza, lamb kurma, chicken biryani, you name it! The diner also serves a variety of appetisers, such as samosas, pakoras, and tandoori wings. However, our top recommendation is their chilli garlic chicken fry. The chicken is perfectly cooked in a medley of different spices and then tossed in an elite mix of chilli, onion and garlic. Additionally, try out their naan pizzas topped with paneer and a mix of different veggies. It's the perfect South Asian take on an Italian classic!
Furthermore, Masala Hut's chaat menu is one of its unique features. It includes staples such as bhel puri, papdi chaat, and dahi bhalla. We recommend trying it out if you're looking for variety! Masala Hut offers a lovely ambience, friendly staff, and freshly prepared food that is worth every penny. We suggest you visit this diner in the afternoon for a late lunch.
Masala Hut 
No. 1-1-31 Elit Avenue, Jln Mayang Pasir 3, Bayan Baru, 11950 Bayan Lepas, Penang, Malaysia
Enca Restaurant (Best in Batu Ferringhi)
At Batu Ferringhi, you must visit Enca. This place is among the best Indian restaurants in Penang Island. Their service is quick and courteous, and their pricing is affordable. Besides tasty tandooris, they also provide a variety of other Asian specialities. In addition, this batu ferringhi Indian restaurant also offers local, Italian, and Western cuisine.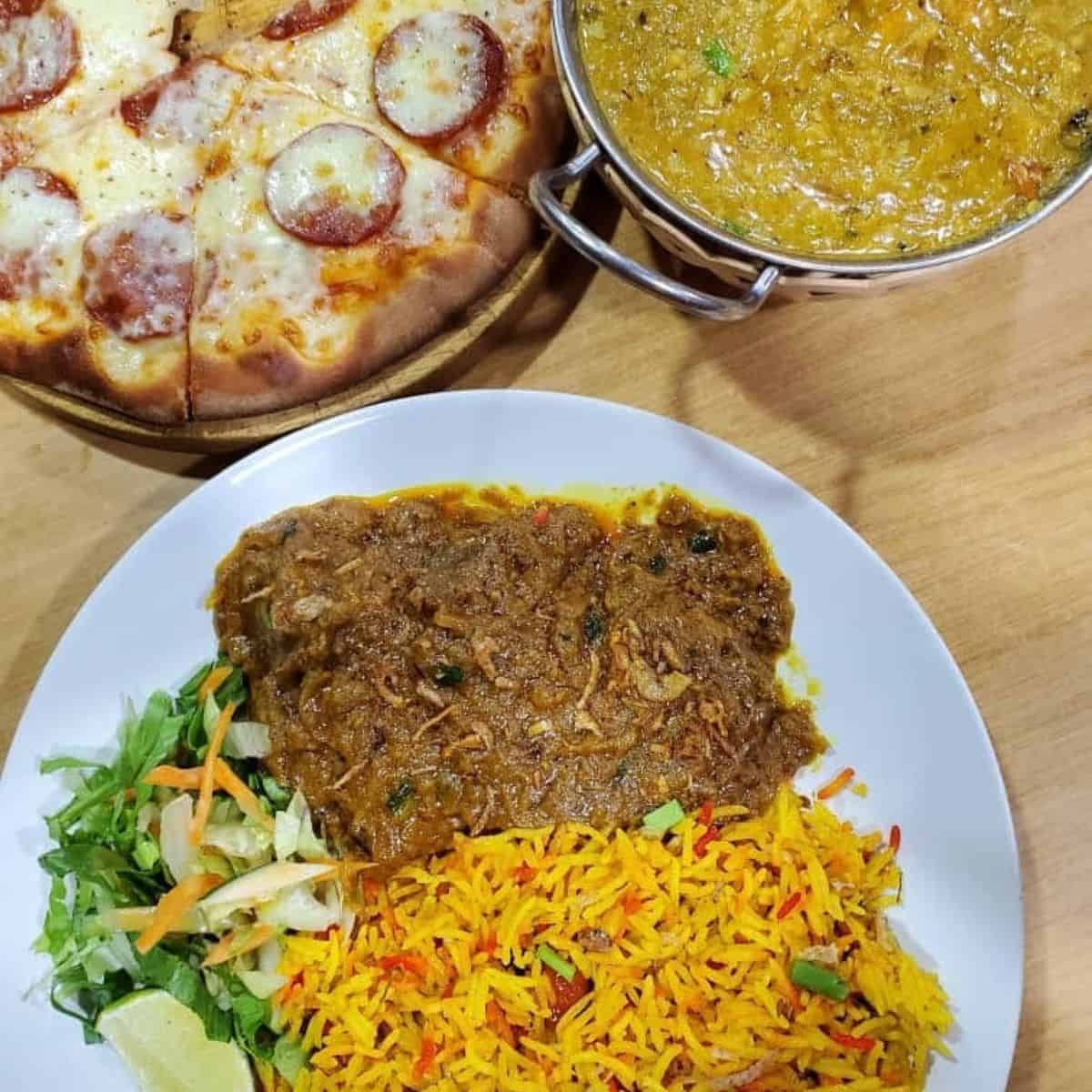 We think that their Chicken Kurma paired with butter and garlic naan is an amazing combo. Furthermore, this inviting café offers delicious Malaysian favourites and, for a twist, Indian-Italian pizzas. 
However, our top pick from their seemingly endless menu is their aromatic Lamb Roganjosh. This traditional Kashmiri curry dish is a perfect mix of spices and chilli. Moreover, the chefs slowly cook the meat to perfection. As a result, you are left with an unbelievably tender lamb that will practically melt in your mouth. This is definitely our top pick if you're looking to indulge.
For convenience, make a reservation for a seat in the café in advance. The afternoons are usually busy as it is one of the many best Indian restaurants in Penang. So, if you're not one for crowded places, eating here by 10 am is best.
Enca 
Opposite Bayview Hotel, 11100 Batu Ferringhi, Pulau Pinang, Malaysia
Karaikudi Restaurant (Best in Georgetown)
If you're searching for a famous dinner spot in Georgetown, look no further! Many locals consider Karaikudi to be the best Indian restaurant in Georgetown, Penang. It has a solid reputation for serving authentic and savoury meals. Plus, no need to worry about the heat because Karaikudi is fully air-conditioned.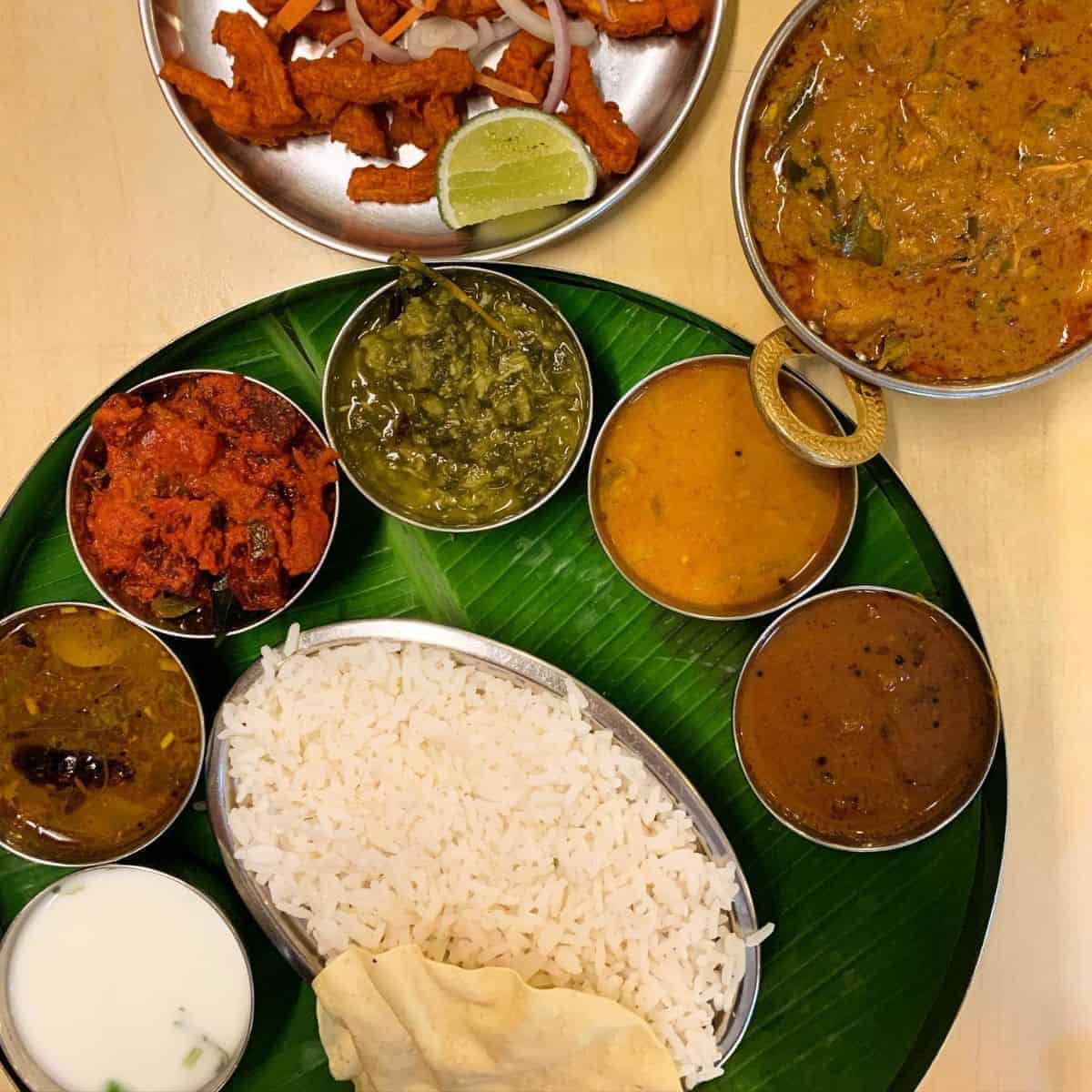 The chef's recommendation is their chicken manchurian, one of their speciality meals. It comprises sautéed chicken served dry with spices or with sauce. You should get this dish alongside their biryani, naan, and dhal.
If you're still hungry afterwards, try their paneer butter masala. While a bit sweet and little fatty, you are left with a mild and pleasant curry that pairs well with most of the other dishes that they serve.
This authentic Indian restaurant in Georgetown, Penang, is often full of locals and tourists. So, if you prefer a quiet meal, we suggest that you stop by around noon before the lunch crowds. 
Karaikudi 
No. 20, Lebuh Pasar, George Town, 10200 George Town, Pulau Pinang, Malaysia
Top Indian Restaurants in Penang
There are endless choices of Indian food in Penang, so this list is but a few of many. However, we hope you indulge in one of the best Indian restaurants on Penang Island. 
Alternatively, if you want to try Malay and Chinese fusion cuisine, there are many places to try out some Nyonya food in Penang. Or, try out Penang street food for an introduction to more flavourful cuisines on the island.
For more restaurant recommendations and deep dives into local cuisine, follow us on Instagram @tabitogether.