Dining in a Chinese restaurant in Penang is an experience unlike any other. This iconic island is renowned for its exceptional Chinese cuisine, with places serving up signature dishes passed down through generations. Therefore, whether you're craving traditional dim sum or savoury stir-fried noodles, the Chinese restaurants here have something for everyone.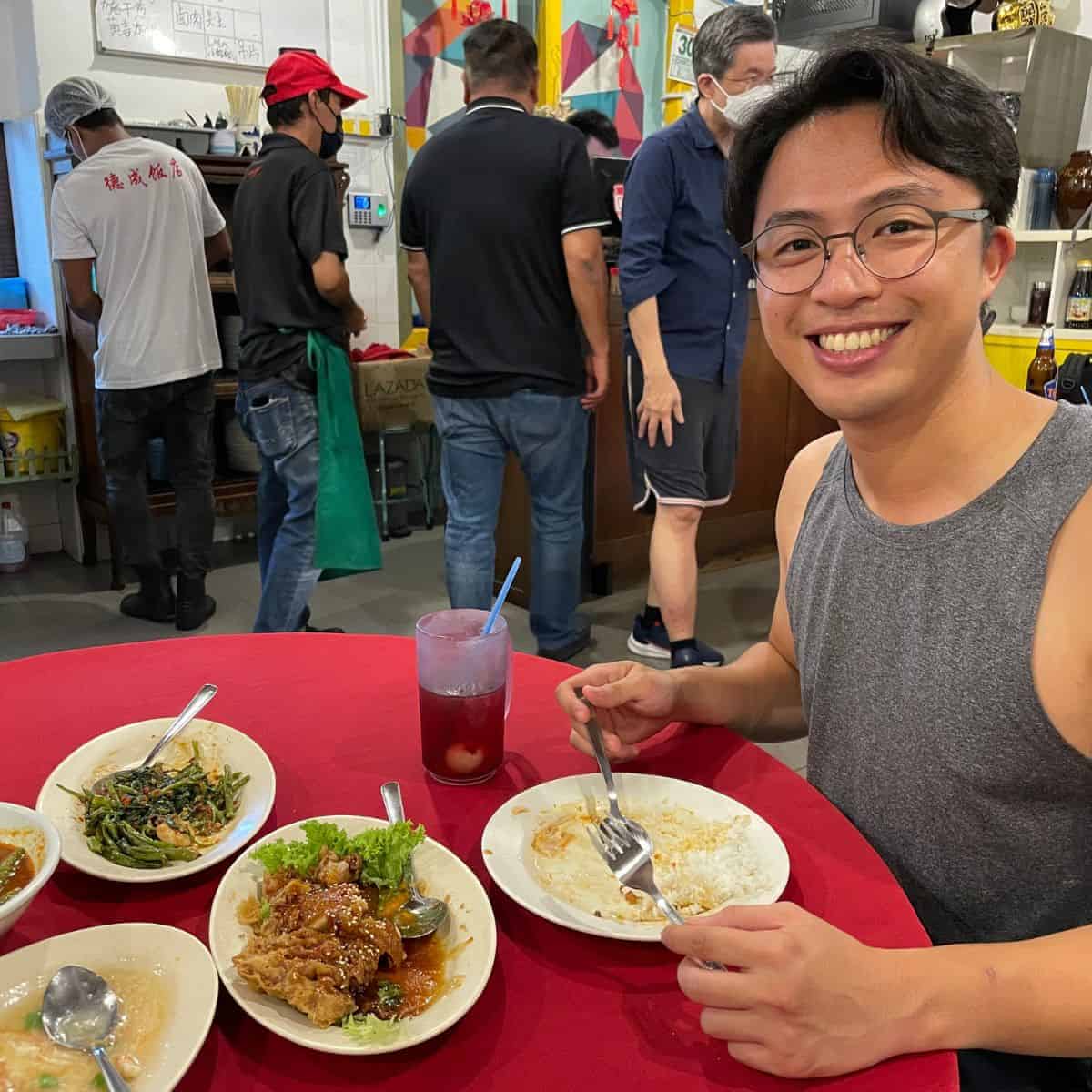 What sets Penang's Chinese restaurants apart from others in the region is their exceptional blend of flavours and techniques, passed down through centuries of Chinese immigration to the island. Indeed, the local Chinese community have played a vital role in the island's culture and history. Hence, their culinary traditions have left an indelible mark on the local food scene.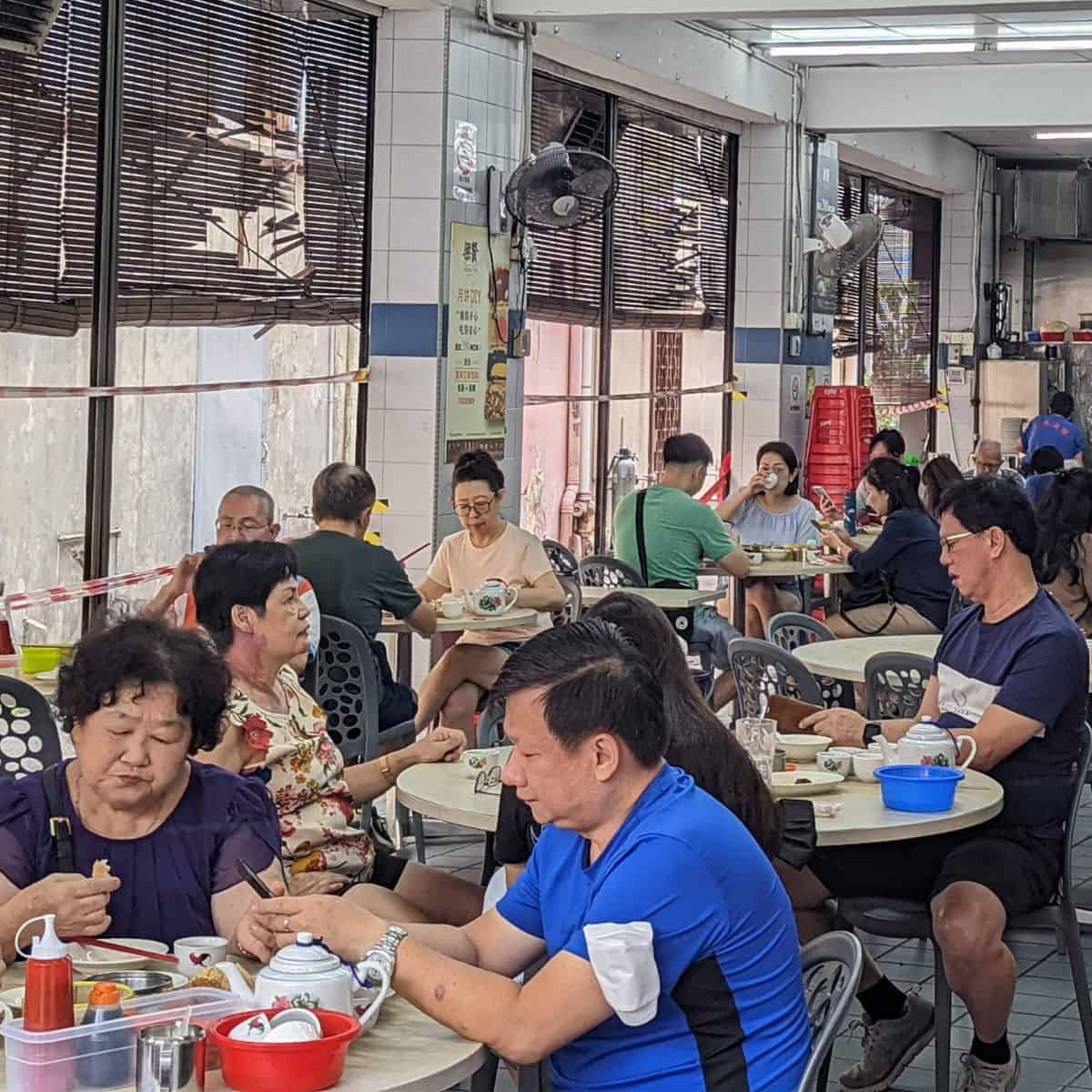 In our article, we'll explore what makes every Penang Chinese restaurant unique, the top dishes to try, and where to find the best of them on the island. So, sit back and prepare to embark on a gastronomic journey through the world of Chinese cuisine in The Pearl of The Orient.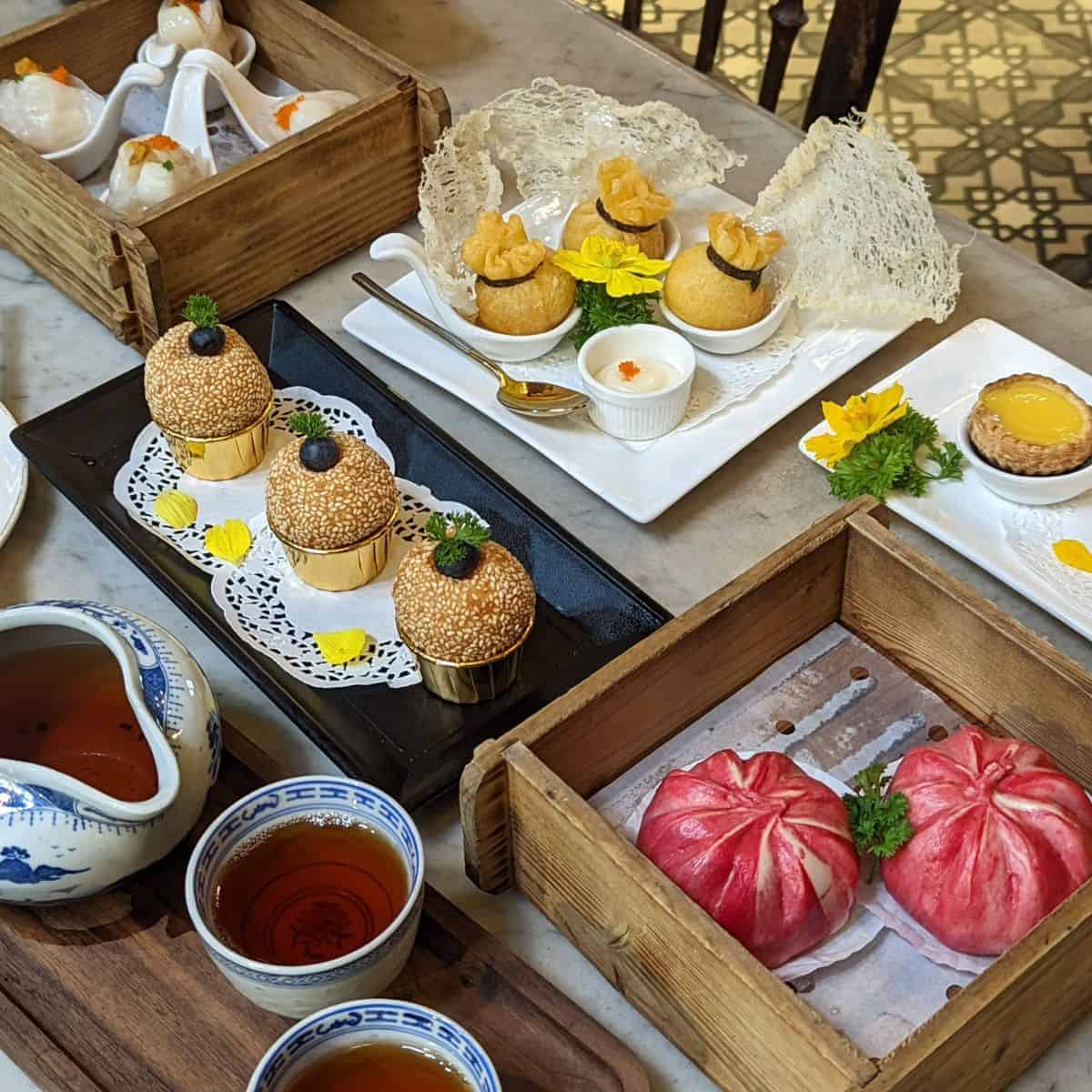 Our Favourite Chinese Restaurants in Penang
After visiting numerous Chinese restaurants in Penang, we can confidently say that our top picks are Tek Sen and Maple Palace. Both places are praised for their high-quality dishes and maintenance of authenticity despite evolving and modernising their offerings.
Tek Sen has a classic charm within the flavours and textures of their dishes that keep us coming back. On the other hand, Maple Palace is a culinary haven for those who crave the most exquisite Cantonese fine dining experience.
CRC Restaurant (Best Chinese Seafood Restaurant in Penang)
The Chinese Recreation Club Restaurant Penang is undoubtedly one of the best Penang Chinese restaurant in Georgetown, Penang. It is a beloved local establishment that has won the hearts of foodies with its culinary marvels. In addition, people love eating at this spot for its authentic Cantonese cuisine at an affordable price.
Furthermore, locals often regard CRC as the best Chinese restaurant in Penang for its fresh seafood. Their fish dishes are a true standout, with each plate cooked perfectly to preserve its natural flavour and delicate texture. For example, we loved their steamed cod fish with soy sauce sprinkled with ginger and scallions. This dish is simple yet elegant, with a subtle umami flavour.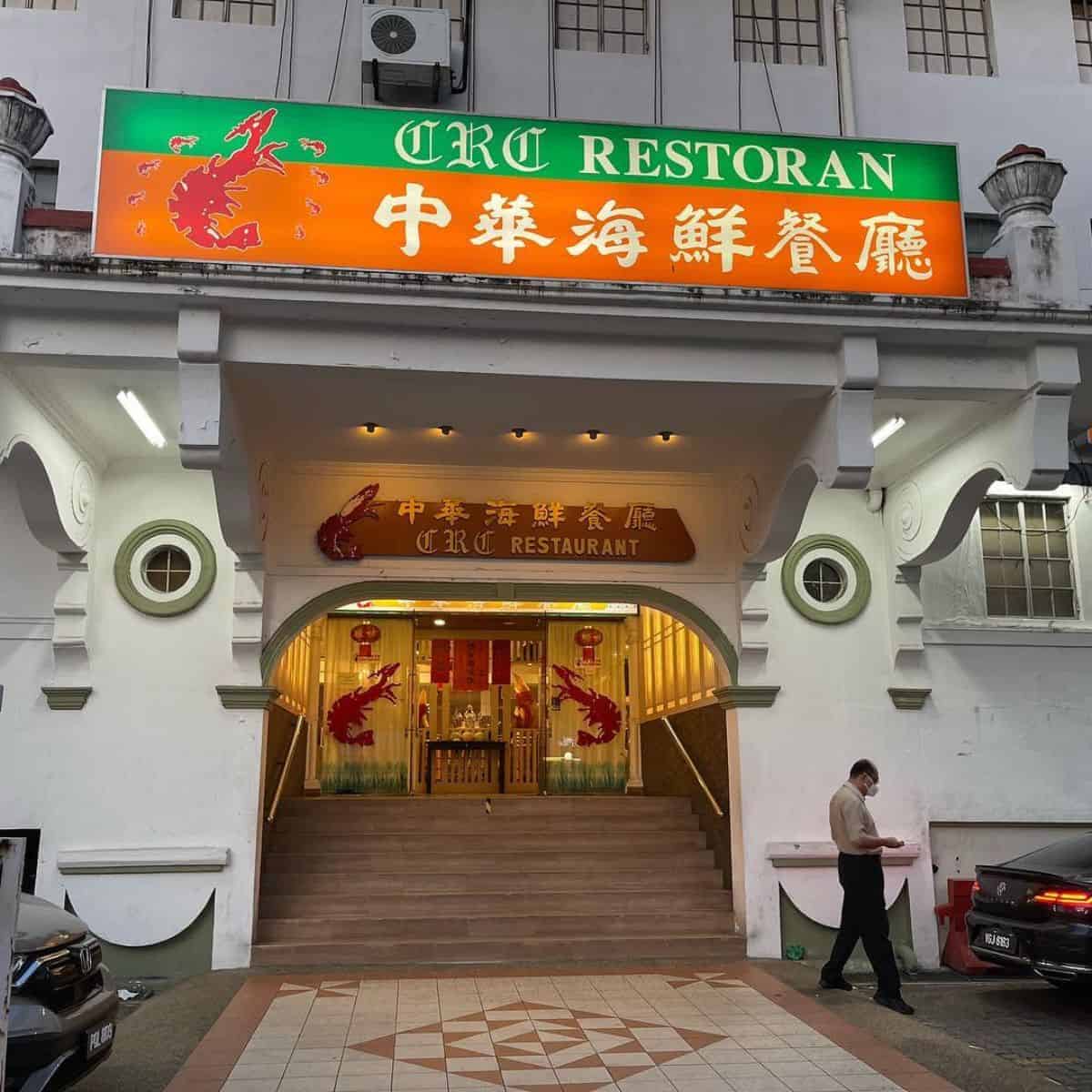 However, if you're curious about the new establishment across the road at Jalan Pangkor, it's called New CRC. Although it has the same name as the original CRC, it offers a different dining experience. It caters to functions like weddings and company dinners with luxurious Chinese cuisine. So, if you want the true taste of CRC's signature Cantonese cuisine, visit the original restaurant.
CRC opens daily from 12 pm to 9 pm. However, the best times to go here are during lunchtime and dinner. But, if you want to steer away from the crowds, visit on a weekday evening.
CRC Restaurant
No. 3, Jalan Padang Victoria, 10400 George Town, Pulau Pinang
Tek Sen (Best for Chu Char)
One of the well-known cuisines on the island is Chu Char. It is a cooking style that involves stir-frying various ingredients with a sauce made from soy sauce, oyster sauce, and other seasonings.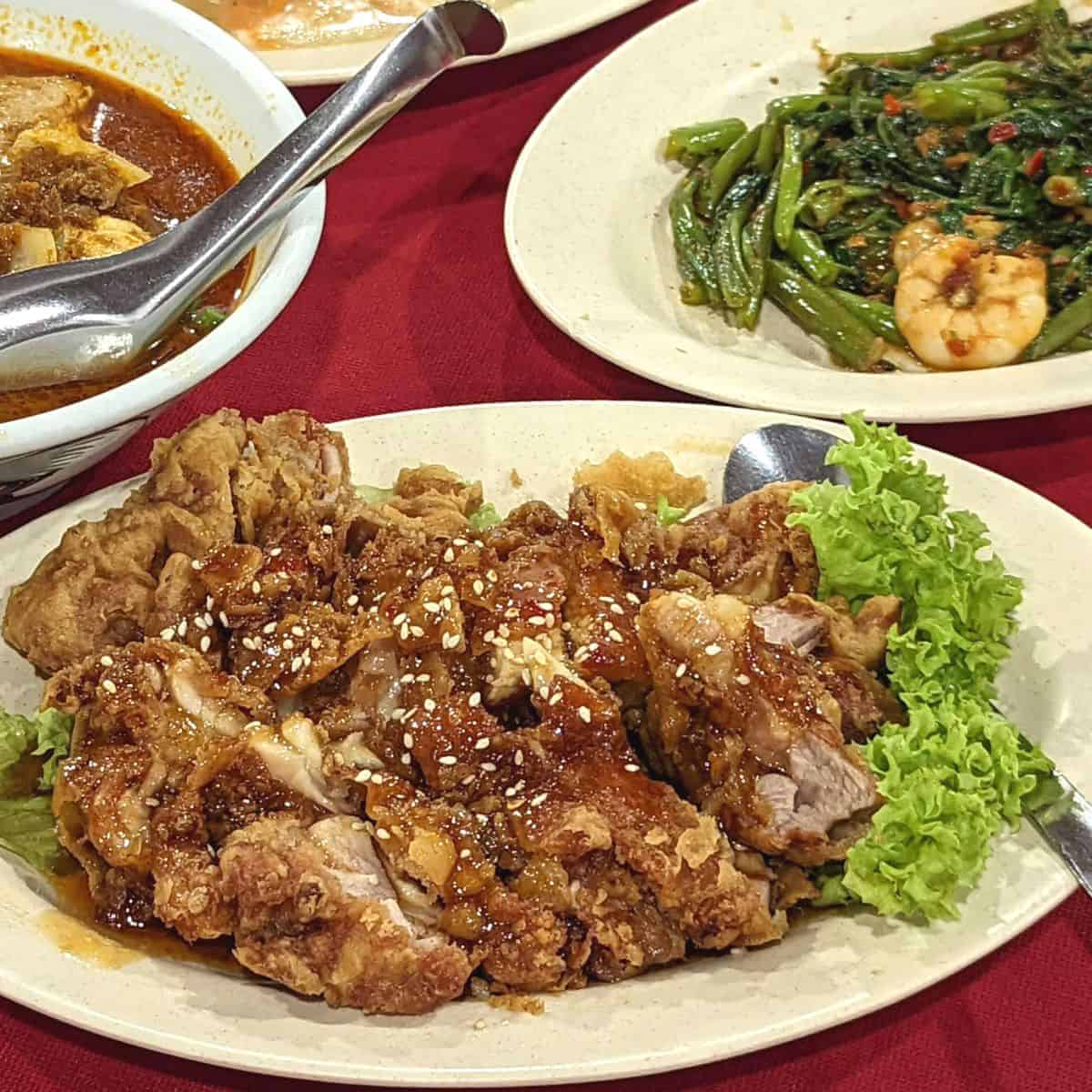 Tek Sen is an eatery specialising in Chu Char and has been around since 1965. And it has remained popular until today. Furthermore, people have consistently voted this spot as the best Chinese restaurant in Penang. Although the eatery is modern, it still maintains its original character. Moreover, you will have no trouble with their menus as they are in English and Mandarin.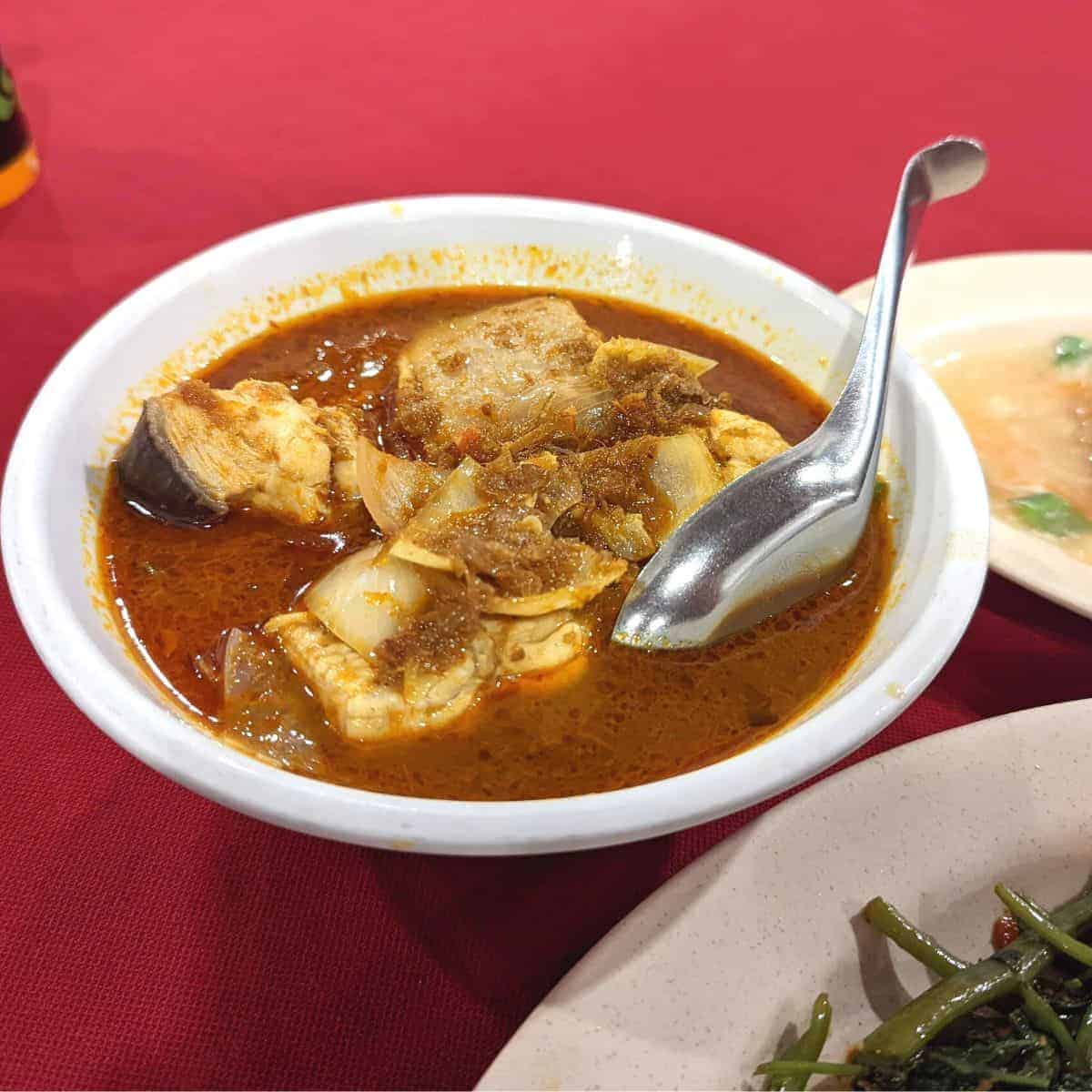 You must try their Double-roasted Pork with Chilli Padi (a very small and spicy chilli pepper). This dish is their home recipe, and it's amazing. The chef roasts the pork twice to make it delightfully crispy on the outside and tender on the inside. In addition, the sauce is sweet and salty, with a kick from the chilli padi.
Similarly, another dish that you'll love is the Braised Tofu in a Clay Pot. The tofu has crunchy golden skin and a smooth, gooey, soft, silky interior. Additionally, the gravy is salty and slightly sweet, with a sesame oil aroma.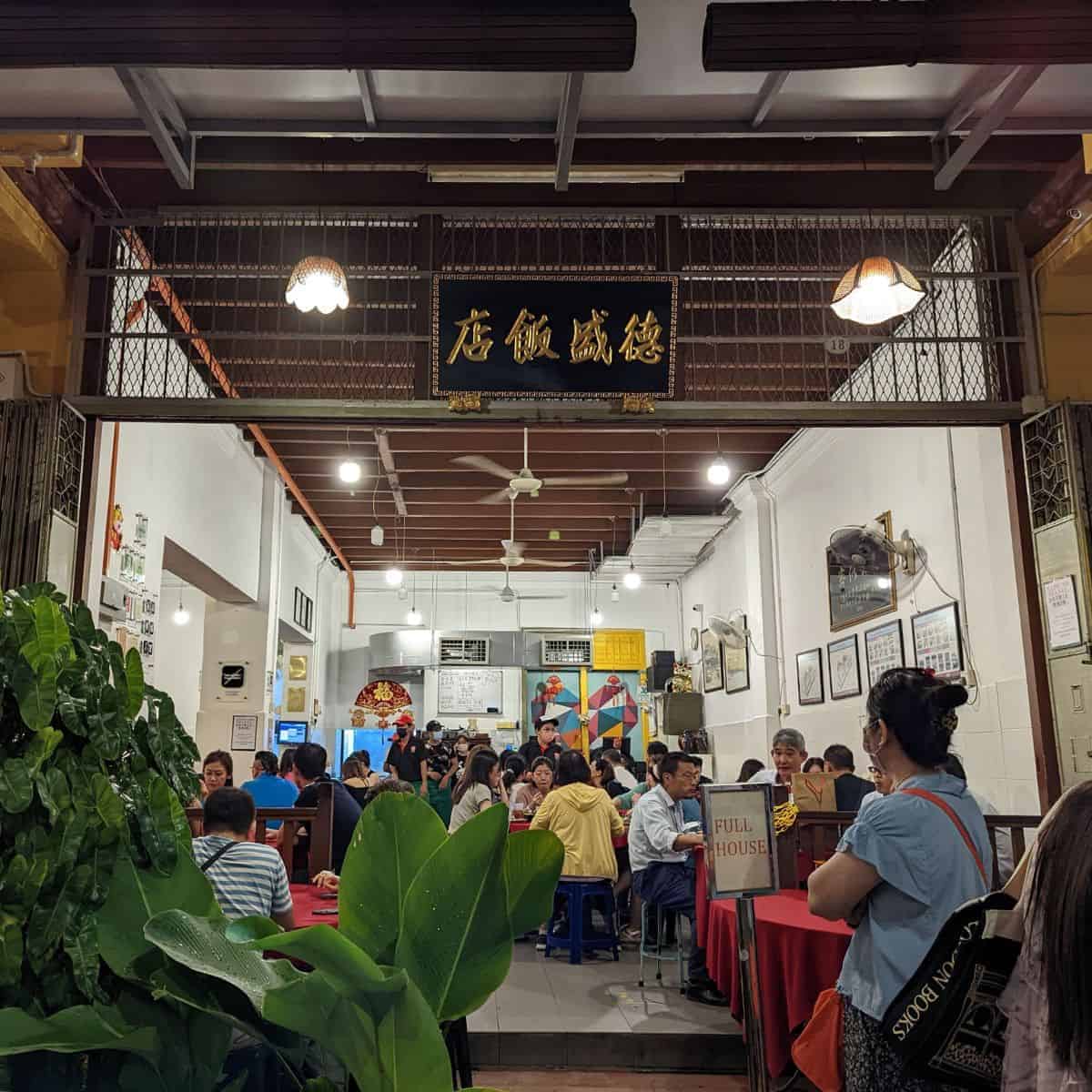 Tek Sen operates daily from 12 pm to 2 pm and 6 pm to 9 pm (closed on Tuesdays). Make a reservation beforehand, as this spot is always packed.
Tek Sen
18, Lebuh Carnarvon, George Town, 10100 George Town, Pulau Pinang
Maple Palace (Best Fine Dining Chinese Restaurant in Penang)
Maple Palace is the place to go for a more sophisticated dining experience. This famous Chinese restaurant in Penang is in the newly upgraded Maple Gold Club along Jalan Sultan Ahmad Shah. This establishment prides itself on its expertly crafted Cantonese cuisine. Consequently, they tantalise the taste buds of their diners with an exquisite blend of flavours and textures.
Owner and chef Loy Tan is the main person behind the menu. Maple Palace is renowned for its Four Treasure Soup. The chef serves this creamy, flavourful soup loaded with fresh scallops and prawns. Additionally, you must also try their Pork Lard Rice with Char Siew and Egg, perfect for lunch or as a side dish.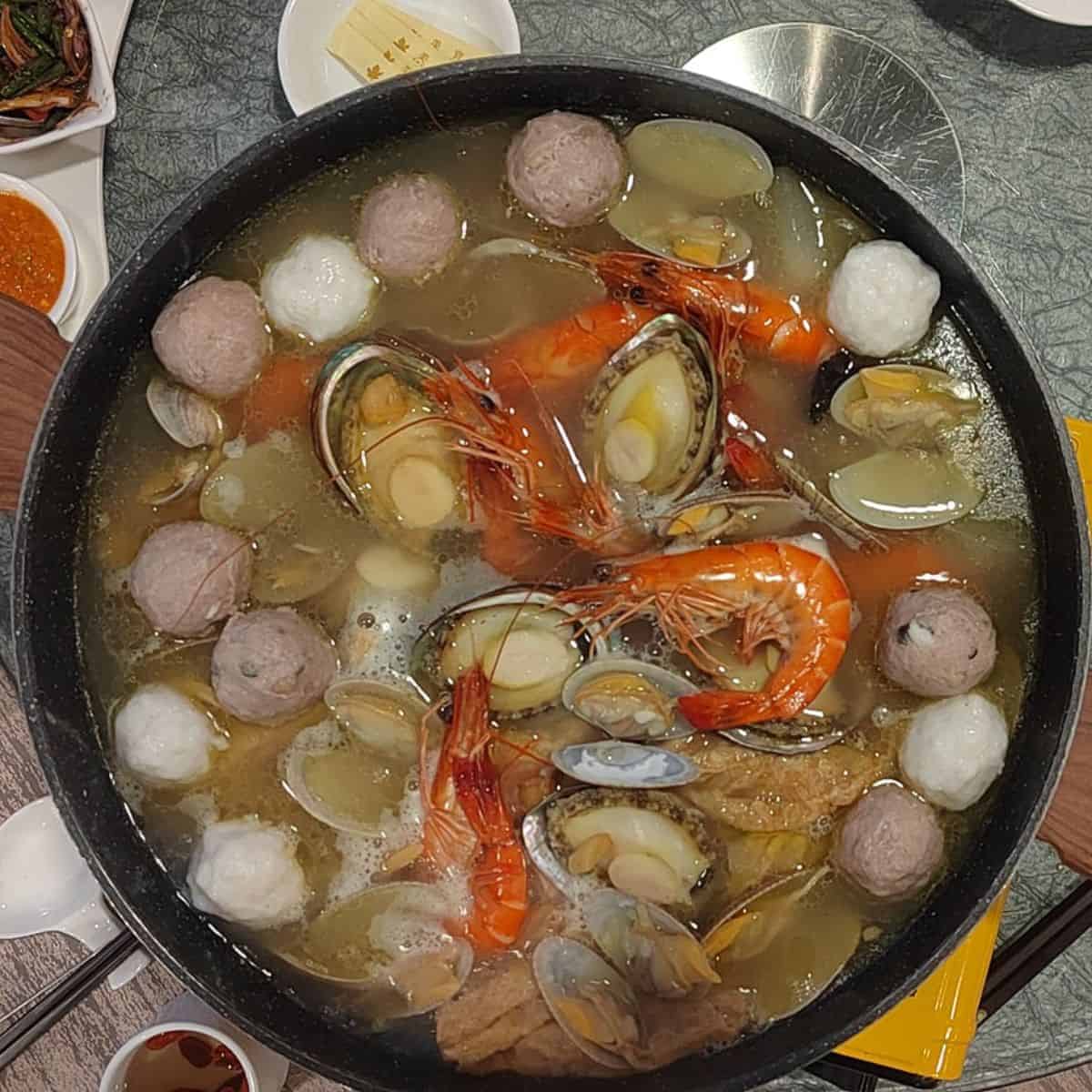 Moreover, due to strong customer demand, they have recently introduced a new hidden menu featuring modern Cantonese cuisine. You must pre-order 24-48 hours in advance to ensure the freshest ingredients. Some must-tries from the hidden menu include the refreshing Seafood Ice Plant Salad and the luxurious Stuffed Assorted Seafood Crab Meat and Black Truffle.
Maple Palace opens daily from 12 pm to 2:30 pm and 6 pm to 10 pm. As it is a hugely popular local spot, we suggest you make a reservation online or by calling before visiting.
Maple Palace
47, Jln Sultan Ahmad Shah, George Town, 10050 George Town, Pulau Pinang
Lily's Kitchen (Chinese Vegetarian Restaurant in Penang)
This spot is an amazing vegetarian Chinese restaurant in Penang that serves various dishes from different cuisines. So, if you are looking for Penang vegetarian food, you should not miss Lily's.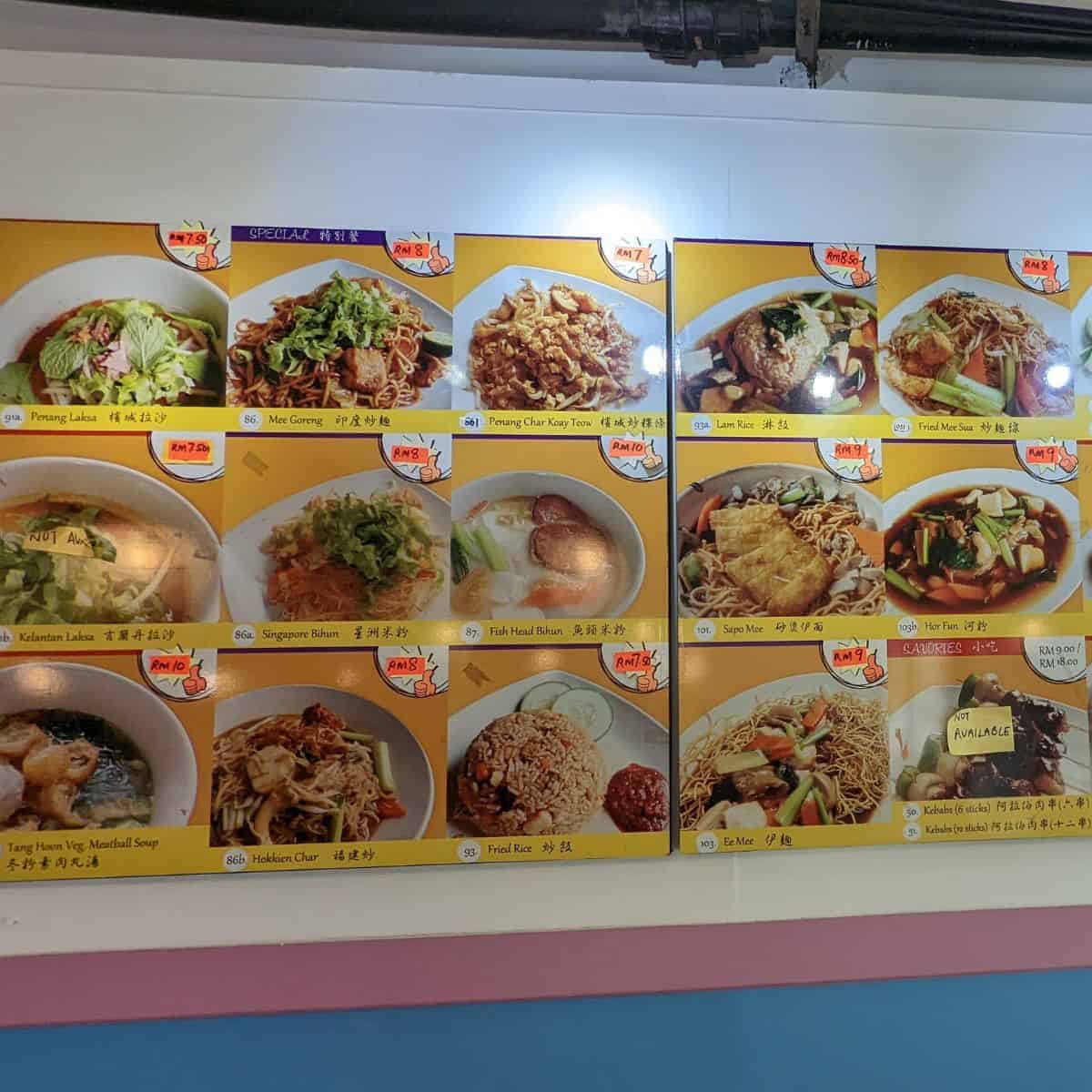 Besides their famed Chinese dishes, Lily's vegetarian Nyonya food in Penang is so tasty that even non-vegetarians will love it. Therefore, whether you want to try curries, Nasi Lemak, Nasi Kandar or something else, Lily's has it all.
We recommend their vegan stir-fried rice noodle dish, Char Kway Teow. Traditionally made with meat and seafood for that signature umami flavour, Lily's has managed to create a plant-based version that is even better. The secret? Fresh ingredients and a variety of vegetables and plant-based proteins come together to create a rich and savoury taste.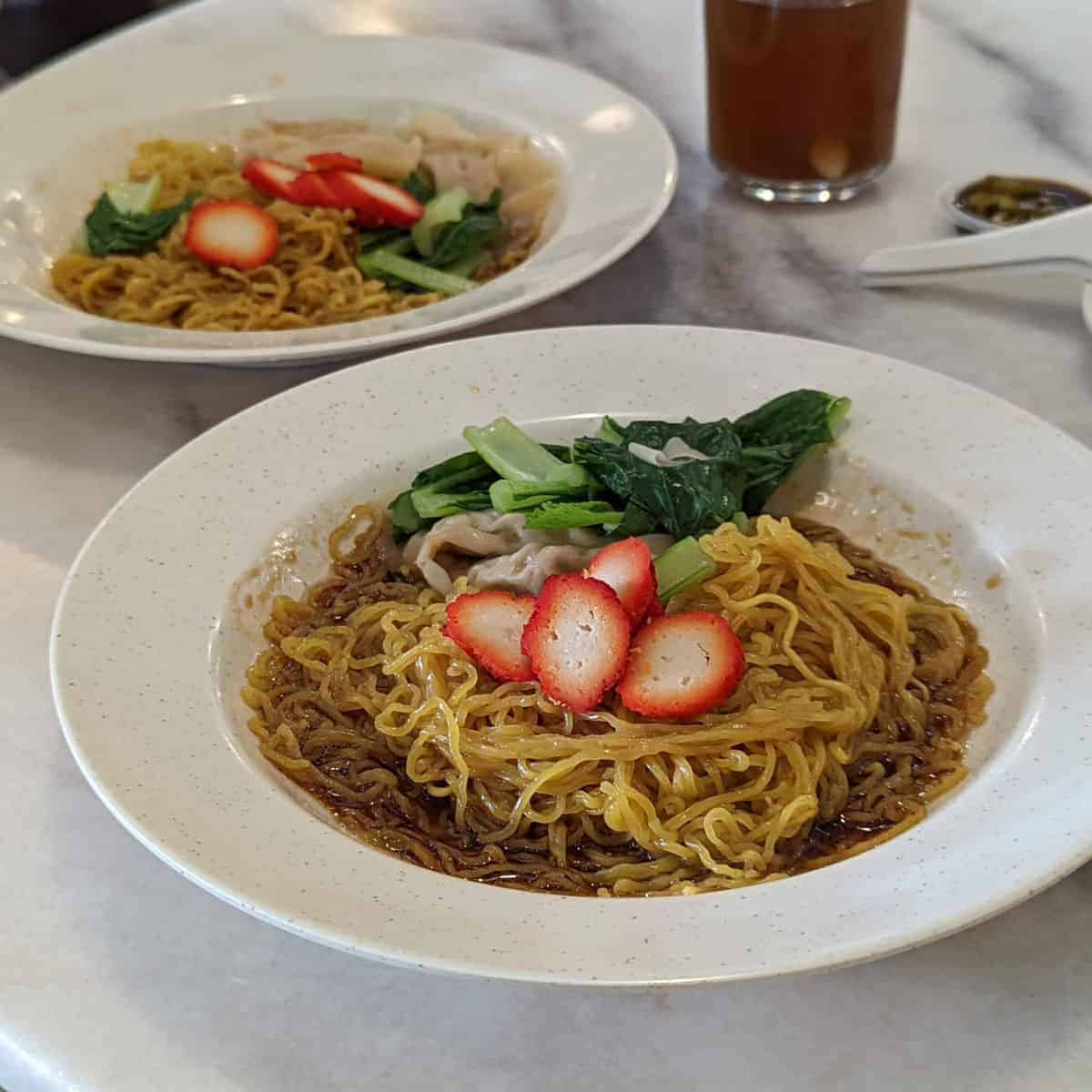 We suggest that you visit Lily's Kitchen for an early lunch or a late dinner to avoid crowds. They're open daily from 8 am to 8 pm, except for Mondays when they're closed.
Lily's Kitchen
98, Lorong Madras, 10400 George Town, Pulau Pinang
Tho Yuen (Best Dim Sum Chinese Restaurant in Penang)
Tho Yuen is the best Chinese restaurant in Georgetown, Penang, to savour dim sum. For over 80 years, they have traditionally made their dim sum, starting every morning at 3:30 am. Furthermore, this well-known teahouse has been awarded a MICHELIN Bib Gourmand for their authentic Cantonese cuisine. Their dim sum is so popular that it tends to sell out quickly. So, arrive early to enjoy their bite-sized morsels with Pu'er tea.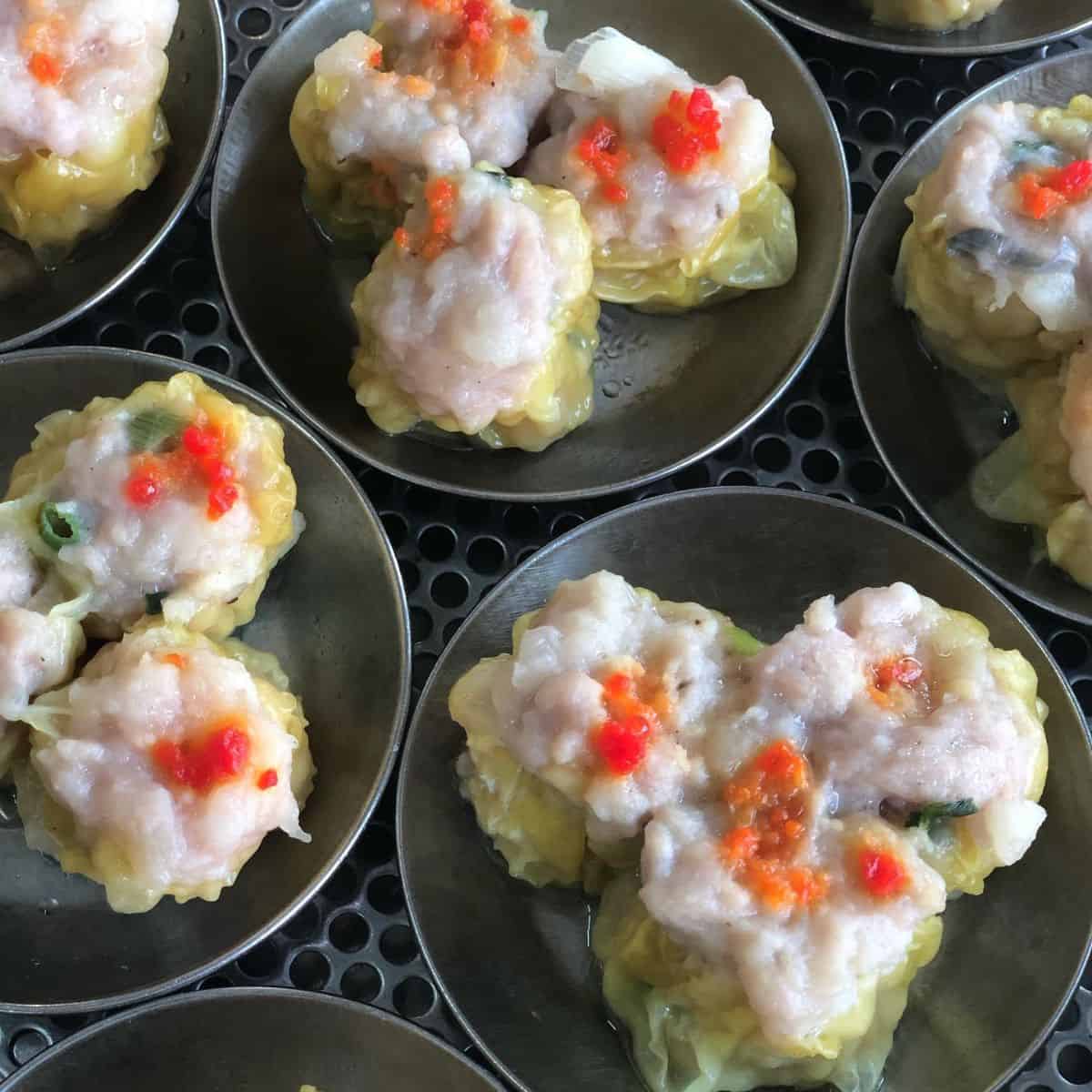 You must try their famous egg tarts, rumoured to be the best on the island. They have a crispy and thin crust that holds the delicious egg custard filling, made to perfection with a decent firmness and well-balanced sweetness. We also recommend their Char Siew Pau, a soft dough that is well-stuffed pork filling. But, if you miss out on the dim sum, don't worry because their fried noodles Bee Hoon and Fish Balls are also delicious.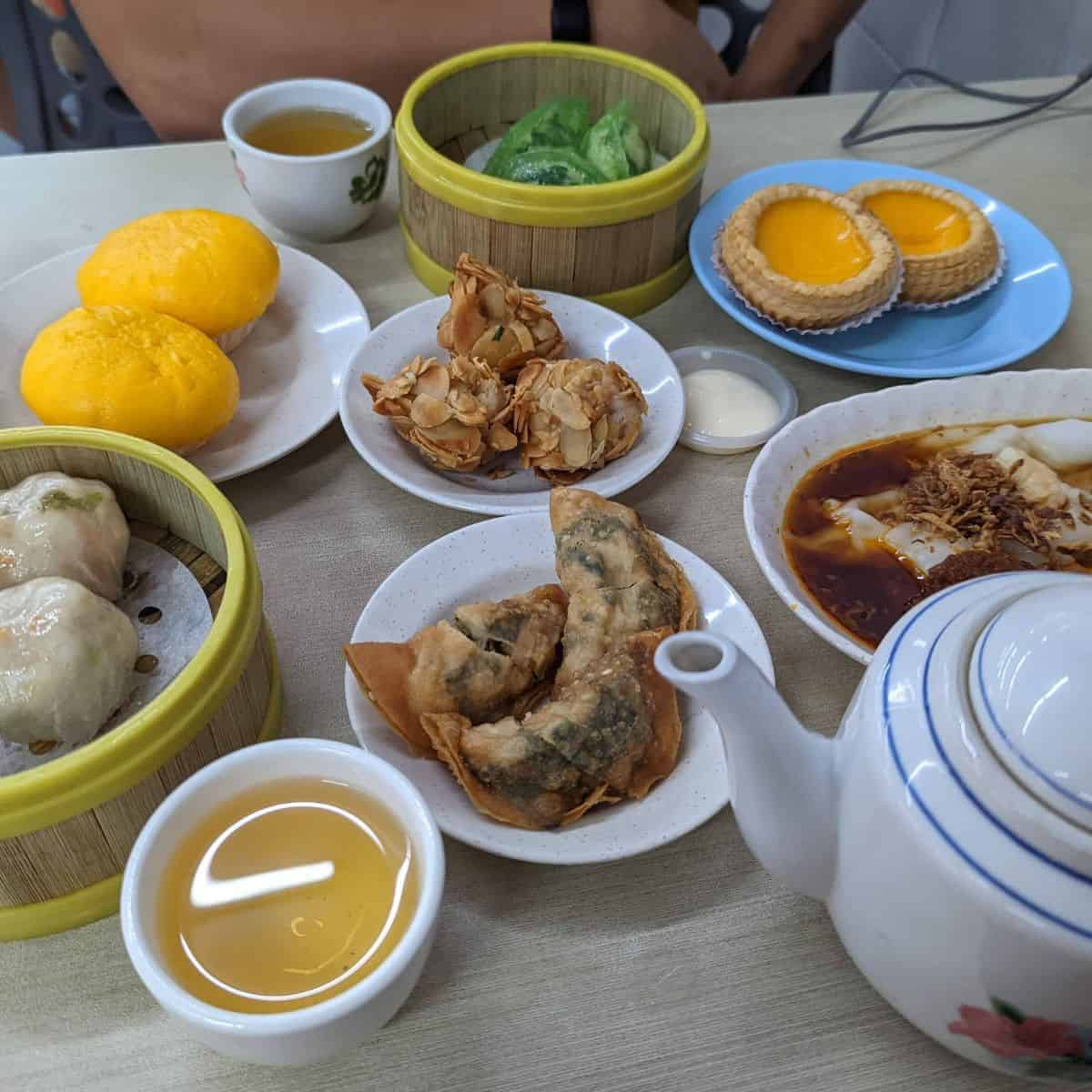 Tho Yuen opens daily from 6 am to 3 pm (closed on Tuesdays). However, arrive early to enjoy the dim sum and other dishes. Also, don't miss out on the various snacks at the counter.
Tho Yuen
92 Campbell Street Georgetown, 10100, Pulau Pinang
Chin's Cuisine (Best Chinese fusion restaurant)
For a unique fusion of Chinese cuisines, come to Chin's Cuisine. Dave Chin, the owner of this famous Chinese restaurant in Penang, is a seasoned entrepreneur in the F&B industry. He has created a menu that blends the best of Hunan and Szechuan-style dishes with other culinary influences. Furthermore, his background as a graphic designer is reflected in the stylish decor. For example, you will see his influence included in the floor-to-ceiling windows showcasing the stunning harbour views.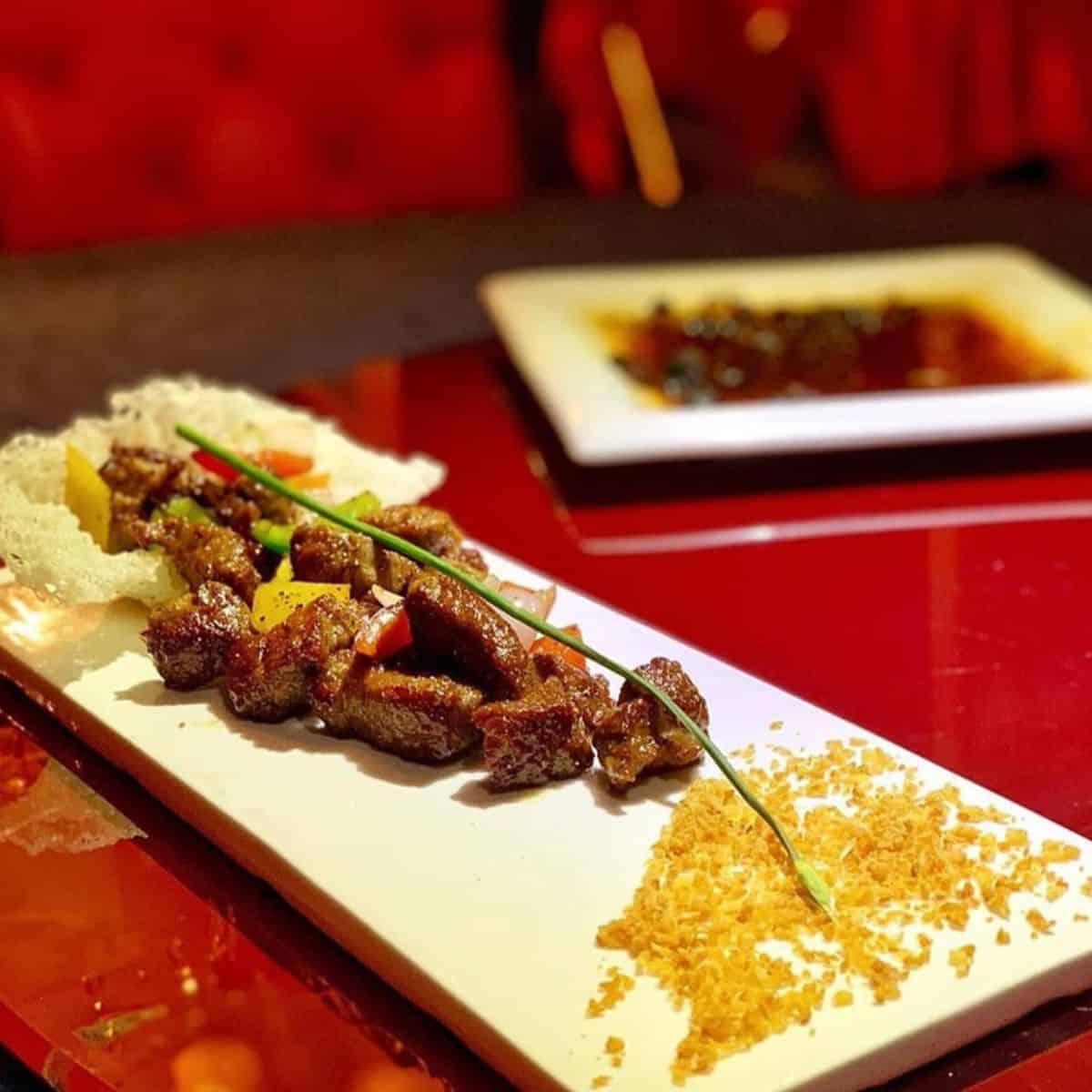 Chin's fusion dishes have unique flavours resulting from the mixing of different cuisines. We highly recommend the crispy aromatic duck originated in Dave's London restaurant. The dish features flaked duck meat wrapped in a homemade pancake with shredded cucumber and scallions. This Penang Chinese restaurant in Georgetown opens daily from 6 pm to 10.45 pm. Moreover, ensure that you reserve a table before your special night out.
Chin's Cuisine
5, Pengkalan Weld, George Town, 10300 George Town, Pulau Pinang
Wu Jia
Wu Jia is an affordable and family-friendly Penang Chinese restaurant situated in Gelugor. They serve classic Chinese cuisine that is perfect for a cosy family dinner. You can choose to either order a la carte or go for their dinner set meal.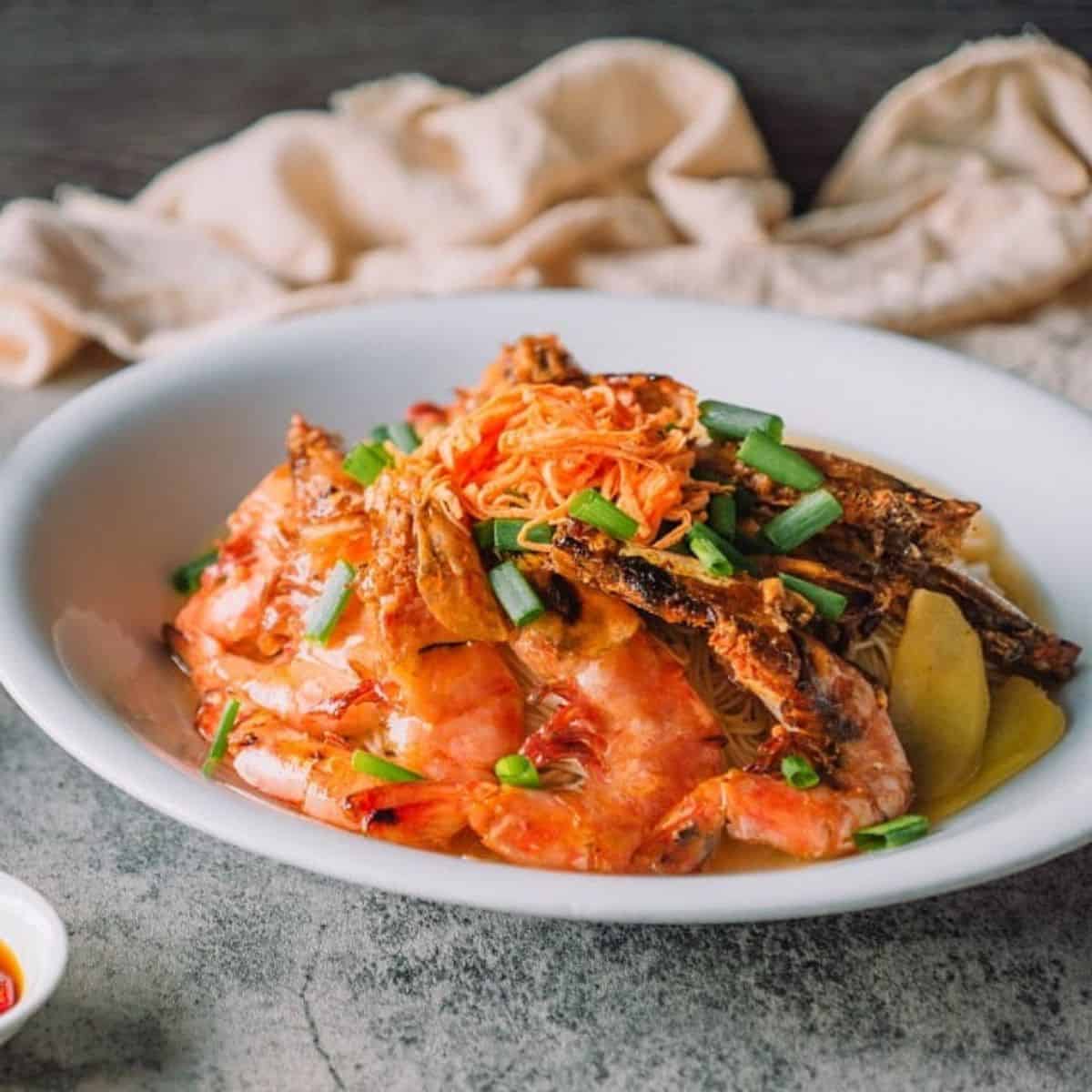 An amazing dish that you must try is their Curry Prawn with Bun. The prawns are fresh and plump, and the accompanying bun is fluffy-soft. Moreover, the bold and rich curry, with onions and fresh tomatoes, has an extra acidic touch that makes it stand out. Similarly, another great dish is their yellow wine herbal chicken soup, packed with an invigorating ginger and rice wine flavour.
Wu Jia opens from 11.45 am to 3 pm and 5.45 pm to 10 pm. However, for an early lunch, visit around noon to get a table quickly.
Wu Jia
2-3-11, Bangunan Lip Sin, Lebuh Pekaka 1, Taman Pekaka, 11700 Gelugor, Penang
Muhamad Loh (Best Halal Chinese restaurant in Penang)
This Chinese Muslim restaurant in Penang offers delicious halal Chinese dishes in a traditional setting. Moreover, you will be immersed in the ambience and the warm vibes of the establishment.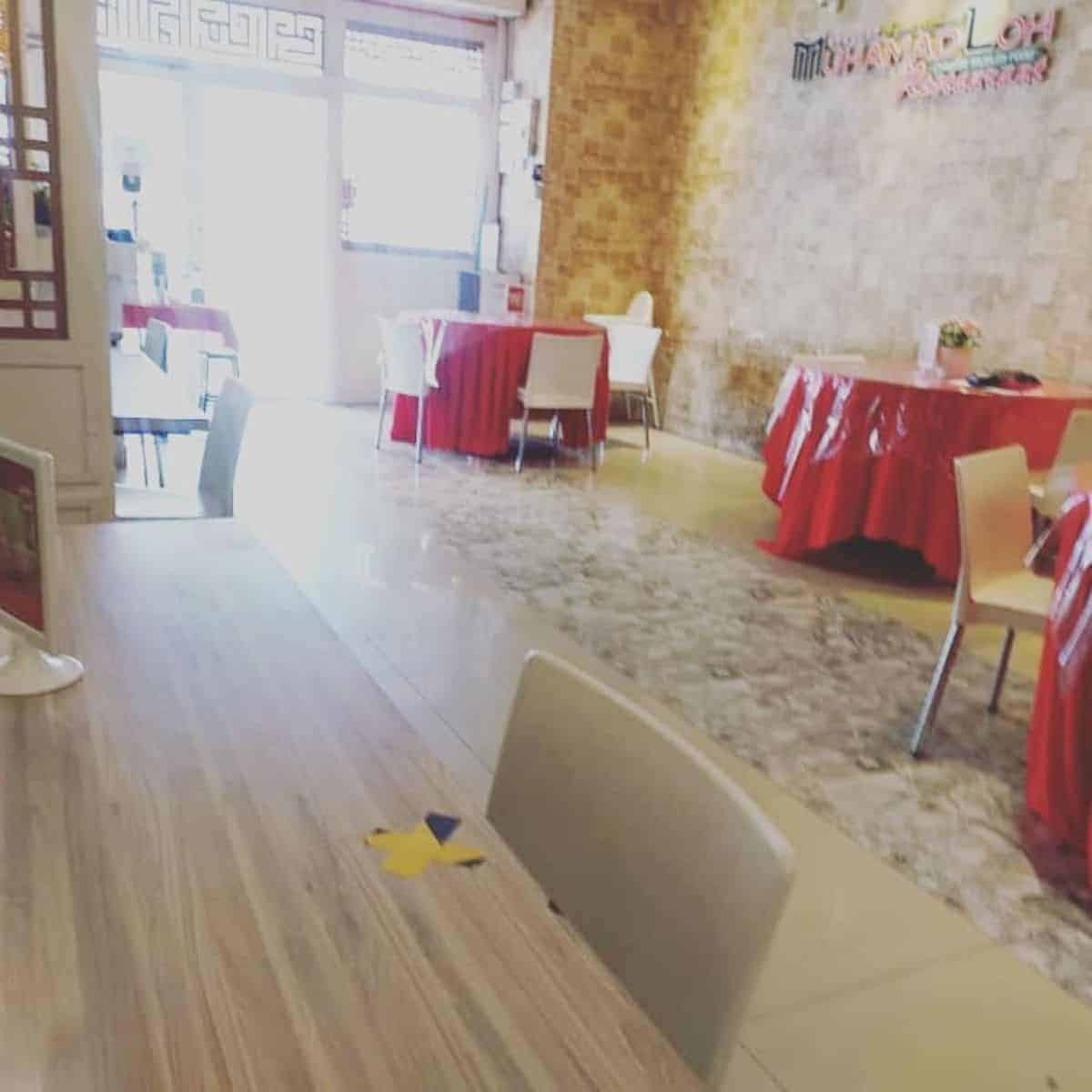 If you're wondering what to order, try their signature Claypot Yee Mee. The dish is a delicious combination of chewy egg noodles cooked with tender chunks of chicken, fresh vegetables, and fragrant seasonings. Furthermore, the dish is served piping hot in a clay pot to help retain the heat and enhance the flavours. It is hearty, comforting, and bursting with flavours.
Other must-order items include the delectable Lemon Chicken and the Cuttlefish cooked in butter with an egg yolk on top. Muhamad Loh opens daily from 12.30 pm to 10 pm (closed on Wednesdays). But it opens from 2.30 pm to 10 pm on Friday and Sunday. To secure a table for dinner, we suggest arriving around 6 pm.
Muhamad Loh
7, Jalan Dagangan 9, Pusat Bandar Bertam Perdana, 13200 Kepala Batas, Pinang
Good Luck Bak Kut Teh
If you want to taste the island's famous Bak Kut Teh, you cannot miss out on Good Luck Bak Kut Teh! Bak Kut Teh is a popular pork-based soup dish in Malaysia and Singapore. It originates from the Hokkien-speaking regions of China. This Penang Chinese restaurant in Bayan Baru has won the hearts of many with their authentic steaming broth that will heat you up from the inside.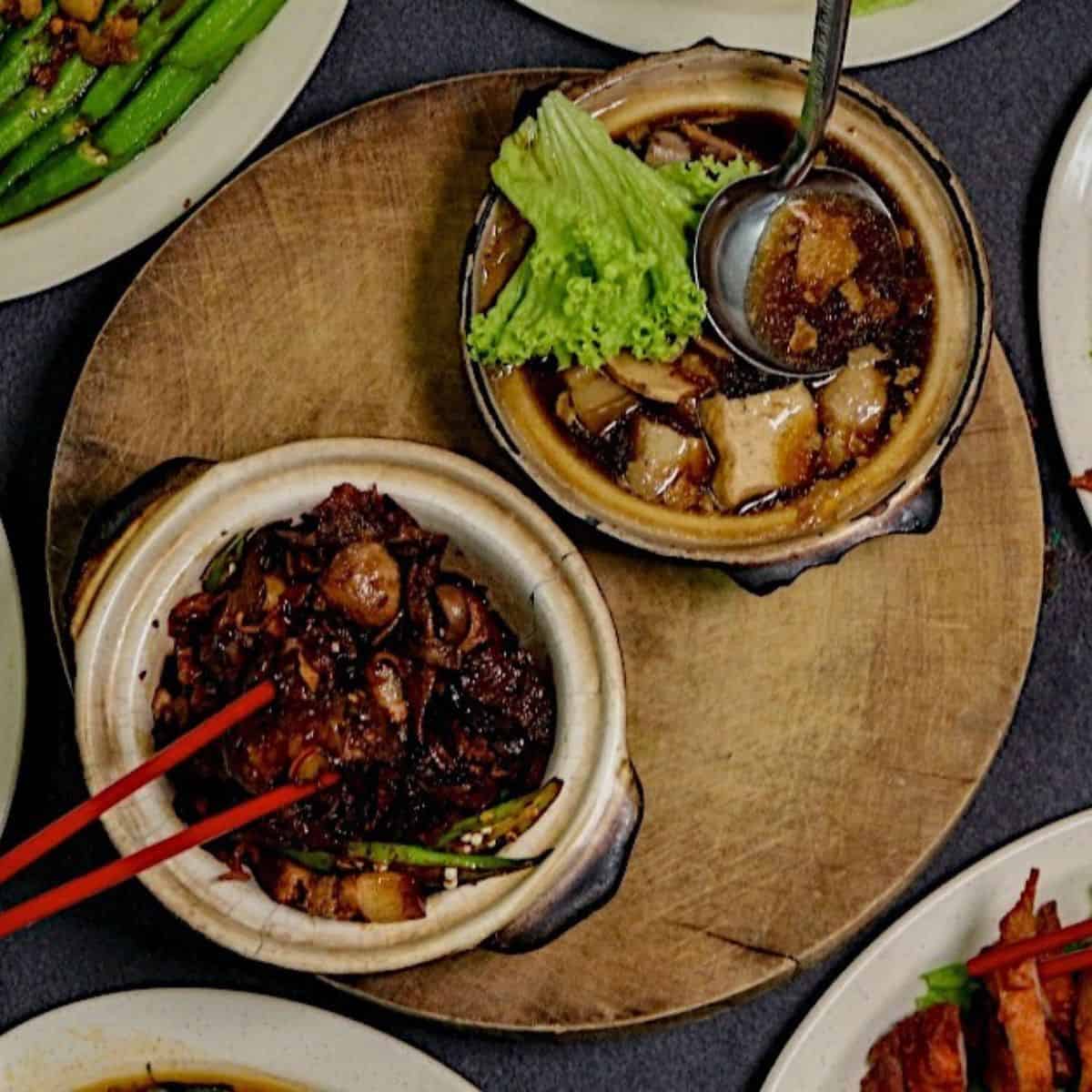 Their traditional broth is made with pork ribs and a harmonious blend of herbs and spices, including garlic, pepper, and star anise. Moreover, the broth is simmered for hours to bring out the rich and aromatic flavour. The meat is fall-off-the-bone tender and pairs perfectly with a side of steaming hot rice. Additionally, Good Luck also offers a dry version of Bak Kut Teh that is equally as tasty, with the perfect amount of gravy.
Good Luck opens from 11.30 am to 11.45 pm from Wednesday to Sunday. However, it operates from 5 pm to 11.45 pm on Monday and Tuesday. Also, Good Luck occupies a small space. So, visiting during off-peak hours is best to avoid crowds and enjoy a more relaxed dining experience.
Good Luck Bak Kut Teh
48, Jalan Mahsuri, Bandar Bayan Baru, 11950 Bayan Lepas, Pulau Pinang
Starview Restaurant (Best for CNY Celebrations)
Starview is the best Chinese restaurant in Georgetown, Penang, for a family Chinese New Year reunion. This place offers ample seating for large groups and is housed in a historic cinema building. But it's not just the delightful atmosphere that will impress you as the food is delicious too!
Their must-try signature dish is Peking Duck, served with egg wrappings. Starview also serves other delicacies such as Fish Head Steamboat, Claypot Tofu, and Suckling Pig. Furthermore, seafood lovers can enjoy abalone, scallop, prawn, and fish maw dishes. Moreover, if you are overwhelmed by the options, check out the Celebration Package for easy decision-making.
Starview opens daily from 12 pm to 3 pm and 6 pm to 10:30 pm. Make a reservation, as this spot tends to get busy, especially during weekends and holidays.
Starview Restaurant
341, Jalan Dato Keramat, George Town, 10150 George Town, Pulau Pinang
Noble Season (Penang Chinese Restaurant for Wedding Dinner)
If you're looking for a Penang Chinese restaurant with private rooms to host an event, look no further than Noble Season. Based on the second floor of Penang Plaza, it's also renowned as one of the best places to host wedding dinners on the island. Your event will surely go smoothly with a provided PA system and other banquet functions.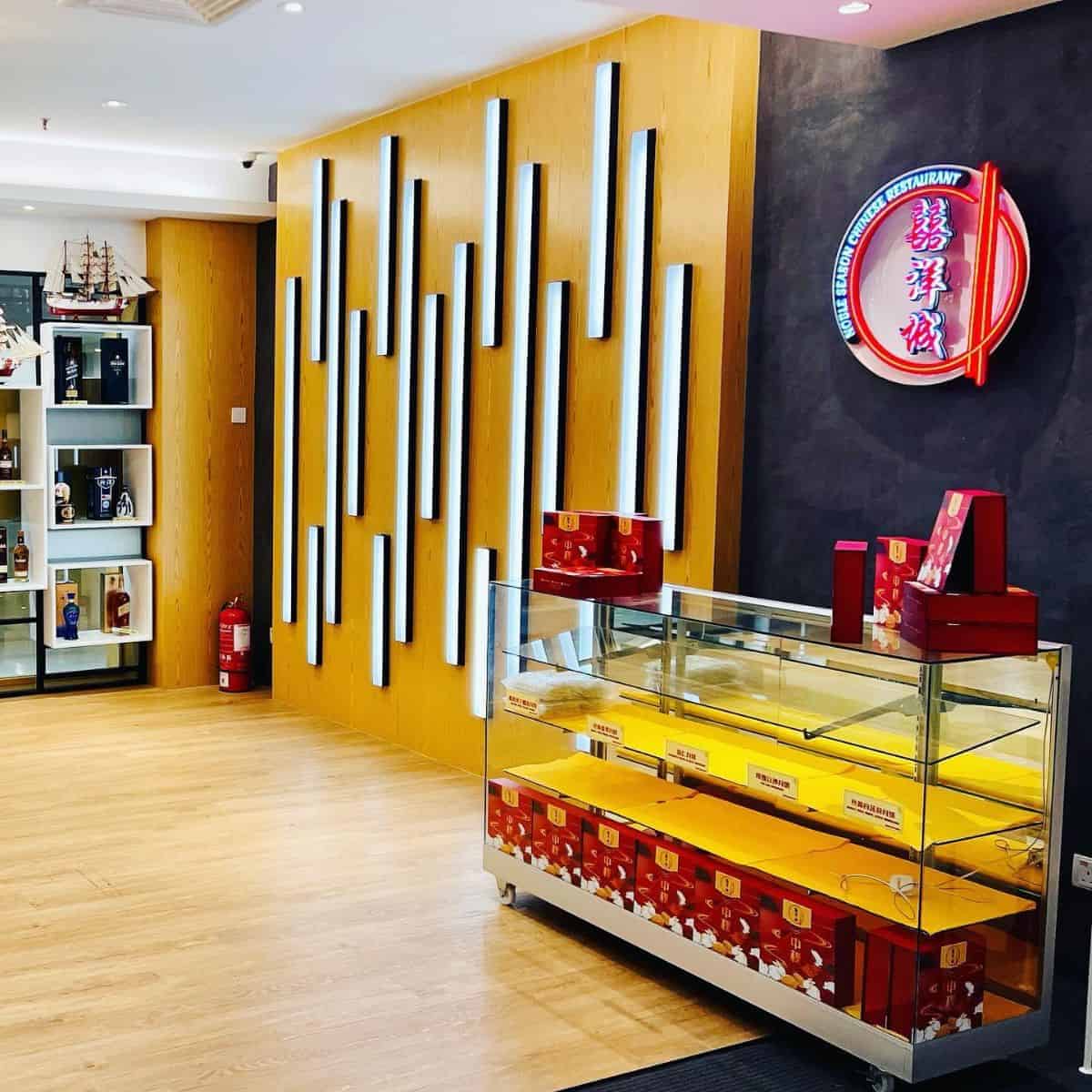 Noble Season is notable for its reasonably-priced traditional cuisine with high-quality ingredients. They are all prepared under the guidance of their Executive Chef, Sifu Keong, who has over 40 years of experience.
We particularly loved their signature steamed chicken. The chicken is first marinated in rice wine and wolfberries, which add a striking flavour to the dish. Afterwards, the chef steams the chicken to perfection, producing tender and juicy meat that melts in your mouth. If you are searching for the best Chinese restaurant in Penang Plaza, Noble Season is a great choice. Noble Season opens daily from 8 am to 3 pm and 6 pm to 9:45 pm. For a quieter dining experience, visit on weekdays.
Noble Season
2nd floor, Penang Plaza, Lot 207-221 & 231-245, 126, Jalan Burma, 10050 George Town, Penang
Facebook
Lao Hakka (Hakka cuisine)
Lao Hakka is a quaint family-run restaurant that is hidden in the Penang Chinese Swimming Club. This unassuming restaurant serves homemade Hakka recipes which are gradually becoming rarer these days. While it is reputable among Georgetown old-timers, we would love for more people to patronise this hidden gem of a restaurant.
Expect a warm and homey atmosphere when you come visit Lao Hakka, but be prepared for amazing Hakka dishes. They boast a huge menu, but some of the dishes stand out more than others. For example, we recommend their Fried Ginger Pork, Assam Stingray Curry and Belachan Chicken.
This Hakka Chinese restaurant in Penang is open everyday from 11 am to 3 pm for lunch, and from 6 pm to 10 pm for dinner. They are, however, closed on Mondays. Parking tend to be easy to find in this area, so no worries if you're heading there by car.
Lao Hakka
562 Jalan Tanjung Bungah, George Town, Penang Island 11200 Malaysia
Chinese Farm Restaurant (Sichuan-style cuisine)
If you love spicy food, then we recommend heading to Chinese Farm Restaurant on Rangoon Street in Georgetown. This establishment serve authentic sichuan cuisine at affordable prices. While this restaurant is not as popular, it is a hidden gem that we recommend you visit.
Chinese Farm Restaurant is also a great spot to enjoy hot pot dishes with a larger group of family or friends. A popular dish here is their Melon Soup Hot Pot which consists of wintermelon and a combination of herbs that create a comforting flavour. There are also spicier hot pot options like Sour Fish which are also great. We recommend pairing the hot pot soups with meat cuts and an array of spicy Sichuan dishes like Ma Po Tofu.
This Penang Chinese restaurant in Georgetown is open every day from 11 am till 11 pm, except on Tuesdays. We recommend heading to Chinese Farm with a larger group so that you can share a variety of Szechuan dishes.
农家乐餐馆 Chinese farm
86, Jalan Rangoon, George Town, 10400 George Town, Pulau Pinang
Google Maps
Top Penang Chinese Restaurants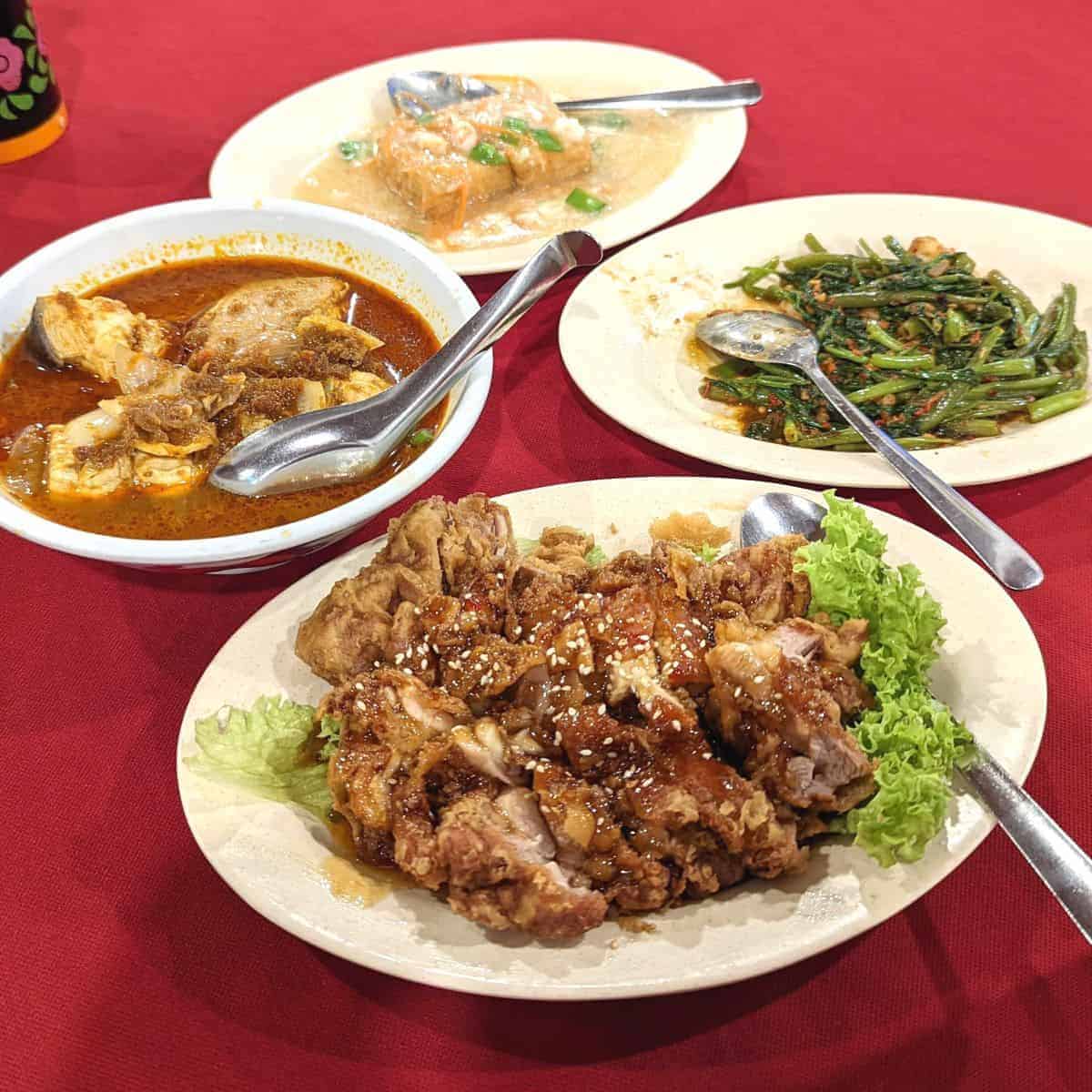 If you love exploring new dining experiences, follow us on Instagram @tabitogether for more delicious food recommendations and reviews. We're always looking for the best culinary gems in Penang and beyond, and we can't wait to share our latest discoveries with you.
Craving for something unique? Then, we recommend feasting on some Nyonya cuisine while you're visiting the island. Check out our guide on the best Nyonya food in Penang next.