Cafes in Bali are one of the main attractions for many visitors to the area. The abundance of fantastic cafes in this tropical paradise makes it a dream destination for any foodie as well as coffee lovers.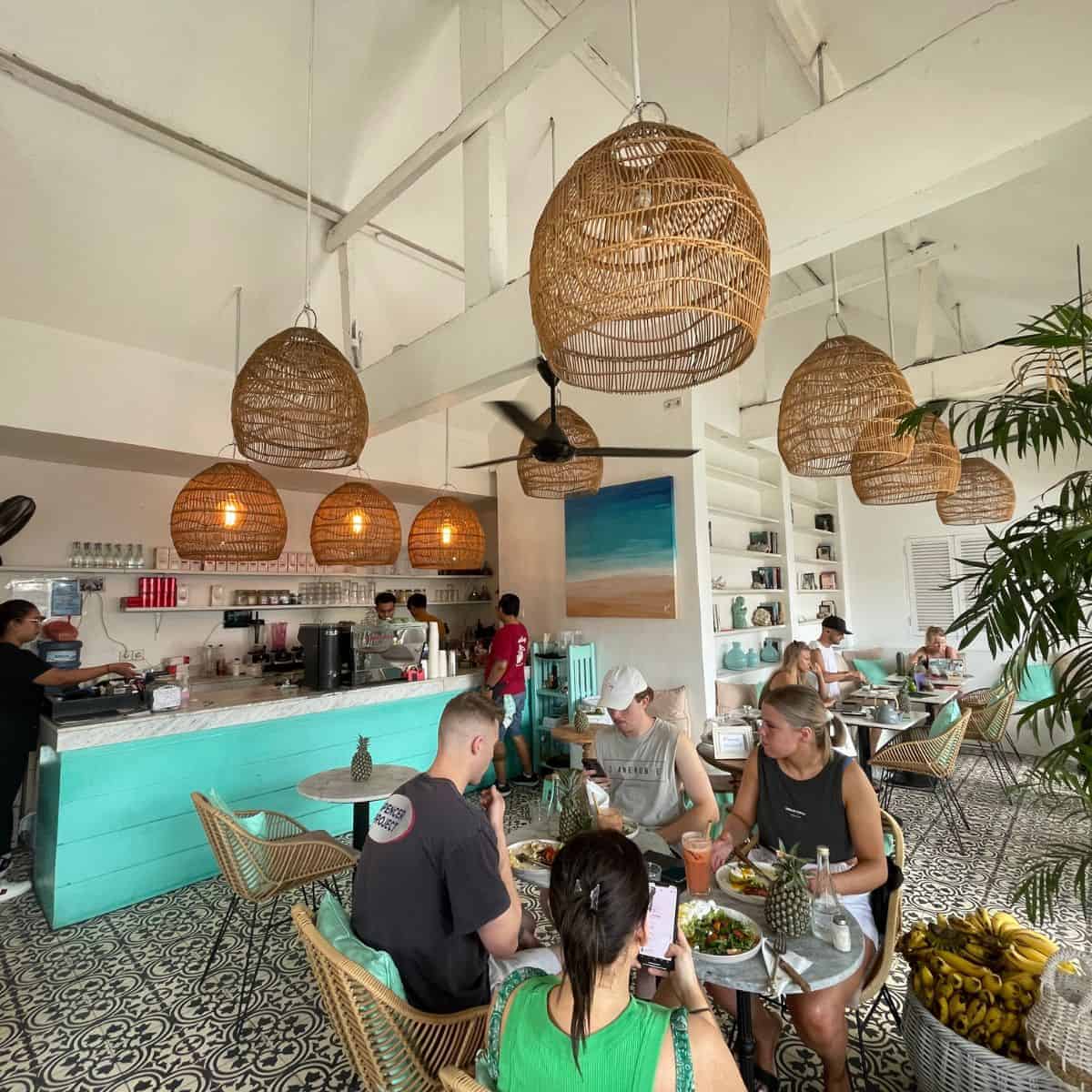 But with so many choices, choosing the perfect place for you can be tricky. To help you choose, here is our list of the best cafes in Bali where you can have a substantial breakfast and also an energising cup of coffee.
We selected the cafes featured on this list based on certain criteria. For example, we considered their ambience (vibe and aesthetics), available food options, coffee variety, as well as locally-sourced ingredients. The cost of a meal and a cup of coffee was also part of our consideration.
The price of food, coffee, and other beverages ranges from cafe to cafe, depending on where you choose to visit. On average, we found that a cup of coffee in Bali is around 28,000 IDR ($1.80 USD). Meanwhile, if you want a plain croissant to enjoy with your coffee, it will cost around 25,000 IDR ($1.60 USD). However, depending on the exact region you're visiting and the cafe's quality, these costs can fluctuate slightly in either direction.
Are you ready to learn about the best cafes in Bali? If so, let's dive in.
Jump to:
Best Cafes in Bali Seminyak
These are the greatest restaurants, cafés, and coffee shops in the trendy neighbourhood of Seminyak. They are perfect for every occasion, from breakfast to lunch to a romantic dinner. There are more cafes in Seminyak than in Kuta Beach or Ubud. Compared to other locations in Bali, Seminyak offers so much to love, including access to Echo Beach. One of the best surfing locations in Bali.
The cafes in Seminyak capture the heart of Bali, which is another reason why stopping by to enjoy a coffee or meal is so desirable. With designs that capture the culture of Bali as well as locally sourced coffee beans, you likely won't capture a more authentic Bali experience anywhere else.
To sample the greatest coffee and cuisine Seminyak offers, we recommend spending about a week here. The average cappuccino costs around 47,000 IDR ($3 USD), with a pancake and berry breakfast running approximately 118,000 IDR ($7.50 USD). So, for your convenience, we have compiled this list of the best cafes in Bali, Seminyak, for you.
Sisterfields Cafe
There is no question that Sisterfields Cafe is one of the best cafes in Bali, Seminyak. Sisterfields has never failed to satisfy customers' expectations.
The contemporary Australian cafe offers some of the most delicious options for brunch. Delightful sandwiches and even a delicious burger with onion rings can be found at this Australian eatery.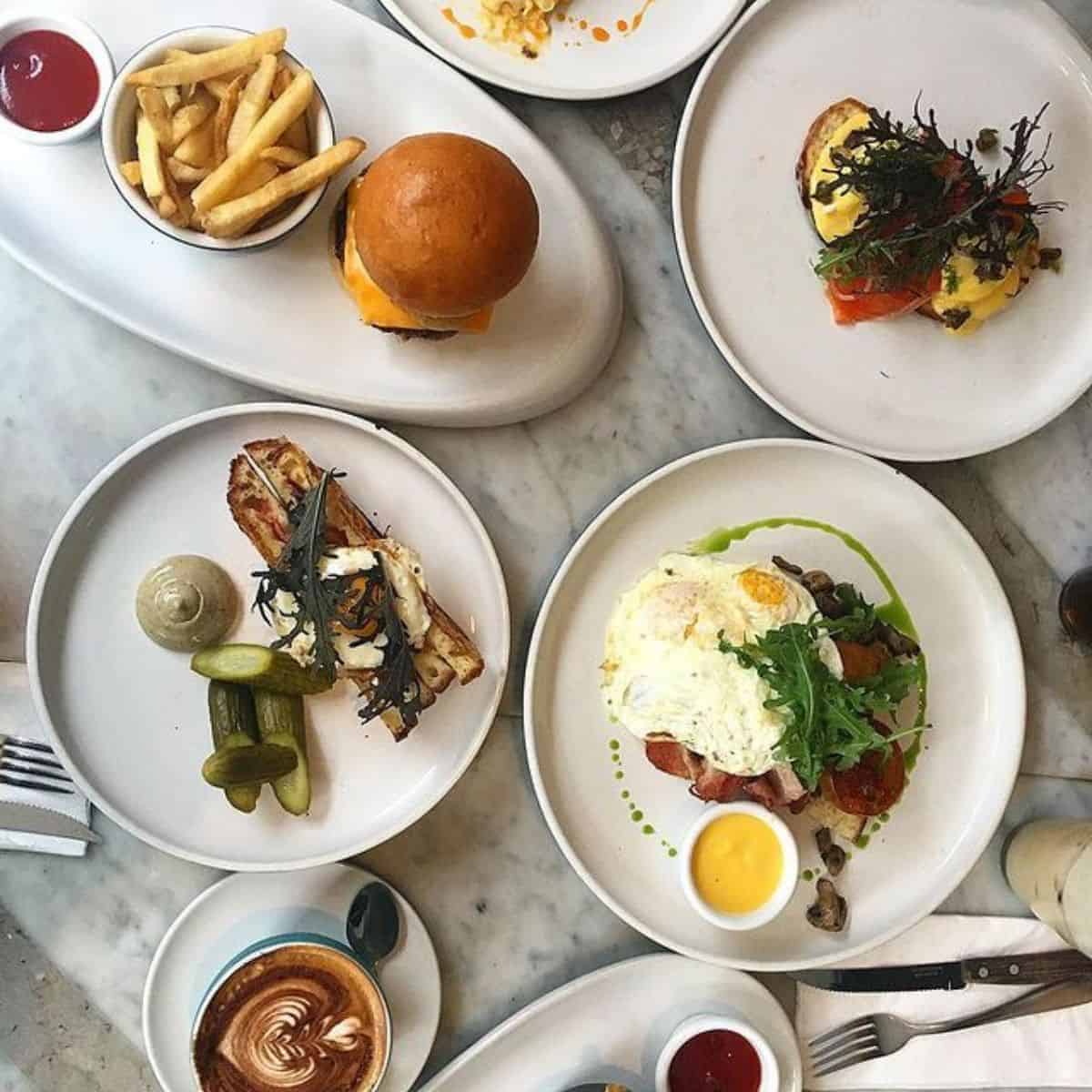 Sisterfields Cafe exemplifies Australia's distinct cafe culture by bringing a passion for food and outstanding coffee to the island. When you stop at Sisterfields, pairing an Iced Latte with their Breakfast Berry Crumble is a great way to jumpstart your day of adventure.
Sisterfields Cafe
Jl. Kayu Cendana No.7, Seminyak, Bali, Kabupaten Badung, Bali 80361, Indonesia
Coffee Cartel
Coffee Cartel has everything you could want in a Bali cafe: excellent cuisine and speciality coffee. Moreover, they offer vegetarian, vegan, and gluten-free choices, suitable for any diet.
On top of that, the cafe has an Instagram-worthy design, lightning-fast internet, as well as plenty of comfortable seats. Whether you're a luxury traveller or a digital nomad, the Cartel has got all you need and want.
You'll be spoilt for choice with Coffee Cartel's two convenient locations in Seminyak and Legian. With all these features, we simply had to have it on our best cafes in Bali list.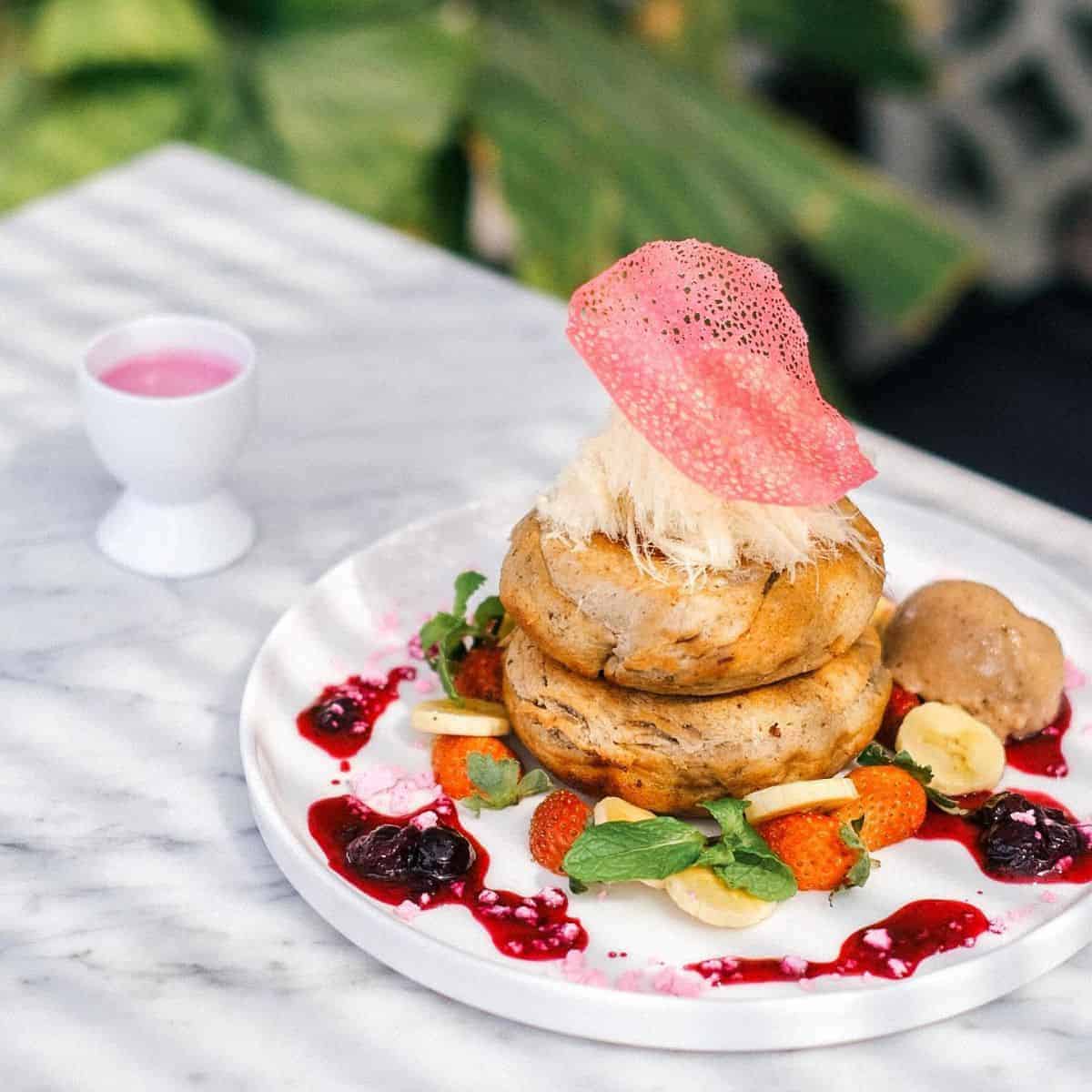 Coffee Cartel is one of the handfuls of licensed coffee Q Graders worldwide. They have a trademark blend from North Wollongong in Australia, making it perfect for serious coffee drinkers.
It serves traditional, contemporary Australian meals for breakfast and lunch. In addition, the cafe uses only the freshest local ingredients to match its famous Ripple-printed coffee. Pair that with the Big Brekky, and you'll be ready to take on whatever the day brings.
Coffee Cartel
Jl. Lb. Sari No.8, Kerobokan Kelod, Kec. Kuta Utara, Kabupaten Badung, Bali 80361, Indonesia
Watercress Cafe
A tranquil haven on the fringes of buzzing Seminyak, Watercress is a relatively low hangout. It's a relaxed and laid-back breakfast joint furnished with old wooden tables and chairs.
After all these years, Watercress still manages to wow its regular clientele and the most discriminating visitors.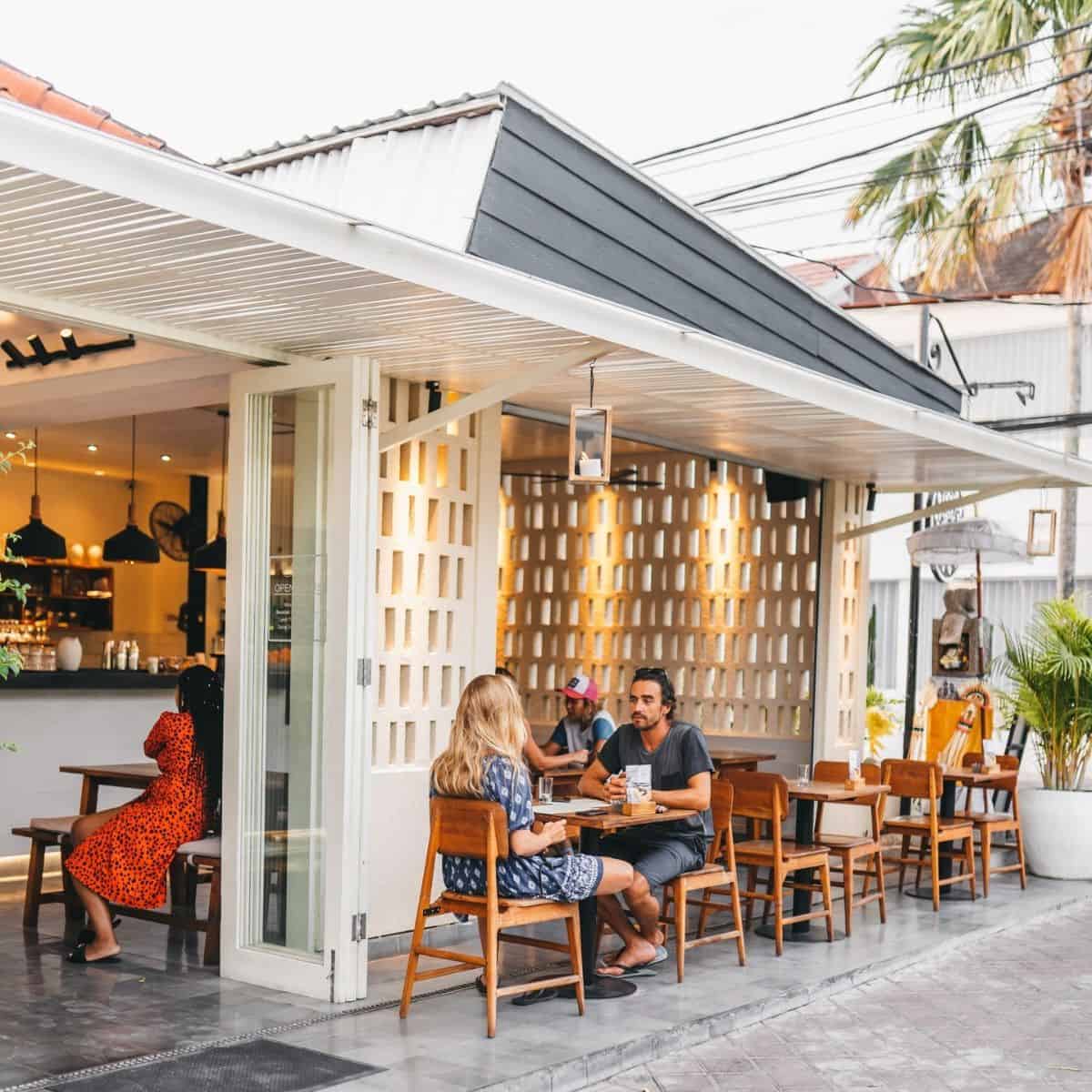 The coffee here is made using the house mix of Arabica beans sourced from Brazil, Colombia, Uganda, and Ethiopia, known as Beans By The Brotherhood. In our opinion, they serve one the best coffee in Bali.
Smoothies are also available at Watercress. The Super Smoothie is particularly noteworthy since it combines cocoa, bee pollen, maca, coconut oil, and banana. Pair it with the Organic Banana Flour Pancake for an unforgettable flavour experience.
For us, this is one of the best cafes in Bali, Seminyak.
Watercress Cafe
Jl. Batu Belig No.21 A, Kerobokan Kelod, Kec. Kuta Utara, Kabupaten Badung, Bali 80361, Indonesia
Pison Coffee
At Pison Coffee, located in a modest red brick building, you may relax with a cup of coffee while listening to live music and enjoying delicious cuisine. You will love this place if you are an avocado and coffee connoisseur.
If you want to try something special, don't leave the cafe without ordering The Espresso Avocado. It is a unique and creamy mixture prepared with fresh avocado juice and also vanilla ice cream. We love their avocado coffee.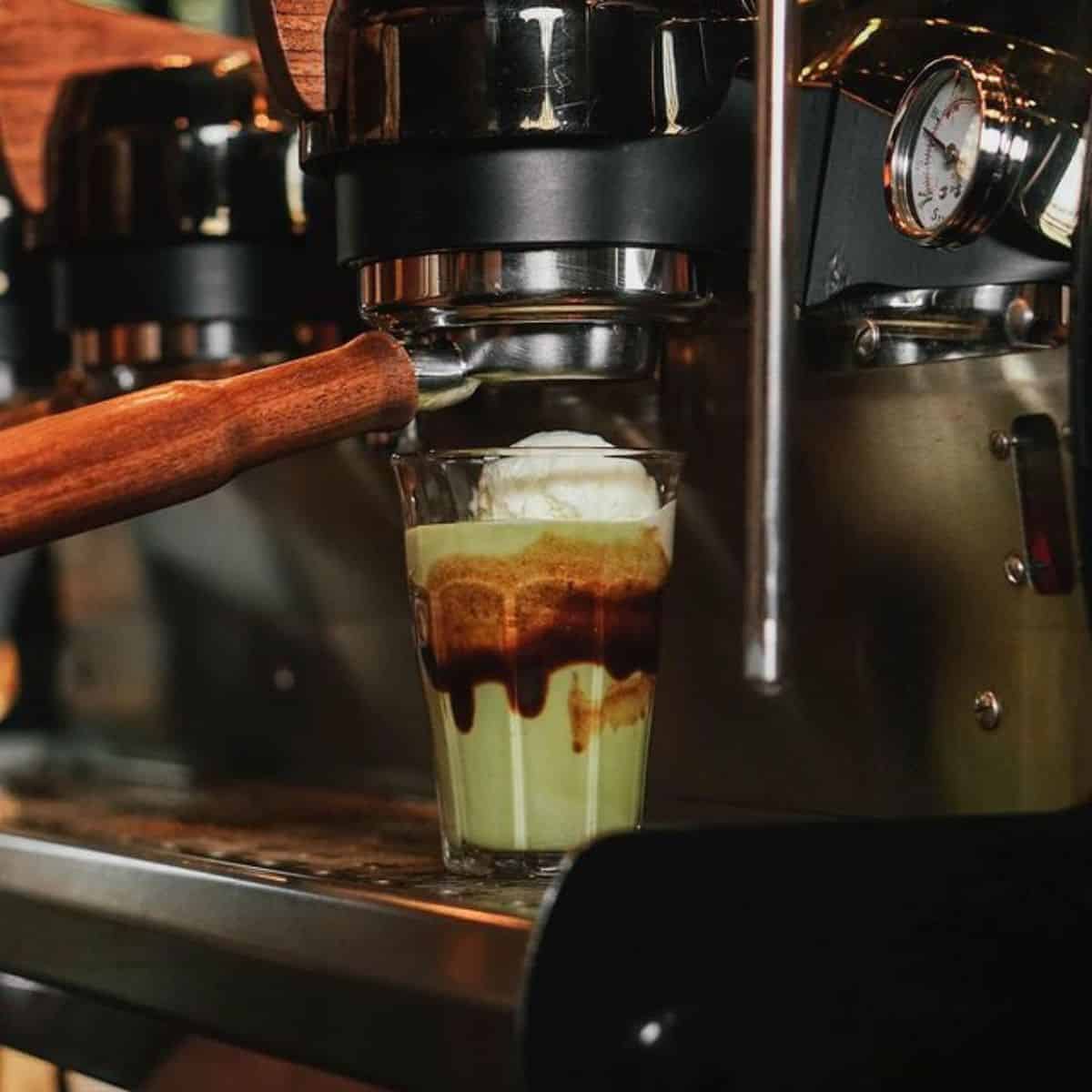 In addition, squid ink fried rice, lobster toast as well as scallop mentaiko spaghetti are just a few of the creative delicacies you should try here. There are also many more options available on the large menu at Pison Coffee.
Pison Coffee
Petitenget St No.19A, Kerobokan Kelod, Kuta Utara, Badung Regency, Bali 80361, Indonesia
Shelter Cafe Bali
Because of its overwhelming success, the cafe opened a second location at the beginning of 2019. As part of the revamp, a new home goods shop was added on the ground floor behind Nalu Bowl, and the cafe was given more tables and chairs.
Despite the cafe's less-than-prime location, it's worth the trip to Seminyak. If you're looking for breakfast in Seminyak, you won't find a better option than here.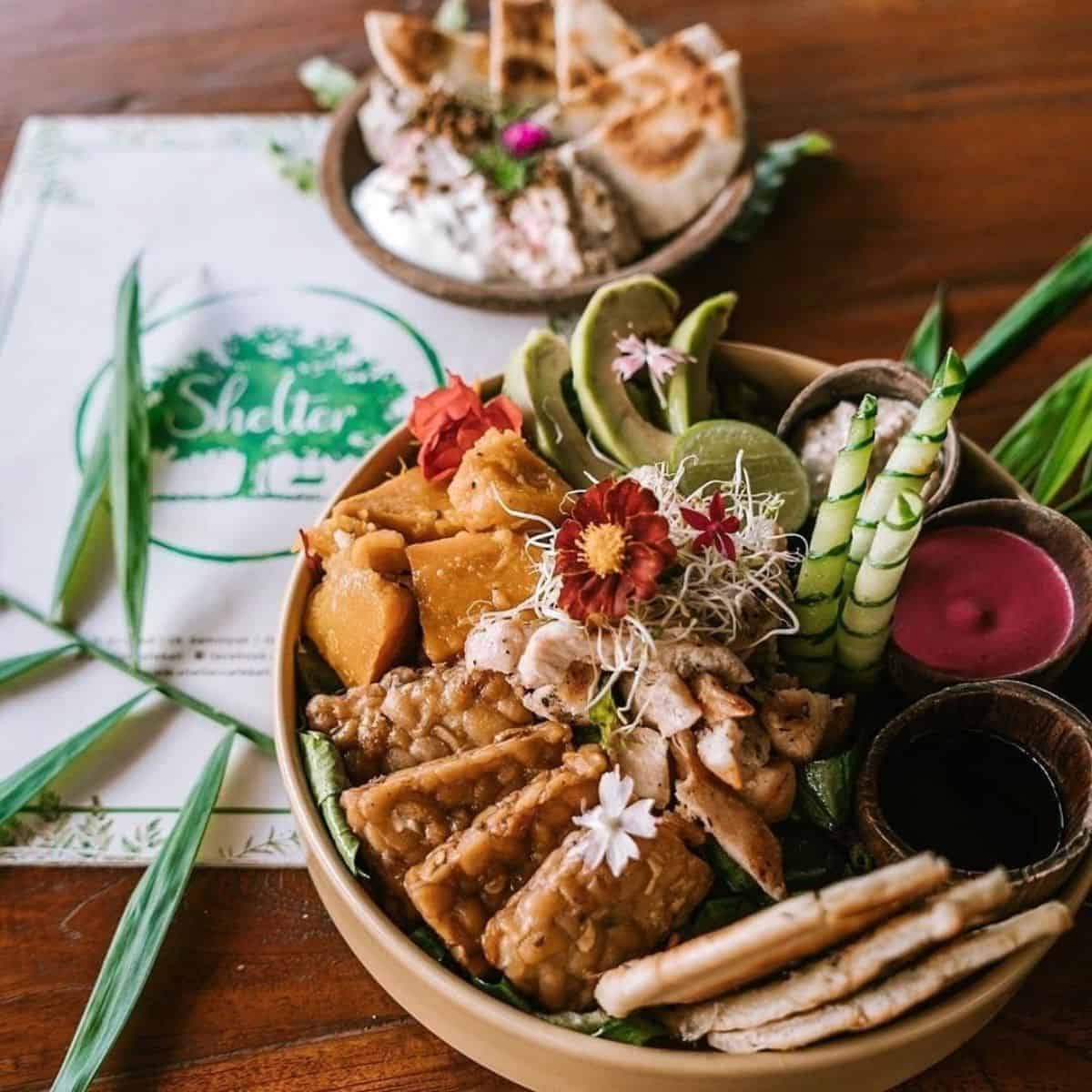 Weffy's healthy bowl and the Big Bang breakfast plate are the crowd's favourites. Additionally, they provide a wide variety of vegan smoothies and fresh juices.
As one of the best cafes in Bali, the Shelter Café is great for starting your day or recharging over lunch. Additionally, it's an ideal place to get some work done.
Shelter Cafe Bali
Jl. Drupadi 1 No.2b, Seminyak, Kec. Kuta, Kabupaten Badung, Bali 80361, Indonesia
Revolver Espresso
Revolver Espresso procures premium beans from some of the world's finest growers. Priority is given to timely delivery once it has been locally roasted and blended in Bali. In addition, coffee machines and grinders from LA MARZOCCO and MAZZA are a source of pride for them.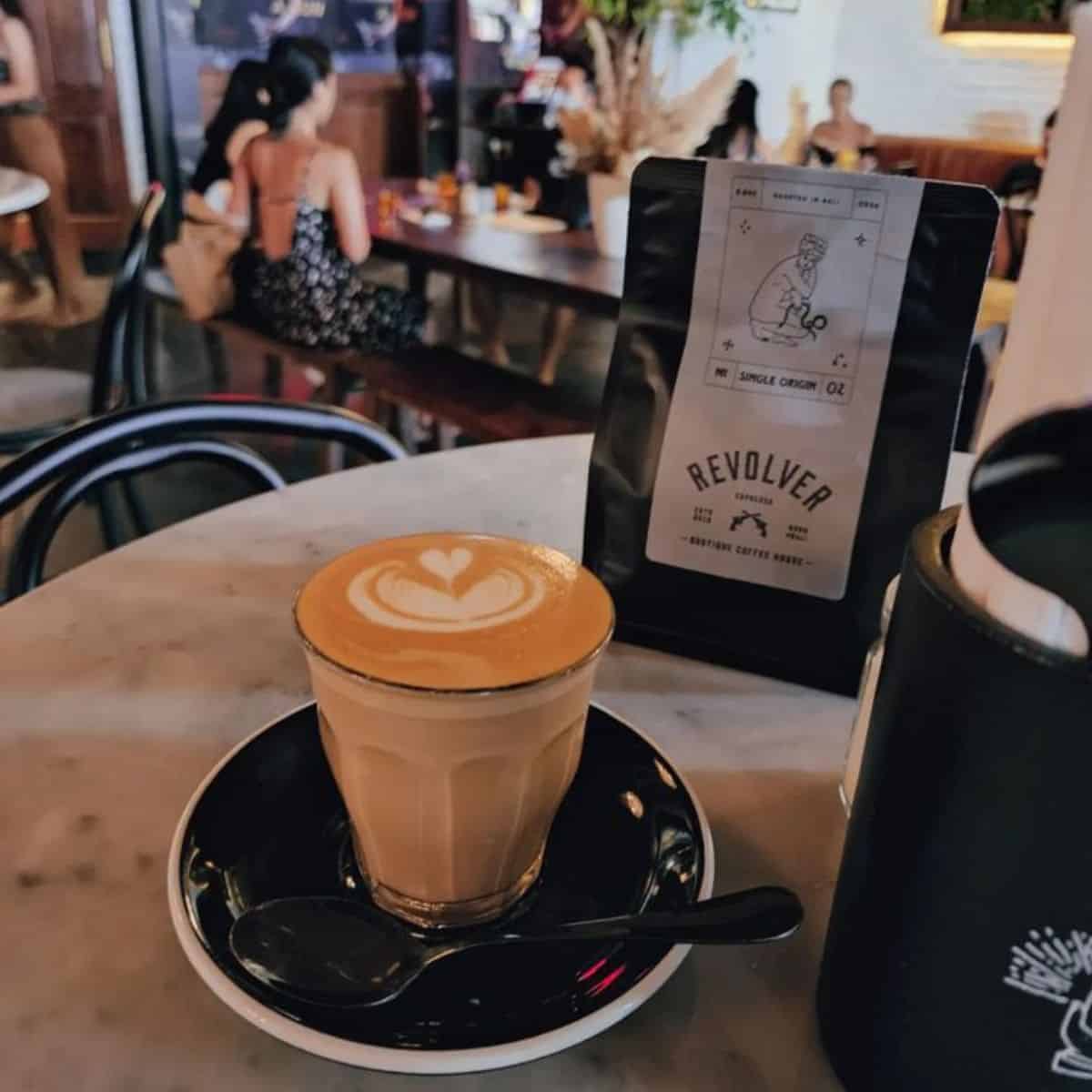 They place a premium on quality and are committed to giving back to the communities in which they operate, their suppliers, and their employees. When visiting the Revolver, give the Killer Chiller a try. Then, couple that with the Burrito Bowl, and you'll feel energized the rest of the day!
Revolver Espresso
Jalan Kayu Aya Gang 51, Seminyak, Kuta, Badung, Bali 80361, Indonesia
Titik Temu Coffee
It's hard to choose a favourite item from the menu at Titik Temu Coffee since it's a well-rounded cafe and restaurant. Being one of the best cafes in Bali, they put a lot of effort into the look and feel of their business.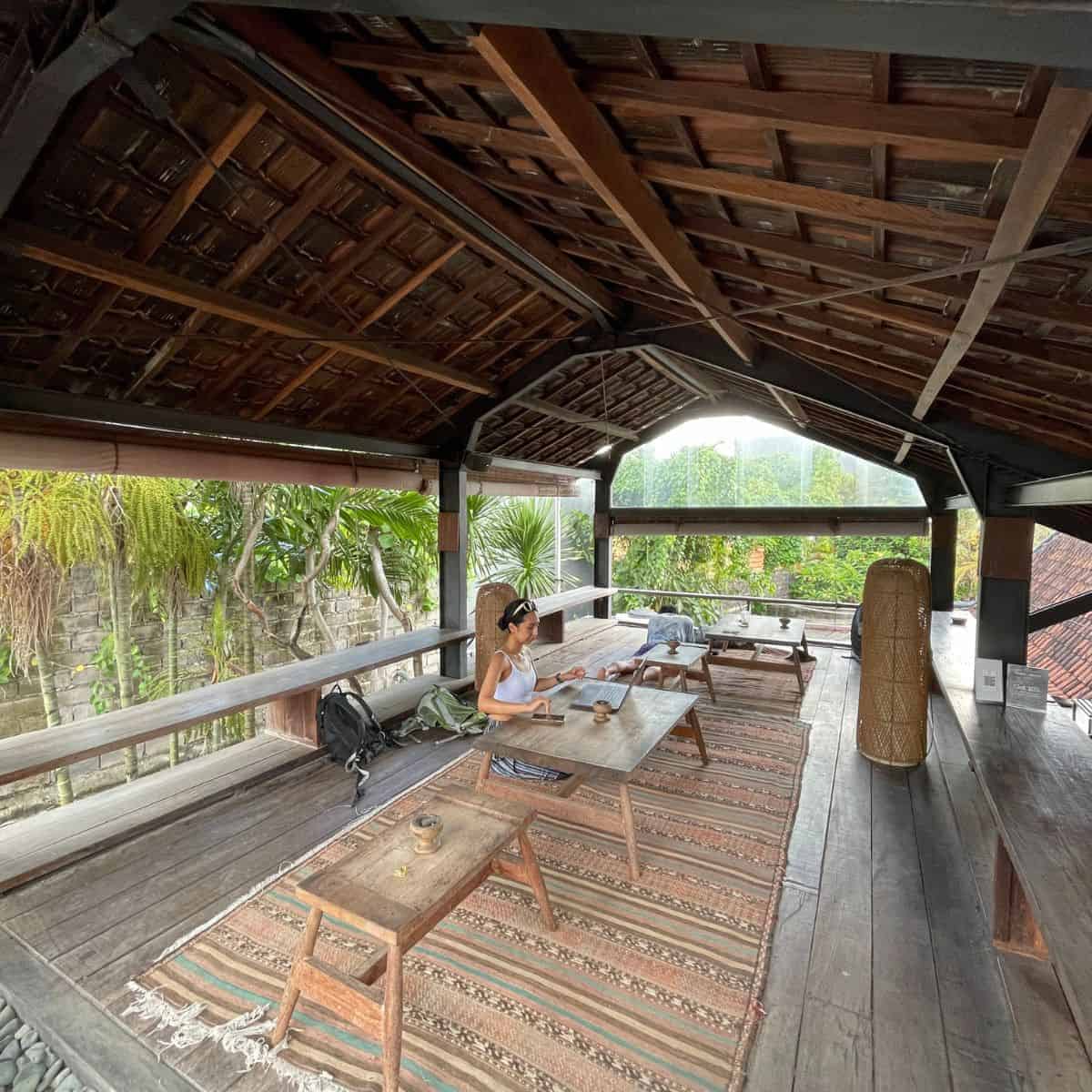 Both the food and the ambience here are excellent. For example, their Korean-style gochujang fried chicken was particularly amazing.
In addition, they have a second floor that is an open-air hang spot which is a pleasant hang-out area. Meanwhile, the cafe's ground floor also has a terrific atmosphere for chilling or even working.
The only drawback, in our opinion, is that their serving portions aren't very large. But despite this, everything we ordered tasted wonderful.
Additionally, the quality of their coffee is incredible, which is another of their many assets. Give their Seasonal Blend a try – you won't be disappointed. Don't forget about the Banana Fritters too.
Titik Temu Coffee
Jl. Kayu Cendana No.1, Seminyak, Kec. Kuta, Kabupaten Badung, Bali 80361, Indonesia
Sea Circus
This rainbow-coloured Seminyak staple, with its eccentric decor as well as tantalizing culinary options at all hours of the day and night, is hard to miss. Sea Circus is one of the best cafes in Bali, offering the greatest options in town for breakfast, lunch, and dinner.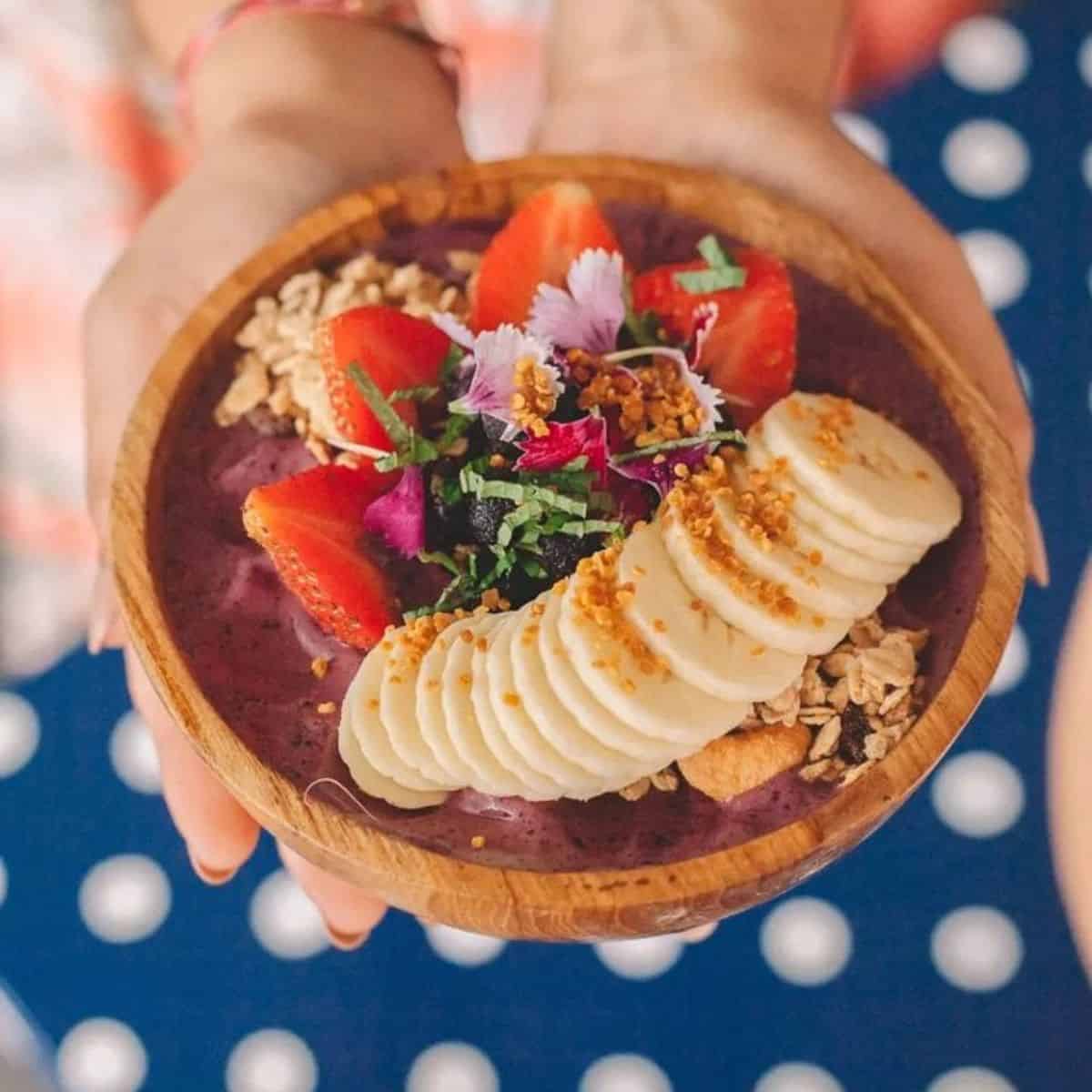 So, picking a menu favourite from its famed Acai Bowl, Margarita jugs, and Fish Tacos won't be easy. Sea Circus is open for breakfast, lunch, and supper.
Visit with your loved one for an unpretentious meal beneath the twinkling fairy lights, or bring the kids for an addicting breakfast.
Sea Circus
Jl. Kayu Aya No.22, Seminyak, Kec. Kuta, Kabupaten Badung, Bali 80361, Indonesia
Best Cafes in Bali: Canggu
If you are going to Canggu soon, you won't be stuck finding a good cup of coffee in the morning. There is an overwhelming selection of Bali coffee shops to choose from in this small town.
Canggu is a paradise for foodies, surfers, and digital nomads looking for a more unique lifestyle – which is also what separates this location from so many others in Bali. From luxurious 5-star hotels to quaint, vegan cafes, there are options to satisfy every need as well as budget in this neighbourhood.
But its signature feature is its low-cost coffee, uniquely local cafe settings, and large servings of food. Coffee in Canggu is often between 15,000 IDR - 45,000 IDR ($1 and $3 USD). But no matter the price, the coffee is fantastic. So, here are some of the best cafes in Canggu you should visit.
Nude Cafe Canggu
First on our list of best cafes in Bali is Nude Cafe Canggu, which is located in a traditional Javanese joglo. It offers a calm and relaxing ambience, with a Scandinavian-like minimalistic yet earthy interior that we love!
Nude has an extensive selection of morning foods, including wholesome choices such as granola, bircher mueslis, and potato rosti stacks.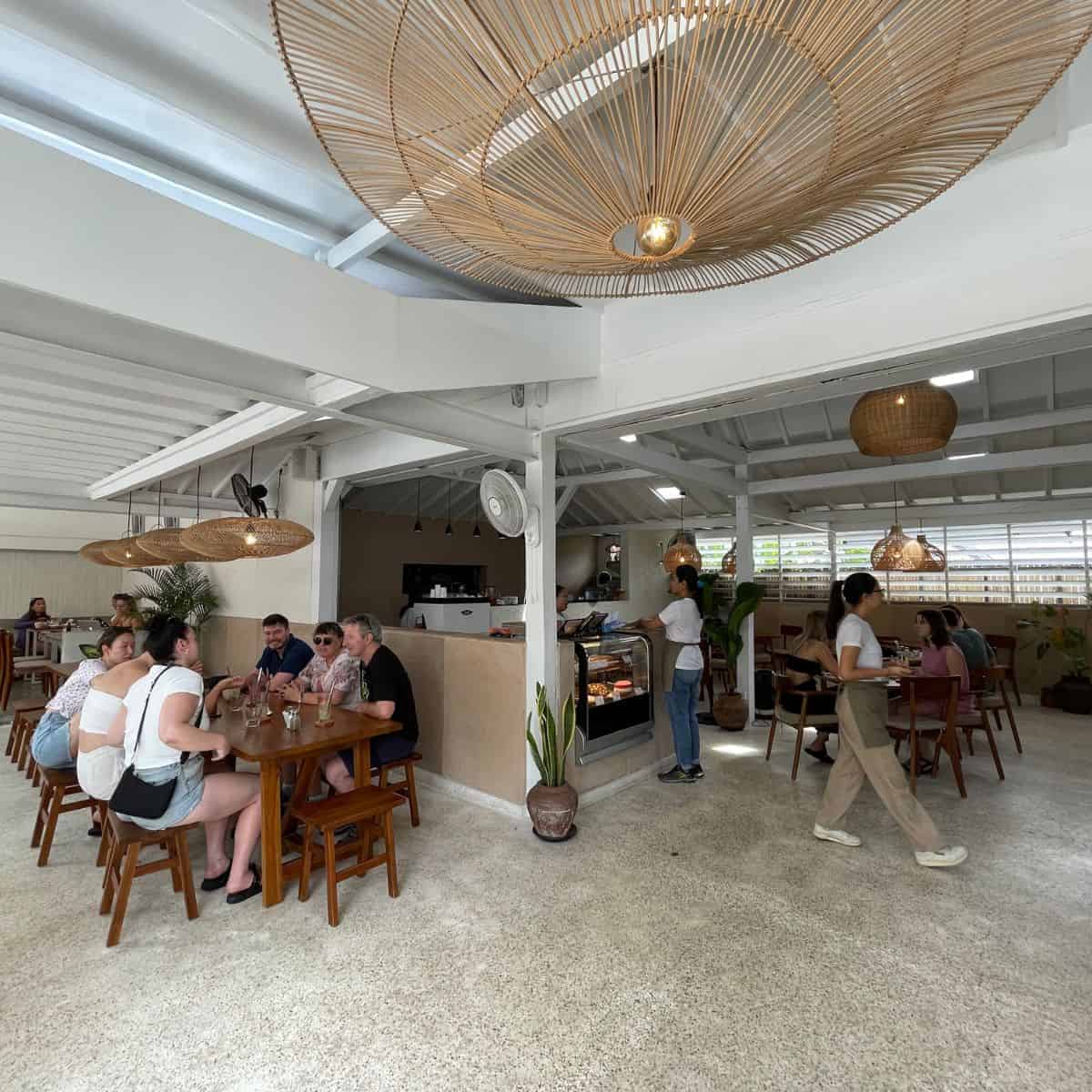 Raw food items (food not cooked over 49 degrees), hand-picked smoothies/juices, and aromatic Indonesian Arabica Coffee round out the menu. Nude cafe Canggu is one of the best cafes in Canggu. People go here for delicious, nutritious breakfast, lunch, and supper.
On your visit, the Red Velvet Flavored Latte is a unique choice you won't find in many other places. The Pitaya Smoothie Bowl is also a popular selection.
Moreover, Nude also offers a quiet room which has plenty of comfortable seats, air conditioning and sockets. So, this is a perfect cafe for anyone looking to do some work or quiet reading.
Nude Cafe Canggu
Jl. Pantai Berawa No.33, Tibubeneng, Kec. Kuta Utara, Kabupaten Badung, Bali 80361, Indonesia
Miel Coffee
Miel Coffee Bali, located in Canggu, is an exceptionally well-designed and roomy coffee shop. Every nook and cranny is perfect for Instagram, making it an excellent choice for photographers seeking scenic settings. It's undoubtedly an Instagrammable cafe in Bali.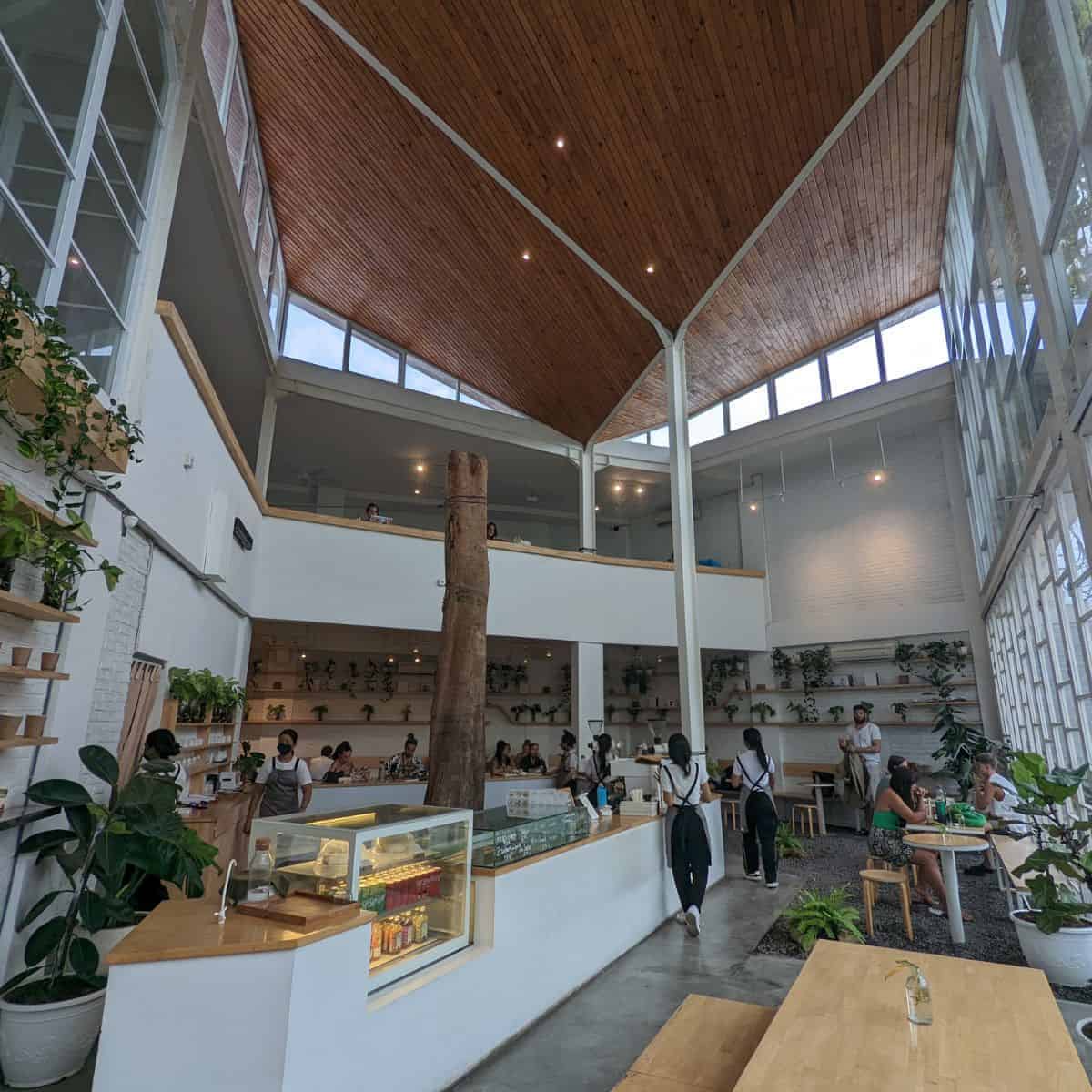 The coffee machines hung over the Miel Coffee coffee bar are also as tempting as they seem. Their coffee selection is diverse, with choices ranging from coffee made with milk to coffee made with a filter.
They offer a selection of freshly baked croissants with rich fillings such as chocolate and almonds. We also enjoyed their avocado and smoked salmon croissant sandwich, which we highly recommend.
Miel Coffee
Jl. Pantai Batu Bolong No.5, Canggu, Kec. Kuta Utara, Kabupaten Badung, Bali 80361, Indonesia
Website
BAKED
Add brunching at BAKED as one of the things to do in Canggu during your stay. When you get to Baked, the first thing you will notice is the aroma of freshly baked sourdough as well as freshly brewed coffee filling up the cafe. So, don't be surprised if you also find a queue of people waiting to get their brunch there!
The menu is minimalistic, up-to-date, and straightforwardly excellent, like the room's interior style. While their signature sourdough is the highlight of the bakery, they also offer other types of pastries like danishes, croissants and even kouign-amanns.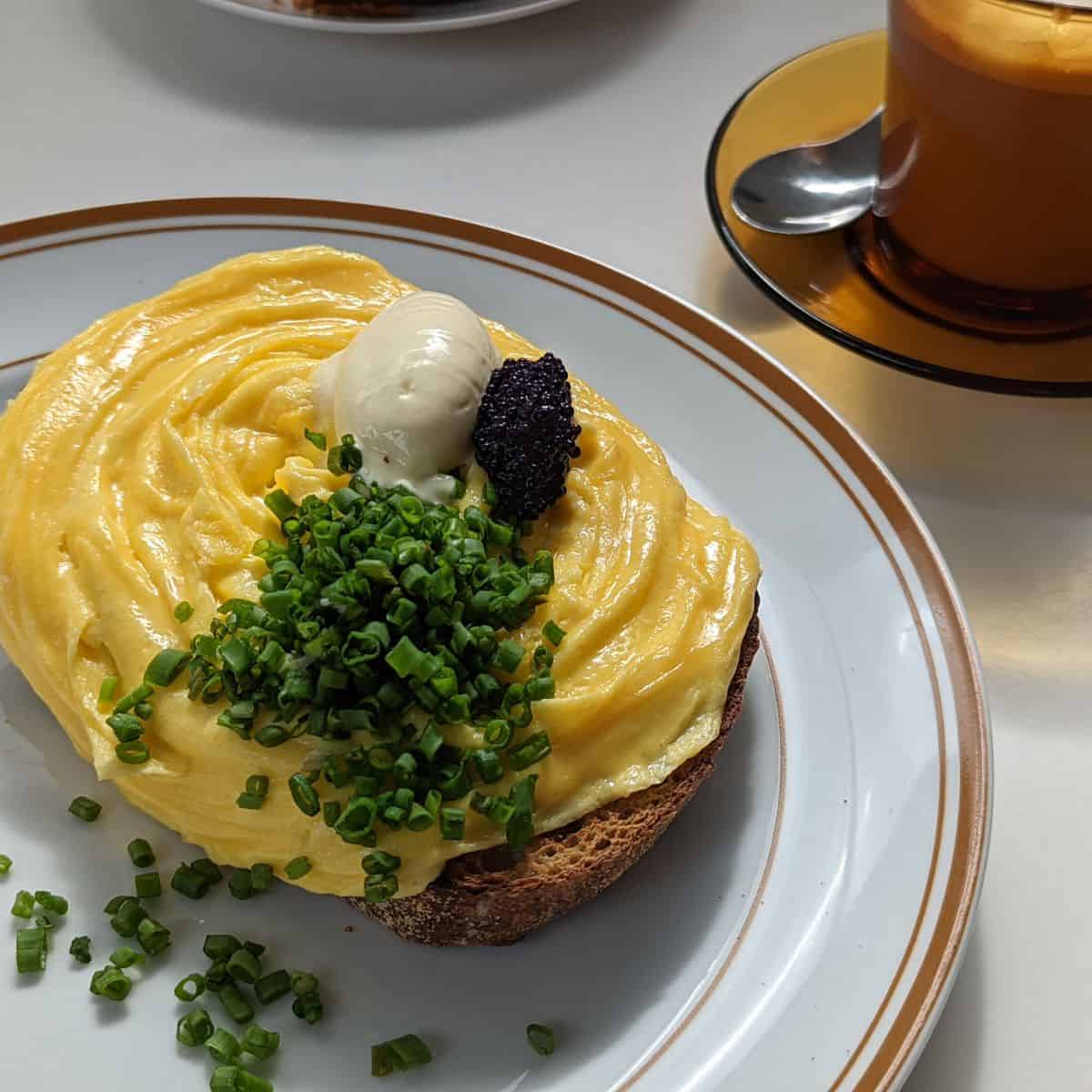 If you're not sure what to get, we highly recommend trying their Royal Folded Eggs. It is a dish made up of lightly scrambled eggs served over a slice of sourdough, served with cream, chives and also caviar!
In our opinion, breakfast and coffee time with loved ones is best spent here. Baked is one of the best cafes in Canggu.
BAKED
Jl. Raya Semat Gg. Kupu kupu No.1, Tibubeneng, Kec. Kuta Utara, Kabupaten Badung, Bali 80361, Indonesia
Kajan Eatery
Kajan Eatery is a luxury cafe that is situated in Canggu, Bali. The deeper you get into the cafe, the more exciting it gets!
The front of the cafe starts by having a quiet area for people who want to work, while the middle part is a casual bar area for those who'd like to dine in and enjoy a meal. However, as you reach the end of the cafe, you'll find an elevated indoor pool with an open-air hang spot! A very Instagrammable cafe in Canggu, Bali, that's perfect for anyone!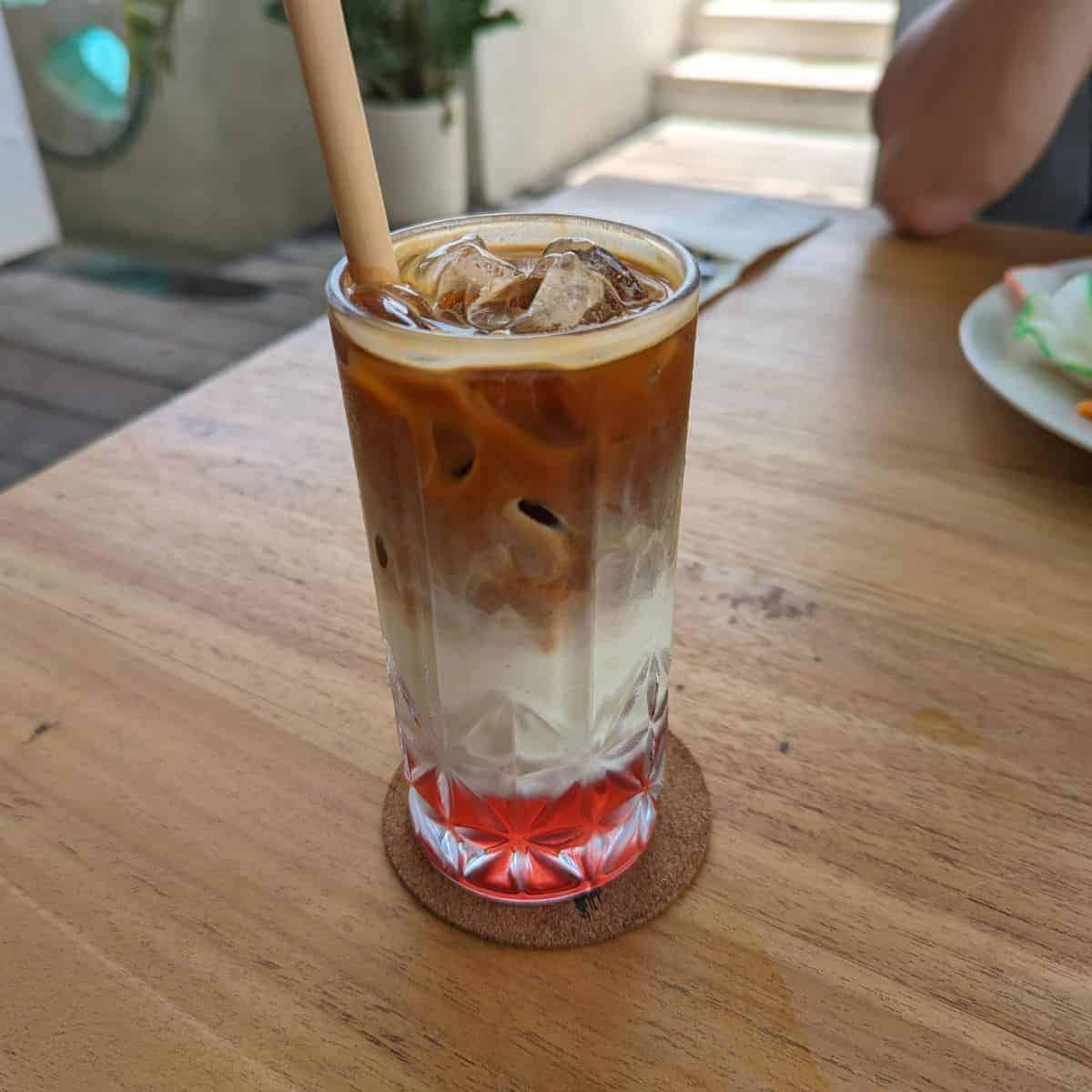 The food and drinks at Kajan Eatery were also decent. We tried their Hibiscus latte, which had a very unique flavour not found anywhere else. In addition, the Indonesian nasi goreng, as well as their Japanese tuna poke bowl that we tried, was also great.
Kajan Eatery
Jl. Pantai Batu Mejan No.6, Canggu, Kec. Kuta Utara, Kabupaten Badung, Bali 80361, Indonesia
Satu-Satu Coffee Company
The Sudana family, responsible for some of Bali's best coffee, inspired the moniker "Satu-Satu Coffee." Since its inception in 1985, family-owned coffee plantations in different places have prioritized organic coffee growing techniques.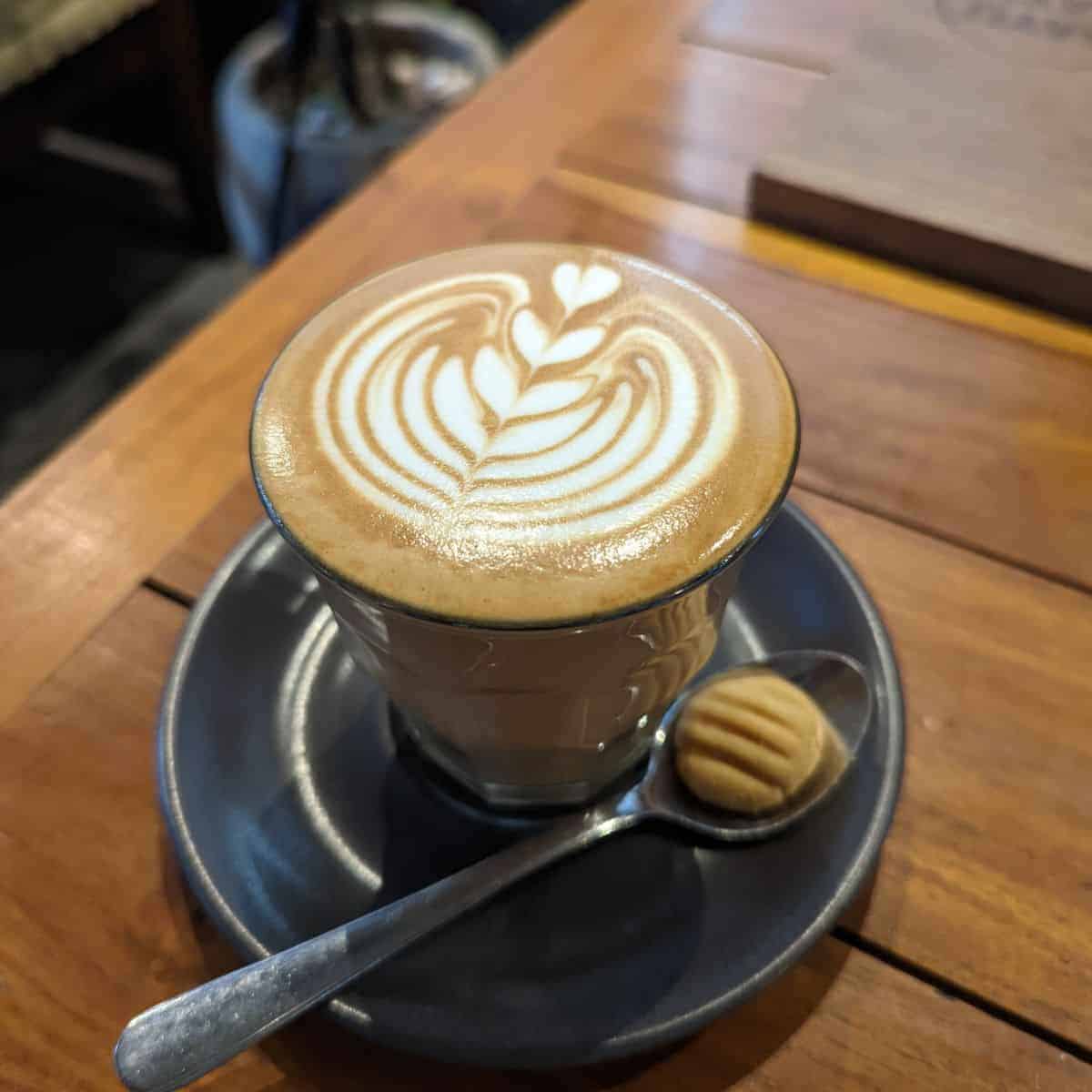 Only traditional Balinese techniques are used in producing organic coffee since this ensures an exceptionally high level of freshness and taste in the final product. Traditional Indonesian coffees like Luwak Flat White and Bali coffee are a must-try.
We were also pleasantly surprised by their food. The Chicken Caesar salad and Acai Bowl were also one of the best ones we had in a cafe in Canggu. They used fresh ingredients, and the flavours were perfectly balanced.
Satu-Satu Coffee Company
Jalan Raya Pantai Berawa No.36, Tibubeneng, North Kuta, Badung, Bali 80361, Indonesia
Zin Cafe Canggu
Zin Cafe is an elegant open-air complex that combines a coworking space as well as a cafe, spanning four stories. It has a unique blend of classical elegance, contemporary organic conveniences, as well as an authentic Bali spirit.
As lofty as the description is, Zin Cafe somehow manages to meet those expectations! It is just two minutes from one of the most beautiful Canggu coastlines, Pererenan Beach.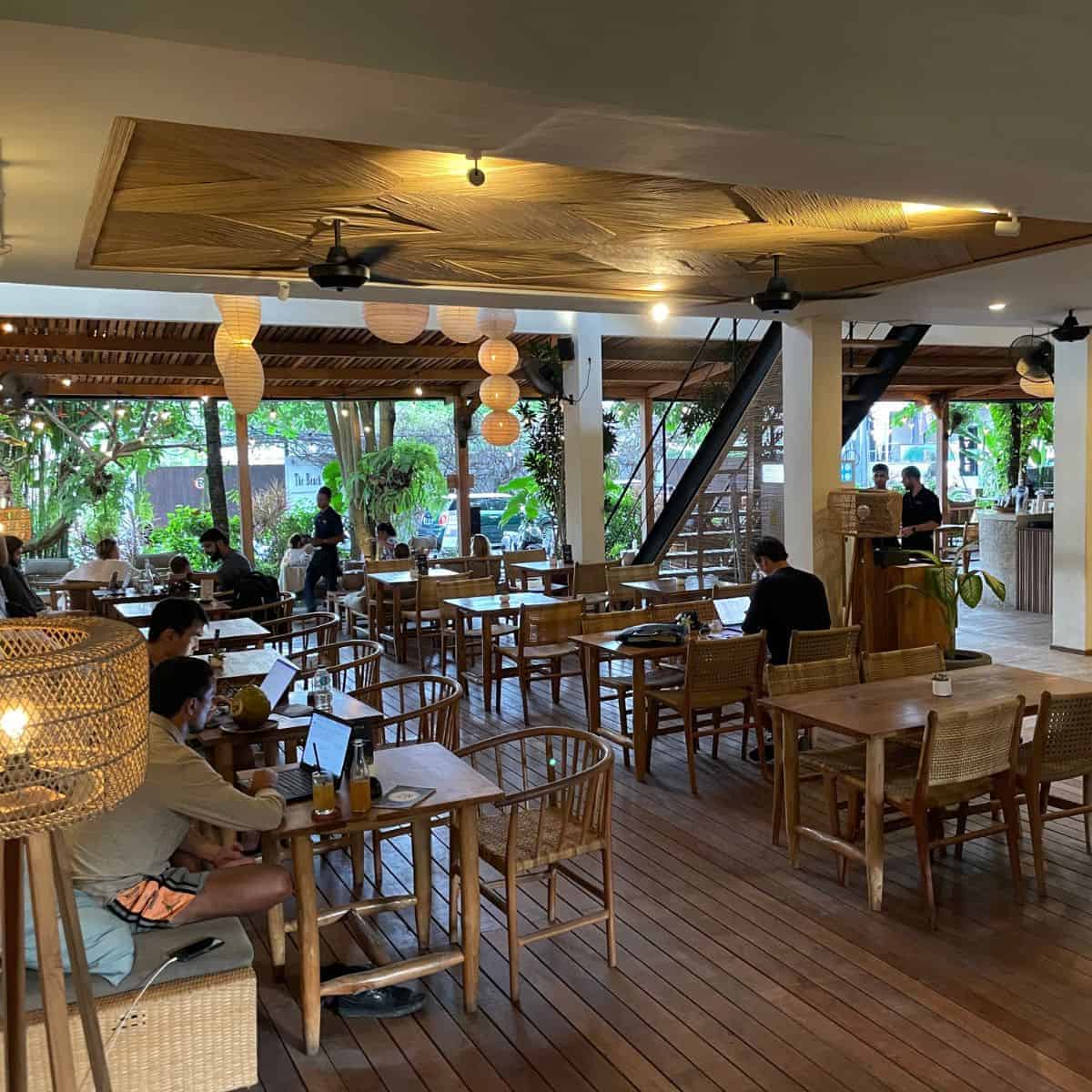 In our opinion, this is perhaps the best free coworking space in Canggu. It offers one of the finest coffees in Bali and presents a fresh, nutritious blend of seasonal Western food and also fabulous local favourites.
The Grilled Halloumi Toast is a popular choice. However, you don't want to pass up their elegant Breakfast Salmon Roll either. In addition, in their coffee menu, they offer 'Kopi Kelapa', which is essentially coconut coffee. We tried this unique blend and loved it.
Zin Cafe Canggu
Jalan Nelayan No.78 E, Canggu, North Kuta, Badung, Bali
Doppio Cafe
Doppio Cafe is one of the most famous cafes in Bali, and for a good reason. They serve good food for really affordable prices - great value.
This restaurant serves delicious brunch menu items, such as smashed avocado eggs benedict and dragon fruit granola bowls. Moreover, they also offer delicious burgers and sandwiches for lunch.
They serve a huge range of drinks, including coffee, tea, juices and even jamu. We saw that they offered a 'Covid shot' in their drink menu but opted for their appetising purple taro latte instead.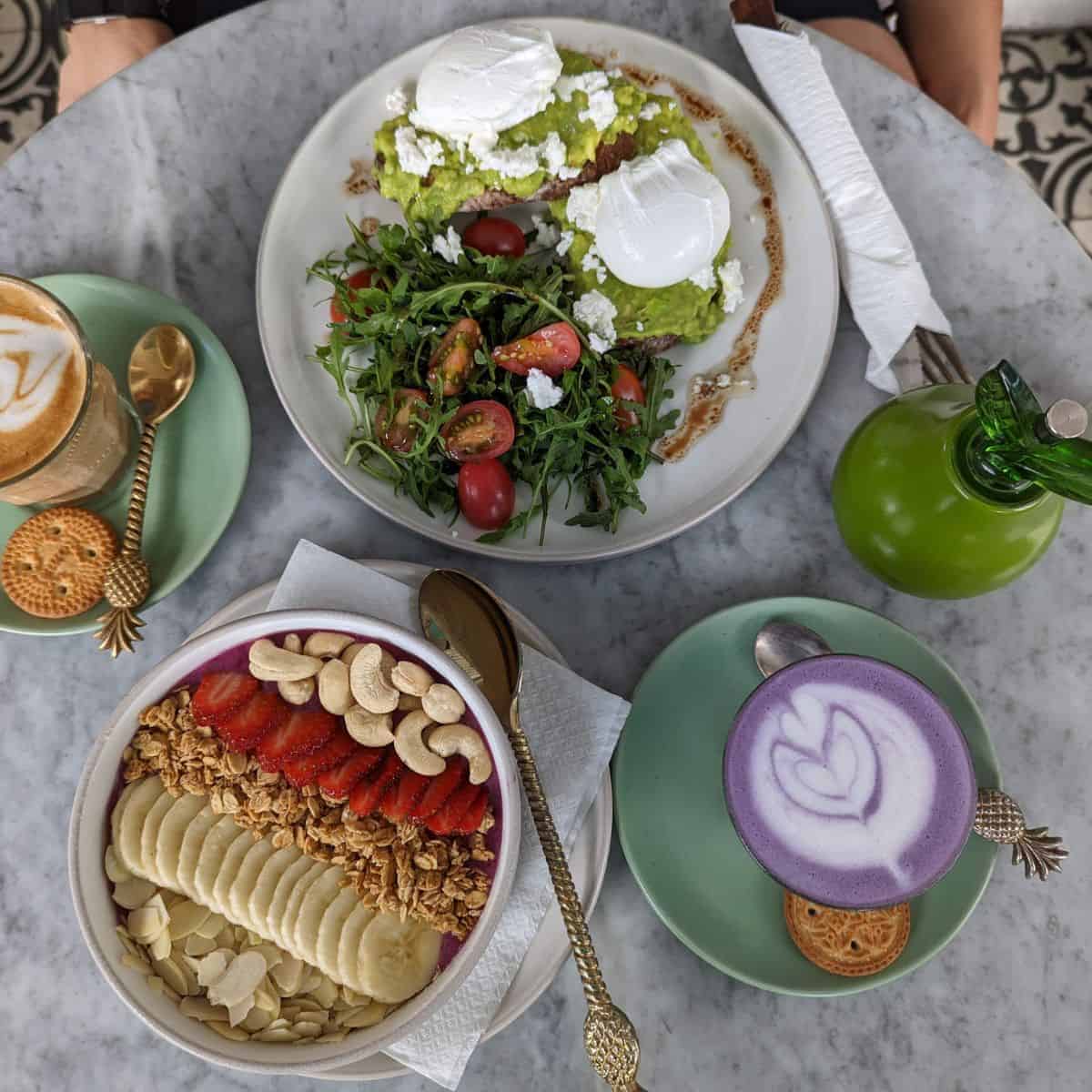 Doppio Cafe is well-known for providing excellent service and welcoming staff that is always willing to assist its customers.
It's one of our favourite spots in town to grab brunch. We also love how cosy the environment at Doppio is, making it our choice for the best coffee shop in Bali.
Doppio Cafe
Jl. Nelayan No.25a, Canggu, Bali, Indonesia
Best Coffee Shop in Kuta
Every tourist loves this area, as the tourist attractions in Kuta outperform nearly every other area in Bali. There is no shortage of things to do or places to explore when you visit this spot. From the Waterbom Bali waterpark to sprawling shopping centres, this tourist haven has so much to love and shows off Bali differently.
However, given its tourist nature, the costs might be much more than the average. The best cafe in Kuta serves coffee between 15,000 IDR - 75,000 IDR ($1 USD and $5 USD). Kuta beach is one of the liveliest areas here, so if you're feeling peckish at the last minute, here's our list of the best cafes in Kuta to try.
Mantra Coffee and Eatery
The Mantra Coffee & Tea House is a cosy cafe with quite a few tables outside and a few more inside. It is crowded during the weeknights and weekend afternoons since it is a popular place to go. In our opinion, it's one of the best cafes in Kuta, Bali.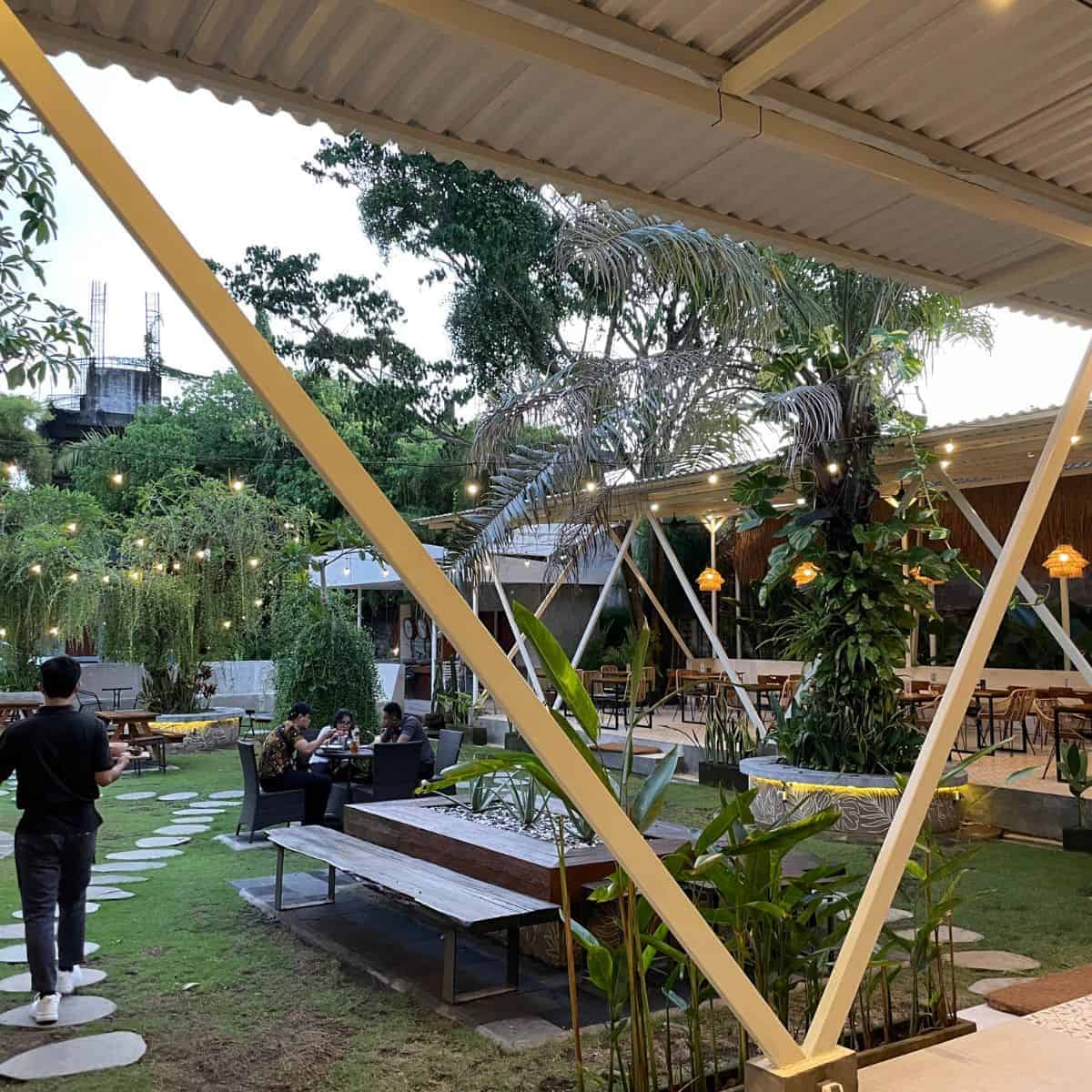 The menu at Mantra is quite extensive. They offer pastries to pair with your coffee or tea, but also offer more filling local dishes.
For example, we tried their Ayam Bakar Mantra (Roast chicken) as well as their Ayam Cabai Garam (Salted fried chicken with samba cabai), which were very delicious. For drinks, we tried their signature Black Mamba, which is a fermented long black coffee, as well as their milk coffee served with Gula Aren.
Mantra's distinguishing feature is the company's dedication to its neighbourhood and familiarity with how local enterprises may mutually benefit one another.
Mantra Coffee and Eatery
Pertokoan Dewa Ruci, Jl. Sunset Road No.1, Kuta, Badung Regency, Bali 80361, Indonesia
Koop Roaster & Cafe
It's easy to feel at home at The Koop Roaster & Cafe. We find it to be one of the best cafes in Kuta. It's a great spot for individuals who need to get some work done in peace and quiet, with soft cushions and a mix of light and dark wood furnishings.
On the upper level, you can enjoy coffee and pastries while people-watching among the neighbourhood residents. Try out the Eggs Florentine with a Machiatto. The delicious combination of protein and caffeine will prepare you for the Bali experience.
Otherwise, we also recommend trying their homemade cashew nut milk cappuccino, which was a refreshing twist to the white coffee.
Koop Roaster & Cafe
Jl. Drupadi No.66, Seminyak, Kec. Kuta, Kabupaten Badung, Bali 80361, Indonesia
Best Cafes in Bali: Ubud
Most of Ubud's attractions are located outside the city limits. However, If you're wondering what to do in Ubud, you'll find it's central to many stores, cafes, and other services. So, there will be a lot of things to explore.
Ubud is home to some of the best cafes in Bali. Aside from its unique charm and authentic, locally sourced ingredients, you can get your hands on a tasty beverage or delicious meal for as little as 45,000 IDR or as much as 150,000 IDR ($3 - $10 USD). So, here are some of the best coffee shops in Ubud that are worth visiting.
Ubud Coffee Roastery
You'll find Ubud Coffee Roaster tucked away from the hustle and bustle of the significant thoroughfares. However, this cosy coffee shop in Ubud is one of the best cafes in Bali.
Despite being a neighbourhood coffee shop, we find the drinks served here to be of excellent quality. In addition, Ubud coffee roastery has a homey and cosy ambience that we love.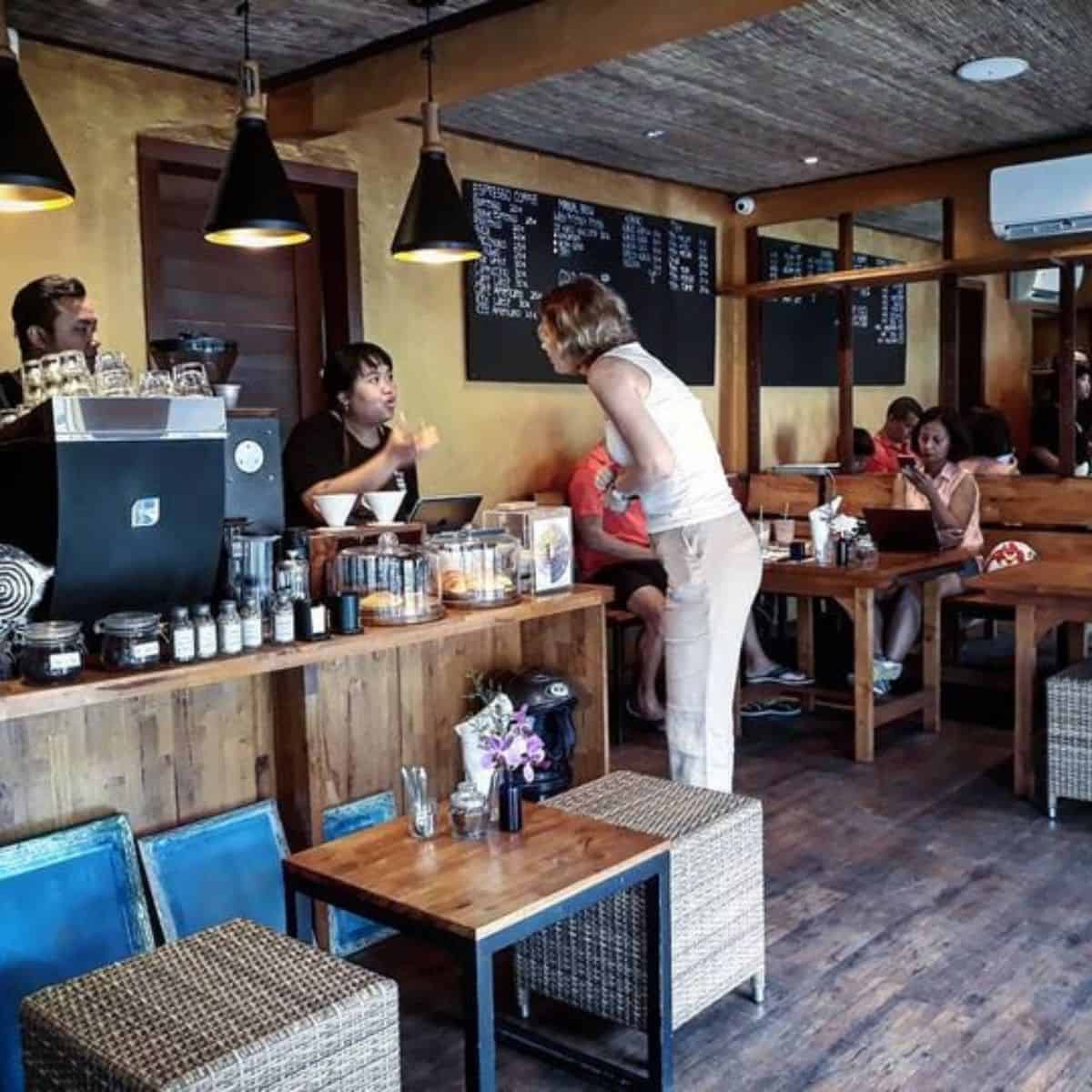 The space is just tiny, but the coffee selection is extensive. There are more than ten different kinds of Western beverages available. In addition to a vast selection of cold brews, they also have French presses, hot chocolates, and Indonesian teas. Ask any local, and undoubtedly, Ubud Coffee Roastery is one of the best cafes in Ubud.
Ubud Coffee Roastery
Jl. Goutama Sel., Ubud, Kecamatan Ubud, Kabupaten Gianyar, Bali 80571, Indonesia
Anomali Coffee Ubud
Next to the list of best cafes in Ubud is Anomali. The name is a variant spelling of anomaly, which has the same meaning as a deviation from the norm. This cafe certainly makes an effort in that direction.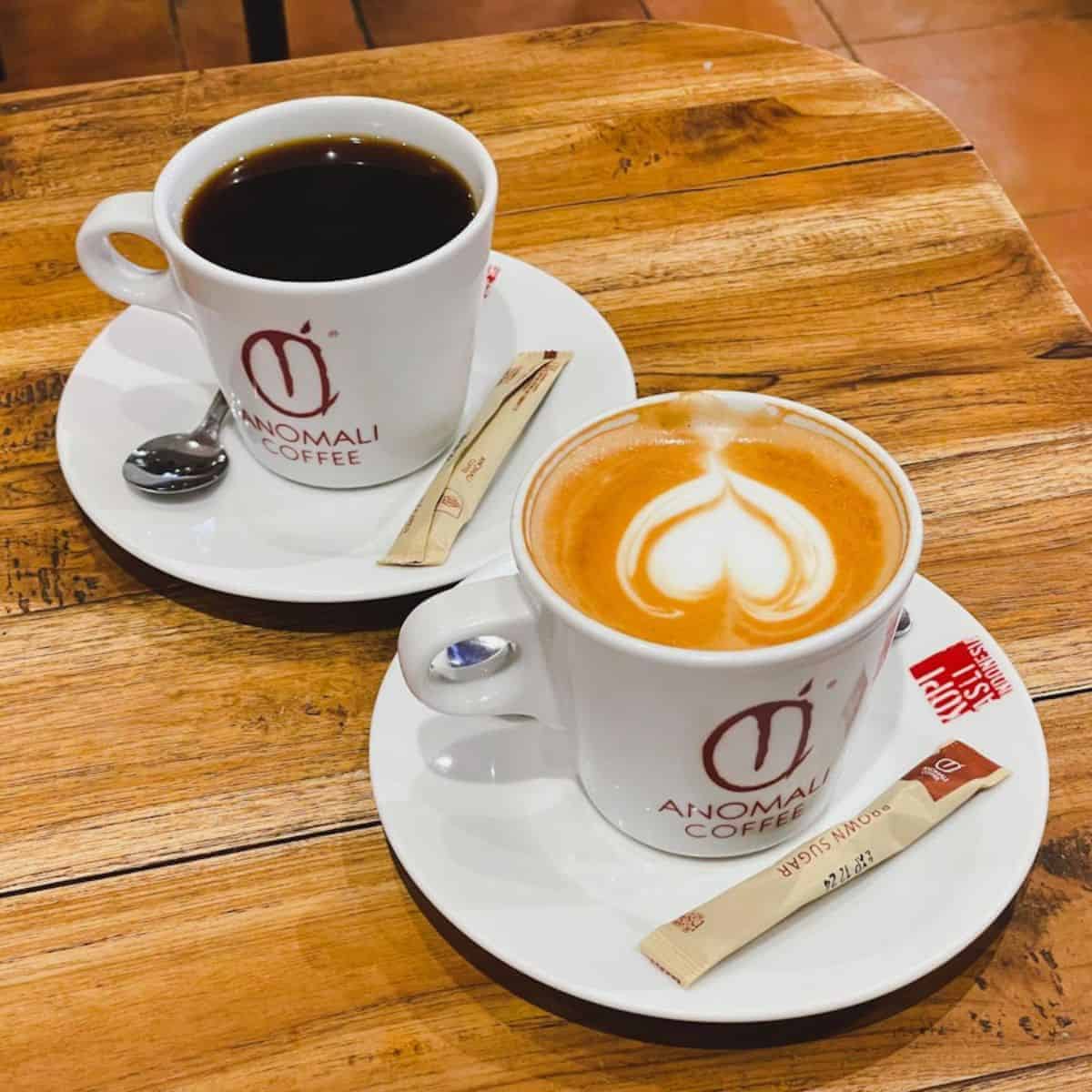 The plethora of coffee and tea options aren't made any simpler, but such is the devotion to the bean. You may relax and take your time, and the friendly baristas will happily provide their recommendations.
They also have an open-air second floor if you're looking for a quiet space to chill or work. For food, they serve simple pastries and cookies as light snacks to fill your tummy. It's one of the best cafes in Bali, in our opinion.
Anomali Coffee Ubud
Jl. Raya Ubud No.88, Petulu, Kecamatan Ubud, Kabupaten Gianyar, Bali 80571, Indonesia
UptoDate Cafe & Eatery
The rice fields around UptoDate Cafe & Eatery Ubud are particularly picturesque during harvest season. So, if you're looking to relax your mind, then the verdant rice fields here may help. It's easy to become comfortable here.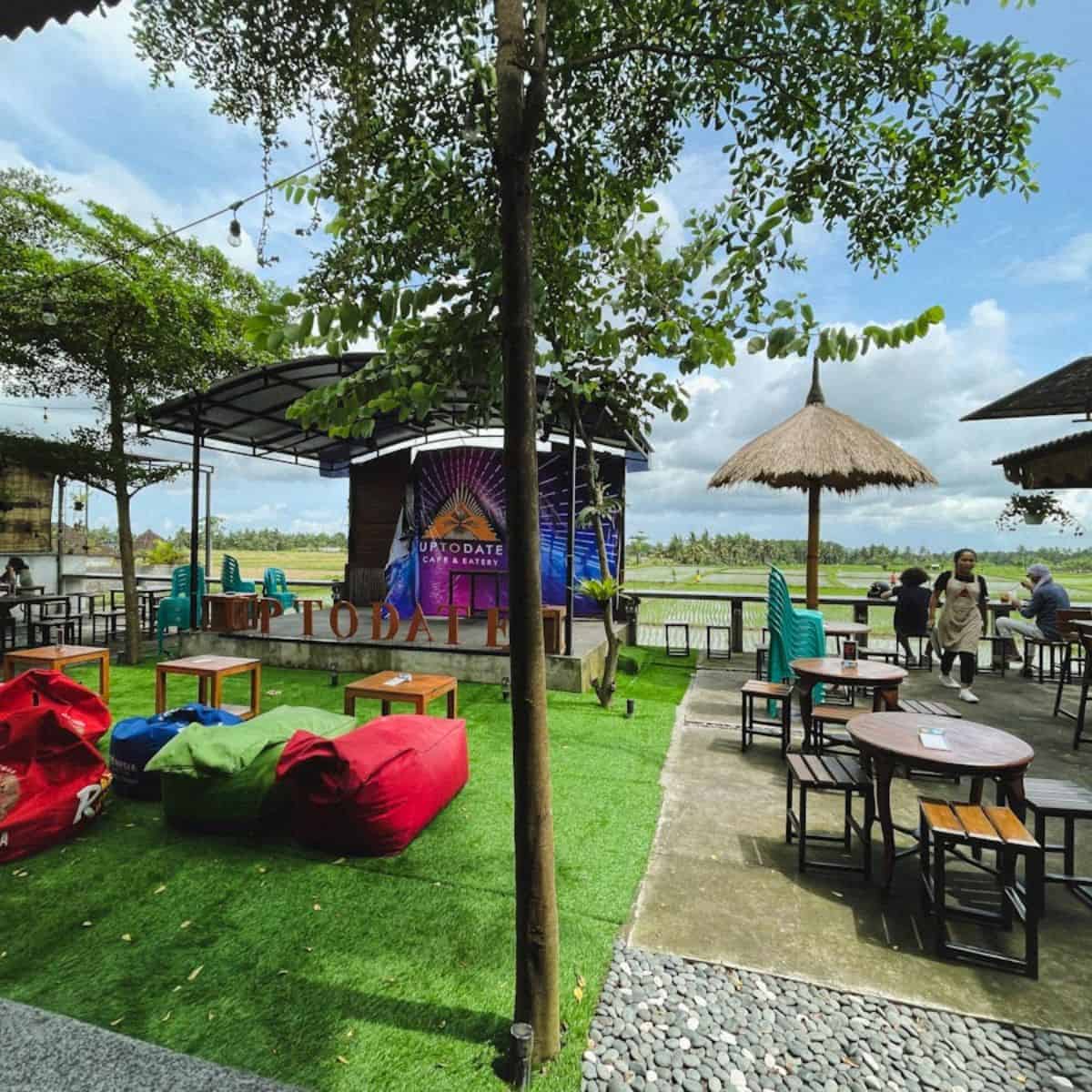 Although this cafe has only been operational since 2021, many regulars have frequented it since it opened. Locals come for the cuisine, such as the Crispy Buttered Salmon or Chicken Steak, and the breathtaking view.
In particular, we enjoyed listening to live music or dancing to the live DJ sets that took place during our time in Ubud.
UptoDate Cafe & Eatery
F7GG+MRQ, Jl. Teges Kanginan, Peliatan, Kecamatan Ubud, Kabupaten Gianyar, Bali 80571, Indonesia
Website
Zest Cafe
With its enormous Buddha sculptures on the exterior and incredible paintings inside, Zest is perhaps Ubud's most aesthetically pleasing cafe. The journey from Ubud to the top of the hill is a bit of an ordeal, but the scenery is well worth the effort.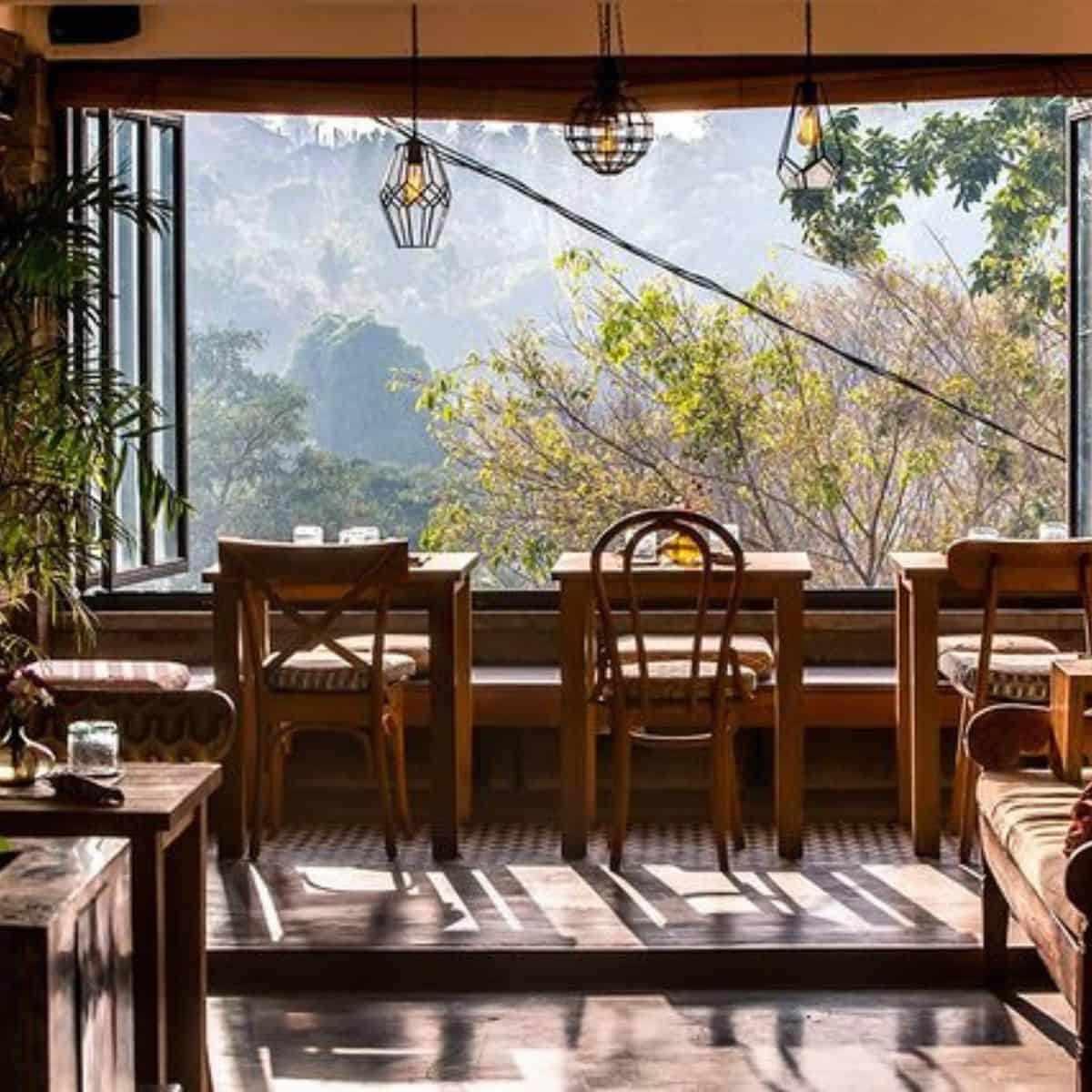 As a 100% vegan café and one of the best cafes in Bali, Zest is a great place for vegans to enjoy some of the finest coffee in Ubud.
Enjoy a delicious breakfast with your choice of many nuts, soy, as well as oat milk. From a vegan's point of view, it's completely guilt-free. The Smoked Capsicum is unforgettable.
However, our favourite was the Jackfruit 'Tuna' and avocado. It was really well made. No wonder it's the most popular dish at Zest Cafe.
Zest Cafe
Jl. Penestanan Kelod Jl. Penestanan No.8, Sayan, Kecamatan Ubud, Kabupaten Gianyar, Bali 80571, Indonesia
Best Coffee Shop in Uluwatu
Beautiful white-sand beaches, excellent surfing, island lodging, traditional Balinese sites, delectable cuisine, and also breathtaking sunsets set this Bali paradise apart from the rest. You'll find this oasis along the region's southern coast. Uluwatu is one of our favourite places in all Bali.
This haven combines all the best things Bali offers and presents them in one awesome experience. From unique cafes, world-class surfing, iconic temples, and fire dance performances, you won't be disappointed with your visit.
Also, in this area, you can find the best coffee in Bali, ranging from 15,000 IDR - 45,000 IDR ($1 to $3).
You can find hidden gems in the back of surf shops. Alternatively, dine conveniently along the road on your way to the beach. With both indoor and outdoor environments available, you are bound to find something that satisfies you. So, here are some of the best cafes in Uluwatu that you should check out.
BGS
One of the best cafes in Bali is BGS. There aren't many spots to sit, but if you bring your own mug, you may start your day with a cup of coffee on the beach.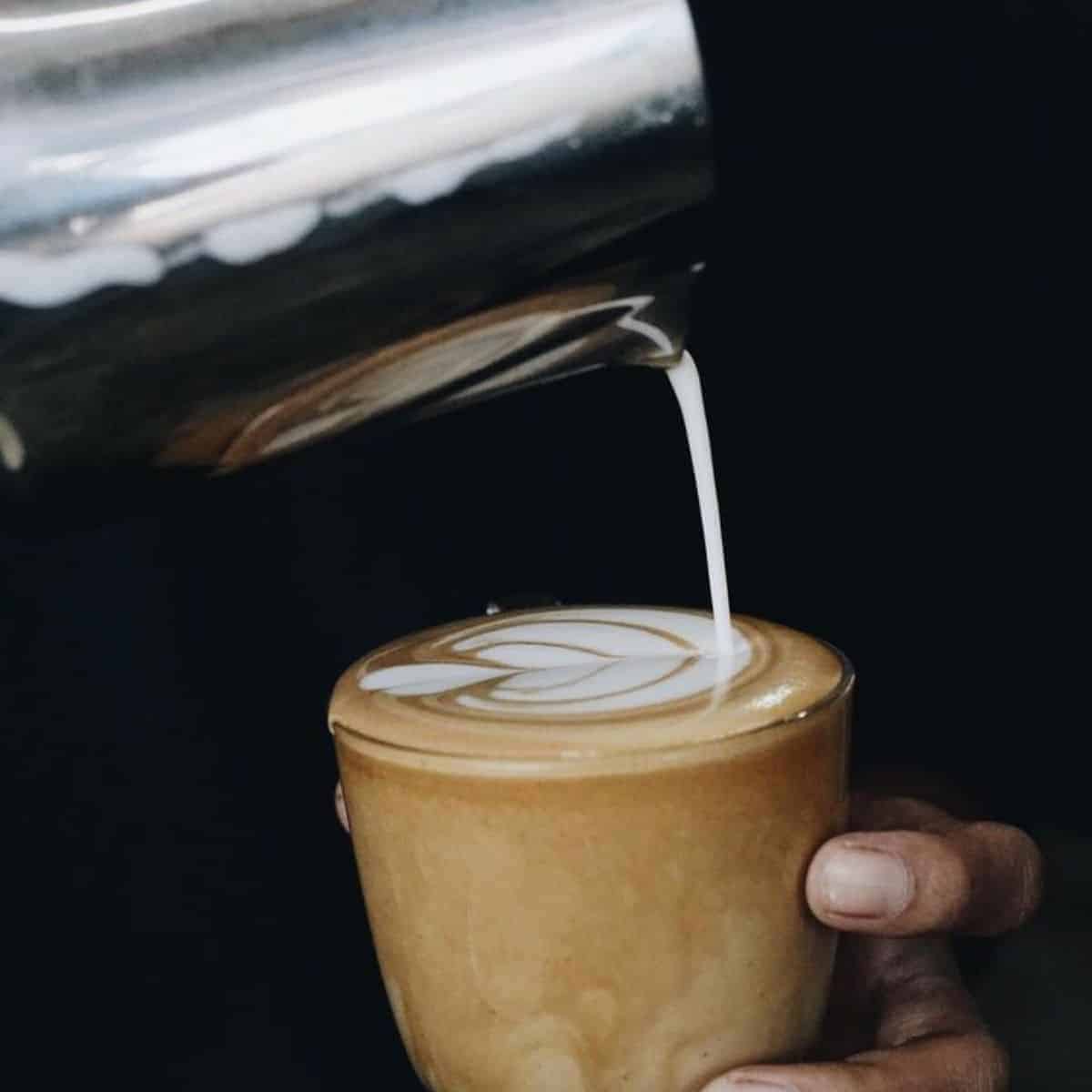 The almond milk served at BGS is handmade. It has a distinctive sweetness from the combination of vanilla and also dates. It's extraordinarily ideal for a cup of coffee to perk you up. Crowd favourites include the Krakatoa Bowl and Almond Milk Latte.
Don't leave without purchasing one of their cookies to dip. If you're not heading to Uluwatu anytime soon, this cafe also has branches in Canggu.
BGS
Pecatu South Kuta Badung Regency, Bali
La Baracca
While in Ubud, get smitten with La Baracca's Italian atmosphere, making it one of the best cafes in Bali. During our visit, La Baraccaca won our hearts.
The pizza and other Italian meals are authentic and substantial, just what you expect when you think of pizza. Additionally, the service is impeccable.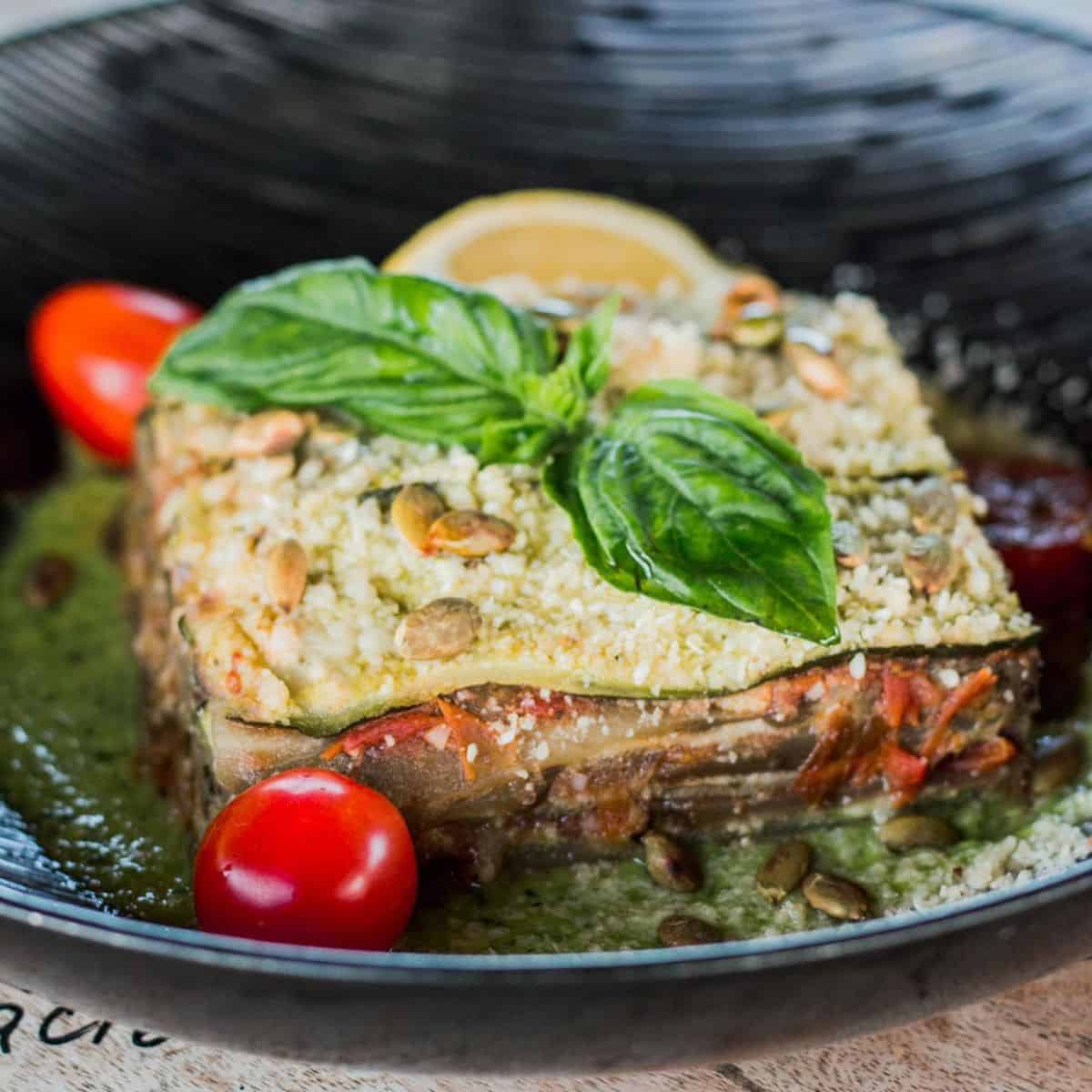 Upon arrival, you're offered a variety of flavoured bread. Then, a few sampler items to choose from. While La Baracca is slightly pricier than other cafes, it's worthwhile. The Pollo E Avo is sensational, and the Bergerone is a lunchtime favourite.
La Baracca
Jl. Labuansait No.10, Pecatu, Kec. Kuta Sel., Kabupaten Badung, Bali 80361, Indonesia
Gooseberry Cafe and Boutique
The Gooseberry Café is one of the best cafes in Bali. This is the best coffee shop in Bali if you're looking for a ladies night out.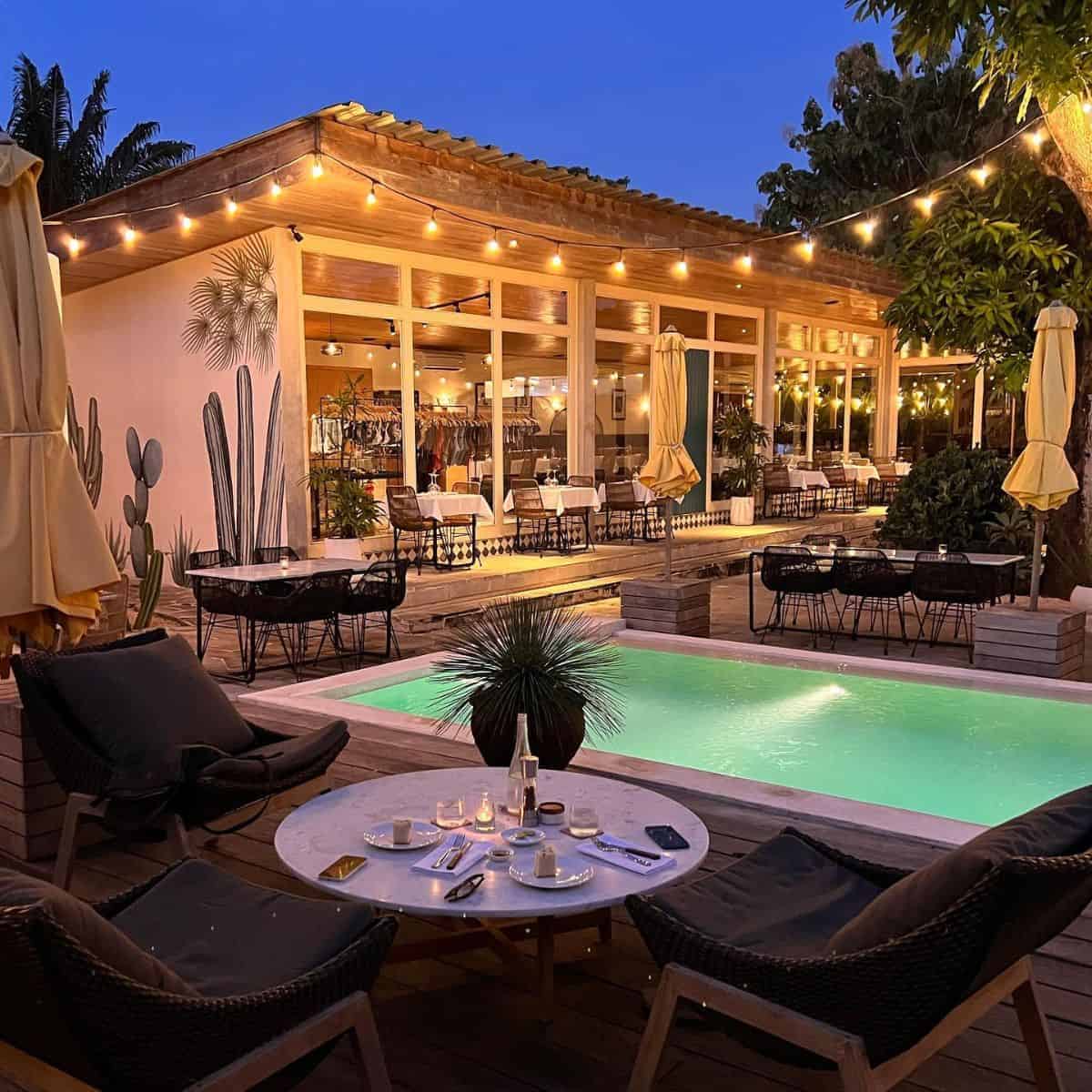 The interior colour scheme and the outside space that includes a pool immediately beg for a group photo for the Instagram account. Moreover, the food here is lovely. You'll want to try the French Omelette Souffle, and the Purple Love Smoothie Bowl captures the flavours of Bali. For us, we think Gooseberry is one of the most Instagrammable cafes in Bali.
Gooseberry Cafe and Boutique
Gg. Pirta, Pecatu, Kec. Kuta Sel., Kabupaten Badung, Bali 80361, Indonesia
Our Favourite Cafes in Bali
Following an extensive review of the best cafes in Bali (from Canggu and Kuta to Seminyak, Ubud, and Uluwatu), we highly recommend Satu-Satu Coffee Company, Titik Temu Coffee and BAKED.
Satu-Satu Coffee Company's Luwak flat white is the greatest cup we've ever had in Bali. The food at Satu-Satu was also amazing and left us wanting more.
Meanwhile, Titik Temu Coffee had one of the best spots to hang out while enjoying a meal with coffee. We also love Baked for its wholesome breakfast experience that is just minutes away from the beach.
Your caffeine needs will be met with these Bali coffee shops. Whether you're an espresso drinker, a cappuccino lover, or just a fan of the aroma of freshly brewed beans.
Best Cafes in Bali
Coffee prices in Bali
The average coffee price in Bali is around 28,000 IDR ($1.80 USD), but it will vary from region to region. In general, Kuta, Canggu and Uluwatu have the cheapest cup of coffee at 15,000 IDR. Meanwhile, prices for a cup of joe in Seminyak or Ubud could cost you up to 150,000 IDR.
Seminyak: 45,000 IDR
Canggu: 15,000 IDR - 45,000 IDR
Kuta: 15,000 IDR - 75,000 IDR
Ubud: 45,000 IDR - 150,000 IDR
Uluwatu: 15,000 IDR - 45,000 IDR
These are the general figures we found after collating all our receipts from different coffee shops in the spots. Therefore, use these figures only as a rough guideline!
Like what you read? Follow us on Instagram @tabitogether for more travel guides and tips.