If you're looking for a Penang itinerary that will satisfy your cravings for food, adventure, and culture, you've come to the right blog. In our guide, we'll share our ultimate three days in Penang itinerary covering all of the amazing things to see and do here. We've based this Penang travel itinerary on our experience of multiple short visits and our month-long stay on the island state.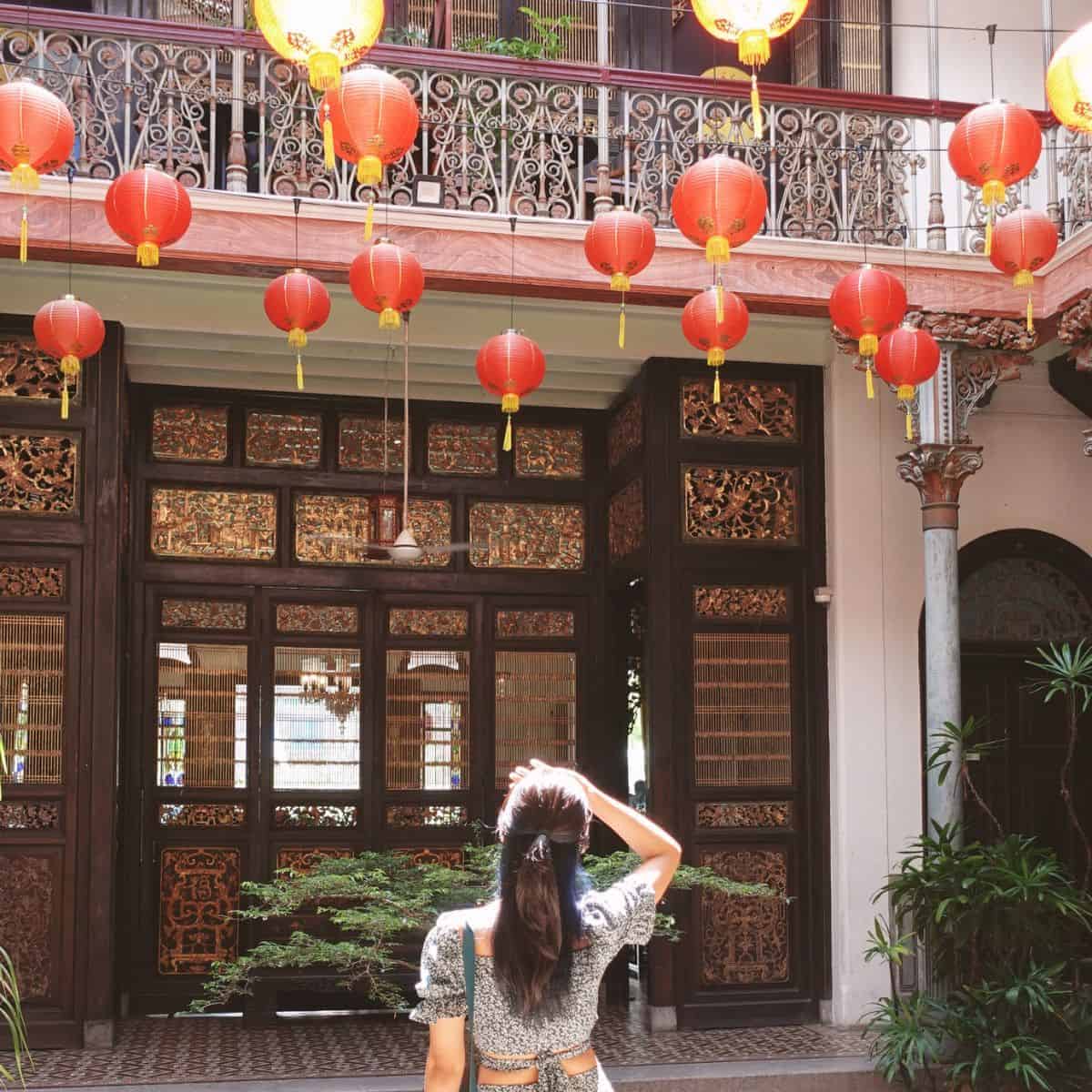 Penang is a small island with a big personality. It's a melting pot of cultures and cuisines that will delight any traveller. To enjoy the beauty and variety of this island in depth, we suggest you spend 8 to 10 days in Penang. However, you can see the main highlights in 3 days.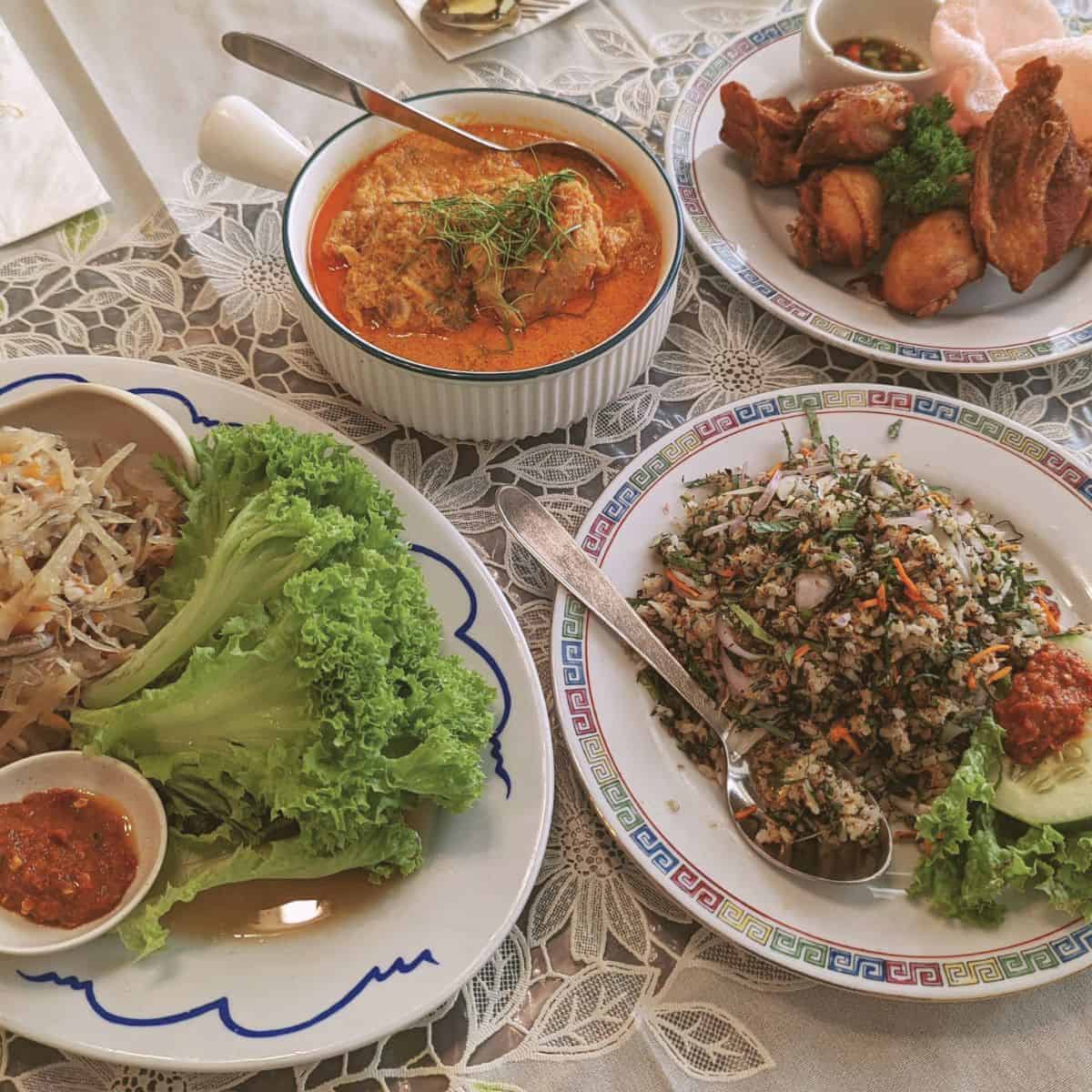 Despite this, you'll probably want to stay longer than three days in Penang to fully appreciate this vibrant destination. If you're even short on time, you can still enjoy a Penang 1 day food trip, and go to some of the best street food spots on the island.
Ultimately, you'll discover the historic streets of Georgetown, the stunning views from Penang Hill, the majestic temples of Kek Lok Si, and so much more. You'll also taste some of the most delicious dishes the island is famous for. So, get ready to go on an unforgettable journey through one of the most fascinating islands in Malaysia.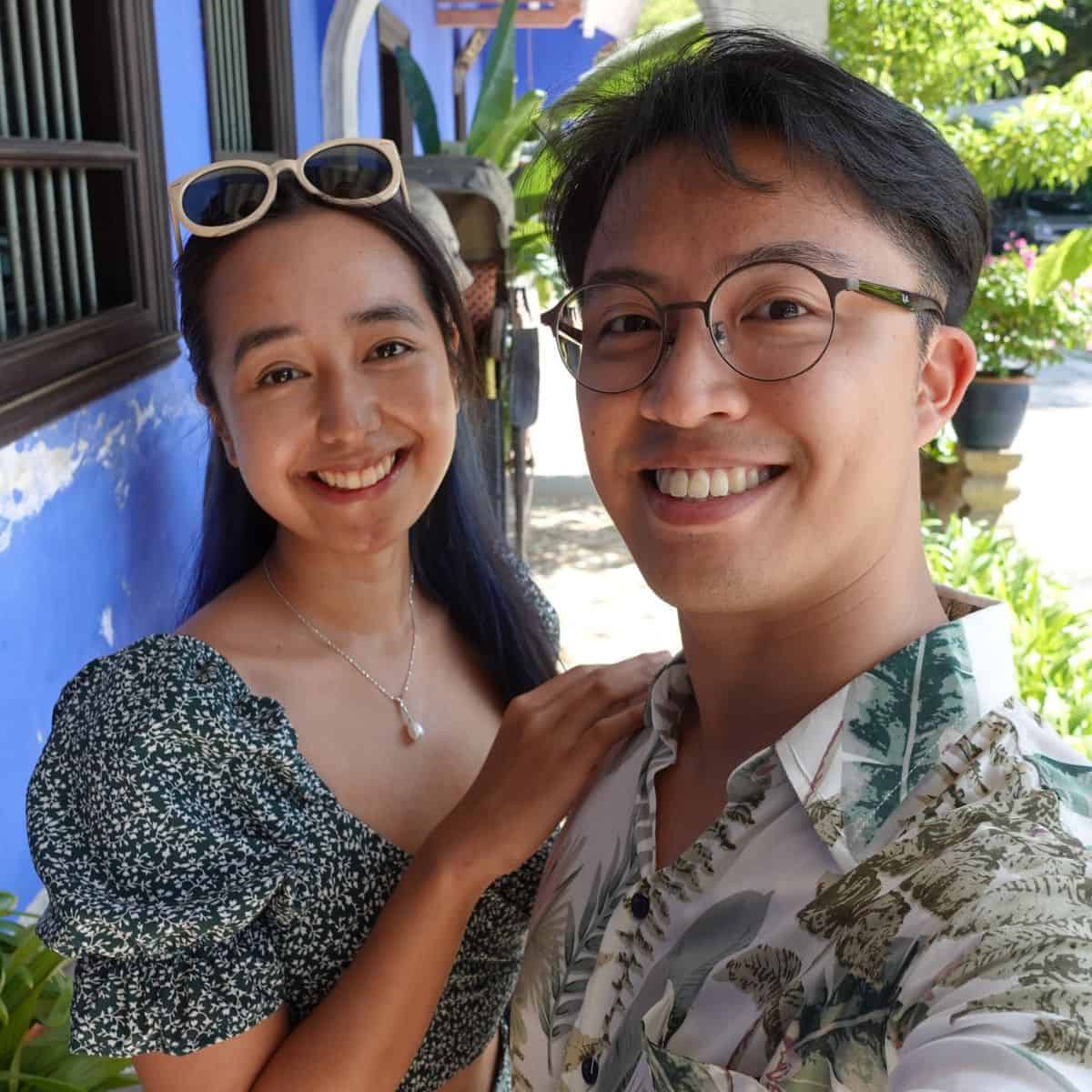 Jump to:
Penang Itinerary
Here is a brief outline of how to spend three days in Penang. You can follow our Penang itinerary as it is or modify it according to your preferences and interests.
Day 1: Georgetown
Day 2: Penang Hill
Day 3: Balik Pulau
Penang Day 1 Itinerary
On the first day of your Penang itinerary, we recommend exploring the capital city, Georgetown. This UNESCO World Heritage Site boasts a rich and diverse cultural heritage.
Try a Kopitiam
A traditional breakfast at a kopitiam (coffee shop) is a great way to start your days in Penang and immerse yourself in the local culture. You can mingle with the locals and savour the aroma of strong black coffee and freshly cooked local delicacies.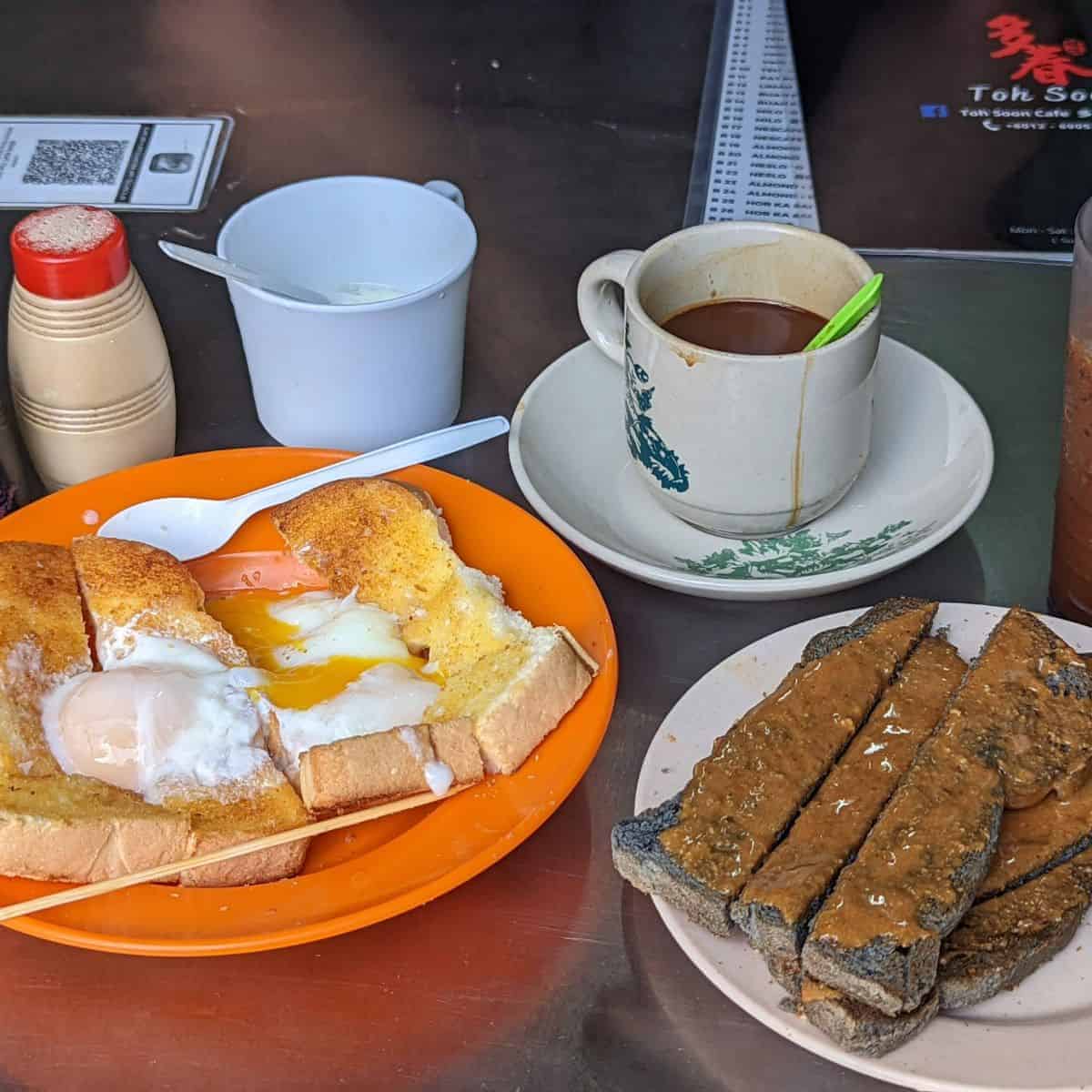 One of the best kopitiams in Georgetown is Toh Soon Cafe. This local spot is famous for its Hainanese coffee and charcoal-grilled toast served with butter and kaya spread. You can't miss this place if you spend a few days in Penang and want to taste the local flavours.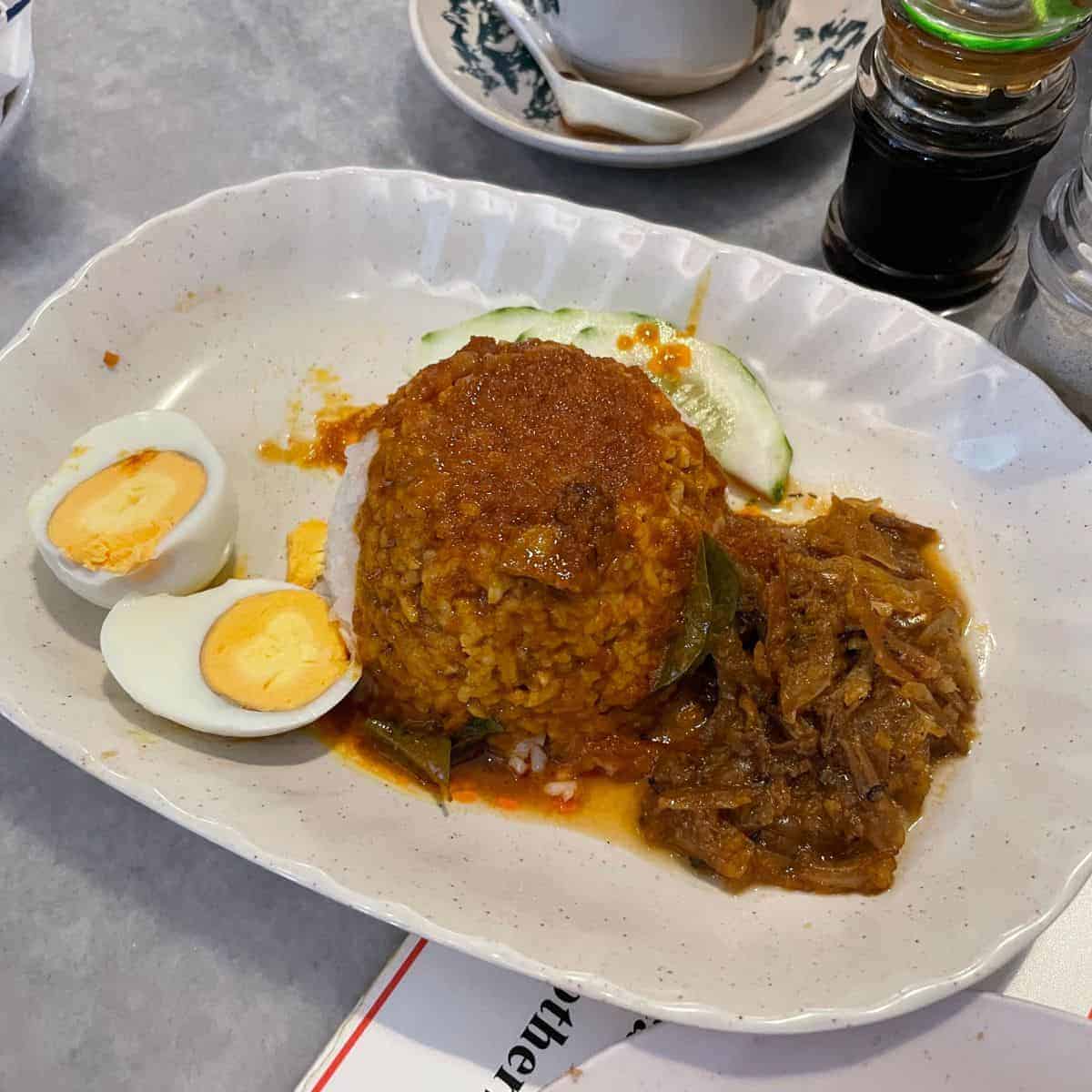 If it's too crowded, don't worry. There are many other great options in Georgetown such as OO White Coffee, Bee Hwa Cafe and Kedai Kopi Seng Thor. While you check out our guide to the best kopitiam in Penang, a good Penang travel hack is to actually ask locals for their recommendations.
You'll find that Malaysian locals are always happy to share their latest favourite dining spots and dishes. By asking for their opinion, you'll discover hidden gems and taste Penang's most delicious and authentic flavours.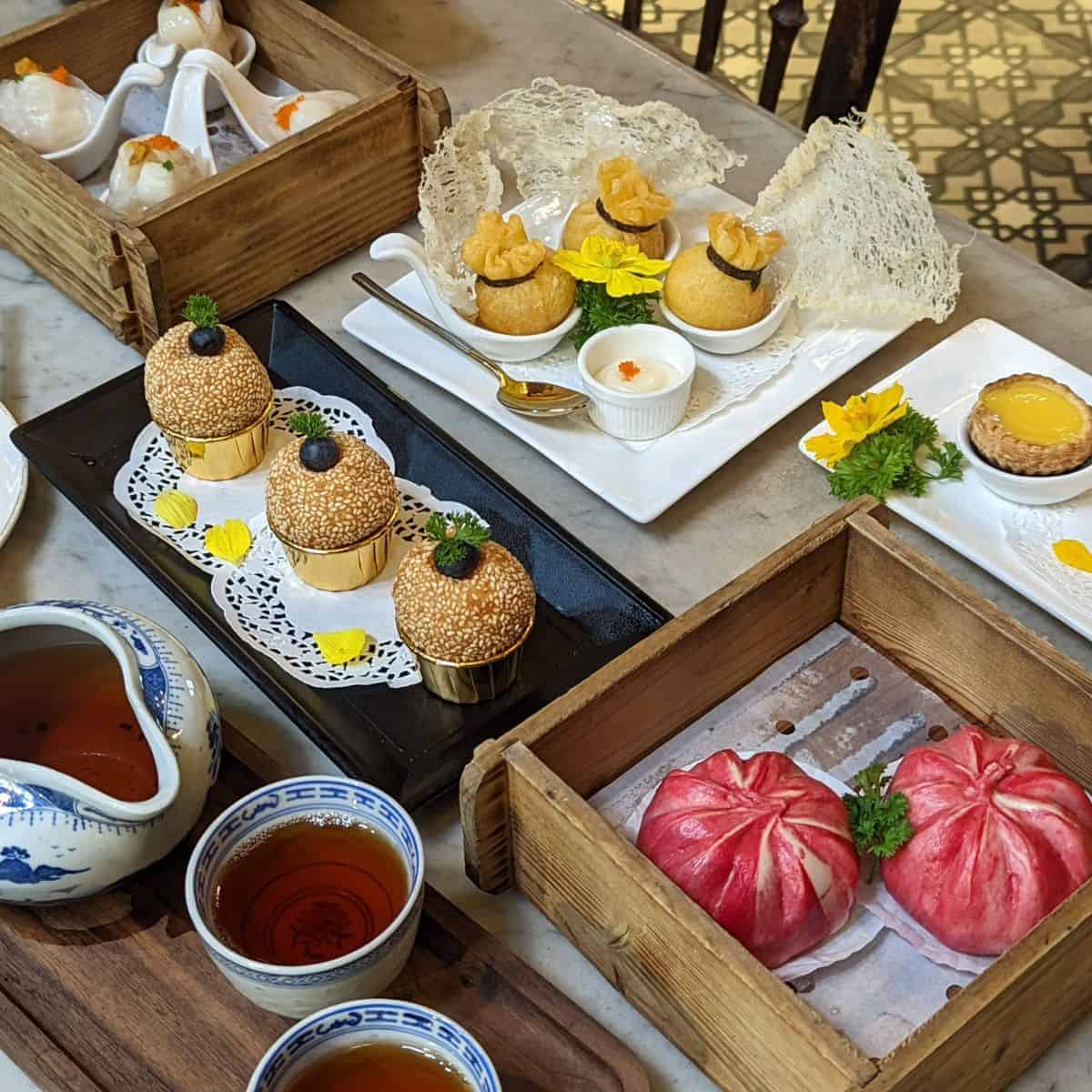 Going to a kopitiam is a great Penang travel tip for foodies who want to experience an authentic local breakfast. However, if you're looking for a more luxurious breakfast spot to start your journey, then a great spot we recommend is Bao Teck Tea House. While they are not a kopitiam, this breakfast spot offers an Instaworthy ambience and delicious Chinese dim sum.
Blue Mansion
After breakfast, head to the Cheong Fatt Tze, known as The Blue Mansion. It is one of the most stunning buildings in Georgetown. This 19th-century mansion was built by a wealthy Chinese merchant, featuring a blend of Chinese, Malay, and European architectural styles.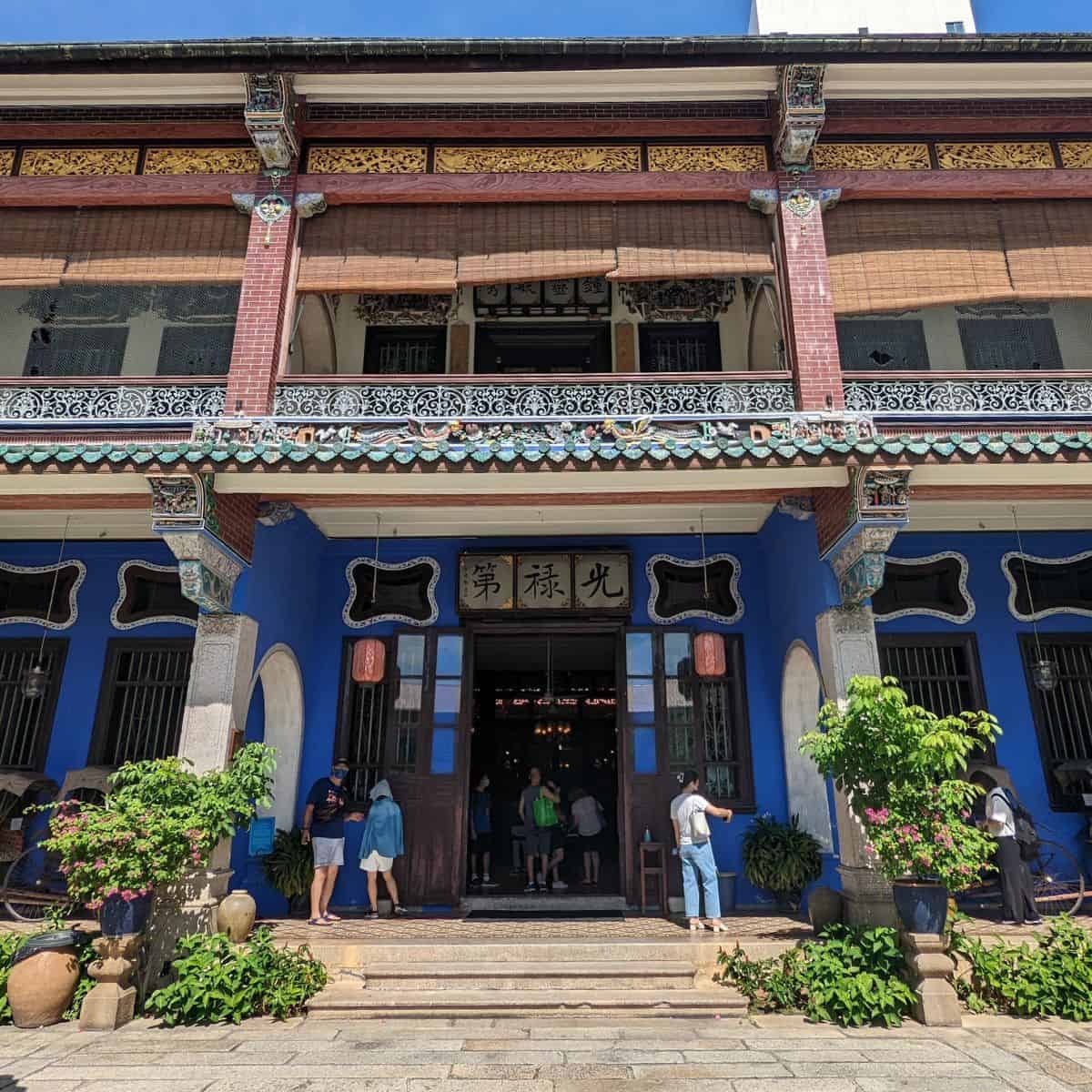 In addition, the mansion is painted in a striking indigo blue colour and has intricate carvings, stained glass windows, and courtyards. You can book one of the guided tours running daily at 11 am, 2 pm, and 3.30 pm. On the tour, you will learn about the history and architecture of the mansion and its owner. This is a great Penang itinerary for couples where you'll be able to admire the beauty and romance of this mansion.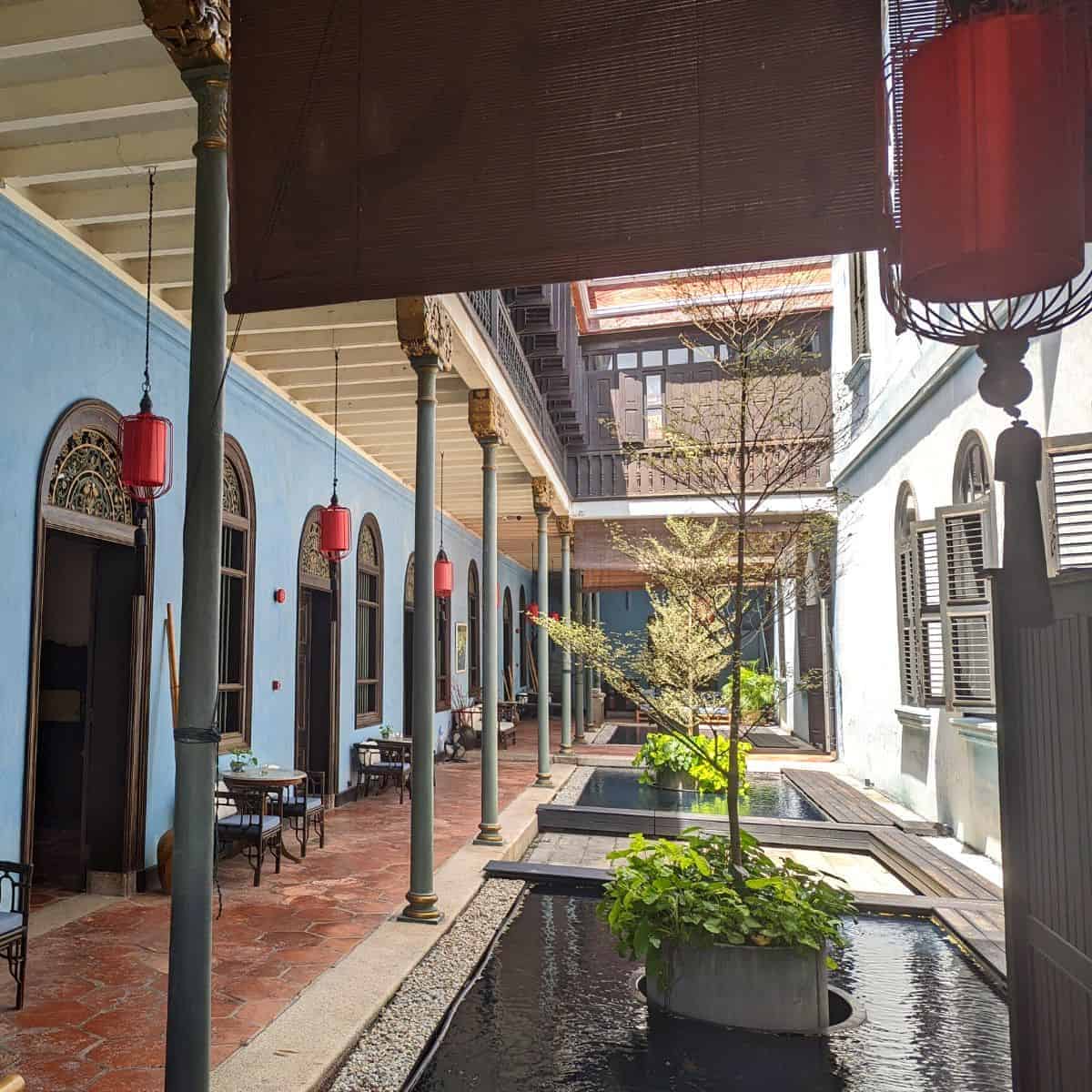 However, we don't think the tour would suit you if you're looking for a Penang itinerary for a family with young kids or a Penang itinerary for the elderly. This is because there is a lot of walking around the mansion as well as history which might not entertain the kids. Check out our guide on things to do with kids in Penang for more ideas.
If you are travelling with children or the elderly, we recommend you skip the guided tour and walk around the mansion at your own pace. Alternatively, you can take your family to the nearby Padang Kota Lama, where they can enjoy and relax.
Lunch at Aunty Gaik's Leans
Aunty Gaik Lean's is a Michelin-starred restaurant that serves authentic Nyonya Peranakan cuisine. The restaurant has been extremely popular for decades, even before it won the prestigious award. Have a delicious lunch here before you continue your exploration of Georgetown.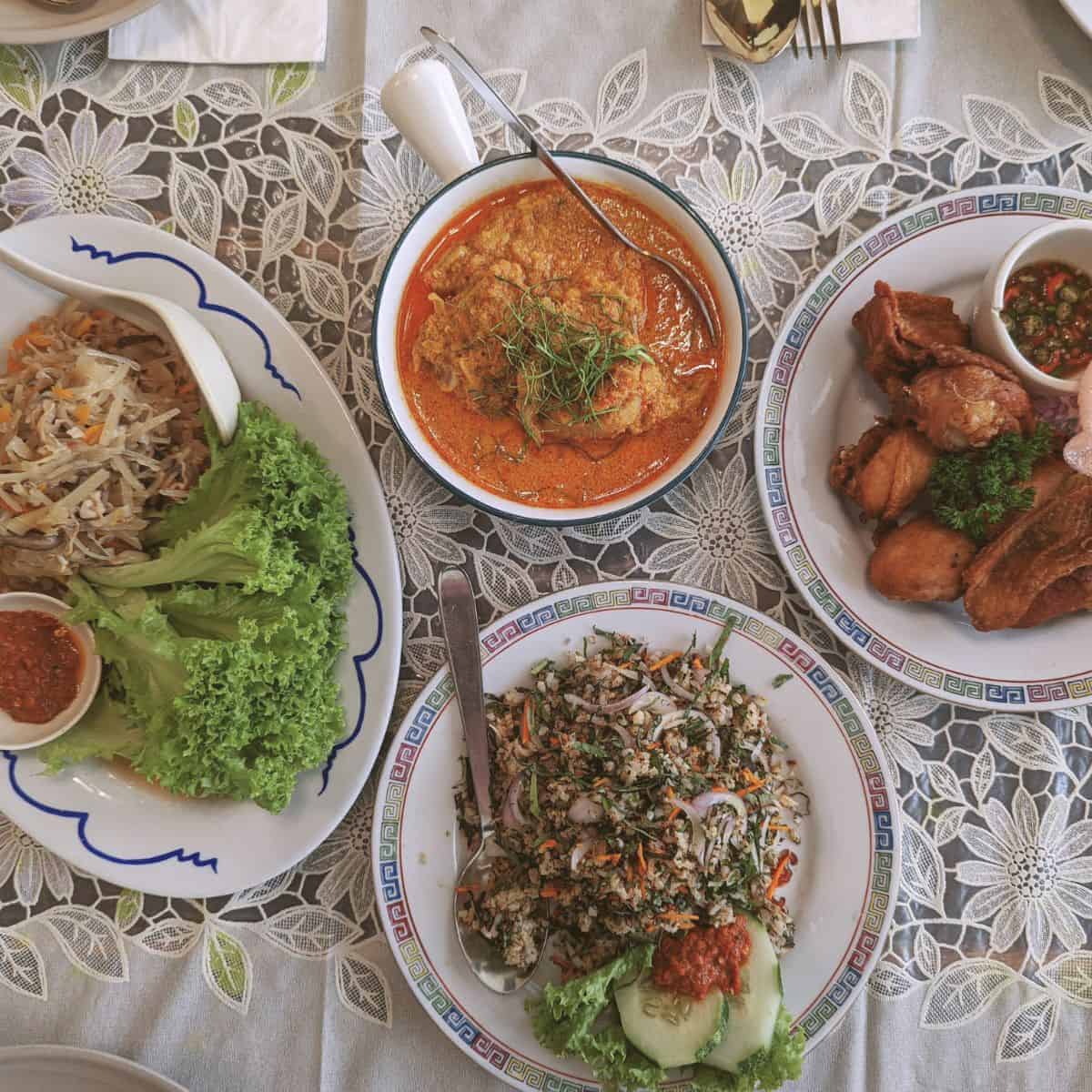 Nyonya Peranakan are descendants of Chinese immigrants who married local Malays and adopted their culture and language. Their cuisine combines Chinese, Malay, Thai, and Indian influences. We definitely think this makes a great Georgetown itinerary for foodies who want to sample the distinctive and delicious Peranakan cuisine.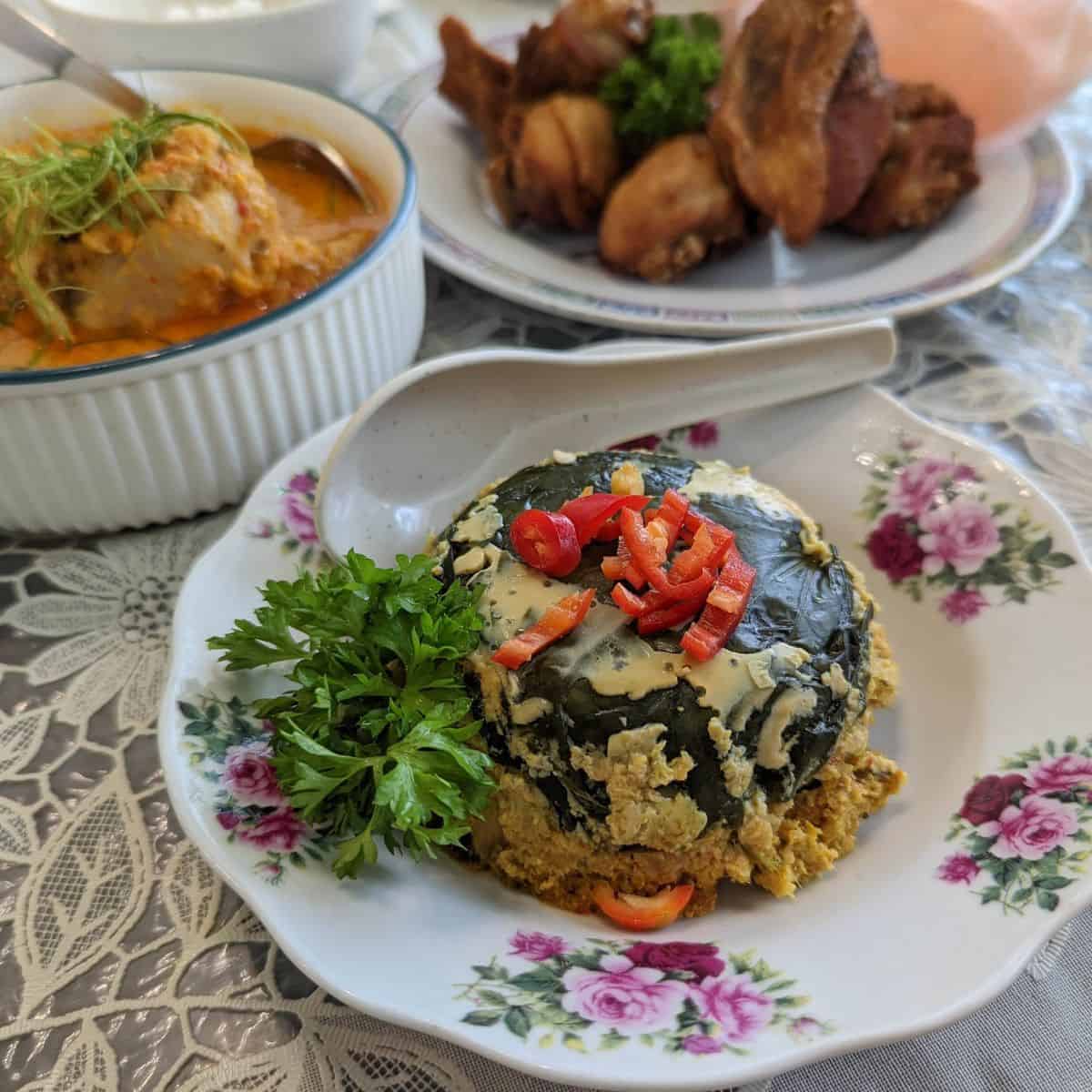 One of our favourite dishes at Aunty Gaik Lean's is the ayam buah keluak, which is chicken braised with black nuts. The dish has a rich and complex taste, with a hint of sweetness from palm sugar.
We also highly recommend the soft and moist steamed fish cake, locally known as Otak-otak. Another must-try is their delicious tangy and spicy Assam Tumis fish. Make sure to book in advance as this place is very popular.
Alternatively, we recommend Jawi House, a restaurant renowned for its distinctive fusion of Jawi-Peranakan cuisine and subtle Western influence. In comparison to Nyonya Peranakan, Jawi Peranakan refers to the culture born out of the marriages between Indian and Malay communities. Hence, Jawi House offers another unique culinary experience for anyone visiting.
Nyonya Peranakan Mansion
After lunch, visit the Nyonya Peranakan Mansion, a museum that showcases the lifestyle and culture of the Peranakan community on the island. The mansion is a restored heritage house that displays antique furniture, jewellery, costumes, and artworks that belong to a wealthy Peranakan family.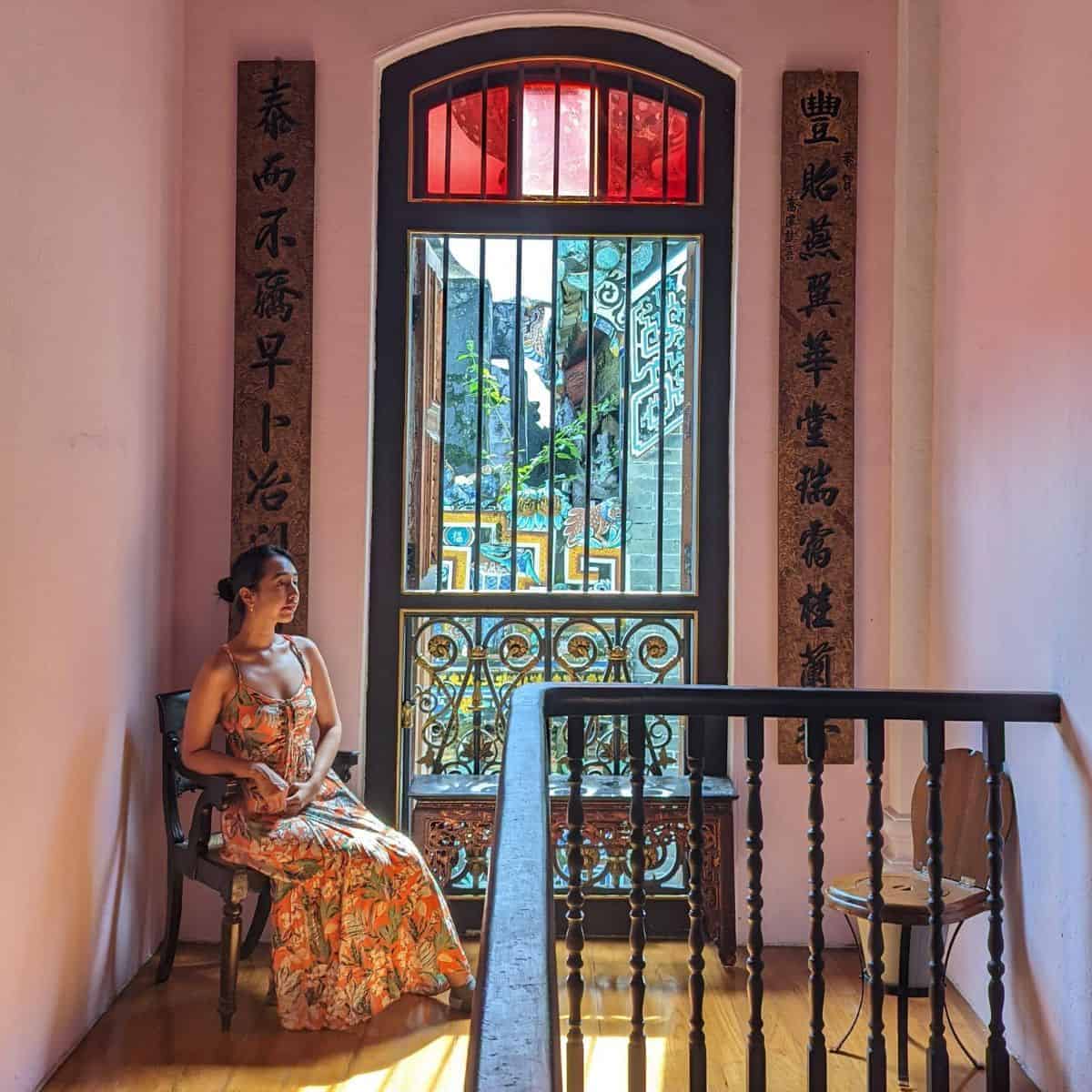 So, engage yourself in the customs of the Nyonya people by joining a free guided tour. The tour provides invaluable insights into their heritage.
For a truly immersive experience, you can even rent a traditional kebaya from the adjacent shop. So, make sure to bring a good camera and capture some memorable photos within the premises. In addition, you can also get their afternoon tea set to try out some Nyonya kuih (dessert).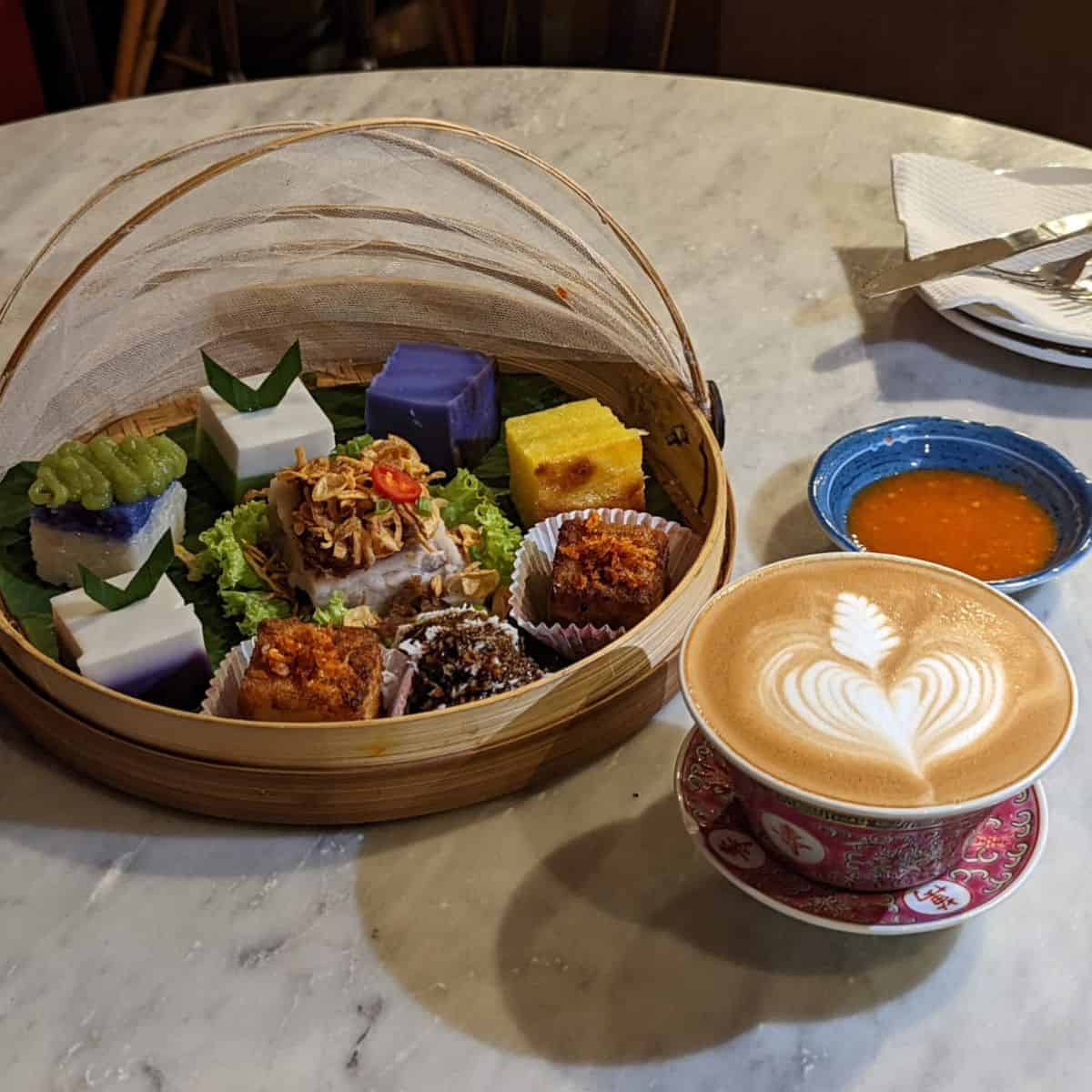 This Georgetown itinerary is especially well-suited for families seeking to deepen their understanding of the island's culture and history.
Similar to Blue Mansion, there are quite a few stairs to the second floor and steps down to the outer yard. However, there are several spots inside the mansion where you can sit down on the chairs. Therefore, if you're planning a Penang itinerary for elderly individuals, just bear this in mind.
You also can take a leisurely break at the café, relishing in delectable snacks and refreshing beverages.
Clan Jetties
Next, head to the Clan Jetties, the waterfront settlements of different Chinese clans living there for generations. The jetties are named after their clan names, such as Chew Jetty, Tan Jetty, Lee Jetty, etc.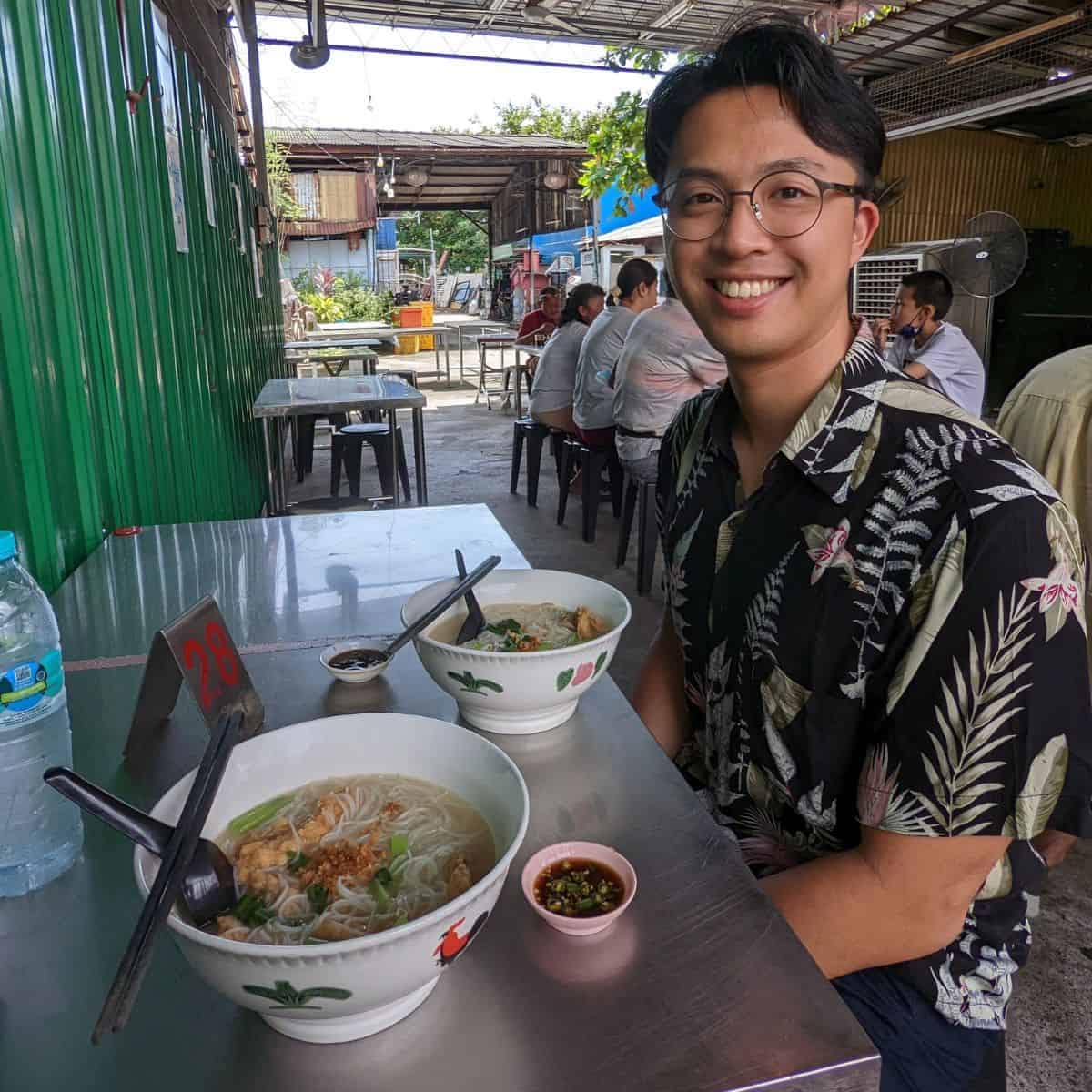 Each jetty has its own temple and houses built on stilts over the water. You can walk along the wooden planks and see how the locals live and work. However, take extra care when walking on the wooden planks, these are slightly older and have not been well maintained.
You can also buy some souvenirs or snacks from the stalls along the way. If you're a couple searching for a romantic waterfront stroll, consider visiting the jetties at sunset or night.
Street food at Kimberly Night Market
For some great Penang street food, head to Kimberly Night Market for dinner. You can find a variety of local eats, such as Penang laksa, Hokkien prawn noodles, fried carrot cake and more. But the star of the night market is the Kimberley Street Duck Kway Chap, one of the most unique dishes in the island state.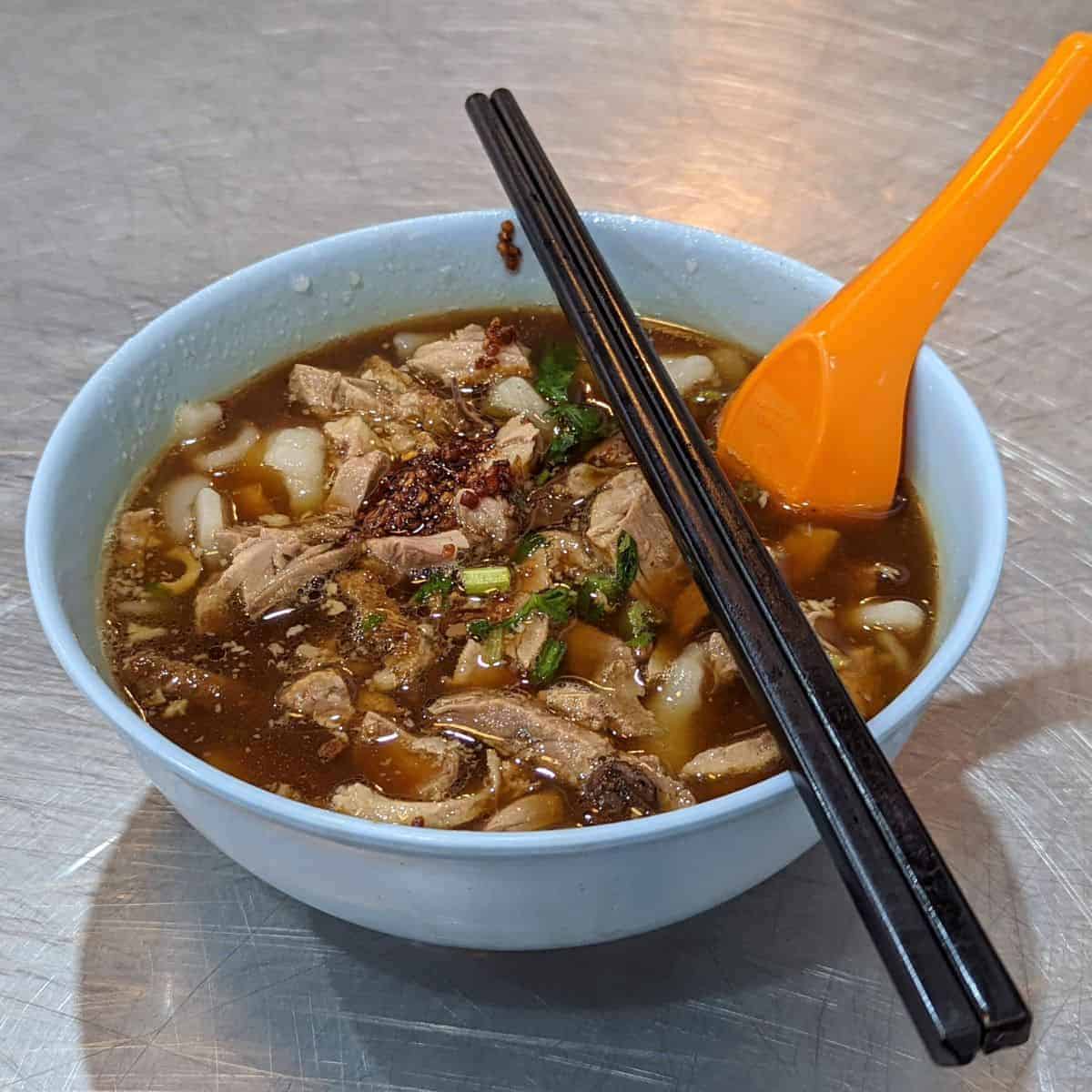 Duck kway chap is a Teochew noodle soup that consists of flat wide rice noodle rolls served in a dark soy sauce broth. The broth is made by stewing various duck parts like gizzards, necks, and wings with spices like star anise, cinnamon, and ginger.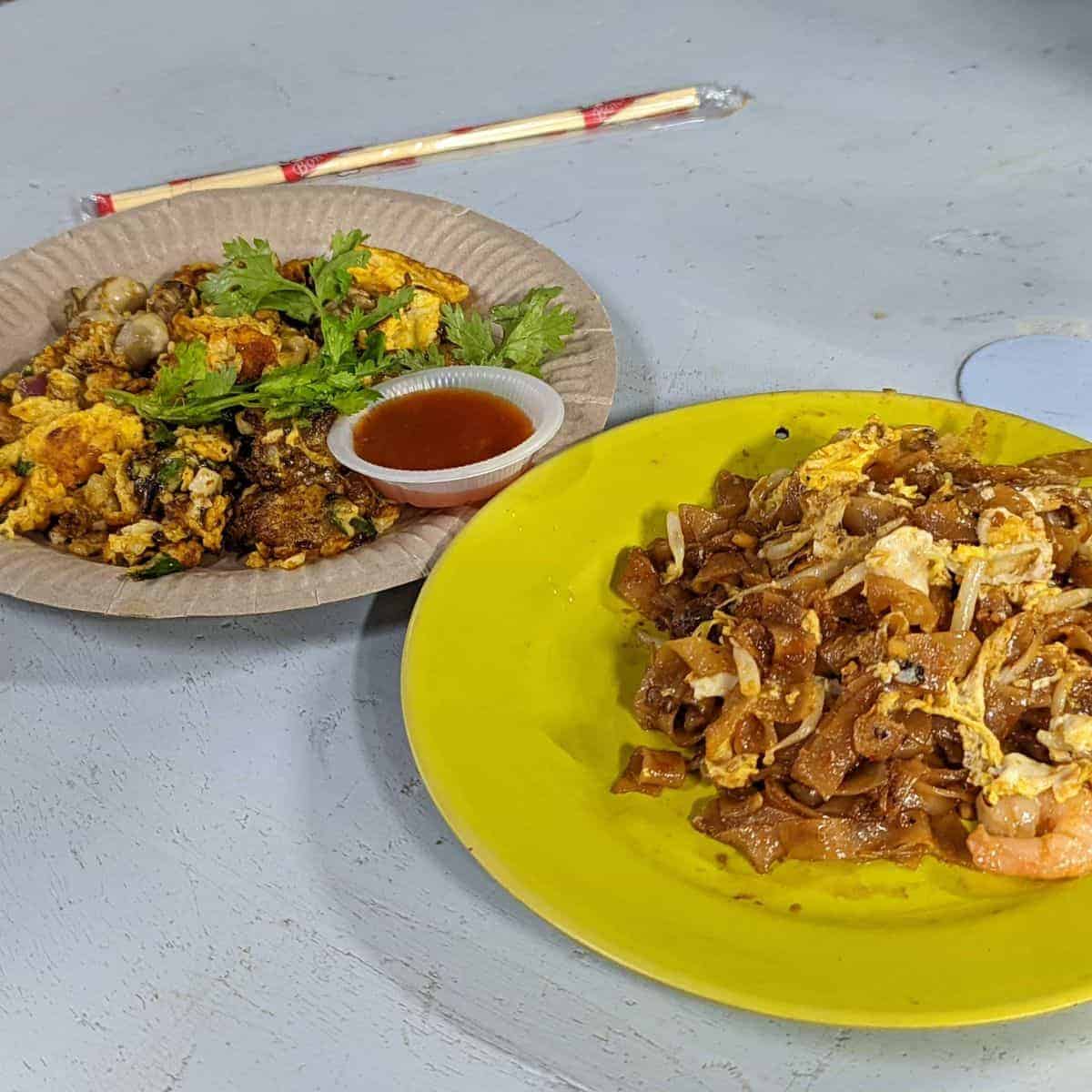 Another dish you should try at Kimberly Night Market is the Si Guo soup or four fruits dessert soup. This sweet soup consists of four fruits: longan, lotus seeds, white fungus, and red dates.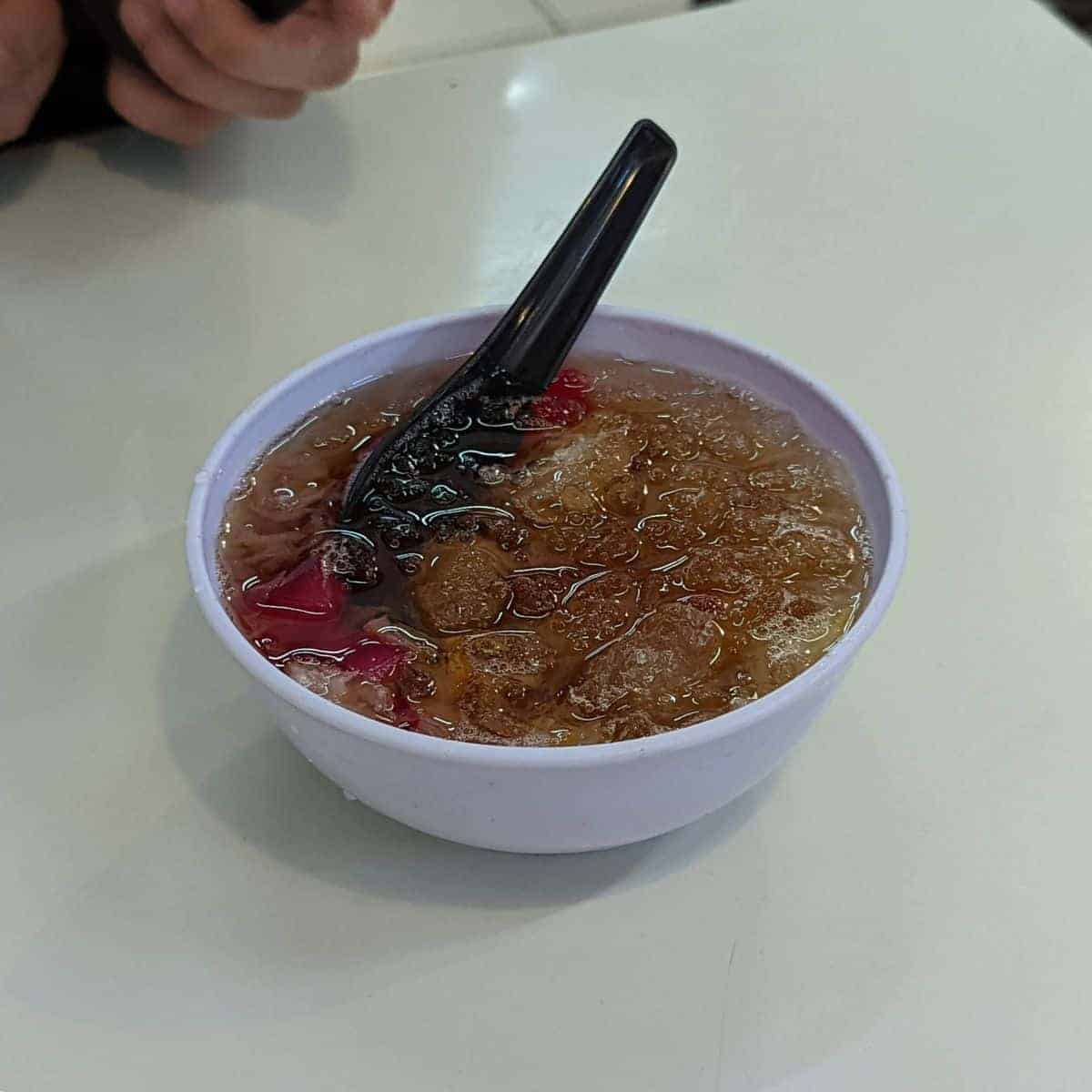 If you are looking for more desserts or snacks, you can also stop by some shops that sell traditional Chinese sweet soups or tong sui. One of the most popular spots is Traditional Home of Dessert, which serves black sesame soup, peanut soup, and more.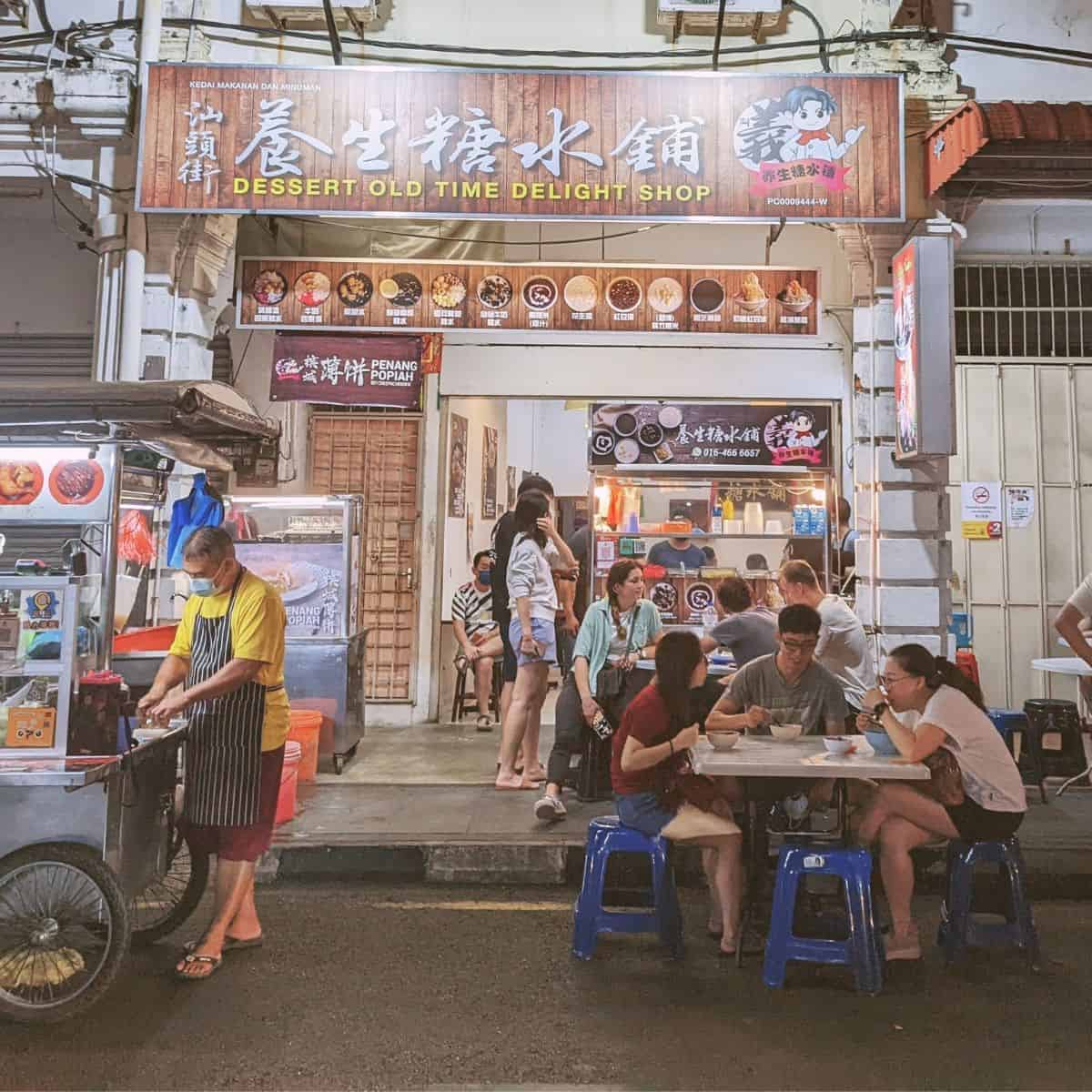 Ultimately, Kimberly night market is a fantastic Penang itinerary for foodies who want to enjoy a variety of dishes in one area. It is also an essential stop for those backpacking Penang, as it offers cheap, delicious, and convenient food.
Street Art
One of the most fun things to do in Georgetown is to hunt for street art and murals scattered around the heritage streets. The street art scene in Georgetown started in 2012 when Lithuanian artist Ernest Zacharevic painted several murals depicting local life and cultural scenes. Since then, many other artists have contributed to the street art scene with their own styles and messages.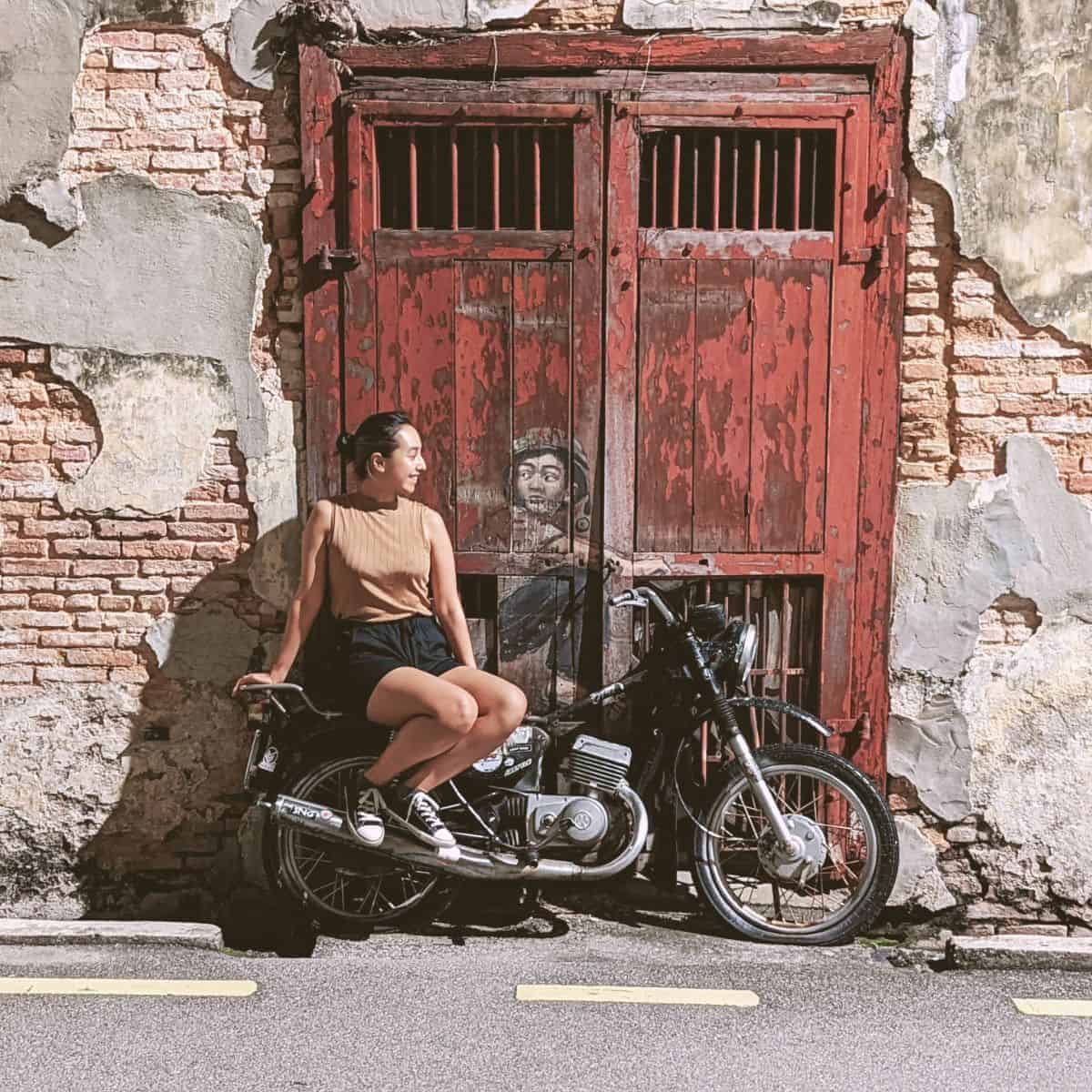 Some of the most famous murals are "Children on a Bicycle", "Boy on a Bike", "Little Children on a Sampan", and "The Awaiting Trishaw Pedaler". You can also find many wrought iron caricatures that tell stories and jokes about the history and people of Georgetown. So, if you love art and photography, you'll enjoy spending a couple of days in Penang exploring these creative works.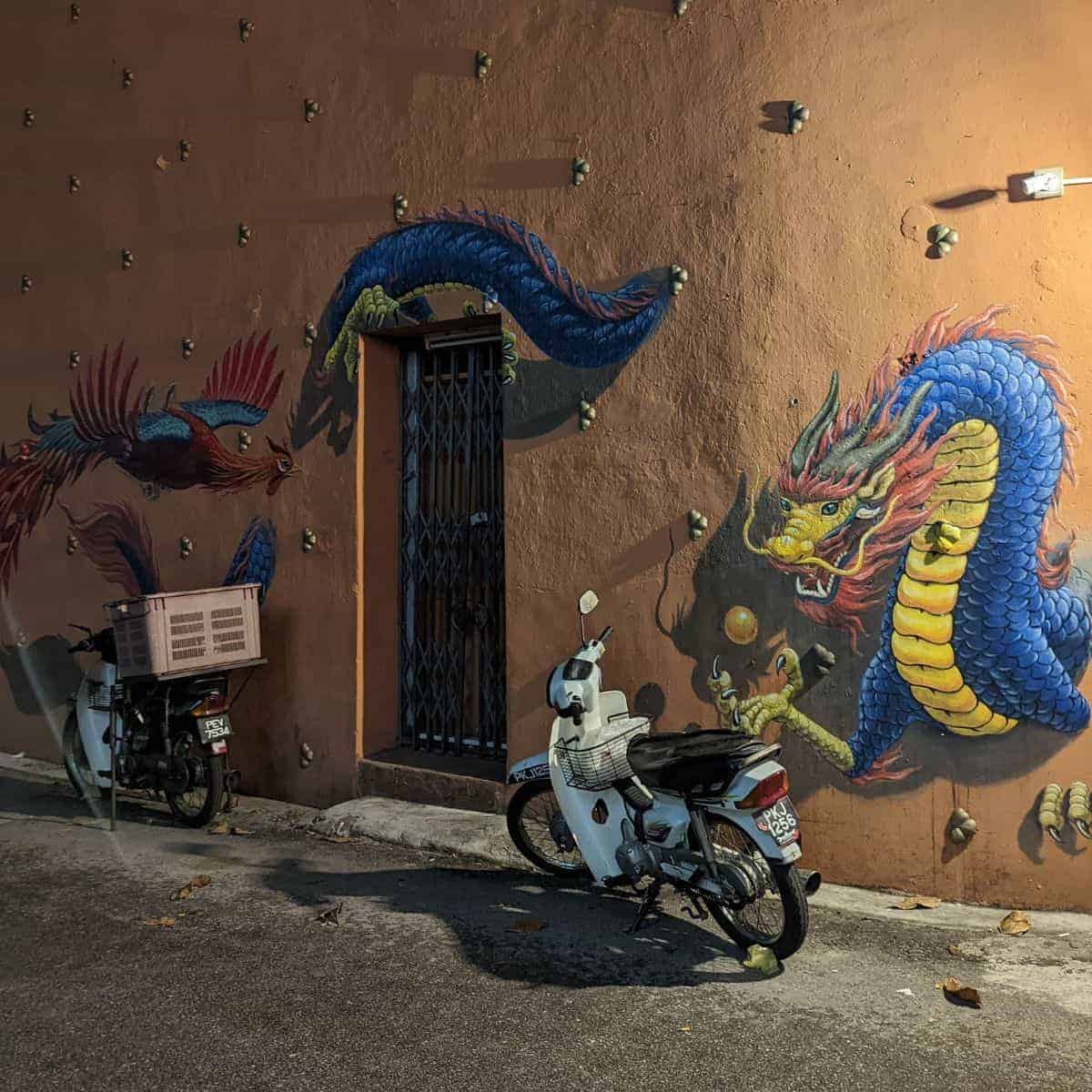 Our Penang travel tip is to see street art at night, when the crowds are sparse, to enjoy a leisurely pace. The areas are well-lit and safe, so you don't have to worry about security. You can also rent an e-bike to go around and cover more ground.
Penang Day 2 Itinerary
If you are looking for a Penang day trip combining nature, culture, and food, this itinerary is for you. On the second day of your Penang travel, you should explore Penang Hill in the morning before returning to Georgetown.
Penang Hill, also known as Bukit Bendera, is the highest point on the island and offers a refreshing escape from the heat and hustle of the city. Prepare for an exciting day filled with stunning views, delicious food, and cultural experiences.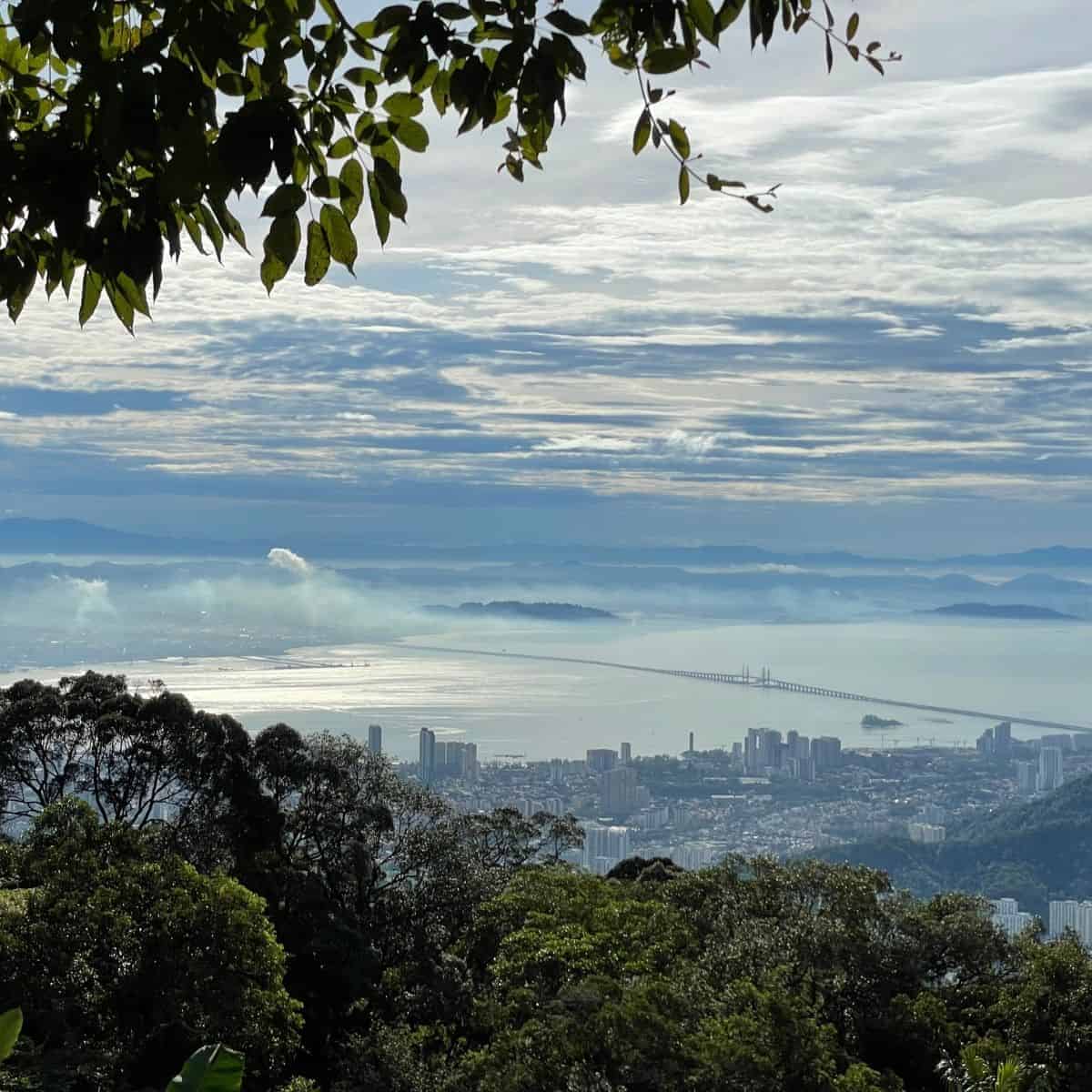 This is a great Penang day trip for family, couples, and nature lovers, as there is something for everyone to enjoy. You can walk around and explore the various attractions and views on Penang Hill, or you can take a buggy ride for a more comfortable and convenient experience.
There are also many areas to stop and rest for the elderly and young children, such as cafes, gardens, and exhibits. We recommend bringing umbrellas or raincoats as the weather can be unpredictable on the hill.
Head up to Penang Hill
Ride the funicular
Begin your day by heading up to Penang Hill. You can hike up or take the funicular railway from Air Itam.
The funicular railway is one of the oldest and steepest in the world, and it takes about 10 minutes to reach the top. It runs every half an hour and is a great way for those who want to enjoy a comfortable and convenient ride up the hill. You can also admire the views of the city along the way.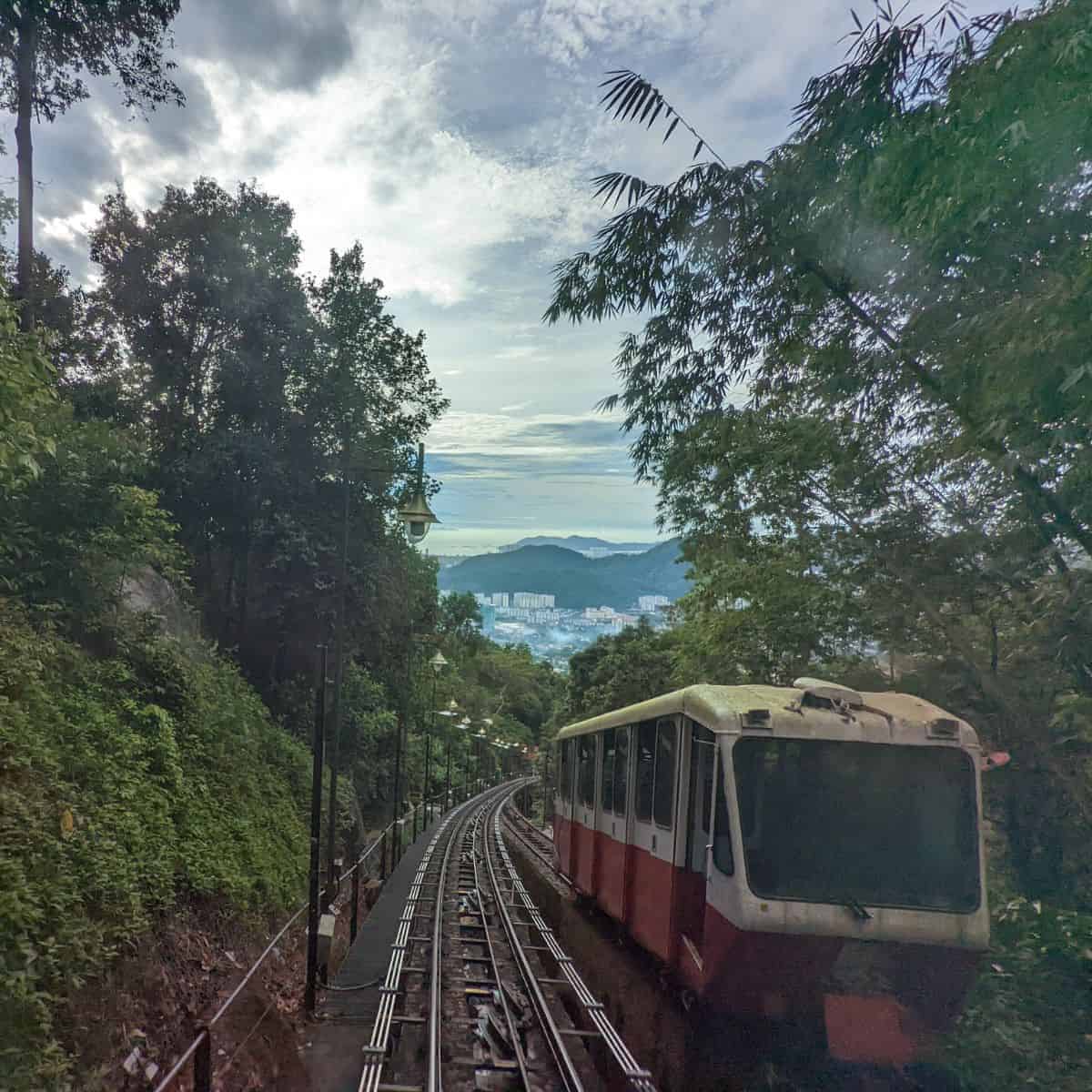 If you are an early riser, you can also catch the sunrise at Penang Hill by taking the first train at 6.30 am. The tickets are also slightly cheaper at this hour.
However, if you are looking for a more adventurous way to reach the top of the hill, you can also hike up from various trails that start from different locations. The most popular trail is from Moongate, which takes about 2 hours to reach the top. The trail is steep and challenging but rewards you with scenic views and wildlife sightings.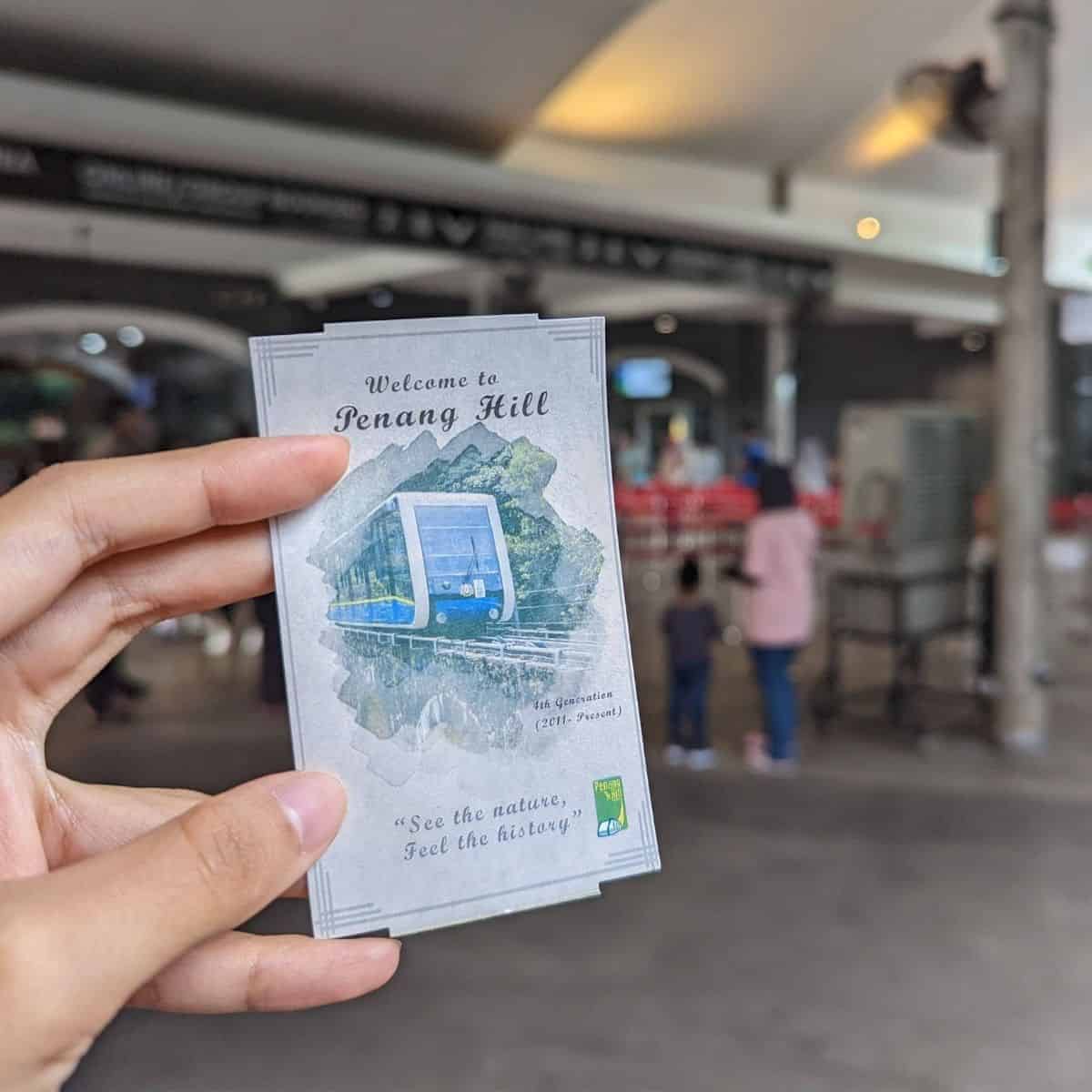 Kopi Hutan
Once you reach the top of the hill, you can have a relaxing breakfast at Kopi Hutan. The cafe is in the open air, and is located in the middle of the tropical forest. So, you'll be sipping on delicious coffee while being surrounded by lush greenery.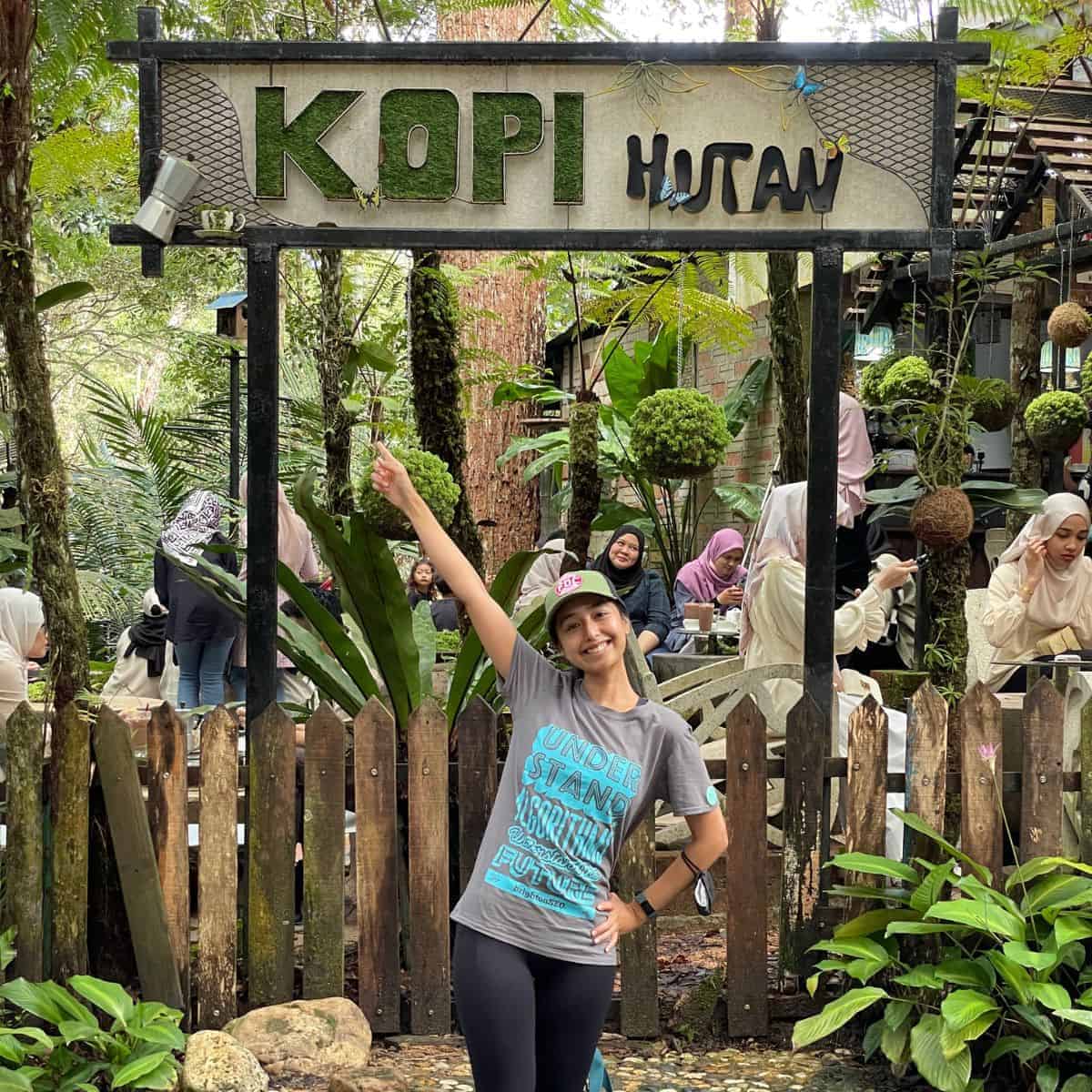 Kopi Hutan is a must-stop for caffeine lovers as it is one of the most unique cafes in Penang. The cafe is known for its signature moka pot coffee made with beans from different regions of Malaysia.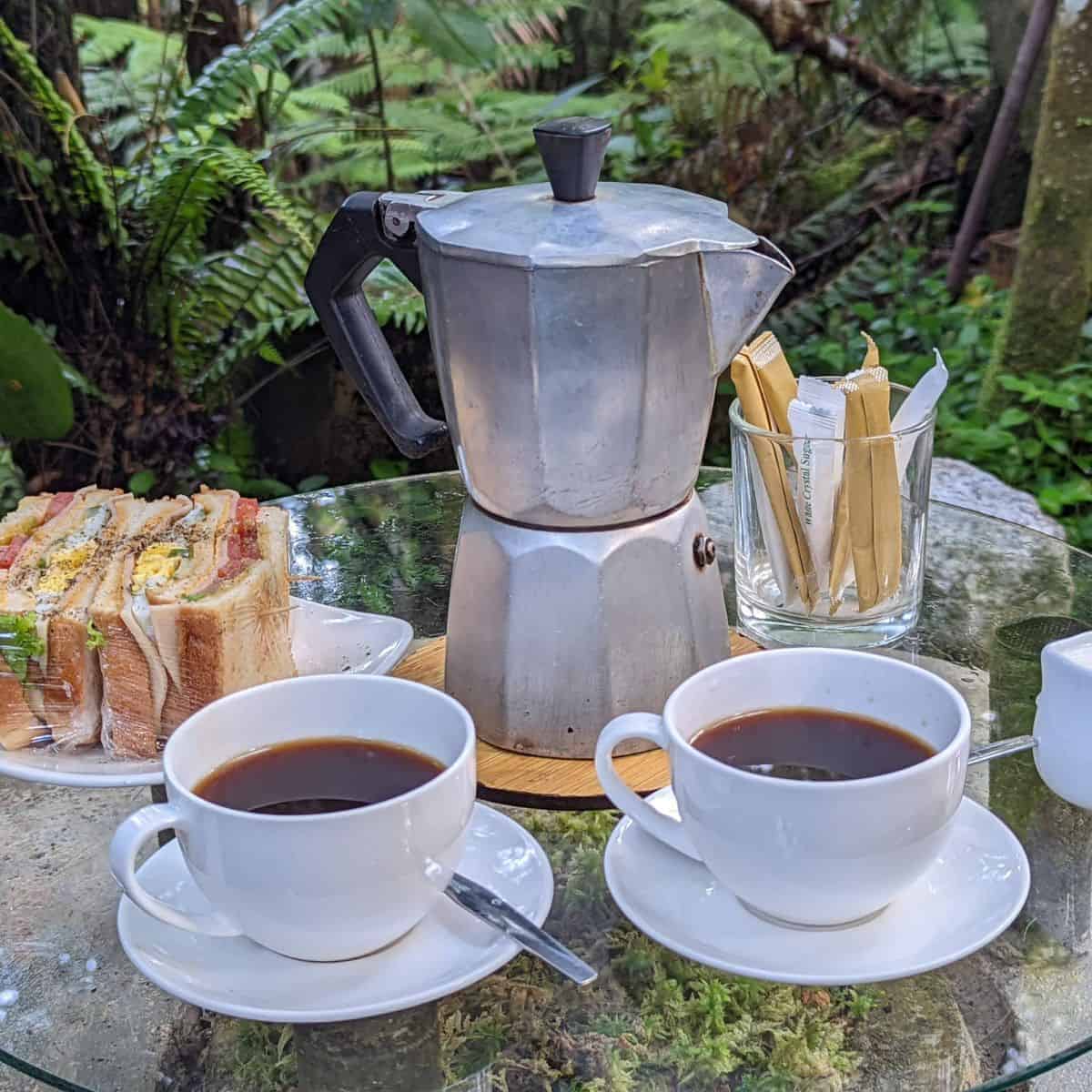 We were pleasantly surprised and impressed by the breakfast food served here. We highly recommend you try Kopi Hutan's club sandwich, salmon quiche as well as their maple pecan cheesecake. Enjoy your delicious full breakfast while admiring the view of the forest and listening to the birdsong.
The Habitat
Continue your Penang day trip on the hill by visiting The Habitat, a nature park that showcases the biodiversity and beauty of the rainforest. The park has various attractions, such as nature trails, canopy walkways, tree houses, gardens, and exhibits.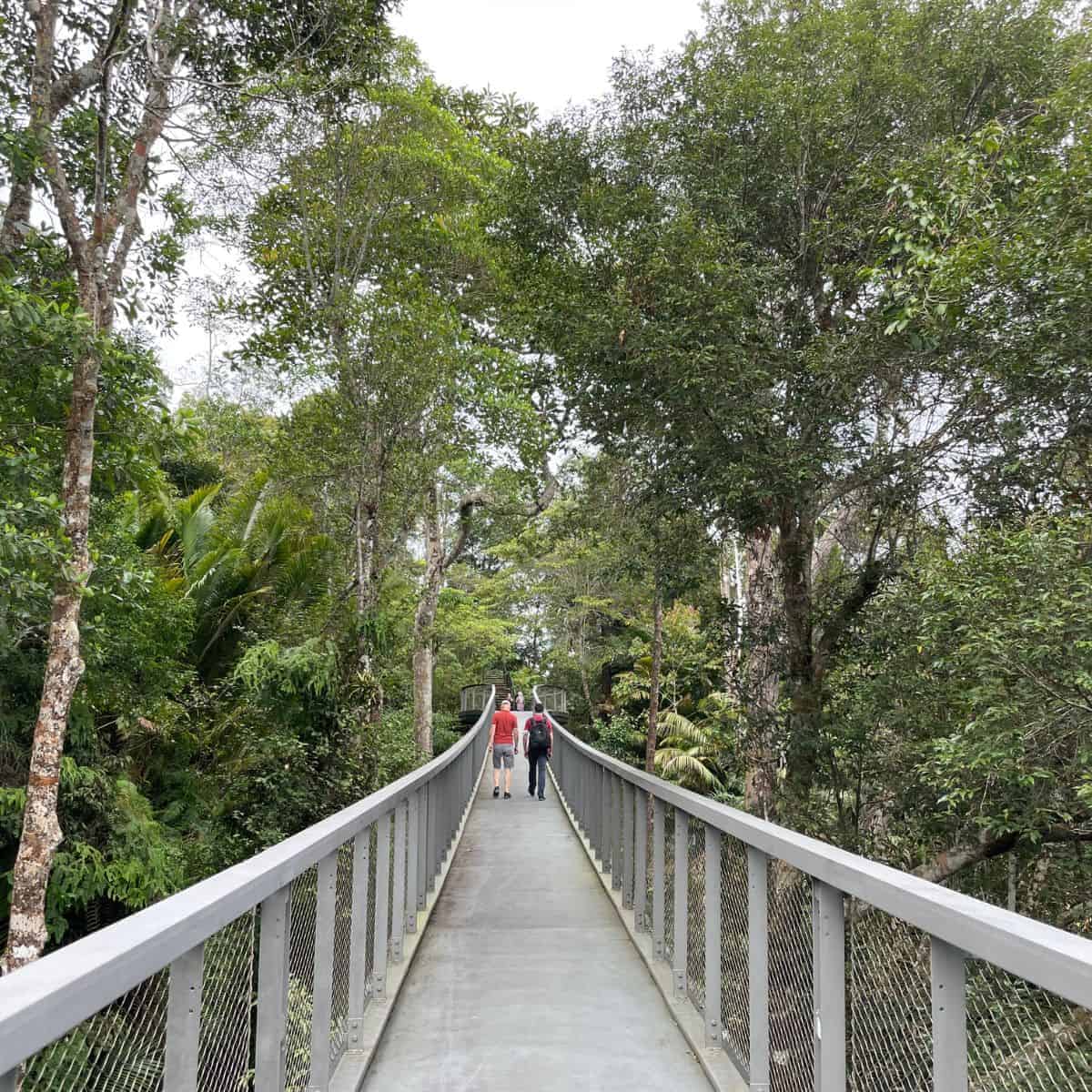 However, the highlight of The Habitat is the Curtis Crest Treetop Walk. This trail is the highest public viewing platform on Penang Hill. You can walk on a circular bridge that offers a 360-degree view of the city, the sea, and the hills.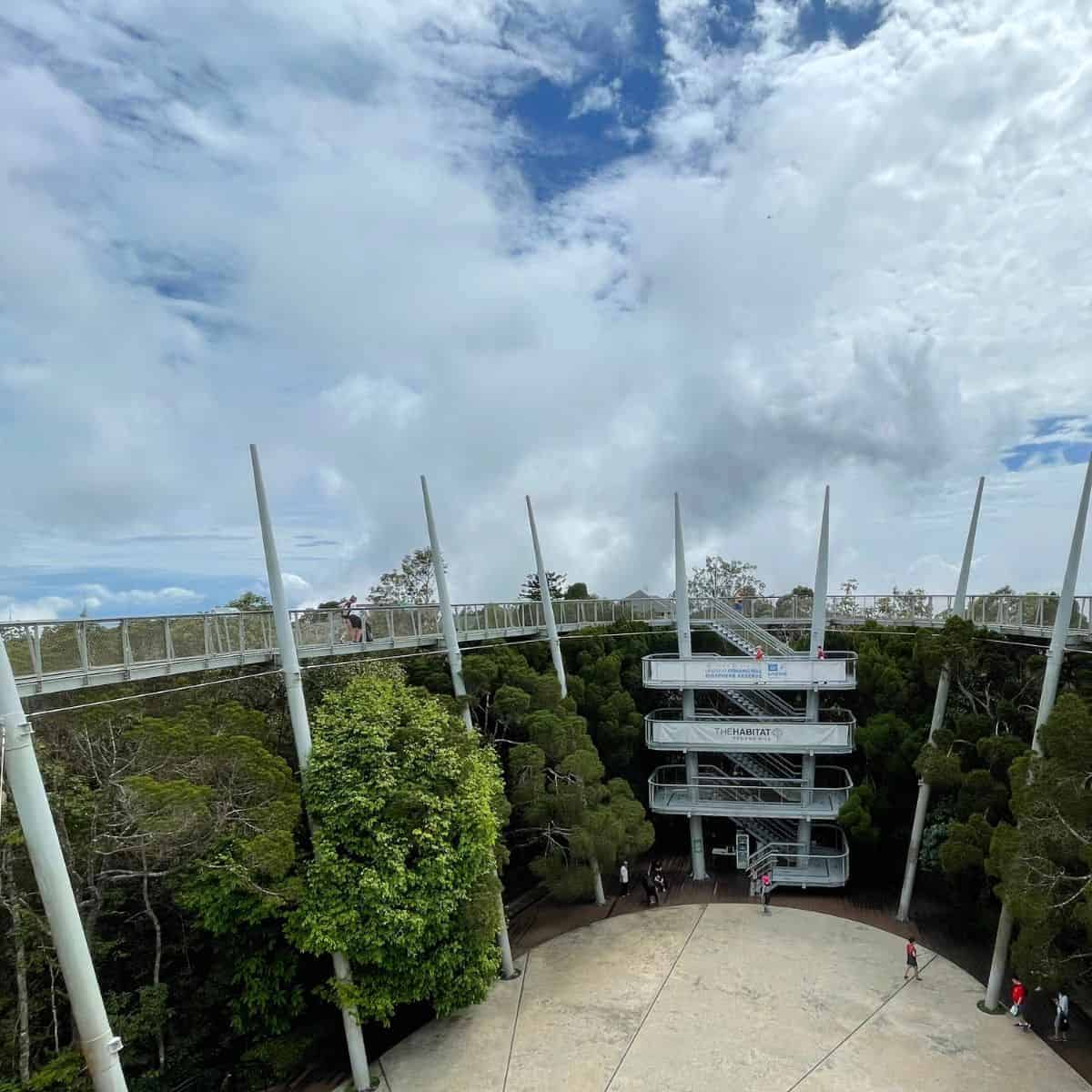 In addition, you will be able to spot some wildlife, including monkeys, squirrels, birds, and butterflies. Don't forget to snap some quick photos at the various scenic spots throughout the park.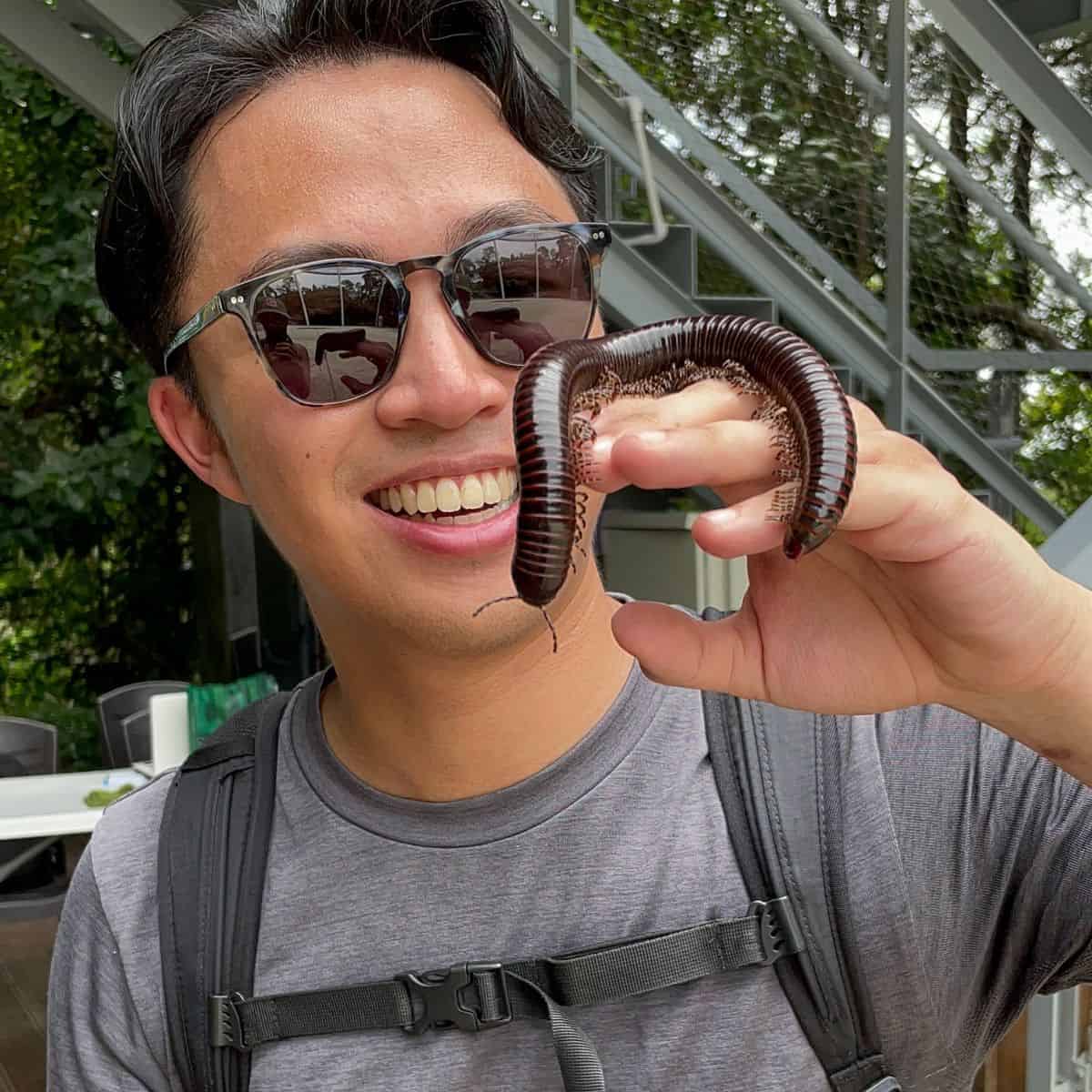 The Habitat is a great Penang itinerary for families who want to have a fun and educational time with nature. The park is suitable for all ages and abilities, as buggy rides are available for those who cannot walk too much. In addition, the attraction is also wheelchair accessible.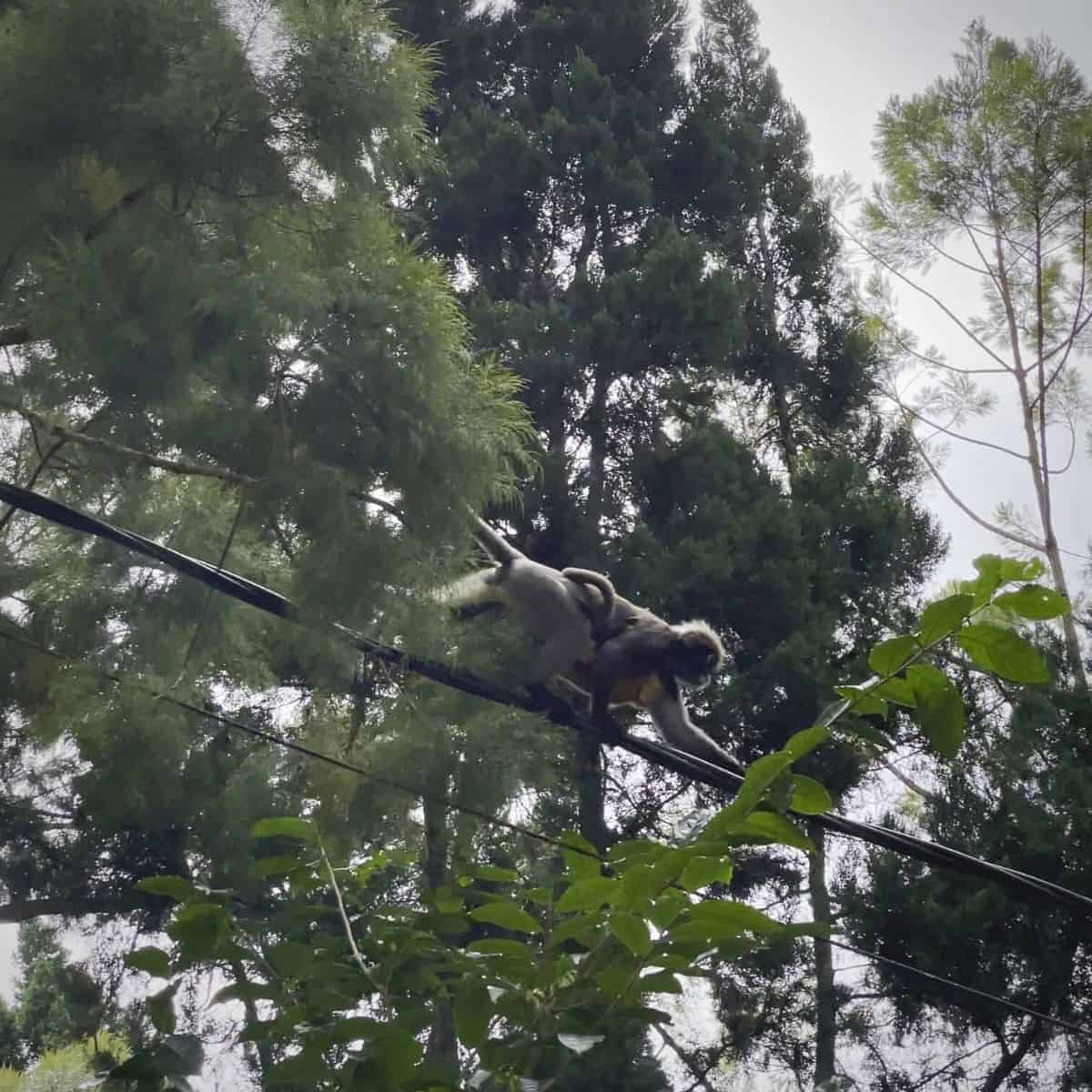 Try Air Itam Laksa or Sister's Curry Mee
After exploring Penang Hill, you can head back to Air Itam for lunch. Air Itam is famous for its assam laksa and curry mee stalls that attract locals and tourists alike. You can try either one or both if you are hungry enough.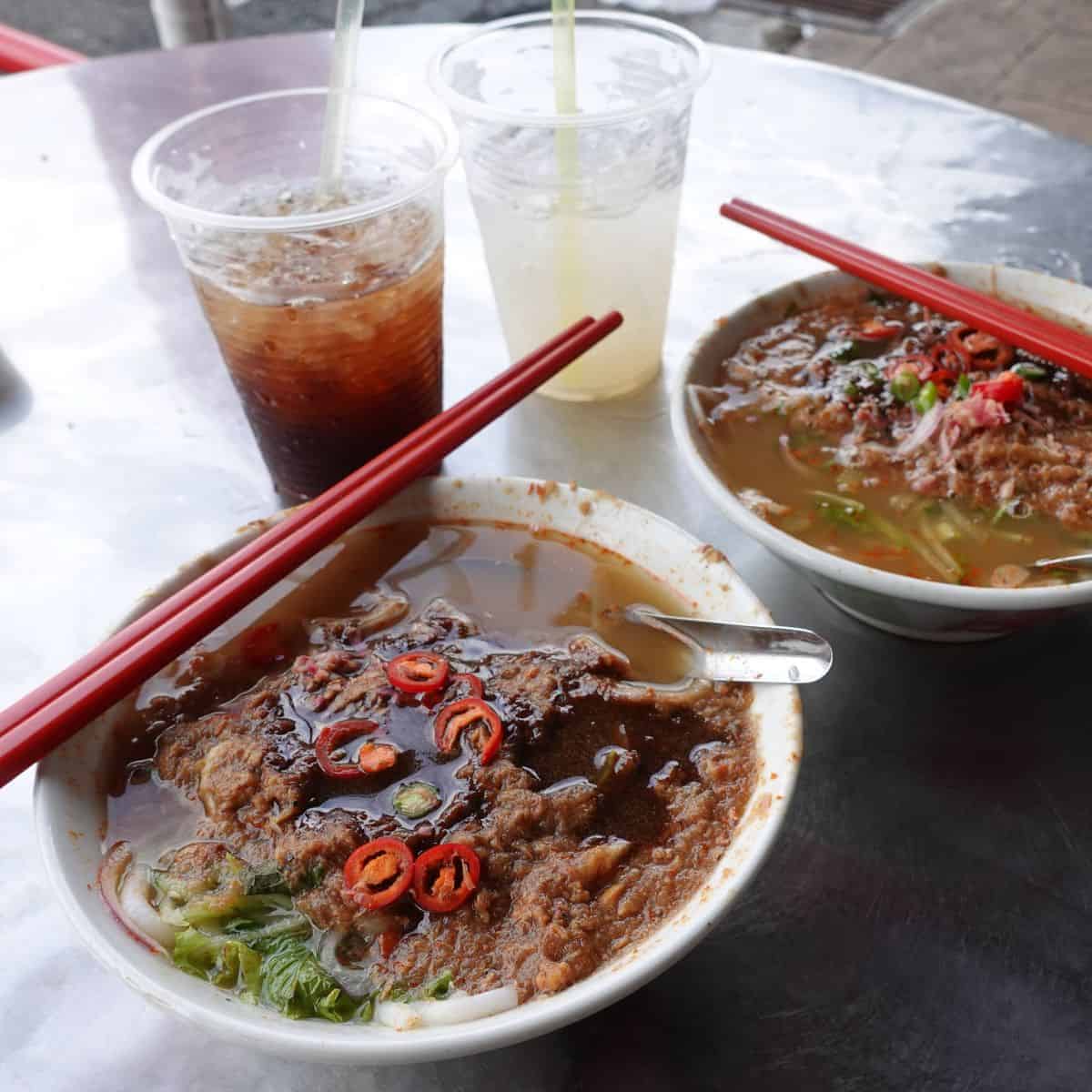 Air Itam Assam Laksa is a spicy soup with rice noodles, fish broth, tamarind, chilli, mint, onion, pineapple, and shrimp paste. The soup is sour, sweet, and spicy and goes well with the noodles and toppings.
The stall is located near the Air Itam market. You will have to queue for a while as this stall is very popular. However, please note that Air Itam Laksa is only open on 3 weekends a month. When we went, there wasn't much of an orderly queue for seats or to order food here. So we recommend you grab an empty seat when you can and flag down one of the servers to order.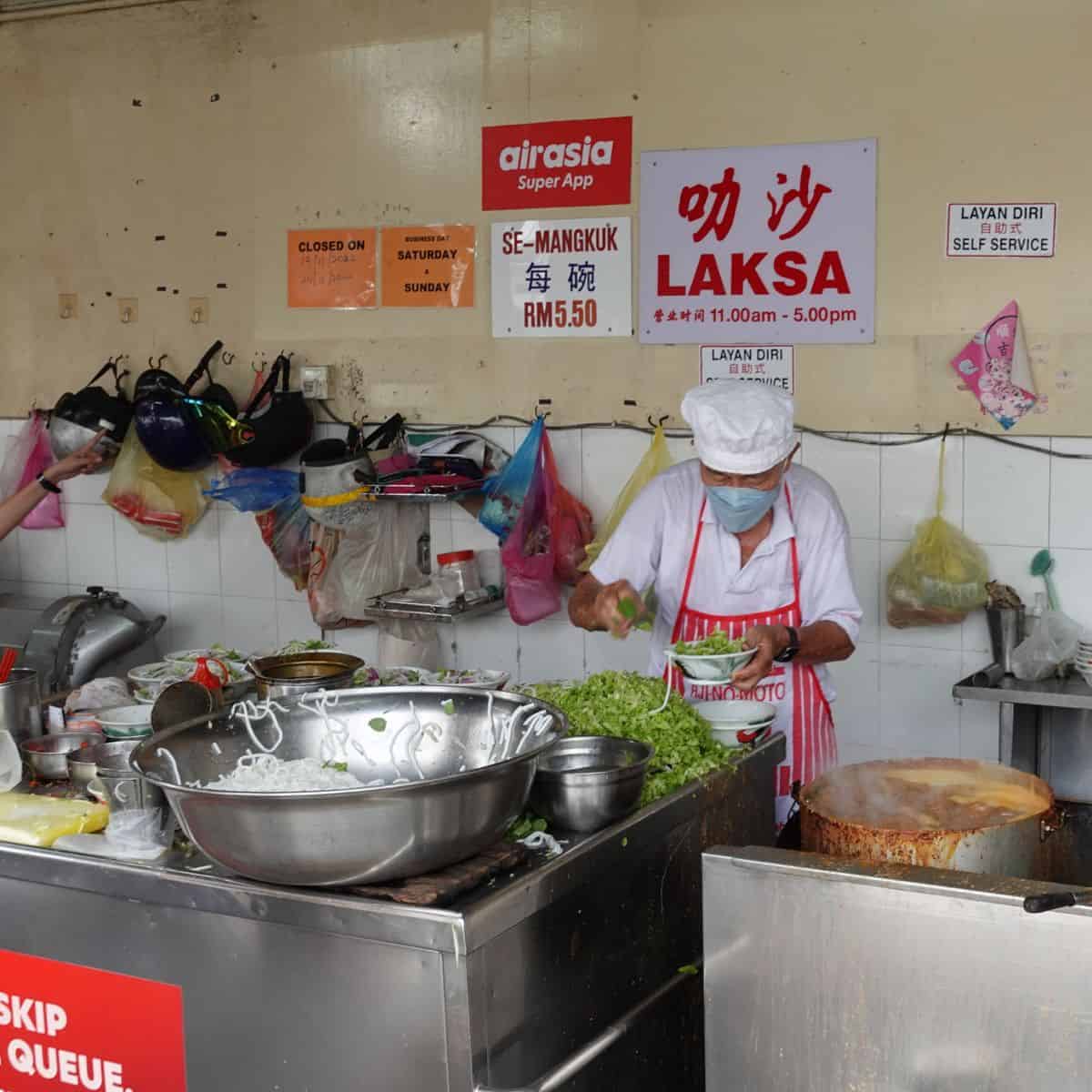 Meanwhile, Sisters Curry Mee is another famous noodle stall in Air Itam, founded and run by two sisters for over 70 years. The curry mee is a coconut-based curry soup with yellow noodles, vermicelli, tofu puffs, blood cubes, cuttlefish, and cockles. Furthermore, the soup is rich and creamy and can be spiced up with some chilli paste.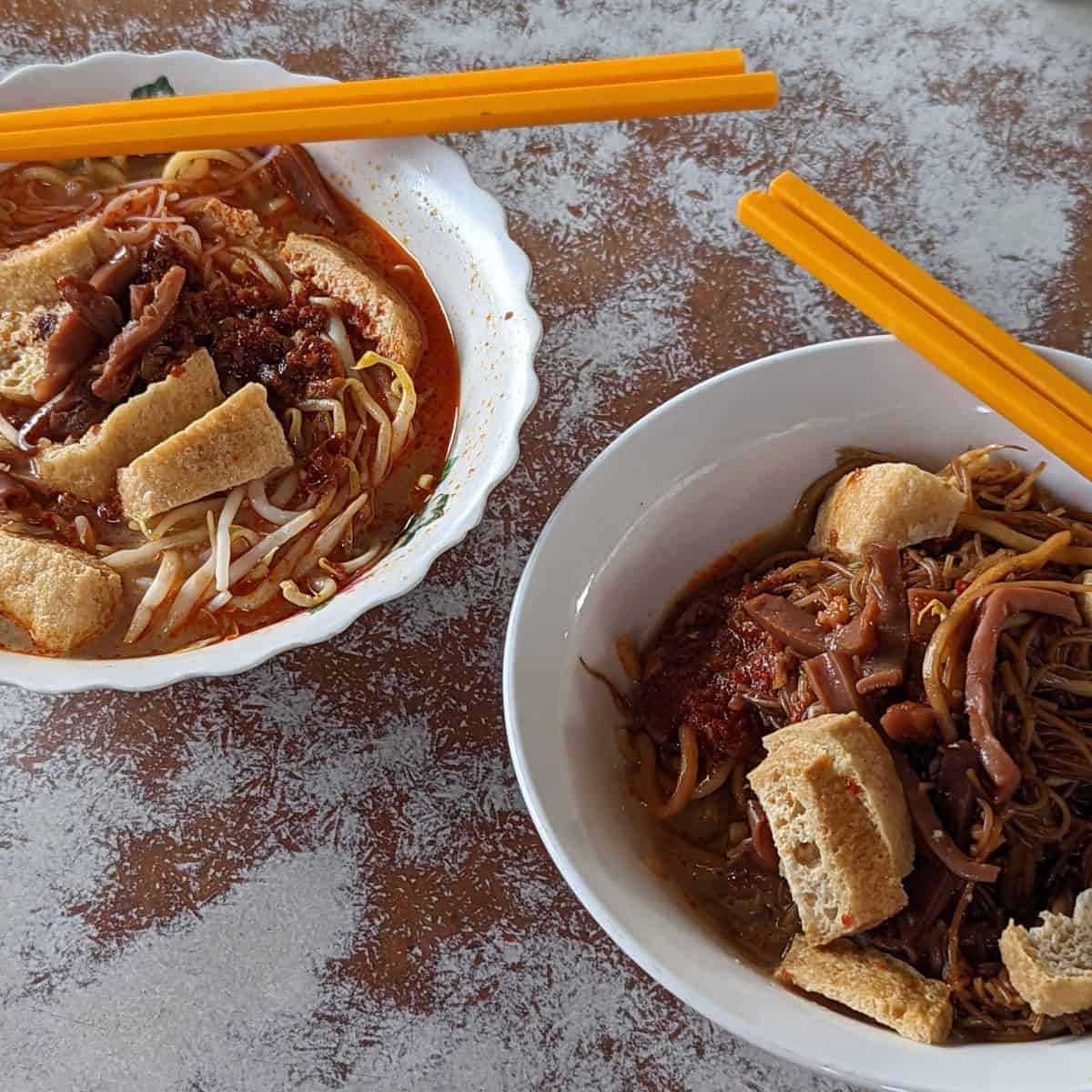 The stall is located near the Air Itam police station, just minutes away from the Air Itam Laksa stall above. You will need to queue early as they often run out of portions.
Visit Kek Lok Si Temple
After lunch, take a short trip to one of the most famous temples in Penang, Kek Lok Si Temple. The temple is one of the largest Buddhist complexes in South East Asia, and is located on a hillside near Air Itam.
Kek Lok Si Temple consists of several halls, pagodas, statues, and gardens. You can admire the architecture and art of the temple and learn about Buddhist culture and teachings.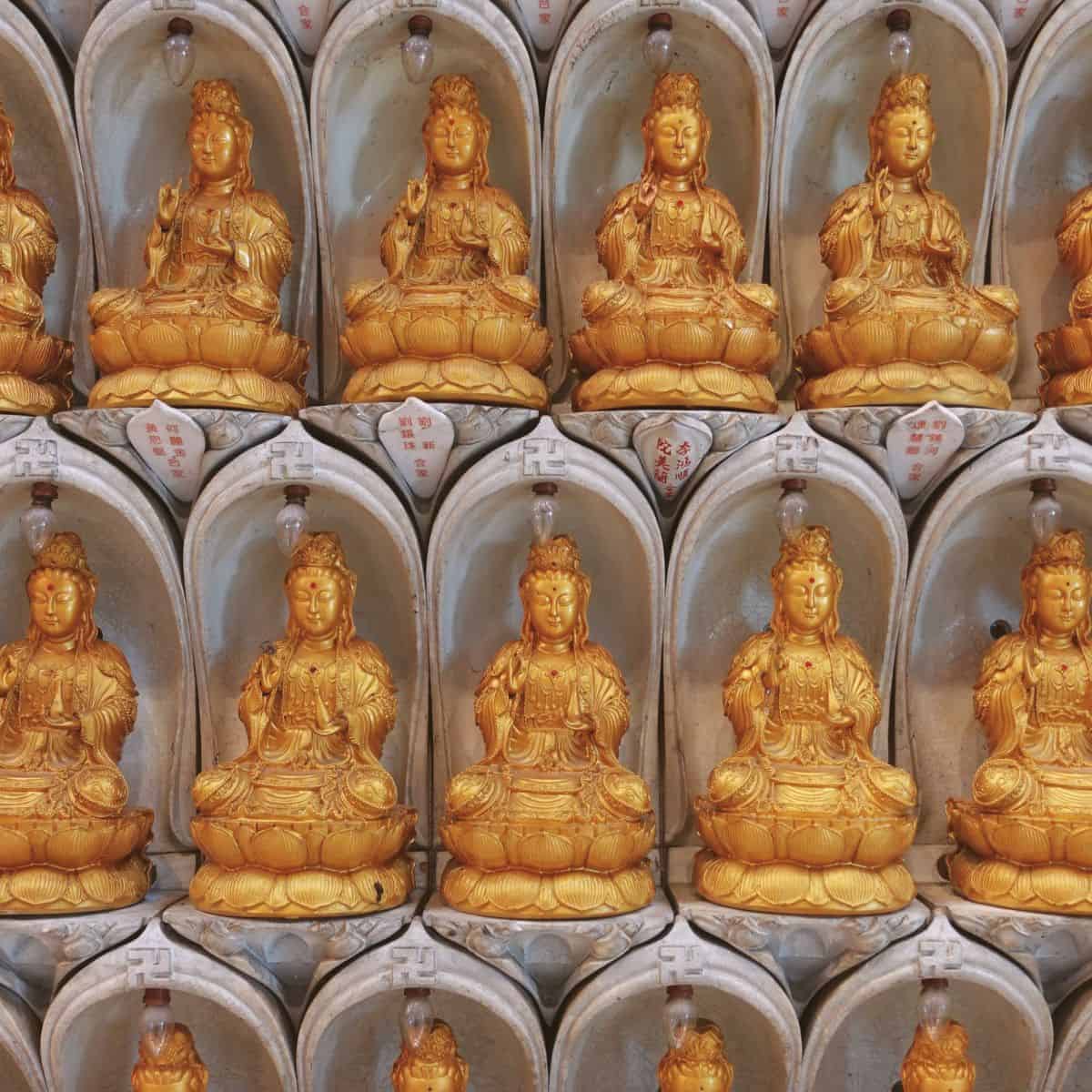 The main attraction of the temple is the Pagoda of Ten Thousand Buddhas, which is a seven-storey tower that combines Chinese, Thai, and Burmese styles. You can climb up the tower and see the statues of Buddha on each level. Additionally, you will also have an amazing view of the surrounding area from the top.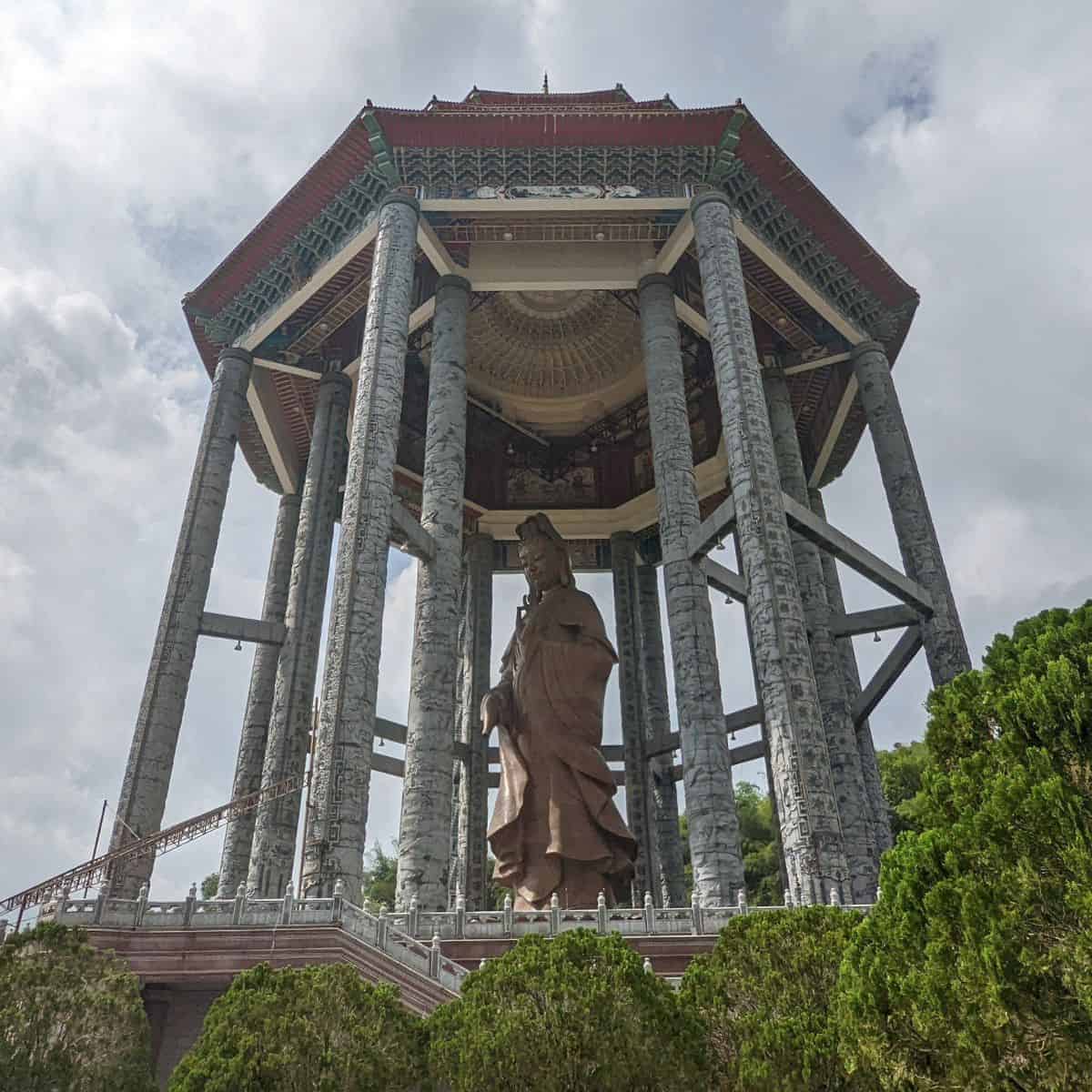 Another attraction of the temple is the bronze statue of Kuan Yin, the Goddess of Mercy, which stands 36 metres tall. Moreover, if you take a cable car to reach the statue, you will see the fountain and pond below.
Usually, we would recommend doing Penang Hill and Kek Lok Si on separate days as there's a lot of walking around. So, if you're following our 3-day itinerary, we recommend you take the cable car where possible, to save you time and also give your feet some rest.
Have Nasi Kandar for dinner
After visiting Kek Lok Si Temple, we recommend heading back to Georgetown for dinner. Georgetown has many restaurants and cafes that serve various cuisines, but one of the must-tries in Penang is nasi kandar. Nasi kandar is a dish of steamed rice with different curries and side dishes such as chicken, beef, fish, eggplant, okra, cabbage, and more.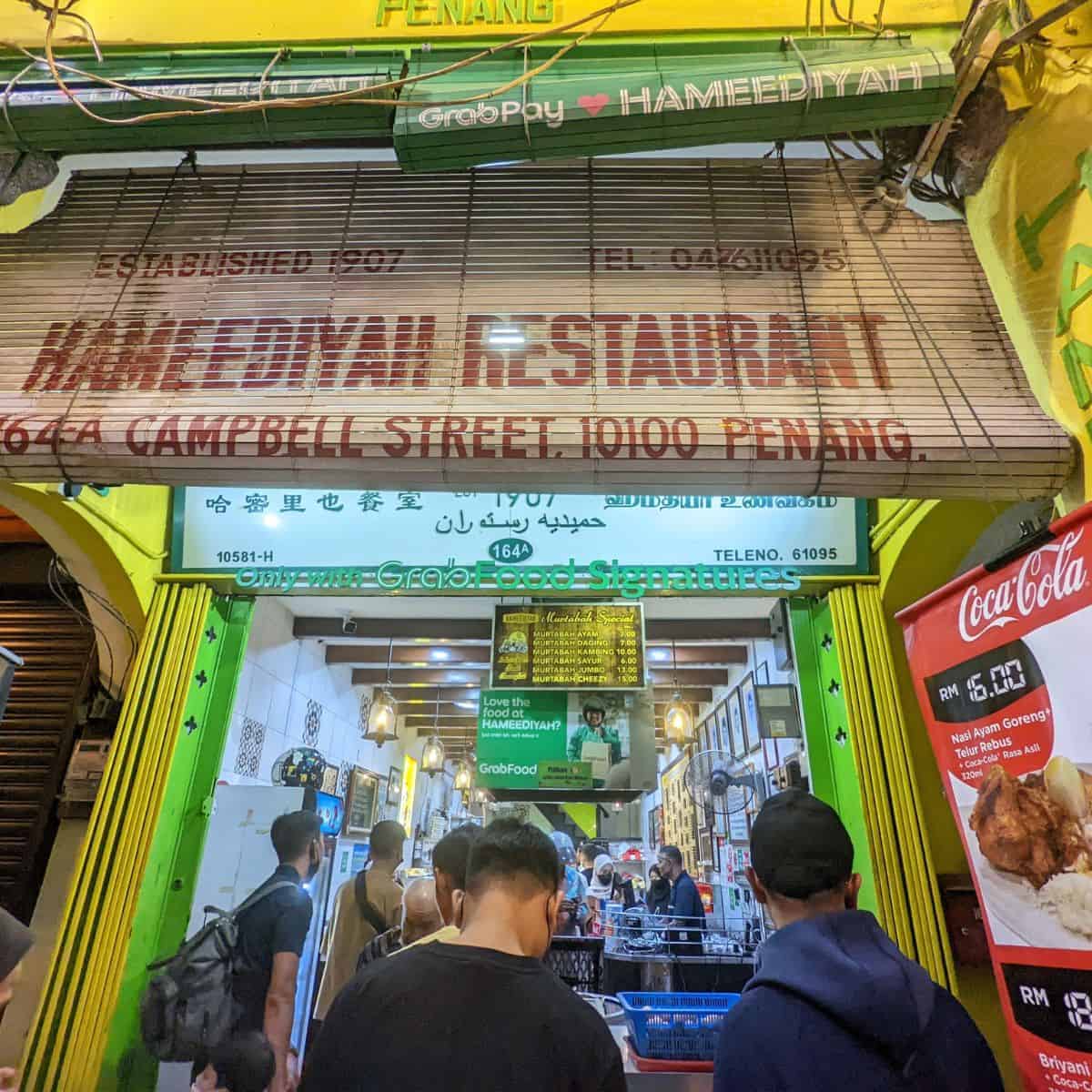 One of the best places to have nasi kandar in Penang is Hameediyah Restaurant, the oldest nasi kandar restaurant on the island. The restaurant has been operating since 1907 and serves authentic nasi kandar with various choices. We kept going back to Hameediyah for meals during our days in Penang.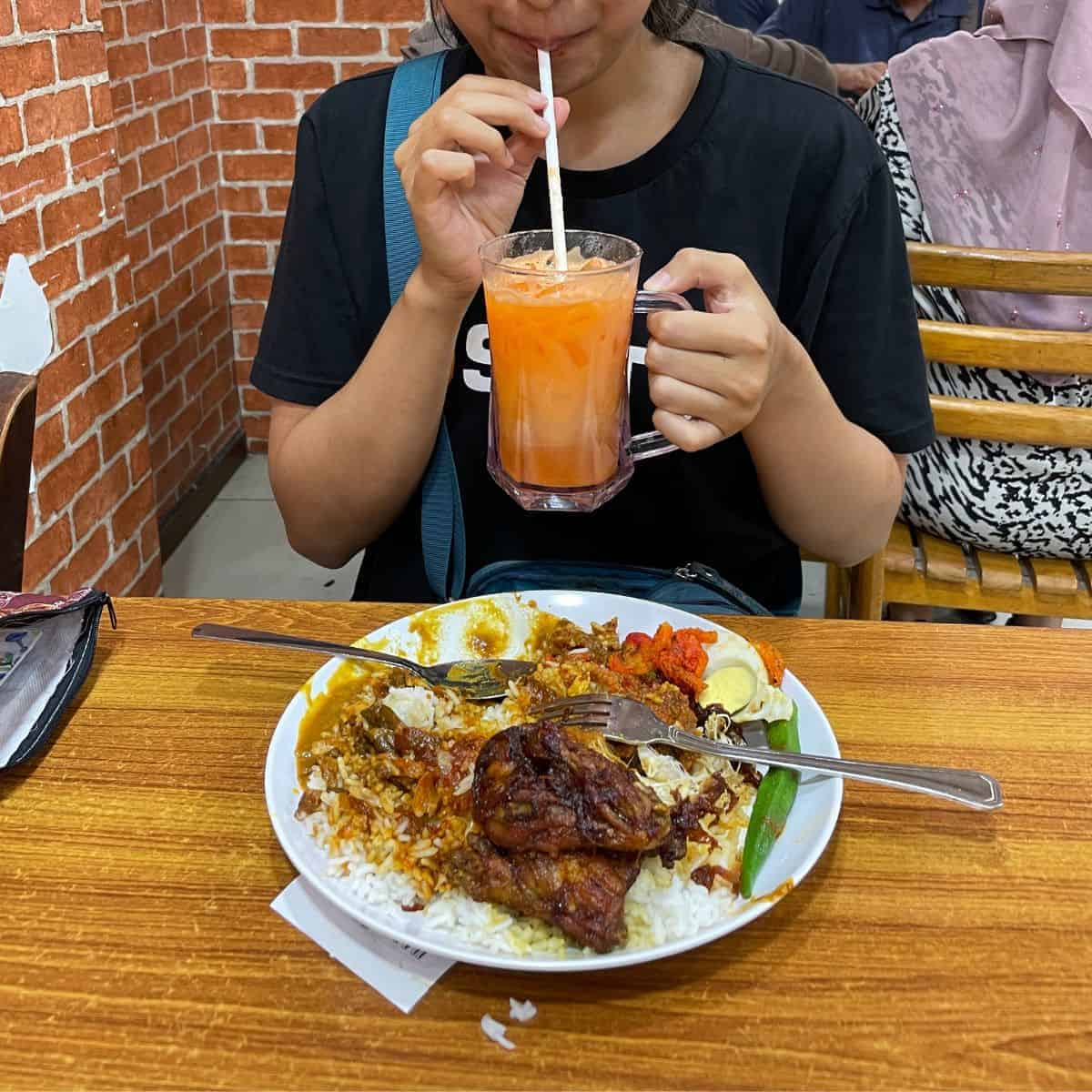 Some of our favourite dishes you should try here are mutton kurma and honey fried chicken. Furthermore, Nasi kandar is an excellent choice for those backpacking Penang as it is cheap, filling, and easy to find.
Live music at China House
After dinner, you can enjoy live music at China House, one of the most popular Penang nightlife spots. China House is a complex of heritage buildings that house a café, an art gallery, and live music under one roof.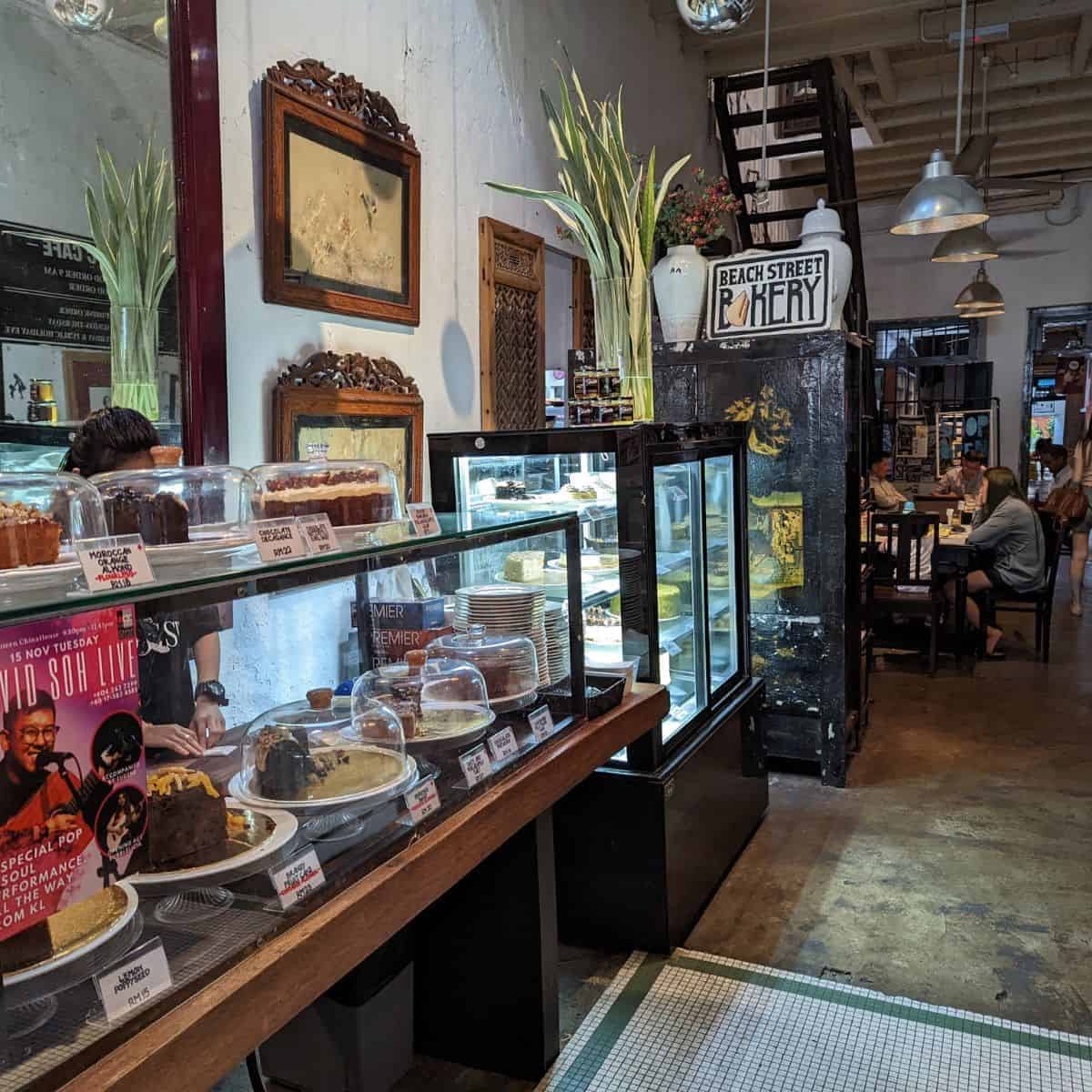 The live music venue at China House hosts local and international bands and singers every night from 9 pm to 12 am. You can enjoy various genres of music, such as jazz, blues, rock, folk, and more. Enjoy the vibrant atmosphere and treat yourself to some delightful drinks and snacks while serenaded by live music performances. It's the perfect place to unwind after an intense Penang day trip.
Late-night foot massage
Wrap up your tiring Penang day trip with a well-deserved late-night foot massage at one of the many massage parlours in Georgetown. A foot massage is a great way to relieve your tired feet after a long day of walking and exploring the island. It's also a romantic and relaxing activity for your Penang itinerary for couples.
Our favourite place for a late-night foot massage in Georgetown is Happy Feet Reflexology & Wellness Centre, which is open until midnight daily. The massage parlour offers various types of massages, such as foot, body, head, and shoulder. Moreover, you can choose your massage type according to your preference and budget.
Penang Day 3 itinerary
On the third day of your Penang itinerary, we will be doing a Penang half day trip to the charming Balik Pulau before heading back to Georgetown. Balik Pulau is a rural area on the other side of the island that offers a different experience from the city. You will enjoy the natural scenery, rural lifestyle, and local delicacies of Balik Pulau.
To get to Balik Pulau, you can take a bus or a taxi from Georgetown. The journey will take about an hour, and you will pass by some scenic views of the hills and the sea.
Floating Mosque
One of the first attractions you will see is the Floating Mosque, also known as Tanjung Bungah Floating Mosque. The beautiful Floating Mosque is built on stilts over the sea.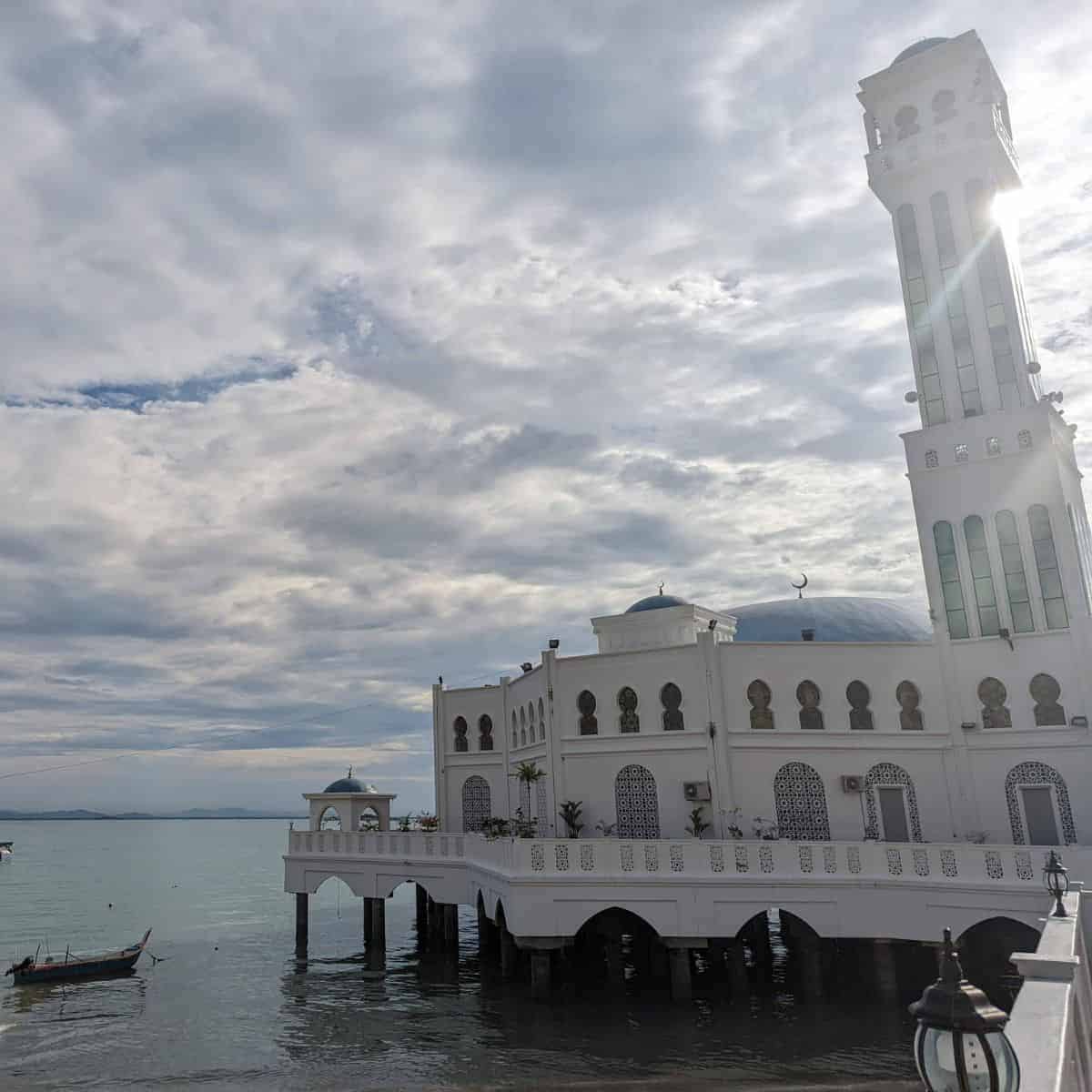 It mixes Middle Eastern and local architectural styles and features a prominent minaret. You can admire the architecture and art of the mosque and learn about Islamic culture and teachings. If you are lucky, you might glimpse the mosque floating on water during high tide.
The mosque welcomes visitors of all faiths, but you must dress modestly. For female visitors, you must cover your head, shoulders, and legs to enter the mosque. For male visitors, it is recommended that you wear long trousers or bottoms that cover your knees. However, you can also ask to borrow clothing to enter.
Escape Theme Park
After visiting the Floating Mosque, you can continue your adventure at Escape Theme Park. This outdoor theme park offers various rides, games, and activities. Here, you can also experience some Guinness World Record rides, such as the world's longest water tube slide and the world's longest zipline coaster.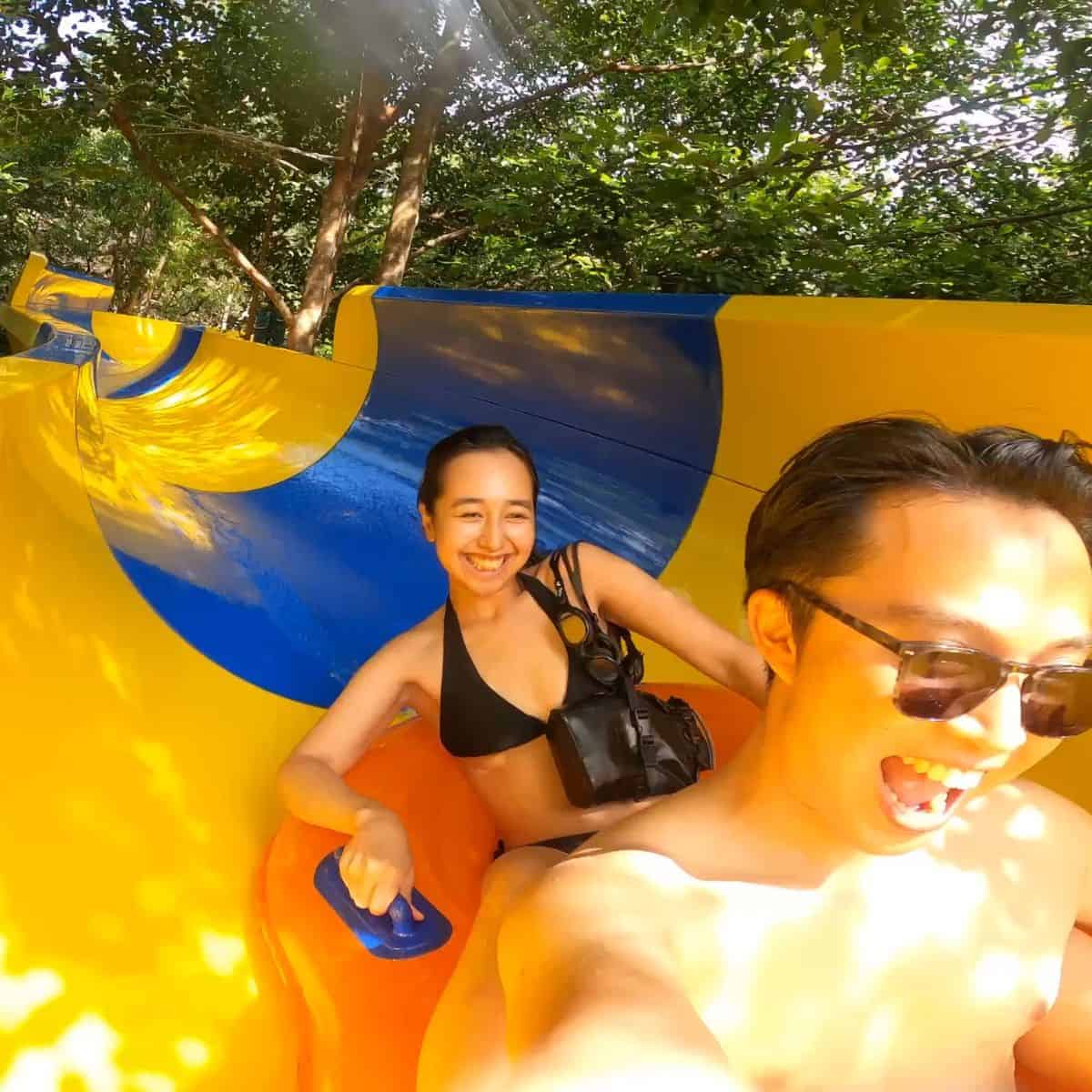 Escape Theme Park is a great Penang itinerary for families who want to experience an exhilarating adrenaline rush together. The park is suitable for all ages and abilities, as there are different levels of difficulty and safety measures for each ride and activity. You will need to spend at least half a day at Escape Theme Park to enjoy all the attractions and activities. In addition, we recommend you book online for a lower price.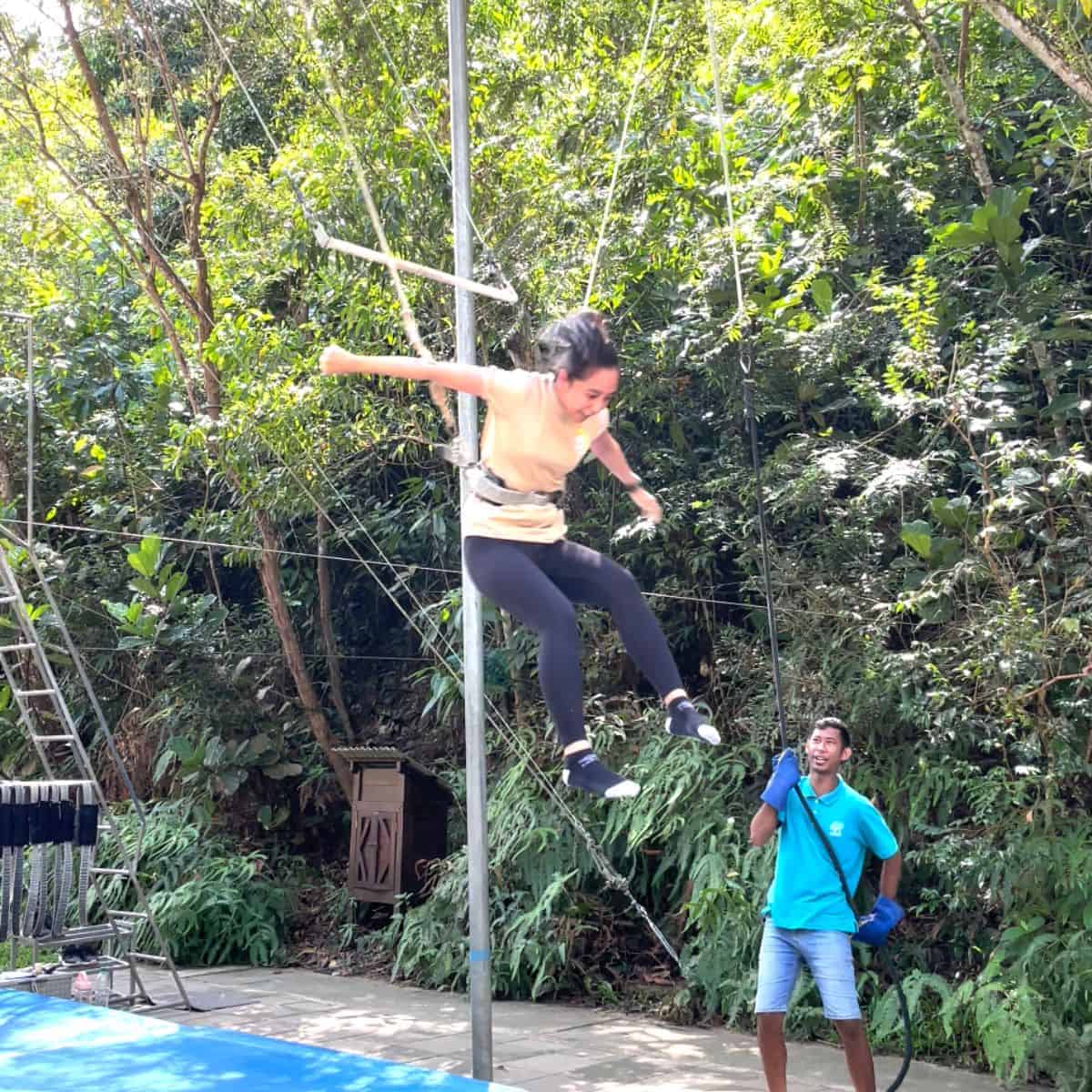 A Penang travel hack you should know is that food choices are very limited at this place, so either bring something or have a big breakfast before you go. This way, you can save money and time. Also, avoid being hungry at the start of the day. Showers and lockers are also available at the park, so you can freshen up and store your belongings safely.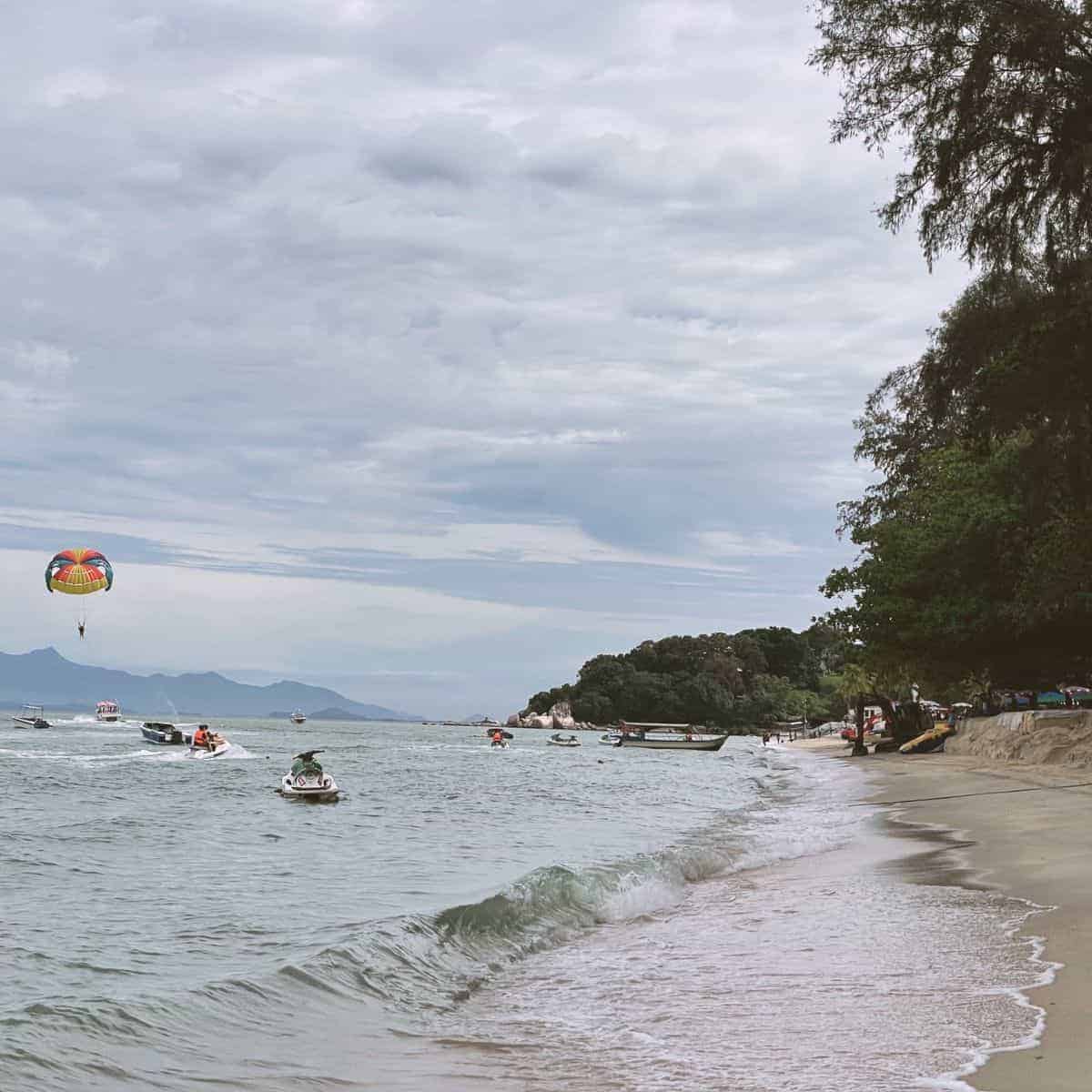 However, if you are looking for a Penang half-day trip for the elderly or families with young kids, spend a day at Batu Ferringhi Beach instead. Batu Ferringhi Beach is one of the most popular beaches on the island, offering many water sports activities, including parasailing and banana boating. You can also relax on the beach or visit nearby attractions like the Tropical Spice Garden.
2 Acres Cafe
If you finish early at Escape Theme Park, you can head to 2 Acres Cafe for lunch or a tea break. This unique cafe is situated within a durian farm, where you can savour the renowned tropical fruit.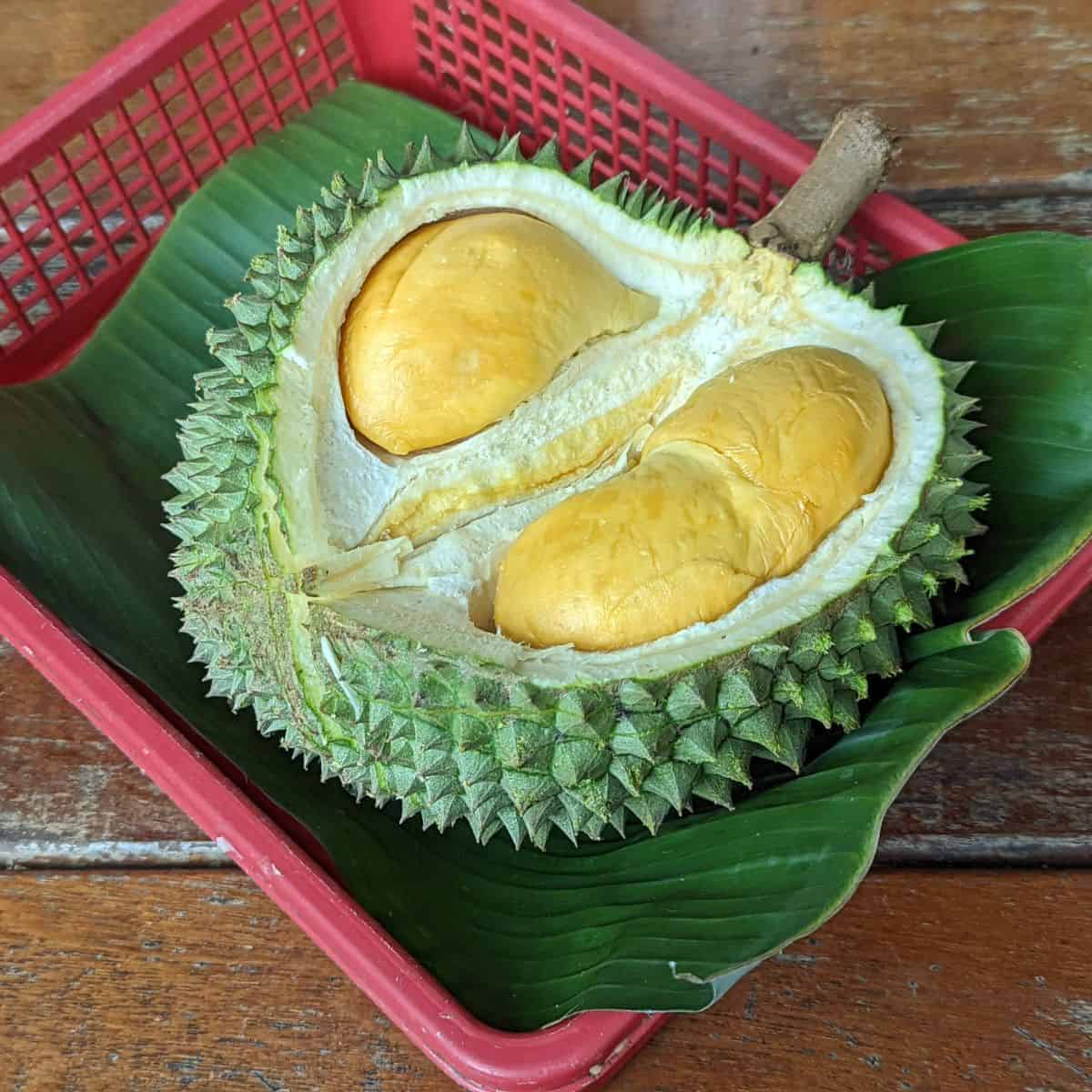 You get to choose from different varieties of durians, such as Musang King, Blackthorn, D24, Red Prawn, and more. Moreover, you can also learn about the different characteristics and qualities of each variety. The prices are relatively affordable as the durians are from the farm itself.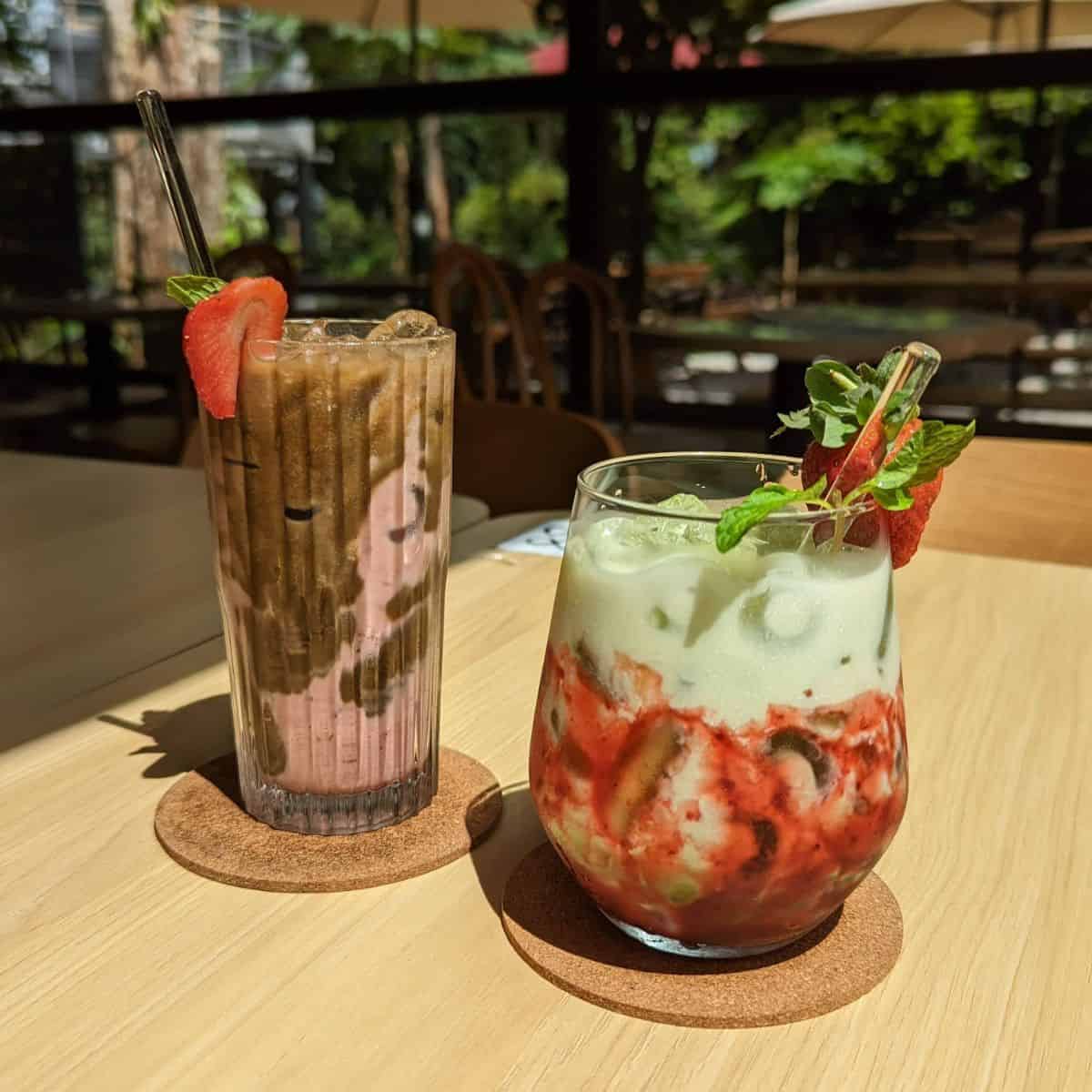 If you are not a fan of durians, you can also try some other dishes at 2 Acres cafe. We highly recommend the creamy and spicy Tom Yum spaghetti, a fusion dish that combines local and international flavours.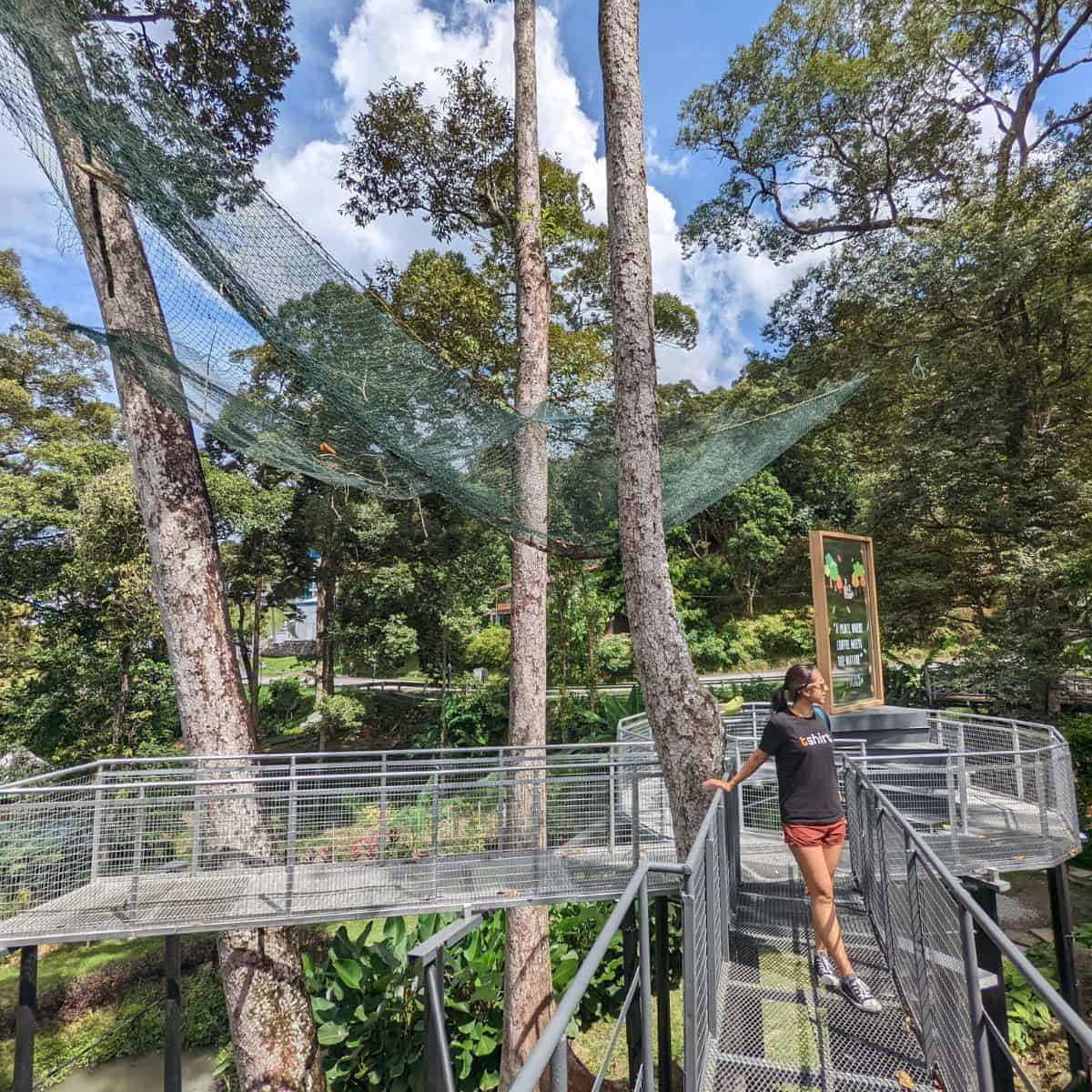 The cafe also provides a top-floor area where you can enjoy quiet reading or catch up on work. In addition, kids will love the small outdoor area with a pond and ducks.
Seafood
No Penang itinerary is complete without indulging in the mouthwatering seafood offerings. Seafood is fresh, delicious, and affordable on the island. Also, you can find many seafood restaurants that offer different styles and dishes.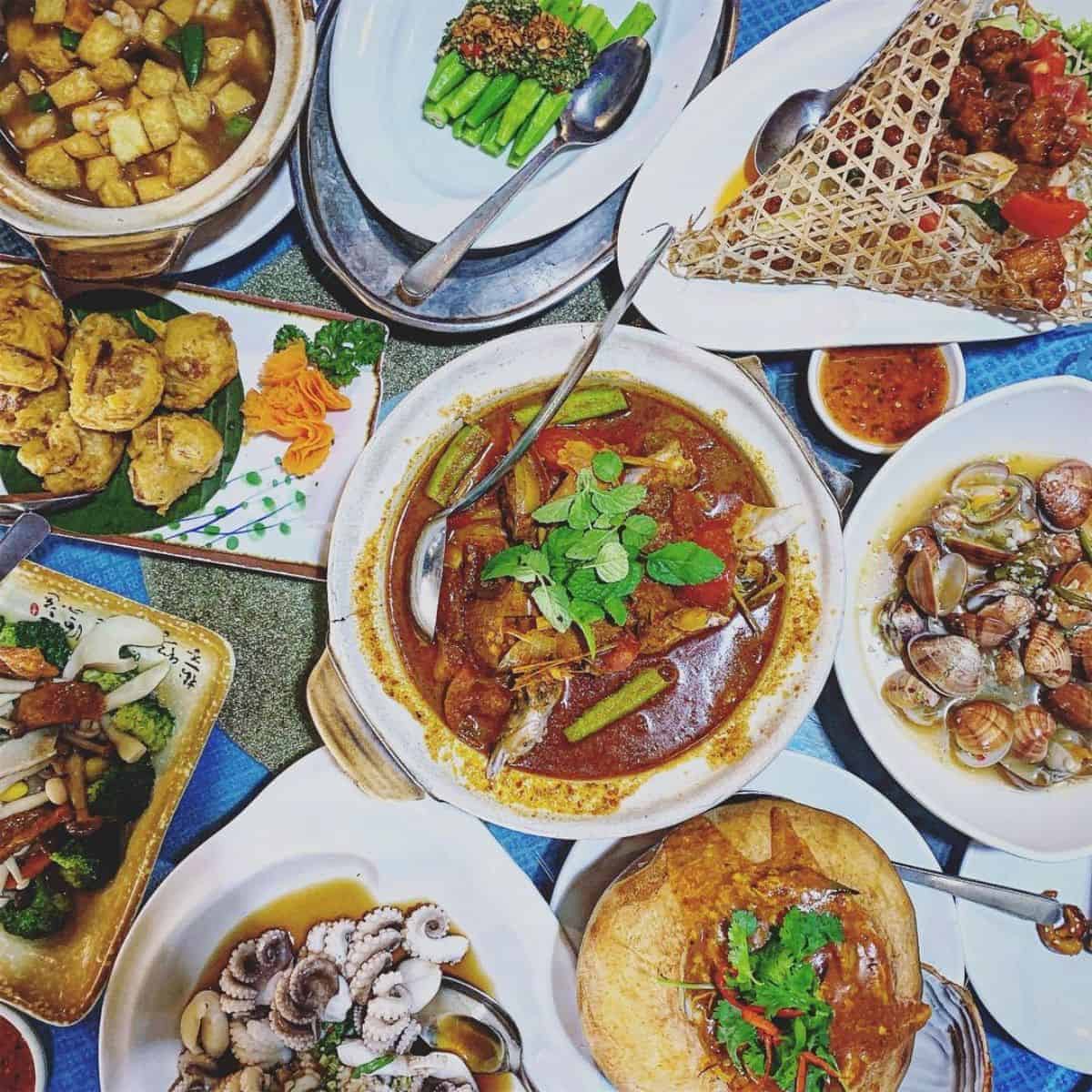 One of our favourite places to have seafood is Penang Hai Boey, located at the end of Gertak Sanggul Beach. Although it's a bit far away, the fresh seafood and stunning sunset view make it worth the journey. You will enjoy various seafood dishes prepared in local flavours. This is a must-include Penang itinerary for foodies who want to taste the island's finest and freshest seafood.
Alternatively, we recommend dining at the Ocean Green Restaurant, which is located in Georgetown. You can enjoy various seafood dishes such as butter prawns and salted egg crabs.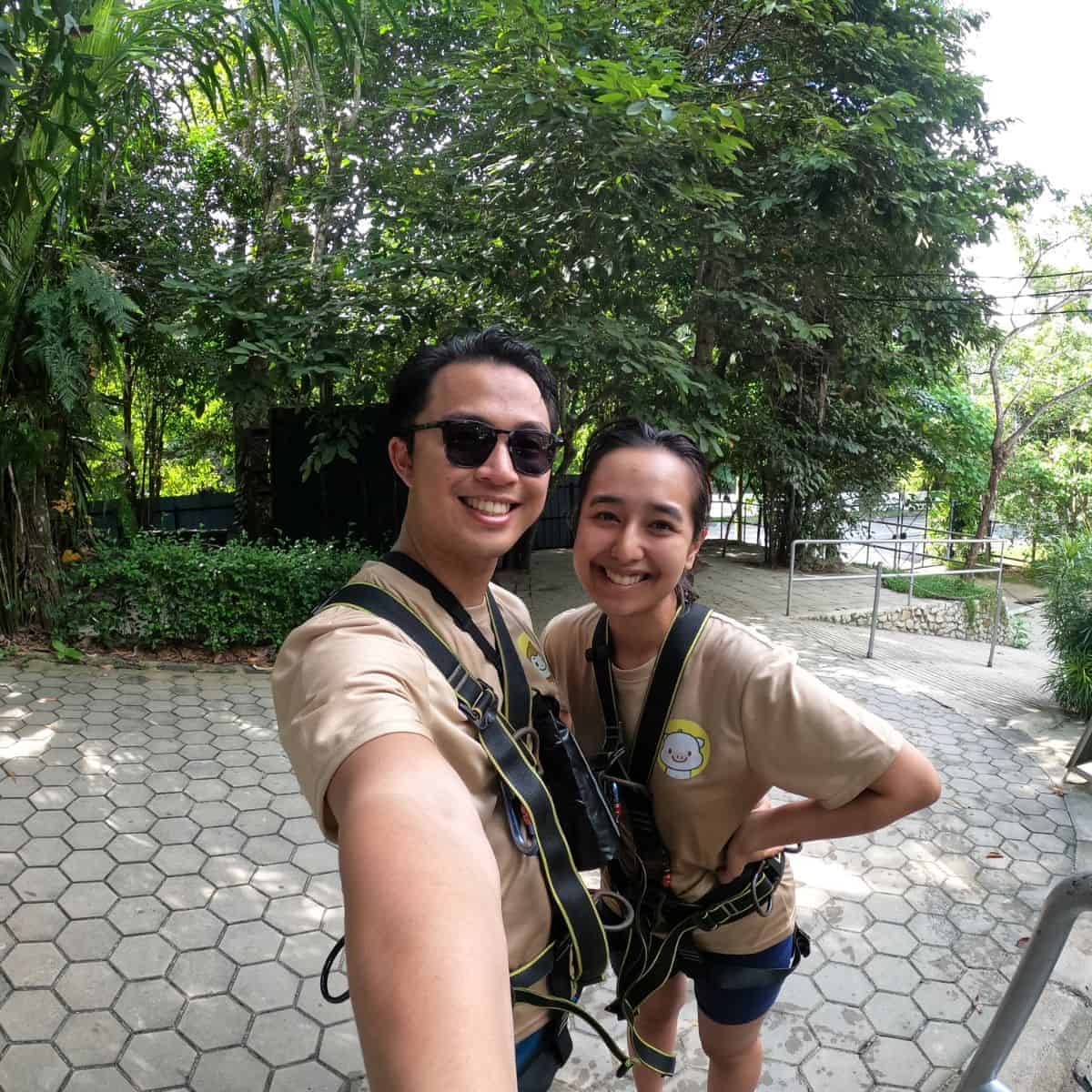 We hope our Penang itinerary will help you to plan your days on this beautiful island. Follow us on Instagram @tabitogether for more Penang travel hacks and tips.