The mesmerising temples in Penang are special travel spots for those who want to immerse themselves in Malaysia's unique religious and cultural heritage. In our guide, we will show you some of our favourite spots.
The island's most holy places also reveal their history, architecture, and significance. Furthermore, you will learn how these holy sites reflect the unique religious landscape and cultural heritage of the island.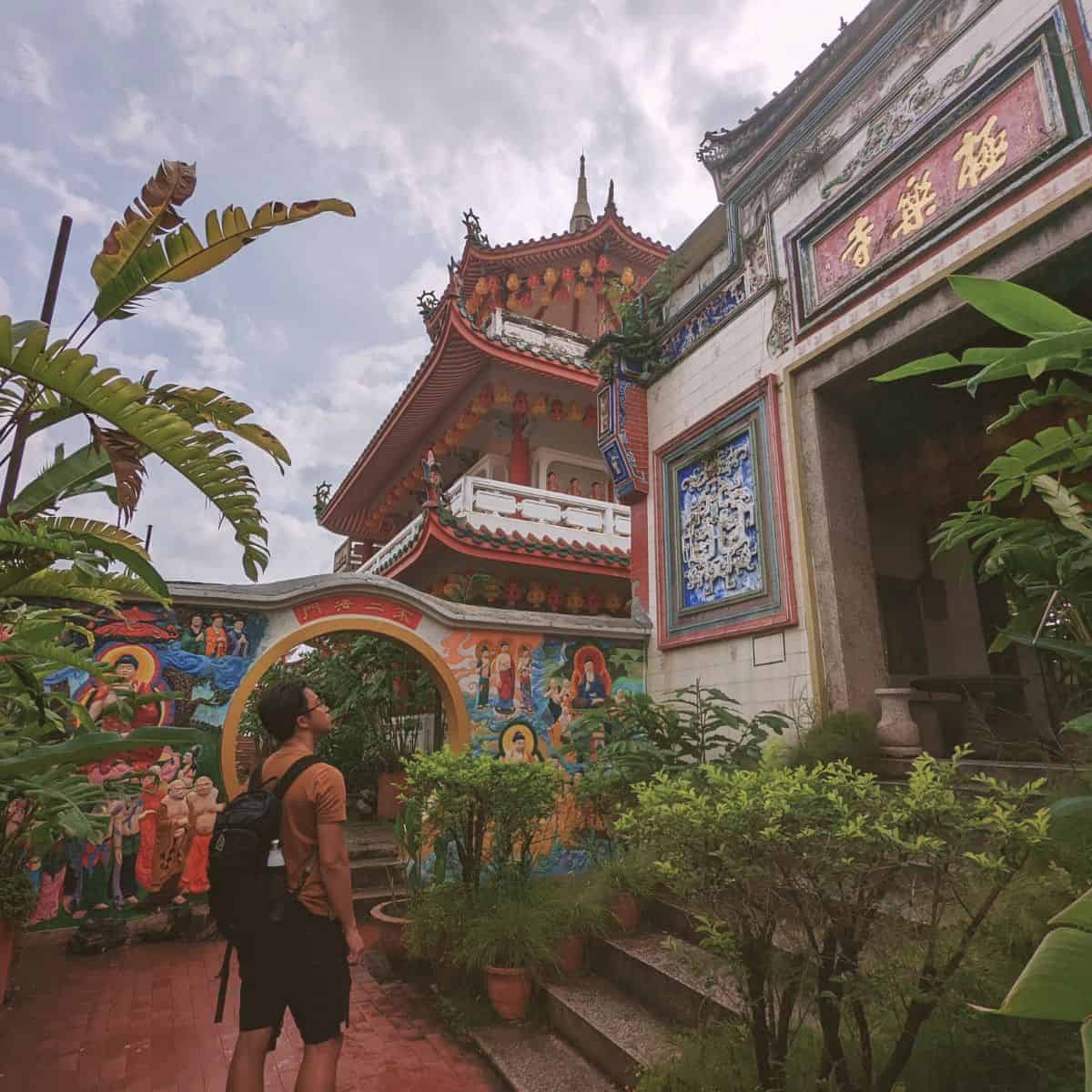 The many scattered places of worship across the city reflect Penang's religious diversity. Additionally, the impact of British colonial rule in the 18th and 19th centuries brought an influx of ethnic groups to the island.
Each group had its own religious practices and places of worship. Therefore, with roots in Buddhism, Taoism, Hinduism, and Islam, these sites represent a unique blend of culture and religion.
Ultimately, these religious sites today stand as a testament to the city's rich cultural tapestry. So, whether you're a spiritual seeker or simply interested in learning more about this island's fascinating history, keep reading for our comprehensive list of the most famous temples in Penang Island.
Jump to:
Kek Lok Si Temple
Kek Lok Si is the biggest temple in Penang. It is an important religious site that attracts pilgrims from all over the world. Also known as Ji Le Shi in Mandarin, this important religious site boasts a magnificent seven-story pagoda named Ban Po Thar. We also know it as 'the pagoda of a thousand buddhas'.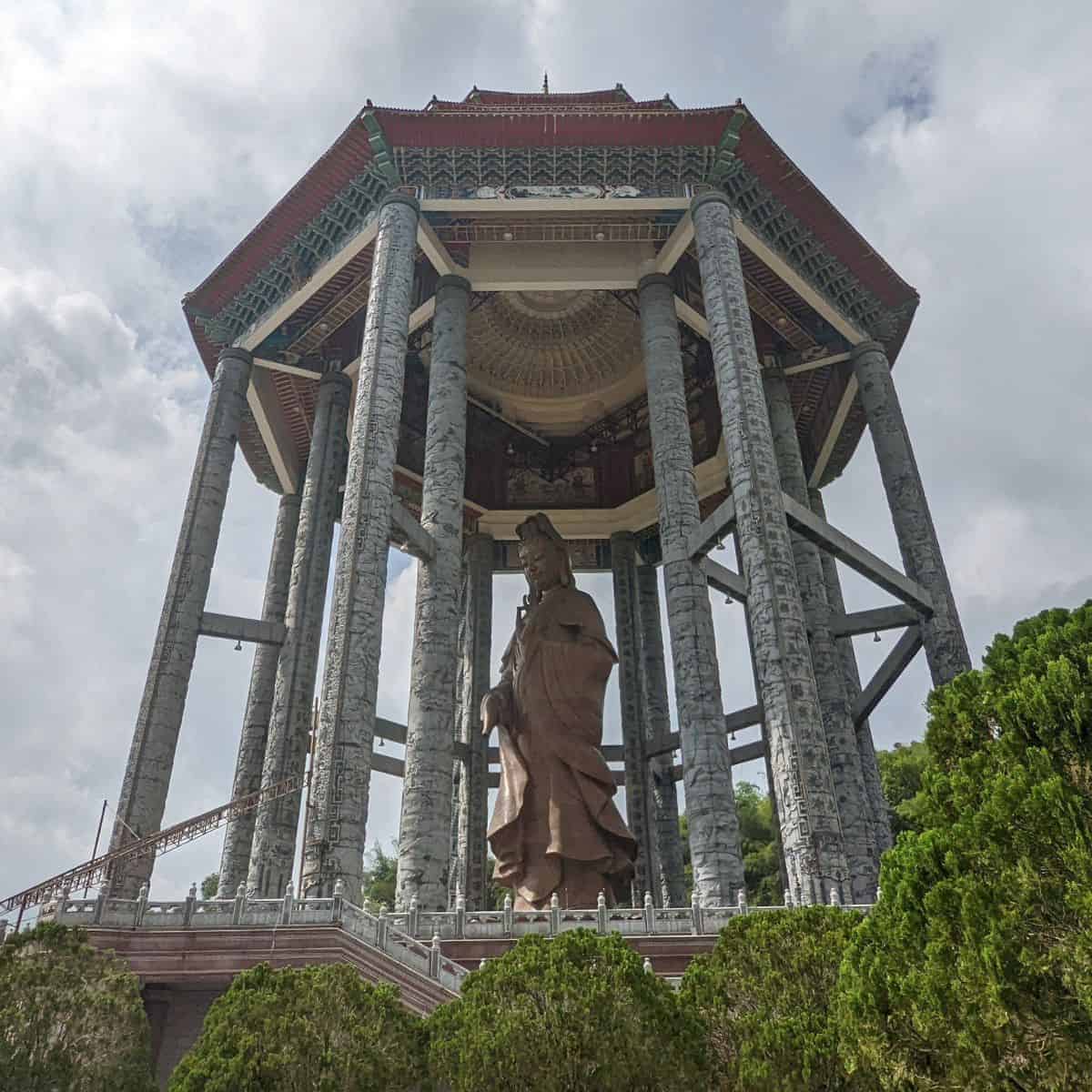 You can explore the complex's prayer halls, pagodas, gardens, and an impressive statue of the Goddess of Mercy. Furthermore, the architecture is a remarkable blend of Chinese, Thai, and Burmese influences. Hence, it is a cultural masterpiece reflecting the harmonious coexistence of different cultures.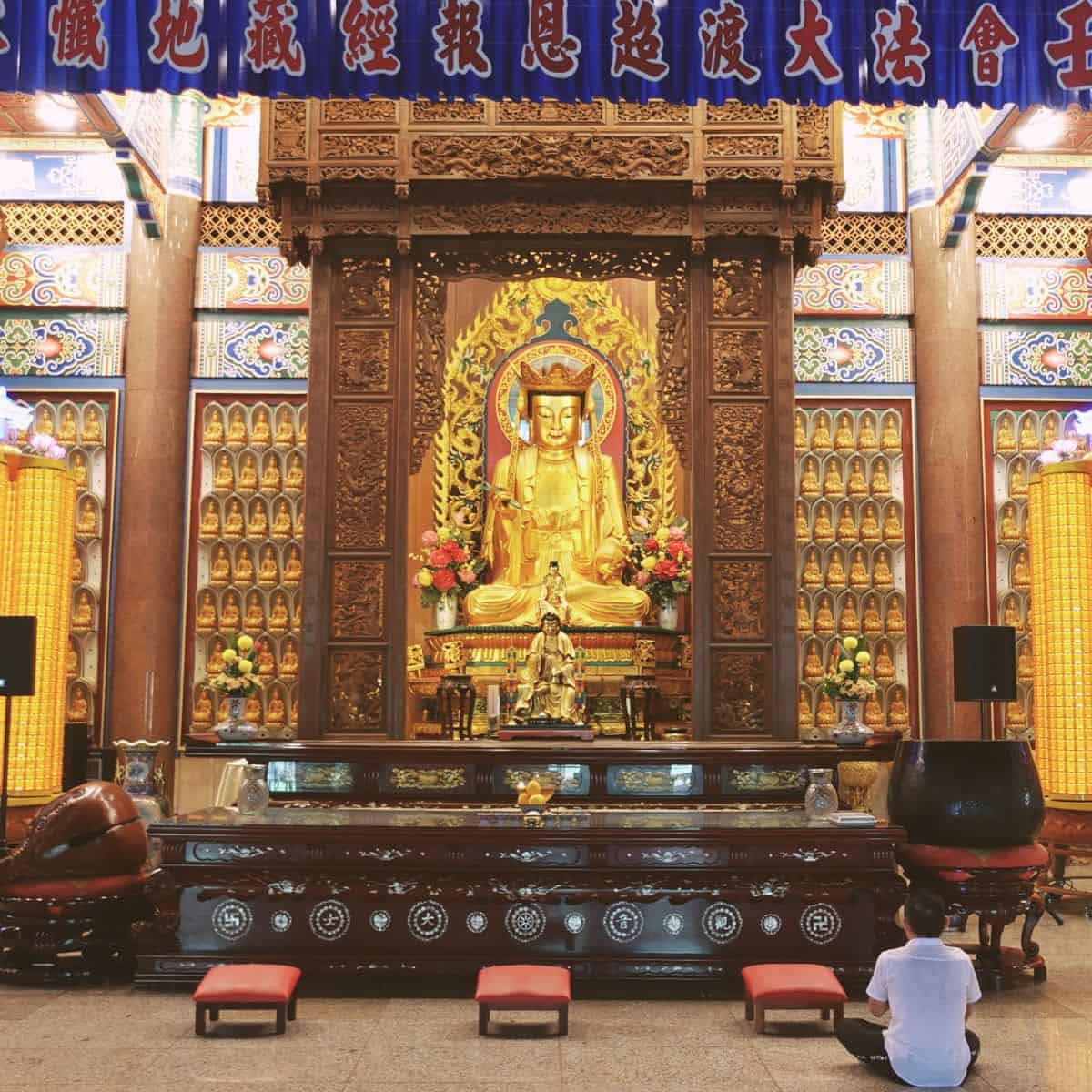 This religious site is adorned with colourful lanterns and lights during the Chinese New Year. So prepare yourself for a festive atmosphere that attracts visitors of all backgrounds.
This sacred spot is also a popular place for wedding photography. Also, don't miss the chance to taste some delicious vegetarian food in Penang at the Kek Lok Si Vegetarian Restaurant.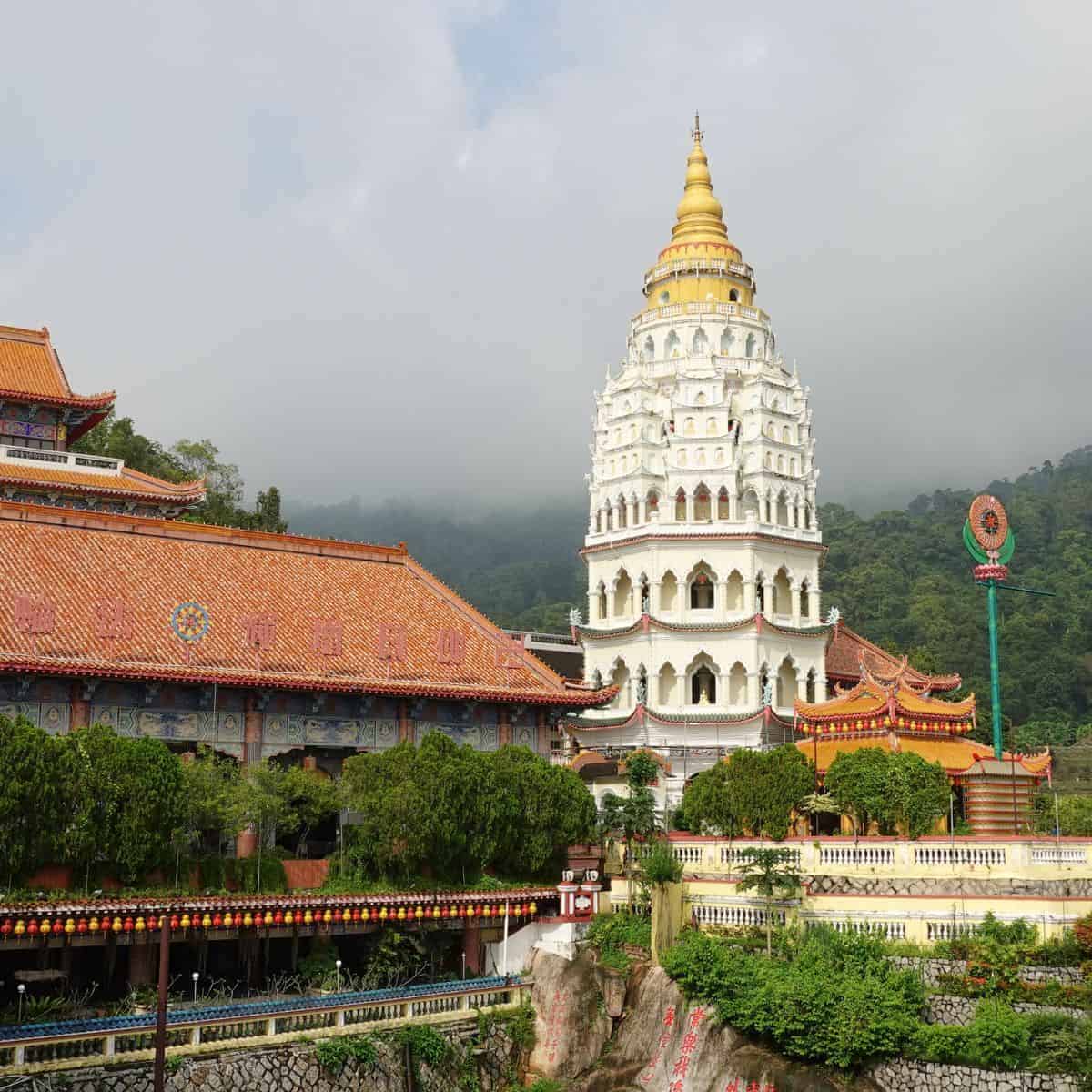 To reach this sacred place, hop on a bus or taxi from Georgetown to Air Itam, the nearest town. Finally, make sure to stop by the Air Hitam wet market to try the famous Asam Laksa. The late Anthony Bourdain even approved of it! Afterwards, we recommend heading from Kek Lok Si temple to Penang Hill, which is just minutes away by car or taxi. Penang Hill offers many fun things to do with kids in Penang. 
Kek Lok Si Temple
Jalan Balik Pulau, 11500 Air Itam, Pulau Pinang
Snake Temple in Penang 
The Temple of Azure Cloud Penang, also known as the Snake Temple or the Temple Ular Penang, is a famous temple in Penang Island with an intriguing history.
Built in 1850, this holy spot is dedicated to the deity Chor Soo Kong. People believe the deity used to be a healer and protector of the local community. Then after its construction, numerous pit vipers moved into the sacred site.
Legend has it that the snakes were attracted to the incense burned by the devotees. Therefore, the snakes have since become an integral part of the holy site's identity.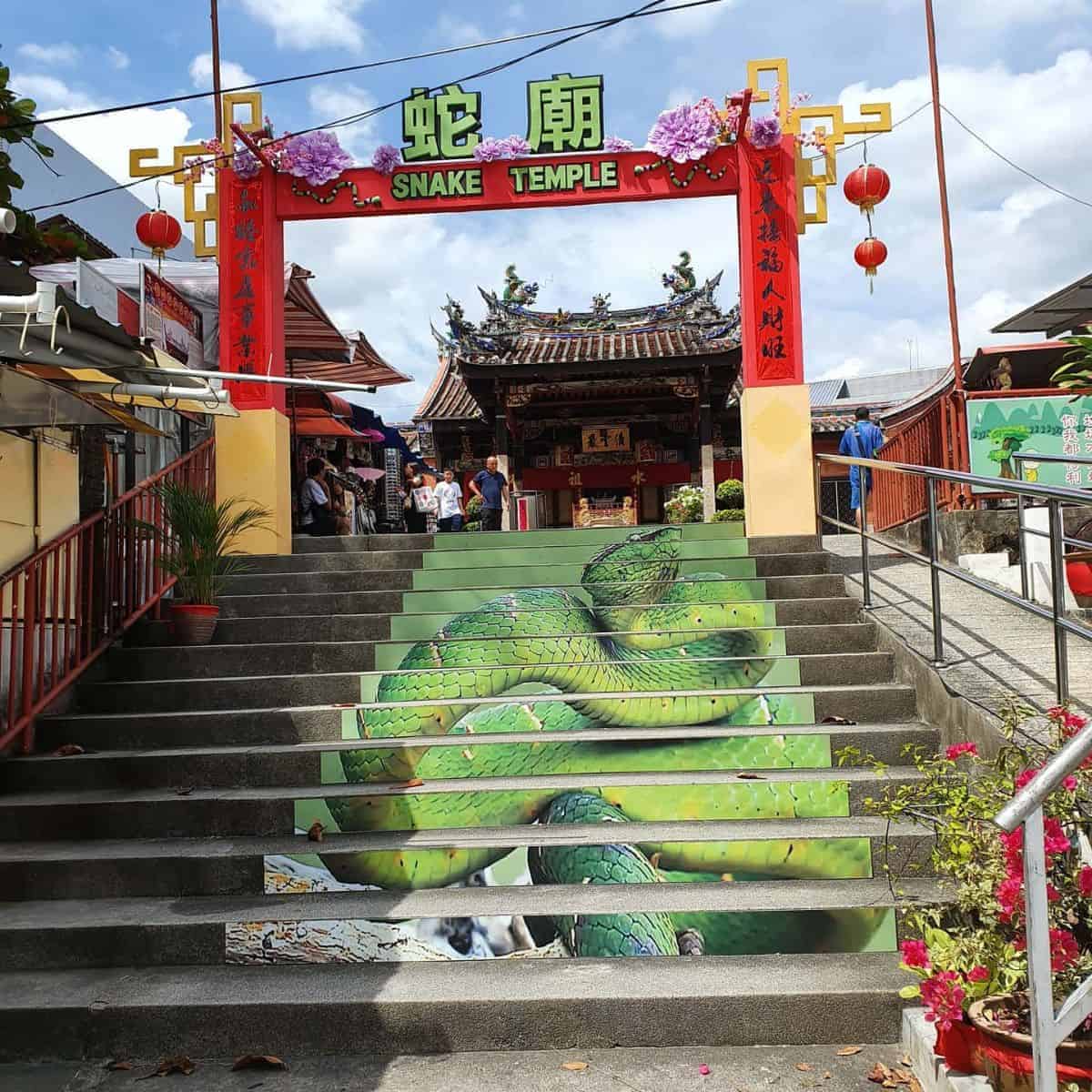 Despite their fearsome reputation, devotees revere and believe that the snakes are docile. In addition, the site has stunning architecture and intricate carvings. Furthermore, you are welcome to explore the holy ground and admire its unique features. However, we advise you to show respect and caution around the resident snakes. The religious site is open daily from 9.30 am to 5 pm. But, the best time to visit is early morning or late afternoon to avoid crowds.
Snake Temple
Jalan Sultan Azlan Shah, Bayan Lepas Industrial Park, 11900 Bayan Lepas, Pulau Pinang
Waterfall Temple in Penang
Also known as the Arulmigu Balathandayuthapani, Waterfall Temple is the largest place of worship outside India. The holy site is dedicated to Lord Murugan. So, locals refer to this spot as the Murugan temple in Penang. 
Alternatively, it is referred to as the Thanneermalai temple steps. This is because the place is famous for having 513 steps that visitors must scale to reach the main building. This is 241 more steps than the well-known Batu Caves near Kuala Lumpur.
According to a document, the shrine existed as early as 1782. Furthermore, people believe that a sadhu (holy man) chose a spot close to the waterfall for a shrine dedicated to Murugan, hence the nickname.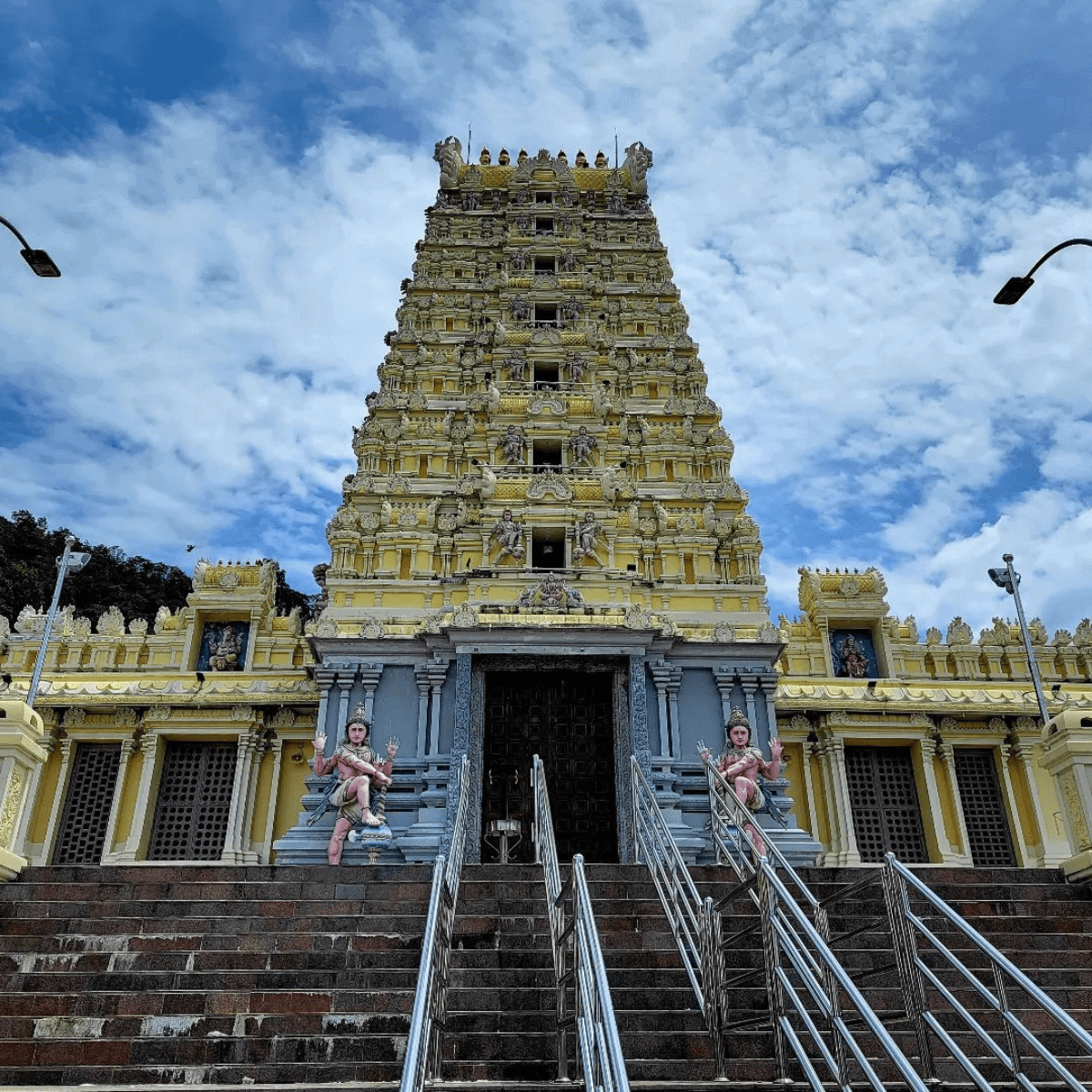 Skilled South Indian artisans crafted the pillars. Designs from the 14th to 15th centuries of the Chola and Pandya periods have inspired the Penang temple's construction. Hence, it is one of the most glorious Hindu temples in Penang. Moreover, the sacred site boasts 70,000 sq ft of grounds, a majestic 8.23m-tall statue of Lord Shiva and a seven-storey 21.6m-tall gopuram (main tower). 
In addition, the Hindu festival of Thaipusam is celebrated here. So, visitors can witness devotees carrying kavadis (burdens) up the steep steps as a form of penance. Further, you are welcome to explore the ground and take in its tranquil surroundings, which include lush greenery, stunning views, and numerous photo opportunities.
Waterfall Temple
17, Jalan Kebun Bunga, Pulau Tikus, 10350 George Town, Pulau Pinang
Wat Chayamangkalaram (Thai Buddhist Temple in Penang) 
Wat Chayamangkalaram is one of the most impressive Thai Buddhist temples in Penang, situated at Burma Road. This famous temple in Penang Island is known for its magnificent Buddha statue. The reclining statue measures an impressive 33 metres long. The figure represents Buddha's last illness and his entry into Nirvana. Therefore, the grounds are one of the holiest places on the island. So, it is definitely a serene and peaceful place to visit.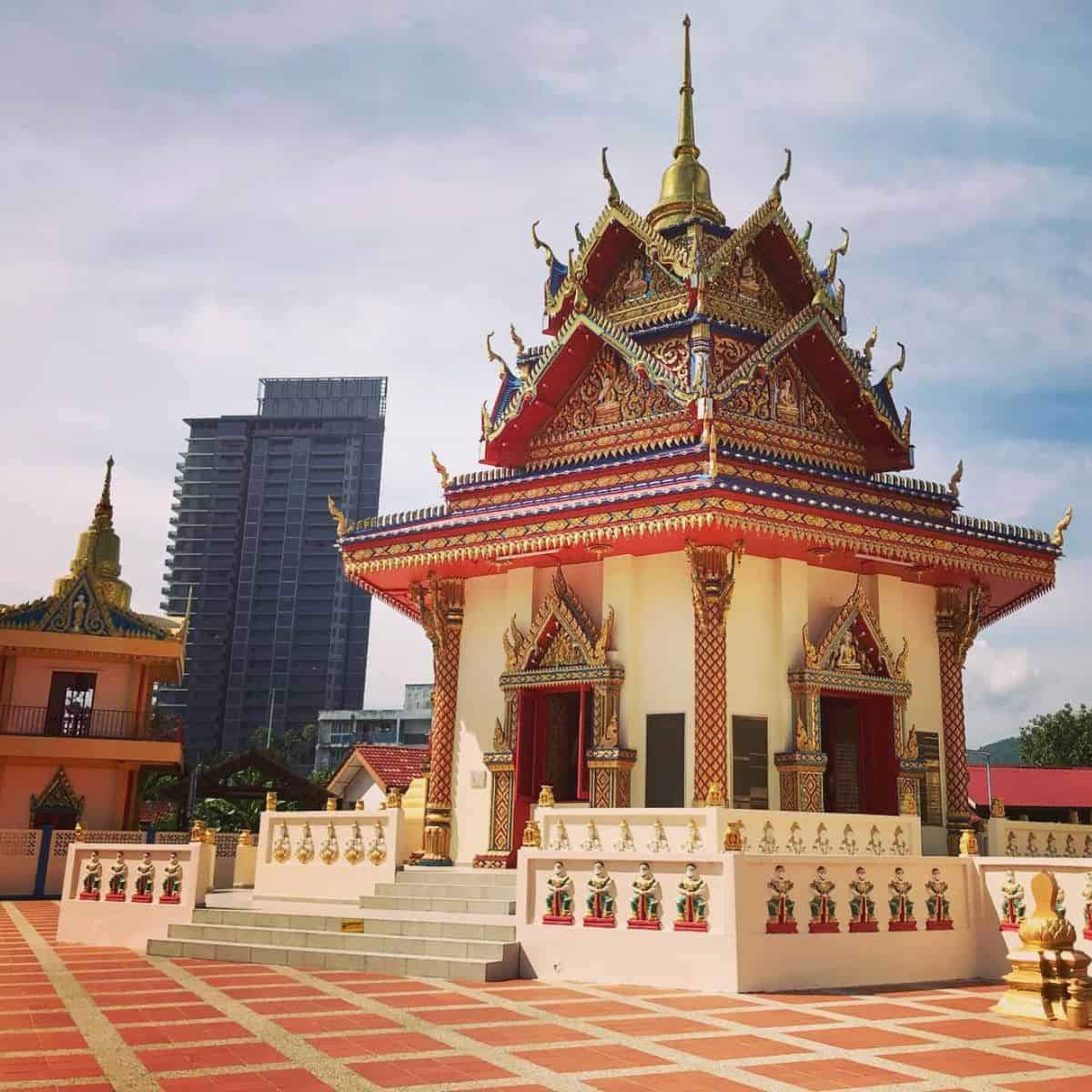 While at Wat Chayamangkalaram, you can take a leisurely stroll around the beautiful grounds, admire the intricate carvings and decorations, and enjoy the peaceful atmosphere. Don't miss the chance to snap some incredible shots of the Buddha statue as you explore the different viewpoints within the sacred area. The sacred place is open daily from 6 am to 5.30 pm and is free of charge. For a quiet and contemplative experience, it's best to visit in the early morning. 
After exploring the Wat, head down to Burma Road's hawker-style eateries to try some of the best street food in Penang. With a vast array of delicious local delicacies, it's the perfect way to end your visit to the Wat. You will then experience the island's vibrant and diverse culinary scene! 
Wat Chayamangkalaram
17, Lorong Burma, Pulau Tikus, 10350 George Town, Pulau Pinang
Wadda Gurdwara (Sikh Temple in Penang) 
Wadda Gurdwara is one of the oldest Sikh temples in Penang, with a rich history and iconic architecture. Originally named Diamond Jubilee Sikh Temple to celebrate Queen Victoria's Diamond Jubilee, it became an important religious and cultural hub for the local Sikh community. Therefore, devotees regularly come together to pray and engage in community service.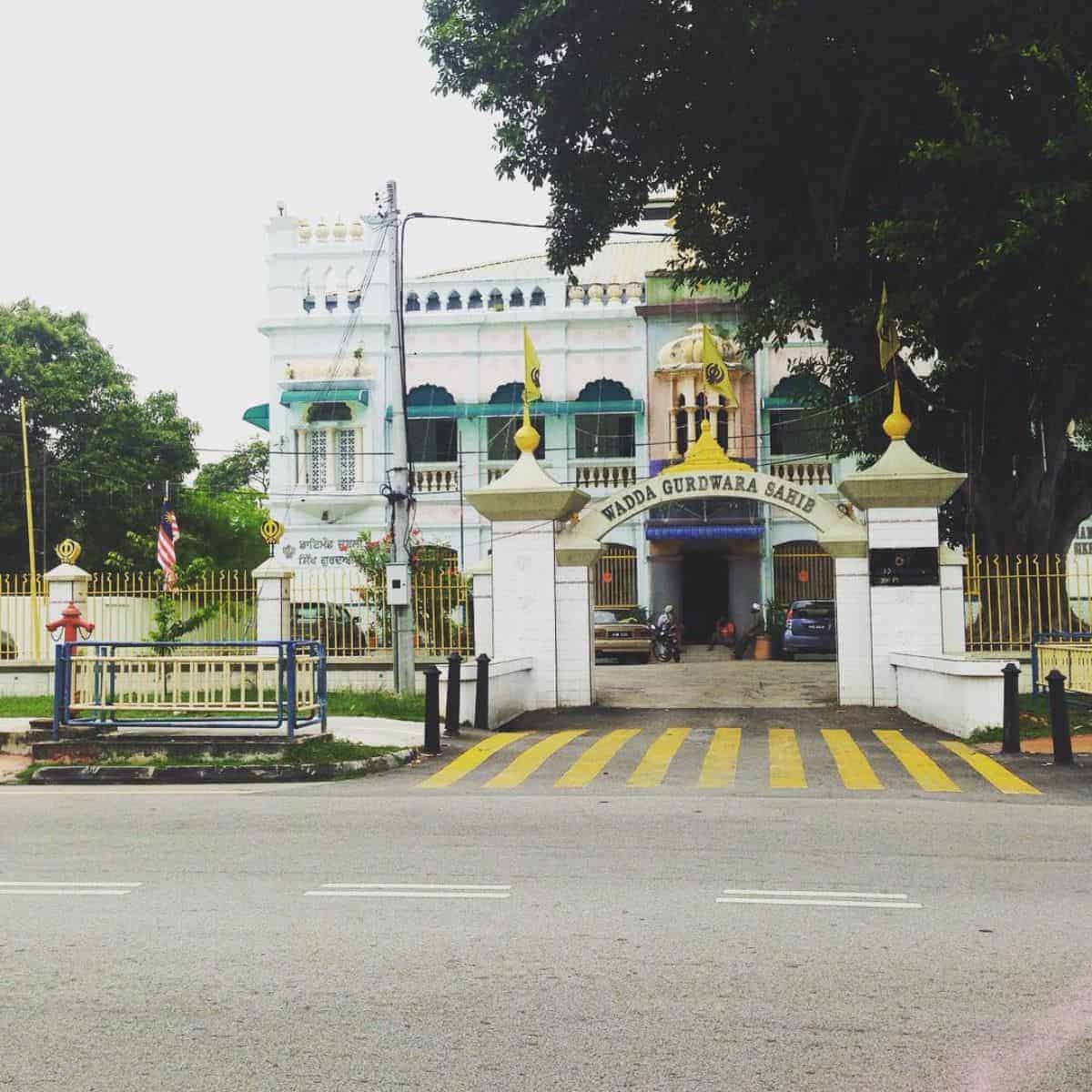 This magnificent Gurdwara is located at Jalan Gurdwara. It boasts an exquisite Moorish and modern architectural design. In addition, a specific must-see spot in the holy site is the Darbar Sahib (prayer hall). Here you can also witness the captivating sight of devotees offering prayers. 
You are welcome to visit the Gurdwara daily from 6 am to 7 pm and experience the Sikh culture. This includes the mesmerising recitation of the hymns (kirtan) and the delicious vegetarian meal (langar) the community serves. Alternatively, to explore other Sikh temples in Penang, check out the Gurdwara Sahib or Gurdwara Nanak Shah.
Wadda Gurdwara
87, Jalan Gurdwara, George Town, 10000 George Town, Pulau Pinang
Facebook
Leong San Tong Khoo Kongsi
Leong San Tong Khoo Kongsi stands out as one of the most extravagant temples in Georgetown, Penang. Located at Cannon Square, the stunning Khoo Kongsi is steeped in rich history and also cultural significance.
The famous Khoo clan founded this holy site in 1835. The clan was one of the island's most prominent Chinese clans. They took care of their clansmen's general welfare in the Nanyang region. The Khoo Kongsi, together with Cheah, Yeoh, Lim, and Tan Kongsi, were known as the Five Big Clans (Goh Tai Seh).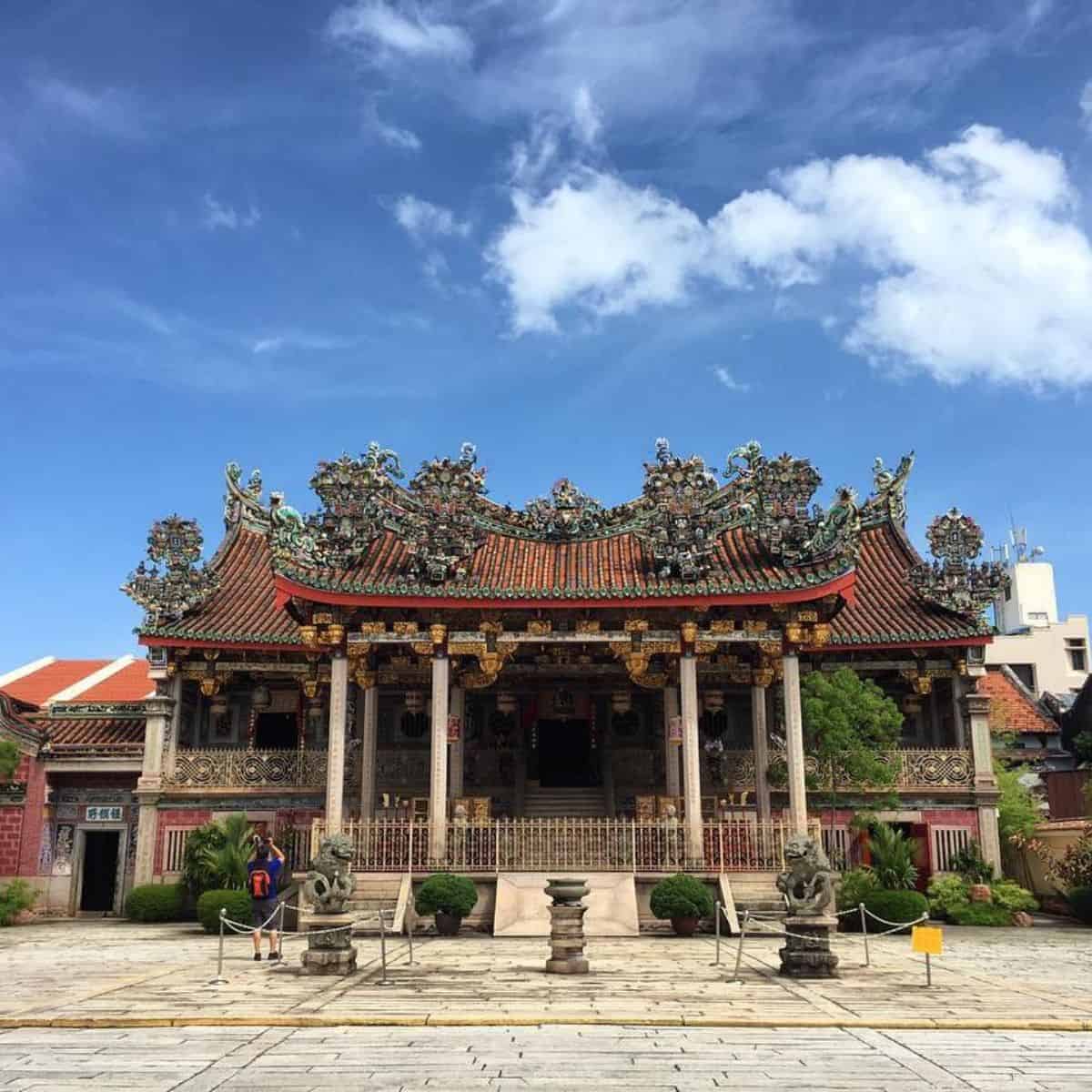 These five clans formed the backbone of the Hokkien community in early Penang. The clan's name, Leong San Tong, refers to Dragon Mountain Hall. The Khoos used to have their system for government, education, financial, welfare, and social organisations. So, with the help of master craftsmen from southern Fujian, the clan built a new clan house. 
Unfortunately, the sacred building was allegedly burned down by a lightning strike. Furthermore, according to Chinese myth, the gods didn't like the building's resemblance to the emperor's palace. However, the magnificent building was reconstructed from 1902-1906. Then, after damage from Japanese bombs during World War II - it was restored in 1958.
Ultimately, among the many temples to visit in Penang, this is the one you can't afford to miss. Despite the place's generally fascinating history, its ancestral hall is a specific must-see. It features the Khoo clan's genealogy and artefacts. The place of worship charges a minimal entrance fee and is open from 9 am to 5 pm. So, to avoid crowds, it's best to visit early in the morning.
Leong San Tong Khoo Kongsi
18, Cannon Square, George Town, 10450 George Town, Pulau Pinang
Dhammikarama (Burmese Temple in Penang) 
Dhammikarama stands out among the many Buddhist temples in Penang as the oldest and the sole Burmese temple in Penang. Founded by the Burmese population in 1803, it has evolved to include imagery inspired by various Buddhist countries. 
As you approach the holy site, you will see a pair of majestic white stone elephants guarding the entrance, reminding us of the sacredness of the place. Upon entering, you will see vibrant murals, stunning statues, and also tranquil landscaped gardens.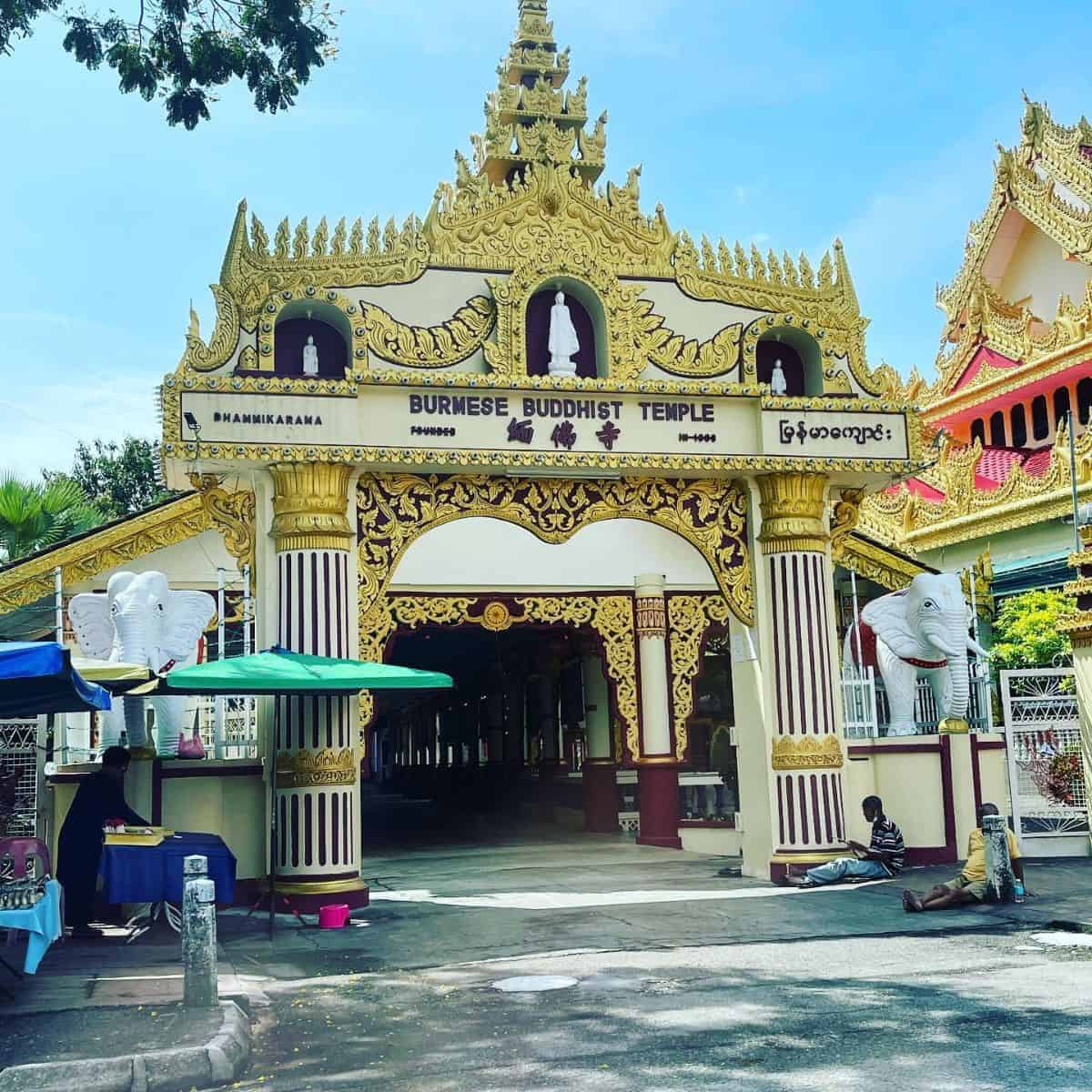 Furthermore, there is a spectacular golden statue of Buddha inside the main shrine hall. You will see the Buddha statue holding out its palm in a gesture of peace. Also, there are two fierce chinthes (temple lions) guarding this hall.
In addition, don't miss the Arahant Upugatta Shrine. It is believed to possess the power to overcome life's obstacles and exorcise all evil. Here you will find offerings of fruit, flowers, and aromatic incense. 
You may be expected to queue for a few minutes to enter the main prayer hall during peak tourist season. Dhammikarama is open daily from 9 am to 2 pm and has free admission. 
Dhammikarama
24, Jalan Burma, Pulau Tikus, 10250 George Town, Pulau Pinang
Kuan Yin Temple (Goddess of Mercy)
Located on Jalan Masjid Kapitan Keling, this spiritual place, also known as the Temple of the Goddess of Mercy, is a must-visit. It will transport you to another world. This holy site was built in 1728 by early Chinese settlers. It serves as a tribute to the guardian goddess of seafarers, Mazu.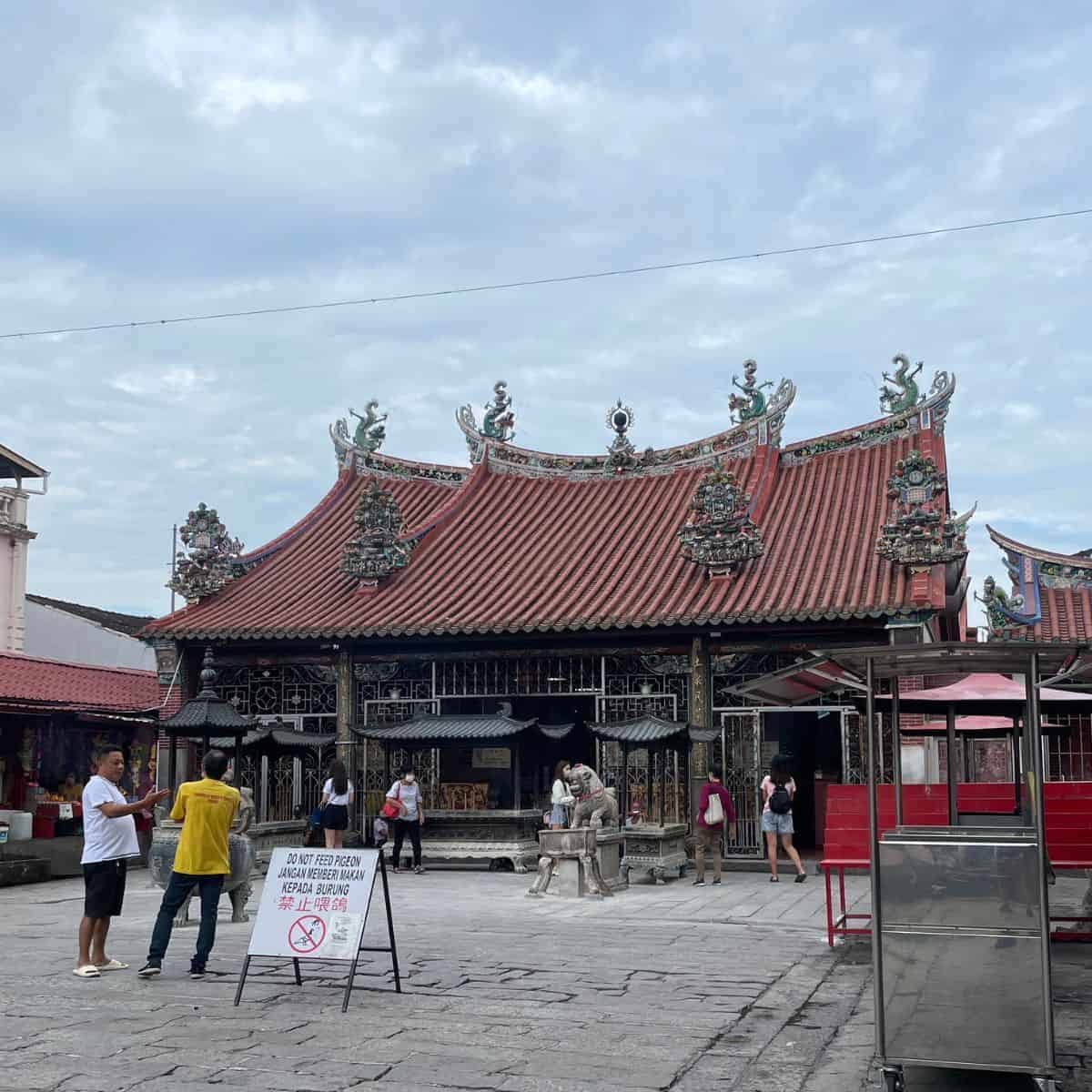 The building boasts traditional Chinese architecture that features stunning dragon carvings on the stone pillars, lofty ceilings, and striking roof ridges. Although records show that Guan Yin had become the main deity by 1824, it remains a sacred site where locals seek solace and plead for any divine intervention.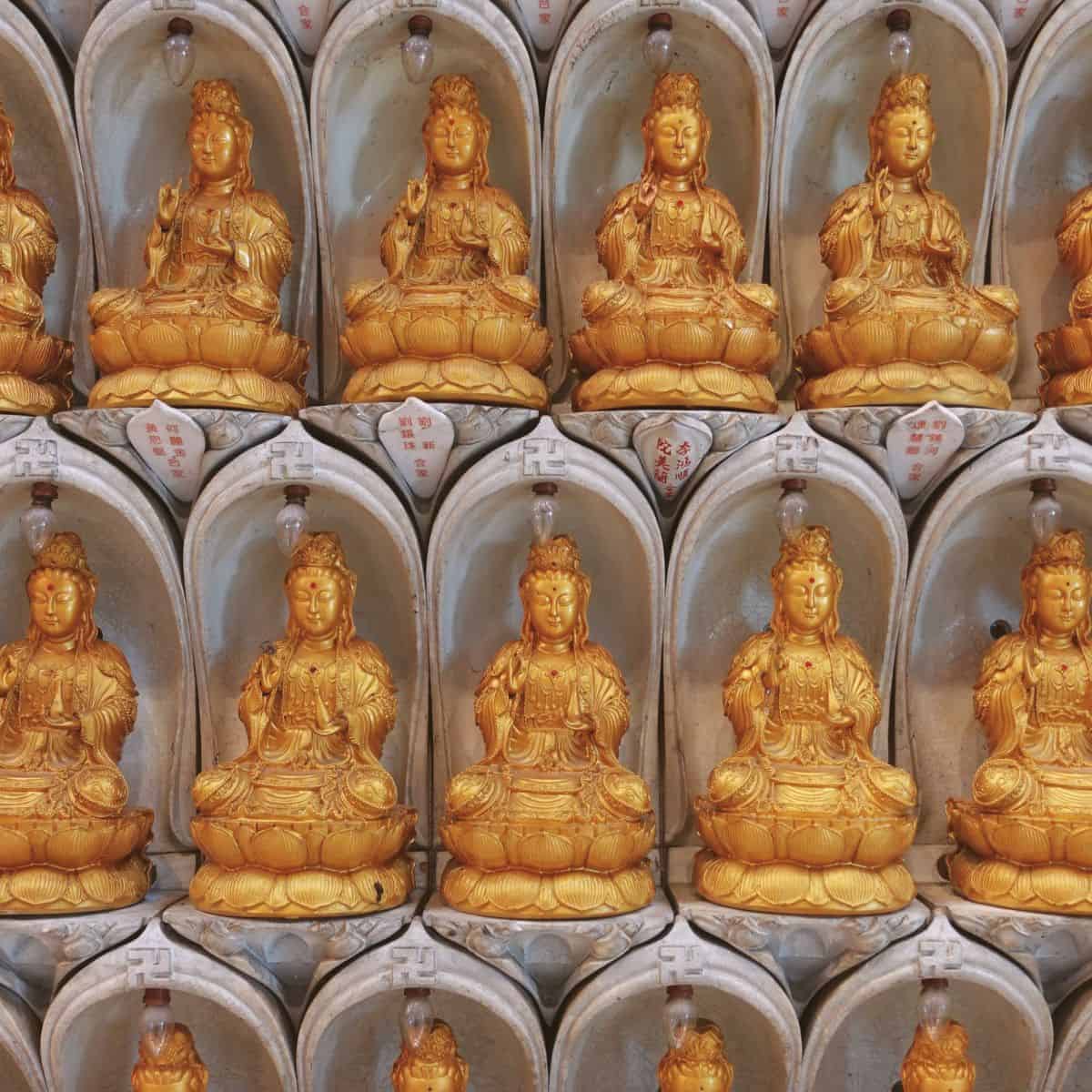 You can offer your prayers and light incense sticks before exploring the site's intricacies, including the many spots for taking stunning photos. Moreover, the prayer chamber houses a breathtaking 18-arm Kuan Yin statue. This statue is one of the temple's main highlights. The site is open daily from 8 am to 6 pm. 
Kuan Yin Temple (Goddess of Mercy)
30, Jln Masjid Kapitan Keling, George Town, 10200 George Town, Pulau Pinang
Sri Muniswarar Temple
Sri Muniswarar, located in mainland Perai is the most famous Hindu temple in Penang. It is unique because their priests regularly bless newly purchased cars. Car owners, both Hindus and non-Hindus, visit this holy spot to have their vehicles blessed by the priest. 
Furthermore, legend has it that this blessing brings good luck and wards off evil spirits.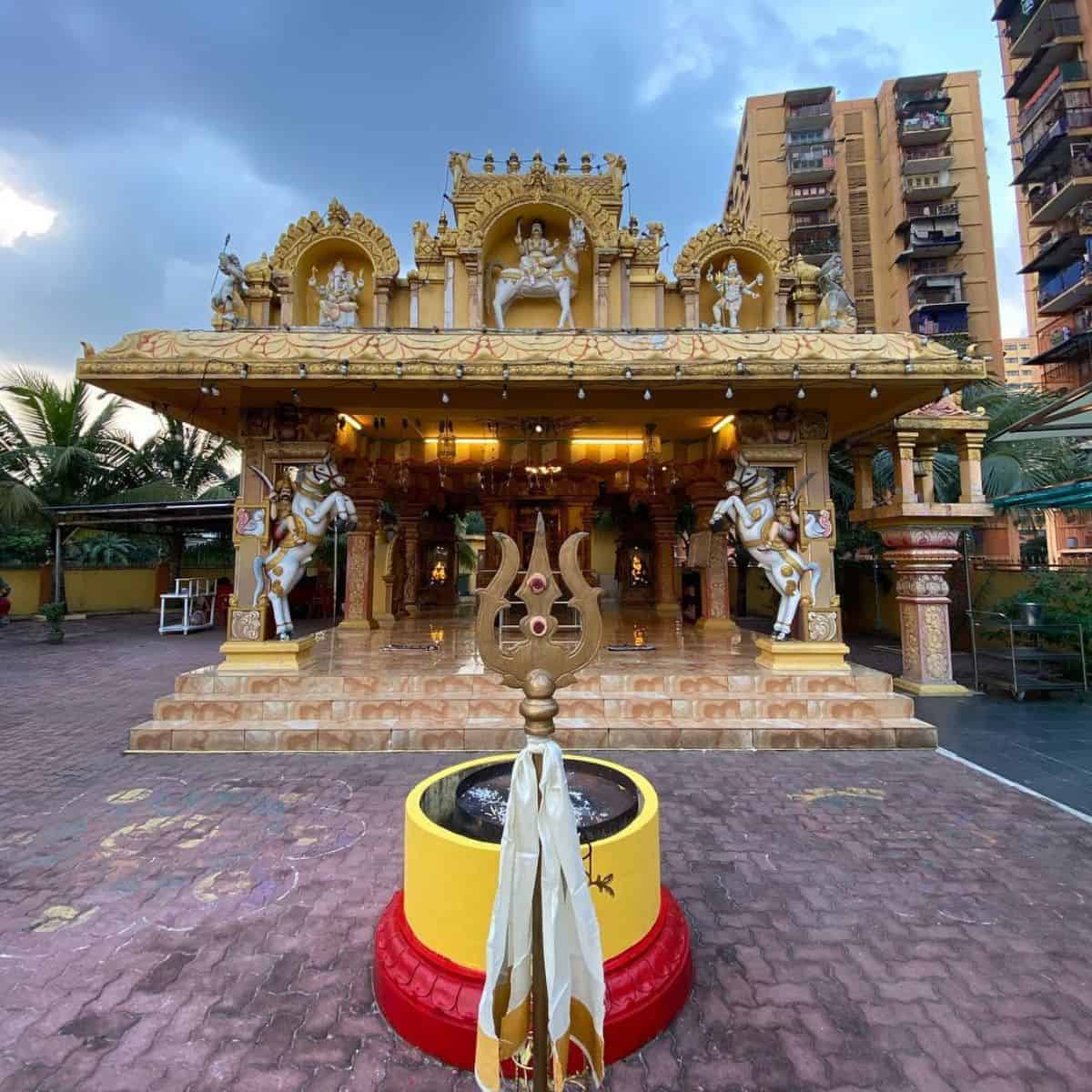 This sacred spot is dedicated to Lord Muniswaran, the guardian deity of South Indian villages. Sri Muniswarar is a feast for the eyes with its vibrant colours and intricate carvings. Additionally, the towering statue of Lord Shiva is one of the most popular spots to visit in this area. It is located majestically in the central shrine.
We recommend that you plan your visit on weekdays to avoid crowds. In addition, expect a queue of around 15 minutes to enter the holy site. Sri Muniswarar is open daily from 7 am to 2 pm and 4 pm to 9 pm.
Sri Muniswarar Temple
3114, Jalan Baru, Taman Supreme, 13700 Perai, Pulau Pinang
Facebook
Tua Pek Kong Temple
Tua Pek Kong is a Taoist place of worship that dates back to the 18th century. It is among the most revered temples in Georgetown, Penang. Locals have dedicated the ornate holy building to the God of Prosperity. You will see its likeness to Catholic parish churches. 
Legend has it that Tua Pek Kong protects both life and death. Hence, many shrines honouring him are in Chinese settlements and cemeteries.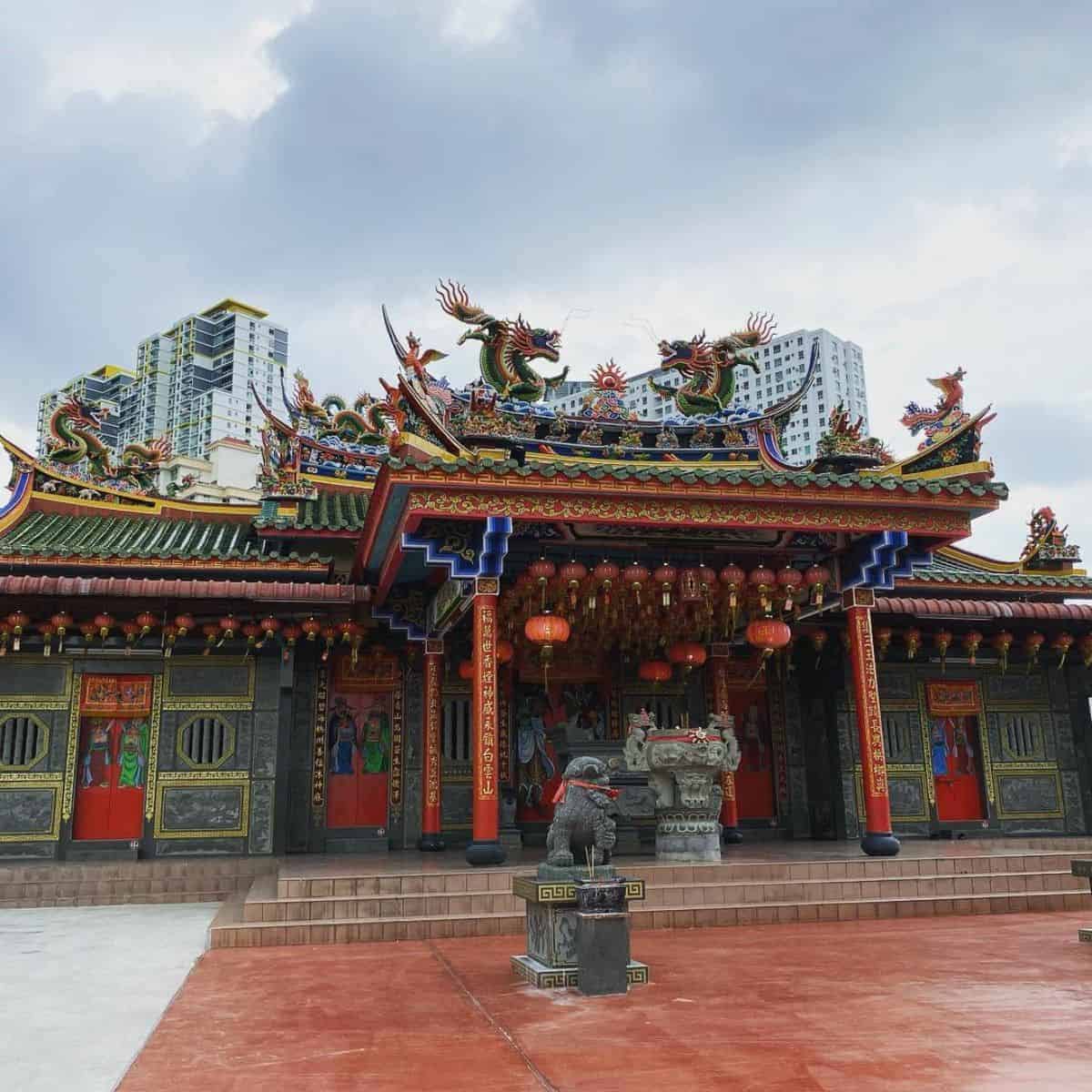 The holy site is open daily from 8.00 am to 4.30 pm, except on Sundays. Therefore, it's advisable to visit the spot early in the morning before exploring the various UNESCO heritage sites in the surrounding area.
Tua Pek Kong Temple
34, Lebuh King, George Town, 10200 George Town, Pulau Pinang
Google Maps
Hindu Temple Penang Hill (Heritage)
Also known as Sri Aruloli Thirumurugan, this is a historic Hindu temple on Penang Hill. Indian sepoys and sedan chair carriers established it in the 1800s. It serves as a small shrine to the deity Murugan.
It has since grown into one of the most prominent Hindu temples in Penang, featuring four principal parts of Dravidian-style Hindu grounds of worship. These include the vimana, which is the shrine with a tower, a mandapa or porch, gopurams or gate towers, and chawadis or pillar halls.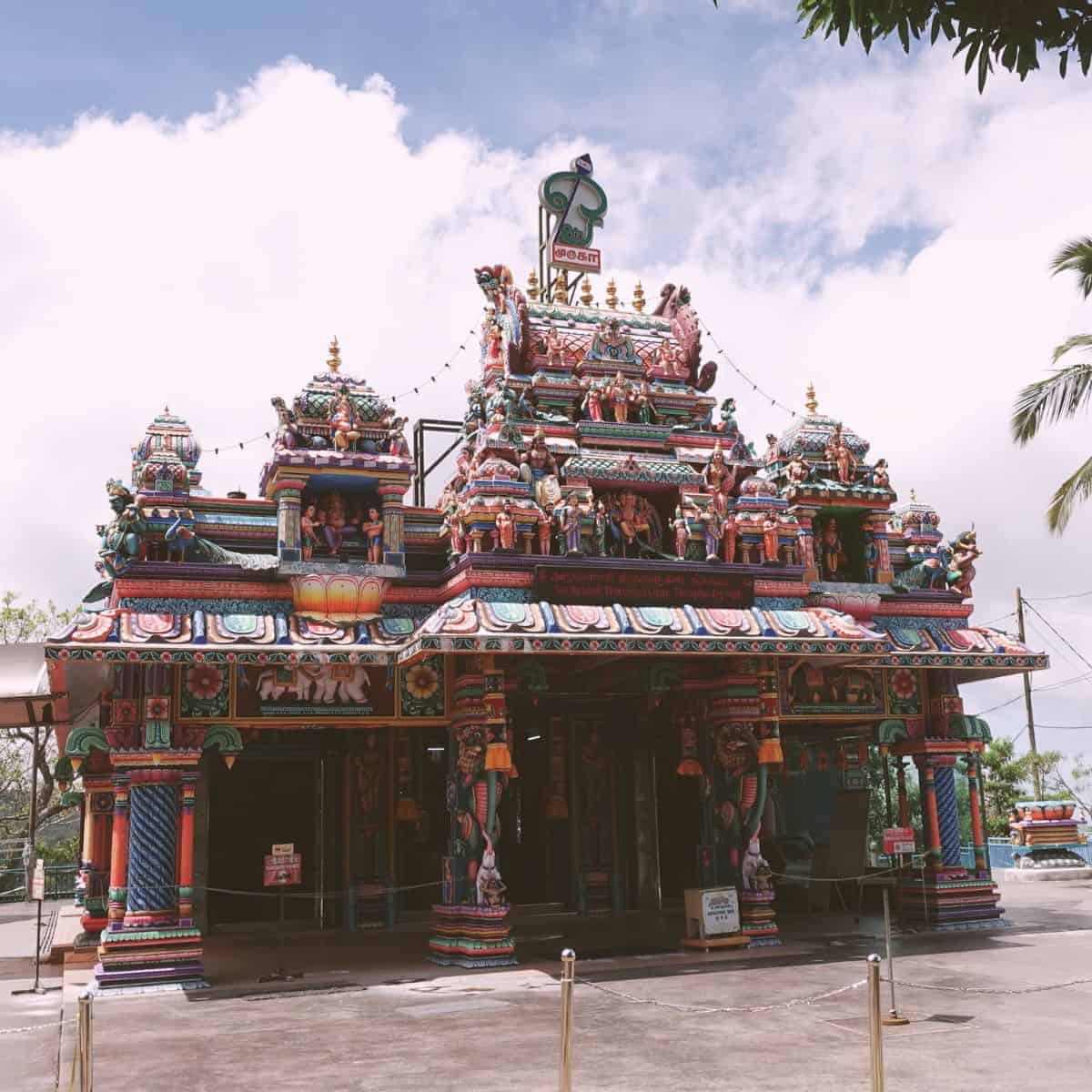 The place of worship also features a water tank used for sacred rituals and cleansing by devotees. Please keep in mind that the water tank is not meant for public use or consumption. Visitors to Penang Hill can reach the holy site via a funicular ride or by hiking up.
The spiritual spot opens daily from 8.30 am to 7.30 pm, but it is best to visit early to avoid crowds. After visiting Sri Aruloli Thirumurugan, there are plenty of other activities to do in the area, including exploring the Penang Hill Forest Reserve and visiting the Heritage Trail.  
Sri Aruloli Thirumurugan 
Jalan Ceri, Taman Bukit Bendera, 11500 Air Itam, Pulau Pinang
Monkey God Temple
Located on Chew Jetty, this religious site has a fascinating history spanning over 60 years. This sacred site is devoted to Sun Wu Kong, the legendary Monkey King. He is most famous for his role in the Ming dynasty classic "Journey to the West". There is much evidence of monkey deity worship in Fujian province in China. Many of the island's Chinese community immigrated from Fujian. Therefore, this suggests that there are possible earlier influences at play.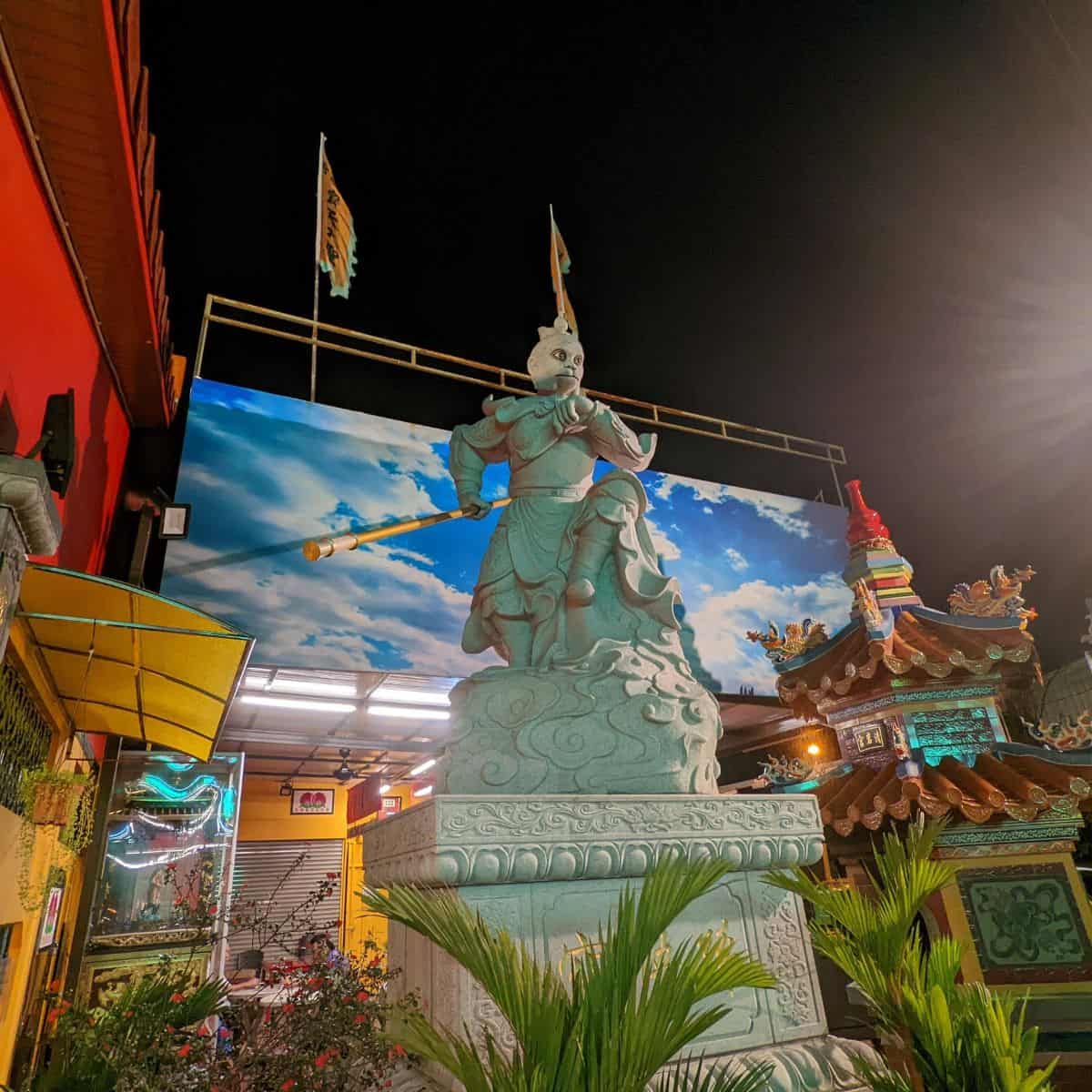 As one of the most eccentric and famous temples in Penang, it allows everyone to explore the various shrines and pay respects to Sun Wu Kong. Additionally, it's best to visit during the week to avoid crowds. After visiting this spot, you can enjoy the colourful street art in the surrounding area.
Monkey God Temple
Pengkalan Weld, George Town, 10300 George Town, Pulau Pinang
Google Maps
Hean Boo Thean Kuan Yin Temple
This Taoist haven is an iconic place of worship. The magnificent temple in Georgetown, Penang, is dedicated to the Goddess of Mercy. Commonly called the 'floating temple', this structure stands above the waters at Weld Quay. Originally built on stilts in 1972, the site was reinforced and extended in 2012 to withstand the tides.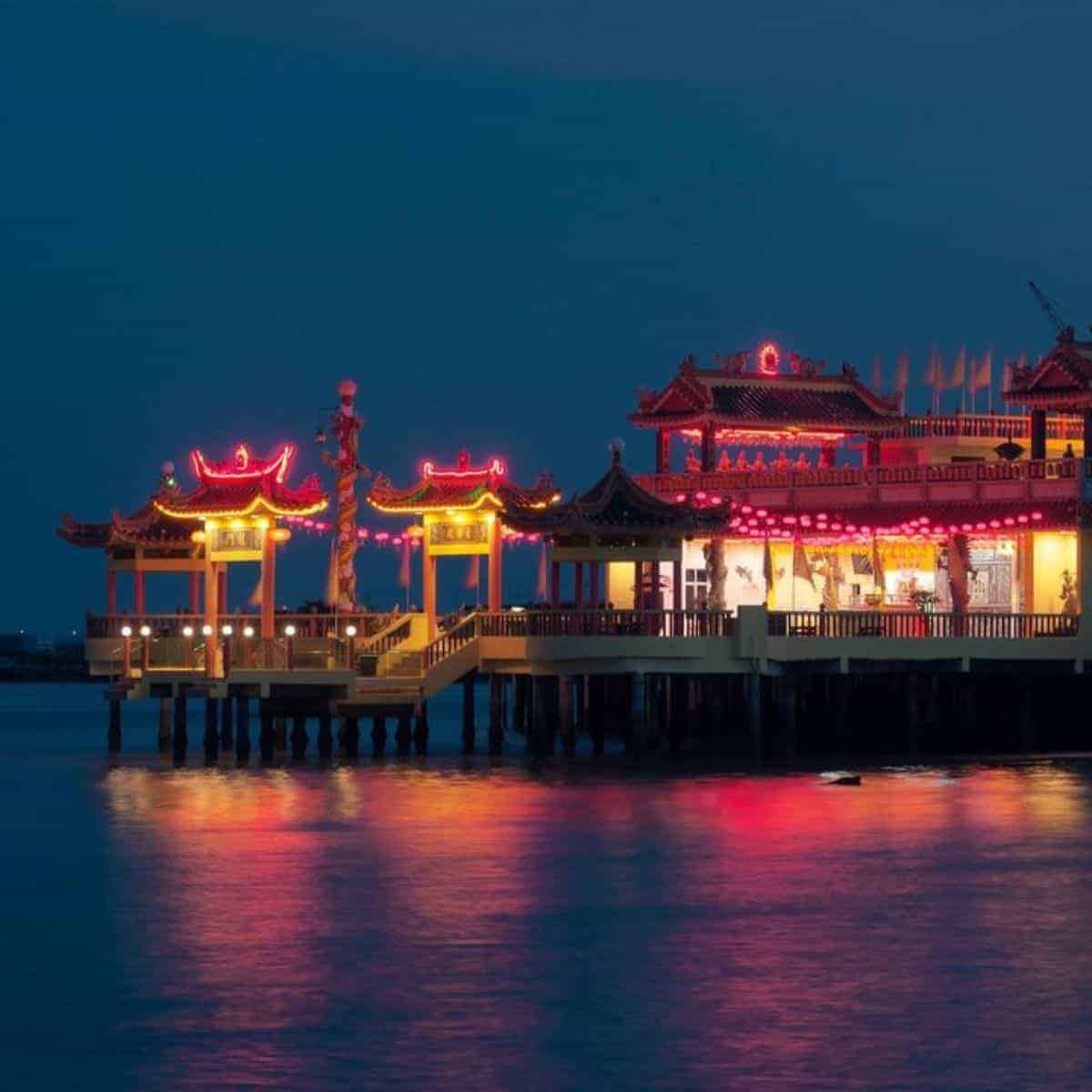 You can marvel at the architecture's intricate and ornate designs, which beautifully blend traditional Chinese and modern styles. Furthermore, the illuminated lanterns and LED lights highlight its beauty at night. The site's floating aspect adds to its charm, giving you a taste of the enchanting vibes of Shanghai. 
Hean Boo Thean opens daily from 9 am to 6 pm. However, we recommend visiting in the late afternoon to witness the lit-up sacred site. In addition, you can also stay in the area to explore Penang at night and enjoy the surrounding attractions.
Hean Boo Thean Kuan Yin Temple
No. A Reclamation Area, 52, Pengkalan Weld, Georgetown, 10300 George Town
Must Visit Temples in Penang
Kek Lok Si and Wadda Gurdwara are our favourites among the many stunning temples to visit in Penang. They each have a unique history and architectural beauty.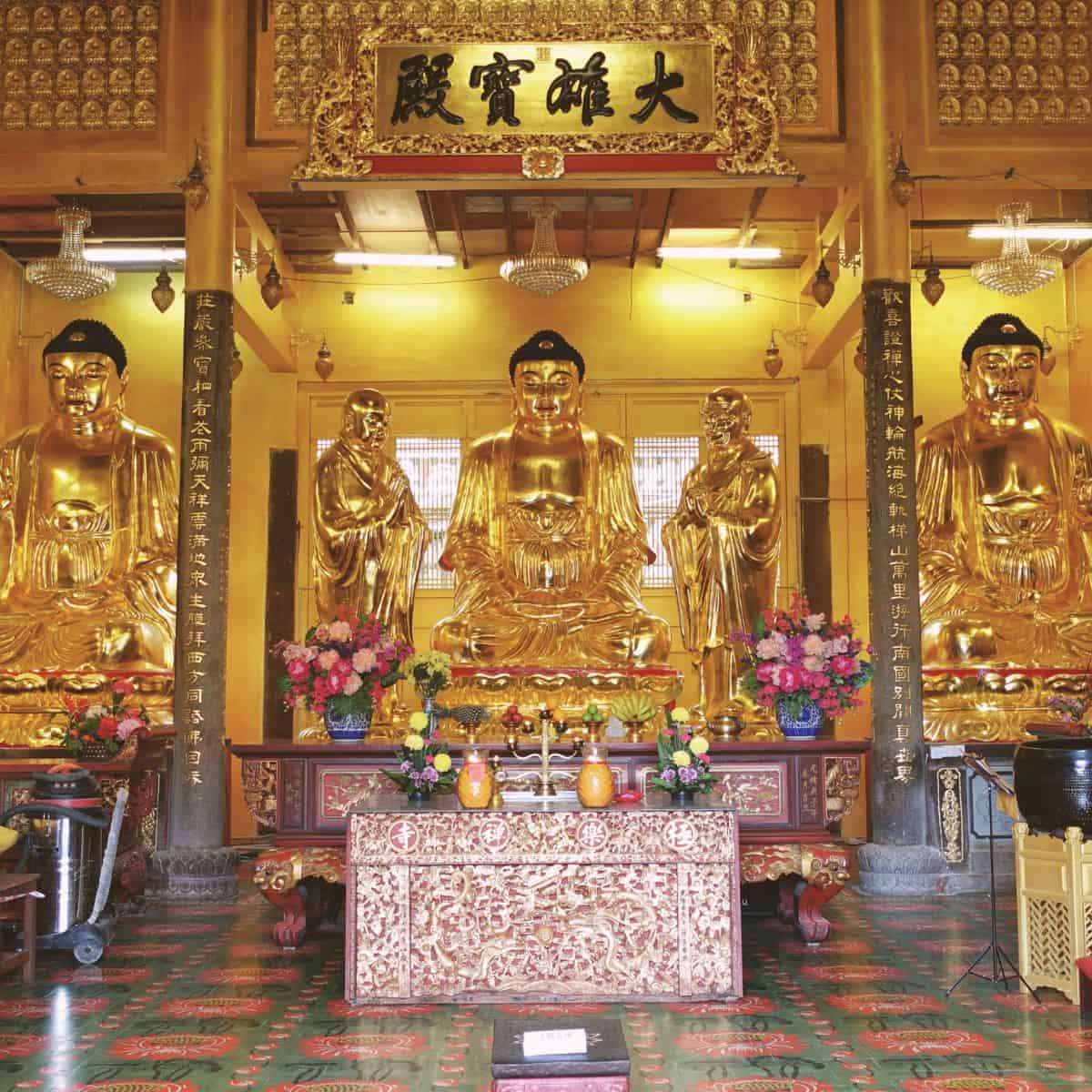 Kek Lok Si is a must-visit due to its architectural grandeur and panoramic views of the island. It is an especially beautiful sight during Lunar New Year when the whole area is lit up with lanterns in the evenings.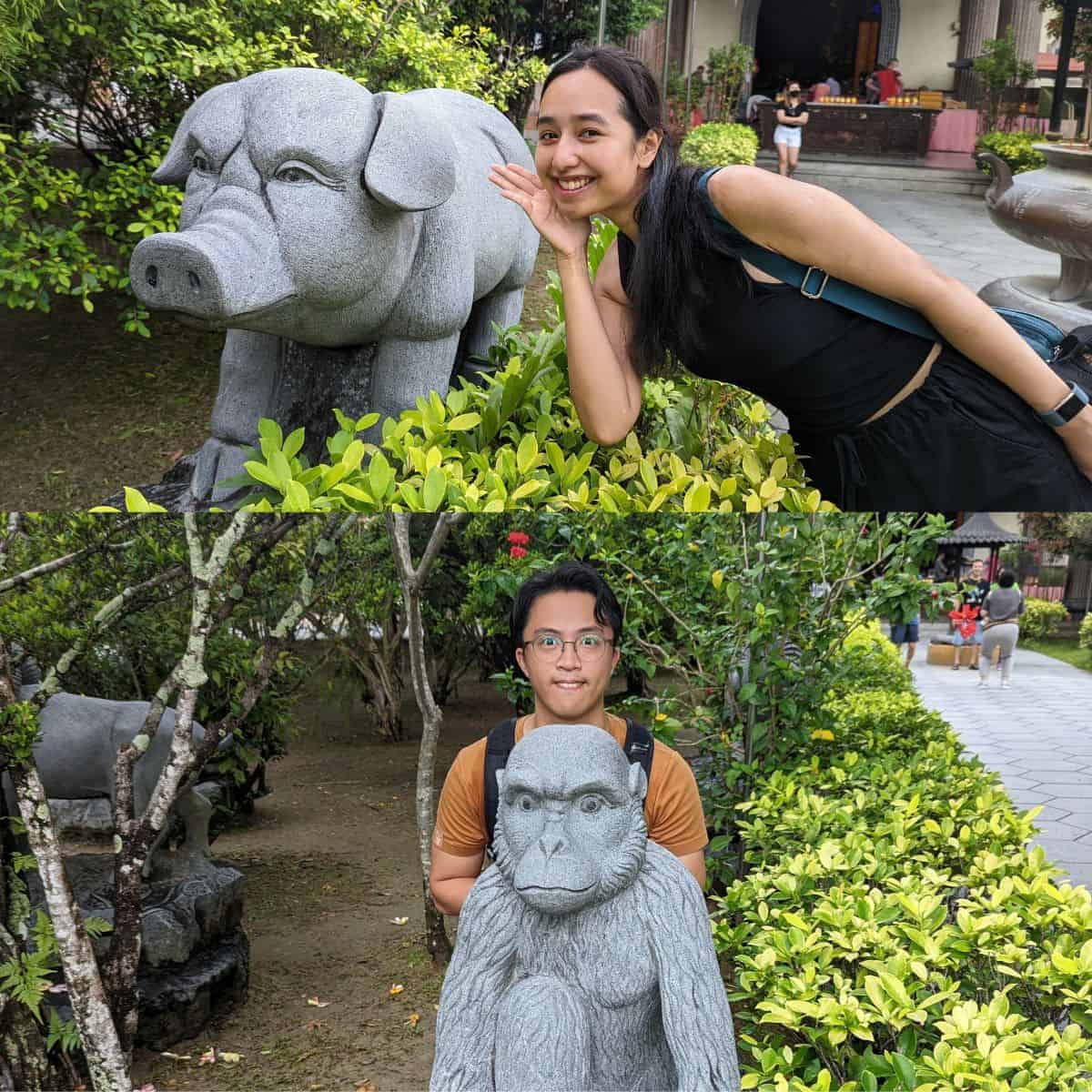 Meanwhile, Wadda Gurdwara provides a serene and spiritual experience. Additionally, we had the pleasure of participating in the communal meal (langar), which brings together visitors of different backgrounds and beliefs. The langar truly embodies the Sikh values of service, equality, and community.
Penang Chinese Temple list
Penang Hindu Temple list
Other Temples
Take a Penang Temple Tour 
If you're short on time, we suggest taking a relatively cheap, private Penang tour instead of going solo. This way, you can save time and make the most of your visit to the religious sites. Plus, a knowledgeable guide can provide valuable insights into the history and significance of each location, giving you a better understanding of what you're seeing.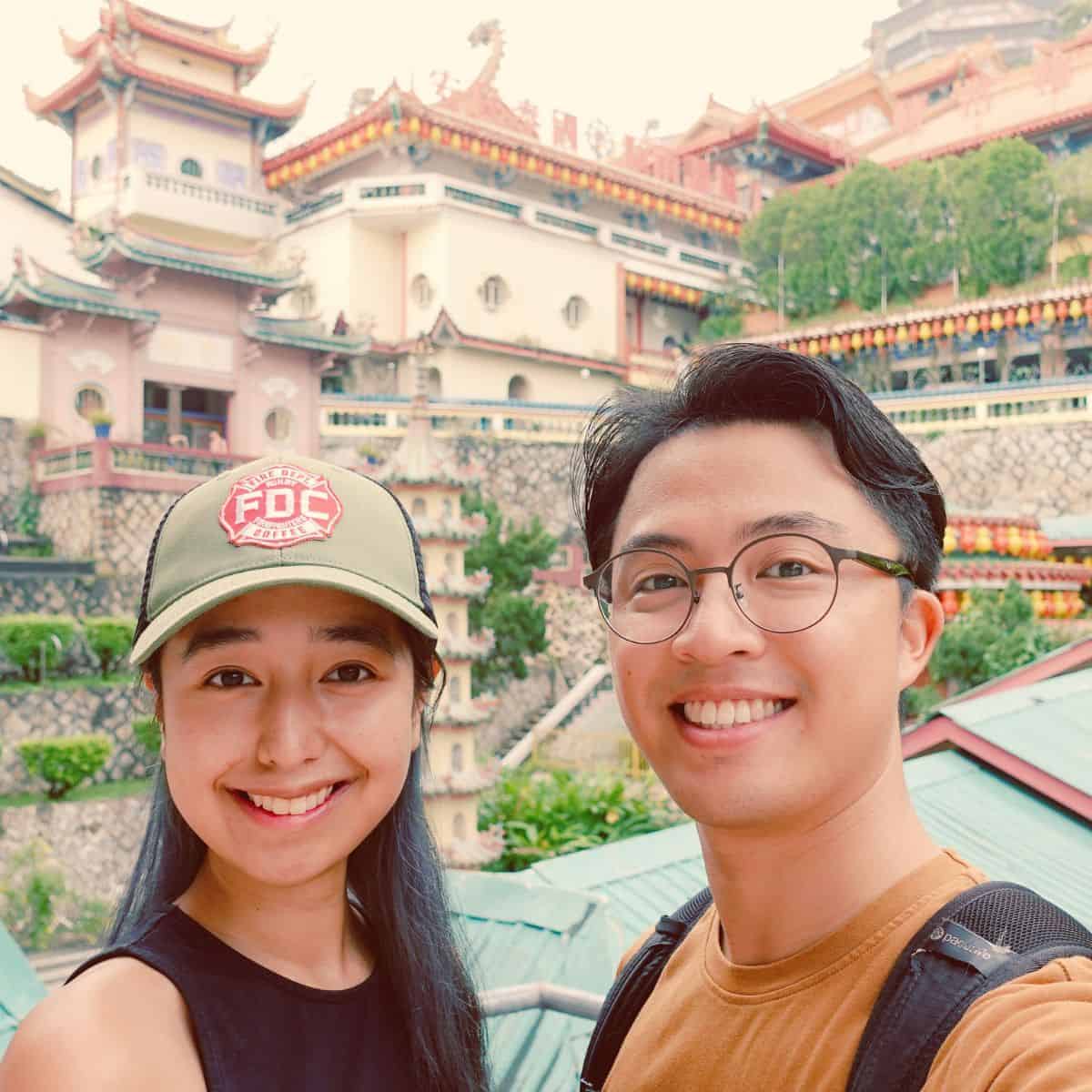 Finally, the tour may offer insider tips and recommendations for other nearby attractions, including the best beaches in Penang to visit - making your island time more enjoyable. 
Follow us on Instagram @tabitogether for more travel recommendations and tips!