Roti bakar is a local favourite and a must-eat for travellers. This breakfast dish, which translates to grilled bread, is white bread grilled over charcoal, traditionally served with butter and soft-boiled eggs.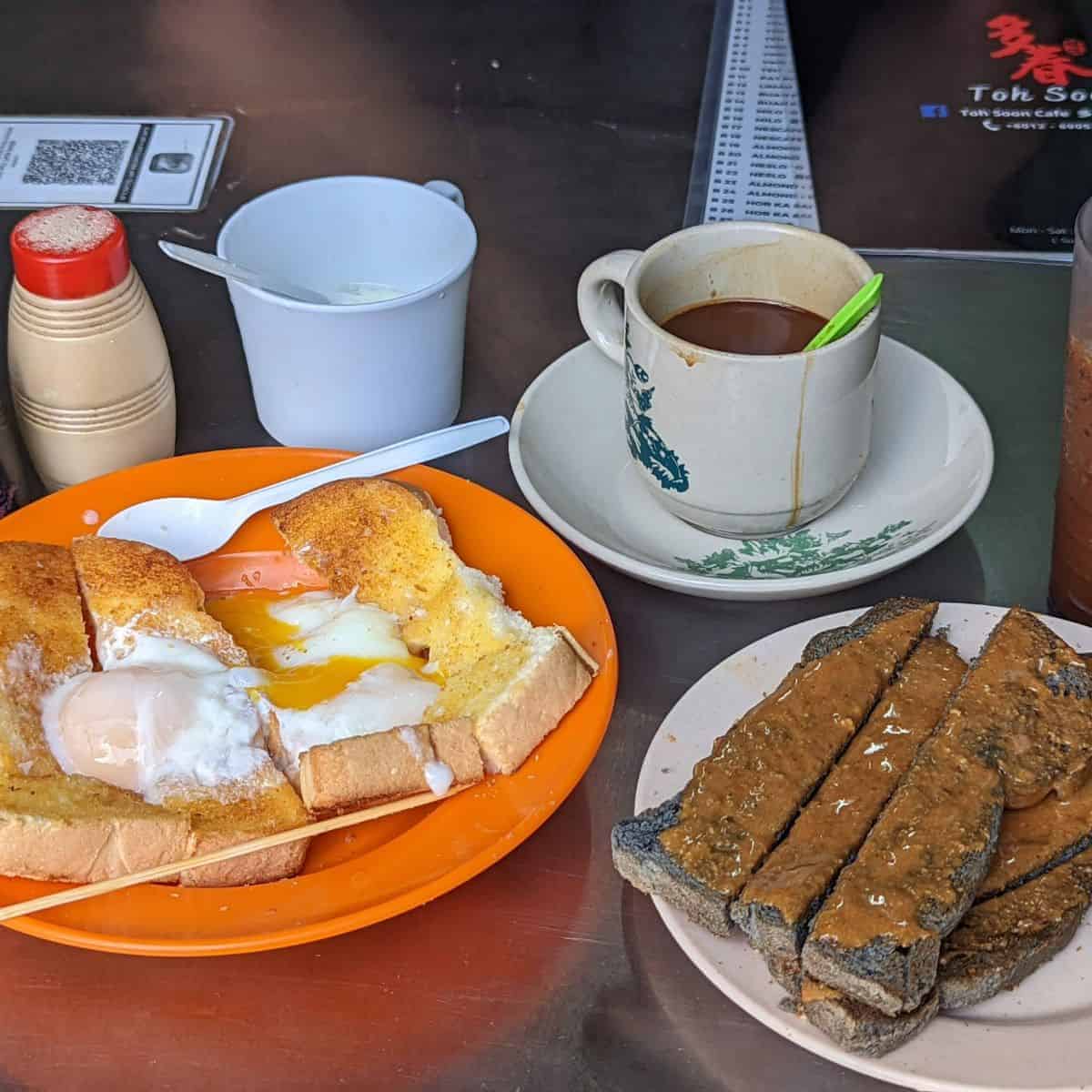 You'll find that many establishments still use the traditional method of grilling bread over charcoal, which gives the toast an extra depth of flavour. It also creates a crunchier exterior while retaining a soft and fluffy interior. This is arguably why Penang has some of the best roti bakar in Malaysia.
We've also heard from our Malaysian friends from Penang that it was their childhood breakfast dish when they were growing up on the island. This dish transports them back to their 6-year-old selves eating this in a bustling kopitiam with vendors shouting their orders in the background.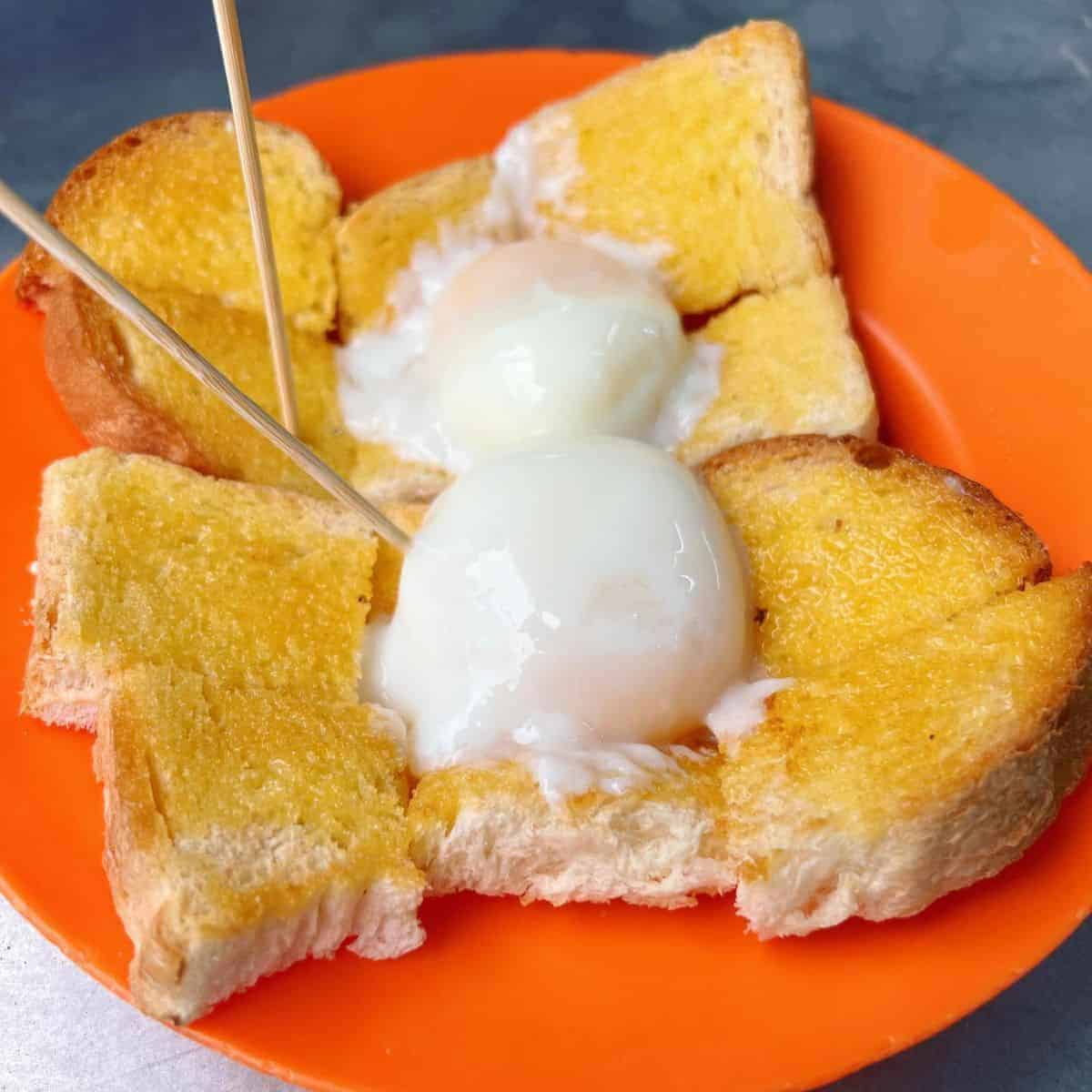 When trying some of the best roti bakar in Penang, you'll realise that the eggs are sometimes served on the bread or separately. How you enjoy grilled bread with eggs is like whether you should drench your fries in ketchup or keep it on the side for dipping.
And so, to each their own. We tried it both ways and found it delicious nevertheless.
Jump to:
Toh Soon Cafe
Operating in an alleyway in George Town is a discreet and small establishment called Toh Soon Cafe, serving one of the best roti bakar in Penang.
It's known for the traditional version, where the bread is grilled over charcoal and served with soft-boiled eggs, butter, and kaya. If you're wondering what this is, kaya is a coconut and eggs jam.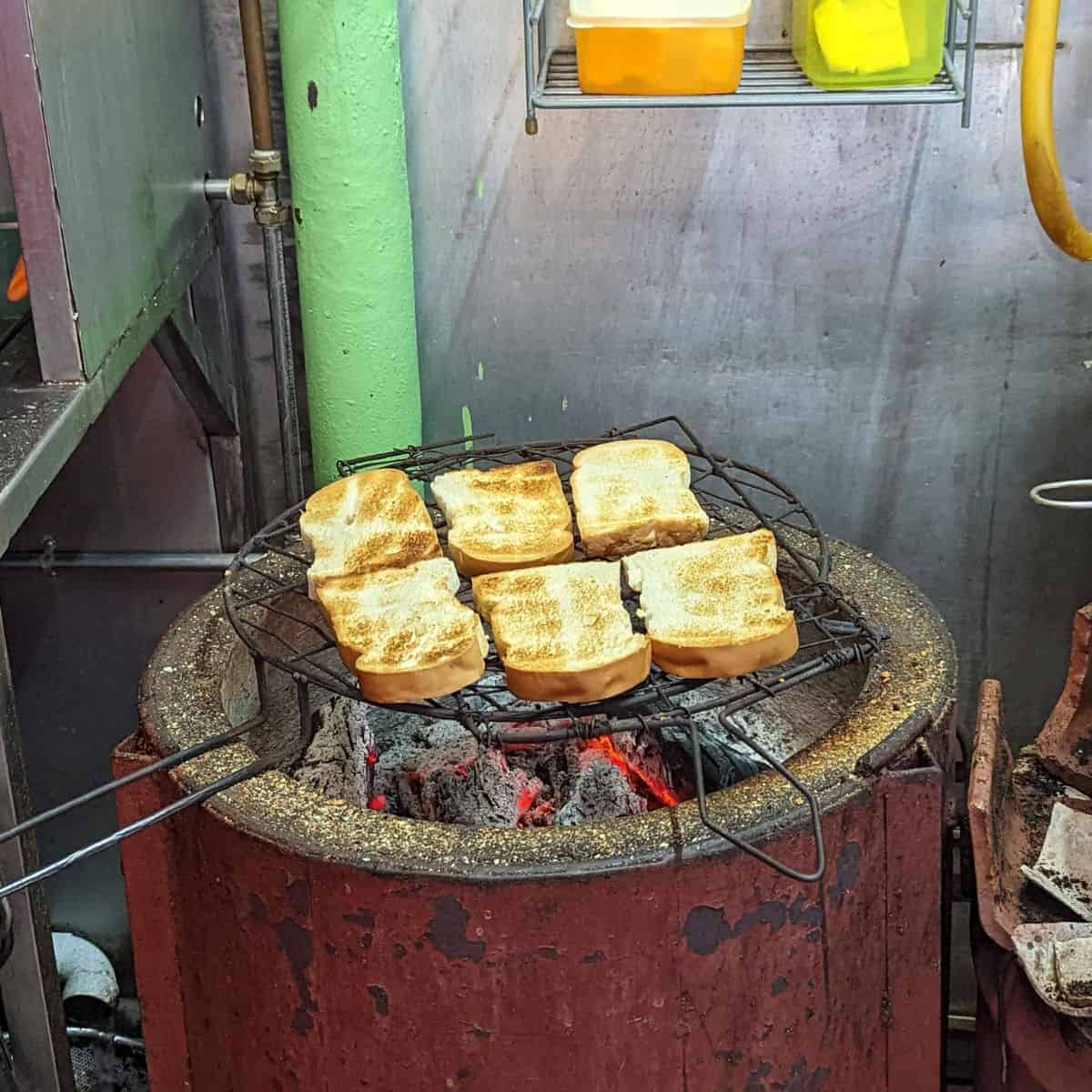 Together with the toast, we recommend trying the Hainanese coffee, where the beans are roasted with sugar, butter, and salt. It's usually served with condensed milk, so expect a rich and sweet cup of coffee. It also offers Penang nasi lemak if you want a more filling option.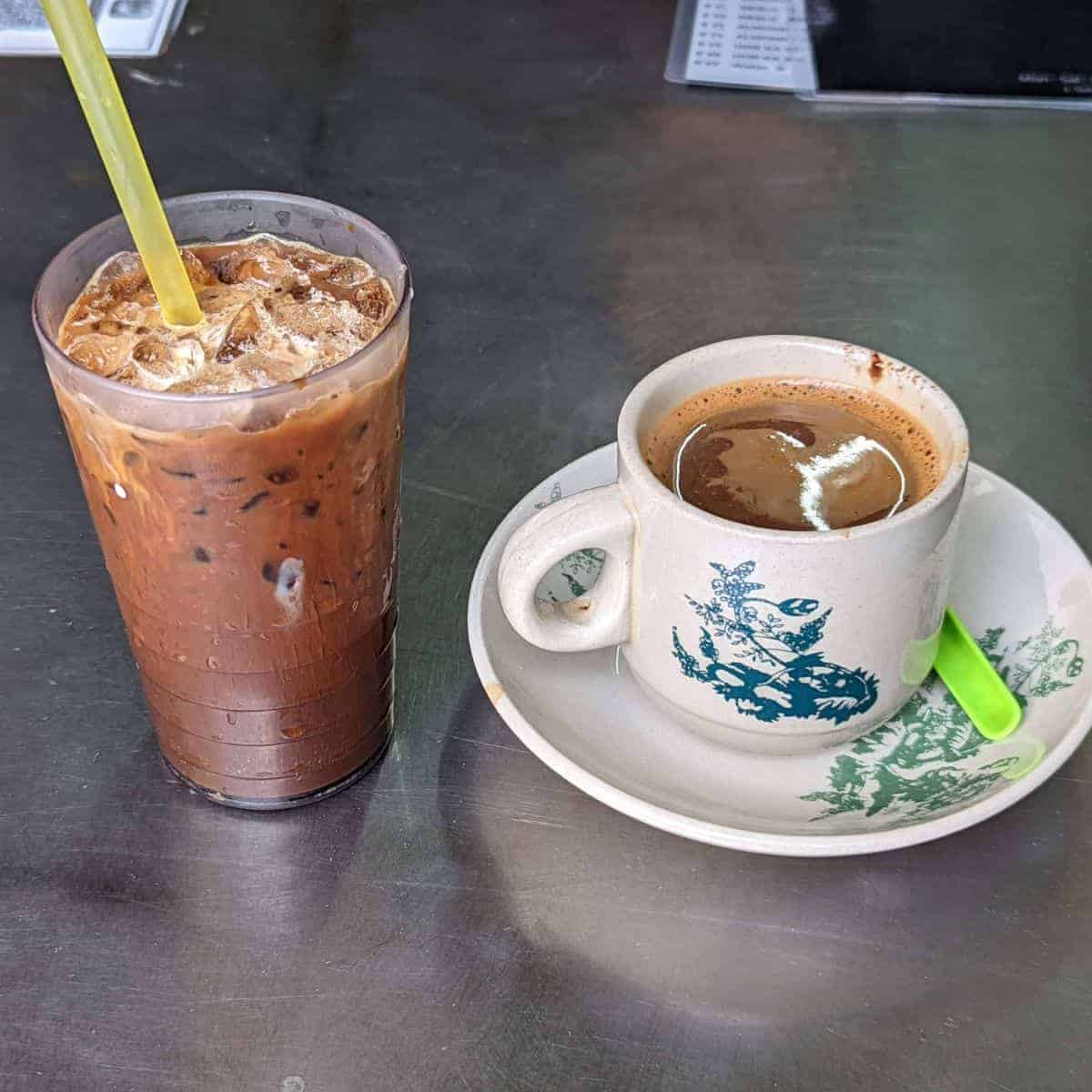 Since Toh Soon Cafe is closed on Sundays, it's usually packed on Saturdays. So, if you want to avoid long queues, don't visit during the weekend and school holidays. Come on a weekday morning instead.
Toh Soon Cafe
Lebuh Campbell, George Town, 10450 George Town, Pulau Pinang
Joo Leong Cafe
Located far from George Town is a kopitiam spanning two generations specialising in Penang roti bakar. It is none other than Joo Leong Cafe.
How the cafe serves its toast strays slightly from the traditional method. Instead, it offers a crunchier variation with sprinkles of sugar and a generous amount of butter.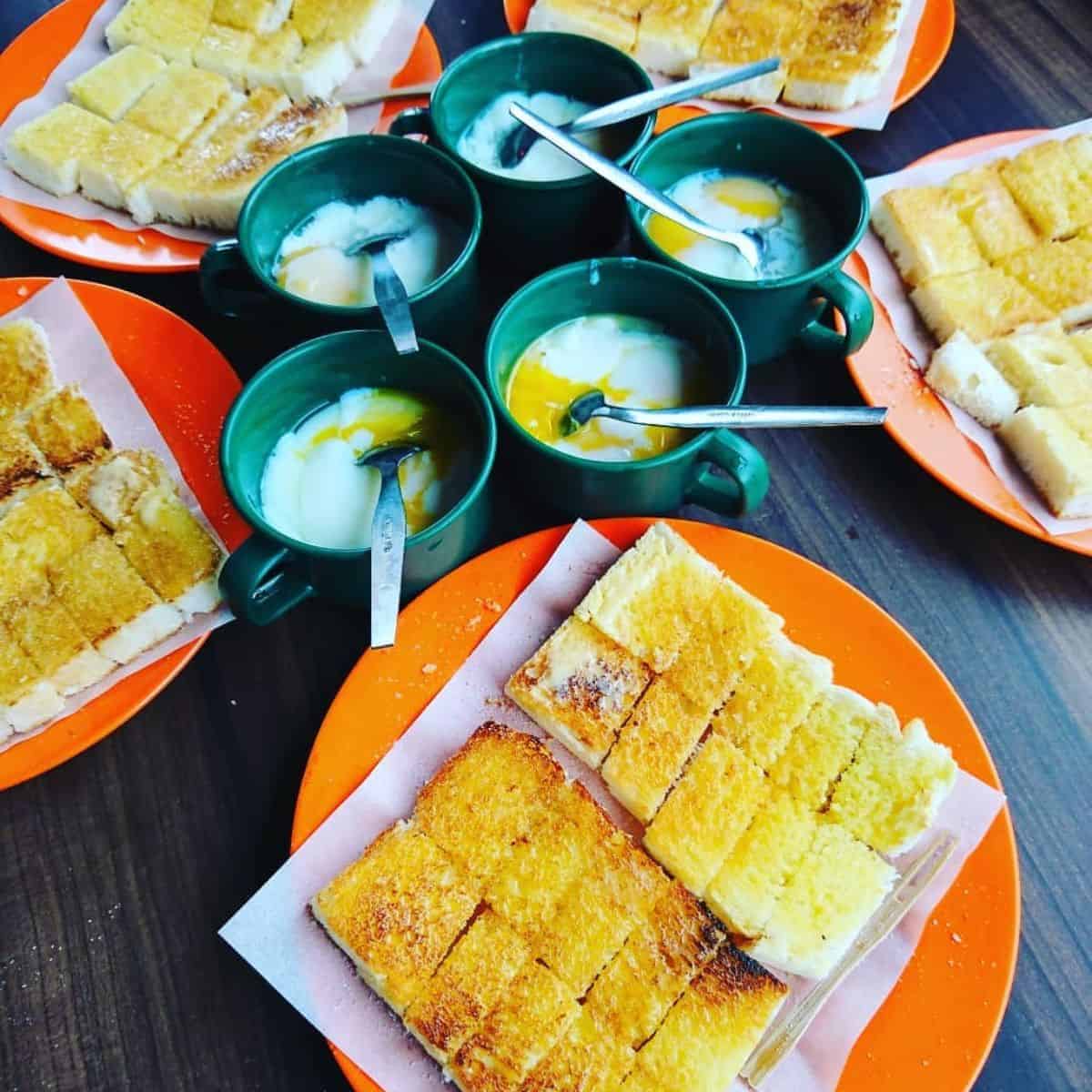 Soft-boiled eggs are, of course, a must! Add a dash of white pepper and a splash of soy sauce to enjoy them like the locals do.
Lucky for night owls, this cafe serves its toast until 11 PM. So, drop by after you've enjoyed Penang's night attractions because who's to say you can only have toast for breakfast? However, they do close during the afternoon. So, unfortunately, no toasts for lunch.
Joo Leong Cafe
Mk. 12, Jalan Sungai Tiram, Kampung Sungai Tiram, 11900 Bayan Lepas, Pulau Pinang
Hutton Lane Roti Bakar
Funny enough, the 60-year-old Hutton Lane Roti Bakar in Penang isn't on Hutton Lane but at the end of Jalan Phee Choon. It exits to the bustling Penang Road, so do expect some roadside seatings and makeshift tables.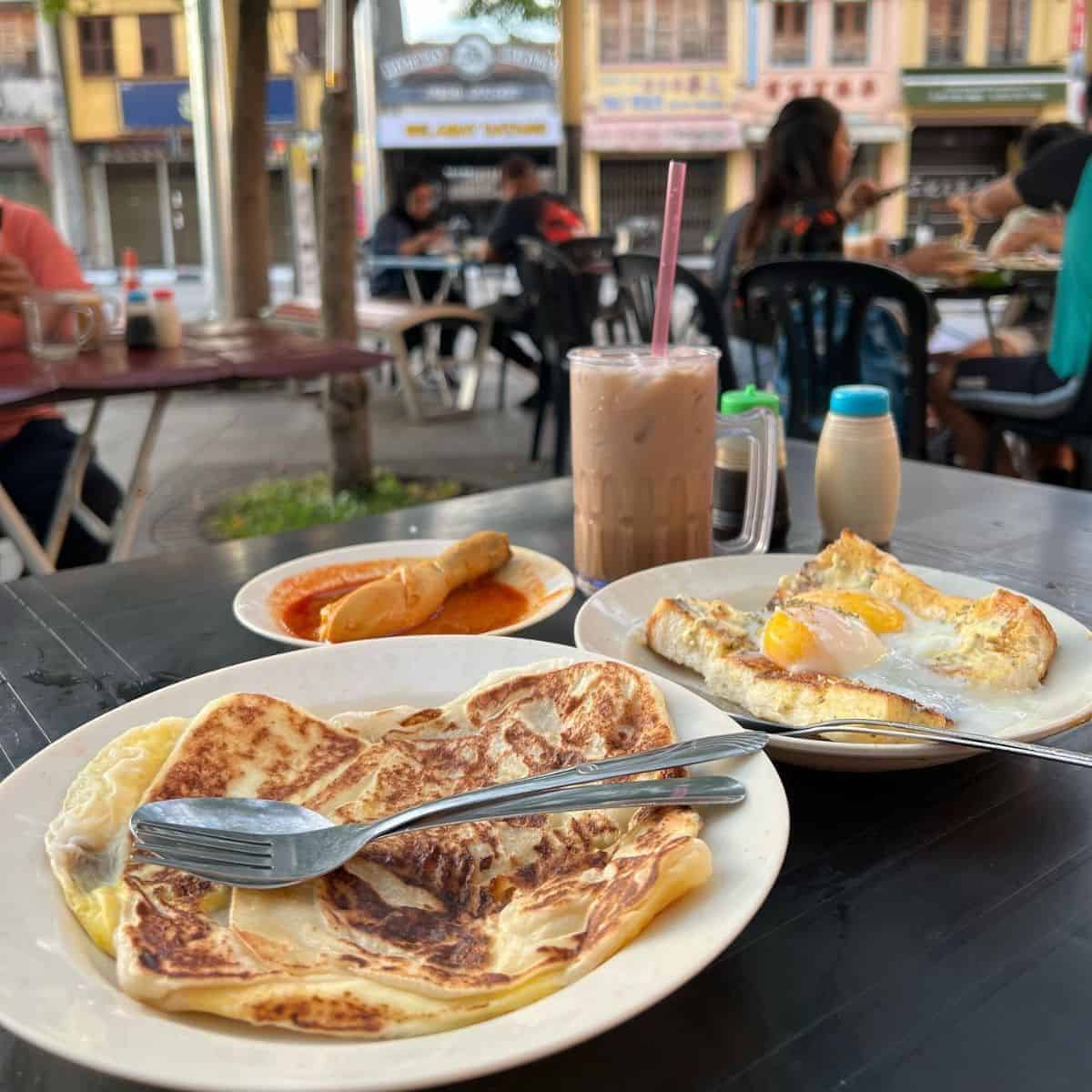 This cafe serves reiterations of the traditional version. For example, it offers a combination of toppings such as cheese, garlic, and kaya. In addition, we noticed an option called Roti Goyang Hokkien, which looks like it's served with red sauce and seasoning. It's a rendition we have yet to come across, so try it if you're feeling adventurous!
On a side note, a dish with red sauce we have tried is pasembur! We recommend the pasembur in Penang, especially if you like something with a little kick.
Due to limited parking, we recommend booking an e-hailing ride like Grab to get here. Like many hotspots, we suggest visiting early on a weekday morning to avoid the crowd.
Hutton Lane Roti Bakar
300, Jalan Phee Choon, George Town, 10050 George Town, Pulau Pinang
Roti Canai Transfer Road
One of the things to do in Penang is to immerse yourself in the island's street food culture. This halal stall offers an unforgettable experience, where you can witness the sounds and sights of cars and motorbikes zooming by. It is located on Transfer Road, with its stand, plastic tables, and chairs lined along the street.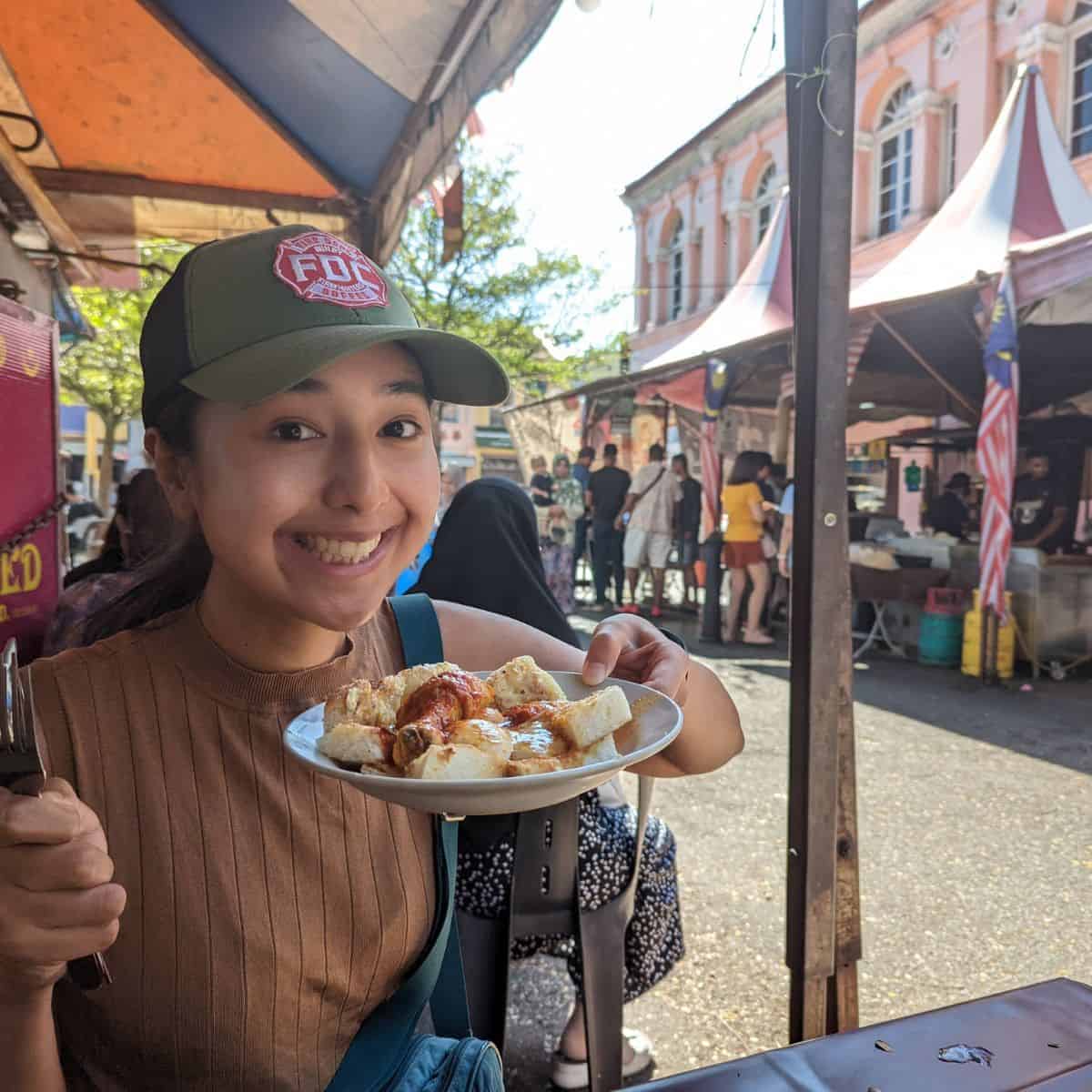 This is one of the most famous stalls selling roti bakar in Penang, spanning three generations and serving a whooping four eggs on its toast. Talk about a protein fix! Since you're here, order the famous beef and mutton curries because bread is the best way to mop up the saucy goodness.
Due to its popularity, we recommend coming before 11 AM on a weekday. Otherwise, expect a crowd, a queue, and an overwhelmed group of staff.
Roti Canai Transfer Road
114, 110, Jalan Transfer, George Town, 10050 George Town, Pulau Pinang
Kopi Seng Thor
Located right in George Town is a famous kopitiam, where you'll find Penang roti bakar served in the most authentic way possible.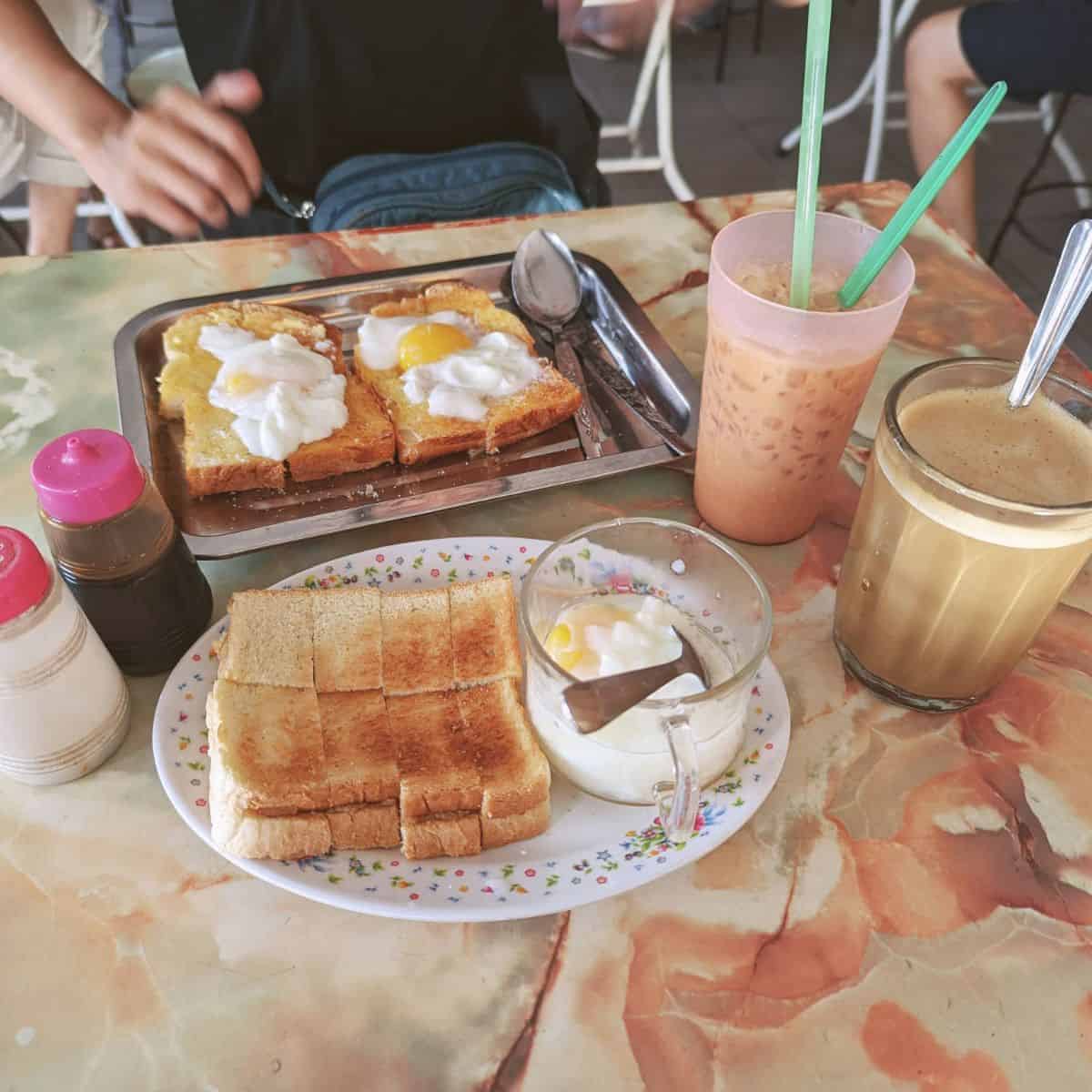 Picture this – the server plonks down perfectly runny eggs in a cup, toasted bread on a plastic plate with a skewer sticking upwards. Next, they line up soy sauce, white pepper, and sugar for you. Remember, it's a splash of soy sauce and a dash of pepper for your eggs, then a sprinkle of sugar for your toast. Lastly, you enjoy this classic Penangite breakfast with a cup of coffee or milo!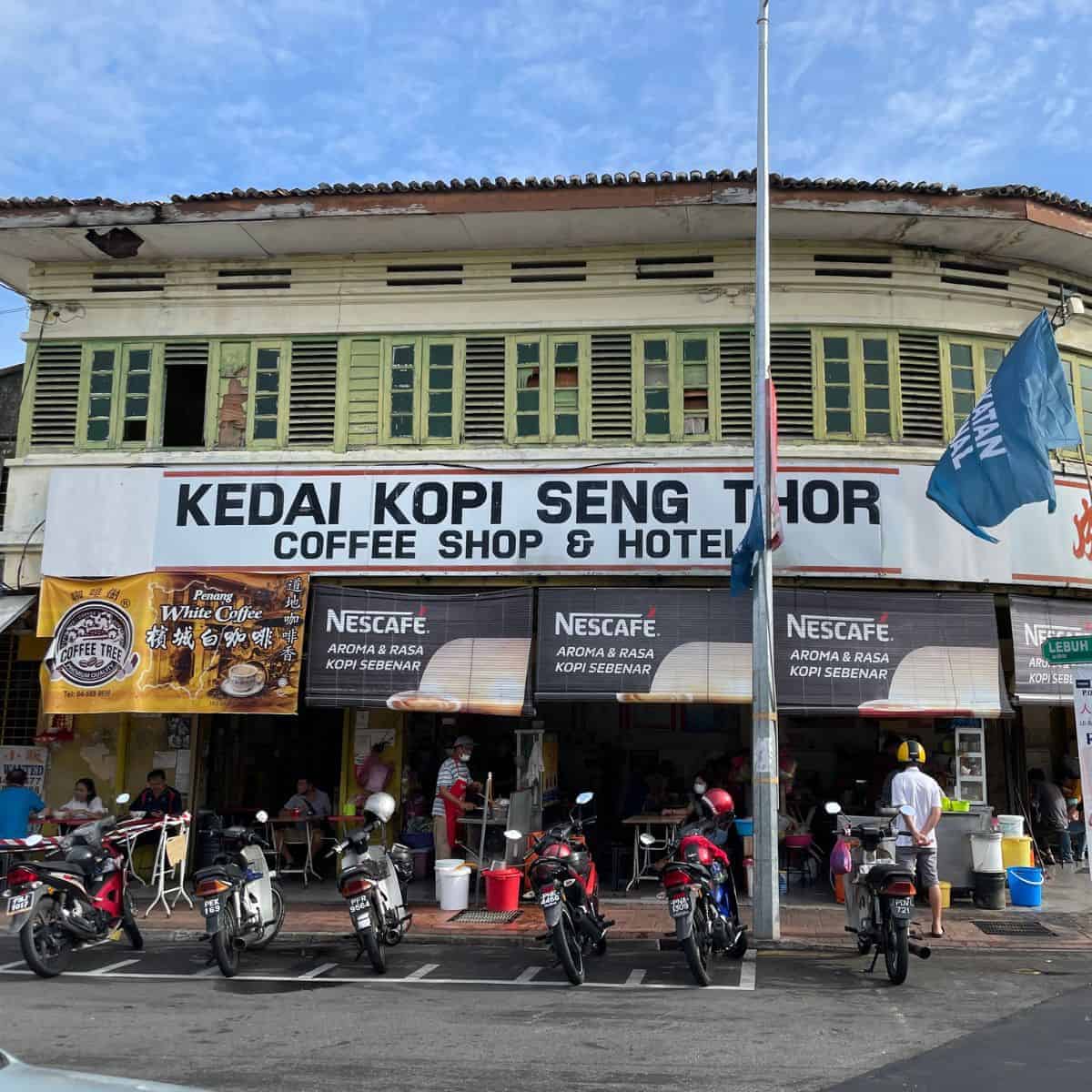 This kopitiam in Penang opens as early as 7 AM. But don't fret; they have a steady supply of bread and eggs to serve you its toast until 4 PM.
Seng Thor Coffee Shop
160, Lebuh Carnarvon, George Town, 10100 George Town, Pulau Pinang
Naina's Roti Bakar
Unlike its competitors, Naina's is the new kid on the block, disrupting the Penang roti bakar market.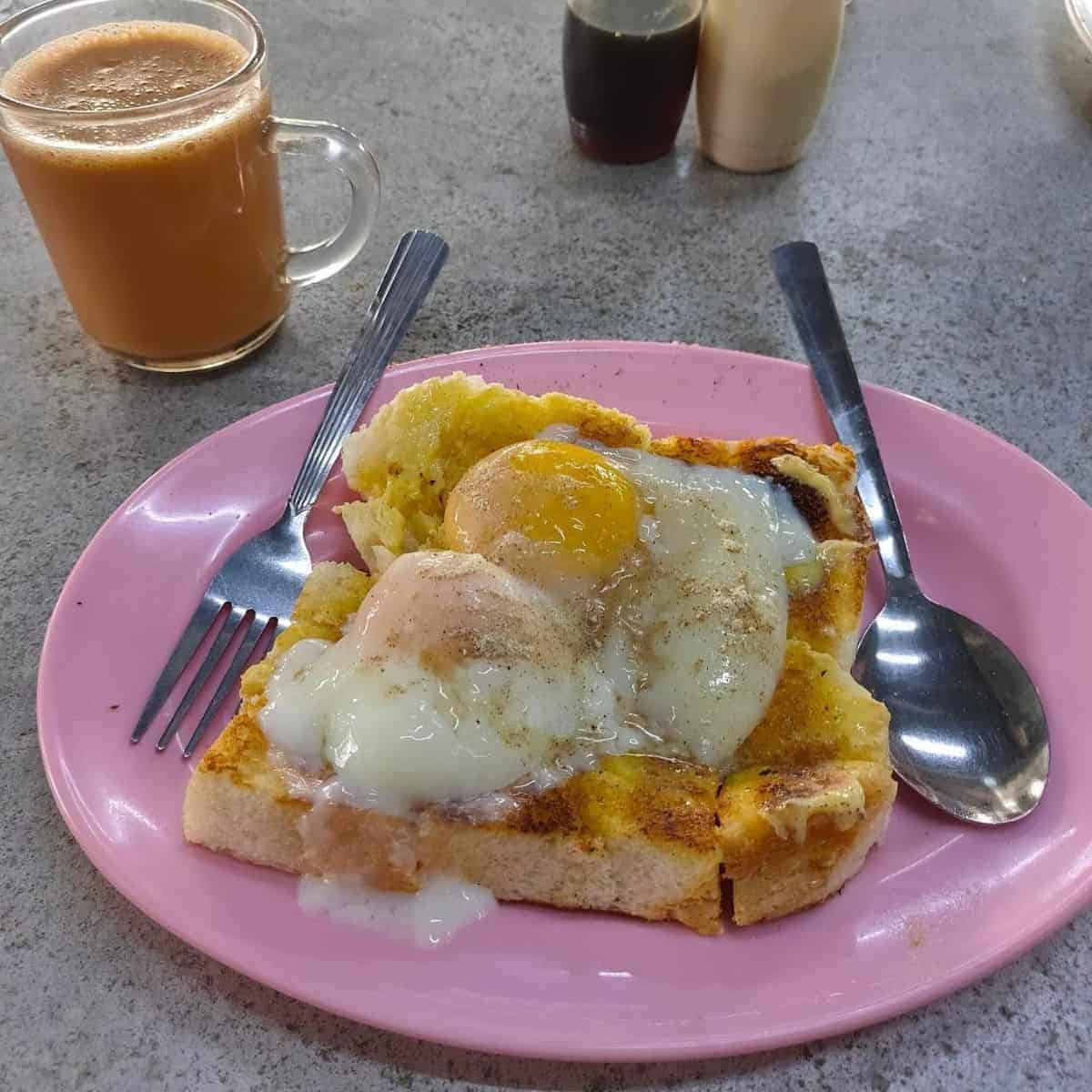 Naina's offers roti goyang, which directly translates to wobbly bread. It refers to the wobbliness of the soft-boiled eggs on the toast. To each their own, we broke the runny yolk, mixed it with the white, and spread it across the toast.
Its other signature is roti tsunami telur goyang ayam. It's roti canai, a pan-fried flatbread, drenched in curries, topped with chicken and egg. You can even add toppings like cheese and sausage. Quite a mouthful, right? Trust us when we say a bite of this will be a mouthful of exploding flavours.
Naina's opens as early as 6:30 AM. Then, as the early bird catches the worm, drop by before 10 AM to avoid a queue.
Naina's Roti Bakar
11, Jalan Transfer, George Town, 10050 George Town, Pulau Pinang
Roti Canai Gemas Road
This famous flatbread stall also serves eggcellent Penang roti bakar. But, unlike the above establishments, this one serves in bite-sized pieces loaded with toppings of your choice. It's anything from runny soft-boiled eggs to red onions.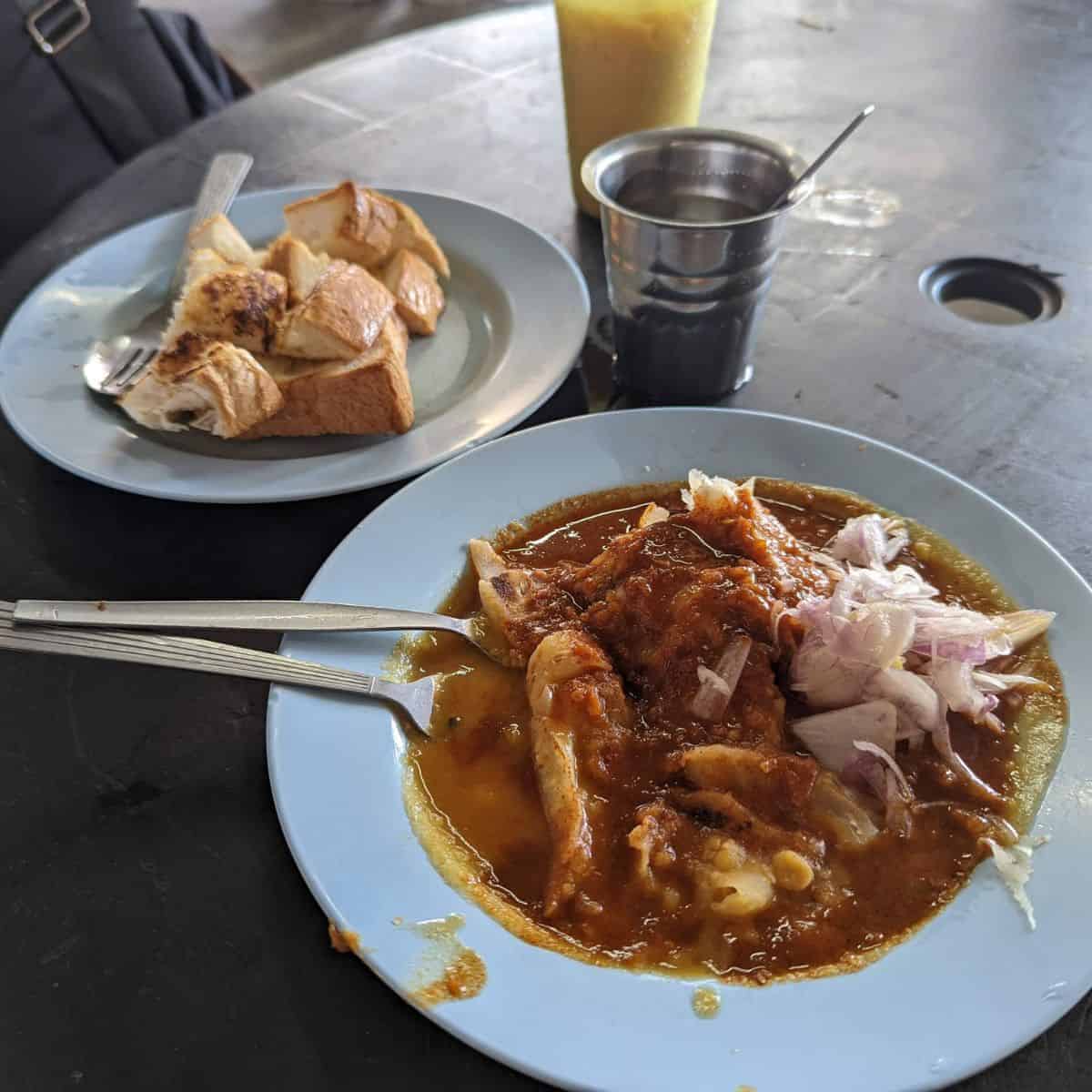 Since you're here, you should order its signature, Roti Bossku. It's flatbread topped with a sunny-side-up egg, cheese, red onions, and three types of curries.
Also, nothing's stopping you from ordering a side of beef or chicken curry to dip your toast in.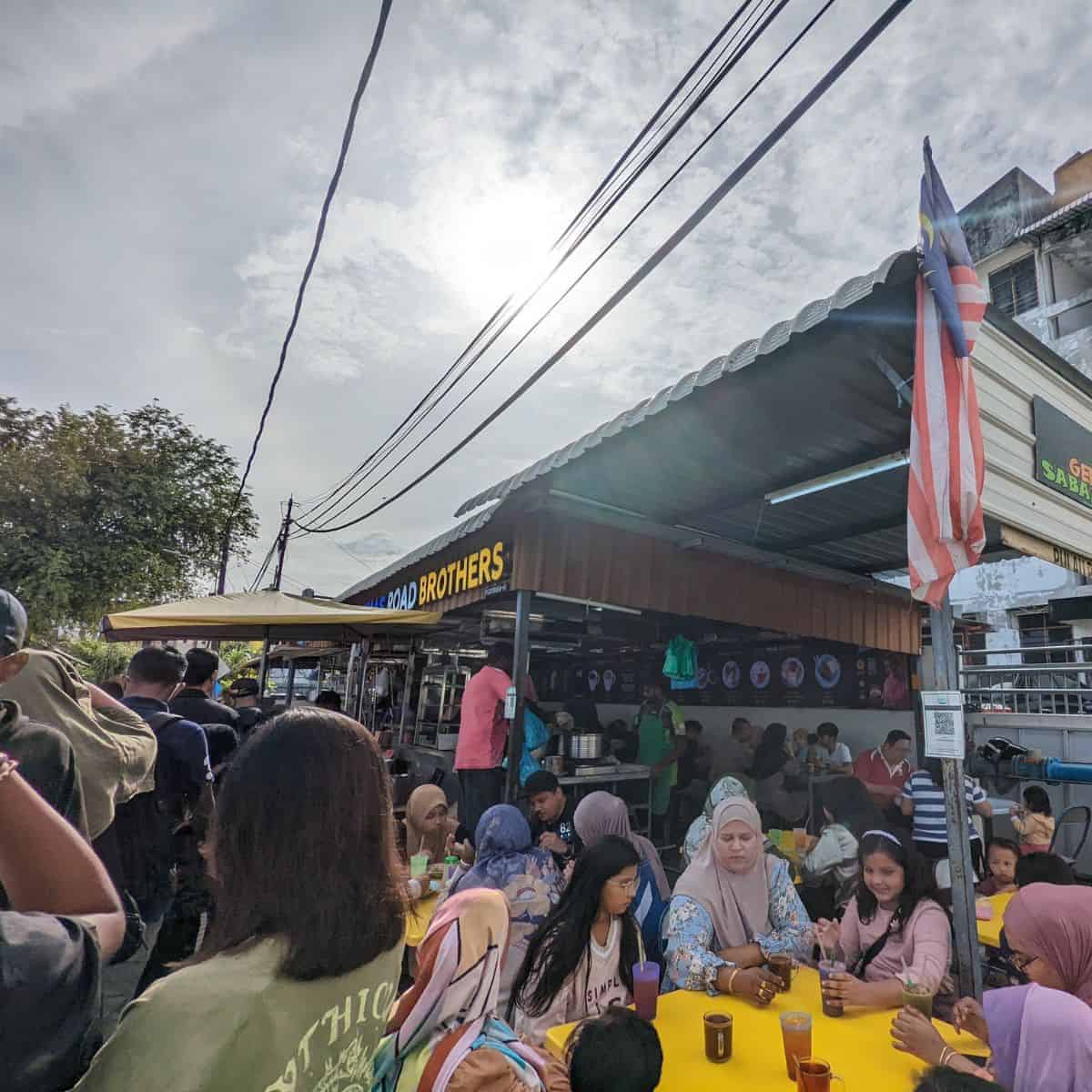 This family-run restaurant has been around for almost 30 years, and the locals have managed to keep it hidden, that is, till now. So, like other popular restaurants, grab a table as soon as possible, and expect some waiting.
Roti Canai Gemas Road
61, Jalan Gemas, Taman Kampar, 10460 George Town, Pulau Pinang
NAZZEERAS' Roti Bakar Kacang Phool Penang
Here, you'll find an exciting variation of Penang roti bakar, served with a side of kacang phool. It's a fava bean stew cooked with spices and sometimes ground meat.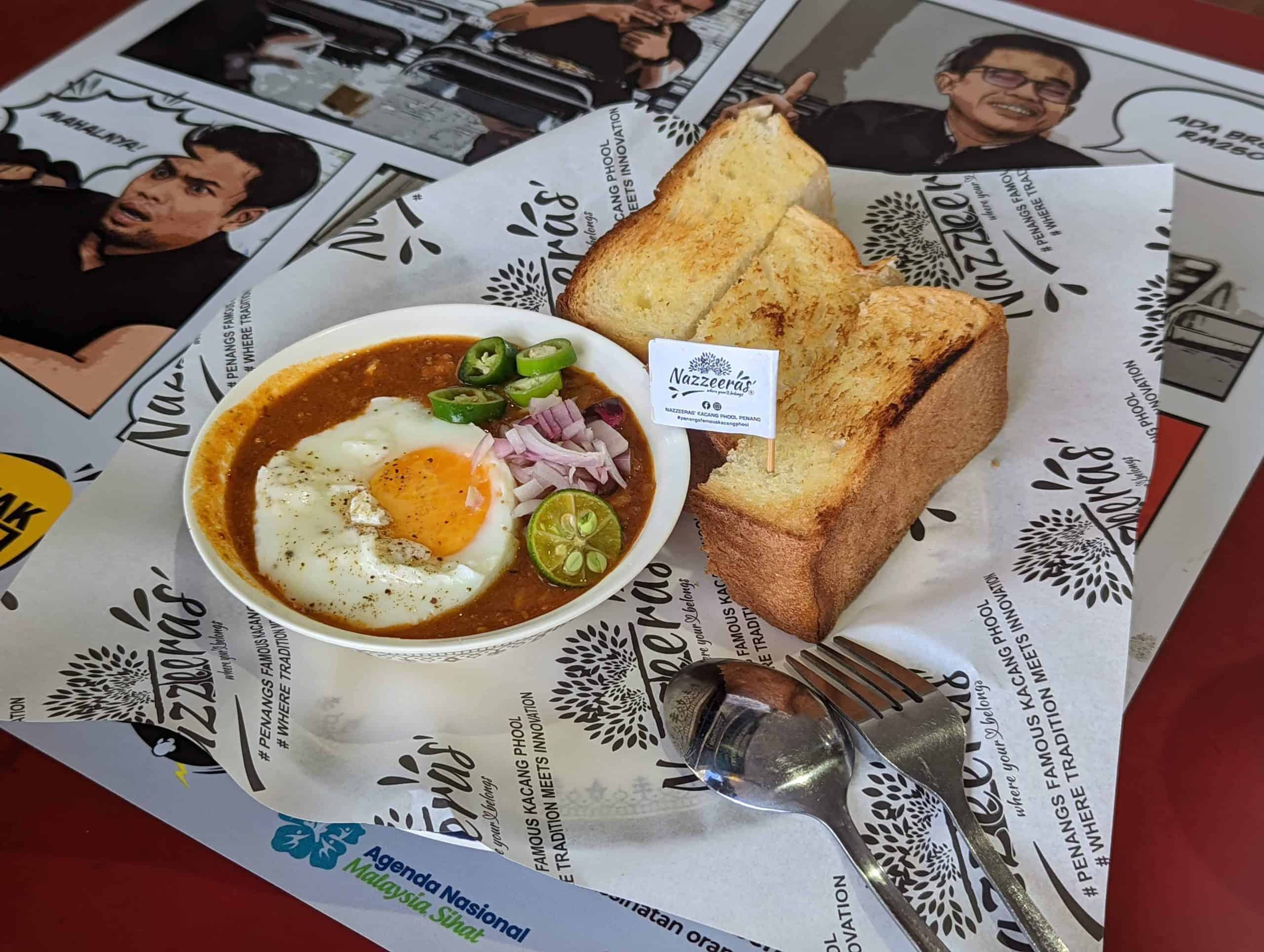 To soak up the kacang phool's saucy goodness, NAZZEERAS serves its white bread thick. With enough volume and fluffy texture, the bread can easily absorb the sauce without becoming too soggy.
To top it off, add a sunny-side-up egg and mix the egg yolk with the kacang phool to get a creamier flavour. If that sounds too heavy, we recommend drizzling some lime to give it a more refreshing note.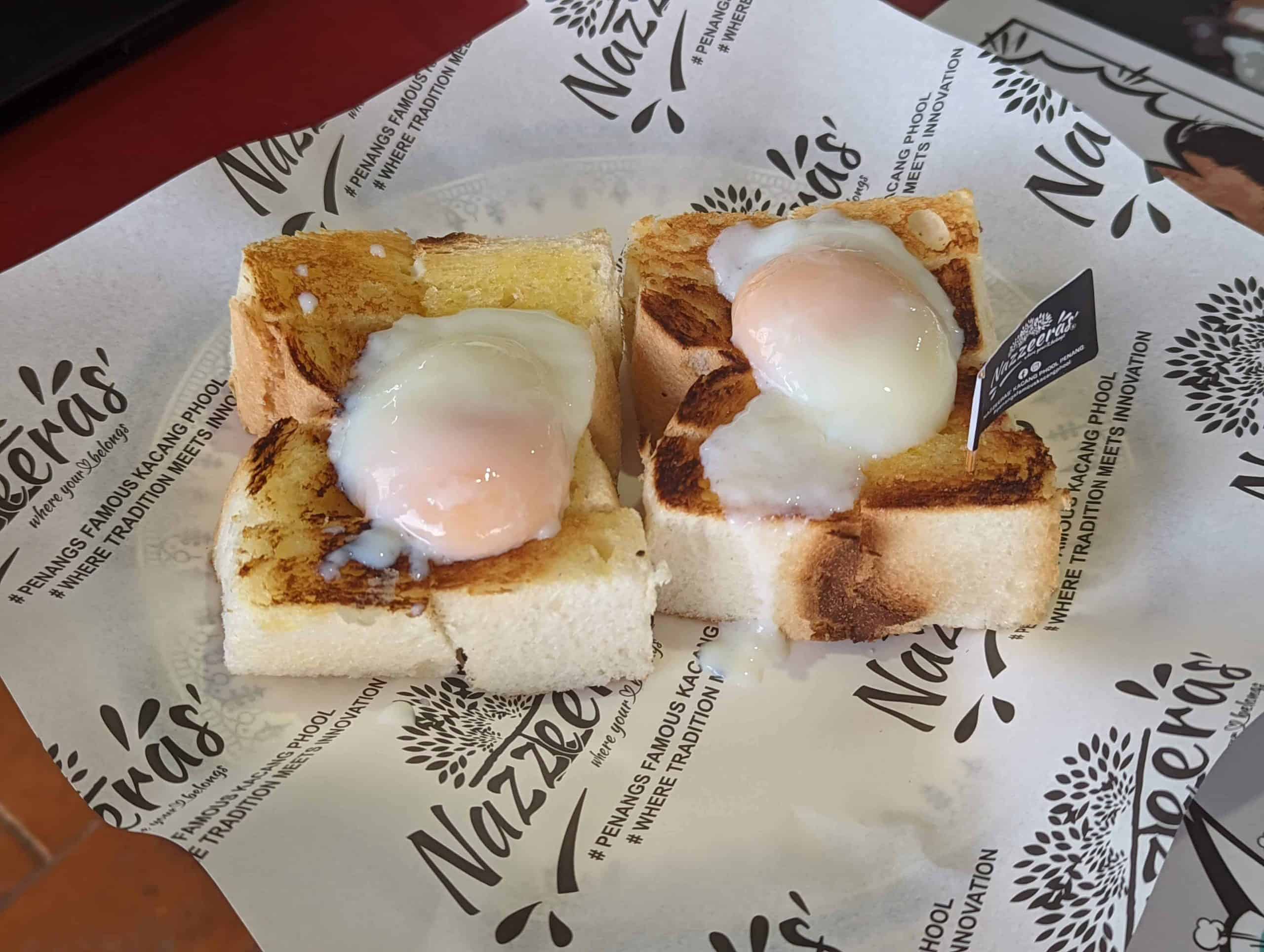 The bread is the perfect vessel to deliver the kacang phool's deliciousness to your tastebuds! However, it closes at 1:30 PM, so drop by for breakfast or brunch.
NAZZEERAS' Roti Bakar Kacang Phool Penang
Jalan Desiran Tanjung 3, No. 1 & 2, Kompleks Desiran Tanjung, Seri Tanjung Pinang, 10470 Tanjung Tokong, Pulau Pinang
Ah Wang Cafe
Ah Wang Cafe is a residential favourite for roti bakar in Penang. It serves toasts thin and crispy with a layer of butter and homemade kaya, which you can buy by the bottle.
To further enjoy this crisp and crunchy toast, dip it in a cup of Hainanese coffee! We suggest ordering the coffee without condensed milk to avoid it being overly sweet. This is the caffeinated and adult version of dipping Oreos into milk, except no licking and twisting are required!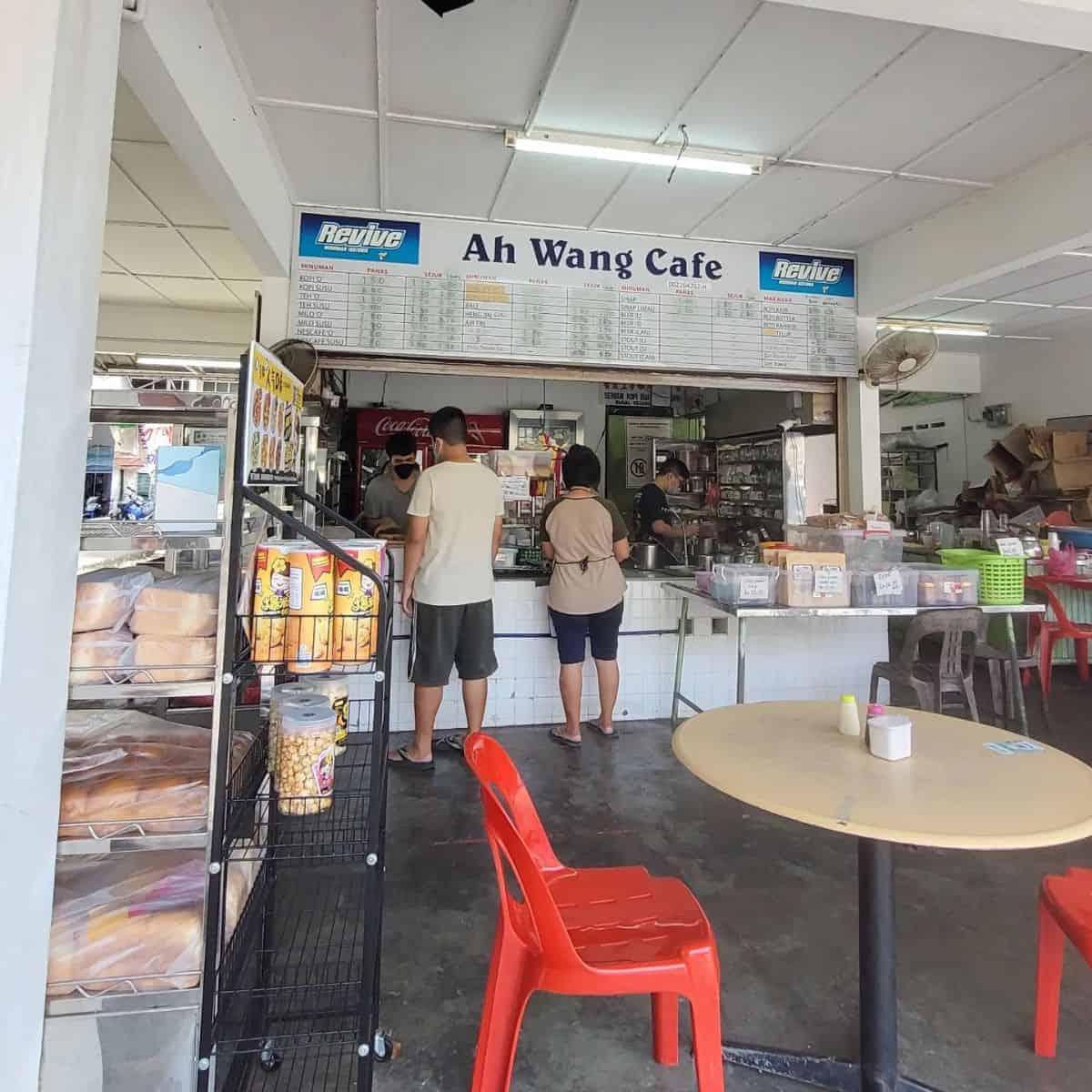 Unlike our other recommendations, this cafe only opens at 11:30 AM. So, it's the perfect place to escape from the heat, have tea, and chit-chat with friends and family.
If you prefer a cup of americano or latte, check out the endless selection of nice cafes in Penang.
Ah Wang Cafe
J-6, Jalan Tanjung Bungah, Tanjung Tokong, 10470 Tanjung Bungah, Pulau Pinang
Roti Bakar Arang
Located on Penang Street with an array of Indian restaurants is a hole-in-a-wall establishment serving toast and teh tarik. This shop serves its toast with runny eggs like the above businesses.
For your information, teh tarik is a frothy black milk tea with condensed milk and sugar that's a local favourite.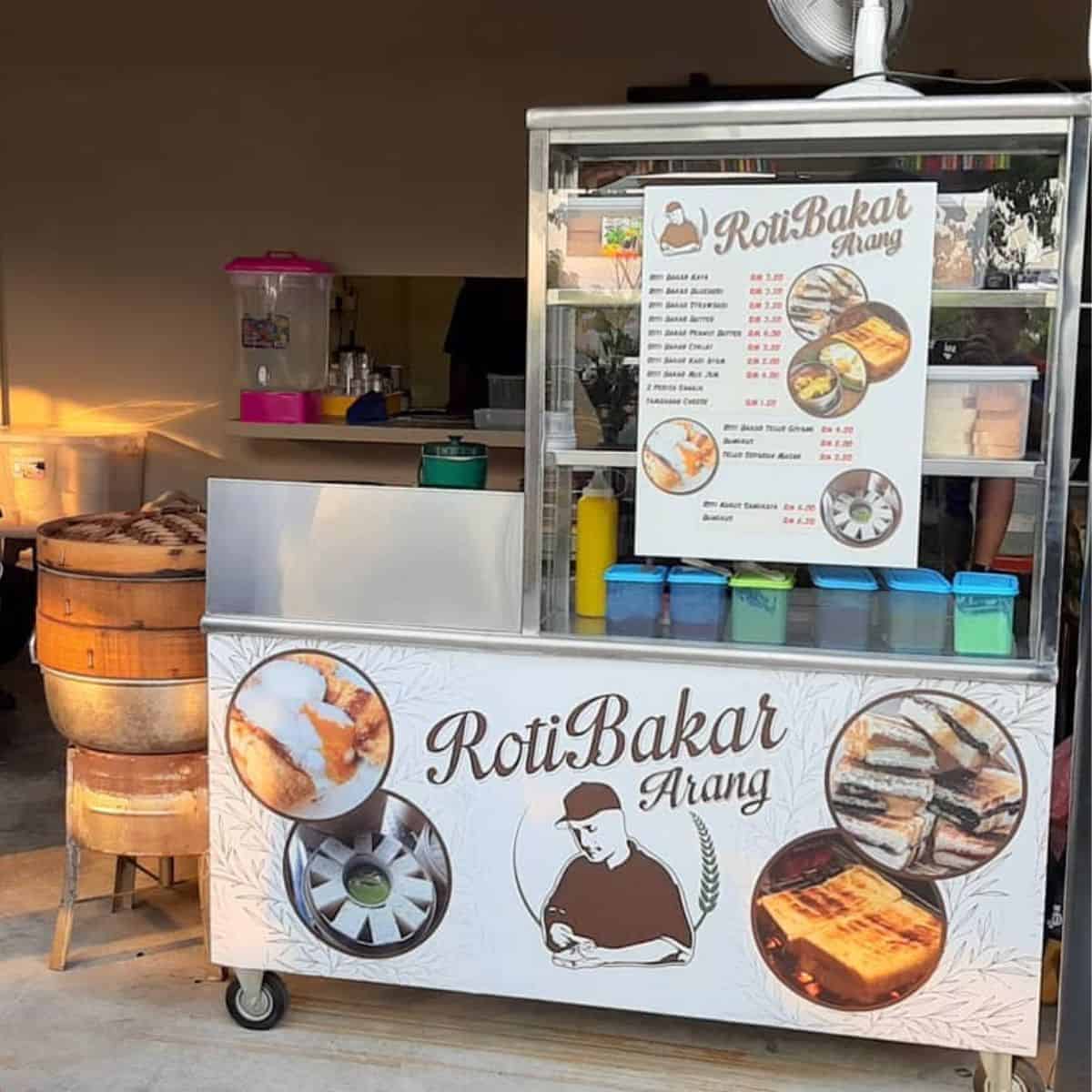 You might not find the most delicious roti bakar in Penang here. But you'll find its charm in its old-school ambience – the mismatched cutlery, the cans of condensed milk, metal cups, and the wall fan's whirring sound.
Roti Bakar Arang
Penang St, Georgetown, 10200 George Town, Penang
Roti Bakar Awesome
Along the island's Harmony Street, is another hole-in-the-wall shop. As it sits across the iconic Kapitan Keling Mosque, you can enjoy your Penang roti bakar, sip on some teh tarik, and enjoy the view.
This discreet establishment serves its toast with simplicity. It's grilled over charcoal and served with eggs, soy sauce, and pepper. Then you're left to enjoy it with a view of the mosque as well as Penang's first-ever skyscraper, the KOMTAR Tower.
Sandwiched between buildings, this shop exudes a cosy and rustic vibe, where locals can relax and have a simple and satisfying breakfast.
Roti Bakar Awesome
13, Jln Masjid Kapitan Keling, George Town, 10300 George Town, Pulau Pinang
Our Personal Favourites
After scavenging the island, we concluded that Kedai Kopi Seng Thor and NAZZEERAS served our top two favourite roti bakar in Penang.  
Kedai Kopi Seng Thor offered a twist to the traditional version with its crunchy and buttery toast. It reminded us of the butter and sugar toast our moms made for us as kids. Topped off with some half-boiled eggs, they were simple yet satisfying.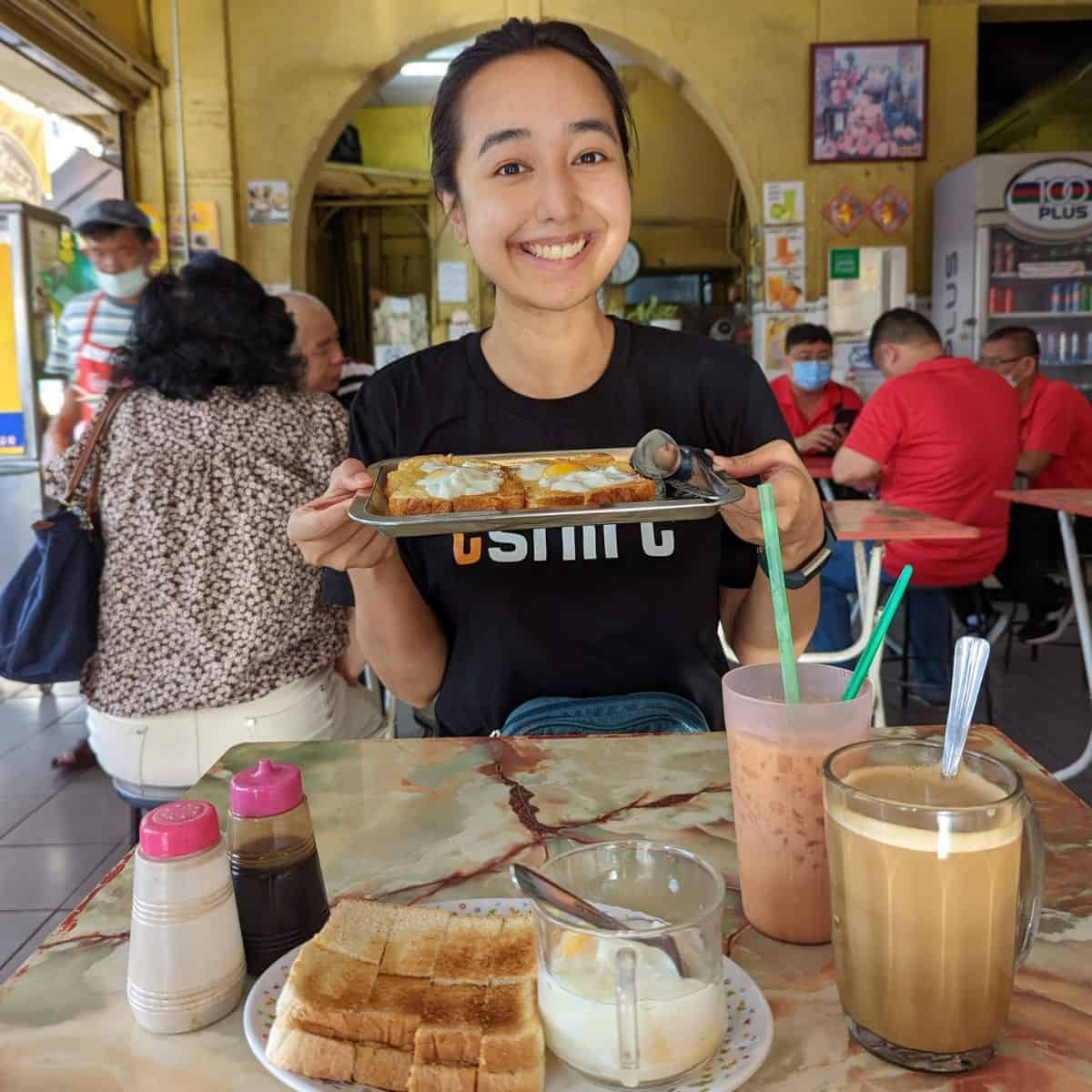 Meanwhile, by serving its toast with kacang phool, NAZZEERAS offered a refreshing take on this childhood dish. The spiced bean stew perfectly accompanied the toast, leaving us feeling full and contented.
We hope our suggestions help you find your favourite toast in Penang.
Follow us on Instagram @tabitogether as we continue our foodie adventure on this tropical island.